! >
Broadway To Vegas
  SHOW REVIEWS     CELEBRITY INTERVIEWS     GOSSIP     NEWS 


| | |
| --- | --- |
| | |
Copyright: November 19, 2000
By: Laura Deni
CLICK HERE FOR COMMENT SECTION

TURKEYS ON BROADWAY

It's that time of year again and while many performs are thankful to be performing in hits, just because a show opens doesn't mean it won't end up as a cooked goose.
Shows are rarely able to turn a profit without achieving a run of over 1,000 performances and sending out at least one touring company. In the 1958-59 season you could see The Music Man for $2.50 and My Fair Lady for $2.30. The top ticket price for Camelot was $9.40. Today it cost a minimum of about $10 million to mount a show and tickets top $100.00. What is surprising is that shows open at all. There have been so many losers that it's impossible to list them all in one little column. So, we just picked randomly picked a few.

BREAKFAST AT TIFFANY'S produced by David Merrick, which never officially opened in New York despite the potent box-office draw of two television stars, Mary Tyler Moore and Richard Chamberlain. Touted as the big musical of 1967, this goose got cooked after only four preview performances.

CANDIDE with music by Elmer Bernstein and lyrics by Richard Wilbur and a book by Lillian Hellman opened on December 1, 1956 an ran for 73 performances at the Martin Beck Theatre. It starred Barbara Cook as Cunegonde.

CARRIE seems to be everybody's favorite turkey production. Carrie was done in 1988 with Betty Buckley in the lead. Based on the Stephen King horror story, the high point of the lyrics was rhyming "attitude" with "I've been screwed" - which is what the audience felt after they bought a ticket.

CHESS, which still has a cult following, was a hit in London and a flop in America. Music by Benny Andersson and Bjorn Ulvaeus and lyrics by Tim Rice, who was unsuccessful in his attempt to convince his former partner, Andrew Lloyd Webber, to jump on board. Chess, opened in New York at the Imperial Theatre on April 28, 1988 playing 68 performances, losing 6 million.

THE CRADLE WILL ROCK directed by Orson Wells with music, book & lyrics by Marc Blitzstein gave 19 performances with the actors doing their parts from their seats, because their union refused to permit them to get on stage. The show was considered one of the most controversial productions of its time - which was 1938. The story line concerned workers struggling for union recognition. Tickets were priced at 25, 40 and 55 cents. Originally set to open at the Federal Theatre, political pressure caused the house to cancel the show before it opened. An irate Wells was determined that the show must go on and found a stage at the Venice Theatre. Forbidden to take the stage, the actors stayed in seats located through the theatre while Blitzstein provided piano accompaniment.

FORTY FIVE MINUTES FROM BROADWAY with music, lyrics and book by George M. Cohen who also did the directing was a flop on Broadway playing 90 performances at the New Amsterdam Theatre.The production did make a star out of Victor Moore, in his first leading role on Broadway, even though the show was written for Fay Templeton. With only five songs in the score, the show became a hit on the road.

GREENWILLOW marked Anthony Perkins first Broadway effort. With music and lyrics by Frank Loesser, a book by Lester Samuels and Frank Loesser, directed by Robert Willey and choreographed by Joe Layton, Greenwillow has developed a cult following. Never-the-less the original production was a turkey. It opened March 8, 1960 at the Alvin Theatre and lasted for 95 performances.

JENNIE was Mary Martin's only musical flop. The 1963 production did have a lovely score by Howard Dietz-Arthur Schwartz. The show was loosely based on the early career of actress Laurette Taylor - the actress for whom Tony Randall's daughter is named. But this musical had a weak book and too many special effects.

SHOGUN was a dreadful musical starring the talented Jonathan Pryce. Then Francis Ruivivar, who had originated the roll of Lord Toranaga in Shogun became the first Asian-American to portray the Engineer, replacing Pryce. Nothing could save this loser. Not even the scenery falling over and knocking the star out cold could kick sense into the production. Ruivivar then came to Las Vegas to star in Notre Dame du Paris which became a Vegas turkey.

If it never opened can it be considered a flop?

Legendary producer David Merrick had several including Mata Hari, about the World War I spy, which starred Marisa Mell and Pernell Roberts, and The Baker's Wife, which also never opened in New York despite a lengthy road tour before Broadway.

And then there was Merlin which postponed its opening three times before it finally disappeared.

B.B. KING: PLASTIC GUITAR PICKS AND PURE GOLD ARTISTRY

On a shelf sits a glass bowl filled with plastic guitar picks. Each has B.B. King in gold lettering. I've saved them.


B.B. KING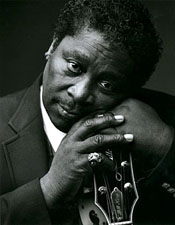 Years ago during one of many interviews with B.B. King I brought along my toddler son. King's eyes lit up. The legendary entertainer produced a handful of his guitar picks, and proceeded to explain how a child would entertain himself playing with them, and the adult could use them to help teach the child colors.

King was correct. The guy should know something about children. He's fathered 15 of them with 15 different women, although he's never stayed long in one domicile.

"I have not been a good parent, nothing like what I'd like to be," he confessed. " I wasn't home enough. Separations from my family was the biggest toll I paid. I've only been to a couple of graduations. I wish I had done a better job."

What has endured is his music.

King had another hit record this year. His duet CD with Eric Clapton, Riding With the King, debuted at No.3 on Billboard's pop album chart in June. It was one of 14 albums King released this year.

The 75-year old spent this week-end pickin' his guitar Lucille at the Stardust Hotel in Las Vegas. He gets standing ovation just by walking on stage. He perfected the guitar style of single note picking while honey coating the plaintive work songs of the field hands who bled for cotton in the Mississippi Delta.



Where B.B. King was born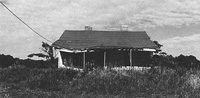 Born a small sharecropper's cabin near the town of Itta Bena, Miss on September 16, 1925 to Albert and Nora Ella King, who named their newborn son Riley B. King, after his uncle.

The happiness was short lived. Nora left Albert for another man when Riley was only 4 years old. She moved back into the hills east of the Delta and sent Riley to live in nearby Kilmicheal with his maternal grandmother, Elnora Farr. Riley's father Albert - only 18 years older than Riley - lost touch with his former wife and son. Riley lived off and on with his mother and two subsequent step fathers, but most of the time he stayed with his grandmother, who sharecropped on the land of Edwayne Henderson, a dairy farmer.

It was a religious household and Riley's mother and grandmother took the boy with them to services at the Holiness Church in Kilmicheal. It was at church that young Riley had his first true musical influence. Music was the main tool used by preacher Archie Fair - who was the brother-in-law of Riley's maternal uncle William Pullinan.

Little Riley wasn't shy and his dominant singing style with the congregation helped to develop his powerful charismatic stage presence. Archie led the congregation by playing guitar, which fascinated Riley so Archie taught him how to play the E, A and B chords.



Performing in church helped King develop his charismatic stage presence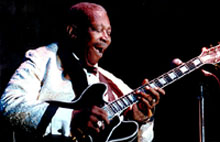 Riley's mother died in the summer of 1935, when he was only 9 years old. He then lived with his grandmother in Kilmicheal. When word reached Riley's father, of Nora Ella's death, he became concerned for Riley's welfare. He contacted the boy and told him that he could come to live with him, his new wife and family in Lexington, Mississippi whenever he was ready.

But Riley had just formed a gospel singing group, consisting of his cousin Birkett Davis and his friend Walter Doris, Jr. Riley decided to stay in Kilmicheal.

Then his grandmother, Elnora Farr, died on January 15, 1940. Determined to stay with his musical group he continued to live at his grandmother's cabin and farmed one acre of Henderson's land to raise a cotton crop. He barely made enough money to live that year, and in the fall of 1940, Riley moved to Lexington to live with his father, where he stayed for two years.

Homesick for the Kilmicheal area, in 1942 the 16 years old moved back to Kilmicheal to attend the Elkhorn school and continue singing with his gospel group. The Flake Cartledge family, white cash tenants for Edwayne Henderson, took Riley in and he worked to earn his keep.

The Cartledge's were kind to Riley, even loaning him $2.50 to buy his first guitar from a Kilmicheal man, Denzil Tidwell. "The guitar cost $8 and I didn't have enough money so they loaned me the money," recalled King.



B.B. King had to borrow money for his first guitar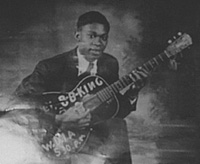 By the end of 1942, Riley had decided to move to the Delta in search of better work, but in the back of his mind he was thinking about forming a better singing group with his cousin, Birkett. Birkett borrowed a car, and in the spring of 1943, he moved Riley to Indianola, Mississippi.

Riley found work with an Indianola planter Johnson Barrett. Riley worked on the Barrett plantation as both a sharecropper and a tractor driver, for which he was paid a day wage of $1.00. In only a few short months after leaving Kilmicheal, Riley now had a skilled job as a tractor driver, a new singing group and a girlfriend.

King was in tall cotton

The singing group consisted of a five man chorus, including Riley and cousin Birkett, and was led by John Matthews. The new group was called The Famous St. John's Gospel Singers. Riley accompanied them on guitar when they sang, mostly at churches. Occasionally, they gave live performances which were broadcast on radio station WGRM in Greenwood, Mississippi. At the same time, Riley was also playing the blues on the Indianola street corners on Saturday nights.



B.B. King with his beloved guitar, Lucille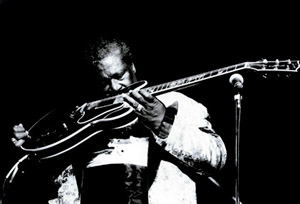 "I used to sit on street corners singing gospel, but I never got tips," explained King as to why he switched from gospel to blues. "When people requested a blues song, they would always pass the hat. And sometimes I'd get a beer, too. So that was the motivator."

Riley had to register for the Military draft in 1944 and was found physically fit for service. Johnson Barrett, not wanting to loose a skilled tractor driver, applied to the draft board on Riley's behalf for an occupational deferment. Barrett also told Riley that getting married would improve his chances of being deferred. Riley married his first wife, Martha Denton, on November 11, 1944, and shortly afterward he received his deferment.

After he was released from the selective service, Riley tried to convince the St. John's Gospel Singers to leave Indianola in search of fame and fortune. It soon became apparent to Riley that if he was going to make his career in music, he would have to go it alone. Circumstances egged him along. One night in May of 1946 Riley had returned from the fields with the tractor. He shut off the tractor, but the engine turned over a couple of extra times and the machine lunged forward, breaking off the exhaust stack. Not wanting to face an angry Johnson Barrett, he left town with his guitar and $2.50 in his pocket. He was heading to Memphis on highway 49 in search of his cousin Bukka White.

"I hitchhiked to Memphis,"said King, who was soon performing as the Beale Street Blues Boy - truncated to Blues Boy King, then B.B. King. Lean periods dogged him.

"I could hardly put one foot in front of the other. I didn't know how I'd pay my group and how we'd get food. One time, we had no money, so I found a lake, we dug up earthworms and caught fish with string and a piece of wire."

"When I see young scuffling entertainers, I feel for them. I wonder do they really want success bad enough? There's a big debt you gotta pay."



Broadway To Vegas is supported through advertising and donations. Priority consideration is given to interview suggestions, news, press releases, etc from paid supporters. However, no paid supporters control, alter, edit, or in any way manipulate the content of this site. Your donation is appreciated. We accept PAYPAL. Thank you for your interest.


OTHER PEOPLE'S MONEY


ELTON JOHN announced he was retiring and then almost immediately changed his mind. No word on weather that change of heart had anything to do with a lack of a fat bank account.

Sir Elton's spending habits are being bandied about in a London court. The entertainer is suing his former accountants on charges they were negligent in managing his money. But Elton conceded on the stand that he spends, like, $2.15 million a month on himself! He also said he spent $43 million from 1996 to 1997.

Defense lawyers depicted John as "an overly generous man with a poor grasp of his financial affairs."


SWEET CHARITY


SOCKS AND UNDERWEAR every charity needs those mega bucks fund raisers. No doubt about that. But there is an equal need for individuals to do what might seen like a small effort but adds up to a lot.

A pair of socks and some new underwear is small potatoes compared to a $1200 charity ticket. Unless, of course, you're the person with the holes in your socks.

Jon Merritt, who impersonates Liza Minnelli in An Evening At La Cage at the Riviera Hotel in Las Vegas, has turned a small gesture into a major contribution.

Merritt is involved with the St. Therese Center's Outreach Program in Las Vegas. Run by the Roman Catholic Diocese of Las Vegas, the center literally takes care of HIV patients, including a food and clothing pantry. Father Joseph O'Brian and Drs. Jerry Cade and Michel Karagiozif are in charge of the project.

Merritt's particular goal is to provide new undies and socks for each client. "Liza Minnelli in La Cage, wants to bring them underwear for Christmas," said Merritt.

The son of a newspaper editor and his wife in Springfield, Mo., Merritt went from being Mel Tillis' road manager to being a Liza Minnelli impersonator and is the only Liza impersonator that she has actually endorsed.

Any donations qualify for 501-C deductions.

AMERICAN THEATRE WING SCHOLARSHIPS AND GRANTS once again bring early Thanksgiving and Holiday Gifts to numerous non-profit theatre companies. $123,000 will be distributed for the 43rd Annual Grants & Scholarships Awards.

The American Theatre Wing Grants and Scholarships will be presented at a luncheon on Thursday, December 7th Sardi's in New York City

Forty-eight New York non profit organizations and schools will be the recipient of ATW Grants & Scholarship. They are: Abington Theatre Company, The Acting Company; AMAS Musical Theatre; The American Place Theatre; Atlantic Theatre Company; Barrow Group; Blue Light Theatre Company; City Center Encore Series; Classic Stage Company; The Directors Company; The Drama Department; The Drama League; The Ensemble Studio Theatre; The Foundry Theatre, Inc.; HB Playwright's Foundation; Intar Hispanic American Art Center; The Irish Repertory Theatre; La MaMa E.T.C.; Lincoln Center Theater; Manhattan Class Company (MCC); Manhattan Theatre Club; The Melting Pot Theatre Company; Mint Theatre; Musical Theatre Works; New Dramatists; New Federal Theatre; The New Group; New York Theatre Workshop; Playwright's Horizons; Primary Stages; Public Theatre; Puerto Rican Traveling Theatre Co.; Roundabout Theatre Company; Second Stage Company; Signature Theatre Company; Thalia Spanish Theatre, Inc.; Theatre For A New Audience; TheatreWorks/USA; Vineyard Theatre; Women's Project & Productions; WPA Theatre; The York Theatre Company; as well as the following scholarships: Isabelle Stevenson Scholarship - LaGuardia High School; American Theater Wing Scholarship - to American Academy of Dramatic Arts; Willard Swire Scholarship - Actors Work Program; Brendan Gill Playwrighting Award - Talent Unlimited High School; Bernard B. Jacobs Scholarship - DeWitt Clinton High School and American Theatre Wing Director Scholarship - Juilliard School.

This year's Grants Committee included Theodore Chapin, Jay Harris, Douglas Leeds, Jo Sullivan Loesser, Michael Price, Lloyd Richards, Isabelle Stevenson and Roy A. Somlyo.



DEAR WORLD originally a flop on Broadway has been re-written by Jerry Herman and being revived at Goodspeed-at-Chester/The Norma Terris Theatre, Chester, CT through December 10, 2000.

Music and Lyrics by Jerry Herman Book by Jerome Lawrence and Robert E. Lee.

Herman brings his creative vision and enchanting melodies to Goodspeed-at-Chester to develop a new version of his 1969 musical based on The Madwoman of Chaillot, a charming fable that celebrates the innocent wisdom of a Parisian eccentric's dream to save the world from capitalism.

Patrons are receiving some bonuses. Those attending any Sunday at 6:30pm performance and your name will be entered to win a free CD of the original cast recording of Dear World. There are also TALKBACKS where theater goers participate in audience discussions with the creative staff following the Thursday evening performances on November 30 and December 7.

THE SPITFIRE GRILL a new musical has its world premiere at the George Street Playhouse. Music and book by James Valcq lyrics/book by Fred Alley based on the film by Lee David Zlotoff. The Spitfire Grill is the winner of the Audience Award at the Sundance Film Festival. November 25-December 24 at the George Street Playhouse, New York.

FOREVER TANGO Aladdin Theatre for the Performing Arts, Las Vegas. November 21, 23, 24 & 25.

ANNIE GET YOUR GUN the national touring company starring Marilu Henner and Tom Wopat, November 21-26 in Seattle.

KTU's MIRACLE ON 34th STREET live at Madison Square Garden on Tuesday, December 19. Scheduled to perform are: Christina Aguilera, Marc Anthony, Toni Braxton, Melanie C, Destiny's Child, 98 Degrees, Lara Fabian, Son By Four, Gloria Gaynor, Ricky Martin, Brian McKnight, Debelah Morgan, Jon Secada, Sisqo, Edwin Starr, Tamia, Deniece Williams, and other special guests yet to be announced.

DOWN THE GARDEN PATH a new play by Anne Meara, directed by David Saint, stars Eli Wallach, Anne Jackson, and John Shea. Minetta Lane Theatre, New York.

AMERICAN RHAPSODY a musical revue starring KT Sullivan and Mark Nadler presents songs of the Gershwins. Directed by Ruth Leon with musical staging by Donald Saddler. The Triad Theatre, NYC.

MARK TAPER FORUM NEW WORKS FESTIVAL has begun with The Lalo Project by Diane Rodriquez and Jose Delgado which staged its reading this week-end. Other selections for this prestigious event include: Border Ballad by Ruben Martinez on November 30. Floating Weeds by Philip Kan Gotanda on December 1, Gold by Diana Son on December 2, The Giver by Kim Dunbar also on December 2, Frankincense by John Rafter Lee on December 3, Dog Mouth by John Steppling on December 6-7, The Fair Hope Memorial by Louise Schwarz on December 8, The Circumference of a Squirrel by John S. Walch on December 9, The Home Life of Polar Bears by Hilly Hicks, Jr. December 9, Isthmus by Roger Arturo Durling on December 10, Will He Bop, Will He Drop? by Robert Alexander on December 13-14, The Heard of a Man by Robert Glaudini, on December 15, Middle Passage by Lynn Manning on December 16, and Good Thing by Goldberg on December 16. All readings are free and tickets are distributed on a first-come, first serve basis at the Actor's Gang box office, Los Angeles.


WHO'S THANKFUL TO BE WHERE


DIXIE CHICKS in Los Angeles, CA at the Staples Center on November 21. Then it's on to Oakland, California for a performance at the Oakland Arena on November 26.

SHIRLEY CAESAR takes center stage on November 22 in San Diego, CA at the Copley Symphony Hall. The next night she does it again at the Universal Amphitheatre in Universal City, CA. Then on Friday she's in the spotlight in Oakland, CA at the Paramount Theatre. On Saturday it's a show at the Seattle Center Opera House in Seattle, WA.

CLEO LAINE is back in Europe November 23 - High Wycombe, The Swan November 24 - JD: The Stables - Megajazz November 25 - Kings Lynn, The Corn Exchange November 26 - Hoddesdon - Broxbourne Centre.

SARAH BRIGHTMAN is also across the pond. On November 21 she's in Oslo at the Spektrum November 22 in Stockholm at the Globen Nov. 24 in Borlange at the Kuppolen November 25 in Gothenburg at the Scandinavium November 26 in Copenhagen at the Forum November 27 in Aalborg at the Aarlborghall.

MICHAEL FEINSTEIN performs in Amherst, MA in the BankBoston Celebrity Series at the University of Massachusetts /Fine Arts Center Concert Hall on November 21.

MARC ANTHONY will host New Year's Eve at Madison Square Garden. Tickets go on sale tomorrow, November 20 at 9a.m.

FRANKIE LAINE stars at the Suncoat Resort, Las Vegas November 24-26

'N SYNC at the Staples Center, Los Angeles November 26-28.

BOYZ II MEN headline Sams Town, Las Vegas November 26.

KEVIN JAMES takes a break from his hit TV show to show up at the Hilton Hotel, Las Vegas November 24-35.

DAVID SPADE also takes a break from TV to step into the spotlight at the Rio hotel, Las Vegas November 24-25.

MONTGOMERY GENTRY performs at Coyote Joe's, Charlotte, NC on November 24. Montgomery Gentry is currently on the charts with All Night Long, a duet with Charlie Daniels.


THIS AND THAT

WALKING UP AND DOWN The Hollywood Christmas Parade, billed as the world's largest celebrity procession steps off it's 69th annual two-mile walk about on November 26. More than 100 stars and characters - which could be redundant - will ride aboard an assortment of floats and classic vehicles.

In New York, Macy's Annual Thanksgiving Day Parade brings in the holiday season. First appearing in 1927, Macy's signature larger-than-life helium character Balloons will proudly take flight in the skies high above New York in the 74th annual event.

This year's festivities will be hosted by Katie Couric, Matt Lauer and Al Roker from the Today Show.

This year's celebrity performers include stars from The Music Man and Seussical, BBMak, Baha Men, The Corrs, Emeril Lagasse and more. New balloons and floats include Mickey Mouse, Dragon Tales' Cassie, Mother Earth, Old Lahaina Luau, Simple Simon, and the Three Little Pigs.




Those Three Little Pigs caused some unusual publicity for Ann Hampton Callaway, who currently stars in the Broadway musical Swing! A news release had her singing and dancing on top of three pigs. Those who know and like the lovely lady thought she deserved a better social life than that - not to mention the negative publicity from PETA. Turns out there is a float called The Three Little Pigs and the entertainer will be doing her thing on that.

For those in the New York area on Wednesday - stop by and watch the balloons come to life from 3-10 pm near the American Museum of Natural History. Traditionally an evening event, Balloon Inflation, the coming to life of Macy's giant helium Balloons, will now be open in the afternoon for more family fun! The large Balloon line-up - 14 giant character Balloons and 17 novelty Balloons in all takes up two full city blocks to accommodate their expansive inflated dimensions. By mid-morning, the deflated Balloons arrive in their crates and enormous canvas drop cloths are laid out to cover all of 77th and 81st Streets, between Central Park West and Columbus Avenue adjacent to the American Museum of Natural History.

The magic begins as the Balloons are carefully unrolled onto the ground cloths, then tethered with nets and anchored with sandbags placed at five-foot intervals. These retaining nets are crucial to this operation as they prevent the Balloons from taking off as they are being inflated.

Macy's technicians and crews fill the giant Balloons with helium - from four industrial tank trailers supplying almost a quarter million cubic feet - or almost enough gas for one political candidate pontificating in a general election. The helium is pumped into the separate compartments of each Balloon.

A national audience of 60 million is expected to tune into NBC-TV's broadcast of the annual parade





Mention BROADWAY TO VEGAS for Special Consideration
Call (800) 942-9027









Next Column: November 26, 2000
Copyright: November 19, 2000. All Rights Reserved. Reviews, Interviews, Commentary, Photographs or Graphics from any Broadway To Vegas (TM) columns may not be published, broadcast, rewritten, utilized as leads, or used in any manner without permission, compensation and/or credit.
Link to Main Page
---
Laura Deni


CLICK HERE FOR COMMENT SECTION