! >
Broadway To Vegas
  
  REVIEWS INTERVIEWS COMMENTARY NEWS

| | |
| --- | --- |
| | |
THE PROFOUND POWER OF LISTENING - - HARTNELL TO AMIES: COUTURE BY ROYAL APPOINTMENT - - ALBUM COVERS BY JOHN BERG - - WE ARE MOST AMUSED - - MINNESOTA ORCHESTRA LOCKOUT FORCES CANCELLATIONS - - MASTERWORKS BROADWAY CD SEVENTEEN REVIEW - - ARABIAN NIGHTS THEMED BAHRAIN NATIONAL AMPHITHEATRE - - GOLDEN BOY TALK - - DONATE . . . Scroll Down


Copyright: November 18, 2012
By: Laura Deni
CLICK HERE FOR COMMENT SECTION

THE PROFOUND POWER OF LISTENING

When disaster strikes the victims need emotional and spiritual help as much as they need information about housing, food and insurance forms. Unfortunately, too many use the tragedy of others to take advantage.

That can even apply to proselytizing religion groups who see the desperate, emotionally ragged victims as easy prey for conversion. Sort of a pray to prey mindset.

Seeing that doesn't happen to the emotionally wounded from Hurricane Sandy is Disaster Chaplaincy Service (DCS), New York Region's multifaith, multicultural, multilingual organization that assures skilled and appropriate spiritual care for all people affected by disasters. The DCS has mobilized its chaplains and created a incident command structure in response to Hurricane Sandy.

A member of the leadership team and a deployable chaplain is former Broadway public relations guru Joshua Ellis, who spent 30 years representing over 100 shows. He gave up flacking for The Great White Way and turned to hyping spirituality.


The Rev. Joshua Ellis. Photo by Allan Lokos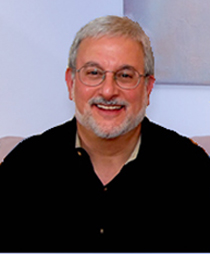 On his way to a deployment of clergymen to a Hurricane Sandy disaster site, the Philadelphia raised Ellis spent a few minutes talking with Broadway To Vegas about Disaster Chaplaincy Services and how they serve.

Established in 2001 just prior to the September 11th tragedy, DCS is the only organization in the New York City region whose chaplains are directly deployed alongside the Red Cross and New York City's Office of Emergency Management.

"We work hand in hand with the Red Cross of Greater New York and the office of Emergency Management. We are a team," Ellis stressed, referring to their unique ability to determine and then provide the type of care the disaster victims need.

"Every person in unique in their needs. Is this something in the social services area, like a social worker - and there is always a social worker on the premise through the Red Cross. Or, does this person need spiritual care, which is our area."

"Very specifically, we find the quietest place we can find in that particular shelter area. It might be a high school which has been immediately converted into a disaster spot. We try to find a quiet spot. Then we listen, and we listen. And, the more the person talks, the more we listen," continued Ellis who is calm, thoughtful and focused.

"It is our job to provide them with whatever they specifically need, based on what they say," he continued. "What do you say when a person says 'Why did God do this?' Some people blame God. Some don't. Some people can't understand why it happens at all. Some people have guilt about it. It's every shade of emotion. There is no one way in which everyone will respond. But our answer is - to listen. I know that may sound simple but it is the most profound thing we do."



Red Cross volunteers packing trucks delivering supplies to Hurricane Sandy victims. Photo: Red Cross

"I asked my inner loving voice - what do I need to do? My inner loving voice inevitably says listen with every cell of your body. Just keep listening and don't interrupt them.

"More than once, I have said nothing and people have said to me 'thank you for your good words,' and - I haven't said anything."

"It might sound like we aren't actively responding," he conceded then emphasized, "but we are actively listening. We don't practice listening in real life. We are always thinking about what our next sentence is going to be. If you remove the necessity of a verbal response, one can listen more deeply because there isn't that thought of - how will I answer that?"

The immediate thought patterns of those trapped in a disaster run the gamut.

"One person just might be glad everyone in their family is together and alive. Another person can be extremely upset because they don't have an alarm clock with them."

Because Hurricane Sandy was not confined to a single location, resources are strained and the needs can involve geography.

"Because there are so many people in so many places, each one has a different response Families, couples, singles. They need someone to talk to. I would say many, many times they are asking us questions for which there are no universal answers. When someone says 'why did this happen? Why did God do this?' If I started to give them my version of why God does it, lets it happen, then that is proselytizing and I can't do that."

"I may say, 'tell me how you're feeling about this.' I'm letting them get it out. They need to get it out."

Proselytizing is forbidden.

DCS's volunteer corps is made up of more than 125 chaplains representing 28 faith traditions and come from a diversity of ethnic backgrounds, speaking over 25 different languages. DCS chaplains do not don't proselytize; do not preach; they listen.

"Part of our screening process is that those people (with a hidden agenda) are weeded out," stressed Ellis. "Proselytizing is counter-productive. If you are of a particular spiritual path and somebody comes to you from a different one and using disaster as a wedge to get you into their belief system, that's proselytizing."

"No proselytizing is a core of the Chaplain's Service. There is a reason why we are deployed by the Red Cross. When there is a disaster they put up those police barricades around it. Just to get on the site you have to be vetted. We are deployed. We are part of a well oiled machine and all of us are well coordinated with our actions. It's part of a pre established plan."

"My background is, I'm an interspiritual minister," continued Ellis. "I have absolutely no agenda in terms of selling them a specific religious or spiritual path. I can spiritual counsel to a person of any religion or an atheist, because we are all in the not knowing together."

"I don't presume to have an answer because, frankly, I don't think there is an answer."

"Why did this person die? This was a good person," he rhetorically questioned. "I don't know why."

Helping those who have been informed of a death is one of the most emotionally charged arenas in which they work.

"Chaplains enter the notification room, if and only if the person/family asks for spiritual counseling, after (they have been) given the notification," explained Ellis. "We needed to talk to somebody about a person who died. We did it in the Xerox room of a high school's office because the Xerox office was the farthest away and the quietest."

No formal church or hospital 'quiet room.' A Xerox room where the closest thing to an alter were piles of Xerox paper boxes and the huge Xerox machine looked like an awkward statue.

"The Xerox room was quiet. It was where they could hear the information, process it and not have others hear their response, because that would make them uncomfortable."

How and where to be the bearer of bad tidings is "always an improvisation."

In response to the immediate needs in this region at this time, Disaster Chaplaincy Services has deployed its chaplains to The Rockaways, to shelters in New York City, and to locations in Bergen County, New Jersey.



From top left DCS Chaplain Reverend Julie Taylor, American Red Cross Great New York Director, Health & Mental Health, Diane Ryan, ARC/GNY Chief Response Officer Scott A. Graham, Father Emile Frische of the Disaster Chaplaincy Services and ARC/GNY CEO Theresa A. Bischoff. Photo: Anita Salzberg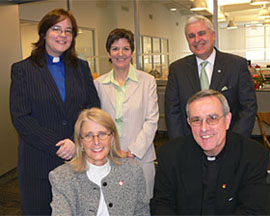 With a chaplain on call 24 hours a day, as soon as the organization becomes aware of an emergency situation, their first responder is prepared to arrive onsite immediately and/or dispatch another (geographically closer; language appropriate) chaplain or chaplains, as needed. The chaplain remains in the area throughout the emergency situation, working with individuals affected by the event and with other disaster relief professionals. Chaplains may continue to staff a situation over the course of several days or weeks.

In the case of a line of duty death or a multiple fatality disaster, DCS often plays an ongoing role at funeral, memorial and other commemorative services.

The Incident Commander is Rev. Julie Taylor, who served as executive director of DCS for six years, specializes in critical incident response, trauma and disaster spiritual care. During the 9/11 recovery she was a chaplain at St. Paul's Chapel at the World Trade Center site.

Rev. Taylor explains the unique challenges of Hurricane Sandy: "It is different than all the other incidents we have responded to in the last ten years. Not only is the devastation far more pronounced, it is widespread and many of our volunteer chaplains have been directly affected as well. We are going to be in this for many, many months. Response-wise it is much more akin to our 9/11 response than anything we have done since."

Rev. Taylor states, "This is an 'all hands on deck' response. DCS's 'just in time' training sessions begin this week and we are accepting applications from faith leaders for future deployment in the greater New York area."

Largely a volunteer organization with only two part-time paid employees, 85% of their budget goes directly to providing spiritual care. Thus, the budget is derived from a prayer for the generosity of others.

For areas of the country which are prone to natural disasters, religious leaders might take a page from the DCS.

"We don't have branches in other cities," said Ellis. "I wish other places would start their own DCS."

Ellis spend decades representing megawatt stars and their Broadway opening shows. It was the opening night circuit followed by the opening night party, enjoying the best of gourmet food. Today his lifestyle is the disaster circuit, eating survival rations and caring about people whose names have never been on Page Six of The Post.

Why?

"When I worked in the theater I worked in a really golden time. But, that wonderful has ceased to be," he replied. "One thing became less interesting to me and one thing became more vital."





Broadway To Vegas is supported through advertising and donations. Priority consideration is given to interview suggestions, news, press releases, etc from paid supporters. However, no paid supporters control, alter, edit, or in any way manipulate the content of this site. Your donation is appreciated. We accept PAYPAL. Thank you for your interest.



ART AND ABOUT


HARTNELL TO AMIES: COUTURE BY ROYAL APPOINTMENT

Detail from Norman Hartnell and models in Vogue, March 1953. Photograph: Norman Parkinson Archive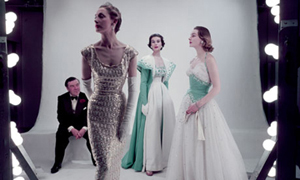 celebrates the timeless elegance of London couture and explores how the Queen's patronage of ground-breaking British designers helped to establish London as an international fashion center after the Second World War.

On display are more than 150 outfits, including ballgowns, cocktail dresses and ready-to-wear designs worn by British high society.

While the English have been renowned for their tailoring since the 18th century, there was little typically British couture until Norman Hartnell opened in 1923.

His elegant gowns attracted royal and aristocratic customers. Known for the design of the Queen's wedding dress in 1947 and Coronation Dress of 1953 – the iconic dress of the mid-twentieth century – Hartnell (1901–79) expressed the characteristics and the quality of British high fashion and set the standard for generations to come.

This exhibition begins with the opening of Norman Hartnell's first salon in 1923 and British high society's 'Bright Young Things', before discussing the advent of Hardy Amies (1909–2003) and Frederick Fox (1931–) amongst the leading couturiers of the post-war years and the fashionable world of London dress-making and millinery.

It explores Hartnell's long career, his landmark art-moderne House of 1935, war-time Utility designs and his well-known fashions of the 1950s and 1960s; particularly the glamorous and romantic eveningwear embellished by Hartnell's famous in-house embroiderers.

Several previously unseen watercolor sketches of his designs for the Coronation dress, which was embroidered with gold and silver thread, seed pearls and crystals and featured the floral emblems of the United Kingdom and the Commonwealth, are on display alongside sketches of the dresses worn by Queen Mary, the Queen Mother and Princess Margaret to the ceremony at Westminster Abbey.

Other sketches of his designs for the Queen include a black dress embroidered with white beads, described by Hartnell as the "First cocktail dress for HRH Princess Elizabeth now HM the Queen" from circa 1947.

On another sketch featuring a slim-fitting "gold tissue evening dress", Hartnell wrote: "A suggestion for The State Opening of Parliament". The Queen opted to wear a modified version of the dress for a state banquet given for her and the Duke of Edinburgh by the king of Denmark in 1957.

Samples of Hartnell's embroidery designed for dresses worn by the Queen for overseas state visits during the 1950s and 1960s are also included.

Renowned for his romantic, full-length evening gowns, Hartnell, who continued to design for the Queen until his death in 1979, once said: "I despise simplicity. It is the negation of all that is beautiful."

The Hartnell-designed wedding dress worn by Lady Anne Coke, the Queen's maid of honor at the Coronation, at her wedding to Colin Tennant, Lord Glenconner, in 1956, is also be on display.



A stunning 1953 evening gown by Hardy Amies which was featured in Vogue Magazine.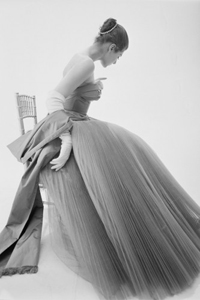 Sir Hardy Amies' career began as designer at Lachasse, noted for its tailored suits. He was in tune with Christian Dior's New Look, by 1951 Princess Elizabeth ordered from him, and as Queen Elizabeth II did so for the next five decades.

He was credited with transforming her daytime wardrobe with sharp, tailored coats, dresses and jackets. For her first ever televised Christmas message in 1957, she wore an Amies dress featuring a sweetheart neckline and a bow bodice.

Amies also became a successful menswear designer in 1959 with the first recorded men's catwalk show. The clothes were fashionable and affordable, and the bespoke tradition continues today.

Hartnell to Amies also highlights the milliner's role in London couture through the work of Australian-born designer Frederick Fox; his most famous designs are the hats he created for Queen Elizabeth, Queen Elizabeth the Queen Mother, Princess Diana and many celebrities worldwide. The process and craft involved in hat-making is also be explored.

The display includes a replica of the pink hat featuring 25 fabric bells which the Queen wore to a service of thanksgiving at St Paul's in 1977 to mark her Silver Jubilee.

The exhibition ends with a discussion of the design house in the current fashion industry and the resurgence of British heritage brands, traditional tailoring and dressmaking.

Dennis Nothdruft, Curator of Fashion and Textile Museum, commented: "The creativity and craftsmanship of these designers is breathtaking and deserving of contemporary attention. With over 50 examples from private lenders we will be featuring British couture rarely seen in public before."

The exhibition is organized by The Fashion and Textile Museum in London and curated by Dennis Nothdruft and Michael Pick. On display through February 23, 2013 at The Fashion and Textile Museum in London.

JOHN BERG in a 25-year career as Art Director for Columbia Records, John Berg designed over 5,000 record covers.

It was the time when music spun on vinyl platters that were encased in 12X12 inch sleeves.

The artwork on the cover was just as important in selling the LP as a book cover is to a book, or whose picture is on a magazine cover.

Significant.

Berg was art director (and later creative director and vice president) of Columbia/CBS Records from 1961 until 1985. It was the golden age of album covers and from his office in New York City, Berg reigned.

He was nominated for 29 Grammy's and won four and countless other music and design industry awards.

Berg's works include the first Bob Dylan album, Simon and Garfunkel's Bridge Over Troubled Water, all of the Chicago albums and Bruce Springsteen's' Born To Run.

Nearly 100 of his iconic album covers are on view through January 6, 2013 at Guild Hall in East Hampton, New York.


SWEET CHARITY


WE ARE MOST AMUSED a comedy extravaganza to raise vital funds for The Princes' Trust work with disadvantaged young people.

A among the acts taking to the stage at the Royal Albert Hall include Rowan Atkinson, Jimmy Carr, Miranda Hart and E4 comedy trio The Midnight Beast, Stephen K Amos, Sanjeev Bhaskar, Omid Djalili, Milton Jones, Patrick Kielty, Jon Culshaw, Helen Lederer and Justin Lee Collins.

There will be contributions from Ben Elton who is writing a one-off sketch for the event and the fabulous Dame Edna Everage.

Wednesday, November 28, 2012 at The Royal Albert Hall in London.

VETERANS' VOLUNTEER RATES is a survey conducted by the AARP which shows Nevada tied at the bottom with Arkansas for the yearly percentage - 19.5% - of veterans who engage in any type of volunteer activity. Topping the list was Nebraska with a 35.9%. New York came in with 23.4% and California scored 26.6%.


CONCERTS FORCED TO RE-SCHEDULE DUE TO MINNESOTA ORCHESTRA LOCKOUT


Bah! Humbug!

No happy holiday tunes from Minnesota musicians.

Six December music programs have been cancelled and five programs are in the process of being rescheduled for next year's holiday season as the off-key play between the Minnesota Orchestral Association (MOA) and its union musicians drags on.

The impacted performances involve dates from Friday, November 30, 2012 through Sunday, December 23, 2012.

Both sides welcomed a November 15 letter from music director Osmo Vanska calling for a return to the negotiating table.

Management locked out the musicians October 1 after the two sides were unable to reach a new contract. Vanska is credited with elevating the Minnesota Orchestra to one of the best in the world, but has refrained from commenting about the dispute - until now.

In Thursday's announcement orchestra officials noted that contract talks with its musicians are currently at a standstill, and maintain that union negotiators have not submitted a counterproposal to the orchestra's last contract offer.

Vanska indicated he may be forced to consider canceling proposed recording projects and an upcoming European tour.

Musicians representative Doug Wright hoped Vanska's letter would be pivotal, but emphasized that the original management proposal includes such large cuts that musicians feel they can't make a counterproposal.

"I'm hoping that this breaks the log-jam," Wright said referring to Vanaka's letter.

Wright is holding out hope that management will make another offer, but Minnesota Orchestra Board Chair Jon Campbell said that won't happen.

"We are very disappointed that we are no closer to an agreement today than we were in April," said Minnesota Orchestra Board Chair Jon Campbell. "In consideration of the needs of audiences, guest artists and our performance venue to make alternate plans for the holiday season, we feel we have no choice but to cancel performances through December 23.

Cancelled concerts:

Rachmaninoff's Piano Concerto No. 2, November 30-December 1
Brandenburg Concertos, December 6-8
'Twas the Night Before Christmas, December 8
Tonic Sol-fa, December 10
Handel's Messiah, December 13-16
The African Children's Choir, December 20

Rescheduled Concerts slated for the 2013 Holiday Season with new dates if known.

Celtic Woman, December 7 - rescheduled date TBA
Chris Botti Christmas, December 14 - rescheduled date November 29, 2013

The MOA's final proposal offers a total package averaging $119,000 per year, including an average salary of $89,000 plus $30,000 in benefits per musician.

The proposal also includes 10 weeks of paid vacation and up to 26 weeks of paid sick leave.

In 2011, the Minnesota Orchestra posted a $2.9 million deficit, the largest in the Orchestra's history.


BAHRAIN OPENS ARABIAN NIGHTS THEMED AMPHITHEATRE - PLACIDO DOMINGO IS FIRST STAR
The $50 million Arabian Nights themed Bahrain National Amphitheatre.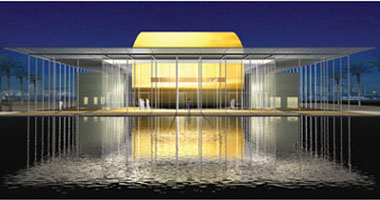 The elegant cubic glass structure with a golden-colored roof is the new Bahrain National Amphitheatre. Boasting an Arabian Nights theme, the $50 million sea side structure officially opened on Monday, November 12, 2012.

The first performance will be Spanish tenor Placido Domingo on November 29th. The opera legend will deliver a show which will also feature sopranos Angel Blue and Micaela Oeste, accompanied by the Baden-Baden Philharmonic conducted by Maestro Jordi Bernàcer. The program consists of a selection of arias and duets from operas, operettas, musicals, zarzuelas and popular songs.

During the inauguration ceremony last week, King Hamad "expressed pride in the theatre's role in contributing to Bahraini society, highlighted numerous national activities on social, cultural and educational issues and praised Bahraini creative artists and their contribution to the Kingdom's progress in the arts and culture", according to a statement from the Information Affairs Authority.

Prince Al Waleed Bin Talal and Arab ministers of culture were present at the opening ceremony that included a presentation on the architectural design of the theatre inspired from the Arabian Tale of One Thousand and One Nights.

The National Theatre has an area of 127,756 square feet and has the capacity to seat 1,001 guests, making it the third largest theatre in the Middle East region. There is also a 100-seat room geared towards rehearsals, workshops and small events.

It was designed by the French Architecture Studio, which won this year's gold medal in the International Academy of Architecture's world competition.

The Architecture Studio also designed the Arab World Institute in Paris, the Muscat Cultural Centre in Oman, the City of Science and Techniques in Chongqing,China and the Onassis Foundation in Athens, Greece.

Following Domingo's performance will be a December evening of classical ballet by the legendary Russian Bolshoi Ballet Company.

Bahrain's National Museum has already gained fame as the third biggest in the Arab World, ranked after the Opera House in Egypt and Al-Sultania Opera in Oman. That venue was opened last year and is the first opera house in the Gulf region. With the addition of the National Theatre the area is sending a message of a strong intent to emphasize cultural activities.


THE MUSIC GOES ROUND AND ROUND




SEVENTEEN a musical based on the 1916 best selling novel by Booth Tarkington, featuring a score by composer Walter Kerr and lyricist Kim Gannon and a book by Sally Benson, has been released as a CD by Masterworks Broadway.

First of all, track 5, Summertime Is Summertime is a perfect ice skating song. All of those ice skating rinks which have opened for the holiday season should consider putting that track on their play list.

As for the Seventeen CD, Masterworks Broads has done there usually masterful job.

Seventeen billed as genial coming-of-age story - a loving snapshot of the era it depicts - pre-World War I small town America - filled with gee-whiz charm of the post-World War II era when the show was written and produced in 1951.

The plot centers around the youthful romance between 17-year-old Willie Baxter and the cutesy flirt Lola Pratt, portrayed by Kenneth Nelson and Ann Crowley respectively.

Kenneth Nelson would go on to create the role of Matt in The Fantasticks, and later as Michael in The Boys in the Band in 1968.

The book plays an important part in this CD because there is a lot of dialogue, all of which is clearly and distinctly understood. The musical numbers are bright, breezy and tuneful and all of the singers have gorgeous voices.

The show describes a life as - to quote the hero's mother in a song from Seventeen - "somewhere between a headache and a heartache and a laugh." It's about an era as we want to remember it. A feel good musical.

Track Listing:

1. Weatherbee's Drug Store (Dick Kallman; Bob Bakanic; Richard France; Jim Moore; Bill Reilly; John Sharpe)
2. This Was Just Another Day (Kenneth Nelson; Ann Crowley)
3. Things Are Gonna Hum This Summer (Ann Crowley; Ellen McCown; Helen Wood; Dick Kallman; John Sharpe; Jim Moore; Bonnie Brae; Richard France)
4. How Do You Do, Miss Pratt? (Kenneth Nelson)
5. Summertime Is Summertime (Helen Wood; Richard France; Ellen McCown; Dick Kallman)
6. Reciprocity (Ann Crowley; Bob Bakanic; Jim Moore; Richard France; Bill Reilly; John Sharpe)
7. Ode To Lola (Ellen McCown; Helen Wood; Joan Bowman; Bonnie Brae; Carol Cole; Sherry McCutcheon; Elizabeth Pacetti)
8. A Headache And A Heartache (Doris Dalton; Frank Albertson)
9. Ooh, Ooh, Ooh, What You Do To Me! (Harrison Muller)
10. The Hoosier Way (Harrison Muller; Helen Wood; Richard France; Jim Moore; Carol Cole)
11. If We Could Only Stop The Old Town Clock (Ann Crowley; Kenneth Nelson; Harrison Muller; Dick Kallman; Ellen McCown; Helen Wood)
12. I Could Get Married Today (Kenneth Nelson; Alonzo Bosan; Maurice Ellis)
13. After All, It's Spring (Ellen McCown; Dick Kallman).

Chorus and orchestra under the direction of Vincent Travers.


SPREADING THE WORD


GOLDEN BOY TALK On November 29, there will be a Platform Series talk with director Bartlett Sher and Walt Odets (son of playwright Clifford Odets) in the lobby of the Vivian Beaumont Theater, NYC. Admission is free and open to all; however, seating in the lobby is limited and available on a first-come, first-served basis only, beginning a half hour before the talk.

Golden Boy, the 75th anniversary production, has a cast which includes Seth Numrich as Joe Bonaparte; Tony Shalhoub as Joe's father; Danny Burstein as his trainer, Tokio; and Yvonne Strahovski as his girl, Lorna Moon, among a superb cast of nineteen.

Directed by Sher, performances are at the Belasco Theatre.

THE AHMANSON THEATRE IN LOS ANGELES has announced that Backbeat The Birth of the Beatles will be their January 20, 2012 - March 1, 2012 offering.

Before they were the Beatles, five rowdy working class lads from the docks of Liverpool rocked out eight days a week in the raucous clubs and red-light seediness of Hamburg, Germany, creating an epic new sound.

The U.S. premiere of this remarkable story about friendship, love and the sacrifice it takes to be an artist will be directed by five-time Tony Award nominee David Leveaux and co-written by Iain Softley and Stephen Jeffreys.

GARTH BROOKS wrapped up his Las Vegas contract on Saturday, November 17, 2012, having performed 180 shows at Wynn Las Vegas. His contract was for 5 years but Brooks opted against the final two years so he could go on a 2014 world tour and film a Live From The Wynn special, which will basically be the one-man show he did at the resort.

The world tour has been set for some time, promoted on the ticket buying site simply as the Garth Brooks World Tour. A few details were released last April. Some dates are posted, for instance March 14, 2014 at the BOK Center in Tulsa.


OTHER PEOPLE'S MONEY


LORD & TAYLOR

New York City's Lord & Taylor's flagship store. Photo: Laura Deni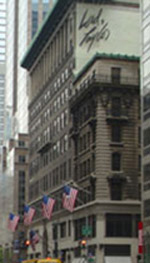 the flagship store in New York City will remain open on Thanksgiving!

That announcement a month ago shocked New Yorkers who are accustomed to stores being locked up tight, so that everyone can watch the Macy's Thanksgiving Day Parade, overeat and watch the assorted football games.

The get-a-leg-up on the Black Friday bonanza is causing the event to be monitored by other retailers.

"Lord & Taylor wouldn't do it if they didn't have the associates to volunteer," a source was quoted as saying. "They wouldn't do it if the workers weren't happy."

L&T said those working Thanksgiving Day are indeed volunteers and will get holiday pay.

Saks Fifth Avenue, Bergdorf Goodman, Macy's, and Bloomingdale's will be closed on Thanksgiving day.

Big-box stores such as Sears, Target, Topys R Us, and Wal-Mart plan to open Thursday evening. Last year Macy's opened a midnight.

Lord & Taylor is the first high end store to stay open on Thanksgiving day.

The department store will be open from 10 a.m. to 7 p.m. on Thanksgiving.

Just the flagship will be open on Thanksgiving. Suburban L&T stores will be closed.

A portion of the Lord & Taylor sales on Thursday will be donated to charity.



CONEY ISLAND CHRISTMAS by Pulitzer Prize winner Donald Margulies, based on the short story The Loudest Voice by Grace Paley. Directed by Bart DeLorenzo.

Margulies weaves together nostalgia, music and merriment in the world premiere of this new seasonal classic. A holiday show for people of all ages and all faiths, Coney Island Christmas introduces us to Shirley Abramowitz, a young Jewish girl who (much to her immigrant parents' exasperation) is cast as Jesus in the school's Christmas pageant.

As Shirley, now much older, recounts the memorable story to her great-granddaughter, the play captures a timeless and universal tale of what it means to be an American during the holidays.

Starring: Isabella Acres as Young Shirley, Maya Erskine as Anna Ling, Julian Evens as Henry Brown, Joe Gillette as Ira Pushkov, Arye Gross as Mr. Abramowitz, Annabelle Gurwitch as Mrs. Abramowitz, Lily Holleman as Miss Glace, Grace Kaufman as Clara, Angela Paton as Shirley Abramowitz, John Sloan as Mr. Hilton, Kira Sternbach as Evie Slotnick, and Andrew Walke as Jackie Sauerfeld.

The Ensemble includes: Eileen T'Kaye, Richard Realivasquez, Jim Kane, Rachel Hirshee, Ty Freedman, Sequoia Houston and Elitia Daniels.

Scenic Designer; Takeshi Kata - Costume Designer; Ann Closs-Farley - Lighting Designer; Lap Chi Chu - Composer/Sound Designer; John Ballinger - Production Stage Manager; Jill Gold - Assistant Stage Manager; Kyra Hansen.

November 20 - December 30, 2012 at Gil Cates Theater of the Geffen Playhouse in Los Angeles.

SECOND CITY'S A CHRISTMAS CAROL twists the classic Charles Dickens' tale.

Dickens' famous Victorian streets spring to life as Scrooge, Tiny Tim, that fat plucked goose and those know-it-all ghosts find themselves hopelessly mixed up with anachronistic characters, hilarious improv and an ever-changing stable of starry, drop-in special guests.

The Second City scoured their address book to assemble a gaggle of luminary alumni to create this world premiere. Writers Peter Gwinn and Bobby Mort join Director Marc Warzecha and a cast which features Frank Caeti, Larry Joe Campbell, Dan Castellaneta, Amanda Blake Davis, Joe Flaherty, Brian Stepanek and Jean Villepique.

November 24-December 30 at the Kirk Douglas Theatre in Culver City, CA.

THE ANARCHIST by Tony Award-nominated and Pulitzer Prize-winning playwright David Mamet, who also directs.

The two-actor drama which takes its inspiration from figures from the American political scene of the 1960s, stars Tony award winner Patti LuPone as an inmate serving a life sentence and Academy Award nominee Debra Winger, in her Broadway debut, as the prison official who determines whether she is fit for parole.

The Anarchist has scenic and costume design by Academy Award winner Patrizia Von Brandenstein and lighting by Tony Award winner Jeff Croiter. In previews at the Golden Theatre, NYC for an official opening on December 2. The world premiere is scheduled for a 14-week run through February 17, 2013.

GARDEN OF DELIGHTS by Fernando Arrabal.

Directed by Ildiko Nemeth.

A beautiful and troubled actress, Lais, is tortured by guilt and isolated in her palatial home. As she fields prying calls from a live celebrity talk show, her memories and emotions manifest before her. In Fernando Arrabal's Garden of Delights, the lines between reality, imagination and remembering blur. Lais is forced to confront the ghosts of her past, and the injuries she has sustained and inflicted.

The cast includes Kaylin Lee Clinton Belle Caplis, Brandon Olson, Chris Tanner, Geraldine Dulex, Denice Kondik, Francisca Magalhães, Valerie Miller, Florencia Minniti, Devin Nelson, Emma Pettersson, Alexandra Pike, Juliana Silva and Jeanne Lauren Smith.

The creative team includes Ildiko Nemeth (Set Design), Federico Restrepo (Lighting Design), Egle Paulauskaite (Costume Design), Laia Cabrera and Isabelle Duverger (Projection Design), Ildiko Nemeth and Catherine Correa (Movement) and Fabiyan Pemble-Belkin (Principal Administrator).

The Theater for the New City with the support of Spain Culture New York-Consulate General of Spain presents The New Stage Theatre Company's Garden of Delights with performances through December 2, 2012 at Theater for the New City - Johnson Theater.


WHO'S WHERE




BELA FLECK AND THE MARCUS ROBERTS TRIO The world's premier banjo player, Béla Fleck has earned 14 Grammy Awards and garnered a reputation for genre-bending musical collaborations. He joins virtuoso pianist Marcus Roberts, drummer Jason Marsalis and bassist Rodney Jordan for this exuberant and eclectic performance exploring the profound connections between bluegrass and classic jazz. Friday, November 23, at the Scottsdale Center for the Performing Arts in Scottsdale, AZ.

CHORAL MUSIC EVENING IN THE CHAPEL ROYAL featuring the Choir of HM Chapel Royal, Rufus Frowde, organist and Lesley Shrigley Jones, concert 'cellist. Conducted by Carl Jackson MVO. The program will be framed by Zadok the Priest and Hallelujah (from Messiah) by George Frideric Handel, Composer of Music for the Chapel Royal. It will also include three pieces from the Choirbook for The Queen, a collection of forty-four contemporary anthems published to mark the Diamond Jubilee of Queen Elizabeth. November 20 at The Chapel Royal at Hampton Court Palace, London.

SEAL entertains Tuesday, November 20, at the Hala Gdansk Sopot in Gdansk, Poland. Wednesday's engagement is in Warsaw, Poland at Kongresowa Hall.

LEONARD COHEN takes to the stage Tuesday, November 20, at the Credit Union Centre in Saskatoon, SK. On Friday he appears at the Akoo Theatre in Rosemont, IL.

AIR SUPPLY in concert Tuesday, November 20 at the USEP Gym at Davao City, Philippines. Wednesday's show is at the Convention Center in Apalit Pampanga, Philippines. On November 23 they perform at the Venetian Hotel in Macao.

BRIAN SETZER ORCHESTRA has a two nighter beginning Tuesday, November 20 at the Northern Lights Theater in Milwaukee, WI. On Friday they play at the Horseshoe Casino in Hammond, IN. Saturday finds them at Caesars in Windsor, ON and next Sunday, November 25, they get the feet tapping at the Carnegie Library Music Hall in Homestead, PA.

LADY GAGA brings her show to the Estadio Nacional in Santiago, Chile on Tuesday, November 20. On Friday she's in the spotlight at the Estadio De La Universidad Nacional Mayor De San Marcos in Lima, Peru.

ANDREA BOCELLI AND KATHERINE JENKINS perform November 23 at the HP Pavilion in San Jose, CA. On November 24 they are in Las Vegas with a show at the MGM Grand.

BRUCE SPRINGSTEEN performs Monday, November 19, at the Pepsi Center in Denver.


FINAL OVATION


RICHARD ROBBINS the composer who scored the glorious Merchant Ivory films such as A Room with a View, Howards End and The Remains of the Day, died November 7, 2012 at his home in Rhinebeck, New York of Parkinson's disease. He was 71.

The two-time Oscar nominee Robbins scored almost every film made by director James Ivory and producer Ismail Merchant from The Europeans in 1979 to The White Countess in 2005.

Robbins' work was celebrated at a 1996 benefit concert held at New York's Carnegie Hall that raised funds for Aids research.

He is survived by his longtime partner, composer and artist Michael Schell.








Next Column: November 25, 2012
Copyright: November 18, 2012. All Rights Reserved. Reviews, Interviews, Commentary, Photographs or Graphics from any Broadway To Vegas (TM) columns may not be published, broadcast, rewritten, utilized as leads, or used in any manner without permission, compensation and/or credit.
Link to Main Page
---
Laura Deni



For the snail mail address, please E-mail your request.
CLICK HERE FOR COMMENT SECTION