! >
Broadway To Vegas
  
 SHOW REVIEWS CELEBRITY INTERVIEWS GOSSIP NEWS

| | |
| --- | --- |
| | |
THE FLYING FIG THEATER DOES GIVE A ... - - HERB ALPERT DONATION - - THE HISTORY BOYS AT THE AHMANSON - - LOS ANGELES OVATION AWARDS - - CHARLOTTE RAE IN SF CABARET DEBUT - - MACY'S THANKSGIVING DAY PARADE HAILS BROADWAY - - PROMETHEUS ON STAGE AND SCREEN - - SAN FRANCISCO EXHIBITION MARIE ANTOINETTE AT THE PETIT TRIANON - - DONATE . . . Scroll Down


INNOVATIVE FLYING FIG THEATER DOES GIVE A ...


While the name Flying Fig Theater comes from the southern expression - I don't give a flying fig - Michaela Goldhaber, co-founder and director of the New York City based theater company, is quick to point out; "Yes, but there are plenty of things we do give a flying fig about.

Things like producing compelling theatrical stories about women's lives, through commissioning new plays by contemporary playwrights and rediscovering plays from the past. Flying Fig challenges standards: of beauty, through non-traditional casting; of social convention, via the stories produced and theatricality, by producing work in unconventional spaces.

Founded by Michaela Goldhaber and Heather Ondersma in 2002, Michaela, known as Mickey, spoke with Broadway To Vegas about her brainiac upbringing and the theater which is defying convention.



Mickey Goldhaber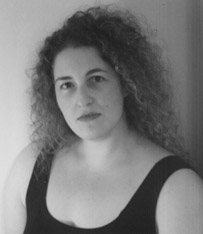 The Goldhaber family is famous as a physics dynasty. Mickey's DNA gene pool is serious brain power and accomplishment. Her aunt and uncle are Maurice Goldhaber and the recently deceased Gertrude Scharff Goldhaber. They were both eminent physicists who spent most of their careers at University of Illinois, Urbana-Champaign and then Brookhaven National Laboratory. One of their best-known pieces of work was a collaborative experiment which demonstrated that beta rays are electrons.

Mickey's parents are Gerson and Judith Goldhaber. Physicist Gerson is famous for his role in the discovery of the J/Psi particle. Fifteen years ago, he switched fields to observational cosmology, and he is an important member of the Berkeley-based Supernova Cosmology Project. Those blooming on the uncle and cousins branch of the family tree include; Fred Goldhaber, a Professor at the C.N. Yang Institute for Theoretical Physics at SUNY Stony Brook, NY., a physicist specializing in condensed-matter experiment, particularly spins of electrons confined to submicron semiconductor structures. David Goldhaber-Gordon is Assistant Professor of Physics at Stanford. His wife Ilana is a biochemist who completed her PhD in Biology at MIT. Sara and Jeremy Goldhaber-Fiebert live in Cambridge, MA. Sara is an anesthesiologist, and Jeremy a Ph.D. student in Public Health at Harvard.

So why isn't Mickey in a lab somewhere?

"I was raised to pursue what I loved, which was really a wonderful thing. I was never pressured to be a scientist, or an academic. It was very wonderful and supportive," she said of her upbringing.

"The really interesting thing is - my mother is a writer and a poet. She comes from a family of journalists. She started writing about science as a career. She really bridges the gap. She is an artist who really understands science, although she wasn't educated in science," said Mickey about a group of writers who may be the most intelligent of the breed. Although not scientists, they are required to not only have an inordinate amount of knowledge about the technical subjects they pen, but be able to write about the narrow focused area in a way which is both accurate and interesting.

Judith collaborated with her husband on retelling 100 of Aesop's famous sonnets. The resulting book, Sonnets from Aesop, in which sonnets by Judith are paired with Gerson's paintings, was honored with an IPPY (Independent Publisher Book Award) as one of the ten Outstanding Books of the Year published by an independent press in 2005.

Sarah Laughed: Sonnets from Genesis is the second collaboration between Judith and Gerson. It's a beautifully rendered interpretation which imbues familiar Biblical folklore with equal parts humor and wisdom. On Thursday, November 29 Judith Goldhaber will read from Sarah Laughed at Black Oak Books in Berkeley, CA.

Mickey's brother is Nat Goldhaber, a high-tech entrepreneur and venture capitalist while his wife Marilyn is an epidemiologist and member of the board of directors of the Claremont Canyon Conservancy.

Younger sister Shaya is also pursuing the arts as a makeup artist who has worked in film, television, and print.

"We've always been a very dinner table oriented family. In fact, since my brother has had his family, for awhile we were all back in California and every Friday night we would have a Shabbat dinner at my brother's house," she said of a family in which religion and tradition were always on going - although the table conversation was a little out of orbit.

"There was a time right after I finished college, where we'd sit at home and wait to hear what my dad has found out about the universe. He's involved in the Super Nova Cosmology group at Berkley. At that time it was to study the expansion of the universe and whether it was going to eventually stop expanding and contract, which is what a lot of people were predicting. But, instead they discovered that was it going to continue to expand, but that the expansion was actually accelerating. Then that raised the question of what's making it accelerate? So, now they are trying to find out what this other force is - this force which is counter to gravity which they are calling Dark Energy. They're trying to figure out what it is. At this point they don't know."

"After my mother retired from working as a journalist, she really went back to writing creatively and actually wrote two musicals about science," reported her proud daughter.



Stephen Hawking, Judith Goldhaber with HOU founder, Carl Pennypacker after a reception in Hawking's honor that featured the Oakland Symphony chorus performing some songs from Falling Through a Hole in the Air by Goldhaber with HOU founder, Carl Pennypacker. Stephen is writing "That was really good!!!" on his eyebrow-activated writing/speaking computer. Hands-On Universe (HOU) is an educational program that enables students to investigate the Universe while applying tools and concepts from science, math, and technology. Using the Internet, HOU participants around the world request observations from an automated telescope, download images from a large image archive, and analyze them with the aid of user-friendly image processing software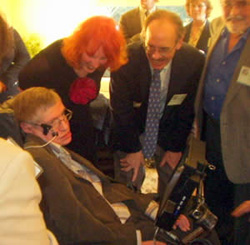 "She created one about research biologist Stephen Hawking (paralyzed by Lou Gehrig's Disease, he is known for his contributions to the fields of cosmology and quantum gravity, especially in the context of black holes) and one about Einstein and his first wife and their lost daughter."

"It's a production that my company Flying Fig hopes to produce some day. It's beyond our means at the moment, because it's a really big project, but it is something that we are very interested in."

"Because I was working in the theater I was actually able to help her get some contacts. She was able to get a production at San Francisco City College, since I knew the guy running the theater program. That was fun."

Mickey planted her feet in The Big Apple thanks to the prestigious Lincoln Center Director's Lab.

"They take a group of directors and we all got together everyday. Like classes - they bring in great directors like Tina Packer," she said of the British-born actress, director, author and founder of Shakespeare & Company. "A lot of interesting directors came in and spoke to us."

"There were several projects going on that we were able to sit in and watch how a director works. It was so special because usually directing is so isolated. You're the director and you have a room full of people. Here, it was a room full of directors. I really connected with a lot of people - particularly Heather who was the very first person that I met at the Lab. We really hit it off," she said of her business partner.

"It is a three week program. By the end of the program, I had decided it was time for me to move to New York. I moved with very much the idea - let's see if Heather and I can work together."

"We found ourselves producing something together in the summer of 2002. At some point we realized that we really work well as a team. This could be a model where two directors could help each other by taking turns directing and producing. It is a very simple partnership where we would enable each other to do our work."



Left to Right, Kai Dreicer, Flying Fig Theater Co-Artistic Director and Mom Heather Ondersma, and Alula Dreicer participating in opening ceremonies for Dutch Days. Photo by Paula Marie Susi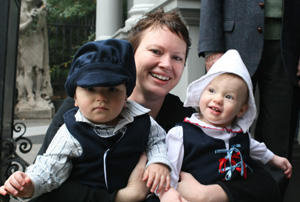 Recently the partnership has expanded - Heather gave birth to twins.

"They were born 14 months ago - one of each - a boy and a girl," reported Mickey who announced - "They made their Flying Fig debut on Wednesday, November 14. We did the opening ceremonies for Dutch Days. They had little Dutch costumes. It is so interesting, because a big part of organizing this production was figuring out child care."

The issue of women in the workplace raised the issue of pregnancy and childcare. Whether acknowledgement is politically correct or not - women are not hired, denied promotions, accounts and assignments routinely offered men because, in the back of the mind looms - what if this women becomes pregnant or her children need her? It's a serious and reasonable concern. The scale will always tilt towards what benefits the business - theater is a business.

How do you make motherhood work in the theater?

"It is very, very tough," conceded Mickey. "Years ago, for a long time all of the women directors that I knew and admired - none of them had children. I really thought - children and directing - is not something that can work together."

"Right now, our generation, almost all of the women directors I know are having children and are making it work. I think what is making it possible is that there is such a wonderful close knit community in off-off Broadway. It is really a very supportive community. That is what I learned in 2000 and what convinced me to move here."

"I am helping Heather as much as I can," said Mickey who has no children of her own. "Right now the days that Heather's regular baby sitter can't be there, we've got actors who have worked with us over the years who are coming in to baby-sit. We've got members of my family and her family, who live in the greater New York area, who have been incredibly supportive and helpful. Really, it is about having a community of supportive theater friends who are able to help make it work."

Selecting the productions "is really where the collaboration comes in," she continued. "We have our pet projects. For instance, New Amsterdams. The initial seed for that is that Heather is of Dutch descent. Many times we discussed how interesting it is to explore New York's Dutch heritage. That was something that meant a lot to her and was interesting to me. So, we decided to do a play about women in Dutch Manhattan. That was the starting point. Then we went to Ellen Anderson who we have used before."

Flying Fig's first production was Ellen K. Anderson's Liz Estrada, an adaptation of Aristophanes' Lysistrata, performed at La Plaza Cultural Garden's amphitheater as part of the 2002 New York International Fringe Festival. Flying Fig has continued to work with Anderson, commissioning her to write a play about the Triangle Shirtwaist Fire. Shirtwaist, a Musical Ghost Story premiered at the 2003 NYC Fringe Festival, and then had a sold-out run at the Lower East Side Tenement Museum in February 2004.

"We knew that if we gave Ellen our idea she'd run with it."

"It was also about the time this great book The Island at the Center of the World by Russell Shorto was published, which is a well written social history of the Dutch Colonial period in Manhattan," Mickey elaborated. "So, it was all good timing."



(L-R): Lucille Duncan as beaver Kitchi Amik, Jeannie Dalton as Margriet Hardenbroeck and Arlene Chico-Lugo as beaver Twee in a frenetic scramble for the land deed to Manhattan, Photo by Kila Packett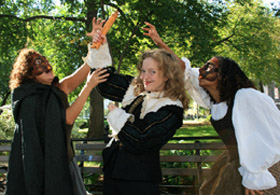 New Amsterdames takes a satirical look at early ventures in New York Commerce, including the beaver trade. Circa 1659, the land deed to Manhattan (legend says Peter Minuit bought it from the Lenape for $24 and some beads) is nowhere to be found. Will anyone be able to unearth it?

Enter a diverse cast of historically based figures from the Dutch colony of New Amsterdam, including doughnut inventor Anna Joralemon, first generation African-American farmer Dorothy Angola, entrepreneur/shipping magnate Margriet Hardenbroeck and an army of beavers. A frantic search for the deed ensues, with ever-changing alliances and motives, culminating magically in an astonishing natural phenomena arising some 350 years later in the Hudson River, covered by fictitious NY TV reporter, Sweetie Chin. Previews begin December 1 at the HERE Arts Center in Manhattan.

If there is a wealth of material, there is never enough wealth of the filthy lucre kind.

In scraping together the cash, Mickey put into play previous acquired knowledge.

"I actually spent the last six years working full time as a fund raising professional for a larger organization. I was at BAM for 3 1/2 years and I was at NY Theatre Workshop for the last 2 1/2 years and I left that to focus on Flying Fig. So, I have a lot of insight as to how New York theater funding works."

"Basically we started with friends and family. We sent out big, individual fun raising letters. We got wonderful little checks from family members and a few of them could afford a little more to give us a boost. We started to build up enough that we were able to produce - to move forward on a very limited scale."



Scott Boyd, Associate Professor of Theatre at Middle Tennessee State University where he is the Head of the Design program.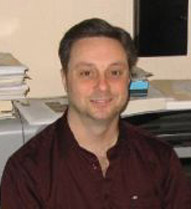 "Then we developed our survival tactic - and you've got to have one to have a company in New York," she stressed. "We formed an alliance with a University in Tennessee. Our designer Scott Boyd is on the faculty at Middle State Tennessee University. We've known him for many years and I've brought him to New York to do shows we us. He had the idea that we co-produce a show with his school. He designs the set there; they built it there and then they truck it to New York. All of that is still much cheaper than trying to build a set in New York. The University is a partner in the project. We host 5-6 interns from Tennessee for about 10 days. It is usually their first trip to New York. They are part of our technical process."

"On top of that, I finally cracked some of the more traditional funding sources. We are now getting funding from the New York City Dept of Cultural Affairs. This year we got funding for this project from The Netherland-America Foundation. We're starting to get to know some of the smaller, private foundations."

"It is a very difficult funding climate," she admitted. "Working at these larger organization, I know that. To get projects funded you've got to be more and more specific. You have to do a slanting towards an education or a community perspective. You get cynical about it. Even if that not really the initial goal - you learn well, if we have it about community you can get..."

Whether in terms of acquiring money or manuscripts The Flying Fig has risen above contrived.

"We are reaching out to playwrights all over the country and asking - Is there a women's story that you can tell? That's been fun. As we become more established we can take meetings with playwrights. Agents now let us know if somebody is going to be in town."

"My personal passion has been finding plays by women from classical theater. In 2003 we did The Wonder by Susanne Centlivre, a play from 1714.

In the works is a restoration play. "A double project where there is a new production about women from that period and then doing a play from that period," she explained.

"The Lost Daughter from Einstein is something that is very much in our minds. It's a full scale musical," she said of the most expensive type of production to mount. "We always work with music. We love music. What we do is find actors who also plays instruments In fact, I myself learned the accordion for a show we did a few years ago." While is doesn't perform on the birthdays-weddings-bar-mitzvahs circuit, she laughed - "I am being asked to refresh it for future projects."

"We have several little pots brewing and I don't know which one will work first," said Mickey about her theatrical profession, which is a little like the cosmos. Her scientific family has learned that not all of the stars are in the heavens - some of them are on their family tree.


MACY'S THANKSGIVING DAY PARADE INCLUDES BROADWAY


Celebrating its 81st year, the Macy's Day Parade always has some first class entertainment. The parade will step off with "Making Magic," a new tuned penned by Michael Feinstein with lyrics by Bill Schermerhorn, Macy's creative director. Members of Camp Broadway, the theatre arts education company, will perform the song.

This year the casts of Legally Blonde, will perform "What You Want"; the Mary Poppins,gang entertains with "Supercalifragilisticexpialidocious"; Xanadu, will offer a medley of the songs "All Over The World," "Magic" and "Xanadu" featuring Kerry Butler, Cheyenne Jackson, Curtis Holbrook, Anika Larsen, Kenita Miller, Andre Ward, Patti Murin, Marty Thomas and Ryan Watkinson. Young Frankenstein will be also be showing off The Great White Way.

The M&M's float is a tribute to Broadway. The M&M's will be costumed from Broadway shows. Green will be Elphaba from Wicked, Blue will be the Phantom, Red will be King Arthur, from Spamalot and Yellow and Orange will be from A Chorus Line. Performing on this float will be Lea Michele and Jonathan Groff, the stars of Spring Awakening, singing "Give My Regards to Broadway."

And Nikki Blonsky, who starred in the film version of Hairspray, will be singing "You Can't Stop the Beat" on the American Classics Malt Shop Float.

The original Christine Daae in London and Broadway's Phantom, Sarah Brightman, will be dressed as a Pirate Queen and will sing "The Journey Home" on the Jolly Polly Pirate Ship; and Feinstein and Tony winner Anika Noni Rose will perform another Feinstein-Schermerhorn song, "Give Me the Key to This Wonderful City," aboard the History Channel's New York Tin Toy float. Also strutting their stuff - the Radio City Rockettes.

NBC-TV will broadcast the 81st Annual Macy's Thanksgiving Day Parade November 22.



2007 NATIONAL MEDAL OF ARTS WINNERS were announced on November 14 by President George W. Bush and presented to the recipients in an East Room ceremony on Thursday, November 15. The President was joined by First Lady Laura Bush, Mrs. Lynne Cheney, Dana Gioia, Chairperson, National Endowment for the Arts, and Dr. Bruce Cole, Chairperson, National Endowment for the Humanities.

The National Medal of Arts is the highest award given to artists and arts patrons by the United States Government. The National Medal of Arts is awarded by the President of the United States to individuals or groups who, in his judgment, "...are deserving of special recognition by reason of their outstanding contributions to the excellence, growth, support and availability of the arts in the United States."

The nine recipients of the National Medal of Arts are: painter Andrew Wyeth, composer Morten Lauridsen; the author, essayist, poet, professor and painter N. Scott Momaday; the arts patron Roy R. Neuberger; the Old Globe Theater founding director Craig Noel; the guitarist and inventor Les Paul; the arts patron Henry Steinway; the painter George Tooker; and the Lionel Hampton International Jazz Festival at the University of Idaho.

THE 2007 LOS ANGELES STAGE ALLIANCE OVATION AWARDS were presented last Monday at the Orpheum Theatre. The honors, celebrating excellent in theatre, were hosted by Neil Patrick Harris. ( For a list of nominees and winners click here )

THE OBIE AWARDS announced the judges for the 53rd Annual Village Voice Obie Awards presentation. The Voice's chief theater critic Michael Feingold will again chair the Obie Awards committee for this season. Joining him will be Voice critic Alexis Soloski and the following guest judges: Variety critic Mark Blankenship; Bloomberg News editor and critic Jeremy Gerard; playwright-director Robert O'Hara ; set designer Neil Patel; and Time Out New York / New York Sun critic Helen Shaw. Clint Allen will serve as secretary to the committee. The awards ceremony will be held on May 19, 2008 in New York City. The Obie Awards were created in 1955 by Jerry Tallmer. Past recipients include Dustin Hoffman, Meryl Streep, William Hurt, Morgan Freeman, Mos Def, Amy Irving, Kevin Kline, Nathan Lane, Olympia Dukakis, Robert Duvall, Kevin Bacon, Alec Baldwin, Kathy Bates, James Earl Jones, Felicity Huffman and Harvey Fierstein, among others.



Broadway To Vegas is supported through advertising and donations. Priority consideration is given to interview suggestions, news, press releases, etc from paid supporters. However, no paid supporters control, alter, edit, or in any way manipulate the content of this site. Your donation is appreciated. We accept PAYPAL. Thank you for your interest.


ART AND ABOUT
Marie-Antoinette, a la rose, 1783. Oil on canvas.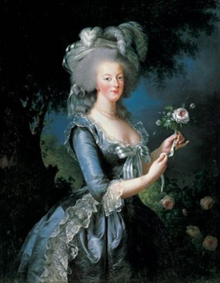 Marie Antoinette at the Pétit Trianon - For the first time to be seen outside France, here are the treasures of the Pétit Trianon, the small château on the grounds of Versailles, used by Marie Antoinette. During her reign in the 18th century, the queen herself ordered the furniture, paintings, and sculpture shown in the exhibition.

The Petit Trianon is being restored and remodeled, allowing this once-in-a-lifetime opportunity for an American museum to stage this kind of an exhibition. Mysteries, myths and legends surround Marie-Antoinette. The stories of her extravagances and excesses, many of them half-truths or exaggerations, ultimately unseated the French monarchy, imprisoned the royal family for years and finally sent them to the guillotine.

Marie-Antoinette, the Austrian-born queen of Louis XVI of France, was given the Petit Trianon upon her accession in 1774. An icon of French neoclassicism, it exemplifies the perfection of 18th-century French architecture through its delicate balance of form and proportion. Its interiors were furnished to the queen's order with pieces of the utmost elegance, restraint, and beauty. This exhibition gives a visual history of the Petit Trianon through 88 pieces of the finest furniture, paintings, and sculpture from this château.

It is complemented by watercolors, prints, and drawings of the house and its innovative landscaping, including the picturesque Hameau, a rustic village where the queen and her favorites could relax away from the prying eyes of the court at Versailles.

An exclusive exhibition at San Francisco's Legion of Honor uses the contents of the Petit Trianon, Marie-Antoinette's private residence, to look behind the 200-year-old myths and discover concrete evidence of the personal preferences of Marie-Antoinette and how they led to the creation of some of the finest decorative arts of the 18th century. Organized by the Musée National of the Château de Versailles the exhibit opened November 17 and continues through February 17, 2008 at the Legion of Honor in San Francisco.


SPREADING THE WORD


PROMETHEUS ON STAGE AND SCREEN As the introducer of fire and inventor of human technology, Prometheus has been seen as the patron of human civilization; his story providing a rich legacy to the arts, crafts, myths and literature of Western culture. Illustrated presentations by classicists, film and stagecraft experts and Museum curators take a close look at the Prometheus myth and its dramatization for stage and screen.

Saturday November 24 at the British Museum, London.


OTHER PEOPLE'S MONEY


HERB ALPERT is having his praises sung by the University of California, Los Angeles after the Grammy winning trumpeter and record company executive - he's the A in A&M Records - donated $30 million to the school - the largest donation ever made to support the arts in the University of California system. To say 'thank you' the institution of higher learning will name the school The U.C.L.A. Herb Alpert School of Music, which will encompass the university's departments of music, musicology and ethnomusicology. The school will "contribute to what we hope will be a transformation of music studies in American higher education through an open and inclusive approach to all music," said Christopher Waterman, dean of the university's School of the Arts and Architecture.

The UCLA Herb Alpert School of Music will be housed in existing facilities in the university's Schoenberg Hall.


IT'S BEGINNING TO LOOK A LOT LIKE....
Last Sunday afternoon and evening in Los Angeles, Santa's Helpers were decorating the lobby of the 3,197 seat Dorothy Chandler Pavilion.

Concertgoers will delight at the gorgeous bevy of white lit Christmas trees banking the center staircase.



THE HISTORY BOYS by Alan Bennett. Directed by Paul Miller. Original Direction by Nicholas Hytner opened last Wednesday at the Ahmanson Theatre in Los Angeles. Broadway To Vegas caught the show on Sunday. This production is not quite as intense as the Tony award winning Broadway mounting and missing the incredible Richard Griffiths who won a Tony for his portrayal of Hector, the willfully unpragmatic teacher. That aside, this is a provocative production for people who don't object to thinking while in a theater. Funny and poignant banter explores the anarchy of adolescence, the nature of history, the methods and aim of education and the pressure for this chaps to gain entrance to a "good" school.

Dakin Matthews does a moving performance cast as Hector. His pedagogy is challenged by Irwin (Peter Paige), the new hire whose job description is to springboard the boys into Oxford or Cambridge - think Harvard and Yale.
Standouts among the boys are; Brett Ryback as Scripps, the God-fearing student who provides both narration and piano accompaniment, Seth Numrich, who plays the manipulative class hunk Dakin, and Alex Brightman as Posner, the love-struck gay Jewish boy who croons Bewitched, Bothered and Bewildered.

The all American cast features; John Apicella, Adam Armstrong, Ryder Bach, Alex Brightman, Charlotte Cornwell, H. Richard Greene, Cord Jackman, Sean Marquette, Dakin Matthews, Andrew McClain, Seth Numrich, Peter Paige, Ammar Ramzi, Demond Robertson, Brett Ryback, Edward Tournier and Elizabeth West.

The audience was a genetic mix of every possibility - all of whom seemed to be enjoying the show. A number of school groups were also in attendance. Well behaved, attentive, responsive with some even taking notes.

Production Design by Bob Crowley. Lighting Design by Mark Henderson. Original Sound Design by Colin Pink. Sound Design by Jon Gottlieb.

Produced by special arrangement with the National Theatre of Great Britain and the producers of the original Broadway production.

Performances through December 9 at The Ahmanson in Los Angeles.

THE NEW YORK CITY BALLET'S annual holiday season presentation of George Balanchine's Nutcracker will run for 45 performances from November 23 through December 30.

ATLANTA a world premiere written by Marcus Hummon and Adrian Pasdar. Music by Marcus Hummon. Directed by Randall Arney and Adrian Pasdar.

Toward the end of the Civil War, in the waning days of the Confederacy, a young Yankee assumes the persona of a Confederate soldier in order to stay alive behind enemy lines. What he discovers is a world of Shakespearean players, the love of an elusive woman, and his true soldier within.

Filled with stunning bluegrass and soulful country music, Atlanta is unlike any musical you have seen. Grammy award winner Marcus Hummon, a true Nashville star, and Adrian Pasdar, star of NBC's Heroes, have taken on an epic subject and infused it with intimacy and spirit.

November 20 — December 30, at the Geffen Playhouse in Los Angeles.

WHITE CHRISTMAS Based upon the Paramount Pictures Film. Written for the screen by Norman Krasna, Norman Panama and Melvin Frank. Music and Lyrics by Irving Berlin. Book by Paul Blake and David Ives. Directed by Kent Thompson.

In association with Denver Center Attractions November 23 - December 30 at The Buell Theatre, Denver.

LITTLE HOUSE ON THE PRAIRIE a new musical based on the beloved Little House books by writer Laura Ingalls Wilder, will have it's premier at the Guthrie in Minneapolis.. Francesca Zambello, an internationally recognized director of opera and theater, will direct the world premiere, slated for summer 2008 on the McGuire Proscenium Stage.

"There is no better place to develop this musical than the Guthrie in Minneapolis," Zambello said. "I wanted to make a musical from these poignant stories the moment I rediscovered them as an adult. Reading of the exuberance of these characters as they encountered the immense power and force of the Prairie speaks to our history as a country and a people. It did in the 1880's and it does now. Our musical focuses on the independent spirit of the teenager, Laura Ingalls Wilder and her struggles to become an adult; along side the story of the land - as it becomes the American West. The Guthrie allows us to fuse together an integral part of American culture with unique theater writers of today in the heartlands where the Little House began its life." Little House on the Prairie, with lyrics by Donna DiNovelli, music by Rachel Portman and book by Rachel Sheinkin, has been in development and the Guthrie relationship provides the artistic resources to bring the production to the stage. Lyricist DiNovelli's work has been seen at the Public Theater's New Work Now! Festival, Lyric Opera Cleveland, Ford Amphitheater in Los Angeles and Joe's Pub in New York. Portman is best known for her film scores, having received an Academy Award for her score of Emma and Academy Award nominations for both The Cider House Rules and Chocolat. Sheinkin is the Tony Award-winning book writer of The 25th Annual Putnam County Spelling Bee.

The artistic team for Little House on the Prairie also includes set designer Adrianne Lobel, costume designer Martin Pakledinaz, choreographer Michelle Lynch and music director/supervisor Kristen Blodgette. Little House on the Prairie is being produced at the Guthrie by special arrangement with Global Prairie Productions, Inc.


| | | |
| --- | --- | --- |
| | | |
WHO'S WHERE


CHARLOTTE RAE in her San Francisco cabaret debut with David Lewis on piano. November 27 - December 2 at The Plush Room in San Francisco.

The legendary comic actress first found worldwide fame during the 1980s as Edna Garrett -- the housekeeper on the NBC sitcom Diff'rent Strokes - and then as house mother on The Facts of Life. Charlotte is a respected stage actress since the 1950s, when she appeared Off-Broadway in The Threepenny Opera. She created the role of Mammy Yokum in the Broadway musical Lil' Abner. Other stage appearances include Three Wishes for Jamie, and Pickwick. In 1955 she released her first (and only) solo album - which has recently been re-released on CD. Songs I Taught My Mother, features "silly, sinful, and satirical" songs by among others, Vernon Duke, John La Touche, Cole Porter, Rodgers & Hart, Marc Blitzstein - who wrote the song Modest Maid especially for Rae and Sheldon Harnick who penned 'Backer's Audition for her.

Now at the age of 81, she arrives in San Francisco to debut her brand new cabaret show.

JENNIFER HOLIDAY an evening with Broadway's original Dreamgirl takes place Saturday, November 24, at the Plush Room in San Francisco.

KENNY "BABYFACE" EDMONDS delivers his smooth R&B style on Saturday, November 24 at John Ascuaga's Nugget in Sparks, NV.

TONY SANDLER in Come Spend Christmas With Me. A Special Holiday Event with the Land of Lakes Choirboys. For years Tony Sandler has enchanted audiences throughout the world with his rich baritone voice and interpretations of a vast repertoire of fine music. He now brings his special warmth to the Holiday Season when he is joined in concert by the outstanding Land of Lakes Choirboys, a group of 34 boys. Monday, Nov. 26 and two shows on Tuesday, November 27. Old Log Theatre in Excelsior, MN.

QUEEN LATIFAH has a busy week. On Monday, November 19, she is on stage at the California Center for the Arts in Escondido, CA. Tuesday finds her at the McCallum Theatre in Palm Desert, CA. On Wednesday the show is at Royce Hall Auditorium in Los Angeles. On Friday she's in the spotlight at Silver Legacy Resort in Reno, NV and on Saturday the performance is at the Wells Fargo Center for the Arts in Santa Rosa, CA.

BIG BAD VOODOO DADDY entertain Friday, November 23, at the House of Blues in Anaheim, CA. On Saturday they get the beat going at The Wiltern in Los Angeles.

BRUCE SPRINGSTEEN AND THE E STREET BAND hit all the right notes Monday, November 19, at the TD Banknorth Garden in Boston. They cross the pond to perform next Sunday, November 25, at the Palacio de Deportes in Madrid, Spain.




PIFFLE AND PROFUNDITIES


QUEEN ELIZABETH AND PRINCE PHILIP celebrate their 60th wedding anniversary on November 20. When one out of 3 marriages end in divorce, it is of some note that the royal marriage has survived decades of not only world trauma but more than a few family upheavals of their own.

The royal wedding took place during a time of world crisis and wartime rationing.

According to the British National Archives -

The government allowed Princess Elizabeth the extra 200 clothes coupons available to all brides. But women all over the country sent her their coupons as well. As it was illegal to pass these on, they were all scrupulously returned.

The wedding banquet of November 20, 1947 reflected the thriftiness of the time - just three courses, with partridge chosen as the main dish because it was not rationed.

It was decided that no invitations would be extended to those with connections to the Axis powers. This meant that Prince Philip's three sisters, married to German aristocrats, could not be invited.

The wedding dress was scrutinized to verify it could not cause political embarrassment. Great effort was made to ensure the silk used for it had come from China rather than from the enemy silkworms of Japan.

For the upcoming celebration there has been a new Royal Mail stamp issued to mark the diamond wedding - a photograph of the couple by Lord Snowdon taken on a balcony at Buckingham Palace. And today, November 18, Prince Charles is hosting a dinner for his parents and other members of the Royal Family at Clarence House. On the day of the anniversary itself, the Queen and Prince will fly to Malta for the equivalent of a second honeymoon. Malta is described as a place where they had some of their most enjoyable times as a young married couple.

Next Column: November 25, 2007
Copyright: November 18, 2007. All Rights Reserved. Reviews, Interviews, Commentary, Photographs or Graphics from any Broadway To Vegas (TM) columns may not be published, broadcast, rewritten, utilized as leads, or used in any manner without permission, compensation and/or credit.
Link to Main Page
---
Laura Deni


CLICK HERE FOR COMMENT SECTION