! >
Broadway To Vegas
  
  REVIEWS INTERVIEWS COMMENTARY NEWS

| | |
| --- | --- |
| | |
NORTH COAST REP AND THE BUTTERFLY PROJECT - - THE 24 HOUR PLAYS OLD VIC CELEBRITY GALA - - A NEW SIDE OF ELVIS - - ANCHORMAN THE EXHIBIT - - HOW THE GRINCH STOLE CHRISTMAS! THE MUSICAL CD REVIEW - - DALEKS TO INVADE BUCKINGHAM PALACE - - JON BON JOVI, TAYLOR SWIFT AND JAMES BLUNT AT KENSINGTON PALACE WINTER WHITE GALA - - ETHAN HAWKE AS MACBETH - - DONATE . . . Scroll Down




Copyright: November 17, 2013
By: Laura Deni
CLICK HERE FOR COMMENT SECTION


NORTH COAST REP AND THE BUTTERFLY PROJECT


Butterflies Are Free was the title of an award winning play and movie about a blind man who didn't let that medical condition hamper his vision. Butterflies have long been the symbol of hope and freedom.

The Diary of Anne Frank, based on the notes of a 13-year-old Dutch girl who recounted her Jewish family's struggles as they hid from the Nazis for two years, has been an inspirational story which has survived the decades.

Authenticity, remembrance and resonance are at the heart of The Theatre School@ North Coast Rep's new production of The Diary of Anne Frank, which opens November 21, and features a gripping new adaptation by Wendy Kesselman from the original stage play by Francis Goodrich and Albert Hackett that weaves newly discovered writings from the diary of Anne Frank with survivor accounts.

Authenticity comes from the hours the cast of local nine to ninteen year olds spent watching documentaries about Anne Frank, visiting the San Diego Jewish Academy (SDJA) and hearing the stories of Holocaust survivors, some of whom will tell their stories at the performances.

Remembrance comes through the production's participation in The Butterfly Project, a hands-on art project created by SDJA in 2006 to memorialize the Jewish children killed in the Holocaust. The project involves making 1.5 million ceramic butterflies worldwide in honor of the children's memory.

Theatergoers will have the chance to paint ceramic butterflies for a permanent display at the Theatre School.

The Butterfly Project, Zikaron V'Tikvah (Remembrance and Hope), is an artistic, educational project serving as a powerful visual representation to remember the 1.5 million children who died in the Holocaust, and honor the survivors. Handmade ceramic butterflies from around the world have been created and affixed to the walls of San Diego Jewish Academy to teach all children to remember the past, act responsibly in the present and create a more peaceful future. Our goal is to empower participants to speak out against anti-semitism, human suffering and genocide today.

Thousands of butterflies later, the San Diego community has been transformed and enhanced. Over 100 Holocaust survivors have created butterflies for a special survivor wall; dozens of school groups, Girls Scouts, local agency board members, youth groups and international guests have visited SDJA to experience the impact of this project.

The SDJA encourages others to create their own Zikaron V'Tikvah (Remembrance and Hope) installation.

All the SDJA asks is: "If making your own butterfly memorial is feasible in your community, we respectfully request that you send to us 1 of your butterflies for our school display. Let us know your total count. This will establish your connection with the original project and become part of our web based display showcasing installations worldwide and counting our numbers collectively.

As of last year seventy-five thousand butterflies have already been painted and displayed in 200 different locations around the world.

North Coast Rep is now part of The Butterfly Project.

"We are building a portable display for the Theatre School that will be mobile so we can incorporate in in our outreach efforts," Siobhan Sullivan Crews Director of Education and Outreach Theatre School @ North Coast Rep told Broadway To Vegas.



Abby DeSpain as Anne Frank in the North Coast Rep production. Photo: North Coast Rep.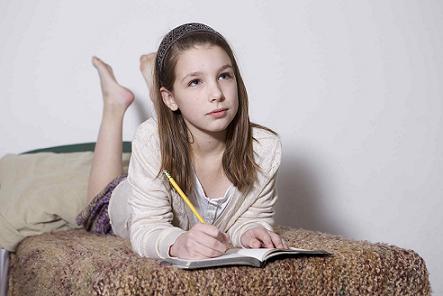 "Our Theatre School decided to partner with them to help raise awareness and honor those children who were lost. We will be recording at least one of the performances that has a survivor speaking after. I am working on being able to record all of them. Our resources are limited."

Being involved in The Butterfly Project and having speakers, "makes the telling of the Holocaust real to them," said Sullivan Crews, who is also directing the stage production. She noted that the book or play is on the required reading lists of most San Diego County eighth-graders.

"Here is an actual person, their age, who never got to grow up. A group of people had so much hatred that they silenced 6 million people, but still her voice can be heard through the telling of her story, using her words. We have gone to great lengths to make sure all our cast understands that to tell this story is a great responsibility and should be handled with respect, but also show that this family is a normal family in unusual circumstances," she added.

"We want to make sure the audience feels a part of the experience – a part of the family, so to speak."

After the performances, audiences will hear from Holocaust survivors such as Fanny Krasner Lebovits, who was born in Lithuania and was liberated after living in four concentration camps. The great-grandmother will speak after the November 23 matinee at 2 p.m.

"By creating a safe place for the community to hear from people who lived through the horrors of the Holocaust, we can help them heal by sharing their stories and creating an action plan to stop the genocide of so many throughout the world," Sullivan Crews said.

"Our production of Anne Frank is an honest look at her story. Abby DeSpain (who plays Anne), being only 9, brings an innocence and vulnerability to the show that is heartbreaking."

DeSpain, from Del Mar, is joined by Andrea Bullar (Edith Frank, from Oceanside), Kayla Cruise (Margot Frank, from Encinitas), Sophia Dargie (Miep Gies), Christian Payne (Peter Van Daan, from San Marcos), Audrey Hebert (Mr. Kraler, from Encinitas), Maia Zelkind (Mrs. Van Daan), Phillip Magin (Mr. Van Daan, from Solana Beach), Geoff Geissinger (Mr. Dussel, from Carmel Valley), Bryan Dorman (SS Officer, from Lakeside), Sara Wolfkind (Anne Frank Understudy/Assistant Director, from University City), Elena Trask (Mrs. Frank Understudy/Assistant Director), and Anna Makris (Assistant Director/Butterfly Project, from Del Mar). Local actor John Tessmer plays Otto Frank and serves as the actor mentor for the production.

This production is sponsored by the City of Solana Beach, California.

Theatergoers who want to participate in the Butterfly Project at Theatre School's performances are encouraged to bring a $5 donation and come as early as an hour before the performance to allow time to paint.





Broadway To Vegas is supported through advertising and donations. Priority consideration is given to interview suggestions, news, press releases, etc from paid supporters. However, no paid supporters control, alter, edit, or in any way manipulate the content of this site. Your donation is appreciated. We accept PAYPAL. Thank you for your interest.





ART AND ABOUT


ANCHORMAN: THE EXHIBIT an exhibition of props and costumes from the 2004 cult hit Anchorman: The Legend of Ron Burgundy.

The Newseum, an interactive museum of news, journalism, news and the First Amendment, has teamed with Paramount Pictures to feature memorable sets and props from the Will Ferrell film - to coincide with the release of Anchorman: The Legend Continues December 20, 2013.

The exhibit "explores the reality behind the humor of Anchorman and tracks the rise of personality-driven news formats in the 1970s," according to the Newseum.

For the exhibition Newseum curators paired more than 60 costumes and props from the movie with real stories about TV news and the 1970s struggle for women to achieve equality in the newsroom.

In addition to Ron Burgundy's iconic suit, displayed in a revolving case, the exhibit also features his jazz flute, "I'M #1" license plate, mustache brush and his Sex Panther cologne.

Costumes in the exhibit include those worn by Veronica Corningstone, the ambitious reporter played by Christina Applegate.

There's also a replica of the KVWN-TV Anchorman news desk where visitors can pause for photo ops.

The Newseum's signature Be a TV Reporter experience, allow budding reporters to step in front of the camera, features a snappy introduction by none other than Ron Burgundy himself.

On display through August 31, 2014 at the Newseum in Washington, DC.

On December 3, 2013 a special by invitation only event will feature A Special Evening with Will Ferrell will take place in the Walter and Leonore Annenberg Theater.

Ferrell will discuss his new movie and answer questions from the audience. A reception will follow.

AHMED ALSOUDANI: REDACTED currently on display at the Portland Museum of Art (PMA) in Portland, Maine had been extended through February 2, 2014. Originally scheduled to close on December 8, Ahmed Alsoudani: Redacted is the first major museum exhibition of the work of American-Iraqi artist and Maine College of Art graduate Ahmed Alsoudani. ( See Broadway To Vegas column of September 1, 2013 )

The exhibition features 20 of the artist's tumultuous and innovative paintings, which reflect on the horrors of war with a unique artistic voice.

Ahmed Alsoudani was born in Baghdad in 1975 and grew up under the regime of Saddam Hussein. He left Iraq as a teenager and lived in Syria before immigrating to the United States in the late 1990s. He studied in Maine at the Maine College of Art (BFA, 2005), and the Skowhegan School of Painting & Sculpture (2006), and graduated with a MFA in painting from the Yale School of Art (2008). In 2011, his work was featured in the Iraq Pavilion at the 54th Venice Biennale, in the exhibition The World Belongs to You, and at The Francois Pinault Foundation at the Palazzo Grassi, Venice. His other major international exhibitions include: La Route de la Soie at Tri Postal in Lille, France (2010); Unveiled: New Art from the Middle East at the Saatchi Gallery in London (2009); as well as shows at the National Gallery of Saskatchewan, Canora, Canada (2007) and the Gwangju Museum of Art, Korea (2007). He lives and works in New York.

The exhibition is co-organized and co-curated by Mark H.C. Bessire, Director of the Portland Museum of Art and Dr. Sara Cochran, Curator of Modern & Contemporary Art at the Phoenix Art Museum. The exhibition was on view in Phoenix from March 13 through July 17, 2013.

A NEW SIDE OF ELVIS The Rock and Roll Hall of Fame and Museum , in partnership with Elvis Presley Enterprises will open a new Elvis Presley exhibit on Friday, November 29, 2013, in the Rock and Roll Hall of Fame and Museum's Main Exhibit Hall, in Cleveland.

More than 40 artifacts are on loan from Elvis Presley's Graceland in Memphis, Tennessee. Highlights from the collection include a 1975 custom-made "SuperTrike" motorcycle and a selection of Presley's famous jewelry.

The exhibit helps tell the Presley story, showcasing "The King" as a young man, with his official, wallet-size U.S. Army induction portrait that was taken and issued upon his arrival for basic training circa 1958; as well as the white "If I Can Dream" suit Presley wore when he performed that song during the 1968 NBC television special, Elvis, commonly known as his "comeback special."

A new film created specially for the exhibit captures iconic performances, from Presley's earliest days to his latter day triumphs, alongside a rehearsal schedule for Lake Tahoe performances from 1971.


THE MUSIC GOES ROUND AND ROUND


DR SEUSS' HOW THE GRINCH STOLE CHRISTMAS! THE MUSICAL a world premiere recording released by Masterworks Broadway, a label of Sony Masterworks, is a Christmas gem - also a delight any time of the year.

This holiday cheerful pick-me-up is brought to exuberate life with the perfect casting of Patrick Page, who originated the role of The Grinch on Broadway, John Cullum as the Old Man and Rusty Ross who has been with the musical since its original run at San Diego's Old Globe, as Young Max,

As surely everyone knows, The Grinch discovers there's more to Christmas then he bargained for in this heart-warming holiday classic. Max the Dog narrates, as the mean and scheming Grinch, whose heart is "two sizes too small", decides to steal Christmas away from the Whos, an endlessly cheerful bunch bursting with holiday spirit.

Serving as a narrator, Old Max is Tony Award winner John Cullum, a Broadway To Vegas favorite since his days on Northern Exposure. Broadway To Vegas interviewed him once, and found him to be an articulate, classy gentleman. Cullum offers emotional depth on You're a Mean One Mr. Grinch, and This Time of Year.

Patrick Page bills himself as an actor and playwright who loves Shakespeare and magic. During high school, Page was active not only in theater, but also in speech and debate tournaments and became the first person to win the national championship title twice, as the National Forensics League's Speaker of the Year in both 1979 and 1980. He graduated Cum Laude from Whitman College in 1985 and was chosen as the valedictory speaker for his class. During his time at Whitman, Page was twice chosen as the Outstanding Competitive Speaker in the Nation by the American Forensics Association, leading the Whitman team to an overall second place finish at Nationals.

Page's awarding winning ability to speak and the fact that he can sing is crucial to transferring this production to a recording. A baritone, the most common type of male voice with a vocal range between the bass and tenor, Page's delivery as the misanthropic green meanie on I Hate Christmas is devilishly menacing and grumpy, effectively going from smooth to scraggy.

While Page credits his starring role in Spider-Man Turn Off The Dark with lifting him from an extremely serious bout of depression, which included hospitalization, How The Grinch Stole Christmas! The Musical will either prevent the listener from spiraling into that dark state, or elevate those who might already have one foot in the black hole.

The CD is so well done that the listener can easily visualize the colorful costumes and staging.

Orchestrations h are appropriately infectious, dramatic, romantic or uplifting. One of a Kind makes you want to get up and high kick while Santa for a Day is tender.

In all the years he's been in this production, Rusty Ross hasn't lost his energy as Young Max.

Perfection in sound balancing. Both the children and adults in Whoville are easily understood. The superb music never drowns out the spoken word.

How The Grinch Stole Christmas was originally written in rhyme, which Timothy Mason has tried to maintain in his book for this stage version. Without music, trying to recite something written in rhyme has a danger of sounding sing-song. Back a rhyme with actual songs poses an addition problem; singing the songs as musical compositions, while reciting the rhyming line sections to sound intelligent, without losing their necessary form, rhythm, and meter. The CD is a splendid example of how that can be accomplished.



A scene from How The Grinch Stole Christmas! The Musical at The Old Globe in San Diego. The wonderful, whimsical production has once again jumped right off the pages of the classic Dr. Seuss book and onto the Old Globe's stage, which has been transformed into the snow-covered Whoville right down to the last can of Who-hash. Photo: The Old Globe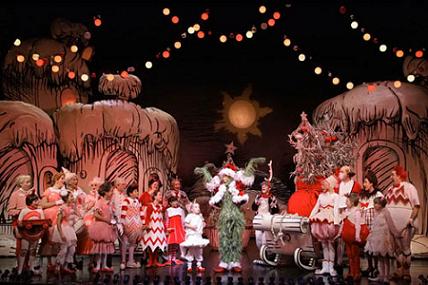 CD Cast:
The Grinch: Patrick Page
Old Max: John Cullum
Young Max: Rusty Ross
Cindy-Lou Who: Abigail Shapiro
Grandma Who: Jan Neuberger
Grandpa Who: Stuart Zagnit
Mama Who: Tari Kelly
Papa Who: Paul Aguirre
Citizens of Who-ville: Jaimie Beth Barton, William Louis Bailey, Antoinette DiPietropolo, Joe Dellger, Matt Densky, Tori Feinstein, Amy Griffin, Liesl Jaye, Kurt Kelly, Candice Nicole, Stefanie O'Connell, Bill Ryall, Peyton Royal, Anette Michelle Sanders, Jamison Stern, Lilly Tobin, Zara Scott.

Book and Lyrics by Timothy Mason
Music by Mel Marvin
You're a Mean One, Mr. Grinch and Welcome, Christmas music by Albert Hague and lyrics by Dr. Seuss himself Theodor Geisel.
Bonus tracks on the album are Where Are You Christmas music and lyrics by James Horner and Will Jennings from the 2000 film, How the Grinch Stole Christmas, as well as Once in a Year, which was cut from the musical prior to its Broadway premiere.

Orchestrations: Tony award winner Michael Starobin
Dance Arrangements: David Krane
Keyboard Programmers: Randy Cohen, Jim Harp
Musical Coordinator: Seymour "Red" Press
Music Preparation: Emily Grishman, Katherine Edmonds
Production Stage Manager (album): Michael Danek
Musical Direction/Vocal Arrangements/Conductor: Joshua Rosenblum

Orchestra Members:
Terrence Cook, Robert DeBellis, Scott Shachter, David Weiss, John Winder, woodwinds
Wayne Du Maine, Philip Granger, Christian Jaudes, trumpets
Bruce Bonvissuto, Robert Fournier, Wayne Goodman, trombones
Lawrence DiBello, Patrick Pridemore, French horns
Grace Paradise, harp
Steven Cuevas, Peter Nilsen, keyboards
Louis Bruno, bass
Gregory Landes, drums
David Roth, percussion

Recording Supervisor Producer: Michael Starobin. Associate Album Producer: Chris Deatherage. Chief Recording Engineer: Adam Long. Engineering Assistants: Joel Scheumeman, Yogi Guyadin, Richard Hill, Darren Moore.

Recorded August 26-27, 2013 at Manhattan Center, NYC. Mixed and Edited by Robert Sher, Adam Long, St. Louis, MO.

Mastered by Glenn Meadows at Mayfield Mastering, Nashville, TN. Production assistants Ginno Murphy, Jeremy Geller.

Produced by seven-time Grammy Award nominee Robert Sher.

The Broadway production debuted on November 8, 2006 at the Foxwoods Theatre (then the Hilton theatre) for the Christmas season and closed on January 7, 2007. This production is notable for being the first Broadway musical to offer 12 performances a week. In the first week of December 2006, the musical topped the Broadway Box Office grosses, putting an end to Wicked's top-grossing streak that had lasted 100 weeks.

How the Grinch Stole Christmas – The Musical is based on the production produced by The Old Globe in San Diego. Originally commissioned by and produced at The Children's Theatre Company in Minneapolis, How the Grinch Stole Christmas – The Musical has since been annually staged at The Old Globe as a holiday tradition.

A new US tour launches November 19, 2013 in Ft. Worth, followed by stops in Cincinnati, Durham, Rochester, Buffalo, and San Antonio. The show returned to San Diego's Old Globe on November 16 with performances through December 28, 2013.

If possible, go see the production. There is no excuse for not buying the CD, which comes with a colorful booklet.


SWEET CHARITY


THE 24 HOUR PLAYS OLD VIC CELEBRITY GALA with VIP guests attending a Champagne Taittinger reception in The Old Vic Pit Bar followed by a pre-show dinner created by Cinnamon Candy in The Old Vic's legendary rehearsal room with past participants, special guests and musical entertainment. There will also be interval drinks in VIP area backstage along with an exclusive VIP area at exclusive post-show party dubbed The 25th Hour at London's newest luxury hotel Rosewood London, with participants and special guests.

the most glamorous and high wire event in London's cultural calendar, The 24 Hour Plays ® Celebrity Gala produced in partnership with the 24 Hour Company. This year's cast for the 24 Hour Plays includes: Douglas Booth, Tom Ellis, Tina Hobley, Catherine Tate, and Clive Rowe.

This event brings together an array of celebrity performers, directors and writers at The Old Vic. In the space of 24 exhilarating hours, the newly formed company is challenged to produce six original pieces of work to be unveiled on Sunday, November 24, on the Old Vic stage.

Past participants have included Gael García Bernal, Hugh Bonneville, Jim Broadbent, Richard Curtis, Joseph Fiennes, Tom Hollander, Celia Imrie, Nigel Lindsay, Lesley Manville, Rosamund Pike, Rufus Sewell, Michael Sheen, Meera Syal, Catherine Tate and Dominic West.

All proceeds from the evening will benefit the work of The Old Vic and Old Vic New Voices, which mentors the next generation of theatrical talent.

JON BON JOVI, TAYLOR SWIFT AND JAMES BLUNT will perform in the presence of Prince William at the Centrepoint Winter Whites Gala in London on November 26, 2013.

The black tie gala at Kensington Palace is limited to 200 guests who are paying almost $1,000 per person to attend.

The affair supports Centrepoint's mission, which is to end youth homelessness and build a brighter future for homeless young people.








SPREADING THE WORD


PRINCE CHARLES

The Prince of Wales' birthday cake in the shape of his Bus Pass. Not full readable in the photo, the clever cake accurately reprints the Bus Pass which states: "HRH Prince Charles. Valid from 14 Nov 2013. Concessionary travel funded by HM Government with your local authority." The pastry chef added "Happy 65th Birthday!" Photo:AFP: Taj Hotels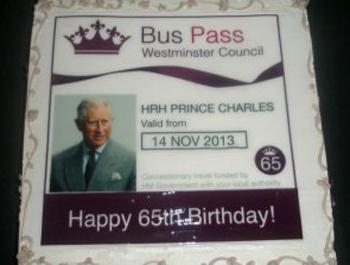 celebrated his 65th birthday on November 14, 2013 while on an official tour of India with his wife Camilla, Duchess of Cornwall. Interesting facts about the birthday boy, who loves Harry Potter books and films, is that in 1989 he co-starred in an environmental comedy, Grimes Goes Green: Your Business and the Environment, with John Cleese, making Prince Charles the first member of the British Royal Family to speak on screen in a fiction film.

Cleese plays manager James Grime and Charles plays himself. Written by Cleese and John Jay, the movie was directed by Peter Robinson who also appeared in the flick as does Bryan Pringle.

At a 1998 charity concert to celebrate his 50th birthday Prince Charles astonished the audience in the Lyceum Theatre in London by appearing on stage as a waiter for a sketch with Roger Moore and Stephen Fry, who is currently wowing audiences as Malvolio in Twelfth Night at the Belasco on Broadway.

As for the newly minted senior citizen, Prince Charles did fill out the required forms to claim his state pension, which he earned by paying taxes while in the Navy. He intends to donate his senior pension to charity.

The Birthday Boy received a birthday cake at every stop. His first birthday cake on the tour was presented to him during a visit to Katha Community School in Delhi, India. The Black Forest chocolate gateau confection, which required 5 eggs, was created by the catering students of Master Chef Ram Kumar who teaches at the school, which is located in one of Delhi's biggest slums, Govinpuri. The cake was decorated with white cream frosting and ringed in red cherries. '65' was written in chocolate.

In the Sri Lanken capital, on his actual birthday, he received his fifth cake of the day from John Rankin, the British High Commissioner. A round carrot cake covered in white icing and decorated with an image of the Prince of Wales' feathers from his coast of arms. The cake was finished off with the words Happy 65th Birthday.

One of the most personal cakes came from his staff - a cake decorated as his pensioner's free bus pass. The cake was ordered from his luxury Taj hotel in the southern Indian port city of Kochi in the shape of a bus pass, granted to those over 65 in Britain to give them unlimited free travel.

SHEA: PRINCE OF CHRISTMAS the new off-Broadway Holiday show, produced, directed, and starring Shea held an opened night party last Thursday, November 15, at the Bourbon Street Bar & Grille in New York City.

The party followed the opening night performance at the St. Luke's Theatre. In Shea: Prince of Christmas, Shea takes audiences on a Christmas musical journey as he performs some of the most popular, heartwarming classic yuletide favorites like I'll Be Home for Christmas, Blue Christmas, The Christmas Song, as well as some modern favorites like All I Want for Christmas is You, Last Christmas and many more. Shea will also take audiences to different parts of the world, setting the scenes to illustrate how other countries around the globe celebrate this holiday. The show has rhythms easily moving from Holiday Classics, Easy Listening, Reggae, R&B, Pop/Rock, and Jazz Standards to everything in-between. Shea: Prince of Christmas weaves rarely heard tales that give a glimpse into how these musical treasures came to be a part of the cultural cannon.

THE NAKED STAGE: EXIT THE KING by Eugene Ionesco. Featuring Chris Howitt, Linda Mancini, Licia James Zegar, Seth Hendricks and lead artist Joshua Perl.

Revived to great acclaim on Broadway in 2009, this absurdist exploration of ego and mortality is set in the crumbling throne-room of the palace where King Berenger the First has only the duration of the play to live. He once ruled over an immense empire; now his kingdom has shrunk to the confines of his garden wall. Refusing to accept his end, he is attended by his present and former Queens who must help him face the inevitable.

Free admission with all staged readings sponsored in part by Dina Merrill and Ted Hartley.

Tuesday, November 19, 3013 at Guild Hall in East Hampton, New York

LES MISÉRABLES ANNOUNCES CASTING Cameron Mackintosh announced that Andy Mientus, who received rave reviews for his portrayal of Kyle Bishop on the NBC series Smash and newcomer Charlotte Maltby will play Marius and Cosette in his new production of Alain Boublil & Claude-Michel Schönberg's Tony Award-winning musical masterpiece, which returns to Broadway beginning Saturday, March 1 at the Imperial Theatre.

Mientus and Maltby join recently announced cast members Ramin Karimloo (Jean Valjean); Will Swenson (Javert); Caissie Levy (Fantine) and Nikki M. James (Eponine).

DR. WHO CELEBRATION at Buckingham Place on November 18 will be hosted by Sophie, Countess of Wessex who has been a fan since she was a small child.

Sophie is married to Prince Edward, the youngest son of Queen Elizabeth and Prince Philip.

Doctor Who's 50th anniversary celebration will include Sophie welcoming cast members and crew at a reception.

Past, present and future Time Lords, such as David Tennant, Matt Smith and Peter Capaldi are on the invite list. The BBC's Director General Lord Hall will join former Doctors' assistants, program writers and members of the production team in the Bow Room of the Palace for the reception. The Time Lord's famous TARDIS (acronym: Time and Relative Dimension in Space), a sentient time-travelling space ship, will also be in attendance.

The Daleks invading Buckingham Palace takes place shortly before the series reaches its 50th milestone on November 23, when the BBC will screen a special episode titled The Day of the Doctor.

On Saturday, November 16, it was announced that in a survey to mark 50-years of the sci-fi drama David Tennant won as favorite Time Lord while Billie Piper, who played Rose, won for the best companion.

Doctor Who holds the Guinness World Record for the longest running science fiction series in the world. It began on November 23, 1963, starring William Hartnell as the Doctor and there have been 11 Doctors to date.


OTHER PEOPLE'S MONEY


THE OREGON SHAKESPEARE FESTIVAL has announced that UNIVERSES will serve as OSF's first Resident Ensemble, through a $100,000 grant from the Ford Foundation.

UNIVERSES, a theatrical collective comprised of Steven Sapp, Mildred Ruiz Sapp, Gamal A. Chasten, and William Ruiz, a.k.a. Ninja, is a national/international ensemble company of multi-disciplined writers and performers who fuse poetry, theater, jazz, hip-hop, politics, down home blues and Spanish boleros to create moving, challenging and entertaining theatrical works.

The goals of the residency are to create an artistic home for UNIVERSES over an extended period of 14 months and two consecutive seasons; to seek opportunities for UNIVERSES' involvement in OSF programming and community-building that benefit both UNIVERSES and OSF; to use the resources of a large and established theatre company to support the work of a smaller ensemble; and to test a model of a company in residence within OSF's repertory infrastructure.

Other activities that will involve UNIVERSES during the residency are: bring work in progress to be read or workshopped by the OSF Black Swan Lab, a non-public venue for new play development; perform in the 2014 Green Shows and in the OSF Presents series, as well as community open mics; understudy and/or perform in the 2014 season; and serve as a resource for audience development, FAIR training, education and development.



OLIVER! adapted from the novel by Charles Dickens with music,book, and lyrics by Lionel Bart. Directed by Paper Mill Playhouse Producing Artistic Director Mark S. Hoebee with original choreography by JoAnn M. Hunter.

This beloved classic is the miraculous tale of a young orphan's quest to find home and family in Victorian London. Dicken's larger-than-life characters sing and dance their way into your heart with iconic songs including Food, Glorious Food, Who Will Buy? and Consider Yourself.

This production, with a cast of 49, even has a holiday twist for the entire family.

Starring David Garrison (Fagin), best known for his role as Steve Rhoades on the hit television series Married ... with Children, Betsy Morgan (Nancy), John Treacy Egan (Mr. Bumble), Jose Llana (Bill Sikes), David Hess (Mr. Brownlow), Ethan Haberfield (Artful Dodger), Kristen Smith Davis (Bet) and introducing Tyler Moran as Oliver. Oliver! Rounding out the ensemble are: Adrian Arrieta, Kate Bailey, Casey Beidel, Monica Bradley, Stephen Mitchell Brown, Casey Erin Clark, Will Flamm, Kyle Garvin, Matthew Hooper, Devin Johnson, Mary Claire King, Hunter Kovacs, Jimmy Larkin, George Merrick, Sarah M. O'Connor, Patrick O'Neill, PJ Palmer, Jason Pintar, Jeff Sullivan, Bronwyn Tarboton, Joseph Torello and Joseph C. Townsend.

The Workhouse Boys are 16 New Jersey boys who were cast at an open call audition at Paper Mill Playhouse and competed against more than 200 children for these roles. The Workhouse Boys include: Bobby Axelrod (Montclair, NJ), Luke Berninger (Wayne, NJ), Jake Cedar (Haddonfield, NJ), James Freedson-Jackson (South Orange, NJ), Chance Friedman (Basking Ridge, NJ), Lucas Imhoff (Madison, NJ), Jeffrey Kishinevskiy (Tenafly, NJ), Colton Maurer (Mahwah, NJ), Tyler Pelton (East Brunswick, NJ), Jake Walsh (Wall, NJ), Arthur Wawrzyniak (Morristown, NJ) and twin brothers Lee Rosenthal and Ryan Rosenthal (Cranford, NJ).

The design team includes: Amanda Seymour (Costume Design), F. Mitchell Dana (Lighting Design), Randy Hansen (Sound Design), Leah J. Loukas (Hair & Wig Design), Timothy R. Mackabee (Set Coordination).

November 21-December 29, 2013 at the Papermill Playhouse in Milburn, NJ.

THE STEWARD OF CHRISTENDOM by Sebastian Barry.

Directed by Steven Robman.

With Brian Dennehy, Carmela Corbett, Mary-Pat Green, Kalen Harriman, James Lancaster, Grant Palmer, Dylan Saunders, Daniel Weinstein, and Abby Wilde.

In the wake of Ireland's bloody struggle for independence, Thomas Dunne is a casualty of a vanished order. A Roman Catholic and former Dublin police officer still loyal to the crown, he is displaced and alone, save for visits by loved ones from his past in a parade of bittersweet reminiscences.

Explained as; "This profound and poignant story is made unforgettable by an extraordinary performance from one of our greatest living actors. Two-time Tony Award winner Brian Dennehy renders a hauntingly tender portrayal of a loving father and devoted soldier at the end of his life: raging with delusions of grandeur one moment, humbled and begging for comfort in the next.

The Steward of Christendom illuminates with remarkable grace and compassion an important character in Ireland's past left out of the history books: a devout and principled man and his spiritual quest for consolation and redemption when everything he loves is taken away."

Set Design by Kevin Depinet. Costume Design by Leah Piehl. Lighting Design by Robert Wierzel. Sound Design by Cricket S. Myers. Projections by Jason H. Thompson.

November 26, 2913 - January 5, 2014 at the Mark Taper Forum in Los Angeles.

MACBETH by William Shakespeare.

Directed by Jack O'Brien.

In this new production of what is widely considered to be one of Shakespeare's darkest and most powerful tragedies Ethan Hawke will play Macbeth opposite Anne-Marie Duff as Lady Macbeth with Bianca Amato as Lady Macduff, Richard Easton as Duncan, Brian d'Arcy James as Banquo, Jonny Orsini as Malcolm, Daniel Sunjata as Macduff, with Malcolm Gets, John Glover and Byron Jennings as the Three Witches, and Shirine Babb, John Patrick Doherty, Austin Durant, Francesca Faridany, Stephanie Fieger, Ben Horner, Ruy Iskandar, Paul Kite, Aaron Krohn, Jeremiah Maestas, Christopher McHale, Sam Poon, Triney Sandoval, Nathan Stark, Patrick Vaill, Tyler Lansing Weaks and Derek Wilson in other roles.

Sets by Scott Pask, costumes by Catherine Zuber, lighting by Japhy Weideman and original music and sound by Mark Bennett, projections by Jeff Sugg, fight direction by Steve Rankin, hair/wigs by David Brian Brown, and make-up by Angelina Avallone.

The play opens on Thursday, November 21 at the Vivian Beaumont Theater in New York City.

TRISTAN & YSEULT Adapted and directed by Emma Rice. Written by Carl Grose and Anna Maria Murphy.

King Mark rules with his head, until he falls head over heels for his enemy's sister. Based on an ancient tale from Cornwall, Tristan & Yseult revels in forbidden desires, broken hearts, grand passions, and tender truths. Billed as: "It's another marriage of gorgeous music and ingenious staging from the acclaimed creators of Brief Encounter and The Wild Bride. Embrace comedy and spontaneity in this West Coast premiere for an irresistible night of love!"

Tristan & Yseult features an ensemble cast of eight talented performers: Carly Bawden (Whitehands), Gareth Charlton (Lovespotter/Brute/Animator) Andrew Durand (Tristan), Craig Johnson (Brangian/Morholt), Giles King (Frocin), Patrycja Kujawska (Yseult), Róbert Lukay (Lovespotter/Brute/Animator), and Mike Shepherd (King Mark). Live music composed by Stu Barker is performed by Russ Gold, Pat Moran, Ian Ross, and Lizzy Westcott.

The creative team includes Bill Mitchell (designer), Malcolm Rippeth (lighting designer), and Gregory Clarke (sound designer) with Carl Grose and Anna Maria Murphy (writers). The stage managers are Aled Thomas for Kneehigh and Cynthia Cahill for Berkeley Rep.

West Coast premiere November 22, 2013–January 6, 2014 at Berkeley Rep in Berkeley, CA.

BALLET HISPANICO returns to The Apollo Theater in New York City with three new works and live music.

Highlights include a seductive world premiere by Edgar Zendejas inspired by the beloved Mexican celebration "Día de los Muertos" (Day of the Dead), and the Apollo premiere of Belgian-Colombian Annabelle Lopez Ochoa's Sombrerísimo, an athletic tour de force for six male dancers.

The world premiere of Artistic Director Eduardo Vilaro's Hogar will be set to vibrant live music by Ljova and the Kontraband, a mix of classical, Latin, and gypsy melodies.

Ballet Hispanico's performance November 23, 2013 at the Apollo Theater is the official closing event of the 2013 Latin American Cultural Week.


WHO'S WHERE

TRANS SIBERIAN ORCHESTRA has performances on Wednesday, November 20, at the Emergy Solutiona Arena in SaltLake City and at the Civic Center in Charleston, SC. On Thursday the shows are at the Taco Bell Arena in Boise, ID and the PNC Arena in Raleigh, NC. On Friday the can be enjoyed at the Arena in Spokane, WA and the Colonial Life Arena in Columbia, SC. Saturday's shows are at the Bi-Lo Center in Greenville, SC and the Key Arena in Seattle, WA. Next Sunday, November 24, they'll be on stage at the Moda Center in Portland, OR and the Coliseum Complex in Greensboro, NC.

MICHAEL BUBLE performs Tuesday, November 19, at the Energy Solutions Arena in Salt Lake City, Utah. On Wednesday he's on stage at the Pepsi Center in Denver.

SARAH BRIGHTMAN in the spotlight Tuesday, November 19, at the Movistar Arena in Santiago, Chile.

SELENA GOMEZ brings her tour to the Bankers Life Fieldhouse in Indianpolis, IN on Tuesday, November 19. On THursday she'll entertain at the Target Center in Minneapolis. Friday's show is at the Allstate Arena in Rosemont, IL. On Saturday the show is at the Nationwide Arena in Columbus, OH.

BONNIE RAITT singing Wednesday, November 20 at the NYCB Theatre in Westbury, NY. Friday's performance is at the Prudential Hall in Newark, NJ. On Saturday she stars at Caesars in Atlantic City.

RAMSEY LEWIS the Grammy Award winning legendary composer and pianist performs with his Electric Band on Saturday, November 23, at the Scottsdale Center for the Performing Arts in Scottsdale, Arizona.




FINAL OVATION


SIR JOHN TAVENER the reknown British composer, noted for his religious works, died at his home in Dorset, England on November 12, 2013. He was 69.

His composition Song For Athene was performed at Princess Diana's funeral, as her coffin was carried from Westminister Abbey.

Neil Portnow President/CEO of the The Recording Academy issued the following statement: "Grammy winner John Tavener was a prolific and eclectic composer whose work reached beyond the bounds of classical music. He strived to create compositions that were noble, magnificent and inspirational. His compositions include The Whale — a recording issued by the Beatles on their Apple Records label — The Lamb, and Song For Athene — which was used at Princess Diana's funeral and gave his work a global audience. Tavener's contributions to the recording industry were singular. Our thoughts go out to his family and friends as we mourn the loss of a true talent."

Sir John is survived by his wife Maryanna and three children.













Next Column: November 24, 2013
Copyright: November 17, 2013. All Rights Reserved. Reviews, Interviews, Commentary, Photographs or Graphics from any Broadway To Vegas (TM) columns may not be published, broadcast, rewritten, utilized as leads, or used in any manner without permission, compensation and/or credit.
Link to Main Page
---
Laura Deni



For the snail mail address, please E-mail your request.
CLICK HERE FOR COMMENT SECTION