! >
Broadway To Vegas
  SHOW REVIEWS     CELEBRITY INTERVIEWS     GOSSIP     NEWS 
| | |
| --- | --- |
| | |
WHERE HAVE YOU GONE, JIMMY STEWART? - - MOUSE TRAP IS 50 - - CELEBRATING ADOLPH GREEN - - BUSY LAINIE KAZAN - - DREW CAREY USO TOUR - -PRAIRIE LIGHTS - - RITA RUDNER IS A SQUARE - - THE WALLFLOWERS ROCK ALCATRAZ - - DONATE . . . Scroll Down


Copyright: November 17, 2002
By: Laura Deni
CLICK HERE FOR COMMENT SECTION

WHERE HAVE YOU GONE, JIMMY STEWART?


Art Shay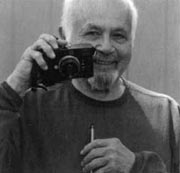 One minute Squadron Commander Jimmy Stewart would be a no nonsense, by-the-book man and the next minute mock his own actor celebrity status, or play the piano so his troops could dance.

World-renowned photographer Art Shay has more than 1,000 magazine cover photos to his credit. Now the 80-year-old has authored a one-man play, Where Have You Gone, Jimmy Stewart? currently having its world premiere at the American Theatre Company in Chicago.

The autobiographical effort recalls the triumphs and tragedies of Shay's journey through World War II - an aviator war hero surviving 29 bombing missions over Germany during World War II under Col. Jimmy Stewart.

Shay grew up in the Bronx and has lived and worked around Chicago since 1948. More than 25,000 of his photographs have appeared in numerous publications, including Life, Time, the New York Times, Fortune, the Saturday Evening Post, Forbes, Business Week, Parade and Sports Illustrated. His work has been exhibited, critically acclaimed, and collected. He has won some twenty Art Director awards for distinguished photography, as well as commendation for Life magazine's Picture of the Year in 1959.



Art Shay's book has his cover photograph of a young Marlon Brando on the beach with his dog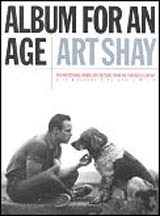 Shay established a world-wide reputation for capturing the odd moment. His photographs of Khrushchev, Liberace, Harry Truman, Judy Garland, Marlon Brando, Nelson Algren, Liz Taylor, George Solti, and hundreds of other luminaries are not the usual portraits. They are people off-guard, memorable for their humanity rather than their celebrity.

He covered The Mob, politicians, tragic moments in Chicago history and endured the murder of his own son.

But there is more to Shay than a camera. Unlike other great photographers of his time, Shay has a way with words

Where Have You Gone, Jimmy Stewart? isn't specifically about Stewart. Rather, it's the convoluted emotions of Shay's experiences while under Stewart's command - praise for President Roosevelt tempered by anger at the chief executive's decision to turn away Jewish refugees. Funny and poignant examinations of loss and the will to carry on and the ongoing struggle to try to come to terms with his own son's demise - murdered somewhere in Florida before his 21st birthday.



John Sterchi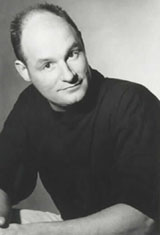 Directed by Mike Nussbaum, the production stars ATC ensemble member John Sterchi as Art Shay. Sterchi spoke with Broadway To Vegas about his role and this play.

In most one person shows the star has also penned the material. In this case the star not only didn't write the script, but is portraying the living person who did. "The play itself, doing a one man show, is probably the hardest thing I've ever done in my life," admitted Sterchi.

It is also a part that was intended for another actor - Mike Nussbaum, the person who is the director.

"Mike had directed me in American Buffalo and that was a pretty successful run. After that closed he got me a small role in an independent film he was working on. He kind of kept me under his wing. Art Shay is a contemporary and friend of his from way back. He wrote this play thinking that Mike Nussbaum might perform it. Mike is a couple of years younger than Art, who just turned 80 six months ago," related the 43 year-old actor.



Mike Nussbaum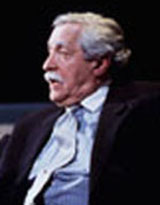 "Mike said he thought he was too old for that. He didn't think he could memorize all of those lines. Mike suggested me and said he would direct the play if I did it."

"Art Shay and I met. He liked my acting and gave me the script. At that time Mike and I were remounting American Buffalo last summer and Art started hanging around and I got to know him quite a bit. We started working on this play. We thought we'd do at least a reading of it - a workshop. We did that a year ago February. Then Mike and I were in another play together and we started whittling away at this play because it was 80 pages."

"When I first read it I kind of laughed. I said - First of all, I don't think it is a play and second of all, because of the extraordinary life that he's led - the people that he has met, the people that he has photographed, and the things that he has been through - it's too long. It appears to be a lot of name dropping. I'm telling all this to Mike Nussbaum because that I don't want to insult Art Shay."

"If we work this and concentrate on the war and on the loss of his son then maybe we have something. So, we got rid of most of the photojournalism stories, because people can read that in his book. Mike said that everybody knows Art Shay is a photographer, so let's listen to him as a navigator in World War II and as the father who lost a 20-year-old-son. Let's concentrate on those kinds of things."



Kassel Mission Memorial, a monument in Friedlos, Germany, dedicated to the 123 Americans and 25 Germans who lost their lives in this epic battle.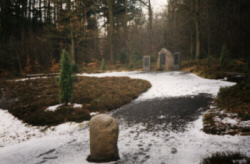 "Jimmy Stewart was his Squadron Commander in World War II. There are several stories in the play about Jimmy Stewart debriefing them after some missions they went on," continued Sterchi.

"Art went through one of the most horrible Air Force missions of any war. It was the worst body count. It's called the Kassel Mission. It was a disaster and it was in 1944. It was the worst plane loss - body count - of any Air Force mission of any war. Jimmy Stewart was the Squadron Commander," related Sterchi about the event of Sept. 27, 1944 which took the lives of 123 Americans and 25 Germans.

Ironically, a man Jimmy Stewart would one day play in a movie, Glenn Miller, had visited the base in early September, shortly before the Kassel Mission.



Col. Jimmy Stewart on the cover of Life September, 1945.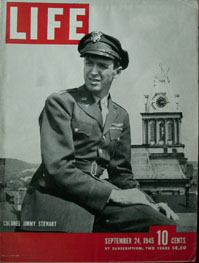 "There are several other antidotes about Jimmy Stewart and things that he said to the men," continued Sterchi. "Art was a navigator and so he was very close with his pilot. His pilot became good friends with Jimmy Stewart and they'd all hang around together and build things. They were both mechanical type guys."

"This play is all about what the hell happened to the heroes in our life? Where is the guy like Jimmy Stewart?" Hence, the title.

"When we did the reading back in February it needed a lot of work. For my money Art writes for the page not for the stage," admitted Sterchi. "There is a huge difference. In rehearsals Mike and I tried to make descriptions less flowery and more regular guy kind of talking. Would Art really talk this way? So, we whittled it down to 25 pages. The production runs somewhere between an hour-and-fifteen-minutes and one-hour-twenty with no intermission. I do it straight through."

"It's more Art Shay today telling stories of his life at different times. I am doing him and also other characters of people that he talks about - including Jimmy Stewart," explained Sterchi.

"Stewart as a squadron commander was pretty serious, stern, following things by the book when they had to be. At one point on a mission he'd de-brief them and say - Now you guys have to be specific on what you saw on these targets. Not what the tailgunner or the optimistic bombardier told you. I want your version of it.'"

"Then he's turn around in the next sentence and say - But listen, we've got death boxes to ship home and you guys have got to remove those embarrassing snapshots, love letters, and condoms before you send them home to the wives or mothers.'"

"So, he was a very sensitive man. That's one of the stories we have in the play," continued Sterchi.

"There is a funny antidote about a bunch of guys kidding around during their standdown time," Sherchi related. "They lit this home made rocket that they made out of military gunpowder and bullets. A pretty dangerous device. It ended up diving towards a bunch of officers going into the mess hall and one of them was Stewart. He bawled them out - Get rid of that stuff!! And, don't write home about it! It's not the picture of the Mighty 8th we want to project!'"

"Then one breath later - I could just see my obituary. Actor/aviator killed by an American mystery rocket.' So, one minute Stewart would be bawling then out and the next minute forgiving them. What comes across about his ability is just what a genuinely nice guy he was. He'd show up at the socials and dance with the people."



8th Air Force Patch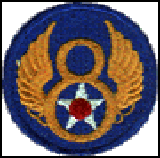 Survivors of the Kassel Mission report that Stewart, who retired as a Brig. General, "used to come back to the base and play the piano. He was just a regular guy. He didn't put on any airs at all. You know, he enlisted as a private. Then right away, because of his experience, he was promoted."

To prepare for the part Sterchi asked questions and then listened to the answers. "I asked Mike and Art a lot of questions, making sure that I knew what these things were that concerned the war. Or, concerns from the Jewish standpoint. Concerns of somebody growing up in the 30s and 40s. Making sure that I understood what it was that I was saying. If I don't know what this means then how can I tell this story? So, I spent a lot of time talking to them about what it was like."

"It has been a really hard thing to memorize facts, figures, numbers and dates, planes, bombs, 20 millimeter canon shells, Dresden, February 13, 1945 - all that stuff," admitted Sterchi. "Plus, it's harder for me because I am not of this generation. Now here are two guys, Mike and Art, who are near 80-year-old Jewish guys who both were veterans of World War II. Here I am, the United Methodist choir boy from South Bend, Indiana, half their age."



John Sterchi on stage as Art Shay
"It has taken quite a bit for me to try to put myself in these situations and in that time frame. Some of the things that Art is talking about happened when my mom was a kid. My older sister was barely born by the time he was starting his Life magazine career."

Just because it happened in the early 40's doesn't mean it isn't relevant today.

"There is a lot that is relevant today," exclaimed Sterchi who added, "Not only that, but information that people of my age and generation have no idea what some of this stuff was. So, it's also educational. Talking about the 53,000 men that died in just the 8th Air Force alone. Things like that. The bombing of Dresden. The Kassel Mission."

"Then there is all of the other stuff that Shay went through with his son," said Strechi referring to Shay's beloved son whose murdered body was never found, a situation making it almost impossible for the grieving parent to experience closure.

"That is his whole thing. That's hitting the nail on the head," said Sterchi. "We talk about that in the play - several times. How horrible is it. Everybody expects to lose a father. He said - I belong to the terrible fraternity of parents who have lost a child - and don't have a body.'"

"There are themes that also go along with Art's loss - kids in general who have been lost. Jimmy Stewart lost a son in Vietnam. So there are lots of parallels."

"Art attended all but about three or four of the rehearsals," added Sterchi. "He was there all the time. Even though I said his writing was more for the page than the stage, he was totally gracious in all of the changes that we made. Mike was pretty hard on him a couple of times - We don't need all that description. I've worked on over a dozen original scripts and I've never found a guy who was so gracious with giving over his words. He's thrilled with the production and Mike is, too."

It's not an easy performance - there may need to be some re-writing before the show moves to another venue, but Sterchi's acting has received rave reviews.

"I get a lot of sleep during the day. Steak and eggs is my meal before the show," admitted the guy who played the pie eating cop in Road To Perdition. "I do a lot of vocal warm-ups. I go over my lines every day - sometimes twice. I just try to keep the brain alive."

As for the future Sterchi reports that, "Art has made mention of moving the play to another, larger venue. Art has even said he thinks this would play like gangbusters in England because their base was in England."

As Squadron Commander Jimmy Stewart was stationed with the 445th Bomb Group, 703rd Bomb Squadron, 2nd Combat Wing, 2nd Air Division, 8th Air Force, Tibenham, England. He was then transferred to the 453rd Bomb Group, Group Operations Officer, Old Buckenham, England.

In the meantime Where Have You Gone, Jimmy Stewart? is at the ATC in Chicago through December 6. The design team includes Martin Andrew (set), Geoffrey Bushor (lighting) and Jason Tratta (sound).

Today most people remember Jimmy Stewart as a popular, accomplished actor. With the holiday season approaching his classic It's A Wonderful Life will soon be replayed on television. Perhaps there are some who are not fully aware of Jimmy Stewart's military record in serving this country. We invite you to CLICK FOR JIMMY STEWART'S MILITARY ACCOMPLISHMENTS


ROYAL CELEBRATION AS THE MOUSETRAP TURNS 50
Agatha Christie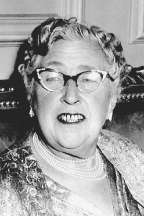 The fabled Mousetrap - the longest continuously-running play in history - will celebrate it's 50th Anniversary with a Royal Gala Monday, November 25. Queen Elizabeth and Prince Philip will attend the celebration at the St. Martin's Theatre.

The royal party will be greeted by two of Agatha Christies' great great grandchildren, both of them grandchildren of Mathew Prichard, the grandson to whom she left the rights of The Mousetrap.

Also invited to attend are surviving members of every previous cast.

The Mousetrap was adapted by Agatha Christie from her 30-minute 1947 radio play Three Blind Mice presented by the BBC to honor the late Queen Mary's 80th birthday. The production opened November 25, 1952 at the Ambassadors Theatre, London and can still be seen today at St. Martin's Theatre in London's West End where it moved in 1974.

One of the stages' most venerable mystery melodramas begins when a group of strangely secretive and highly suspicious guests check in, one by one, at a rural snowbound English hotel. Fueled by a radio report of murder in London and a detective sergeant arriving on skis, tensions mount, accusations are made and clues are uncovered as guests are terrorized by a murderer bent on revenge.

Along with the original canvases, the play still uses original features such as the wind machine - and the clock on the mantle-piece has been there for the entire 50 years!



Richard Attenborough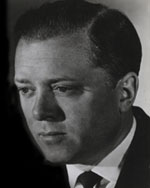 The Mousetrap opened with husband and wife Richard Attenborough and Sheila Sim in the leads. Since then it has been enjoyed by more than ten million visitors and has starred more than 340 actors and actresses. David Raven achieved 'the most durable actor' award in the Guinness Book of Records for a record 4,575 performances as Major Metcalf, and the late Nancy Seabrooke was the understudy to Mrs Boyle for 6,240 performances, appearing 72 times, before retiring in 1994. She passed away in 1998.

Originally mounted at The Ambassadors after a total of 8,862 performances, it moved to the St Martin's Theatre next door where it has been ever since. This London production holds the world record for the 'longest continuous theatrical run.

On August 19, 1977 the curtain rose on what is now North America's longest running show at the Toronto Truck Theatre in Toronto, Canada.

In the United States, The Mousetrap, presented by Broutil & Frothingham Production, officially opened on November 11 at the Theatre Building in Chicago with performances slated through December 29.

There will also be a 50th anniversary celebration of this classic by Studio Arena in Buffalo, N.Y Studio Arena December 1-28.

Agatha Christie is the world's best-known mystery writer. Her books have sold over a billion copies in the English language and another billion in over 45 foreign languages. She is outsold only by the Bible and Shakespeare.

Agatha Miller was born in Torquay, England on September 15, 1890. In 1914 she married Colonel Archibald Christie, an aviator in the Royal Flying Corps. The couple had one daughter, Rosalind, before their divorce in 1928.

In a writing career that spanned more than half a century, Agatha Christie wrote 79 novels and short story collections. She also wrote over a dozen plays.

In 1971, she achieved her country's highest honor when she received the Order of Dame Commander of the British Empire. Agatha Christie died on January 12, 1976.



Broadway To Vegas is supported through advertising and donations. Priority consideration is given to interview suggestions, news, press releases, etc from paid supporters. However, no paid supporters control, alter, edit, or in any way manipulate the content of this site. Your donation is appreciated. We accept PAYPAL. Thank you for your interest.


MAKING A DIFFERENCE


Editor's Note: This is the second of a monthly series featuring a drama department from high schools in different states.



Travia Steward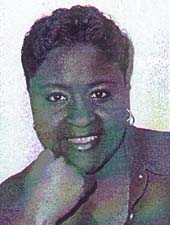 Harleton High School in Harleton, Texas has 167 students in grades 9-12. Rated "Exemplary" by the Texas Education Agency for its TAAS scores and dropout rate, the school's drama department could be a role model.

The energetic theatre department just concluded a successful run of West Side Story then embarked on a Shreveport, Louisiana field trip to see Rent. Two summers ago drama teacher Travia Steward escorted a group of her students to New York to take in Broadway shows. Steward spoke with Broadway To Vegas about the Harleton High School drama program.

"We saw Rent, Aida, The Lion King and Annie Get Your Gun," she reported about the Big Apple adventure.

That amounts to an expensive field trip.

"The students pay for the trips themselves," she explained. "They rely on their parents and we did a couple of fundraisers. We had a dessert/dinner theater production in the spring and the money was split between the kids who worked. Then we also did a raffle. We raffled off a VCR. Once the VCR was paid for whatever you sold was directed into your account."

The Playbill for West Side Story is a professional looking slick paper effort chocked full of ads.

"We do have pretty good community support, but I push my kids," she admitted. "I got a list of all the businesses in Harleton and in the surrounding areas. I assigned them five apiece. We know it is very hard to tell students no, especially if they know them. We pretty much counted on playing with their sympathy. If you bat your eyes long enough somebody will say yes," she laughed."

In the low income community that replies on ranching and farming, parents have prioritized the drama program to a status usually reserved for basic necessities. The pay off has come through pride in their children

For some students in this small community - the closest town is Longview - being a part of the drama group will be their most cherished high school memory.



The Jets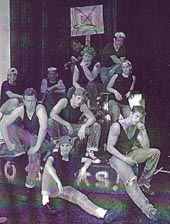 "Oh absolutely," exclaimed Steward. "You see a big impact - the change in their self esteem. We have the most successful group program in this entire high school."

In order to stage a huge production such as West Side Story Steward went trolling the high school halls grabbing students, not in drama class, encouraging them to become a gang member - that would be either The Sharks or The Jets.

Choreographer Tara Evers taught them now to sell the body language.

A graduate of East Texas Baptist University she studied dance at Kilgore College and for 13 years has owned a dance studio. Married to the pastor of the Baptist Memorial Church, Evers also teaches Spanish and English as a second language at Tatum High School in Tatum, Texas.

In addition to persuasive recruiting Steward knows how to stretch a dollar.



Tara Evers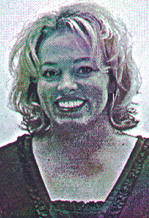 "We have a budget is $2,000. The royalties for West Side Story came to almost $1,100. Then there was the cost of building the set. We have a lot of lumber in our storage unit so we were able to use a lot of stuff that we had used before."

Steward also has the admiration and support of fellow teachers.

Lynn O'Neal is the home economics teacher and mother of a senior who played Rosalia in West Side Story. "Her set designs and technical ability and creations are exceptional," O'Neal told Broadway To Vegas.

"Travia always puts out the best. She doesn't believe in doing anything half way. Even though we are a small high school she goes beyond the limits to pull out the talents of these kids. She is wonderful! She has these kids doing things that we never imagined they could do."

"One of the problems that occurs with our theater program is funding," complained O'Neal. "There is never enough money to do all the things that our director wants to do. Equipment is very expensive, especially lights. They can spend their budget money in no time just replacing things that are worn out."

"We also have a problem finding costumes for whatever play they are doing," continued O'Neal.

"E-Bay has been a great help to our students. Each student has to pay for their own costumes because there is not enough money in the budget to cover it. So therefore, a lot of our students go to Salvation Army or Goodwill Stores and buy things that go for 50 cents to a couple of dollars. Most of our students come from low-income families and can't afford to spend a lot on costumes."

"I help out as much as possible with costumes, etc. I made my daughter's dance dress for West Side Story and I altered several other dresses. I love doing it for the kids. I would make all the costumes if I had time."

"She did a lot of altering," responded Steward. "We'd take a dress into her and say how fast can we have it?"

"Our director has a lot of experience in the professional field and I'm afraid we will lose her to bigger and better jobs very soon," worried O'Neal. "She is very young and single so she really has no ties to our community except for the students she loves. Other high schools try to win her over but she has stayed dedicated to our little high school. She does it because she loves it, not for the money. She never ceases to amaze me. She had these kids performing and for some of them, you would not dream of seeing them on stage. There are no limits to her creativity."

Steward has worked with Tony Award wining lighting designers Howard Brinkley and Donald Holder on Sweet and Hot and Camping with Henry and Tom. She has also worked with Broadway designers such as Kenneth Posner on Breaking Code and Blithe Spirit.

So why is Travia Steward at Harleton High School?

"In my last job I was working for Verilight doing concert lighting. I was working all of the time and I got sick of working six days a week. A bunch of things came into play. I had a lot of friends who were teachers. I thought it wouldn't be a bad idea to teach. And, it was the best decision I have ever made.

"In high school I did drama I never really believed that I could make a living at it because no one encouraged me," explained Steward who was born in New Orleans. "So I went into broadcast journalism. When I went to Northwestern State University in Louisiana I changed my major like five times and actually ended up in theatre. That is when I realized that is where my true love was."

Considering her background it is no surprise that Steward instills into her students that a production is not just the person in the spotlight. Somebody needs to turn on that key light. The technical part can make or break a show.

Texas has a program called One Act Plays, part of The University Interscholastic League, which is credited with offering the most comprehensive literary and academic competitive program in the nation. It offers more than any other UIL division in terms of activities, with 22 high school and 18 elementary and junior high contests. More than a half million students participate in UIL academic contests. Steward's influence has been felt.

"We are able to perform a 40 minute show. It is just like a sport," Steward explained. "A judge comes in and criticizes your show. Out of five schools he'll choose the top two plays that will go on to the next level."

"At those different competitions the actors receive awards - best actor, all star cast, etc. Because of the importance of technical aspects my district started implementing technical awards as well as best actor and best play. So now we have awards for best sound technician and best lighting technician. I thought it was very important for this type of event and most everybody agreed with me."

"Right now we are in the process of writing a military play. Not only 9/11 and where this country might be headed now, it's a little bit of everything - where our society is now. My seniors wanted a chance to do something that they wanted to do. They all voted on a military play."

"We are writing something that deals with Vietnam. We just got a plot line today. Basically to educate people a little bit about Vietnam because a lot of people don't know the real reason why Vietnam even happened - why it occurred."


SWEET CHARITY


RUBY RIMS' ANNUAL TEDDY CARES SHOW with James Beaman as Lauren Bacall, Scott Cooper as Marilyn Monroe, Flotilla De Barge, DAR & Christy Vann de Camp, Joseph"GO" Mahan", Karen Mason, Jay Rogers, Richard Skipper as Carol Channing, and Rick Skye as Liza Minnelli.

Benefits the Manhattan Plaza AIDS Project. It's a $15 and one TeddyBear and a two drink minimum.

An award winning project, for a decade Ruby Rims' Teddycares, has brought holiday cheer to countless hospitalized children and other patients. The Laurie Beechman Theatre, NYC. November 24th.



MIRACLE ON 34th STREET The Miracle on 34th Street, a play with music is set in New York. A white-beaded gentleman claiming to be the real Santa Claus brings about a genuine "Miracle on 34th Street," spreading a wave of love throughout New York City, fostering camaraderie between Macy's and Gimbel's Department Stores, and convincing a divorced, cynical single mother, her somber daughter and the entire state of New York that Santa Claus is no myth. November 22-December 22 at the Wayside Theatre in Middletown,VA

THE FOREIGNER by Larry Shue, directed by Eric Simonson. The L.A. Theatre Works' presentation stars Charlotte Rae, Paxton Whitehead, Josh Stamberg, and Joey Slotnick.

In this hilarious farce, a painfully shy Englishman on vacation adopts the false persona of a "foreigner" and discovers a lovable and adventurous extrovert within himself. Winner 1985 New York Obie and Outer Circle Critics Awards.

November 20, 21, 22, 24 at the Skirball Cultural Center, Los Angeles.

GYPSY Music by Jule Styne Lyrics by Stephen Sondheim, Book by Arthur Laurents will feature Lorna Luft as Mama Rose Alice. Dorothy Holland will direct.

Luft is the 2002-03 Tucker-Boatwright Artist-in-Residence University and as such has spent several weeks in Richmond working with University students. A vibrant and charismatic entertainer, Luft recently toured the country in her most ambitious project to date, the highly acclaimed multimedia production of Songs My Mother Taught Me A Celebration of the Music of Judy Garland. Michael Goodwin, returning to the Department of Theatre & Dance as an equity artist-in-residence, plays Herbie, the devoted agent who helps Rose pursue her dreams in the seedy world of vaudeville.

Nov. 21 through Nov. 24 at the Alice Jepson Theatre at the University of Richmond, Virginia.

OKLAHOMA! welcomes Stephen Buntrock to the role of Curly, taking over for Patrick Wilson in the revival of the Rodgers and Hammerstein classic. Buntrock, who has been on Broadway in Jane Eyre, Titanic and Les Miserables, begins his new role on November 19.

DINNER AT EIGHT a new production of George S. Kaufman and Edna Ferber's 1932 comedy starring Christine Ebersole, Dorothy Loudon, Joe Grifasi, James Rebhorn, Emily Skinner, Byron Jennings. Directed by Gerald Gutierrez. Previews begin November 21 with an official opening slated for December 18. Vivian Beaumont Theatre, NYC.

OUR TOWN starring Paul Newman, directed by James Naughton. This new production of the Thorton Wilder classic begins previews on November 22, officially opening on December 4. Booth Theatre, NYC.

SPIDERMAN THE MUSICAL spins its web in Louisville, KY at the Palace Terrace Theatre Nov. 21-24.

PRAIRIE LIGHTS the world premiere of a new musical with lyrics by David Rush, Book by Susan Lieberman, Music by Rosalie Gerut. Directed by Drew Martin. Music Direction by Carl Haan

In December, 1905, two Jewish children ride the orphan train west to Wellspring, Nebraska. Due to their heritage, Rose and Ben find themselves paired with the only Jewish couple in town. This new family struggles to merge together while the other townsfolk embrace the true essence of the holidays. Based on the Emmy-nominated teleplay, Prairie Lights was developed through Stage Left's Downstage Left New Play development program, this family musical has also been workshopped at Jewish Theatre of New England. The intent is to have created a new holiday tradition for all audiences.

The production stars Larry Dahlke, Karin McKie and John Sanders. Performances through January 4 at Stage Left Theatre in Chicago which bills itself as the only theatre in Chicago dedicated to producing plays that raise the level of debate on social and political issues.


LAUGH A LOT


RITA RUDNER reports that this week "I make an appearance on Hollywood Squares, which should be playing on a TV set near you. Alec Baldwin is the center square."

"My big news is that my daily comedy show Ask Rita begins airing January 27th 2003, again conveniently on a TV set near you. There's a good chance the show will be on when you're either at work or asleep so, if you don't already own one, a VCR makes a great Christmas present to yourself."

"We're recording our first shows at the MGM in Las Vegas from January 6th to January 11th, so if you're in town, come and see us. We've already got some great guests booked - Dennis Miller, Louie Anderson, Ann Margret, Rob Lowe and Steve Martin, just to name a few - so come on by!"

DREW CAREY AND THE COMEDY ALL-STARS on a USO tour November 23-29 to the Balkans and Finland.

BOB NEWHART Cerritos Center for the Performing Arts November 22, Cerritos, CA.

JIMMIE "J.J." WALKER headlines the Comedy Club at the Riviera Hotel, Las Vegas November 25-December 1.


WHO'S WHERE


BRUCE SPRINGSTEEN AND THE E STREET BAND resumes the tour Tuesday in Cincinnati. The group postponed concerts in Austin; Columbus, Ohio; and Indianapolis after Clarence Clemons, a saxophonist in Springsteen's E Street Band, underwent emergency eye surgery to repair a detached retina at Houston's Memorial Hospital.

LAINIE KAZAN headlines the Westbury Music Fair Nov. 21-22. Then Laine reprises her Greek Wedding role in the CBS series, seven episodes starting in mid-Dec.

BECK performs at Kingsbury Hall, University of Utah, Salt Lake City on November 19 then comes to Las Vegas for a November 22 gig at The Joint in the Hard Rock Hotel.

AIRMEN OF NOTE the premier jazz ensemble of the United States Air Force, perform November 23 at Ham Hall at the University of Nevada, Las Vegas.

THE WALLFLOWERS fronted by Jakob Dylan, son of Bob Dylan, on tour promoting the band's new album, Red Letter Days. They perform Wednesday in Englewood, Colorado at the Gothic Theatre. On Friday they are on stage in Minneapolis, Minn. at the Quest Club and on Saturday entertain in Chicago at the House of Blues. Recently the guys performed in Alcatraz prison where they said they "rocked The Rock.

WYONNA on stage Wednesday at the McCallum Theatre in Palm Desert, CA. Then she heads to Las Vegas for a two nighter Friday and Saturday at the Las Vegas Hilton.

DARYL HALL & JOHN OATES performing Tuesday in Columbia, South Carolina at the Kroger Center. On Wednesday the guys entertain in Spartanburg, South Carolina at the Spartanburg Auditorium. Friday they are center stage in Verona, New York at the Turning Stone Casino and close out the week, Saturday, in Mashantucket, CT at Foxwoods Casino.

THREE MO TENORS star at the Rosa Hart Theatre in Lake Charles, LA on Tuesday. On Thursday they are in the spotlight at the Heymann Performing Arts Center in Lafayette, LA. Friday the show is in Houston, Texas at the Jones Hall for Performing Arts and on Saturday they entertain in New Orleans at the Mahalia Jackson P.A.C.

MAYNARD FERGUSON AND THE BIG POP NOUVEAU BAND on stage at the High School in Kearney, Nebraska. On Wednesday they entertain at the High School in Greenville, MI. Friday finds the group at Spinelli's in Lynnfield, MA and Saturday the show is in Webster, MA at Point Breeze.

LEE GREENWOOD singing at the Florence Civic Center in Florence, South Carolina on Tuesday. On Wednesday the former Las Vegas resident performs at the Raymond F. Kravis Center in West Palm Beach, Florida. Thursday finds Lee in the spotlight in Arcadia, Florida at the Turner Agri-Civic Center and Saturday the show is in Clinton, North Carolina at the Sampson Center.

LINDA EDER sings November 20 at the Community Theatre in Morristown, NJ and November 23 at the Warner Theatre in Torrington, CT.

BARBARA COOK in concert November 23-30 at the Curran Thetre in San Francisco, CA.

MAUREEN McGOVERN in concert November 19-December 1 at the Plush Room in San Francisco, CA.

THE GRATEFUL DEAD on stage November 18 and 19 in Boston; November 20 in East Rutherford, N.J.


FINAL OVATION


A PARTY FOR ADOLPH GREEN actress Phyllis Newman, her children Adam and Amanda Green, and other notable members of the entertainment community will honor the life and career of Newman's late husband, the celebrated songwriter Adolph Green, who died on October 24 at the age of 87, with A Party For Adolph Green.

Organized by Newman and her children, the event will take place at the Shubert Theatre on Tuesday, December 3 at 12 noon.

"We are calling this A Party For Adolph Green because it is a celebration of Adolph's life and music, and it will take place on December 3 - one day after Adolph's birthday," Newman explained. "It is a loving tribute to the joy Adolph brought to his family, friends, colleagues, and countless theatre fans throughout his career. We chose the Shubert because Adolph and I courted there when I was understudying Judy Holliday in Bells Are Ringing. Like Adolph, it has a special place in my heart."

Adolph Green, with writing partner Betty Comden, created some of the most beloved musicals in entertainment history, from Bells Are Ringing and On The Town to the quintessential movie musical Singin' In The Rain. A limited number of seats will be available to the public on a first-come, first-serve basis the day of the event.













Next Column: November 24, 2002
Copyright: November 17, 2002. All Rights Reserved. Reviews, Interviews, Commentary, Photographs or Graphics from any Broadway To Vegas (TM) columns may not be published, broadcast, rewritten, utilized as leads, or used in any manner without permission, compensation and/or credit.
Link to Main Page
---
Laura Deni



U.S. Postal Address: Post Office Box 60538, Las Vegas, NV 89160
CLICK HERE FOR COMMENT SECTION