! >
Broadway To Vegas
  
  REVIEWS INTERVIEWS COMMENTARY NEWS

| | |
| --- | --- |
| | |
LAS VEGAS WELCOMES THE LATIN GRAMMY AWARDS - - ALWAYS PREPARED, SELECTIONS FROM THE UNITED STATES COAST GUARD ART PROGRAM - - CHUCK CLOSE: PRINTS, PROCESS AND COLLABORATION - - ART PHILANTHROPISTS HONORED - - PRINCE WILLIAM LIKES BETTE MIDLER - - THE ELEPHANT MAN IN PREVIEWS - - THE SECOND CITY'S NUT-CRACKING HOLIDAY - - DO YOU WANT WHAT I HAVE: A CRAIG'SLIST CANTATA - - DONATE . . . Scroll Down



Copyright: November 16, 2014
By: Laura Deni
CLICK HERE FOR COMMENT SECTION


LAS VEGAS WELCOMES THE LATIN GRAMMY AWARDS
Calle13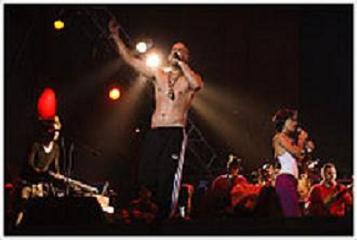 The Latin Grammy Awards are so important that Marc Anthony - who recently tied the knot with his model girlfriend Shannon De Lima - will even take time away from his honeymoon to participate.

On September 13, 2014 Anthony performed at Planet Hollywood in Las Vegas bringing home figures ranging from $700,000 to over $1 million. No matter which figure you convert, that's a lot of pesos.

Las Vegas has always courted the Latin community, an ethic group in Las Vegas which comprises more than 30 percent of Clark County and has more than doubled since 1990. The effort to solicit the Latin community is evident in the welcome Sin City has given to hosting the Latin Grammy Awards, which this year takes place November 20, at the MGM Grand Gardens.

Officially kicking off Latin Grammy Week festivities is En La Mezcla (In the Mix), an invitation-only cocktail reception celebrating the diverse group of Spanish- English-and Portuguese-speaking individuals working "behind the glass" to create some of the most memorable recordings in the history of music, as well as acknowledging current producers and engineers nominated for Latin Grammy Awards within their respective categories.

Taking place Tuesday, November 18, at Studio at the Palms (inside Palms Casino Resort), En La Mezcla will be co-hosted by multiple Grammy and Latin Grammy Award-winning producers and engineers Benny Faccone, Gustavo Santaolalla and Rafa Sardina. Gabriel Abaroa Jr., President/CEO of The Latin Recording Academy will be in attendance, as well as key members of the P&E Wing community. DJ Mr. Pauer will perform live.

The 2014 Latin Recording Academy Person of the Year gala, taking place on November 19 at Mandalay Bay Events center, will celebrate Joan Manuel Serrat's cultural and musical contributions. The star-studded tribute dinner and concert is one of the most prestigious events during Latin Grammy Week and is attended by Latin Grammy nominees and celebrities.

Performing artists include Rubén Blades, Miguel Bosé, Calle 13, Lila Downs, Juanes, Tania Libertad, India Martinez, Niña Pastori, Joaquín Sabina, Soledad, Diego Torres and Vicentico. The Latin Recording Academy President/CEO Gabriel Abaroa Jr. and other industry VIPs will be in attendance.



Carlos Vives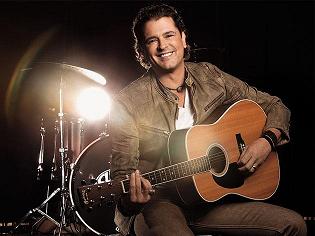 Considered the biggest night in Latin Music, current nominees and Latin Grammy winners Marc Anthony and Carlos Vives will share the stage as they help The Latin Recording Academy celebrate its milestone 15th anniversary on Thursday. Also set to perform are Latin Grammy winners and current nominees Rubén Blades, Carlos Franzetti and Juanes as well as the 2014 Latin Recording Academy Person of the Year singer/songwriter Joan Manuel Serrat. In a special Best New Artist performance nominees Aneeka, Pablo López and Mariana Vega will take the stage together.

Confirmed to present awards are Latin Gramy winner Natalia Jiménez, current Latin Grammy nominees Lila Downs, Debi Nova, Niña Pastori, Soledad Pastorutti, Jorge Drexler and Prince Royce; as well as super model/designer Alessandra Ambrosio, actors Daniel Arenas, Jaime Camil; actor/musician Carlos PeñaVega, singer/songwriter Joaquin Sabina, and actress/singer Maite Perroni; actors Kuno Becker, Angelique Boyer, Jaime Camil, Carlos Penña Vega, Maite Perroni, Sebastian Rulli, Roselyn Sanchez and Eiza Gonzalez. Actors Eugenio Derbez and Jacqueline Bracamontes will host.

The milestone 15th anniversary telecast will be celebrated with 20 stellar performances, including these unique Latin Grammy pairings: Pepe Aguilar with Miguel Bosé; Pablo Alborán with Jesse & Joy; Marc Anthony with chart-topping band Magic!, and in a separate performance Anthony will share the stage with Carlos Vives; Rubén Blades with Carlos Franzetti; Camila with Ricky Martin; Carlos Santana with Pitbull; La Arrolladora Banda El Limón De René Camacho with Espinoza Paz; La Original Banda El Limón De Salvador Lizárraga with Río Roma; Carlos Vives with ChocQuibTown; Wisin with Chris Brown and Pitbull; Yandel with General Gadiel and Farruko as well as a Best New Artist nominees medley with Aneeka, Pablo López and Mariana Vega.

Set to celebrate this special occasion, from Europe, current nominees Enrique Iglesias, Descemer Bueno and Gente De Zona will unite two continents under the Latin music umbrella. Additionally, Ricky Martin will take the stage for a solo performance and current nominees J Balvin and Juanes as well as 2014 Latin Recording Academy Person of the Year Joan Manuel Serrat are set to perform at 15th Annual Latin Grammy Awards.

Marc Anthony has four nominations: two for Record Of The Year for Cambio De Piel and Cuando Nos Volvamos A Encontrar, (with Carlos Vives) and Album Of The Year and Best Salsa Album for 3.0.

Rubén Blades is up for two nominations: Album Of The Year and Best Tango Album for Tangos.

Juanes garnered two nominations for Best Pop/Rock Album for Loco De Amor and Best Rock Song for Mil Pedazos.

Carlos Franzetti is up for three nominations: Album Of The Year for Tangos, Best Tango Album for In The Keys Of Tango and Best Classical Album for Alma - Piano Music Of Argentina.

Carlos Vives has six nods: Record Of The Year for El Mar De Sus Ojos (featuring ChocQuibTown), Record Of The Year, Song Of The Year and Best Tropical Song for Cuando Nos Volvamos A Encontrar (featuring Marc Anthony), and Album Of The Year and Best Contemporary Tropical Album for Más + Corazón Profundo.

Aneeka, Pablo Lopez and Mariana Vega are among the nominees for Best New Artist. Vega is also nominated for Best Contemporary Pop Vocal Album for Mi Burbuja. Debi Nova is nominated for Best Contemporary Pop Vocal Album for Soy.

Calle 13, noted for its eclectic musical style, often using unconventional instrumentation in its music, leads the nominations with the smart money predicting the band will take home some Latin Grammy gold: The Puerto Rican band is the top competitor for this year's awards.

Eduardo Cabra of the group is nominated for 10 awards, including producer of the year, while the band is up for nine.

The Recording Academy announced Wednesday that producer and songwriter Andres Castro has eight nominations and mastering engineer Tom Coyne has seven. Calle 13 have been Latin Grammy favorites since the band broke on the scene with their 2005 self-titled debut. Multiviral, the band's fifth album and first to be released on their own label, will compete for album of the year; Respira El Momento and Ojos Color Sol are up for song and record of the year. Those top three categories have 10 nominees each.



Carlos Santana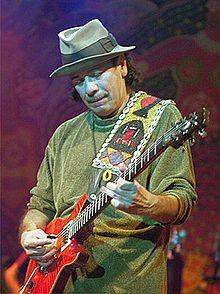 Enrique Iglesias whose father Julio Iglesias became a super-star in Las Vegas (selling more than 300 million records worldwide in 14 languages and released more than 80 albums) has followed in his father's footsteps. The younger Iglesias' Bailando, a hit on Top 40 radio, is nominated for song and record of the year. Iglesias will compete for a total of five awards - as will the song's co-star Descemer Bueno.

Carlos Vives, who was the big winner last year with three Latin Grammys, is nominated for six awards, including album of the year. Others competing for the latter award include Marc Anthony, Ruben Blades, Camila, Paco de Lucia, Jorge Drexler, Fonseca, Jarabe De Palo and the trio of Lila Downs, Nina Pastori and Soledad.

Carlos Santana's Corazon will compete for best contemporary pop vocal album. Santana will perform for the first time with Latin Grammy winner Pitbull at the awards.

Santana is a Las Vegas regular with a long term contact at the House of Blues at Mandalay Bay. Last April his contact was extended by two years. Santana has enjoyed success in everything, except selling his Las Vegas home. A victim of the housing crash, the guitarist had his home on the market before he sold it at a loss. He'd paid $3.5 million for the property in 2010 and some the 7,240-square-foot pad in February 2014 for $2,855m.

The iconic rock-fusion artist performer didn't blink. He plunked down for a $6 million spread which has $2 million-worth of sound and video equipment - enough to make those in the The Producers and Engineers Wing of The Recording Academy long for an invitation to come over and play.

The Latin Grammy Awards will air live, Thursday, November 20, on Univision.






Broadway To Vegas is supported through advertising and donations. Priority consideration is given to interview suggestions, news, press releases, etc from paid supporters. However, no paid supporters control, alter, edit, or in any way manipulate the content of this site. Your donation is appreciated. We accept PAYPAL. Thank you for your interest.




ART AND ABOUT


SEMPER PARATUS: ALWAYS PREPARED, SELECTIONS FROM THE UNITED STATES COAST GUARD ART PROGRAM

One of the works on display at the Semper Paratus Exhibit. Photo: Channel Islands Maritime Museum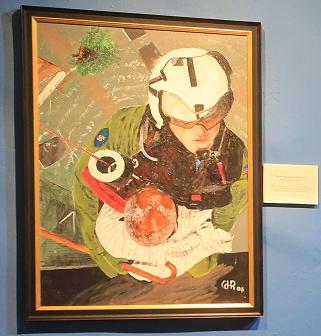 Raise your hand if you knew the US Coast Guard had an art program.

It does.

This exhibit features artworks by outstanding artists from around the United States The images were commissioned to illustrate the day-to-day activities and services rendered by the men and women who are charged with the security of our coasts.

Photographs by USCG Auxiliary member, Michael Brodey, complements the exhibit.

The Coast Guard Art Program (COGAP) uses fine art as an outreach tool for educating diverse audiences about the United States Coast Guard. Through displays at museums, libraries and patriotic events, Coast Guard art tells the story of the service's missions, heroes and history to the public. Art is also displayed in offices of members of Congress, senior officials of the executive branch of government and other military services and at Coast Guard locations throughout the country.

Coast Guard artists - most of whom are professional artists - volunteer their time and talents to help COGAP fulfill its missions.

Today, the collection comprises 1,800 works which are primarily paintings. These capture the daily missions the nearly 42,500 men and women on active duty in the Coast Guard perform, including homeland security, search and rescue, marine environmental protection, drug interdiction, military readiness and natural resource management. Other works depict sea and air assets.

The program is a partnership between the Coast Guard and the Salmagundi Club, a New York City artistic and cultural center for over 140 years. This show will be at the Channel Islands Maritime Museum through March 15, 2015.

CHUCK CLOSE: PRINTS, PROCESS AND COLLABORATION is a monumental portrait of one of America's best-loved visual artists, the largest exhibition of Close's work ever presented in the southern hemisphere and is exclusive to Sydney as part of the Sydney International Art Series.

Chuck Close is an artist noted for his highly inventive techniques used to paint the human face, and is best known for his large-scale, photo-based portrait paintings. He is also an accomplished printmaker and photographer whose work has been the subject of more than 200 solo exhibitions in more than 20 countries.

Close has produced many iconic portraits of artists, celebrities and other well-known public figures including Brad Pitt, Kate Moss, Lou Reed, Roy Lichtenstein and President Obama.

This exhibition comprehensively surveys Close's long involvement with the varied forms and processes of printmaking. It shows the artist's range of invention in etching, aquatint, lithography, handmade paper, direct gravure, silkscreen, traditional Japanese woodcut, and reduction linocut, among others and features images ranging from early mezzotints to monumental later works as well as water color pigment prints and a new series of Jacquard tapestries.

Chuck Close: Prints, Process and Collaboration is organized in association with the Parrish Art Museum, Water Mill, New York. November 20, 2014 - March 15, 2015 at the Museum of Contemporary Art in Sydney, Australia.



PHILANTHROPISTS HONORED FOR THEIR SUPPORT OF THE ARTS
Honoree Lady Susie Sainsbury (l) deputy chair of the Royal Shakespeare Company pictured with actress Joanna Lumley who served as mater of ceremonies. Photo: PA/Clarence House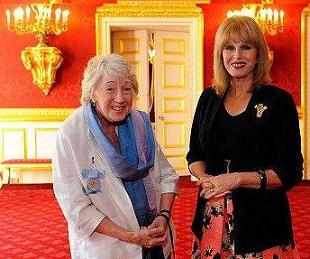 Prince Charles presented medals at St James's Palace in London to individuals who have backed the UK's culture scene. Actress Joanna Lumley was master of ceremonies at the event which took place last Wednesday in the Palace's state apartments.

The Prince of Wales then met guests at a reception after the awards ceremony.

Among those who received the 2014 Prince of Wales Arts Philanthropy Medal were Terry and Liz Bramall, from Harrogate, who are regarded as two of the country's most generous philanthropists.

The Bramalls placed more than $150 million into the Liz and Terry Bramall Foundation in 2008 after Mr Bramall became a building tycoon. The Foundation has made grants of around $3.1 million a year to organizations in Yorkshire, supporting Northern Ballet, Phoenix Dance and the West Yorkshire Playhouse.

A former bus company boss turned philanthropist who donated millions to causes in the North East including the Sage Gateshead, Live Theatre and Tyneside Cinema was posthumously awarded the medal.

Trevor Shears, who died from cancer in May this year, was part of the management buy-out that formed Newcastle transport firm Go Ahead in 1987. The company's public flotation in the mid-1990s brought him immense wealth - but he gave more than half of it away.

His wife Lyn was also honored for the couple's support of the arts.

Mrs Shears said: "It's vitally important to introduce more young people to the arts because they are the audiences of tomorrow. Some have a huge talent but don't know how to use it.

"One girl we met was a wonderful singer working in Tesco and following some tuition and confidence building with (music charity) Samling she is now at the Royal Academy of Music. "It's hugely rewarding to make even a small difference. My husband and I always felt that we got so much more from the giving than the recipients did.

"We never did it seeking recognition but it's a huge honor to receive the medal from The Prince of Wales. It's sad that Trevor can't be here but I know he would have been immensely proud."

Other recipients were Sir Harry and Lady Carol Djanogly, who have helped the V&A, Tate and the Chickenshed theatre company; Lady Susie Sainsbury of Turville, deputy chair of the Royal Shakespeare Company; and John J Studzinski whose Genesis Foundation strives to nurture young talent.


BETTE MIDLER HAS ROYAL FANS - PRINCE WILLIAM AND KATE ATTEND ROYAL VARIETY PERFORMACE
Prince William admits he's a fan of Bette Midler. Photo: PA/Clarence House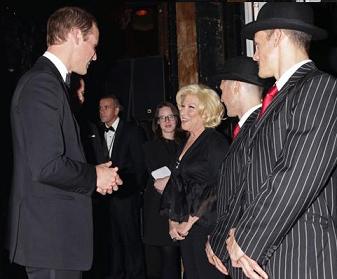 Prince William and a glowing Kate, gowned in a black lace Diane von Fursterberg creation, attended the Royal Variety Performance at the London Palladium last Thursday.

William disclosed that he is a big Bette Midler fan, gushing after the show that it was the first time he had seen her perform in person and that she was "amazing".

When the Wind Beneath My Wings singer let slip that she could be visiting the UK in May or June next year, The Duke replied: "Brilliant. I'll look out for your show."

Midler, who curtseyed when she met Duchess Kate, has already announced plans to play North America in 2015, in what will be her first major tour in a decade.

On arrival they were greeted by Andrew Lloyd Webber and his wife before taking their seats to enjoy the performance.

After the show their Royal Highnesses went on stage to greet performers including host Michael McIntyre and singers Demi Lovato, Dame Shirley Bassey and boy band hybrid McBusted - made up of members of McFly and Busted - and Ellie Goulding.



Duchess Kate greets McBusted. Photo: PA/Claence House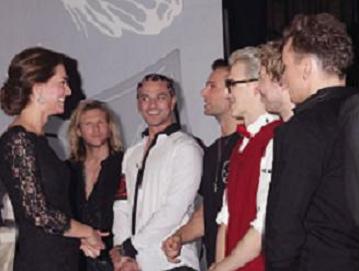 "I'd find it pretty hard to walk around a circle and pretend that you like everyone, and they do it very, very well," singer Ed Sheeran joked after meeting them.

"But yeah, they're really, really friendly."

"It's the most nervous I think I've ever been in my life," One Direction member Liam Payne said.

But 1D singer Harry Styles appeared unfazed by his brush with royalty, offering The Duke and Duchess his best wishes for their growing family. "I said congratulations on the bump," he said. Later he added that she "didn't look bumpy."

Kate had an opportunity to reminisce with an old schoolmate, comedian Jack Whitehall, before heading off stage.

"It was lovely," Whitehall said. "We had a little catch-up about school. It wasn't that in-depth. It was like a school reunion, with just me and her." Prince Charles and Camilla the Duchess of Cornwall watched the performance last year, while Queen Elizabeth and Prince Philip attended during the 2012 Diamond Jubilee year.

The event is held in aid of the Entertainment Artistes' Benevolent Fund, of which The Queen is Patron. The show will be screened on ITV in December.

In related news, Wills and Kate will visit the United States between December 7 and 9, 2014 - the first visit by either of Their Royal Highnesses to both New York City and Washington, D.C. in any capacity.

They are traveling to this side of the pond for a series of engagements which will also see The Duke visit Washington DC for a day, while The Duchess remains in New York.

The couple will attend events on behalf of the Royal Foundation and other charities with which they are closely associated, and also on behalf of the British Government. Throughout their visit, Prince William and Kate will be joined by both the British Ambassador to the United States of America, Sir Peter Westmacott and the British Consul General to New York, Mr. Danny Lopez.

Prince William's cousin, Princess Eugenie, the daughter of Prince Andrew, lives and works in New York City. She's employed by New York-based art auction house Paddle8, which has a heavy interest in various charities. It hasn't been announced if the cousins will be able to get together during the visit.

The couple will arrive in New York on Sunday, December 7th and will attend a private engagement on behalf of the American Friends of The Royal Foundation that evening.

On Monday, Prince William will travel to Washington DC, while his wife remains in New York. He'll attend an anti-corruption conference at the World Bank to discuss a zero tolerance approach to the transportation across borders of illegal wildlife parts. This is a key area of work for the United For Wildlife consortium, of which Prince William is patron. He'll also attend a working lunch at the World Bank at which a number of programs in support of the fight against the illegal trade in ivory will be discussed.

On his return to New York, William will attend a reception organized by the Royal Foundation, in recognition of the conservation work carried out by Tusk Trust and United for Wildlife partners: Wildlife Conservation Society; Conservation International and The Nature Conservancy.



Known as The King, LeBron James will play before a different type of royalty. Photo: NBA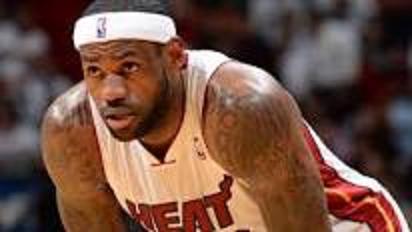 While her husband is off in the national's capital, Kate will carry out two engagements in New York. Accompanied by The First Lady of New York City, Chirlane McCray, the two ladies will visit to a local child development center. Duchess Kate will also attend a lunch, hosted by the British Consul General in New York, to celebrate the achievements of a successful British community in New York from the culture, arts, hospitality and business sectors.

In the fun and games division, on Monday evening the sports minded royals will watch reigning NBA monarch LeBron "King" James take on the Brooklyn Nets. The NBA Basketball game will help launch a new collaboration between the Royal Foundation, United for Wildlife and the NBA.

On Tuesday, December 9, the tourists will visit a youth organization to see the work they carry out in partnership with an inner city youth development foundation. Both organizations focus on programs and projects that promote positive youth development and social learning. During the visit, Wills and Kate will learn about the wide-ranging support services on offer to young people to help them reach their potential, particularly through an arts-in-education model that supports the artistic and intellectual development of the participants.

The Duke and Duchess will then attend an event celebrating the wealth of British talent in the creative industries based in New York. The reception will be in association with the UK Government's GREAT campaign. The Duke will also attend a technology themed event, hosted by a New York-headquartered technology company, which will bring together entrepreneurs from both the UK and the US.

The final engagement of the visit will be the University of St. Andrews 600th Anniversary Dinner at the Metropolitan Museum of Art. The evening event will support scholarships and bursaries for students from under-privileged communities, new student sports facilities in St Andrews, investment in the university's medical and science faculties and a lectureship in American Literature at St. Andrews.

Since Wills and Kate will be visiting The Big Apple when the city is festooned in all its holiday finery, it's hoped that they'll be able to view the always splendidly Madison Avenue decorated store windows - Moulin Rouge director Bas Lurhman and his wife, costume designer Catherine Martin decorated Barney's, in which each of the windows has a different theme - truth, beauty, love or freedom – which were inspired by the artistic concepts that Baz brought to life in Moulin Rouge.


SPREADING THE WORD


CONVERSATIONS WITH THE DIRECTOR features renowned New York art collector and philanthropist Leonard A. Lauder who takes the stage with Gary Tinterow, director of the Museum of Fine Arts, Houston, for a discussion of Lauder's devotion to the arts and passion for Cubism, the most influential art movement of the early 20th century.

Conversations with the Director is a series of talks with Tinterow, who engages an eclectic roster of guests in one-on-one conversations about the arts. Thursday, November 20 at the Museum of Fine Arts in Houston, Texas.


OTHER PEOPLE'S MONEY


BRANFORD AND BAROQUE a fundraiser for the State Theatre in New Jersey took place on November 2, 2014 and has termed "successful." The event raises money to support classical programming at the Theatre. This year's event brought in "over $58,000 - 36% more than was raised at last year's event."

"The event centered around a performance from Grammy Award-winning saxophonist Branford Marsalis, who performed with The Chamber Orchestra of Philadelphia. The baroque program, featuring pieces by Bach, Albinoni, Telemann, and more, was well received by the audience, and the audience was beyond thrilled when Marsalis played a jazz encore of Autumn Leaves.

GASP! by Ben Alton.

Directed by Wesley Enoch.

The cast includes Caroline Brazier, Lucy Goleby, Damon Lockwood, Greg McNeill and Steven Rooke.

Imagine a world in which the air we breathe is just another commodity like food and fuel. Something that can be bought and sold according to market forces.

How much do you think you'd have to breathe? This was the darkly comic premise on which Ben Elton based his first play, the hilarious and critically acclaimed satirical comedy Gasping. First performed in London in 1990, starring Hugh Laurie; it has been revisited by Elton and reimagined for a new century and a new country. This major rewrite Gasp! relocates the story to an Australia grown giddy on the resources boom. Corporate powerhouse Lockheart Industries is already making a mint, but too much money is never enough. Their genius plan to privatize the air we breathe, with the 'Suck and Blow' filtering machine is an instant hit and sales soar. But it splits the planet into the haves and the have-nots – and if you can't pay, you don't breathe.

Designer: Christina Smith. Design Associate: Penelope Challen. Lighting Designer: Trent Suidgeest. Media Designer: optikal bloc. Sound Designer: Tony Brumpton. Directorial Associate: Daniel Evans.

Presented by Queensland Theatre Company and Black Swan State Theatre Company November 17 - December 7, 2014 at the OPAC in South Brisbane, Australia.

A BRONX TALE a one-man play written by and starring Chazz Palminteri.

In A Bronx Tale, Palminteri brings a cast of 18 colorful characters to life as he tells the semi-autobiographical story of a young boy from a working class family who witnesses a murder and is introduced to the world of organized crime.

Sunday, November 23, 2014 at the Brooklyn Center for the Performing Arts in Brooklyn, NY.

ENGLAND EXPECTS a one woman, twelve character play by Tom Glover.

Directed by Gary Phillpott.

Vesta Tilley was music hall's greatest male impersonator. Her role in recruiting thousands of men during World War I made her the darling of the establishment but as the brutal reality of war became known, whose side was she really on?

Starring Teresa Jennings.

Sitting in her dressing room on her farewell tour she reminisces on her role as Britain's Best Recruiting Sergeant and the lives she touched. Through her stock-in trade of impersonation and songs Vesta tells us about her role in the Great War and the impact she had on those left at home.

Matilda Alice Powles was an English music hall performer who adopted, at age 11, the stage name Vesta Tilley and who became one of the most famous male impersonators of her era. She was a star in both Britain and the United States for over thirty years.

First treading the boards at the tender age of three, she took to wearing men's clothes for her performances a few years later and continued to dress as a man throughout her long career, claiming she could express herself better when dressed this way. She hit her controversial peak during World War One though, when along with her husband the musical hall manager Walter de Frece, she worked tirelessly to recruit men and boys into the army.

England Expects explores this period of Vesta Tilley's life as she struggles with her conscience and the fact that she is inevitably sending young men to their death. A loyal Edwardian wife despite her unusual line of work, Tilley is torn between supporting the working class audience who come to see her, and the upper class dreams of her husband who is trying to become a Conservative MP.

November 16-30, 2014 at King's Head Theatre in Islington, UK.

FDR starring Emmy Award-winner Ed Asner in his solo performance drama based on Dore Schary's Broadway hit Sunrise at Campobello.

Asner explores the life of one of America's best-loved presidents and the events and decisions that shaped a nation. This powerful one-man play follows the iconic president as he reflects on his years in office, from the Inauguration to the trials of World War II.

November 19 – 23, 2014 at the Laguna Playhouse in Laguna, CA.

THE ELEPHANT MAN by Bernard Pomerance.

Directed by Scott Ellis.

The cast features Bradley Cooper as John Merrick, Patricia Clarkson as Mrs. Kendal, Alessandro Nivola as Dr. Frederick Treves, Anthony Heald as Ross / Bishop Walsham How, Scott Lowell as Snork / Pinhead Manager / Lord John, Kathryn Meisle as Miss Sandwich / Princess and Henry Stram as Carr Gomm / Conductor. The cast also includes Chris Bannow, Peter Bradbury, Lucas Calhoun, Eric Clem, Amanda Lea Mason, Marguerite Stimpson and Emma Thorne.

Based on the real life of Joseph Merrick, The Elephant Man tells the story of a 19th-century British man (Cooper) who became a star of the traveling freak show circuit. When the renowned Dr. Treves (Nivola) takes Merrick under his care, he is astonished by the man's brilliant intelligence, unshakable faith and, most of all, his resounding desire for love and understanding. He introduces Merrick to the beautiful actress Mrs. Kendal (Clarkson), who is deeply touched by this pure and genuine soul. As a complex friendship blossoms among the three, Treves and Kendal struggle to protect Merrick from a world of questionable intentions… and so begins a story of love as unique as "The Elephant Man" himself. Scenic and Projection Design by Timothy R. Mackabee, Costume Design by Clint Ramos, Lighting Design by Philip S. Rosenberg, Original Music and Sound Design by John Gromada.

This production, also starring Mr. Cooper, Ms. Clarkson and Mr. Nivola under the direction of Mr. Ellis, was first produced and presented in July 2012 in Williamstown, Massachusetts by the Williamstown Theatre Festival, Jenny Gersten, Artistic Director.

Currently in previews and will open at the Booth Theatre, NYC on December 7.

DO YOU WANT WHAT I HAVE: A CRAIG'SLIST CANTATA outrageous personal ads set to music by Veda Hille, Bill Richardson and Amiel Gladstone.

An Acting Up Stage Company and Factory Theatre Production (Toronto) with performances through November 22, 2014 at the National Arts Centre in Ottawa, Canada.

PERICLES, PRINCE OF TYRE by William Shakespeare.

Directed by Ray Chambers.

Pericles, Prince of Tyre is a startling epic of the trials, heartbreak, and redemption of a warrior who must navigate the dangerous currents of human corruption and angry fate. Join him as he travels across the treacherous oceans of North Africa, ancient Syria, Turkey, and Greece and is forever changed by the comically exotic and morally vague figures he meets. Love, betrayal, laughter, and adventure unfold in this engrossing, yet seldom produced, Shakespearean gem.

Featuring: Amy Blackman (Thaisa), Maxx Brawer (Cleon), Lindsay Brill (Bawd), Charlotte Bydwell (Lychorida, Diana), Lowell Byers (Pericles), Ally Carey (Dionyza), Jamal Douglas (Simonides), Tyler Kent (Helicanus), Jake Millgard (Cerimon, Pandar), Makha Mthembu (Marina), Daniel Petzold (Boult), Megan M. Storti (Gower), Nathan Whitmer (Antiochus, Leonine), and Patrick Zeller (Lysimachus, Thailard)

Sean Fanning and Brian Redfern (Scenic Design), Elisa Benzoni (Costume Design), Jason Bieber (Lighting Design), Melanie Chen (Sound Design), Jan Gist (Voice and Speech Coach), Brian Byrnes (Movement Coach), Nicole Ries (Production Stage Manager), and Ryan Heath (Assistant Stage Manager).

A production of the Old Globe University of San Diego Graduate Theatre Program with performances November 15 – November 23, 2014 in the Sheryl and Harvey White Theatre at the Conrad Prebys Theatre Center in San Diego, CA.


WHO'S WHERE


STRAIGHT NO CHASER entertains Wednesday, November 19, at the Merrill Auditorium in Portland, ME. Thursday's show is at the Memorial Auditorium in Lowell, MA. Friday's gig takes place at Shea's PAC in Buffalo. On Saturday they are on stage at Meyerhoff Symphony Hall in Baltimore, MD. Next Sunday, November 23, they can be enjoyed at the VTS in Providence, RI.

FLEETWOOD MAC entertain Tuesday, November 18 at the Rogers Arena in Vancouver, BC. On Thursday they're on stage at the Tacoma Dome in Tacoma, WA. Saturday's show is at the Moda Center in Portland, OR.

JUSTIN TIMBERLAKE brings his tour to the Moda Center in Portland, Oregon on Thursday, November 20. On Saturday he stars at the Oracle Arena in Oakland, CA.

THE FOUR FRESHMEN Today's ensemble not only preserves The Four Freshman sound, they enhance it with their youth, vitality and talent, giving new treatments to the Great American Songbook. Friday, November 21 as part of the Cabaret Songbook Series, The Palace in Stamford, CT.

THE SECOND CITY'S NUT-CRACKING HOLIDAY REVUE toast the season with Chicago's legendary sketch comedy theater! Nut-Cracking Holiday Revue captures all the magic, mystery, and mayhem of the season with original songs, brand-new sketches, and some classic favorites. Tuesday, November 25, 2014 at the Sunset Center in Carmel, CA.


FINAL OVATION


CAROL ANN SUSI an actress best known for voicing the unseen Mrs. Wolowitz on The Big Bang Theory died on November 11, 2014 in Los Angeles, after a brief battle with cancer. She was 62.

She studied acting at HB Studio in New York City before moving to Los Angeles in the 1970s Since then the veteran character actress had numerous guest appearances on TV shows.

On the The Big Bang Theory, she wasn't seen on camera as the mother of Simon Helberg's character, Howard, but her character's loud voice with a Brooklyn accent was instantly recognizable.

Susi is survived by her brother, Michael Susi, and his wife, Connie.

GLEN A. LARSON Grammy and Emmy nominated television producer and writer died from esophageal cancer at UCLA Medical Center in Santa Monica, California, on Friday, November 15, 2014. He was 77.

Best known as the creator of the television series Battlestar Galactica, Quincy, M. E., The Hardy Boys/Nancy Drew Mysteries, B.J. and the Bear, The Fall Guy, Magnum PI and Knight Rider.

He began his career in 1956 as a member of the vocal group The Four Preps, with whom he appeared in one of the Gidget films. The Four Preps produced three gold records for Capitol Records, all of which Larson himself wrote and/or composed: 26 Miles(Santa Catalina), Big Man and Down By The Station.

Larson was involved in the development for television of The Six Million Dollar Man, based on Martin Caidin's novel Cyborg, into the successful series, and was one of the program's early executive producers.

Survivors include his wife Jeannie, brother Kenneth and nine children - James, Kimberly, Christopher, Glen, Michelle, David, Caroline, Danielle and Nicole - from former wives Carol Gourley and Janet Curtis.















Next Column: November 23, 2014
Copyright: November 16, 2014 All Rights Reserved. Reviews, Interviews, Commentary, Photographs or Graphics from any Broadway To Vegas (TM) columns may not be published, broadcast, rewritten, utilized as leads, or used in any manner without permission, compensation and/or credit.
Link to Main Page
---
Laura Deni



For the snail mail address, please E-mail your request.
CLICK HERE FOR COMMENT SECTION