! >
Broadway To Vegas
  
 SHOW REVIEWS CELEBRITY INTERVIEWS GOSSIP NEWS

| | |
| --- | --- |
| | |
THE MUST SEE BILLY ELLIOT OPENS ON BROADWAY - - PAL JOEY IN PREVIEWS - - WASHINGTON RING CYCLE GETS BURNED WHILE SEATTLE VERSION HEATS UP - - MARVELOUS WONDERETTES OFF-BROADWAY CAST CD - - VICE SQUAD CLOSED NAKED BOYS SINGING ACLU SUES - - CATHY RIGBY AS MRS. CLAUS - - MUSEUM OF AMERICAN HISTORY REOPENS WITH MUSIC AND DRAMA - - ROBIN WILLIAMS A HIT IN LONDON - - DONATE . . . Scroll Down


Copyright: November 16, 2008
By: Laura Deni
CLICK HERE FOR COMMENT SECTION
MILWAUKEE ACLU SUES OVER VICE SQUAD CLOSURE OF NAKED BOYS SINGING


The Milwaukee Gay Arts Center and the American Civil Liberties Union filed suit against the City of Milwaukee in federal court Monday, November 10, claiming the Police Department violated the First Amendment when it shut down an August 2005 production of Naked Boys Singing, a musical play with gay themes that has been produced around the country.

At that time the police announced that the musical could not be staged because the center failed to obtain a city theater license. Police threatened arrests if the work was performed.

Paul Masterson, Executive Director of the Milwaukee Gay Arts Center, spoke with Broadway To Vegas about the situation.

The Milwaukee Gay Arts Center, located in the Walker's Point neighborhood, opened in March 2005 with a cabaret entitled Gay Broadway. The inaugural art exhibition Tapestries, showcased panels of the AIDS Memorial Quilt and art work by local LGBT artists.

Masterson began as the arts curator and has served in his current capacity for over two years.

"I don't know if the City Attorney has responded yet," said the Connecticut native who comes from a musical background. His mother Frances Farrell, was a big band singer in NYC in the 30s and 40s. His grandmother, who was born in the late 1890's, played piano in the silent movies.



Milwaukee Gay Arts Center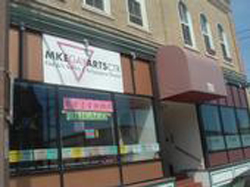 Regarding the lawsuit and subsequent press coverage, Masterson explained that no license has ever been needed. "We don't need a license to begin with. We are a 501C3 and there is an exemption to the ordinance for churches and charitable organizations, of which we are one." So why did the police shut down the show?

"There was somebody representing a religious group who wrote a letter to the City of Milwaukee asking if we had a license to do anything - show art or theater and in particular mentioned Naked Boys Singing. This is the same religious group that pickets in front of Planned Parenthood."

The licensing division noticed the Gay Arts Center had no license, didn't investigate the exemption, called the Arts Center and informed them they needed to get one, even though other productions had been staged without incident or complaint.

"We immediately applied for a license and paid for it, even though we know we are exempt," recalled Masterson. "That was a couple of weeks before the opening," he reported about a time frame far enough in advance, that any reasonable person would think action could have been taken.

"There wasn't a review because the City Council wasn't in session," he said referring to Milwaukee, the largest city in Wisconsin and, by population, the 22nd largest in the United States.

"That is where I think the ACLU's complaint comes it, regarding the ordinance itself - that they are not allowing for a timely review," he continued. "Also, the ordinance itself has some other problems which involves not only the timeliness of the license application being reviewed, but also that you can't appeal if you're not given the license. It has come to light that the ordinance itself is not constitutional."

"Obviously things were in place. Advertising was out," he said about the production.

"We had opened. They didn't close us down until the second week-end of the run. There were no complaints, that I know of, while we were open."

"Unfortunately, I was out of town when the police came in and closed the show. They had a line of paddy wagons. They didn't haul away the actors. They said if you put this on, we'll arrest everybody."

"Approximately 10 days after the closure we received a letter from the city saying - you can run the show while we review this. In fact, in the Milwaukee City Ordinance, nudity on stage is permissible in a theater in an arts related context. You can't be totally nude as a stripper in a club or bar. In a theater, doing art, you can."

"Our production lost everything. That is what the lawsuit is about," he stressed about the litigation which seeks damages for losses suffered.

"The actors are given an honorarium. There was the advertising, the rights, all of the other expenses in doing the show. Then we were able to remount it, but not for another two months, which meant doing everything all over again. Plus the fact that we had sold tickets on line and we were refunding money. It was a big mess because of credit cards, trying to track everything down."

Chaos filled the two month span between police closing Naked Boys Singing to the reopening.

"Once again, because of the way the letter was written, it was - you can do the show while we review this. You think you can do the show but what if they decide something isn't right after all? They'll close us again. In the meantime, the ordinance shows that there is an exemption for the license for groups like ours and churches," he reiterated.

The ACLU charges that the theater licensing ordinance is unconstitutional, because it allows authorities to suppress free speech by withholding a license indefinitely, and that the police were illegally acting to suppress the play because they disapproved of its content.

Declaring that the city had committed a civil rights violation by unfairly targeting the center because it is a gay organization, in 2005 The Arts Center filed a claim against the city for $634,420.

"The initial lawsuit we filed in 2005 was dismissed in December of 2006 without prejudice," Masterson explained. "It was filed as a discrimination lawsuit and the Federal Court dismissed the way it had been filed, but said we could pursue it. That is when we turned it over to the ACLU in 2007. They took it, reviewed it and said - Yes, we find merit in this and we'll take it."

Consequently, the new lawsuit was filed November 10, 2008.

"Naked Boys Singing is mostly a light-hearted look at a part of the gay experience in America," Masterson said. "It may not be for everyone, but good theater sometimes challenges convention. And all kinds of audiences have enjoyed the humor and the poignancy of the songs and the situations in the play."

ACLU cooperating counsel Steve Porter and Jeff Scott Olson of Madison, Wisconsin filed the lawsuit on behalf of MGAC. Porter said the case shows why licensing of plays and other art is dangerous.

"When a theater director or other performer has to get a license before expressing herself," said Porter, "it's too easy for the authorities to just delay giving the permit to performances they don't like. In this case, the cast and crew were gearing up for a show when the police first brought up the need for a license, even though MGAC and other nonprofit theaters had done other shows without licenses for years. The only difference is those shows didn't have such provocative titles, so you have to suspect that disapproval of the content is what made the police act in this case," stated the ACLU.



Nannette Hegerty was named Milwaukee's first female top-cop in 2003. In March 2008 she filed a gender discrimination complaint with the Wisconsin Department of Workforce contending she was discriminated against when the Fire and Police Commission paid her successor a higher salary than she had received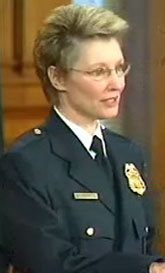 "We've had two town hall meetings," continued Masterson. "One was with the police chief Nan Hegerty and the mayor that related to all these issues. The question from the get-go was why the vice squad was there over a licensing issue? It was also a calamitous week-end in Milwaukee. That was a hot summer and lot of shootings going on. So, the question arises - although I don't think it is so directly involved - but if you have all of this other stuff going on, why was the priority to spend police resources - patty wagons for the cameras - on a licensing issue?" he questioned.

When the Arts Center re-opened the production they were met with religious pickets who Masterson asserts interfered with residents of nearby apartments entering or leaving their own homes.

"The Street Preach website announced that they would protest in front of the theater," Masterson recalled. "They were there. I called the police chief and she immediately responded. They watched as things developed. When the protestors got too close and prevented people from going into the front door of their apartments, and became too aggressive, the police acted."

Are the apartments specifically for members of the gay community?

"No, no, no. This is a mixed neighborhood," emphasized Masterson. "There are developments of condos. The neighborhood to our West is the Latino neighborhood."

"What we are doing now is waiting to see how the city responds to the lawsuit," he stated.



2008 Gay Youth Art Show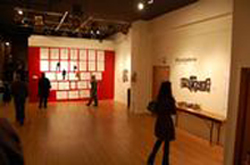 In the meantime the Gay Arts Center is a busy place. Last Friday night a fund raiser was staged. A concert is planned for November 22.

"We do a lot of belly dance here. Milwaukee had a big Egyptian belly dance community," he said. "It's not gay belly dance. They use our venue for a lot of performances and there is a big following. We do have a troupe that is sponsored by the Gay Arts Center."

"We currently have the 3rd annual Gay Youth Art Show, a collaboration with the Alliance High School, which is a charter school of the Milwaukee School System. That was opened as a refuge for LGT students who have identified themselves. The enrollment is approximately 60 percent LGT," he said of the educational institution which offers "a safe environment where students will be treated fairly regardless of sexuality, ability, appearance, or beliefs. A year-round schedule to provide for the continuum of support and services beyond the traditional academic day."


WASHINGTON RING CYCLE GETS BURNED; SEATTLE VERSION HEATS UP


The Washington National Opera has indefinitely postponed its full production of all four operas of Wagner's Ring cycle, citing money woes.

In a press release General Director Plácido Domingo wrote: "Seven years ago, Washington National Opera began planning a Ring cycle, which is one of the most ambitious and expensive undertakings for any opera company. At the time, the economic climate was relatively stable, and the company was confident in its ability to raise the additional funds necessary to support so huge an effort. Now, however, the dramatic changes in the nation's economy have made all of us who are responsible for WNO's welfare reluctantly come to the difficult decision to postpone the Ring cycle until the financial climate becomes more positive."

"Of course we are disappointed, but by postponing the Ring, we will protect the long-term financial health of the company and ensure that WNO will continue to achieve artistic excellence," continued Maestro Domingo. "Postponing the Ring protects the long-term financial health of the company and ensures that WNO will continue the legacy of artistic excellence that is central to our mission," stated Mark Weinstein, WNO Executive Director. Advanced sales for the Ring were exceptionally strong, and undoubtedly would have resulted in sold-out performances. But, as almost all nonprofit performing arts organizations are aware, even the strongest ticket sales cover only a fraction of production expenses and the Opera must look to the generosity of individuals, foundations and corporations to support its work. To move forward with the Ring project would incur enormous costs beyond the Opera's regular season.

The release continued that Washington National Opera is prepared to reimburse completely all ticket purchases and donations associated with the Ring cycle.

Across the country, the Seattle Opera has begun ticket sales for their production which is slated for next August. The company reports that "already over 60 percent sold on priority sales."

This award-winning production, inspired by the natural beauty of the Pacific Northwest, was unveiled in 2001 to wide acclaim, and revived for sold-out audiences in 2005. The next Ring is August 9 - August 30, 2009.

At this time orders are accepted for full cycles only. Subject to availability, tickets to individual operas will go on sale in the summer of 2009.

First in the series is Das Rheingold, which begins August 9, 2009.



Das Rheingold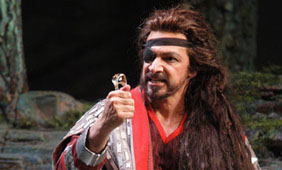 All four of the rings will be conducted by Robert Spano and directed by Stephen Wadsworth. Likewise, all set designs are by Thomas Lynch. Costume Designer is Martin Pakledinaz. Fire Designer and Flight Technical Director: Charles T. Buck. Lighting Design by Peter Kaczorowski. Hair and Makeup Design by Joyce Degenfelder. English Captions by Jonathan Dean.

In German with English Captions, the cast includes: Stig Fogh Andersen, Janice Baird, Stephanie Blythe, Luretta Bybee, Jason Collins, Richard Paul Fink, Julianne Gearhart, Greer Grimsley, Gordon Hawkins, Sarah Heltzel, Jennifer Hines, Michele Losier, Miriam Murphy, Dennis Petersen, Marie Plette, Andrea Silverstrelli, Stuart Skelton, Maria Streijffert, Daniel Sumegi, Kobie van Rensburg, Sally Wolf and Margaret Jane Wray.

The prelude to the Ring cycle begins with the swimming Rhine daughters losing their precious gold to the Nibelung dwarf Alberich. The gods, led by Wotan, in need of treasure to pay off the giants who have built Valhalla, descend into the Nibelung caverns, capture Alberich, and force him to give up the ring. The resulting curse takes effect immediately as blood is shed in an argument over the ring. The opera ends with the gods crossing the rainbow bridge to Valhalla, accompanied by the forlorn calls of the Rhine daughters and dire predictions about the gods' future.

Part 2 of the Ring is Die Walküre featuring the unforgettable Ride Of The Valkyries, is equal parts heady romance and high-stakes family drama. Deep in the forest, love blossoms between the dashing nomad Siegmund and the unhappily married Sieglinde. Believing that this union holds the key to lifting the ring's curse, Wotan instructs his Valkyrie daughter Brünnhilde to defend Siegmund in the ensuing duel. The adulterous pairing draws the ire of Fricka, goddess of marriage, who demands the interloper be killed. Wotan defers to Fricka, but Brünnhilde, moved by Siegmund's overwhelming love, defies the gods and protects him. The duel ends messily, Sieglinde is spirited away to bear a son, and Wotan and Brünnhilde have a fiery father/daughter showdown on a towering cliff.

Siegfried is Part 3 of the Ring cycle. This section chronicles the heroic coming of age of the naïve yet fearless Siegfried, product of the Siegmund/Sieglinde union. Mime, brother to Alberich, has raised Siegfried ever since he lost his mother at birth, and plans to use the boy to liberate the Nibelung hoard, including the all-powerful ring. A mysterious Wanderer (Wotan in disguise) visits Mime and, after a game of riddles, hints that Siegfried is indeed destined for greatness but also will be Mime's doom. Swords are re-forged, dragons slain, treasures reclaimed, justice dispensed, a forest bird sings, and the power of the gods continues to dwindle as the hero's quest culminates in the discovery and rapturous rescue of Brünnhilde on her rocky ledge.

Götterdämmerung concludes the Ring. Part 4 of the Ring cycle begins with the three Norns reviewing the thread of destiny and recalling Alberich's curse on the ring. Still smitten, Siegfried gives the ring to Brünnhilde as a token of his love before embarking on further heroic quests. He is soon duped by King Gunther and his half-brother Hagen (son of Alberich) into forgetting his love for Brünnhilde and promising her to Gunther in exchange for his sister's hand in marriage. A shape-shifting Siegfried visits Brünnhilde, forcibly takes the ring, and brings her down from the ledge to a contentious wedding feast where accusations, miscommunications, and traitorous plotting ensue. Just as Hagen's murderous plan is carried out, Siegfried recalls his true love for Brünnhilde, now fully aware of the truth also. She takes the ring from his finger, orders the construction of a grand funeral pyre, and walks into the flames to be reunited with him in death. The river overflows, the Rhine daughters recover the ring, Valhalla burns, and the kingdom of the gods is destroyed. Brünnhilde's sacrifice has cleansed the ring and restored the natural order.



Broadway To Vegas is supported through advertising and donations. Priority consideration is given to interview suggestions, news, press releases, etc from paid supporters. However, no paid supporters control, alter, edit, or in any way manipulate the content of this site. Your donation is appreciated. We accept PAYPAL. Thank you for your interest.


ART AND ABOUT


MUSEUM OF AMERICAN HISTORY REOPENS WITH MUSIC AND DRAMA The National Museum of American History in Washington, DC has been closed for the last two years - undergoing an $85 million renovation. The results will be unveiled on Nov. 21 in conjunction with an all-day celebration with food, entertainment, free prizes and historical re-enactments.

The first 1,814 visitors to the ribbon cutting and through the Museum doors will receive a special gift in honor of 1814, the year of the Battle of Baltimore when the Star-Spangled Banner waving at "dawn's early light" inspired Francis Scott Key

The public is invited to experience the newly transformed Museum with a dynamic schedule of family-friendly activities, including musical entertainment, living history and various giveaways (while supplies last), in addition to the Museum's usual exhibition offerings.

The soundtrack of American history will echo through the Museum during the reopening celebration as musical styles of our nation's past come to life. Jazz, blues, Latin, 19th-century string band music, "freedom songs" of the Civil Rights Movement and military music will fill the Museum. Performances will rotate and repeat throughout the day.

Visitors will have the opportunity to meet actors impersonating Mary Pickersgill, who made the Star-Spangled Banner in 1813, outside of the iconic flag's new gallery. Near the Greensboro Lunch Counter display visitors may take part in the sit-ins of the Civil Rights Movement or move to "The Price of Freedom" exhibition to listen to letters home from American soldiers throughout our nation's armed conflicts.

Visitors may have their photo taken with Dorothy from The Wizard of Oz, George Washington, Civil War soldiers and other historical characters in front of the Museum's iconic landmark objects, such as Clara Barton's ambulance, the John Bull locomotive or Dumbo the elephant.

The two year transformation means that patrons will now walk into a five-story skylit atrium, surrounded by artifact displays showcasing the breadth of the Museum's three million objects from the cultural, social, technological and political history of the United States.

A grand staircase now links the Museum's first and second floors and six landmark objects located in the wings of each of the three exhibition floors help orient visitors.

New galleries such as the Jerome and Dorothy Lemelson Hall of Invention, presenting Invention at Play, join old favorites including The American Presidency: A Glorious Burden and America on the Move.

At the heart of the Museum, the Star-Spangled Banner - one of the most recognized symbols of the nation - has been given a new state-of-the-art gallery and fresh interpretation. The grand reopening kicks off a year of new exhibitions and programming throughout 2009.

CAPTURING THE MOMENT: PHOTOGRAPHS OF THEATRE PHOTOGRAPHER REG WILSON

Wilson captured the moment Princess Diana took to the stage with dancer Wayne Sleep at the Royal Opera House in 1985. She danced to the Billy Joel song Uptown Girl as a surprise for Prince Charles. Photo from exhibition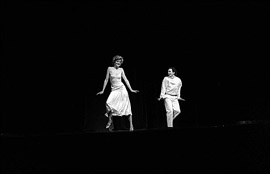 are being exhibited at London's Playhouse Theatre by the Victoria & Albert Museum Theatre Collection as part of the Society of London Theatre's centenary celebrations and marks Wilson's 70th birthday.

Reg Wilson took his vast collection of over 800,000 theatre photographs during the second half of the last century. One of London's most prolific photographers of the performing arts, he gained access to many of the great stage actors and performers of the day, taking iconic images that are still in use today.

This collection, which is open to the public for a limited time, brings only a fraction of his staggering 800,000 theatre photographs together in one place, tracing the recent history of both London theatre and of theatrical photography.



Wilson photographed actors Windsor Davis, Ray Cooney and Henry MacGee during a production of It Runs in the Family, at the Playhouse, in 1982. Photo from exhibition.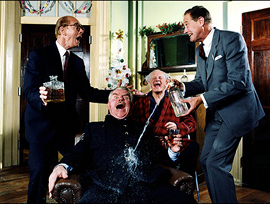 The subjects of the exhibition include among others; Barry Humphries, Michael Crawford, Ray Cooney, Peter O'Toole, Janet Suzman, Laurence Olivier, John Gielgud, Cyd Charisse, Ginger Rogers, Diana Rigg, and Simon Russell Beale. Also on display is Wilson's most famous image; that of Diana, Princess of Wales, and Wayne Sleep dancing on the stage of the Royal Opera House in 1985.

Wilson is respected for both his brilliant camera technique and outstanding dark room printing skills as well as being lauded as a pioneers in the use of color. He regularly shot in color from 1961, over a decade before it was standard practice.

The Society of London Theatre (SOLT), the representative body for London's major theatre owners and producers, was formed in 1908 and with it the concept of Theatreland. SOLT has been running events throughout the year celebrating aspects of theatre.




THE MUSIC GOES ROUND AND ROUND


THE MARVELOUS WONDERETTES the original off-Broadway cast recording has been released by PS Classics. This high energy CD of pop favorites circa 1958-68 begins with Springfield High School Principal Varnay welcoming students to the 1958 prom where the Wonderettes - Betty Jean, Cindy Lou, Missy and Suzy - four young girls with hopes and dream as big as their crinoline skirts - are the substitute performers for the Crooning Crabcakes after Billy Ray Patton, the lead crab, got suspended from school for smoking behind the girl's locker room. The Wonderettes feature Farah Akvin as Missy, Beth Malone as Betty Jean, Bets Malone as Suzy and Victoria Matlock as Cindy Lou.

The second half of the CD is the 10 year reunion with Principal Varnay welcoming the returning alumni and The Wonderettes again take to the stage this time singing songs of that era -during which time the stage production offers the audience the opportunity to learn about each girl and the different roads they've traveled.

Save for the brief two welcomes by Principal Varney, this CS is all ear catching-memory making music. The production is billed as "a cotton-candy colored musical blast from the past." It is.

When you listen to this new this CD and know the lyrics to every song - that's a clue that there is a diner somewhere that has a senior citizen discount waiting for you.

That's not a bad thing.

Songs of that musical harmony era were memorable - easy on the ear and lyrics could be understood. The stage production has reached across the age barriers to attract both parents and their children. Likewise, the CD will have a cross over appeal.

Brian Baker served as musical supervisor for the top of the chart hits. Conducted by Michael Borth. Written and directed by Roger Bean, who was inspired by his mother. While growing up in Seattle, Roger's mother performed the household chores while singing. Approximately 12-years ago she finally confessed to her son that she had not only been a variety song leader, but also part of a singing trio. And so, The Marvelous Wonderettes was born.

After a record-setting nineteen-month run in Los Angeles, The Marvelous Wonderettes opened at the Westside theatre in NYC opening on September 14, 2008. Unfortunately, Bean's mother passed away before she was able to see the production she inspired.

The CD was recorded September 18, 2008 at Avatar Studios in NYC. Recording producer Jeffrey Lesser.

With people counting their holiday spending dollars, this is one stocking stuffer that offers its money's worth with 32 solid beat, energetic, danceable tracks.

Track Listing:
1.Welcome/ Mr. Sandman
2. Lollipop
3. Sugartime
4. Allegheny Moon
5. All I Have To Do Is Dream
6. Dream Lover
7. Stupid Cupid
8. Lipstick On Your Collar
9. Lucky Lips
10. Secret Love
11. Mr. Lee
12. Born Too Late
13. Teacher's Pet
14. Sincerely
15. Goodnight, Sweetheart, Goodnight
16. Hold Me, Thrill Me, Kiss Me
17. Welcome Back/Heatwave
18. It's In His Kiss
19. Wedding Bell Blues
20. You Don't Own Me
21. With This Ring
22. I Only Want To Be With You
23. That's Where The Tears Start
24. It's My Party
25. Son Of A Preacher Man
26. Leader Of The Pack
27. Maybe
28. Maybe I Know
29. Needle In A Haystack
30. Rescue Me
31. Respect
32. Thank You And Goodnight/Sincerely


SPREADING THE WORD


FALL PLAY READING FESTIVAL is a popular yearly tradition, in which an array of classic and contemporary plays are presented to audiences in an intimate "salon style" staged reading atmosphere. Dying City by Christopher Shinn will be directed by Craig D'Amico.

In Obie winner Christopher Shinn's remarkable tale of loss and how two very different people handle their grief, we find Kelly, a year after her husband's death in Iraq, confront his identical twin brother who arrives at her apartment unannounced. A powerful thriller about the human spirit, the unforeseen, and those left behind. Tuesday, November 18 at the David Fairchild Studios in Redondo Beach, CA. The performance is free of charge but seating is strictly limited.



BILLY ELLIOT Book and lyrics by Lee Hall, based on the Universal Pictures/Studio Canal film; music by Elton John; directed by Stephen Daldry; splendidly choreographed by Peter Darling.

It can be extremely difficult to transfer from one medium to another - especially if you're referring to Broadway and films. Usually the better roadmap is from stage to celluloid, because the big picture offers more creative possibilities. Then there is Billy Elliott - first a 2000 movie and now the must see Broadway musical of the season. The show to beat, this one will garner multiple Tony Awards. Interesting is that some tour agencies are already booking outings to see this show for August, 2009.

Starring David Alvarez, 14, Trent Kowalik 13, and Kiril Kulish 14 as 11-year-old Billy - with no advanced performance schedule made public.

Who new there are so many really talented juvenile dancers? Down economy or not, a lot of parents will be kept living large thanks to this production.

A reason to try to see Billy Elliot as soon as possible is because higher-ups are already looking at replacements for the three Billy's. It won't be long before the current trio outgrow the part.

A new use for a big sister's tutu - give it to the younger brother. Just as Gene Kelly and Gregory Hines established that tap dancing ain't for sissies, this show bumps up ballet to something both athletic and graceful. The ballet move en arrière may be moving the dancer away from the audience, but in the case of Billy Elliott, empathy will hold patrons in their seats.

The first element that grabs and holds the audience is the music.

Over the last 50 years Elton John has morphed himself into a variety of existences. His show in Las Vegas at Caesars Palace is outrageous and entertaining. His songs have topped the charts both for himself and other artists. He's has other forays on the Great White Way, but with this outing John establishes himself as a Broadway composer to be taken seriously.

Now for the downside. There are times when you can't understand a bloody word they are saying. That breaks the mood and becomes annoying. Apparently the talented cast has been taught not only how to dance, but how to approach dialogue from the marble mouth school of diction. Though a dance driven production, there is a plot and the words are important.

The show is a major hit in London. Maybe they can understand what's said. But, you're on this side of the pond now.

The storyline unfolds against the British coal miners strike of 1984-85, a major industrial action that crippled first the British coal industry, then the country and eventually destroyed Prime Minister Margaret Thatcher, who is presented on stage by an enormous puppet, documentary footage and a Christmas party where guests all dress as the PM.

While the plot is powerful and thought provoking, there is a positive and uplifting quality that is compatible with today's economic downturn.

Billy Elliot is an 11-year-old son of a set-in his ways widower coal miner played by Gregory Jbara. The atmosphere is tense because of the coal miners' strike. Both Billy's father and brother (Santino Fontana) are participating in the strike. Billy's sassy but addle brained grandmother (Carole Shelley) attempts the household chores. Billy's father can't stomach his son's artistic leanings and enrolls him in boxing lessons at the local hall. Billy prefers joining the girls' ballet lessons. He's encouraged by spunky ballet teacher Mrs. Wilkinson, played by Haydn Gwynne, who originated the role in the London production, and is making her Broadway debut in the show. Billy keeps on training secretly, while the work situation and problems at home get worse. Finally, Mrs. Wilkinson manages to get Billy an audition for the Royal Ballet School, but now he has to gain the support of his family.

The cast is perfect. The rehearsal pianist Mr. Braithwaite is played by Thommie Retter. George is Joel Hatch. The ghost of Billy's mother is tenderly played by Leah Hocking. Frank Dolce and David Bologna alternate portraying Billy's best friend, Michael. Debbie is Erin Whyland. Stephen Hanna plays Billy's older self.

The ensemble includes: Juliette Angelo, Tommy Batchelor, Kevin Bernard, Grady Bowman, Heather Burns, Maria Connelly, Samantha Czulada, Kyle DesChamps, Eboni Edwards, Brianna Fragomeni, Greg Graham, Darrell Grand Moultrie, Eric Gunhus, Meg Guzulescu, Izzy Hanson-Johnston, Keean Johnson, Aaron Kaburick, Donnie Kehr, Cara Kjellman, Kara Klein, David Koch, Jeff Kready, Stephanie Kurtzuba, David Larsen, Caroline London, Merle Louise, Marina Micalizzi, Mitch Michaliszyn, Matthew Mindler, Tessa Netting, Daniel Oreskes, Jayne Paterson, Liz Pearce, Corrieanne Stein, Jamie Torcellini, Grant Turner and Casey Whyland.

Sets by Ian MacNeil; costumes by Nicky Gillibrand; lighting by Rick Fisher; sound by Paul Arditti; music contractor, Michael Keller; hair, wig and makeup design by Campbell Young; music supervision and orchestrations by Martin Koch; music director, David Chase.

Seen in previews. Officially opened last Thursday at the Imperial Theatre, NYC.

PAL JOEY the first revival in over 30 years is a new production of the 1940 musical, with a score by composer Richard Rodgers and lyricist Lorenz Hart.

Directed by Tony winner Joe Mantello, with a revised book by Tony winner Richard Greenberg.

Music direction by is Tony Award winner Paul Gemignani, with choreography by Tony nominee Graciela Daniele.

Starring Tony Award winners Stockard Channing as Vera Simpson and Christian Hoff as Joey Evans and Tony nominee Martha Plimpton as Gladys Bumps.

Robert Clohessy (as Mike), Jenny Fellner (as good girl Linda English), Daniel Marcus (as Ludlow Lowell), Steven Skybell (as Ernest), Timothy J. Alex, Brian Barry, Bahiyah Sayyed Gaines, Lisa Gajda, Anthony Holds, Nadine Isenegger, Mark Morettini, Kathryn Mowat Murphy, Abbey O'Brien, Hayley Podschun, Matthew Risch, Krista Saab and Eric Sciotto.

Set in Chicago in the late 1930s, Pal Joey is the story of Joey Evans, a brash, scheming long and dance man with dreams of owning his own nightclub. Joey abandons his wholesome girlfriend Linda English, to charm a rich, married older woman, Vera Simpson, in the hope that she'll set him up in business.

The score includes: Bewitched; "What Is a Man?; Den of Iniquity; A Great Big Town (Chicago); You Mustn't Kick It Around; Take Him; Zip; Plant You Now, Dig You Later; I Could Write a Book; and I'm Talking to My Pal, which was cut prior to the 1940 Broadway premiere.

The original production which starred Gene Kelly and Vivienne Segal was a year-long success, but scored an even bigger triumph when revived on Broadway in 1952 with Harold Lang and Vivienne Segal. That production won three Tony Awards. A splendid 1957 film of the musical starred Frank Sinatra, Rita Hayworth and Kim Novak. Bob Fosse received a Tony Award nomination for Best Actor in the 1963 Broadway revival. The 1976 production at Circle in the Square starred Dixie Carter.

The design team for this revival includes two-time Tony Award winner Scott Pask (sets), five-time Tony Award winner William Ivey Long (costumes), two-time Tony Award winner Peggy Eisenhauer and eight-time Tony Award winner Jules Fisher (lights), Tony Meola (sound), Don Sebesky (orchestrator) and Eric Stern (dance arranger). Pal Joey is a limited engagement through Feb. 15, 2009 at Roundabout Theater Company's Studio 54, NYC.

RADIO CITY MUSIC HALL CHRISTMAS SPECTACULAR ON TOUR completely re-imagined for arenas and replicating the magic of the 75th Anniversary Celebration that garnered its own NBC special and dazzled audiences during a sold out run from the great stage of Radio City Music Hall.

The touring - 60 days, 18 cities, 106 shows and 4,900 miles - is also a lesson on keeping fit after a month long rehearsal that puts the dancers in shape for those precision kicks: about 32,000 over the course of the holiday performances, with eight costume changes for each show. The Rockettes go through 1,200 pairs of tights during their 18-city run.

Since 1994 the Radio City Christmas Spectacular has also toured theaters in North America, bringing the World Famous Rockettes precision choreography to over nine million people. This year the theatrical tour will return to five select cities. Show stopping numbers in both productions include the legendary Parade of the Wooden Soldiers and New York at Christmas, a dynamic holiday celebration. Families will be delighted and touched as Santa and his reindeer fly, teddy bears dance and the true meaning of Christmas comes to life in the awe-inspiring Living Nativity.

Some of the stops are: Peoria Civic Center Nov. 17-18; Van Andel Arena in Grand Rapids on Nov. 19-20. The Joe Louis Arena in Detroit Nov. 21-23; Rosemont Theater in Chicago Nov. 30-Dec. 7; Shea's PAC in Buffalo Nov. 13-Nov. 30; USBank Arena in Cincinnati Nov. 28-Nov.30; The Grand Ole Opry in Nashville Nov. 14-Dec. 28 and the Nutter Center in Dayton Nov. 25-Nov.26.

THE MAGICAL SPIRIT OF CHRISTMAS starring Tony nominee Cathy Rigby as Mrs. Claus.

The fully staged and costumed musical extravaganza, with original music by the writing team of David Green and John Glaudini, will also feature Tony nominee Jonelle Allen as well as young performers from the California Conservatory of the Arts' Broadway U program.

In The Magical Spirit of Christmas, according to a release, "Santa Claus has lost the spirit of Christmas. Mrs. Claus sets out on a magical journey in a hot air balloon across the universe to find it, and in time, to save Christmas. The high energy song and dance spectacular is like a west coast version of the famous Radio City holiday show."

The Fashion Island Tree Lighting Event is one of the most popular family traditions in Orange County. Over 10,000 people are expected to attend this year and watch as the 100- foot tree is lit and 17,000 twinkling lights come alive.

On Thursday, November 20 a special VIP Family Night with a light fare dinner and an auction will benefit students from the California conservatory of the Arts.

Performances take place through November 22 and are free to the public. Fashion Island in Newport Beach, CA.

SEASON FREELY Special holiday edition! Whether you've been naughty or nice, put the attitude in gratitude this holiday season with an evening of edgy, funny stories from Beth Lapides, Michael Patrick King (Sex and the City), Dana Gould (The Simpsons), Rob Cohen (The Simpsons), Cindy Caponera (Saturday Night Live, The Norm Show), Sue Murphy (Chelsea Lately) and more.

Presented as part of Say the Word, a popular, occasional reading series delivering fresh, original comedy from some of Hollywood's top writers. Presented lounge-style with cocktails and light fare available for purchase.

Thursday, November 20, at The Skirball Center in Los Angeles.

THE ARABIAN NIGHTS written and directed by Tony Award winner Mary Zimmerman. adapted from The Book of the Thousand Nights and One Night. A co-production with Kansas City Repertory Theatre.

To save her life, a beautiful bride must spin hypnotic tales of genies, jesters, thieves and kings—winning her freedom by eventually winning her husband's heart. As he falls under Scheherazade's spell, Zimmerman enchants the audience as well with her signature style that transforms simplicity into the sublime. Amidst a thousand tales of honor, revenge and humor, only love emerges victorious.

The cast features; Ryan Artzberger. Allen Gilmore, Sofia Jean Gomez, Stacey Yen, Barzin Akhavan, Louis Tucci, Noshir Dalal, Pranidhi Varshney, Melina Kalomas, Evan Zes, Nicole Shalhoub, Jesse J. Perez, Alana Arenas, Ramiz Monsef and Ari Brand.

Scenic Design by Daniel Ostling. Costume Design by Mara Blumenfeld. Andre Pluess & The Lookingglass Ensemble, Original Composition & Sound Design. Lighting Design by T.J. Gerckens. Michael Suenkel serves as Production Stage Manager and Cynthia Cahill is the Stage Manager.

Opened November 13, 2008 with performances through January 4, 2009, Berkeley Rep in Berkeley, CA.

TINY NINJA THEATER PRESENTS ROMEO & JULIET Written by William Shakespeare and directed by Dov Weinstein.

This New York City-based company is dedicated to the principle that "there are no small parts, only small actors."

The theatrical company was founded in 1999 by Dov Weinstein.

"I had noticed that there were these tiny plastic ninjas in vending machines all across the city," says Weinstein, "but no one was using them to perform classical theater. Something had to be done."

Romeo and Juliet will be mounted at the AWESOME International Arts Festival for Bright Young Things in Perth, Nov 17 - 23.

This engagement marks the company's Australian debut.




WHO'S WHERE


SARAH BRIGHTMAN has a busy schedule this week. On Tuesday she is in the spotlight at The Arena at Gwinnett Center in Duluth, GA. Wednesday the show is at the Verizon Center in Washington, DC. On Saturday she takes to the stage of the MGM Grand Theater in Mashantucket, CT. Next Sunday, November 23, she can be enjoyed at Madison Square Garden in NYC.

MADONNA in the spotlight Thursday, November 20, at the Wachovia Center in Philadelphia. On Saturday the show is at the Atlantic City Boardwalk Hall in Atlantic City, NJ.

LOUDON WAINWRIGHT III The two-time Grammy-nominated singer/songwriter returns to The Barns, bringing his wry humor and engaging stage presence with the album Strange Weirdos: Music from and Inspired by the Film Knocked Up. November 19, The Barns. Wolf Trap in Vienna, VA.

ROBIN WILLIAMS telling funny stories Wednesday at the Scotiabank Place in Ottawa. On Thursday, November 20, he'll be on stage at Place des Arts in Montreal. On Friday he opens a two nighter at Massey Hall in Toronto. Williams, who is available to perform at birthday parties, will no doubt have some new material garnered from doing just that. On November 12, 2008, he performed in Great Britain for the first time in years. He joined British comedy legends John Cleese and Rowan Atkinson in honoring the Prince of Wales - Prince Charles - on the occasion of his 60th Birthday. Proceeds from the event, entitled We Are Not Amused, went to the Prince's Trust youth charity.

TRANS-SIBERIAN ORCHESTRA with two touring groups brings holiday cheer to the Tallahassee-Leon Civic Center in Tallahassee, FL on Monday, November 17. On Wednesday the shows are in the North Carleton Coliseum in North Charleston, SC and the Save Mart Center in Fresno, CA. Thursday the groups are on stage at the MGM Grand Garden Arena in Las Vegas and the Time Warner Cable Arena in Charlotte, NC. Friday they can be enjoyed at the Greensboro Coliseum Complex in Greensboro, NC and the San Diego Sports Arena in San Diego. Saturday the shows are at the Honda Center in Anaheim, CA and the RBC Center in Raleigh, NC.

ELTON JOHN still on a high from the opening of Billy Elliot performs Wednesday, November 19 at the NIA in Birmingham, UK and on Saturday he's in the spotlight at the Olympiahalle in Munich, Germany.

LANG LANG will be tickling the ivories Tuesday, November 18, at Heinz Hall in Pittsburgh.

SHERYL CROW AND JOHN MELLENCAMP are in Australia where they perform Wednesday, November 19 at the Adelaide Entertainment Centre in Hindmarsh. On Friday the show is at the Rod Laver Arena in Melbourne. On Saturday they take part at A Day on the Green at the Rochford Eyton Winery in Yarra Valley.


WE NEED YOUR HELP....


BROADWAY TO VEGAS, which has been in existence over 10 years, is not affiliated with any blog. A copyright clause is at the bottom of every Broadway To Vegas column. Recently, it has been brought to our attention that there is a Las Vegas based blog with an extraordinarily similar title. If you have provided that (or any) blog with: information, invitations, purchased anything through any link on that blog or transferred money, goods or services to anyone connected with that blog THINKING YOU WERE DOING BUSINESS WITH BROADWAY TO VEGAS - we want to hear from you. The more detail the better. Thank you.

Next Column: November 23, 2008
Copyright: November 16, 2008. All Rights Reserved. Reviews, Interviews, Commentary, Photographs or Graphics from any Broadway To Vegas (TM) columns may not be published, broadcast, rewritten, utilized as leads, or used in any manner without permission, compensation and/or credit.
Link to Main Page
---
Laura Deni



U.S. Postal Address: Post Office Box 60538, Las Vegas, NV 89160
CLICK HERE FOR COMMENT SECTION