! >
Broadway To Vegas
  
 SHOW REVIEWS  CELEBRITY INTERVIEWS  GOSSIP  NEWS

| | |
| --- | --- |
| | |
ALMOST HEAVEN - - CAROLE BAYER SAGER IN RARE CABARET APPEARANCE - - THE BOY FROM OZ CD - - NEW CY COLEMAN MUSICAL - - BEYONCE SHAKIN' HER BUM AROUND - - CELEBRITY VIOLENCE - - BARRY MANILOW MUSICAL DERAILED - - LEAGUE OF AMERICAN THEATRES & PRODUCERS MEET IN VEGAS - - DONATE . . . Scroll Down


CELEBRITY VIOLENCE
Ryan Haddon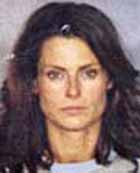 Celebrities who let uncontrollable rage take control of their lover's quarrels have been making headlines for years. The assault and battery set was again in the spotlight when Christian Slater was rushed to Desert Springs Hospital in Las Vegas with a bloody gash on his head after his enraged wife, Ryan Haddon, hurled a glass at him in their Hard Rock Hotel room.

Haddon was taken to the Clark County Detention Center where, at about 7 a.m., she was charged with domestic battery, a misdemeanor. Las Vegas Police Lt. Juanita Goode stated, "A glass was thrown at Slater, and he was cut behind the left ear. The male was taken to hospital and the female, identified as his wife, was taken to Clark County jail for a mandatory 24-hour detention. She was then released."

The matrimonial fracas happened early Monday morning, after Haddon reportedly was irked that Slater might had gone to a topless club. Reports indicate that is exactly where she found him. Irritated, they returned to the Hard Rock Hotel where their problems escalated.

Slater, who required 20 stitches, according to the police report, insisted the incident was an accident. He has since returned to a movie set in Vancouver.

Slater and Haddon, a 31-year-old TV producer, met in a Malibu rehab center in 1997. They married in February, 2000. The couple has two children son Jaden Haddon-Slater and daughter Eliana Sophia



Christian Slater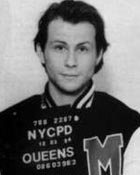 It's not the first time Slater has been involved in domestic violence. However, this is the first time he'd been on the receiving end.

Slater was arrested in 1997 for attacking then lady friend Michelle Jones and biting a police office in the belly. In January 1998, Slater pleaded no-contest to two counts of battery and one count of being under the influence of cocaine. He began serving his 90-day jail sentence just one day after he attended the Hollywood premiere of his movie, Hard Rain. Slater served his time in a small suburban jail where he could work out in a gym and watch television during the day.

The Slater incident is just the latest in a long time of celebrity lover's quarrels that turned violent.



Tom Sizemore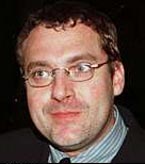 Actor Tom Sizemore was sentenced Monday, October 27, 2003, to six months in jail for beating up his former girlfriend, the one-time "Hollywood Madam," Heidi Fleiss.

That wasn't Sizemore's first fists-speak-louder-than-words situation. In 1997, Sizemore was arrested for assaulting his wife, actress Maeve Quinlan, in their West Hollywood home. Quinlan, who appeared on the soap opera The Bold and the Beautiful, suffered neck injuries in the assault.

Producer David Gest sued Liza Minnelli for $10 million on Tuesday, October 21, accusing his estranged wife of alcohol-fueled violence that he contends caused him neurological damage and headaches.

Some celebrity brawls are drug-and-booze-fueled. Other meltdowns are the result of stupidity and emotional immaturity. In a random spot-check, celebrities who have let out of control rage guide their conduct include;



Tawny Kitaen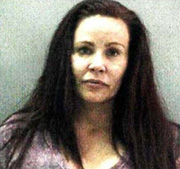 Professional baseball player Chuck Finley filed for divorce from actress Tawny Kitaen, after Kitaen was charged in 2002 with spousal abuse and battery.

Finley also obtained a temporary restraining order against Kitaen that prevents her from seeing him or the couple's two daughters.

Kitaen was arrested after a third party called police to the couple's house, and police noticed abrasions and scrapes on Finley, who at the time played for the Cleveland Indians.



John Singleton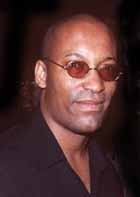 In July 1999, movie director John Singleton pleaded "no contest" to charges of battering his girlfriend. Singleton was ordered to make a 15-to 30-minute public education film on domestic violence, and undergo a year of domestic violence counseling.

Producer-director James Orr was sentenced to three years' probation for choking his ex-girlfriend Farrah Fawcett and slamming her head to the ground in 1998.

Orr was arrested in the early-morning hours of January 29, 1998 when police came to Fawcett's Bel-Air home responding to a report of domestic violence. According to the police report, upon returning to Orr's place from a restaurant, Fawcett and Orr - whom she has been dating occasionally for nine months - began arguing because she'd turned down his marriage proposal.

The conflict escalated, with Fawcett hurriedly gathering her stuff and fleeing. Orr followed her outside, shouting obscenities.

Then upon reaching the driveway, the report states, Orr grabbed hold of Fawcett's throat, slammed her head into the driveway several times, then kicked her "several times to her upper body as she laid on the ground."



Tracy Lawrence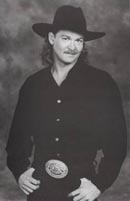 In January 1998, country music singer Tracy Lawrence was convicted on a misdemeanor battery charge stemming from an argument with his estranged wife while performing at a hotel in Primm, Nevada. Goodsprings Justice of the Peace Janet Smith fined Lawrence $500 following a three-hour trial but declined to order counseling. She said it would be difficult to enforce and "restrict his ability to make a living."

Lawrence was charged with battery after his wife, Stephanie, 28, a former Dallas Cowboys cheerleader, complained to police he had struck her with a closed fist at least twice the morning of Sept. 13 while they were in one of the band's tour buses in the hotel's parking lot.several hours after a Sept. 12 performance at Buffalo Bill's Desert Star Arena.

She returned to the room of the bus driver, Robert Lohnes, where she called her parents, her sister and 911.

Deputy District Attorney Lisa Luzaich said she was disappointed that the singer, who spent his 30th birthday in court, was not ordered to undergo counseling. Lawrence was represented by attorney Oscar Goodman who now served as mayor of Las Vegas.



Marv Albert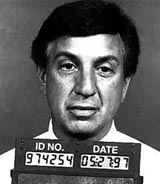 Sportscaster Marv Albert was accused of biting the back of a woman and forcing her to perform oral sex on him in a Virginia hotel on Feb. 12, 1997.

Albert pled guilty in September, 1997 to a misdemeanor charge of assault and battery during rough sex with Vanessa Perhach, was given a 12-month suspended sentence.

Upon entering the guilty plea he was fired by NBC. Judge Benjamin Kendrick also ordered Albert to continue undergoing counseling. Albert successfully completed the program.



Charlie Sheen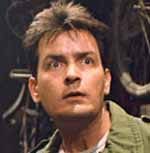 In June 1997, actor Charlie Sheen pleaded no contest to physically abusing his former girlfriend the December before and received a one-year suspended sentence and two years probation. Sheen was required to pay $2,800 in fines and restitution, attend counseling sessions, and perform 300 hours of community service. He is forbidden from contacting his ex-girlfriend.

Rob Campos, who starred in NBC's reality show For Love or Money was expelled from a Marine JAG training program after he was accused of groping a female naval officer.

Drummer Steven Adler of the rock group Guns N' Roses pleaded no contest to attacking two women he had dated. Adler was also in violation of his probation from a 1997 domestic violence conviction. He was sentenced to 150 days in jail, a year of counseling, and was placed on three years summary probation.



Harry Morgan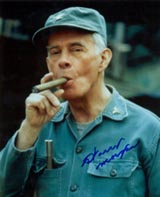 In July 1997, spousal abuse charges against M*A*S*H star Harry Morgan were dropped after he completed a six-month domestic violence counseling program. Morgan was charged with abusing his wife in July 1996 after an argument that left his wife with injuries to her eye, foot and arm.

In September 1997, Danny Quinn accused his father, actor Anthony Quinn, of abusing Danny's mother. During his parents' divorce proceedings, Danny provided graphic testimony about how his father beat his mother whenever she questioned him about extramarital affairs. Danny also admitted to abusing his former wife, actress Lauren Holly.



Billy Dee Williams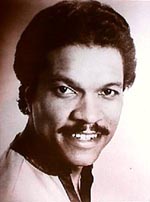 On January 30, 1996, actor Billy Dee Williams allegedly beat his live-in girlfriend and tried to prevent her from calling the police. On March 29, 1996 as part of a plea bargain agreement to dismiss the charges, Williams was ordered to seek domestic violence counseling for a year.

Billy Powell, keyboardist for Lynyrd Skynyrd, was charged with a misdemeanor for assaulting his wife in September 1996. Powell allegedly pushed his wife to the ground and held her by her neck; the couple's 13-year-old daughter witnessed the attack.



Sasha Mitchell
In December 1996, actor Sasha Mitchell of the ABC sitcom Step By Step was sentenced to six months in jail. Mitchell's probation was revoked because he violated its terms by moving out of state. He has repeatedly battered his wife.

Entertainer Trini Lopez, known for his 1960s hit song If I Had a Hammer and co-starring in The Dirty Dozen, was charged with a misdemeanor for allegedly beating Rose Mihata, his former girlfriend in November 1995.

Def Leppard drummer Rick Allen pleaded guilty to spousal battery for assaulting his wife in 1995. Allen was sentenced to probation, domestic violence counseling and mandatory attendance at Alcoholics Anonymous meetings. He also was required to pay for a public service announcement in which he admits he is a batterer and urges other batterers to seek counseling.

Actor Eric Roberts was arrested on February 8, 1995 for shoving his wife Eliza into a wall. The brother of movie star Julia Roberts, Eric had been to court before for fighting with former girlfriend Kelly Cunningham.

On October 9, 1994, motorcycle daredevil Evel Knievel was arrested in a Sunnyvalle, California topless bar for beating 22-year-old girlfriend Krystal Kennedy in their Comfort Inn motel room. Due to lack of evidence, the domestic violence charges were dropped but he was charged with possession of a handgun that was found in his car during the arrest. Knievel pleaded innocent to violating the gun law.



Dudley Moore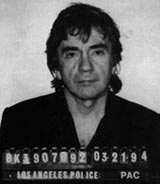 The late Dudley Moore was arrested March 21, 1994 for hitting his girlfriend Nicole Richardson. Three weeks later the couple got married.

Ninety-two percent of American women rank domestic and sexual violence as one of their top priorities. One out of every three women experiences at least one physical assault by a partner during adulthood, according to a 1996 study by the American Psychological Association.

According to the National Center for the Victims of Crime, domestic violence victims will often blame their own behavior, rather than the violent actions of the abuser. Victims may try continually to alter their behavior and circumstances in order to please the abuser—believing that if they follow certain rules and make sure the abuser is happy—they will not be hurt.

Domestic violence victims may minimize the seriousness of incidents in order to cope, and not seek medical attention or assistance when needed. Victims, because they fear the perpetrator and may be ashamed of their situation, may be reluctant to disclose the abuse to family, friends, work, the authorities, or victim assistance professionals.

Abusers may violently assault, then minutes later offer words of regret. Many will buy gifts of flowers, candy and other presents in order to win favor and forgiveness. This creates a very confusing environment for victims. Abusers may say they will never harm their partners again, and promise to obtain help or counseling. Often, these promises are only made to prevent victims from leaving.

Abusers often experience dramatic mood swings of highs and lows. They may be loving one minute, and spiteful and cruel the next. Abusers are frequently characterized by those outside the home as generous, caring, and good, and behave drastically differently in their home environment.


IS ALMOST HEAVEN A ROCKY MOUNTAIN HIGH?


During one segment of the 1970s, John Denver was the biggest-selling recording artist. He co-starred with George Burns in the 1977 film, Oh, God! then perished in 1997 plane crash while flying an aircraft of his own creation.

Almost Heaven; Songs and Stories of John Denver is being presented at the Performing Arts complex in Denver, Colorado.

Jim Baldassare is a Tony voter and Chapter Chair of the Press Agent side of the Association of Theatrical Press Agents and Managers (ATPAM) Board of Governors. Making his first trip ever to the Centennial State, we asked him to file a report on this show.



Molly Brown House
However, on his way to the production, Baldassare got sidetracked by some items of note.

The house of Titanic survivor, the legendary unsinkable Molly Brown, is a popular attraction, visited each year by approximately 40,000 people. Baldassare added to the tally.

"I took in a tour of the Molly Brown House on Pennsylvania Street and visited the Denver Art Museum where a touring show entitled "El Greco to Picasso" was on view. An amazing collection of work not only by the titled artists but also Renoir, van Gogh, Monet, Degas and others, there through January 4, 2004, before moving on to Nashville, Switzerland, and Los Angeles. Definitely worth a visit."

"I wanted to tour the U.S. Mint but only got into the gift shop. Currently, due to security concerns, you need to get a pass from your congressional representative at least three weeks prior to your visit. Boo!"



Jeff Waxman and Lisa Asher in front of Ricketson Theater Denver Center.
"My friends Lisa Asher and Jeff Waxman are currently appearing in Almost Heaven … Songs and Stories of John Denver at the Ricketson Theater, part of the large Denver Center Theatre Company complex.

"Lisa is a member of the terrific ensemble which also includes: Darlene Bel Grayson, Annie Golden, Marsh Hanson, Michael Lanning and Jim Newman."

"Jeff did the wonderful orchestrations, vocal arrangements, and is the onstage musical director heading up the five-member band on keyboards."

"A hit last season, Almost Heaven is being presented again in a slightly revised format, including new material and a mostly new cast. Lisa is the only returning cast member," reported Baldassare about Asher, who has been signaled out to critical plaudits.

This re-tooled staging includes the addition of songs - Autograph, This Old Guitar, Calypso, Grandma's Feather Bed and Looking for Space - trimmed or cut monologues, all of which are based upon letters or reviews, and backdrop images reworked to added a deeper dimension - a subtly darker feel to the piece.



Annie Golden and Jim Newman. Photo By Terry Shapiro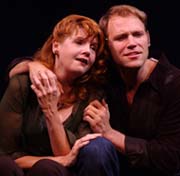 Directed by Randal Myler, the production stars Annie Golden and Jim Newman.

In the 1970s then spiky-haired Annie Golden, was fronting a band called The Shirts. It was Milos Forman who turned her into an actress in his film, Hair. Golden starred as one of the wives in the Broadway production of The Full Monty, and also starred in the Broadway revival of On the Town.

"In Jim Newman they have a really terrific "stand-in" for John Denver," declared Baldassare. "I was very impressed with the range of Denver's represented catalog - 25 songs are included in the evening - including many I was hearing for the first time," continued Baldassare referring to the score in which all but one - Phil Ochs' Draft Dodger Rag - are songs that Denver either wrote or recorded.



Producer Harold Thau, Annie Denver, Lisa Asher and Jeff Waxman backstage after a performance of Almost Heaven. Photo by: Michael Lanning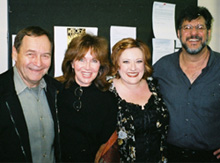 "Annie Denver, John's first wife, has seen the show three times and loves it — the most recent time being the week before I caught it," Baldassare continued. "Lisa sings a beautiful rendition of Annie's Song, Denver's tribute to Annie, in a five song set performed by the company entitled the Love Medley. Near the end of Almost Heaven a video of John Denver singing in a campfire setting is projected on a large screen behind the performers. It's a perfect punctuation to a spectacularly sung and warmly sentimental evening. There are hopes that the show will one day be seen elsewhere including New York City."

Baldassare indicated that this show has both an excellent future in Denver's home state as well as the economic and logistic feasibility for a national tour. "A basically simple set comprised of platforms and risers with a large projection screen, and the band and their instruments populating the stage."

Capitalizing on Denver's popular catalog of music, the production covers Denver's life during his early stint as a front man for The Mitchell Trio, his name change from John Deutschendorf Jr., his anti-Vietnam sentiments, his environmental activism and his tumultuous love life.

"I think they could have a very successful tour of this show," Baldassare speculated. "In terms of New York - who knows? I'm not sure New York's necessarily a good place to do a show that verges on country/folk type music, although last season's Hank Williams: Lost Highway was well received," stated Baldassare referring to the Randal Myler and Mark Harelik, musical which featured 15 of Williams' classic songs.

Based on the life of the late musician, Hank Williams: Lost Highway began its journey at the Mark Taper Forum. The show opened off-Broadway in previews Dec. 9 and opened Jan. 19, 2002 at the Manhattan Ensemble Theater ending its successful run Feb. 23, 2002. It then attempted to transfer to Broadway, but was less successful.

"I know that I was surprised at the versatility of John Denver's music," continued Baldassare. "I was familiar with his most famous tunes, but many surprises here that I really thought were complex and wonderful and I might never have associated as being Denver's work. The video footage of Denver near the end of the show - could've just not worked at all - but as it's presented, it couldn't be better. I think it's from a TV special that never aired."

"Business seems to be really, really good and this isn't "peak tourist season" right now. I believe they're selling tickets through the end of November, but the plan is to run it for the entire season. I'm sure that partially depends on business."

Almost Heaven … Songs and Stories of John Denver written and adapted by Peter Glazer. Orchestrations, Vocal Arrangements and Musical Direction by Jeff Waxman. Original Concept by Harold Thau, John Denver's longtime friend and manager. Directed by Randal Myler. Musical Consultation by Milt Okun. Performance through November 30. However, the Colorado Center for the Blind is promoting a December 11th performance of this show as a benefit performance for the Colorado Center for the Blind, a center that offers training programs that prepare blind people for independent living and employment. Ricketson Theatre Denver Center for the Performing Arts complex in Denver, Colorado.


THE MUSIC GOES ROUND AND ROUND


THE BOY FROM OZ on Decca Broadway. The Original Cast Recording of The Boy From Oz, produced for record by Phil Ramone. The CD will be available in stores November 18th.

The production features stage and screen star Hugh Jackman - who is the man to beat for the Tony this year - as the incomparable Peter Allen. While he steals the Broadway show, this CD offers the listener an opportunity to delight in the music and lyrics of international pop superstar Peter Allen and others.

The invigorating I Still Call Australia Home instills warm, fuzzy patriotic feelings to people who have never even visited Australia.

Once Before I Go and Quiet Please, There's A Lady On Stage are accurate emotional offerings of precisely how Allen delivered those songs when he appeared in Las Vegas - and presumably on any other stage.

The majority of the songs are familiar hits - I Go To Rio, I'd Rather Leave While I'm In Love, Everything Old Is New Again, I Honesty Love You, or You and Me, placed in the contest of telling Allen's life story. Listening to this CD will make you want to see the Broadway musical. If you have already seen the show this original cast recording will give you a deeper musical appreciation for the talent that was Peter Allen. You don't need to study the script or have an in-depth knowledge of the man. The Boy From Oz is the type of original cast CD than you can put on, hit the repeat button and simply enjoy.



Hugh Jackson, Stephanie Kurtzuba, Tari Kelly and Colleen Hawks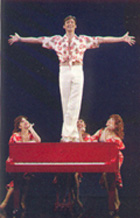 The Boy from Oz tells the funny and heart-breaking story of entertainer Peter Allen, from his humble beginnings growing up in the Australian outback through a meteoric rise to fame as an international star who would go on to sell out week-long engagements at Radio City Music Hall. Singing in country pubs from age 11, Peter Allen survived family tragedy to become a local TV star at age 16. Discovered by Judy Garland, he married her daughter Liza Minnelli and went on to become a beloved performer and an Oscar-winning songwriter.

Joining Jackman in The Boy From Oz as the colorful characters in Allen's life are newcomer Stephanie J. Block as Liza Minnelli, Beth Fowler as his mother, Isabel Keating as Allen's mentor and mother-in-law Judy Garland, Tony Award Winner Jarrod Emick as Allen's companion and Mitchel David Federan as the young Peter.

The Boy From Oz orchestra conducted by Patrick Vaccariello. Associate Conductor Jim Laev. Concertmaster Sylvia D'Avanzo. Musicians; Victor Heiferts, Fritz Krakowski. Wende Namkung, Cecilia Hobbs Gardner, Nina Evtuhov, Maura Giannni, Victor Schulz, Natalie Cenovia Cummins, Mairi Dorman, Vivian Israel, Peter Prosser, Daniel Miller, Jeff Kievit, Rino Gagliardi, Earl Gardner, Clint Sharman, Randy Andos, Ted Nash, Ben Kono, Ken Dybisz, Don McGeen, Brian Brake, Cary Potts, Mark Berman, Jim Laev, J. McGeehan, Dan McMillan and Roger Squitero. Orchestrations by Michael Gibson. Dance Music Arrangements by Mark Hummel. Music Coordinator Michael Keller. Music Copyist Anne Kaye.


JOINING THE GENUINE FLOP CLUB
Bobbi Boland, a comedy starring Farrah Fawcett in her Broadway debut, as a former beauty queen, has entered the No-Doubt-About-It Broadway Flop Club, closing after 7 previews ending with a matinee last Sunday. It was to have opened Nov. 24 at the Cort Theatre.

Bobbi Boland is not an ordinary, run of the mill flop. Rather, the non production achieved membership in a club for a unique rank of losers - being one of only four Broadway shows to close in previews since 1980, according the League of American Theaters and Producers' database.

The last such theatrical disaster was David Henry Hwang's Face Value, which shuttered prior to opening in 1993 - ironically, also at the Cort.

Joyce Johnson, one of the heirs to the Johnson & Johnson pharmaceutical fortune, apparently knew a financial hemorrhage when she saw one. As the sole producer of Bobbi Boland, she decided to suffer the entire $2 million capitalization loss and stop the flow of red ink.

A statement issued simply stated:

"I decided to close the production now because we learned in previews that the play simply does not work in a Broadway house. This work debuted in a more intimate (Off-Broadway) theatre some years back, which is where I first saw Bobbi Boland. The vivid characters that I saw in such a small setting did not transfer to the Cort. It's as simple as that. I am especially disappointed that, in the end, I could not produce Farrah Fawcett's Broadway debut."

The play had its premiere Off Broadway at the 99-seat ArcLight Theater in March 2001. The Cort has 1,084 seats.

While Bobbi Boland would have marked Fawcett's debut on the Great White Way, the former Charlie's Angel star appeared in the 1983 off-Broadway show Extremities.



Broadway To Vegas is supported through advertising and donations. Priority consideration is given to interview suggestions, news, press releases, etc from paid supporters. However, no paid supporters control, alter, edit, or in any way manipulate the content of this site. Your donation is appreciated. We accept PAYPAL. Thank you for your interest.



2003 NATIONAL MEDAL OF ARTS were awarded by President and Mrs. Bush in ceremonies November 12 in the Oval Office. The winners of the medals, the nation's highest honor for artistic excellence, are chosen by the National Endowment for the Arts. The 10 honorees include;

Ron Howard, actor, director, writer and producer; National Symphony Orchestra conductor Leonard Slatkin; dancer and choreographer Suzanne Farrell; dancer and choreographer Tommy Tune; children's book author Beverly Cleary; Chicago blues musician Buddy Guy; the Mormon Tabernacle Choir who have performed at the inaugurations of five presidents of the United States, including the current one; country singer and songwriter George Strait; Los Angeles arts educator Rafe Esquith and the PBS television show Austin City Limits.

The National Medal of Arts, created by Congress in 1984, is presented each year to a small list of distinguished artists, organizations and arts patrons. The National Council on the Arts, a presidentially appointed advisory board, reviews nominations for the award from across the country, and makes recommendations to the president, who makes the final selections.

THE LION KING celebrated its sixth anniversary on Broadway last Thursday with its 2,532 performance.

MAMMA MIA! has become the most successful musical in British theatre history.The Abba inspired show has been seen by 10 million people since its London premiere in 1999.

IT OUGHT TO BE A HIP SHAKIN' RECORD we don't know if the Guinness Book of Records knows or cares, but singer Beyonce - who has recently complained that the press are paying too much attention to her body rather than her voice - shook her rear end 427 times in one show, apparently counted by reporter Keith Mcleod in a tough assignment but somebody had to do it.

Reporting for The Daily Record he wrote; "On stage at the NEC in Birmingham on Thursday, the Destiny's Child star shook her bum a staggering 427 times. "Some 15,000 fans saw 42 butt shakes in the opening song, Baby Boy, alone. . . By the end of the show, the 22-year-old set pulses racing with a raunchy booty-shaking rendition of Crazy in Love, where she notched up an amazing 68 gyrations."


SPREADING THE WORD


LEAGUE OF AMERICAN THEATRES & PRODUCERS expect 250 to attend their biennial convention at the Bellagio Hotel in Las Vegas November 18-22. Jed Bernstein toplines the event.

SPANGLISH written and directed by James L. Brooks, starring Adam Sandler, Tea Leoni, Anne Bancroft and Spanish actress Paz Vega, has been all over the place looking for two child performers to fill the roles of the son and daughter of Sandler and Leoni's characters. One role requires a boy, 8 to 10 years old, who can sing. The other requires a girl, 13 to 15 years old, with strong acting ability. The movie, which goes into production this fall in Los Angeles, tells of a Latina mother and daughter moving to Los Angeles. The casting director, Matt Casella.

HOUSE OF FOG AND SAND film was screened yesterday, November 15, in Manhattan. Afterwards Ben Kingsley and Jennifer Connelly talked to the critics about the flick.


OTHER PEOPLE'S MONEY


MICHAEL BUSH producing artistic director of Charlotte Repertory Theatre since June 2002, resigned that position effective Nov. 10. Bush will continue with the theatre to direct All of the People, All the Time which will run Nov. 15 through Dec. 7 at Duke Power Theatre, Spirit Square. Charlotte Rep is North Carolina's major resident theatre. Bush came to Charlotte Rep from New York. See Broadway To Vegas column of December 22, 2002 and See Broadway To Vegas column of December 29, 2002

"There is no question that Michael Bush took the Rep, in a very short period of time, in the direction we wanted to go artistically," said Mike McGuire, chair of the Rep's board of trustees in a prepared press statement. "The artistic quality of Michael's product has been nothing short of superb. Unfortunately, during these challenging economic times, we failed to attract a sufficient audience to support the increased costs."

Bush's prepared reply said, "I've come to love Charlotte audiences and find them generous in their appreciation of the quality of the work. Unfortunately, I have come to the realization that there is just not enough support to do the work I was brought here to do."

McGuire added that while the trustees will continue to advance the artistic direction of the Rep, the board felt more financial management oversight was necessary to better balance the artistic product with financial accountability.

The trustees are currently evaluating options for the artistic leadership for the rest of the 2003-2004 Rep season.

HARMONY the new musical by Barry Manilow got off key when the entire production was abruptly canceled. The surprise announcement left cast and crew with their mouths open. The job of telling everyone they were out of work fell to Brent Peek, the production's general manager, who broke the news Nov. 13 at the Ford Center for the Performing Arts where Harmony was rehearsing.

Problems surfaced on November 3rd when the production cited "unforeseen delays in construction and delivery of the show's physical production."

Translated into understandable words it meant they didn't have the money to pay their bills.

Those "unforseen delays" involved the costume shop employees not being paid and a technical load-in at the Forrest Theater didn't take place for lack of payments to the theater owners and crew.

The production shifted its first preview one week later to Tuesday, December 2nd rather than November 25. The press opening was then set for Wednesday, December 17 at the Forrest Theatre in Philadelphia. Harmony was to have played in Philadelphia through Sunday, January 4.

In canceling the show the company was told that millions of dollars needed to open the show weren't there, and it was unlikely that so much money could be raised.

In a statement Manilow said; "My heart breaks for the hundreds of talented men and women who will be hurt by this colossal blunder. We all deeply hope that this situation can be corrected and that this powerful piece will finally be seen. The entire cast and creative team, including myself, has been completely blind-sighted by this and we are all hurt and outraged, but we believe in the project and hope that it can be revived very shortly with a new producer and investors."

Harmony features all new music by Barry Manilow and book and lyrics by his long-time collaborator Bruce Sussman. Leading the cast was to have been Brian D'Arcy James, a Tony nominee last year Best Actor in A Musical for Sweet Smell of Success. Also starring in would have been Stephen R. Buntrock, Janine LaManna, Kate Baldwin, Bradley Dean, Aaron Lazar, David Turner and Thom Christopher Warren.

The production was to have been directed by David Warren and choreographed by Peter Pucci. Producers are Mark Schwartz with Garry C. Kief, in association with Brent Peek and Gary Stern. Richard Jay-Alexander is Executive Producer.

Inspired by the true lives of the Comedian Harmonists, Harmony tells the story of six young men who rose from street singers to world-famous entertainers in early 1930's Germany. With their completely unique style that mixed physical humor with suave musical sophistication, the Comedian Harmonists thrilled audiences at the top clubs and concert halls throughout Europe, sold millions of records and made over a dozen films. Yet as their star grew bright, the world around them darkened, forever altering their destiny. Harmony is their real story. A story about the quest for finding harmony in the most discordant chapter in human history. And a story about finding redemption through remembering.

The show premiered to mixed reviews in October, 1997 at the LaJolla Playhouse in California. The troupe was to have begun final rehearsals in Philadelphia on Nov. 17. The goal was to take the show to Broadway in 2004.


SWEET CHARITY
FIRST ANNUAL BOWLING BALL to benefit Florida Stage. Wednesday, December 3 at 6 p.m. at Don Carter Lanes on Military Trail in Lake Worth, Florida for food, theatre, prizes, music and bowling!

See the World Premieres of three 10-minute plays commissioned by Florida Stage just for this event and performed right on the lanes!

Anarchy of a Pin Boy by Carter W. Lewis. Private Lanes by Doug Cooney and Split by Christopher McGovern. $100 per person or $175 per couple includes buffet dinner, three complimentary drinks, dancing to a live DJ, bowling, shoe rental and door prizes! Festive attire is encouraged- and don't forget to bring your own socks.

RSVP to the Florida Stage Box Office by Friday, November 21: 561-585-3433 in Palm Beach County 800-514-3837 outside Palm Beach County. All proceeds to benefit Florida Stage.

THE CHRISTOPHER REEVE PARALYSIS FOUNDATION (CRPF) host its 13th annual A Magical Evening Gala. This year's theme: A Night to Give Thanks is a star studded black tie gala that will benefit the Christopher Reeve Paralysis Foundation, The honorary co-chairs are Kelsey & Camille Grammer, John Lithgow, Mike Nichols & Diane Sawyer. The honorees are;Visionary Leadership Award to acclaimed architect Michael Graves in recognition of Graves' personal courage and new partnership with the Foundation. Graves joined CRPF's search for a cure after he was left paralyzed as a result of a spinal cord infection earlier this year.

The Human Spirit Award will be presented to Francine LeFrak and Rick Friedberg.

Dinner co-chairs are; Gerald E. Coughlan, Deutsche Bank Securities Inc., Joel Faden, Joel Faden & Company, Inc., Karen Nichols, Michael Graves & Associates.

Tables for 10 range from $50,000 to $7,500. The Christopher Reeve Paralysis Foundation (CRPF) is committed to funding research that develops treatments and cures for paralysis caused by spinal cord injury and other central nervous system disorders. The Foundation also vigorously works to improve the quality of life for people living with disabilities through its grants.

The gala takes place Monday, November 24 at the Marriott Marquis in New York City.

BRAVO BERNSTEIN! MUSICAL THEATRE WORKS 20th ANNIVERSARY GALA the not-for-profit group that develops new musicals and nurtures new writing talent, will salute the theatrical career of Leonard Bernstein. Proceeds support MTW's artistic and educational activates. Host: David Hyde Pierce, Performances by Carolyn Blackwell, Judy Blazer, Betty Buckley, Michael Cerveris, Audra McDonald, Mary Testa and many others. Music Direction by Jason Robert Brown; Directed by Lonny Price.

Honorary Chairmen: Alexander Bernstein, Jamie Bernstein and Nina Bernstein Simmons, as well as lyricist Betty Comden, and performers Barbara Cook, Phyllis Newman and Chita Rivera. Hudson Theatre, NYC. VIP dinner before the concert and a post-show reception with the cast. Monday, November 24.





LIKE JAZZ A NEW KIND OF MUSICAL Music by Cy Coleman. Lyrics by Alan and Marilyn Bergman. Written by Larry Gelbart. Choreography by Patricia Birch. Directed by Gordon Davidson. Hear the sound that created cool. This world premiere musical, with its totally original concept, is a celebration of jazz, the quintessential American art form. With sixteen original songs, near play-like in the stories they tell and completely faithful to the jazz genre, this new musical offers a glimpse into the fascinating world of jazz artist - those men and women who make music because they have to, because there is no other way for them to express their deepest and most sensitive emotions.

From the swankiest supper clubs to the seediest joints, from the back rooms to the concert halls, jazz has created its own environment, its own language, its own unique cast of characters. The musical will feature a big band and five singers who can sing and play it all.

Each of the original compositions tells a complete and compelling story about the joys and the perils a jazz performer encounters once away from the shelter of the bandstand. Whether a tale of artists of world note or of those never destined to reach quite that far, the musical celebrates and when appropriate, commiserates with those gifted artists whose lives often seem to be as improvised and unpredictable as their music.

Created by some of the country's leading musical artists: three-time Tony Award-winning, three-time Emmy Award-winning and two-time Grammy Award-winning composer Cy Coleman, three-time Academy Award-winning and multiple Grammy Award-winning lyricists Alan and Marilyn Bergman, and two-time Tony Award-winning playwright Larry Gelbart.

Post-play discussions every Tuesday evening beginning December 9. Deaf Audience Theatre Experience and Audio Described Performance: Saturday, December 27.

November 21 - January 25, 2004. Mark Taper Forum at the Music Center in Los Angeles.

TABOO officially opened on Broadway at the Plymouth Theatre, receiving mixed to negative reviews. This musical will stay open as long as deep pockets producer Rosie O'Donnell desires to spend her money on this project.

While many are ignoring the show - book by Charles Busch, adapted from the original book by Mark Davies - don't discount the score - mostly new music and lyrics by Boy George.

Original concept by Boy George and Christopher Renshaw. This musical stars Boy George, Euan Morton, Raul Esparza and Liz McCartney directed by Renshaw. Production choreographed by Mark Dendy; music supervision and vocal, dance and incidental music arrangements by John McDaniel; sets by Tim Goodchild; costumes by Mike Nicholls and Bobby Pearce; lighting by Natasha Katz; sound by Jonathan Deans; hair and makeup by Christine Bateman; orchestrations by Steve Margoshes; music co-writers, John Themis and Richie Stevens; co-composer, Kevan Frost; music coordinator, Michael Keller; music director, Jason Howland; production supervisor, Arthur Siccardi; Presented by Rosie O'Donnell and Adam Kenwright. At the Plymouth Theater, in New York City.

The original London cast album will be released in America by First Night Records. The CD features 20 original songs penned by Boy George as well as his classic new-wave hit Do You Really Want to Hurt Me.

THE ROCKY HORROR SHOW at the Chicago Center for the Performing Arts welcomes Jerry Springer to the cast as the narrator on November 20, reprising the role he played on Broadway.

MARLEY'S GHOST written by Jeff Goode opened Saturday, November 15th at the Hollywood Forever Cemetery in Hollywood. This unusual production will continue for six weeks through Saturday, December 20.

This world premiere production of Marley's Ghost tells the story before the story. How did Jacob Marley come to haunt Ebenezer Scrooge in Charles Dickens' immortal classic. Marley's Ghost will create a dream world in which our audience members are literally bound together as "fellow passengers to the grave"-and beyond --as they take hold of a huge chain not unlike that which envelops Marley, and are pulled from location to location in the Hollywood Forever Cemetery by the spirits that inhabit this world.

Although, staged readings have occurred at the famed cemetery, this is the first production that will be utilizing the entire space as the canvas for the telling of this tale.

"As much ingenious, low-tech theme park attraction as it is theatre, the design team is creating a cyber-Victorian aesthetic that draws upon familiar, period imagery but also subverts it in keeping with the satirical quality of the text. The acting ensemble will be responsible not only for the stage pictures, but also for creating and directing the lighting of the show - all open flame and practical battery operated elements - as well as the sound - fully acoustic "foley" work done in full view of the audience. All the cogs and gears of this theatrical event will be exposed for the audience, with visible puppeteers operating eerie, giant puppets with live human heads," a press release states.

"Ultimately, the work will be a tribute to the many souls who made their livelihoods in entertainment whose home at the cemetery we will be sharing for a time. Each night of the show, the inhabitants of that space will be "not another race of creatures bound on other journeys" but one pocket of humanity traveling together toward a better understanding of ourselves."

Matthew Bretz directs the cast which includes; Bob Clendenin, Todd Sible, Ahmad Enani, Emma Jane Mezher, Keythe Farley, Richard Augustine, Ross MacKenzie, Anthony Backman, Matt Ford, Ally Loprete, David Paul Wichert, Rebecca Avery, Jennifer Kays, Johanna McKay, Kevin Fabian, Joe Tyler Gold, Jessica Toth, Tom Elliott, Beatrice Cassini, Yuri Lowenthal and Tara Platt.

The production designer is Gary Smoot. Geoff Korf and Jonathan Klein are the lighting designers. The sound design is by Paul Hepker. The costume design is by Cynthia Herteg.

Patrons are advised to "dress warmly."

HANDY DANDY by William Gibson starring two time Tony Award winner Helen Gallagher and Robert Hogan in a comedy/drama pitting an activist Nun against a conservative Judge. Directed by Don Amendolia. At The Neighborhood Playhouse, NYC. Opening night, Tuesday, December 9th will be a benefit for The Colleagues Theatre Company with $100 tickets for the show and post-performance reception. Production runs through January 4.

42ND STREET national tour. Co-author Mark Bramble directs. Tuesday Nov. 18 through Nov. 30, Capitol Theatre in Salt Lake City, UT.

DRAGONS a musical by Sheldon Harnick, directed by James Glossman. A classic good versus evil fairy tale and shrewd political satire set in a medieval town ruled by a dragon – from the Tony Award and Pulitzer Prize winning writer of Fiddler on the Roof, She Loves Me, and Fiorello. Promoted as "a fable for our time, this musical is family friendly, a great theatre experience for 8 to adult and all future political candidates!"

The company includes Susan Ancheta, Michael Aquino, Nellie Beavers, Kenneth Boys, Cecily Ellis, Seleena Harkness, Garth Kravits, Kirk Mouser, Paul Murphy, Catherine Rogers, Anita Rundles, Jake Speck and Paul Whelihan. Fred Kinney set design, Richard Currie in charge of lighting, Bettina Bierly costume designer. Musical direction by Stephen Randoy and choreography by Susan Ancheta.

World premiere opened last Thursday at the Luna Stage in Montclair, N.J. Performances through December 21.


| | | |
| --- | --- | --- |
| | | |
WHO'S WHERE


SPIDER SALOFF performing The Memory of All That – Spider Saloff Sings Gershwin with the Bill Marx Trio. Award-winning Chicago jazz vocalist Spider Saloff brings her three-octave range to the Annenberg to deliver gems from the vaults of the venerable and unequaled Brothers Gershwin, accompanied by the Bill Marx Trio. This program debuted at a private concert at the Gershwin family's New York estate (in attendance was George and Ira's baby sister Frankie), and received full endorsement from the family. The event features many rarities given to her by the Gershwin Estate including the rarely performed Lonely Boy, cut from the original score of Porgy and Bess; Ask Me Again, written in the 1920's and rediscovered in 1983; and Nashville Nightingale from the 1923 Broadway show Nifties. November 22 at the Palm Springs Desert Museum in Palm Springs, California.

CAROLE BAYER SAGER makes her first cabaret appearance in 25 years when she opens November 18 at Feinstein's at the Regency in New York. Marvin Hamlisch worked with her on the act. Expect Carly Simon and Bette Midler at the opening. Carole's engagement runs through November 22.

JIMMIE WALKER the star of Good Times taking his stand up to the Riviera Hotel, Las Vegas Comedy Club Nov. 24 through Nov. 30.

RITA COOLIDGE the Grammy Award-winning singer/songwriter on stage November 18-22 at the Orange County Performing Arts Center, CA.

THE FLYING KARAMAZOV BROTHERS appear as part of the FleetBoston Celebrity Series. Sunday, November 23, Symphony Hall in Boston.

BIG BAD VOODOO DADDY swinging Saturday, November 22 at the Orange County Convention Center in Orlando, Florida.

PAULA POUNDSTONE opens Thursday at the Comedy Zone in Charlotte, NC. She'll be telling funny stories through Sunday, November 23.

JIMMY WEBB, MARILYN McCOO & BILLY DAVIS November 19-23 at the Mohegan Sun, CT.

HARRY CONNICK, JR performs November 17 at the Ryman in Nashville.


PIFFLE AND PROFUNDITIES


HER MAJESTY NEEDS A VCR Queen Elizabeth was notified that the television sets in Buckingham Place will be on the fritz next week because of President Bush's visit. According to The Daily Mirror the temporary office includes 100 telephone lines and satellite communications.

The paper reported that "the Queen was warned her telly will be out of action because of President Bush's visit. Her Majesty is set to miss her favorite soap Coronation Street and the horse racing on Channel 4. She has been told Mr. Bush's hi-tech private office, being installed at Buckingham Palace, will ruin her TV reception."

"This means the Queen will miss crunch episodes of Corrie featuring the arranged marriage of dopey Roy Cropper and scheming Tracy Barlow."

The paper quoted a royal insider as saying: "This is more of an issue than people might think because Her Majesty is such a big fan of Corrie."

President Bush, who arrives in Britain on Tuesday for a three-day stay, is unaware of the problem.


FINAL OVATION


DOROTHY LOUDON winner of the 1977 Tony Award for her portrayal of the mean-spirited orphanage manager, Miss Hannigan, in Annie, died Saturday, November 15, at a New York hospital. The three time Tony Award nominee was 70 and suffered from cancer.
















Next Column: November 23, 2003
Copyright: November 16, 2003. All Rights Reserved. Reviews, Interviews, Commentary, Photographs or Graphics from any Broadway To Vegas (TM) columns may not be published, broadcast, rewritten, utilized as leads, or used in any manner without permission, compensation and/or credit.
Link to Main Page
---
Laura Deni


CLICK HERE FOR COMMENT SECTION