! >
Broadway To Vegas
  
  REVIEWS INTERVIEWS COMMENTARY NEWS

| | |
| --- | --- |
| | |
ANNALEIGH ASHFORD: LOST IN THE STARS CD REVIEW - -ENTERTAINMENT VENUES TARGETED IN PARIS TERRORISM ATTACKS - - THE 2015 LATIN RECORDING ACADEMY PERSON OF THE YEAR GALA - - LIGHTS, CAMERA, HISTORY - - OUTSIDE MULLINGER - - KING CHARLES III REVIEW - - ME, MONA, and MAO: ART, FAME AND VISUAL CULTURE - - MATT HOVERMAN'S NEW PLAY THRILLSVILLE - - DONATE . . . Scroll Down






Copyright: November 15, 2015
By: Laura Deni
CLICK HERE FOR COMMENT SECTION


ENTERTAINMENT VENUES TARGETED IN PARIS TERRORISM ATTACKS: AMERICAN BAND CENTER STAGE
Betaclan in Paris.
Six well timed, coordinated attacks took place in Paris on Friday evening, November 13, at various types of entertainment establishments, killing at least 129, including an American student and British tourists. Another 352 were injured.

The entertainment site attacks dispute one popular theory about terrorism. That theory was that terrorism attacks would most likely take place in financial or transportation areas, theorizing those attacks would cause the most economic turmoil. "Soft" targets - those with the least level of security - include entertainment venues have not been given the highest level of security priority because of their purported limited economic impact.

The Paris attacks took place at Bataclan concert hall, a restaurant near the Place de la République, and at the Stade de France, where French President François Hollande was watching a soccer match between France and Germany. Three bars were also attacked.

Eagles of Death Metal, a Billboard charting Palm Desert, California based band was on stage performing at the Bataclan, six songs into their act, when three black garbed gunmen began shooting from the balcony. In the middle of a European tour, the band including singer and guitarist Jesse Hughes, hit the floor and escaped unharmed through the back stage door.

The wife of drummer Julian Dorio told NBC News that he'd told her everyone on stage managed to get out and that he and other band members made it to a police station. Emily Hall Dorio is quoted as saying the whereabouts of some members of the band's crew were unknown.

One of the band's front men, Joshua Homme, was not on tour with the band and remained at home in Palm Desert.

Homme, also a founding member of Queens of the Stone Age, formed the band in 1998 with childhood friend Hughes. They have used a variety of temporary members, including Foo Fighters' Dave Grohl and actor Jack Black.

The touring band's bassist Matt McJunkins posted a photo of the show just before the band was to go on.He posted: "Parisians, see you in a few! @EODMofficial #eodm #eaglesofdeathmetal #zipperdown pic.twitter.com/RAamVro7r3 — Matt McJunkins (@mattmcjunkins) November 13, 2015"

The duo White Miles was the opening act.



Eagles of Death Metal performing at the Commodore.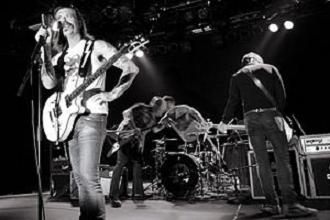 Despite widely published reports elsewhere, the Eagles of Death Metal is not a death metal band and they were not performing a "rock" concert. The band's name is an inside joke.

In a 2003 interview Homme described the sound of the band as a combination of "bluegrass slide guitar mixed with stripper drum beats and Canned Heat vocals."

Last month the group released its fourth album and first studio album in seven years, Zipper Down on the T-Boy label. In an interview with Rolling Stone, band members Jesse Hughes and Josh Homme joked that the album was their response to the spread of terrorism:

So essentially Zipper Down is the Eagles of Death Metal response to terrorism? asked Rolling Stone.

Homme: Yeah. We put out a record and human rights are better, the world feels better, people make more money, there's less anger, people are more respectful to women and to homosexuals, and they're generally nicer each other, they're kinder to each other, and that's why we really felt like it was time to let the healing begin."

Also escaping the nightclub carnage were some members of the press who climbed onto the stage to exit through the stage door. The Fourth Estaters then called their outlets and others to report on what they experienced, including reports of pools of blood, the shooters using shotguns, and throwing explosives into the audience while yelling "This is for Syria, this is for Syria".

Another witness quoted by BFM television said he heard someone shouting "Allahu akbar!" at The Bataclan.

Built in 1864 by the architect Charles Duval, its name refers to Ba-Ta-Clan, an operetta by Offenbach, but it is also a pun on the expression le tout bataclan (the whole caboodle). Maurice Chevalier saw his first successes at the Bataclan.

The popular club which holds 1,500 was sold out. Over 100 were first held hostage in a two hour standoff and then killed.

French police stormed the Bataclan ending the venue siege.

Called the deadliest terror attack in French history, President Hollande declared a state of emergency and closed the French borders. France is seen as an enemy of jihadist groups and has a history of being targeted by terrorists.

All of the attackers are reportedly dead, either as suicide bombers or killed by police. Officials are investigating if there are any co-conspirators on the loose.

The Islamic State claimed responsibility of the Paris attacks releasing a statement on Saturday, saying eight members "wrapped in explosive belts and armed with machine rifles" targeted Parisian sites in response to air strikes in their territory.

Paris is in three days of mourning. Most buildings aren't open. All public events have been cancelled. Disneyland Paris is closed. The Eiffel Tower is closed indefinitely.

U2 was scheduled to perform at the Baracon on Saturday, March 14, and cancelled that show. Foo Fighters announced it has canceled its remaining tour dates in Europe. They had been scheduled to perform Monday, November 16, at the Palais Omnisports de Paris-Bercy in Paris. On Thursday were slated to be on stage at the Halle Tony Garnier in Lyon, France while on Thursday they would have performed at the Palau Sant Jordi in Barcelona, Spain.

Al Gore's Eiffel Tower Climate Chance Concert was cancelled. The historic 24-hour event hosted by former U.S. Vice President Gore was to have featured Elton John, Duran Duran and others performing from various spots around the world, and broadcast from locations around the globe, from Rio de Janeiro to Miami, Sydney and Cape Town.

The live webcast from the foot of the Eiffel Tower was to have begun Friday night in an effort to draw attention to this month's international climate summit in Paris.

"Out of solidarity with the French people and the City of Paris, we have decided to suspend our broadcast of 24 Hours of Reality and Live Earth," read a statement on the concert's website on Friday night. "Our thoughts are with all who have been affected and the entire nation of France. We send our condolences to the families of those who have been killed or injured."

France is America's oldest alley. President Obama stressed America's support. Homeland Security says they are no creditable threats against the United States.

Broadway theatres wouldn't permit entry to any person carrying a backpack large enough to hold a machine gun.



Broadway To Vegas is supported through advertising and donations. Priority consideration is given to interview suggestions, news, press releases, etc from paid supporters. However, no paid supporters control, alter, edit, or in any way manipulate the content of this site. Your donation is appreciated. We accept PAYPAL. Thank you for your interest.









ART AND ABOUT


ME, MONA, and MAO: ART, FAME AND VISUAL CULTURE opens November 19 at the Portland Museum of Art in Portland, Maine.

Visitors are invited to step outside the media maelstrom of day-to-day visual culture and think critically about the traditions of artistic copying and the celebrity of images. Me, Mona, and Mao: Art, Fame, and Visual Culture comprises three works of art, including Andy Warhol's Mao, a copy of Leonardo da Vinci's Mona Lisa, and contemporary Maine artist Aaron T Stephan's Girl with a Pearl Earring—Tangled in Process.

"During the process of reinstalling our entire collection—the cornerstone of Your Museum, Reimagined—we're experimenting with new narratives and creating moments that have artworks speak to each other across time and context," explains PMA Director Mark Bessire. "Me, Mona, and Mao creates a dialogue about art and ideas, making these three vastly different works relevant to each other in a way never imagined before."

"While each artist used different motivations, techniques, and ideas, the works share in a conversation about originality and the cultural power of iconic pictures," says Andrew Eschelbacher, the PMA's Susan Donnell and Harry W. Konkel Assistant Curator of European Art. "As we look at these works in the 21st-century museum setting, and in conversation with the current explosion of visual media, the installation prompts us to consider how popular culture may influence our relationship to historic images—and what that means for our understanding of the past."

For instance, audiences can see these works through a variety of perspectives, including a scholar's point of view on the centuries-long history of copying the Mona Lisa, a viewer's first impression of Andy Warhol's Mao, and Aaron T Stephan's thoughts on how his contemporary works fit into this legacy. Also, visitors who want to try their hands at the artistic tradition of copying can create and share their own versions of the Mona Lisa. And throughout the duration of the installation, PMA staff will capture interviews with people of all ages to highlight the malleable meanings of these artworks today.

"At its core, Me, Mona, and Mao is not just about what we look at, but how we look at it," explains Jennifer DePrizio, the PMA's Peggy L. Osher Director of Learning and Interpretation. "As art lovers, artists, scholars, collectors, and consumers of popular culture and media, all of us see these works of art through unique lenses. This installation needs those varied and diverse perspectives to complete the conversation—that's why we added the 'me' to the title."

The installation opens November 19, 2015, and runs through February 21, 2016.

THE SILVERSMITH'S ART: FAKES AND FORGERIES SEMINAR Have you ever wondered how the experts spot a fake? What happens when they do find an imposter? Join our experts and keynote speaker, Mr Alastair Dickenson - who is BBC 1's Antiques Roadshow silver expert - for a hands-on day exploring the world of counterfeit silver.

Wednesday, November 18, at the National Museum of Scotland in Edinburgh.





SWEET CHARITY


THIRD ANNUAL BENEFIT CONCERT starring Christine Ebersole benefits the Maltz Jupiter Theatre in Jupiter, Florida. An Evening With Christine Ebelsole takes place Saturday, November 21, 2015 at the Sallie & Berton E. Korman Hall.

THE 2015 LATIN RECORDING ACADEMY PERSON OF THE YEAR GALA honoring Roberto Carlos' important artistic and social contributions to Latin music and culture, takes place at the Mandalay Bay Convention Center in Las Vegas on Wednesday, November 18, 2015.

Performances by Camila, Paula Fernandes, Jesse & Joy, Víctor Manuelle, Romeo Santos, Alejandro Sanz, Carlos Vives and Dionne Warwick, Ana Carolina, Seu Jorge, Leslie Grace, Malú, Maluma, Melendi, and Julieta Venegas.

Jose Tillán will serve as executive producer of the 2015 Latin Recording Academy Person of the Year tribute dinner and concert. Greg Fera will be the producer, Dan Warner will serve as the musical director and Gustavo Borner will be the audio/mix supervisor.

Gala proceeds Support Educational Initiatives of the Latin Grammy Cultural Foundation.

A SPECIAL READING OF MATT HOVERMAN'S NEW PLAY THRILLSVILLE takes place at the George Street Playhouse in New Brunswick, NJ on Thursday, November 19. The event stars Richard Kind, Tony Award winner Adriane Lenox, multiple Emmy Award winner Edie Falco, Grant Shaud, Cindy Cheung and Bruce Faulk..

The reading will be directed by GSP Resident Artistic Director Michael Mastro. Proceeds of the one-night-only performance will benefit George Street Playhouse.

Thrillsville, a 2015 Eugene O'Neill Playwrights Conference semifinalist, is a comic tale for anyone who loves an impossible sibling. Outrageous, adorable and developmentally disabled Patricia (Falco) is living the good life on her own. When funds run out for her ongoing care, her brother Chip (Shaud) steps in to help her establish a new life in a new home with new neighbors, including Tim (Kind), and her new social worker, Karen (Lenox).

VIP Benefit tickets include a post-performance meet-and-greet reception with the artists.






THE MUSIC GOES ROUND AND ROUND


ANNALEIGH ASHFORD: LOST IN THE STARS recorded live at 54 Below. Released by Broadway Records.

One of the best - if not the best - band overture ever delivered at a 54 Below gig.

Annaleigh Ashford is one amazing performer. She a stage performer, dancer, comedienne in the same strata of Lucille Ball or Carol Burnett.

Ashford is known for her work on Broadway as Glinda in Wicked, Margot in Legally Blonde, Jeanie in Hair, as well as for originating the role of Lauren in Kinky Boots, a performance for which she received a 2013 Tony nomination. Ashford won the 2015 Tony Award for Best Featured Actress in a Play in the role of Essie Carmichael in the revival of You Can't Take It with You.

And, boy can she sing!

Ashford's voice is whatever she decides. From disco, to gut bucket blues, to a twang, to a wail, to the purist soprano you can imagine. She has vocal chords which should be insured.

Ashford is obviously influenced by Disco Queen Donna Summer. Track Three is a tribute to her. Ashford takes command and delivers perfection on I Feel Love, Hot Stuff, Bad Girls, She Works Hard For the Money, Dim All The Lights, MacArthur Park and No More Tears.

People aren't normally this multi-talented.

Love Hurts and Another Time are haunting and will break your heart.

She has a lengthy chat to the audience on Tract 7. She also talks up a storm on Track 10. You learn that she's thankful that her mother was an elementary school gym teacher, rather than a stage mother. She does go on and on - and on talking about her life with numerous anecdotes from ages of five and six, including explaining how she participated in Kids Cross Country and Track at the age of six, coached by her mother. It was discovered there that she hated running, and it was very clear that she was more interested in the costume for the races rather than the actual races themselves.

Through all of the narrative she is backed by Will Van Dyke tinkling on the piano - his fingers must have gotten tired.

For a first time cabaret/touring show the relatively new performer may be giving the audience a chance to learn about her. However, now that she's done that, she needs to substantially cut the chatter. Shut up and sing!

She does just that on Come Rain Or Come Shine.

Hand In My Pocket is a robust sing-a-long of the Alanis Morissette hit. The 54 Below crowd knew every word, chiming in at the appropriate points.

Those two songs lead into another gab fest, mentioning the wonderful Broadway show You Can't Take it With You which she was doing at the time of this cabaret performance. She kept chattering on and on and - you guessed it - on. Personalizing a show is excellent with a little commentary, but don't turn it into a filibuster.

Her rendition of Stephen Schwartz's For Good from Wicked is awesome.

She closes her act with a soft, tender version of Lost in the Stars by Kurt Weill and and Maxwell Anderson.

If the worst thing you can say about this CD is that on a couple of occasions she talked a bit too long, that is giving this CD a rave review.

She's 30. She's got a career that could easily last another 50 years. A phenomenal, multi-faced performer. Don't miss adding this CD to your collection.

In a limited run to January 24, 2016, Ashford is starring as the titular canine in the first Broadway production of Sylvia by A.R. Gurney, directed by Daniel J. Sullivan. The show opened at the Cort Theatre on October 25, 2015. Julie White, Matthew Broderick and Robert Sella co-star. If you're every anywhere where is performing - go see her. You won't be disappointed.

Recorded live at 54 Below in New York City on August 30, 2015, and released on November 13, 2015. Produced by Ashford, Andy Jones, Will Van Dyke, and Derik Lee, the album features Ashford with songwriter and music director Will Van Dyke and the Whiskey 5 band.

The talented members of that band include Cello: Allison Seider. Bass: Steve Gilewski. Drums: Mason Ingrim. Guitars: Alec Berlin and Michael Aarons.

All arrangements and orchestrations by Will Van Dyke with the exception of Good Enough which was orchestrated by Brian Usifer.

Mixed by Derik Lee. Mastered by and Oscar Zambrano.


KING CHARLES III IS CAPTIVATING AND INTRIGUING - BUT 'GOD SAVE THE QUEEN'
Margot Leicester as Camilla and Tim Pigott-Smith as King Charles III. Photo: Joan Marcus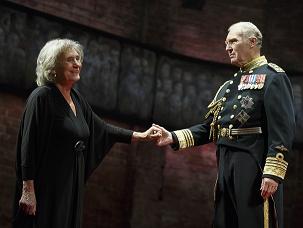 King Charles III, a satirical play written in Shakespeare-style iambic pentameter by Mike Bartlett has transferred with most of its West End cast to Broadway.

Queen Elizabeth II is the only British monarch most of the world has ever known. She has been a symbol of courage, courtesy and consistency. There have been times when she has been the most stable force on the planet. The play opens with mourning lights indicating the death of the beloved queen. Prince Charles, the Duke of Wales has become King Charles III.

After a lifetime of waiting, Prince Charles ascends the throne with Camilla by his side. As William, Kate and Harry look on, Charles prepares for the future of power that lies before him…but how to rule?

"It's not the same, Camilla," opines the older man on stage to his wife (Margot Leicester). The tone is chilling. His short and troubled reign has begun.

Speculation plays about real people are tricky, especially if the subjects at the center of the storyline are alive. The playwright had better have their ducks in a row. Bartlett does.

This is the second pond cross over about the royal family. Both The Audience and King Charles III became West End award winners before conquering Broadway.

Last Saturday, November 14, during a rain soaked barbecue in Perth, Australia the real Prince Charles celebrated his 67th birthday with his wife Camilla, The Duchess of Cornwall while on an official 12-day tour of New Zealand and Australia. Holding a drink in his hand he cut his birthday cake, called a scrumptious looking "red velvet masterpiece," enough to feed the 600 guests.

His wife has previously told the press that her husband loves birthday cakes.

The birthday bash took place after Prince Charles condemned the terrorist atrocities in Paris as 'bestial attacks' and said he wanted to express his 'utter, total horror' at what has happened. He indicated he had already sent a message of sympathy to French president Francois Hollande expressing his support for Parisians.

He told the invited guests: "In view of the appalling atrocities that took place in Paris overnight, I hope that all of you here will be able to join with me in expressing particular sympathy and solidarity with everybody in France, and also join with me in expressing as well our utter, total horror at what has happened.

'Our hearts go out, as I'm sure you'll agree, to all those who have been affected in the most dreadful way by these bestial attacks.

'So perhaps in view of this, I could ask all of you just (to) observe one minute's silence in memory of all those who have been affected and lost their lives."

Prior to the birth of Prince George, the rampant speculation was that Charles would become not King Charles III but King George VII. As has been the recent custom for the males, they assume a different first name. They can become any king they choose. Queen Elizabeth's father was Albert who became King George VI.

By whatever name you call him in the royal scheme of things, Charles is a real life transitional figure. While much ink has been given to William and Kate shoving the monarchy into the present, it is Charles who laid out the road map. He was an active, outspoken environmentalist before the rest of the world jumped on the save the planet bandwagon. Originally reviled and ridiculed for his 'protect the planet for our grandchildren' stance; when proven right he was never given the credit he deserved.

He fought to have his sons attend more humane schools and enjoy a more "normal" life. He was always a good father, which was kept in the shadows by the youth, glamour and lifestyle of Princess Diana. Not until her tragic death was credit given that he had - as one outlet printed - "stepped up to the plate" to raise his sons. He was guilty in meddling in the romance of William and Kate. After Waity Katy continued to wait, Charles told his son to marry her or break it off. William broke it off. The couple reunited and married. Give Charles credit for admitting he interfered and apologizing to Kate for having caused the split.

His love affair and marriage to Camilla will go down in history as one of the greatest love stories in history.

He has been blessed and cursed with his lot in life - he'll become King. The hitch is that in order to do so - his own mother must die. That is a subject reporters who are granted interviews are instructed not to mention.



Oliver Chris as Prince William and Lydia Wilson as Kate in King Charles III. Photo: Joan Marcus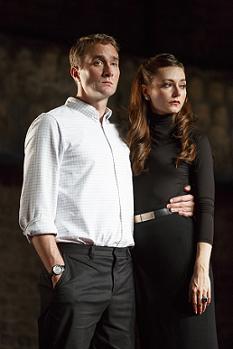 Charles Philip Arthur George has crafted himself into a person with great influence, even being accused of overstepping his boundaries in voicing his views to officials.

His views and influence are the crux of this fascinating play brilliantly directed by directed by Rupert Goold.

Tim Pigot-Smith as the title character is amazing. He has five acts of lyrical soliloquies and metaphors which effortlessly roll off his tongue. He has his title character's mannerism down pat. It doesn't take long to accept Pigott-Smith as the man he portrays.

The quandary King Charles III is pondering is whether or not to sign a bill that has passed both houses of Parliament. His mother never refused to sign a Parliament passed bill, although the monarch has that right. In fact, no monarch has ever refused to sign a Parliament passed bill since 1708. What happens if King Charles III decides not to put down his signature? After all, democratic Parliament has been making laws for only 500 years; the Monarch has been saying 'off with their heads' far longer. What if King Charles III actually wielded the power he legally possesses?

In real life it's never going to come to that because of the process. If a bill which is objectionable to the monarch is coming up she will discuss this, "quietly, and behind the scenes, with her Prime Minster - whom she appointed in the first place, and can fire at will. Thus, any objections are raised long before it even becomes a bill, let alone survives three readings in both houses."

The official teaching statement is that: "No government has ever tried to force something on her (Queen Elizabeth II), and a government that tried would do so at its peril: she can also fire the government and call an election."

In this play King Charles III decides whether he should do just that - dissolves Parliament. The pen is mightier than the sword. King Charles III holds that power.

That may sound preposterous but in Bartlett's play, everything makes sense - what about the future of the monarchy? The play raises important issues which causes you to think.

The reaction of King Charles III reflects his putting what is best for the country ahead of his own wishes.

The Parliament passed bill would limit the rights of the press in invading personal privacy. Charles and his son William have had their own personal privacy invaded in that manner. One might guess he'd jump at the chance to muzzle the press. Speaking in a pseudo Shakespearean manner Charles defends the right of the press.

"For if my name is given through routine/And not because it represents my view/ Then soon I'll have no name, and nameless I/Have not myself, and having not myself/ Possess not mouth nor tongue nor brain."

King Charles III is stubborn about not signing the bill. That doesn't amuse Parliament or Prime Minister Evans (Adam James). Displaying conflicted emotions is the Mark Stevens (Anthony Calf) leader of the conservative opposition party. Charles sends his butler James Reiss to 10 Downing Street, hand-delivering the Bill with 'Assent Reserved' written in place of Charles' signature.

The conflict between Charles and his government goes viral and chaos ensues - literary license taken by the playwright.

There are plots and counter-plots pitting the treasured antiquated past against the unknown but imagined future.

One of the most interest characters is that of Kate Middleton deftly played by Lydia Wilson. In real life neither Kate nor her parents have made one-misstep. Kate is adored by the world. She is a scene stealer, as was her late mother-in-law.

In real life Prince Charles has publicity stated that William "married his mother." The Duke of Wales has expounded on that, explaining that he sees Diana in Kate and that she possesses many characteristics of his late first wife.

Kate has, herself, said that she feels close to Diana, and would have done exactly as she did, making the same mistakes had she not been sent - as the Palace put it - to Princess School.

In hindsight it may be that the Suits inside the Palace assumed that Lady Diana would know how to act, since her Spencer family has been in England longer than the House of Windsor. They were wrong.

Just as Princess Diana continues to command press and jar memory, in this play the ghost of Diana (Sally Scott) lurks about, roaming Buckingham Palace at night making comments to both her ex-husband and her heir to the throne son.

That may explain while the character of Katherine The Duchess of Cambridge in this play has more than just a bit of an edge. As played by Lydia Wilson, she is almost maniacal. The play's character knows how to work the press and is keenly aware that who controls "a world of surfaces" wins. Her intent is to control and protect what will be hers as the wife of the future king - which she intends to be sooner rather than later.

Her husband William (Oliver Chris) is soft-spined while Harry (Richard Goulding), is the stronger brother who has never liked being royal. Refusing to join the royal ranks and helping to lead Harry into the life of a commoner is Harry's love interest Jess Edwards ( Tafline Steen) a socialist art student.

In real life it's widely reported that Harry has never relished being a royal; that he proposed marriage to his long time love Chelsy Davy who turned him down because she didn't want the baggage which came with being 'royal.'

All of the actors are spot on.

As for this Broadway season where Hamilton is rap and King Charles III is in free verse - don't let that be a compelling force to encourage all playwrights to compose in anything other than straightforward English. Too much of different is not necessarily a good thing.

Tom Scutt's sets and costumes effortlessly transcend ancient cathedrals to a red carpets dais and contemporary costumes; Jon Clark's important lighting succeeds coupling the shadowy past with the glare of the present. The magnificent musical score is by Jocelyn Pook with the crucial sound design from Paul Arditti.

King Charles III runs through January 31, 2016 at the Music Box Theater, New York City.


SPREADING THE WORD


LIGHTS, CAMERA, HISTORY When do films offer "good" history? What can films reveal to us about the nature of historical characters and events, and what are their limitations? How do films reflect the social, political, and cultural concerns of the times in which they were made? These and other questions will be tackled at the inaugural History Film Forum, November 19-22, a four-day exploration of history on the screen.

The Forum offers a unique opportunity to connect audiences, historians, filmmakers, journalists, and policy leaders with modern films, archival materials, and historic objects to explore this year's theme: Secrets of American History.

Production Team: Christopher Wilson, Executive Director. Sky Sitney, Production Consultant. Victoria Altman, Project Manager. Daniel Holm, Forum Coordinator. James Zimmerman, Senior Program Producer. Nigel Briggs, Graphic Design Director. Keith Madden, Theater Director. Laura Duff, Communications and Marketing. Abbey Hunter, Special Events. Wendy Shay, Archivist. Stacy Kluck, Curator. Kari Fantasia, Advancement. Dave McOwen, New Media. Erin Blasco, Social Media.

November 19-22, 2015 at the National Museum of American History in Washington, D.C.

BRITISH ROCKER BILLY IDOL has signed on for a 12-show residency in Sin City beginning March 16, 2016, he announced on his website.

The Rebel Yell singer will perform at the House of Blues at Mandalay Bay in what will be his first-ever multi-date Vegas gig. He'll be joined by his longtime guitarist Steve Stevens.

In the show, titled Billy Idol Forever, Idol will play hits by his former band, Generation X, as well as a selection of his solo work.

Idol will perform March 16, 19, 23, 25 and 26: May 4, 6, 7, 11, and 14, 2016.

SOME EVANGELICAL AND OTHER CONSERVATIVE CHRISTIAN GROUPS have complained that Starbucks has downgraded the true meaning of Christmas by removing images of snowflakes, reindeer, Santa and tree ornaments from their all red holiday beverage cups - which can now be recycled for use on Valentine's Day.


OTHER PEOPLE'S MONEY


ADAM SPREADBURY-MAHER artistic director of King's Head Theare in London admits that he is "a little bonkers." Last Monday he was standing at the starting line of the historical first marathon in Athens, the distance from Marathon to the ancient Olympic stadium in Athens. The multi-award-winning Australian/Irish theatre artistic director, producer and translator - founding Artistic Director of London's Cock Tavern Theatre and joint artistic director of opera company OperaUpClose explained in a posting that: "It's the journey that Pheidippides made following the Battle of Marathon in 490BC. This fellow was running back to base (26 miles and 385 yards) to tell his fellow Greeks that they'd won a battle with Persia. He arrived and said, "we have won", and then collapsed and died."

"What am I doing here?" was the rhetorical question.

It seems the artistic director decided to run 4.5 marathons in 2015 to celebrate the King's Head Theatre's 45th birthday; and "if that wasn't bonkers enough, I've committed to raising £4.5k. So yeah, it's really now actually happening - I've done two halves and a full marathon so far this year, and this run, the original marathon in Greece, marks the tipping point of my pledge and commitment to the original (and best!) Pub Theatre in London.

KEN ZIFFREN a prominent entertainment attorney who was dubbed "Los Angeles film czar" by mayor Eric Garcetti in February 2014 has donated $5 million to UCLA to create the Ziffren Center for Media, Entertainment, Technology and Sports Law. He's a founding partner of law firm Ziffren Brittenham.



OUTSIDE MULLINGAR written by Pulitzer Prize, Tony and Academy Award winning playwright John Patrick Shanley. It's his first play set in Ireland.

Directed by Randall Arney.

Featuring Jessica Collins, Jarlath Conroy, Dan Donohue and Robin Pearson Rose.

Family farms, feuds and fences have separated neighbors Rosemary and Anthony since childhood. Two introverted misfits straddling 40. Rosemary has been romantically interested in Anthony for all of her life. Anthony, however, is is unaware of Rosemary's feelings. two introverted misfits straddling 40. Anthony has spent his entire life on a cattle farm, but doesn't like farming. But as the heather blooms in the Irish countryside, unexpected charms are unearthed.

Scenic Designer Anthony T. Fanning: Costume Designer David Kay Mickelsen: Lighting Designer Daniel Ionazzi: Sound Designer Johnathan Burke: Composer Peter Golub: Production Stage Manager Young Ji: Assistant Stage Manager Amy Ramsdell: Casting Director Phyllis Schuringa, CSA.

Recipient of the 2014 Edgerton Foundation New American Play Award. Performances November 10 - December 20, 2015 at the Geffen Playhouse in Los Angeles.

A CHRISTMAS STORY: THE MUSICAL based on the perennial holiday movie favorite. The Tony-nominated score is by Benj Pasek and Justin Paul, with a book by Joseph Robinette.

Jason Sparks recreated the Broadway choreography by Warren Carlyle.

The story takes place in 1940's Indiana, where a bespectacled boy named Ralphie has a big imagination and one wish for Christmas. A kooky leg lamp, outrageous pink bunny pajamas, a cranky department store Santa, and a triple dog-dare to lick a freezing flagpole are just a few of the obstacles that stand between Ralphie and his Christmas dream.

Starring Evan Gray and Colton Maurer who are co-cast as Ralphie Parker.

The cast also features Max Thayer as Jean Shepherd, Christopher Swan as The Old Man, Susannah Jones as Mother, Cal Alexander as little brother Randy and Avital Asuleen as Miss Shields.

The ensemble includes Andrew Berlin, Christian Dell'Edera, Elizabeth Flanagan, Cole Hagen, Tierney Lee Howard, Seth Judice, Maria Knasel, Rico Lebron, Allison Maldonado, Lea Mancarella, Brooke Martino, Johnny Marx, Michael McClure, Deanna Ott, Charles Pang, Ellie Poon, Brandon Szep, Chris Van Vleet and Danny Wilfred.

A Christmas Story, The Musical also offered one local child from select tour markets a once-in-a-lifetime opportunity to perform in the show. Auditions for the coveted spot took place in Albuquerque, NM, Spokane, WA, Tempe, AZ: and Denver, CO.

The score includes such songs as Red Ryder, Ralphie to the Rescue, A Major Award and You'll Shoot Your Eye Out. The tour reflects new design concepts by Mike Carnahan, Lisa Zinni and Charlie Morrison based on the work of Broadway designers Walt Spangler (scenic), Elizabeth Hope Clancy (costumes) and Howell Binkley (lighting).

Evan Gray and Colton Maurer share the role of Ralphie Parker - See more at: http://www.playbill.com/news/article/a-christmas-story-the-musical-national-tour-hits-the-road-335404#sthash.HPnA2y0y.dpuf The delightfully family friendly show is on tour with stops November 19-22 at the ASU Gammage in Tempe, AZ; December 3-6 at the INB performing Arts Center in Spokene, WA; December 9-13 at the SHN in San Francisco and December 16-27 at the Buell Theater in Denver.

The Dutch Apple Dinner Theatre in Lancaster, PA is also staging their own production currently running to December 31, 2015.

CHINA DOLL by David Mamet starring Tony, Emmy and Oscar-winning actor Al Pacino has pushed back the Broadway opening from November 19 at the Gerald Schoenfeld Theatre to December 4, so that the "needs work" production in previews can iron out the kinks.

OF MICE AND MEN by John Steinbeck who was a proud resident of Sag Harbor.

Of Mice and Men follows the themes of strength and weakness. It also plays on the idea of the American Dream and how most in the novel never get to experience the life they hoped they would live. During the time of the Great Depression, people worked toward what they saw as the American Dream in an effort to overcome poverty. The novel and play explore human nature in regards to isolation and loneliness. Steinbeck reveals through the play that oppression comes not only from the powerful and strong, but also from the meek and poor. The struggle of power and isolation is still relevant today.

George and Lennie are two migrant farm workers who dream of one day owning their own piece of land. But when Lennie gets too close to the wife of the boss's son, George must choose between protecting his friend and staying the course towards his version of the American Dream.

The cast includes Preston Truman Boyd (Lennie), Joe Pallister (George), Terry Brockbank (Candy), Josh Gladstone (Boss), Jon Kovach (Curley), J. Stephen Brantley (Slim), Georgia Warner (Curley's Wife), Sawyer Spielberg (Whit), Chauncy Thomas (Crooks).

Fight direction is by Rick Sordelet.

Part of the Literature Live program with performances through November 28 at the Bay Street Theatre in Sag Harbor, New York.


WHO'S WHERE




BEN FOLDS entertains Monday, November 16, at the Murat Theatre in Indianapolis, IN. On Tuesday the show is at the Pageant in St. Jouis, MO. Wednesday finds him at the Uptown Theater in Kansas City, MO.

MADONNA performs Monday, November 16, at the Jyske Bank Boxen in Herning, Denmark. On Thursday she begins a three night spit gig at the Pala Alpitour in Torina, Italy also performing Saturday and Sunday.

MANNHEIM STEAMROLLER is on their annual Christmas tour with two groups. Performances this week take place Tuesday, November 17 at the Wyoming Center at Cam-plex in Gilette, Wyoming and Juanits K. Hammons Hall in Springfield, Missouri. On Wednesday they'll be spreading holiday cheer at The Aiken Theatre in Evansville, Indiana and at the Civic Center in Cheyenne, Wyoming. Thursday's musical fest stages shows at the EKU Center for the Arts in Richmond, Kentucky and at the Rimrock Auto Arena in Billings, Montana. On Friday the shows are at the Tennessee Performing Arts Center in Nashville and at the Civic Auditorium in Idaho Falls, Idaho. On Saturday the tours stops at the Clowes Memorial Hall in Indianapolis, Indiana and at the Morrison Center for the Performing Arts in Boise, Idaho.

THE TENORS entertain Monday, November 16, at Symphony Hall in Boston. Wednesday's show is at the Byham Theater in Pittsburgh, PA. On Thursday their tour stops at the H. Ric Luhrs Performing Arts Center in Shippenburg, PA. On Saturday they can be enjoyed at the Music Center at Strathmore in North Bethesda, MD. Next Sunday, they are in the spotlight at the Sands Event Center in Bethlehem, PA.

JENNIFER NETTLES stars at The Fillmore in Silver Spring, MD on Friday, November 20. On Saturday she can be found at the Casino Ballroom in Hampton Beach, NH. Next Sunday, November 22, she is on stage at the NYCB Theatre in Westbury, NY.


FINAL OVATION


ALLEN TOUSSAINT famed jazz musician died early Tuesday, November 10, 2015 after a concert in Madrid, Spain. He was 77.

Toussaint suffered a heart attack in his hotel shortly after his performance, the newspaper El Mundo first reported. Toussaint was rushed to a hospital in the area, but later died, reports stated.

A significant influence in R&B jazz, Toussaint grew up in New Orleans. Adopting the second-line piano style of artists like Professor Longhair, he brought the New Orleans aesthetic to a national audience writing songs for such acts as Aaron Neville and Lee Dorsey.

He was inducted into the Rock and Roll Hall of Fame in 1998. Inspired by the disaster Hurricane Katrina unleashed on his hometown, he collaborated with Elvis Costello on The River in Reverse. in 2006. In all, he put out nearly 20 albums.

Neil Portnow President/CEO of The Recording Academy issued the following statement: "A Recording Academy Trustees Award recipient, Allen Toussaint was one of music's most influential figures to hail from New Orleans. A multifaceted songwriter, producer and performer, his iconic songs such as Working In A Coal Mine, Mother-In-Law and Lady Marmalade were a gumbo of stylized soul, funk and R&B — a sound that came to be synonymous with the Big Easy. Further solidifying his rich legacy, his songs were recorded by a diverse group of artists such as Jerry Garcia, Ringo Starr, Glen Campbell, Devo, the Band, and the Rolling Stones, among others. The music community has lost a true icon, and we share our deepest condolences with Allen's family and friends, and with those who had the privilege of collaborating with him."

He is survived by two children, including son Clarence (better known as Reginald) and daughter Alison Toussaint-LeBeaux, and by several grandchildren. His children had managed his career in recent years.

CAROL DODA the San Francisco famed topless dancer with a 44DD bust size died Monday, November 9, 2015. She was 78.

She first made global news in 1964 when she became the first topless dancer at San Francisco's Condor Club. The 34B cocktail waitress/topless dancer upper her take home pay when she gradually enlarged her normal sized breasts - through silicone injections - into 44DD showstoppers. Her following grew in proportion to her bust size.

At the height of her fame in the 1960s through to the 1980s, her breasts were known as Doda's 'twin 44s' and 'the new Twin Peaks of San Francisco.'

"The only way I'll stop performing is when I can't walk anymore, honey," she told a reporter in 2009.
















Next Column: November 22, 2015
Copyright: November 15, 2015 All Rights Reserved. Reviews, Interviews, Commentary, Photographs or Graphics from any Broadway To Vegas (TM) columns may not be published, broadcast, rewritten, utilized as leads, or used in any manner without permission, compensation and/or credit.
Link to Main Page
---
Laura Deni



For the snail mail address, please E-mail your request.
CLICK HERE FOR COMMENT SECTION