! >
Broadway To Vegas
  
 SHOW REVIEWS CELEBRITY INTERVIEWS GOSSIP NEWS

| | |
| --- | --- |
| | |
BROADWAY: THE GOLDEN AGE - -MARTHA CLARKE & CHARLES L. MEE - - THE METROPOLITAN OPERA GUILD HART TO HART GALA - - NEW NUNSENSE SHOW HAS VEGAS THEME - - DEBBIE REYNOLDS SIGNS FOR NATIONAL THEATER TOUR - - PAINT YOUR WAGON WORLD PREMIERE AT GEFFEN PLAYHOUSE - - CHARLES GRODIN'S THE RIGHT KIND OF PEOPLE - - A RARE PATTERN STARRING HAYLEY MILLS - - DONATE . . . Scroll Down


BROADWAY:THE GOLDEN AGE


Was it a special golden age, or just rumors kept alive by the aspiring? Broadway: The Golden Age, is a well researched documentary, which contains enough gossip and confessions to keep those who think they don't like Broadway fixated to the program.

Now available on DVD, Broadway: The Golden Age, is a beautiful new transfer of the award winning film with fully restored archival footage. There is also almost 90 minutes of bonus material plus a 111-minute Director's Commentary with Rick McKay. RCA released the DVD last Tuesday. On Wednesday McKay, who was born in Natick, Massachusetts and grew up in Beech Grove, Indiana, discussed with Broadway To Vegas how this project took place.

With no budget and no crew he set out to chronicle Broadway. He journeyed over four continents for five years to find out whether there had been a golden age of theatre and why it had never been documented. He discovered that while great films can be restored and fine literature kept in print, historic Broadway moments are often documented most vividly in the memories of the people who were there.

Edie Adams, Bea Arthur, Kaye Ballard, Carol Channing, Barbara Cook, James Cromwell, Fred Ebb, Nanette Fabray, Ben Gazzara, Robert Goulet, Tammy Grimes, Farley Granger, Kitty Carlisle Hart, Jerry Herman, Celeste Holm, Sally Ann Howes, Tom Hulce, Anne Jackson, Peter Jackson, Lainie Kazan, Miles Kreuger, Angela Lansbury, Michele Lee, Ruta Lee, Shirley MacLaine, Virginia Madsen, Leonard Maltin, Frank Langella, Fayard Nicholas, Janis Paige, Jane Powell, Hal Prince, John Raitt, Rex Reed, Elliott Reid, Chita Rivera, Gena Rowlands, Eva Marie Saint, Douglas Sills, Marian Seldes, Stephen Sondheim, Elaine Stritch, Tommy Tune, Gwen Verdon, Eli Wallach, Naomi Watts, Fay Wray & Gretchen Wyler.



Rick McKay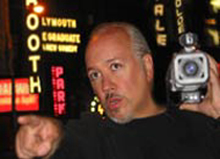 McKay had originally come to New York on a bus to be a singer. Then he segued to the other side of the footlights. For five years he was a segment producer on WNET 13's City Arts, The Big Apple's most honored locally produced show in television history, which won over 30 Emmy Awards.

"I also did some stuff for Biography on A&E," said Rick who was honored at the Sundance Film Festival by PBS and inducted into the PBS Producers Academy, as one of their "best and brightest documentary producer/directors" for his continuing independent film and television work. Rick also produced, directed and shot Elaine Stritch: At Liberty for Egg: The Arts Show. Much of that footage was then used to make the Pennebaker/HBO documentary of the same name, for which Elaine Stritch won the 2004 Emmy Award.

Recalling how his Broadway: The Golden Age began, he related his transition from performer to producer. "I didn't miss performing as much as I just wondered if it was all folk lore about that era - that it was a special, Golden Age. So, I kept working a little bit in TV. But, I was a free lance producer, so it got very challenging over those years, let me tell you!"

"To make this movie and raise little bits of money I had parties. Edie Adams gave me that idea. She told me that Hal Prince was the stage manager of Wonderful Town when she did it with Rosalind Russell on Broadway."

"Hal told Edie he wanted to make a musical from the book 7 1/2 cents and called it Pajama Game.

Edie Adams and Ernie Kovacs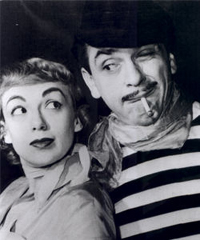 He needed money and asked Edie if she could help. Edie and her husband, Ernie Kovacs, had a great apartment but he gambled the money away, so they had hardly any furniture. But, they had a good piano in that apartment on Sutton Place and told Prince he could use the piano and apartment - as long as Prince brought the Scotch and potato chips."

"Hal would get the composer and the songwriter to play and they would get John Raitt and Shirley MacLaine to sing the numbers and they would raise money."

McKay thought that suggestion was workable. "I'd have parties and invite people I was interviewing."

Getting the famous to agree to an interview also took a bit of creative license - aka - fibbing by omission.

"What I'd tell them was - 'You know I work for PBS and I'm doing a project about the Golden Age of Broadway. Now, I never told them that it was for PBS. And, I never told them it wasn't. They would say I love PBS. I'd go - so do I!"

"But, I didn't say this is for PBS. I just said I produce for PBS and I'm making a film," McKay recalled.

"Then they'd come to my apartment and stutter and stammer when they walked in the door. Oh, my God, I'm in a little apartment. I thought this was Second Act Productions. I'd say - oh, it is. But, PBS is not doing this, no one is doing this, but it's got to be done."

"I didn't get money from the cast because they were donating their time," he explained.

"But, I asked them to come to the backer's party. At one party we had Fay Wray, Farley Granger, Jane Powell, and Kitty Carlisle Hart all in the living room. I played 30 minutes of the film and stood up and made a pitch."

"Sometimes they would give a thousand dollars. Sometimes they would all say this is amazing, let me just go to the bathroom - and they would sneak out the door."

"Since I made it alone, I could make that money stretch. I was my light man, sound man, camera rep, interviewer, and the editor. So, it was literally me - alone."

"It was difficult financially to make this picture," he stressed and then came the confession. "At one point I had to sell my piano to pay for interviews. Elaine Stritch wanted hair, make-up, car and driver and Stephen Sondheim wanted to do his interview in his hotel, not in my apartment. I just didn't have the money. for those demands, which cost quite a bit. So, I sold my piano."



Rick McKay and Fay Wray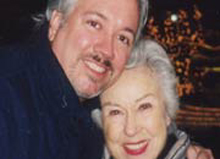 "Well, on November 8th the DVD was released and the same day was the delivery of a piano that was left to me in the will of Fay Wray. It was weeks on the road. Her daughter had it sent. But, low and behold, it was delivered on the day the DVD arrived in stores. And, it means so much more than the old piano. Fay Wray was very dear to me and she was a big champion of the film."

"I put that piano right up against the wall in exactly the same place where the old piano was. I looked up and thought - Fay, you've brought it full circle."

As if on cue, Bobby, one of McKay's two cats, jumped on the keyboard performing his feline arrangement of Kitten on the Keys.

Broadway:The Golden Age begins in the first person with McKay talking about how, in 1980, he took a bus from his home in Indiana to The Great White Way. The film is then expertly divided into chapters with each section capable of being it's own section of a television series.



Horn and Hardart. Photo from Museum of the City of New York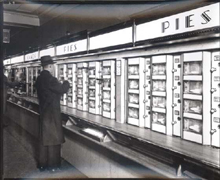 Actors shared rooms and clothes.

Shirley MacLaine lived on graham crackers and peanut butter. In order to have lemonade, she took lemons and sugar from the Horn and Hardart Automat.

Those were Art Deco food palaces where macaroni and cheese casseroles, crocks of baked beans, pumpkin pies, and vanilla ice cream flecked with real vanilla beans were just some of the staples that awaited customers behind little glass doors of vending machines - all for a handful of nickels.

In fascinating footage from both a young Richard Burton and an even younger Robert Goulet, a segment titled, Looking For Lancelot, details how Goulet, a longtime resident of Las Vegas, captured the part with a weekly starting salary of $750.



Robert Goulet and Rick McKay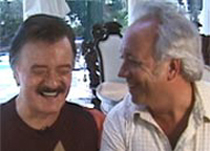 Goulet also admits that he and his equally poverty stricken roommate would make a regular habit of eating at the Horn and Hardart Automat. There Goulet would aid and abet his roommate, who procured silverware for their apartment by stuffing it up his sleeve.

"I love him," said McKay about Goulet. "He saw a rough cut of the film about a year ago."

All of the stars interviewed by McKay stressed that Broadway was an important sense of community.

Years ago aspiring performers were not isolated by computers, the internet and cell phones. A favorite hangout was Walgreen's Drug Store in the Astor Hotel.

Despite being competitive for the same roles, there was a bond - a Broadway Brotherhood that no longer exists, except with some charity events.



Carol Burnett shared a dress with four others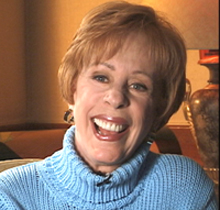 "What I discovered, since I made the movie, is a huge change that has occurred to the struggling actor," continued McKay.

"First of all, in the Golden Age of Broadway, when they were broke, you could only get so broke. You stayed that broke and you survived. You had to share a dress, and you had to live five people in one apartment."

"But, what separates them from today's kids are credit cards. Today, kids come to New York with credit cards. In the 1950's there were no kids who were 18 and moved to New York City who had credit cards. Credit cards were such a new concept that I think there was only Diners Club and only executives had credit cards."

"So, you couldn't get too much in debt. What could you get in debt to - the corner deli? They didn't extend credit to struggling actors. So, you couldn't really owe much money."

"What kids do now is spent all of their money on a gym membership, on the best possible clothes, on dental work to look better. Now, they are spending it all on pictures and electronic resumes. Before, you were spending it on shoe leather. Nobody walks any place any more. They all do it on the internet and E-mails. They get so deep in debt that a few years later they have to quit and go home, or take a day job somewhere else."

Broadway: The Golden Age is about a time - not that long ago - when Broadway affected the world and everyone could afford it. Broadway was a part of growing up in New York. A full price ticket was 55 cents and for 25 cents you could stand. If that was too steep a price, the Broadway wannabes confessed they all learned how to sneak into the second half of Broadway shows on a Monday or a Tuesday. They'd slump into a vacant seat in the back and hope the lights dimmed before the ushers discovered the ruse.

"And, it was not an audience of all gray haired, rich people," declared McKay. "Going to a Broadway show was for young people. It was the coolest thing to do."

Because they grew up with theater, that gray haired women at today's matinee may very well be that same 20-year old beauty who, 50-years-ago, went every night Saturday night with her fella to a Broadway show.

Outrage took place when ticket prices topped $1.10. By 1968 the top ticker had skyrocketed to $15.00.

Ticket prices cause McKay's blood pressure to skyrocket. When he asked a Hairspray cast member about the background of today's chorus people, he was shocked by the answer.

"I was told Broadway chorus people are all rich kids of about 23," McKay related. "Rich kids? Why would rich kids be the majority in the chorus? He said, they are the only people who could afford to grow up seeing Broadway. The average kids never see Broadway, so they never have a dream of being on Broadway."

"Producers argue with me saying it is commensurate with everything else," McKay complained about the ticket price increases.

"I did my homework and that was 55 cents for the cheap seats," McKay declared. "The top seat was $5.50. That means the cheap ticket then was 10 percent of the top ticket. If Wicked is $100, then the cheap seats should be $10. So, once again, it should be the same price as a movie. Maybe the top ticket price might be in relation to the top tickets before. The point is, there are no cheap tickets! The cheap tickets for Wicked are $57.50, not $10."

"My goal is to fight for the producer to make the cheapest ticket 10 percent of the highest, so some kid who gets off work at his temp job - who came to New York - can stand in Times Square and say -'Should I go see a movie or a Broadway show?' - because it would be the same price, if you don't mind sitting at the top of the second balcony. And, he should be able to make an impulse decision. He should be able to see every show."

"Broadway has now become a luxury for a very small part of the world. Or else people once a year from New Jersey will go see a Broadway show for an anniversary. Broadway should be part of life. It should be something for everyone."

"The late Fred Ebb told me when, as a struggling writer, walking home from his day job - bronzing baby shoes - he'd walk around the block to avoid the theater where The Glass Menagerie was playing. Because, he said, if he walked past it with 55-cents in his pocket he physically could not stop himself from buying a ticket to see it in the second balcony."

Those that lived the dream of Broadway's Golden Age felt the same way.

Stars recalled their emotions at seeing Times Square for the first time.

Kaye Ballard talking about when she first arrived in New York in 1947, performing in the Spike Jones Show. She took one look and quit Jones because she knew she wanted Broadway. After appearing off-Broadway, she saw her name on The Great White Way in the 1954 original musical The Golden Apple. She starred as Helen. Jerry Stiller had a bit part as Mayor Juniper.



Frank Langella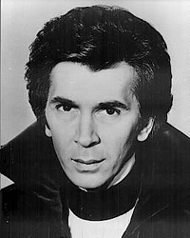 While other teenagers were sneaking out of the house to go to pool halls, Frank Langella would head to the bus station, taking a bus to New York City from his home in Bayonne, New Jersey to see a show. Then he'd bus it back home before his presence was missed.

He knew he wanted Broadway. On December 8, 1966 her got it. His first Broadway production Yerma opened that night. Langella would go on to star in the 1977 revival of the Dracula. Langella's lengthy Broadway career included appearing this year in Match, an original drama.

Broadway wasn't just a place to have a job - Broadway was a way of life.

The segment of Broadway: The Golden Age titled Outta Town details how Broadway productions were always considered a work in progress until they reached the Great White Way. They were honed by the playwright out of town.

Jerry Herman divulged that David Merrick had wanted to close Hello Dolly! on the road thinking it was a terrible flop.

Angela Lansbury fessing up that she hounded and pestered Jerry Herman because she desperately wanted to star in Mame. Gwen Verdon declaring that you have to be able to act to dance. Steven Sondheim not able to raise funds for West Side Story which nobody thought would be a hit - expect those directly involved in its creation. Actors rehearsed for a full month without pay. At the first backer's reading Sondheim wasn't able to raise one dime.



Laurette Taylor - her grave needs a headstone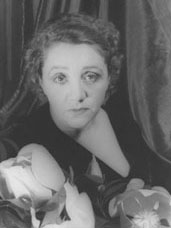 Finally getting her due is Laurette Taylor. The late Tony Randall named his daughter after the actress.

"So did Eva Marie Saint - her daughter is Laurette Hayden," injected McKay.

While other stars didn't name their first born daughter after her - all gave Taylor credit for being the actress who most influenced Broadway in general and them in particular.

Her performance in The Glass Menagerie was considered the Gold Standard. Unfortunately, no reel of the production exists.

"What makes it worth while - at the end of the day - I can endure anything in the difficulty in making this film knowing that Laurette Taylor is not going to be forgotten for ever," said McKay about the section on the star.

Born Helen Laurette Magdalene Cooney on April 1, 1884 in New York. During the 1910s and '20s, actress Helen Laurette Taylor was one of the brightest stars on Broadway. Her first significant work was in a 1903 Boston production of The Child Wife, a play that was written for her by her first husband, Charles A. Taylor.

Her second husband was Hartley Manners, author of Peg O' My Heart, in which Laurette had tremendous success.

Her private life wasn't as successful, but it certainly was interesting - and sad.



Noel Coward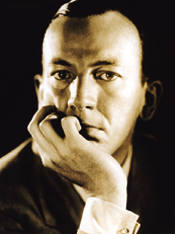 Hay Fever has been described as a comedy of bad manners. According to Noel Coward's autobiography, the seeds for Hay Fever came from an unusual weekend he spent at the New York home of Laurette and her family in 1921. He stated, "On Sunday evenings we had cold supper and played games, often rather acrimonious games, owing to Laurette's abrupt disapproval of any guest who turned out to be self-conscious, nervous, or unable to act an adverb or an historical personage with proper abandon."

Early in 1924 Coward returned to New York and again frequented the Taylor-Manners home. A few months later, in three days, he wrote Hay Fever. He was 24-years-old. It was inevitable, he said, that someone would use their eccentricity in a play and he was grateful to Fate that no one thought of it before he did.

Hay Fever opened on June 8, 1925, at the Ambassador's Theatre and ran for 337 performances.

Laurette Taylor denied any resemblance to her family upon seeing the show with the comment; "None of us is ever unintentionally rude."

When her beloved husband died in 1928, she went on a 10-year drinking binge. By the end of the bender, her entire fortune was gone, and everybody who had loved her, assumed that she must have died. Eventually she did - on Dec. 7, 1946 in New York City.

McKay announced that he is trying to raise money for a headstone for her grave. "I received a phone call telling me that she is in a grave with no headstone." McKay would like the theater community to give back, so that Taylor's grave could have a proper marker. "It would be like full circle," he said.

Broadway: The Golden Age is rightly described as the most comprehensive film ever made about America's most celebrated indigenous art form. For the many who reveled in the recent PBS series on Broadway, this is not a duplication but a brilliant companion piece.

"I don't think there has been anything like this," McKay explained. "The PBS Broadway series - which is enormously valuable - is an educational and academic production by historians. This is by the performers who were there."

"Because of my history at PBS, I didn't want to make the typical historical documentary," stressed McKay. "I wanted the viewer to really feel they were sitting with the performers in their living room."

"If I had had a deal with PBS, or a network, to make this movie they never would have given me five or six years to make it. And, I never would have gotten the people I got, because I took so long. So, I do believe that it worked out the way it is suppose to," he reasoned.

Broadway: The Golden Age is brilliantly edited and the editing makes this product. McKay did that, too.

"I certainly did!" he exclaimed when asked if he really had been the sole editor. "350 hours of footage and that is just the interview footage not the archival," he emphasized. "You see some assistant editors in the credits but they were people that I hired to just put it into the computer. I had to go through 350 hours of tape, highlighting the sections I wanted them to put together."



Paul Newman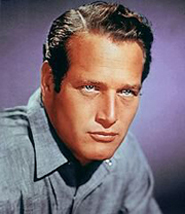 Jason Alexander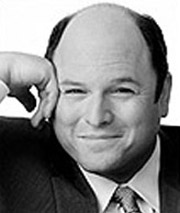 McKay has two follow up projects in the pipeline.

"One is Broadway; More of the Golden Age and that deals with the writers, directors, producers, choreographers as well as people like Lauren Bacall, Liza Minnelli, Paul Newman, Joanne Woodward, who weren't available to do the last one."

"The third one is Broadway: The Next Generation. It's all about the younger generation - people like Jason Alexander, Peter Gallagher, Patti LuPone, Bernadette Peters, Alan Cumming."

"The E-mail I get from younger people is inspiring, which is why I want to make Broadway: The Next Generation, even if I am not finding the same level of passion in those people. It's funny, as they reached about 40, their passion starts getting really deep. But, the younger ones all want their development deal with New Line, a TV series, the Reality Show, the three picture deal," he mused. "I'm wondering if the passion is now Off-Broadway, with kids who are starting their own store front theaters. I'm thinking I might find that passion down town, rather than with the young people on Broadway."

"So, I figure this will be my Divine Trilogy."

"Broadway has changed and it is suppose to change," acknowledged McKay. "Otherwise we would all be doing Gilbert and Sullivan. But, just because it didn't happen on a sound stage, doesn't mean it should be forgotten. That's why I made the movie. Change is good but forgetting is not. You can discover old movies. You can do go Turner Classic Movies and get your education fifty years later. But, you can't discover the theater and go back and enjoy it, because it wasn't preserved in that era. If we don't preserve these people telling their stories, it is going to be gone."



Broadway To Vegas is supported through advertising and donations. Priority consideration is given to interview suggestions, news, press releases, etc from paid supporters. However, no paid supporters control, alter, edit, or in any way manipulate the content of this site. Your donation is appreciated. We accept PAYPAL. Thank you for your interest.


SPREADING THE WORD


MARTHA CLARKE & CHARLES L. MEE a conversation with the Belle Epoqur innovative director and choreographer, Martha Clarke, and playwright Charles L. Mee in the Beaumont Lobby. This Lincoln Theater Center Platform, offered free of charge to the public, begins at 6:15pm.

Established during LCT's 1998-1999 season, the Platform series was initiated to provide a lively forum for leading authors, actors, directors, and designers to talk about their work with audience members. The mission of the Platform Series is to nurture a greater appreciation and fuller understanding by audiences of the work that the Theater presents.

Wednesday, November 17, 6:15 pm in the Vivian Beaumont Theater Lobby, NYC.


SWEET CHARITY


THE METROPOLITAN OPERA GUILD HART TO HART GALA with Julie Andrews and Beverly Sills as Masters of Ceremonies, is an evening of live entertainment and rare film and video excerpts celebrating the lives and achievements of Kitty Carlisle and Moss Hart.

Performances and appearances by Jane Alexander, Orson Bean, Polly Bergen, Steven Blier, Mario Cuomo, Denyce Graves, Rosemary Harris, Celeste Holm, Nathan Lane, Audra McDonald, Sylvia McNair, Anna Moffo, Risë Stevens and Kitty Carlisle Hart plus many more surprise guests.

Honorary Benefit Committee: The Honorable George E. Pataki, The Honorable Hillary Rodham Clinton, The Honorable Charles E. Schumer, The Honorable Michael R. Bloomberg.

Julie Andrews, Orson and Allie Mills Bean, Polly Bergen, Mr. and Mrs. Richard Braddock, Stuart N. Brotman, Schuyler G. Chapin, Simona and Jerome Chazen, Matilda and Mario Cuomo, David Finn Chairman Ruder-Finn Group, Thomas J. Hubbard, Mrs. Kerryn King, Ed Koch, Rocco Landesman, Ellen and James S. Marcus, Anna Moffo, Robert and Gladys Nederlander, Tom Poston, Harold Prince, Mrs. Nelson A. Rockefeller, Mr. and Mrs. Winthrop Rutherfurd, Jr., Richard J. Schwartz, The Shubert Organization, Steven Spielberg, Risë Stevens, Mike Wallace, Joanne Woodward, Sanford A. Fisher, Committee Chair.

Sunday, November 21 at Avery Fisher Hall, Lincoln Center, New York City. The Performance will be followed by a Gala Supper on the Promenade of Avery Fisher Hall.

ENCORES! BASH! this magical evening of songs celebrates the 100th anniversary of the birth of five immortal American songwriters: Frederick Loewe, Jule Styne, Dorothy Fields, Marc Blitzstein and Harold Arlen. The Leonard Harris Award will be presented to Seymour Red Press.

The cast includes: Michael Arden, Kate Baldwin, Brent Barrett, Ward Billeisen, Victoria Clark, Bernard Dotson, Christine Ebersole, Harvey Fierstein, David Garrison, Malcolm Gets, Sara Gettelfinger, Debbie Gravitte, Anne Hathaway, Dick Latessa, Nancy Lemenager, Rebecca Luker, Burke Moses, Noah Racey, Leslie Uggams, Tony Yazbeck and Karen Ziemba.

The musicals spotlighted in this birthday salute will include Gypsy, Funny Girl, Bloomer Girl, Paint Your Wagon, See-Saw, The Cradle Will Rock, The Threepenny Opera, Gigi, Bells Are Ringing, High Button Shoes and Brigadoon.

Encores! Bash will be directed and choreographed by Rob Ashford with music direction by Rob Fisher.

Benefit tickets at $1,000 for Monday, November 22nd include an exclusive pre-performance dinner and premium seating. New York City Center.


OTHER PEOPLE'S MONEY


GEM OF THE OCEAN by August Wilson, which was about to sink when investors jumped overboard last month, has landed a big fish in the form of San Francisco real estate heiress and Broadway producer Carole Shorenstein Hays. Her money has plugged the drain holes.

The 9th play in a cycle of 10 Wilson has written about the black experience in the United States in the 20th century, Gem of the Ocean is set 1904 and stars Phylicia Rashad as a 287-year-old woman guiding a troubled young man through a surreal world.

The production resumes rehearsals on Wednesday with previews now set to begin November 23. Opening night is now slated for December 6 at the Walter Kerr Theater in NYC.



PAINT YOUR WAGON

Art by Paul Davis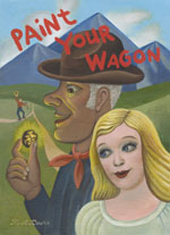 Written by Alan Jay Lerner and Fredrick Loewe. Directed by Gilbert Cates.

This World Premiere hopes to strike gold at The Geffen Playhouse when it opens November 23. Lerner and Loewe's rousing gold rush musical, with an all new adaptation by David Rambo, tells the story of Ben Rumson who has come out West to find his fortune.

When he strikes gold, people come from all over to join the strike, and the gold is only the beginning of the adventure.

When Ben's daughter Jennifer falls in love with Julio Valveras, a Mexican in search of his own American dream, love becomes more important than money. The Rumson family is faced with choosing between gold and each other. Come along for the American journey where every man has a right to his own dream.

November 23 – January 9 Brentwood Theatre in Brentwood, CA.

NUNSENSE has signed Debbie Reynolds to star as Mother Superior in a new national tour of the original Nunsense for 2005-2006. The cast will feature Deborah Del Mastro as Sister Robert Anne, Bambi Jones as Sister Mary Hubert, Jeanne Tinker as Sister Mary Amnesia and Carrie Keskinen as Sister Mary Leo.

There is also going to be another edition to the Nunsense series. It's titled Nunsensations: The Nunsense Vegas Revue. The plot revolves around the fact that the Sisters have been talked into putting on a show in a Las Vegas Showroom. The show will have it's World Premiere on March 4, 2005 at the Chanhassen Theatre in Minneapolis, which is the largest dinner theater in the country. The show features songs including, Life is a Game of Chance, Why Sing a Ballad When you Can Belt a Showtune?, What's Black and White with Her Money on Red? and From Vaudeville to Vegas.

CINDERELLA Music by Richard Rodgers. Lyrics and book by Oscar Hammerstein II.

A cast fit for a queen brings this spectacular musical fairy-tale to life--the perfect event for the entire family. With dazzling sets, lavish ball gowns, and magnificent dances, City Opera's Cinderella is a visual and musical treat playing for thirteen performances only! This promises to be one of the most unique star casts in City Opera history: Sarah Uriarte Berry as Cinderella, star of Broadway's Beauty and the Beast and Taboo; comedian Lea DeLaria from Broadway's Rocky Horror Show as Joy; post-modern male actress John "Lypsinka" Epperson as the Stepmother; comedian and Saturday Night Live ensemble member Ana Gasteyer as Portia; the legendary Eartha Kitt, Catwoman in TV's Batman and recently in Broadway's Nine, as the Fairy Godmother; Christopher Sieber as the Prince, recently seen in Broadway's Chicago and TV's Two of a Kind; comedian Renée Taylor The Nanny as the Queen; and veteran actor Dick Van Patten from TV's Eight is Enough and Mel Brooks's Spaceballs as the King.

Sung in English with supertitles.

Conductor: Gerald Steichen. Director & Choreographer: Baayork Lee. Set Designer: Henry Bardon & David Jenkins. Costume Designer: Gregg Barnes. Lighting Designer: Richard Winkler. Sound Designer: Abe Jacob. Supertitles: Celeste Montemarano.

Performances began November 13.

The Cinderella Family Ball at the New York State Theater takes place on Saturday, November 20.

The Chairman is Caroline Cronson.

Performance at 1:30 p.m. Ball at 4:00 p.m. Tickets: $300 or $250 for the ball only. Children's Tickets: $150 or $100 for the ball only.

On November 21 an in-depth matinee lecture and discussion by NYCO'S Director of Artistic Planning, Keith Viagas, will take place. This event prepares participants to experience the afternoon's opera both musically and dramatically, providing an understanding of the composer and the opera's place in history.

THE DONKEY SHOW celebrated its 1,267th performance at New York's El Flamingo last Saturday, November 13. In the audience were Las Vegans - there with the intent to sign a deal permitting them to stage The Donkey Show in Sin City. The production would be presented in the town's only free standing nightclub, which currently goes by the name of Ice. The venue, which has had many incarnations, is located off the Las Vegas Strip and is not within walking distance of any other Vegas destination, meaning a conscious decision has to be made to go there.

While Ice has a lot of potential, a shot of The Donkey Show may be what the night spot needs to keep its cool.

Conceived by Randy Weiner, created and directed by Weiner and Diane Paulis, last May 21 The Donkey Show was bought by Triple Win Productions, which is currently presided over by John Steele. Reportedly, Ice's marketing director, Marc Jay, will be making the deal with Steele. Of course, the hype is presented with that famous caveat -"if all goes according to plan - The Donkey Showwill open in Las Vegas on Monday, February 14 - Valentine's Day."

The Donkey Show is based on William Shakespeare's A Midsummer Night's Dream. The musically driven evening's sensuously soaked 70 minutes tells the story of euphoric lust gone haywire. The action takes place in a 1970's Disco - the home of love-sick revelers lost in a forest of misguided longings. The story's impetuous lovers are carried through a series of disastrous decisions, petty jealousies and intemperate advances by the pulsating beats of the 70's most seductive disco hits.

A RARE PATTERN starring Hayley Mills. Music performed by: Harry Clark, cello, Jennifer Nagy, soprano and Sanda Schuldmann, piano.

Written and conceived by Harry Clark with featured music by Fanny Hensel, Clara Schumann, Amy Beach and Lili and Nadia Boulanger.

Set in New York in the 1940's, our protagonist looks back over her earlier life in the 1920's as she comes of age at Vassar College. An original work using music, poems and literary thought solely of women from the 1880s through 1940.

Produced by Chamber Music PLUS, Southwest. Performance Stage West in Phoenix Saturday, November 20.

THE RIGHT KIND OF PEOPLE a world premiere play by Charles Grodin.

Dry wit and sardonic humor permeate this biting send-up of a fashionable Fifth Avenue co-op board, where issues of race, gender, and social status simmer just beneath the surface.

From the celebrated, intelligent, screen actor who made sarcasm and satire a legendary art.

Grodin, who has stated he either personally witnessed or will vouch for the situations in the play, invited the San Francisco based Congregation of Emanu-El to attend the November 10th dress rehearsal.

"In the 1990s, I served on the co-op board of a desirable Fifth Avenue apartment building in Manhattan," stated Grodin in a press release. "Before you can purchase an apartment in these prime buildings, you must present yourself before the board so they can determine your worthiness to live in their midst. Sound like the stuff of a grand comedy? I thought so too."

Chris Smith directs the cast that includes; Ken Ruta, Robert Parsons, Tom Blair, Fred Burrell, Will Marchetti, Frances Lee McCain, Jarion Monroe, Carrie Paff, Eric Siegel and Clive Worsley.

Scenic design by Annie Smart, Fumiko Bielefedt costumes, Russell H. Champa lighting, Norman Kern sound and Sarah Ellen Joynt properties. Opened November 13 with performances through December 12 at the Sam Shepard Theatre in San Francisco.

In a related event Grodin will participate in an intimate conversation event to benefit End Hunger Now on November 15. Grodin will be interviewed by ABC7 News Anchor Pete Wilson at the Cowell Theatre in Fort Mason Center. ABC7 is partnering with Magic Theatre to produce this event. The interview begins at 7:30 pm. Tickets for the event are $30.00 and there are a limited amount of VIP tickets for $75.00 each which includes a VIP reception prior to the interview with the opportunity to meet both Wilson and Grodin.

DUCK HUNTER SHOOTS ANGEL by Mitch Albom, directed by Purple Rose Theatre Company artistic director Guy Sanville.

This is a tender new comedy about a tabloid journalist from New York City on a search for two Alabama swamp poachers who believe they shot a celestial being. When the story he finds refuses to fit into his nearly-ordered world, this jaded muck-raker must decide if it is truly possible to talk to angels.

Presented by Nederlander Company by arrangement with the PRTC. Opening November 17- January 2 at the City Theatre in Detroit.

AIN'T MISBEHAVIN' November 17 thru November 28 on the Main Stage of the Bucks County Playhouse, the State Theatre on Pennsylvania in New Hope, PA.

THE PRODUCERS starring Bob Amaral and Andy Taylor bring the wonderful Mel Brooks musical to The Capitol Theatre in Salt Lake City November 16-27.

RADIO CITY MUSIC HALL CHRISTMAS SPECTACULAR See the world-famous Radio City Rockettes kick up their heels as they celebrate Christmas as only New Yorkers could. Highlights include the Living Nativity, the Parade of Wooden Soldiers and Santa and his sleigh arrive in 3D! Continues through January 2.

HOAGY - THE HOAGY CARMICHAEL MUSICAL by Bruce Dettman and William C. Trichon.

Music Supervision & Additional Vocal & Dance Arrangements by Louis St. Louis. Directed by Walter Painter.

At once a loving tribute and a grand entertainment, Hoagy is a jazzy and sensual celebration of Hoagy Carmichael, one of the greatest American songwriters that ever lived and a true legend of popular music. His classic songs are countless, including Georgia On My Mind, Rockin' Chair, Lazy River, In the Cool, Cool, Cool of the Evening, Skylark, Heart and Soul, and perhaps most memorably, Stardust, the most recorded song of this century.

Hoagy shines the spotlight on these and many more memorable songs. Hoagy chronicles the life and times of its title character - with singer/actor Billy Philadephia starring as Hoagy Carmichael, as well as the voice of Broadway's BJ Crosby, supported by singers, dancers, and an on-stage band.

Continues through November 21 at The Coconut Grove Playhouse in Coconut Grove, Florida.


| | | |
| --- | --- | --- |
| | | |
WHO'S WHERE


SMOKEY ROBINSON in a two night stand November 19-20 at the Orange County Performing Arts Center in Costa Mesa, CA.

ANDREA MARCOVICCI>/font> brings her Andrea Sings Fred Astaire program to the Oakroom in Manhattan Nov. 16-Jan. 1, 2005.

CHERRY POPPIN' DADDIES perform Saturday, November 20, at Columbia Gorge Hotel in Hood River, OR.

SARAH BRIGHTMAN performs tonight, November 14, at the Philips Arena in Atlanta, GA. On Tuesday the show is at the New Orleans Arena in New Orleans. Wednesday finds the singer at the SBC Center in San Antonio, Texas. Saturday she returns to Las Vegas for a performance at the MGM Grand Garden Arena.

DIANA ROSS winds up her two week tour this week with a performance Monday, November 15 at the Paramount Theater in Denver. On Nov. 18 she is on stage at the Detroit Opera House in Detroit, Michigan. Friday she can be enjoyed at the Chicago Theatre in Chicago and her last stop is next Sunday, November 21, at Mystic Lake Casino in Minneapolis.

DOLLY PARTON brings her personality and talent to the Patriot Center of George Mason University tonight, Sunday, Nov. 14.

MICHAEL BUBLE can be enjoyed Monday, November 15, at the NIA Academy in Birmingham, England as he continues his British tour. Tuesday he begins a two nighter at Royal Albert Hall in London. On Thursday the show is at Brighton Centre in Brighton and on Saturday he's center stage in the Cardiff International Arena in Cardiff.

VAN HALEN entertains tonight, November 14, at the Brick Breeden Fieldhouse in Bozeman, Montana. ON Tuesday he's center stage at the Idaho Center in Nampa, Idaho.

THE NEW YORK POPS Skitch Henderson, Founder and Music Director, featuring Di Wu on Piano with The United States Coast Guard Band directed by Lieutenant Kenneth W. Megan. The program is to include: Ravel's Ma MPre l`Oye (Mother Goose) and Boléro along with Gershwin's Piano Concerto in F Major and Cuban Overture. Stern Auditorium at Carnegie Hall on Friday, November 19.

BILL COSBY The actor, comedian, educator and legend returns with his insightful and hilarious views on the basic cornerstones of our existence. Two shows Saturday, November 20 at Proctor's Theatre in Albany, NY.
















Next Column: November 21, 2004
Copyright: November 14, 2004. All Rights Reserved. Reviews, Interviews, Commentary, Photographs or Graphics from any Broadway To Vegas (TM) columns may not be published, broadcast, rewritten, utilized as leads, or used in any manner without permission, compensation and/or credit.
Link to Main Page
---
Laura Deni


CLICK HERE FOR COMMENT SECTION