Broadway To Vegas
  
 SHOW REVIEWS CELEBRITY INTERVIEWS GOSSIP NEWS

| | |
| --- | --- |
| | |
ED HARRIS MAKES EUROPEAN STAGE DEBUT - - RED BUTTONS' 70TH ANNIVERSARY IN SHOW BUSINESS - - RED HAT SOCIETY INSPIRES CD - - DON'T MISS JERSEY BOYS - - HOT FEET BY MAURICE HINES - - NEW YORK CITY BALLET OPENING NIGHT GALA - - WALL STREET RISING - - THE GREAT AMERICAN TRAILER PARK PAGEANT - - DONATE . . . Scroll Down


Copyright: November 13, 2005
By: Laura Deni

CLICK HERE FOR COMMENT SECTION
A HOT FLASH FOR YOU


They have discretionary income and an urge to live it up.

They are members of the Red Hat Society - whose mantra is "silliness is the comedy relief of life and, since we are all in it together, we might as well join red-gloved hands and go for the gusto together."

For instance, about 1,700 Red Hat members filed into the Legends Theater in Branson, Missouri for a Red Hat Kazooathon, to break a kazoo-playing world record. The feat took place during a November, 2004 Branson Red Hat Fall Fling.

A world-wide sisterhood one million strong, The Red Hat Society has more than 41,000 chapters across the United States and in 29 foreign countries including Canada, Australia, Mexico, Japan and Egypt.

Heads of each chapter are called queens instead of presidents, and the other members are princesses.

Chapters follow no rules, believing that having fun is what really matters as members age.

Because they espouse no political views the group isn't taken seriously by the politico.

What has taken notice are business spread sheets.

The Red Hat Society has licensing agreements with 33 companies to produce quality merchandise available at select retail stores throughout the United States. Product is identifiable by the official tag bearing the RHS logo.

Jenny Joseph
There is also an official Red Hat Society store which sells red hats and logo merchandise as well as boas, gloves, jewelry and other fun and whimsical items which can also be purchased over the organization's official website.

There is even a sanctioned credit card and Red Hat cruises.

Now the spirited women who boast of red and purple have inspired a CD, Fair Warning, by Rebecca Spencer who starred on Broadway in Jekyll and Hyde. Rebecca also played the role of Carlotta for six months in The Phantom of the Opera, directed by Hal Prince at the Neue Flora Theatre in the Hamburg, Germany. She was also in the final Toronto workshop of Ragtime, directed by Frank Galati, and can be heard on the first cast recording.

The red chapeau phenomenon started with a simple gift. Sue Ellen Cooper gave friend, Linda Murphy, a copy of the poem Warning penned in 1961 by British author Jenny Joseph and a bright red vintage fedora to celebrate her 55th birthday in November 1997.

Warning begins "When I am an old lady I shall wear purple/With a red hat, which doesn't go and doesn't suit me." and continues on to warn that that the author will "make up for the sobriety of my youth" going on to proclaim that aging can be filled with many frivolous and "freeing" moments.

The Red Hat Society officially formed in April 1998 when Cooper and a group of five friends, dressed in purple clothing and red hats in the spirit of the poem, met for afternoon tea. This group of women became known as The Founding Chapter of Fullerton, California. The second chapter that formed was in Florida. Word quickly spread.

Membership is primarily women 50 years and older. Their full regalia includes red hats and purple clothing. Women younger than 50 are identified as Pink Hatters and wear pink hats and lavender outfits. Upon turning 50, a "Reduation" takes place where the pink hat is discarded and a red hat bestowed.

While the chapters are diverse, the members come together at conventions. In June 2005, more than 5,000 Red and Pink Hatters attended the international convention in Las Vegas.

Nothing goes better with a hot flash than a box of chocolates and attending Menopause The Musical..

Red Hat members receive discounts at selected locations for Menopause The Musical, with a production soon to open at the Las Vegas Hilton Hotel.

That's the musical that started in a tiny 76-seat perfume-shop-turned-theatre in Orlando, FL on March 28, 2001. Inspired by a hot flash and a bottle of wine, writer/producer Jeanie Linders created the show as a celebration of women who are on the brink of, in the middle of, or have survived The Change.

In the show four women at a Bloomingdale's lingerie sale with nothing in common but a black lace bra and hot flashes, night sweats, memory loss, chocolate binges, not enough sex, too much sex and more.

The Red Hat inspired CD, Fair Warning, will be released early next year. Partially recorded in Las Vegas, Rebecca Spencer and her husband, James D'Asaro who is the director of production for the New York City Opera, spoke with Broadway To Vegas about how this CD came to be.

In July, 2003 Spencer was in Vermont starring as Dolly Levi in the Weston Playhouse production of Hello Dolly!



Rebecca Spencer as Dolly Gallagher Levi and David Cleveland as Horace Vandergelder in Hello Dolly! at the Weston Playhouse. Photo; Weston Playhouse.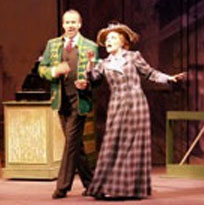 "Weston is a picturesque New England town and home to the Vermont Country Store," explained Spencer, who had just finished scrubbing the tub after giving a newly adopted stray cat a bath. "One matinee day, as I walked from the Victorian cast house to the theatre, I saw bouquets of ladies throughout this quaint town, all dressed in purple and donned in radiant red hats. A surreal picture was brought to life before my eyes: Grand ladies in red and purple, strolling the great lawn of the playhouse, sitting in the town square gazebo, and rocking easily in rockers on the front porch of the Vermont Country Store. There was laughter in the air and so much color illuminated against the summer greenery. A spell was cast over me."

"That following October I was at the Cincinnati Playhouse doing My Fair Lady. I am walking to the Cincinnati Playhouse from the apartment where they put the actors. I'm walking up the hill and there are all of these red hats on ladies wearing purple dresses."

"I had a friend there who is a retired educator, a very intelligent, strong woman. I asked her if she knew anything about these women. She knew all about it!" exclaimed Spencer. "She gave me a little pin, which is adorable, little lady in a purple dress with a red hat."

"Then I was at Marshall's in Westchester. I'm checking out and ladies are behind me talking about The Red Hat Society because they saw a huge, red hat in the store. Three events in a row. I felt inspired! So, this album is inspired by the Red Hat Society and dedicated to the human spirit."

"It was several weeks later when I first shared my encounters with these ladies with Philip Fortenberry, my musical director," she said referring to the Las Vegas resident, who is the conductor for We Will Rock You at the Paris Hotel and about to assume the same position for Hair Spray at the Luxor Hotel.

"He was speechless," recalled Spencer. "Speechless because that very same magical day that I saw the ladies in Weston he had been keeping a promise he made to his mentor, professor, and dear friend whom both he and his partner, Keith Thompson, had known since they attended college in Mississippi. Her name was Virginia Scott and sadly she had passed away. She was a grand lady who loved the Broadway community. One of her final wishes was that in celebration of her life Purple and Red balloons be released at midnight in Times Square. Again, Purple and Red. That's what he was doing, releasing those Red and Purple balloons."

"Decidedly, I set out to discover more about The Red Hat Society and these vibrant ladies. I read two charming books by their founder and Queen Mother, Sue Ellen Cooper. Their hearty philosophy, at age 50, is that life is just beginning, again. Energized, I was challenged to seek a collection of songs with poignant lyrics that would embrace the wisdom and gratitude in how we all, men and women alike, have earned our "laugh lines and our cry lines," she declared.

The CD features five original songs, How Do I Say I Love You?, offered by the writing team of Jay Dias and Clayton Stang from their musical, Stella Dallas. Keith Thompson penned Instead with his writing partner, Morris Sheffield, for their musical Idaho! Thompson's additional compositions are Eat, Drink and Be Mary!, a play on a name - perhaps a new humorous Hattitude, and Virginia's Response, a very special offering set to the words written by Virginia Scott. It is her direct response to the Jenny Joseph poem, Warning."

"Becky has known Philip Fortenberry for many years and he was her pianist and musical director for her debut CD," added D'Asaro who met his wife when she was appearing in a 1983 production of Tin Types at the Shawnee Playhouse in Shawnee, PA.

"He was a lighting designer/stage manager then. When we first met he gave me a good pin light, divulged Spencer about why she fell in love, verifying what most women know - never mind the champagne and candy - it's good make-up and lighting that count.

At about the time Spencer was being encouraged to create this CD, "Philip and Keith were hired to conduct We Will Rock You at the Paris in Vegas," D'Asaro continued about the two men who have been long time music associates and established conductors on Broadway and on National Tours.

"Not allowing this to create a problem with their collaboration, this summer Becky made four whirlwind trips to Vegas to work on all of the arrangements with Philip," explained D'Asaro. "In September Phil came to NYC and Becky and Phil went into the studio here and recorded their arrangements."



Rebecca Spencer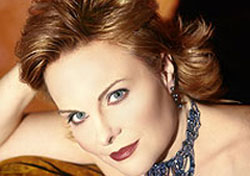 "Becky had decided that she wanted some additional orchestral texture on this recording, and so they enlisted Keith to do the orchestrations. He came up with the idea of a solo cello. Philip found a fantastic musician and cellist, who lives in Vegas, Moonlight Tran. She is a very special heart beat on this recording and the counterpoint she offers, written by Keith, furthers the art song interpretations that support the text and the piano accompaniment."

"Keith and Phil rehearsed Moonlight and then Becky returned to Vegas, and they went into the studio there to record the cello. Then the cello recording was brought back to NYC, and Phil and Becky have completed most of the mixing."

"Both gentlemen will remain in Vegas," said D'Asaro. "Keith Thompson is the First Conductor and will open the upcoming Vegas production of Hairspray and Philip will be the First Associate on Hairspray."

We Will Rock You ends its run at the Paris Las Vegas on November 27. Hairspray starring Harvey Fierstein and Dick Latessa, reprising their Tony award winning roles as Edna Turnblad and Wilbur Turnblad, opens in February at the Luxor Hotel. Menopause the Musical opens at the Hilton on February 1. Rebecca Spencer's CD Fair Warning has a March release date. The Red Hat Society will hold a regional convention "Barrels of Fun," April 20-23, 2006, in Niagara Falls, Ontario, Canada.

(To read the entire poem Warning and information about it's author Jenny Joseph click here)


SPREADING THE WORD


BASEBALL FEVER National Press Club Baseball fever continues in Washington, D.C.

Join Molly Smith, Arena Stage Artistic Director, at the National Press Club steps up to the plate to discuss Arena's upcoming revival of the great American musical Damn Yankees, which she will be directing.

Cast members of the show will perform select tunes from the show.

Former Washington Senators players will also be in attendance!

Friday, November 18 at the Press Club in Washington, D.C.


DEAD POETS LIVE An evening of drama based on the life and work of poets Sylvia Plath, Ted Hughes, Robert Lowell, Edna St. Vincent Millay and Delmore Schwartz. Stage and film actor Angelica Torn performs excerpts from Edge, a play about Sylvia Plath; Amy Freed reads excerpts from her play The Psychic Life of Savages, a loosely fictionalized work about Ted Hughes and Robert Lowell; Jennifer Gibbs reads excerpts from her one-woman play Edna St. Vincent Millay Speaks to the Committee on Immortality, which played at this year's New York International Fringe Festival; and award-winning playwright Romulus Linney presents excerpts from his new poetry-themed play L;pmsly and Schwartz, which opens November 28th at Ensemble Studio Theater. A panel discussion with the writers and performers will follow.

Part of Makor, a program of the 92nd Street Y. Sunday, November 20 in NYC.

ALEC BALDWIN SCREENS ELEPHANT How Great Filmmakers Inspire Great Filmmakers. The Skirball and the American Film Institute continue a series of conversations with contemporary filmmakers. Acclaimed guests screen work they credit with inspiring their art and discuss the great films and filmmakers who have influenced their careers.

Director Gus Van Sant's compelling film follows a group of young teenagers, all played by actual high school students, as they go about their daily routine but come face to face with a violent incident that transforms their lives forever. Winner of the Palme d'Or and best director prizes at the 2003 Cannes Film Festival.

A Q&A with Baldwin follows the screening.

Friday, November 18, at the Skirball Center in Los Angeles.

A CONVERSATION WITH BOB MACKIE with Simon Doonan, Creative Director, Barneys New York and Valerie Steele, Curator the Museum at FIT. Thursday, November 17 at Christie's in NYC.

In celebration of Mackie: Costume & Couture from the private archives of Bob Mackie Auction.

Hear the award-winning designer discuss his scene-stealing fashions for such stars as Carol Burnett, Cher, Brooke Shields, Sir Elton John and Diana Ross.

Discuss followed by a Q&A. The event includes a special preview of the items to be auctioned at Christie's on Tuesday, November 22.

ON MAGIC AND MARRIAGE The Midsummer Marriage/The Magic Flute Sir Andrew Davis, Sir Peter Hall, and Kurt Streit; Roger Pines, moderator.

Take two thought-provoking tales separated by 164 years, both with deeply philosophical subtexts, add conductor Sir Andrew Davis, director Sir Peter Hall, and tenor Kurt Streit - he's Jack, the Papageno-like character in Midsummer Marriage, and you have Of Magic and Marriage. A feature of the Lyrics Opera of Chicago preview lecture series Thursday, November 17, at the UBS Tower in Chicago.

MENOPAUSE THE MUSICAL every Wednesday in November and December in Detroit, Menopause The Musical and Great Stuff offers theater patrons a free post-show dessert and coffee reception with the cast. The post-show meet and greet includes the Century Grille's gourmet cookies, coffee and tea service as well as a chance to meet the cast of Detroit's longest running show - the 600th Detroit performance was presented on Saturday October 8th. The cast quietly celebrated their milestone with cake and wine after the show. Preparations are in the works for the big 1000th performance sometime in 2006.

WINDOWS ON SHAKESPEARE DISCUSSION The Comedy of Errors, part of the Shakespeare Theatre Company's Windows Discussion Series. Participating in this special discussion will be Kent Cartwright, Professor of English at the University of Maryland, and Douglas C. Wager, director, who will share approaches to Shakespeare's comedy.

Sunday, November 20, at the Shakespeare Theatre Company, Washington, DC.

The Comedy of Errors, directed by Wager - a farce of mistaken identities as two twins and their twin slaves search through Ephesus in search of a family reunion - officially opens November 21 with performances through January 8 at the Shakespeare Theatre Company in Washington D.C.



Broadway To Vegas is supported through advertising and donations. Priority consideration is given to interview suggestions, news, press releases, etc from paid supporters. However, no paid supporters control, alter, edit, or in any way manipulate the content of this site. Your donation is appreciated. We accept PAYPAL. Thank you for your interest.


SWEET CHARITY


NEW YORK CITY BALLET OPENING NIGHT GALA BENEFIT An American Music Celebration. Honorary Chairman: Christy Turlington Burns Chairmen: Charlotte Moss, Allison Sarofim.

This black-tie benefit performance at the New York State Theater, preceded by cocktails and followed by supper on the Promenade, will feature the world premiere of a ballet by Albert Evans, a principal dancer with the company, as well as works by Peter Martins and Jerome Robbins. Mr. Evans's dance is a pas de deux set to music by John Cage. The New York City Ballet will begin its 2005-6 season on Nov. 22 with George Balanchine's The Nutcracker from Nov. 25 through Dec. 30.

57 people work backstage to coordinate the scenery, lighting, and costumes during each performance. Approximately 50 pounds of paper confetti fall onto the stage to create the snowstorm. 62 musicians play in the orchestra for each performance. Between 600 and 700 lighting instruments are used in the stage lighting for the production. The giant Christmas tree grows to a full height of 41 feet and weighs 1 ton.

150 costumes appear onstage in each performance. The Sugarplum Fairy's tutu is made of 7 layers of tulle. The Dewdrop's costume is adorned with 65 crystal "dewdrops." Mother Ginger's skirt is supported by a 40-pound metal frame. There are 144 jingle bells on each of the Candy Cane costumes. The bodices of the dresses worn by the women in the Hot Chocolate dance are decorated with small cameo pictures of New York City Ballet founders Lincoln Kirstein (on the Soloists) and George Balanchine (on the corps de ballet dancers).

THE BROADWAY HEADLINER SERIES concerts to help the victims of recent hurricanes is a project of Broadway Cares and Ashford & Simpson. All shows are held on Monday nights at Sugar Bar, Ashford & Simpson's intimate supper club in Manhattan.. November's performers include: November 14 Frenchie Davis from American Idol & Rent. November 21 Lillias White, The Life's Tony Award winner and November 28 Chester Gregory from Hairspray.

JERRY SPRINGER DOUBLE-WIDES THE FUN On Thursday, November 17, from 4 to 6 PM, TV's Jerry Springer will host The Great American Trailer Park Pageant at Dodger Stages in The Big Apple. Sponsored by The Great American Trailer Park Musical the event benefits Broadway Cares/Equity Fights AIDS.

The pageant is also seeking contestants who will be judged on their talent, outfits and trailer park personalities. Examples of talents are singing, hula-hooping, and beer-chugging. The event even includes celebrity judges -- including Michael Musto from the Village Voice.

Prizes will be bountiful: the winner will be 'crowned' at a performance of the musical as the show's official spokesperson, and will represent the show at all future regional and international productions. They will also be included in a special advertising campaign. Other prizes will include cases of Pabst Beer, dinner at Spanky's BBQ and a year's supply of Moonpies.

The Great American Trailer Park Musical with music and lyrics by David Nehls and book and direction by Betsy Kelso, is now playing at Dodger Stages in NYC.

NORTON MUSEUM OF ART - GALA PREMIER evening at the museum on November 17. Frances Fisher, Lori Gendelman, Bridget Koch and Polly Ober, chairwomen; Jeffrey Fisher, Bruce Gendelman, William I. Koch and David Ober, chairmen; Dame Celia Lipton Farris, honorary international chairwoman; Anne Fisher, honorary chairwoman; Jerome Fisher, honorary chairman.

ACTOR CRAFTS a fine art & craft fair featuring the work of New York actors, singers and dancers takes place Saturday, November 19. Presented by BC/EFA and Josef Reiter over 25 exhibitors are participating in this event. Items for sale include jewelry, sculpture, paintings, photography, dolls, clothing, picture frames, and just in time for the Holidays: Handmade Cards. Admission is free. The fair takes place at the Holy Cross School in NYC.



JERSEY BOYS the new musical about Frankie Valli and the Four Seasons. Having interviewed and reviewed the real thing numerous times there were certain trepidations about seeing another Broadway show featuring hit tunes cobbled together in the form of a bio-play. Why not just stick with the real thing - after all Frankie Valli and the Four Seasons open tonight, November 13, at the Luxor Hotel in Las Vegas for a gig running through December 8.

Jersey Boys is a don't miss it show giving Frankie Valli and the Four Seasons a tough act to follow. Seen in previews, the production isn't another schlock jukebox gimmick.

It's both entertaining and interesting. The type of show that you wouldn't mind seeing more than once - in the same way seeing a Frankie Valli and the Four Seasons performance wouldn't be a been there, done that evening.

In Jersey Boys nothing is glossed over.

Jennifer Naimo is marvelous as Valli's wife. Erica Piccininni is excellent as the reporter he takes as his mistress. And then there is John Lloyd Young who portrays Frankie Valli. If you haven't heard of him before - you will in the future. This show mints him into the next Broadway superstar.

From the mean streets of Jersey to American Bandstand, this is the story of how a group of blue-collar boys from the wrong side of the tracks became the biggest doo-wop sensation of all time: Frankie Valli and The Four Seasons rose to the top of the charts when the Beatles invasion sank every musical boat. It was also had a time when one of the favorite jokes of nightclub comics was - (your choice of cities or states) If people who live in Boston are called Bostonians and people who live in New York are called New Yorkers, what are people from New Jersey called? Answer: Indicted.

Valli and his cronies came from the back streets of Jersey and took their music uptown. It would be easy to turn this into a bad B movie.

Doing justice to both the story line and the hit music - penned mostly by Bob Gaudio with lyrics by the group's main producer, Bob Crewe - are Christian Hoff as street smart Tommy DeVito who founded the group then lost command thanks to gambling debts and the mob, J. Robert Spencer as bassist Nick Massi and Daniel Reichard as composer/performer Bob Gaudio who wanted to stay off the stage and write music at home. The strong cast includes Tituss Burgess, Steve Gouveia, Peter Gregus, Donnie Kehr, Michael Longoria, Mark Lotito, Dominic Nolfi and Sara Schmidt

With a compelling book by Marshall Brickman and Rick Elice, in a production brilliantly directed by Des McAnuff. Credit must be given projections by Michael Clark and musical director Ron Melrose. Super choreography by Sergio Trujillo, great settings by Klara Zieglerova, wonderful costumes by Jess Goldstein and effective lighting by Howell Binkley. The only downside is wishing we had also seen the show when it premiered at the La Jolla Playhouse.

At the August Wilson Theater in New York.

MANY HAPPY RETURNS by Bernard Farrell. Directed by Andrew Barnicle.

It's Christmas, and Irene has an elaborate plan to redeem her out-of-work husband by impressing a supermarket tycoon into hiring him. Of course, things don't go exactly as planned in this side-splitting holiday farce--a perfect antidote to Scrooges, Nutcrackers, Grinches and Rudolphs.

This is the fourth US Premiere at The Laguna Playhouse of plays by Ireland's top writer of comedies. Previously produced were: Kevin's Bed (2000), Stella by Starlight (2001), Lovers at Versailles (2003).

American Premiere November 15-December 18, at the Laguna Playhouse in Laguna Beach, CA.

CELEBRATION AND THE ROOM by Harold Pinter. Directed by Neil Pepe.

Harold Pinter's first The Room and his most recent play Celebration complement each other in this riveting double-bill.

Celebration opens on a wedding anniversary in an ultra-trendy restaurant, with three successful couples jockeying for the upper hand. In contrast, The Room reveals a shabby one-room London flat and descends into a nightmare world of insecurity and uncertainty. Although separated by more than 40 years, both plays crackle with the human desperation to find safe haven in a threatening world.

Performances begin November 16 at the Atlantic Theater Company, NYC.

STARVING a world premiere by S.M. Shephard-Massat. Directed by Seret Scott.

Featuring Woolly company member Doug Brown with Bethany Butler, Jessica Frances Dukes, Lizan Mitchell, J Paul Nicholas, Dawn Ursula, Craig Wallace, Michael Anthony Williams.

A bustling apartment stoop in a new black neighborhood in 1950s Atlanta brims with vitality and ambition as a community blossoms with residents moving from the country to a fresh start in the city.

But a peek behind the apartment walls reveals a steamy world of private bonds and struggles within, where the women try to better their lives and their men focused and striving for more.

With a keen eye, vivid language and riotous humor, Shephard-Massat captures a pivotal moment in one particular black community as it struggles over sex, shifting values, and an uncertain future.

Woolly Artistic Director Howard Shalwitz stated: "Starving looks through a big lens. It all takes place in a single apartment building in Atlanta in the early 1950s. But through the comings and goings of its residents, Sherry Shephard-Massat brilliantly captures the challenges of a generation of Southern black women on the threshold of a new urban life. This is a big, funny, fascinating, and powerful play all at once - and it's been thrilling to work with Sherry and Seret Scott to bring it to life for the first time."

Begins November 14 with performances through December 18 at the Woolly Mammoth Theatre Company in Washington, D.C.

On Wednesday, November 16 there will be a Post-show Q&A with playwright S.M. Shephard-Massat and Artistic Director Howard Shalwitz following the performance.

THE WORKROOM

(Left to right): Carla Matero, Kristen Cerelli, Jill Van Note, Emily Gunyou, and Anna Guttormsgaard.
The Unbound Theatre, as part of the Act French festival, will present the return of award-winning French playwright Jean-Claude Grumberg's The Workroom (L'Atelier).

Set in Paris, 1945 to 1952, the drama explores prejudice, anti-Semitism and the devastating consequences of war - themes as relevant today as they were then.

The American version is by Daniel A. Stein with Sara O'Connor. Directed by Moni Yakim,

The Workroom will be presented at the Manhattan Theatre Source, in New York City for five performances only: November 23, and November 25 & 26.

BIG IMPORTANT ISSUES by Deborah Grace Winer.

Out of a snowstorm, an urban couple arriving at their weekend home in Connecticut are visited by a strange cable man who triggers a surprising unraveling of events.

Part of the Funny Mondays series. Monday, November 21 Westport Country Playhouse in Westport, Conn.

HELP ME TO HELP MYSELF The New York Guide to Love, Fame, Fortune and Everything You've Ever Dreamt Of in 30 Days or Less Written by Jenna Bans Directed by Matthew G. Rashid.

Written by Desperate Housewives writer, Jenna Bans', Help Me Help Myself is a take on being single (and slightly neurotic) in New York City. The play follows three young women as they navigate the Big City looking for (or trying to avoid) love, fortune and inner peace.

Bad Plumbers of Your Spiritual Faucet (n.) those that drain one's creative energy. Potholes on Your Avenue of Growth (n.) people or issues that act as obstacles to one's success. Definitions from the self-help book Help Me Help Myself: The New York Guide to Love, Fame, Fortune and Everything You've Ever Dreamt Of in 30 Days or Less.

The cast includes: Jessica Arinella, Joffre Myers, Matthew G. Rashid, Julie Tortorici and Marina Kotovnikov.

Presented by Off The Leesh Productions the show officially opened on Friday, November 11 at NYC's Looking Glass Theatre.

HOT FEET

Maurice White and Maurice Hines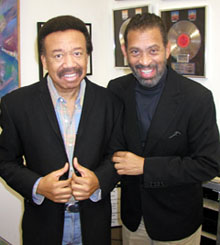 conceived by Maurice Hines. The book is written by Heru Ptah, featuring music and lyrics by Earth, Wind and Fire founder Maurice White and will be directed and choreographed by Maurice Hines.

Hot Feet will have its pre-Broadway run at Washington, DC's National Theatre on March 18 through April 9 2006. It will begin its Broadway previews on April 15, opening night on Sunday, April 30, 2006.

Ptah's book, White's music and Hines direction and choreography weave a Faustian tale about a beautiful young dancer - Kalimba, whose whole life's dreams and ambition are to be a Broadway dancer. Kalimba is cajoled to dance with a pair of magical and enchanted red shoes, when she puts them on they begin to take control of the talented dancer's fate.

Hot Feet will feature sets by Jim Noone, costumes by Paul Tazewell, lights by Clifton Taylor and sound by Acme Sound Partners.

PLAID TIDINGS a special Holiday Edition of Forever Plaid will open on Nov. 17 at the Gold Coast in Las Vegas and run through Dec. 31.

In the original play - Forever Plaid-A Heavenly Musical Hit! - the group was brought back to life for one night to perform the show they never got to perform in life. In Plaid Tidings they announce that they have been resurrected once more, but they have no idea why.

While performing old favorites, the group soon discovers a strong urge to break into holiday songs. With a little help from above and a heavenly phone call from Rosemary Clooney, the group discovers that they must perform the ultimate holiday show or be doomed for all eternity.

Plaid Tidings combines favorite tunes from the '50s and '60s, with traditional holiday songs and carols, such as Have Yourself a Merry Little Christmas, The Dreidel Song, Home for the Holidays, Let It Snow, and Rudolph the Red Nose Reindeer.

Scenes from the original play include a hilarious tribute to The Ed Sullivan Christmas Show, a bit of Perry Como and Calypso music.

tick, tick...BOOM! the West Coast Premiere.

Book, Music and Lyrics by Jonathan Larson. Script Consultant David Auburn. Choreography by Christopher Gattelli. Musical Direction by Brent Crayon. Directed by Scott Schwartz.

Opens Saturday, November 19 at the Rubicon Theatre in Ventura, CA.

WRECKS a world premiere written and directed by Neil LaBute. Starring Ed Harris who has received Academy Award nominations for The Hours, Pollock, The Truman Show and Apollo 13, will be making his European stage debut.

Wrecks, an Everyman Palace Theatre production in association with Cork 2005 and Kenneth Madden, is the story of one man's unique love for his recently deceased wife.

In a statement Patrick Talbot, the Artistic Director of the Everyman Palace Theatre said "I know that Cork audiences will extend a very warm welcome to Ed Harris and Neil LaBute, two of the most accomplished theatre and film artists in the world today. It is fitting, as we near the end of our designation as European Capital Of Culture, that we present the world premiere of this exciting new play"

Mary McCarthy, Cork 2005 Program Director added "Cork 2005 is delighted to partner with the Everyman Palace theatre in the presentation of this new commission by Neil La Bute. It is significant that La Bute is both writer and director of this production. Cork 2005, through its commissioning strand, has enabled the creation of new works of art that have been premiered in Ireland in this significant year. This exciting year has created many opportunities across the artforms for the generation and creation of new works which will continue to evolve beyond 2005."

One of the outstanding actors of his generation, Ed Harris has just completed filming Copying Beethoven, in which he plays the title role. He co-stars in the recently released A History of Violence by director David Cronenberg with Viggo Mortensen.

He earned an Academy Award nomination for Pollock, his widely acclaimed directorial debut, which co-starred Marcia Gay Harden who won the Academy Award for Best Supporting Actress. He received his fourth Academy Award nomination for his performance in The Hours. For The Truman Show he won the Golden Globe for Best Supporting Actor and an Academy Award nomination, while he won the Screen Actor's Guild Award for Best Supporting Actor for Apollo 13, plus an Academy Award nomination and a Golden Globe nomination.

Harris last starred on stage in the 1996 Broadway premiere of Ronald Harwood's Taking Sides. He made his New York stage debut in Sam Shepard's Fool for Love, for which he earned an Obie Award for Outstanding Actor. For his performance in the Broadway production of George Furth's Precious Sons, he won the Drama Desk Award for Outstanding Actor. His other stage credits include Prairie Avenue, Scar, A Streetcar Named Desire, The Grapes of Wrath, Sweet Bird of Youth, and Simpatico, for which he received the Lucille Lortel Award for Best Actor.

Harris premiered this spring opposite Paul Newman and Helen Hunt in the HBO mini-series Empire Falls. He was nominated for an Emmy Award as Best Actor for that performance.

November 22- December 3 at the Everyman Palace Theater in Cork, Ireland, as part of the city's Capital of Culture celebrations.


| | | |
| --- | --- | --- |
| | | |
WHO'S WHERE


RED BUTTONS' 70TH ANNIVERSARY IN SHOW BUSINESS

Red Buttons

Starring Red Buttons with Barbara McNair. At the age of sixteen, Red Buttons began working as a comedian in vaudeville, burlesque, and on the Catskills Borscht Circuit, and he hasn't stopped working since.

He first appeared on Broadway in the 1942 mounting of Vicki. After joining the U.S. Marine Corps, in 1943 he was picked for a role in Moss Hart's play, Winged Victory, on Broadway and soon afterwards journeyed to Hollywood to make the film version. After his discharge from the service he returned to The Great White Way, both in plays and as a comic with several big-band orchestras.

He starred in his own TV series, The Red Buttons Show which debuted in 1952 on CBS. The popular show lasted three years and won Buttons an Emmy for Best Comedian.

In 1957 got his big film break in the drama Sayonara (1957) with Marlon Brando, in which he played an American soldier stationed in Japan who struggled against the societal and racist pressures of both American and Japanese cultures because of his love for a Japanese woman. His performance garnered him an Academy Award.

He got his stage name when he was a lad working at Dinty Moore's Tavern in the Bronx as a singer/waiter. Required to wear a uniform with 48 buttons, and with his red hair, people started referring to him as Red Buttons.

Stage, screen, recordings, and television star Barbara McNair has shined in all aspects of the entertainment world. Her successes include her popular variety show, The Barbara McNair Show, starring on Broadway in Pajama Game, and No Strings, and hit singles Bobby and Your Gonna Love My Baby.

Tuesday, November 15 at the Cerritos Center for the Performing Arts in Cerritos, CA.

WALL STREET RISING a free concert series November 14-20. Wall Street Rising, an organization dedicated to restoring the vibrancy and vitality of Lower Manhattan by presenting high-quality cultural initiatives, announces its first Music Downtown concert series, a seven night music festival, free of charge to the public. The festival will be held at the Tribeca PAC@BMCC and will feature a diverse range of musical talents including several renowned artists such as Aimee Mann, Ryan Adams, Jeff Tweedy, Buddy Guy and Rickie Lee Jones.

In an effort to further drive business to downtown retailers, ticket holders will receive special discounts at more than 40 participating Lower Manhattan restaurants when they present a Music Downtown ticket stub. The series kicks off Nov. 14 with a double-bill featuring Blind Boys of Alabama and Cat Power. The week culminates with a performance by soulful pop artist, Aimee Mann. Music Downtown is being produced by Michael Dorf of The Art Exchange. Dorf is the founder of the world-renowned Knitting Factory venues in New York and Los Angeles.

CHICAGO CITY LIMITS whose alumni include Paul Reiser, Robin Williams, Brett Butler and Bill Irwin. An evening of sketch comedy and improvisation that will leave your sides aching from laughter. A special event presentation Saturday, November 19 at the Westport Country Playhouse in Westport, CONN.

MICHELE LEE on stage November 15th – 26th (no show Thanksgiving) at Feinstein's at the Regency in NYC.

PAUL McCARTNEY performs Wednesday, November 16 at the Arco Arena in Sacramento. Saturday finds him on stage at the Toyota Center in Houston and next Sunday he can be enjoyed at American Airlines Center in Dallas.

COLDPLAY in the spotlight Monday, November 14, at the Fila Forum in Milan, Italy. On Tuesday the action is at Palamalaguti in Bologna, Italy. On Thursday the fans in France get to see them. They'll be at Le Dome in Marseille before opening Friday at Zenith in Toulouse before heading to Spain for a show next Sunday at Palau Sant Jordi in Barcelona,

THE ROLLING STONES headline the SBC Park in San Francisco, CA. Next Sunday the guys are at the Save Mart enter in Fresno, CA.

MUNICH SYMPHONY ORCHESTRA Philippe Entremont, Conductor and Pianist performs November 16 at the Jackie Gleason Theatre in Miami Beach, FL .

BONNIE RAITT at the Hult Center for the Performing Arts in Eugene, OR on Monday, November 14. On Tuesday she is on stage at the John Van Duzer Theatre in Arcata, CA. Wednesday finds her at the Paramount Theatre in Oakland. On Friday she is entertaining at the San Francisco Weekly Warfield and on Saturday the show is at the Kavli Theatre in Thousand Oaks, CA.

RICHARD SKIPPER AS CAROL CHANNING with Rich Siegel on piano. Return engagement takes place November 18 at the 12 Miles West Theatre in Bloomfield, NJ.

JOHNNY MATHIS performs at the opera House in Detroit, MI on Thursday, November 17.

BRIAN SETZER ORCHESTRA performs Wednesday November 16, at the State Theatre in Minneapolis. On Thursday the performance is at the Oneida Casino in Green Bay, WI. On Saturday the guys start a two night stand at the House of Blues in Chicago.

BLIND BOYS OF ALABAMA on stage Tuesday, November 15, at The Bushnell in Hartford, CT. On Thursday the show is at the University of North Florida in Jacksonville, FL.

ELIOT FISK

Marin Alsop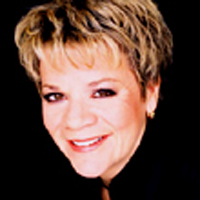 on guitar. Marin Alsop, conductor. for the Los Angeles Philharmonic.

Alsop, a native of New York City, attended Yale University and received her Master's Degree from the Juilliard School.

She recently made history with her appointment as Music Director of the Baltimore Symphony beginning in 2007/08.

She will be the first woman to head a major American orchestra, which mirrors her ongoing success in the U.K. as Principal Conductor of the Bournemouth Symphony since 2002.

She has also just been named a 2005 MacArthur Fellow, the first conductor ever to receive this most prestigious American award. Friday, November 18 - Sunday November 20. Walt Disney Concert Hall in Los Angeles.
















Next Column: November 20, 2005
Copyright: November 13, 2005. All Rights Reserved. Reviews, Interviews, Commentary, Photographs or Graphics from any Broadway To Vegas (TM) columns may not be published, broadcast, rewritten, utilized as leads, or used in any manner without permission, compensation and/or credit.
Link to Main Page
---
Laura Deni


CLICK HERE FOR COMMENT SECTION