! >
Broadway To Vegas
  SHOW REVIEWS     CELEBRITY INTERVIEWS     GOSSIP     NEWS 
| | |
| --- | --- |
| | |
Copyright: November 12, 2000
By: Laura Deni
CLICK HERE FOR COMMENT SECTION

BARBRA STREISAND FINALLY IS RECOGNIZED AS A DIRECTOR

The American Film Institute will present Barbra Streisand with their 29th annual AFI Life Achievement Award making her the first female director to be so honored.

The AFI ceremony will be held Feb. 22 at the Beverly Hilton Hotel in Beverly Hills, CA

BROADWAY'S NEW YOUNG HEIRS APPARENT TAKE OVER

The New York Pops, led by Associate Conductor Charles Prince, will perform New Faces on Broadway, a concert devoted to recent music written for the theater, on Friday, November 17. Skitch Henderson will narrate.


BRIAN STOKES MITCHELL AND MARIN MAZZIE in Kiss Me Kate PHOTO By: Joan Marcus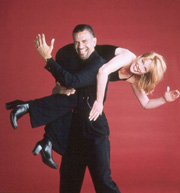 The program features works by several young composers --Michael John LaChiusa, Jason Robert Brown, Adam Guettel - the grandson of Richard Rodgers - and Ricky Ian Gordon -- as well as favorites by Kurt Weill, Leonard Bernstein, Richard Rodgers and George Gershwin. The performers include Jason Danieley, Marin Mazzie, Billy Porter, and Emily Skinner.

Composer Michael John LaChiusa has premiered three shows at The Public Theater in New York, where he was Artist-in-Residence for the 1997-98 season. LaChiusa has also served as the Composer-in-Residence at the Lyric Opera of Chicago, where he has been commissioned to compose and write an original opera. He has seen three of his works performed at The Lincoln Center Theater, most recently Marie Christine, an 1890's adaptation of Euripides's Medea.

In 1997, Chronicle of a Death Foretold, for which LaChiusa wrote the music and lyrics, received a Tony nomination for Best Musical. His jazz-themed musical The Wild Party is currently being performed on Broadway. Mr. LaChiusa is the recipient of the Obie Award for Hello Again and First Lady Suite, the 1997 Gilman Gonzalez-Falla Award, and in 1989, was the first recipient of the Stephen Sondheim Award in 1989.



PARADE with music and lyrics by Jason Robert Brown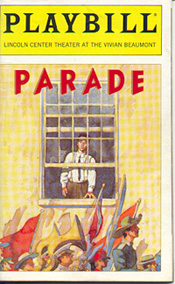 Jason Robert Brown's first musical, Songs for a New World, directed by Daisy Prince, made it's Off-Broadway debut at the WPA Theatre in New York in 1995, and was subsequently recorded by RCA Victor.

For his work on that show and others in progress he was given the 1996 Gilman and Gonzalez-Falla Musical Theatre Award. Shortly thereafter, he was commissioned to write the music and lyrics for Parade, based on a book by Alfred Uhry and directed by Harold Prince, which premiered at The Lincoln Center Theater in 1998 and subsequently won both the Drama Desk and New York Drama Critic's Circle awards for Best New Musical.

He added another award to the mantle when he brought home a Tony Award for his work on Parade.

Two of his songs were included on Audra McDonald's album Way Back to Paradise.

His new musical, The Last Five Years, will be performed as part of the Chicago-area Northlight Theater's 2000-2001 season. He has also worked as an arranger, orchestrator, or musical director for such talents as: A New Brain, Dinah Was, Paul Robinson's All American, When Pigs Fly, and Liza Minnelli.

Adam Guettel, grandson of the celebrated Broadway composer Richard Rodgers, is no stranger to the world of musical theater.



ADAM GUETTEL Photo By: Kate Raudenbush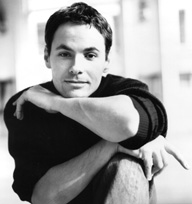 His most recent work includes Love's Fire, a collaboration with John Guare for The Acting Company, and Saturn Returns, performed at The Joseph Papp Public Theater/New York Shakespeare Festival.

The gifted composer also wrote the music and lyrics for Floyd Collins at Playwrights Horizons, which went on to be presented at the Old Globe Theater in San Diego in 1999, the Prince Music Theater (American Music Theatre Festival) in Philadelphia, and The Goodman Theatre in Chicago, and was premiered in the U.K. at The Bridewell Theatre, London in July 1999.

Guettel also has a plate full of awards, including the Stephen Sondheim Award (1990), the Obie Award (1996), the Lucille Lortel Award (1996), and the ASCAP New Horizons Award (1997).

Composer Ricky Ian Gordon's work spans several genres, from music for the concert hall and opera to dance, theatre and film. His recent credits include Only Heaven with Encompass Music Theatre; Stonewall: Night Variations, a collaboration with writer/director Tina Landau for En Garde Arts of New York; The Angel Voices of Men for the New York City Gay Men's Chorus, and States of Independence - also with Landau - for the 1993 American Music Theatre Festival in Philadelphia.

His work has been featured on several recordings, and he has composed pieces for such celebrated singers as Renee Fleming, Carol Vaness and Teresa Stratas.

Gordon is the recipient of several awards, including the 1989 National Institute for Music Theatre Award, the 1991 Stephen Sondheim Award, the 1993 and 1994 Gilman and Gonzalez-Falla Theatre Foundation Special Recognition Awards, and multiple awards from ASCAP, the American Music Center, and Meet the Composer.

Now in his fourth season with The New York Pops, Associate Conductor Charles Prince -- son of producer/director Harold Prince -- represents a stunning new, younger generation of acclaimed American conductors.

Charles Prince studied with Leonard Bernstein, Seiji Ozawa, Gustav Meier, and Kurt Sanderling, after studying Music History and Theory from Oberlin College, where he worked with Robert Page of The Cleveland Orchestra. He has also worked extensively with one of Europe's most eminent conductors, Jorma Panula, in Helsinki.

The talented son has been a frequent guest conductor throughout the U.S. and Europe. He was the Music Director of the Tony Award Winning Broadway production of James Joyce's The Dead in New York and Los Angeles. He conducted The Brooklyn Philharmonic in their Gala Concert Weekend for Stephen Sondheim at the Brooklyn Academy of Music, and The City of London Philharmonic Sondheim Tonight tribute at the Barbican.

He conducted the world premier performances of Ricky Ian Gordon's The Tibetan Book of the Dead: A Liberation Through Hearing in Houston and Philadelphia, the New York State Theatre Institute's world premier of Richard Peaslee's The Snow Queen, and the Munich Radio Orchestra recorded performance of the Gala Concert for Hal Prince. He has served as the Second Kapellmeister of Germany's Gorlitz Opera House.

The New York Pops, founded and directed by Skitch Henderson, is the largest independent pops orchestra in the country. Now in its 18th season, its repertoire includes works by many favorite composers of the 20th century, such as Cole Porter, Aaron Copland, Kurt Weill, Leonard Bernstein, Irving Berlin, Igor Stravinsky, and George Gershwin. The New York Pops also performs music from Broadway, Hollywood symphonic scores, jazz, and folk music. It has made several recordings under the direction of Henderson, including From Berlin to Bernstein; The New York Pops Goes to the Movies; The New York Pops Christmas in the Country, and Magical Moments from Great Musicals. Strongly committed to music education, the Pops participates in several programs to introduce young people to classical and symphonic pops music. These include Salute to Music, providing junior high school students with free music lessons, Kids in the Balcony, which brings hundreds of children to Carnegie Hall for The New York Pops Birthday Galas, and Building Audiences for Tomorrow, which encourages music appreciation in young ears


RADIO CITY MUSICAL HALL ROCKETTES CHRISTMAS SPECTACULAR


Fill your heart with the holiday spirit at The Radio City Christmas Spectacular starring The Rockettes, which has opened in New York at Radio City Music Hall.

It's a tradition that touches the hearts of young and old alike, and this year's show promises to be more memorable than ever!



THE HIGH KICKING ROCKETTES WITH SANTA

America's #1 Christmas Show noted for those high kicking girls with the long legs has some long legs of its own. The production is also in Branson, Mo. running through December 16, at The Grand Palace for a for a seventh sensational season.

The Radio City Christmas Spectacular features all the grandeur of the original New York production and is showcased at Branson's largest and most luxurious theater, The Grand Palace, which is owned and operated by Syncor Entertainment, Inc.

This holiday extravaganza features a full cast of singers, dancers, colorful costumes and elaborate sets including ice-skating snowmen on an ice rink, a New York skyline and a festive city street. Dazzling production numbers by the Radio City Rockettes include favorites such as Carol of the Bells, The Parade of Wooden Soldiers and The Living Nativity. These last two scenes have been performed at Radio City Music Hall since 1933.

The Christmas Spectacular, in Branson, Missouri, is almost a homecoming for the Rockettes, as the original "Missouri Rockets" made their stage debut in St. Louis in 1925, eight years prior to kicking up their heels on the great stage at Radio City.

The Radio City Christmas Spectacular has become a beloved family tradition for visitors to Ozark Mountain Christmas and the Branson Area Festival of Lights. More than 200,000 visitors from all over the United States come to America's heartland to experience the Radio City Christmas Spectacular.



Broadway To Vegas is supported through advertising and donations. Priority consideration is given to interview suggestions, news, press releases, etc from paid supporters. However, no paid supporters control, alter, edit, or in any way manipulate the content of this site. Your donation is appreciated. We accept PAYPAL. Thank you for your interest.



LAURA

LINDA HAMILTON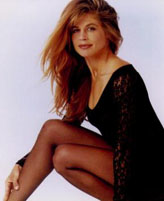 starring Linda Hamilton as the captivating creature every man falls in love with. Vera Caspary and George Sklar's romantic mystery of the same name, officially opened November 10 with performances through December 17 at Los Angeles' Tiffany Theatre.

Hamilton best known as the beauty half in the CBS fantasy series, Beauty and the Beast became interested in acting while still a child. After two years of college, she headed to New York where she studied with the Lee Strasberg Theatre and with coach Nicholas Ray.

After some theater and a one day appearance on Search for Tomorrow where she had nine lines, she headed to Hollywood where she began work in television.

The five foot four inch, size two actress who admits she got "too buff" pumping up for her role as the muscular heroine in the Terminator films and has over come manic-depressive bouts, is all feminine and glorious as Laura, based on the classic 1944 film noir - which was, in turn, based on Caspary's novel.

David Raksin's haunting song Laura which was turned not only into a hit but a classic originally written for the movie, is featured in this production.

Co-starring with Hamilton are Robin Thomas as Detective McPherson, Stanley Kamel as wealthy journalist Waldo Lydecker, Tom Astor as Shelby Carpenter, Matthew Godfrey as Danny Dorgan, Karen Tarleton as Mrs. Dorgan and Myra Turley as Bessie Clarey.

Lynette McNeil directs. John Iacovelli's sets, Monique L'Houreux in charge of lighting; Costumes by Dick Magnanti.

THE SEARCH FOR SIGNS OF INTELLIGENT LIFE IN THE UNIVERSE that Lily Tomlin delight, began previews last night at the Booth Theatre for this return engagement. The solo show won Tomlin a Tony Award in 1985. The play, in which Tomlin does what she does best - playing to our sensitivities through unusual, heartbreaking, optimistic, absurd, and humorous characters, is directed by co-author Jane Wagner. Klara Zieglerova in charge of the scenic design; Ken Billington lighting director, G. Thomas Clark and Mark Bennett on sound. Official opening is Thursday Performances to January 21.

ARMONK strange tales from a strange town, by Sean Sutherland, directed by Eileen Myers, begins Nov. 14 at the Ensemble Studio Theatre, NYC. Armon is a journey through one weird town- a cross between the old Sid Caeaar Show of Shows, Saturday Night Live and The Marx Brothers. Performing comedy material together for the past four years, the cast is made up of eight comically inclined actors: Paul Bartholomew, Derrick McGinty, Heather Robinson, Sonya Rokes, Sarah Rose, Eric Scott, Kevin Shinick and Sean Sutherland. This show is the best of the material they've performed - combined together in one show for the first time. Through December 19. No performance on November 21.

AUTO-TRAINS, FIRE ANTS and LESBIANS by Michael Garin has begun a limited engagment off Broadway at the Flatiron Playhouse, NYC. Garin is the co-created and starred in the off-Broadway hit Song of Singapore winning both the Outer Critics Circle and the Drama Desk Awards. In this production Garin presents seventy minutes of theatre and nightclub songs and popular standards. There are international hits from as far away as Argentina and Egypt featuring an Arabic sing-a-long, odes to Fire Ants and Lesbians. Michael's entire score from the adobe theatres' The Handless Maiden, and a look back to his first gig as Bar Car pianist on the Aut-Train. The show is directed by Jeremy Dobrisli. Set design by Steve Capone, lighting design by Michael Gottlieb and sound design by Chris Todd. The producers are Bill Miller and Stanley Steinberg.

ANNIE GET YOUR GUN

TOM WOPAT and MARILU HENNER in Annie Get Your Gun Henner had a fingernail polish faux pas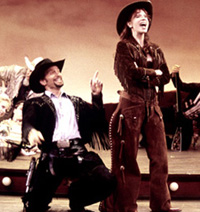 starring Marilu Henner and Tom Wopat in the touring production of the Irving Berlin musical.

Henner calls it her most favorite job since Taxi.

Henner also appeared in Chicago on Broadway and in Las Vegas at Mandalay Bay Resort.

Just because she's experienced doesn't mean the talented star can't make a mistake - like the recent night when she went on stage wearing bright pink nail polish - something Annie Oakley would never have done - if they even had that shade back them. Now, Henner tacks a sign up her in dressing room reminding her to remove all nail polish.

Tennessee Performing Arts Center's Jackson Hall, through Monday. The show then moves to Sacramento for performances November 15-19 followed by a Cosa Mesa,CA run November 21-26


WHO'S WHERE


JOHN LITHGOW

JOHN LITHGOW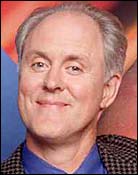 that stage, screen and television series star returned to Carnegie Hall today as guest artist for the Carnegie Hall Family Concert titled Farkle and Friends.

The program, in which Lithgow spoke, sang new and old zany songs, and played the guitar, is based on his new - and first - children's book, The Remarkable Farkle McBride. It's the story of a musical child prodigy who, after learning to play one instrument after another, soon loses interest because he can't stand how each instrument sounds by itself.

At age 10, Farkle discovers his true calling: conducting the orchestra, where all of the instruments play together.

Lithgow wrote the book, he has said, as a new way of introducing young people to the symphony orchestra. Guest Artist Bill Elliott, Music Director Orchestra of St. Luke's. The concert was sold out

MICHAEL FEINSTEIN University of Illinois @ Chicago- UIC Pavillion on November 13. Chicago.

KAREN MASON will be making a special guest appearance with ALAN BERGMAN at the Algonquin Hotel from November 28th through December 2nd. Mike Renzi will be on piano.

SARAH BRIGHTMAN round out her American tour this week with performances November 14 in Grand Rapids, MI at the Van Andel Arena November 15 in Milwaukee, WI at the Riverside Theatre. Her tour then continues in Europe November 21 in Oslo at the Spektrum.

SHIRLEY CAESAR performs November 14 in Austin, Texas at the Frank Erwin Center and does the same on November 16 in Hampton, VA at the Hampton Coliseum.

DIXIE CHICKS at the Pepsi Center in Denver, Colorado on November 17 and then take center stage November 19 in Phoenix, AZ at the America West Arena.

OAK RIDGE BOYS perform November 15 in Fairfax, VA at George Mason University. Then it's on to Burgettstown, PA for a show at the Pepsi Cola Roadhouse November 16.

JUDY COLLINS tonight November 12 in Atlantic, NJ at the Atlantic City Hilton.

KD LANG Universal City, CA in the Universal Amphitheatre November 16-17.


THIS AND THAT


THE PRINCE OF WALES AKA PRINCE CHARLES on November 22 will attend the premiere of Charlie's Angels at the Odeon Leicester Square, London H.R.H. is also throwing a Charlie's Angels dinner for 25 people that night. Drew Barrymore, Cameron Diaz and Lucy Liu are on the invite list. Don't expect either Prince William or Harry. They are tied up with other matters and poor Prince Harry is literally bound up. He had minor surgery Thursday after he chipped a bone in his thumb while playing football. He's okay and was back in the classroom the next day with his hand in a sling, probably winning that the stars of Charlie's Angels would kiss it and make it well.

CIRQUE DU SOLEIL the internationally acclaimed creator of Mystere at Treasure Island and O at Bellagio in Las Vegas, will be conducting acrobatic auditions in Las Vegas on Nov. 19 and 20. They are looking for: artistic and rhythmic gymnasts, acrosport athletes, trampolinists, tumblers, divers, synchronized swimmers and circus acrobats.

BLUE MAN GROUP a zany group on stage, have a heads on straight business research side. They hold focus groups so they can keep a handle on what makes the show successful.

MOBY DICK by Herman Melville was published on November 14, 1851.



Mention BROADWAY TO VEGAS for Special Consideration
Call (800) 942-9027









Next Column: November 19, 2000
Copyright: November 12, 2000. All Rights Reserved. Reviews, Interviews, Commentary, Photographs or Graphics from any Broadway To Vegas (TM) columns may not be published, broadcast, rewritten, utilized as leads, or used in any manner without permission, compensation and/or credit.
Link to Main Page
---
Laura Deni


CLICK HERE FOR COMMENT SECTION