! >
Broadway To Vegas
  
  REVIEWS INTERVIEWS COMMENTARY NEWS

| | |
| --- | --- |
| | |
MUSICAL KING KONG - -THE NEDERLANDER ORGANIZATION CELEBRATES THEIR 100th ANNIVERSARY - - THE BODYGUARD MUSICAL - - ZARKANA OPENS AT THE ARIA IN LAS VEGAS - - CHRISTMAS TREES LIGHT UP - - THE EFFECTS OF HISTORY ON MUSIC - - WHEN EAST MEETS WEST - - WAR/PHOTOGRAPHY: IMAGES OF ARMED CONFLICT AND ITS AFTERMATH - - DONATE . . . Scroll Down


Copyright: November 11, 2012
By: Laura Deni
CLICK HERE FOR COMMENT SECTION

TALENT LINES UP TO CREATE A STAGE AUDIENCE FOR MUSICAL KING KONG

The World Premiere of the musical King Kong is billed as "a landmark theatrical event."

Five years in the making, a team of puppeteers will bring to life one of the most technologically advanced puppets in the world – a one-ton, six-metre tall silverback gorilla.

With a lot of cooks stirring the pot, this has the potential of being brilliant or simply a brilliant excess.

This iconic love story of an enormous creature and his battle for survival in New York City is being produced by Global Creatures, the creators of spectaculars Walking With Dinosaurs and How To Train Your Dragon, and directed by American theatre and opera director Daniel Kramer, with a book by Craig Lucas.

The production, which will be staged in Australia at Melbourne's Regent Theatre (its only production in Australia before embarking on an international tour), will feature a cast of 40 actors, singers, dancers and puppeteers who will bring to life the two opposing worlds of the story - 1930s New York City and Skull Island, the home of Kong.

Featuring revamped 1930s Broadway classics and dazzling new songs from the world's best contemporary artists, as well as opulent costumes, awe-inspiring sets and a creature who will fill the stage, King Kong is promised to be "an unforgettable experience."

Contributing songs to the musical are:

Robert Del Naja, an English artist and musician.

Sarah Ann McLachlan, a Canadian musician, singer and songwriter.

Justice, a French electronic music duo consisting of Gaspard Augé and Xavier de Rosnay.

Guy Garvey who is the singer/guitarist in the band Elbow.

The Avalanches, an Australian electronic music group formed in 1997.

The award-winning creative team, drawn from around the world, includes Marius de Vries (Original Music Compositions and Arrangements), Michael Mitnick (Original and Adapted Lyrics), Peter England (Production Design), John O'Connell, (Choreography), Roger Kirk (Costume Design), Peter Mumford (Lighting Design), Gavin Robins (Aerial/Circus Direction), Frieder Weiss (Projection Design), Peter Hylenski (Sound Design) and Peter Wilson (Puppetry Director).

Kong, the towering ape, is being designed by Sonny Tilders and created by Melbourne-based The Creature Technology Company, whose animatronics skill brought to life the groundbreaking dinosaurs and dragons in Global Creatures' two previous productions.

King Kong is authorized by the Merian C. Cooper estate.

Performances of King Kong Live begin previews in May, 2013 with the official opening set for June 13, 2013 with performances through December 13, 2013 at the Regent Theatre in Melbourne, Australia.



Broadway To Vegas is supported through advertising and donations. Priority consideration is given to interview suggestions, news, press releases, etc from paid supporters. However, no paid supporters control, alter, edit, or in any way manipulate the content of this site. Your donation is appreciated. We accept PAYPAL. Thank you for your interest.






ART AND ABOUT

WAR/PHOTOGRAPHY: IMAGES OF ARMED CONFLICT AND ITS AFTERMATH
Dmitri Baltermants, Attack—Eastern Front WWII, 1941, gelatin silver print, printed 1960, the MFAH, gift of Michael Poulos in honor of Mary Kay Poulos at One Great Night in November, 1997. © Russian Photo Association, Razumberg Emil Anasovich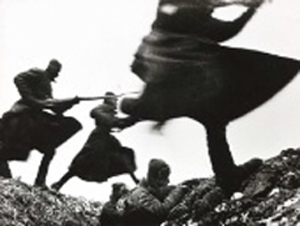 on Veterans Day 2012, the MFAH debuts an unprecedented exhibition exploring the experience of war through the eyes of photographers. War/Photography: Images of Armed Conflict and Its Aftermath gathers together nearly 500 objects, including photographs, books, magazines, albums, and photographic equipment.

Images recorded by more than 280 photographers, from 28 nations, span 165 years and 6 continents, from the Mexican-American War in the mid-1800s to present-day conflicts. Iconic photographs as well as unknown images are featured, taken by military photographers, commercial photographers (portrait and photojournalist), amateurs, and artists.

The exhibition examines the relationship between war and photography, exploring the types of photographs created during wartime, as well as by whom and for whom. Rather than being organized chronologically, or as a survey of "greatest hits," the images are arranged to show the progression of war: from the acts that instigate armed conflict to "the fight," to victory and defeat, and photos that memorialize a war, its combatants, and its victims. Portraits of servicemen, military and political leaders, and civilians are a consistent presence.

On opening day, admission is free for all visitors. Admission is free through the run of the exhibition for active-duty military and veterans who present ID, plus one guest; no timed ticket is required.

After the Houston premiere, War/Photography travels to the Annenberg Space for Photography in Los Angeles; the Corcoran Gallery of Art in Washington, DC; and the Brooklyn Museum.

November 11, 2012 - February 3, 2013 at the Museum of Fine Arts in Houston, Texas.

WHEN EAST MEETS WEST

Everyone is racing to be first, digital painting on Dibond, 80x60cm, 2009 by Erin Ko.
in the Pop Culture Scene at the Imagine Gallery in Beijing.

Featuring painting, digital photography and print by artists:

Wang Limin who was born in China and has an Master of Arts Degree from the China Central Academy of Fine Arts; Erin Ko who is a mixed media artist from New York City who specializes in fusing traditional art making methods and technology with satirical social commentary; Shen Jingdong, a leading internationally recognized contemporary Chinese artist from Beijing; Switzerland born Barbara Piatti, who studied in Paris, is noted for her oil paintings which are talking about life, meeting people and at the same time they are a diary of her unsaturated curiosity; and Beijing native Xiao Rong.

The image of a hamburger, students who look like they just stepped off of a cover of a rock album, flickering neon light, glossy beauties.

All of these ingredients have been gathered together to demonstrate a mesmerizing and ever-changing China.

It gives the power impression of a vibrating and fast-paced cityscape.

Thanks to the artists, everyone can question the new and budding trends that are permeating the once traditional Chinese cultural values.

The exhibition opened November 6 and is open to February 20, 2013 at the Catherine de France in Beijing, China.

An exhibition reception will take place on December 6, 2012.


SWEET CHARITY


THE LION KING will reunite most of the musical's creative team for a one-night only celebratory performance November 18 as a benefit for The Actors Fund, with 100 percent of proceeds benefiting the organization.

TIDE'S LOADS OF HOPE a magnificent service, spend all night transporting their portable laundromats to areas affected by Hurricane Sandy.

Tide reports that they did a record of 1,000 loads of free laundry for Sandy Hurricane victims on November 3 at Eatontown, NJ.

Tide also wants people to know that their experts have put together tips for cleaning clothes and other items affected by extreme conditions.

After Hurricane Katrina, P&G created Tide Loads of Hope, a mobile laundry program that provides clean clothes to families affected by natural disaster.

WILLIAMSTOWN THEATRE FESTIVAL BENEFIT IN NYC a tribute to Abe Burrows, takes place November 18, 2012 at The Edison in New York City.

The evening will feature an Abe Burrows Cabaret featuring performances by Malcolm Gets, Kelli O'Hara and Greg Naughton, Steven Pasquale, and David Hyde Pierce.

Kris Kukul will serve as music director.

Cocktail attire.

THE NEW YORK PUBLIC LIBRARY donated food that would have been served at its annual, black-tie fundraising gala to feed Staten Islanders who suffered devastating losses in the wake of Hurricane Sandy.

The Library's annual Library Lions gala was scheduled to take place on Monday, November 5, but was cancelled after the storm disrupted power to the building.

With thousands of New Yorkers in desperate need after Hurricane Sandy, the Library decided to donate the gala food - enough to feed about 600 people – to the recovery effort being led by the city. The hot food was served the next day on a first-come, first-served basis. NYPL employees assisted in dishing out the gourmet eats.

The food – prepared by Manhattan catering company Glorious Food – included macaroni and cheese, Caesar salad, garlic bread, Beef Bourguignon with fall vegetables, puree of rutabaga and potato, and Apple Brown Betty.


THE NEDERLANDER ORGANIZATION CELEBRATES THEIR 100th ANNIVERSARY


Curtain up, light the lights . . . .

James M. Nederlander and James L. Nederlander, chairman and president, respectively, of The Nederlander Organization, are currently celebrating the 100th anniversary of that theatrical organization.

If the accomplishments of the first decade are an inking of what can be expected in their second, then entertainment has a bright future.

The name "Nederlander" has been synonymous with great entertainment since 1912. A show business dynasty began when David T. Nederlander, a smart young businessman living in Detroit Michigan, purchased a 99-year lease on the Detroit Opera House. Over the next five decades, David and his sons, James M., Robert, Harry, Joseph and Fred, built and/or managed theatres, produced dozens of live shows and presented hundreds of the top headliners of the day - establishing Detroit as the most successful theatre-town in America.

In 1964, James M. Nederlander moved to New York City and purchased the Palace Theatre on Broadway. His hard work, pioneering spirit and vision enabled him to build one of the largest privately held live entertainment companies in the world today.

On November 8 the Nederlanders became the New York Landmark Conservancy's first father/son duo to be named Living Landmarks, an honor that was bestowed at the annual gala at the Plaza Hotel.

On conferring this accolade, Peg Breen, NY Landmark Conservancy's president, said in a statement, "It wouldn't be New York without Broadway. The Nederlanders are preserving the heart and soul of the City and providing great entertainment to boot." New York Congressmen Carolyn Maloney is commemorating this accolade with a proclamation read into the Congressional Record.



James M. and James L. Nederlander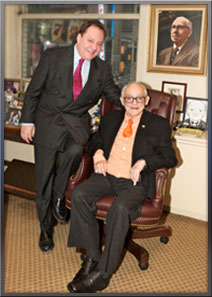 In observing the company's 100th anniversary, the company is celebrating the life and career of the visionary theatrical impresario, James M. Nederlander, and saluting his son, James L. Nederlander, for his business acumen as he continues to lead the privately-owned organization into the future.

According to Charlotte St. Martin, Executive Director of The Broadway League, "The Nederlanders of the last 100 years is a uniquely American story of vision, determination and a tradition of hard work that has been passed down from one generation to the next. Given the theaters Jimmy and his family have restored, the legion of artists they have supported, and the legacy of shows they have produced or presented over the last century, their contribution to our culture is as profound." The Broadway League and The Mayor's Office of Media & Entertainment recently honored James M. Nederlander with the first Spotlight Award for his career-long dedication to supporting Broadway's cultural legacy.

To mark its centennial, the Nederlander Organization unveiled its new corporate identity, only the second official logo in the company's history, designed by Julian Roca, Co-founder and Creative Director of Creative X's.

Nederlanders' commitment to promoting the theatre to new audiences is spotlighted through the annual presentation of The National High School Musical Theater Awards. Named the Jimmy Award after James M. Nederlander, the program celebrates outstanding student performance in high school musical productions across the United States. Since its inception in 2009, over 50,000 students annually have participated in the NHSMTA at their local high school and nearly $500,000 in college scholarships has been provided to deserving students.

The Jimmy Awards was recently the subject of a smartly put together and entertaining 3-hour PBS-produced documentary special entitled Broadway or Bust, the first-ever television series to capture the behind-the-scenes coaching, grueling rehearsal schedule and highly charged atmosphere leading up to the presentation of this coveted annual award, live on a Broadway stage.

The Nederlanders have built a national network of theatres including nine Broadway venues in New York: the Brooks Atkinson, Gershwin, Lunt-Fontanne, Marquis, Minskoff, Nederlander, Palace, Richard Rodgers, and Neil Simon Theatres. Outside of New York, their venues are located from London to Los Angeles.

For over three decades, The Nederlanders have been prolific producers of theatrical productions with over 100 Broadway and touring productions to their credit. The company has been instrumental in presenting many of Broadway's most honored and successful shows, most notably Annie, Benefactors, Chicago, Copenhagen, La Cage aux Folles, Les Liaisons Dangereuses, Legally Blonde, Lena Horne: The Lady and Her Music, Me and My Girl, Movin' Out, Next to Normal, Noises Off, Peter Pan, The Life and Adventures of Nicholas Nickleby, West Side Story, Whose Afraid of Virginia Woolf and many others.

Nederlanders' 100th anniversary also coincides with the Broadway opening night revival of Annie, a show that was originally produced by James M. Nederlander in 1977 and has since become one of the most beloved musicals. Annie opened November 8 at the Palace Theatre, the first of 13 Broadway theatres James M. Nederlander purchased in New York since 1965.

Beyond Broadway, Nederlander is acknowledged to be an innovator of the outdoor amphitheater concept as well as a presenter of thousands of concerts throughout the years featuring a wide array of world renown artists ranging from Adele, Jimmy Buffet, Billy Joel, Florence and the Machine, Frank Sinatra, Barbra Streisand, Pink Floyd and The Police to international cultural attractions such as the Bolshoi Ballet, the Moiseyev Ballet, the D'Oyly-Carte Opera, the Georgian State Dance Company, Ballet Folklorico, and the Peking Opera, as well as national symphony concerts.

On November 7 San Jose Mayor Chuck Reed and the San Jose City Council commended the Nederlander Company at their city council meeting.

Over the last three years, Broadway San Jose has presented 19 Broadway shows, two Bay Area premieres attracting 209,000 patrons to Downtown San Jose, and generating $47M in economic impact.

As part of the Nederlander's 100th anniversary corporate social responsibility initiative, at the beginning of this year Nederlander and the Disney Corporation, in relationship to their production on The Lion King, began shining the spotlight on the United Nation Foundation's Nothing But Nets campaign to end Malaria in Africa - a leading cause of death among children on the continent.

Nederlander's 100th anniversary will be celebrated throughout the 2012-2013 season at their theatres across the country with special local events.


L
I G H T I N G U P

THE 7th ANNUAL GLOBE CHRISTMAS TREE LIGHTING CEREMONY

Photo by J. Katarzyna Woronowicz of last year's tree lighting.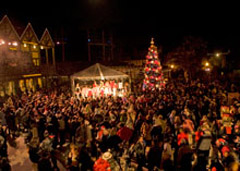 will take place on Sunday, November 18, on the Globe's Copley Plaza in San Diego, CA.

The ceremony will kick off the holiday season in conjunction with the presentation of Dr. Seuss' How the Grinch Stole Christmas!

Designed by Grinch scenic designer John Lee Beatty, the unique tree will be located in the center of the Plaza and will remain for the run of the show.

This fun family event will feature a special live performance by members of the Grinch cast and a delightful holiday snowfall on the Globe Plaza.

Although the event is free, reservations are required.

THE 99th ANNUAL TREE LIGHTING CEREMONY IN CHICAGO takes place Tuesday, November 20, 2012! The Tree Lighting Ceremony is a highly-anticipated event drawing people of all ages to the heart of Chicago's downtown "Loop." Musical performances and festive holiday music begin at 4:30 pm and the holiday season officially commences at 5:00 pm, when the switch is flipped and the lights begin to dazzle in Daley Plaza.

The 2012 Tree Lighting Ceremony will include performances by Gentleman's Rule and the Goodman Theatre's A Christmas Carol. Jolly Old St. Nick will again grace the plaza with his holiday cheer in his Midwest satellite workshop on Daley Plaza.

CENTER STAGE IN KEENE, NEW HAMPSHIRE If you really believe in the wonder of Christmas, you can still hear the magical, sweet sound of silver bells on Santa's sleigh. Join us at the Tree Lighting Celebration and come ready to ring your bell! Animaterra multi-cultural singers and the Keene Cheshiremen entertain you with holiday songs. That will be followed by the reading of Twas the Night Before Christmas by the mayor. Santa and Mrs. Claus arrive to light the tree and then everyone can visit with Santa, sing carols and enjoy cookies and hot cocoa. Friday, November 30, 2012.

MAYOR'S CHRISTMAS TREE LIGHTING CEREMONY AT CROWN CENTER The 100-foot-tall Mayor's Christmas Tree, one of the nation's tallest, is the centerpiece for an illuminating holiday celebration. Mayor Sly James and a celebrity guest will flip the switch to light the tree. The tree is a symbol of the Mayor's Christmas Tree Fund, which is dedicated to assisting the city's less fortunate.

The tree lighting and the arrival of Santa takes place November 23. Santa Claus arrives in a horse-drawn carriage to kick off the holiday season. Perry the Penguin, Casey Bear and other costume characters help greet Jolly Ol' St. Nick. Join Santa as he makes his way to Crayola Christmas Land, where he resides through December 24.

After the holidays, the wood from the Mayor's Christmas Tree is made into commemorative ornaments, which are sold the following year to benefit the Mayor's Christmas Tree Fund. The 2012 ornament goes on sale the day after Thanksgiving at the Crown Center Customer Service office.

The Crown Center is located in the heart of Kansas City.

TUMBLEWEED TREE LIGHTING CEREMONY

Chandler Tumblewood Christmas Tree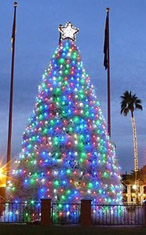 a unique southwestern tradition that draws visitors from far and wide during the holidays. This community festival also includes the beautiful Parade of Lights. This year marks the 56th Tumbleweed Tree built in Historic Downtown Chandler.

This unique Chandler tradition began in 1957, when Chandler resident Earl Barnum raised the idea of a tumbleweed tree after he saw a similar one in Indiana built out of cone-shaped chicken wire with pine boughs stuck in the holes.

Many members of the community helped create the first tree in Chandler using tumbleweeds that they gathered from around town. Little did these folks know that they were the first to do such a thing and that it would continue as an annual Christmas tradition from then on. In fact, Chandler is the only city in the southwestern United States that has such a tree.

How is it done? First, members of the City's Park Operations Division gather tumbleweeds from the outskirts of the City. With Chandler's rapid growth and development, fewer stretches of empty land are within the City limits, which makes it harder to find tumbleweeds in large quantities. So, the Park crews must start collecting the tumbleweeds earlier each year.

Between 1,500-2,000 tumbling tumbleweeds are collected each year, and approximately half of those are used to adorn a 25-foot tall wire frame.

Starting in mid-November, the wire is shaped into a 30-foot cone, and the dried tumbleweeds are inserted into the holes.

Then, the tumbleweeds are sprayed with 25 gallons of white paint, 20 gallons of flame retardant and dusted with 65 pounds of glitter. The tree is later adorned with approximately 1,200 holiday lights that give it a spectacular look, day or night.

The lighting of the Tumbleweed Tree draws a large crowd, with more than 12,000 expected to watch the Mayor and members of the City Council flip the switch to light this magnificent sight. The 56th annual lighting takes place Saturday, December 1, in Chandler, Arizona.

BIOLA'S TREE LIGHTING takes place Friday, November 30. Usher in the Christmas season with one of Biola's favorite traditions - The University Christmas Tree Lighting. The whole family can enjoy Christmas crafts, ministry booths, hot drinks and plenty of holiday music, culminating in the lighting of the University Christmas Tree.

This year Biola University is partnering with the City of La Mirada, CA for their annual Holiday Toy & Food Drive. New, unwrapped toys and nonperishable food items will be accepted at Tree Lighting for distribution to local children and families. Officials at Biola ask that you "join Biola and the City of La Mirada by blessing our community with gifts for the Christmas season!"

CITY OF SACRAMENTO TREE LIGHTING takes place November 21, 2012. From that date through December 31st it's Raley's Theatre of Lights presented various times and days. The Polar Express Train Ride presented by California State Railroad Museum Foundation, Wednesday through Sunday November 23-December 19. Those same dates are also when you can meet Santa in the Eagle Theatre.


SPREADING THE WORD


PROJECT SHAW PRESENTS PYGMALION Shaw's most famous comedy, brought to life through Gingold Theatrical Group's Project Shaw, in a one-night staged script-in-hand-reading.

Starring Emily Taplin Boyd, Robin Leslie Brown, Danial Davis, Ian Gould, Cynthia Harris, Daniel Jenkins, Jeanne Lehman, Ana Reeder, Reg Rogers, Zachary Spicer and Michael Musto of The Village Voice. Guest host is Terry Teachout of the Wall Street Journal

Produced. adapted and directed by David Staller.

Pygmalion is very possibly Shaw's most popular play. Used as the inspiration for the musical My Fair Lady, this remarkable play is one of the most beloved comedies in the English language. Its plot about the linguistics professor who helps transform a lowly flower-girl into a lady of fashion has been so often retold in so many forms that it's bracing to imagine what an impact the play had when first presented in 1914.

Monday, November 19, at The Players in New York City.

THE EFFECTS OF HISTORY ON MUSIC during the last two centuries is a series of free music lectures by Paul M. Somers, sponsored by the Bay-Atlantic Symphony.

In this third installment of a four-part series examining the effects of history on music during the last two centuries, you will see how the American experience after the Revolution was captured in music borne out of freedom and slavery. This will be done with musical examples of composers such as William Billings, William Henry Fry, and Louis Moreau Gottschalk. You will also learn about influences as the Moravians, shape-notes and minstrelsy in this music lecture. The New Jersey lectures will take place on November 13, in Ocean City, November 15, at Margate and November 19, in Vineland.

The four-part series concludes in December with an exploration of music between the 20th century wars –from Irving Berlin to the Beatles and beyond. Subsequent lectures for the 2012 - 2013 season will explore The Golden Thread - an unbroken line of connections from medieval chant to Gershwin, how composers work and folk literature in composed music.

Somers, Adult Education Director for the Bay-Atlantic Symphony is also a composer, performer, the founder of Maurice River Music, the harpsichordist for the Virtuoso Strings of New York for 25 years, and was a reviewer for the Star-Ledger.

GUILD HALL AND THE NAKED STAGE will present Mizlansky / Zilinsky or "Schmucks" by Jon Robin Baitz on Tuesday, November 13.

Lead Artist: Josh Gladstone. Featuring: Isaac Klein, Joe Pallister, Josh Perl, Dan Renkin, Kate Mueth, Josh Gladstone, Stephen Hamilton, and Robert Anthony.

Set in the ever-so-sleek and slick Hollywood of the '80s, this dizzily funny, yet jarringly sober play revolves around the manic film producer Davis Mizlansky who is on the brink of being done in by the IRS. Desperate to save himself, he devises a scheme he's sure will save the day - and might just make him some money to boot.

Free Admission. All staged readings at Guild Hall are sponsored in part by Dina Merrill and Ted Hartley.

GUESSING GAME Last April the Timber Lake Playhouse in Mount Carroll, IL was "granted the rights to a recent Tony Award winning Best Musical, and it's such a hot show, they won't let us announce it until March (2013)! What we can tell you is that this spectacularly funny song-and-dance show will star John Chase (Working, Cabaret, Sunset Boulevard), Sharriese Hamilton (Working, … Spelling Bee), Brandon Jess Ford (Boeing Boeing, All Shook Up, The Producers) and Artistic Director James Beaudry. Derek Bertelsen (Boeing Boeing, Love, Sex & the I.R.S.) will direct.

While "recent Tony Award winning Best Musical" makes guessing rather easy, under threat of all things horrid, the Playhouse is adhering to their mouth shut promise.

In 1961, Timber Lake Playhouse was established as a professional, non-profit summer theatre company.

The current theatre building (erected after a fire destroyed the original wooden-frame structure in 1974) houses a 45? wide semi-thrust revolving stage and 371 fixed seats. The property is also home to 14 other buildings used for costumes, scenic and paint shops, food service and housing for the company. The unique layout of facilities allows the Playhouse to present work on a much larger scale than many summer theatre companies.

Since it's first opening night on June 28, 1962, the Playhouse has presented more than 350 plays and musicals and nearly 4000 performances. TLP presents a challenging combination of material each year: a mix of large-scale musicals, new plays, and contemporary classics.

YOKO ONO has been selected to curate next year's 20th Anniversary Meltdown festival.

Previous curators have included David Bowie, Antony Hegarty, from Antony and the Johnsons, Patti Smith, Morrissey and Nick Cave. Ray Davies and Jarvis Cocker.

The 10-day event, which will take place at London's Southbank Centre from June 14-23, includes concerts, DJ sets, talks, films and the visual arts.

Ono is expected to emphasized the environment and feminism.

THE POET'S THEATRE "Why does tragedy exist?" Anne Carson asked in Tragedy: A Curious Art Form.

"Because you are full of rage. Why are you full of rage? Because you are full of grief."

Carson returns to 92Y's Poetry Center in NYC on Monday, November 18, to introduce a staged reading of her new translation of Sophocles' famous tragedy. Sam Gold directs; and the dramatic reading includes actors Maria Dizzia, Bill Camp and Michael Chernus.

BERTIE CARVEL the Olivier Award winner who stole the show originating the role of Miss Trunchbull in the London production of Matilda the Musical will cross to pond to made his debut as the twisted headmistress in the Broadway production, which will debut March 4, 2013, at the Shubert Theatre.


OTHER PEOPLE'S MONEY


THE BROADWAY LEAGUE released data that showed all Broadway shows hurt by Hurricane Sandy, losing more than $8.5 million.

The league estimates that grosses were $33.66 million for the previous two-week period, as compared to the same time period last year when the box offices earned $42.2 million. Attendance also plunged 19 percent from the 10-year average.

The storm forced all 40 Broadway theaters to shutter and altogether, 48 individual Broadway performances were canceled.



THE LION KING will celebrates 15 years on Broadway November 13 at the Minskoff Theatre.

To celebrate that reign, Inside The Lion King, called "the first immersive, pop-up exhibit ever created for a Broadway show," opens adjacent to Bryant Park for a limited run. Musical theatre enthusiasts can experience - and interact with - the music, sets, costumes, movement and show history of the Tony-winning production. The exhibit will be free to the public.

SIR DAVID HARE

Sir David Hare Photo: Daniel Farhi/ The New School)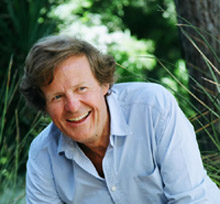 the BAFTA Award-winning English playwright, director and screenwriter will serve as Artist-in-Residence for one week beginning Nov. 12 at The New School for Drama in New York City.

During his artist-in-residence, Hare will meet with student playwrights and others to speak about his experience writing and directing for different mediums.

Hare will also participate in a town hall meeting on November 15 in the New School for Drama Theater.

The session will be moderated by playwright and New School for Drama faculty member Jon Robin Baitz.

Past Artists-in-Residence have included including Kathleen Chalfant (2011-2012), Joe Mantello (2010-2011) and Jon Robin Baitz (2009-2010).

The New School, a leading progressive university in New York City was founded in 1919 as a center of intellectual and artistic freedom.

The New School for Drama is the New School's three-year graduate program for the theater arts offer intensive training in all aspects of the craft of acting, playwriting, and directing.

GARY BARLOW

Gary Barlow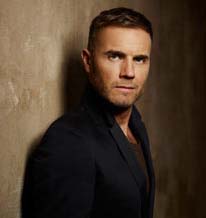 was presented with the Music Industry Trust Award by Sir Elton John with Prince Charles paying tribute via a video message recorded before he embarked on his tour of Australia, New Zealand and Papua New Guinea.

The Prince commended Barlow on his charitable endeavors, "not only for my Prince's Trust and the Queen's Diamond Jubilee, but also for Comic Relief, Children In Need and many more".

The Take That frontman was honored at the prestigious music industry bash held at the Grosvenor House Hotel in Park Lane, London.

Barlow was joined at the event, by his Take That bandmates and fellow X Factor judges Nicole Scherzinger, Tulisa Contostavlos and Louis Walsh. Other stars in attendance included Kimberley Walsh and Alesha Dixon.

Previous winners of the award, which raised funds for Nordoff Robbins and The BRIT Performing Arts & Technology School, include Sir Elton and Kylie Minogue.

KENNETH BRANAGH was knighted by Queen Elizabeth II at a Buckingham Palace ceremony Friday, November 9, 2012 for services to drama and for his charity work in Northern Ireland.

THE NEW YORK LANDMARKS CONSERVANCY inducted the class of 2012 during its 19th annual Living Landmarks Celebration, November 8, at the Plaza in New York City.

Those declared a Living Landmark include: Liza Minnelli, chef Daniel Boulud, real estate icon Peter L. Malkin and business executive E. John Rosenwald, Jr. and James M. and James L. Neederlander (see above story). Pulitzer Prize-winning author Robert Caro received the Lew Rudin Living Landmark Award for Public Service.

Liz Smith who hosted the evening, also co-chaired the event along with Peter G. Peterson. Music was provided by Peter Duchin and his orchestra.

Louise Grunwald and Graydon Carter served as honorary co-chairs at the gala, and the Celebration Committee included former Living Landmarks Judy Collins, Barbara Goldsmith, Vartan Gregorian, Marian Heiskell, A.E. Hotchner, Ray Kelly, Mathilde Krim, Mary McFadden, Elizabeth Rohatyn, Amy and Howard Rubenstein, Tommy Tune and Bunny Williams.

The New York Landmarks Conservancy is dedicated to "celebrating, preserving and protecting the iconic buildings and diverse neighborhoods that define this vibrant and extraordinary City." Since its founding in 1973, it has loaned and granted more than $36 million to help people save their homes, cultural, civic and religious institutions.



DR. SEUSS' HOW THE GRINCH STOLE CHRISTMAS! The Old Globe in San Diego's 15th annual production of the holiday favorite.

Directed by James Vásquez with book and lyrics by Timothy Mason and music by Mel Marvin. The original production of Dr. Seuss' How the Grinch Stole Christmas! was conceived and directed by Jack O'Brien with Additional Lyrics by Theodor S. Geisel, Additional Music by Albert Hague and original choreography by John DeLuca.

Steve Blanchard reprises his role as The Grinch, which he played last year in his Globe debut. Alternating in the role of Cindy-Lou Who are Caitlin McAuliffe and Lilith Freund. Steve Gunderson returns as Old Max and marks his 10th appearance in The Grinch at the Globe. Jason Edward Cook plays Young Max.

Rounding out the cast are Geno Carr (Papa Who), Kelsey Venter (Mama Who), Phil Johnson (Grandpa Who), Amanda Naughton (Grandma Who), Annie Buckley and Kaitlyn O'Leary (Annie Who), Sydney Rose Horowitz and Madison Pyle (Betty-Lou Who), Dylan Nalbandian and Jordi Bertran (Boo Who) and Aaron Acosta and Liam James Brandt (Danny Who) with Luke Babbitt, Ava Marie Bunn, Jacob Caltrider, Nancy Snow Carr, Kevin Davison, Sophia Dimmick, Randall Dodge, Katrina Heil, Brooke Henderson, Kyle J. Johnson, Gabi Leibowitz, Alison Grace Norwood, Carly Nykanen, Allison Spratt Pearce, Avalon Robbins and Maxine Sutton (Ensemble).

This season's production features Musical Direction by Charlie Reuter, Additional Choreography by Bob Richard and Restaged Choreography by James Vásquez. The creative team also includes John Lee Beatty (Scenic Design), Robert Morgan (Costume Design), Pat Collins (Lighting Design), Paul Peterson (Sound Design), Anita Ruth (Orchestrator), Joshua Rosenblum (Vocal Arrangements and Incidental Music), David Krane (Dance Music Arranger) and Leila Knox (Stage Manager).

Dr. Seuss' How the Grinch Stole Christmas! will run on the Donald and Darlene Shiley Stage in the Old Globe Theatre, part of the Globe's Conrad Prebys Theatre Center, November 17 – December 29, 2012.

The Old Globe will offer an autism-friendly performance of Dr. Seuss' How the Grinch Stole Christmas! on Saturday, December 15 at 10:30 a.m. Following in the footsteps of successful autism-friendly performances of The Lion King and Mary Poppins on Broadway, The Grinch will be performed in a friendly and supportive environment for children on the autism spectrum and their families. Slight adjustments will be made to the production including fewer loud noises and flashing lights that may be challenging for some audience members. Additional features will also help make the experience safer and more enjoyable for children with autism and other sensitivity issues, including a pre-show visit to the Globe to familiarize children with the theatre; an online social story available to view and print at home that will outline in words and pictures the experience of a visit to the Globe; a quiet area in the lobby of the theatre; and on-site volunteers to assist families as needed. Theatre Development Fund's (TDF) Autism Theatre Initiative serves as an advisor for The Old Globe's autism-friendly Grinch performance.

ZARKANA a Cirque du Soleil production with a proven track record, is the latest addition to the Las Vegas Strip.

The rock opera spectacle revolves around a magician searching for his lost powers.

Replacing the failed Viva Elvis at the Aria Hotel, odds are this one is a real winner.

EMOTIONAL CREATURE written by Eve Ensler and directed by Jo Bonney.

Emotional Creature features Ashley Bryant, Molly Carden, Emily S. Grosland, Joaquina Kalukango, Sade Namei and Olivia Oguma.

Based on Ensler's 2010 bestselling book, Emotional Creature explores what it is to be a girl - all the joys and thrills, the rites of passage, the growing pains, and the unique pressures - through a series of original monologues, stories and songs.

This fully-staged production spans wildly disparate cultures and continents, highlighting the diversity and commonality of the issues girls face, both personal and political, the world over.

The creative team includes Luam (Choreography), Myung Hee Cho (Scenic & Costume Design). Lap Chi Chu (Lighting Design) and Shawn Sagady (Projection Design).

Emotional Creature was first workshopped at New York Stage and Film at Vassar College in August 2010, with subsequent workshops in Johannesburg, South Africa and Paris, France.

Officially opens on Monday, November 12 at The Romulus Linney Courtyard Theatre at The Pershing Square Signature Center in New York City.

THE GREAT AMERICAN MOUSICAL based on the book by Julie Andrews Edwards and Emma Walton Hamilton. Music by Zina Goldrich. Lyrics by Marcy Heisler. Book by Hunter Bell.

Directed by Julie Andrews.

Billed as "a musical love letter to Broadway."

Below the bright lights of Broadway, in the depths of the historic Sovereign Theatre, an acting troupe of mice rehearse their new musical. When the theatre is threatened by demolition and their diva Adelaide disappears, it will take all paws on deck to fulfill the time-honored tradition: the show must go on - and they must save both their theatre and their leading lady!

The characters include a broad cross-section of recognizable theater types, including the temperamental diva, the ambitious ingenue, the eager chorus boy and seasoned veteran ready to share yet another stage memory. Filled with singing, dancing, and show biz lore, The Great American Mousical is a sharp and witty tribute to life in the theatre.

Scenic and Costume Design by Tony Walton. Choreographed by Christopher Gattelli.

An original commission from Goodspeed Musicals with performances extended through December 9, 2012 at the Norma Terris Theatre of Goodspeed Musical in East Haddam, CT.

On Monday, November 19 there is a two-for-one tickets for select seats to the 7:30 pm performance with a generous non-perishable food donation to benefit the East Haddam Food Bank.

THE MYSTERY OF EDWIN DROOD by Charles Dickens is directed by Scott Ellis and choreographed by Warren Carlyle, with book, music, lyrics and orchestrations by Rupert Holmes.

Starring Stephanie J. Block as "Edwin Drood," Will Chase as "John Jasper," Gregg Edelman as "Reverend Mr. Crisparkle," Jim Norton as "Chairman," and Chita Rivera as "Princess Puffer."

The Mystery of Edwin Drood is making its first-ever return to Broadway since winning the Tony "Triple Crown" (Best Musical, Best Book, and Best Score).


Who killed Edwin Drood? It's a question that has stumped audiences for years - now it's your turn to answer one of Broadway's most baffling mysteries. Take a trip back in time to a Victorian music hall where a rowdy ensemble of actors mounts a staging of Charles Dickens's unfinished novel.

Everyone on stage is a suspect in the murder of young Edwin Drood - and it's up to you to choose the killer!

Is it John Jasper, Edwin's protective but slightly maniacal uncle? Rosa Bud, his reluctant betrothed? The debauched Princess Puffer? Each performance ends differently, depending on what the audience decides!

Officially opens on Tuesday, November 13, 2012 at Studio 54 on Broadway, NYC.

FORBIDDEN BROADWAY: ALIVE AND KICKING

Marcus Stevens, Scott Richard Foster, Natalie Charle Ellis and Jenny Lee Stern in Forbidden Broadway - Alive and Kicking Photo: Carol Rosegg.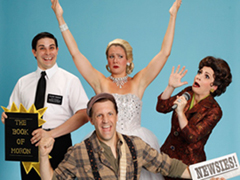 Gerard Alessandrini's latest edition returns to New York after a three-year absence.

This edition is created and written by Gerard Alessandrini and directed by Alessandrini and Phillip George. This production marks Forbidden Broadway 30th Anniversary as well as its 21st edition.

Forbidden Broadway is a take no prisoners, hard-hitting satirical revue of Broadway musicals, which sometimes can ever be better than the musicals they are spoofing. One of those rare, don't miss it, productions.

Forbidden Broadway: Alive and Kicking features spoofs of Porgy and Bess, Once, Evita, Anything Goes, Follies, Spiderman, Newsies, Book of Mormon, Nice Work if You Can Get It, and End of The Rainbow, among others.

Featured in the cast are Natalie Charlé Ellis, Scott Richard Foster, Jenny Lee Stern and Marcus Stevens, with David Caldwell on piano.

At the 47th Street Theatre in New York City.

THE PROMISE Penelope Skinner's new version of Aleksei Arbuzov's The Promise, translated by Ariadne Nicolaeff.

Alex Sims directs.

The first production in the final Donmar Trafalgar Season stars Max Bennett (Marat), Gwilym Lee (Leonidik) and Joanna Vanderham (Lika).

1943. In war-ravaged Leningrad, three orphans are thrown together by history. In the years following the siege allegiances shift, love falters and their vow of solidarity is stretched to its limits. Billed as " a heartrending portrayal of youthful hope forged in war and tested by time."

Performances begin November 15 at the Donmar Warehouse in London.

GOLDEN BOY by Clifford Odets. Directed by Bartlett Sher.

Set inside the vivid world of prizefighting's past, Golden Boy, Clifford Odets' most popular play, is the story of Joe Bonaparte, a promising young violinist who forsakes his family and artistic dreams for the lure of fame and fortune in the ring. Joe's immigrant father (Tony Shalhoub), Moody, Siggie, Roxy, Pepper, Tokio (Danny Burstein) and Lorna Moon - "the dame from Newark" (Yvonne Strahovski) with whom Joe (Seth Numrich) falls in love - are just some of the colorful characters sharing the excitement of Joe's rise up the ranks, and the conflicts that come with money and fame.

Sets by Michael Yeargan. Costumes by Catherine Zuber. Lighting by Donald Holder. Sound by Peter John Still and Marc Salzberg. The Fight Director is B.H. Barry.

THE CRUCIBLE by Arthur Miller. Directed by Murphy Davis.

The Salem Witch Trials come to life on stage in the Literature Live production.

Cast includes: Al Bundonis, Peter Connolly, Lisa Cory, Rob DeSario, Chloe Dirksen, Mackenzie Engeldrum, Ken Forman, Joanna Howard, Joel Leffert, Kate Mueth, and Kate O'Phalen.

The theater reports that "to help our neighbors in need, Bay Street will donate 10% of all public performance proceeds to Island Harvest."

The Salem Witch Trials come to life on stage in the Literature Live production.

Cast includes: Al Bundonis, Peter Connolly, Lisa Cory, Rob DeSario, Chloe Dirksen, Mackenzie Engeldrum, Ken Forman, Joanna Howard, Joel Leffert, Kate Mueth, and Kate O'Phalen. Runs now through November 24 at the Bay Street Theatre in Sag Harbor, NY.

The theater reports that "to help our neighbors in need, Bay Street will donate 10% of all public performance proceeds to Island Harvest."

Runs now through November 24 at the Bay Street Theatre in Sag Harbor, NY.

THE BODYGUARD a new musical based on the 1992 Warner Bros film of the same name which starred the late Whitney Houston.

The screenplay by Lawrence Kasdan has a theatrical book by Alex Dinelaris.

The production is directed by Thea Sharrock.

Starring Tony winner Heather Headley, who is making her West End debut in the role created on screen by Whitney Houston, and Lloyd Owen in the role of Frank Farmer, a former Secret Service agent turned bodyguard (Kevin Costner in the film), who is hired to protect superstar Rachel Marron (Headley) from an unknown stalker. Each expects to be in charge; what they don't expect is to fall in love.

Also in the cast are Debbie Kurup, Mark Letheren, Ray Shell, Nicolas Colicos, Mark McKerracher, Sean Chapman, David Page and Oliver Le Sueur. They are joined by Luis Buddy, Caius Duncombe, Jaydon Fowora Knight, Kwame Kandekore, Taylor Lockhart and Malakai Paul who will share the role of Fletcher, Rachel Marron's young son.

Ensemble members are Nigel Barber, Jordan Darrell, Yasmin Harrison, Shanay Holmes, Holly James, Robert Jezek, Melissa Keyes, Gil Kolirin, Janet Kumah, Nick Maude, Richard Murphy, Gloria Onitiri, Ashley J Packer, Dharmesh Patel, Lucinda Shaw, Paul Smethurst, Charlotte Watts and James Wooldridge.

The Bodyguard features a multitude of Whitney Houston's greatest hits including Queen of the Night, So Emotional, One Moment in Time, Saving All My Love, I'm Your Baby Tonight, Run to You, I Have Nothing, How Will I Know, I Wanna Dance With Somebody and I Will Always Love You.

Designs by Tim Hatley, lighting by Mark Henderson and sound by Richard Brooker. Choreography is by Arthur Pita with orchestrations by Chris Egan and In previews at London West End's Adelphi Theatre with the official opening set for December 2, 2012.


WHO'S WHERE




BOSTON UNIVERSITY SCHOOL OF MUSIC AT THE COLLEGE OF FINE ARTS celebrating the 1954 East Coast premiere of Carl Orff's Carmina Burana, performed by BU Symphony Orchestra and Symphonic Chorus and led by renowned composer, Leopold Stokowski, School of Music Professor, David Hoose, will conduct the first of two annual concerts at Symphony Hall. On Monday, November 19, BU will perform Carl Orff's acclaimed piece, as well as Edgard Varèse's Hyperprism, and the Boston premiere of Percy Grainger's The Warriors.

With Soloists: Lynn Eustis, soprano - Christopher MacRae, tenor - James Demler, baritone. Featuring Boston Children's Chorus.

A twenty-minute score, The Warriors is surrounded by mystery. Many contend the music was Grainger's response to the First World War. "Thrilling and unpredictable, the music jumps freely from the goofy to the touching," says David Hoose, conductor. "It is occasionally violent, and often giddily chaotic."

The score's daunting instrumentations makes it no surprise that this spectacular music is rarely performed. The score requires piccolo, two flutes, two oboes, English horn, bass oboe, two clarinets, bass clarinet, two bassoons, contrabassoon, six horns, four trumpets, three trombones, tuba, as well as an off-stage band that includes two trumpets, two horns, two trombones, and a full string section. To that already large ensemble is added two harps, celesta, and a large selection of pitched percussion instruments including timpani, xylophone, glockenspiel, steel marimba, wooden marimba, bells, chimes, snare drum, tambourine, cymbals, bass drum, gong, castanets, and woodblock. To top it off, The Warriors, calls for three pianos (although the composer suggests six or nine pianos.)

November 19 at Symphony Hall in Boston.

FROM WEST END TO BROADWAY: A MUSICAL THEATER CABARET an afternoon of sparkling cabaret, from London's West End and from New York's Broadway, to celebrate the musical character and sounds of both great cities. Written and directed by Michael Montel, with Musical Direction by Lawrence Yurman, this production in the Perform! series spotlights the talents of Brigid Brady, Peter Land, Destan Owens, and Sarah Stiles. Inspired by the Museum's exhibitions, London Street Photography and City Scenes: Highlights from New York Street Photography, From West End to Broadway features songs by Noel Coward, Leonard Bernstein, Comden and Green, and P.G. Wodehouse—musical "snapshots" that explore the growth of two cities, from pushcarts to the present, and from the Cotton Club to Piccadilly. Sunday, November 11 at the Museum of the City of New York, NYC.

THE HIT MEN if you loved Frankie Valli and the Four Seasons, Tommy James and the Shondells, Carly Simon, Cat Stevens, Elton John and Jim Croce….the Downtown Cabaret is the place to see The Hit Men, featuring 6 Original Performing and Recording Members from these great mega star acts from the 60s, 70s and 80s. They perform favorite songs, from Oh What a Night, Who Loves You, and Sherry, to Peace Train, Crocodile Rock, Leroy Brown and Mony Mony plus lots of others. Three shows November 16 and November 17 at the The Downtown Cabaret Theatre in Bridgeport, Connecticut.

WOODY ALLEN & THE EDDY DAVIS NEW ORLEANS JAZZ BAND make music every Monday through December 17 at the Cafe Carlyle in New York City.

LEONARD COHEN on stage Monday, November 12, at the Rogers Arena in Vancouver, BC. On Friday he'll be performing at the Scotiabank Saddledome in Calgary, AB.

SEAL has a busy week with a performance Monday, November 12, at the Zenith in Strasbourg, France. Wednesday's gig is at the Hallenstadion in Zurich, Switzerland. On Thursday he's at the Festspielhaus in Baden-Baden, Germany. On Saturday the tour stops at the Haus Auensee in Leipzig, Germany. Next Sunday, November 18, he performs at the Hala Stulecia in Wroclaw, Poland.

LESLIE UGGAMS the Tony Award winner, makes her 54 Below debut for seven special performances only November 13-17. 54 Below in New York City.

BRIAN SETZER ORCHESTRA will get the place jumpin' Saturday, November 17, at the Orpheum Theatre in Minneapolis. Next Sunday, November 18, the beat will be at the Oneida Ballroom in Oneida, WI.

ROBIN WILLIAMS telling funny stories today, Sunday, November 11, at the Kaufmann Concert Hall in New York City. On Tuesday the laughs will be coming from the Sony Center for the Performing Arts in Toronto, ON.


FINAL OVATION


ELLIOTT CARTER a two-time Pulitzer Prize-winning American composer died November 5, 2012 at his home in New York. He was 103.

His compositions, which have been performed all over the world, include orchestral and chamber music as well as solo instrumental and vocal works. He was extremely productive in his later years, publishing more than 40 works between the ages of 90 and 100, and over 14 more after he turned 100 in 2008. His last work, 12 Short Epigrams for piano, was completed on August 13, 2012.

On December 11, 2008, Carter celebrated his 100th birthday at Carnegie Hall in New York, where the Boston Symphony Orchestra and pianist Daniel Barenboim played his Interventions for Piano and Orchestra written that year.

Neil Portnow President/CEO of The Recording Academy issued the following statement:

"Grammy winner and Recording Academy Trustees Award recipient Elliott Carter was a brilliant composer whose compositions helped define a uniquely American sound in the 20th century. His musically complex works have been performed by symphonies around the world and his career as both a music creator and educator will leave a lasting legacy for those who follow. He was a consummate talent who will be profoundly missed, and our thoughts and condolences go out to his family, friends and fans throughout the world."








Next Column: November 18, 2012
Copyright: November 11, 2012. All Rights Reserved. Reviews, Interviews, Commentary, Photographs or Graphics from any Broadway To Vegas (TM) columns may not be published, broadcast, rewritten, utilized as leads, or used in any manner without permission, compensation and/or credit.
Link to Main Page
---
Laura Deni



For the snail mail address, please E-mail your request.
CLICK HERE FOR COMMENT SECTION