! >
Broadway To Vegas
  
  REVIEWS INTERVIEWS COMMENTARY NEWS

| | |
| --- | --- |
| | |
KIDZ B KIDZ ART - - FERRIS WHEELS IN THE SKY - - ELF THE MUSICAL ON TOUR - - LATIN RECORDING ACADEMY PERSON OF THE YEAR MIGUEL BOSE - - OPERA AUSTRALIA STAGES UNIQUE RING CYCLE - - JULIE TAYMOR IN CONVERSATION - - PARIS REHEARSAL EXPLOSION KILLS TECHNICAL DIRECTOR - - LATW RECORDS THE COLUMNIST - - DONATE . . . Scroll Down




Copyright: November 10, 2013
By: Laura Deni
CLICK HERE FOR COMMENT SECTION


OUR WHEEL IS BIGGER THAN YOUR WHEEL
The Singapore Flyer. Photo: Handout.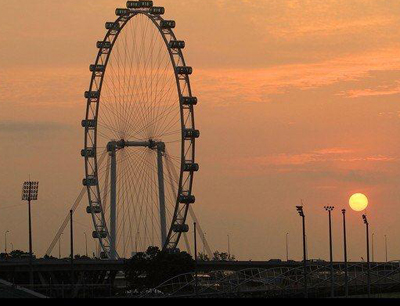 Nobody has yet called their Ferris wheel Proud Mary, but those big wheels just keep on turning as cities go in circles to compete for having those mammoth tourist attractions.

Oh, and none of the promoters want to link themselves to the word Ferris wheel - although that's what the gizmos are.

If you built it bigger they will come is the mantra.

For a few bright, shining moments every Big Wheel gets it's 'world's largest' bragging rights.

Currently in that cat bird seat is the Singapore Flyer which was conceived by Dr. Kisho Kurokawa of Japan and DP Architects, leaders in the industry renowned for their unique architectural designs. Officially launched in 2008, the Singapore Flyer is about the height of a 42-story building - or - the height of 31 male giraffes stacked on top of one another.

The Singapore Flyer stands on an area big enough to contain 172 tennis courts.

Each of the 28 capsules is about the size of a city bus and carry up to 28 passengers, traveling at 0.24m per second.

To board the Singapore Flyer, you use the "step on platform" - it's like walking on level ground into the capsule. There are two synchronized doors and two platforms on each side, making it easy for the elderly and those in wheelchairs to get on and off. Each rotation of the Singapore Flyer is about 32 minutes. The rotating thing-a-ma-jig uses a slim ladder truss rim - not the usual triangular rim used by most other observation wheels.

Getting reading to tower over the Singapore Flyer is The High Roller, the star of the new Caesars Entertainment Project Linq entertainment complex. Project Linq Las Vegas is a planned $550 million retail, dining and entertainment project, whose main attraction is the High Roller, which rises 550 feet and will have 44,000-pound, glass-enclosed motorized capsules, offering a 360-degree view without a disorienting experience. Every cabin will boast a solid floor, so passengers will feel grounded while enjoying the glittering sights of Las Vegas.

As the clock struck midnight signifying that last Thursday had arrived, the first of those cabins made a three mile journey from the warehouse to the Las Vegas Strip, a little trek taking three hours. As it was hoisted into place, officials were really too quick to start bragging that their contraption was now the world's tallest - although that is jumping the rotation. The Linq is not yet operational. It's expected to take another two months to installed all of the 28 observational pods. Once the Linq actually works and is open to the public, then it can legitimately boast that it is the tallest observation wheel in the world.

Sin City will then hold bragging rights until the Dubai wheel towers over everybody.



Rendering of the Dubai Big Wheel. Photo: Dubai Media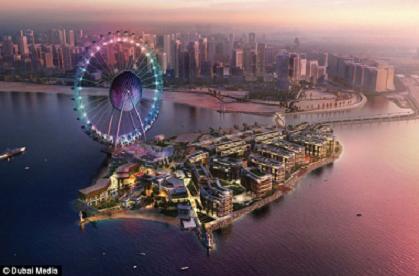 Dubai in the United Arab Emirates will unveil the world's largest Ferris wheel in 2015. That 690ft high wheel is expected to attract three million visitors per year and will be part of multi-billion dollar entertainment project called The Bluewater Island, a man made island which will take two years to build and is set to open in 2016.

The Bluewaters Island is the latest in a series of developments announced by Dubai ruler Sheikh Mohammed bin Rashid Al Maktoum who also has approved projects to build five theme parks at Jebel Ali as well as a Universal Studios theme park and the world's biggest shopping mall.

Dubai's world's largest Ferris wheel will be nearly 250ft taller than the London Eye.

Not to be ignored is New York City. A week ago The Big Apple gave final approval to a $320 million project to build their version of world's tallest Ferris wheel - although the Dubai Wheel poses considerable doubt atto whether New York will ever have that bragging right.

The New York Wheel, as it is called, will be on the northeastern side of Staten Island, at a height of  630-feet, or roughly 60-stories.  Tall - yes - but considerably shorter than the Dubai Wheel.

The  New York Wheel will accommodate up to 1,440 people per ride, hoping for as many as 30,000 visitors per day and an anticipated 3+ million visitors per year. Construction is expected to begin in 2014, with a grand spin around in 2016 - the same year the Dubai Wheel is set to rotate.

The London Eye is the eye catcher responsible for getting the ball - or wheel going. The London Eye, also known as the Millennium Wheel, was opened on the last day of the year 1999 to commemorate the forthcoming millennium.

How the London Eye operates relates to all of the future copycats, since the same construction companies provide components for all the whirligigs such as Arup which worked on the London Eye, Singapore Flyer and the upcoming Las Vegas go-around.

With a total height of nearly 443 feet tall, designed by the architect team of David Marks, Julia Barfield, Steven Chilton, Mark Sparrowhawk, Malcolm Cook and Frank Anatole, the London Eye features 32 sealed and air-conditioned capsules, each with a capacity of 25 passengers.

A computer controls the hydraulic motor which rotates the wheel at a speed of almost 1 km/h, with one full turn taking approximately 30 minutes or a speed that is twice as fast as a tortoise sprinting; this slow rate of rotation allows passengers to step on and off without the wheel having to stop.



The London Eye. Photo: Laura Deni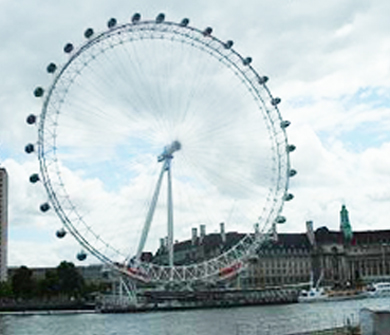 The passengers sit in fully enclosed capsules rather than dangling gondolas. However, the entire structure of the London Eye is supported on one side only, allowing the wheel to hang over the River Thames.

The London Eye is an excellent example of a frame structure. Its steel design forms an "A" shape, with two large tapered legs at the base - 65 feet (20 meters) apart and each over 190 feet (58 meters) in length. The legs lean toward the river at a 65-degree angle. Cable backstays keep the frame from tilting into the river - they're anchored to the top of the frame and then buried in a concrete foundation 108 feet deep.

The wheel part of the London Eye resembles a bicycle wheel - with a spindle and hub connected to the rim by 64 cables, or spokes. Sixteen additional rotation cables are attached to the hub at an opposing angle to ensure there's no lag between the turning of the rim and the turning of the hub.

The spindle itself is supported by the frame on one side only (cantilevered), and the frame holds the wheel over the river. The London Eye can withstand winds of a 50-year storm, the worst storm anticipated to occur once in a period of 50 years, and if it's ever struck by lightning, the strike would be conducted to the ground with no harm to passengers.

The main components of the London Eye were built offsite. Once they were completed, barges transported them piece by piece up the River Thames to the construction site on the South Bank. Workers assembled the London Eye horizontally on a temporary support platform over the river, which made construction faster, easier and safer than if it had been built vertically.

Once it was assembled, hydraulic lifts and cables slowly raised the 1,322 ton (1,200 tonnes) structure over the course of one day, until it reached its 65-degree angle. When it was in final position, the 32 capsules - one to represent each borough of London - were attached to the rim, which took eight days.

All of the technical gobbledy gook applies to all of the gigantic Ferris wheels.

Visited by more than 3.5 million people each year the London Eye has been chosen as a special events venue for high profile charity campaigns including Breakthrough Breast Cancer and Comic Relief. The London Eye is also available for private rental such as for a wedding or corporate events.

The London Eye carries up to 800 passengers, equivalent to 11 London red double-decker buses. It weighs 2,100 tons, or as much as 1,272 London black cabs.






Broadway To Vegas is supported through advertising and donations. Priority consideration is given to interview suggestions, news, press releases, etc from paid supporters. However, no paid supporters control, alter, edit, or in any way manipulate the content of this site. Your donation is appreciated. We accept PAYPAL. Thank you for your interest.






ART AND ABOUT


KIDZ B KIDZ HELPING KIDS ONE MASTERPIECE AT A TIME

Hot and Cold cups bearing artwork by Kidz b Kidz. Photo: Kidz b Kidz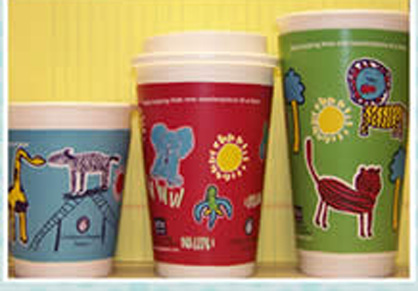 is a unique program where kids' art work is turned into designs for merchandise ranging from dinnerware to cookies. Proceeds benefit ill children.

The grass roots project was started by Nancy Corderman, a textile and clothing designer and Jan Weinshanker, a printmaker and painter who founded the ceramic dinnerware company Droll Designs.

The two women are the type that deserve a Point of Light Award, the program created by the administration of President George H. W. Bush, which honors individuals and groups creating meaningful change in communities across America. Each weekday, one volunteer or volunteer effort is recognized with the Daily Point of Light Award.

The seed of artistic inspiration was born out of anguish. For a time Nancy and her husband, Boston construction manager David Corderman, spent many hours at Children's Hospital Boston, where two of their four children were diagnosed with hearing loss, they were struck by how fortunate they were that their children could go home after a visit and saddened by the day to day reality of many children facing cancer and other serious illnesses who don't have that luxury.

Involving their own children in a meaningful project that would benefit these children sparked the idea for Kidz b Kidz. The Cordermans teamed up with Jan, who is a breast cancer survivor and had been looking for ways to use her talents in the fight against cancer.

Kidz b Kidz brings children's hopeful and cheerful artwork to life, while showing children that they too can make a difference.

The art projects are powered by kids and mentored by adults. "We teach children about empathy and the importance of helping others, and encourage them to find ways to use their artful hands and generous spirits to do good in the world. . . teaching them that they have the ability to evoke change just by drawing a picture. When given the task of creating artwork to help other kids who are sick, children take their mission quite seriously," proudly reports the organization.

In addition to the bi-monthly KbK art parties in hospitals and schools, art parties range from those organized by friends and family, taking place in a home, to small businesses who have an Art Party at their place of business.

The parties usually last about an hour and 15 minutes which includes set up and clean up time. The Art Party participants are shown a short animated video that inspires everyone to draw. Using markers and crayons participants draw for an hour and receive KbK Certificates of Participation.

The Artwork is then scanned by the Art Party organizer (leader) and saved on to a flash drive that is sent back to KbK to get uploaded to the Kidz b Kidz Art Gallery.

All the Artwork in the Gallery is available for purchase on customized Tee Shirts.

Some of the designs are chosen for the KbK National Product Lines which include: paper cups and soup containers, tray covers, compost bags, bed linens and shower curtains, hospital scrubs and Johnnies, and more.



Wicked Good Cookies surprised Broadway To Vegas with some specially designed logo inspired cookies, typical of the type of product that individuals or companies can order for weddings, Bar Mitzvah's, birthdays or corporate events. Photo: Wicked Good Cookies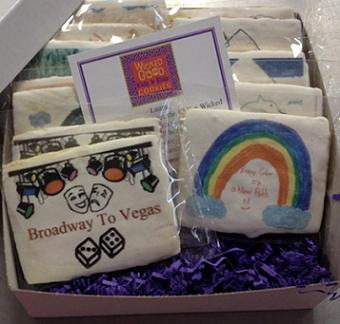 Kids b Kidz has also teamed up with Wicked Good Cookies, a family owned Massachusetts based micro bakery that specializes in freshly baked Photo Cookies, Gourmet Cookies, and all manner of personalized Edible Gifts. Wicked Good Cookies has a division which manufactures and sells elaborate and delicious cookies featuring the art work of Kids b Kidz.

Homemade or low end custom cookies use an ink scanner which prints a picture on editable rice paper, which is then placed on top of the cookie. Unfortunately, that can be peeled or fall off. A company can be publicly embarrassed by having the guest of honor's face fall off of a cookie, enabling it to be stepped on as it hits the floor. I was at an event where such an occurrance happened.

Wicked Good Cookies uses a patented printer that uses vegetable dye to print Kidz b Kidz artwork directly onto the frosted cookies without the need for edible rice paper or transfer sheets. The end result is a cookie that tastes as good as it looks. Cool cookies which product endless smiles.

Wicked Good Cookies surprised Broadway To Vegas with some specially designed logo inspired cookies, typical of the type of product that individuals or companies can order for weddings, Bar Mitzvah's, birthdays or corporate events.

The cookies are extremely well packaged for shipping. Inside the shipping box the treats are beautifully boxed, with each cookie individually wrapped in heavy plastic, protecting the delicious edible and permitting them to stay fresh longer. They also happen to taste great!

Proceeds from the sale of Kidz b Kidz products are donated to hospitals nationwide including: Boston Children's Hospital, an internationally renowned center for medical research and treatment, is one of the only pediatric hospitals nationwide that focuses on pairing world-class research with clinical resources to develop top therapies to treat and cure children. Many of the hospital's scientific advancements have far-reaching implications for treating adults, too – they target diseases including prostate and breast cancer, macular degeneration, and Alzheimer's.

Children's Hospital is dedicated to bettering each patient's quality of life through amazing programs such as Art for Kool Kidz, that brings professional artists to the hospital to work with children, taking their minds off of treatments and tests, reminding them that they are kids first and foremost.

Miller Children's Hospital Long Beach, part of the MemorialCare Health System, provides specialized pediatric care for children and young adults, with conditions ranging from common to complex - as well as maternity care for expectant mothers - all under one roof. Only five percent of all hospitals are children's hospitals, making them unique not only to children's health care needs in the community, but across the region. Miller Children's is one of only eight free-standing children's hospitals in California - treating more than 14,000 children each year - and has become a regional pediatric destination for more than 84,000 children, who need specialized care in the outpatient specialty and satellite centers.


SWEET CHARITY


A MADMEN AFFAIR Madison Avenue. Ice-cold martinis. The pursuit of perfection. Lexus of Nashville hosts. A Madmen Affair to benefit the Nashville Opera education programs takes place November 16 at as Lexus' sparkling new venue which will be transformed into New York circa 1960, with all its glamour and decadence.

Signature cocktails, specialty lounges, an elegant four- course dinner and dancing to Rat Pack entertainment.


OPERA AUSTRALIA CELEBRATES RICHARD WAGNER'S 200th BIRTHDAY BY STAGING A UNIQUE VERSION OF THE RING CYCLE
Jane Ede, Dominica Matthews and Lorina Gore are the Rhinemaidens in Opera Australia's Ring Cycle. Photo by: Keith Saunders/Opera Australia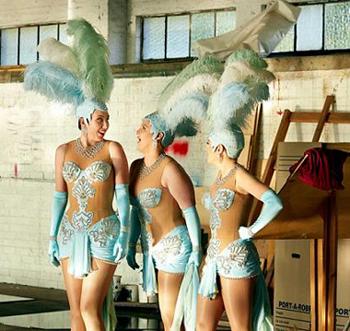 Forget about those horned helmets. Bring on the head dresses and tail feathers.

To celebrate the 200th anniversary of the birth of Richard Wagner, Opera Australia is staging three complete cycles of the four Ring cycles. This is Opera Australia's first staging of the famed epic.

This isn't your ordinary Ring, a profound and complex story of relationships, responsibility and destiny, in which the worlds of reality and fantasy collide.

Director Neil Armfield's new vision, is one that sets Wagner's epic tale of the fall of the Gods in a very human, contemporary world - such as a lucrative hunger for oil and mineral resources.

The costumes which are currently lurking in the Arts Centre corridors, are by Alice Babidge.

Costumes which look a lot like Las Vegas.

That was Babidge's intent - to dress the three ethereal creatures of the river as showgirls.

The set designer is Robert Cousins. Lighting design by Damien Cooper. Choreographer Kate Champion, is also the associate director.

Leading an inspired cast of outstanding Wagnerian artists from around the world is Finnish conductor Pietari Inkinen, 33.

The international cast includes English soprano Susan Bullock as Brünnhilde, Norwegian bass-baritone Terje Stensvold as Wotan, German tenor Stefan Vinke as Siegfried and Australian Helden baritone John Wegner as Alberich.

The $20 million production, presented by Opera Australia and City of Melbourne, the Melbourne Ring Festival takes place from November 15 - December 13, 2013.

Tickets were priced $1,000 to $2,000 and sold out.

The festival is a month-long celebration of all things 'Ring-inspired', including films, exhibitions, concerts, talks and performances.

On Sunday, November 17, on the eve of the opening of the Melbourne Ring Cycle, Opera Australia will host a fundraising Gala Dinner in the Great Hall of the National Gallery of Victoria.

Led by Master of Ceremonies and Opera Australia's new CEO Craig Hassall, and featuring special guest speaker Geoffrey Robertson QC, the night promises to be full of beautiful food, wonderful music, tempting auction items and a few illuminating surprises.








SPREADING THE WORD


JULIE TAYMOR the Oscar and Tony Award-winning director of film, theatre and opera comes to 92Y in NYC on Sunday, November 17 to talk about her work in a conversation moderated by actor Harry Lennix, who currently stars as Harold Cooper, Assistant Director of Counterterrorism for the FBI on the new NBC series The Blacklist with James Spaderr.

The event – From Stage to Screen and Back Again – will be illustrated with clips from her productions. Taymor is acclaimed for infusing her work with a uniquely theatrical vision – from the internationally acclaimed stage musical The Lion King, to the Beatles-inspired screen musical, Across the Universe, the timeless magic of Shakespeare on screen in Titus and The Tempest, to Shakespeare on stage, with her highly-anticipated upcoming production of A Midsummer Night's Dream for Theatre for a New Audience.

2013 LATIN RECORDING ACADEMY PERSON OF THE YEAR, MIGUEL BOSE will be celebrated with a Star-Studded Concert and Tribute Dinner on November 20 at Mandalay Bay Convention Center in Las Vegas as Part of This Year's Latin Grammy Week Celebration.

Performing artists include Pablo Alborán, Juan Campodónico, Jesse & Joy, Juanes, Illya Kuryaki, Ricky Martin, Laura Pausini, Draco Rosa, Alejandro Sanz, Ximena Sariñana, Julieta Venegas, and Carlos Vives. The Latin Recording Academy President/CEO Gabriel Abaroa Jr. and other industry VIPs will be in attendance.

Jose Tillán will serve as Executive Producer of the 2013 Latin Recording Academy Person of the Year tribute dinner and concert. Greg Fera will serve as Producer, Cheche Alara is the Musical Directo and Gustavo Borner is the Mix Engineer. Cheche Alara, Moon Music and Jose Tillán will produce the evening's music performances.

REHEARSALS OF THE STEWARD OF CHRISTENDOM ARE NOW UNDERWAY Brian Dennehy battles the epic tides of change brandishing the double-edged sword of memory in The Steward of Christendom, beginning performances Nov 26 at the Mark Taper Forum in Los Angeles.

The Steward of Christendom, directed by Steven Robman, illuminates with remarkable grace and compassion an important character in Ireland's past left out of the history books: a devout and principled man and his spiritual quest for consolation and redemption when everything he loves is taken away.

Joining Dennehy on stage will be Carmela Corbett, Mary-Pat Green, Kalen Harriman, James Lancaster, Grant Palmer, Dylan Saunders, Daniel Weinstein and Abby Wilde.

THE OLD GLOBE IN SAN DIEGO which presented a developmental reading of the new musical comedy romance Dog and Pony in New York City on November 1, will stage the world premiere at the Old Globe next spring, running May 28 – June 29, 2014.

With book by Rick Elice, music and lyrics by Michael Patrick Walker and directed by Tony Award winner Roger Rees, the showbiz comedy follows a hit screenwriting team that begins to venture into the rocky territory of love. As explained, "Mags and Andy are a screenwriting team with a track record of hits and a professional relationship that's firing on all cylinders. But when Andy's marriage hits the rocks, forever single Mags finds she wants something more. Will romance ruin their perfect relationship? Dog and Pony is a world premiere musical comedy romance that takes a witty and irreverent look at what women want and whether men fit the bill...or don't."

At the by invitation only developmental reading Tony Award-winning actors Christian Borle and Beth Leavel, Tony nominee Annaleigh Ashford, and Broadway stars Heidi Blickenstaff and Derek Klena took part.

Dog and Pony is a recipient of an Edgerton Foundation New American Plays Award.


TECHNICAL DIRECTOR DIES IN PARIS REHEARSAL ACCIDENT


Marcus Toledano, the technical director of the musical 1789, the Lovers of the Bastille by Dove Attia and Albert Cohen, died of a heart attack on November 8, after a faulty power tool set off fireworks during the show's final tech rehearsal at the Palais des Sports in Paris. He was 41.

The Palais des Sports has a capacity of 4,500 and is one of the city's largest venues. It hosted the premiere of Les Miserables in 1980.

It was also the site where 1789, the Lovers of the Bastille was staged October 10, 2012 to November 11, 2012 without incident.

Police said 15 people, mostly stage hands, were injured - five seriously. The explosion caused a wall to collapse only a few hours before the start of the musical about the French revolution.

The show, which boasted designs and choreography by Giuliano Peparinihas, has been canceled.

The musical shows the aftermath of the French Revolution, where "change the world" was the slogan. It is billed as "A love story of Lazarus, a peasant revolutionary and Olympus, the governess of Marie Antoinette."

Culture minister Aurelie Filippetti spoke of her "great sadness" at Mr Toledano's death.

Producer Albert Cohen said: "All are efforts are going towards helping his family... in what is a difficult moment, as you can imagine."

Four of the injured remained in the hospital overnight. The remaining injured needed either minor treatment, or to have their hearing checked after being exposed to the loud blasts. An initial investigation determined that the initial explosion had been caused by the disc of a circular saw breaking away and igniting fireworks to be used in the show.

About 100 firefighters and a dozen fire engines responded to the scene of the accident.

1789: The Lovers of the Bastille has also been mounted on the French Riviera as well as in Switzerland this past June.


OTHER PEOPLE'S MONEY


THE OREGON SHAKESPEARE FESTIVAL reported that the 2013 season closed at 87% of capacity. Total attendance was 405,328 and ticket revenue was $19,573,863. The season included 11 productions, with a total of 805 performances. Attendance was up 3.6% from 2012 and revenue was up 7.2%. Student attendance was 66,975, and the Education Department offered 928 Education events throughout the season, for which 32,349 tickets were sold.



ELF THE MUSICAL the delightful musical comedy based on the 2003 film has opened a United States with two national touring companies this holiday season.

Starring as Buddy the Elf, an orphaned human who thinks he's one of Santa's helpers are Will Blum Matt Kopec.

Elf features a score by Matthew Sklar (music) and Chad Beguelin (lyrics) and a book by Tony Award winners Bob Martin and Thomas Meehan.

The tours will feature direction by Sam Scalamoni and choreography by Connor Gallagher.

Joining Kopec in his tour are Tyler Altomari (Michael), Jane Bruce (Emily), Jacqueline Grabois (Deb), Gordon Gray (Santa), Kate Hennies (Jovie), Kevin Rockower (Mr. Greenway), Matthew Alan Smith (Walter) and Clyde Voce (Store Manager).

Ensemble members include Austin Brannan, LilyAnn Carlson, Mara Gabrielle, Timothy Grady, Dan Higgins, Caitlin Leary, Ryan Patrick Lingle, Nick Lorenzini, Kyle McIntire, Elyse Niederee, Jacqueline Nuzzo, Lauren Palmeri, Christopher Timson, Amy Van Norstrand and Tanner Wilson.

Their November tour stops include: Nov. 12-13 Clearwater, FL – Ruth Eckerd Hall
Nov. 16-17 Knoxville, TN – Tennessee Theatre
Nov. 19-21 Waterbury, CT – Palace Theater
Nov. 22-24 Baltimore, MD – Lyric Opera House
Nov. 26 – Dec. 1 Pittsburgh, PA – Benedum Center for the Performing Arts.

The second tour, featuring Blum, features Larry Cahn (Walter), Lindsay Nicole Chambers (Jovie), Lanene Charters (Deb), Ken Clement (Santa), Larent Giroux (Mr. Greenway), Julia Louise Hosack (Emily), Noah Marlowe (Michael) and Kevyn Morrow (Store Manager).

The ensemble will include Jen Bechter, Darren Biggart, Giovanni Bonaventura, Erick Buckley, Elizabeth Burton, Audrey Cardwell, Drew Franklin, George Franklin, Karen Hyland, Paul Ianniello, Eric Anthony Johnson, Chandon Jones, Drew King, Julie Kotarides, Andrew Kruep and Emily Larger.

Their November tour stops:
Nov. 12-17 Raleigh, NC – Duke Energy Center for the Performing Arts
Nov. 19-24 Omaha, NE – Orpheum Theater
Nov. 26 – Dec. 15 Chicago, IL – Cadillac Palace Theatre

THE PREACHER AND THE SHRINK a new play by Merle Good.

Directed by Steven Yuhasz.

Starring three-time Tony Award nominee Dee Hoty and featuring Tom Galantich, Mat Hostetler, Adria Vitlar, and Nicholas Urda.

The production is described as: "A spirited young woman makes a sexual accusation which checkmates her father, a respected and popular pastor. They have been estranged for years by a deep grief. Will she follow through? Will he fight back? Even the psychiatrist (Dee Hoty) who tries to help becomes conflicted when middle age romance develops. The Preacher and the Shrink unwraps these struggles with startling consequences."

Set design by Brian Prather, with lighting design by Kirk Bookman and costume design by Carol Sherry. Set to open Off-Broadway November 18th at The Beckett Theatre at Theatre Row, NYC.

METAMORPHOSIS by Steven Berkoff, based on the novel by Franz Kafka.

Directed by Elaine Vaan Hogue.

Metamorphisis centers around Gregor Samsa, who wakes one morning to find himself transformed into a giant insect.

Starring Andy Wayenberg as Gregor Samsa. Maria DeCotis as Greta. Harrison Brian as Clief Clark/Boarder. Molly Jones as Mrs. Samsa and Matt Dray as Mr. Samsa.

Scene Designer: Elizabeth Panneton. Costume Designer: Christopher Harris. Lighting Designer: Kayleigha Zawacki. Sound Designer: Lowri Sion. Technical Director: Nicholas Shelton. Production Manager: Johnny Kontogiannis. Stage Manager: Sara Vreeland.

Metamorphosis is a featured event of the Boston University College of Fine Arts Keyword Initiative, now in its third year. The 2013–2014 initiative, focusing on the keyword Transformation, will explore profound shifts and changes in individuals and society through a series of performances and events that tap into diverse perspectives, and create dialogue that inspires humanity and breeds critical thinking that leads to solutions

November 13–24 at the Boston University Theatre, Stewart F. Lane and Bonnie Comley Studio 210. BCAP is the professional extension of the Boston University College of Fine Arts School of Theatre.

HOW I LEARNED WHAT I LEARNED  by  August Wilson.

Co-conceived with and directed by Todd Kreidler.

Featuring Tony Award-winner Ruben Santiago-Hudson.

In this solo show, Pulitzer Prize-winning playwright August Wilson shares stories about his first few jobs, a stint in jail, an early relationship, his first kiss, his foray into cinema, and the friends he has had his entire life.  The show charts one man's journey of self-discovery through adversity, and what it means to be a black artist in America.

  The design team includes David Gallo (Scenic and Projection Design), Constanza Romero (Artistic Advisor and Costume Design), Thom Weaver (Lighting Design), and Dan Moses Schreier (Sound Design). Winnie Y. Lok is the Production Stage Manager.

  Presented by Signature Theatre Company with performances through Sunday, December 22. in The Alice Griffin Jewel Box Theatre at The Pershing Square Signature Center, NYC.

THE COLUMNIST written and directed by David Auburn.

Starring Tara Lynne Barr, Wilson Bethel, John Getz, David Krumholtz, John Vickery and JoBeth Williams.

Joseph Alsop's scathing newspaper columns galvanized millions of Americans and influenced the Washington powerbrokers that ran America. While he exposed McCarthyism, extolled Kennedy's Camelot and advocated an escalation of the war in Vietnam, he could never reveal his life as a closeted gay man.

All performances will be recorded live in front of an audience (without sets or costumes) to air on L.A. Theatre Works' syndicated radio theater series, which broadcasts weekly on public radio stations nationwide and can be streamed on demand.

The West Coast premiere of the spellbinding new drama takes place November 14-17 at the James Bridges Theater UCLA School of Theater, Film and Television in Los Angeles.


WHO'S WHERE


TRANS SIBERIAN ORCHESTRA has two groups which are on their annual holiday tour. Performances Wednesday, November 13, at the Mid-America Center in Council Bluffs, IA and at the Huntington Center in Toledo, Ohio. On Thursday the shows are at the Insurance Arena in Erie, PA and the Pinnacle Bank Arena in Lincoln, NE. On Friday one show takes place at the Bryce Jordan Center in University Park, PA. Saturday the groups can be enjoyed at the XL Center in Hartford, CT and the World Arena in Colorado Springs, CO. Next Sunday, November 17, the tours stop at the Pepsi Center in Denver and the Verizon Wireless Arena in Manchester, NH.

JAMES GALWAY performs with the Irish Chamber Orchestra on Monday, November 11, at Segerstrom Concert Hall in Costa Mesa, CA On Tuesday the performance is at the Valley Performing Arts Center in Northridge, CA. Saturday's show with the Hawaii Symphony Orchestra is at the Blaisdell Concert Hall in Honolulu.

MICHAEL BUBLE in the spotlight Friday, November 15, at the Key Arena in Seattle, WA. On Saturday he's on stage at the Moda Center in Portland, OR.

STRAIGHT NO CHASER entertain Monday, November 11, at the Southern Kentucky PAC in Bowling Green, KY. Wednesday's gig is at the Cannon Center for the Performing Arts in Memphis. On Thursday they can be enjoyed at the Coliseum in Knoxville, TN. On Friday the tour stops at the Performing Arts Theatre in Roanoke, VA. On Saturday they's in the spotlight at the Memorial Auditorium in Chattanooga, TN. Next Sunday, November 27, the show is at the Carpenter Theatre in Richmond, VA.

BONNIE RAITT performs Tuesday, November 12, at the Oakdale Theatre in Wallingford, CT. On Thursday her tour stops at the St. Denis Theatre in Montreal, Quebec. Next Sunday she's on stage at the Orpheum Theatre in Boston.

ROD STEWART headlining Caesars Palace in Las Vegas through Sunday, November 24, 2013.

SELENA GOMEZ is center stage Tuesday, November 12, at the Key Arena in Seattle. On Thursday she stars at the Energy Solutions Arena in Salt Lake City. Saturday's show is at the lst Bank Center in Broomfield, CO. Next Sunday, November 17, she's be delighting her fans at the Sprint Center in Kansas City, MO.

PERFECT PAIRS AT THE PALACE FEATURING HILARY KOLE & FREDDY COLE with old world jazz and standards meet the next generation. Hilary Kole, the youngest artist ever to perform at the legendary Rainbow Room, teams up with Freddy Cole who is Nat "King" Cole's brother. Wednesday, November 13, 2013 at the Palace Theatre in Stamford, CT.




FINAL OVATION


WILLIAM DODDS a founding member of the Stage Managers' Association, passed peacefully in his sleep at the age of 91 on November 1, 2013.

Bill had more than 39 Broadway credits that ranged from the 1950s to the 1990s.

From 1957-1991, he stage-managed 39 Broadway shows, including such notable productions as Dylan, Little Me, The Great White Hope and Dracula.

His first Broadway show was the 1957 Ronald Alexander comedy Holiday for Lovers. His last Broadway credit was The Speed of Darkness in 1991.













Next Column: November 17, 2013
Copyright: November 10, 2013. All Rights Reserved. Reviews, Interviews, Commentary, Photographs or Graphics from any Broadway To Vegas (TM) columns may not be published, broadcast, rewritten, utilized as leads, or used in any manner without permission, compensation and/or credit.
Link to Main Page
---
Laura Deni



For the snail mail address, please E-mail your request.
CLICK HERE FOR COMMENT SECTION