! >
Broadway To Vegas
  SHOW REVIEWS     CELEBRITY INTERVIEWS     GOSSIP     NEWS 
| | |
| --- | --- |
| | |
YORK THEATRE WELCOMES ELMER BERNSTEIN - - SIEGFRIED & ROY'S CELEBRITY BEAR AUCTION - - TONY BENNETT KD LANG ALBUM A WINNER - - ROBERT SCHIMMEL'S CANCER CURE - - AL PACINO RETURNS TO SALOME - - A BOOK WRITING OAK RIDGE BOY - - A HOEDOWN IN GROVETOWN - - TEDDY TONIGHT HELD OVER - - DONATE . . . Scroll Down


Copyright: November 10, 2002
By: Laura Deni

CLICK HERE FOR COMMENT SECTION
BROADWAY FLOPS HAVE WIDE APPEAL
Elmer Bernstein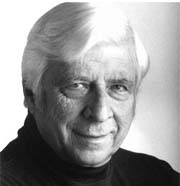 Legendary theatre, film and TV composer Elmer Bernstein, who turned 80 last April 4, not only showed up - he flew in for the performance. In the past, special efforts to attend have been made by Kanter & Ebb, Comden and Greene, Jay Livingston and Ray Evans, Dorothy Rodgers and Dale Wasserman - to name only a few.

Why would these creative superstars rearrange their tight schedules to attend a York Theatre Company Musicals in Mufti production - a series of under-appreciated musicals which is a politically correct phrase meaning a flop - presented in staged concert readings. In other words, no costumes, no scenery, actors read from a script and tickets top out at $30.

Although the works failed to succeed on Broadway their early demise wasn't because of the music. Brought back to life in their purest form those that created those bare bones feel a kinship.

Last night the sold out show had Bernstein attending How Now Dow Jones.



Jim Morgan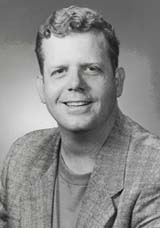 The York Theatre Company's Artistic Director James Morgan spoke with Broadway To Vegas.

"I'd never met him but, along with many, many people, I am an admirer of his work. Interestingly enough, my main interest in him is the show of his that we are doing How Now Dow Jones. I never saw it," confessed Morgan about the 1967 Broadway production directed by Abbott, that ran 220 performances on the plot of a romance that sets Wall Street in a panic as the Dow is manipulated to the all-time high of 1,000 points. Max Shulman wrote the libretto, and the score represents one of two Broadway shows written by film composer Elmer Bernstein - his other show was Merlin.

"I was growing up in Florida when How Now happened," continued Morgan. "I got the record - maybe in college - and have always been intrigued by it."

"In this series, I decided to do shows connected with George Abbott and he directed this. It was a great justification for doing How Now Dow Jones. There is a lot of interest in Bernstein."

"Mr. Bernstein has gone out of his way to re-arrange his schedule to come here. He flew in Saturday afternoon and was here for the 8 o'clock performance," related an appreciative Morgan. "My understanding is that he flew in to New York on Tuesday then flew somewhere else and then come back in Saturday to see the show."

Bernstein has been a busy boy. On October 27 he received the King Vidor Memorial Award for lifetime achievement at a black-tie gala ceremony at the historic Fremont Theatre in San Luis Obispo. As part of the evening's festivities, a screening of To Kill a Mockingbird followed the award presentation, part of the 10th Annual San Louis Obispo Film Festival which saluted the Academy Award winning composer.



Far From Heaven written and directed by Todd Haynes has a score by Elmer Bernstein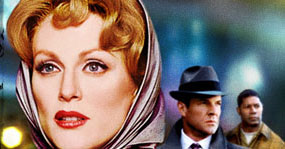 Then came the Far From Heaven movie premieres. Far From Heaven, featuring a score by Bernstein, opened November 8th in Los Angeles and New York. It will open November 15th in 14 additional markets and November 22nd in wider release.

The film, written and directed by Todd Haynes, stars Julianne Moore, Dennis Quaid and Dennis Haysbert and co-stars Patricia Clarkson.

From all of that red carpet hoopla Bernstein jetted back to New York so he could climb the steps to the York Theatre at Saint Peter's, 54th Street & Lexington Avenue.

"We'll have a little reception for him with the cast," said Morgan.

Morgan and The York Theatre Company have a long history of being able to get the creators involved - people who do not normally do this type of thing.

"That is correct," Morgan answered.

"We've had a lot of the original creators participate. When we did Oh Captain I called up Jay Livingston and Ray Evans and they flew here for that," Morgan said regarding the guys who penned the music and lyrics.

The original 1958 Broadway cast recording of Oh Captain was a Jose Ferrer production which starred Tony Randall and Jacquelyn McKeever.

"When we did Seventy Girls Seventy John Kanter and Fred Ebb were very much involved. They were around during the whole rehearsal period," Morgan added.

"Mary Rodgers was here last Sunday night for Jumbo," related Morgan about the daughter of Richard Rodgers. "She loved it. She had last seen it when she was four. She saw the original production, and said she liked this better."

Bob Wright of Wright and Forrest came to Kean," reported Morgan.

The work of Robert Wright and George Forrest is primarily associated with adaptations of classical themes into operettas such as Kismet and Song of Norway. Their 1961 offering, Kean, - based on a play by Sartre - was an original work. The Broadway production starred Alfred Drake, Lee Venora, and Joan Weldon.

"He was very much involved in his musical Kean when we did it," continued Morgan about Wright.



Tony Award winner Dale Wasserman, often called elusive, attended the York production of Beggars' Holiday
"Dale Wasserman, who wrote the book for Beggars' Holiday with Duke Ellington and John Latouche, came in for that," continued Morgan.

That tuner opened at the Broadway Theatre on January 28, 1946, closing on March 29, 1947 after a run of 111 performances.

Among the highpoints was the future Marge Champion dancing with Herb Ross and Paul Glodkin. The production featured Alfred Drake as Macheath and Zero Mostel as Hamilton Peachum.

"Joan Fine was around for Carmelina and Burton Lane, who is no longer with us, was around for part of the discussion after one of the shows."

Carmelina with music by Burton Lane and lyrics by Alan Jay Lerner opened April 8, 1979 at the St James Theatre.

Although it ran for only 17 performances, a 1979 cast album was recorded. The 14 tracks, conducted by Don Jennings, included the original cast plus Paul Sorvino and Bernie Knee.

"We've done several Comden and Green shows and Betty and Adolph were around for those."

"We did The Human Comedy and Galt MacDermot was around for a lot of that," continued Morgan about the production that featured music by MacDermot with a book by William Dumaresq. This pop-folk musical about small-town life in America during the early days of World War II is based on the novel by William Saroyan.

It opened Wednesday, December 28, 1983 at the Joseph Papp Public Theatre with a run of 92 performances and transferred to Broadway opening April 5, 1984 at the Broadway Theatre closing April 15th after 19 previews and 13 performances.

That may have been a short Broadway run but it was enough to garner Stephen Geoffreys a Tony nomination for his portrayal of Homer Macauley and resulted in his being cast in the movie Heaven Help Us after the producer/director of that flick attended a performance of A Human Comedy and was impressed by Geoffrey's acting ability.

An original Broadway cast album was also recorded with MacDermot conducting a cast that included; Cass Morgan, Donna Murphy, Gordon Connell, Leata Galloway, Joseph Kolinski, Anne Bobby, Kathleen Rowe McAllen, Rex Smith, Josh Blake, Kenneth Bryan, Laurie Franks, Donnie Kehr, Mary Elizabeth Mastrantonio, Debra Byrd, Christopher Edmonds, Stephen Geoffreys, Walter Hudson, David Johnson, Liza Kirshner, Bonnie Koloc, Olga Merediz, Grady Mulligan, Daniel Noel, Louis Padilla, Caroline Peyton, Vernor Spencer, Don Tramon, and Michael Wilson.

As for Galt MacDermot, on Friday November 22, he and his New Pulse Band perform the New York premiere of Beaus and Eros at Carnegie Hall.

"We're pretty well known and respected," continued Morgan about his award winning York Theatre Company

Unfortunately, a good reputation has no direct relationship to a fat bank account.

"We need to do some fundraising," admitted Morgan. "Coming off this year with 9/11 we're hurting. And hurting more than most because we are very small, even though we are starting our 34th season. Then when something cataclysmic happened, like 9/11 that you have no control over, it can really, really hurt you as it has us - along with a lot of other people, but it seems to have seriously hurt us. So, we are holding on and continuing to do good work. We are currently interviewing for a development person - an expert grant writer - for a full time position."

"We just need all of the help we can get."

Directed by Sheryl Kaller the cast for How Now, Dow Jones had Brooks Ashmanskas starring as the neurotic Charley and Cheryl Freeman plays his girlfriend Kate. Others in the cast include; Kristin Maloney, David Blackburn, AJ Irvin, Ian Knauer, Kaitlin Hopkins, David Garrison, Mitchell Greenberg, Becky Barta and Gwendolyn Walker.

The York Theatre stages a Spring and Fall Mufti series. All shows run five performances. Audience discussions follow each matinee performance.

Next up in this series is New Girl In Town, which is composer-lyricist Bob Merrill's musical version of Eugene O'Neill's Anna Christie, with a book by George Abbott, who also directed the original production. The Broadway production in 1957 starred Gwen Verdon, Thelma Ritter and Cameron Prud'homme, and was choreographed by Bob Fosse. Michael Montel will direct, with Music Direction by Jack Lee. Theatre at Saint Peter's. Performances are November 15-17.



Broadway To Vegas is supported through advertising and donations. Priority consideration is given to interview suggestions, news, press releases, etc from paid supporters. However, no paid supporters control, alter, edit, or in any way manipulate the content of this site. Your donation is appreciated. We accept PAYPAL. Thank you for your interest.


THE MUSIC GOES ROUND AND ROUND


A WONDERFUL WORLD by Tony Bennett and k.d. lang falls under the category of - so what's not to like?.

Inspired by the songs associated with Louis Armstrong, a friend and colleague of Bennett's as well as a major musical influence on both performers.

The making of A Wonderful World employed a unique recording process and marked the first Bennett album project to be recorded at Bennett Studios, a state-of-the-art production and recording facility located in Englewood, New Jersey, and owned and operated by Tony's son, Dae Bennett.

Bennett Studios, which opened in January 2002, has a fiber optic connection to the John Harms Theatre, a 1,200-seat vaudeville theater in Englewood, which allowed for Bennett and Lang to record in the theater while feeding the tracks to the nearby Bennett Studios.

As Tony explains, "k.d. and I are both live performers first and we loved the idea of recording in what is a very natural setting for us -- a beautiful and acoustically sound theatre like the John Harms. It provided a real sense of drama and spontaneity that can be hard to recreate in a typical recording studio."

Tony's touring quartet - Lee Musiker, piano, Paul Langosch, bass, Clayton Cameron, drums and Gray Sargent, guitar - provided the album's musical accompaniment along with Scott Hamilton - saxophone on selected tracks - and a 50-piece orchestra.

Exactly Like You
La Vie En Rose
I'm Confessin' (That I Love You)
You Can Depend On Me
What A Wonderful World
That's My Home (Tony Bennett solo)
A Kiss To Build A Dream On (k.d. lang solo)
I Wonder (Tony Bennett solo)
Dream A Little Dream Of Me
You Can't Lose A Broken Heart
That Lucky Old Sun (Just Rolls Around Heaven All Day) (k.d. lang solo)
If We Never Meet Again

A Wonderful World, released November 5 on RPM Records/Columbia Records was produced by T Bone Burnett, producer of last year's Grammy-winning Album Of The Year, O Brother, Where Art Thou?


SWEET CHARITY


SIEGFRIED & ROY TEDDY BEAR AUCTION FOR OPPORTUNITY VILLAGE

Elizabeth Taylor's bear wears her favorite purple color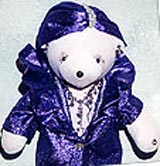 The bear of Tony Award winning composer/producer Andrew Lloyd Webber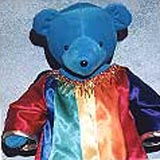 are delightful celebrity autographed and costumed Teddy Bears which will this week go up for auction online.

The Web address is www.siegfriedandroy.com/auction/.

Currently on display in Las Vegas at the Neiman Marcus Store in the Fashion Show Mall, the bears will hit the road and visit Neiman Marcus stores in Beverly Hills, San Francisco, Chicago and the flagship store in Dallas.




Florida Governor Jeb Bush's bear has a patriotic costume as do those of his father and mother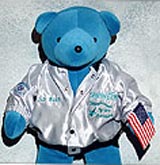 Diahann Carroll's bear is dressed in honor of her groundbreaking TV series Julia. Diahann closes tonight at the Suncoast in Las Vegas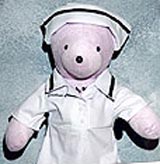 Siegfried & Roy have spearheaded the collecting of bears for months and have accumulated more than 150 signed and dressed various colored bears.


The impressive, diverse list includes among others, President Bush, President Clinton, Barbara Bush, Faye Dunaway, Michael Jackson, Tom Cruise, Cher, Anthony Hopkins, Gloria Estefan, Patti LeBelle, Robert Wagner, Loretta Lynn, Katie Couric, Matt Lauer, skateboard champion Tony Hawk, Tony Danza, Muhammad Ali, Ray Romano, Maria Shriver, Steven Spielberg, Carrot Top, Tony Curtis, Andre Agassi, Ann-Margret and - of course- Siegfried and Roy have each designed a bear.




The bear of Las Vegas Mayor Oscar Goodman who endorses Bombay gin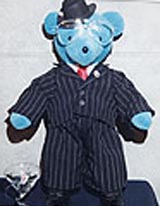 The bear of Tony Award winning costume designer William Ivey Long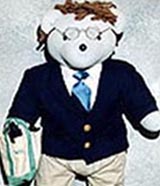 Las Vegas performers include Clint Holmes, Charo, Lance Burton, Rita Rudner, Marty Allen, Steve Wyrick, Wayne Newton and The Scintas, among others.

Opportunity Village, which provides vocational training, employment and enrichment opportunities for people with profound disabilities, is 80 percent self-funded.


Pre-auction online activities continue through Tuesday, November 19, when bidding starts. The Siegfried & Roy Celebrity Autographed and Costumed Teddy Bear online auction ends at 12 midnight - West Coast time - on Friday, November 29.


There are minimum starting bids on each bear.

FRIENDS IN DEED AND THE BAY STREET THEATRE receive a benefit Nov. 17-18. Two performances of a Mike Nichols production, Short Talks on the Universe encompass short plays by Jules Feiffer, Terrence McNally, Jon Robin Baitz, Nora Ephron, Steve Martin and Elaine May. Actors participating include; Alec Baldwin, Ellen Barkin, Anjelica Huston, Matthew Broderick, Kevin Kline, Angela Lansbury, Bette Midler, Chris O'Donnell, and Emma Thompson. Daniel Sullivan will direct the evening of world premiere short plays at Broadway's Eugene O'Neill Theatre, Nov. 17-18. Friends In Deed is the organization Nichols chairs in support of those affected by life-threatening illness.

TRU LOVE CABARET BENEFIT takes place next Sunday, November 17 with a wine reception and silent auction. This 4th annual event is an evening of music featuring a unique array of representatives from the worlds of cabaret, clubs and musical theatre plus surprise guests. Money raised will go towards Theatre Resources Unlimited programs including a New Play Reading Series, a New Musicals Reading Series and a newly created annual scholarship to the Commercial Theater Institute. The event will honor Philip Rose and Woodie King, Jr, an award TRU gives to a member of the theatre community who has demonstrated an uncommonly generous spirit, and has proven to be a worthy role model for others in the profession. Florence Gould Hall at the Alliance Francaise, NYC.


TALKING AND WRITING


JOE BONSALL of the Oak Ridge Boys didn't let all that time on the tour bus go to waste. The multi talented performer, who has published several children's books, has his first novel due out this spring. He travels with his laptop and the words just flowed. The book, G.I. Joe & Lilly, is based on a song Joe wrote by the same name, the story of a heroic World War II soldier who met up with an Army nurse while recuperating from battle wounds after the war's end. They fall in love, and the novel takes it from there until the couple is buried in Arlington National Cemetery.

DAVID KENNEY'S EVERYTHING OLD IS NEW AGAIN radio program this evening will feature a chat with author Wendi Joy Franklin about her new show A Song For You - The Civil Rights Journey Of a Negro Woman: Lena Calhoun Horne. The show is running thru November 24th at the St. Philip's Church Community Center, NYC. Ms. Franklin stars as Lena Horne. Kenney will also be giving away tickets to the LaChanze Concerts on Saturday, November 16th @ the Stanley H. Kaplan Penthouse. See this column in the Who's Where Section. Everything Old Is New Again can be heard on the Radio @ 99.5FM and on the WEB @ http://www.2600.com/offthehook/hot2.ram.



A HOE-DOWN IN GROVETOWN the Coconut Grove Playhouse in Miami, Florida is celebrating its anniversary with an Urban Cowboy Jubilee otherwise known as the Hoe-Down in Grovetown on Saturday, November 16.

The Playhouse will celebrate the conclusion of its 75th anniversary and the opening of its 2002-2003 Season with its World Premiere musical Urban Cowboy, the line-dancin', boot-scootin', bronco-bustin' new Broadway-bound musical based on the 1980 movie of the same name.

Chairpersons for the event are prominent Miami community leaders Carlos Migoya, President of First Union Bank and Jack Williams and his wife, Judy Williams.

Urban Cowboy-A New Musical by Aaron Latham and Phillip Oesterman began previews last Tuesday. More than 20 actors and one mechanical bull make up the cast. Songs from the original movie, including Lookin' for Love, will be included, but there are a handful of new songs added including Shania Twain's Honey I'm Home and Clint Black's Something That We Do.

The large-scale stage production, which will play through December 1, includes the mechanical bull made famous by Gilley's, Mickey Gilley's former nightclub in Pasadena, Texas, which served as the film's backdrop.

Twenty-two years after its release, the 1980 John Travolta movie that sparked an '80s cowboy craze is being distributed on DVD by Paramount Home Entertainment.

Gilley is thrilled at the revival.

"I thank John Travolta every night before bed for keeping my career alive," he joked recently in a press release. "That film had a huge impact on my career, and still does."

Urban Cowboy-A New Musical at the Coconut Grove Playhouse through December 1.

EVITA Andrew Lloyd Webber's Tony Award winning masterpiece chronicles the life and times of the enigmatic Eva Peron. This haunting story explores Eva's drive to succeed and achieve fascination with stardom, glamour, and power. The memorable score includes, Don't Cry For Me Argentina. Presented by Etobicoke Musical Productions at the Burnhamthorpe Auditorium, Etobicoke, Ontario Nov. 15-30

CROWNS a new play with gospel music adapted and directed by Regina Taylor.

These ladies meet life with hattitude - that's one part hat and five parts hallelujah! From the bestseller Crowns: Portraits of Black Women in Church Hats. The cast includes Tony winner Lillias White and Janet Hubert, who co-starred in TV's The Fresh Prince of Bel-Air. Choreography by Ronald K. Brown.Sunday clothes by Topdog fashionista Emilio Sosa. Say 'amen,' somebody. A co-production with the McCarter Theatre Center Crowns begins previews November 13. Opens December 3 through January 5, Second Stage Theatre, NYC.

BEAUTY AND THE BEAST November 13-17 at the Aladdin Theatre Las Vegas, NV.

TEDDY TONIGHT written by and starring Laurence Luckinbill centers on Teddy Roosevelt in July 1918. The former President is preparing to take on President Woodrow Wilson, when he gets word that his son is missing in action. Directed by Kim T. Sharp the popular production has been extended to November 24 at the Abingdon Theatre Company, NYC.

DRIVING MISS DAISY starring Rosemary Prinz who first gained fame as Penny on As The World Turns. Written by Alfred Uhry the production also stars Roger Robinson as Hoke and Jay Patterson as Boolie. Pamela Berlin directs the Pulitzer Prize winner, which as a design team of Michael Schweikardt (scenic), Amela Baksic (costume), Rui Rita (lighting) and Zach Moore (sound).

Pittsburgh Public Theater's O'Reilly stage. Previews began November 7. Officially opens November 15 with performances through December 8.

SOUTH PACIFIC starring Las Vegas resident Robert Goulet continues at the Palace Theatre in Cleveland, Ohio through November 17.

SALOME by Oscar Wilde will have readings directed by Estelle Parsons, starring Al Pacino, Marisa Tomei, Dianne Wiest and David Strathairn November 12 through December 22.

Pacino, who starred in the 1992 production at Circle in the Square Theatre, is currently appearing in the National Actors Theatre's mounting of The Resistible Rise of Arturo Ui, which closes its extended run today, November, 10.

The 26 performances of Salome will be held at St. Ann's Warehouse in Brooklyn. The readings will also feature a musical accompaniment composed and performed by Yukio Tsuji.

HARLEM DUET

DJANET SEARS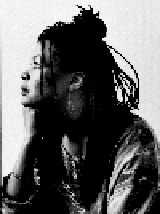 written and directed by Djanet Sears featuring Oni Faida Lampley as "Billie." Shakespeare's Othello provides one of the first portrayals of an African man in western literature. Djanet Sears' award-winning play, Harlem Duet, addresses the question, "Who would Othello be if he were alive today?"

The play reimagines the tale of Othello if, before he married Desdemona, he had first married a Black woman. Harlem Duet is told through the eyes of Billie, Othello's first wife (Oni Faida Lampley), whom he has just left for Mona, a white colleague. It is a blues tragedy set simultaneously in 1860 (before the Emancipation Proclamation), in 1928 during the Harlem Renaissance, and on the corner of Martin Luther King and Malcolm X Boulevards in contemporary Harlem.

For Harlem Duet, Djanet Sears received the 1998 Governor General's Award, Canada's highest literary prize for dramatic writing, as well as the Chalmers Canadian Play Award, the Harry Jerome Award, and a Dora Mavor Moore Award for writing and directing.

Blue Heron Theatre's production of Harlem Duet is being produced in association with the AfriCanadian Playwrights Festival.

Also featured in the cast are Walter Borden, Barbara Barnes Hopkins, and Nyjah Moore Westbrooks.

Set and costume designer by Astrid Janson, the lighting design by Paul Mathiesen, and the sound will be by Allen Booth. Original music composed by Allen Booth and Nioka Workman.

Previews began November 9 with the official opening night slated for November 13. Performances through December 1 at the Blue Heron Theatre, NYC.


LAUGH A LOT


ROBERT SCHIMMEL November 15-16 at The Comedy Connection in Boston. A survivor of non-Hodgkins lymphoma who once was given six months to live, Schimmel managed to retain his sense of humor. He credits listening to comedy CDs and audio books will helping him get through the cancer treatments. Now, everywhere Schimmel performs he asks locals to donate comedy CDs. Then he takes those to a local cancer treatment center. He also donates out of his pocket the money for portable CD players or cassette players if the hospital/treatment center doesn't have them.

BILL COSBY making the crowds laugh tonight in Topeka, Kansas at the Performing Arts Center. On Saturday he is center stage in Mashantucket, CT at Foxwoods Casino.

JERRY SEINFELD telling tales Friday in Memphis at the Orpheum Theatre. On Saturday he'll get laughs in Tampa, Florida at the Tampa Bay Performing Arts Center.

HOWIE MANDEL acting outrageous Saturday in Anaheim, California at the Grove of Anaheim.

JAY LENO and his topical monologues can be enjoyed at the MGM Grand November 15-17.


WHO'S WHERE


WAYNE NEWTON on a USO tour November 18 - 24 to Okinawa and Japan.

MICHAEL MARTIN MURPHY in a two nighter Wednesday and Thursday at the Eau Claire Theatre in Eau Claire, Wisconsin. On Friday he's on stage at Viterbo College in La Crosse, Wisconsin.

LA CHANZE of Broadway's Once On This Island, Ragtime and Company will make her solo concert debut in Lincoln Center's American Songbook series. One of her selections will be a number written by Ragtime composers Lynn Ahrens and Stephen Flaherty is A Song for LaChanze, penned to pay tribute to the death of LaChanze's husband Calvin Gooding, who perished during the Sept. 11 attacks on the World Trade Center. Saturday, November 16 at the Stanley H. Kaplan Penthouse.

DON McLEAN on stage Thursday in Verona, New York at Turning Stone Casino. On Friday he can be found in Elmira, New York at the Clemens Center. He closes out the week, Saturday, in West Long Branch, New Jersey at Monmouth University.

GEORGE WINSTON has been a fan of the Doors for 35 years. He salutes his favorite group with his new solo-piano album, Night Divides the Day: The Music of the Doors. On Wednesday he'll be performing some of those tunes at Abravanel Hall in Salt Lake City, Utah.

BRENDA LEE does a two nighter, Friday and Saturday at the Chip In's Island Resort & Casino in Harris, MI.

MOSCOW BOYS CHOIR singing at the Ellen Eccles Theatre in Logan, Utah on Tuesday. On Saturday they perform in Lufkin, Texas at the Temple Theatre.

JEWEL center stage Wednesday in Newark, New Jersey at the New Jersey Performing Arts Center. On Thursday she is in Purchase, New York at SUNY. Friday the show is in Lowell, MA at the Lowell Memorial Auditorium. She closes out the week, Saturday, at Trump Taj Mahal in Atlantic City.

JOHN PIZZARELLI Monday performs at Avery Fisher Hall in NYC. On Saturday he is at the Bay Street Theatre in Sag Harbor, NY.

INDIA.ARIE has a busy week. Tonight the show is in Charlotte, North Carolina at Ovens Auditorium. On Wednesday the place is the Orpheum Theatre in Memphis. Thursday finds the songbird in Dallas at the Bronco Bowl. Friday she moves down the road to Houston for a performance at the Arena Theatre. On Saturday she is in the spotlight in New Orleans at the Saenger Theatre.

DAVID COPPERFIELD opens a three nighter at the Paramount Theatre in Seattle.

BONNIE RAITT performing Thursday in Palm Desert, CA at the McCallum Theatre.

GREGORY HINES center stage performing Friday in Tyler, Texas at the Cowan Center and on Saturday in Galveston, Texas at the Grand Opera House.

ROBERTA FLACK in the spotlight Monday in Dallas, Texas at the Meyerson Symphony Center. Next Sunday she is singing in Norfolk, Virginia at the Constant Convocation Center.

JO DEE MESSINA starring at the Potawatomi Casino in Milwaukee, Wisconsin.

MICHAEL FEINSTEIN entertaining Wednesday at the South Jersey Performing Arts Center in Camden, New Jersey.

PAUL McCARTNEY on stage Monday, Wednesday and Thursday in Tokyo at the Tokyo Dome.


PIFFLE AND PROFUNDITIES


RICCI MARTIN'S final performance last night of The Dean Martin Tribute: A Son Remembers, at the Riviera Hotel in Las Vegas, had hotel director of publicity John Neeland bringing in Inside Edition. Martin, son of the late crooner, has penned a book and received excellent reviews for his nightclub act, which includes taking questions from the audience. Neeland reports that Ricci Martin has been booked to return to the Riviera next Summer.













Next Column: November 17, 2002
Copyright: November 10, 2002. All Rights Reserved. Reviews, Interviews, Commentary, Photographs or Graphics from any Broadway To Vegas (TM) columns may not be published, broadcast, rewritten, utilized as leads, or used in any manner without permission, compensation and/or credit.
Link to Main Page
---
Laura Deni



U.S. Postal Address: Post Office Box 60538, Las Vegas, NV 89160
CLICK HERE FOR COMMENT SECTION