! >
Broadway To Vegas
  SHOW REVIEWS     CELEBRITY INTERVIEWS     GOSSIP     NEWS 
PREFERRING TO WALK


Celebrities are a wandering brood - by necessity having to travel where the call board takes them. Many times the first class airplane ticket includes the million plus salaries and assorted perks.

If you're a white knuckle airplane traveler take heart - so are many of the superstar elite.

Mel Brooks who has enough moxie to pen a little ditty called Springtime for Hitler, part of his show The Producers, which he is getting ready for Broadway and will star Nathan Lane. The acclaimed actor/writer/producer isn't afraid of stage fright or the critics. It's flying in that tin tube that causes shear terror.



GEORGE CLOONEY in Batman and Robin almost experienced Holy Plane Crash!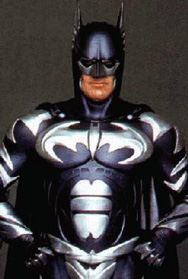 The first time he ever met Rosie O'Donnell she was a relative unknown and he was a terrified passenger. On her talk show Rosie recalled that he asked to sit next to her on the plane, grabbed hold of her hand and talked non stop trying to swage the panic of being off terra firms.

George Clooney wasn't sure it was safe for Batman to fly in what might have been Holy Plane Crash! During a promo tour for that film Clooney, Chris O'Donnell who played Robin and Uma Thurman who was Poison Ivy, were aboard the Warner Bros' jet when the pilot cut one of the engines.

The three megastars thought they were going to die.

At the time it was reported that a flight attendant began screaming while the one who kept her cool when everybody else was losing theirs was Thurman, who showed passengers how to get into a safety position. Fortunately the crash instructions didn't get beyond the rehearsal stage.

Whoopi Goldberg doesn't like her feet off the ground, either. She travels by bus.

Joanne Woodward refuses to fly. So does Aaron Spelling and Aretha Franklin.


ON THE BOOB TUBE


DANNY GLOVER will host Courage a weekly reality series which profiles real-life acts of extraordinary courage performed by everyday people. Glover also is the executive producer of the show which launched Aug. 28.

WHOOPI GOLDBERG is the executive producer of Strong Medicine starring Janine Turner and Rosa Blasi as two strong willed women physicians who are forced to run and collide at a free woman's medical clinic in Philadelphia. Goldberg will also appear on the show throughout the season.. That will air on Lifetime beginning in July.

BONNIE BEDELIA AND NANCY McKEON have signed to star in City Lights, a prime time drama about the lives of five female police detectives in San Francisco. That will debut in January.

DELTA BURKE is developing an hour long, reality based, daytime series for Lifetime that will discuss self-esteem issues.

NATHAN LANE is lending his voice to a new half-hour ABC animated series Teacher's Pet.



NATHAN LANE will give Spot a voice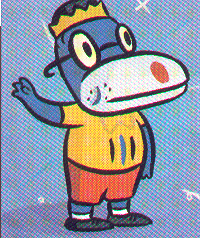 The series revolves around the adventures of a boy and his dog named Spot, who will be voiced by Lane. The successful Broadway and movie star hasn't fared so well on the smaller screen. His last foray into the small box was as star of Encore! Encore! which didn't even generate mild applause.

What has hit written all over it is Neil Simon's comedy Laughter on the 23rd Floor about Simon's years as a writer for Sid Caesar's Show of Shows.

Lane will reprise the role he created on Broadway, that of the Sid Caesars like persona.

Also starring will be Peri Gilpin, Victor Garber , Saul Rubinet, Dan Castellaneta, Mark Linn-Baker, Richard Portnow, Zach Grenier and Mackenzie Astin. Richard Benjamin will direct.



Broadway To Vegas is supported through advertising and donations. Priority consideration is given to interview suggestions, news, press releases, etc from paid supporters. However, no paid supporters control, alter, edit, or in any way manipulate the content of this site. Your donation is appreciated. We accept PAYPAL. Thank you for your interest.


CULTURAL ARM FLAPPING


The first African-American to lead many of his country's major orchestras, James DePreist, didn't let polio stop him from becoming a preeminent conductor. He simply relearned how to walk. And, recently when kidney disease forced him to undergo dialysis treatments, he merely rearranged his touring schedule.

He's headed the Portland-based Oregon Symphony since 1980, during which time he's credited with transforming it into one of the country's more accomplished regional orchestras. He orchestra also boasts the highest per capita subscriber base in the country. He has previously announced that he will step down at the end of the 2004-05 season.

The 63-year-old conductor will be making his Florida Philharmonic debut, leading the Florida Philharmonic on Tuesday at Florida Atlantic University in Boca Raton and on Wednesday he'll be waving his arms at the Kravis Center in West Palm Beach.

The Fresno, California Philharmonic Association is also looking for a conductor to succeed Raymond Harvey who led the musicians for seven seasons. The search for the holder of the baton has been narrowed from a field of 200 to seven who will compete during the coming symphony season. They are;

William Eddins, resident conductor of the Chicago Symphony Orchestra. One of the youngest graduates of the Eastman School of Music at 18, he has guest-conducted throughout the United States and in Spain, Germany and South Africa.

Alfred Savia, music director of the Evansville (Ind.) Philharmonic and principle guest conductor of the Orlando Philharmonic. Daniel Lipton, music director of the Anhaltische Philharmonic in Dessasu, Germany, and of Opera Hamilton in Canada.

Jack Everly, who just ended a 14-year tenure as music director of the American Ballet Theatre. Theodore Kuchar, artistic director of the National Symphony Orchestra of the Ukraine, music director of the Boulder (Colo) Philharmonic and director of orchestral studies at the University of Colorado.

Douglas Sanford, award-winning clarinetist and music director of the Okanagan Symphony in Vancouver, British Columbia and Aram Gharabekian, music director of National Chamber Orchestra of Armenia, artistic adviser and conductor of the Ukrainian National Symphony and the Boston SinfoNova Orchestra.


NEW YORK POPS GALA
SKITCH HENDERSON and his wife RUTH with the guest of honor SCHUYLER CHAPIN and his wife CATIS.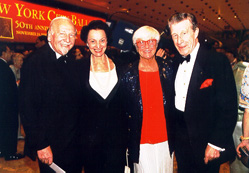 On Monday, May 15 the New York Pops Gala, A Cultural Affair honors New York City Commissioners of Cultural Affairs Schuyler Chapin, and the concert will feature performances by The New York Pops with conductor Skitch Henderson, Kevin Kline, William Warfield performing his Grammy winning recital of Copeland's Lincoln's Portrait, Marin Mazzie, Marnie Nixon, Sally Ann Howes, Barry Boswick, who will bring back many of the original cast members of Grease after 28 years, and hosts Mary McEwen, Peter Jennings, and Liz Smith.

This 17th birthday gala concert and dinner benefits The New York Pops, its educational programs, and Summer music concerts. Gerald Schoenfeld, chairman of The Shubert Organization is the Gala Chair. Honorary chairs are Mayor Rudolph W. Giuliani with Elaine and Philip Hampton and Paula Gabriele and Thomas E. McInerney serving as corporate chairs.

The cultural cabinet includes; Betty Allen-Lee, Lauren Bacall, Tony Bennett, Jamie Bernstein, Nina Nernstein Simmons, Adolph Green and Phyllis Newman, Marilyn Horne, Peter Jennings, Andre Previn, Stephen Sondheim, Isaac Stern, Peter Schaffer.



Marilyn Horne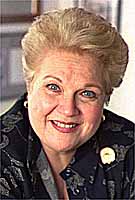 The gala committee is composed of: Mrs. Vincent Astor, Jean and Ralph Baruch, Mr. and Mrs. Sid R. Bass, Catia Chapin, Mr. and Mrs. Norton Belknap, Elizabeth & Alexander Bernstein, Mr. and Mrs. Robert Bradford, Mr. and Mrs. William F. Buckley, Jr., Barbara Chancellor, Catia Chapin, JoAnna and Theodore S. Chapin, Mr. & Mrs. Miles Chapin, Carolyn Buck Church & Forrest Church, Skitch and Ruth Henderson, Franz Xaver Ohnesorg, William D. Rondina, David Rockefeller, Felix G. Rohatyn, Susan & Elihu Rose, Mr. & Mrs. Arthur Ross, Patricia Schoenfeld, and Marylou Whitney & John Hendrickson.

Few individuals have participated in - and had such a broad impact on the cultural life of New York City as Schuyler Chapin . First married to a Steinway, close friend of Astor's, Berstein's, Rohatyn's, Rose's and Rockefeller's, to name a few, Schuyler Chapin has live d an exciting life that has included danger as a pilot in China-Burma-India in World War II which turned him over to NBC television in the late 1940s and 1950's as a writer, announcer and then publicist. He was a tour manager for Jascha Heifetz, a manager/agent for Gary Graffman and Richard Tucker, record producer for Issac Stern, the Mormon Tabernacle Choir, Igor Stravinsky, Leonard Bernstein, and Eugene Ormandy, and as an executive of Lincoln Center and the Metropolitan Opera.


SANITY CHECKS AND GRIEVANCES


Recently one of the more interesting reasons to catch a Broadway show is the anticipation that one of the stars will lose his cool. The condition appears to be contagious.

First there is Mandy Patinkin who has outraged both actors and critics with his unpredictable antics in his role of Burrs, a gin-swilling, girlfriend beating, psychotic vaudeville loser. Patinkin who enjoys telling people that his first name of Mandy means "nuts" has gotten himself entirely too involved in the plotline. He's missed over a dozen performances, and both hit and spit water in the faces of his fellow actors. Perhaps he'll make a return appearance on his old Chicago Hope series only this time instead of playing a physician he can portray a mental patient. It won't take a lot of rehearsal.



Patrick Stewart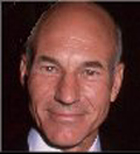 Then comes Patrick Stewart who is reprising his role in The Ride Down Mt. Morgan. The first time around he got beaned on the head by a piece of falling scenery. Maybe that did some damage.

Last week the actor broke character and addressed the audience in front of the curtain. He took center stage and publicly attacked the producers of the drama for failing to properly promote and advertise the show as promised.

Gerald Schoenfeld, chairman of the Shubert Organization and lead producer of the drama, didn't think much of the performance and responded by filing charges against Stewart with Actors Equity seeking an apology from Stewart "in the same manner in which his charges were made against them." That means they want Stewart to deliver the apology as a curtain speech from the stage of the Ambassador Theater, where this drama has been playing to near capacity audiences.


RUN AWAY AND JOIN THE CIRCUS: AUDITIONS


Cirque du Soleil auditions will be June 4 in Orlando, Florida for artistic and rhythmic gymnastics, trampoline, tumbling, acrosport and circus acts.

When performers audition they are not informed for which production they could be hired. Once hired by Cirque du Soleil, performers spend five months in Montreal taking workshops in dancing, acting, specific skills and stage presence, as well as working on their acts.

More than 400 performers from 30 countries have performed with Cirque du Soleil. Although most performers have a gymnastics background, some come from circus schools or ballet companies.

For more information contact Cirque du Soleil in Montreal, Canada for fax them at (514) 723-7614.


OTHER PEOPLE'S MONEY


ANDRE AGASSI has announced the recipients of his Andre Agassi Charitable Foundation grants totaling $1.45 million.
The largest grant - $750,000 - was awarded for the start-up of a character school to open in Las Vegas in September 2001. Another $189,716 was given to the Andre Agassi Boys & Girls Club. Other recipients included $550,00 for the I Have A Dream Foundation, $5,000 for Youth concert Series and a $100,000 University of Nevada, scholarship.

BOBBY BEROSINI whose Lido de Paris show starred performing orangutans performed at the Stardust Hotel, Las Vegas through the late 1980s has paid People for the Ethnical Treatment of Animals (PETA) $340,000 to cover court costs and interest PETA incurred when they squared off in court against Berosini. Berosini filed a complaint alleging that PETA members doctored and distributed a videotape of him striking one of his primates backstage at the Stardust. PETA faced a $3.1 million defamation judgement in 1990 which was reversed by the Nevada Supreme Court in early 1994. After the rehearing, the court in May, 1995 again ruled that Berosini was not entitled to the judgement, Legal fees were awarded to PETA in 1996 by District Judge Nancy Becker. The state Supreme Court reduced the award. ruling that Berosini must pay PETA about $200,000 in trial costs, plus interest.

SUSAN BAY-NIMOY wife of Leonard, is a trustee of the Museum of Contemporary Art. At their recent MOCA Art Auction 2000 it was Bay-Nimoy who purchased a bronze Nature Study by sculptor Louise Bourgeois for the top price of $75,000. In all the fund-raising gala sold $1.1 million worth of art.



GREASE which opened at the MGM Grand in Las Vegas has reunited Cindy Williams and Eddie Mekka who played sweethearts on Laverne and Shirley.



EDDIE MEKKA AND CINDY WILLIAMS share a hug at the press party while Eddie's gorgeous wife in the background mingles. Photo By: Laura Deni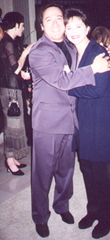 At the party in the penthouse on the 29th floor of the MGM-Grand Hotel in Las Vegas both Cindy and Eddie are charming.

Williams doesn't look a minute older than she did on the Laverne and Shirley series something she attributes to "my mother and inheriting good skin genes. Also, I'm Italian."

"Yeah," chimed in Mekka. "It's the oil."

Williams agreed.

As for Mekka, who lives in Las Vegas, being cast in Grease has jump started his career.

"I don't mean to sound bitter, but phone calls I made two years ago to producers looking for work are now being returned."

They may be a bit late.

Mekka and Williams are doing a six-month tour of Grease including playing Westbury in the round, which the stars feel will be an interesting challenge.

ROBERT WAGNER AND JILL ST JOHN on the road with Love Letters make a stop at the Admiral Theatre in Bremerton, WA on May 12. The next night it is center stage at the Idaho Falls Arts Council at Idaho Falls, ID.




ABBEY ROAD: ORIGINAL IRISH PLAY w/MUSIC opened last night at the Odyssey Theatre in Los Angeles. Written by Patricia M. Mahon and based on her grandmother the production stars Mary Carver, Marta Collier, Dave Florek, Bryan Lee Smith and Gregory White. Musical director is Pattia Kelly.

THE DROWNING PAGES by Edgar Oliver stars Deborah Harry of Blondie fame, as the madwoman in the mirror Performances tonight and again on May 10th and 14. LaMaMa E.T.C. in New York City. This four night run is twice as long as her previous legitimate outing. That was Teaneck Tanzai and the Venus Flytrap by Claire Luckham, in which Harry co-starred with Andy Kaufman in a series of staged wrestling matches between Harry's character and other people in her life. That ran for two performances.

TITANIC THE MUSICAL at the Historic Orpheum Theatre in Minneapolis May 16-21.

SELENA FOREVER a musical about the life of slain tejano singer Selena Quintanilla Perez will be staged May 11-14 at the Universal Amphitheatre, which has a history of promoting Latin concerts.

PHANTOM OF THE OPERA has opened a seven week run at the Allen Theatre in Cleveland, OH. The production has turned into permanent employment for 28-year-old Rebecca Pitcher who went from selling clothes at Eddie Bauer to the lead role of Christine in Phantom, performing in the production in seven cities including in New York on Broadway. The production was in Seattle Washington prior to the Cleveland opening. The Pitcher family has turned Phantom, into a family occupation. Her brother is with a touring company of the production performing in Belgium. As for Rebecca she's just signed on for another nine months with the touring company.


WHO'S WHERE


BARBARA BUSH this evening will takes to the stage at the Broward Center for the Performing Arts, in Florida. She's the fourth and final speaker in the "talk theater" series "Unique Lives and Experience."

ANDY WILLIAMS AND GLEN CAMPBELL will perform duets together for the first time ever or any stage when they team up their distinctive styles to perform Sept 6-Oct. 28 at the Moon River Theatre in Branson, MO.

ELAINE PAIGE known as the leading lady of the British musical theatre has opened in the revival of The King and I in The mezzo-soprano created the role of Grizabella in Andrew Lloyd Webber's Cats in London and was thus the first person to publicly sing Memory. Paige was also the first performer of Eva Peron in Webber's Evita in 1978. She has also released 14 albums of Broadway and popular songs.

MICHAEL FEINSTEIN takes to the stage May 13 at George Mason University in Fairfax, VA and then performs at a private event for the Providence College Auditorium/Alumni Association in Providence, RI on May 29.

SIAN PHILLIPS makes her American cabaret debut at the Firebird Cafe, NYC beginning June 7 with performances through June 23. Phillips was on Broadway in Marlene. and no doubt that has influenced her cabaret act which is called Falling In Love Again.

BETTY BUCKLEY will be at the Beverly Hills, CA Rizzoli Bookstore on Thursday for a CD signing and to read excerpts from the Grammy nominated The Diaries of Adam & Eve.

GALLAGHER brings his watermelon bashing to the Paramount Arts Center in Ashland, KY on May 13.

JANIE FRICKE bring her act to the Pershing Auditorium in Lincoln, NE on May 14.

MIKHAIL BARYSHINIKOV and the White Oak Dance Project, which is Baryshnikov's modern dance company, is a must see for dance lovers. May 23-24 at the King Center, Florida.

DONNA HANOVER was set to gab along in the controversial The Vagina Monologues on Broadway and then star opposite Courtney Love in Julie Johnson. Hanover was cast to play a math professor's sophisticated spouse who befriends New Jersey housewives played by Love and Lili Taylor, who has the title character part, who is a math whiz. This wouldn't have been the first time Hanover and Love have worked together. They were both in The People vs. Larry Flynt. However, with her husband Mayor Rudolph Giuliani announcing he has prostate cancer, Hanover has announced that she has postponed her appearance in The Vagina Monologues.


THIS AND THAT


ANGELINA JOLIE AND BILLY BOB THORNTON made it legal at the Little Church of the West in Las Vegas on Friday. Both wore jeans.

THE MUSIC MAN which is a huge success on Broadway is making the good folks of Mason City, Iowa mighty proud.

The birth place and boyhood home of Meredith Willson, composer of The Music Man is open for tours.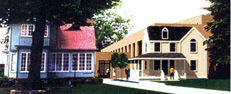 They are also geared up for an extra heavy tourist season, thanks to the hit revival at the Neil Simon theatre. The Meredith Willson Boyhood home at 314 Pennsylvania Avenue in Mason City opened last Friday for the tourist season. Hours are 1-4 Friday through Sunday through October.

Groups may arrange for tours for any day.

The restored Queen Anne house, part of The Music Man Square currently under construction, was the birthplace and boyhood home of Meredith Willson.

SCOTT WOLF of Party of Five fame, telling friends that he's anxious to return to Broadway. He did a turn in SideMan and fell in love with Broadway theater.



Mention BROADWAY TO VEGAS for Special Consideration
Call (800) 942-9027









Next Column: May 14, 2000
Copyright: May 7, 2000. All Rights Reserved. Reviews, Interviews, Commentary, Photographs or Graphics from any Broadway To Vegas (TM) columns may not be published, broadcast, rewritten, utilized as leads, or used in any manner without permission, compensation and/or credit.
Link to Main Page
---
Laura Deni


CLICK HERE FOR COMMENT SECTION