! >
Broadway To Vegas
  SHOW REVIEWS     CELEBRITY INTERVIEWS     GOSSIP     NEWS 
| | |
| --- | --- |
| | |
Copyright: May 6, 2001
By: Laura Deni
CLICK HERE FOR COMMENT SECTION

FALLING INTO THE BLACK HOLE OF SATELLITE TRANSFER

This site has been missing in action for the past few days because we were changing IP servers and somebody needed to move a satellite.

We thought chanting in the back-yard would do it, but apparently not.

All of those technical people have finally screwed their nuts and bolts and we are moved and back in business.

We apologize for any inconvenience and would like to suggest that if you haven't already seen what Ruby Dee has to say - her wisdom is worth reading. Her interview can be found in the column of April 29, 2001.

INTROSPECTIVE AND TOE TAPPING
Two musical revivals have opened on Broadway - Follies and 42nd Street. One's introspective and the other toe tapping - and both are worthy to see.

First to pull up the curtain was Follies which has received mixed reviews.The public has put its own opinion on record by purchasing tickets, extending the production until at least January.

Go see the show if not for any other reason that to appreciate the talent on stage and to hear Polly Bergen in the role of Carlotta, the fading film star, stop the show cold singing I'm Still Here,


Judith Ivey, Treat Williams, Blythe Danner and Gregory Harrison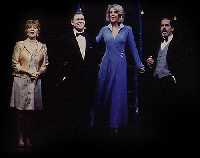 Stephen Sondheim's Follies at the Bellasco theatre is considered by many to be one of the greatest musicals of all time. Follies takes place onstage at the once-spectacular, but now crumbling Weissman Theatre, where on the eve of its demolition to make way for a new parking lot, a reunion of Follies showgirls and the ghosts from their past - remember - one last time what was could have been.

This is not a production with a simple story or a straight plot line. It's not fluff and gloss. Rather, this revival has more hues on the color spectrum, more introspective depth in this scaled down version.



POLLY BERGEN stopping the show singing I'm Still Here.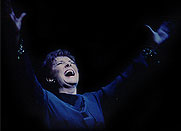 Blythe Danner and Gregory Harrison play the upscale and aloof Benjamin and Phyllis Stone. They've achieved the American brass ring dream only to discover the tarnish Judith Ivey and Treat Williams are perfectly cast as Sally and Buddy Palmer. She's a woman who married the right man for the wrong reason and spent a lifetime trapped in lost desire. Williams is excellent as the neglected husband who rationalizes his extramarital affairs. During the Follies reunion their unhappy marriages face reality.

Surrounded by the ghosts of their younger selves the old pros are permitted one final opportunity to recreate what might have been.

The cast is exceptional; Betty Garrett, Jane White, Carol Woods, Marge Champion, and Donald Saddler.

This Roundabout production, directed by Matthew Warchus and choreographed by Kathleen Marshall, is the first major New York staging of Follies since it was first presented on Broadway in 1971. James Goldman (Book) Stephen Sondheim (Music and Lyrics) Matthew Warchus (Director) Kathleen Marshall (Choreography), Mark Thompson (Set Design) Theoni V. Aldrege (Costume Design) Hugh Vanstone (Lighting Design) Jonathan Tunick (Orchestrations) John Miller (Music Coordinator) David Chase (Dance Arranger) Paul Huntley (Hair Design) and sound design by Las Vegas resident Jonathan Deans.

42nd Street is the toe tapping production which has already won an Outer Critics Circle award for Outstanding Musical Revival and tied Christine Ebelsole (with Marla Schaffel of Jane Eyre) as Outstanding Actress in a Musical.

Based on the 1933 movie of the same name 42nd Street has been staged many times, including a production in Las Vegas. This much anticipated Broadway revival stars Michael Cumpsty as the director/producer in need of a comeback. Christine Ebersole is Dorothy Brock, the sugar daddy kept spoiled diva who breaks her leg, Kate Levering as ingenue tap-dancing show-saver Peggy Sawyer. Mary Testa and Jonathan Freeman are cast as the writers of the show within the show.

A highlight of the show is always the Busby Berkeley type mirror dance. Berkeley was the choreographer who pioneered the extravagant production numbers with hundreds of women moving symmetrically to create an abstract form - and of course the production number We're in the Money.

Book by Michael Stewart and Mark Bramble. Based on the novel by Bradford Ropes. Music by Harry Warren; Lyrics by Al Dubin; Originally produced on Broadway by David Merrick; Original direction & choreography by Gower Champion, Choreography by Randy Skinner; Scenery by Douglas W. Schmidt; Costumes by Roger Kirk.

You can come and meet those dancing feet in this production of 42nd Street at The Ford Center for the Performing Arts.


JERRY VALE TELLS ALL

Don't heckle Jerry Vale. One guy who did was beaten up by the mob. When Johnny Carson destroyed a Vale performance, he wasn't worked over - although he has spent thirty years apologizing for opening his mouth. And then there are those eyewitness accounts about celebrity sex.



JERRY VALE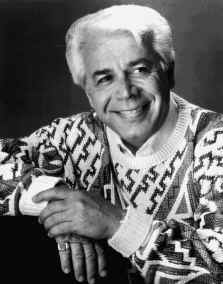 Jerry Vale, the handsome Bronx born crooner who first took the stage name Jerry Como in honor of idol Perry Como, has quietly put together an antidotal book, which dishes the dirt on celebrities and the mob.

All sorts of fascinating tidbits can be found in Jerry Vale A Singer's Life with a forward by Buddy Hackett.

Last week Vale completed another sold out engagement at Boulder Station in Las Vegas.

It was the latest in a series of Vegas dates that began when Frank Sinatra brought him to Vegas as a lounge singer. It was Jerry Lewis having bad teeth that elevated Vale to a main room star. Vale was performing in the lounge of the Sands Hotel when Lewis, who was starring in the main room, needed dental work and bad weather prevented him from returning to Vegas in time for his show. Entertainment director the late Jack Entratter, asked Vale to replace Lewis. That sent a message to other entertainment directors that Vale was capable of holding a main room audience.



The ballad singer started topping the charts during the 50s and 60s, thanks to singer Guy Mitchell who recommended him to Columbia Records' A&R manager, Mitch Miller after hearing him sing in a small nightclub.

His first chart entry for the label,You Can Never Give Me Back My Hear (1953), on which he was accompanied by Percy Faith And His Orchestra, was followed by Two Purple Shadows, I Live Each Day, Innamorata and You Don't Know Me (1956). Despite the 60s rock beat, Vale charted with singles such as Have You Looked Into Your Heart? (1964), and entered the US Top 40 album chart six times between 1963 and 1966. His signature tune, Al Di La, the winner of the San Remo Song Festival in 1961.



THIS JERRY VALE HIT WAS WRITTEN BY STEVE ALLEN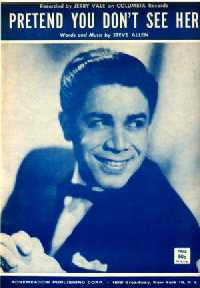 Along the way he picked up enough experiences to fill several books.

The singer's recollections of Johnny Carson are alcohol laden. Vale was appearing in Vegas and renting a house owned by Carson's company. The place came furnished, including a housekeeper who talked too much. The woman loved to divulge Carson capers, including his severe drinking days when she says he would come home so drunk that had to crawl on the floor to make it to the bedroom.

Vale recalls how Carson once ruined his show at the Copacabana in The Big Apple. It was only Vale's second engagement at the Copa and the young singer was eager to make a good impression. At that time Carson was doing The Tonight Show from New York City. Sitting ringside Carson constantly interrupted - spewing out vulgarities

Afterwards Vale was informed that Carson was so drunk he had to be placed in a cab and sent home.

"It's now almost thirty years later and every time he sees me he tells me how sorry he is about that night. Johnny does not drink anymore. I believe it wasn't Johnny heckling me that night, it was the alcohol in his brain speaking. It's always the alcohol or the drugs. Rational people simply do not act that way in public.



DEAN MARTIN and JERRY VALE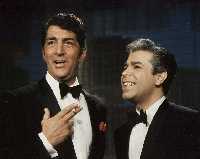 Vale got tapped by Martin Scorsese for a role in GoodFellas because Martin's mother, Katie, is an avid Vale fan - to the point of fainting.

Vale's part in the movie was filmed at the Copa and Scorsese informed Vale that his mother was coming to the set to see Jerry and "when she sees you she's going to faint." She did

When Katie Scorsese arrived Vale embraced her and gave her a kiss.

The woman keeled over. Turns out the poor woman didn't swoon over Jerry - she had heat exhaustion.

He was also capable of holding the attention of the mob.

If any mob family didn't like you, you were a dead man. If the "connected guys" took a shine to you, the devotion could be a hindrance to the health of anybody who was presumed an annoyance Case in point - a Vale engagement at The Frolic Club in Revere Beach, near Boston. A guy in the audience became loud and refused to pipe down. Upset at having his performance destroyed Jerry wanted to go out and talk to the man when club official Leo Santanello told Jerry to relax - that he'd take care of things. Jerry went to his dressing room. About ten minutes later Leo came into Vale's dressing room and informed him that the heckler had been "spoken to." Jerry thanked him. What Vale didn't know was that Leo was one of the " Boston big bosses" and had given the order to have the audience annoyance thrown down a flight of stairs and then beaten up.

The way in which Vale discovered that singer Johnny Ray wasn't a heterosexual mortified him. The meeting was in St. Louis. Vale attended Ray's show at the Chase Hotel. Afterwards, Vale, song plugger Bernie Lang, Johnny's road manager, and Johnny who was the hottest act in show business with his chart topping Cry went up the Johnny's suite. A man that Johnny knew was already in the suite waiting to surprise Johnny.

It was Vale who was surprised.

"When Johnny saw him he fell to his knees and starred deep into his eyes for an embarrassing five minutes, never uttering a single word. I was truly mortified. I made excuses and left. I was not aware that Johnny was gay until that moment. He was actually bi-sexual."



JOHNNIE RAY considered by most musical historians as the "missing link" between Frank Sinatra & Elvis Presley, was the first entertainer to actually grab a standing microphone from the stand while in front of a live audience. The crowd went wild.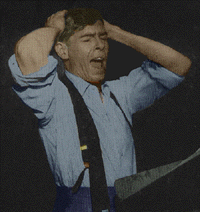 "Johnny's fame didn't last too long. But, while he was hot he was really the hottest act in show business. He got into trouble twice on morals charges, fought heavily with Frank Sinatra, had strange affairs, including one with columnist Dorothy Kilgallen, accompanied Judy Garland on her chaotic, bizarre final tour, and ultimately collapsed at a very young age from years of alcohol and drug abuse."

The books also contained some heart wrenching segments

One night Jerry was working the Palmer House in Chicago. He was informed that a group Filipino nurses were in the audience and some had brought records for him to sign. After the show he went out front to met them and autographs the records.

Later while performing in Washington, D.C. he heard a report that eight nurses were murdered in Chicago by crazed killer Richard Speck. Life magazine printed the story with photos stating that among the last things one of the nurses did was to send some Jerry Vale albums to her fiancee back home.

"I cried for those girls and still think about them," recalled Jerry.

He was performing in Chicago when he got the call informing him that his grandmother and aunt were included in the 51 people who perished when the cruise ship Andre Doria collided with passenger ship Stockholm. Their lower level cabin has received a direct hit. His uncle Benny was spared only because he had gone to the upper outside deck to have a cigarette. Thrown into the water he was rescued by members of the Stockholm. Investigation and court proceedings revealed that the radar attendant fell asleep on the job. Benny was awarded an almost insulting $4,000 for his wife's death.

Then there was the time the Vales, avid sports fans, were in Miami with their good friend Milt Pappas a Baltimore Orioles baseball pitcher. Jerry was watching a pre-season game when word came that Jerry's wife, Rita, had been rushed to the hospital suffering from an etopic pregnancy. She'd lost a lot of blood and underwent emergency surgery. Pappas told the team and faster than you can say home run the Baltimore Orioles lined up to donate.

Vale has decades of ancedotes. The book is chronicled in an informative fashion that makes it easy to look up a person, place or event. Unfortunately, the book is not tight and smartly written. It reads like an excellent first draft that somebody forgot to re-write and then polish.

I'm not sure whether my copy is defective or if this is the worst print job that ever rolled off a press. The ink is too light, making reading difficult and the fabulous, interesting pictures are poorly reproduced.

Never-the-less Jerry Vale is a man who has the stories to prove he'd lived a fascinating life. Jerry Vale - A Singer's Life by Richard Grudens from Celebrity Profiles Publishing lists no editor- although this tomb is badly in need of a good one. It's an easy read - a perfect summer escape. And, if you see the name Jerry Vale on a marquee check out the show - the singer puts on a great performance.



Broadway To Vegas is supported through advertising and donations. Priority consideration is given to interview suggestions, news, press releases, etc from paid supporters. However, no paid supporters control, alter, edit, or in any way manipulate the content of this site. Your donation is appreciated. We accept PAYPAL. Thank you for your interest.


SWEET CHARITY

THE RAINFOREST FOUNDATION founded by Sting, will have a special event at The Supper Club, NYC on May 7. The theme is a tribute to "Blue Eyed Soul". African American Broadway veterans will perform music made famous by such white soul singers as Hall & Oats and The Righteous Brothers. Phylicia Rashad hosts the event with guests Andre DeShields, Stanley Wayne Mathis, Michelle M. Robinson and Adrianne Lenox performing. Zane Mark, dance music arranger for The Full Monty is music director.

ROUNDABOUT THEATRE COMPANY'S SPRING GALA honoring Stephen Sondheim takes place tomorrow. They'll be a special 6:45 p.m. curtain of Sondheim's Follies at the Belasco Theatre, followed by a 9:30 dinner at Cipriani. Chairing the event are Bernadette Peters, Jane Krakowski, Diane and Tom Tuft, Tom Gleason and special guest star Elaine Stritch, who will share anecdotes about her work with Stephen. Other celebrities slated to be there include Natasha Richardson, Dudley Moore, Yogi Berra, Nathan Lane and, of course, the entire cast of Follies. Proceeds benefit the Roundabout's Great American Musical Series Fund.


APPLAUSE, APPLAUSE

ARTHUR MILLER received the Lifetime Achievement Award at the New Dramatists' luncheon May 17.



THE BROADWAY THEATER COMPANY OF LAS VEGAS intends to bring "full (Broadway) versions, with big costumes, big sets" to the Orleans Hotel in Las Vegas, according to the company's executive producer Christopher Thompkins.

Each production will feature a marquee name. The inaugural seasons opens Dec, 21 with Mame starring Anne Jeffreys. That will be followed by Dreamgirls starring Marilyn McCoo and Bill Davis and wrap with Damn Yankees starring Tab Hunter, who hasn't been on stage in 20 years.

Hunter will view this stage version from a different prospective - playing the Devil. In the 1950's film version he played young Joe Hardy.

Each show will run for three weeks, with eight shows per week.

A THOUSAND CLOWNS starring Tom Selleck (see Broadway To Vegas column of March 5, 2000) begins previews July 4 at the Longacre Theatre, NYC after road work in Chicago and Boston. Herb Gardner's beloved romantic comedy about a television writer, his twelve year old nephew, and the social workers who invade their happy, if unconventional, home. Selleck will star as Murray Burns, the non-conformist hero, who believes that "you have to own your days and name them, or each one of them, or else the years go right by and none of them belong to you. Shubert Theatre Chicago June 5-17.

CHAUCER IN ROME by John Guare. Directed by: Nicholas Martin It's 'Holy Year' and tens of thousands of Catholic pilgrims have descended on Vatican City among them Dolo and Ron Shaughnessy from Sunnyside, Queens. You may remember Ron as a character from Blue Leaves the rebellious young son who went AWOL from the Army. In this new play, he is now middle-aged with a son of his own named Pete, an art historian studying at the American Academy in Rome on a 2-year fellowship.

Sets: Alexander Dodge Costumes: Michael Krass Lighting: Donald Holder Sound: Mark Bennett Cast: Susan Finch, Polly Holliday, Dick Latessa, Nancy McDoniel, Tim McGeever, Bruce Norris, Carrie Preston Antonio Edwards Suarez, Jon Tenney, Grant James Varjas, Lee Wilkof. Mitzi E. Newhouse Theater, NYC. May 10, 2001 to July 29.

TEXAS BOUND from Arts and Letters Live In Dallas. Stories by Larry McMurtry, Judy Trop and Lynna Williams, read by actors Angelina Phillips and Cherry Jones. May 9 Symphony Space, NYC.

UNCLE VANYA Denver Performing Arts Complex May 10-June 16.

3HREE the trio of one-act musicals by Hal Princ consists of The Flight of the Lawnchair Man, a comic look at man's desire to fly. Robert Lindsey Nassif and Peter Ullian penned the piece, based on a true incident, about an average fellow who hopes to soar by attaching hot air balloons to his lawnchair. Also on the bill are The Mice, by Laurence O'Keefe, Nell Benjamin and Julia Jordan, directed by Brad Rouse John Bucchino and James Waedekin's Lavender Girl, with Scott Schwartz directing. The choreographer is Rob Ashford Continues at the Ahmanson Theatre, Los Angeles through June 10.

THE OKEECHOBEE SPLIT by Ralph Pezzullo set in present-day Okeechobee, Florida; the play tells the story of Captain Remington Johnson, an ex-military officer who was booted from the Navy for insubordination and now spends his time trying to breed extinct fish as part of his latest get-rich-quick scheme. He lives with Lupe, a Cuban refugee he found washed up on the beach; and his romantic, hero-worshiping son Osceola, who's half Seminole Indian Into this mixture comes the Captain's wheel chair-bound brother, who he hasn't seen in forty years. The brother, one Dr. Walter, a professor of Political Science, arrives with Tina, his sexy graduate assistant (did we mention she's Polish?) and a video tape containing a message from their long-lost father. And what about the matter of a family treasure, and just how did Dr. Walter end up in that wheelchair anyway?? As our cast of characters get to know each other - some much more intimately than others - old secrets are revealed and fears and realities confronted. There's also the issue of the brothers' long-dead sister. Or is one of them really a transvestite?

Theater for the New City, now in its 31st year, is a unique cultural institution that has earned a nationwide reputation for its dedication to nurturing established and emerging playwrights. TNC playwrights and artists have garnered 43 Obie Awards, the Pulitzer Prize, 10 Rockefeller fellowships, 5 ASCAPS, a Bessie, as well as the Manhattan Borough President's award for public service and artistic excellence in theater.

An Equity-Approved Showcase, Pezzullo's Okeechobee Split runs from May 3rd - May 20th at Theater for the New City, NYC.

THE CIVIL WAR Tampa, FL at the Tampa Bay Performing Arts Center - May 8 - 13.

THE RIGHT WAY TO SUE a madcap urban comedy about Maggie, an ambitious upper Westider with a career, a co-op, a husband, and a new baby. But Maggie keeps losing the baby - in cabs, at the dry cleaners, even in the cheese case at Zabar's. When a really irked teenager named Sue steals the baby the panic stricken Maggie is guided by a hairspray addict and a male SuperMom into exploring the issues of family, bonding and what it really means to be a "good mother." Written by Ellen Melaver Anne Kauffman directs Kelly AuCoin, Stephanie Brooks, Robert English, T. R. Knight, Caitlin Miller, and Jennifer Morris. Presented by the Obie-award winning theatre company New Georges. Previews begin May 19 at HERE, NYC.

BRIGADOON continues at the Goodspeed Opera House where that blissful Scottish village that comes to life only once every hundred years emerges from the misty glen on the Goodspeed stage. Brigadoon is Alan Jay Lerner and Frederick Loewe's mystical tale of a love that transcends time. When two weary American hunters lose their way in the highlands of Scotland, they soon discover a small and mysterious village called Brigadoon not found on any map. As the blessed town prepares for a much-anticipated wedding, the restless New Yorker Tommy falls in love with the fair lassie Fiona, only to learn of the secret of Brigadoon an immutable miracle that will forever alter Tommy's life.

Brigadoon which opened on Broadway in 1946, boasts a tender and evocative score that includes such standards as Almost Like Being in Love, The Heather on the Hill and Come to Me, Bend to Me.

Robert Bartley is returning to Goodspeed Opera House, where he last performed in the pre-Off-Broadway production of Cy Coleman's Exactly Like You to take over the role of Tommy, currently played by James Clow. Bartley is currently appearing in Tennessee Repertory Theatre's production of Art. Fiona is performed by Amanda Serkasevich. David Rossmer plays Tommy's best friend Jeff, and Lisa Brescia, who spent five years as lead vocalist on an international reunion tour with The Mamas and The Papas, performs the role of Meg.

The cast of 23 also includes David Barron, Nili Bassman, Paul Carlin, Robyn Cohen, Brian J. Cooper, Elizabeth Ferrell, Paul J. Gallagher, Dale Hensley, Natalie Hill, Kevin Loreque, Patrick Mullaney, Daniel Reichard, Greg Roderick, James R. Santos, Adam Souza, James Tabeek, Jennifer S. Taylor, Melanie Vaughan, Anna Winthrop.

Goodspeed's production is directed by Greg Ganakas. Peggy Hickey is the choreographer. The musical director for Brigadoon is Michael O'Flaherty, with sets by Howard Jones, costumes by John Carver Sullivan, and lighting by Kirk Bookman. Brigadoon is produced for Goodspeed Musicals by Michael P. Price.

Following the Thursday evening performances on May 10 and 24, Goodspeed will host Backstage at Goodspeed, an informal discussion for audience members to meet the cast and crew of Brigadoon to ask questions about the production and learn more about working in musical theatre.

Brigadoon continues at the Goodspeed Opera House in East Haddam, Conn. through June 23.


WHO'S WHERE

DON RICKLES celebrates his 75th birthday on Tuesday and then opens at the Stardust Hotel in Las Vegas with an engagement May 17-20.

SPALDING GRAY, JULES FEIFFER, WENDY WASSERSTEIN AND NORA EPHRON in a sold out event this evening, discussing Men & Women at the 92nd Street Y in NYC.

PHILIP OFFICER performing Hoagy on My Mind at Arci's Place, NYC May 15-27.

ELTON JOHN AND BILLY JOEL Minneapolis, Minn. May 15 and 16. Tickets range from $45 to $175.

DAVID COPPERFIELD Warner Theatre, Washington, D.C. May 15-17.

TIM CONWAY and HARVEY KORMAN Warner Theatre, Washington, D.C. May 19.

BETTY BUCKLEY May 12 College of Staten Island's Center for the Arts in Staten Island, NY.

PATTI LuPONE performs her Matters of the Heart cabaret show May 11 at the Fox Theatre in Stockton, CA,

KAREN MASON May 9-20 at Davenports Cabaret in Chicago, IL.

THE MANHATTAN TRANSFER May 11 at the Mohegan Sun Casino.

KEELY SMITH May 8th - May 26th Feinsteins at the Regency, NYC.

ROSEMARY CLOONEY with the Big Kahuna and the Copa Cat Pack led by Matt Catingub, performs at the UNLV Performing Arts Center, Las Vegas on May 13.


THIS AND THAT

SURVIVOR SLOT MACHINE Jumping on the Survivor bandwagon are the casinos - betting that the gaming public will wager on this one. A slot machine based on the highly rated reality TV show is being developed by IGT.




Mention BROADWAY TO VEGAS for Special Consideration
Call (800) 942-9027









Next Column: May 13, 2000
Copyright: May 6, 2001. All Rights Reserved. Reviews, Interviews, Commentary, Photographs or Graphics from any Broadway To Vegas (TM) columns may not be published, broadcast, rewritten, utilized as leads, or used in any manner without permission, compensation and/or credit.
Link to Main Page
---
Laura Deni



U.S. Postal Address: Post Office Box 60538, Las Vegas, NV 89160
CLICK HERE FOR COMMENT SECTION