! >
Broadway To Vegas
  SHOW REVIEWS     CELEBRITY INTERVIEWS     GOSSIP     NEWS 
| | |
| --- | --- |
| | |
Copyright: May 5, 2002
By: Laura Deni
CLICK HERE FOR COMMENT SECTION

FRANK SINATRA COMES TO BROADWAY

Frank Sinatra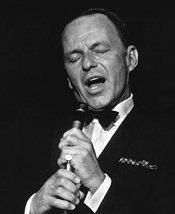 The Sinatra family is going to be staging it their way when the musical about Frank Sinatra opens in New York.

Frank Sinatra Enterprises has teamed with Radio City Entertainment to produce the first officially licensed and sanctioned live theatrical multimedia stage production celebrating Sinatra.

James Sanna, senior vice president of marketing and business development for Radio City Entertainment, announced that the Sinatra production will "celebrate the life of a musical legend and revisit history in a creative and original way, creating a new theatrical medium and bring it to American audiences." Sinatra's youngest child, Tina, is executive producer.

Radio City Entertainment is the arm of Radio City and Madison Square Garden that produces shows and special events. Projects are usually large in scale and include special events at the Music Hall in New York as well as word-wide.

The first production of Sinatra is slated to premiere next year at Radio City Music Hall, where Old Blue Eyes performed in 1978.

Tina indicated that they have not cast the Frank Sinatra role.

Last Wednesday Tina was at Yankee Stadium celebrating Frank Sinatra's New York Memories, tossing out the first ball before the game between the Yankees and Oakland A's. It was Nancy Sinatra Jr. 's daughter, A.J. Lambert, who sang the national anthem.

The first 18,000 fans into the stadium received New York Memories as a gift, from Budweiser and the New York Yankees. The commemorative CD contains four of Frank's songs New York, New York, Summer Wind, The Best Is Yet To Come and Fly Me To the Moon, plus sound bytes from historic Yankee games.

This wasn't the first time the names Sinatra and Budweiser have been linked. A special edition Frank Sinatra Budweiser Album A Man And His Music was an exclusive release.You had to be a Budweiser Wholesaler to acquire it and only about 1,000 were ever produced. Nancy Sinatra is also on the album.

For Sinatra fans there is an unusual opportunity available to pump Frank, Jr. about all the inside information on what it was like growing up the son of you know who.

Lunch With Frank, Jr. In Beverly Hills is currently up for auction on E Bay.

"The proceeds of this auction will go to benefit the New York Firefighters 9-11 Disaster Relief Fund to help assist the families of the fallen firefighters and EMS personnel in the city of New York," states the auction site.

The lengthy and wordy auction description also promises "a once in a life time opportunity to find out first hand what it was like to have Frank Sr. as a father and grow up with the "Rat Pack" (Sammy Davis Jr., Dean Martin, Joey Bishop, and Peter Lawford) as your dad's best friends, ... then ... grow up to have these same men become your good friends....For Frank Jr., what was it like to have Ava Gardner and Mia Farrow for a step mother... The stories Frank Jr. must have about all those many visiting movie stars to your home, not to mention the President of the United States. What about Marilyn Monroe? ... Which of Frank Sr.'s wives and girl friends did he like the most."

The auction site continues: "Well here's your chance to have lunch with Frank Sinatra Jr. along with his good friend Michael Callan, who starred in such motion pictures as Cat Ballou and Mysterious Island .... and get all those questions answered for yourself and many more.... It's your choice, whatever subject comes to mind, a two-hour lunch with the gang in Beverly Hills... at a fabulous and exclusive Beverly Hills restaurant. The exact location of the restaurant will be divulged to the High bidder at the close of the auction. The date of which will be mutually agreed upon between you and Frank, which may take place in two weeks or six months, your choice."

When we last peeked, auction number 864184214, which closes Monday, had 17 bids posted and was up to $1,325.00, but below the reserve.

Before he heads off to the chow down and gab fest, it's Sinatra Singing Sinatra when Frank, Jr. backed by a 36 piece orchestra - the same size his father always used - performs at the MGM-Grand in Las Vegas May 8-15.



Sinatra Singing Sinatra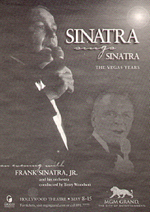 The program will feature songs that the elder Sinatra sang during his more than four decades on Las Vegas stages, including I've Got You Under My Skin, One For My Baby, New York, New York, Luck Be A Lady, and Strangers In The Night. The orchestra, conducted by Terry Woodson, will be composed of the creme of musiciandom. Members of his father's orchestra are in the pack as well as The Chairman of the Board's longtime musical director and accompanist - 87-year-old Bill Miller.

This is an extension of what was begun in 1996 with As I Remember It released on Angel Records, a CD recorded as a tribute to his father's talents as well as the composers and arrangers "who defined the Sinatra legend."

As I Remember It was first performed as a live event, July 26, 1995, at Carnegie Hall. Utilizing a 44-piece orchestra, Frank then took the As I Remember It show on tour including a standing-room-only audiences at Trump Marina Atlantic City.

The younger Sinatra last performed in Las Vegas at the MGM Grand in December as part of a celebration marking Dec. 12 as Sinatra Day in Nevada, which was really an excuse for a slot machine promotion, unveiling the Frank Sinatra gambling devise.

The elder Sinatra died of a heart attack May 16, 1998, at 82.

Then there is the newly mounted The Main Event, billed as "An Unauthorized Musical Biography of the Sinatra Era," which opened last week in Las Vegas at The Venetian Hotel. This is a Jeff Kutash production, starring singing impressionist Bob Anderson who narrates the musical that tells Sinatra story through the use of 40 songs. Portraying Sinatra is British nightclub singer Stephen Triffitt, backed by a 15-piece band. While he sings the songs Anderson delivers the dialogue.

Our Sinatra, currently playing at The Reprise Room at Dillon's in New York City, chalks up its 1,000th performance today. This is a full-length production celebrating Frank through his music and anecdotes about his life and career. The Off-Broadway musical revue currently stars Paul Greenwood, Hilary Kole and Tom Postilio.



Broadway To Vegas is supported through advertising and donations. Priority consideration is given to interview suggestions, news, press releases, etc from paid supporters. However, no paid supporters control, alter, edit, or in any way manipulate the content of this site. Your donation is appreciated. We accept PAYPAL. Thank you for your interest.


PLAY SALUTES NORMAN ROCKWELL
Donna McKechnie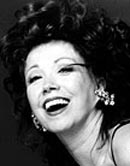 Rockwell starring Tony Award winner Donna McKechnie and Mark Jacoby is a new musical based on the life of artist Norman Rockwell.

The limited run production also features Stephanie Pope, Jim Corti and Chris Grabher. Created by the sister team of Eileen Bluestone Sherman responsible for the book and lyrics and Gail C. Bluestone who wrote the music, the production was inspired by Rockwell's autobiography My Adventures as an Illustrator.



Mark Jacoby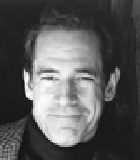 Born in New York City in 1894, Rockwell always wanted to be an artist. At age 14, Rockwell enrolled in art classes at the New York School of Art (formerly the Chase School of Art). Two years later, in 1910, he left high school to study art at the National Academy of Design. He soon transferred to the Art Students League, where he studied with Thomas Fogarty and George Bridgman. Fogarty's instruction in illustration prepared Rockwell for his first commercial commissions. Finding success early he painted his first commission of four Christmas cards before his sixteenth birthday.



The Saturday Evening Post cover called Playbill depicts two older cleaning ladies, forgetting their mops and buckets as they sit in the plush crushed-velvet wine colored seats of the theater, looking over one of the discarded Playbills for the previous night's performance.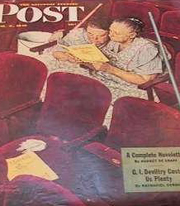 In 1916, the 22-year-old Rockwell painted his first cover for The Saturday Evening Post, the magazine considered by Rockwell to be the "greatest show window in America." Over the next 47 years, another 321 Rockwell covers would appear on the cover of the Post.

The '30s and '40s are generally considered to be the most fruitful decades of Rockwell's career. In 1930 he married his second wife, Mary Barstow, a schoolteacher, and the couple had three sons: Jarvis, Thomas, and Peter. The family moved to Arlington, Vermont in 1939, and Rockwell's work began, more consistently, to reflect small-town American life.



Freedom From Want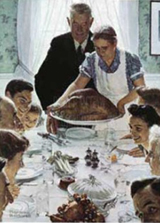 In 1943, inspired by President Franklin Roosevelt's address to Congress, Rockwell - as his personal contribution during World War II - painted the famous Four Freedoms posters, symbolizing for millions the war aims as described by Roosevelt. They were reproduced in four consecutive issues of The Saturday Evening Post with essays by contemporary writers. Rockwell's interpretations of Freedom of Speech, Freedom to Worship, Freedom from Want, and Freedom from Fear proved to be enormously popular.



Freedom to Worship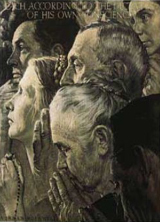 The works toured the United States in an exhibition that was jointly sponsored by the Post and the U.S. Treasury Department and, through the sale of war bonds, raised more than $130 million for the war effort.

One version of his Freedom of Speech painting is in the collection of the Metropolitan Museum of Art.

Presidents Eisenhower, Kennedy, and Johnson sat for him for portraits, and he painted other world figures, including Nassar of Egypt and Nehru of India.

In 1973, Rockwell established a trust to preserve his artistic legacy by placing his works in the custodianship of the Old Corner House Stockbridge Historical Society, later to become the Norman Rockwell Museum at Stockbridge. The trust now forms the core of the Museum's permanent collections. In 1976, in failing health, Rockwell became concerned about the future of his studio. He arranged to have his studio and its contents added to the trust.



Freedom of Speech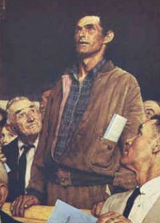 This is Rockwell's preliminary study for Freedom of Speech done in 1942. It set an auction record at $407,000.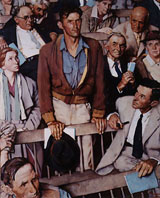 In 1977, Rockwell received the nation's highest civilian honor, the Presidential Medal of Freedom, for his "vivid and affectionate portraits of our country." He died at his home in Stockbridge on November 8, 1978, at the age of 84.

Conrad John Schuck, who recently starred a national tour of Annie, serves as director for the musical Rockwell. Choreography is by former New York City Ballet dancer Robert La Fosse. Joshua Sherman is in charge of sets and costume design. Jason Cina is the lighting designer and Eddie Guttman serves as musical director. Jared Coseglia is the assistant director.

Produced by the Blue Heron Theatre with the permission of the Norman Rockwell Licensing Company, Rockwell begins performances at the Blue Heron Arts Center, NYC on May 17 with an official opening on May 19. The limited run ends June 2.


SWEET CHARITY


CHILDREN'S AID SOCIETY benefits from a May 12th screening of George Lucas' latest Star Wars installment, Attack of the Clones. That will be the finale for Robert De Niro's TriBeCa Film Festival which begins unspooling 155 films on Wednesday.


TALK, LISTEN AND LEARN


THE VAGINA MONOLOGUES HOLDS DISCUSSIONS the Tennessee Performing Arts Center will present two free programs to complement the national tour of The Vagina Monologues at TPAC May 21-26.

The first "TPAC U" program is Women's Issues Equals Community Issues, tomorrow at Davis-Kidd Booksellers. Linda G. Manning, director of the Margaret Cuninggim Women's Center at Vanderbilt University, and Valerie Wynn, executive director of the Mary Parrish Center for Victims of Domestic and Sexual Violence will lead the discussion.

On May 20 the second program will be held at the Vanderbilt School of Nursing. Titled Private Stories/Public Actions: Consider the Thistles. This will focus on the Magdalene Project.

The Rev. Becca Stevens, the project's executive director, and two project graduates will discuss the program, which provides shelter and support for women with a history of prostitution and drug addiction.

ALEC BALDWIN lauded by Rosie O'Donnell as her favorite guest, will teach a theater class this summer at Southampton University.

The actor will serve as a distinguished professor, teaching a master class at the college, which is part of Long Island University.

The actor grew up in Massapequa, Long Island, and lives near the college in Amagansett.

Dean James Larocca praised the 44-year-old actor as ``a true artist.''

``Like our other distinguished professors, Alec Baldwin is a Renaissance person,'' Larocca said in a statement. ``His talent stretches across many mediums, from the Broadway stage to the big screen to literary festivals, public policy, activism and motion picture production.''

INTIMATE CONVERSATIONS lecture series, begins May 13 at Musical Theatre Works, NYC.

Jason Robert Brown and Daisy Prince open the series, when the composer and director discuss the making of the new Off-Broadway musical The Last Five Years. May 14 brings Jerry Bock, Joseph Stein and Sheldon Harnick, who will examine the creation of Fiddler on the Roof. Michael Greif, Daphne Rubin-Vega and Anthony Rapp will speak about their Rent experience on May 20, and Michael Mayer, Jeanine Tesori and Dick Scanlan address the creation of Thoroughly Modern Millie on May 21.

Musical Theatre Works also offers a series of one-on-one conversations with some of Broadway most acclaimed stars. Bebe Neuwirth sits down for a chat on May 15. She will be followed by Tony winners Mandy Patinkin on May 16, Betty Buckley on May 22 and William Finn on May 23.

Artistic director Lonny Price heads Musical Theatre Works, which is a not-for-profit theatre dedicated to the development and production of new American musical theatre. All proceeds from the lecture series go towards the company's Resident Writers program, supporting a new generation of emerging artists.


THE LEARNING CURVE; HERE OR ABROAD


COLLABORATIVE ARTS PROJECT 21 (known as CAP21), which operates one of the largest and most respected schools teaching musical theatre performance, has announced its comprehensive training programs for the summer of 2002.

The CAP21 Conservatory is the only program in Manhattan selected by a nationally recognized university (New York University's Tisch School of the Arts) to train their undergraduates in the demanding curriculum of musical theatre performance.

The Conservatory has trained thousands of students, 80% of whom obtain professional work upon completion.

The Professionally and Part Time Professional Musical Theatre Training Programs are for students 18 years and older and offer an intensive and balanced program that includes Acting/Scene Study, Musical Scene Study, Dance Program, Music Theory, Vocal Technique, Vocal Performance, Audition Technique and Master Classes with theatre professionals.

The full professional program, which includes 210 hours of training, runs Mondays through Fridays for six weeks. The cost is $2,550.

The Part-Time Professional Program, which includes all of the above courses except the Dance program, lasts six weeks and costs $1,825. Private voice training is also available. Conservatory Director Michon Peacock said: "The professional program is for college and post college students who wish to immerse themselves in an intensive, broad-based training program as a stepping stone to a professional career in musical theatre."

Students may obtain academic credit from New York University by applying through the Tisch School of the Arts.

AUSTRALIAN COLLEGE OF ENTERTAINMENT'S INTERNATIONAL PERFORMING ARTS CONFERENCE is being held in Sydney Australia, July 14 to 21.

The conference is open to dance, acting & vocal students from 10 years to 21 years of age. Students can enroll individually or as part of a group from a school, college or private coach.

ACE International Performing Arts Conference Sydney 2002 brings together the finest young performers from all over the world to exchange ideas and share their love of performance - on and off the stage.

Conference officials promise to "gather Top Professionals and Master Teachers from the Entertainment Industry and Arts Community to share their time and expertise."

"Our goal is to pack a week with the perfect combination of learning, performing, opportunities to share with other students from around the world."

"Class emphasis will be on performance and will integrate - Dance (Flamenco, Jazz, Tap, Ballet, Contemporary, Lyrical & Funk), Acting, Singing, Choreography, Auditioning, Modeling, Acrobatics, Musical Theatre, Television, Film, Musicology, Make-up and the production aspects that make them work."

Parents are welcome as observers.

Each Studio may recommend two (2) Students to perform in the ACE International Performing Arts Conference Sydney 2003 Company. Individual Students Attending the Conference may Audition for the Company on Sunday Night July 13.

Students are "required to be multi-talented individuals who wish to combine their dance, vocal and dramatic skills together, try some new things and share them with the entire conference audience."

This cast will have late night rehearsals, thus older mature cast members are preferred.

The ACE International Performing Arts Conference Sydney 2003 Company will be working with Members of "Dance Works" Performance Company and the show theme will be "Gotta Sing Gotta Dance."

"All tutors will be industry based working professionals. ACE has a philosophy that a teacher can only teach professional performance skills if they have been or are a Professional Performing Artist or Technician. Our Tutors will have professional experience both here in Australia and Internationally."



BARBARA COOK is honored by the New Dramatists on May 14 with a lifetime achievement award. The former star of The Music Man, Eric McCormick, will serenade Barbara, who was Broadway's original Marian the Librarian. The event takes place at the Marriott Marquis Hotel in NYC.

KATHARINE HEPBURN the 85 year old grand dame is honored May 11. A garden will be named for her in Dag Hammarskjold Plaza Park. The annual celebration can be enjoyed from 2-4 p.m.



A LETTER FROM ETHEL KENNEDY written by the late Christopher Gorman, a former CBS television executive, directed by Tony winner Joanna Gleason, featuring Anita Gillette has begun previews at the MCC Theatre, NYC. A comedy about a man who is seeing his parents for the last time or so he thinks. Wednesday lunches at Joe Allen Restaurant are the recurring setting of this play about a Manhattan man trying to reconcile with his parents, come to terms with his Long Island roots and still make a 2 o'clock curtain. If only that Caesar salad would get here

The cast includes: Bradford L. Cover, Jay Goede, Randy Harrison, and Bernie McInerney.

Set Design: Jeff Cowie, Costume Design: Martin Pakledinaz, Lighting Design: Michael Chybowski, Original Music: David Van Tieghem, Sound Design: Jill B.C. DuBoff, Production Manger is B.D. White, and the Production Stage Manager is Deborah Gayle Sullivan.

The show officially opens May 16 for a scheduled run through June 1.

THE GUYS at The Bat Theatre in NYC is using a rotating cast. Susan Sarandon and Tim Robbins appear through May 8. They are replaced by Tom Wopat and Amy Irving, who will perform May 14-June 14. Before then Wopat brings his singing act to Long Beach, California for shows May 8-9.

The Guys, based on writer Anne Nelson's real experiences, is a dialogue between a New York City fire captain who has lost most of his men in the Sept. 11 attack and an editor who helps him write the eulogies, as she struggles to come to terms with the event.

NIGHTTOWN written and directed by Susan Mosakowski featuring Matthew Maguire and Michael Ryan begins performances May 8 at The Flea Theater, NYC.

In Nighttown a Shakespearean actor named Caesar McCarthy institutionalized in a Dublin asylum for the attempted murder of his adulterous wife, finds himself paired up with another cuckold, a Mr. Leo Kettle, interred because he believes that he has drowned his wife's lover. Homesick and pining for their wives, Caesar re-invents himself as James Joyce, and casts Mr. Kettle as Leopold Bloom from the novel Ulysses. Through their transformation and intense camaraderie, the men set off on an imaginative journey to Dublin's infamous red-light district, which Joyce called Nighttown.

TWELFTH NIGHT by William Shakespeare starring Judith Blazer and David Garrison directed by David Warren.

Others in the cast include Kathleen McNenny, Dan Snook, Natacha Roi, Tom Beckett, Guy Boyd, Allyn Burrows, Blaise James, Daniel John Kelly, Tom Parker, W. Scott Russell, Christine Scippa, Robert Stanton, Rex Young, Michele Massa, Charley McAfee and Jessica Murphy.

In Twelfth Night the Bard's lyrical, incandescent language helps transform a small Italian villa into a mystical paradise overflowing with music, dancing, laughter and romance, in a sparkling tale filled with mistaken identities, mischievous trickery and unrequited love. Ahead of its time in its day, Twelfth Night remains one of the most ingenious romantic comedies ever written for the stage.

James Youmans (sets), Toni-Leslie James (costumes), Peter Maradudin (lighting) and James Gromada (music and sound). Sean Curran is the choreographer.

Connecticut's The Long Wharf Theatre, through June 8.

Long Wharf Theatre was the creation of Jon Jory and Harlan Kleiman, two Yale alumni. In 1965 the staged Arthur Miller's The Crucible for a two-week engagement. Named for the Long Wharf port along New Haven Harbor, the theatre was built in a vacant warehouse space in a busy food terminal, with its Mainstage originally stocked with seats borrowed from a retired movie house. The first year's budget was $294,000, and the theatre played to more than 30,000 patrons.

Now in its 37th season, Long Wharf is an organization of international renown with a $6.5 million budget and an annual audience exceeding 100,000. Long Wharf is recognized as a leader in American Theatre with more than twenty productions transferring virtually intact to Broadway or off-Broadway.


WHO'S WHERE


CHARO

Charo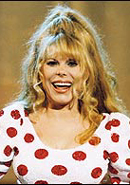 opens tomorrow at the Sahara Hotel Las Vegas in a show called Bravo.

The cuchi cuchi girl is a favorite of designer Issac Mizrahi who is receiving an Outer Critics Circle award for designer the Roundabout Theater production of The Women.

The couture cut-up was enthralled by Charo whom he called "inspiring because she put me completely at ease. She seems so intimidating before you meet her. I was a little nervous, but as soon as she walked in the room, she infects you with her love of life and energy. She treats life as one big screwball comedy. She is absolutely wonderful. I love her."

LAURYN HILL will perform at the St. Lucia Jazz Festival which opened Friday. Hill will be the headline act for the open-air show at Pigeon Island peninsula on May 11. Smokey Robinson, Stephanie Mills, Branford Marsalis and India.Arie are also scheduled to perform at the festival, which will run though May 12.

KENNY CHESNEY continues with his tour appearing May 9 in Pelham, Alabama. On Friday he performs in Charlotte, N.C. at the Verizon Wireless Amphitheatre. He closes out the week on Saturday in Raleigh, N.C. at the Alltel Pavilion at Walnut Creek.

TOGETHER WE STAND THE WINANS in the spotlight Thursday in Washington, D.C. at DAR Constitution Hall. On Saturday the gang is in Charlotte, N.C. at the Verizon Wireless Amphitheatre.

FELICIA FINLEY star of Aida, performs her nightclub act at the Arts Nova Theater, NYC as part of its Broadway Spotlight series. The event is tomorrow, May 6.

ALANIS MORISSETTE performs tonight in San Jose, CA at the Compaq Center. On Tuesday she is in the spotlight in Phoenix, Arizona at the Dodge Theatre. Thursday the tour continues in Las Vegas at the Joint inside the Hard Rock Hotel. On Friday the spotlight shines on her in West Valley, Utah at the E Center. She closes out the week on Saturday in Denver, Colorado at the Magness Arena.

WILLIE NELSON telling his tales in song Friday in Salem, Virginia at the Salem Civic Center. On Saturday he'll be in Bristow, Virginia at the Nissan Pavilion.

MICHAEL FEINSTEIN entertaining Tuesday in Boston, MA at Symphony Hall. On Saturday he can be enjoyed in Buffalo, New York at the Kleinhans Music Hall.

B.B. KING performs today in Lynchburg, Virginia at the EC Glass Auditorium. On Wednesday the tireless entertainer is in Winnipeg at the Centennial Concert Hall. Thursday B.B. and his guitar, Lucille, will be on stage in Brandon, MB at the Keystone Centre. On Friday the songs will be delivered in Saskatoon, SK at the Saskatchewan Place. He ends the week Saturday in Regina, SK at the Regina Agridome.

PINK center stage tonight in Las Vegas then brings her Party Tour 2002 to Kingsbury Hall in Salt Lake City, Utah on Tuesday, May 7.

HARRY CONNICK, JR has a busy week. Today he stars in West Lansing, Michigan at the Wharton Center. On Monday the show moves to Grand Rapids, Michigan for a performance at DeVos Hall at Grand Center. He's got a two nighter Wednesday and Thursday in Chicago at the Chicago Theatre. Another two nighter follows Friday and Saturday in Milwaukee, Wisconsin at the Riverside Theatre.

CHRISTOPHER CROSS behind the microphone Saturday in Bowler, Wisconsin at the Mohican North Star Casino.

TONY BENNETT on Thursday opens a four night stand in Las Vegas at the Paris Hotel.

SHIRLEY JONES in concert in Houston, Texas on May 10.

PAUL ANKA stars at the Mirage Hotel in Las Vegas May 9-20.


PIFFLE AND PROFUNDITIES


PHYLLIS DILLER rings down the curtain on her stand up comedy this evening with a performance at the Suncoast Hotel in Las Vegas. Expected to be in the audience are Jerry Lewis, Phyllis Diller, Rich Little, David Brenner and Marty Allen.













Next Column: May 12, 2002
Copyright: May 5, 2002. All Rights Reserved. Reviews, Interviews, Commentary, Photographs or Graphics from any Broadway To Vegas (TM) columns may not be published, broadcast, rewritten, utilized as leads, or used in any manner without permission, compensation and/or credit.
Link to Main Page
---
Laura Deni



U.S. Postal Address: Post Office Box 60538, Las Vegas, NV 89160
CLICK HERE FOR COMMENT SECTION