! >
Broadway To Vegas
  
  REVIEWS INTERVIEWS COMMENTARY NEWS

| | |
| --- | --- |
| | |
I AM BEYOND CELEBRATES ASIAN PACIFIC AMERICAN HERITAGE MONTH - -AMAZING TONY SHALHOUB HEADS TALENTED CAST IN ACT ONE - - THE 10th ANNIVERSARY MUSICARES MAP FUND BENEFIT CONCERT - - BEN AFFLICK TOO SKILLED AT BLACKJACK - - PRINCES WILLIAM AND HARRY CHARM MEMPHIS - - GLOBE GUILDERS FASHION SHOW - - NEWBURY SPRING FESTIVAL - - NATIVE AMERICAN PLAY FESTIVAL - - DONATE . . . Scroll Down




Copyright: May 4, 2014
By: Laura Deni
CLICK HERE FOR COMMENT SECTION


I AM BEYOND CELEBRATES ASIAN PACIFIC AMERICAN HERITAGE MONTH


Each year, Asian Pacific American Heritage Month recognizes the contributions made and the challenges faces by Asian Americans, Pacific Islanders, and Native Hawaiians. This year, the theme for APA Heritage Month is I Am Beyond, a theme that evokes how AAPIs have crossed boundaries and barriers, and how they continue to shape the nation and its future.

The 1882 Project Symposium takes place May 5-6 at the Smithsonian National Museum of the American Indian in Washington, DC.

The convening will explore the implications of the successful passage of resolutions in the U.S. House of Representatives (House Resolution 282) and U.S. Senate (Senate Resolution 201) expressing regret for discriminatory laws passed against Chinese and Chinese Americans.

Through a series of presentations, panel discussions, and business meetings, delegates from Asian American museums and history/culture groups – as well as representatives from federal and other agencies – join the two-day symposium to develop educational projects that build upon the Congressional resolutions and consider the legacies of the 1882 Exclusion Act in terms of civil rights, immigration, and naturalization.

Opening ceremonies for the month of events take place May 6 at the Department of the Interior. Hosted by the White House Initiative on Asian Americans and Pacific Islanders (WHIAAPI), this event will include a series of performances and discussions by distinguished Asian American and Pacific Islanders artists and leaders exploring the theme I Am Beyond.

A Day in the Life of Asian Pacific America is a project by the Smithsonian Asian Pacific American Center which teamed with Flickr to capture the daily nuanced lives of Asian Pacific Americans on May 10, 2014.

This participatory project is open to all.

Content must be captured between 12am and 11:59pm on your current time zone. Individuals may submit up to 5 photos or up to 5 videos with a total runtime of 3 minutes. This exhibition is based on global Asian Pacific American experiences.

Upload the photographs or video to the Flickr group by 11:59pm EST on May 14, 2014. Participants should provide a short biographical statement and contact information. The works submited may be used by the Smithsonian for the exhibition, publicity purposes and an e-book. All photos or videos selected for the project will credit the contributing artist.

A group of curators will select and assemble the exhibit by May 26, 2014. The exhibit will be available online at apa.si.edu, with all qualified submissions available for public view via the Flickr group.

A Day in the Life of Asian Pacific America seeks to capture the particulars of everyday life and piece them together to compose the ultimate wide shot. By looking at life from multiple angles, curated from the visual documentation of amateur photographers and videographers as well as professional documentarians and photojournalists, we can reveal the bigger picture. Through this online exhibit hosted by the Smithsonian Asian Pacific American Center (APAC) "we celebrate our common joys, empathize with our sorrows, and appreciate all that we mean to each another."

"We are asking thousands of people to take photographs and shoot video about Asian Pacific American life on May 10, 2014. We chose this date because it falls on the 145th anniversary of the Golden Spike ceremony that marked the completion of the Transcontinental Railroad. This historical joining of the continent was marked with a photograph that excluded the Chinese workers who were critical to the building of the railroad and the industrial modernization of America.

"Once erased from historical consciousness, Asian Pacific Americans are now visible in profound ways."



The NAAP Broadway Community Chorus performed at The DiMenna Center's Cary Hall on Sunday, March 23, 2014 a concert of Noël Coward and Cole Porter selections. They were joined by special guest artists, Tammy Grimes and Ali Ewoldt. Audience members were further entertained by the NAAP Dancers, Gillian Munsayac, Marcus Shane, Enrico Rodriguez & Anna Lee Wright.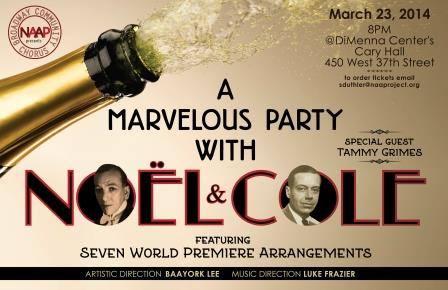 In New York, The National Asian Artists Project held open auditions last month for their upcoming production of Oliver! which will start rehearsals May 19th and include four performances from June 5th through 7th.

The NAAP Broadway Community Chorus will perform June 13-15 in Washington DC on the Capital Hill steps as well as the Kennedy Center's Millennium Stage and Concert Hall.

National Asian Artists Project is the result of many years of working, observing, discussing, and dreaming. In the professional careers of Baayork Lee, Steven Eng, and Nina Zoie Lam, there had been much to experience as theatre artists of Asian descent: Baayork as a highly-regarded director/choreographer/dancer on Broadway, Steven as an actor/singer on the West End, and Nina Zoie as an actor/dancer on Broadway.

Throughout their varied projects, independent and collective, they saw and encountered the same dilemma. With the relatively few well-paid professional jobs that existed for any theater artist, prospects were even more dismal for an artist of Asian descent.

Since 2004, when Baayork directed the national tour of The King and I and brought on Steven and Nina Zoie to assist, they had watched numerous Asian/Asian-American theatre artists enter and leave the profession from lack of opportunity.

The National Asian Artists Project, an independent not-for-profit organization, seeks to bridge diverse communities with the outstanding work of professional artists of Asian descent to inspire children and adults and bring them to the arts, as well as the art into them.

NAAP believes that artists of Asian descent have many vital roles to play in the fostering of American communities.

Through thoughtful educational programming, we seek to present the richness of theatre arts to underserved children, fostering creative self-discovery and expression.

Support the artistic growth of theatre artists of Asian descent through professional employment opportunities.

Build and cultivate new local and national audiences that encourage patronage and participation in the arts, including predominantly Asian communities unaccustomed to playing a role in the local or national arts dialogue.

Capture and archive stories of prominent artists of Asian descent that they may be made available for future generations from which to learn and inspire.





Broadway To Vegas is supported through advertising and donations. Priority consideration is given to interview suggestions, news, press releases, etc from paid supporters. However, no paid supporters control, alter, edit, or in any way manipulate the content of this site. Your donation is appreciated. We accept PAYPAL. Thank you for your interest.





ART AND ABOUT


ROBERT CUOGHI

Roberto Cuoghi, Šuillakku – corral version, 2008–14. Sound installation. Courtesy the artist and Massimo De Carlo, Milan/London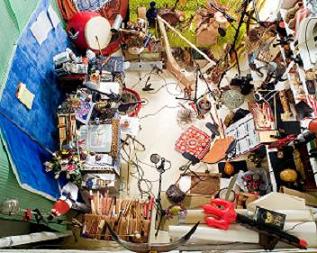 the first New York exhibition on the work of Italian artist Roberto Cuoghi will be staged May 7-June 29, 2014 at The New Museum in New York City.

Through an array of unconventional media, Cuoghi's projects explore ideas of metamorphosis and hybridity.

He made what is perhaps considered his most legendary project in his mid-twenties, when he decided to literally transform himself into an old man. The artist adopted mannerisms as well as the eating and dressing patterns of a senior citizen, eventually coming to resemble a white-bearded, heavyset man, forty years his senior. After this project came to an end, it took Cuoghi a few years to reverse the passage of time and return to his biological age.

With a similar combination of obsession, passion, and devotion, Cuoghi later embarked on a two-year study of Assyrian language and rituals, for which he produced a gargantuan reproduction of a small talismanic statue of the menacing demon-god Pazuzu in 2008.

For the 55th Venice Biennale, he created Belinda (2013), a monumentally scaled sculpture modeled after microbial life-forms.

For his exhibition in the Third Floor galleries of the New Museum, Cuoghi will present a selection of his recent work including an ambitious sound piece in the form of an imagined ancient Assyrian lament from 612 BC performed on a collection of handmade instruments carefully researched, built, and played by the artist himself.


SWEET CHARITY


THE 10th ANNIVERSARY MUSICARES MAP FUND BENEFIT CONCERT will honor Black Sabbath's Grammy-winning singer/songwriter Ozzy Osbourne, and owner/CEO of the Village studios Jeff Greenberg.

Greenberg will be presented with the MusiCares From the Heart Award by comedian Craig Ferguson for his unconditional friendship and dedication to the mission and goals of the organization. Osbourne will be presented with the Stevie Ray Vaughan Award by multi-Grammy-winning artist Joe Walsh for his dedication and support of the MusiCares MAP Fund, and for his commitment to helping other addicts with the addiction recovery process.

The performers include multi-Grammy-winning artists Keb' Mo' and Metallica. Continuing to celebrate the memory of Adam "DJ AM" Goldstein, the evening's DJ will be Mix Master Mike. There will also be a performance by Osbourne and his touring band with special guest Slash on guitar.

Taking place at Club Nokia in Los Angeles on May 12, all proceeds will benefit the MusiCares MAP Fund, which provides members of the music community access to addiction recovery treatment regardless of their financial situation.

GLOBE GUILDERS FASHION SHOW – CELEBRATING COUTURE 2014 one of the premier fashion events in San Diego, will take place on Friday, May 9, 2014 at the Hilton San Diego Bayfront Hotel. Proceeds benefit the artistic and education programs of The Old Globe, which has over 250,000 theatre admissions and program participants.

This year's show will once again feature Naeem Khan, one of the most sought-after fashion designers in the world. The event will include a champagne reception and live and silent auctions followed by a seated luncheon and a fashion show featuring Khan's 2014 Fall Couture Line, presented by Neiman Marcus.

Lois Lewis serves as Chair, and Globe Board member Sandra Redman serves as Honorary Chair.

DANCE INTO FASHION the annual Junior Society benefit staged by Ballet Hispanico, recognized as the nation's leading Latino dance organization since 1970, will take place Thursday, May 8, 2014 at The Jane Ballroom in New York City.

The festive cocktail attire evening will showcase the creations of Venezuelan-born fashion designer Angel Sanchez as modeled by Ballet Hispanico company dancers in a unique presentation choreographed by Artistic Director Eduardo Vilaro.

The Junior Society benefit will feature music by DJ Jonny Famous.

Notable guests will include Angel Sanchez, Annabelle Dexter-Jones, Grace Gummer, Hannah Bronfman, Jessie Betts, Alessandra Codina, Carolyna De Laurentiis, Julia Dimon, Sophie Elgort, Jesse Della Femina, Claire Distenfeld, Wes Gordon, Molly Howard, Samantha Perelman and Timo Weiland.

Dance Into Fashion is headed by Junior Society Co-Chairs Paul Arnhold and Janna Raskopf, along with the Ballet Hispanico Junior Society Steering Committee and Benefit Committee. All proceeds benefit Ballet Hispanico's community arts education programs, which provide 1,500 NYC public school children per year with learning experiences that respect their individuality while enhancing their creativity, physical health, and cultural awareness.

ILLUSION: NOTHING IS AT IT SEEMS PRE OPENING GALA celebrates the North American premiere of this exhibit created by Science Gallery at Trinity College Dublin, which opens May 10, 2014 at the Reuben H. Fleet Science Center in San Diego, CA.

On Thursday May 8, don your black & white business or cocktail attire and enjoy mingling, music, and magic. They'll be hors d'oeuvres and a decadent dessert station, a mind mending performance and a sneak peek at the exhibition.

Illusion playfully combines techniques used by magicians and explored by neuroscientists to uncover the many ways our minds are fooled by sensory deception. Illusion joins magic with psychology, optical illusions with scientific reasoning and confusion with clarity. More than 20 intriguing exhibits deceive the eyes of the visitor, showing that what we perceive is often radically different from the reality we observe. Illusion will distort your senses and mystify your mind.


GO SEE ACT ONE AND STAY FOR THE ENTIRE SHOW - TONY SHALHOUB IS AMAZING


Both Moss Hart and George S, Kaufman were complicated men. Geniuses with multifaceted lives, quirkes and needs.



Tony Shalhoub as George S. Kaufman and Santino Fontana as the adult Moss Hart. Photo: Joan Marcus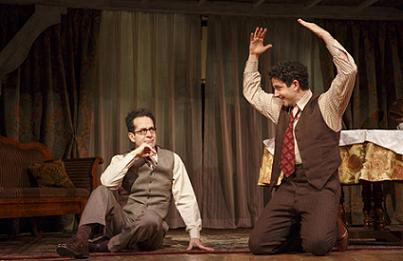 Act One depicting Broadway giant Moss Hart who directed My Fair Lady and Camelot and collaborated with George S. Kaufman on numerous hits, manages to effectively capture both men. An exceptionally entertaining, not to be missed production.

Written and directed by James Lapine, from the autobiography by Moss Hart. Starring three time Emmy Award winner Tony Shalhoub as the middle-aged Moss Hart; Moss Hart's father Barnett Hart; and, Moss Hart's mentor and collaborator, the brilliant but germophobic George S. Kaufman. Also starring Santino Fontana as Moss Hart and Mimi Lieber as Lillie Hart/Helen.

Featuring Bill Army (Eddie Chodorov), Will Brill (David Allen/Dore Schary/George), Laurel Casillo (Roz/Mary), Chuck Cooper (Wally/Charles Gilpin/Max Siegel), Steven Kaplan (Irving Gordon/Pianist), Will LeBow (Augustus Pitou/Jed Harris), Charlotte Maier (Phyllis/May), Andrea Martin (Aunt Kate/Frieda Fishbein/Beatrice Kaufman), Deborah Offner (Belle/Mrs. Rosenbloom), Matthew Saldivar (Joseph Regan/Jerry), Matthew Schechter (Moss Hart/Bernie Hart), Bob Stillman (Priestly Morrison/Sam Harris/Pianist) and Amy Warren (Mrs. Henry B. Harris)..

"Early on he (Moss Hart) had a strong relationship with his Aunt Kate, with whom he later lost contact due to a falling out between her and his parents, and Kate's weakening mental state. She piqued his interest in the theater and took him to see performances often. Hart even went so far as to create an "alternate ending" to her life in his book Act One. He writes that she died while he was working on out-of-town tryouts for The Beloved Bandit. Later, Kate became eccentric and then disturbed, vandalizing Hart's home, writing threatening letters and setting fires backstage during rehearsals for Jubilee. But his relationship with her was formative. He learned that the theater made possible "the art of being somebody else… not a scrawny boy with bad teeth, a funny name… and a mother who was a distant drudge," wrote Steven Bach, in his 2001 book Dazzler: The Life and Times of Moss Hart published by Random House.

In the book Bach claims that though married to Kitty Carlisle Hart from 1946 until his death in 1961, and with whom he father two children, many thought he was a closeted bi-sexual who had desired Robert Goulet.

Goulet told me that Hart had made a pass it him. See Broadway To Vegas column of January 7, 2001

Hart was known for walking into a party and lighting up the room. He loved to tell stories utilizing both exaggeration and condensation to form his own punch lines or dramatic conclusions. Shalhoub seems to be a quiet man, not noted for being a party animal or protracted storyteller. Shalhoub may look a tad bit like Hart, but nothing like the ecentric Kaufman.

Go see Act One and watch Shalhoub become both Moss Hart and Georges S. Kaufman, lighting up not just the stage but the entire theatre. The powerful and charming Santino Fontana is the younger exuberant Hart. Tony Shalhoub is not only the adult Hart, but the father who throws him out of the house as well as shinning as Kaufman. Together Fontana and Shalhoub exhibit a remarkable chemistry. An excellent Matthew Schechter plays Moss Hart as a boy, while Tony winner Andrea Martin is his eccentric aunt, a theater devotee who introduces her nephew to the medium which would control and empower his life.

Matthew Schechter in a preppy sweater holding a book, and Shalhoub, in a suit and tie, sitting together by a garbage can is a subtle statement about the transformation into what became Moss Hart.

The production's hanging peg is the creation of Once in a Lifetime, Hart's Hollywood satire that Kaufman agreed not only to direct but help Hart re-write for Broadway. It was the first of their collaborations, which would include the Pulitzer Prize-winning You Can't Take It With You and The Man Who Came to Dinner.

Hart had some legendary anecdotes which are shown in quick-vignettes. They include Hart's being interviewed by a naked sleaze ball producer played by veteran actor Will LeBow, who moved to Boston in 1977 and has never been out of work as an actor. Another short sketch concerns Hart's stint as an actor in Eugene O'Neill's The Emperor Jones opposite Charles Gilpin, the man who would be hailed as the first "serious" African-American actor who got his start on the vaudeville and minstrel. Gilpin had a serious falling out with O'Neill. Gilpin wanted O'Neill to remove the word "nigger", which occurred frequently in the play. The playwright felt its use was consistent with his dramatic intentions. When Gilpin and O'Neill were unable to reconcile, O'Neill replaced Gilpin with Paul Robeson as Brutus Jones in the London production. After the extended controversy and the disappointment of losing his signature role, Gilpin started drinking heavily. He never again performed on Broadway. He died in 1930 in Eldridge Park, New Jersey, his career in shambles. The rage and turmoil of GiIlpin is effectively brought to life by Tony winner Chuck Cooper,

Shalhoub who has three Emmy Awards, several Tony nominations as well as a Grammy nomination, is amazing. He'll go down in theatrical history as one of the true acting craftsmen, an artisan.

The elaborate, revolving two-tiered sets designed by Beowulf Boritt, rotate the comparative worlds of rags and riches while the costumes created by Jane Greenwood are tailored definitions of the economic ladder.

Act One takes the audience on an A-ticket poverty to penthouse ride.

Wonderfully effective lighting by Ken Billington; balanced sound by Dan Moses Schreier; music by Louis Rosen. Presented by Lincoln Center Theater at the Vivian Beaumont Theater, Lincoln Center through June 15.








NATIVE AMERICAN PLAY FESTIVAL
Oklahoma pride.

A one-of-a-kind cultural event in the Midwest, the ever-evolving Native American Play Festival will be produced for a fifth time by OKC Theatre Company.

Each year the Festival highlights the rich tradition of storytelling in the Native American culture by celebrating it through the art of theatre.

The Festival will feature Manahatta by Kathryn Nagle, staged readings of 2014 finalists, cultural events, food, Native singers, and panel discussions with playwrights.

In previous years, OKC Theatre Company has proudly welcomed Festival participants from over 25 various tribal nations.

Manahatta follows the story of a modern day Lenape woman who returns to her ancestral land to work on Wall Street. Once there, she must reconcile all that her people have lost with what she now attempts to gain.

Manahatta simultaneously tells the story of the Lenape Indians who lived on the island on Manahatta in the 1600's, when Peter Minuit and the Dutch claim to have purchased the island for $24, and explores how the concepts of indigenous identity, ownership, and the entire system of American capitalism have made us who we are today.

May 8 - May 18 at the OKC Civic Center Music Hall City Space Theatre in Oklahoma City, Oklahoma.


SPREADING THE WORD


PRINCES WILLIAM AND HARRY

Lizzy Wilson was married to Guy Pelly at the Memphis Hunt and Polo Club. A reception in a large white tent on the lawn next to the club followed. The 10-piece Jimmy Church Band serenaded the wedding party to the classic sounds of Motown. Image: Getty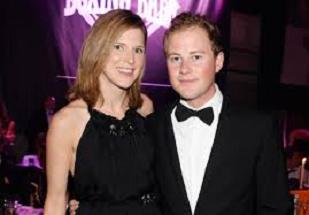 have been in the US the past few days for Saturday's Memphis wedding of their mate Guy Pelly to former Memphian Elizabeth "Lizzy" Wilson, granddaughter of Holiday Inns founder Kemmons Wilson. The Royals, which included Princess Eugenie, Princess Beatrice and her boyfriend Dave Clark, spent part of Friday afternoon on a tour of Elvis Presley's Graceland. The British Beatles were the competition for swivel hips Presley.

Princes Harry and William along with about 20 foreign guests, who were in for the wedding, arrived in four black SUVs. They donned headsets and went on a 30-minute headset guided walking tour - the same tour the ordinary tourist takes.

The only accommodation made to their elevated status was that the 13.8-acre estate was closed to the public for half an hour while the Royal party and their friends toured the iconic building which includes the Jungle Room, with its green shaggy carpets, the Trophy Building which houses all The King's awards, as well as the luxury living room - all decorated with furnishings from when Elvis lived in the property.

With the exception of Prince William, the private tour group even put on oversize, gold Elvis-style sunglasses when they went outside to tour the grounds which include a meditation garden, and a racquetball court

Priscilla Presley, Elvis' ex-wife, tweeted: "So happy Prince William, Prince Harry and the wedding group had a good time on their tour of Graceland."

Harry had arrived in Memphis with other members of the wedding party on a private jet from Miami. William, who was also traveling with friends attending the wedding, flew to Memphis after a two hour stopover at Chicago's O'Hare airport. During the layover in The Windy City, Prince William and his traveling pals hung out in a private lounge at the International Terminal where they munched on nachos and hot wings.

On Thursday, May 1, William and Harry visited Charlie Vergos' Rendezvous for a pre-wedding rehearsal dinner. They gang of about 175 was composed of wedding party members and out of town guests, including Princess Eugenie, Princess Beatrice and Dave Clark. They chowed down on barbecue, cheese and sausage appetizers, ribs, shoulder, brisket and chicken Also beer, wine and Jack Daniels. They arrived at the restaurant about 8:30 p.m. along with law enforcement officials and Secret Service agents. The full rehearsal dinner took place Friday night at the Memphis Country Club.

A VERY BRITISH MURDER: THE STORY OF A NATIONAL OBSESSION by Dr Lucy Worsley, noted historian and Chief Curator at Historic Royal Palaces in London will explore two themes during her speaking tour; one that will explore the fascination of murder that reached a fever pitch in 19th-century England.

Murder cases became a great source of public interest and a sensation that even influenced literature during the 19th-century. Dr Worsley will describe some of the notorious crimes of the Regency and early Victorian era that heightened the appetite for murder including crimes such as the 1827 Red Barn murder and the so-called "Bermondsey horror" of 1849 - a case of a ménage à trois gone fatally wrong that became the sensation of the age and in part inspired Charles Dickens' Bleak House.

The lecture will discuss the huge social and cultural impact from these crimes and how murder gave birth to the new science of forensics as well as changed modern concepts of justice.

Her most recent BBC series and book, on which her lecture is based, A Very British Murder, examines the "morbid national obsession" with murder and was published in 2013.

May 5 at the Scandinavia House in New York City. Tuesday, May 6, at the Union League of Philadelphia. On May 8 at the Newberry Library in Chicago. On Monday, May 12 the event is at the Athenaeum in Boston. Tuesday, May 13, the lecture is at the Bank of American Building in Washington, DC.

NEWBURY SPRING FESTIVAL is one of the UK's most prestigious Arts festivals. Set in the market town of Newbury, the festival is privileged to be able to use some of this country's best regional performance spaces and many famous locations from the surrounding countryside. It covers a wide range of genres from music, theatre, dance, literature and cabaret and is very proud of its large program of work aimed at young people and families including the young stars award.

Newbury Spring Festival was begun 35 years ago by Jeanie, 7th Countess of Carnarvon, (you know, that Downton Abbey place). Attendees can enjoy outstanding music in local churches and fascinating private venues all around the local area. May 10-24, 2014 in Newbury, England.

ZIEGFELD GIRL: THE MANY FACES OF FANNY BRICE is a three night Lyrics & Lyricists program which began last night and continues through Monday, May 5th at the 92Y in New York City.

Ted Sperling, Artistic Director, Stage Director, Writer & Host helms the event. David Eggers, associate director with Jeffrey Klitz, Music Director and Piano. Vocalists Capathia Jenkins, Leslie Kritzer, Faith Prince and Clarke Thorell sing classics like Second Hand Rose and My Man - as well as songs she inspired in Funny Girl.

Funny girl, singular talent, American icon. Fanny Brice hit stardom in the 1920s and, almost a century later, still inspires the public imagination.

WILLIAM IVEY LONG the multiple Tony Award winning costume designer, who is currently nominated for his Bullets Over Broadway costumes, has in that production made a definitive statement showing that the fine line between coarse and vulgar versus laugh out loud, hysterically funny is - mustard on a hotdog.


OTHER PEOPLE'S MONEY


THE BOOK OF MORMON winner of nine Tony Awards including Best Musical announced a lottery ticket policy for the National Tour, which begins May 27 at The San Diego Civic Theatre and plays a limited 2 week engagement through June 8, 2014. In San Diego, the production will conduct a pre-show lottery at the box office, making a limited number of tickets available at $25 apiece.

BEN AFFLECK banned from playing blackjack at the Hard Rock Hotel in Las Vegas after the casino accused him of card counting. According to the NY Post which broke the story, the actor who was playing at a high roller table was approached by a hotel security guard who informed him "you're too good.' Afflect and his wife Jennifer Garner were in Sin City for a private vacation prior to his filming star of Batman in Los Angeles and Detroit. The couple were politely escorted off the property and driven to their hotel. It's not the first time Afflect has played blackjack at that casino. In 2001, Affleck won $800,000 playing three hands.



DEBORAH M. DRYDEN OSF Resident Costume Designer Emerita has been selected by the Theatre Development Fund (TDF) as the 2014 recipient of the TDF/Irene Sharaff Lifetime Achievement Award for costume design. The award was presented by designer David Woolard at a May 2 ceremony at the Hudson Theatre in New York City.

The TDF/Irene Sharaff Lifetime Achievement Award, first presented to Sharaff in 1993, is bestowed upon a costume designer whose career is marked by great distinction, a mastery of the art, and work that embodies the qualities of excellence represented in the life work of Irene Sharaff: a keen sense of color, a feeling for material and texture, an eye for shape and form, and a sure command of the craft.

Other artists to be honored at the ceremony include scenic designer, writer and professor Marjorie Bradley Kellogg (Robert L.B. Tobin Award for Sustained Excellence in Theatrical Design); costume designer Linda Cho (TDF/Irene Sharaff Young Master Award); and costume builder Marianne Krostyne (TDF/Irene Sharaff Artisan Award). The event also included a special memorial tribute to opera, theatre and film costume Designer Sam Kirkpatrick.

In her 34 seasons at OSF, Dryden's designs have appeared in over 80 productions, including Seagull, To Kill a Mockingbird, The Pirates of Penzance, Hamlet, Equivocation, The Clay Cart, and Green Show performances. She recently designed costumes for All the Way at both OSF and the Neil Simon Theatre on Broadway, and for the play's sequel, The Great Society, which premieres at OSF in July. Dryden retired as OSF resident costume designer in 2012 and now holds the position of Resident Costume Designer Emerita.

Dryden has also designed for: Arena Stage, Hong Kong Repertory Theatre, Kennedy Center, American Conservatory Theatre, Berkeley Repertory, Huntington Theatre, American Repertory Theatre, Arizona Theatre Company, Chicago Shakespeare Theatre, Alaska Repertory Theatre, Portland Center Stage, Portland Opera, Old Globe, Minnesota Opera, Denver Center Theatre, Alley Theatre, Milwaukee Repertory, Intiman Theatre, San Diego Opera, Seattle Repertory, La Jolla Playhouse and the Mark Taper Forum. She is the author of Fabric Painting and Dyeing for the Theatre, a Professor Emerita of Design at University of California, San Diego, and continues to teach workshops and master classes in design and fabric dyeing and painting. Her awards include the Michael Merritt Award for Design and Collaboration and the USITT Distinguished Achievement Award.

DIANE PAULUS a Tony Winning director for Pippin has been named one of Times's 100 Most Influential People.

Pippin launches a U.S. national tour in September 2014, at the Buell Theatre in Denver, Colorado.

TOM BROKAW now has a news center named after him. NBCUniversal has dedicated its West Coast news center to NBC journalist Tom Brokaw. The Brokaw News Center, located on the Universal Studios lot, will be the home to the West Coast operations of NBC News, CNBC, MSNBC and Telemundo News and local stations NBC4 Southern California/KNBC and Telemundo 52/KVEA.


CURTAIN DOWN


I CAN'T SING! West End musical based on The X Factor will close at a total loss on May 10, two months after opening to excellent reviews.

Co-written by Harry Hill, I Can't Sing! pokes fun at the talent show and its creator Simon Cowell.

Rebecca Quigley, chief executive of producer Stage Entertainment UK, said the show was well received then added, "but it seems that isn't always enough".

She continued: "The West End can be an unpredictable place as the closure of a number of high profile productions recently has shown."

Those shows include The Full Monty in which they were told get dress after five weeks, The curtain dropped on Sir Andrew Lloyd Webber's musical Stephen Ward after four months and the eternity for Sir Tim Rice's From Here To Eternity was six months.



SLUT by Katie Cappiello.

Directed by Katie Cappiello and Meg McInerney.

Award-winning actress Mary-Louise Parker will introduce the play to the May 9 audience.

On a cold night in New York City, Joey Del Marco puts on her favorite dress, her highest heels, and meets up with her oldest friends, George, Luke, and Tim, for a little pre-gaming. They play video games, dance, and down an entire bottle of Absolut. Everything is hazy fun, until they squeeze into the back of a cab. Inspired by experiences of the teen cast members, the critically acclaimed new play explores the sexual assault and shaming of a 16-year-old girl. Through Joey's story and those of girls in her community, witness the damaging effects of slut culture and the importance of being heard.

Under the leadership of Katie Cappiello & Meg McInerney -honored by the National Women's Hall of Fame for their work with girls - The Arts Effect All-Girl Theater Company developed Slut over a year's time through a unique combination of debate and discussion, improvisation, reflective writing, and character building around such themes as "slut" and "the sexualization of girls." The Arts Effect All-Girl Theater Company won Most Outstanding Ensemble, New York International Fringe Festival, and was named Best Youth Theater Group in NYC, Nickelodeon/MTV.

Last fall, performances of SLUT culminated in StopSlut: A Conference on Sexuality, Bullying, and Rape. Panelists and teens discussed the pervasiveness of sexual violence, slut shaming, and the challenge of healthfully owning one's sexuality. Girls' Coalitions were created in over 25 high schools, each tasked with creating their own unique approach to stop slut-shaming and sexual aggression. Examples of their work will be presented on May 10 before a performance of Slut.

May 9 - 10, The Gym at Judson in New York, NY.

DIFFERENT WORDS FOR THE SAME THING by Kimber Lee, recipient of the prestigious 2013-14 PoNY fellowship awarded by the Lark Play Development Center

Neel Keller directs one of the largest casts in KDT history.

After putting years and thousands of miles between them, Alice gets the call to return to her hometown, forcing her to revisit and re-examine the places, events and relationships that once defined her.

May 4 - June 1, 2014 at the Kirk Douglas Theatre in Culver City, CA.

JOHN LITHGOW IN STORIES BY HEART Lithgow delivers a commanding, funny and poignant tour de force performance, as he portrays a complete cast of distinct, outrageous characters while weaving personal stories with those by the likes of P.G. Wodehouse and Ring Lardner.

A theatrical masterpiece that demonstrates the power of storytelling, Lithgow's one man show is his funny, poignant tribute to his parents and grandmother.

Lithgow has won two Tony Awards, four Emmys and has had seven books for children on The New York Times best-seller list. don't miss an opportunity to see him in Stories By Heart. Thursday, May 8, at the Sunset Center Carmel-by-theSea and Saturday, May 10, at the Richard and Karen Carpenter Performing Arts Center in Long Beach, CA.

TALES OF HOFFMAN by Jacques Offenbach.

This is the final Seattle Opera production overseen by General Director Speight Jenkins prior to his retirement.

Conducted by Yves Abel. Stage directed by Chris Alexander.

Starring William Burden and Russell Thomas as Hoffman. The Villains are played by Nicholas Cavallier and Alfred Walker. Kate Lindsey portrays The muse/Nicklausse. The Heroines are Norah Amsellem and Leah Patridge. Keither Jameson is The Henchmen. Crespel played by Arthur Woodley. Steven Cole cast as Spalanzani, Tichina Vaughn as Antonia's Mother. Stephen Fish as Schlemil, Jonathan Silvia as Luther, Misha Myznikov as Hermann, and Eric Neuville as Nathanael.

Costume Designer - Marie-Theresa Cramer. Set Designer - Robert Dehlstrom. Lighting Designer - Robert Wierzel. Sets and Costumes - Seattle Opera.

Orchestra:

Violin I - Emma McGrath, Concertmaster - John Weller, Assistant Concertmaster - Simon James, Mariel Bailey, Blayne Barnes, Kelly Farris, Timothy Garland, Leonid Keylin, Victoria Parker, Mikhail Shmidt, Clark Story.

Violin II -Michael Miropolsky, Principal - Kathleen Boyer, Assistant Principal - Natasha Bazhanov, Stephen Bryant, Sande Gillette, Adrianna Hulscher, Mae Lin, Andrew Yeung. Viola - Mara Gearman, Principal - Tim Christie, Vincent Comer, Allison Farkas, Scott Ligocki, Julie Whitton, Assistant Principal. Cello - Meeka Quan DiLorenzo, Principal - Eric Han, Assistant Principal - Bruce Bailey, Roberta Downey, Hélène Ferret-Kaufman, Rowena Hammillt, Chuck Jacot. Double Bass - Jordan Anderson, Principal - Jennifer Godfrey, Assistant Principal - Todd Larsen, Matt McGrath. Flute - Christie Reside, Principal - Judith Kriewall. Piccolo - Judith Kriewall. Oboe - Ben Hausmann, Principal - Stefan Farkas. Clarinet Laura DeLuca, Principal - Sean Osborn. Bassoon - Seth Krimsky, Principal - Eddie Burns. French Horn - Jeff Fair, Principal - Danielle Kuhlman, Jonathan Karschney, Susan Carroll. Cornet - Alexander White, Principal - Anthony DiLorenzo. Trombone - Ko-ichiro Yamamoto, Principal - David Ritt, Steve Fissel. Timpani - Michael Crusoe, Principal. Percussion - Michael Werner, Principal - Michael Clark, Ron Johnson. Harp - Valerie Gordon, Principal.

Chorus:

Soprano: Donna Baldwin, Jennifer Bromagen, Jennifer Ceresa, Emily Clubb, Karen Early Evans, Melanie Hingson, Linda Mattos, Mary McLaughlin, Eleanor Stallcop-Horrox and Karen Urlie.

Mezzo: Lorraine Burdick, Laura Eichelberger, YeonSoo Lee, Gail Neil, Melissa Plagemann, Diane Radabaugh, Susan Salas and Lucy Weber. Tenor: Nathan Barnes, Gabriel Gargari, Tim Janecke, Jeffrey Jordan, Neil Jordan, Tony Kibbie, Bob Leavens, German Mendoza, Joshua Quesada, George Scott, and Steve Wall.

Bass/Baritone: Dan Aarthun, Michael Dunlap, Craig Garretson, Craig Grayson, Glenn Guhr, Tom Hingson, Gregory Lewis, Dierre Lopez, Misha Myznikov, Danny Oakden and Brett Youngquist.

Actors: Kyle Cable, JC Casiano, Rickey Klein, Rich Lewis, Robert Mead and Adam Standley. Supernumeraries: Luther M. Hintz, Supernumerary Captain. Diane Abbey, Allan Armstrong, Tim Barrick, Judith Cunneen, Jenny Cunningham, Elizabeth Dittmer, Maria Giammona, Dan Lathrop, TJ Mustard, Robert Pillitteri, Lisa Price, Karen Skrinde and Christiane Ulness.

Opened May 3 with performances only through May 17. Seattle Opera in Seattle, WA.


WHO'S WHERE


CRAIG SCHULMAN Sings: Heroes, Monsters & Madmen. Schulman is the only actor in the USA to have portrayed The Phantom in Andrew Lloyd-Webber's The Phantom of the Opera, Jean Valjean in Les Miserables, and the title roles in Jekyll & Hyde. His performance titled Heroes, Monsters & Madmen is his fresh and exciting take on some of the heroes and villains found in Broadway musicals. Steven Karidoyanes conducts the final concert of the Plymouth Phil's 98th season, a Broadway-infused Spring Pops on Saturday, May 10th at Memorial Hall, Plymouth, MA.

MICHAEL BOLTON has begun his tour of the UK. Tuesday, May 6, the show is at St. David's Hall in Cardiff. OnThursday he's in the spotlight at the Civic Hall in Wolverhampton. Saturday finds him at the Philharmonic in Liverpool.

CHER AND CYNDI LAUPER brings their powerhouse talents to the Time Warner Cable Arena in Charlotte, NC on Monday, May 5. On Wednesday they perform at the PNC Arena in Raleigh, NC. Friday's show is at Barclays Center in Brooklyn. On Saturday they'll heat up the stage at the IZOD Center in East Rutherford, NJ.

MORRISSEY AND TOM JONES and Missouri singer Kristeen Young perform May 10 at the LA Sports Arena in Los Angeles.

CHELSEA HANDLER entertains Friday, May 9, at Ruth Eckerd Hall n Clearwater, FL. Saturday's gig is at the Consol Energy Center in Pittsburgh, PA.

LADY GAGA performs today, Sunday, May 4, at the BB&T Center in Ft. Lauderdale, FL. On Tuesday she's on stage at the Philips Arena in Atlanta. Thursday finds her at the Consol energy Center in Pittsburgh. On Saturday she's center stage at the Mohegan Sun in Uncasville, CT.

ROD STEWART entertains at The Colosseum at Caesars Palace in Las Vegas on Tuesday, May 6, Saturday and next Sunday, May 11.

STEVE TYRELL opens an extended gig at Cafe Carlyle in New York City on May 7 performing through the 18th.

NEW KIDS ON THE BLOCK perform Tuesday, May 6, at Annexet in Stockholm, Sweden. Wednesday's show is at the Sentrum Scene in Oslo, Norway. On Thursday they are on stage at the Falkoner Theatre in Copenhagen, Denmark. Saturday the tour stops at the Heineken Music Hall in Amsterham, Netherlands and next Sunday, May 11, they'll be delighting their fans at the Olympia in Paris.


FINAL OVATION


BOB HOSKINS who started his career on the stage died April 29, 2014. The cause of death was pneumonia. He was 71.

He retired from acting in 2012 after being diagnosed with Parkinson's disease.

Hoskins' acting career began in 1969 at the Unity Theatre in London. One evening, he was waiting in the Unity Theatre bar for his friend, the actor Roger Frost, to finish an audition. While drinking at the bar, he was given a script and told "You're next." He got the part, with Frost ending up his understudy.

The Academy Award nominated actor won a Bafta in 1987 for crime drama Mona Lisa, in which he starred opposite Sir Michael Caine and Robbie Coltrane.

He is survived by his wife Linda and children Alex, Sarah, Rosa and Jack.

NICHOLAS MARTIN a Tony nominated director died April 30, 2014. He was 75.

He had suffered a milk stroke in September 25, 2008.

The former artistic director of Huntington Theatre Company (2000-2008) and Williamstown Theatre Festival (2008-2010), had been slated to direct a January 2015 production at the Huntington of Vanya and Sonia and Masha and Spike,' Christopher Durang's Tony-winning play, which Martin had directed on Broadway. Several months ago, Martin had to withdraw from the Huntington's production of Chekhov's The Seagull,' citing personal reasons.

On Broadway, in addition to Vanya and Sonia and Masha and Spike, he directed Present Laughter, Mauritius, Butley, Match, Hedda Gabler and The Rehearsal.

For Williamstown, Martin directed productions of The Corn is Green, Where's Charley?, Camino Real, Dead End, The Royal Family, A Midsummer Night's Dream, Dreading Thekla and Mother of Invention.

Martin's Williamstown Theatre Festival directing credits included Knickerbocker, She Loves Me, The Corn Is Green, Where's Charley?, Camino Real, Dead End and The Royal Family among others.

As artistic director of the Huntington Theatre Company he directed Bus Stop, The Corn Is Green, She Loves Me, Present Laughter, Persephone, The Cherry Orchard, Love's Labour's Lost, The Sisters Rosensweig, Laughing Wild, The Rivals, Sonia Flew, The Rose Tattooo, Butley, Springtime for Henry, A Month in the Country, Observe the Sons of Ulster Marching Towards the Somme, Betty's Summer Vacation, Hedda Gabler, Fully Committed and Dead End.

Off Broadway credits include Why Torture is Wrong, and The People Who Love Them (The Public Theater); Saturn Returns, The New Century, Observe the Sons of Ulster, The Time of the Cuckoo, and Chaucer in Rome (Lincoln Center Theater); Fully Committed (Vineyard Theatre and Cherry Lane Theatre); Full Gallop (Manhattan Theatre Club and West Side Arts); You Never Can Tell (Roundabout Theatre Company); Betty's Summer Vacation and Sophistry (Playwrights Horizons); and Bosoms and Neglect (Signature Theatre).

Regional credits include The House of Blue Leaves (Mark Taper Forum); Dead End (Ahmanson Theatre); Macbeth (The Old Globe), the West Coast and London productions of Full Gallop.

"Nicky Martin spent his life dedicated to the theatre. I felt fortunate that I was able to get to know him last year during Tony Awards season when he was nominated for Best Direction of a Play for Vanya and Sonia and Masha and Spike - a lovely last act to a long and prolific career directing and acting on stage. Our thoughts are with his family, friends, and colleagues," said Charlotte St. Martin, Executive Director of the Broadway League.

On Friday, May 2, the Broadway community mourned his passing by dimming the marquees of Broadway theatres in New York at exactly 7:45pm for one minute.

JUAN FORMELL the Cuban musician, bassist and vocalist died May 1, 2014. He was 71.

Best known as the director of salsa orchestra Los Van Van, he was a creator of popular danceable music and credited with bringing electronic instrumentation into the Cuban musical form. His professional activity started in 1957 as musician of cabarets orchestras, radio and television. In 1959 he worked as bassist of Musical Band of Revolutionary Police.

Neil Portnow President/CEO of The Recording Academy and Gabriel Abaroa President/CEO of The Latin Recording Academy issued the following joint statement: Grammy winner and Latin Recording Academy Lifetime Achievement Award recipient Juan Formell was a true renaissance man who dedicated his life to music. An arranger, a bandleader, a bass player, a composer, a producer, a singer and a songwriter, he founded the groundbreaking group Los Van Van, which would become one of the most important and influential bands in the history of Cuban music. Creating a new genre-bending musical style called 'songo,' Formell and Los Van Van would go on to record and perform for more than four decades, becoming the most widely known Cuban group in the world and solidifying their place in music history. Our music community has lost one of its greatest treasures, but his legacy leaves an indelible mark that will continue to teach and inspire future generations. Our deepest sympathies go out to his family, his friends, the people of Cuba, and all the world citizens who grooved to his infectious rhythms.

EFREM ZIMBALIST, JR an American actor known for his starring roles in the television series 77 Sunset Strip and The F.B.I. died May 2, 2014 at his ranch in Solvang, CA. He was 95.

He served in the army for five years during World War II, where he became friends with Garson Kanin.. Following the war, Zimbalist returned to New York and had a stage career as both an actor and producerr. His producing successes included bringing Gian Carlo Menotti operas to Broadway. In 1956, Zimbalist was put under contract by Warner Brothers and moved to Hollywood.

Efrem Zimbalist married his first wife Emily Munroe McNair in 1942 and she died of cancer in 1950. They had two children Efrem Zimbalist III and Nancy Zimbalist. His second marriage was to Loranda Stephanie Spaulding, in 1956. She died of cancer in 2007, at the age of 73. She was the mother of Zimbalist's daughter actress Stephanie Zimbalist.

THE DEATH OF PEACHES GELDOF who was found dead on April 7, 2014 may have been the result of heroin in her system according to a toxicology report released April 30, 2014. At a brief inquest in Gravesend, Det Ch Insp Paul Fotheringham, told the hearing: "Recent use of heroin and the levels identified were likely to have played a role in her death."

A full inquest will take place on July 23, 2914.















Next Column: May 11, 2014
Copyright:May 4, 2014 All Rights Reserved. Reviews, Interviews, Commentary, Photographs or Graphics from any Broadway To Vegas (TM) columns may not be published, broadcast, rewritten, utilized as leads, or used in any manner without permission, compensation and/or credit.
Link to Main Page
---
Laura Deni



For the snail mail address, please E-mail your request.
CLICK HERE FOR COMMENT SECTION