! >
Broadway To Vegas
  
  REVIEWS INTERVIEWS COMMENTARY NEWS

| | |
| --- | --- |
| | |
BURLINGTON DISCOVER JAZZ FESTIVAL TO BE FILMED FOR PBS - -YOU CAN'T TAKE IT WITH YOU REVIEW - - AMERICA'S FAVORITE DISH: CELEBRATING A CENTURY OF PYREX - - THINKING SHAKESPEARE LIVE! - - ALEXANDER McQUEEN CONFERENCE - - BILL COSBY RAPE ALLEGATIONS CREATES NEW NEVADA LAW - - STAGE TO SCREEN READING SERIES - AUSTRALIAN THEATRE COMPANY - - PLANS UNDERWAY FOR QUEEN ELIZABETH'S BIRTHDAY PARTY - - DONATE . . . Scroll Down
















Copyright: May 31, 2015
By: Laura Deni
CLICK HERE FOR COMMENT SECTION


YOU CAN'T TAKE IT WITH YOU IS HYSTERICALLY FUNNY
James Earl Jones as Martin Vanderhof, Kristine Nielsen as Penelope Sycamore, Fran Kranz as Tony Kirby, Reg Rogers as Boris Kolenkhov, Annaleigh Ashford as Essie Sycamore, Patrick Kerr as Mr. De Pinna & Mark Linn-Baker as Paul Sycamore. Photo: Joan Marcus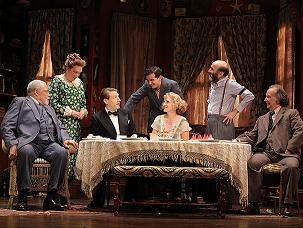 Moss Hart and George S. Kaufman created a Pulitzer Prize-winning comedic masterpiece with their You Can't Take It With You. The first Broadway revival in 30 years was staged this season at the Longacre Theatre and has received several Tony nominations including Best Revival of a Play; Annaleigh Ashford in Featured Role by an Actress in a Play; Scott Ellis for Director of a Play; Scenic Design nomination for David Rockwell and a Best Costume Design of a Play nomination for Jane Greenwood.

The brilliant production starred James Earl Jones as Grandpa Martin Vanderhof, head of the wacky household which included snake collectors, cunning revolutionaries, ballet dancers, skyrocket makers and income tax avoiders. But when the youngest daughter brings her fiancé and his straight-laced parents over for dinner, that's when the real fireworks start to fly.

Originally written during the aftermath of the 1929 Great Depression the three generations of the Sycamore family, who live under one roof on the Upper West Side of Manhattan, are in escapism, pursuing passions rather than paying jobs.

That was the purpose of the comedy, to offer the audience a respite into escapism. So it is today.

That You Can't Take It With You never loses its timeliness, doesn't mean it's an easy show to mount. This isn't a comedy that is meant for amateurs. The difficult script and staging requires extreme talent and polish to make the idiotically silly seem totally reasonable. Brilliantly directed by Scott Ellis. One of the most enjoyable, and outrageous comedies you can ever see - thanks, for the most part, to the exceptional cast and artisans creating the staging, lighting and costumes.

There is even a cat, which was cast through an audition process and appeared to be kept on a desk corner at the beginning of the first scene through the use of food. Winning the six minute role over 14 cats that auditioned were a pair of 9-week old kittens named Alfonso and Luis.

The feline observes as Grandpa's amiably eccentric daughter, Penelope (Kristine Nielsen), 'writes.' It seems a typewriter was delivered by mistake, causing her to jump to the conclusion that she was a playwright.



Annaleigh Ashford as Essie Sycamore & Reg Rogers as her ballet teacher Boris Kolenkhov. Photo: Joan Marcus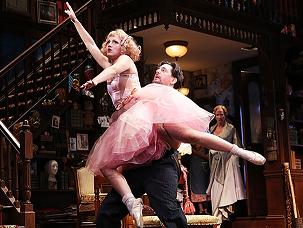 Penelope's husband, Paul Sycamore (Mark Lynn-Baker) manufactures fireworks in the basement with his pyrotechnical partner Mr. DePinna (Patrick Kerr). Penelope and Paul's loveable loon of a daughter is Essie (Annaleigh Ashford). Longing to be a ballet dancer, she is constantly en pointe. Unfortunately, she is an uncoordinated klutz with pitifully awkward ballet moves.

Her husband Ed (Will Brill), who plays the xylophone and runs a little printing press business, has a compulsive need to punctuate every sentence he utters with his fingers making a shooting gun gesture.

Every crazy household has a 'normal' relative. In this case, it's granddaughter Alice Sycamore, (Rose Byrne) who is smart, sensible and engaged to Tony Kirby (Fran Kranz).

She's nervous about her stoic, future in-laws Mr. and Mrs. Kirby (Byron Jennings and Johanna Day) meeting her family. While she loves her family, she is aware that they are off center.

James Earl Jones as Grandpa Vanderhof adds class to anything - including the ability to make offering somebody a tomato resonate importance.

Grandpa Vanderhof has failed to pay his taxes. The IRS has sent him numerous letters which have been ignored. When the tax man comes calling, it quickly becomes a case of Grandpa Vanderhof grilling the agent.

Also dropping by are the exiled Grand Duchess Olga Katrina, (Elizabeth Ashley) who waits tables at Child's but only until the restoration of the Russian monarchy. And an alcoholic actress named Gay Wellington (Julie Halston,) whose attempt to climb a staircase while reciting a dirty limerick shows a physical comedy skill not often seen.

Let's not forget Rheba (Crystal Dickinson), the family cook, and her boyfriend, Donald (Mark Damon Johnson), who is sent for groceries when the Kirby clan arrive for dinner a day early.



Elizabeth Ashley as The Grand Duchess Olga. Photo: Joan Marcus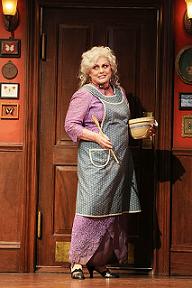 While every entertaining segment is as delightful as the next, one memorable scene involves the Kirby visit when the family plays "a perfectly harmless" parlor game called Forget Me Not.

Mrs. Sycamore reads the instructions.

"Any fool could play this game," explains Mrs. Sycamore. "I'm going to call out five words - just anything at all - and as I say each word, you're to put down the first thing that comes to your mind. For instance, "if I say "grass," you might put down "green" - just whatever you think of, see? Or if I call out "chair," you might put down, "table." It shows the reactions people have to different things. It's more than just a game, you know. It's sort of an experiment in psychology, isn't it? Yes, it is - it shows just how your mind works. You see how simple it is? Now, remember - you must play fair. Put down the first thing that comes into your mind ... " She calls out the words 'potatoes', 'bathroom', 'lust', 'honeymoon and 'sex.' Then the answers are read aloud.

For 'potatoes' Mr. Kirby said 'steak,' while Mrs. Kirby wrote down 'starch.' The word 'bathroom' had Mr. Kirby answering with 'toothpaste,' while Mrs. Kirby said 'Mr. Kirby.'

A response to 'lust' had Mr. Kirby listing 'unlawful' and Mrs. Kirby answering 'human.' Mr. Kirby responded to the wood 'honeymoon' with 'trip," while Mrs. Kirby wrote 'dull.' To the word 'sex,' Mr. Kirby said 'male,' while Mrs. Kirby wrote 'wall street'.

Chaos.

David Rockwell pops the color palette in his eclectic, bizarro living room of organized clutter, including a terrarium of live snakes that greets visitors at the front door. Jane Greenwood captures the period with her costumes. Wonderful use of lighting by Donald Holder. Sound by Jon Weston includes a realistic fireworks explosion.

All together they create a spectacular escapism production.

Fortunately, this effervescent production was filmed and is preserved at the The New York Public Library for the Performing Arts' Theatre on Film and Tape Archive.



Broadway To Vegas is supported through advertising and donations. Priority consideration is given to interview suggestions, news, press releases, etc from paid supporters. However, no paid supporters control, alter, edit, or in any way manipulate the content of this site. Your donation is appreciated. We accept PAYPAL. Thank you for your interest.






ART AND ABOUT


AMERICA'S FAVORITE DISH: CELEBRATING A CENTURY OF PYREX

The first Corning Advertisement for Pyrex featured in the October 1915 issue of Good Housekeeping. Image: Corning Museum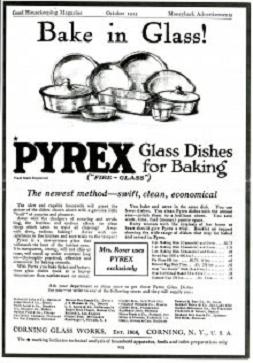 celebrates the 100 year anniversary of Pyrex, developed by Corning Glass Works in 1915. Born out of scientific discoveries in glass, and the emerging science of home economics, Pyrex was shaped not only by designers and engineers in Corning, but also by women consumers around the country. America's favorite dish is showcased in this exhibition through versatile Pyrex-brand dishes on display alongside colorful advertisements, primarily drawn from the collections of The Corning Museum of Glass.

The production of Pyrex began at Corning Glass Works with the development of temperature-resistant borosilicate glass for railroad lantern globes. The new glass was marketed in 1909 as Nonex or CNX (Corning Non-Expansion). A few years later, Corning began to look for other uses for this glass. Bessie Littleton, wife of Jessie T. Littleton, a Corning scientist, baked a sponge cake in a sawed off Nonex battery jar. Her experiment revealed that cooking times were short, baking was uniform, the glass was easy to clean, and, since the glass was clear, the cake in the oven could be monitored–all advantages over metal bakeware. Initially, Corning produced twelve ovenware dishes under the brand name Pyrex, and kicked off a new Corning Glass Works division focused on consumer products.

At the same time Corning introduced Pyrex, home economics was emerging as a profession. Corning Glass Works embraced the idea of using these new domestic professionals to test and promote Pyrex, and hired several home economists, including Sarah Tyson Rorer, an editor at Ladies Home Journal and Mildred Maddocks of the Good Housekeeping Institute. Rorer, in particular, was well-known to American women for her cookbooks, magazine columns, and her role in establishing the Philadelphia Cooking School. Rorer's cooking demonstrations at department stores around the country helped boost name recognition of Pyrex. By 1919, Corning had sold over 4 million pieces of Pyrex to consumers across America from a line that included 100 dish shapes and sizes.

Representative objects and advertisements from each decade will be on view to trace the evolution of the Pyrex brand. Particular highlights include:

The first 12 Pyrex products introduced to the consumer market in 1915, including: covered casserole dishes, pie plates, shirred egg dishes, custard cups, loaf pans, au gratin dishes, and oval baking dishes.

Durable military mess ware developed by Corning Glass Works in 1940s, which evolved into Pyrex opalware after World War II.

Representative pieces of nearly 150 Pyrex opalware patterns including the Terra and Verde patterns from the 1960s.

Pyrex measuring cups, including the 1980s redesign which introduced a new handle that allowed measuring cups of various sizes to be stacked inside one another.

A large archive of Pyrex advertisements, from its origins through the 1980s, incorporating themes such as weddings, wartime (specifically WWII), Christmas, intergenerational, and historical events. One ad depicts how the moon landing inspired the Horizon Blue pattern.

Original design drawings, correspondence, and other ephemera related to Pyrex design and marketing.

June 6, 2015 to March 17, 2016 at the Corning Museum in Corning, New York.





SPREADING THE WORD


THE BRIEFCASE is one of the most mean-spirited and potentially emtionally destructive shows to ever get a spot on television. It airs on Les Moonves' CBS.

The Briefcase is also a tremendous insult to the hit television series (1955-1960) The Millionaire in which a millionaire indulges himself giving away tax free one million dollars and then explored the ways sudden and unexpected wealth changed life for better or for worse This was fiction and the stories, directing and acting were superb. It's one thing to create fiction, in which people's ethics, compassion and sense of monetary priority are challenged. It's something else to pit real life, stressed-out, emotionally vulnerable family members against each other - and it doesn't matter they were screened and signed contracts.

The Millionaire reruns can be viewed on the Heroes & Icons channel.

From the best to the worst. Re-live The Millionaire. Shut The Briefcase. That statement will probably result in Moonves declaringThe Briefcase a hit and ordering more episodes.

FREE STAGE TO SCREEN READING SERIES - AUSTRALIAN THEATRE COMPANY returns to Matrix Theatre in Los Angeles with free Stage to Screen reading series. This event features stories, acting talent and wine imported from Down Under, offering four staged readings of acclaimed Australian plays that have been turned into major motion pictures.

Wednesday, June 3: Blackrock by Nick Enright. It's Toby Ackland's birthday party down near the surf club – and that means heaps of booze, drugs and good clean fun. But by morning, a girl is dead. She's been raped and bashed with a rock. Who's responsible? The boys? The girl? Or the whole town? Directed by Catriona Mackenzie and featuring Sam Clark, Tom Carmody, Giselle DaSilva, Sophie Luck, Andrew McKaige, Anna McNiven, Geordie Robinson, David Valencia, Wendy Wilkens and Roxanne Wilson.

Wednesday, June 10: Speaking in Tongues by Andrew Bovell. The powerful play that inspired the award-winning indie film Lantana. A missing person. A mysterious stiletto. Relationships in crisis. The seemingly random confessions of a group of strangers are pieced together into a powerful study of infidelity and interwoven lives as Detective Leon Zat investigates the disappearance of a leading psychiatrist.

Wednesday, June 17. Cosi by Louis Nowra. A classic Australian comedy about theater, madness, illusion, sanity and life. Set in a mental institution during the Vietnam War era, a mild mannered university student struggles to direct a production of the Italian opera Cosi Fan Tutte. Featuring Laura Bojana, Dave Franklin, Ros Gentle, Nate Jones, David Keresztes, Angie Miliken, James Monarski and David Ross Patterson.

Wednesday, June 24. Ruben Guthrie by Brendan Cowell. A heady cocktail of fizzy humor and touching revelation about spiraling high, crashing hard and going to AA with your mum. The cast will include Nick Hardcastle as the title character, reprising the role he played in the 2012 London Fringe production.

AMERICAN PLAYERS THEATER in Spring Green, Wisconsin, prides itself on being a world class theatre. The company's 36th regular season, running in repertory from June 6 to Oct. 18, opens with The Merry Wives of Windsor on the 1148-seat flagship Up-The-Hill outdoor theatre. Other productions scheduled for that stage include A Streetcar Named Desire, Pride and Prejudice, adapted by Joseph Hanreddy, and J.R. Sullivan from the novel by Jane Austen; Noël Coward's Private Lives and Shakespeare's Othello.

APT's 200-seat, indoor Touchstone Theatre will present An Iliad, by Lisa Peterson and Denis O'Hare, translated from Homer's The Iliad by Robert Fagles; Edward Albee's Seascape, and The Island by Athol Fugard, John Kani and Winston Ntshona. The Game of Love and Chance, written by Marivaux and translated by Stephen Wadsworth, also runs in the Touchstone Theatre from late October to November 22.

The season's casts APT's core company: Nate Burger, Kelsey Brennan and Tim Gittings, Tracy Michelle Arnold, David Daniel, Sarah Day, Jim DeVita, Colleen Madden, Brian Mani, James Ridge, Jonathan Smoots and Marcus Truschinski.

David Frank who was named Artistic Director in 1991 and became Producing Artistic Director in 2005 retired in January 2015. Under his leadership, American Players Theatre "assembled a core company of actors who shared an ongoing commitment to the theater's mission, added a second theater space and maintained an operating surplus for 23 years running.

"In January, APT's Board of Directors appointed Brenda DeVita as Artistic Director. Ms. DeVita has been with the company for 20 years and has spent the last several years as Associate Artistic Director. A national search is underway for a Managing Director to co-lead the theater. Today, American Players Theatre draws an annual audience of more than 110,000 people from around the country and has earned a national reputation for presenting theater of the highest quality."

MARGOT HARLEY who has served as producer of The Acting Company since she co-founded it with director John Houseman in 1972, will relinquish her post effective December 31, 2015, it was announced on Thursday, May 28.

The Acting Company, which tours the world with productions of original plays and classics, launched in 1972 with Kevin Kline, Patti LuPone, David Ogden Stiers and a dozen other members of Julliard's first Drama School graduating class. The company has gone out on 43 tours and has performed for 3.5 million people in 48 states and 10 countries and received a Tony Award for Excellence in Theatre.

In addition to her work on The Acting Company, Harley served as producer for the Broadway productions of Alfred Uhry's The Robber Bridegroom and The Curse of an Aching Heart starring Faye Dunaway. She also produced John Houseman's revival of Marc Blitzstein's musical The Cradle Will Rock in New York and at the Old Vic Theatre in London.

The search for a successor is underway.

ALEXANDER McQUEEN CONFERENCE is a two day conference which will examine the work of Alexander McQueen, his collaborators, partnerships, inspirations and legacy.

In collaboration with Centre for Fashion Curation, London College of Fashion University of the Arts London.

Speakers include, Christopher Breward, Anne Deniau, Caroline Evans, Tim Long, Alistair O'Neill, and Claire Wilcox.

June 5-6 at the V&A Museum and the London College of Fashion.

THINKING SHAKESPEARE LIVE! an encore presentation of of a 90-minute exploration of the language of Shakespeare, takes place Saturday, June 6.

Led by Old Globe Artistic Director Barry Edelstein and assisted by three professional classical actors, this special program based on Edelstein's book, Thinking Shakespeare: A How-To Guide for Student Actors, Directors, and Anyone Else Who Wants to Feel More Comfortable with the Bard, reveals a performer's approach to Shakespearean language so audiences may easily understand the poetry of the Bard.

Taking place on the Donald and Darlene Shiley Stage in the Old Globe Theatre, part of the Globe's Conrad Prebys Theatre Center in San Diego, CA.

SCHOOL OF ROCK a new musical with music by Andrew Lloyd Webber and lyricist Glenn Slater, with a book by Julian Fellowes, adapted from the Jack Black comedy movie, will have a staged presentation for an invited guest list Wednesday through Saturday at the Gramercy Theater in New York City.

The in work production will be directed by Laurence Connor and stars Alex Brightman as a substitute teacher who transforms his class of students into al rock combo for an his all-important battle of the bands.

The cast also will also feature rock bands composed of school-age musicians who were hired through open casting calls held earlier this year. The score includes three songs from the original film as well as about 12 new numbers.

Cchoreography by JoAnn M. Hunter, scenic and costume design by Anna Louizos, lighting design by Natasha Katz and sound design by Mick Potter. School of Rock - The Musical is set to begin previews November. 2 at the Winter Garden Theatre. Officialy opening night is set for December 6, 2015.

STIFF UPPER LIP a royal Guardsman had to be carried out on a gurney after passing out due to the heat, while the most amazing Queen Elizabeth II, in a floor length white gown, first draped with a white fur stole, and then covered by the 18-foot long, 15-pound, velvet Robe of State, plus a 3-pound crown on her head, managed to appear nonplussed in the sweltering London weather, opening Parliament on May 27, 2015.

BURLINGTON DISCOVER JAZZ FESTIVAL TO BE FILMED FOR PBS Chris Botti, the Wayne Shorter Quartet, Christian McBride Trio and Melissa Aldana + Crash Trio will be headlining the storied Burlington Discover Jazz Festival, which takes place June 5-15 in Burlington, Vermont.

Unique this year is that each performance will be filmed live, along with behind-the-scenes artist interviews, to be aired throughout the year on Vermont PBS, in addition to being available to PBS networks across the country.

Produced by the Flynn Center for the Performing Arts, in association with Burlington City Arts, Linda Little is the managing director. Steve MacQueen serves as artistic director and Chelsea Lafayette is the Marketing & Development Manager.





BILL COSBY RAPE ALLEGATIONS CREATES NEW NEVADA LAW
Officially titled Assembly Bill 212, on the streets it's commonly referred to as the Bill Cosby Rape Law. Signed into law on May 25, 2015 by Nevada Gov. Brian Sandoval, the bill expands the statute of limitations for bringing charges from four years to 20.

The measure was the result of Lise-Lotte Lubin who alleged that Cosby drugged her in 1989 in a Las Vegas Hilton hotel suite. When she went to the police in 2014 and filed a complaint she was informed that criminal charges couldn't be filed because the statute of limitations had expired.

Assemblywoman Irene Bustamante Adams, D-Las Vegas, sponsored Assembly Bill 212 on behalf of a Lublin. The bill received unanimous support from the Assembly and Senate.

A thrilled Lublin held a news conference Tuesday, May 26, outside the Legislative Building in Carson City with her attorney, Gloria Allred, Bustamante Adams and her husband Benjamin Lublin.

Allred stated she believes the law is the first in the U.S. to change the statute of limitations for rape since the Cosby scandal broke about six months ago. "Predators should understand that they will no longer be protected from criminal prosecution for only a short period of time," Allred told the press.

The new law isn't retroactive, thus doesn't permit Lublin to move forward with claims against Cosby. The 20-year statute of limitations only applies to new cases or rapes that haven't yet reached the former four-year limit. The law takes effect October 1.

Recently, about 20 women have alleged Cosby drugged, sexually assaulted or raped them over the years. Cosby and his attorney have denied the allegations.









QUEEN ELIZABETH'S 90th BIRTHDAY EXPECTED TO BE PARTY OF THE DECADE
Katherine Jenkins is set to perform.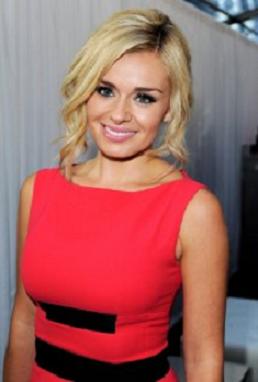 All birthdays are special. But, when you're the Queen of England and turning 90, the celebration is upscaled - no back yard bar-b-que.

Mark your calendars. The birthday party of the year - if not the decade - takes place May 12-15, 2016 at Windsor Castle.

Performers in a theatrical spectacular which will take place over those four nights will come from a number of countries including Oman, Chile, New Zealand, Canada, Fiji and South Africa.

The gorgeous Welch mezzo-soprano and Dancing With the Stars winner Katherine Jenkins, who performed last week during the PBS aired Memorial Day Concert, helped announced the event. She will be among those performing at the event which will be a 90 minute show, celebrating 90 years of The Queen's life. .

The birthday bash will feature 550 horses and 1200 participants including musicians, dancers, choirs, and famous actors, actresses and artists.

The military will be well represented and will include The Queen's Mounted Troops and over 100 pipers.

Members of the royal family will attend the show each night and the Queen will go to the last performance which will be broadcast live on television.

The participants will reflect The Queen's private and public interests.

Prince Charles is patron of the celebrations and Sir Mike Rake, BT chairman and president of the CBI, is its chairman. Any proceeds from the event will be donated to a number of the Queen's Charities which will be selected by an advisory committee.




OTHER PEOPLE'S MONEY


NEVERLAND RANCH the former abode of Michael Jackson is up for sale with an asking price of $100m.

Jackson purchased the property in 1987 for $19.5m then struggled to pay for it. An investment company came forward, saving it from going into auction.

The property is now called Sycamore Valley Ranch and has undergone extensive redevelopment since Jackson's death in 2009. All that is left of the property, as Jackson knew it, is a floral clock and a railway.

Expected to sell for at least $80m, experts say the property will be bought by a commercial company and be turned into perhaps a golf course.

FREE WI-FI IN DUBAI is now available thanks to Smart Palm - a "self-sustaining community tech hub" in the shape of a date palm. In other words, it's a man-made tree that provides free Wi-Fi and information services as well as eight high-speed phone-and tablet-charging points for the public to use at no cost.

The stations are located in parks, on beaches and other locations. 50 Smart Palm stations will be deployed over the city by the end of the year.






AS YOU LIKE IT by William Shakespeare, re imagined by director Ellen Geer who moves the tale of two sets of brothers - one alienated by ambition, the other estranged by envy - to the divided South of the post-Civil War era, adding traditional American folk music and dance from the period.

This production kicks off Will Geer's Theatricum Botanicum 2015 Americana season.

Willow Geer stars as Rosalind, forced to flee camp when her uncle Frederick (Thad Geer), usurper of his brother's position as a general in the Union army, threatens to have her killed. Accompanied by her cousin Celia (Elizabeth Tobias), Rosalind disguises herself as a man for safety's sake. The disguise comes in handy when she tests the devotion of her noble admirer, Orlando (Colin Simon), on the run from his hostile older brother (Frank Wiedner). Meanwhile, the rebel camp is alive with music - banjo, guitar, ukulele, mandolin and more. With Rosalind's wit leading the way, the forces of true love, justice and song eventually triumph.

Also in the cast are company members Leo Knudson as Corin; Gerald C. Rivers as Touchstone; Earnestine Phillips as Aida; Christine Breihan as Phebe; Crystal Clark as Audrey; Sonny James Calvano as Silvius; Jonathan Blandino as Le Beau; and Melora Marshall as Jaques.

As You Like It opens on Sunday, June 7 and continues through September 26. at Will Geer's Theatricum Botanicum in North Topanga Canyon Blvd. in Topanga, CA.

A MIDSUMMER NIGHT'S DREAM by William Shakespeare.

Directed by Tamilla Woodard.

Presented by the Masterworks Theater Company with performances beginning June 5; Opens June 11 through June 28 at the 47th Street Theatre in New York City.

IMAGE OF AN UNKNOWN WOMAN a World premiere by Elinor Cook.

Directed by Christopher Haydon.

She is a young woman in a yellow dress.
She has been shot by the police.

As a video goes viral, she quickly becomes an icon of resistance and a revolution begins to stir.

Ali and Leyla are panicking - they uploaded the footage and now the authorities are after them. Across town, Yasmin is desperate to know if her missing mother is still alive. Halfway around the world, a woman in London wants to help. As a tornado of dissent and violence spreads, everyone's life is going to change.

Designer Fly Davis - Lighting Designer Mark Howland - Sound Designer George Dennis.

June 4-27 at the Gate Theatre in London.

NOTES OF A NATIVE SONG a world premiere by Tony Award winning playwright, singer-songwriter Stew.

Co-composed with Heidi Rodewald, who also performs.

Notes of a Native Song is a live collage of songs, text and video inspired by James Baldwin's brave and visionary proclivity for airing uncomfortable truths as celebratory events of poetry and beauty. In his most personal work to date, Stew "filters Baldwin's wisdom through his joyfully irreverent, surrealist aesthetic, utilizing the great individualist's work as a prism, shield and springboard to contemplate the reality of Harlem today and the limits of "socially engaged art." Along with his band, Stew creates a deeply personal and bitingly funny cabaret show."

The Year of James Baldwin, Harlem Stage's most ambitious programming initiative to date, is conceived as a 14-month, citywide celebration of one of America's most acerbic thinkers and is presented in partnership with Columbia University School of the Arts and New York Live Arts, in collaboration with the New School/Vera List Center for Art and Politics, Schomburg Center for Research in Black Culture and numerous other collaborators.

Commissioned and Produced by Harlem Stage, Notes Of A Native Song culminates The Year of James Baldwin, the institution's most ambitious programming to date. Performances June 3-7 at Harlem Stage Gatehouse in New York.

BETRAYAL by Harold Pinter.

Directed by Frank Corrado.

Master playwright Harold Pinter explores the shifting balance of power within a love triangle. Filled with taut drama and deception, the story unfolds in reverse chronology as we take this treacherous journey with characters who are compelling and brimming with human frailty. Passionate, explosive and surprisingly funny, Betrayal is considered one of Pinter's most innovative and influential works, one that is certain to provoke lively discussion long after the curtain falls.

June 3 – 28, 2015 at North Coast Repertory Theatre, Solana Beach, CA.

CASTERBRIDGE a new musical with book and lyrics by David Willinger. Music by Christopher Beste. Based on the classic Victorian novel The Mayor of Casterbridge by Thomas Hardy.

Directed by David Willinger.

Musical Director is Bob Goldstone.

"In Hardy's famous Victorian novel, ne'er-do-well Michael Henchard, when drunk, organizes an auction to sell off his wife. After taking a vow never to drink again, he pulls himself up by his bootstraps to be a pillar of society - Mayor of the town and a business owner. He reunites with his wife and starts over, only to get pulled back down by his own nature. It is a work full of passion, love, and even humor as Henchard pays his karmic debt. While essentially a romantic tragedy of human flaws, destiny and will, it has both comic highlights and melodramatic moods to enliven it. Its main characters are riveting figures, full of depth and pathos, while its secondary characters are fun in their sharply defined peculiarities." Michael Hurst plays Michael Henchard, the eponymous Mayor of Casterbridge; Emily Stine as his wife, Susan and Ayanna Williams as Lucetta Templeman, Henchard's nurse and mistress. The acting company also includes Matthew Angel, Rachel Baccus, Sean Beck, Abby DeMauri, Danny Echevarria, Emily Epstein, Ruby Hurlock, Nathaniel Janis, Katie Lugo, Tracy Rosten, Juan Villegas and John Wiethorn. Choreographer is Michael Vazquez. Set design is by Mark Marcante and Lytza Colon. Set painting is by Mary Blanchard. Lighting design is by Alex Bartenieff. Costume design is by Peiwen Huang.

June 4 to 19, 2015 at the Theater for the New City, New York City.


WHO'S WHERE




BETTE MIDLER entertains Monday, June 1, at the Key Arena in Seattle, WA. On Tuesday he's on stage at the Rogers Arena in Vancouver, BC. Next Sunday, June 7, she'll be pleasing the crowd at the Xcel Energy Center in St. Paul, MN.

IDINA MENZEL has taken her talents on a world tour with performances Monday, June 1 at the Osaka Castle Hall in Osaka, Japan. On Tuesday she stars at the Nagoya Aichi Ken Geijutsu Gekijo in Nagoya, Japan. She opens a two nighter Thursday at the Nippon Budokan in Tokyo. Thursday's show is at the Mall of Asia in Manila.

ROLLING STONES roll into TCF Bank Stadium in Minneapolis for a show on Wednesday, June 3. Saturday's gig is at AT&T Stadium in Arlington, TX.

TAYLOR SWIFT brings her tour to the KFC Yum! Center on Louisville, KY on Tuesday, June 2. Wednesday's gig is at the Quicken Loans Arena in Cleveland, OH. On Saturday, June 6, she'll be appearing with Vance Joy at Heinz Field in Pittsburgh.

NEW KIDS ON THE BLOCK sing their hits on Tuesday, June 2, at the Time Warner Cable Arena in Charlotte, NC. Thursday's show is at the BB&T Center in Sunrise, FL. On Friday they star at the Amway Center in Orlando, FL. On Saturday they bring their tour to the Philips Arena is Atlanta, GA. Next Sunday, June 7, finds them at the KFC Yum Center in Louisville, KY.

CHICK COREA AND HERBIE HANCOCK open a two nighter Monday, June 1, at the Opera House in Sydney, Australia.


FINAL OVATION


ANNE MEARA Tony and 5-time Emmy nominee actress died May 23, 2015. She was 85.

She and husband Jerry Stiller were a prominent 1960s comedy team known as Stiller ad Meara, considered one of the most successful male/female comedy duos of all time..

When Stiller was cast in a production of Joseph Papp's just formed Shakespeare Company in Central Park, he got her a job as well. While he often played a goof, she was cast as a leading lady. They turned to comedy and polished their act in Chicago, improvising with the Compass Players (which also spawned the likes of Nichols & May, Alan Arkin and Shelley Berman). They returned to New York to appear at such venues as The Village Gate, Phase Two and The Blue Angel. A spot on Merv Griffin's afternoon show led to their first appearance on The Ed Sullivan Show, when Meara played a reporter interviewing a man (Stiller) who had been swallowed by a whale.

Their debut LP, Presenting America's New Comedy Sensation: Jerry Stiller and Anne Meara Live at The Hungry I, released in 1963, was a hit. In 1986, he played the deputy mayor of New York, and she was his actress wife on The Stiller & Meara Show. But in 1970, they broke up the act and each became successful in their own right.

Meara played the title character, an attorney, on the short-lived 1975 CBS drama Kate McShane, and received her first Emmy nomination. She also portrayed wisecracking cook Veronica Rooney on CBS' Archie Bunker's Place, was Eldin's (Robert Pastorelli) mother on Murphy Brown and had roles on Rhoda, All My Children and Sex and the City.

In 1997 she received her fifth Emmy nomination for her guest-starring role on Homicide.

More recently, she has had recurring roles on the television shows Sex and the City (as Mary Brady) and The King of Queens (as Veronica). In the 2004-'05 season, she appeared in an episode of Law & Order: Special Victims Unit.

Starting in October 2010, Meara and her husband Jerry Stiller began starring in a Yahoo! web series called Stiller & Meara produced by Red Hour Digital, a production company owned by their son Ben Stiller.

On stage, Stiller & Meara toured in the Neil Simon comedies The Last of the Red Hot Lovers and The Prisoner of Second Avenue. She also appeared on Broadway in five productions. Meara was Tony-nominated for her performance as Marthy Owen in Anna Christie, in 1992, opposite Liam Neeson and Natasha Richardson.

Her last appearance was a role in the Off-Broadway play Love, Loss, and What I Wore for an April 27 through May 29, 2011, run with Conchata Ferrell, AnnaLynne McCord, Minka Kelly and B. Smith.

Also an accomplished playwright in 1992 she won The Outer Critics Circle's John Gasner Playwriting Award for After Play.

Over the years I enjoyed a few conversations with her. She was besotted with her children. With a heart full of happy memories she grinned recalling he time she and her husband co-hosted the Mike Douglas Show, an afternoon television talk show. It was November, 1972 and they had as their guests, their children. Her then 11-yrar-old daughter had played the violin. Over fifteen years later she was still bragging about it.

Stiller and Mears were married in 1954. In addition to Jerry Stiller, she is survived by their son actor and comedian Ben and daughter Amy Stiller, who is also an actress, and several grandchildren.

DENNIS SHEEHAN who spent the last 30 years as the tour manager for U2, passed away early Wednesday morning, May 27, 2015. Sheenan underwent heart bypass surgery in 2005. He was 68.

Sheehan was discovered unconscious at his room at the Sunset Marquis Hotel in West Hollywood. Paramedics were called to Sheehan's room at 5:30 a.m. responding to a reported cardiac arrest. He was "pronounced dead at the scene."

"We've lost a family member, we're still taking it in," Bono said in a statement posted to the band's "He wasn't just a legend in the music business, he was a legend in our band. He is irreplaceable."

U2 and Sheehan were in Los Angeles as part of U2's Innocence + Experience tour. Sheehan's death was discovered only a few hours after the band's first of five concerts at the Forum.

The band paid tribute to Sheehan at Wednesday night's concert.

Besides U2, Sheehan had worked with major rock n' roll acts including Led Zeppelin, Lou Reed, Iggy Pop, Patti Smith, The Damned, Siouxsie and the Banshees and Soft Cell.

Sheehan was born Nov. 15, 1946, in Wolverhampton, England, grew up in southern Ireland In 2008, Sheehan received the Parnelli Lifetime Achievement Award, which recognize "the highest achievement in concert production technology."

DAVE SWEET known as The Prince of Foam, was the first person to manufacture the foam surfboard resulting in the sport becoming mainstream, died of renal failure May 18, 2015 at the Veterans Affairs West Los Angeles Medical Center. He was 86.

Considered collector's items, his boards were featured in a 1988 Smithsonian Institution exhibition. He was a member of the International Surfboard Builders Hall of Fame.

Sweet married Bonnie Mae Johnson in 1958; they were divorced in 1973. He always credited Bonnie with "cover(ing) the bookkeeping, checks, payroll, ordering, payables and receivables, and advertising. She also did the modeling."

He later married Jane Fellows; that marriage ended in 1983. He is survived by his son Greg, and brothers Roger and Richard.




















Next Column: June 7, 2015
Copyright: May 31, 2015 All Rights Reserved. Reviews, Interviews, Commentary, Photographs or Graphics from any Broadway To Vegas (TM) columns may not be published, broadcast, rewritten, utilized as leads, or used in any manner without permission, compensation and/or credit.
Link to Main Page
---
Laura Deni



For the snail mail address, please E-mail your request.
CLICK HERE FOR COMMENT SECTION