! >
Broadway To Vegas
  SHOW REVIEWS     CELEBRITY INTERVIEWS     GOSSIP     NEWS 
| | |
| --- | --- |
| | |
Copyright: May 31, 1999
By: Laura Deni
CLICK HERE FOR COMMENT SECTION

MGM MUSICALS CELEBRATED

Last Wednesday Carnegie Hall presented an evening to remember when June Allyson and Michael Feinstein hosted A Celebration of the Glorious MGM Musicals.

Glorious it was!

Between 1939 and 1958 the studio produced and released over 110 musical films. The studio motto was "Do it big. Do it right, and Give it class."

The MGM stars who graced the Carnegie Hall stage were the epitomes of that class that personified the "golden age of musicals."

Michael Feinstein opened the bill singing specialty material while MGM film clips were shown. Performing in person were: Marge Champion, Cyd Charisse, Gloria DeHaven, Nanette Fabray, Betty Garrett, Skitch Henderson, Van Johnson, Tony Martin, Harold Nicholas, Margaret O'Brien, Donald Saddler, Esther Williams and surprise guest - Fred Astaire's widow, Robyn.

A few of the highlights included:

VAN JOHNSON "I'll be 83 next month," he said as he lifted his pant leg to display red socks and opened his tux jacket to show off the red lining. Johnson, who has starred in 125 films said, "When I got to MGM Mr. Mayer sent me to make up. He didn't want a red head with freckles. They dyed my hair black and put on tons of pancake make up to cover the freckles. I looked like Liberace!"

JUNE ALLYSON Following a serious injury, she watched a Fred Astaire and Ginger Roger movie 18 times, and taught herself to dance as part of her therapy. While in high school she made her Broadway debut as part of the chorus of Very Warm For Mary.
JUNE ALLYSON: Could cry on cue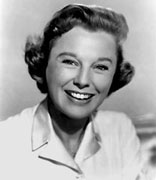 Signed by MGM to understudy Bette Hutton, she replaced Hutton in Best Foot Forward after Hutton became ill. Instead of the girl next door roles that became the Allyson image, one of June's big numbers was the sassy Treat Me Rough.

"I taught French to Peter Lawford in Good News, except I didn't speak French and Peter did. So, he would teach me the French word right before the scene was shot. The cameras would roll and I'd teach the word back to him."

Pitted against Allyson was Margaret O'Brien. Allyson said they were called "the town criers" because of their ability to cry on cue"

MARGARET O'BRIEN added that the studio saw to it that they were rivals. The elegant lady complained that Vincent Minnelli's book "didn't tell the truth" when he wrote that to get O'Brien to cry he told her that her dog had died. "He confused me with Jackie Cooper. Besides, my mother would never have stood for that! In Meet Me In St. Louis, during the showman scene, when I had to break all of the snowmen, I was having a difficult time with that scene. I saw my mother talking with Vincent Minnelli. Then my mother came up to me and said - They're going to get make up to put fake tears in your eyes. You know, June Allyson always cries real tears. She never needs the make up men.

That's all it took for me to cry. June and I had a real rivalry!"

If there was competition with Allyson, there was a family feeling for Judy Garland, whom O'Brien recalled with tenderness. "I was an only child and I asked Judy if she would be my big sister. She said - Yes. We were always close."

Appearing at Carnegie Hall was a first for O'Brien and carried deep significance. "I love New York. I grew up here. Every time I walked past Carnegie Hall with my mother she would look at the building and say - Wouldn't it be wonderful if one of us could play Carnegie Hall." As she looked up O'Brien said - "Well, Mom, it's taken me a good many years to get here, but I finally made it."

BETTY GARRETT who made several films with Frank Sinatra reported he was a fantastic kisser and recalled the first time she worked with him. "I met him for the first time right before we were to shoot a scene. The camera came over my shoulder to get a close up of Frank's face. After the scene was shot Frank said - What about my friend here? - Frank made them reverse the cameras and shoot the scene over his shoulder so that they also had a close-up of my face."

Garrett, who was the cab driver in On The Town, which she loved was in Words and Music, which isn't on her list of favorites. She called it "the most preposterous account of Rogers and Hart."

ROBYN ASTAIRE was a surprise guest. The former jockey, regal in a purple gown, recalled their romance. "We met on January 1, 1973. I was introduced to Fred at a horse race. I was riding a 30 to 1 long shot. I told Fred not to bet on the horse. But he was loyal to the horse's owner and placed a hundred to show and a hundred to place. The horse came in and he won a lot of money. Fred loved to win a bet and I always thought he fell in love with me because he won a lot of money."

They went their respective ways. Months later, Robyn discovered they were in the same city and she telephoned Fred. "I asked him to dinner. Of course, ever the gentleman, he ended up taking me to dinner," she stressed, referring to who paid the bill.They began dating and months later over dinner at Tavern of the Green he proposed. "He leaned across the table and simply said -"Lets 'elope."

NANETTE FABRAY who appeared in 12 Broadway shows, won a Tony for Love Life, and three Emmy Awards talked about making Bandwagon.

NANETTE FABRAY. Given pain shots and told to keep working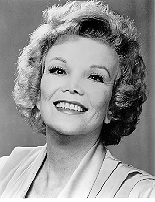 "I had cut my knee, but they didn't care," she said of the MGM bosses. "I was given a pain pill and told to keep performing." During the Triplets scene her knee was painfully swollen. She told them she was in such agony that she didn't think she could work. "They gave me pain shot and told me to keep dancing."

Beautiful in pink sequins, Nanette described how the scene was shot. Plaster casts were made to look like toddlers' legs. Fake shoes were attached. The performers were dancing on their knees with the casts covering their thighs. "We had to keep our arms constantly bent, so we didn't look like orangutans"

Looking around the hall Nanette remembered her first Carnegie appearance.

"It was on December 7, 1941. In the middle of my act somebody walked on stage and handed the conductor a note. He turned around and said - Ladies and gentleman, we have just been attacked at Pearl Harbor and we are at war.

"They played the National Anthem and the conductor walked off! The musicians didn't know what to do. The audience was stunned. Finally, everyone started leaving the theatre. So, this is my second appearance at Carnegie Hall."

GLORIA DEHAVEN "I'm the only star to have played her own mother in a film," related the stunning DeHaven, the daughter of vaudeville performers. "It was an accident. They were looking all over for someone to cast for the five minute scene. Somebody said - You know, I think we have her kid on the lot. "They totally recreated my mother's dressing room. My mother was on the set.They had a director's chair with her name in it. So, she got to see the scene filmed when I played her. Unfortunately, she passed away before the film was released." Then Gloria sang the song that her mother had introduced - Who's Sorry Now?

ESTHER WILLIAMS was introduced by Feinstein as the person who "gave Mickey Rooney his first and last underwater kiss - as least on screen," quipped Feinstein referring to the multi married Rooney.

"Are you all enjoying us old dinosaurs up here," asked Williams, who looked gorgeous in black. "You'd better respect us, because we're all that's left!"

ESTHER WILLIAMS Said: "was even better that f-ing!"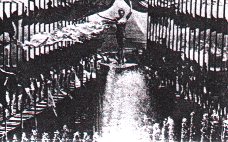 Talking about working with Johnny Weissmuller, best known as Tarzan she divulged: "He had the most gorgeous body and he really wanted everyone to see all of it, so I did" He was always trying grab me, to do it in the pool, but I could swim faster, so he never caught me. I wondered how Maureen O'Sullivan handled that during the Tarzan movies. There was only that leaf thing in front, which he kept flipping up or pulling down. I asked her What did you do about that? She said - I let him!"

"I don't think Mia knows that," matter-of-factly stated Esther about Maureen's daughter, Mia Farrow.

Esther stopped the show cold when she discussed the dreaded movie censors during the production of Neptune's Daughter. "The censors sat in on a rehearsal and I was singing I'd like to getcha on a slow boat to China. The censors, Kenneth Starr lookalikes, yelled STOP - you can't say the dirty word. I said - What dirty word? They said - Getcha. It means the same thing as the F word.

"I went to Frank Loesser and said - Can you believe it? They think gotcha means the F word. Frank said - It does! That's what it's suppose to mean. And, when you're on a slow boat to China there can be a lot of f-ing going on!"

The song was replaced with Baby, It's Cold Outside.

As Esther was escorted off the stage she suddenly turned around and walked back to the podium. Referring to the famous scene in Easy To Love where she rises out of the water she stunned the crowd by saying - "I'd just like to say one thing about coming out of the water on that platform - that was even better than f-ing!"

Williams then turned and walked off the stage. A flabbergasted Feinstein stared at his Steinway and finally said - "I can't follow that."


A BARE IT ALL ACT HEATS UP THE STRIP
BEHIND THE SCENES - SHOWING OFF THEIR BACKSIDES AT THE AFTER SHOW PARTY ARE TWO OF THE HUNKS
Photo by: Laura Deni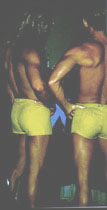 Thunder From Down Under, a globetrotting troupe of male dancers from Australia, annually take it off in Las Vegas, making seemingly intelligent, reasonable women act bonkers. They're steaming up the scene at the Stardust Hotel where they'll be driving the women wild through June 13

Women comprise 90% of the Thunder From Down Under audience, according to Bill Cross, founder and leader of the group. Cross describes their show as "the ultimate girls night show."

While women might frown on their number one man heading out to a girlie show, no man is apt to feel threatened by his lady seeing this show.

The performers include; Donovan Lewis, David Rylah, Shaun Donaghy. Adam West, Noel Oliver, Marty Amiott and Marcus Deegan-Compere.

Their "strip" routines are more campy that salacious, although various audience members are brought on stage, seated in a chair while the lads perform simulated oral sex in a lap dance routine that would get a vice squad seal of approval.

The screaming ladies - a cross section of ages, and body types - were mesmerized by the sweaty hunks and didn't notice that many of their routines are similar.



DONOVAN LEWIS
Photo by: Laura Deni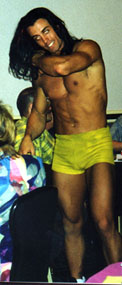 Always entertaining is the Tom Cruise take off. Poking fun at themselves while permitting the guys to do something a little different is their segment from Rocky Horror Picture Show.

Afterwards, at the post faux coital press party the gents were attired in their obligatory yellow swim suits.

What they all seem to have in common is personality and a sense of humor. They're gracious without pandering.



MARTY AMIOTT
Photo by: Laura Deni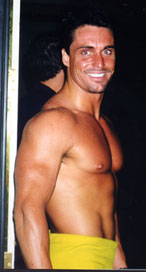 Donovan Lewis danced for the Queen of England when he was 13 years old, literally following in his parents footsteps, who were also entertainers.

His long eyelashes and chiseled cheekbones come courtesy of French/Italian genes.

Marty Amiott returns to the show after taking a 12-month break. "I cut my hair. When I was here the year before last my hair was long."

Eying the buffet table he admitted that while in Las Vegas the guys do veer from their diet.

"I pig out on pizza," said Marty, a former personal trainer and fitness instructor, who quickly added that all the guys stay in shape by doing "very advanced serious weight training."


WE'RE NOT SURE IF BLONDES HAVE MORE FUN, BUT THESE TWO THUNDER FROM DOWN UNDER BLOKES SEEM TO BE HAVING A GOOD TIME AT THE POST SHOW PARTY
Photo by: Laura Deni

| | |
| --- | --- |
| | |
The gent talk doesn't center on women, the newest gym, or the latest sports drink.

Like female models, who know you can be on the downside at 28, many of these members said the age 35 with an intonation of that being the cross-over-the-bridge number.

They stress financial security.

Many speak of real estate investments, managing their money well, planning for the future, and figure they're going to need something besides a hip tilt in a jock strap when the biceps and other body parts aren't what they used to be.

Or, as one of the lads told me: "It all doesn't hold up forever, you know."






BROADWAY SPRINGBOARDS TALENT


Starring on Broadway can get you a Vegas booking, but it doesn't mean an automatic free ride and star slot. Barbra Streisand, who headlines the MGM Grand's Y2K big bucks blow out, was discovered by David Merrick in a New York showcase club. He gave her a starring role on Broadway in his production of I Can Get It For You Wholesale. That resulted in her being offered a shot in Vegas. She made her Las Vegas debut at the Riviera Hotel in 1963 - not as some mega bucks star but as a low paid opening act for Liberace.

The late, great Judy Garland first introducer her daughter, Liza Minnelli, to a Las Vegas audience in May 1957. Judy was performing at the Flamingo Hilton and brought 9-year-old Liza on stage for a quick howdy. It wasn't until Liza starred on Broadway in Flora, The Red Menace that she was offered her own Vegas contract. She wasn't given headline status. Rather, she opened the act at the Sahara Hotel, for comedian Buddy Hackett on New Year's Eve 1965. She didn't exactly receive a standing ovation. Introduced by Hackett, Liza walked on stage. When she passed the comedian as he was walking off stage, Hackett grabbed at Liza's crotch. "Watch that!," snapped Liza as she attempted to jump away from his grasp.


NAKED BOYS SINGING!


The new original musical revue, Naked Boys Singing! which is currently being staged in Los Angeles at the Celebration Theatre, celebrates the joys of male nudity in song, comedy and dance. Previews begin June 30 at The Actor's Playhouse, NYC.

This is a show put together by a committee - eleven acclaimed writers have joined forces to create this productions, in which takes they take taboo out of being gay and naked. They are Stephen Bates, Marie Cain, Shelly Markham, Jim Morgan, David Pevsner, Rayme Sciaroni, Mark Savage, Ben Schaechter. Robert Schrock, Mark Winkler and Bruce Vilanch.

Vilanch has written every television function and dysfunction imaginable including the quadruple crown of award shows - the Tonys, Oscars, Emmys and Grammys. He has co-written the last ten Oscar shows, two of which earned him Emmys. He is currently seen on TV as a regular square on Whoopi Goldberg's new production of Hollywood Squares.

Naked guys displaying their musical talents and family jewels perform 16 numbers including; The Naked Maid, The Bliss of a Bris, Fight the Urge, Nothing But The Radio On, Members Only, and Muscle Addition.



Broadway To Vegas is supported through advertising and donations. Priority consideration is given to interview suggestions, news, press releases, etc from paid supporters. However, no paid supporters control, alter, edit, or in any way manipulate the content of this site. Your donation is appreciated. We accept PAYPAL. Thank you for your interest.


BEACH BLANKET BABYLON


San Francisco's completely brilliant, utterly outrageous Beach Blanket Babylon celebrates its 25th anniversary performance June 7, Herbst Theatre.

VAL DIAMOND, A 20-YEAR BEACH BLANKET VETERAN. Photo By: David Allen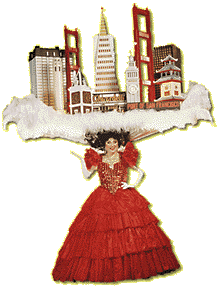 In a performance benefiting Young Conservatory at A.C.T. and UCSF Cancer Center, the show will feature former Secretary of State George Shultz and "Superman," and his wife Charlotte as Wonder Woman. Ann Getty is cast as the Pineapple Queen. San Francisco Mayor Willie Brown as Himself and Senator Diane Feinstein as Snow White. Also scheduled to be in the act are Don Johnson, Danielle Steel.

Conceived by the late Steve Silver, a one time street artist, who passed away from AIDS in 1995. His widow Jo Schuman Silver, has maintained her husband's irreverent vision.

The man had this thing about outrageous public figures, wacky costumes and hats - huge, eccentric hats.

The San Francisco chapeau features the Golden Gate Bridge, Coit Tower and moving cable cars. The creative, imaginative force behind the head wear is Alan Greenspan - not to be confused with the Federal Reserve chairman. The hatter is creating a special 25th anniversary bonnet that is 22 feet tall.

The show began with Snow White on a search for love, which involves the singing poodles, Mr. Peanut, King Louis XIV, a delightful dancing Christmas tree, Elvis Presley and Glinda the Good Witch. With the exception of the O.J. murder trial, everything topical gets reamed. The skits go through a revolving door depending upon the headlines. Bill Clinton has provided the show with never-ending lampoon material. But, there is always a wealth of outrageous public laundry washing; Anita singing Respect,to Clarence Thomas, Joey Buttafucco and Amy Fisher, Tonya and Nancy, the Bobbitts - the list a chronicle of personal stupidity and public figure posturing.

It's a show that has to be seen to be appreciated. However, even when it was seen in Las Vegas, it wasn't understood or appreciated. Silver attempted to open a version of Beach Blanket Babylon at the Sands Hotel. The hotel went all out with the atmosphere, even sprinkling sawdust and sand on the carpet of the world famous Copa Showroom . Customers tracked the mess into the casino. Today, the show would be a Vegas hit. Unfortunately, Silver brought it to the Strip too soon. Vegas wasn't as eclectic nor were there the variety of venues.

If you're in San Francisco, don't miss Beach Blanket Babylon!


OTHER PEOPLE'S MONEY


REBA McENTIRE intends to revitalize Nashville's Music Row. The superstar singer and her husband/manager Narvel Blackstock, who serves as CEO of Reba's Starstruck Entertainment Corp., announced plans to team up with The Ritz-Carlton Hotel Co., to put the high brow Ritz on the site of a currently vacent building, which once housed the Crook & Chase Celebrity Showcase. The new hotel, set to open in 2001, will be owned by Starstruck and managed by the Ritz-Carlton.

SFX TO ACQUIRE LIVENT Concert promoter and theatrical producer SFX - the country's largest live entertainment company - set to acquire the beleaguered Livent in a $100 million deal. The sale would include the Ford Center for the Performing Arts in NYC, theaters in Chicago and Toronto, Livent productions of Fosse, and Ragtime and future productions of The Sweet Smell of Success, and Seussical.The U.S. Bankruptcy Court, which oversees Livent, must approve the final sale.


APPLAUSE, APPLAUSE


ASCAP HONORS 12th Annual Rhythm & Soul Music Awards were handed out last Wednesday at the Hammerstein Ballroom, NYC. ASCAP President Marilyn Bergman presented Nona and Marvin Gaye III a proclamation honoring their late father, on what would have been his 60th birthday. For the second time in three years, Jermaine Dupri received Songwriter of the Year Award.

SUSAN LUCCI was presented a key to New York City by Mayor Rudolph Giuliani who kissed the soap opera diva three times. The ceremony honored Lucci's recent Emmy win - which was her first after 19 nominations. As for the future - reports are that Lucci would like to star on Broadway in a musical, while Giuliani would like a role in the Senate.

DAVID MERRICK 88, wheelchair bound, attended the ceremony last Monday in which he received the 10th Annual Oscar Hammerstein Award. The outrageous and creative producer heard Phyllis Diller announce that if she ever had a heart transplant she would like Merrick's "because it's never been used." Tammy Grimes didn't receive flowers when she opened in Merrick's Rattle of a Simple Man. Instead, the producer sent her a telegram which proclaimed - "Good luck - until further notice." While Merrick produced numerous hits including Gypsy, Hello Dolly! and 42nd Street not everything he created was a success. Mary Tyler Moore and Richard Chamberlain (who is currently starring on Broadway in The Sound of Music) have the dubious distinction of co-starring in Merrick's worst flop - the 1961 musical Breakfast At Tiffany's. It closed after 4 performances.



WHO WANTS FAME? a new comedy by Mark Rothman, writer/producer/co-creator of The Odd Couple and Laverne and Shirley opens Thursday, at The Court Theatre, Los Angeles.

THE CIVIC LIGHT OPERA OF SOUTH BAY CITIES (CA) presents the 25th anniversary show A Chorus Line June 9-27 followed by the 50th anniversary production of Rogers & Hammerstein's South Pacific. Singing In The Rain based on the MGM film with screenplay and adaptation by Betty Comden and Adolph Green, with songs by Nacio Herb Brown and Arthur Freed, concludes the season.


WHO'S WHERE


NANCY WILSON who has recorded her 60th album in a career than spans four decades, stars at Bally's Hotel, Las Vegas June 4-5.

SHIRLEY KNIGHT two time Oscar nominee and Tony Award winner, starring in The Importance of Being Ernest by Oscar Wilde, at The Pasadena Playhouse, through June 20.


THIS AND THAT


DIXIE CHICKS stopped by the Riviera Hotel to see a different kind of chicks at An Evening At La Cage,a female impersonator revue starring Frank Marino.

DIXIE CHICKS WITH FRANK MARINO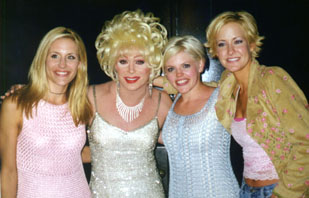 The country music group who were just voted Best New Artist of the Year at the Country Music Awards, said this was the first time they had ever seen a female impersonation show. They said they had heard about La Cage after 13 female producers from, Prime Time Country that was taping at the Hilton Hotel came in to see the show. After enjoying La Cage The Dixie Chicks went on stage and posed with the cast. Marino introduced the country music group to the audience saying, "I had an idea for a music group and it was called Chicks With D----."

WOODY ALLEN AND SOON-YI were in Las Vegas and caught the O production show at the Bellagio Hotel. No baby was in tow, although they were accompanied by an adult male, according to our spies. They report that "Woody looked totally bored throughout the show - never applauding, although Soon-Yi did. At the end of the show, they got up and left before the lights came up to avoid the public."

TERRI GARR was also seen at the Bellagio, squinting and limping as she came out of the ladies' room.

BOB HOPE is the only entertainer to have a Navy ship christened in his honor. As part of NYC's annual Fleet Week the United States Navy put on a display of six of our U.S. Atlantic Fleet ships, including the USNS Bob Hope, which is a "large roll on.off ship." Those things carry automobiles, trucks and any other cargo that can be rolled aboard through stern or side openings. A picture of Old Ski Nose is on the Poop Deck.

ED KOCH former mayor of NYC and current TV Judge, last Thursday attended the Broadway play Sideman.Before the show started Koch, who had an aisle seat, was approached by a young sailor, camera in hand, who asked Koch to pose with him for a picture. As the flash bulb went off, an usher came running down the aisle announcing - "No pictures in the theater!" We don't know if Koch enjoyed Sidman. He left at intermission.



Mention BROADWAY TO VEGAS for Special Consideration
Call (800) 942-9027









Next Column: June 7, 1999
Copyright: May 31, 1999. All Rights Reserved. Reviews, Interviews, Commentary, Photographs or Graphics from any Broadway To Vegas (TM) columns may not be published, broadcast, rewritten, utilized as leads, or used in any manner without permission, compensation and/or credit.
Link to Main Page
---
Laura Deni


CLICK HERE FOR COMMENT SECTION