! >
Broadway To Vegas
  
  REVIEWS INTERVIEWS COMMENTARY NEWS

| | |
| --- | --- |
| | |
THE CURIOUS INCIDENT OF THE DOG IN THE NIGHT-TIME REVIEW - - ORIGINAL MUSIC WORKSHOP SPRING GALA - - MONACO CHARITY FILM FESTIVAL 2015 - - PLASTICINE ART ON DISPLAY AT SOTHEBY'S - - BETTE MIDLER BEGINS TOUR - - JOHN LEGEND AND GILLIAN LAUB - - THE 28th ANNUAL CHICAGO'S RITA HAYWORTH GALA - - SOUTH COAST REPERTORY RECEIVES GRANT - - DONATE . . . Scroll Down




Copyright: May 3, 2015
By: Laura Deni
CLICK HERE FOR COMMENT SECTION


A STAR IS BORN IN THE CURIOUS INCIDENT OF THE DOG IN THE NIGHT-TIME
Alex Sharp as Christopher in The Curious Incident of the Dog in the Night-Time. Photo: Joan Marcus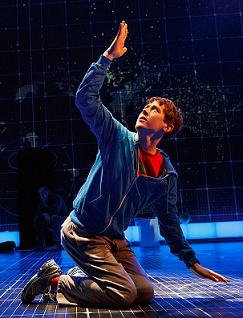 A mesmerizing, important production adapted by Simon Stephens from Mark Haddon's 2003 best-selling mystery novel by the same name.

Its title quotes the fictional detective Sherlock Holmes in Arthur Conan Doyle's 1892 short story Silver Blaze.

Starring Alex Sharp who graduated from Julliard in May 2014. The following September he made his Broadway debut in this production, giving notice that he is an actor of substance.

The just turned 26-year-old actor portrays a 15-year-old who suffers from autism.

The official description: Fifteen-year old Christopher has an extraordinary brain; he is exceptionally intelligent but ill-equipped to interpret everyday life. When he falls under suspicion for killing his neighborís dog, he sets out to identify the true culprit, which leads to an earth-shattering discovery and a journey that will change his life forever.

The opening scene is gruesome. Somebody has impaled a dog with a pitchfork.

Christopher Boone is autistic. He lives in a frustrating world which others don't understand. His brain's unusual synapse configuration has manifested Christopher into a mathematical genius. He also feels what others fail to grasp in him. He's constantly frustrated. Red is his favorite color. He lives in a world of his own moment, saturated with computers, math and space travel. Christopher exists on the spectrum of life - trouble communicating his internal dialogue. The rules of math don't change and Christopher's mental state is in need of stability. He finds that constant in numbers.

A convoluted existence, he also talks to himself, will throw a temper tantrum when his own world is interrupted as determined by his mindset at that second. He can't stand it when people talk to him, or about him, using metaphors and idiomatic expressions. He doesn't like to be touched. He has a pet, but it isn't a dog; it's a rat named Toby, who appears on stage. Though Christopher longs to be part of the world inhabited by others, he's a tough kid to love; an easy one to blame.

Directed by Tony winner Marianne Elliott the audience has the rare opportunity to gain insight into a world not easily understood.

Special-education teacher, Siobhan (Francesca Faridany), is sympathetic towards Christopher's circumstances. Utilizing a teaching tool frequently implemented by Special Ed teachers, students who may have trouble with in person verbalization of their thoughts are asked to write a story or keep a diary. In Christopher's case, the teacher has staged his story as a play. What the audience sees is that interpretation with Siobhan acting as the intermediary between Christopher and the audience.

Christopher's life is a series of mathematical equations. The awesome set by Bunny Christie has Christopher encased in a graph with video projections and moving parts, reflective of his mathematical controlled, obstacle course life, which moves like astronomical configurations.

Christopher's perspective on how to navigate through life isn't understood by others. Christopher can't connect, but he can solve puzzles.

Mrs. Shears (Mercedes Herrero), the neighbor whose dog has been killed, won't speak to him; his father Ed (Ian Barford) has his own agenda; a kindly, elderly neighbor Mrs. Alexander (Helen Carey) tries to help.

Many marriages involving autistic children fall apart, as the stress of dealing with these special needs children exceed coping skills.

Christopher's mother Judy (Enid Graham) is no longer a part of the family. One evening Christopher discovers a box of letters he didn't know existed. They are all addressed to him - in the same handwriting - that of his mother. One letter describes a memory that his mother has of Christopher playing with a wooden train set she bought him for Christmas. Another heartbreaking letter explains why she left.

Along the way Christopher confronts riding a train, experiences an escalator and how he learned his father lied to him.

The play also features Taylor Trensch, Richard Hollis, Ben Horner, Jocelyn Bioh, David Manis, Keren Dukes, Stephanie Roth Haberle, Tom Patrick Stephens, Tim Wright.

The design team deserves low bows. Lighting by Paul Constable; video design by Finn Ross; choreography by Scott Graham and Steven Hoggett for Frantic Assembly; music by Adrian Sutton; sound by Ian Dickinson for Autograph.

Hair and wig design by David Brian Brown; associate directors, Benjamin E. Klein and Katy Rudd; production stage manager, Kristen Harris; associate producers, Franki de la Vega and Kevin Emrick; production manager, Aurora Productions; general manager, Bespoke Theatricals. A National Theater production transferring from London to America.

This tremendous play is both horrific and touchingly sweet.

At the Ethel Barrymore Theater, New York City.






Broadway To Vegas is supported through advertising and donations. Priority consideration is given to interview suggestions, news, press releases, etc from paid supporters. However, no paid supporters control, alter, edit, or in any way manipulate the content of this site. Your donation is appreciated. We accept PAYPAL. Thank you for your interest.






ART AND ABOUT


PLASTICINE ART ON DISPLAY AT SOTHEBY'S

Henry Hudson Plate #2: Autopsy at King's College. Photo: Sotheby's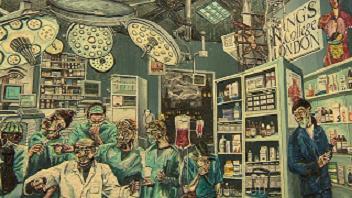 that's right, the tony auction house is displaying something many consider child's play.

In this case, the work is by Henry Hudson who has impressed the contemporary art elite with his unique use of Plasticine, a brand of cheap modeling clay, which is a putty-like modeling material made from calcium salts, petroleum jelly and aliphatic acids.

Hudson applies the clay-like substance to primed MDF board with brush, pen and pallet knife, almost in the manner of a bronze relief work. Built from layers of the rubbery, malleable substance, the resulting paintings are extremely tactile.

Each of the ten works took him and his team of five assistants roughly two months to complete.

S|2 London is delighted to present Henry Hudsonís most recent and ambitious body of work in his largest solo exhibition to date. The series is a modern day interpretation of William Hogarthís 18th century narrative A Rakeís Progress, and includes large scale Plasticine paintings, original drawings and smaller studies, each depicting the various stages of the protagonistís life and decline. The exhibition is saturated with contemporary cultural references, satirizing the absurdity of modern life, from political issues to social stereotypes and the contemporary art world.

S|2 is Sothebyís Contemporary art gallery, offering year-round exhibition programming and bespoke private sales. On display at Sotheby's in London through May 29, 2015.





SWEET CHARITY


THE 28th ANNUAL CHICAGO'S RITA HAYWORTH GALA: chaired by Susan and Jim Draddy, will be held on Saturday, May 9, 2015 at the Hilton Chicago. The theme of this yearís Gala is The Best is Yet to Come "which directly relates to our vision of a world without Alzheimerís disease."

Held annually on Motherís Day weekend and attracting more than 900 guests, the Chicago Rita Hayworth Gala helps the Alzheimerís Association support cutting-edge research, raise awareness and address the needs of Americans living with the disease and their caregivers. The evening includes a cocktail reception, three-course dinner, program, auctions and live music for dancing.

Princess Yasmin Aga Khan began the Gala in honor of her mother, actress Rita Hayworth, who died as a result of Alzheimer's disease. Under Princess Yasmin Aga Khan's leadership, over $65 million has been raised through the Chicago and New York Rita Hayworth Galas.

MONACO CHARITY FILM FESTIVAL 2015 takes place May 9 to 12, 2015.

Billed as: "Where the Film Stars & Filmmakers Work to Help Others!"

Honored guests are: Russian director and screenwriter Boris Grachevskiy, actress Olga Khokhlova who currently works at the M.Roshchin and A. Kazantsev Center of Drama and Directing, Russian actress Svetlana Svetlichnaya, the honored actress of the Russian Federation and Russian director/screenwriter Karina Foliyants.

This year the charity event will be for the benefit of the children of the Virlanie Foundation in the Philippines.

MCFF also helps filmmakers from all walks of life to find financing and distribution for their films. MCFF screens no less than 12 movies a day - during 8 days - in Monte Carlo, Principality of Monaco. An International Jury for Features and Shorts awards the chosen Films. During 8 days it is a celebration of Films, Filmmakers and Audience alike. The screenings are open to all Ė admission is free.

On the final day of MCFF, a spectacular Gala Dinner and an exciting Show takes place to raise money for Charity.

ORIGINAL MUSIC WORKSHOP SPRING GALA curated by composer Paola Prestini, Creative & Executive Director.

Featuring Philip Glass and violinist Tim Fain, musicians from the New York Philharmonic, choreographer Reggie (Regg Roc) Gray vocalists Theo Bleckmann & Helga Davis, Oh Land, Jeffrey Zeigler and Taylor Levine with instrument installations created by Mark Stewart. Surprise guests from opera and rock.

Cocktail reception followed by dinner and discovery. FOOD created by National Sawdust's James Beard Award-winning Chef, Patrick Connolly.

After Party with Brandon Stosuy (Pitchfork), Caleb Braaten (Sacred Bones Records), Robin Carolan (Tri Angle Records), & special guest DJ.

Honoring the individuals who have built National Sawdust from the ruins up Councilman Stephen Levin, Honorary Chair.

Gala committee: Adam Abeshouse, Dan Breen, Jean Pierre Chesse, Helena Christensen, Rick D'Avino, Valerie Dillon, Kevin Dolan, Randy Ezratty, Chris Grymes, Susan Hermann, Richard Kessler, Roger Krulak, Harvey Mogenson, Jill Steinberg, R. Adam Smith, Jeremy Turner, and Peter Zuspan.

Gala Youth Committee: Nicole Gary, Daniel Mitura, Jacob Marshall, Andrew Trepp and Natalia Schwien.

Thursday, May 7, 2015. Pioneer Works in Brooklyn, NY.

Opening October 2015, Original Music Workshop / National Sawdust is a non-profit based in Williamsburg, Brooklyn that provides state-of-the-art facilities and support to a wide range of composers, musicians, and emerging talent. Focused on progressive, genre-spanning programs, the composer-driven nonprofit provides a space to experiment, collaborate, develop, perform, record, and broadcast new works.


SPREADING THE WORD


JOHN LEGEND AND GILLIAN LAUB discuss their compelling new documentary Southern Rites, which debuts May 18 on HBO. The film is executive produced by Grammy, Oscar, and Golden Globe-winning musician Legend, and directed by acclaimed photographer Laub, who returns to the community in Georgia where she photographed segregated proms that garnered national attention when published in The New York Times Magazine. The proms are now integrated; but in the aftermath of a fatal shooting of a young black man and in the midst of a heated local election, the community still grapples with issues of race that extend well beyond the senior prom.

May 7, 2015 at the N.Y.U. Skirball Center for the Performing Arts, NYC.

ALAN CUMMING will take part in the New York Public Library's Books at Noon series, a free midday conservation and book signing on Wednesday, May 6, 2015, 12 noon. At the Stephen A. Schwarzman Building, NYPL in NYC.

THE LIBRARY FOR THE PERFORMING ARTS in New York City presents an evening honoring Meredith Monk, the trailblazing composer, singer, director/choreographer, and creator of new opera, music-theater works, films, and installations.

Ms. Monk returns to the Library, the home of her archive, for a conversation with John Killack, Executive Director of the Flynn Center for the Performing Arts, about her current and past work. She'll re-examine her own manuscripts, recordings, and other materials from her fifty-year career in New York City.

Thursday, May 7, at the Library for The Performing Arts in New York City.

BRITNEY SPEARS fell on stage and twisted her ankle during a performance of the song Crazy Wednesday, April 29, at Planet Hollywood in Las Vegas. Doctors had her reschedule her April 30-May 1 shows.


OTHER PEOPLE'S MONEY


THE SHOW WILL GO ON that would be off-Broadway's The Fantasticks which was set to shutter today, May 3, the 55th anniversary of it's opening won't, thanks to two anonymous donors who came forward, pledging to keep the production running.

Producer Catherine Russell announced the good news indicating that neither donor knew the other.

SOUTH COAST REPERTORY a Tony Award winning regional theatre has been awarded a $150,000 grant by the Time Warner Foundation. The money will be controlled by the venue's SCR's CrossRoads Commissioning Project, which develops plays from new playwrights with a focus on cultural diversity in the Orange County, California area.

So far, SCR has commissioned 293 works from about 200 playwrights. Two of them have won, and eight have been nominated for, Pulitzer Prizes.

THE TROPICANA HOTEL IN LAS VEGAS has been sold to Penn National Gaming, Inc. for $360 million. A $20 million technical upgrade is planned.

THE RIVIERA HOTEL IN LAS VEGAS closes on Monday, May 4, 2015. The hotel opened in 1955. It will be imploded to make way for the Las Vegas Convention Authority's Global Center.

FLOYD MAYWEATHERJR/MANDY PACQUIAO fist-a-cuffs' economic impact punch for Las Vegas - about $200 million.

Celebrities with ringside tickets included: Robert De Niro, Clint Eastwood, Matt Damon and Ben Affleck.

Six of the Cirque shows in Las Vegas canceled Saturday night performances so that the theaters could be used as venues for the closed circuit fight broadcast. Flights out of Las Vegas to New York on Sunday and Monday have been sold out for days, if not weeks - booked by people returning home after coming to Vegas for the flight. One flight to NY from LV was priced at $8,000 - which was an enclosed cubicle with a bed. No doubt somebody probably ended up even booking that seat.



THE OREGON SHAKESPEARE FESTIVAL has announced three new commissions as part of their American Revolutions: the United States History Cycle.

Idris Goodwin, award-winning playwright, essayist and spoken word artist, will explore a moment of change in the history of the U.S. environment. His jumping-off point will be a 12-volume set of writings and illustrations by teams of scientists and artists sent by the Department of War to identify potential routes for the transcontinental railroad between 1853 and 1855.

Dominique Morisseau, in a co-commission with Penumbra Theatre, will be writing about the Civil War from an African-American perspective.American Revolutions is the Oregon Shakespeare Festivalís 10-year commissioning program (2008-2018) of up to 37 new plays that look at moments of change in America's past, with the goal of helping to establish a shared understanding of our national identity and illuminate the best paths for our nation's future.

In a co-commission with the Public Theater, playwright, poet and librettist Dan O'Brien will write about the history of guns in America and American culture.

American Revolutions is the Oregon Shakespeare Festivalís 10-year commissioning program (2008-2018) of up to 37 new plays that look at moments of change in America's past, with the goal of helping to establish a shared understanding of our national identity and illuminate the best paths for our nation's future.

THE ENRIQUE IGLESIAS SCHOLARSHIP has been awarded to Silviana Itzel Salinas-Reyna, a 23-year-old tenor saxophone student from Mexico City. The award is presented by The Latin GRAMMY Cultural Foundation.

The $200,000 scholarship is to further her music education at the prestigious Berklee College of Music in Boston.

Set to commence her studies in fall 2015, Salinas-Reyna will be awarded $50,000 in annual tuition assistance over four years from the Latin Grammy Cultural Foundation to finance her music education at Berklee College of Music.

In order to qualify for continued annual assistance, Salinas-Reyna must honor and maintain standards of excellence set forth by the Foundation and the music institution as well as maintain a GPA of 3.5, which will be assessed each year of her studies.



ARMS AND THE MAN

Zach Appelman as Captain Bluntschli, Wrenn Schmidt as Raina Petkoff, and Enver Gjokaj as Major Sergius Saranoff in Arms and the Man. Photo by Jim Cox.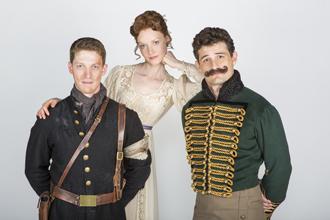 by George Bernard Show.

Directed by Jessuca Stone.

The beautiful Raina Petkoff is about to marry the heroic soldier Sergius. But the battlefield sweeps into her boudoir when an enemy soldier takes refuge under her bed. Soon she will have to decide between her romantic ideals and the surprising sensations of new love. Arms and the Man, utterly romantic and one of the wittiest and most charming plays of the English stage, mixes smarts and silliness in a wonderfully entertaining tale of love and war.

The central love triangle will be portrayed by Wrenn Schmidt as Raina Petkoff, with Enver Gjokaj as her fiancť Major Sergius Saranoff and Zach Appelman as chocolate cream soldier Captain Bluntschli. Four-time Academy Award nominee Marsha Mason plays Catherine Petkoff, and Conrad John Schuck plays Major Paul Petkoff.

The cast also includes Sofiya Akilova as Louka, Greg Hildreth as Nicola, Jake Millgard as a Russian Soldier, and Ernest Sauceda as Village Musician.

The design team includes Ralph Funicello (Scenic Design), David Israel Reynoso (Costume Design), Austin R. Smith (Lighting Design), Mark Bennett (Original Music and Sound Design), Caparelliotis Casting (Casting), and Annette Yť (Production Stage Manager).

Shawís romantic comedy, which continues the Globeís 80th Anniversary festivities as part of the Balboa Park Centennial Celebration, will run May 9 Ė June 14, 2015 on the Donald and Darlene Shiley Stage in the Old Globe Theatre, part of the Globeís Conrad Prebys Theatre Center. Preview performances run May 9 through 13.

THE FATHER By Florian Zeller. In a translation by Christopher Hampton.

Directed by Obie Award winner James Macdonald.

Now 80 years old, Andre was once a tap dancer. He lives with his daughter Anne and her husband Antoine. Or was he an engineer whose daughter Anne lives in London with her new lover, Pierre? The thing is, he is still wearing his pajamas, and he canít find his watch. He is starting to wonder if heís losing control.

Starring Tony Award nominee Kenneth Cranham as the eponymous Father with Claire Skinner in the lead female role.

Designer: Miriam Buether. Lighting Designer: Guy Hoare. Sound Designer: Christopher Shutt.

Presented by Theatre Royal Bath Productions and Tricycle Theatre in London May 7-June 13, 2015.

DEATH OF A SALESMAN by Arthur Miller. Considered to be the greatest American tragedy ever written, this production of Arthur Millerís 1949 play Death of a Salesman is timed to celebrate the centenary of Millerís birth.

The full Stratford Upon Avon cast will reprise their roles with Antony Sher and Alex Hassel playing Willy Loman and his son Biff, with award winning actress Harriet Walter playing Linda Loman.

Following its acclaimed run in Stratford Upon Avon, the RSCís production of Arthur Millerís American classic Death Of A Salesman transfers to the West Endís Noel Coward theatre for a run May 9 - June 30, 2015 at the Noel Coward Theatre in London.

THE THEORY OF RELATIVITY a new musical with music and lyrics by Neil Bartram. Book by Brian Hill.

Directed by Brian Hill.

This unconventional new musical is billed as "a joyous and moving look at our surprisingly interconnected lives. Through a seemingly unrelated collection of songs, scenes and monologues, The Theory of Relativity introduces a compelling array of characters experiencing the joys and heartbreaks, the liaisons and losses, the inevitability and the wonder of human connection. Whether you're allergic to cats, in love for the first or tenth time, a child of divorce, a germaphobe, or simply a unique individual, youíre sure to find yourself in this fresh new musical!"

Featuring Jennifer Apple, and Robert Ariza, Jane Bruce, and Victoria Cook, Michael Browne and Michael Coale Grey, Kurt Hellerich, Caitlin Houlahan, Gizel Jimťnez, Kyra Maureen Kennedy, Mack Shirilla, Keith Potts and Erin Kommor.

Scenic & Costume Design by Dane Laffrey. Lighting Design by Jennifer Schriever. Sound Design by Jay Hilton. Music Direction by Daniel Green.

Presented by Goodspeed Musicals May 7-31, 2015 at The Norma Terris Theatre in Chester, Conn.

THE GLASS MENAGERIE by Tennessee Williams.

Directed by Christopher Scott the Artistic Director for the Masterworks Theater Company.

Presented by the Masterworks Theater Company with performances beginning May 8, 2015. Opens May 14 through May 30 at the 47th Street Theatre in New York City.


WHO'S WHERE




BETTE MIDLER in her first tour in more than a decade begins a 22 date tour by opening a two nighter May 8, 2015 at the Seminole Hard Rock Hotel and Casino in Hollywood, Florida.

TAYLOR SWIFT opens a two night stand Tuesday, May 5, at the Dome in Tokyo, Japan.

RUSH performs Friday, May 8, at the BOK Center in Tulsa, Ok.

NEW KIDS ON THE BLOCK are on stage Tuesday, May 5, at the Rogers Arena on Vancouver, BC. Wednesday's show is at the Tacoma Dome in Tacoma, WA. Saturday they'll be singing their songs at the Forum in Inglewood, CA.

NEIL DIAMOND singing his hits Tuesday, May 5, at Rexall Place in Edmonton, Alberta, Canada. On Thursday he'll be delighting his fans at Rogers Arena in Vancouver, BC. Next Sunday, he's at the Key Arena in Seattle, WA.

MARIAH CAREY makes her Las Vegas debut at Caesars Palace May 6 with performances running through July.


FINAL OVATION


JAYNE MEADOWS stage, film and television actress and widow of Steve Allen, died April 26, 2015 at her home in Encino, California. She was 95.

Meadows made her Broadway debut in 1941 in the comedy Spring Again. Her other Broadway appearances included Another Love Story (1943); Many Happy Returns (1945), with Mary Astor; and Kiss Them for Me (1945), in which she was featured with Richard Widmark. She was originally billed as Jayne Cotter, but she and her sister, Audrey, both changed their professional name to Meadows.

After earning success on television and in the movies she returned to Broadway she returned to Broadway in the 1958 production of The Gazebo, with Walter Slezak.

She again appeared on Broadway 1978 after a 20-year absence. Billing herself as Jayne Meadows Allen, she appeared in a revival of Kaufman and Hartís Once in a Lifetime, playing an over-the-top Hollywood gossip columnist.

She was a regular panel member on Iíve Got a Secret from 1952 to 1959 and a frequent guest on Whatís My Line?, Password and other shows. She also acted in many of televisionís classic drama programs: Hallmark Hall of Fame, Studio One and General Electric Theater.

She was a wonderful interview. See Broadway To Vegas column of December 5, 1999 and See Broadway To Vegas column of August 25, 2002

Her first marriage to Milton Krims, a screenwriter, in 1948, ended in divorce. Her marriage to Steve Allen in 1954 lasted until his death in 2000. They had one son, Bill Allen who is president and chief executive of the nonprofit Los Angeles County Economic Development Corporation. In addition to him, she is survived by three stepsons, Steve Jr., Brian and David; three grandchildren; eight step-grandchildren; and several great-grandchildren.

SID TEPPER prolific hit songwriter who co-wrote more than 40 songs specifically for Elvis Presley plus hundreds of others performed by Frank Sinatra, the Beatles, Dean Martin, Eartha Kitt, Perry Como, Jeff Beck and many more, died of natural causes on Friday, April 24, 2015 at his home in Miami Beach. He was 96.

Tepper and his songwriting partner Roy C. Bennett - both of whom wrote music and lyrics - never met Elvis although they wrote song for his movies including the title number for G.I. Blues (1960) and The Lady Loves Me, sung as a poolside duet with Ann-Margret in Viva Las Vegas. (1964). They have five credited songs on Blue Hawaii.

Their first big hit, Red Roses for a Blue Lady, was recorded by Vaughn Monroe in 1948. Over the years it was covered by Sinatra (on a radio show), Andy Williams, Paul Anka, Wayne Newton and others, including Vic Dana, whose rendition hit the best seller charts in 1965.

In 2008 Tepper told the Miami Herald that Red Roses for a Blue Lady was his favorite because after a little spat with his wife he sent her red roses with a note, 'I'm sorry, red roses for a blue lady." A week later he thought it would make a great song title.

Brooklyn born, Tepper was assigned to the entertainment division, Special Services, during World War II. After the war, he teamed with his childhood friend Bennett. During their career, they wrote more than 300 songs. They had a 1958 hit with Kewpie Doll, sung by Perry Como. Their novelty holiday song Nuttin' for Christmas was sung by numerous performers, as wide-ranging as Shirley Temple, Eartha Kitt and Stan Freberg.

His wife Lillian Tepper died in 2005. He is survived by his daughters Jackie, Susan Tepper-Kopacz and Michelle Tepper-Kapit; sons Warren and Brian; seven grandchildren and three great-grandchildren.

DON M. MANKIEWICZ novelist and Oscar-nominated screenwriter woh created television's Ironside and Marcus Welby, MD s died at his home in Monrovia, CA on Saturday, April 25, 2015. He was 93.

His father was Herman J. Mankiewicz, the Citizen Kane screenwriter. His uncle was Joseph L. Mankiewicz, director of numerous classic films, including All About Eve.

Don Mankiewicz was nominated for an Academy Award for his 1958 screenplay adaptation of I Want to Live!

In a 2007 oral history he told historian Stephen Bowie about growing up in Beverly Hills. At Halloween, he and his brother, Frank - who became an aide to Robert F. Kennedy and head of National Public Radio - sat in the backseat of the family limo while their chauffeur knocked on doors and asked for candy.

Born in Germany where his father was a foreign correspondent, he served in the Army, assigned to military intelligence. After the war, Mankiewicz was a staff writer for the New Yorker, contributed to other magazines and started working in TV. In 1954, he published the novel Trial that was made into a film starring Glenn Ford and Dorothy McGuire.

Active in the Writers Guild of America, Don Mankiewicz helped gain union representation for quiz-show writers. When guild writers went on strike in 2007 and 2008, Mankiewicz, then in his mid-80s, joined them on the picket line. Mankiewicz recently completed a novel about student strife in the '60s.

His survivors include Carol Mankiewicz, his wife since 1972; their daughters Jan Diaz and Sandy Perez; children John Mankiewicz, an executive producer of the political drama House of Cards, and Jane Mankiewicz, from his earlier marriage to Ilene Korsen; and four grandchildren.

BEN E. KING R&B and soul singer died May 1, 2015. He was 76.

King started his career in the late 1950s with The Drifters, singing on hits including There Goes My Baby and Save The Last Dance For Me. After going solo, he hit the US top five with Stand By Me in 1961.

The song has charted nine times on the US Billboard 100 over the years - King's version twice and seven times with covers by artists like John Lennon and Spyder Turner.

In 1999, the BMI announced that the song, written by King with Jerry Leiber and Mike Stoller, was the fourth most-played track of the 20th Century on US radio and TV.

On March 27, 2012, the Songwriters Hall of Fame announced that Stand By Me would receive its 2012 Towering Song Award and that King would be honored with the 2012 Towering Performance Award for his recording of the song.

Earlier this year, the US Library of Congress added it to the National Recording Registry, declaring that "it was King's incandescent vocal that made it a classic".















Next Column: May 10, 2015
Copyright: May 3, 2015 All Rights Reserved. Reviews, Interviews, Commentary, Photographs or Graphics from any Broadway To Vegas (TM) columns may not be published, broadcast, rewritten, utilized as leads, or used in any manner without permission, compensation and/or credit.
Link to Main Page
---
Laura Deni



For the snail mail address, please E-mail your request.
CLICK HERE FOR COMMENT SECTION