! >
Broadway To Vegas
  
 SHOW REVIEWS CELEBRITY INTERVIEWS GOSSIP NEWS

| | |
| --- | --- |
| | |
WESTPORT COUNTRY PLAYHOUSE REOPENS - - TONY WALTON HONORED - - WOLF TRAP HAS A COOKBOOK - - GUYS AND DOLLS OPENS IN LONDON - - WYATT EARP DAYS - - 19TH ANNUAL STARS IN THE ALLEY - - COAL MINE WINS TOP MUSEUM PRIZE - - NEW SCHOOL UNIVERSITY TO START OWN ACTING PROGRAM - - DONATE . . . Scroll Down


Copyright: May 29, 2005
By: Laura Deni

CLICK HERE FOR COMMENT SECTION
COAL MINE HITS THE MOTHER LODE WITH MUSEUM PRIZE
Big Pit. Photo from Big Pit Museum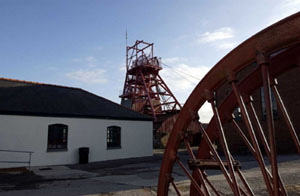 Merle Travis wrote three songs in one night about life in Muhlenberg County, Kentucky's coal mines, where his father worked. One was Dark As A Dungeon, the other, Sixteen Tons - a hit for Tennessee Ernie Ford. Now a Welch coal mine has a hit with their museum - mining up a top prize.

Britain's biggest arts prize - the Gulbenkian prize for Museum of the Year - has been won by a former coal mine in Blaenavon, now called Big Pit. Located in Wales, the mine which once produced 100,000 tons of coal a year, won the sought after prize for providing visitors with an "exceptional emotional and intellectual experience". Judges lauded Big Pit. Joan Bakewell, one of seven judges said the museum was effective "in portraying the industry and the people who worked in it."

"It is a most exciting place to go. It is an enthralling story, brilliantly told. It is a well-organized, intriguing museum. It's all coherently designed. They have been fastidious. We were absolutely blown away." Bakewell stressed that the museum doesn't gloss over the problems including the national strike of 1984-85, which south Wales miners supported with unrivalled solidarity.

Before the strike there were around 25,000 coal miners in Wales; now there are around 500 - some 400 of whom work at Tower colliery, a co-operative near Hirwaun 15 miles to the west of Big Pit.

The National Museums of Wales now employ 150 more people in the Principality than coal mining. In 1947 nearly 115,000 men earned their living in the industry.



Big Pit Mine. Photo from Big Pit Museum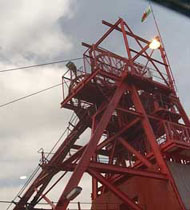 Big Pit stands on the edge of Blaenafon; a town which had a vital part to play in the Industrial Revolution. This revolution transformed the landscape, culture and society of Wales, the UK and the World. Awarding World Heritage Status to the town and landscape marked the wider impact of Blaenafon's unique industrial heritage.

Sir Richard Sykes, chairman of the Gulbenkian judges added: "Big Pit offers an exceptional emotional and intellectual experience. It tells the stories of its community better than any museum I have visited, and makes you contemplate the scale, and even the cruelty, of our industrial past which inspired a spirit of camaraderie and pride." First opened as a museum in 1983, part of the pit visit involves a world famous underground tour, beginning with a ride in the "cage" that once took colliers to the bottom of the 300 foot shaft. From there visitors are led by miners - they prefer not to be called ex-miners - along dark, dank tunnels, past stables that used to house pit ponies, to the old coalface.

Above ground the pithead baths, the canteen and the blacksmith's workshop have all been preserved and brought back to life with recordings of miners played in the background.



Young visitors listening to a Museum Miner. Photo Big Pit Museum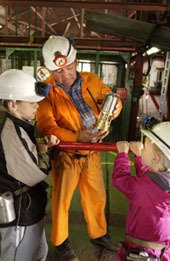 For visitors there is a Coffee shop open during peak season, a gift shop offering souvenirs; Wheelchairs available on request; Baby changing facilities; and Free coach and car parking.

Alun Pugh, Welsh Assembly Government Minister for Culture, Welsh Language and Sport, said: "This is a fantastic achievement and one that Big Pit fully deserves. The knowledge and dedication of the staff, together with the recent redevelopment work have made Big Pit a world-class attraction and winning the Gulbenkian Prize is a very well earned recognition of this. As the son of a coal miner, I have a special interest in Big Pit, so I am very proud that the Welsh Assembly Government has been able to support this invaluable piece of our industrial heritage."


Jennifer Stewart, Manager of Heritage Lottery Fund in Wales, the main funder for the Big Pit project, said: "It is fantastic news that one of the most important heritage sites in Wales has been recognized with such a prestigious award. It is so rewarding to see the positive impact that over £5 million (a little over $9 million U.S.) of Lottery players' money has made here, in terms of conservation, regeneration and pride in our coal mining heritage."

Open 9:30 a.m. to 5 p.m. daily, Mid-February to November 28 , admission is free.

The judging panel for the 2005 Gulbenkian prize represented a wide range of artistic, scientific and academic interests and comprises:

Joan Bakewell CBE, broadcaster and writer
Sir Neil Chalmers, Warden, Wadham College, Oxford and former Director of the Natural History Museum
Michael Day, Chief Executive, Historic Royal Palaces
Sokari Douglas Camp, sculptor
Victoria Hislop, journalist and novelist
Dr Elizabeth Mackenzie, Vice Chairman of the British Association of Friends of Museums.


NEW SCHOOL UNIVERSITY TO COMPETE AGAINST THE ACTOR'S STUDIO
Bob Kerrey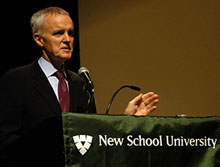 There isn't quite as much mud slinging as a Hollywood divorce, but the split between the New School University and the Actors Studio is messy, muddled and wrought with emotional drama.

The New School University which housed the award winning Actors Studio for almost 11 years, announced they will directly complete by establishing a graduate acting school which will be run by two Broadway veterans.

Bob Kerrey, president of the New School, issued a statement that the new acting program would be headed by Robert LuPone and Arthur Penn.



Robert LuPone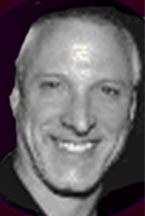 LuPone was a producer of last year's Tony-nominated play Frozen. A graduate of Julliard, LuPone has performed on Broadway in True West (2000 revival), A View from the Bridge, Zoya's Apartment, Late Night Comic, St. Joan, and as Zach in the original cast of A Chorus Line for which he received a Tony nomination. He was most recently seen in last season's Broadway revival of Herb Gardner's A Thousand Clowns with Tom Selleck. Robert LuPone portrayed Roger Thorpe's shady lawyer, Leo Flynn, on Guiding Light.

The brother of actress Patti LuPone, he will assume the title of interim director of the New School for Drama.

Arthur Penn will serve as the school's artistic adviser. He won Broadway's 1960 Tony Award as Best Director for a drama for helming The Miracle Worker. He reprised his direction for the 1962 film version. Penn was also Tony-nominated two other times: in 1958 as Best Director for Two for the Seesaw and in 1961 as Best Director (Dramatic) for All the Way Home.



Arthur Penn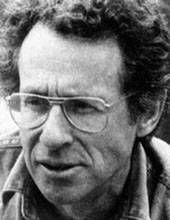 He directed eight different actors in Oscar-nominated performances: Patty Duke, Anne Bancroft, Estelle Parsons, Warren Beatty, Faye Dunaway, Gene Hackman, Michael J. Pollard and Chief Dan George. Duke, Bancroft and Parsons won Oscars for their performances in one of Penn's movies.

Plans for the New School, headquartered in Greewich Village, to break ties with the Actors Studio have been bubbling to a boil for a year, when the Actors Studio's 10-year contact with the university expired.

All parties agree that the transition for the current students, who enrolled at the New School for the specific purpose of participating in the Actors Studio, will have issues that need to be sorted out and that the change will be slow.

The two parties issued a statement saying that "workout procedures" for current students had been agreed upon. That means all the students now enrolled will receive auditions to join the Actors Studio, which has been home to some of the most inventive acting, directing, and playwrighting in the country. Its members have included such greats as Marlon Brando, Robert de Niro, Norman Mailer, Eli Wallach, Sidney Poitier, Edward Albee, Marilyn Monroe, and James Dean.

Founded in 1947 by Group Theater members Elia Kazan, Cheryl Crawford, and Robert Lewis, the Actors Studio trains actors in the realistic style developed by the Group in the thirties. That style, which had grown out of techniques pioneered by Constantin Stanislavsky at the Moscow Art Theatre, was further refined into the "Method" at the Actor's Studio. In 1952 Lee Strasberg, who had done a great deal of work with Stanislavsky's theories while he was with the Group, took over as director. Strasberg's "Method" concentrated on preparing an actor to feel and express the emotional subtexts of scripts.


STARS IN THE ALLEY


The 19th annual, free outdoor concert sponsored by Continental Airlines and produced by the League of American Theatres and Producers. This year's event will take place June 1.

The concert takes place in Shubert Alley, right at the epicenter of the Broadway Theatre District in Midtown Manhattan.

Celebrity hosts and performers include John Lithgow, Joanna Gleason, Norbert Leo Butz and Sheri Rene Scott (Dirty Rotten Scoundrels); Harvey Fierstein and Andrea Martin (Fiddler on the Roof); Tom Wopat and Frederick Weller (Glengarry Glen Ross); Bruce Vilanch (Hairspray); Matthew Morrison and Kelli O'Hara (The Light in the Piazza); Sutton Foster (Little Women); Christopher Sieber and Sara Ramirez (Monty Python's Spamalot); Leslie Uggams (On Golden Pond); Richard Kind and Roger Bart (The Producers); Frenchie Davis (Rent); Christine Ebersole and Lily Rabe (Steel Magnolias); and Ben Vereen and Rue McLanahan (Wicked).

Performances from Tony nominated musicals - Chitty Chitty Bang Bang, Dirty Rotten Scoundrels, La Cage aux Folles, The Light in the Piazza, Little Women, Monty Python's Spamalot, The 25th Annual Putnam County Spelling Bee, and Sweet Charity. Other shows performing include All Shook Up, Avenue Q, Brooklyn The Musical, Chicago, Fiddler on the Roof, Hairspray, Mamma Mia!, The Phantom of The Opera, The Producers, Rent, and more.


COOKING WITH WOLF TRAP


The Four Seasons of Wolf Trap is a cookbook to benefit the Wolf Trap Foundation's Education Programs.

This 200 page cookbook featuring more than 150 recipes that celebrate spring, summer, fall, and winter, and highlight the "four pillars" of Wolf Trap:

Appetizers, Salads, Soups - celebrating the 'rising stars' of the Wolf Trap Opera Company. Main Dishes & Sides - celebrating famous summer nights under the stars at the Filene Center at Wolf Trap National Park for the Performing Arts. Desserts & Breads - celebrating back to school with Wolf Trap Education Programs; and Beverages, Dressings, and Sauces - celebrating Wolf Trap's winter venue, The Barns at Wolf Trap.

Proceeds from the cookbook will go to Wolf Trap's acclaimed Education Programs.


DRINKING UP THE MUSIC


Coors Brewing Company's Coors Light brand announced a hot summer line-up of music, in partnership with leading digital download music service, the Connect music store powered by Sony. Running all summer, Coors Light will offer opportunities to win exclusive, never-before-released, downloadable songs from today's biggest artists including Oasis, John Legend, and Hoobastank.

The promotion allows fans nationwide a chance to win exclusive downloads from top artists in rock, hip hop, alternative, and country music categories. In addition to great music, consumers - except in California - can enter to win other prizes including concert tickets and concert weekend trips.



Broadway To Vegas is supported through advertising and donations. Priority consideration is given to interview suggestions, news, press releases, etc from paid supporters. However, no paid supporters control, alter, edit, or in any way manipulate the content of this site. Your donation is appreciated. We accept PAYPAL. Thank you for your interest.


SPREADING THE WORD


ANNA CHRISTIE will be emotionally analyzed on Sunday, June 5 following the matinee performance at Arena Stages in Washington, D.C. In cooperation with the Washington Psychoanalytic Foundation, Arena Stage presents a series of post-show discussions which examine the psychological aspects of select productions.

Speaker: Margaret Cereijido, Ph.D. The brief discussion is followed by a question and answer period with the audience. The program is approximately 45 minutes in length.

LEN BERMAN: SPANNING THE WORLD One of television sports' most popular personalities, Len Berman has spent 30 years talking to the biggest stars. He hosts the popular Spanning the World segment on NBC's Today show and serves as weekday sports anchor at WNBC-TV/Channel 4. In his new book, also called Spanning the World, Berman looks at sports with his characteristic wit and eye for the absurd. Tuesday, June 7 at the 92nd Street Y in NYC.


SWEET CHARITY


WESTPORT COUNTRY PLAYHOUSE REOPENS

Christopher Plummer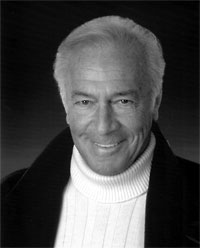 and Christopher Plummer will be the first to grace the stage in celebration of its 75th Anniversary Season on Friday, June 3. The inaugural public production in the newly renovated theatre will be A Word or Two, Before You Go, written, arranged and performed by Mr. Plummer.

The sold out gala evening will celebrate the completion of the historic theatre's 18-month, $17.3 million renovation and expansion and will benefit the Playhouse's artistic, educational and endowment initiatives. To add to the evening's festivities, an illustrious roster of Playhouse alumni actors will be invited back to attend. Pre-performance events with alumni and a post performance supper hosted by Mr. and Mrs. Plummer are planned as part of the festivities. The gala alumni chair is actress Julie Harris, who appeared at the Playhouse in 1948's Sundown Beach, directed by Elia Kazan; in a 1978 fall season of guest artists in concert; and in a presentation of the 1988 Sundays at Eight series as Charlotte Bronté.

Special Encore Performance Sunday, June 5! With the amazing response to the benefit performance, Christopher Plummer has generously offered a second performance – join us for an encore performance.

"A Word or Two, Before You Go could be described as a personal stroll through literature; literature I have long loved, that has stirred my imagination since youth and that for one reason or another I cannot let go," said Mr. Plummer of the theatre piece he also presented to benefit the Playhouse in 2001.

An honored member of the theatre world for more than 50 years and veteran of over 100 motion pictures, Plummer has a personal connection with the Westport Country Playhouse. In the 1950s as a young actor, he appeared on the Playhouse stage in two plays on their way to New York, The Starcross Story, starring Eva Le Gallienne, which became his Broadway debut, and an Irish play, Home Is the Hero, with leading lady Peggy Ann Garner.

Today, he is a member of the Playhouse board of directors and artistic advisory council and a champion of the renovation. "It is obvious that we must continue to cherish this gem of a theatre, which has not only found its way into all our hearts, but surely harbors more history within its walls than almost any other playhouse of its kind on our continent," he said.

The benefit is a prelude to the four-play summer series beginning June 16 at the not-for-profit Westport Country Playhouse, under the artistic direction of Joanne Woodward.

THE OSCAR HAMMERSTEIN AWARD GALA presented by The York Theatre Company to the extraordinary Tony Walton.

Tony Walton is a designer of settings--and frequently, costumes - for theatre and film. His many designs for Broadway include the recent revivals of Our Town, I'm Not Rappaport, The Man Who Came to Dinner, Uncle Vanya, Annie Get Your Gun, 1776, A Funny Thing Happened On the Way to the Forum, She Loves Me, Guys and Dolls, and Anything Goes.

Other Broadway designs include Bob Fosse's original productions of Chicago and Pippin, Pinter's Moonlight and Ashes to Ashes, Grand Hotel, The Real Thing, The Will Rogers Follies and The House of Blue Leaves.

He was the Production Designer for Madison Square Garden's A Christmas Carol for 10 years as well as for Julie Andrew's triumphant Bay Street Theatre revival of The Boy Friend which they will recreate for Goodspeed this summer prior to a U.S. tour.

He has designed films for directors Bob Fosse, Sidney Lumet, Paul Newman, Mike Nichols, Ken Russell, Volcker Schlondorf, and Francois Truffaut, including Mary Poppins, Murder on the Orient Express, Fahrenheit 451, The Wiz, The Boy Friend, All That Jazz, Death of a Salesman, Regarding Henry, and Deathtrap. His graphic work includes many book and magazine illustrations, caricatures for Playbill, Theatre Arts, Vogue, etc. and posters, CD and record albums for many Broadway and West End shows.

He has co-produced six plays and musicals in London - three in association with the legendary Hal Prince. His designs for opera have been seen at London's Theatre Royal Covent Garden, The Sadler's Wells Opera and in Europe and America.

His many ballet designs include Peter and the Wolf for American Ballet Theatre and St. Louis Woman for Dance Theatre of Harlem, both premiered at Lincoln Center.

He has most recently directed and designed the smash revisal of Where's Charley? for Goodspeed Musicals and the U.S. premiere of Noël Coward's After the Ball, (a musical version of Lady Windermere's Fan) for the Irish Repertory Theatre where he also directed/designed The Importance of Being Earnest and Major Barbara. Other direction includes Coward's A Song At Twilight for Bay Street, Gen LeRoy's Missing Footage for San Diego's Old Globe, and Oops!--The Big Apple Circus Stage Show for a 60 city U.S. tour.

His many citations include the Oscar, the Emmy, and three Tonys (16 nominations.) He was elected to the Theatre Hall of Fame in 1991.

The Oscar Hammerstein Award gala is the major fundraising event of the award-winning York Theatre Company, a not-for-profit Off-Broadway theatre dedicated to the creation and development of new musicals, and to rediscovering significant musicals from the past. The award was created in 1988 by the late Janet Hayes Walker, York's founder, and is presented with the endorsement of the Rodgers and Hammerstein Organization and the Hammerstein family.

The Monday, June 6 show, directed by Kathleen Marshall will take place in Broadway's newly restored Hudson Theater - a truly appropriate setting for this celebration of one of theatre's most extraordinary talents.



GUYS AND DOLLS with music and lyrics by Frank Loesser and book by Jo Swerling and Abe Burrows. Directed by Michael Grandage with designs by Christopher Oram, choreography by Rob Ashford, lighting by Howard Harrison and sound by Terry Jardine.

Major revival of the classic musical is the first new production in London in 23 years.

It stars Ewan McGregor as romantic gambler Sky Masterson who took singing lessons to prepare for the role. It's not his first singing role have warbled alongside Nicole Kidman in the film Moulin Rouge.

McGregor has signed on for a six month run which beings June 1 at the Piccadilly Theatre.

His co-stars are Tony award winner Jane Krakowski who is making her West End debut, Douglas Hodge, who won an Olivier for his performance in Pinter's The Caretaker and Jenna Russell.

RANDY NEWMAN'S THE MIDDLE OF NOWHERE Book by Tracy Friedman. Songs by Randy Newman. June 4 - 26 at the Prince Music Theatre in Philadelphia.

OTHELLO William Shakespeare's riveting story of passion and betrayal, opens Theatricum Botanicum's Summer Repertory Season on Sunday, June 5, with James Avery in the title role. Also in the cast are longtime Theatricum company members Jim LeFave (Iago), Willow Geer (Desdemona), Aaron Hendry (Cassio), Melora Marshall (Emilia), Jeff Wiesen (Roderigo), William Dennis Hunt (Brabantio) and Steve Matt (standing by for Avery).

Othello, directed by Theatricum artistic director Ellen Geer, runs every Sunday afternoon June 5 through September 25 in the Theatricum's 299-seat outdoor amphitheater in the Santa Monica Mountains.

TRAILERVILLE by acclaimed novelist/playwright John Dufresne. Directed by Wayne Maugans. Blue Heron Theatre will close its 17th season with this world premiere. Trailerville takes place on Labor Day weekend at the Trailerville Mobile Home Park in Ouachita Parish, Louisiana. Merdelle Harris' husband of forty-one years, Bobby, is rapidly deteriorating with Alzheimer's Disease. Merdelle's determined to care for him, to save him, if she can. In saving Bobby she's saving her own life, she believes. There are days Bobby doesn't know her, doesn't know himself. Death's not the worst thing that can happen in your life, that's what Merdelle thinks.

Arlis Bryant lives in the trailer next door with his daughter, her three children, and her beer-drinking, hot-tempered boyfriend. Arlis has fallen in love with Merdelle, and his attentions are both a comfort and a torment to her. She has to choose between the man who loved her once and the man who loves her now. The annual Labor Day Telethon provides a backdrop for the ensuing comedy/drama about love, family, obligation, and desire.

The nine-member cast will be headed by Ann Hillary as Merdelle Harris, Ron Faber as Bobby, and Peter Waldren as Arlis Bryant.

The scenic design will be by Daniel Ettinger, the costume design by Martin T. Lopez, the lighting design by Jessica Hinkle, and the sound design by Vera Beren. Production dramaturge will be Kimberly Megna and Dean Gray will serve as Associate Producer. Isaac Scranton will be Production Stage Manager.

Performances at the Blue Heron Arts Center, in NYC begin Friday, June 3. The official opening performance is set for Sunday, June 5.

DEEP SEA DIVING written and performed by Diane Luby Lane who works with youths and at risk teenagers at the Walt Whitman continuation school, teaching them the art of performance and self-expression through writing.

Jeffrey Bihr directs this one-person show about a Jersey girl's escape from boredom of her latch-key childhood by resorting to books which exposed her to the magic of life. The five-week limited engagement opens Friday, June 3rd at the Elephant Asylum Theatre in Los Angeles, CA.

THE DINING ROOM

Harriet Harris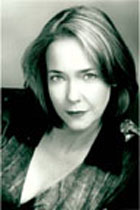 by A.R. Gurney will star Harriet Harris, who is currently playing the role of Felicia Tillman on the hit TV series Desperate Housewives, and in the film Monster-in-Law. She will join Broadway veteran Brian Murray and MAD TV's Stephnie Wier and Michael McDonald in the Cape Playhouse's production. Harris is the recipient of the 2002 Tony Award and Drama Desk Award for Featured Actress in a Musical for her performance as Mrs. Meers in Thoroughly Modern Millie.

One of the most creative plays in the American theatrical canon, The Dining Room by the A. R. Gurney, follows up on July 4th with many interlocking theatrical scenes, each taking place at different points in time, all of them set in the same elegant dining room. The Dining Room is a funny, poetic, and insightful look into American life, reflecting the changes in values and morals over the past three generations.

July 4th through 16th at The Cape Playhouse in Dennis, Massachusetts.


| | | |
| --- | --- | --- |
| | | |
WHO'S WHERE


LUCIE ARNAZ AND ROBERT KLEIN stars of They're Playing Our Song take to the stage with Marvin Hamlisch conducting. Heinz Hall in Pittsburgh June 2-5.

MICHAEL BUBLE on stage Monday, May 30 at the Imperial Theatre in Saint John, NB. On Thursday he performs at the John Labatt Centre in London, ON and opens a two night stand Friday at the Theatre Du Casino in Gatineau, QC.

NEIL DIAMOND continues his UK tour with a two night engagement beginning Tuesday at the Earls Court Arena in London. On Saturday he's in the spotlight at Woburn Abbey in Bedfordshire.

LOU CHRISTIE entertaining Monday, May 30 at the Sorrento Cheese Festival in NYC.

CHRIS ISAAK on Thursday, June 2, open a six night engagement at the MGM Grand Hotel in Las Vegas

THREE DOG NIGHT sing their hits June 3-4 at John Ascuaga's Nugget in Sparks, NV.

GIPSY KINGS This band's vigorous guitar work and passionate vocals are the trademarks that help them dominate the world music charts. Tuesday, May 31 at the Filene Center Wolf Trap in Vienna, Virginia.


PIFFLE AND PROFUNDITIES


WYATT EARP DAYS 2005

Wyatt Earp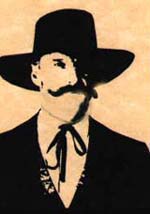 at Tombstone, Arizona this Memorial Weekend, May 28-30. Street entertainment, gunfights, chili cook-off, shows at Helldorado Town, a black powder pistol raffle and much more.

Entertainment includes; Arizona Gunfighters, Blood Creek Cowboys, Blood Creek Cowboys, Border Renegades, Gail Martin, Julian Desperadoes, Little Egypt Dancers, Nat Love, Helldorado Town Mavericks, Prescott Regulators, S.W. Legends Gun Fighters, Tombstone Posse, Tombstone Vigilettes, Trashy Women Cochise of County, Wild West Pistoleros and Yuma Vigilantes.

The Schieffelin Hall International Players (S.H.I.P.) of Tombstone, Arizona is hosting its' Second Annual Country Cotillion during Wyatt Earp Days, at Historic Schieffelin Hall. The popular Country Cotillion is a benefit dance that features 1880's style of dancing - Grand March, Virginia Reel, etc. Dress for this old-time dance is either 1880's or Western Style. A Women's Temperance League Booth sells soft drinks, lemonade and iced tea, "Law Dawgs" (hotdogs), Pie Allen's Apple Pie, Quiet Burp's Beer, Mattie Blaylock's "Whine", and B.S. Fly's Old Tyme Photo Studio. Keepsake Dance Cards will be available for the ladies, so the gents can sign up for a favorite waltz, polka, or 1880's dance with that very special person. No guns, no spurs, and no smoking is allowed inside the Hall. Security provided by the Arizona Rangers.
















Next Column: June 5, 2005
Copyright: May 29, 2005. All Rights Reserved. Reviews, Interviews, Commentary, Photographs or Graphics from any Broadway To Vegas (TM) columns may not be published, broadcast, rewritten, utilized as leads, or used in any manner without permission, compensation/credit.
Link to Main Page
---
Laura Deni


CLICK HERE FOR COMMENT SECTION