Broadway To Vegas
  
 SHOW REVIEWS CELEBRITY INTERVIEWS GOSSIP NEWS

| | |
| --- | --- |
| | |
DANICA McKELLAR SMART AND BEAUTIFUL - - JACOB van RUISDAEL: MASTER OF LANDSCAPE - - MIKHAIL BARYSHNIKOV INJURED - - THE DANCE THEATER OF HARLEM GETS GRANT - - FROM SING SING TO BROADWAY - -A SALUTE TO BROADWAY'S DOROTHY LOUDON - - OPERA WALK - - OVERCOMING DELAYS GRENDEL HAS WORLD PREMIERE - - DONATE . . . Scroll Down


Copyright: May 28, 2006
By: Laura Deni

CLICK HERE FOR COMMENT SECTION
THE SUM OF ALL HER PARTS - DANICA McKELLAR IS SMART AND BEAUTIFUL
Danica McKellar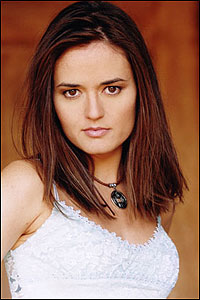 It's okay to be beautiful and like math. You shouldn't have to choose one over the other.

"You can love math and feel fabulous and do whatever you want. You don't have to be an anti-social nerd to love math," declared the delightful Danica McKellar during a rehearsal break from Me Too currently playing at the Stella Adler Theatre in Hollywood.

Television audiences fell in love with Danica when she portrayed the shy, nerd-loving, girl-next-door Winnie Cooper on hit TV show The Wonder Years. Between the ages of twelve and eighteen, McKellar literally grew up on screen. In fact, her first kiss with Fred Savage in an episode of The Wonder Years was also the first real-life kiss for both.

As a genius math whiz it should come as no surprise that she defied the odds and matured into not only an adult actress, but as a summa cum laude UCLA 1998 graduate majoring in math.

While an undergraduate she coauthored a scientific paper which appeared in a peer-reviewed physics journal. Referring to the mathematical abilities of McKellar and her fellow student Brandy Winn, one of her math teachers, Professor Lincoln Chayes, was quoted in the New York Times as saying, "I thought that the two were really, really first rate".

McKellar even provides free online math tutoring for her fans at her official internet website.

"I was always a good student in general. I just studied a lot," McKellar told Broadway To Vegas during our rehearsal break interview. "Then in middle school I had some rough spots, like the way a lot of students do - you think you can't do math. I just didn't get it. It was like a foreign language. Then, somewhere midway through 7th grade, I started studying math again and I really, really loved it. I was in the Honor's Club."

"I went to a regular school. I went to a Prep school called Harvard Westlake," she said about the exclusive college preparatory school in Los Angeles which is noted for a very rigorous curriculum and high college acceptance rates. "I had both tutors on the set and went to regular school."

"Once I got into 11th grade and started taking calculus, the production company hired a calculus tutor for me. My teacher was great. He spoke French and he spoke Spanish. He knew everything there was to know about biology, history and he could quote French poetry - a brilliant, brilliant guy. The one thing he didn't know was the math. So, the production company was totally accommodating."



The cast of The Wonder Years in an early promo shot. (L to R) Jason Hervey, Olivia d'Abo, Fred Savage, Dan Lauria, Alley Mills, Josh Saviano, Danica McKellar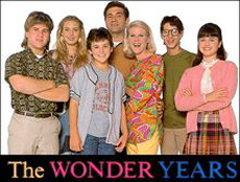 "It can be a tough transition," she said referring to a child star growing up and many times growing out of the business.

"When you're a kid and you're acting, you're at that age when all kids are trying to figure out who we are. You have all these questions about identity and self esteem. When your self esteem gets wrapped up in an acting job, that can be tough. I'm so lucky I've had parents who always believed that education was more important. They were proud of me, but not overly impressed by all the TV stuff. I'm so grateful because they had their priorities straight. They knew what was most important was for me to get my education and to be a well balanced person and from there decide what I wanted to pursue."

Danica's educational goal's were still a puzzlement in her own mind.

"Even when I got to college I thought - Oh I couldn't be a math major. That's for really smart people. It just didn't seem like it was accessible. I had taken calculus BC, which is the toughest calculus exam offered in high school - a college level course," she said referring to the test that is designed to qualify the student for placement and credit in a college course. In other words, your brain cells need to be on overdrive to conquer the college level, two section test with topics like in-depth coverage of derivatives, antiderivatives, functions and power series, and first-order and variable separable equations. "I got the highest score and graduated in the top three percent of my class," she continued. "And, yet, I thought that I wasn't going to be a math major?" she said about questioning her own ability. "I had this image in my mind of - not me. I couldn't be a math major."

California born Danica proved that she could not only have math as a major but formulate almost the impossible. In 1999 McKellar co-authored with fellow alumna, Brandy Winn and Professor L. Chayes a research paper, Percolation and Gibbs State Multiplicity for Ferromagnetic Ashkin-Teller Models in Two Dimensions, which provided mathematical proof for a theorem dealing with magnetism in two dimensions. The work was published in Britain's Journal of Physics A: Mathematics and General and is now called the Chayes-McKellar-Winn theorem.

"We took a two dimensional mathematical model of magnetic material and proved a theorem about it. It pertained to a two dimensional lattice grid representation of this material and its properties based upon temperature. One of them is called peculation and the other is Gibbs State Multiplicity. Each of these properties have a critical temperature above which they do not happen and below which they do happen. We proved that for this model - the Ashton Teller model- that those two temperatures are the same," she explained.

Brainy math types take formulas and try to apply a theorem to the real world by constructing models proving things and then converting that information into something that might be beneficial such as in medicine or engineering.

"One of the most amazing things about mathematics is people that do math aren't usually interested in application, because mathematics by itself is truly a beautiful art form," declared Danica. "Math is about structure and patterns and that is what we love and get off on. So we write papers because we discovered a new pattern. Then it is up to someone to figure out if it has a use or not!"

"Acting and math, although they are both creative, use different sides of the brain. And, I love both."

"Acting is my career. After I did the paper I went back to acting," said Danica who has divulged that her own personal role model was Jody Foster, citing Foster as a successful scholar who is also a great actress/director, and someone who also started acting from a young age.

"Acting has its own dignity and intelligence. However, I recognize that I have a unique position to be a role model to young girls. That's because I am doing something that many consider glamorous, which is acting. And yet I took the time to really get my education and study mathematics and I think that math is the cat's meow."

Danica shares that on her website where she answers math questions.

"Even though I think that if I had stayed in mathematics I would have proven some incredibly ground breaking theorem, I'd rather use my powers in math to be an example that makes people question their stereotypes - what a mathematician looks like."



Danica McKellar and Sam Woodhouse in Proof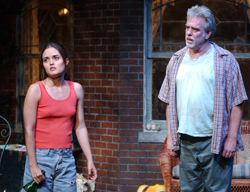 "A couple of years ago I did a play called Proof, playing a mathematician. That part was just made for me," said Danica who had first seen the production on Broadway starring Anne Heche and immediately knew she wanted to play that part someday. "Catherine is every young actress' dream role—she's smart, sassy, and dances on the edge of insanity. Plus, this role just happens to combine two of my loves: acting and mathematics!"

Catherine, a brilliant but troubled young woman who must discover how much of her father's mathematical brilliance and how much of his madness she has inherited. Co-starring with Danica at the San Diego Repertory Theater production were Sam Woodhouse (Robert, the father), Francis Gerke (Hal, the geeky love interest) and Cheryl Kenan Fording (Claire, the overbearing sister.)

"Even now in this play, Me, Too, written by Mark Goffman, who added some stuff about me being a chemistry major - just to bring in math and science. He wanted me to be a smart character," she laughed.

Inspired by a true story, in Me Too, Lucy, a woman facing a devastating illness, is pursued by a stubborn young romantic who believes that falling in love will keep her in remission.

"Mark is a good friend of mine," continued Danica. We met on the set of West Wing, said Danica who, in 2002, joined the cast of the TV series as Elsie Snuffin an Orange County Campaign Staffer. "Mark was writing on that show when I was on it. I really enjoyed West Wing because for me it was a way to be a grown up on television. I finally got to be an adult on television. I was always a kid on television before that."



From left, Greg Pitts, Meeghan Holaway, Danica McKellar and Jeremy Glazer star in the romantic comedy Me Too, running through June 25 at the Stella Adler Theatre in Hollywood. Photo by Ed Krieger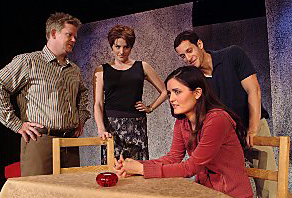 "Mark is really a smart guy and a great writer and a pleasure to work with. And, this is his first play. I was so flattered when he called me and said - Listen, I wrote this play and I want to do it and I want you to star in it. I went - Oh, yeah!" she whooped.

"It's a six week run and I'm in it for the first three weeks. A job is taking me away for the last half of the run, but I'm launching it. It is entertaining. It's a romance."

"Right now, yes, I am almost too busy," she conceded. "Also, because I am writing a math book. My book is due in November, which seems like a long way away, but it isn't. I'm going to be traveling out of state to work for four months," she said about the television project in which she will play a detective. "So, I'm going to have to be writing my book while I'm there, and up until I leave I'm doing this play. The book is for middle school girls. It's putting the message out there that you can be fabulous by using your brain. It's a part of your body that is going to make you even more fabulous. Your brain is part of being a woman."

"Teachers used to tell their students that girls couldn't do math," complained the soft spoken Danica as her voice took on an irritated tone. "People who are only one generation older than me would say they'd go to an engineering class and be told outright, you don't belong here. That blows my mind. We've come a long way but we still have a long way to go."

"I really like doing both television and live stage. I like mixing it up. Television is where I grew up, so it is close to my heart. But the truth is, when you get on a stage with a live audience there are so many things that you get out of that experience that you can't get anywhere else. Just the energy of the audience, the feedback. You learn so much about acting. You learn so much about your craft, whether it's crying on cue or being funny night after night, with the same lines. The audience does not lie. There is no take two. If they think it is funny they will laugh. If they don't, they won't. They will shift uncomfortably, because they realize it was suppose to be funny, but it wasn't. You learn so much about what works and what doesn't."



Danica McKellar in Strong Medicine. Photo: Lifetime Pictures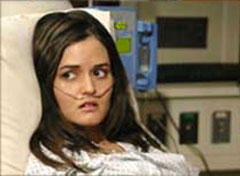 "Also, there is a rehearsal period," she continued. "Whereas in television you rarely get much rehearsal. It's a tight schedule and there isn't time or money for rehearsals. All of the time and money goes towards putting things on tape, so you rehearse by yourself. Sometimes you can get together with the other actors, but generally speaking, on the set with the props in their proper location, you do it once or twice right before you shoot it. That's it. You get a chance to really develop your character when you are doing theater, which you don't get to do on television. And, you can draw from the characters you do on stage. I've used parts of the character Catherine I did in Proof on stage in lots of roles on television, that the audience wouldn't realize. In NYPD Blue I was stealing stuff from the stage. Whenever it is a darker kind of character, I would just pull from what I did before on stage."

Of great personal satisfaction for Danica is working with mother, Mahaila, on a meditation yoga DVD.



Mahaila McKellar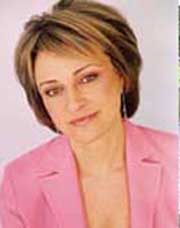 "My mom has been a meditation instruction for a long time," Danica proudly related about her mom who, for over 20 years, has been considered a world renown meditation expert, having been trained and certified by Dr. Deepak Chopra.

"I just love yoga, so the two of us have put together a DVD of short, easy to use programs. It's for the busy person who only has 20 minutes, and wants and needs to escape into that zone of relieving the stress and recharge for the day. There are eight little mini programs to use."

Composer Mike Verta penned haunting, original music written specifically for each program.

Danica has practiced yoga on a nearly daily basis for years, having learned meditation at an early age from her mother. They were lessons well learned. The busy actress found that even taking 10 or 20 minutes out of a busy day to practice one or both of these techniques made an enormous difference to her mental and physical health.

Danica and Mahaila joined forces with Christy Marsden, a certified yoga instructor and owner of Yoga Blend Studio, to create this DVD, Daily Dose of Dharma, which includes nine yoga and meditation programs, including specific intro segments for true beginners.

Now, for those who might think Danica is just all too perfect - we'd like to point out that she does have a flaw in her Greek alphabet. Although she was a member of Alpha Delta Pi sorority and served as head of sorority's group study program, she failed to study some other Greek groups. When a letter arrived from the nation's oldest and preeminent academic honor society, Phi Beta Kappa, inviting her to join and requesting the $25 membership fee, Danica ignored the letter. At that time she had never heard of the group!


ART AND ABOUT


JACOB van RUISDAEL: MASTER OF LANDSCAPE

Sunlight on the Waterfront by Jacob von Ruisdael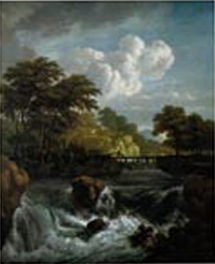 not a name that rolls easily off the tongue but if you know your Turner from your Titian then you may be vaguely familiar with his name if not his work. Van Ruisdael was one of the early members of the Golden Age of Dutch painting - in fact he was one of the greatest painters of the Golden Age of Dutch painting. He was born into abject poverty in 1628 or 1629 and much of his life is shrouded in mystery. Raised in Haarlem he moved to Amsterdam and died there in 1682.

In the course of his life Ruisdael broke with many of the traditions of Dutch painting and became a figure of great influence. He is celebrated for faithfully recording nature while responding to it imaginatively.

His works are also considered to be fine meditations on human experience in a world shaped by constant cycles of growth and decay.

The use of light and perception in van Ruisdeal's paintings makes them almost appear to glow.



Windmill Near Wijk by Jacob von Ruisdael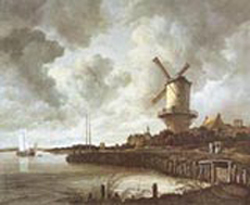 Ruisdael's impact can be seen in the Barbizon School of France, the American Hudson River School, and in the work of John Constable, England's leading landscape painter. To coincide with this exhibition the John Madejski Fine Rooms have been hung with a selection of landscape paintings from the Royal Academy's Permanent Collection. These works can be seen free of charge during Jacob van Ruisdael: Master of Landscape.

This exhibition has been jointly organized by the Royal Academy of Arts, London, the Los Angeles County Museum of Art and the Philadelphia Museum of Art.

Exhibition runs through June 4 at the Royal Academy of Arts, Burlington House, The Strand in London.


BECOME A SUPPORTER


For a donation of twenty dollars we encourage your opinions regarding topics of interest or what you feel we may have spent too much time covering.

We will also send you a perfectly acceptable Broadway To Vegas mousepad and a really nifty thank you note.

Please allow two weeks for delivery of your mousepad and thank you note. For that you will need to provide a name and mailing address. All information is kept confidential. We accept PAYPAL. Thank you for your interest.


SWEET CHARITY


FROM SING SING TO BROADWAY - AN EVENING WITHOUT WALLS An Inspiring Theatrical Performance Featuring Formerly Incarcerated Men with a guest performance by Charles S, Dutton.

Theater Behind The Walls provides a means for prisoners to build self-esteem within the supportive environment of a theater community. The efficacy of the approach is evident in the meaningful and productive lives and jobs of the members of this cast. Most of the men who go through RTA training and are subsequently released go into professions providing social services to their communities. The program was started ten years ago by Katherine Vockins, currently the Executive Director of RTA.

Critically acclaimed actor Charles Dutton, who himself served eight years behind bars before establishing his noted career in theater and film, will be a special guest at this event. Mr. Dutton credits his theatrical experience during his time in prison as a major turning point in his life.

From Sing Sing to Broadway - An Evening Without Walls, written by RTA prison members and directed by Brent Buell, tells the story of how convicted men's thinking can evolve from the denial, rage and fear they feel upon entering prison, to a deep transformation of self through the power of art and education. Dramatic, humorous, inspiring and educational, this evening will highlight the humanity of people behind bars.

Monday, June 5 at Playwrights Horizons Theatre in NYC.

DESIGN THE ORPHEUM'S NEXT LADIES SILK SCARF AND WIN $250

Winning Entry of the 2005 Scarf Contest by Teresa Hardin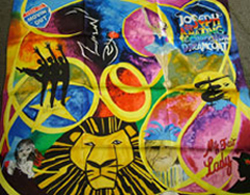 the Orpheum in Memphis is conducting a design contest for their new ladies silk scarf to be sold in the theatre's gift shop.

The submission must be an original work of art and only color painting and drawing submissions are accepted,

The creative effort must be transferable for the manufacturing of a ladies silk scarf.

The entry also must reflect themes associated with the Orpheum Theatre, Broadway, and or the Performing Arts.

Entries will be accepted up to June 1st at the Orpheum Theatre in Memphis.

THE OPERA WALK

Kathryn Harries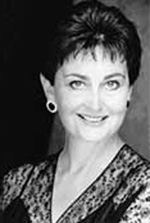 is a fund raising campaign on behalf of the English National Opera and Welsh National Opera Benevolent Funds. These funds exist as a safety net for people who have worked in any capacity for these two companies, and who have since fallen on hard times.

On Sunday, May 14 International Opera Singer Kathryn Harries launched a 600-mile walk from the foyer of the London Coliseum. The two month project involves a most challenging series of concerts. Harries is hot footing it around England and Wales giving concerts en route, and raising money to enable these charities to continue their very necessary work. Kathryn aims to walk about 20 miles per day and many of her friends and colleagues in the opera world are also taking part in these concerts. All artists are giving their services freely.

The next concert stops are Saturday June 3rd - Leigh Memorial Church, in Staffordshire. Artists appearing: with Harries include: Helen Williams: Val Reid: John Graham Hall: Graeme Danby: Jill Phillips (reader and presenter). Sunday June 4th - St John's Church, Buxton, Derbyshire. Artists appearing: Kathryn Harries: Helen Williams: Val Reid: John Graham Hall: Graeme Danby: Tony Kraus: Jill Phillips (reader and presenter).


OTHER PEOPLE'S MONEY


THE DANCE THEATER OF HARLEM announced that it had received a $1 million grant from the Ford Foundation. The money is to be used to finance the Dance Theater of Harlem School and Dancing Through Barriers, its education and community program.

92ND STREET Y TO SELL STEINHARDT BUILDING Makor and Daytime Programs will move to Y headquarters on Upper East Side. While that property is being reconfigured to accommodate these programs, a process expected to take three to five years, they will be relocated to a temporary site. Several possibilities are being considered.

The Steinhardt Building was donated to the 92nd Street Y in 2001 by philanthropist and Y Board member Michael H. Steinhardt. At the time the property was valued at $16 million.


SPREADING THE WORD


A SALUTE TO BROADWAY'S DOROTHY LOUDON

Dorothy Loudon as Miss Hannigan in Annie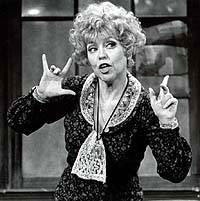 A sixty-minute compilation reel produced by the Museum.

The contents includes rare television footage from the estate of the late comedian and actress Dorothy Loudon, who won a Tony Award in 1977 for her Miss Hannigan in Annie on Broadway.

Included are musical numbers from the Tony Awards, a "New York medley" of songs with Loudon and Eileen Farrell in 1963 on The Garry Moore Show, and excerpts from Tonight Show Starring Johnny Carson.

The screening will be introduced by Loudon's longtime manager and friend Lionel Larner.

Thursday, June 1, at the Museum of Radio and Television in New York.

YOU WRITE LIKE THE BIGGEST ASS IN THE WORLD Michelangelo as a letter writer. William E. Wallace, Washington University, recently completed a new biography of Michelangelo. He reveals Michelangelo the man through his copious written correspondence. Thursday June 1 Lecture Theatre, British Museum, London.


GET WELL SOON


MIKHAIL BARYSHNIKOV who was forced to cancel his performances with Eliot Feld's Mandance Project at the Joyce Theater because of a shoulder injury. Baryshnikov was to have danced Mr. XYZ, a solo Feld created for him. The engagement was to have run to June 11.

EYDIE GORME who underwent knee surgery, forcing the cancellation of this week's Steve and Eydie gig at the Stardust Hotel in Las Vegas.
CURTAIN DOWN


LESTAT closes today, Sunday, May 28, after 33 preview and 39 regular performances. The Elton John-Bernie Taupin musical opened at the Palace Theatre on April 25.



GRENDEL Elliot Goldenthal's new opera has experienced technical and mechanical problems, which resulted in LA Opera announcing that the highly anticipated opening night, originally scheduled for Saturday, May 27 at the 3,197 seat Dorothy Chandler Pavilion, has been postponed until Thursday, June 8. The performances of Grendel scheduled for June 1 and 3 have been newly designated as preview performances.

The technical rehearsals ceased on May 23 when computer malfunctions caused a large pivoting platform, central to scenery designer George Tsypin's large-scale set, to stop working, causing the platform's internal mechanisms to break. The platform, which uses 28 individually operating motors to move horizontally and vertically and pivot a full 360 degrees at a variety of speeds, must bear the weight of up to 15 performers at a time. Solving the malfunction of the computer system and correcting the failure has severely compromised the rehearsal time necessary for the success of the production, which demands extensive technical work.

Grendel is the first opera by Academy Award-winning composer Elliot Goldenthal, with a libretto co-written by Julie Taymor, who also directs, and J.D. McClatchy. The opera is a co-commission and co-production with the Lincoln Center Festival. The New York performances of Grendel will take place as scheduled at the New York State Theater on July 11, 13, 15 and 16.

"This production of Grendel is probably the most ambitious and complex opera ever staged by LA Opera," said General Director Plácido Domingo. "Although we in the theater often say 'The show must go on,' until all of the set's technical issues can be resolved, it would be unfair for us to jeopardize the incredible work of Grendel's creative team. We also have a commitment to our audiences who deserve nothing less than the highest possible artistic standards." "On a technically elaborate new production like Grendel, there are inevitably challenges that need to be surmounted," said director Julie Taymor. "In commercial theater, there are always preview performances where any problems that arise can be solved. Opera, however, is different, and we expect everything to be worked out by the first performance. LA Opera's commitment to this work has resulted in the additional time we need to complete our work."

Elliot Goldenthal's Grendel is based on the 1971 John Gardner novel of the same name, which retells the Anglo-Saxon legend, Beowulf. The monster, Grendel, is presented as an alienated, passionate thinker trapped in the body of a beast and outcast from the world of men. He is a tortured killer unable to control his evil instincts, who struggles to transcend his condition in an existential quest for meaning and purpose. "Our monster is not an innocent or a dumb brute," write the opera's creators. "Both subhuman and superhuman, bestial and divine, Grendel mirrors modern man trapped in his own history, seeking the possibilities of optimism and redemption."

The Grendel cast includes bass-baritone Eric Owens as Grendel; basses Charles Robert Austin (June 1, 3) and Raymond Aceto (June 8, 11, 14, 17) sharing the role of King Hrothgar; tenor Richard Croft as the Shaper; mezzo-soprano Denyce Graves as the Dragon; soprano Laura Claycomb as Queen Wealtheow; tenor Jay Hunter Morris as Unferth; and dancer Desmond Richardson as Beowulf. Steven Sloane will conduct the first four performances, with Lionel Friend conducting on June 14 and 17. The creative team includes director Julie Taymor, choreographer Angelin Preljocaj, scenery designer George Tsypin, costume designer Constance Hoffman and lighting designer Donald Holder, with puppet design by Julie Taymor and Michael Curry.

WILL GEER THEATRICUM BOTANICUM artistic director Ellen Geer announces a delicious summer season for 2006, offering food for thought and sustenance for the soul.

Starting June 4 and continuing through the end of October, this year's repertory season promises a tragedy and a comedy by William Shakespeare, a seldom-seen classic by George Bernard Shaw - You Never Can Tell, and the West Coast premiere of an edgy new satire - Omnium Gatherum.

Unlike most theaters in the Los Angeles area that stage continuous runs of a single play, the Theatricum, using a company of actors, performs four plays each season on a rotating basis. By the end of the summer, when all four plays are up and running, it is possible to see a performance of each in a single weekend.

In addition to the four plays in the repertory season, Theatricum offers a varied and tasty menu of music, children's programming, and more, to create a savory and zestful summer salad. Theatricum kicks off the 2006 Summer Repertory Season with Antony and Cleopatra, one of William Shakespeare's most poetic plays and one of the world's greatest love stories. Marc Antony, ruler of the Eastern provinces of the Roman Empire, becomes captivated with Cleopatra, the beautiful and proud Queen of Egypt. Spanning ten years and two continents, this sweeping, historical saga tells the tale of two lovers who must play out their tragic story among warring countries, sparking jealousies, hostilities and intrigues in a fascinating and dangerous political world. June 4 - September 24.

THE CAT, THE SUN AND THE MIRROR Inspired by a Japanese Myth. Book by Robert Anderson. Music and Lyrics by Edward C. Sullivan. Directed by Ed. Lange

A brand-new musical for all ages, The Cat, the Sun, and the Mirror is the story of a feline detective's search for a missing "person" – the Sun – who has withdrawn from her place in the sky because of self-doubt and the feeling she is no longer appreciated.

Although the musical was inspired by a Japanese myth, its telling is thoroughly contemporary, urban, and American.

The tale begins in the city where citizens become worried when morning arrives without the sun. The film noir Cat detective begins a search that takes him from dark corners of the city, down under the sea, and into the mountains. Everywhere he goes he encounters memorable characters, until...

Set Design by Jason Ardizzone-West. Costume Design by Robert Anton. Lighting Design by Betsy Adams. Sound Design by Dan Scheivert. Musical Director Michael Musial. Choreography by Susan Caputo. Production Stage Manager Heather J. Hamelin.

June 2 – 16 At New York State Theatre Institute in Troy, NY.

4-ISH from Amsterdam, Netherlands.

This pulse-racing production fuses the adrenaline of extreme sports with the non-stop beats of dance and hip-hop to create an all-new breed of entertainment.

Driven by the need for speed and the desire to stretch the limits of human ability, these international thrill seekers perform spectacular feats: world champion skaters reach for the sky as they soar off two giant quarter pipes; kung fu fanatics go head-to-head in a hilarious videogame inspired bout; and dancing roller skaters with electrified wheels create a whirling light show on a pitch black stage.

Accompanied by a beat boxer and live DJ, the fun loving, break dancing daredevils perform June 2 - 18 at The New Victory Theater in NYC.

MARK SMITH

(L to R): Kristen Kosmas, Eric Dean Scott, Andrew Dinwiddie, Melissa Miller, Hannah Cabell and Alissa Ford. Photo by Carol Rosegg.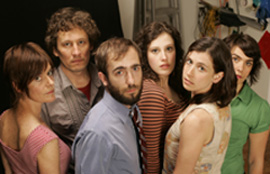 Kate E. Ryan's docu-play directed by Ken Rus Schmoll, with production design by Ken Nintzel. Presented by 13P (Thirteen Playwrights, Inc)

Mark Smith tells the story of an 80's American rock star who has fallen into obscurity. We go behind the music to the people who knew him - his high school music teacher, his mother, his girlfriend, his dead father, and his hair stylist. Told mainly in documentary form the play takes us on an unusual drive through a mythical town complete with reenactments and a secret basement jam session.

The lighting design will be by Garin Marschall, the sound design by Leah Gelpe, with music by Karinne Keithley. Megan Goodchild will serve as Producer and Maria Goyanes is the Supervising Producer for 13P.

The six-member cast - who all play multiple roles - will feature: Hannah Cabell, Andrew Dinwiddie, Alissa Ford, Kristen Kosmas, Melissa Miller, and Eric Dean Scott.

Ryan developed Mark Smith (former title: Brian) while a member of the 2004-2005 Soho Rep Writer-Director lab. She received her MFA from Brooklyn College.

In awarding a 2005 Obie Grant to 13P the judges wrote: "Not since Circle Repertory have we seen playwrights in New York forging a home for each other." 13P was formed in 2003 by 13 mid-career playwrights concerned about what the trend of endless readings and new play development programs is doing to the texture and ambition of new American plays.

June 3 through June 24. The official opening night will be Monday, June 5. Premiering at Walkerspace in NYC.


| | | |
| --- | --- | --- |
| | | |
WHO'S WHERE


PAULA WEST in An Intimate Evening of Jazz. West masterfully navigates the waters between jazz and cabaret. The San Francisco based chanteuse is arguably one of the finest jazz vocalists to emerge in the past decade. Often compared to Billie Holiday and Lena Horne, West's voice moves easily from a luscious contralto to a soaring mid-range soprano. May 31-June 11 at Morgan's Cabaret at the Prince Music Theatre in Philadelphia.

ELVIS COSTELLO performs Friday, June 2 at the Tokyo Philharmonic Orchestra in Tokyo.

THE KINGSTON TRIO singing their hits Saturday, June 3 at the Jesse Auditorium in Columbia, MO.

PETER FRAMPTON performs Saturday, June 3 at Lake Skinner in Temecula, CA.

PEARL JAM on stage Tuesday, May 30 at Verizon Center in Washington, D.C. On Thursday they open a two night gig at the Continental Airlines Arena in East Rutherford, NJ.

BRUCE SPRINGSTEEN will be pleasing the crowd Tuesday, May 30, at the German Amphitheater in Columbus, OH. On Wednesday the show is at the Verizon Wireless Music Center in Noblesville, IN. Saturday the performance takes place at the Glendale Arena in Glendale, AZ.

FAITH HILL AND TIM McGRAW on stage Monday, May 29 at the Jacksonville Veterans Memorial Arena in Jacksonville, Florida. The tour continues in Florida with a Friday show at St. Pete Times Forum in Tampa. On Saturday they are at the TD Waterhouse Centre in Orlando and next Sunday can be enjoyed at the Bank Atlantic Center in Sunrise, Florida.

MICHAEL BUBLE continues his European tour this week with a show tonight at the Stafpark in Hamburg, Germany. ON Tuesday the performance is at the Cologne Arena in Cologne, Germany. Wednesday the singer is at Ahoy in Rotterdam, Netherlands. Friday finds him at KB Hallen in Copenhagen, Denmark. Next Sunday he can be enjoyed at Oslo Konserthuset in Oslo, Norway.

THE NEVILLE BROTHERS AND BIG BAD VOODOO DADDY perform Thursday, June 1 at Alive At Five in Albany, NY. On Friday the show is at the Turning Stone Casino in Verona, NY. Saturday the performance is at the New Jersey Performing Arts Center in Newark, NJ and next Sunday, June 6 they are at the Herndon Festival in Herndon, VA.

A PRAIRIE HOME COMPANION WITH GARRISON KEILLOR America's favorite storyteller, Garrison Keillor, brings us The News From Lake Wobegon with stars Kevin Kline and Meryl Streep. The event also features Tim Russell, Sue Scott, Fred Newman and Guy's All-Star Shoe Band, Virginia Madsen and John C. Reilly . for a live performance of the ever-popular radio show. It's an evening of music, storytelling, comedy and down-home fun. Friday, June 2, Hollywood Bowl, Hollywood, CA.

DEE DEE BRIDGEWATER on Thursday, June 1, opens a four night engagement at Dimitriou's Jazz Alley in Seattle, WA.

DIANE SCHUUR on stage Saturday, June 3 at the Admiral Theatre in Bremerton, Washington.

THE LETTERMAN 2006 marks the 46th anniversary that founder Tony Butala and The Lettermen have been together making hits. Twenty five million records and over ten thousand sell-out concerts ago, three young men in lettered sweaters hit the music charts in 1961 with their first hit single The Way You Look Tonight. The group evolved into one of the most popular vocal groups in the 60s and 70s. Today, The Lettermen continues to be one of the most successful performers in the concert circuit, performing over 100 concerts every year. You can enjoy them Saturday, June 3, at Venetian Room Atop Nob Hill, San Francisco, CA.


PIFFLE AND PROFUNDITIES


SORRENTO CHEESE SUMMER IN LITTLE ITALY WEEKENDS will treat Big Apple residents and visitors to a variety of free activities.

Since music has always played a major role in the lives of Italians everywhere, a number of musical events have been scheduled.

Frank Sinatra Jr. and his 20-piece orchestra will open the Fifth Annual Sorrento Cheese Summer in Little Italy with a free concert on May 29.

Other events on the stage at the corner of Mulberry and Hester Streets, include: the 3rd Annual Mario Lanza Vocal Competition on Saturday/Sunday, July 29/30, featuring ten talented tenors; the inaugural Anna Moffo Vocal Competition for sopranos on Saturday/Sunday, August 12/13.
















Next Column: June 4, 2006
Copyright: May 28, 2006. All Rights Reserved. Reviews, Interviews, Commentary, Photographs or Graphics from any Broadway To Vegas (TM) columns may not be published, broadcast, rewritten, utilized as leads, or used in any manner without permission, compensation/credit.
Link to Main Page
---
Laura Deni


CLICK HERE FOR COMMENT SECTION