! >
Broadway To Vegas

SHOW REVIEWS     CELEBRITY INTERVIEWS     GOSSIP     NEWS
MEMORIAL DAY
DIDN'T BEGINAS A PICNIC
Memorial Day weekend has long been associated with picnics and every store posting the SALE signs. Ads abound for specials on everything from hotdogs to home improvements - all under the banner of Memorial Day Sale.

At some point in the celebration please remember how this day began.

It was originally called Decoration Day, a day of remembrance for those who have died in service to America. Organized women's groups in the South were decorating graves before the end of The Civil War. While Waterloo N.Y. was officially declared the birthplace of Memorial Day by President Lydon Johnson in May, 1966, up to 25 cities and towns lay claim to being the birthplace of Memorial Day. General John Logan, national commander of the Grand Army of the Republic, in his General Order No. 11, first officially proclaimed Memorial Day on May 30, 1868, when flowers were placed on the graves of Union and Confederate soldiers at Arlington National Cemetery.

This year a National Moment of Remembrance resolution was sponsored by Senators Bob Kerry (D-Neb) and Chuck Hagel (R.-Neb) that at 4:00 p.m. local time everyone is to pause a moment to think of the true meaning of that day. It's not a bad suggestion.

CELEBRATING ROSEMARY CLOONEY


THE GLAMOROUS ROSEMARY CLOONEY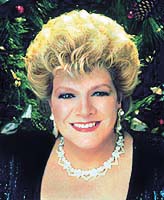 Rosemary Clooney celebrated her 72nd birthday at Patsy's Restaurant in New York - that's the restaurant that was a Frank Sinatra hangout. Toasting the birthday girl were her husband Dante DiPaolo, her brood of children by ex-husband Jose Ferrer and friends Al Pacino and Beverly D'Angelo, Phyllis Newman and Adolph Green, Harry Crosby, Skitch Henderson, David and Helen Gurley Brown with restaurant owner Joey Scognamillo delivering a birthday telegram from Mayor Rudy Giuliani.

Getting older is just getting better for the talented lady, who is performing at Feinstein's at the Regency through June 11.



ROSEMARY CLOONEY first starred in Las Vegas at the Thunderbird Hotel n 1951.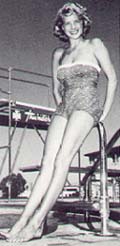 On June 6 Clooney's next Concord CD entitled Brazil will be released. Singing on the CD with Rosemary is Diana Krall and John Pizzarelli, Jr.

On Thursday tickets go on sale for the 2nd Annual Rosemary Clooney Music Festival on September 30 in Maysville, Kentucky. They'll be an outdoor festival showcasing Rosemary, with local and national jazz, blues, and big band talent. Miss America 2000, Heather French, will be a special guest performing with Ms. Clooney. Proceeds benefit restoration of the historic Russell Theater, site of the international premiere of Clooney's 1953 The Stars Are Singing On June 12 Clooney joins Tony Bennett and Karen Mason at an all-star Salute to Marilyn Bergman at the Pierre Hotel in New York City The event will be an opportunity for Mason to have a chitchat with Clooney about White Christmas.



The movie is being transformed into a stage musical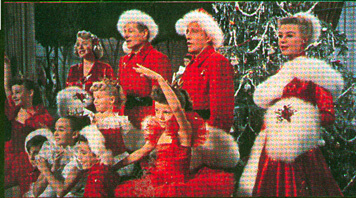 The classic movie in which Clooney starred with Bing Crosby, Danny Kaye and Vera Ellen is being transformed into a stage musical.

Mason is a Broadway veteran who was stand by for three Normas on Broadway - going on as Norma Desmond in Sunset Blvd over 150 times.

Now Karen has her own standby. Mason plays the Rosemary Clooney role in the stage version which will have it's world premiere at the St. Louis MUNY Opera.

Also featured in the cast will be James Brennan, Lara Teter, Karen Morrow and Lauren Kennedy. The revised book was written by Paul Blake with Charley Repole directing. Choreography by Thommie Walsh.



Broadway To Vegas is supported through advertising and donations. Priority consideration is given to interview suggestions, news, press releases, etc from paid supporters. However, no paid supporters control, alter, edit, or in any way manipulate the content of this site. Your donation is appreciated. We accept PAYPAL. Thank you for your interest.


LAUGH A LOT
Jon Stewart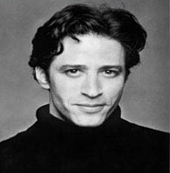 Jon Stewart, host of Comedy Central's The Daily Show, will be the headliner for the eighth annual Toyota Comedy Festival - June 1 through June 10 - offers up more than 200 comics in more than 70 events in 30 venues.

An Evening With Jon Stewart takes place June 8 at Carnegie Hall. The New Jersey native, considered one of America's top social and comic voices will be using The Daily Show to expand its coverage of all political topics. Indecision 2000 will follow the candidates from the primaries, debates, and both conventions, culminating its coverage through election night.

On June 10th Robert Klein will perform at the Gotham Comedy Club. In 1975, Robert became the first comedian to appear in concert on HBO in their On Location series. He proceeded to record five more concerts for HBO.



Robert Klein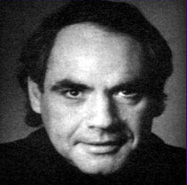 Klein began his Broadway career with Apple Tree He earned a Tony nomination in 1978 in They're Playing Our Song. In 1993 he won an Obie Award for Performance and The Outer Critics Circle Award for Outstanding Performance by an Actor for the role of Merv Kant in Wendy Wasserstein's The Sisters Rosensweig.

Veteran comedian Norm Crosby brings his humor to Catskills on Broadway 2000 at the Westbury Music Fair on June 4.



Norm Crosby has been delighting Vegas crowds for decades. Here he is performing at the Riviera Hotel in Las Vegas in 1985.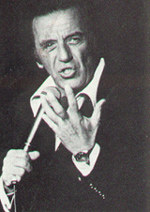 The Master of Malaprop, is among the most recognized and widely quoted performers in Show Business. Born and raised in the Boston area, Norm served in the U.S. Coast Guard as a radar operator in the North Atlantic on Anti-Submarine patrol, where he developed a hearing problem caused by concussions from the depth charges.

Because of this hearing affliction, Crosby ha a special interest in the problems of the hearing impaired. He was the first National Chairman for the council for Better Hearing. He could have turned a deaf ear to life, but instead Crosby provided comic relief with his adroit misuse of words which bemuses and amuses the crowds.

Among the numerous comedians taking part are Mark Curry who starred in Hangin' with Mr. Cooper. He'll co-host with The Hughleys star John Henton at the Apollo Theater on June 3. Kathy Griffin and Tony Rock, younger brother of Chris Rock also have performance dates. The festival includes stand-up, sketches, salutes and shtick.


OUTER CRITICS CIRCLE PRESENTS AWARDS


Sardi's restaurant was the setting last Thursday afternoon for the Outer Critics Circle Awards.

The event is always a high-spirited eclectic mix and this year was no exception. Presided over by OCC President Marjorie Gunner the event had it's comedic high points. When Gunner attempted to introduce Lauren Bacall, the OCC President became so surprised to discover that - waiting in the wings - Barry Humphries arrived as himself rather than "Dame Edna" that she momentarily couldn't remember Waiting in the Wings - the name of the play in which Lauren Bacall stars. Bacall filled in the missing title and quipped "Forgotten and we haven't closed yet! Show biz!"



DAME EDNA picked up the award "impersonating" Barry Humphries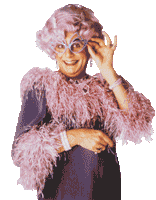 As for Dame Edna: The Royal Tour which received an award for Special Achievement Gunner made the introduction by saying Dame Edna was here doing an impersonation of Barry Humphries. He accepted the award and credited Joan Rivers for "putting me in touch with an agent, who in turn got the producers." As for his wisteria haired alter ego the cross-dressing comedian explained, "Edna is a vulture disguised as a bird of paradise."

It was a bittersweet moment when Susan Stroman accepted two awards as Director-Choreographer of the Lincoln Center hit Contact and for The Music Man Recently widowed when her husband Mike Ockrent passed away last December, Stroman had tears in her eyes as she said "being able to do these two shows has saved my life. It was a healing experience for me."

Contact also won for Outstanding Broadway Musical; Peter Kaczorowski for Outstanding Lighting Design and Karen Ziemba of Contact for Featured Actress in a Musical.

Copenhagen was named Outstanding Broadway Play and A Moon for the Misbegotten won as Outstanding Revival of a Play.



BRIAN STOKES MITCHELL and MARIN MAZZIE in Kiss Me Kate. In accepting his award speaking of Marin, Brian said: "I never loved getting beat up so much!"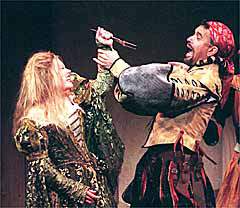 The fabulous Kiss Me Kate walked off with four awards including outstanding Musical Revival, Brian Stokes Mitchell as Best Actor in a Musical, his co-star Marin Mazzie for Outstanding Actress in a Musical and set designer Robin Wagner.

While winners, members and guests enjoyed everything from hot and cold hors d'oeuvres to dessert, the winners were announced by Lauren Bacall, Rosemary Harris, Dana Ivey, Barnard Hughes and Christa Moore. Flanked by his two daughters, Hallie and Daisy, Horton Foots presented the Best Actress award to Eileen Heckart for her work in The Waverly Gallery.

Olympia Dukakis and Mark Setlock tied for Outstanding Solo Performance for Rose and Fully Committed, respectively. A triumphant but exhausted Dukakis provided an interesting touch of honesty when she told the gathering; "I'm grateful it closed. I didn't know how long I could keep it going."

Stephen Spinella was the winner in the Outstanding Featured Actor in a Musical. He also spoke the truth when referring to his award said; "You should get these things when you're really lousy! That's when you need them."

Frances Conroy received the Best Featured Actress award for The Ride Down Mt. Morgan, which has been an interesting roller coaster ride in itself with star Patrick Stewart's public battle with the Shubert Organization. Actors Equity has ruled against Stewart for his remarks about the show's producers. Conroy took great care to thank those producers.


SWEET CHARITY


CHARLES GRODIN will be interviewed June 7 by comic Judy Gold at the 92nd St Y in NYC. Proceeds benefit the children of the inmates of Bedford.


CURTAIN DOWN


GREASE was the vehicle that Reunited Laverne and Shirley stars Eddie Mekka and Cindy Williams.

The production screeched to a halt at the MGM Grand in Las Vegas because of sound problems.

Cast members reportedly couldn't hear each other, missed cues and the sound was distorted.

The Vegas difficulties won't affect the show's touring schedule.

UNCLE VANYA with two Tony nominations closes June 11th. The production stars Derek Jacobi, Laura Liney, Brian Murrau and Roger Rees. Roundabout Theatre Company

TALLER THAN A DWARF written by Elaine May and starring Matthew Broderick and Parker Posey closes prematurely at the Longacre Theatre, NYC.



THE DONKEY SHOW

The Donkey Show with eyes for Vegas and the world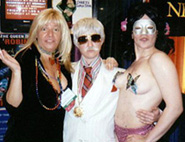 is a musical based on A Midsummer's Night's Dream set to 70's disco.


The show has been packing the New York City theatre.

Producer Jordan Roth is expanding.


He's planning productions of The Donkey Show in Las Vegas, London, Stockholm, and Berlin.

THE MAN WHO CAME TO DINNER which opens at the Roundabout Theatre, NYC has experienced some cast changes. Jean Smart replaces Christine Baranski as Lorraine Sheldon in the production which co-stars Nathan Lane. As for Baranski she has temporarily left the stage for the small tube, starring in a television series. The revival of the Moss Hart and George F. Kaufman classic The Man Who Came to Dinner which first opened on October 16, 1939 and ran for two years, begins previews June 30 and will officially open July 27 at the newly named American Airlines Theatre.

MARATHON 2000 presented by The Ensemble Studio Theatre, the 23rd annual festival of new one act plays will have premiers from playwrights Warren Light, Will Scheffer, Leslie Caputo, Heather Dundas, and Jeff Reich. In Warren Leight's The Final Interrogation of Ceausescu's Dog a young interrogator tries to obtain a confession from a wise old dog. Jack Hofsidd directs Alex Scott and Ean Sheely.

Leight's Sideman won the 1999 Tony Award for Best Play. His new pay Glimmer, Glimmer and Shine, will be produced at the mark Taper Forum in Los Angeles in January 2001. The final Series C of Marathon 2000 runs from Wednesday, May 1 through Sunday, June 11, at The ensemble Studio Theatre, NYC.

WAITING FOR GODOT Samuel Beckett's classic tragic comedy about what it means to be human - a vaudeville comedy with serious philosophical undertones runs thru June 11 at the San Diego Repertory Theatre, San Diego, CA.

ANYTHING GOES with music and lyrics by Cole Porter, opens June 2 at the Hi-Desert Playhouse in Joshua Tree, CA.

BILLY BUDD based on Herman Melville's novel exploring the nature of good and evil performed by the Los Angeles Opera June 3, 6, 9, 11, 14,17.

THE EDUCATION OF RANDY NEWMAN musical theatre piece set in New Orleans and Los Angeles recreating the life of a songwriter who bears a resemblance to the actual Mr. Newman. Opened on Friday running thru July 2 at the Southcoast Repertory in Costa Mesa, CA.

THE SCARLET PIMPERNEL the musical version of Baroness Orczy's classic story of romance, intrigue and swashbuckling adventure continues at the Ahmanson Theatre in Los Angeles thru June 18.

TITANIC Eighty five years after the Titanic first sailed into history, the story behind the legendary maiden voyage opened at Broadway's Lunt-Fontanne Theatre on April 23, 1997. Titanic soon went on to win five Tony Awards, in every category in which it was nominated, taking the awards for Best Musical, Best Book, Sets, Score and Orchestration. Directed by acclaimed British director Richard Jones, Titanic has a story and book by Academy Award and Tony Award winner Peter Stone and music and lyrics by Tony award winner Maury Yeston. The production docks at the Portland Civic Auditorium in Portland, OR June 7-18.

BRUCE VILANCH Almost Famous show is making him famous. It's been extended through July 1 at the Westbeth Theatre, NYC.

AIN'T OVER TIL THE FIRST LADY SINGS stars the Capitol Steps. Begins June 6 at the Douglas Fairbanks Theater, NYC.


WHO'S WHERE


B.D. WONG the Tony award winning star of M.Butterfly and Linus in You're A Good Man, Charlie Brown,makes his Cabaret debut at Joe's Pub in NYC performing on Mondays June 5th, 12th, & 19th.

MARILYN McCOO & BILLY DAVIS, JR. who has managed to beautifully co-mingle music and marriage open May 30 at the Stardust Hotel in Las Vegas performing through June 3.

SEBASTIAN BACH the rocker who fronted Skid Row and once hit a fan with a bottle with bring his own mixed personality to the Broadway stage. On June 11 he replaces soap hunk Jack Wagner as star of the Broadway musical Jekyll and Hyde, at the Plymouth Theatre, NYC.

DIONNE WARWICK performs at the Turning Stone Casino Resort Verona, NY June 2.

HOWARD KEEL closes this evening in Palm Springs Follies in which the MGM musical star performed with the long-legged lovelies at the Historic Plaza Theatre in Palm Springs, CA.

DEBBIE REYNOLDS delivers a dynamite evening of song and dance June 3 at the Soboba Casino in San Jacinto, CA.

TOMMY TUNE may yearn for the Broadway stage, but his 6-foot 5 inch physique is entrenched in Las Vegas. He's resigned his contract to continue as star of the EFX show at the MGM Grand Hotel. Expect a little revamping to permit more signature Tune material.

HUEY LEWIS AND THE NEWS take center stage at the Pechanga Entertainment Center, Temecula, CA on June 3.

CHICAGO headlines the Rock and Roll Marathon at the Coors Amphitheatre, Chula Vista, CA on June 4.


THIS AND THAT


INCREASING THE STATUE ORDER BY ONE The Tony Awards will add a new category next year - a category called Special Theatrical Event. The new award is intended for productions that do not fit into existing Categories of best play, best musical or best revival.

FLOPPY TRUNK PROBLEM which we always thought had something to do with a male affliction - apparently is also of concern to elephants. It seems that elephants in Zimbabwe can develop a condition that paralyzes the elephant's trunk, making it impossible to lift it up. In this case Viagra doesn't work and the poor pachyderm can't get the 500 pounds of food they eat each day up into the - over the lips down the gums watch out stomach here it comes - position. Worried scientists quickly examined 980 elephants in Kenya and - whew! - none of them had the disease.


Mention BROADWAY TO VEGAS for Special Consideration
Call (800) 942-9027
Next Column: June 5, 2000
Copyright: May 28, 2000. All Rights Reserved. Reviews, Interviews, Commentary, Original Photographs from any Broadway To Vegas (TM) columns may not be published, broadcast, rewritten, utilized as leads, or used in any manner without permission, compensation and/or credit.
Link to Main Page
---
Laura Deni


CLICK HERE FOR COMMENT SECTION