! >
Broadway To Vegas
  
  REVIEWS INTERVIEWS COMMENTARY NEWS

| | |
| --- | --- |
| | |
FAMED ILLUSIONIST ROY HORN SUED FOR SEXUAL ASSAULT - - BARACK ON BROADWAY - - STARS CLAMOR TO MEET THE QUEEN - - SPOLETO FESTIVAL OFFERS PREMIERES AND DIVERSITY - - BURLINGTON DISCOVERY JAZZ FESTIVAL - - CUPCAKE WARS OVER QUEEN ELIZABETH'S FACE - - 80th ANNIVERSARY OF THE GROUP THEATRE - - ART AND DINE - - DONATE . . . Scroll Down


Copyright: May 27, 2012
By: Laura Deni
CLICK HERE FOR COMMENT SECTION

FAMED ILLUSIONIST ROY HORN ACCUSED OF SEXUAL ASSAULT
Roy Horn with one of his beloved tigers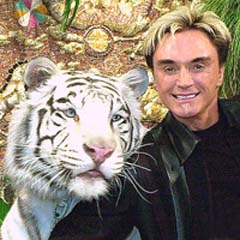 Roy Horn who almost lost his life when one of his tigers mauled him during a 2003 performance at the Mirage Hotel in Las Vegas, is being sued for sexual misconduct by four male caretakers for the performer who needs 24 hour care.

The lawsuit contends that Roy, one half of the iconic duo Siegfried and Roy, has full strength in his right arm. He also has regained his ability to stand.

The lawsuit was filed by attorney Andrew Rampfer who represents four of Horn's caretakers, all immigrants and family men, who worked for Siegfried and Roy at various times between 2006 and 2010.

The attorney has stated that there are several videos of Roy engaging in gross sexual misconduct.

"It's probably some of the most graphic things that you'll see in terms of evidence as an attorney," Rempfer has asserted.

What is interesting about this headline making disclosure is that the lawsuit was filed in March 2011 - over a year ago.

Attorneys on both sides have made efforts to keep the case from being tried in the press. That blew up in their faces when TMZ reported that the sordid video tape was up for sale. TMZ also states that it has seen the graphic video.

According to TMZ:

"TMZ broke the story ... some disturbing video of Roy . . . showing Roy groping his caretakers against their will. The video is now being shopped around to the highest bidder.

"We've seen the 2010 footage . . . and it shows several instances of inappropriate behavior . . . including Roy forcibly kissing a caretaker, grabbing two caretakers' penises, tweaking one's nipples ... and more."

According to TMZ Roy's legal team have sent letters demanding the tapes.

"According to the letter, the caretaker in question signed confidentiality agreements with Roy before his employment, and those agreements prohibit any kind of surreptitious video recording. It's interesting, because we're told Roy was the one who wanted the cameras because he thought people were stealing from him," stated TMZ.

"Roy claims the agreements also prohibit sharing such recordings with the media."

Shortly before 5 pm on May 25 a judge granted Roy Horn a temporary restraining order against the sale of the tape.

TMZ printed: "The videos showing Roy Horn from Siegfried & Roy sexually assaulting his male caretakers won't see the light of day ... at least for now ... because a judge just blocked it from being sold to the media."

"Roy had requested a temporary restraining order after TMZ broke the story ... that one of the caretakers was shopping the disturbing footage to media outlets.

"A Nevada judge just signed the order -- which also requires the caretaker to surrender the footage until a formal hearing can be held on June 8," to determine whether to make the order permanent.

Several published reports state: "He (Roy) allegedly puts his hand on the caretaker's bottom and thrusts his own bottom into the man's crotch. . . Mr Horn is said to have whipped one of the caretakers with an oxygen tube."

"Video of him in his bed, forcing people toward him for various sexual acts," Rempfer has been quoted as stating. "There were videotapes of him in a very large, what appears to be sort of combination bathroom/waiting salon area where he's either - there's no other way to put it - partially naked and completely naked and requesting certain things be done. Let's put it that way."

One of the security videos has a section where Horn is reviewing surveillance tapes in his home. Rempfer insists that knocks down the claim that the tapes were "surreptitious video". Rempfer stated: "The videotapes were requested by Mr. Horn to ensure his medical safety while he was moving about his own house. He confirmed he wanted the house taped."

"It's almost unbelievable at first when you hear about it, but then when you see it, it's quite shocking," said Rempfer, who has possession of the video evidence in his office.

"He (Roy) has to defend himself from the allegations, and they're going to be open to the public at some point," he said.

Rempfer emphasized that video for sale isn't coming from any of his clients.

The case is set for trial at the end of next summer.

This isn't the first time Horn has been sued for inappropriate sexual behavior. Much has been made about that previous lawsuit, and those reports are resulting in the jumping to wrong conclusions. Newspapers are reprinting accounts from other outlets which are quoting reports from a newspaper which has strong financial ties to Siegfried and Roy. That leads to a lot of murky interpretations.

What is being printed and reprinted: "Siegfried and Roy had been awarded $37,415 against attorneys who had been suing Mr Horn over unrelated sexual harassment allegations.

Attorneys for Oliver Preiss, a former personal assistant to Roy Horn, and for Preiss's wife Beatrice were ordered to pay the money as a sanction for asserting 'baseless' legal claims against Mr Horn and a company owned by Siegfried and Roy.

Preiss made headlines in 2010 with a lawsuit filed in Clark County District alleging that he was fired by Mr Horn after rejecting the entertainer's sexual advances.

What is not printed is the why. Oliver and Beatrice Press didn't know the law and received bad legal advice. In fact, Beatrice never should have been permitted to file. In a nutshell, the couple sued a company S&R, Inc. However, they weren't able to prove that Olivier Preiss was an actual "employee" of the company. Thus, no case against the company.

Secondly, if somebody you are related to shows you pictures of them being attacked and graphically describes the situation, your empathy may be so strong that you claim to "I feel your pain," as politicians like to say, and then insist that now you are suffering.

That doesn't make you physically present near the crime scene, a witness to any purported crime and you can't jump in and file a lawsuit as though you were. That means no lawsuit and for filing such a claim the lawyers got sanctioned.

In order to prove Negligent Infliction of Emotional Distress (NIED), the bystander must prove:

· The defendant acted negligently in committing the assault
· The defendant's assault was the cause of injury to the victim
· The bystander was the victim's parent, spouse, or child
· The bystander was present at the scene of the assault during its occurrence
· The bystander was aware that the assault caused an injury to the victim
· The bystander suffered serious emotional distress as a result of the above
In addition, the plaintiff bystander must have been in the "zone of danger" of the attack, meaning that they themselves must also have been exposed to the risk of injury from the assault. Their emotional distress must also be accompanied by physical symptoms.

What really took place with the first Horn sexual assault case concluded March 17, 2011 in the US District Court of Nevada, Roger L. Hunt Chief United States District Judge wrote an opinion of the court.

A portion of what Hunt follows with legal case citings removed for ease of reading:

"BACKGROUND: Unless otherwise noted, the following facts are as alleged by Plaintiffs. One day in 2008, Oliver Preiss met Siegfried Fischbacher. Fischbacher invited Priess to meet Roy Horn. Soon thereafter, Preiss began to work as one of many personal assistants to Horn, who had lost much of his ability to care for himself after having been attacked by one his white tigers. Preiss' duties included things like helping Horn get dressed in the morning and other daily tasks. Both Fischbacher and Horn made sexual overtures to Preiss early in his employment, however Fischbacher soon stopped. Horn, allegedly, did not. Over the course of two years, Horn repeatedly made sexual requests and fondled and groped Priess. Horn also maintained a very sexualized home, where Priess worked. Priess alleges that he made it clear to Horn that this conduct was inappropriate and unwelcome.

"Priess found this atmosphere very stressful and his anxiety disturbed his interaction with his wife. Eventually Horn fired Priess after Priess continued to refuse Horn's overtures. At some point, Priess obtained video tape (it is unclear when or how) of the activities taking place in Horn's home. Priess apparently decided to show these videos to his wife, Beatrice. Since viewing the videos, Plaintiffs' marriage has suffered.

"On June 1, 2010, Preiss filed a complaint with the Equal Employment Opportunity Commission. The EEOC later issued a right to sue letter. Plaintiffs then filed a complaint with the Eighth Judicial District Court of the State of Nevada alleging various Title VII claims (pertaining to sexual harassment and retaliation), assault and battery, intentional infliction of emotional distress ("IIED"), negligent infliction of emotional distress ("NIED"), and loss of consortium. Defendants then removed the case to this Court based on the Title VII claims, which Plaintiffs have since voluntarily dismissed. For the reasons discussed below, the Court grants Defendants' motion and dismisses S&R from this case."

A court may dismiss a plaintiff's complaint for "failure to state a claim upon which relief can be granted." . . . "Factual allegations must be enough to rise above the speculative level." . . . Thus, to survive a motion to dismiss, a complaint must contain sufficient factual matter to "state a claim to relief that is plausible on its face."

"Where the complaint does not permit the court to infer more than the mere possibility of misconduct, the complaint has "alleged-but not shown-that the pleader is entitled to relief."

"The Court first reiterates that Plaintiffs voluntarily dismissed their Title VII claims and therefore the Court will not address those claims beyond stating that the Title VII claims would have fallen regardless due to Priess' insufficient allegations regarding S&R being his employer. The Court also notes that since Plaintiffs dismissed the Title VII claims, Defendants currently only challenge the respondeat superior claims against S&R and the NIED claims. Defendants do not contest the assault and battery, IIED, or loss of consortium claims in this motion. After consideration, the Court grants Defendants' motion, dismisses the challenged claims, and consequently dismisses S&R from this case. The Court will address each claim in turn.

1. Respondeat Superior:

The doctrine of respondeat superior allows plaintiffs to hold a company (or other principle) liable for the acts of its agent committed in furtherance of the principle's business. Here, Preiss does not allege any facts allowing the Court to conclude that Horn's acts could possibly have been in furtherance of S&R's business. Since Plaintiffs' respondeat superior theory was the only theory of liability remaining against S&R after Plaintiffs voluntarily dismissed their Title VII claims, the Court dismisses S&R from this case."

2. NIED:

"Plaintiffs misunderstand the requirements for an NIED claim. To bring an NIED claim, a bystander must have been "located near the scene," "emotionally injured by the contemporaneous sensory observance" of the acts, and "closely related to the victim." Beatrice Preiss claims that she contemporaneously viewed the alleged sexual harassment when her husband brought home video tapes showing the harassment and played them for her. This does not meet the requirements of either contemporaneous observance nor physical presence. The playing of a video taped recording hours, days, or weeks after an event is simply not contemporaneous in nature. Also, it is incomprehensible to claim that video tape viewing of events somehow makes one physically present at the event. Therefore, the Court dismisses Beatrice Preiss' NIED claim."

"Oliver Preiss also makes an NIED claim. However, as this Court has repeatedly held before, direct victims may not bring NIED claims. Therefore, the Court also dismisses Oliver Priess' NIED claim."

The current lawsuit opens the door for numerous issues to be publicly discussed.

Roy Horn is entitled to defend himself.





Broadway To Vegas is supported through advertising and donations. Priority consideration is given to interview suggestions, news, press releases, etc from paid supporters. However, no paid supporters control, alter, edit, or in any way manipulate the content of this site. Your donation is appreciated. We accept PAYPAL. Thank you for your interest.



ART AND ABOUT


ART AND DINE The Reading Public Museum offers an this alluring new series of sophisticated dining opportunities. They plan to stir the senses by pairing the culinary talents of some of the area's best chefs, restaurants and catering experts with artworks and objects from The Museum's collections and special exhibitions.

Each evening will feature unique gallery talks, delicious cuisine, theme-related presentations and beverage pairings all within a distinctive gallery setting.

On Thursday, June 7, 2012 it's Mangia Bene! An Evening in Italy featuring: Monte Lauro – specialty and gourmet Italian dishes from traditional family recipes. Chef's selection wine pairings

Curator's talk including classically inspired prints, paintings and sculpture from major artistic centers throughout the Italian peninsula.

At the Reading Public Museum in Reading, PA.


SWEET CHARITY


FORGET- ME-NOT the Alzheimer's Association's New York City Chapter gala, June 4 at The Pierre will present Tony Award winner David Hyde Pierce with the Lifetime Leadership Award.

Four-time Tony Award nominee Victor Garber will serve as the emcee for the evening, which will feature a performance from Spring Awakening star Jonathan Grofff and an appearance from Nice Work If You Can Get It's Matthew Broderick.

Hyde Pierce, who serves on the board of the National Alzheimer's Association, is being honored for his work with the New York City chapter.

THE IRISH REPERTORY THEATRE 2012 ANNUAL BENEFIT GALA Oliver! In Concert takes place Monday, June 11, 2012.

Starring Brian Stokes Mitchell as Fagin, James Barbour, Melissa Errico and other Broadway stars, backed by a full orchestra and chorus, including the Keystone State Boychoir.

Performance at The Shubert Theatre followed by dinner at Sardi's.


ARTISTS CLAMOR TO MEET THE QUEEN AT CELEBRATION OF THE ARTS 2012
Queen Elizabeth greets Kate O'Mara, Dame Shirley Bassey and Joan Collins. Getty photo.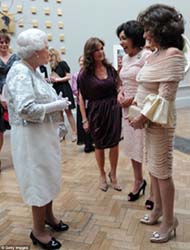 Celebrities who are accustomed to having others fawning to have their picture taken with them, cued up to have that same opportunity with Queen Elizabeth.

More than 850 actors, writers and UK artists - one of the largest gatherings of genuine blue ribbon stars - took place in a glittering gathering at London's Royal Academy.

The occasion was the Celebration of the Arts reception commemorating Queen Elizabeth's Diamond Jubilee.

The dress code was eclectic as was the guest list.

Sir Derek Jacobi, Dame Judi Dench, Sir Paul McCartney who introduced his new wife Nancy Shevell to the Queen.

Bono and his wife Alison Stewart also had a nice conversation with Her Majesty.



Designer Giles Deacon brought a swan masked model. Getty photo.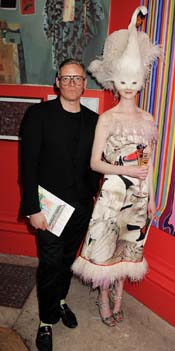 Playwright, screenwriter, actor and author Alan Bennett was there. Also on hand as were rapper Tinie Tempah and comedian Harry Hill.

The Queen had her photograph taken with 24 artistic dames. They included soprano Dame Kiri Te Kanawa, artist Dame Paula Rego and, from the acting world, Dames Joan Plowright, Janet Suzman, Diana Rigg who recently underwent knee surgery and actress Dame Harriet Walter.

Apple designer Sir Jonathan Ive made his first public appearance only hours after receiving his knighthood.

Fashion designers such as Giles Deason, Paul Smith, Jasper Conran and Zandra Rhodes, were invited to bring a model dressed "in a living example of their work."

Conrad was accompanied by friend and model Jasmine Guinness, whom he dressed for the evening in a bespoke red floor length gown.



Dame Vivienne Westwood with Lily Cole in corseted deep blue strapless evening gown and a glittering silver tiara. Getty photo.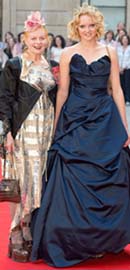 Christopher Kane with Caroline Sieber in an embellished dress, while Giles Deacon brought a swan masked model.

Dame Vivienne Westwood with Lily Cole in a corseted deep blue strapless evening gown and a glittering silver tiara. Fashion luminary Westwood adorned with a pink flower fascinator, who in a red carpet confession, admitted that she has changed her mind about the woman who has ruled Great Britain longer any than other monarch.

The designer who reached her peak in the punk era, said she had altered her opinion since the 1970s.

"At one time I thought the Queen represented all the political hypocrisy of England," she said. "I realized they're above politics. I think they are a social cement and the job she does is incredible."

Dame Diana Rigg also made red carpet comments. She said the evening's event was "absolutely wonderful".

Asked whether there had been a golden age for British culture, she said: "I think Britain continually improves itself and redefines itself.



Sir Paul McCartney and his wife Nancy Shevell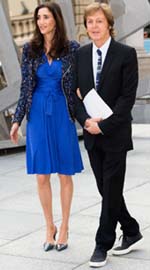 "This year happens to be particularly special, with the Queen's Jubilee and the Olympics at the same time. I think an entirely new, brilliant Britain is going to emerge."

The Diamond Jubilee shindig saw Henry Holland with Agyness Deyn in a floor-length blue number.

Irish musician Bono, actress Joan Collins and Sir Paul McCartney are leaders of the Queen's fan club.

Sir Paul said he was a "huge fan" of the Queen. There were cheers when Bono praised the Queen for making her trip to the Republic of Ireland last year.

The Queen presented five special Diamond Jubilee Awards to young "artists of the future". The citations were delivered by David Hockney, Sir Jonathan Ive, Sir Derek Jacobi, Dame Kiri Te Kanawa and choreographer Matthew Bourne.

Grayson Perry, David Bailey and Sam Taylor-Wood were among those who attended from the art world.

"A good 60 years' Pop artist Sir Peter Blake, who designed the Beatles' Sergeant Pepper album cover, said it had been "an exciting 60 years" for British culture.

Stars of stage and screen on the guest list include Kenneth Branagh, Emma Thompson, Maureen Lipman, Joanna Lumley, Tom Courtenay, Richard Briers and Martin Clunes. Playwrights including Sir Tom Stoppard, Mike Leigh and Sir Ronald Harwood who mingled with the theatre directors Sir Trevor Nunn, Sir Peter Hall, Sir Nicholas Hytner and Sir Richard Eyre.

They joined novelists including Julian Barnes, Michael Morpurgo and Philip Pullman.

Chefs Richard Corrigan, Atul Kochhar and Yotam Ottolenghi were invited and offered tastes of their dishes.



Queen Elizabeth's daughter-in-law Sophie, Countess of Wessex always has good fashion sense. She appeared in a short ruby colored dress with ruby and black heels. Getty photo.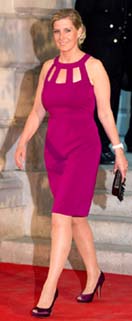 Joan Collins who was celebrating her 79th birthday chatted up the Queen while standing next to her Dynasty co-star Kate O'Mara, who wore an elegant purple gown and Dame Shirley Bassey, who accented her white lace dress with black shoes and purse. Collins selected a tight fitting, pale ruched dress with matching heels.

The Queen was dressed in a light colored cream dress, with a silver lace jacket and three stands of pearls. Hatless, she decided to permit her own regal gray hair to serve as her crowning glory.

McCartney wore dark tennis shoes with white soles. The Queen also met singer Jamie Cullum and his wife Sophie Dahl both of whom selected to wear black outfits.

During the performance The Queen sat at a small table with Julian Fellowes and an academy director.

Sophie, Countess of Wessex looked glamorous as usual in a short ruby colored dress with ruby and black heels.

Actor Michael Sheen, a graduate of the Royal Academy of Dramatic Art, spoke to the Queen as did choirmaster, singer and presenter of the BAFTA-award-winning TV series The Choir, Gareth Malone.

The Queen also spent time with comedian David Walliams, model Agyness Deyn and My Family actor Robert Lindsay as well as Amanda Wakeley Lisa Barbuscia and Miranda Richardson.

Actress Sylvia Syms and Alison Steadman had a good time as did Charlotte Rampling, Frances Barber and Timothy Spallo, with his wife Alison Stewart. Annie Lennox was all smiles in a casual white linen suit, while Susan Sangster opted for a glamorous floating silk dress with black netting.

A surprising personal moment occurred while the Queen toured the gallery. In the walk about, she suddenly spotted a landscape painting by her niece Lady Sarah Chatto, daughter of the late Princess Margaret. 'I know where it is at least,' she said pointing at the picture. Afterwards she met Downton Abbey actress Penelope Wilton and told her her discovery. Wilton reported: "She said 'I have found my niece's picture and I didn't even know which gallery it was in'".


QUEEN ELIZABETH'S DIAMOND JUBILEE CONCERT AT BUCKINGHAM PALACE TO A FOLK BAND SATIRE
Elton John won't let a recent hospitalization stop him from performing. PA Photo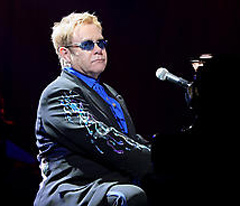 For Dame Shirley Bassey and Sir Paul McCarthy it's beginning to appear so ordinary - all those invitations from the Queen.

But, when you're talking about one of the most remarkable women of the world - Queen Elizabeth - who is celebrating 60 years on the throne, not even the rarefied world of superstardom gets jaded.

To mark 60 years of the Queen's reign, the Diamond Jubilee Concert at Buckingham Palace, takes place Monday, June 4.

Dame Shirley Bassey, Sir Elton John, Sir Paul McCartney, Sir Cliff Richards and Sir Tom Jones are just some of the music stars performing for the BBC concert at Buckingham Palace. Organized by Gary Barlow, they'll be joined by Madness, Annie Lennox, Alfie Boe, Jools Holland, Lang Lang, Ed Sheeran JLS and Jessie J as well as a host of other A-list stars for a very special Diamond Jubilee Concert outside Buckingham Palace. The Queen Victoria Memorial will be the center point of the outdoor concert.

The event will be televised by the BBC and ABC-TV will broadcast highlights of the concert on June 5.

For those who want to celebration Her Majesty by pushing the entertainment envelope then consider the WW Gallery's Diamond Geezer exhibition which takes place at WW Gallery Hatton Garden.

This is a group show which celebrates the street parties, souvenirs and monarchy memorabilia the 60th anniversary celebrations bring with them.

Contemporary artists including Cathy Lomax, Jasper Joffe, Alex Michon, Dick Jewell, and Sadie Hennessy are celebrating "our freedom to laud and loathe our sovereign".

Sardine & Tobleroni, a punk influenced art duo who are known to their parents as Victor Silveira and Jay Rechsteiner, have contributed The Sauerkrauts a tongue-in-cheek take on the Royal's German connections.

Princes Charles and son Prince Harry along with the Queen and other members of the Royal Family are portrayed as members of a folk band.


LET THEM EAT CAKE - BAKERS CREATE QUEEN ELIZABETH OUT OF CUPCAKES
Queen Elizabeth in cake by Prudence Staite. Photo: Dr. Oetker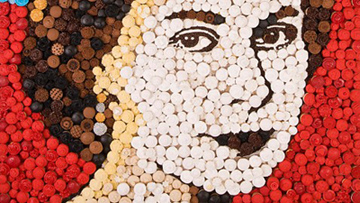 Cupcake wars!!!

Not one but two esteemed London bakers have created the head of Queen Elizabeth out of cupcakes.

One portrait has been made by food artist Prudence Staite and baking brand Dr. Oetker to celebrate the Queen's Diamond Jubilee.

That portrait composed of 2,012 cupcakes is made from:

10 cans of gold and silver shimmer spray
60,000 silver and gold soft sugar pearls
140 white wafer daisies
50kg (110 pounds) of royal icing
20kg (44 pounds) of marzipan
40 tubes of gel food colors
20kg (44 pounds) of chocolate chips
33kg (73 pounds) of cupcake icing

Staite spent more than 300 hours in her Pamington, Gloucestershire, U.K., studio baking and decorating using the Dr. Oetker home baking range.

"I was excited to be given the chance to create such a meaningful portrait to celebrate the queen's reign. I have been working with savory food and chocolate for years, but this was a whole new challenge," said Staite in a statement.

"I don't think I've ever seen so much icing in my studio before!" she said.

However, cakes were made using out-of-date ingredients, so they are inedible and for art only!



Gerhard Jenne with the trial section of the cupcake Queen Elizabeth. Photo: Konditor & Cook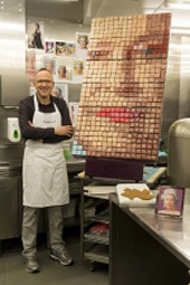 Konditor & Cook is the bakery firm that supplied cake for the West End production of What the Butler Saw. Joe Orton's play at London's Vaudeville Theatre which is directed by Sean Foley and features Tim McInnery, Samantha Bond and Omid Djalili celebrated their preview performances with cake - approved of course by - the butler.

Thus the bakery knows the value of a dress rehearsal. In preparation for the Diamond Jubilee Celebration and their Queen cupcake portrait to mark the occasion, a trial run using 500 out of an eventual 3120 cakes - one for every week of her reign - was successfully completed at Konditor & Cook at its St Mary Axe shop, at The Gherkinn on May 3. Gerhard Jenne, founder, Konditor & Cook, and the man behind the idea, explained to the press that the team had used cross-stitch software in order to break up the image into 24 colors and symbols.

"The baking will be done around three days in advance, then it will take around eight hours to put all the cakes in place on the day," said Jenne.

More than 1,000 eggs (83 dozen), 50 kg of butter (110 pounds), 150kg of sugar (330 pounds) and 36 kg of marzipan (80 pounds ) will be used to make the cube shaped 1.75 x 1.75 inch cakes.

The final portrait will be 6 times larger that the test run and reach a staggering 94 square feet in size.

Visitors to the celebration in Battersea Park on June 3 will be able to 'frame' Her Majesty by adding the finishing touches to an 11m long Jubilation Fruit Cake picture frame. More than 1000 gingerbread diamond biscuits (cookies) will be baked to give everyone the opportunity to decorate their little diamond for the portrait.

The cake will be assembled near the pagoda in Battersea Park and displayed at 60 degree angle It will provide a momentous photo opportunity. Not only that, during the festivities the portrait cake will be sold cupcake by cupcake to benefit charity at $1.50 per cupcake.


BARACK ON BROADWAY
Cheyenne Jackson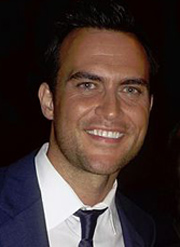 When George Clooney staged a fund raising dinner at his house for President Obama, record sums were rung up. Now Obama will attend a more modest priced fundraiser on Broadway, although the attendees are expected to be the theatrical elite.

An evening at the theatre with President Barack Obama and former President Bill Clinton, will be offered June 4 at Broadway's 1,800-seat New Amsterdam Theatre.

No word on whether Clinton will play the sax or Barack will sing.

The event will benefit the Obama Victory Fund 2012 and will be hosted by Disney Theatrical Productions president Thomas Schumacher and producers Margo Lion, Michael David, Lauren Mitchell, Roger Berlind and Paul Boskind.

Tony Award winner George C. Wolfe will direct.

Barack on Broadway will feature performances from Nina Arianda (Venus in Fur), Kerry Butler (The Best Man), Norbert Leo Butz (Catch Me If You Can), Bobby Cannavale (The Motherf**ker With the Hat), Stockard Channing (Other Desert Cities), Megan Hilty (Wicked, Smash), Cheyenne Jackson (Xanadu), James Earl Jones (The Best Man), Tony Kushner (Angels in America), Angela Lansbury (The Best Man), Patti LuPone (Evita, Gypsy), Audra McDonald (Porgy and Bess), Mandy Patinkin (Evita) and Jeffrey Wright (A Free Man of Color).



Audra McDonald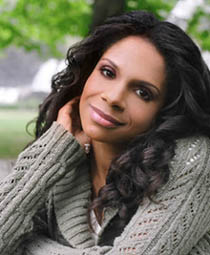 Music direction is by Rob Berman John Guarew is the script consultant.

Tickets are priced at $100, $250 and VIP seats cost $1,000.

Monday was selected because that is generally a dark night for most shows.

Two days after the event, Obama is scheduled to return to Los Angeles for a fundraiser at the home of Glee creator Ryan Murphy.

Ten days after the Broadway event Sarah Jessica Parker will hold a "fabulous" Obama fundraiser at her New York apartment.

She is a strong Obama supporter who served on the president's Committee on Arts and the Humanities beginning in 2009

Obama is generally supported by the theatrical community. Obama's 2013 budget calls for 5% increase for arts and culture.


THE GROUP THEATRE: THE EIGHTIETH ANNIVERSARY


On the occasion of the legendary Group Theatre's 80th anniversary, June 4, 2012, the Martin E. Segal Theatre Center presents a day of readings, panels, rarely-heard recordings and screenings of unseen footage all dedicated to understanding The Group Theatre and How it Changed American Culture.

All events are free, first-come-first-served, and take place in the Elebash Recital Hall at the Graduate Center, CUNY, in New York City.

In 1931, three theatrical visionaries - Harold Clurman, Lee Strasberg, and Cheryl Crawford - created America's first permanent company of actors, The Group Theatre. Modeled on the Moscow Art Theatre, The Group Theatre presented timely plays using Constantin Stanislavsky's System of Acting with an ensemble that included Stella Adler, Sandy Meisner, Bobby Lewis, Sidney Lumet, and Elia Kazan.

The Group Theatre premiered many legendary American plays over a ten year period, among them Clifford Odets' Awake and Sing, and their influence continues. Co-creators Mel Gordon and Ronald Rand have organized a day of spectacular insight into the Group, welcoming special guests like Lee Grant, Wendy Smith, John Strasberg and Ellen Adler.

During the day, the extraordinary accomplishments of three of the Group's titans—Lee Strasberg, Stella Adler, and Harold Clurman will be highlighted - followed by an evening event that will combine new work with a panel discussion on The Group Theatre's influence in American culture and society.

Events include:

Lee Strasberg, presented by Mel Gordon and John Strasberg is a screening of a 1982 interview with Lee Strasberg, a reading of a 1932 affective memory exercise with Robert Ellerman, slide presentations of exercises conducted by the Group and the 1933 performance Men in White. Stella Adler, presented by Mel Gordon and Ellen Adler is a screening of a 1985 interview with Stella Adler, actual recordings of Adler in Success Story (1932) and Awake and Sing (1935), a reading from Adler's 1934 notes to Constantin Stanislavsky (and Stanislavsky's response), and a radio broadcast of The Group in Clifford Odets's Sarah Bernhardt.

Harold Clurman, presented by Ronald Rand and Mel Gordon includes video interviews on Clurman from Karl Malden and Lee Strasberg, a slide presentation and stage recording of Golden Boy, starring Luther Adler and Frances Farmer, and rare footage of Group actors reprising their Golden Boy roles.

Performances and Reperformanaces are readings from the original 1931 Group Theatre Diary, a reading from Ronald Rand's play The Group! with Fritz Weaver, and screenings of the Group Theatre on Film - including 1936 screen tests for Success Story, Awake and Sing and others.

The evening will end with a Panel Discussion: The Group Theatre and How it Changed American Culture with Wendy Smith, Lee Grant, Ellen Adler, Mel Gordon, Ronald Rand, and John Strasberg.


36th SEASON OF THE SPOLETO FESTIVAL OFFERS PREMIERES AND DIVERSITY
Teching in India by Mike Daisey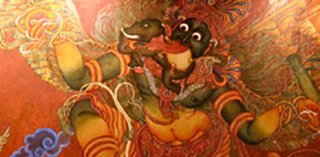 For 17 days and nights each spring, Spoleto Festival USA fills Charleston, South Carolina's historic theaters, churches and outdoor spaces with performances by renowned artists as well as emerging performers in opera, theater, dance, and chamber, symphonic, choral and jazz music.

Internationally recognized as America's premier performing arts festival, on May 25 the Spoleto Festival USA began its 36th season.

Mike Daisey performs his recent, controversial solo show, The Agony and the Ecstasy of Steve Jobs with performances May 31, June 2, 3, 5 at the annual multi-arts smorgasbord/

Also on tap Mike Daisey's unforgettable theatrical journey across the continent of India Teching In India. That takes place June 6.

The Gate Theater of Dublin is making a trip to Spoleto, with a production of Noël Coward's Hay Fever, and the British group 1927 ("Between the Devil and the Deep Blue Sea") will offer its eerie and fantastical The Animals and Children Took to the Streets, a wickedly funny tale that seamlessly blends live action and projected animation will be mounted in the Memminger Auditorium.



Kepler composed by Philip Glass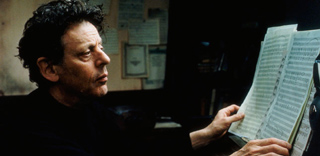 Kepler sung in English and Latin, will have its American Premiere Production at the College of Charleston Sottile Theater. Composed by Philip Glass, Libretto by Martina Winkel. Directed by Sam Helfrich.

Starring John Hancock as Kepler. With Anne-Carolyn Bird, Leah Wool, Matt Boehler, Dan Kempson, Kathryn Krasovec, Gregory Schmidt.

Johannes Kepler, the groundbreaking astronomer and mathematician of the scientific revolution, imagined "a continuous heavenly music only perceived by the mind."

In his new opera, composer Philip Glass captures this majestic celestial sound as he explores the visionary dreams and prosaic nightmares of Kepler. One of the signal artists of our era, Glass continues to create work that is at once contemporary and iconic. Sam Helfrich directs and Spoleto Festival USA Resident Conductor John Kennedy conducts the first staged production of Kepler in the United States. With a libretto gleaned primarily from Kepler's own writings and a driving and hypnotic score that embodies the scientist's quest to reconcile scientific discovery with the divine, the opera suggests, as Kepler himself believed, that there really may be a music of the spheres.



Making Up The Truth by Jack Hitt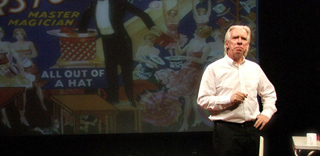 Making Up the Truth is the new solo show from Peabody Award-winning journalist and performer Jack Hitt, a regular contributor to public radio's This American Life.

Directed by Jessica Bauman.

Hitt shares some of his most extravagant stories-including one that should prove of particular interest to Charleston audiences about growing up next door to Gordon Langley Hall (a.k.a. Dawn Langley Hall Simmons), a Charleston legend who scandalized the city in the late 1960s.

In and of itself, an evening spent listening to these hilarious, stranger-than-fiction tales would be well worth the trip to the theater. But when Hitt delves into the latest findings in contemporary brain science, he discovers an even more remarkable story about us all and the world of uncanny wonders that lies just beyond the brain's notice.

Performances at the Emmett Robinson Theatre at College of Charleston.

On Monday, May 28, Conversations With Monday takes place in which host Martha Teichner interviews Jack Hitt at the Simons Center Recital Hall at College of Charleston.

On a musical note, the four-time Grammy Award-winning vocalist K. D. Lang makes her Spoleto Festival debut at the Gaillard Auditorium on June 3.



Feng Yi Ting by Guo Wenjing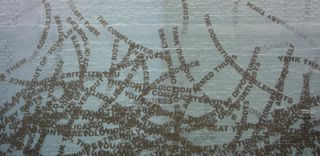 The American premiere of Feng Yi Ting composed by Guo Wenjing and directed by Atom Egoyan will be sung in Chinese and English supertitles.

An empire at stake; two powerful men in love with the same exquisite, inscrutable woman; and a plot that will change the course of history. Feng Yi Ting is not only a profoundly operatic story, it is the historically true account of Diao Chan, a woman of legendary beauty and the central figure in a dangerous rivalry between aristocrat Dong Zhuo and his godson, General Lu Bu. Guo Wenjing, one of China's most important contemporary composers, defines the fateful moment when Diao and Lu meet in the Feng Yi Ting-or Phoenix Pavilion-where she encourages Lu to eliminate Dong and thus save the emperor of the Han Dynasty.

Performed by two greatly revered Chinese opera performers, the enchanting score combines Chinese and Western musical instruments and traditions to create music that is unmistakably contemporary but also evocative of something ancient.

Directed by internationally acclaimed film director Atom Egoyan, designed by Derek McLane with costumes by Han Feng and video by Tsang Kin-wah, this new production brings a fresh perspective to a classic story of love, corruption, and political intrigue.

Feng Yi Ting is a co-production between Spoleto Festival USA, Currents - Art & Music, and Lincoln Center Festival.

As it has since 1979, the fringier Piccolo Spoleto will overtake the city at the same time, this year offering 700 or so events.

The Spoleto Festival continues through June 10.


SPREADING THE WORD


CAREY MULLIGAN who received an Oscar nomination for her performance in the film An Education, has become an "ambassador" for the Alzheimer's Society to help promote awareness of the condition.

She hopes to make a particular impact with younger people.

Mulligan's grandmother suffers from the progressive disease.

SHIRLEY MacLAINE who has been busy with her new role in Downton Abbey, keeping busy with PR for her latest movie, Bernie, and writing a new book is also preparing for the role of Ben Stiller's mother in the remake of The Secret Life of Walter Mitty, which she starts after she receives the 40th AFI Life Achievement Award which will be presented to her a gala tribute in Los Angeles on June 7, 2012.

BURLINGTON DISCOVERY JAZZ FESTIVAL For over a quarter of a century Burlington, Vermont, has celebrated amazing live music during the annual Burlington Discover Jazz Festival. In 1983 the Festival gave Vermont's flourishing jazz community the recognition it deserved - a celebration combining incredible local talent with jazz legends from every corner of the globe. Throughout the event the city comes alive.

Running June 1-10 the Burlington Discover Jazz Festival will energize the entire city with amazing music and performances all over town.

Mary Halvorson Quintet will perform in FlynnSpace on June 7. The following day the celebrated quintet Christian McBride & Inside Straight are on the Flynn MainStage.

Dianne Reeves, Bela Fleck and the Marcus Brothers Trio, Bonnie Raitt, Jimmy Cliff, Trombone Shorty and Orleans Avenue, Marc Cohn, Craig Taborn, Lee Konitz, Ninty Miles with Stefon Harris, vibes; Nicholas Payton, trumpet; David Sánchez, saxophone; Luques Curtis, bass; Henry Cole, drums; Mauricio Herrera, congas.

Performers also include Vijay Iyer, Terrance Simien & The Zydeco Experience, Tim Berne/Snakeoil, Marco Benevento, Donny McCablin, Jonathan Batiste, Asphalt Orchestra, The Stooges Brass Band, Chicaha Libre, Kat Wright & the Indomitable Soul Band, and the Onion River Jazz Band.

Produced by the Flynn Center for the Arts in association with Burlington City Arts.

IT'S MAGIC: 90 YEARS OF SONGS FROM WARNER BROS. with Rex Reed, Artistic Director serving as host.

Featuring Vocalists: Christine Andreas, Polly Bergan, Jason Graae, Sue Ranwey and Tom Wopat.

Mike Renzi, Music Director, Piano Charles Repole and Patricia Wilcox, Co-Stage Directors.

"You ain't heard nothin' yet!" With Al Jolson's famous declaration in 1927's The Jazz Singer, Warner Bros. brought sound to the movies, and invented a new art form - the movie musical.

Hitting its stride as a musical powerhouse during the Great Depression, Warner Bros. gave audiences a few hours of escape from their travails at movies like 42nd Street and the Gold Diggers series, with upbeat tunes and backstage stories set to Busby Berkeley's over-the-top choreography and dazzling camera work. With movies like Night and Day, Rhapsody in Blue and I'll See You in My Dreams celebrating songwriters like Cole Porter, George Gershwin and Gus Kahn, respectively, the studio pioneered a new genre - the biopic.

Along with its most famous star, Bette Davis, the studio's stable included Depression-era icons Ruby Keeler and Dick Powell. James Cagney won an Oscar for his role as songwriter George M. Cohan in Yankee Doodle Dandy. Eddie Cantor, who played himself in Hollywood Canteen, also wrote the Merrie Melodies theme song and was caricatured several times in Warner Bros. cartoons. Doris Day starred in 17 Warner Bros. movies, including The Pajama Game, Calamity Jane, and her last, Young at Heart, which also starred Frank Sinatra. For Judy Garland, the studio produced the second version of A Star is Born in 1954, and produced a third in 1976, starring Barbra Streisand.

Thanks in large part to Warner Bros., Broadway came to the big screen and every town in America, with film renditions of hit shows like Gypsy, The Music Man, My Fair Lady and Camelot.

June 2-4 at the 92nd Street Y in NYC.

JAMES EARL JONES AND ANGELA LANSBURY are currently starring on Broadway in The Best Man. According to NY Magazine who first printed the item, the pair has agreed to star in an Australian tour of Driving Miss Daisy. The production will open next year but the tour schedule has not yet been announced.

AN EVENING WITH CHRISTOPHER PLUMMER takes place May 29 at The Paley Center for Media in New York City.

The event with Tony Award winner Plummer will focus on his television work, which began with his debut in 1953 in The Gathering Night, an adaptation of Kipling's The Light That Failed, about a painter who loses his eyesight.

The acclaimed actor will be joined by New York Magazine/CBS Sunday Morning film critic David Edelstein, who will moderate the seminar.

Film clips from a wide range of Plummer television appearances will be screened.

Rebecca Paller is the curator of the event.


OTHER PEOPLE'S MONEY


DALIAN WANDA GROUP a Chinese conglomerate announced Monday it will buy U.S. cinema chain AMC Entertainment Holdings for $2.6 billion to create the world's biggest movie theater operator.

AMC headquarters will remain in the Kansas City area and day-to-day operations and management will remain unchanged.

DAVID SAXE the producer of Las Vegas Stripper 101 is backing up his denial to a lawsuit which claims that he secretly videotaped exotic dance instructors in their classroom and dressing room, by offering to pay them $1 million if they pass a lie detector test.

He issued a press release which states:

"Lawsuits can take years and I can't wait another day to clear my name, that's why I am challenging my accusers to a lie-detector test. If they pass, I will pay them $1 million. If they fail, they only have to pay $500,000, which I will then donate to a charity that helps business owners fight extortion and malicious prosecution."

"The test will be simple: a testing facility will be chosen at random and the questions will be based solely on the stripper instructors' allegations specified in the lawsuit," Saxe's statement promised.

Rachael Carter, Lana Stewart, Jill Sutherin, Kindra Kroll and Nicole Cherry who are suing, claiming that two hidden cameras, including one in a broom handle were discovered last January, rejected Saxe's offer through their attorney Eva Garcia-Mendoza who called it a publicity stunt.

PRINCE OF BROADWAY the new musical retrospective of the work of Harold Prince, has new producers.

Steven Baruch, Marc Routh, Richard Frankel and Thomas Viertel have put their money on the table after the original producer dropped out.

The show, first announced for a fall 2012 on Broadway, will now happen in fall 2013, the new producers announced on May 24.

The production will be directed the show's subject - Harold Prince. The musical will be co-directed and choreographed by five-time Tony Award winner Susan Stroman, and features a book by Tony Award nominee David Thompson.

The production is described as: "Celebrating one of the most influential and successful careers in the American theatre of the past 60 years, Prince of Broadway will look at the circumstances and fortune, both good and bad, that led to Hal Prince creating some of the most enduring and beloved theatre of all time, including The Pajama Game, West Side Story, Fiorello!, Fiddler on the Roof, Cabaret, Company, Follies, A Little Night Music, Sweeney Todd, Evita and The Phantom of the Opera, the longest-running show in Broadway history."

The musical will feature words and music from many of the shows that have earned Hal Prince a record 21 Tony Awards.

The creative team includes Tony-nominated scenic designer Beowulf Boritt, Tony-winning costume designer William Ivey Long, Tony-winning lighting designer Howell Binkley and Tony-nominated sound designer Jonathan Deans.

Musical supervision, incidental music, vocal and dance arrangements are by Tony Award winner Jason Robert Brown, orchestrations are by Don Sebesky and musical direction is by Eric Stern.



THE 57th ANNUAL OBIE AWARDS were given out at a ceremony Monday, May 21, 2012 at Webster Hall in Greenwich Village. The awards were presented by actors Eric McCormack, Grace Gummer, Hugh Dancy, Jonathan Pryce, Justin Bartha, Leslie Odom Jr., Lily Rabe, Michael McKean, Tonya Pinkins, Topher Grace, and Tracee Chimo.

Numbers from this season's top Broadway musicals, including Summertime performed by Joshua Henry and Sumayya Ali from the cast of Porgy & Bess and Raglan Road performed by David Patrick Kelly from the cast of Once, were entertainment for the evening. The ceremony kicked off with two numbers from newly minted Obie winner Ethan Lipton & His Orchestra from their show No Place to Go.

4000 Miles by Amy Herzog received the Obie Award for Best New American Play, which is accompanied by a $1,000 prize. Caridad Svich - a playwright, translator, and teacher - received the Obie Award for Lifetime Achievement.

The Ross Wetzsteon Grant ($1,000) went to Youngblood (Ensemble Studio Theatre). Other grants were presented to The Bushwick Starr ($2,500) and The Debate Society ($2,500).

Special Citations were awarded to: Mark Bennett, Denis O'Hare, Lisa Peterson, and Stephen Spinella for An Iliad (New York Theatre Workshop) - Elevator Repair Service for Sustained Excellence - Erin Courtney and Ken Rus Schmoll for A Map of Virtue (13P) - Steven Hoggett, Martin Lowe, and John Tiffany for Once (New York Theatre Workshop) - Daniel Kitson for It's Always Right Now, Until It's Later (St. Ann's Warehouse) and Ethan Lipton & His Orchestra for No Place to Go (The Public Theater/Joe's Pub).

Performance Awards were presented to: Cherise Boothe for Milk Like Sugar (Playwrights Horizons and the Women's Project) - Steven Boyer for Hand to God (Ensemble Studio Theatre/Youngblood) - Sweet and Sad Ensemble Jon DeVries, Shuler Hensley, Maryann Plunkett, Laila Robins, Jay O. Sanders, J. Smith-Cameron (The Public Theater) - Gabriel Ebert and Mary Louise Wilson for 4000 Miles (Lincoln Center Theater) - Jim Fletcher for Sustained Excellence - Santino Fontana for Sons of the Prophet (The Roundabout Theatre) - Linda Lavin for The Lyons (The Vineyard Theatre) - and Susan Pourfar for Tribes (Barrow Street Theatre).

The Playwriting Award went to Kirsten Greenidge for Milk Like Sugar (Playwrights Horizons and the Women's Project) while the Direction award was presented to Richard Maxwell for Early Plays (The Wooster Group and St. Ann's Warehouse) and Jay Scheib for World of Wires (The Kitchen).

The Design Awards went to Mark Barton, Sustained Excellence of Lighting Design - Mimi Lien, Sustained Excellence of Set Design and Matt Tierney and Ben Williams, sound design for The Select (The Sun Also Rises) (New York Theatre Workshop).


GET WELL SOON TO . . . .


MICHAEL McKEAN the Academy Award nominated actor/songwriter who is currently appearing on Broadway in The Best Man.

McKean suffered a broken leg on May 22, 2012 when a car hit him on the Upper West Side, at West 86th and Broadway.

The 64-year-old star was rushed to St. Luke's Hospital, where doctors listed him in stable condition.

His press agent Harriet Sternberg, told the Associated Press that this is the "first time he will have ever missed a curtain in his entire life... His understudy has never gone on in 40-plus years."

McKean plays Dick Jensen, William Russell's (Tony winner John Larroquette) campaign manager in The Best Man. No date has been announced as to when McKean will return to the production.

ELTON JOHN who has been in Cedars-Sinai Medical Center in Los Angeles suffering from a severe respiratory infection, forcing him to cancel Labor Day week-end shows at Caesars Palace in Las Vegas.

In a statement, John said, "It feels strange not to be able to perform these 'Million Dollar Piano' concerts at the Colosseum. I love performing this show, and I will be thrilled when we return to the Colosseum in October to complete the 11 concerts soon to be scheduled.

"All I can say to the fans is sorry I can't be with you. I hope to see you soon at this wonderful theatre at Caesars Palace."

Elton was released from the hospital and ordered to rest at home. Elton is married to David Furnish and the two are parents of a 17-month old son, Zachary. While Elton was in the hospital Furnish kept the toddler amused by taking him to a Los Angeles park to dig and build castles in the sand pit.



THE PHYSICISTS by Friedrich Dürrenmatt, in a new version by Jack Thorne.

Directed by Josie Rourke.

Another nurse murdered in the world's most illustrious sanatorium. And who's to blame this time: Isaac Newton, Albert Einstein or the brilliant Johann Wilhelm Möbius?

But what are these great minds doing here, together at the same time? Who are these men? And what have they got to hide?

Written in the shadow of the atom bomb and at a time of unprecedented scientific advance, Dürrenmatt's hilariously satirical masterpiece, in this exhilarating new version by Jack Thorne, considers if insanity is the only refuge for the dangerously intelligent.

John Heffernan will play Möbius, Paul Bhattacharjee will play Ernst Heinrich Ernesti (aka Einstein) and Herbert Georg Beutler (aka Newton) will be played by Justin Salinger. Sophie Thompson returns to the Donmar as Doctor Mathilde Von Zahnd with Miranda Raison playing Monika Stettler.

Designer is Rob Jones. Lighting Designer is Hugh Vanstone. Sound Designer is Emma Laxton. Composer is Michael Bruce.

May 31-July 21, 2011 at the Donmar Warehouse in London.

MY BRILLIANT DIVORCE by Geraldine Aron. Directed by Matt McGrath.

When American ex-pat Angela's irritatingly round headed British husband takes off, she's left to cope with a disapproving mother, a shifty attorney and a bad case of hypochondria.

May 29 - June 24 The American Premiere takes place May 29-June 24 at the Bay Street Theatre in Sag Harbor, NY.

SILENCE! THE MUSICAL the unauthorized parody of The Silence of the Lambs, with book by Hunter Bell, music & lyrics by Jon and Al Kaplan, and direction & choreography by Christopher Gattelli welcomes Tony Award winner Shuler Hensley to the cast on June 1. He'll portray Dr. Hannibal Lecter through June 24, filling in for the vacationing David Garrison. The production can be enjoyed at PS122 in NYC.

MAME the Jerry Herman musical currently on stage at Goodspeed Musicals in East Haddam, CT has - by popular demand - been extended through July 7.

The production stars Judy Blazer as Vera and Louise Pitre as Mame.


WHO'S WHERE


OPERA ON THE MOUNTAIN beautiful music under the stars Saturday, June 2, at Vanderbilt Dyer Observatory in Nashville. Under a large open-air canopy, a cast of professional opera singers will perform Opera's greatest hits and Broadway favorites, including pieces from Camelot, Guys and Dolls, Phantom of the Opera, La Bohème, The Barber of Seville, and The Magic Flute. This third annual collaboration combines picnicking, an outdoor concert of popular arias and Broadway standards, and the opportunity to gaze at the stars through the observatory's main telescope. A heavenly sell-out each year.

EAST MEETS WEST: THREE STARS IN COLLABORATION Chinese soprano Song Zuying, legendary tenor Andrea Bocelli and celebrated pianist Lang Lang present a beautiful series of classical performances accompanied by the Royal Philharmonic Orchestra. Tuesday, June 5 at the Royal Albert Hall in London.

NEIL DIAMOND sings his hits Friday, June 1, at the Bank Atlantic Center in Ft. Lauderdale, FL. On Sunday, June 3, the show will be at St. Pete Times Forum in Tampa, FL.

NICKELBACK on stage Tuesday, May 29, at the Scottrade Center in St. Louis. Wednesday's show is at the Allstate Arena in Rosemont, IL. Friday finds them at the American Airlines Center in Dallas. Saturday the performance is at the Toyota Center in Houston.

BONNIE RAITT performs Wednesday, May 30, at the Casino Ballroom in Hampton Beach, NH. On Thursday she brings her distinctive sound to the Merrill Auditorium in Portland, ME. Saturday's performance is at the Palace Theatre in Albany, NY. Next Sunday, June 3, she performs in the Burlington Jazz Festival in Burlington, VT.

ELVIS COSTELLO continues his European tour with a stop Tuesday, May 29, at the Olympia in Paris. On Thursday he performs at the Cirque Royal in Brussels, Belgium. Saturday finds him at the Musikhuset in Aarhus, Denmark. On Sunday, June 3, he's on stage at the Congress Center in Hamburg, Germany.




FINAL OVATION


ROBIN GIBB co-founder of the Bee Gees died May 20, 2012 after a long battle with cancer. He was 62.

The Bee Gees had nine No. 1 U.S. singles in the 1970s, won six Grammy Awards and were inducted into the Rock and Roll Hall of Fame in 1997.

Neil Portnow President/CEO of The Recording Academy issued the following statement:

"Six-time Grammy winner and Grammy Legend Award recipient Robin Gibb was a singer/songwriter best known as one-third of celebrated pop sibling group the Bee Gees. His distinctive vibrato voice was part of the trio's signature harmony, and he and his brothers enjoyed many number one hits, including songs from the phenomenally successful album Saturday Night Fever - the Grammy-winning Album Of The Year that became the biggest-selling soundtrack of the day and one of the best selling soundtracks of all time. Robin has had an indelible impact on music, and our deepest sympathies go out to his family, friends, and fans around the world who will continue to sing and dance to his music that will be 'Stayin' Alive' for many generations to come.

Besides his brother Barry, sister Lesley Evans and mother, Barbara, Gibb is survived by his second wife, Dwina, and their son, Robin-John; two children from his marriage to Molly Hullis that ended in divorce, Spencer and Melissa; and another daughter, Snow Robin, from a 2008 relationship.

EDDIE BLAZONCZYK, SR known as the man who helped spread polka around the world died Monday, May 21, 2012 at Palos Community Hospital in Chicago. He was 70.

A Congressional committee once proclaimed his group, the Versatones: "The Nation's #1 Polka Band," a fact touted on recordings and as part of the band's stage introduction.

Neil Portnow President/CEO The Recording Academy issued the following statement: Grammy winner and record label founder Eddie Blazonczyk Sr. was one of the true leaders and beloved voices of polka. His constant touring with the Versatones, the creation of his Bel-Aire Records label and his inclusion of rock, Tex-Mex and other sounds helped to evolve the polka genre and broaden its reach with audiences around the world. His unique style served as an influence to many, and our deepest sympathies go out to his family, friends, fans and all who enjoyed his work.

Survivors include his Besides his wife Christine, his son Eddie Jr., who carries on his father's musical heritage, son Tony, daughter Kathy, grandchildren Cayle, Anya and Anthony and many nieces and nephews.

JANET CARROLL a film and TV character actress who starred as Aunt March in the 2004 Broadway musical Little Women, died May 22, 2012 in New York City after a long illness. She was 71.

The Chicago born actor first gained fame in her home town. She then spent five seasons at the Kansas City Starlight Theatre, winning a DramaLogue Critics Award for Outstanding Achievement in Theatre for her performance as Klytemnestra in Ezra Pound's Elektra.

Beginning in 1981, she appeared in numerous television shows and movies. She gained fame as Tom Cruise's mother in Risky Business. During the late '80s and 1990s, she concentrated on television.

In addition to her acting career, Ms. Carroll was a jazz singer, performing at Jazz Festivals throughout the United States and Canada, such as Victoria and Vancouver Festivals in British Columbia, Monterey, Los Angeles Classic, Newport Beach, Catalina Island, New Orleans.

Survivors include her son, George Brown. A memorial service took place Saturday afternoon in Manhattan.








Next Column: June 3, 2012
Copyright: May 27, 2012. All Rights Reserved. Reviews, Interviews, Commentary, Photographs or Graphics from any Broadway To Vegas (TM) columns may not be published, broadcast, rewritten, utilized as leads, or used in any manner without permission, compensation and/or credit.
Link to Main Page
---
Laura Deni



For the snail mail address, please E-mail your request.
CLICK HERE FOR COMMENT SECTION