! >
Broadway To Vegas
  SHOW REVIEWS     CELEBRITY INTERVIEWS     GOSSIP     NEWS 
| | |
| --- | --- |
| | |
Copyright: May 27, 2001
By: Laura Deni
CLICK HERE FOR COMMENT SECTION

PARTY TIME ON BROADWAY
JOHN RITTER AND HENRY WINKLER Photo By: Laura Deni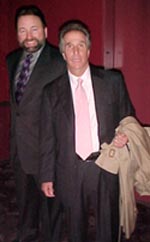 This is the time of year when Broadway stars - receiving awards for shows they helped to make famous - must undertake the grueling task of attending awards parties, meeting and greeting their friends and competitors and generally permitted to walk ten feet off the ground without being accused of having an ego or a funny walk.



HENRY WINKLER and MARJORIE GUNNER. Photo By: Laura Deni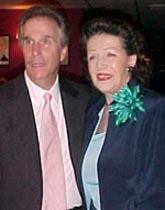 Last Thursday's Outer Critics Circle Award Banquet at Sardi's was no exception.

The delightful John Ritter and Henry Winkler served as co-hosts charming the crowd as they introduced presenters as well as taking home their own special award for their ensemble production of Neil Simon's delight The Dinner Party.

Marjorie Gunner, who has served as president of Outer Critics Circle for 21 years, was flabbergasted by the graciousness of Winkler.

The following morning she told us that Winkler had just called to thank her for his lovely award and appreciated being asked to participate.



JOHN RITTER relaxing with a beverage is about to be relaxing in Hawaii. Photo By: Laura Deni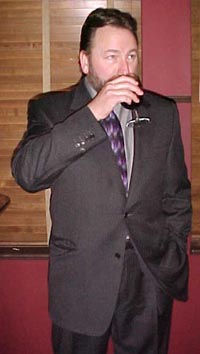 REBA McENTIRE Photo By: Laura Deni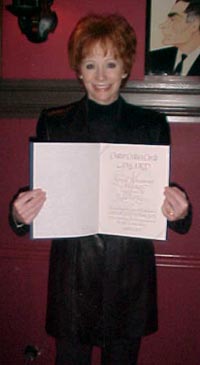 Winkler, who reached stardom early and could have an ego as big as a garage, has never let success warp his perspective

John Ritter who co-stars with Winkler in The Dinner Party surprised his co-star and best friend by dropping the news that they are both leaving on the same jet plane when they depart the show.

Both men love New York and it's painful for them to leave, but they need some family time. Ritter will be taking his children on an extended Hawaiian vacation.

When Oklahoma born Reba McEntire took over from Bernadette Peters as the star of Annie Get Your Gun she revitalized the production. It is almost unheard of for the replacement star to ever be acknowledged for their contribution.

McEntire turned the role into what it should have been all along and thus, in a rare presentation, received a special achievement award.



CHRISTINE EBERSOLE of 42nd Street fame and heartthrob CHRIS NOTH who made his Broadway debut his season. Photo By: Laura Deni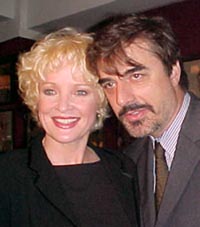 SUSAN STROMAN. Photo By: Laura Deni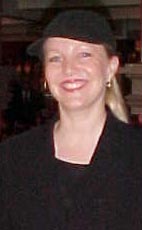 Reba will be leaving Annie Get Your Gun for Las Vegas. The cute redhead told us she's looking forward to returning to Las Vegas where she will be starring at Mandalay Bay.

The mega talented Susan Stroman who will have four - that's right- four shows on Broadway next season has a right to be smiling.

She is one of the geniuses behind The Producers picking up awards as both director and choreographer.

Her baseball cap is going to need more sides. She needs to be able to flip it around so that words like "director", or "choreographer", thus enabling the listener to know which persona is speaking.



GARY BEACH and CADY HUFFMAN Photo By: Laura Deni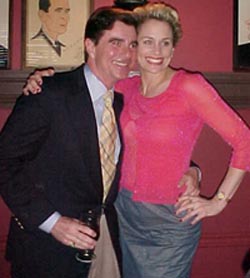 NATHAN LANE Photo By: Laura Deni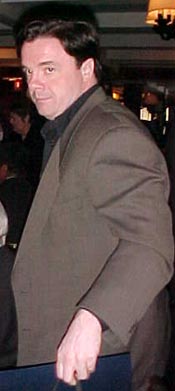 Gary Beach and Cady Huffman are hanging on to their share of the awards for their roles in The Producers.

Beach plays the over the top queen, director Roger DeBris sashaying around singing Keep It Gay in a 45-pound evening dress by award winner William Ivey Long and, later, as Adolph Hitler leading a corps of Nazis in Springtime for Hitler.

Huffman, who isn't Swedish, is a stand out as the overly endowed, typewriter challenged Swedish secretary.

Nathan Lane is always a quick witted charmer.

He first suggested that a collection be taken up so that the Outer Critics Circle could find homes, thus making them Inner Critics.

His heartfelt plea to let the Outer Critics come Inside resulted in pledges but so far no hard cash.

In accepting his award Lane was humble and gracious, bestowing accolades on his co-star Matthew Broderick, stressing that the entire cast is family and the production - a team effort.



SWOOSIE KURTZ with her long time friend, PR man and Tony voter JIM BALDASSARE. Photo By: Laura Deni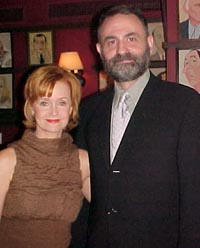 VIOLA DAVIS Photo By: Laura Deni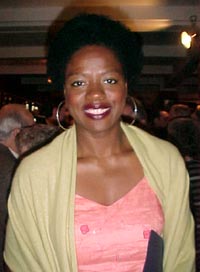 Swoosie Kurtz has won two Tony Awards for Fifth of July and The House of Blue Leaves.

She recently took part in the Lincoln Center presentation of John Guare's The House of Blue Leaves as a reading with the original cast members.

Joining Swoosie were Stockard Channing and Christopher Walken.

It's nice to have Swoosie back in New York. She recently completed a film in Australia.

Viola Davis received an award as Outstanding Featured Actress in King Hedley II, the August Wilson play which also stars Leslie Uggams and Brian Stokes Mitchell.




Theatrical legend MARIAN SELDES currently staring in The Play About The Baby Photo By: Laura Deni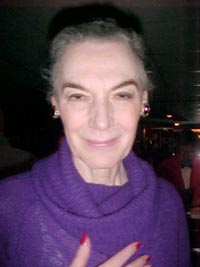 In her acceptance speech she emphasized that success doesn't change everything.


She stressed that her own parents still have the not easy task of raising five of their grandchildren.

We all loved her as Mother Olivia Walton on The Waltons but you should get a load of glamorous Michael Learned today!




MICHAEL LEARNED Photo By: Laura Deni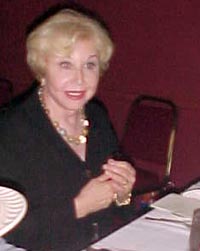 The talented lady who has returned to Broadway is one of the few stars who still gets a kick out of signing autographs for her fans.

Michele Lee always looks so fab in her trademark red, took control of the microphone and did her share of the award presenting.


Lee along with Linda Lavin and Tony Roberts star in The Tale of the Allergist's Wife which has been nominated for three Tony Awards.



MICHELE LEE. Photo By: Laura Deni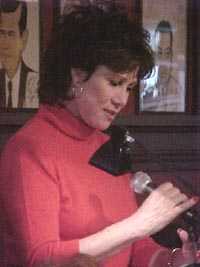 Penny Fuller has the meaty role of Gabrielle Buonocelli in The Dinner Party, which has garnered her a Tony nomination.

She already has an Emmy for The Elephant Man.

She's sincere when she says she doesn't get bored repeating the same words night after night and is always anxious to hit the theater each night.

Ironically, she began her Broadway career with a Neil Simon play Barefoot In The Park. She is also a founding member of the Matrix Theater Company.



PENNY FULLER Photo By: Laura Deni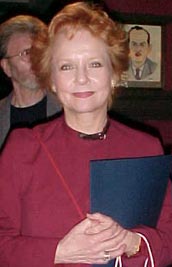 Christine Ebersole recalled that when she was first on Broadway the production closed after The New York Times panned it.

Thinking her Broadway career was over she packed up and headed out to Hollywood intending to set that town on fire.

Instead, she got one guest starring role on The Love Boat.

Although long time in coming, success can be great revenge. 16 years later she's returned to The Great White Way as star of 42nd Street

When she's not taking home performance honors, she collects bowling trophies.

Ebersole is a member of a show biz bowling league that tries to knock the pins down at the Port Authority.



ELIZABETH ASHLEY AND CHRISTINE EBERSOLE Photo By: Laura Deni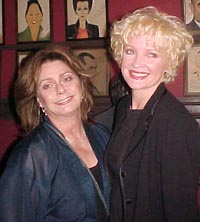 MARY-LOUISE PARKER Photo By: Laura Deni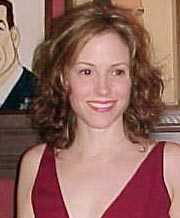 Mary-Louise Parker broke down in tears in accepting her Outstanding Actress in a Play award for Proof.


She tearfully thanked her niece, Kirstin Parker, who is her most ardent supporter and best friend.


Gazing towards her niece Mary-Louise told her - "I've loved you since the day you were born."






TEMPEST IN A TEAPOT OR BREACH OF ORAL CONTRACT?

Was money obtained and spent under a false promise for television exposure on the Tony Awards?

It's Tony Award time and that means another award broadcast. For years the Tony Awards were considered the classy show - geared for the theatrical crowd that dressed up.Only snobs watched PBS, cable didn't exist and award shows weren't spit out on a conveyor belt. Not a lot of people tuned in but nobody really seemed to care. After all - it was about theater.

Times change.

PBS does a brilliant job of broadcasting the first hour of the Tony Awards and then CBS becomes the flag waver. That means commercial time and ratings become the object. It still can be a classy show and theater folk tend to bathe and put on glamour duds. It will never rival the Super Bowl ratings. But a respectable number of people tune in and a lot of people do care about what they see.

It's possibly the one time when that old bromide - it's an honor and thrill just to be nominated - is taken very seriously.

This year's flap became two fold and a Broadway version of a dangling chad is still flapping.

Originally the opening number was heavy on 42nd Street which got the competing shows in the Best Revival Category wanting their share of the opening segment. Their feelings were asserted. A restructuring was done which placated that sector.

Next came a fight over Jane Eyre that makes the dark drama pale in comparison to the real hysteresis versus hysteria.

The problem: Jane Eyre, which I have seen twice and enjoyed, as well as personally liking and respecting the cast members, has had enormous difficulty achieving box office success. It was ready to fold.

Along comes Tony nominations which can equal a box office boost. Generally a nomination without a win will not plug up the leaks. However, a win may help to turn a show around or at least put some financial spring into a tour.

Those who are nominated expect to be equally showcased on the Tony broadcast. They want an on par representation and nobody can blame them. If they are good enough to be nominated, they have earned a right to a level televised playing field.

No television executive has ever claimed that a commercial television show on a major network where viewers translate into advertising dollars - cares about the theater, the feelings of the nominees or balancing somebody's equal meter.

The problem became something more than just hurt feelings when Paul Gordon, the Tony nominated composer and co-lyricist of Jane Eyre charged that respected, veteran Tony Award Show producer Gary Smith "initially told us that we would have three minutes and 32 seconds for our segment." According to Gordon that was based upon the condition that the show not close prior to the Tony Awards. Wanting that three minutes and 32 second of national CBS airtime Gordon actively solicited an infusion of money, to keep the show open. Keeping a show open and turning a profit are two separate things. In this case, obtaining more money to keep the show open also increased the debt. Gordon obtained funds from good friend Alanis Morissette.

Reportedly, after the money had been appropriated and spent Smith informed the Jane Eyre show that their segment had been cut to one minute, 36 seconds.

Gordon's hue and cry took on headline stature.

The question becomes - would the additional funds have been solicited from Morissette or anyone else had Smith not purportedly promised Gordon three minutes and 32 seconds of air time on CBS?



MARLA SCHAFFEL winning awards for her starring role in Jane Eyre Photo By: Laura Deni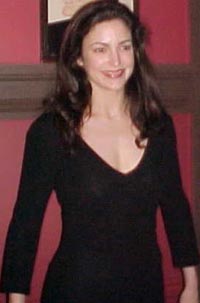 "No one ever said three minutes," heatedly responded associate producer Randy Kirschner, "because we never said amongst ourselves that we had a time limit. What we always said was - How long is the number, how well does it work within the time that it is in the show and the time that we have in our show.

"Basically we were very up front when the nominations came out this year. In the past every musical has gotten four minutes and every revival has gotten three minutes. We were very up front with the Broadway community that this year things were going to be different," Kirschner continued.

"In the past people have said - Oh I have three minutes or I have four minutes so I'm going to stretch my time because they look at three or four minutes as a network commercial. So, they would stretch numbers in their show to get four minutes. We would have a stopwatch and if it was four minutes, eleven seconds we'd say - No!

"This year from the get-go we said - we're not going to do that," Kirschner stressed. "We said we're going to do what works best for our show and what works best for your show because not always does three or four minutes score better than two minutes. So, no one ever said three minutes," he reiterated.

The Morissette money permitted Jane Eyre to remain open another week. During that time Marla Schaffel won both the Drama Desk and Outer Critics Circle awards for best actress in a musical. That picked up the box office enough to keep the wolf at bay literally on a day to day basis.

"I'm not going to take a position that I don't care. I am totally understanding that the Tony Awards is absolutely one of the most important vehicles for letting the country know what is happening on Broadway, especially if a show is nominated," admitted Smith and Kirschner.

"Sometimes A Class Act needs more than The Producers which doesn't need anything. Jane Eyre is still at the point where we're still not sure whether they will be open on Tony night. We'll have to see what happens then," he said about the show that as of last Wednesday was slated to shut today and then was staying open on a day to day basis, depending upon ticket sales. Latest reports have the show staying open until June 10.

"The original musicals are not all exactly alike," continued both Smith and Kirschner. "There is a tendency to look at it from the pocket of commercialism. If the number can last and be effective and work for the show in 40 seconds less, that's fine, the time is cut. Sometimes a show needs more time just to get its point across. Contact is a good example of that," they said referred to the hit show with a substantial box office that was given a longer television segment.

There has been a Tony Awards show that wasn't preceded by some flap. One of the more recent butchering was Smith axing a number from Smokey Joe's Cafe.

Nobody should think artistic integrity is even in the building much less the same room. This show airs on CBS. The ad money needs to be on the table.



ANDRE DE SHIELDS outstanding featured actor in The Full Monty Photo By: Laura Deni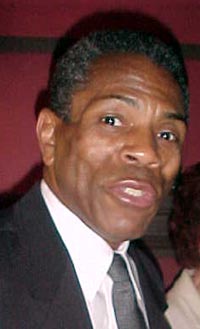 "The Tony Awards will never compete with the other three major awards shows, the Oscars, the Emmys and the Grammy's. We know that," concedes Smith.

"That doesn't mean it isn't equally as accessible because it has demographics that really is advertiser friendly. We are always sold out, but it's not only about the ratings.

Oh?

Television advertisers tend to gear their money spending to the guys who work 40 plus hours a week, come home to flop on the sofa in front of the boob tube with a can of beer between their legs. This year the eyeballs in TV land will be straining to see what's between some other guy's legs.

"This year we intend to do The Full Monty the way it is done in the theater. Maybe the ratings will soar," speculated Smith. "That's right,"added Kirschner, "the X-rated Full Monty just like they do it in their show on Broadway." He admits that what will keep the show being kicked off of television is how the lighting is handled. "And, shooting it in such a way that CBS will leave us on the air."

Then again, if you've seen one ...


ENTERTAINERS THE BACKBONE OF THE USO

Since 1941, the United Service Organization - USO- has been bringing entertainment and a "touch of home" to the men and women of our Armed Forces. The year 2001 is the 60th anniversary of the USO, which was born in New York.

Currently Fleet Week in New York City is taking place. Even Bruce Springsteen got into the act and shot some pool with seamen at Milady's in SoHo.

Last Thursday the USO Woman of the Year Luncheon at the Pierre Hotel honored Joan Rivers.

Historically, few events have left a more lasting emotional impression on soldiers, sailors, aviators, Marines, and their families than USO celebrity entertainment. United Service Organizations has brought top quality entertainment to millions of U.S. military personnel throughout the world since 1941.



Bob Hope performs for service members and their families at a USO Center in Fairbanks, Alaska, on his first USO tour, 1942. Photo Credit: USO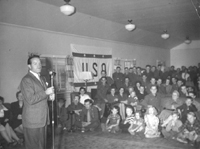 The USO followed the troops everywhere they went in World War II to extend a "touch of home" to servicemen and women and help them forget the horrors of combat, if only for a few hours. Cultural icons like Bob Hope, Glenn Miller and his Orchestra, the Andrews Sisters, and the brightest stars in wartime Hollywood were enlisted by the USO to accomplish their wartime morale boosting mission.

On the homefront, the USO organized dances, established canteens, community centers and travel support offices and continued providing quality entertainment from cultural landmarks like the Hollywood Canteen and Radio City Music Hall to hand-rigged recreation centers on remote military bases from Maine to Alaska.

After World War II, the USO built upon its previous successes and continued to provide entertainment and support to troops around the world. When new conflicts arose in Korea and Vietnam, the USO again provided top quality entertainers like Judy Garland, Ann-Margret, and John Wayne.



REBA McENTIRE entertaining during her recent USO tour in Italy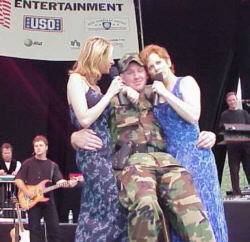 Operation Desert Storm saw the USO once again follow our troops to set up shows in the desert with the indomitable Bob Hope, along with Steve Martin, Dolly Parton, Jay Leno, and many other popular entertainers.

While the USO is best known for bringing the biggest celebrities to the troops, its mission continues to be boosting morale and providing support across a wide spectrum of services. Nearly 120 USO Centers around the world, from Germany, Italy and France to Israel, Japan, Okinawa, and Korea serve over five million patrons annually.

Recent tours include Salma Hayek, Terry Bradshaw, Christie Brinkley, Veronica Webb, Reba McEntire, Robert Cray, Joan Jett, Sheryl Crow, and Hootie and the Blowfish.



December of 1966 found Bob Hope and his indefatigable USO Show troupers - Phyllis Diller, Joey Heatherton, Vic Damone, Anita Bryant, Diana Shelton, The Korean Kittens, Les Brown, and Miss World, Reita Faria - entertaining off the shores of Vietnam. Photo Credit: USO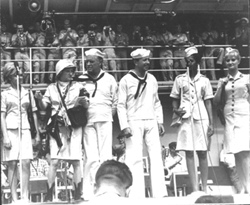 Master of the one-liner and the USO's tireless morale-booster for the troops, Bob Hope, who celebrates his 98th birthday on Tuesday, is the USO's "Ambassador of Good Will."

Hope's USO career spans six decades, during which he headlined approximately 60 tours. Old Ski Nose's first performance for service members was at March Field, California, on May 6, 1941. Hope's first USO tour went to Alaska and the Aleutians in 1942. His first combat zone USO tour in 1943, visiting U.S. forces in North Africa, Italy and Sicily.

The first Bob Hope Christmas USO tour was in 1948, where the group performed for the GIs who participated in the Berlin Airlift. The Bob Hope Christmas USO tour became a USO tradition, and he visited military bases and veterans hospitals every December for the next 34 years.



Bob Hope performs in Sicily on his 1943 USO tour. Photo Credit: USO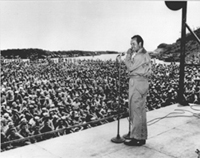 In 1969, President Lyndon Johnson bestowed the Presidential Medal of Freedom the performer for his service to the men and women of the Armed Forces through the USO. Hope made his final USO tour in December 1990, bringing Christmas cheer to the troops enforcing Operation Desert Shield in Saudi Arabia and Bahrain.

In 1997, the USO successfully worked with Congress to designate Bob Hope the first and only Honorary Veteran of the United States Armed Forces.

At the 1997 USO Holiday Gala, the USO unveiled the Spirit of Hope Award. It is a portrait bas-relief of Bob Hope, created by St. Louis sculptor Don F. Wiegand, and major donor to the USO, Michael Fagin of The International Group, Inc

Currently taking place is the NBA Entertainment League Tour, which traveled to several spots in Korea to entertain our troops from May 20 through tonight. Once in Korea, the group will played basketball games, met with the troops, signed autographs and toured facilities.

The NBA Entertainment League included; Jessica Biel star of Seventh Heaven, Joshua Morrow the 5-time Emmy nominee for the Young and the Restless, Antwon Tanner an Emmy-nominee for Boston Public, The Wood and, Sunset Park, Bill Bellamy of The Brothers, Any Given Sunday and MTV VJ, Glenn Plummer from Speed 2, Up Close and Personal and Menace II Society, Coolio the Multi-platinum and Grammy-winning rapper/movie star.



JESSICA BIEL

Adam LaVorgna star of Seventh Heaven, Blast and Outside Providence, Kym Hampton - WNBA Player (New York Liberty), Joe Torry - Poetic Justice, Commitments, Fled, Lockdown and Sprung Cherokee Parks - NBA Player Dule Hill - West Wing, Men of Honor, She's All That and Color of Justice, Orlando Jones from Bedazzled, The Replacements and Magnolia, Larenz Tate - Why do Fools Fall in Love and Menace II Society, Boyd Kestner - G.I. Jane and Entertaining Angels, Jon Huertas - Sabrina the Teenage Witch and Why do Fools Fall in Love, Donald Faison - Remember the Titans, Felicity and Josie and the Pussycats, Zach Bryan star of Home Improvement, Boston Public and First Kid

Free tickets to some Broadway and off-Broadway shows are distributed, when available, at 5:00 PM on the day of the performance. Tickets are also frequently available for other shows, discos and nightclubs.

Nearly 120 USO Centers around the world. Overseas centers located in Germany, Italy, France, the United Arab Emirates, Bahrain, Iceland, Hungary, Israel, Japan, Okinawa, Korea, and the Virgin Islands. 33 independent affiliated USO corporations are located throughout the United States. An average of over 5,000,000 patrons are served annually.



Broadway To Vegas is supported through advertising and donations. Priority consideration is given to interview suggestions, news, press releases, etc from paid supporters. However, no paid supporters control, alter, edit, or in any way manipulate the content of this site. Your donation is appreciated. We accept PAYPAL. Thank you for your interest.


SWEET CHARITY


MABEL MERCER FOUNDATION benefit on June 6 will feature Australia singer Judi Connelli at Town Hall, NYC.

For over three-quarters of a century Mabel Mercer mesmerized audiences with her cabaret singing and musical personality.

The Mabel Mercer Foundation is a non-profit arts organization that perpetuates the memory and spirit of the beloved cabaret star Mabel Mercer, by stimulating and promoting public interest in the fragile and endangered art of cabaret.

The Foundation sponsors performances and broadcasts by both new and established cabaret artists. Most dramatically, the Mabel Mercer Foundation presents the annual Cabaret Convention at New York City's Town Hall.

Since its inception in 1989, the Convention has hosted more than 1,000 performers. In 1996 and 1997, the Foundation presented the West Coast Cabaret Conventions in San Francisco, to great critical and public success. Since the Foundation must take steps to institute cabaret in other cities to ensure the future of the art form, plans are underway for Cabaret Conventions in Boston and Chicago as well.

All proceeds and contributions go directly to finance activities and projects that promote the endangered art of cabaret. The projects include the first-ever London Cabaret Convention and a celebration of the words and music of Noel Coward at Carnegie Hall on December 1, 1999.



MEASURE FOR MEASURE starring Billy Crudup, Sanaa Lathan and John Pankow begins previews June 5 .Public Theatre production at The Delacorte in Central Park, NYC.

JEFFREY June 1-10. Civic Center's Stoner Theater, Des Moines, Iowa.

THE CIVIL WAR Charlotte, NC - June 5 - June 10.

CINDERELLA Starring Eartha Kitt May 28-June 3 in the 3,000 seat San Diego Civic Theatre.

THE BEST LITTLE WHOREHOUSE IN TEXAS starring Ann-Margret May 29-June 10 in Dallas, Texas at the Music Hall.

FOSSE Buffalo, NY Shea's PAC May 29-June 3.

STARS IN THE ALLEY a free Broadway concert presented by Continental Airlines and JP Morgan Chase this Wednesday 45th Street between Broadway and 8th Avenue. Featuring live performances by Broadway's hottest stars - come rain or come shine.


WHO'S WHERE


LINDA EDER May 31-June 3 in Pittsburgh, PA at Heinz Hall.

BERNADETTE PETERS June 8-9 in Minneapolis, MN.

JERRY SEINFELD June 2. Orpheum Theater, Minneapolis, Minn.

ARCI'S PLACE in New York City spotlights 15 Tony nominees and/or winners beginning May 29. First in the spotlight is the Tony-winning star of A Chorus Line, Donna McKechnie, who takes center stage on Tuesday. On Wednesday it's Priscilla Lopez followed on Thursday, May 31 by Tovah Feldshuh. On Friday and Saturday the spotlight falls on what is billed as "Sibling Revelry" with Ann Hampton Callaway & Liz Callaway.

THE SMOTHERS BROTHERS who regularly perform in Las Vegas haven't done that in New York City in 23 years. That changes on May 29 when Tom and Dick open at Feinstein's at the Regency with performances through June 9.

DAVID COPPERFIELD Caesars in Atlantic City June 1-2.

JOHN ENTWHISTLE Trump's Marina in Atlantic City on June 2.

DEE DEE BRIDGEWATER two time Grammy winning vocalist appears at The Blue Note, NYC May 29-June 3.


THIS AND THAT

NORA EPHRON chose to roll the dice in Las Vegas at the Bellagio Hotel as her way to celebrating her 60th birthday with family and friends.

BOBBY KOSSER a Los Angeles-based stand-up comic, is teaching a four-week comedy course that ends June 8 at the University of Utah's department of theater. Kosser, who has opened for such celebrities as Tina Turner, Juice Newton, Ray Charles, the Pointer Sisters and Dolly Parton, is well-known for his offbeat (but not off-color) humor. He's been described as "a cross between Woody Allen and Jerry Seinfeld." He's appeared on The Late Show With David Letterman and the Tonight Show with Jay Leno, has performed in Las Vegas, Lake Tahoe and Hollywood. The University isn't kidding around. They're charging $536 for the class which earns passing students three upper-level credit hours.

SUITE HOME CHICAGO an International Exhibition of Street Furniture, opens June 1 and will include 500 professionally decorated pieces of furniture - from sofas to ottomans to televisions - lining the streets from Michigan Avenue, through the Loop and out to Midway and O'Hare International airports.












Next Column: June 3, 2001
Copyright: May 27, 2001. All Rights Reserved. Reviews, Interviews, Commentary, Graphics or Photographs from any Broadway To Vegas (TM) columns may not be published, broadcast, rewritten, utilized as leads, or used in any manner without permission, compensation and/or credit.
Link to Main Page
---
Laura Deni



U.S. Postal Address: Post Office Box 60538, Las Vegas, NV 89160
CLICK HERE FOR COMMENT SECTION