! >
Broadway To Vegas
  
  REVIEWS INTERVIEWS COMMENTARY NEWS

| | |
| --- | --- |
| | |
THE WHITE NIGHTS FESTIVAL - - ALAN ALDA'S DEAR ALBERT - - BEAUTIFUL THE CAROLE KING MUSICAL BROADWAY CAST CD REVIEW - - THE LONDON REVIVAL OF MISS SAIGON RECOUPS - - OSVALDO SALAS; AMERICAN BASEBALL PHOTOGRAPHS EXHIBIT - - SYMFUNNY - - NASHVILLE SCREENWRITERS' CONFERENCE - - DESIGN IS HUMAN WEEK 2014 - - DONATE . . . Scroll Down




Copyright: May 25, 2014
By: Laura Deni
CLICK HERE FOR COMMENT SECTION


TENSIONS WITH RUSSIA AND THE WHITE NIGHTS FESTIVAL


In Russia the winters are hard and the summers are short - the season of the Midnight Sun. The Russians have learned to take full advantage of their short summers. For instance, the White Nights Festival which opened yesterday and continues through August 15, 2014. The International Music Festival portion of the Whitw Nights Festival is held July 10-12 at the Ice Palace.

The White Nights Festival is an extravaganza of the arts - music, opera, ballet, film and outdoor celebrations including the Scarlet Sails, a fleet of red ­sailed, tall ships with a gunpowder-packed fireworks show. The banks of the River Neva reveal roving gypsy bands, jugglers, sword swallowers, fire eaters, even stoic Russian mimes who might surprise with their humor. And come 2 a.m., the illuminated drawbridges on the River Neva rise to a 90-degree angle to allow barges and other big vessels to pass into the Baltic Sea. It's a spontaneous party on the riverbanks.

The flurry of events creates a manic energy.

The flurry of tension between American and the Russians has created a different type of energy - counter productive.

St. Petersburg is less than 1,000 miles from Ukraine. Cancellations by Western tourists are mounting. According to The Moscow Times, Germans, Dutch, British, and Americans are changing their minds about attending the festival.

St. Petersburg is home to the Hermitage, one of the largest and oldest museums in the world, which also houses the world's largest collection of fine paintings. The museum includes the Winter Palace, former part-time residence of the tzars. This and many other historic attractions, an artistic atmosphere. More than three million foreign tourists travel to St. Petersburg every year with Americans making up at least 20 percent of that number, according to the Moscow Times report. With the prospect of fewer European and American visitors, hotel and tourism marketing directors are scrambling to entice Asian tourists to make up the difference.

For those who do attend, they'll discover that White Nights isn't really one festival but a collection of events around the longest days of the year, from mid-­May to mid-­July. The oldest and most popular event - the Scarlet Sails - began after World War II as a tribute to the popular 1922 Russian children's tale Scarlet Sails by Alexander Grin.

The party begins with an invitational event in Place Square on Vassiliyevsky Island that has featured such international acts as Cirque de Soleil and Antonio Banderas.

On July 3rd, the Dostoyevsky festival takes place, a daylong celebration of the Life and Creativity of F.M. Dostoyevsky.

Russia's premier arts and classical music festival, The Stars of the White Nights, was created in 1993 by Valery Gergiev and the Mariinsky Theatre as a "musical gift" to the city. The festival focuses on classical masterpieces from around the world, including some rare treasures not often performed live.

There is also a Jazz Festival, a Brass Music Festival, a Film Festival, a Romantic Music Festival, a Dance Festival, even a Sand Sculpture Festival.

The first White Nights Festival was held in 1992 with the objective of promoting cultural exchange between Russia and the rest of the world.

White Nights soon became the largest pop festival not only in Russia but throughout Eastern Europe.

The White Nights festival has treated audiences to performances by many of the world's top stars, including:

Army of Lovers, Ringo Starr & His All Starr Band, Asia, Blood, Boney M, Olga Borodina Alfred Brendel, Brian May (Queen), James Conlon, Chris Rea, Deep Purple, Europe, Falco, Tanita Tikaram, Glenn Hughes, Sheryl Crow, Jethro Tull, Sweet, Joe Cocker, Jose Carreras, Placido Domingo Jose Feliciano, Carlo Maria Giulini, Julio Iglesias, Gidon Kremer, Londonbeat, Mark Farner, Paul McCartney, Mr. Big, Anna Netrobko, Rick Wakeman, a-h?, Ricky Martin, Ronnie James Dio, The Rolling Stones, Esa-Pekka Salonen, Salt-n-Pepa, Samantha Fox, Scorpions, Slade, Status Quo, Steve Vai, Supermax, Sweet Tears, Technotronic, Yuri Temirkanov, Alexander Toradze, Terence Trent D'Arby, Bryn Terfel, UFO, Vanilla Ice, Deborah Voigt, Whitesnake's David Coverdale, and many others including leading orchestras of the world led by the most prominent conductors, such as Christoph Eschenbach, Myung-Whun Chung, Christian Thielemann, Gustavo Dudamel, and Esa-Pekka Salonen.

Representatives from the Dutch, British and Monaco royal families have all been guests of honor, along with the French Minister of Culture, the mayors of St. Petersburg's twin cities, and international media representatives, including journalists from Billboard, Hollywood Reporter, and Music & Media magazines.





Broadway To Vegas is supported through advertising and donations. Priority consideration is given to interview suggestions, news, press releases, etc from paid supporters. However, no paid supporters control, alter, edit, or in any way manipulate the content of this site. Your donation is appreciated. We accept PAYPAL. Thank you for your interest.





ART AND ABOUT


OSVALDO SALAS

Hall of Famer Roberto Clemente is just one of 50 featured in the new Salas exhibit. Photo: NBHOF Library.
is known for his striking photographs of the revolutionary days in Cuba in the late 1950s. But earlier that decade, Salas documented another revolution - this one in the sporting world as Latin American players began to break barriers throughout America's National Pastime.

The National Baseball Hall of Fame and Museum in Cooperstown, NY is presenting a new exhibit of Salas' baseball photographs for 12 months. Osvaldo Salas' American Baseball Photographs will officially debut on Friday, May 23 and features 50 examples of Salas' baseball portraits, the greatest number ever presented to the public.

Born in 1914, Salas served as a photographer for influential Spanish-language newspapers and magazines in New York City and throughout Latin America. Following Jackie Robinson's debut in the big leagues, dark-skinned Latin American players like Minnie Minoso, Sandy Amoros, Vic Power and Roberto Clemente received the chance to play at the game's highest level - an opportunity that was denied many Latin American players prior to 1947. Salas responded to the demand of audiences for images of the new Latin American stars of the 1950s.

Today, more than one quarter of all big league players are of Latin American descent.

Almost 900 of Salas' negatives are now a part of the more than 250,000 images in the permanent photographic collection at the Museum. Photographs in the Osvaldo Salas exhibition include images of Latin American heroes such as Hall of Famers Luis Aparicio and Roberto Clemente and pioneers like Yo-Yo Davalillo, Connie Marrero, Vic Power and Ozzie Virgil Sr.

Photographed against the backdrop of the stadiums of the three big league teams in New York City at the time - the Dodgers, Giants and Yankees - the exhibition also features African-American stars like Hank Aaron, Ernie Banks, Larry Doby and Monte Irvin as well as legends like Gil Hodges, Sal Maglie and Phil Rizzuto.

The Osvaldo Salas exhibition will be on display through May of 2015.

DESIGN IS HUMAN WEEK 2014 takes place May 31-June 8 in Atlanta, Georgia.

Design Is Human accentuates the design process, its human element, and creative excellence.

The week long event presents newsworthy trends in cutting-edge architecture and design, modernity, sustainability, social responsibility, and contemporary culture at an elevated level happening all around Atlanta.

The event offers its participants, exhibitors, and thousands of visitors converging upon Atlanta, a full week of targeted programming, including product launches, talks, films, exhibitions, showroom cosponsored events, installations, and activities.

To further capture the imaginations of design professionals, consumers, and the general public, the popular MA Home Tour adds yet another layer to showcases the latest contemporary architecture and design.


SWEET CHARITY


A FEARLESS FÊTE 2014 Join the Kansas City Rep in celebrating 50 years of groundbreaking theatre on Friday, May 30, at Spencer Theatre.

The evening will include performance highlights from the past five decades, games and commemorative events, a live auction, creative cocktails, lavish hors d'oeuvres, and the hottest dance party in town.

"Dress Festive and Fabulous in the style of your favorite Rep decade. No Black Tie Please. Prohibition of black tie does not apply to the 60's Classic "Tuxedo T-shirt".

Gala proceeds benefit artistic excellence onstage and inspire the love of the arts in over 12,000 local students annually through the Rep's education and community outreach programs.

Honarary Chairs Deanna and Greg Graves. Entertainment and Decor Chairs" Debbie and Bob Kennedy. Hospitality Chairs: Keely Edgington and Tony Glamcevski. Patron Host Chiars: Jan-Marie and Brad Kroh.

SYMFUNNYwill see a spectacular line-up including BAFTA award-winning comedy duo Armstrong & Miller, multiplatinum selling tenor Alfie Boe, world-renowned 'doyen of British cellists' Julian Lloyd Webber, TV star and Perrier Award-nominated comedian Jason Manford, and singer-songwriter and 2010 X Factor finalist Rebecca Ferguson with a full symphony orchestra and choral ensemble.

A fabulous night out to help get closer to a cure for Parkinson's.

This event is the brainchild of music producer, composer and conductor James Morgan, who was diagnosed with Young Onset Parkinson's at the age of 42. He and his partner and fellow producer Juliette Pochin immediately saw the importance of using their musical connections to highlight the impact of Parkinson's and to show that it is possible to continue to work and live life to the full after diagnosis, as James continues to do.

Wednesday, June 4, 2014 at Royal Albert Hall in London.

A BENEFIT AT PASCOLO RISTORANTE TO CELEBRATE THE BURLINGTON JAZZ FEST takes place at the at the Farmhouse Group's new joint, Pascolo Ristorante.

The four-course menu begins with a cocktail reception and hors d'oeuvres, served with sparkling wine and Bellinis. Next is antipasti for the table, followed by a choice of Pollo Alla Mattoni (Adams Farm chicken under a brick) or Braciole (LaPlatte Farm flank steak), all accompanied by a selection of fine wine. The meal finishes with tiramisu for dessert. After dinner, head over to the Flynn for a night of beautiful jazz with the Ron Carter Trio and the Benny Golson Quartet. All proceeds from the dinner benefit the festival's free events around town.

Sunday, June 1, in Burlington, Vermont.


THE MUSIC GOES ROUND AND ROUND


THE ORIGINAL BROADWAY CAST RECORDING OF BEAUTIFUL: THE CAROLE KING MUSICAL has been released by Ghostlight Record as both a CD and - in a clever marketing strategy - as a special edition Vinyl LP.

The Original Broadway Cast Recording debuted at #1 on the Billboard Top Broadway Albums Chart, also charting at #60 on the Billboard Top 200 Chart, an important achievement.

While this is a Broadway cast recording, this song fest should have a wide appeal. This is a CD of top pop hits from songwriters who turned out chart makers which defined a generation and have become standards.

The important and well constructed booklet has a Note From the Playwright Douglas McGrath, followed by a show synopsis and a seldom seen script description of what leads into each song. Those few informative lines before each song permits a listener, who hasn't seen the show, to understand and feel connected to the production. It also fuels a desire to see a show which is not only a hit on Broadway but will be on tour and mounted on he West End, opening at the Aldwych Theatre in early 2015. The booklet also has the customary section which contains the lyrics for each song.

This Broadway cast album offers total listening pleasure for some of the best songs to come out of the the 60s and 70s.

For instance Act Two features Chains, Walking in the Rain, Pleasant Valley Sunday, We Gotta Get Out of this Place, Uptown, It's Too Late, You've Got a Friend, (You Make Me Feel Like) A Natural Woman, Beautiful and I Feel the Earth Move.

Gorgeous, well balanced sound add to the listening pleasure.

The legendary songwriting teams of Carole King and husband Gerry Goffin, and writers and best friends Cynthia Weil and Barry Mann scaled the charts, writing hits for such acts as The Drifters ( On Broadway ), The Shirelles ( One Fine Day ), The Righteous Brothers ( You ve Lost That Lovin Feeling ), and The Monkees ( Pleasant Valley Sunday ). These classic songs and many more including five from Carole King s landmark solo album, Tapestry are delivered by a small but powerful set of musicians working with orchestrations by Steve Sidwell.

Jessie Mueller, as Carole King headlines an excellent cast Jake Epstein (Gerry Goffin), Anika Larsen (Cynthia Weil), Jarrod Spector (Barry Mann), Jeb Brown (Don Kirshner) and Liz Larsen (Genie Klein).

E. Clayton Cornelious, James Harkness, Douglas Lyons, and Alan Wiggins portray The Drifters. Ashley Blanchet Alysha Deslorieux, Carley Hughes, and Rashidra Scott portray The Shirelles. Scott also is cast as Janelle Woods, while Blanchet sings as Little Eva and Hughes also performs as Lucille. Josh Davis and Kevin Duba sing as The Righteous Brothers.

Orchestra: Jason Howland - Conductor/Piano,Keyboard. David Mann, Dave Rienkenberg - Reeds. Trevor Neumann - Trumpet/Flugel. Jennifer Wharton - Trombone/, Bass Trombone. John Benthal, Dillon Kondor - Guitars. Zev Katz - Bass. Clint deGanon - Drums. Joe Passaro - Percussion. Jeff Tanski - Associate Conductor, Keyboard. Nick Cheng - Keyboard.

Additional musicians: Emily Bruskin-Yarbrough, Natalie Cummins, Rick Dolan, Lisa Matricardi, Antoine Silverman, Una Tone - Violins.

Stephanie Cummins, Mairi Dorman-Phaneuf-Cellos.

Recorded by Joel Moss. Edited and mixed by Billy Jay Stein and Jason Howland. Mastered by Ryan Smith at Sterling sound, NYC, Orchestrations, Vocal and Music Arrangements by Steve Sidwell. Music supervision, Additional Vocal and Music arrangements by Jason Howland. Musical Coordinator John Miller. Recorded February 16-17 and 20, 2914 at MSR Studios, NYC. Pro Tools Engineer Dan Fyfe Assistant Engineer Tim Knowlton Mixed at Strange Cranium Studios, NYC.

A special two-disc Vinyl limited edition of Beautiful, which comes with a free digital download, will be available in stores everywhere on June 3, 2014.

Beautiful - The Carole King Musical, can be enjoyed at the Stephen Sondheim Theatre in New York City. The original Broadway cast recording can be enjoyed by everyone.


ALAN ALDA PLAY OPENS 7th ANNUAL WORLD SCIENCE FESTIVAL


A performance of Alan Alda's Dear Albert at the New York University Skirball Center for the Performing Arts will kick of the 7th Annual World Science Festival on May 28.

Alda narrated a film about Einstein and in June 2008 Broadway To Vegas first became aware of a reading of Dear Albert, which was published by the World Science Festival and called "a reading for the stage."

It developed after Alda spent a lengthy period of time reading letter written by Einstein. "As I read through his letters, I was fascinated by him," Alda had stated. "This was the voice of Albert at his most intimate and passionate as he was courting his first wife, his second wife and a number of other women. At the same time, he was just as passionate about courting the cosmos. And the cosmos often came out ahead."

Dear Albert delves into the treasure trove of letters written by Einstein, tracing an intimate and unfamiliar line across his life and work. Unquestionably one of the greatest - if not the greatest - minds of the 20th century, Einstein was as celebrated for his wit as for his Theory of Relativity. The reading humanizes a giant in the pantheon of great scientists and sheds light upon his momentous scientific insights through first-hand accounts of groundbreaking discoveries.

Dear Albert features Paul Rudd as Albert Einstein; Cynthia Nixon and Francesca Faridany as the women in Einstein's life.

This reading for the stage is directed by Obie Award-winning Broadway director Mark Brokaw and produced by World Science Festival co-founder Tracy Day. After the play, Alda and Festival co-founder Brian Greene will host a discussion on Einstein.

The five-day festival celebrates science with original programming that includes free events for young innovators, scientists-in-the-making, and families – as well as discourse, debate, theater, exhibitions, and social experiences that transform the city and bring the world's leading scientists in direct contact with the broader public.

Since its inception in 2008, the annual Festival has welcomed more than one million people to over 300 programs in locations throughout New York City.

"We began the World Science Festival to spark a cultural shift where science would rightly take its place alongside music, art, and literature as an indispensable part of a full life. This year's programming, with an emphasis not only on main stage events but also on more intimate gatherings involving great scientists and general audiences of all ages, brings cutting-edge science directly to the public," said Tracy Day, Emmy award winning journalist and CEO and Co-Founder, World Science Festival.

Expect a theatrical exploration of Einstein's life; a debate about the recent breakthrough announcement on the nature of the big bang; the latest research on brain-machine interface; a special address from renowned geneticist and discoverer of the breast cancer gene, BRCA1, Dr. Mary-Claire King; a wide-ranging exploration of quantum reality; the announcement of the winners of the prestigious biennial $1 million Kavli Prizes for outstanding scientific work in the fields of astrophysics, nanoscience, and neuroscience; workshops on the science of food and beer, and the ever-popular all-day Ultimate Science Street Fair in Washington Square Park.

In addition to Dear Albert, Alan Alda brings his popular Flame Challenge contest back to the Festival, where scientists are asked to explain a complex question to an 11-year-old. In an action-packed hour-long program, Festival-goers will delve into the world of color, culminating with the announcement of the winner of this year's Challenge.








THE 59th ANNUAL VILLAGE VOICE OBIE AWARDS WINNERS ANNOUNCED
Sydney Lucas and Estelle Parsons at the Obie Awards. Photo by Emily Tan
The 59th Annual Village Voice Obie Awards, celebrating achievement in the Off-Broadway and off-off Broadway theater, were given out at a ceremony on Monday, May 19, at Webster Hall in Greenwich Village. The awards ceremony was co-hosted by Tamara Tunie and Hamish Linklater. The awards were presented by Betsy Aidem, Harvey Fierstein, Lena Hall, LaTanya Richardson Jackson, Andy Karl, David Bar Katz, Cristin Milioti, Kelli O'Hara, Lily Rabe and Stephen Trask.

Newly minted Obie winner Sydney Lucas performed Ring of Keys from this year's highly acclaimed Off-Broadway musical, Fun Home.

The Lifetime Achievement Award presented to Estelle Parsons, 86, for her extraordinary multifaceted life in the theater while Sydney Lucas, 10, became the youngest recipient in the history of the Obies.

The Obie for Best New American Play was awarded to playwright Branden Jacobs-Jenkins.

Performance awards went to: Mary Louise Burke for sustained excellence of performance, Johnanna Day, John Ellison Conlee, K. Todd Freeman, John Earl Kelks, Mia Katigbak, Sydney Lucas, Chris Myers and Larry Pine.

Will Eno received the Playwrighting Award. The Musical Theater Award was bestowed upon Lisa Kron (author), Jeanine Tesori (composer), ans Sam Gold (director) for Fun Home. Taking home Direction Awards were James MacDonald, Oliver Butler and Liesl Tommy.

Design/Music Awards were presented to Ben Rubin (projections), Emmanuel Brown and Sonya Tayeh (fight direction and choreography), Eric Southern (lighting design) and Justin Townsend for Sustained Excellence of lighting design

Special Citations went to Mallory Catlett, Heather Christian, Jiyoun Chang, Hahhan Wasileski, Rattlestick Playwrights Theater and Lucy Thurber.

The Ross Wetzsteon Award went to the Abrons Arts Center. Grants were presented to 600 Highwaymen and 48 Hous in Harlem.


SPREADING THE WORD


MATTHEW WARCHUS has been announced to succeed Kevin Spacey as Artistic Director of The Old Vic in London. Warchus will assume the position in the autumn of 2015 when Spacey, currently in his 10th year as Artistic Director, steps down.

Warchus has mounted over 70 productions on the West End and on Broadway, including Matilda.

Spacey returns to the role of pioneering lawyer Clarence Darrow after the critically acclaimed Old Vic production of Inherit the Wind and the PBS film Darrow. Thea Sharrock directs him in Rintels' compelling one man tour-de-force in which the larger than life Darrow with his legendary wit relives some of his pivotal experiences, including the infamous Scopes 'Monkey' and 'Thrill Killers' trials which established his reputation as a courtroom giant and civil rights hero. The production opens May 28 and run through June 15, 2014.

THEATRE ASPEN recently announced a new initiative to support developing musicals and innovative theatrical projects, with the early work-shopping of Duncan Sheik and Steven Sater's musical Alice By Heart, based on the Lewis Carroll novel Alice's Adventures in Wonderland.

On May 31st, at the Wheeler Opera House in Aspen, Colorado, audiences will have the opportunity to have an insider's look into the development of the new musical under the direction of Lear deBessonet, with choreography by Chase Brock. The sneak peek will be led by the creative team, and offer a glimpse into how new musicals are made.

Cast for Alice By Heart includes Riley Costello, Mike Faist, Noah Galvin, Molly Gordon, Stephanie Hsu, Rodney Ingram, Nathaly Lopez, Andrew Mueller, Sydney Patrick, Sydney Shepherd, Marrick Smith and Phillipa Soo.

NASHVILLE SCREENWRITERS' CONFERENCE the open-to-the-public conference brings Hollywood's top writers, producers, directors, managers, agents and other studio executives to Nashville to provide aspiring screenwriters and individuals interested in worlds of film and TV the opportunity to network, learn and explore.

May 30, 2014 at Union Station Hotel in Nashville.

ON YOUR FEET a new musical about the lives of the Grammy Award-winning singer Gloria Estefan and her husband, Emilio, will open on Broadway in fall 2015 under the direction of Tony Award winner Jerry Mitchell. According to the announcement, a pre-Broadway try-out is slated for Chicago next summer.

The Nederlander group will produce the show with Estefan Enterprises and Bernie Yuman, a longtime associate of the Estefans.

On Your Feet! will include famous Estefan songs from the 1980s and 90s such as Rhythm Is Gonna Get You,1-2-3,Conga and Get on Your Feet.

In addition to Mitchell, the creative team will include Alexander Dinelaris as the book writer and Sergio Trujillo as choreographer.


OTHER PEOPLE'S MONEY


THE LONDON REVIVAL OF MISS SAIGON which opened May 21 at the West End's Prince Edward Theatre, has recouped its $6.7 million (£4.5 million) investment.

The musical broke box office records for advance bookings smd the record for the largest single day of sales in West End and Broadway history when it went on sale last September, takings of $6 million (£4.4m) on the first day.

That figure topped the amount taken by The Book of Mormon, which set the previous record in March 2013 when it took $3.3 million (£2.1m) in one day.

The production began previews May 3 and officially opened on May 21.

MOUSE HOUSE PRICE INCREASE The cost of the popular One Day Parkhopper tickets, which allow visitors to enter both Disneyland and Disney California Adventure parks in California, has risen 9.5% to $150, while the price to visit just one park has jumped rose 4.3% to $96.


CURTAIN DOWN


WE WILL ROCK YOU the hit musical written by Ben Elton, based on the songs of Queen, is to close in the West End after a 12-year run. The show, which is the longest-running production in the history of the Dominion Theatre, will bite the dust on May 31, 2014.

The West End production has staged 4,600 we will rock you performances, seen by over 6.5 million people - and ranks among the top 10 longest-running musicals in West End history.



MISS SAIGON

Eva Noblezada as Kim and Alistair Brammer as Chris. Picture by Michael Le Poer Trench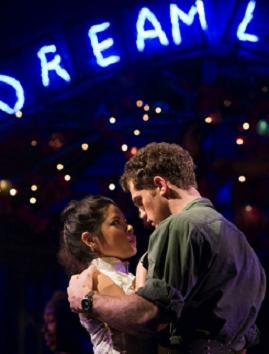 based on the opera Madame Butterfly, Alain Boublil and Claude-Michel Schonberg's music with lyrics by Richard Maltby and Boubil tells the tragic story of an orphaned Vietnamese girl, Kim, who falls in love with an American GI named Chris. Schonberg and Boublil have written a new song called Maybe for the production. That is sung by Tamsin Carroll who plays Ellen.

Directed by Laurence Connor.

The musical which premiered at the Theatre Royal, Drury Lane in 1989 - where it ran for a record-breaking run of over ten years - has returned to the West End's Prince Edward Theatre for its 25th anniversary in a new production, which opened to rave reviews May 21

The revival is also making a star out of American actress Eva Noblezada, barely 18 and hasn't officially graduated yet from Northwest School of the Arts in Charlotte. North Carolina, is making her professional debut, starring as Kim, the role originated by Tony winner Lea Salonga. Of Filipino and Mexican heritage, she was discovered during the National High School Musical Theatre Awards (The Jimmy Awards) in New York City last June. A finalist, her performance of With You from Ghost snared the attention of Broadway casting agent Tara Rubin, who arranged an audition tape for London producer Cameron Mackintosh.

However, Eva is no stranger to the theatre. Her aunt Annette Calud played the role for two years on Broadway, after being the understudy for Tony Award winner Lea Salonga, the original star.

Jon Jon Briones, who was in the ensemble of the original cast of Miss Saigon when it first opened at the Theatre Royal, and has since played the Engineer in his native Philippines, London and on tour in the U.K., U.S. and Germany, reprises the role of the Engineer.

Alistair Brammer, who previously made his professional debut as Marius in Les Miserables at the Queen's Theatre, plays Chris. Hugh Maynard is cast as John and Kwang-Ho Hong is Thuy. Rachelle Ann is i Gigi van Tranh, the hardened bar-girl who sings The Movie in My Mind..

Lighting by Bruno Poet. Bob Avian supervises his original choreography. Maria Graciano who is the Assistant Dance Captain, as well as being in the ensemble, also oversees the choreography.

Set design by Matt Kinley and Totie Driver. Sound by Mick Potter. Costume designs by Andreane Neofitou.

The musical, set during the Vietnam War, opened in London on Wednesday in front of a celebrity-packed audience which included Stephen Fry, Lord Julian Fellowes, Miranda Hart, actor Eddie Redmayne and film director Tom Hooper. A street was laid with red carpet.

"This show seems to have a stronger rapport with the audience than it did 25 years ago," said Sir Cameron, after the opening night "For me in my own lifetime to reinvent one of the greatest musicals ever written is a privilege."

FAFED GLORY a World Premiere by Tim Burns

Directed by David Ellenstein. Ryan Ford will be the assistant director.

Billed as a "comedic romp which tells the improbable, but true, story of Daniel Sickels, a 19th-century congressman, friend to presidents, Civil War general, lover of Queen Isabella II of Spain, notorious philanderer, embezzler, murderer, and the officer who almost cost the Union victory in perhaps the most pivotal battle of the Civil War, only to receive the Congressional Medal of Honor. Based on this real figure from American history, funny, poignant and filled with astonishing little-known historical information, audiences will enjoy a rollicking comedic romp through this amazing life."

Starring Andrew Barnicle, Ben Cole, Frances Anita Rivera, Bruce Turk,* Rachel VanWormer, Shana Wride. and Andrew Barnicle who served as artistic director of the Laguna Playhouse for 19 years.

The design team includes Aaron Rumley, Stage Manager; Marty Burnett, Scenic Design; Matt Novotny, Lighting; Sonia Elizabeth, Costumes; Melanie Chen, Sound; and Peter Herman, Hair & Wig Design. Peter Katz and Leon Williams are co-producers.

Previews begin Wednesday, May 28. Opening night, Saturday, May 31 at North Coast Repertory Theatre in Solana Beach, CA.

HELLO MUDDAH, HELLO FADDAH inspired by the Grammy Award winning song Hello Muddah, Hello Fadduh! and Allan Sherman's eight record albums, Douglas Bernstein and Rob Krausz have shaped the material into a merry musical about the life of Barry Bockman and his beloved, Sarah Jackman.

Hello Muddah traces the saga of one Barry Bochman, a "boychick" from his birth to old age. The show offers several of Sherman's best-known pieces, headed by the title piece, which begins, "Hello Muddah, Hello Faddah, here I am at Camp Granada…" Others on deck are Sarah Jackman (Frere Jacques),Grow, Mrs. Goldfarb (Glow, Little Glowworm), Shine on, Harvey Bloom (Shine On, Harvest Moon), and Won't you come home, Disraeli? (Won't you come home, Bill Bailey?). In The Ballad of Harry Lewis, the "grapes of wrath" becomes the "drapes of Roth."

From birth to summer at Camp Granada, to marriage, to suburbia and the shopping mall, to retirement in Florida, the audience is treated to a zany cast of characters.

May 30 2014 - July 6 2014 at Theatre 1 of the Stage Door Theater in Broward, FL.

CHERRY ORCHARD FESTIVAL presents Vakhtangov State Academic Theatre of Russia Eugene Onegin (scenes from the novel in two parts) by Alexander Pushkin.

Directed by Rimas Tuminas

A rare appearance by the legendary Vakhtangov State Academic Theatre of Russia, with a modern interpretation of Alexander Pushkin's most sincere and timeless work. With its enduring themes of condemnation, love, disillusionment, cynicism, compassion, and forgiveness, Eugene Onegin is as relevant today as it's been for almost two centuries.

World-renowned director Rimas Tuminas' theatrical adaptation of the work, recently recognized with Russia's most prestigious theatrical award, the Crystal Turandot, remains faithful to Pushkin's original text, providing an insight into the essence of the Russian soul. Showcasing 45 actors on stage and impressive set designs, featuring music by Tchaikovsky and Shostakovich, along with Russian and French folk songs,.

With Sergey Makovetskiy, Irina Kupchenko, Ludmila Maksakova, Vladimir Vdovichenkov, Galina Konovalova,Olga Lerman, Oleg Makarov, Vasiliy Simonov.

Eugene Onegin is called "a daring and stylish display of real masterpiece theater." In Russian with English subtitles.

The U.S. tour is supported by the Ministry for Culture of the Russian Federation. May 29 - June 1, 2014 on the mainstage at New York City Center.

GOING ...GOING ...GONE a live auction comedy where the audience takes part in the final sale at Ed's, an auction house filled with stories and revelations. Winning bidders take home the props.

How "Going…Going…Gone" works:

When entering the theatre, you are given play money–useful for bidding on the objects.
Not everyone starts with the same amount of money. Yep: Just like in the real world. Deal with it.
Don't be shy. You are a part of the show.
Don't be obnoxious. You're not the whole show.
Even if you don't really want something, consider bidding anyway to force the people who do want it to bid higher. (It's fun to be annoying.)
If you are the winning bidder, you will take your item home … and tell all your friends you got it at Going…Going…Gone.

Sunday, June 1, 2014 (and the first Sunday of each month) at the IndyFringe Theatre, Indianapolis.

DOG AND PONY Globe's World Premiere production of the musical with book by Rick Elice and music and lyrics by Michael Patrick Walker.

Directed by Tony Award winner Roger Rees.

Dog and Pony tells the story of Mags and Andy, a screenwriting team with a track record of hits and a professional relationship that's firing on all cylinders. But when Andy's marriage hits the rocks, forever single Mags finds she wants something more. Will romance ruin their perfect relationship?

Dog and Pony is a recipient of an Edgerton Foundation New American Plays Award.

The new musical will run May 29 – June 29 at the The Old Globe in San Diego's Balboa Park.

IN THE VALE OF HEALTH Simon Gray's extraordinary collection of 4 plays: 3 unseen plays and 1 revival, performed under the umbrella title In the Vale of Health.

Directed by Tamara Harvey.

Gethin Anthony,Jamie Ballard, and Laura Rees star.

While each plays stands alone - individual stories and can be watched as such: one doesn't conclude in another. However, the producers advise that "seeing at least 2 will give you an unique insight into a remarkable playwright's mind when it comes to rewriting plays based on the same characters, in the same situation but all telling a different story with opposite conclusions."

The accidental death of their parents when Michael and Jason (Japes) were in their teens made them as close as brothers can be: the family home they inherited remains unchanged, part playground, part shrine. But their lives change forever when Michael falls in love with Anita… and so does Japes… and a passionate triangle develops.

Designer - Lucy Osborne; Lighting - Joshua Carr; Sound - Matt McKenzie; Composer - Jared Zeus; Casting - Nadine Rennie CD.

May 28-June 14m 2014 at the Hamstead Theatre in London.


WHO'S WHERE


LADY ANTEBELLUM entertain Saturday, May 31, at the Blossom Music Center in Cuyahoga Falls, OH.

THE EAGLES open a two night stand Wednesday, May 28, at the LG Arena in Birmingham, UK. On Saturday they'll be singing their hits at the SSE Hydro in Glasgow, UK.

DOLLY PARTON entertains Tuesday, May 27, at the EKU Center in Richmond, KY. On Wednesday she's in the spotlight at the University of Tennessee in Knoxville. Friday finds her opening a two night stand at Einstar World Casino in Thackerville, OK.

BRUNO MARS appears Tuesday, May 27, at the Save Mart Center in Fresno, CA. On Wednesday he's on stage at the Oracle Arena in Oakland, CA. Saturday has him opening a two nighter at the Hollywood Bowl in Los Angeles.

LADY GAGA takes to the stage Monday, May 26, at Rexall Place in Edmonton, Canada. Wedneday's gig is at the Key Arena in Seattle, WA. On Friday she performs at the Rogers Arena in Vancouver, Canada.

ROD STEWART entertains Tuesday, May 27, at the Consol Energy Center in Pittsburgh. On Friday he performa at The Colosseum at Caesars Palace in Las Vegas. Saturday he's in the spotlight at the First Niagara Center in Buffalo, NY.

JOHNNY MATHIS celebrating his 58th year as a recording artist, returns to Las Vegas to perform his greatest hits and personal favorites. Friday, May 30, 2014 in Reynolds Hall at The Smith Center.

STEVE TYRELL the Grammy award winning vocalist, brings his It's Magic, The Songs of Sammy Cahn cabaret show to the Cabaret Jazz Room of The Smith Center in Las Vegas on Friday, May 30, Saturday, May 31, 2014.

LIONEL RICHIE performs Thursday, May 29, at the Rogers Arena in Vancouver, BC. On Friday the show is at the Key Arena in Seattle. Next Sunday, June 1, he can be enjoyed at the Pavilion in Concord, CA.

NEW KIDS ON THE BLOCK wind up their European tour this week with shows in the UK. Tuesday they begin a two nighter at the Apollo in London. Friday's show is at the 02 in Manchester. Saturday's performance is at the NIA in Birmingham and next Sunday, June 1, they'll be at the Clyde Auditorium in Glasgow, Scotland.

STAR TREK - LIVE IN CONCERT Michael Giacchino's scores to Star Trek (2009) and its follow-up Star Trek Into Darkness (2013) will be performed live by the 21st Century Symphony Orchestra while J. J. Abrams' critically acclaimed films are screened simultaneously. Thursday, May 29 - Saturday, May 31 at Royal Albert Hall in London.


FINAL OVATION


JERRY VALE crooner known for his high-tenor voice and romantic songs in the 1950s and early 1960s, died Sunday, May 18, 2014 at his home in Palm Springs, CA. He was 83.

The former Las Vegas resident was a charming, personable gentleman who made fans and friends everywhere.

Born Genaro Louis Vitaliano, Vale started singing in high school musicals and at a local nightclub. This led to other gigs, including one that lasted for three years at a club in Yonkers, New York. When Paul Insetta, who was a road manager for Guy Mitchell and a hit songwriter heard him there, he signed him to a management contract, changed his name, and further coached him. He then arranged for Vale to record some demo records of songs he'd written, and brought the demos to Columbia Records. Mitch Miller then signed Vale to a recording contract with Columbia, and Insetta managed him for many years.

Vale went on to record more than 50 albums. His rendition of Volare, Innamorata and Al Di La became classic Italian-American songs. His biggest hit was You Don't Know Me.

He spent decades starring in Las Vegas hotels. The first time he performed in Las Vegas was at the Sands Hotel where Frank Sinatra got him a two-week gig. After hotel boss Jack Entratter heard him sing, the contract was extended to 22 weeks. He last performed in Las Vegas at Boulder Station where his shows were SRO.

In Las Vegas he lived near Robert Goulet and the two were best buddies.

His version of The Star Spangled Banner, recorded in the late 1963, was a fixture at many sporting events for years. The Gold Record Vale achieved for this was displayed at the National Baseball Hall of Fame. He also frequently sang the song at Yankee Stadium over the years. Additionally he owned the Daytona Beach Admirals, a minor league baseball team that existed from 1978 to 1984. Vale sold them to the Mets.

Longtime mentored by Perry Como and Frank Sinatra, he was an honorary pallbearer at Sinatra's funeral on May 20, 1998.

Vale is survived by Rita, his wife of 55 years; a son, Robert; and a daughter, Pamela.

CAROLE HASSELL long time Las Vegas resident died April 26, 2014. She was 74.

For years she was the companion of hotel impresario Jay Sarno who provided for all of her needs and luxurious extras including casino stocks, money, furs, significant diamonds, a car. When Sarno died suddenly in 1984 Carole was left wanting for nothing. She used to state that she got up every morning, looked in the mirror and asked herself: "What shall I do today to make me happy?"

In her slim figured days she was gorgeous - a woman who could stop traffic. She had a million watt smile and a face all called beautiful. She had a Southern charm way about her that was hypnotic to men, while not offensive to women. She liked to compare herself to Eva Peron.

If she traveled with a man she always required her own room. She insisted that any man in her life be discrete, a trait she didn't adhere to herself.

She was as gregarious as I am standoffish.

Never a member of the press she was constantly at press functions. She was always looking for somebody to get her into a press event. For a long time she had an older man, a legitimate member of the press, who provided her entry, which is how I met her. When he passed away she continued to charm and manipulate her way into events. All of the hotels knew her and she appeared to be welcome. When I had the occasion to ask her why she was always everywhere, she tossed off the inquiry with: "they know who I am what what I do."

What she did was use the events to scout for men who were willing to spend money on her. She was constantly looking for the next Jay Sarno, but never found one. Other favorite haunts included car washes where she'd make friends with attendants who would tell her the men who regularly brought in expensive cars. She'd size up the cost of the car, the price tag of the man's clothing, especially his shoes, before deciding whether she wanted to approach him. There were also expensive concerts and bars and another favorite, stock holders' meetings.

Her beauty and charm were such magnets to men that it was difficult to pinpoint her relationships. It took me a long time to catch on that what she was was a lady of the evening. She was a master of covering up her lifestyle. Eventually, after I confronted her, she blabbed everything.

One time she stated that she'd been on the telephone in the middle of the night with a stock broker at a firm which then had a 24-hour number, for clients to speak to a live broker. She seemed confident. She said that she had a way to get what she wanted; that after a few more phone calls, she'd be able to get the broker to divulge information about other people's accounts and provide her with stock information to increase her wealth. I called the brokerage firm and complained. For their protection stock agencies can record phone calls.They immediately investigated my statements and discovered that, indeed, Carole had spent an extended period of time on the phone with their broker. However, no accounts other than hers were opened and they heard no conversation in which inappropriate information about stocks took place. They discovered that Carole had called the brokerage house to engage in phone sex. Carole also obtained the phone schedule of the broker and told him she would call him the following night at a certain time - which she did. The brokerage company came down swift and hard on their broker.

With straight teeth, Carole's dentist installed clear, invisible braces to correct an alignment issue.The braces would have to stay in place for a prolonged period of time. An expensive project, she paid half up front. Shortly thereafter she confounded the dentist, insisting that he remove the braces. She refused to explain; there was no refund on the installation. As she told it, while servicing a particular gentleman one of his pubic hairs got caught in the invisible braces and he screamed in pain. She was upset, indicated that she had no choice but to remove the braces. Later she explained that, otherwise, she'd be out of business. She'd contracted an STD and had taken to specializing in oral sex, which she didn't consider sex. Having gained weight, she was smug that she never had to remove her clothes; that many of her men had never seen her naked.

After I witnessed her approach a man and cooingly inquire - "Do you have any extra money you'd like to spend on me?" - I finally came to the conclusion that she wasn't somebody with numerous boyfriends; what she was was a hooker. I confronted her. She looked at me as though I was the dumbest creature on earth and eagerly provided a run down of her lifestyle, clients and how as she put it, she knew how to "get around" the police. With a financial cushion left by Sarno she didn't need cash. She said she told men she loved presents and to surprise her with her gifts - that being the key word.

An interesting dichotomy, as she got older she needed to feel desirable. As she explained it, she'd put on a cowboy hat, short denim skirt and sit at a bar to see how many men would try to hit on her. Not that any of them could afford the type of presents she expected, she just needed to feel that a stranger would want to pick her up.

Another event she spoke about was the time a relative of a superstar wanted to use her to service his friends. She turned him down. Although she liked him and had known him for decades, she felt his approach was too crude and that his friends wouldn't be discrete.

I called her a hooker, a word which offended her. She said she would accept being called a courtesan, but not a hooker. I told her that while location, pay and perks might be different, the job description for a hooker and a courtesean were the same. She admitted that I was one of many she had used to give herself an aura of respectability, and that I had been used to get her into events.

Discusted, furious and outraged, I never spoke to her again.

She called a few times, leaving messages on my answering machine. She apologize for agreeing to be injected into a deposition of mine where, according to her, a lawyer told her she had to make negative statements about me, as well as being instructed to strongly emphasize that it would be impossible for anyone to manipulate, deceive, control, or trick me. During the deposition she was mentioned by name and a discussion took place regarding her lifestyle, which I objected to, and her accepting the label courtesan.

On another phone message she suggested we have lunch and asked me to take her to the Celine Dion show at Caesars Palace. I never returned any of her calls.

Now she'd dead. She had a magnetic personality and many friends, all of whom must miss her.















Next Column: June 1, 2014
Copyright: May 25, 2014 All Rights Reserved. Reviews, Interviews, Commentary, Photographs or Graphics from any Broadway To Vegas (TM) columns may not be published, broadcast, rewritten, utilized as leads, or used in any manner without permission, compensation and/or credit.
Link to Main Page
---
Laura Deni



For the snail mail address, please E-mail your request.
CLICK HERE FOR COMMENT SECTION