! >
Broadway To Vegas
  
 SHOW REVIEWS CELEBRITY INTERVIEWS GOSSIP NEWS

| | |
| --- | --- |
| | |
GARDEN HONORS FORMER BEATLE GEORGE HARRISON - - FORMER CZECH REPUBLIC PRESIDENT VACLAV HAVEL'S NEW PLAY - - LYNN REDGRAVE LOVES JULIET - - FRED & ADELE ASTAIRE AWARDS - - FIRE AT BERLIN PHILHARMONIC - - BEBE NEUWIRTH IN NIGHTCLUB DEBUT - - CRIME AND PUNISHMENT MUSEUM - - CELINE DION RECEIVES AWARD - - DONATE . . . Scroll Down


Copyright: May 25, 2008
By: Laura Deni

CLICK HERE FOR COMMENT SECTION
INTERACTIVE CRIME AND PUNISHMENT


Every have an urge to become a sleuth? Help solve a crime? Never miss an episode of Monk or CSI? The National Museum of Crime and Punishment located in Washington, DC unlocked it's secret doors to the mysteries of crime and punishment last Friday, May 23, and the interactive museum is looking for amateur detectives to solve some crimes.

Step into the five galleries and begin your own investigation into criminal intent, criminal profiles, the prison system, victims, crime prevention, and more. Highlights include an interactive CSI experience with a realistic forensics lab where a crime scene is set up for visitors to gather clues and determine what happened, when, why and by whom through appplication of DNA testing, fingerprint analysis and even examination of a "body" in a morgue to determine the cause of death - there is also a display on forensic facial reconstruction.

The museum houses a full-scale model police station with a lie detector test, booking and mug shot rooms, and a jail cell; a simulated FBI shooting range and high-speed police chase training equipment.

The Punishment section features "Old Smokey," Tennessee's electric chair used for 125 executions and a gas chamber as well as a replica of legendary gangster Al Capone's posh jail cell at Eastern State Penitentiary in Philadelphia, re-created down to the crack in the ceiling and the peeling paint on the walls.

Other exhibits include; "murderabilia," such as ladies' jewelry and a leather purse made in prison by Albert DeSalvo, known as the Boston strangler; and a replica of Wyatt Earp's .44 caliber Schofield revolver, believed to be used in the famous shootout at the O.K. Corral.



Bonnie and Clyde Car © NMCP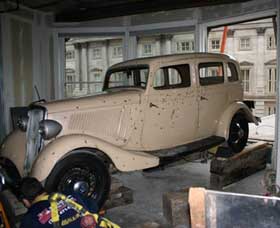 Artifacts include J. Edgar Hoover's badge and boxing gloves given to him by James Braddock ("Cinderella Man"). John Dillinger's car, the bullet-riddled death car from the 1967 Hollywood film Bonnie and Clyde, and the collections of Poncho Villa and Jesse James.

This newest addition to the Washington museum scene features a sequence of themed galleries that highlight the criminal heritage of America from the Colonial period where visitors can place their head and arms in colonial stocks, participate in a Wild West shootout and flip through mug shots of infamous criminals to the present day. The exhibits start with artifacts from the Dark Ages including torture chambers and masked executioners.

Owned and operated by John Morgan a trial attorney who founded Morgan & Morgan in Orlando, the law firm has offices throughout Florida, Georgia and Mississippi. The firm specializes in personal injury cases. Morgan in partnership with John Walsh, host of America's Most Wanted, encourages people to emerge from Hollywood fantasy and enter an even more fascinating reality.

Five years ago Morgan, who owns the WaterWorks interactive attractions in Orlando and Pigeon Forge, Tenn., became intrigued with the idea of opening a crime museum after experiencing a problem as a tourist trying to visit Alcatraz Island, the former federal prison that's now a national park in San Francisco Bay. Morgan had failed to purchase his ticket in advance. With a lot of pestering he managed to take the tour. Seeing the crowds he left with personal knowledge that crime has a fascination on the ticket buying population. An idea for this museum began brewing in Morgan's brain.

Spanning three floors and more than 28,000 square feet, the $21 museum, funded with private contributions, presents the criminal and crimes in an entertaining manner while showcasing the consequences of committing a crime.



Police Lineup © NMCP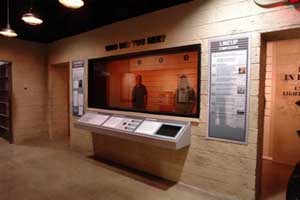 "The unlocking of this museum provides America's history of crime and punishment, and educates the public on the importance of the law enforcement community, said Janine Vaccarello, Chief Operating Officer of the National Museum of Crime & Punishment. "Guests will interact and explore areas of CSI and forensic science, which are often misrepresented, while paying tribute to the real people who dedicate their lives of public safety. We are especially thrilled to give people access to the intricate world of crime fighting through the America's Most Wanted studio."

The NMCP will now host the renowned crime fighting TV series. Museum guests are invited to "witness" the taping of the show and see the AMW Hotline, beginning at 6 p.m. on Saturdays, when a team of trained operators field incoming calls and E-mails, turning those leads immediately over to federal and local police in the hopes of apprehending the fugitives profiled on the show.

The studio also serves as an interactive learning experience. Within the AMW gallery are a studio camera with greenscreen technology allowing for virtual "intros" and interviews by John Walsh that provide guests with the true "live television" experience.

Walsh has been the host of America's Most Wanted since the show began airing 20 years ago. To date, 999 fugitives have been caught because of viewer tips, according to the show's website.

Walsh became involved in anti-crime efforts after his 7-year-old son Adam was abducted from a shopping mall in Hollywood, Fla., in 1981. Adam's severed head was found in a canal 16 days later; no one was ever charged with the crime. Walsh is a co-founder of the National Center for Missing and Exploited Children and has been honored by four presidents for his work as a victims' advocate.

Walsh said he had three stipulations before attaching his name to the museum: It could not glorify crime, it must honor fallen officers and it must show the consequences of committing a crime.


A GARDEN HONORS FORMER BEATLE GEORGE HARRISON
George Harrison Garden. 6 ft-wide glass sun, reminding visitors of Here Comes the Sun, which Harrison wrote for the Beatles album Abbey Road in 1969. Photo Chelsea Garden Show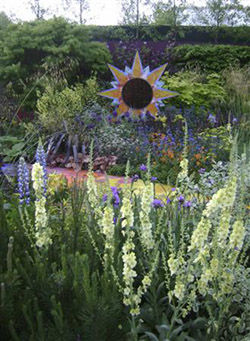 Former Beatle George Harrison has been remember with a garden at the world famous Chelsea Garden Show in London.

Created by his widow Olivia, it was designed in conjunction with family friend and garden designer Yvonne Innes, a Chelsea gold medal winner and wife of musician Neil Innes. It was sponsored by Harrison's own Material World Charitable Foundation.

The garden uses plants and trees to recall Harrison's life, from his birth in Liverpool in 1943 to his post-Beatle life in Henley. The four sections are linked by a path that is a mosaic of Venetian glass.

Guitarist Harrison died aged 58 in 2001 after suffering from cancer.

Among those viewing the Harrison garden were Queen Elizabeth, Prince Philip and their daughter Princess Anne and son Prince Edward with his wife, Sophie. Beatle Ringo Starr, also an avid gardener, was driven to the show in a red Mini decorated with symbols of the Hindu faith that Harrison embraced.

"Peace and love," Starr said as he kissed Olivia Harrison on each cheek.

The British monarch spent several minutes talking to George's widow Olivia and designer Yvonne Innes. Olivia later told the press: "I think she thought the idea of a narrative garden was interesting. Each level for me is a huge story. It was nice of her to visit. I feel honored, truly honored."

"I think it's fantastic," Beatles producer Sir George Martin said of the garden. "It's completely George -- it's wonderful." Martin - often called the 5th Beatle - is one of the creators of the Love show at the Mirage Hotel in Las Vegas. ( See Broadway To Vegas column of June 18, 2006 )



George Harrison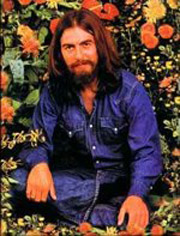 George Harrison's widow Olivia posed by her garden alongside Sir Paul McCartney's daughter Mary. Then Mary, a professional photographer, took pictures of the garden entitled From Life To Life, after a line in the Beatles' song It's All Too Much, which recalls Harrison's life from – his birth in Liverpool and childhood, shown by a vegetable plot and a bike in rough grass; a Beatles and 1960s area; and representations of his post-Beatles years and spiritual life in Henley.

The 1960s section of the garden contains the names of his songs and a 6ft-wide glass sun, reminding visitors of Here Comes the Sun, which Harrison wrote for the Beatles album Abbey Road in 1969. 76 species and varieties of flowers were used. The flowers – palmatum, anchusa and achillea – represent the psychedelic colors of the era.

Innes had worked closely with Harrison before his death in 2001. She said: "I knew what an amazing landscape gardener George was. I also realized few people knew this side of him and decided to design a narrative garden of his life and passing over to the next life."

In an interview with Radio Times, Olivia talked about her husband's love of gardening.

"Without a doubt, George never felt more at peace than when he was gardening. He loved the gardens here and always said you felt closest to God when you were in the garden. Some days when he was working in the recording studio, he'd look out of the window and say, with a shake of his head, 'We're not getting much gardening done today. ' Every time I go out there, I think he'll just pop out from behind a shrub, like he used to."

"Each year we used to go to Chelsea and George would take copious notes and come home with a list of plants he wanted to buy."

"My hope is that this project will be a tribute to the horticultural side of his personality that relatively few people know about [and] ... help inspire other gardeners."

Harrison was also an environmentalist and this year Chelsea staged its greenest show ever, with show gardens being recycled for the first time and ecologically inspired exhibits. Glass and plastic in the restaurants and food outlets must be recycled, along with at least half the carpet used at the show. The use of peat was also banned.

The annual Chelsea Flower Show is one of the biggest events in the horticultural calendar and features some 600 exhibitors from around the world. Over 157,000 people attended the sold out, five-day show which closed last night.

There year's show included: 22 show gardens; 22 small gardens, including courtyard gardens and urban gardens; 100 floral exhibitors in the Great Pavilion; approximately 300 garden product exhibitors. International exhibitors came from countries as far away as the Sweden, Barbados, Sri Lanka, France, Holland, Germany, Australia, Jamaica, South Africa, Trinidad & Tobago and Zimbabwe.



FRED & ADELE ASTAIRE AWARDS (formerly known as The Astaire Awards, established in 1982 by the Anglo-American Contemporary Dance Foundation) recognize outstanding achievement in dance on Broadway each season. The award was established with the cooperation of Fred Astaire to honor him and his sister, Adele, who starred with her brother in 10 Broadway musicals between 1917 and 1931. This year the Awards will be expanded to include dance and choreography for film as this was the métier that brought Fred Astaire to international fame and a permanent slot on every list of the top movie stars of the century.

2007-08 Award Winners are: Spencer Liff - Cry Baby - Best Male Dancer on Broadway; Karen Olivo - In The Heights - Best Female Dancer on Broadway; Rob Ashford - Cry Baby - Best Choreography on Broadway; Dave Scott - Step up 2: The Streets - Best Choreography in Film. Tommy Tune will receive 1st Douglas Watt Lifetime Achievement Award presented by Brooke Shields.

The awards celebration is slated for June 2, 2008 at the Grand Ballroom, Manhattan Center Studios, New York City. The gala evening benefits The Auditory Oral School of New York, a non profit organization which specializes in teaching deaf and hard of hearing children to listen, talk, think and socialize.

THE 53rd ANNUAL VILLAGE VOICE OBIE AWARDS were presented May 19 at Webster Hall in Manhattan. Elizabeth Marvel and Bill Camp co-hosted the ceremony.

Presenters included Jonathan Groff, Priscilla Lopez, S. Epatha Merkerson, Marisa Tomei, Julie White and Bradley Whitford, and the evening also featured a performance by the cast of Passing Strange, which began life Off-Broadway before arriving earlier this season at Broadway's Belasco Theatre.

The Obie Awards were created in 1955 by Jerry Tallmer. Presented by The Village Voice, the annual awards honor Off-Broadway and Off-Off Broadway shows. Award recipients are chosen by a panel without the complication of selecting or announcing nominees.

For the first time in Obie history, the awards were webcast live online.

Village Voice critic Michael Feingold was chairman of the Obie Awards Committee, which selected the winners. His fellow judges included Voice critic Alexis Soloski, Variety critic Mark Blankenship, Bloomberg News editor and critic Jeremy Gerard, playwright-director Robert O'Hara, set designer Neil Patel, and Time Out New York/New York Sun critic Helen Shaw. Clint Allen serves as secretary to the committee.

The winners of the 2008 Obie Awards:

PLAYWRITING
Horton Foote, Dividing the Estate
David Henry Hwang, Yellow Face

DIRECTION
Krzysztof Warlikowski, Krum
David Cromer, Adding Machine

PERFORMANCE
LisaGay Hamilton, The Ohio State Murders
Kate Mulgrew, Iphigenia 2.0
Francis Jue, Yellow Face
Rebecca Wisocky, Amazons and Their Men
Joel Hatch, Adding Machine
Heidi Schreck, Drum of the Waves of Horikawa
Veanne Cox, Sustained Excellence of Performance
Sean McNall, Sustained Excellence of Performance
Ensemble: Passing Strange: de'Adre Aziza, Daniel Breaker, Eisa Davis, Colman Domingo, Chad Goodridge, Rebecca Naomi Jones, Stew

DESIGN
Takeshi Kata, Set and Keith Parham, Lighting Design, Adding Machine
Peter Ksander, Scenic Design, Untitled Mars (This Title May Change)
Ben Katchor, Drawings; John Findlay and Jeff Sugg, Set and Projection; Russell H. Champa, Lighting Design, The Slug Bearers Of Kayrol Island
Jane Greenwood, Sustained Excellence of Costume Design
David Zinn, Sustained Excellence of Costume and Set Design

SPECIAL CITATIONS
Nature Theater of Oklahoma, No Dice
David Greenspan, The Argument

BEST NEW THEATRE PIECE ($1,000 prize)
Stew, Heidi Rodewald, Annie Dorsen, Passing Strange

THE ROSS WETZSTEON AWARD ($2,000 given annually to a theatre that nurtures innovative new plays)
Cherry Lane Theatre Mentor Project

LIFETIME ACHIEVEMENT AWARD
Adrienne Kennedy

OBIE GRANTS (Totaling $10,000)
Keen Company, $5,000
Theater of a Two-Headed Calf, $5,000


FIRE AT BERLIN PHILHARMONIC

Over 300 hundred visitors and musicians were evacuated when the home of one of the world's greatest orchestras, the Berlin Philharmonic, caught fire on Tuesday, May 20. Nearly 200 firefighters fought the blaze which damaged the building.

Known for its acoustics, firefighters had to cut through the roof to tackle the flames.

Fire reports indicated that most of the instruments were moved to safety, although the pianos were too large to move.

The fire broke out beneath the roof of the building, where welding work was being carried out. Police are investigating that as a possible cause.

The hall - a Berlin landmark - was built in the 1960s.

The extent of the damage is unclear, but fire officials say the fire did not spread through the building.

Pamela Rosenberg, general manager of the Berlin Philharmonic, told the BBC: "After the war this represented all of the hopes of bombed-out Berlin. It was like the Phoenix rising from the ashes."

She added that the hall "really symbolizes Berlin".

The Philharmonic, the city's leading orchestra, is directed by Sir Simon Rattle.



Broadway To Vegas is supported through advertising and donations. Priority consideration is given to interview suggestions, news, press releases etc from paid supporters. However, no paid supporters control, alter, edit, or in any way manipulate the content of this site. Your donation is appreciated. We accept PAYPAL. Thank you for your interest.


SPREADING THE WORD
HOW THEATER FAILED AMERICA written and performed by Mike Daisey, called "the master storyteller...one of the finest solo performers of his generation" by the New York Times. He sinks his razor- sharp wit into a subject he knows well: the American theater. From gorgeous new theaters standing empty as cathedrals, to "successful" working actors traveling like migrant farmhands, to an arts culture unwilling to speak or listen to its own nation, Daisey takes stock of the dystopian state of theater in America: a shrinking world with smaller audiences every year.

Each Sunday, a roundtable forum with theater luminaries will follow the performance.

On Sunday, June 1, the roundtable will include: Jim Nicola (Artistic Director for New York Theatre Workshop); Mark Russell (Founder of PS122 and the Under The Radar Festival); Steve Bodow (Head writer of the Daily Show and Elevator Repair Service member); Morgan Jenness (Literary agent, former literary manager of the Public Theater); David Cote (Theatre editor for Time Out New York) and Isaac Butler (Freelance director and theatre blogger).

Barrow Street Theatre in NYC.

LYNN REDGRAVE in Rachel and Juliet, a new solo work in progress which is a tribute to her mother, the actress Rachel Kempson, And her lifelong love of the role of Juliet.

Interweaving remembrance, anecdote, and passages from Shakespeare, Redgrave will create a companion piece to her unforgettable Shakespeare for my Father.

Presented by the Shakespeare Society Monday, June 2 at the Kaye Playhouse, Hunter College. NYC.

NEW! BACKSTAGE TOURS Are there flies in flyspace? Where do the actors go between their entrances and exits? Is the green room really green? These interesting answers and even more interesting secrets are revealed in this backstage tour provided by a staff member of the Shakespeare Theatre Company at the Harman Center for the Arts in Washington, DC.

Lasting approximately one hour, the tour winds through the building from actor to audience member's point-of-view and includes anecdotes from more than 20 years of productions and a stop at the famous Elvis shrine. Attendees will never see the theatre quite the same way again. Tuesdays from 5-6 p.m.


FOOD FOR THOUGHT


TASTE OF TIMES SQUARE on June 2nd, Taste of Times Square takes over West 46th Street, offering visitors a chance to sample "tastes" of signature dishes from more than 50 of Times Square's greatest restaurants located between West 46th Street/ Broadway and Ninth Avenue, including historic Restaurant Row.

The festival will also feature an international array of live entertainment – from Flamenco to Irish fiddle, from Cajun to blue grass and beyond.

In addition, attendees are welcome to dance off their dinners to world class swing music by George Gee and the Jump, Jive & Wailers under the SWING 46 tent.

And, for those still working on their moves, free dance lessons will be provided by Dance Manhattan Studios.



AND MISS REARDON DRINKS A LITTLE a Tony Award winning play by Pulitzer Prize-winning writer Paul Zindel.

Once upon a time in New York city there were 3 sisters.......

One was crazy, the other a drunk and the third a control freak. They were all teachers, unhappy teachers! Their father left when they were young and their mother died after years of making their lives miserable. Then one night they all got together and things got messy - very messy. And very funny. And very, very sad. This is that night.

Nicholas Papademetriou directs the cast which features; Helen O'Connor, Lucinda Armour, Monique Spanbrook, Nicholas Papademetriou, May Lloyd, Bernadette Hughson, Dominic Di Tommaso & Vincent Jones Varga.

Set Design by John Pryce Jones. Lighting Design by Nicholas Higgins. Costume Design by Chrissie Adams.

Presented by Darlinghurst Theatre Company. Previews begin Wednesday May 28. Officially opens on May 29 with performances through June 21, 2008. New South Wales, Australia.

THE HUNCHBACK OF NOTRE DAME a musical adaptation of written by Styx frontman Dennis DeYoung who handled book, music and lyrics. David Zak directs cast which includes; Meatloafian George Andrew Wolff as Quasimodo, Dana Tretta as the seductive spitfire, Esmerelda. Jeremy Rill portrays the conflicted archdeacon Frollo as a once pious man, whose secret desire and jealousy consume him. Liz Pazik is Mahiette, the Gypsy matron who also serves at times as the musical's narrator. Backed by Keith Dworkin six-member orchestra.

Through July 6 at the Bailiwick Repertory in Chicago.

ON DEPARTURE (known in Europe as THE LEAVING) the long awaited world premiere of the latest by Former Czech Republic President Vaclav Havel.

Havel has stated he was inspired by Shakespeare's King Lear and Anton Chekhov's The Cherry Orchard, rather than his own political departure.

The play concerns "someone who filled a top position, is forced to leave it and sees his world collapse," Havel explained to the press when it was first presented in a Prague cafe last November.

"For someone who was president of his country for 13 years until the end of his term, the title runs the risk of giving the impression that the inspiration came from his own departure," the slight, 71-year old added with a smile. Havel, however, said that he started to write the play in the 1980's "...long before the revolution (of 1989) and long before the presidency."

Havel finished the play during a stay of several months in the United States.

At first Havel's actress wife, Dagmar Havlova, was going to be one of the co-stars. She bowed out on May 7 for health reasons. The casting of Havlova, 55, for whom Havel, 71, wrote the leading female role of Irena in the drama, was one of the author's conditions for its staging. Czech actress Zuzana Stivinova, 34, now plays Irena instead of Havlova on Archa's stage with Havel's good friend Czech born actor Jan Triska, 71, as the male lead. Triska lives in the United States but frequently appears in Czech productions.

This is Havel's first stage offering since 1988. World Premiere opened on May 22 at the Archa Theater in Prague, with performances through June 7. The first foreign premiere of The Leaving will take place in London's Orange Tree Theatre on September 19, the theatre announced. The Slovak National Theatre in Bratislava plans to stage Havel's play in late November

GAS FOR LESS by Brett Neveu. Dexter Bullard directs this world premiere set in a gas station on Chicago's North Side.

Gas For Less is more than a gas station to Anthony (Rian Jairell) and his tough Croatian grandfather, Art (Robert Brueler). Their family business was once a rowdy North Side Chicago hangout where neighbors from all walks of life-African American, Puerto Rican, Croatian and Pakistani-came together to watch the Bears over coffee and Camel cigarettes. But the neighborhood is changing and gentrification threatens small mom-and-pop shops. Now the pumps are out, the coffee is burnt and the customers are scarce. And things only get worse when a sudden act of violence occurs at the station. The daunting question becomes: can the gas station be saved-and is it even worth saving?

"It's about letting go of the station, and letting go of his dreams of it being something that it can't really be again," said playwright Brett Neveu, who drew his inspiration for the play from real-life Chicagoan Phil Berman, and his North Side gas station of the same name, formerly located at Lincoln and Berteau Avenues. "That station represented Chicago to me, and now it's gone."

"Gas For Less is a poignant Chicago story containing all of the elements that have earned Brett rave reviews from critics and audiences alike: fascinating characters, savage wit and humor, and dramatic situations which are both immediately recognizable and dramatically resonant," said Artistic Director Robert Falls in a press release. "I've wanted to bring this young writer to the Goodman for a long time, and I'm thrilled that he has chosen Dexter Bullard-who counts among his directorial successes Tracey Letts' play Bug, which received extraordinary acclaim both in Chicago and New York-to direct this world premiere production."

The cast includes Kareem Bandealy, Robert Breuler, Nathan Davis, Rian Jairell and Ernest Perry Jr.

Neveu is currently at work on commissions from Manhattan Theatre Club and the Royal Court Theatre; past commissions include Goodman Theatre's Ofner Prize, which resulted in Heritage (2004 New Stages Series), and he has been commissioned twice by Steppenwolf Theatre Company.Company. His play Old Glory will be produced at Writers' Theatre during the 2008-09 season.

The design team includes Tom Burch (set design), Tif Bullard (costume design), Keith Parham (lighting design) and Joseph Fosco (sound design).

Originally commissioned by Northlight Theatre and included in the Goodman's 2007 New Stages Series,Gas For Less opened last night at the Owen Bruner Theatre at the Goodman in Chicago. Performances through June 22.

AVENUE Q the 2004 Tony Award-winning musical by Robert Lopez, Jeff Marx and Jeff Whitty.

Original director Jason Moore helms the cast which includes: Angela Ali, David Benoit, Minglie Chen, Robert McClure, Cole Porter, Carla Renata, Kelli Sawyer, Jennie Kwan, Maggie Lakis, Seth Rettbeg, Erica Robinson, Danielle K. Thomas and Cullen R. Titmas.

Avenue Q is the story of Princeton, a bright-eyed college grad who comes to New York City with big dreams and a tiny bank account. He soon discovers that the only neighborhood in his price range is Avenue Q; still, the neighbors seem nice. There's Brian the out-of-work comedian and his therapist fianceé Christmas Eve; Nicky the good-hearted slacker and his roommate Rod -- a Republican investment banker who seems to have some sort of secret; an Internet addict called Trekkie Monster; and a very cute kindergarten teaching assistant named Kate. And would you believe the building's superintendent is Gary Coleman?!? (Yes, that Gary Coleman.) Together, Princeton and his newfound friends struggle to find jobs, dates, and their ever-elusive purpose in life.

Yes, there is copulation with consenting adult puppets.

Sets by Anna Louizos with animation by Robert Lopez.

Performances through June 7 at the Cadillac Palace Theatre in Chicago.

MINNIE'S BOYS the first show in York Theatre Company's latest Musicals in Mufti series - the York's acclaimed series of musical theatre gems in staged concert performances. 'Mufti' (pronounced MUFF' tee) means "in street clothes; without the usual trappings."

Music by Larry Grossman, lyrics by Hal Hackady and book by Arthur Marx and Robert Fisher.

Pamela Meyers will star as Minnie Marx, and Stuart Ross, creator of Forever Plaid will direct the cast which features: Joel Blum, as Al Shean, Dan Bogart as Herbie/Zeppo, Ryan Duncan as Leonard/Chico, Nick Gaswirth as Adolph/Harpo, Beth Glover as Mrs. McNish, Erik Liberman as Julie/Groucho, Don Mayo as Albie, Nancy McCall as Mrs. Flanigan, Emily Shoolin as Miss Murdock, Kelly Sullivan as Cindy and Stuart Zagnit as Sam Marx. Matt Castle will serve as music director.

Minnie's Boys was loosely inspired by the early adventures of the Marx Brothers. Would any mother envy Minnie Marx, whose five teenage sons make her life endless chaos? She encourages the boys' dreams of vaudeville stardom, touring with them through good times and bad until the quintet become known to the world as Harpo, Chico, Gummo, Zeppo and Groucho. The original Broadway production opened on March 26, 1970 at the Imperial Theatre and ran for 80 performances.

Minnie's Boys plays May 30-31 and June 1. The York Theatre Company in Saint Peter's Theatre, NYC.

SPRING AWAKENING has welcomed Canadian singer-songwriter Kyle Riabko to the Broadway cast appearing as Melchior Gabor in the Tony-winning musical at the Eugene O'Neill Theatre.This role marks Riabko's Broadway debut.

ISRAEL HOROVITZ'S 3 HOTELS: A SUITE is the latest presentation by New Sounds Theatre which continues to bridge the gap between New York's theatre and music scenes. This effort is a staged reading of three short plays by Obie-winning playwright Israel Horovitz, taken from his new collection 6 Hotels. The event will feature live musical accompaniment composed especially for the show, written and performed by concert violinist Chris Otto and cellist Emily DuFour. They will be underscoring the readings, as well as performing stand-alone pieces between the plays. Their setlist will include original compositions, pieces from the classical repertoire, and some improvisation.

The three plays in this collection - each one set in a different hotel - deal with three unique groups of people at major crossroads in their lives. In The Hotel Play, the mistress of a wealthy married philanderer finds common ground with a bellboy, who also has a few secrets of his own; Beirut Rocks finds four well-to-do college students caught in the crossfire of the Israeli-Lebanese conflict; and in 2nd Violin, a talented concert violinist is unable to come to grips with her sudden elevation into the spotlight.

Actors performing in the plays will include Stephanie Janssen, Kendra-Leigh Landon, Sean Meehan, and Francisco Solorzano.

All three plays are co-directed by Israel Horovitz and Russell M. Kaplan who is the Artistic Director of New Sounds Theatre. Sunday, June 1, at The Living Room, NYC.

SUNDANCE THEATER PLAYLIST featuring new music from Sundance-supported composers Kirsten Childs (The Bubbly Black Girl Sheds Her Chameleon Skin), Felicia Finley (original cast of the musical The Wedding Singer) Renee Elise Goldsberry (original cast of the musical The Color Purple), Ann Harada (original cast of Avenue Q), and Joseph Thalken (Harold & Maude). Their new or rarely heard music will be sung by some of New York's most talented performers.

Monologuist Josh Kornbluth (Haiku Tunnel and Red Diaper Baby) also performs excerpts from his Citizen Josh, a piece that grew out of his distress at the anemic condition of American democracy—and his nagging suspicion that our society's political health depends on the active participation of all its citizens, even ones as habitually passive as himself.

The Playlist concert features artists supported by Sundance Institute's Theatre Program which assists emerging and established theatre artists, and encourages and supports the development of new works for the stage through labs and retreats.

Monday, June 2 at BAM Brooklyn Academy of Music, Brooklyn, NY.

HAMLET by William Shakespeare. Directed by Oskar Eustis.

With Lauren Ambrose, Christopher Bonewitz, Andre Braugher, Bruce Cannon, Matt Carlson, Kevin Carroll, Margaret Colin, W. Tré Davis, Emily DeCola, David Harbour, Stephen James King, Hoon Lee, Dana Lyn, Piter Marek, Greg McFadden, Julio Monge, Paul O'Brien, Erin Orr, Gilbert Owuor, Jay O. Sanders, Michael Schupbach, Miriam Silverman, Michael Stuhlbarg and Sam Waterston who played the title role 33 years ago, when Hamlet was last presented by the Public Theatre in Central Park. In this offering Waterston will portray Polonius. Michael Syuhlbarg is cast as Hamlet. Ophelia is Lauren Ambrose.

Scenic design by David Korins, costume design by Ann Hould-Ward, lighting design by Michael Chybowski, and sound design by Acme Sound Partners.

Previews begin on May 27. Opening night is June 17. The show runs through June 29. Delacorte Theatre in Central Park, NYC.




WHO'S WHERE


BEBE NEUWIRTH who won two Tony Awards and two Emmy Awards makes her nightclub debut at Feinstein's at Loews Regency in Manhattan. The star of Chicago and Damn Yankees is presenting her new show Songs with Piano. Bebe focuses on the works of Kurt Weill and Kander & Ebb, but also explores such landmark composers as Cole Porter, Stephen Sondheim and Tom Waits. Accompanied on piano by Scott Cady, she can be enjoyed through Thursday, May 31.

NANCY EVANS brings her new cabaret show Psychobabble! to the Laurie Beechman Theater. Nancy spins and tilts as she revels in and reveals her many moods with wacky medleys of Broadway, Jazz, and Pop Standards. Personality swings, emotional sambas and quirky blues will never be the same. Backed by her Argentinean band, led by pianist Octavio Brunetti. Directed by Dennis Deal. May 29-June l, New York City.

BON JOVI continue they tour of Germany with a show on Wednesday, May 28 at the HSH Nordbank Arena in Hamburg. On Thursday they are on stage at the Gottlieb-Daimler Stadion in Syuyygard. Next Sunday they can be found in Spain at the Olympic Stadium in Barcelona.

AUDRA McDONALD on stage at Zellerbak Hall in Berkeley, CA on Friday, May 30.

FOREIGNER star at the Warner Theatre in Torrington, CT on Friday, May 30.

THE POLICE in the spotlight Monday, May 26, at the Cricket Wireless Amphitheatre in Chlua Viata, CA. On Tuesday they open a two nighter at the Hollywood Bowl.

DAVE MATTHEWS BAND in a two-night gig Friday, May 30, and Saturday, May 31 at the Post-Gazette Pavilion in Burgettstown, PA.

ALICIA KEYS on stage Wednesday, May 28, at the Philips Arena in Atlanta, GA. On Friday she can be enjoyed at the Greensboro Coliseum in Greensboro, NC. Saturday finds her at the Mark G. Etess Arena in Atlantic City.

BRUCE SPRINGSTEEN the consummate rock and roll performer, continues his sensational European tour with stops at the Old Trafford Stadium in Manchester, UK on Wednesday, May 28. On Friday they open a two nighter at the Emirates Stadium in London.

KD LANG brings her tour to Canada this week there she is in the spotlight Tuesday, May 27, at Centennial Hall in London, Ontario. On Thursday she's opens a two night stand at the Olympia de Montreal in Montreal and on Saturday the show is at Massey Hall in Toronto.

CHRIS BOTTI performs this week in Tokyo, Japan. He opens Wednesday, May 28 at the Blue Note in Tokyo for a four night stand.

DEBBY BOONE REFLECTIONS OF ROSEMARY a tribute to her late mother-in-law Rosemary Clooney. May 30-June 1 at the Suncoast Hotel in Las Vegas.

BIG BAD VOODOO DADDY will get the beat going Saturday, May 31, at the Red Robinson Theatre in Coquitlam, British Columbia.


PIFFLE AND PROFUNDITIES


CELINE DION who looked gorgeous in a black outfit, was awarded a Legion d'Honneur, one of France's greatest accolades. She was accompanied by manager and husband Rene Angelil and their seven-year-old son René-Charles Dion Angélil to the ceremony at the Elysee Palace in Paris. The singer received the medal from President Sarkozy. The European press didn't hone in on the fact that the award was given to a Canadian who calls Las Vegas home. Instead the spotlight was on her neck. Perhaps it was really bad lighting, but her neck and part of her chin were two-tone; orange and white. European press jumped all over the paint and spackle job, criticized the entertainer for wearing too much make-up that was poorly applied.

Next Column: June 1, 2008
Copyright: May 25, 2008. All Rights Reserved. Reviews, Interviews, Commentary, Photographs or Graphics from any Broadway To Vegas (TM) columns may not be published, broadcast, rewritten, utilized as leads, or used in any manner without permission, compensation and/or credit.
Link to Main Page
---
Laura Deni


CLICK HERE FOR COMMENT SECTION