! >
Broadway To Vegas
  SHOW REVIEWS CELEBRITY INTERVIEWS GOSSIP NEWS

| | |
| --- | --- |
| | |
BOB HOPE TURNS 100 - - UNDERSTUDIES DO LUNCH - - MICHAEL BUBLE'S NY DEBUT - - DAVID SCHWIMMER TALKS BACK - - WAYNE BRADY WANTS BROADWAY - - CRIME AND CELEBRITY - - CMA BOOT SCOOTIN' PARTY CROWD - - THE LITIGIOUS FADE OUT FADE IN - - DONATE . . . Scroll Down


COUNTRY MUSIC STARS BOOT SCOOTIN' DOWN THE ORANGE CARPET
Reba McEntire class and sass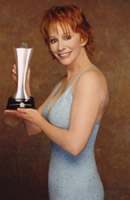 The carpet, leading the country music stars into Mandalay Bay for the first ever CMA awards held outside of Hollywood, was orange - because Home Depot was the sponsor and that's their color.

Most of the people just wanted to get inside as fast as possible, since outside the temperature was about 104 degrees.

''Man, that's hot,'' said Rascal Flatts' Jay Demarcus, who wore leather and roasted. ''I almost fainted.''

Much credit for the evening's success goes to Reba McEntire, who is a delicious blend of class and sass. The lady who infused Annie Get Your Gun with new pizzazz on Broadway was the perfect hostess for the 38th annual Academy of Country Music awards show.

"Everybody here loves to gamble," Reba quipped during her opening monologue. "They're backstage right now checking the latest odds on the Dixie Chicks playing the Bush family reunion."

In introducing Penn and Teller she deadpanned; "Penn talks all the time and Teller never does. Guess which one is now training the Dixie Chicks."



Toby Keith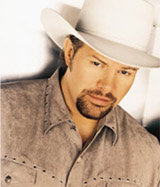 That girl group was frequently booed. Natalie Maines has been in trouble since she told a London audience on March 10, that "we're ashamed the president of the United States is from Texas."

The gals didn't do much to redeem themselves when Natalie, who appeared live with the Chicks via satellite from a concert in Austin, Texas, wore a T-shirt that read: ''FUTK.'' The TK stands for Toby Keith. Natalie and Toby have been feuding over Toby's Courtesy of the Red, White and Blue song.

Unfortunately, when Keith guested on the Jimmy Kimmel show last Thursday, several of his fans sunk to the Maines' level by wearing T-shirts to the taping that said ''FUDC.''



Vince Gill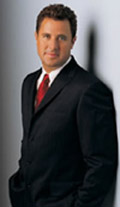 When Vince Gill reading Dixie Chicks as a nominee for Entertainer of the Year elicited more boos, he attempted to be a peacemaker. "Stop it, stop it," pleaded Gill. "You know who gets blessed when you forgive: you."

Everyone was wondering what happened to Keith when Gill announced that Toby won Entertainer of the Year. He was nowhere to be found. Seems he thought he was going to lose so he was backstage writing a song with Willie Nelson.

"I didn't think I had any kind of shot at winning Entertainer of the Year, so I took advantage of a rare opportunity to write a song with Willie Nelson," Toby said in a statement.

"… Honestly, if I thought I was going to win, I would've been on stage to accept this prestigious award and to thank my Lord God Almighty, my family, my fans, my management, the folks at DreamWorks Records, country radio and the Academy of Country Music."



Kenny Chesney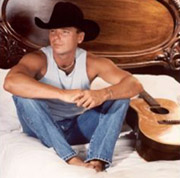 Kenny Chesney started to cry when he learned that he had been named best male vocalist.

McEntire was honored in an "orange" carpet presentation, and received The Revere Bowl exclusively designed by Tiffany & Co. in recognition of her record number of hosting appearances on the telecast. Reba is also holds the honor of being ACM's 7-time winner in the Top Female Vocalist category.

She is the most successful female artist in the country genre with over 50 million records sold. Reba has shown her non-stop talent in virtually every capacity of the entertainment industry, with hits on radio, Broadway, television and film, and has also written an autobiography and essay collection that have collectively sold over one million copies. Reba, her self-titled television sitcom, is currently in its second successful season, and will return to the WB network for a third season in the fall of 2003.

Alabama, Brooks & Dunn, Kenny Chesney, Terri Clark, Diamond Rio, Alan Jackson, Toby Keith, Martina McBride, Montgomery Gentry, Willie Nelson, Rascal Flatts, LeAnn Rimes, George Strait, Shania Twain, Keith Urban, Darryl Worley and Wynonna performed. George Strait received the Gene Weed Special Achievement Award; Alabama was honored with the Pioneer Award (The Cliffie.)

Eric Close (Without A Trace), Kellie Coffey, Emerson Drive, Vince Gill, Jennifer Hanson, Rebecca Lynn Howard, Carolyn Dawn Johnson, Mark Miller (Sawyer Brown), Wayne Newton, Joe Nichols, Penn & Teller, Pinmonkey, Blake Shelton, Trick Pony, Karri Turner (JAG), Phil Vassar and Lee Ann Womack were presenters. NASCAR legend Tony Stewart introduced the Diamond Rio performance.

Last year the show featured 13 live performances. That was be upped to 17 this year, including two acoustic sets: Wynonna playing with just an acoustic guitar and banjo, and LeAnn Rimes performing with a piano and cello.

Mr. Las Vegas, Wayne Newton, delivered a special tribute to the military and Lonestar's performance on a new version of I'm Already Home honored special guests - former POWs of Operation Iraqi Freedom; SPC Shoshana Johnson and PFC Patrick Miller represent the 507th Maintenance Company from Ft. Bliss, TX. CWO David Williams and CWO Ronald Young Jr. represent the 1st Battalion of the 227th Aviation Regiment out of Ft. Hood, TX.

Lonestar continued to salute the Armed Forces and their families with a performance on the deck of The Intrepid in New York City's Harbor for Fleet Week yesterday, Saturday, May 25th.


MOST LITIGIOUS CHAPTERS IN THEATER HISTORY


Fade Out Fade In, with a book and lyrics by Betty Comden and Adolph Green and music by Julie Styne, directed by George Abbott, in 1964 was legendary - not just because Jack Cassidy stopped the show cold with his over-the-top, ego-injected rendition of My Fortune Is My Face, or because Carol Burnett was a hit - as she was in Once Upon a Mattress - but because the show became one of the messiest, most litigious chapters in theater history.

Today all parties would be checked for weapons.



Carol Burnett and Jack Cassidy in Fade Out Fade In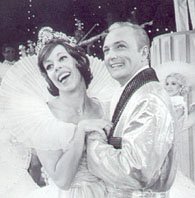 According to press reports from that time, the producers, Lester Osterman and the composer Jule Styne, accused her of expensively delaying the show with a surprise pregnancy, faking neck injuries and a cold to miss 56 of the first 199 performances, and tried to get out of her contract because television studios were pursuing her.

Burnett counter attacked. Wearing a neck brace at news conferences, she released a letter which said: "I m sorry I got sick. I'm sorry the play had to close because I was sick. I'm sorry you don't think I am sick."

Ultimately, through lawsuits and Actor's Equity arbitration hearings, they forced her back to the stage and reopened the show. But it ran only 72 more performances before Burnett informed producers that she had hurt her neck again, was pregnant again, and was confined to bed. A week after closing she broke her ankle playing softball.



Carol Burnett, performing her famous Cleaning Woman routine, at the Sands Hotel, Las Vegas in 1962.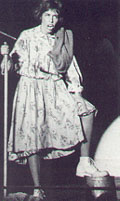 Carol Burnett got her start in off-Broadway theatre, first achieved national attention with a novelty tune entitled I Made A Fool Of Myself Over John Foster Dulles and ode to Eisenhower's prim Secretary of State, then made her way to a regular series role on the sitcom Stanley which aired from Sept. 1956 - March 1957. In Stanley, Buddy Hackett starred as the lackadaisical manager of a hotel lobby newsstand/ticket agency in New York City, and Burnett played his loopy girlfriend Celia. Writers and producers from Sid Caesar's Your Show of Shows were behind the production - produced and directed by Max Liebman, with playwright Neil Simon on the writing staff.

During the run of Stanley, Burnett did a guest shot on the Garry Moore Show (1950-1958), a top daytime variety program on CBS. This led to Burnett's next big break - as a regular player on the prime-time Gary Moore Show (1958-1964), one of the most popular variety shows of the early-sixties, which won Burnett an Emmy in 1962.

The producers of the show were Joe Hamilton and Bob Banner. Although Hamilton was married with eight children, Hamilton and Burnett began dating, which caused a minor scandal and almost cost wholesome Burnett her career. Eventually Hamilton and Burnett wed in 1963 and had three children. They would break up in 1984.

In 1962, Burnett left the Garry Moore Show to tour with Fade Out Fade In. It was Carol's pregnancy with Carrie that caused a delay in the opening of Fade Out Fade In, originally scheduled to raise the curtain in November, 1963. That was re-set for a planned opening for May 26, 1964 at the Mark Hellinger Theatre.

While riding in the backseat of a cab Burnett suffered a whiplash injury. Burnett began missing shows and was replaced by Betty Hutton. Patrons stopped buying tickets. While Burnett did return to the show, her attention was split with her new television show called The Entertainers, a variety series in which she served as one of three rotating hosts - comedian Bob Newhart and singer Caterina Valente were the other two.

Again, Burnett began fading out of the Broadway show - citing back problems. Lawyers entered the fracas as Broadway officials attempted to block airing of The Entertainers, which turned out to be a waste of time, since the series was a mega flop, lasting less than a year. Apparently The Entertainers was such a miserable experience for all involved, that none of the principles listed it on their resumes.



Tina Louise, Lou Jacobi and Don Crichton in Fade Out Fade In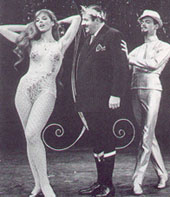 Burnett unsuccessfully tried to buy out her Broadway contract. To cap it off Tina Louse jumped ship to join the one on Gilligan's Island.

Fade Out Fade In closed on November 13, after 199 performances. Bitter arbitration followed and Burnett lost, forcing her to honor her year long contract. That meant that the show would once again fade in with the curtain going up February 15, 1965. After 76 performances Fade Out Fade In went dark on April 17, 1965.

Carol Burnett played the role of Hope Springfield, a plain Broadway chorus girl with aspirations of becoming a movie star, who stumbles into film stardom by mistake. Jack Cassidy, as film star and leading man Byron Prong, sweeps her off her feet. In a score containing many fun and attractive tunes, I'm With You sung by Jack and Carol Burnett is a stand out.

Now Decca Broadway has released a CD version in what they describe as their "most requested original cast recording ever." Now available for the first time in 30 years and for the first time on CD. Another must have for collectors.

Recorded May 31, 1964 in New York City. Produced for records by Sid Feller. Engineer Fred Christie. The re-issue produced by Brian Drutman, CD mastering; Doug Pomeroy.


BOB HOPE TURNS 100


Bob Hope celebrates his 100th birthday May 29th. He's already been named Citizen of the Century by the Hollywood Walk of Fame. Now the intersection of Hollywood Boulevard and Vine Street will be named Bob Hope Square. In Washington, D.C., that day, a reception will be held at the Bob Hope Gallery of Entertainment at the Library of Congress.

Also on May 29, the expanded Bob Hope Hollywood USO at Los Angeles International Airport will be dedicated, and streets will be named after him in Toluca Lake and Cleveland, where he grew up. The Cleveland Indians will celebrate Bob Hope Day at Jacobs Field.



Broadway To Vegas is supported through advertising and donations. Priority consideration is given to interview suggestions, news, press releases, etc from paid supporters. However, no paid supporters control, alter, edit, or in any way manipulate the content of this site. Your donation is appreciated. We accept PAYPAL. Thank you for your interest. Laura Deni P.O. Box 60538 Las Vegas, NV 89160


MIKHAIL BARYSHNIKOV STARTS TOUR: INVITES STUDENTS TO REHEARSAL


Mikhail Baryshnikov, the most celebrated artist in the dance world, launched his tour in a sold out two nighter May 22-23 at the Belding Theater at the Bushnell Center for the Performing Arts in Hartford, Conn.

The famed dancer invited 250 dance students and faculty members to his dress rehearsal last Wednesday night. The students were from Nutmeg Ballet, Hartt School, the Artists Collective, the Greater Hartford Arts Academy and Dance Connecticut.

His performances, titled Solos With Piano, An Evening of Music and Dance with Mikhail Baryshnikov, feature a series of world premieres. Produced by Baryshnikov Dance Foundation, the evening is composed of solo dance works to piano, connected by music interludes. Pianist Pedja Muzijevic performs all music. In addition to launching the tour at The Bushnell, Baryshnikov Productions conducted the technical rehearsals for the program at the Hartford theater during the week leading up to the performances.

American choreographer Lucinda Childs is represented by two works: Largo, a work commissioned by Baryshnikov Productions in 2001 with music by Arcangelo Corelli and a premiere. Other premieres include works by Ruth Davidson Hahn, Cesc Gelabert of Barcelona, Michael Clark of London, and Tere O'Connor of New York City. Rising to stardom in classical ballet, Baryshnikov has pursued his passion for dancing for over 40 years in a range of dance disciplines.

On May 28-29 the 13-city tour stages performances at the Curtis Center for the Performing Arts in Gainesville, Florida. Proceeds from the tour will go towards the construction of Baryshnikov Arts Center.



OBIE AWARDS the 48th annual Village Voice event, which honors Off-Broadway theatre, were held May 19 at Webster Hall in the East Village.

Presenters included; Edward Albee, Linda Emond, Juliana Francis, Jackie Hoffman, Eddie Izzard, John Ortiz, Martha Plimpton and Liev Schreiber. Bill Irwin and Charlayne Woodard served as hosts.

The evening featured performances by the cast of Hank Williams: Lost Highway and Cynthia Hopkins singing selections from the Transmission Project's Compress Your Dreams.

The Village Voice OBIE Awards were created soon after the inception of the publication in 1955 to publicly acknowledge and encourage the growing Off Broadway theater movement.

The Village Voice OBIE Awards are the only ceremony of its kind to award grant money. Since the mid-1980s, The Village Voice has provided grant money, which the judges award each year to deserving theater groups. These grants have enabled the winning companies to continue producing theater.

Beginning in 1998, the late Ross Wetzsteon, longtime Off-Broadway theater advocate and Obie Chairman, was honored by the Voice with an annual Obie Grant of $2000 given in his name to honor the development of new writing voices. P.S. 122, the Vineyard Theater, Dixon Place, the Foundry Theater, and Theater for a New Audience have been past recipients of the Ross Wetzsteon Grant.

CLICK FOR THE LIST OF OBIE WINNERS


HOT TYPE: SIZZLING NEW PLAYS


The Second Annual Hot Type Festival featuring Sizzling New Plays at Seattle Rep opens tomorrow, May 26 and continues through June 1.



Steven Dietz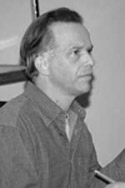 Readings of plays from an eclectic group of artists at varying stages in their careers that represent the diverse genres, cultures, and theatrical vocabularies of the American theatre scene.

This year's festival features works from Steven Dietz, recent Pulitzer Prize winner Nilo Cruz, Katie Forgette, Michael Feingold and Chay Yew.

Steven Dietz's Kicking off the festival is the comedy Over the Moon, which is adapted from the P.G. Wodehouse novel The Small Bachelor. Set in the rip-roaring Greenwich Village of the 1920s, Over the Moon is about love, marriage, and theft. When George Finch - "the worst artist to ever put paint to canvas" - spots Molly Waddington walking down the street, he's over the moon, and sets out on a quest to marry the girl of his dreams. As one might suspect, complications ensue. David Ira Goldstein directs.

By Nilo Cruz. On the Costa del Sol, a young woman reunites with her estranged artist father. As she discovers her father's work and world, she begins to understand why her mother fell in love with him, but not why he left. A woman and a handsome young Moroccan may hold the answers. May 27. Directed by Sharon Ott.



Katie Forgette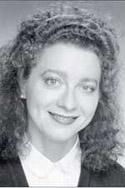 On May 28 Christine Sumption directs The O'Conner Girls by Katie Forgette. This family drama/comedy is set in Minnesota at Christmas. It is a reunion, of sorts the siblings have come together to attend their father's funeral and to sift through his mountain of personal effects. Their plans for a boring excavation of paperwork are altered by the discovery of a mysterious keepsake and by an unexpected visit from a long lost neighbor.

Don Carlos takes place May 31. Written by Friedrich Schiller this is a new translation by Michael Feingold about the struggle of Philip II faces in trying to maintain his rule over the Spanish Netherlands. Philip II faces a threat much closer to the throne: the crown prince Don Carlos. Directed by Carey Perloff.

The festival closes June 1 with the presentation of Malaya by Chay Yew, a new play inspired by Federico Garcia Lorca's Blood Wedding Rosa Joshi directs.

Hot Type: Sizzling New Plays at Seattle Rep, in Seattle, Washington.


SWEET CHARITY


THE PRODUCERS stage a special Actors' Fund performance, Sunday, June 1st. St. James Theatre, NYC.

Special Performances, a 76-year old tradition, are among the most thrilling theatrical experiences and the hottest tickets in town for those "in the know." Once a year, every Broadway show, in New York and on the road, adds a performance to their regular schedule as a benefit for The Actors' Fund. The excitement of these performances often surpasses that of an Opening Night - excitement that is felt on both sides of the curtain. Casts from other productions have the opportunity to see the show on their night off, and performers in the show get the opportunity to play for an audience full of their peers and celebrities from the entertainment industry. Each company donates their time and talent, and all proceeds go directly to The Actors' Fund.

THE 4th ANNUAL JOSEPH PAPP CHILDREN'S HUMANITARIAN FUND GALA DINNER will honor stage and screen stars Richard Dreyfus and George Segal with the Joseph Papp Achievement Award of Excellence at the Hilton New York on May 28.

Game-show host Monty Hall will serve as the Master of Ceremonies. Acting couple Jerry Stiller and Anne Meara are co-chairpersons of the event, and Tony Award winners Mandy Patinkin and James Earl Jones will serve as Honorary Dinner Chairmen.

The reception and silent auction is followed by dinner and entertainment featuring Broadway and Hollywood stars including: Richard Benjamin, Theodore Bikel, Joe Bologna, Fran Drescher, Charles Durning, Gregory Hines, Mal Z. Lawrence, Paula Prentiss and Renee Taylor.

Founded in memory of the founder of the New York Shakespeare Festival/Public Theatre, the Joseph Papp Children's Humanitarian Fund brings care to thousands of homeless and deprived Ukrainian children.

LOUISIANA STATE UNIVERSITY THEATER CLASS STUDENTS have completed a class project - making hats to donate to the American Cancer Society of Baton Rouge for its Look Good, Feel Better support program for cancer victims.

Most of the acting students has never before sewn.

The technical theater class in light, sound and costume technology is taught by Kjersten Lester-Moratzka.


Costume shop manager Jennifer Peterson offered instruction and provided leftover fabric from costumes constructed for shows, everything from polyester to expensive silks and velvets.


UNDERSTUDIES DO LUNCH


On June lst The American Theatre Wing's Tony-Time Party will be a celebration of Broadway's understudies and stand-bys.

Taking place at Sardi's Restaurant, along with a champagne reception and dinner, this event will include stars introducing their stand-bys and understudies, who will perform.


SPREADING THE WORD


COMEDY OF THE 60s with the Smothers Brothers and Mort Sahl. Gerald Nachman, author of Seriously Funny: The Rebel Comedians of the 1950's and 1960's will moderate. The Smothers Brothers and Mort Sahl were among the most influential comedians of that era. They were subversive, brilliantly funny, and great social and political satirists. They will discuss the climate of the times, how and why their comedy worked, and why the comedy of that era is unique.

Skirball Center in Los Angeles June 2.

NOTORIOUS: CRIME AND CELEBRITY in Person: author Lawrence Schiller, Barbara Walters, Cohost of 20/20. Susan Zirinsky, Executive Producer of 48 Hours and additional panelists take part in this panel discussion that takes place Wednesday, June 4. at The Museum of Television & Radio in New York.

Television and print journalists will come together at the Museum to explore the symbiotic relationship between the media and people convicted or suspected of committing high-profile crimes. The panelists will examine such issues as the roots and repercussions of the media's fascination with these types of crimes and why interviews with criminals and suspects are so popular with the viewing public.

MATTHAU: A LIFE

Walter Matthau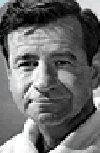 is a telling look at the life of American TV & film icon Walter Matthau. Based on countless interviews and extensive research, co-authors Rob Edelman and Audrey Kupferberg reveal how a silly, sarcastic and unglamorous man became a Hollywood favorite.

Edelman has written for American Film, Variety and The Washington Post, among other publications.

Audrey Kupferberg is a film and video consultant and archivist. Together they have co-authored Angela Lansbury: A Life on Stage and Screen and Meet the Mertzes.

Thursday, May 29, at the 92nd Street Y in NYC.

TALKING HEADS Kathleen Chalfant, Daniel Davis, Christine Ebersole, Tom Hulce, Valerie Mahaffey, Lynn Redgrave, Daryl Roth and Brenda Wehle / Leonard Lopate, moderator.

Find out what happens behind the "imaginary curtain" as some of Broadway's best actors, directors, playwrights and choreographers discuss their experiences.

Leonard Lopate, host of the WNYC talk show Leonard Lopate and the WNYC-AM Sunday show Survival Kit, is joined by the cast of Talking Heads, written by Tony & Olivier Award winner Alan Bennett. Appearing will be Drama Desk Award winner and Tony nominee Kathleen Chalfant (WIT!); Tony nominee Daniel Davis (Wrong Mountain, TV's The Nanny); Tony Award winner Christine Ebersole (42nd Street); Emmy Award winner Valerie Mahaffey (Northern Exposure); two-time Golden Globe winner Lynn Redgrave (Gods and Monsters); renowned theater actress Brenda Wehle; Oscar nominee, Emmy winner and producer Tom Hulce (Amadeus), and producer Daryl Roth.

Monday, June 2 at the 92nd Street Y in New York City.

DJ SPOOKY'S REBIRTH OF A NATION Thursday, May 29, at American Museum of the Moving Image in New York.

Paul Miller, a.k.a. D.J. Spooky, the accomplished musician and writer who helped raise the D.J. technique of remixing to an art form, will perform Rebirth of a Nation, a provocative work-in-progress in which he radically cuts, re-assembles, and supplements images from D.W. Griffith's profoundly 1915 racist masterpiece Birth of a Nation and adds his own soundtrack.

The one-hour performance will be followed by a discussion with the artist. In Miller's hands, the film is transformed into a meditation on how "myths migrate through the culture's operating system." Miller says, "Remixing this influential film the way a D.J. would change a pop tune, I am trying to uncover the blueprints of the future we now inhabit."



RACE adapted from the 1992 Studs Terkel book Race: How Blacks and Whites Think and Feel About the American Obsession by ensemble member Joy Gregory. Directed by ensemble member David Schwimmer Lookingglass Theater, Chicago.

[Race] is the most obsessive feature of American life. Every American, whether white or black, carries with him the consciousness of race... It obsesses everyone, even those who think they are not obsessed by it." - Studs Terkel

Lookingglass will stage an original, world premiere adaptation of Pulitzer Prize-winning author Studs Terkel's superb oral history of race and racism in America. This landmark production, created by ensemble members David Schwimmer and Joy Gregory, will use music, drama and movement to tell the tragic, funny and indelibly human stories of the individuals interviewed in Terkel's acclaimed book.

On Saturday, June 21, Lookingglass Theatre Company and the alumni association of Northwestern University will stage a talk back for alumni members. Both Schwimmer and Gelker are graduates of Northwestern, class of 1988.

Schwimmer, perhaps best known as Ross Gellar on the popular television series Friends, will conduct an exclusive talk-back for the Northwestern group after the show, in company with Lookingglass Artistic Director Laura Eason who is also a graduate of Northwestern, class of 1989. Also participating will be members of the cast and production team.

This landmark production, adapted by ensemble Lookingglass has been continuously developing this project through workshops and discussions since the company obtained the stage rights in 1998. The diverse cast of approximately 20 actors also will share their own stories and experiences as part of the project, to shape a stunning, honest and ultimately hopeful portrait of contemporary race relations in Chicago.

The play will mark the opening on June 5 of a new theater which will be home to the respected Loookingglass company, which has performed on more than two dozen stages around town since its founding 15 years ago.

SPIDER-MAN LIVE with a cast of 15 and a technical crew of 50, along with state-of-the-art flying illusions, trapeze stunts, pyrotechnics and multimedia special effects spins the web May 27-June 1 at Tennessee Performing Arts Center's Jackson Hall in Nashville.

FALSETTOS By William Finn and James Lapine. Directed by John Rubenstein. Featuring Michael Rupert, Stephen Bogardus, Chip Zien, and Faith Prince - all from the original New York cast; and Amy Pietz and Asher Book.

This 1992 Tony Award winner chronicles the transformations of a modern family through the turbulent 1980s, with stars Michael Rupert and Chip Zien from the original New York cast demonstrating that nothing is more powerful than a family's love. May 28, 29, 30, June 1 presented by L.A. Theatre Works at the Skirball Center, Los Angeles.

THE NIGHT OF THE IGUANA by Tennessee Williams at Hartford Stage stars James Colby, Annalee Jefferies, Alyssa Bresnahan, James Pritchett, Helmar Augustus Cooper, Natalie Brown, Orlando Pabotoy, Bill Kux, Harry Murphy, Susan Fay, Curtis Billings and Marta Reiman. The show opened May 22 running to June 22. Hartford, Conn.

THE PRINCE OF GRAND STREET in its New York Premiere, starring Mike Burstyn. This was Bob Merrill's last Broadway-bound musical, about an older Yiddish actor with a penchant for playing young roles who falls in love with his much younger leading lady, Leah.

Burstyn plays Nathan Rashumsky, and Leah is played by Brooke Sunny Moriber.

Barry Kleinbort directs. Christopher Denny is the musical director.

The original production, which was directed by Gene Saks and starred Robert Preston, closed out of town after tryouts in Philadelphia and Boston. The show would have opened on Broadway 25 years ago this May. Merrill died in 1998.

The Prince of Grand Street staged May 29 through June 2 at the Center for Jewish History in NYC.


| | | |
| --- | --- | --- |
| | | |
WHO'S WHERE


MICHAEL BUBLE' it was former Canadian Prime Minister Brian Mulroney, himself devoted fan of classic pop, who introduced Michael to fellow countryman David Foster, the multi-Grammy winning producer, performer and Warner Bros. Records label executive, and by the time the young singer performed Mack The Knife at the wedding of Mulroney's daughter, the creative chemistry between the fledging artist and the accomplished producer was complete. Michael was duly signed to Foster's own 143 Records through Reprise and the work began in the spring of 2001 on his major label debut.

Bublé - pronounced boo-blay - the 25-year-old singing sensation, has a smooth voice and heartthrob style that harks back to the swingin' greats of earlier decades, to the likes of Frank and Dean, but also speaks to a new generation's sensibility. On his self-titled debut album, romantic crooner Bublé makes some of the greatest love songs of all time entirely his own.

Michael Bublé in his New York Debut featuring: Michael Buble - vocals, Alan Chang - piano, Massimo Biolcati -bass, Nick Vagenas - trombone, Brian Lipps -trumpet, Jason Goldman - saxophone, Justin Ray - trumpet, Brian Green - guitar and Bill Wysaske - drums. May 27 - June 1 at the Blue Note, New York City.

20th ANNUAL CHICAGO BLUES FESTIVAL the largest free outdoor blues event in the world will have performances by Bonnie Raitt, Otis Rush, Otis Taylor, Buckwheat Zydeco, Mose Allison,The Electric Mudcats featuring Daddy G and Chuck D, Charlie Musselwhite and others. May 29- June 1 in Chicago.

THE PIZZARELLI FAMILY featuring John Pizzarelli, Bucky Pizzarelli and singer actress Jessica Molaskey, returns to Feinstein's at the Regency May 27 June 21.

Dubbed The First Family of Cool, their engagement at Feinstein's will include the musicianship of The John Pizzarelli Trio, which featured Ray Kennedy on piano and Martin Pizzarelli on bass.

John Pizzarelli is an internationally renowned vocalist and jazz guitarist, who is the son of guitar legend Bucky Pizzarelli, started playing guitar at age six and was performing with the likes of Zoot Sims by his late teens. Pizzarelli then began recording for Stash records in tandem with his father.

While the instrumentation on Pizzarelli's recordings runs the gamut from solo guitar to big band, the foundation of his sound is the drumless trio (patterned after Nat King Cole's group) with brother Martin Pizzarelli on bass and Ray Kennedy on piano. The material on these recordings is heavily based in the Great American Songbook with strong interpretations of old swing tunes and timeless standards. Pizzarelli took the bold step of devoting an entire CD to jazz arrangements of the music of Lenon and McCartney. In 2000, Pizzarelli signed with Telarc Records. His two releases on this label received both popular and critical acclaim.

In addition to his recordings, Pizzarelli has released a concert video and co-starred in the 1997 Broadway production Dream, which centered on the music of Johnny Mercer.

Jessica Molaskey has performed on and Off-Broadway and in several national tours. Her theatrical credits include A Man of No Importance, Dream, Tommy, Falsettos, City of Angels, Crazy for You, Les Misérables, Cats, Chess, Dream True, Songs for a New World and Time & Again.

Her new recording, A Good Day, inspired by the vocal stylings of Peggy Lee, was released by PS Classics May 20. Feinstein's at the Regency, NYC.

BUCKY PIZZARELLI the guitar legend, performs May 31 at Shanghai Jazz in Madison, NJ.

AN EVENING WITH CAROL CHANNING STARRING RICHARD SKIPPER with musical director John Bowen. Special guest- MAC Award winners Scott Coulter & Audrey Lavine. May 26th at The Duplex, NYC. Tickets are $20.00 plus a two-drink minimum. Credit cards are not accepted. Skipper would also like to remind Carol's fans that her book Just Lucky I Guess A memoir of sorts by Carol Channing is available in bookstores.

WAYNE BRADY AND FRIENDS appearing in a two nighter Friday and Saturday at the Paramount Arts Center in Aurora, Ill. The Emmy award winning talk show admits that he is "chomping at the bit to get on Broadway." In the meantime he'll open July 4th in Las Vegas at the Paris Hotel.

TONY DANZA the delightful entertainer opens a four-night engagement on Tuesday at Feinstein's at the Cinegill in the Roosevelt Hotel in Los Angeles.

K.T. SULLIVAN, MARK NADLER, HEATHER McRAE, CRAIG RUBANO Something Wonderful: Richard Rodgers Centennial of Song May 31 Ocean Grove Camp Meeting Association in Ocean Grove, New Jersey.

BECK with special guests: Dashboard Confessional andThe Black Keys perform Wednesday, May 28 at the Filene Center at Wolftrap which is located at America's National Park for the Performing Arts. Wolf Trap's majestic Filene Center provides the Washington, D.C. metropolitan area with a magical outdoor venue for world-class performances of every genre. Operated in partnership with the National Park Service, the Filene Center houses over 90 performances annually from late May to early September.


PIFFLE AND PROFUNDITIES


PARROTING THE NEWS Shepard Smith, the handsome and personable FOX news anchor, guesting on the Emmy winning Wayne Brady Show, explaining how he delivers the news. It seems that the blue-eyed Smith has vision problems. He can't wear contacts and Fox won't let him wear glasses, because they feel specks serve as a barrier to the audience. Thus, Smith wears an ear piece. Instead of reading the news from a teleprompter, the news is read into his ear and he immediately repeats what he had heard. Then he did a demo, parroting whatever Brady said.

ATTORNEY GENERAL JOHN ASHCROFT in Hartford, Conn to watch a family member pick up a graduate degree from the University of Hartford, surprised tourists when he suddenly appeared to take a tour of the Mark Twain House. He asked for no favors and tried to keep a low profile which was hard to do - probably because he was accompanied by an entourage of six, including some members of the Secret Service.
















Next Column: June l, 2003
Copyright: May 25, 2003. All Rights Reserved. Reviews, Interviews, Commentary, Photographs or Graphics from any Broadway To Vegas (TM) columns may not be published, broadcast, rewritten, utilized as leads, or used in any manner without permission, compensation and/or credit.
Link to Main Page
---
Laura Deni



U.S. Postal Address: Post Office Box 60538, Las Vegas, NV 89160
CLICK HERE FOR COMMENT SECTION