! >
Broadway To Vegas
  
  REVIEWS INTERVIEWS COMMENTARY NEWS

| | |
| --- | --- |
| | |
NEW DIRECTOR DEBUTS AT HOLLAND FESTIVAL - - TWO'S COMPANY CD REVIEW - - ONE WORLD TRADE CENTER OPENS OBSERVATORY - - TOKIO CONFIDENTIAL CD REVIEW - - COSTUMED CHARACTERS TOUT BROADWAY TICKETS - - SISTERS HALEY AND JULIET MILLS STAR IN LEGENDS! - - 11TH ANNUAL MUSICARES MAP FUND BENEFIT CONCERT - - TO LIFE! CELEBRATING 50 YEARS OF FIDDLER ON THE ROOF WITH SHELDON HARNICK - - DONATE . . . Scroll Down


















Copyright: May 24, 2015
By: Laura Deni
CLICK HERE FOR COMMENT SECTION


NEW DIRECTOR DEBUTS AT HOLLAND FESTIVAL
Ruth Mackenzie, CBE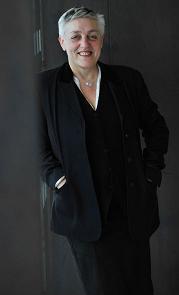 Holland's biggest arts performance festival will open May 30, running through June 23.

Since 1947, the Holland Festival has been the leading international performing arts festival in the Netherlands, annually presenting exceptional performances of international standing. With each artistic director taking it in new directions, the festival has been at the cutting edge for over sixty years.

The 2015 edition is the first festival under the artistic leadership of Ruth Mackenzie CBE. She promises to offer a broad scope of international performing arts with a mix of performances and concerts from all corners of the world. The festival will feature established names as well as new talent, showing innovation in art and exploring new types of venue and forms of theatre.

Mackenzie comes to the Festival with a prestigious background. Prior to this Festival, she was the Director of the London 2012 Cultural Olympiad, and Curator of its finale, the London 2012 Festival. This official cultural program for the Olympic & Paralympic Games was the largest UK Festival in the country's history, involving over 25,000 artists from every country participating in the Games, and over 20 million attendances.

She was also the General Director of the Manchester International Festival and Scottish Opera; Artistic Director of Chichester Festival Theatre, Executive Director of Nottingham Playhouse, Head of Strategic Planning for the South Bank Centre. She has also been Consultant Dramaturg to the Vienna Festival, Consultant to the BBC, Tate, London Symphony Orchestra, British Film Institute amongst others and Expert Adviser to 5 Secretaries of State for Culture, Media & Sport in the UK Government.

She is currently working for the BBC, Arts Council, Imperial War Museum and the British Council in Israel and Palestine.

Her staging of the Holland Festival is expected to be a perfect fit, given its tradition of innovation and her intention to expand it - for instance by staging performances, concerts and events in open public spaces.

Mackenzie's aim is for the Holland Festival "to have a real impact on visiting audiences, staging life changing events, and to build on the history of a festival of which the Netherlands, particularly Amsterdam, can be proud."

The event includes theatre, visual arts, classical, dance, opera and film – attracting a high calibre performers both from Netherlands and internationally. Venues include the Carré Theatre, Muziekgebouw aan 't IJ, Muziektheater, Stadsschouwburg and Westergasfabriek.

A few of the performances include:



Dutch National Opera and Ballet in a co-production with the Metropolitan Opera New York and the English National Opera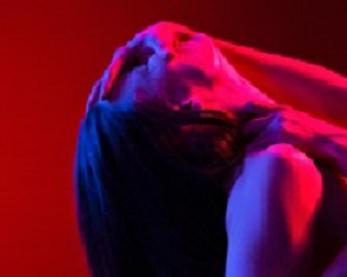 Lulu by the Dutch National Opera and Ballet in a co-production with the Metropolitan Opera New York and the English National Opera.

Lulu. Meet her, and she'll drive you crazy. Marry her, and she'll drive you to your death. For the first time, Dutch National Opera presents the complete version of Australian Alban Berg's breathtaking opera about the ravishing femme fatale who in a dramatic finale comes to her own violent end. Using colorful instrumentation and great variety in musical form, Berg created an irresistible masterpiece. Director William Kentridge took the inspiration for his staging from the silent movies of the 1920's and 1930's. The cast is led by Mojca Erdmann, in both voice and appearance is billed as "the perfect Lulu."

Fabio Luisi leads the Royal Concertgebouw Orchestra.

Beyond the Score: A Portrait of Pierre Boulez. This year the pioneer of abstraction, experiment and electronics in music will reach the age of ninety, an occasion which the Holland Festival will celebrate with this musical and theatrical journey through his eventful life as a musician.

The sets for the show have been designed by Pierre Boulez' close friend, the famous architect Frank Gehry, and created by Beyond the Score Creative Director Gerard McBurney. Key passages from Boulez' oeuvre, performed live by Asko|Schönberg and Slagwerk Den Haag, are seamlessly interconnected by narrated excerpts from letters and poems and dynamic, atmospheric projections of archival and new video footage of Boulez.

Billed as a "fascinating world of one of the greatest composers and conductors of our time."

Beyond the Score: A Portrait of Pierre Boulez, performed by Asko|Schönberg which is hailed as the leading ensemble for new music from Amsterdam, Slagwerk Den Haag and actress Bracha van Doesburg under the direction of Etienne Siebens.

The world premiere took place in Chicago on November 14, performed by the Chicago Symphony Orchestra, the company for which Boulez is conductor emeritus. The Chicago Symphony Orchestra initiated this project as part of Beyond the Score, a multimedia concert series that the orchestra has been organizing for over ten years.



Krapp's Last Tape by Samuel Beckett stars Robert Wilson.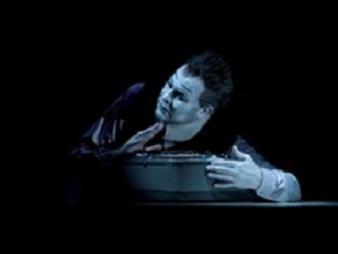 Krapp's Last Tape by Samuel Beckett stars Robert Wilson.

The story is set on 'a late evening in the future'. Krapp, a not very successful writer, celebrates his 69th birthday. He hauls out a tape recorder on which he makes a new recording every year on his birthday, reviewing the past twelve months. He's sitting in his den, lit by the white light above his desk, surrounded by old tapes. Looking for a tape to review, he decides to start off with the tape he recorded when he turned 39, thirty years ago. His taped voice sounds strong and rather self-important. He talks about his bowel trouble, which is still bothering him; about the recent passing away of his mother that year; and about a passionate love affair which ended that year. Still, he's adamant the break-up was inevitable.

He's changed much since then, the voice reports, and the coming years will make up for everything that went wrong before. But in turn, the 69-year old Krapp cannot but look back on his younger, 39-year old self with irritation and dismay.He realizes that the love he lost when he was 39, was the love of his life, and that he should never have let her go. The bravado and determination which drove him in his younger years has now completely left him.

Wilson plays a man in conversation with a younger version of himself.

Wilson directed, created the stage design and lights as well as taking the part of the older man in this production.

According to the Festival; "All the trademarks of his theatre are featured: his eye for detail, the synchronicity of movement, light and sound, and the spontaneity of his acting which make his live performances so exciting to watch. At the same time, his performance of Krapp is vintage Beckett - the author's minimalist style, never writing a word too many, seems tailor-made for Wilson. The simplicity of the story, direction and stage design emphasize the tragedy of a man looking back on his own life – a life in which he always looked back on his life – having to face the fact that it never amounted to anything he'd hoped it would, and that it never will. Along with the tragedy, the absurdity of the text and Wilson's caricatural acting style lend his staging an ironic, comical quality."



Broadway To Vegas is supported through advertising and donations. Priority consideration is given to interview suggestions, news, press releases, etc from paid supporters. However, no paid supporters control, alter, edit, or in any way manipulate the content of this site. Your donation is appreciated. We accept PAYPAL. Thank you for your interest.






ART AND ABOUT


ROYAL CHILDHOOD FILMS

Princess Charlotte. Photo: Clarence House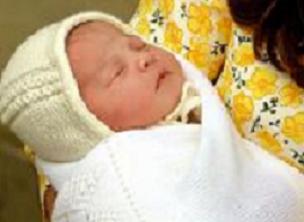 China fit for a Princess. Photo: Royal Collection Trust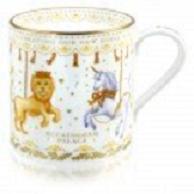 To celebrate the birth of Her Royal Highness Princess Charlotte of Cambridge, three short films of six generations of royal children are now showing at the Palace of Holyroodhouse in Edinburgh, Scotland.

Films including Princess Elizabeth and Princess Margaret with their parents, King George VI and Queen Elizabeth, and The Queen and The Duke of Edinburgh with Prince Charles and Princess Anne, private film footage shows a family relaxed and at play. Another film includes photographs of royal children, from Queen Victoria's grandson, Prince George (the future King George V), as well as Queen Elizabeth's grandchildren, Prince William and Prince Harry, and great-grandson, Prince George.

On display through October 31, 2015.

The daughter of Wills and Kate has also been honored with an official range of chinaware, including limited edition items. Each piece is decorated with a carousel of a heraldic lion and unicorn set among golden stars, surrounded by garlands, tassels and bows. The china is made by hand in England and finished with 22-carat gold.









SWEET CHARITY


11TH ANNUAL MUSICARES MAP FUND BENEFIT CONCERT will honor The Who's Grammy-winning singer/songwriter Pete Townshend, and The Who's longtime manager, music and film producer Bill Curbishley at the Best Buy Theater in New York on May 28.

Billy Idol, Joan Jett and Mick Jones will perform.

Bruce Springsteen and Doug Morris will present the awards.

Multi-Grammy-winning artist Bruce Springsteen will present Townshend with the Stevie Ray Vaughan Award for his dedication and support of the MusiCares MAP Fund and its addiction recovery programs. Curbishley will be presented with the MusiCares From the Heart Award for his unconditional friendship and dedication to the mission and goals of the organization by Doug Morris CEO of Sony Music Entertainment.

All proceeds will benefit the MusiCares MAP Fund which provides members of the music community access to addiction recovery treatment regardless of their financial situation.

GLADYS KNIGHT headlines a benefit for Dana's Angels Research Trust, Saturday, May 30, at the Palace Theatre in Stamford, CT.

Seven-time Grammy Award winner & the "Empress of Soul" Gladys Knight recorded some of the most iconic Motown hits, including Neither One of Us, If I Were Your Woman, and Midnight Train to Georgia.

Gladys Knight in Concert will be preceded by a 45-minute programing with celebrity hosts Kathie Lee & Frank Gifford, a brief presentation about DART with video and/or live opening musical performance and auction. Scott Shannon of WCBS-FM's The Big Show will introduce Gladys Knight.

DART, a public charity founded in 2002 by Phil and Andrea Marella, funds research into a rare disease affecting two of their children. The disease, Niemann-Pick type C is a fatal, cholesterol storage disease affecting children, though researchers believe unlocking the key to NPC may well lead to cures for HIV/Aids, heart disease, stroke and Alzheimer's.

THEATRE EAST and Yale Alumni Association of New York will present Elizabeth Parrish with the Laurette Taylor Award on Thursday, May 28th at Ramscale Studio in New York City.

The benefit starts with an exclusive cocktail reception, followed by dinner. The award will be presented to Ms. Parrish by Kate Mulgrew.

The ceremony will include tributes by alumna Meryl Streep and the Stella Adler Studio's Artistic Director, Tom Oppenheim.

The Theatre East Laurette Taylor Award is named after a pioneer of acting whose work on the stage influenced many generations of artists. The Award was founded in 2009 to pay tribute to the exceptional artistic contributions of Laurette Taylor, and to honor those industry members who have made vital contributions, on stage or off.

Theatre East is a nonprofit theatre company whose mission is to advance the dialogue of the shared human experience through works that utilize simple storytelling, providing their community with a platform to deepen their understanding of themselves, each other and the world they share.





ONE WORLD TRADE CENTER OPENS OBSERVATORY
The One World Observatory Tower opens to the public on May 29, 2015. Photo: Laura Deni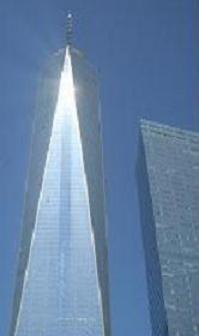 Built on the site of the twin towers destroyed on the 9/11 attacks, on Friday, May 29, 2015, visitors will be able to take the fastest elevator in the world, and in 48 seconds, reach the 102nd floor of the Observatory to view the panorama of New York City.

The Observatory is positioned on top of the tallest building in the Western Hemisphere, on levels 100, 101, and 102 of the 1,776 foot tall One World Trade Center building.

One feature of the Observatory is a platform streaming live video of the streets below.

Families are encouraged to bring their children and participate in interactive exhibits. Allow 45 minutes to one hour for the visit. The dining level is located on the 101st floor and can only be accessed by those Guests holding tickets to the Observatory.

Guests may have a souvenir photo taken of their experience. The photo area is located on the 101st floor within the guest pathway.

All guests must submit to a security screening prior to entering the Observatory experience. No smoking is permitted.

Officials are expecting between 3 to 4 million visitors a year.

One World Observatory is not affiliated with the Memorial and Museum.


THE MUSIC GOES ROUND AND ROUND


TWO'S COMPANY Charles Sherman's 1952 musical revue starring Bette Davis. Music by Vernon Duke. Lyrics by Ogden Nash. Additional lyrics by Sammy Cahn. Original Cast recording released on Masterworks Broadway.

Sheldon Harnick, Horton Foote and Peter DeVries also contributed material to the show, one of the last "of the sophisticated, satirical revues."

Bright and breezy, energetic and fluffy, a beautifully capture with each word easily understood. Starring, of all people, Bette Davis who isn't a singer, but somehow her indomitable voice tries. Actually, she's dreadful. She is so not a singer that the listener becomes captivated. Admittedly called "a fascinating relic," this CD is a must have for any Bette Davis fan, musical historian or anyone who appreciates a quirky hoot. There are also some excellent singers on this recording.

This was Bette's only appearance in a Broadway musical, although she collapsed onstage on the opening night of previews.

The story of getting his revue mounted serves as an incentive to buy to the CD.

The revue consisted of a series of show business-themed comedy sketches and song-and-dance routines tailored for the talents of its centerpiece, Bette Davis, who accepted the challenge of an eight-shows-a-week schedule when good film roles failed to follow her triumph in All About Eve.

Official reports state:"The out-of-town tryout opened at the Shubert Theatre in Detroit on October 19, 1952. In the middle of the third chorus of her first song, an overworked Davis collapsed. Revived by her then-husband Gary Merrill, she walked to the apron of the stage and with a smile commented to the audience, "Well, you can't say I didn't fall for you!," winning over both them and the critics, whose reviews were kind.

From there the show moved to Pittsburgh, where it was met with less enthusiasm, and the creative team began reshaping it on a nightly basis. By the time it reached Boston it was in serious trouble, and noted play doctor and Davis pal John Murray Anderson was called in for consultation. Roles were recast, sketches were eliminated and new ones added, and musical sequences were rearranged. Several songs were contributed by others, including Sheldon Harnick, and Horton Foote was among those who wrote additional sketch material.

"Among the leading lady's characterizations were Tallulah Bankhead, Jeanne Eagles, an actress involved with an Italian director, a hillbilly singer on a television variety show, and a performer in parodies of plays by Noël Coward and Arthur Miller."

The Broadway opening was postponed due to Davis being bedridden due to exhaustion. It finally raised the curtain on December 15, 1952 at the Alvin Theatre, where it ran for 90 performances.

In addition to Davis, the cast included David Burns, ballerina Nora Kaye, George S. Irving, Maria Karnilova, singer/actress Tina Louise who became best known as Ginger Grant on the television sitcom Gilligan's Island.

Ellen Hanley who was a musical theater performer best known for playing Fiorello H. LaGuardia's first wife in the Pulitzer Prize-winning Fiorello! was in the cast.

Also on board was actor Stanley Prager who began his career as the stage manager for the Broadway production The Skin of Our Teeth, in 1942. Then he became a movie actor until his name appeared on the Hollywood blacklist. Prager returned to Broadway as a performer. In addition to Two's Company, he appeared in Two on the Aisle, Room Service, and The Pajama Game. He switched gears and began directing with Neil Simon's Come Blow Your Horn in 1961. Additional theatre directing credits include Bravo Giovanni, Minnie's Boys, Don't Drink the Water, and 70, Girls, 70. On television he was the director for The Patty Duke Show.

Hiram Sherman, won the Tony Award for Best Featured Actor in a Musical for his role in this show. Sherman would go on to win a second Tony for How Now Dow Jones.

Under the direction of Milton Rosenstock, a fully formed, lovely and sprightly overture, associated more with a Broadway musical than a revue, leads into Theatre is a Lady. a whiz-bang production number with clever lyrics, sung by the chorus and Peter Kelley, who has an excellent tenor voice. Turn Me Loose on Broadway is Bette Davis trying to sing.

It's Just Occurred To Me. is ably performed by Kelley, Deborah Remsen and chorus. The musical arrangement has one visualizing elaborate Busby Berkeley type staging.

As with satirical revues, some of the lyrics are lame - especially those in It Just Occurred To Me.

"It just occurred to me its Spring
And spring's a necessary thing."

A Man's Home performed by Hiram Sherman is a send-up of Frank Lloyd Wright who has constructed a house that blends so well into the surroundings that the owner can't find it. Roundabout sung by Ellen Hanley, who possesses a beautiful soprano voice. Roll Along, Sadie again brings on Davis and Sherman and the chorus in a comedy number with Davis yelling her lines. Out of the Clear Blue Sky with Kelley and Sue Hight is a romantic ballad.

Esther is a rumba tempo comedy number for David Burns. Haunted Hot Spot is a semi-torch song for Hanley which permits Henley's exquisite voice to soar.

The last three numbers feature Bette Davis, who has trouble even talking on key. One stunningly awful number is a country tuner, Purple Rose, which goes on and on for six minutes. Cringe worthy. If you don't reach for the ear plugs, you'll double up laughing.

A collector's item which is also a fun listening experience.

TOKIO CONFIDENTIAL Words and music by Eric Schorr. Orchestrations Zak Sandler. Musical Director Albin Konopka. Distributed by Broadway Records.

A studio recording of the 2012 off-Broadway musical. What brings this CD to the front burner is the remarkably talented Jill Paice, whom I so enjoyed when I first saw her in Curtains. See Broadway To Vegas column of September 10,2006.

She ia currently doing a smashing performance as the rich American heiress Milo Davenport in An American in Paris. She starred in Tokio and recreates her role, as does Manna Nicholas and Jeff Kready. They are joined by Bruce Warren, Telly Leung, and Jose llana who were not in the 2012 production.

Tokio Confidential is the story of Isabella, an adventurous young American Civil War widow who in 1879 sails for Japan, wanting to discover why her late husband so loved the country. There she meets Horiyoshi, the most renowned Japanese tattoo artist of his time. She becomes fascinated with the country's laws - forbidding its citizens to bear tattoos, but permitting tattoos on foreigners. When Isabella decides to have Horiyoshi engrave her entire body and turn her into a living work of art, their intimate and (for her) intensely painful tattoo sessions ("a tattoo without pain is not a tattoo") lead to a passionate love affair. Ultimately, Isabella's transformation into a stunningly beautiful canvas places her in mortal danger, something the two lovers could never have predicted when they embarked on their artistic journey together.

With a 2012 run of only 13 performances (February 5-19, 2012) at the Atlantic Theatre, Stage Two, the score portion of Tokio has dialogue mixed with song to tell this story. This is a musical told in song, rather than a musical number brought to advance the plot; the lyrics are the plot line.

More in a chamber music style than a razzamatazz Broadway musical high kick, Jill Paice's voice is stunning. Her acting skills evident in the spoken word sections. The same can be said for Bruce Warren as Ralph.

The original off Broadway mounting featured a four-piece orchestra (piano, bass, flute, reeds) which has been expanded to nine for this CD. Excellent score by Eric Schorr with Zak Sandler creating arrangements infused with eastern and western sounds making an easy on the ear mashup. Orchestra: Conductor/Piano Albin Konopka. Members: Chris Reza, Daniel Sullivan, Chad Yarbrough, Belinda Whitney, J. J. Johnson, Dick Scarpola, Yoko Reikano Kimura, and Chip Fabrizi.

Recorded at P.P.I. Recording, New York City. Engineer Chip Fabrizi. Production Associate Regina Elliott.


TROLLING FOR BROADWAY TICKET BUYERS
A man dressed as a eunuch offers flyers for The Visit. Photo: Laura Deni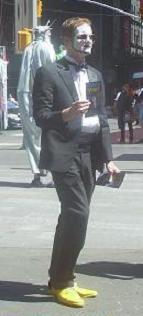 A gal struts her stuff promoting Chicago. Photo: Laura Deni

The costumed characters trolling Times Square, among them Mickey and Minnie Mouse, Statue of Liberty, and an assortment of comic book heroes, have been joined by costumed humans touting Broadway shows. Unlike the Mickey and Minnies, they don't hustle the tourists for tips. Rather, the polite and personable men and women almost beg passers-by to go see a Broadway show - preferably the show they are promoting.

There have always been show promoters passing out flyers for Broadway shows around the ticket selling booth. What seems to have increased is the number of show promoters in costume which are positioned along a three block area. In the past there might have been one show that had somebody in a get-up. Now, having a person pass out a flyer necessitates a wardrobe fitting. None of the sidewalk actors are in the productions.

Kander and Ebb's The Visit, is a fabulous, serious play with music. It's nominated for five Tony Awards, including Best Musical and stars Tony winner Chita Rivera. See Broadway To Vegas column of May 10,2015

Men costumed as her eunuchs parade the area. So are multiple costumed human ads for the longest running American musical in Broadway history, Chicago, starring Grammy winner Brandy through June 21. Performances at the 1080-seat Ambassador Theatre are doing 94.7 percent capacity.

The Radio City Spectacular seemed to have a smiling costumed girl every few feet. Also in costume somebody dressed as a sailor handing our flyers for On the Town.

Also represented, the long running and popular musicals Les Miz mounted at the 1409 seat Imperial Theatre, doing 78.1 percent capacity, and Phantom of the Opera, performing in the 1,605 seat Majestic Theatre, with business at 84.6 percent capacity.

While The Visit is now offering discounted balcony seats until Tony night, June 7, why would such a long running crowd pleaser as Les Miz need to ply their product?

"There is a lot of tough competition. People think more before spending their money," one of the characters told me. "Times are tough, even for the hit shows."


SPREADING THE WORD


92Y'S LYRICS & LYRICISTS presents To Life! Celebrating 50 Years of Fiddler on the Roof with Sheldon Harnick. Generations around the world have grown up with Fiddler on the Roof and such unforgettable, iconic songs as If I Were a Rich Man and Sunrise, Sunset. But getting to the "final Fiddler" was a fascinating process, and on May 30, 31 and June 1 - closing the 2015 Lyrics & Lyricists season - lyricist Sheldon Harnick takes us inside the creation and history of this cultural landmark.

Artistic director Rob Fisher leads a cast featuring vocalists Judy Blazer, Kerry Conte, Jonathan Hadary, Ross Lekites and Alan Schmuckler performing such songs as We've Never Missed a Sabbath Yet (the show's original opening number; portions of its melody later heard in Matchmaker, Matchmaker), That's Life (cut before it could even be rehearsed), and Dear, Sweet Sewing Machine (loved by cast and creative team, but not by out-of-town tryout audiences). Familiar melodies with unfamiliar lyrics, rarely heard words and music, even lines never set to a tune - Sheldon Harnick brings Fiddler on the Roof "to life" as he never has before.

Sheldon Harnick, writer and host. Rob Fisher, artistic director and piano. Gary Griffin, stage director.

May 30, 31, and June 1 at 92Y in New York City.

INVISIBLE LIFE THE MUSICAL based on E. Lynn Harris' best-selling novel, Invisible Life will star Tony Award nominee Brenda Braxton, . Grammy nominated Frenchie Davis, Drama Desk Award Winner and 2 times Tony Award nominee Vivian Reed, Milton Craig Nealy, Ann McCormack, Gregory Williams, Brianna Horne and Terry Lavell.

With a musical score by Motown Legends Ashford & Simpson, Costume design is by Gary Allen, Proteus Spann is the Scenic Designer and Directs.

The plot follows an African American man's journey of sexual discovery, in which he realizes he is bisexual. The book coined the phrase "on the down low" and has touched readers through the beautifully written narrative and characters that evoke humanity, common sense, and truth. The special limited run will feature six performances for the general public and industry audiences on June 25, 26, 27, 29 and 30 at the world famous Apollo Theater in New York City.

SHAKESPEARE MARATHON 86 hours, 101,919 lines.

Starting with Taming of the Shrew and finishing with A Winter's Tale, come and join Dunedin's vibrant acting community as they attempt to complete this nonstop, back-to-back reading of Shakespeare's canon. May 21-25 at Fortune Theatre in Dunedin, New Zealand.

LECTURE: MARK CAQUE: MORE BALLADS THAN BULLETS: THE POWER OD SONG IN THE AMERICAN CIVIL WAR Music was everywhere in the U.S. Civil War - on the field of battle, on the march, in camp, at political rallies, along the streets and atop the parlor piano with loved ones back at home. After the very fabric of nation had torn, lyrics and melody offered a day-to-day meditation about what it meant to be American. Out of this cacophony of voices arose the possibilities, choices, and - eventually - the patriotic path that would reunite the nation.

Mark Clague, an associate a professor of musicology and director of research in the University of Michigan School of Music, Theatre & Dance, will discuss his research on music of the Civil War era, particularly The Star-Spangled Banner, which later became the national anthem. Clague's interests center on questions of how music forges and shapes social relationships.

May 29 in the Little Theater at the Toledo Museum of Art in Toledo, Ohio.

THE MINNESOTA ORCHESTRA played to full houses in Havana, Cuba on May 15-16, 2015. The Teatro Nacional, a 2,056-seat theater on the Plaza de la Revolución, was sold out. The Minnesota Orchestra last performed in Cuba in 1930.

A highlight was when the Minnesota musicians teamed up with Cuban pianist Frank Fernández and two local choirs to perform Beethoven's Choral Fantasy.




OTHER PEOPLE'S MONEY


FISH IN THE DARK the Broadway production by Larry David has recouped its entire capitalization.

THE COLLEGIATE CHORALE raised more than $300,000 at its annual Spring Benefit featuring the U.S. premiere of Kurt Weill and Franz Werfel's The Road of Promise at Carnegie Hall in New York City on May 7, 2015. Proceeds will go toward The Chorale's artistic and education initiatives.

The Chorale's Spring Benefit honored the Simon Wiesenthal Center. The event was led by Co-Chairs Susan Baker and Michael Lynch, Jewelle and Nathaniel Bickford, Antonia and George Grumbach, Judith and Morton Sloan, Deborah F. Stiles, Adèle and John Talty, Barbara Hope Zuckerberg,





MATILDA THE MUSICAL Book by Dennis Kelly. Based on the beloved novel by Roald Dahl. Music & Lyrics by Tim Minchin.

Directed by Matthew Warchus.

Winner of 50 international awards, including four Tony Awards, Matilda The Musical is the story of an extraordinary girl who, armed with a vivid imagination and a sharp mind, dares to take a stand and change her own destiny.

Set & Costume Design by Rob Howell. Choreography by Peter Darling. Orchestrations & Additional Music by Chris Nightingale. Sound Design by Simon Baker. Lighting Design by Hugh Vanstone. Illusion by Paul Kieve.

May 29 - July 12, 2015 at the Ahmanson Theatre in Los Angeles.

LEGENDS! a play by Pulitzer prize winner James Kirkwood.

Directed by Christopher Renshaw.

Starring real life sisters Harley Mills and Juliet Mills. Featuring Maxwell Caulfield and Leah Howard.

As the sun sets in Manhattan the claws come out as two famous but fading movie stars try to upstage one another. Leatrice Monsee (Hayley Mills) and Sylvia Glenn (Juliet Mills) are hustled by a theatre producer played by Maxwell Caulfield to kick-start their once-luminous careers by starring in a Broadway–bound play. There's just one problem: they loathe one another.

"Welcome to the satirical and sentimental world of Legends! a fun house of gossip, rivalry, reminiscence, longing, scandal and - a sexy male stripper named Boom Boom."

The pairing of screen stars Hayley Mills and Juliet Mills, daughters of the legendary actor Sir John Mills, is drawing renewed interest in this play which "promises to be a sensational sister act full of back-stabbing and banter, wisdom and wit."

Set design by Justin Nardella.

Opens an Australian tour May 28 at OPAC Playhouse in Brisbane, Australia.

COMPANY Music and lyrics by Stephen Sondheim, book by George Furth.

Directed by Hunter Foster.

Starring Justin Guarini as Bobby.

This new production of the smart, savvy show is about a bachelor whose married friends push him toward the altar.

"It's Robert's 35th birthday, and his friends want him to settle down. During a hilarious array of interactions over dinners, drinks and even a wedding, 'those good and crazy people my married friends' finally make Robert understand that being alone isn't really being alive.

Choreographed by Lorin Latarro.

May 29-June 21 at Bucks County Playhouse in New Hope, PA.

HIGH SOCIETY music and lyrics by Cole Porter and a book by Arthur Kopt based on the 1956 film of the same name.

Directed by Maria Friedman.

Kate Fleetwood The cast stars Kate Fleatwood as socialite Tracy Lord, Rupert Young as her ex-husband C.K. Dexter Haven, Jamie Parker as tabloid reporter Mike Connor, Barbara Flynn as Margaret Lord and Annabel Scholey as tabloid photographer Liz Imbrie.

Also faetured are Ellie Bamber as Dinah Lord, Richard Griev as George Kittredge, Christopher Ravenscroft as Seth Lord, Jeff Rawle as Uncle Willie, Ricky Butt as Mavis and Paul Kemble as Chester.

The ensemble comprises John Brannoch, Omari Douglas, Claire Doyle, Chris Ellis-Stanton, Leon Kay, Sammy Kelly, Zak Nemorin, Katharine Pearson and Philippa Stefani.

They are accompanied by Joe Stilgoe and the High Society Band. The production is designed by Tom Pye, with lighting by Peter Mumford, sound by Simon Baker and choreography by Nathan M Wright. The musical director is Theo Jamieson, with Christopher Walker as orchestrator and arranger. Casting is by Maggie Lunn, with ensemble casting by Will Burton.

On stage at The Old Vic in London.


WHO'S WHERE




TONY BENNETT AND LADY GAGA deliver their dynamite one-two punch in a two nighter May 30-31 at The Hollywood Bowl in Hollywood, CA.

DIANA KRALL the eight time Juno and five time Grammy winner brings her Wallflower World Tour to Southam Hall , National Arts Centre in Ottawa, Canada next Sunday, May 31, 2015.

U2 iNNOCENCE + EXPERIENCE TOUR have a split four night engagement at the Forum in Los Angeles on May 26, 27, 30 and 31.

NICKELBACK end their tour of Australia with a performance Tuesday, May 26, at the Perth Arena in Perth, Australia.

RUSH brings their tour to the Verizon Wireless Amph at Encore Park in Alpharetta, GA on Tuesday, May 26.. Thursday's gig is at the Greensboro Coliseum in Greensboro, NC. Saturday's show is at the Jiffy Lube Live in Bristow, VA.

CHICK COREA AND HERBIE HANCOCK perform Tuesday, May 26, at OPAC Concert Hall in Brisbane, Australia. On Thursday they bring their talents to Hamer Hall in Melbourne, Australia. On Saturday they appear at the Civic Theatre in Auckland, New Zealand.

NEW KIDS ON THE BLOCK take to the stage Tuesday, May 26, at the U.S. Band Arena in Cincinnati. Wednesday's show is at the Bridgestone Arena in Nashville. On Friday the show is at The Palace of Auburn Hills in Auburn Hills, MI. Saturday's stop is at the Van Andel Arena in Grand Rapids, MI. Next Sunday, May 31, they can be enjoyed at the Bankers Life Fieldhouse in Indianapolis, IN.

AN EVENING WITH DAVID SEDARIS comes to The Ulster Hall in Belfast, Ireland on May 31, 2015.

NEIL DIAMOND performs Tuesday, May 26, at the Toyota Center in Houston, TX. On Thursday he's in the spotlight at the American Airlines Center in Dallas. Next Sunday finds him at the Pepsi Center in Denver.

JAMES TORME performs May 29-30 at the Smith Center in Las Vegas in a celebration of music's greatest legends, from Ella Fitzgerald, Ray Charles, and Nat "King" Cole, to Miles Davis, Frank Sinatra, and of course, his own father, 3-time Grammy Award winner Mel Tormé.

IDINA MENZEL brings her distinctive voice to Olympic Hall in Seoul, Korea on Saturday, May 30.

SUTTON FOSTER a two-time Tony winner joins the Boston Pops for evenings at Boston's Symphony Hall June 2-3. Keith Lockhart will conduct the famed orchestra for both performances.


FINAL OVATION


BRUCE LUNDVALL was an American record company executive, best known for his period as the President/CEO of the Blue Note Label Group. He died May 19, 2015 in New Jersey.

In a career spanning half a century, Bruce Lundvall signed a wide array of artists, including Willie Nelson, Herbie Hancock, Dexter Gordon, James Taylor, Stan Getz, Wynton Marsalis, Dianne Reeves, Richard Marx, Natalie Cole, Cassandra Wilson, Anita Baker and Norah Jones. He headed the following labels: Blue Note Records (jazz), Angel Records (classical), and Manhattan Records (adult pop).

Lundvall began his music career in marketing at Columbia Records where he remained for 21 years, becoming President of the domestic division of CBS Records in 1976. In the course of his tenure, he built Columbia's jazz roster into the largest of any major label.

Neil Portnow President/CEO of The Recording Academy issued the following statement: "Over the course of more than five decades, Recording Academy Trustees Award recipient Bruce Lundvall discovered, signed, promoted and guided the careers of some of the most respected artists in the world. In addition to his keen ear and knack for recognizing superstar talent, Bruce was an extraordinarily kind and compassionate man, making him one of the music industry's most notable and respected figures. Our music community has lost an influential, trailblazing and dynamic friend and his passion for music will forever live on. Our deepest condolences go out to his family, friends, and to all who have had the pleasure and good fortune of having known or worked with him."

Lundvall is survived by his wife Kay, three sons, and two grand-daughters.

BOB BELDEN an American saxophonist, arranger, composer, bandleader and producer, noted for his Grammy Award winning jazz orchestral recording titled The Black Dahlia died May 20, 2015 in n New York City after suffering a massive heart attack in his Upper West Side apartment. Belden was removed from life support at Lenox Hill Hospital after being non-responsive for more than 24 hours. He was 58.

He was the first American musician to perform in Iran since its 1979 revolution.

He conducted, orchestrated and wrote arrangements for McCoy Tyner, Herbie Hancock, Joe Henderson and others; created and coordinated multi-artist theme albums including Indian and Latin music tributes to Miles Davis as well as tributes to Prince, the Beatles and Sting; compiled historical releases and box sets on Miles and others for major record labels; wrote liner notes and articles for jazz publications; and served as an A&R executive for Blue Note Records.

As a sideman and session musician, he worked over the years with such artists as Hancock, Byrd, Tyner, Sting, Chaka Kahn, Joe Zawinul, Jack DeJohnette, Paul Motian, Cassandra Wilson, Chick Corea, Diane Reeves, Wallace Roney, Ron Carter, Gary Peacock and Tony Williams.

Neil Portnow President/CEO of The Recording Academy issued the following statement: "Bob Belden was a true renaissance man — multi-instrumentalist, composer, session player, producer, educator, historian, label executive and more. An industry trailblazer, his musical talent and innovative spirit earned him three Grammy Awards and tremendous respect within the jazz community and beyond. We have lost a gifted and cherished musician and our sincerest condolences go out to Bob's family, friends, collaborators and all who have been impacted by his remarkable work."

PAUL JOSEPH "P.J." PAPARELLI Scranton area native, and artistic director of the American Theater Company in Chicago, died May 21, 2015 of injuries suffered earlier that week in a car crash in Scotland, where he was vacationing.

During Papparelli's seven-year tenure, ATC took risks with documentary-style plays including Columbinus, which he co-authored, about the Columbine High School shootings, and The Project(s), a story about public housing in Chicago, which he also co-authored, along with the world premiere of Ayad Akhtar's controversial Disgraced, which won the Pulitzer Prize and moved to Broadway where was nominated for a 2015 Tony Award as Best Play.

He also served for four years as artistic director of the Perseverance Theatre in Juneau, Alaska.

His father Paolo Paparelli died when he was 14. He is survived by his mother Jean Marie Paparelli, and two brothers, Vince Possanza and Gino Possanza.

CONDOLENCES TO EGOT WHOOPI GOLDBERG on the death of her older brother Clyde Johnson, who died May 11, 2015 of a brain aneurysm. He was 65.
















Next Column: May 31, 2015
Copyright: May 24, 2015 All Rights Reserved. Reviews, Interviews, Commentary, Photographs or Graphics from any Broadway To Vegas (TM) columns may not be published, broadcast, rewritten, utilized as leads, or used in any manner without permission, compensation and/or credit.
Link to Main Page
---
Laura Deni



For the snail mail address, please E-mail your request.
CLICK HERE FOR COMMENT SECTION