! >
Broadway To Vegas
  
SHOW REVIEWS     CELEBRITY INTERVIEWS     GOSSIP     NEWS 
| | |
| --- | --- |
| | |
Copyright: May 24, 1999
By: Laura Deni
CLICK HERE FOR COMMENT SECTION

DEBATE OVER INTERNET MUSIC DOWNLOAD

Ahmet Ertegun
Ahmet Ertegun, who founded the Atlantic record label in 1947, was the keynote speaker at the second annual Emerging Artists & Talent in Music (EAT'M) conference, which just wrapped in Las Vegas. Founded by David Cassidy's wife, Sue Shifrin-Cassidy and Lisa Tenner, EAT'M offers a showcase for unaffiliated artists and forums to discuss important music industry issues.

The hottest topic spinning concerned downloading music from the Internet.

"The reality is that for as long as there has been a music business, people have been excited and threatened by new technology," Ertegun told the crowd which included both record label executives and promoters of the latest in Internet technology.

"Technology is merely a tool to get the music out there. The medium is not the message," he continued. In both his keynote address and in speaking to key players Ertegun hammered that "artists and composers have to be compensated."

Ertegun was optimistic that "we will find a way of using modern technologies without sacrificing the lives of the people involved in the industry."

A lively seminar "Internet - Nuts and Bolts" brought intelligent, staccato salvos from Michael Robertson, CEO of MP3.com and Ron Sobel of ASCAP.

"Music is very viral," charged Robertson. "It's how stars are broken. We're not big fans of security at MP3.com. Security gets in the way with consumers."

"The net is also a marketplace," countered Sobel. "And therein lies the rub."


CELEBRATE WITH ECSTATIC NAKED TWIRLING


Tyne Daly, who snagged a 1989 Tony award for her portrayal of Mama Rose in Gypsy and became a household name through the television series Cagney and Lacy, is returning to the boob tube.

Tyne Daly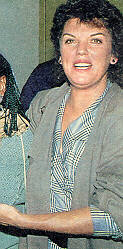 A new CBS entry casts Daly in Judging Amy, a series about a young female judge who moves from the city to find closer family ties. Amy Brenneman plays the single mother judge of a daughter, with Daly as her mother.

"They think you've died if you haven't been on TV on a regular basis in three years," Daly once explained. "It doesn't matter to them that I was on Broadway grabbing my Tony. You can't think about things like that or you get bummed."

The talented formally trained actress, who made her theatrical debut in 1966, has had an eclectic career punctuated by interesting commentary.

When she was cast as the frump Lola in William Inge's Come Back Little Sheba, she opined; "I'd like to be done with the sad and frumpy ladies. In some ways, I hope this is my definitive frump."



Tyne Daly in Gypsy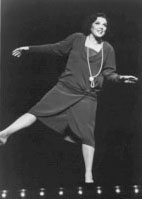 After she took part in the original cast recording of Gypsy she offered her own review. "It was a nightmare. People were being mean to each other instead of loving. I was sick - and still playing shows. The pressure was huge. So when people come up and say - Will you sign this album? - I tell them to take it back to the store and get their money back!"

When her weight gain and then loss made headlines, Tyne retorted: "My relationship with food is violent. If they'd just make food nasty, we'd all be better off. I once had a dream that I was literally standing at the Pearly Gates and there was this angel with wings who asked me my average lifetime weight. If you don't have a penis the only true cultural contribution you can make is to lose 35 pounds. I didn't gain or lose nearly as much as the press said. I'm vain about my legs. I think I have great legs."

Three years ago when Tyne approached her 50th birthday, she told the London Sunday Mirror "My friends and I will gather among the giant redwood trees in Northern California and wait until the moon is full. Then, stark naked, I will start the ecstatic dancing. There just has to be a ceremony for being 50, and I want to enter the second half of my life like a brand new baby."

What Daly did on her personal big five zero day was to shave her head, wanting to start her second half-century in the same hairless state as her first. She says she's "always felt that I was going to live to be 86."

Her grandfather was a Methodist minister. "The ministry, the theater and the law are all very close. It's all about being more righteous as a human being. "

Although Daly has a room full of awards, she has learned to keep her perspective. Once while with her daughters in a New York hotel, paparazzi sprang out, bulbs flashing. "My kids were upset. So I was real brave. I walked up to them and said - Listen, fellows. Give us a break. We're on vacation. They said - We're not interested in you, lady. Elizabeth Taylor is in the hotel. - It was very humbling, which is good."


ASTAIRE AWARDS TO BE PRESENTED


The 1999 Astaire Awards will be presented at a benefit luncheon for the Theatre Development Fund on Thursday at New York's The Supper Club. Bebe Neuwirth, who won the 1997 Astaire Award for her work in Chicago, will emcee.

FRED ASTAIRE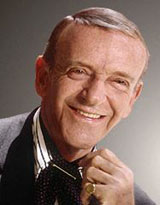 Broadway choreographers Patricia Birch and Matthew Bourne and Swan Lake dancer Adam Cooper will be honored.

The awards were established in 1982, with the cooperation of Fred Astaire, by the Anglo-American Dance Foundation to salute "outstanding achievement in dance on Broadway each season on the part of a dancer or dancers and choreographer."

The awards honor Astaire and his sister, Adele, who appeared in 10 Broadway musicals between 1917 and 1931. Astaire also starred on Broadway without his sister in the 1932 Cole Porter musical, The Gay Divorcee, which was his last appearance in a legitimate theater production.

In honor of the centennial birthday of Astaire, who was born May 10, 1899, the Theatre Development Fund will celebrate the career of the famed dancer during Thursday's awards ceremony.

Four time Tony award nominee Birch will receive his Astaire Award for Best Choreography for the Lincoln Center and Livent co-production of Parade. London born Adam Cooper, named Best Dancer, created the award winning role of Swan in Swan Lake. Bourne, artistic director of the artistic director and choreographer of Adventures of Motion Pictures of Britain, will receive a special award for concept, direction and choreography for Swan Lake. His latest creation Cinderella earned rave reviews at the Ahmanson Theatre in Los Angeles.


DAVID MERRICK HONORED

Legendary Broadway producer David Merrick is honored tonight, Monday May 24, with the 10th annual Oscar Hammerstein Award.

The gala benefit in the sanctuary of Saint Peter's Church in the Citicorp Center, is staged by the York Theatre Company, under the guidance of Artistic Director James Morgan and Managing Director Robert A. Buckley.

Eight-time Tony Award winning producer David Merrick, who has produced over 100 musical and dramatic works will receive the Award for Lifetime Achievement in the Musical Theatre.

Merrick's award will be presented by Mary Rodgers Guettel, composer of Once Upon a Mattress.Cameron Mackintosh and Jerry Herman serve as honorary chairmen for the event, which is hosted by Orson Bean.

Entertainment will include appearances by Tony Roberts, Anna Maria Alberghetti, Judy Kaye, Tom Wopat, Tammy Grimes, Michael Rupert, Brian D'Arcy James, Dee Hoty, and Lee Roy Reams.


JAZZING IT UP
DAVE BRUBECK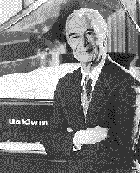 The Bell Atlantic 1999 Jazz Festival heads into Boston. On May 26 the downbeat is by Kurt Elling & His Trio at Scullers.

On May 27 the Billy Pierce Quartet can be enjoyed at Ryles. Same night the Pharoah Sanders Trio begins a three-night stand at Regattebar and the incredible Hugh Masekele does a two nighter at Scullers.

On Friday, Medeski Martin & Wood plus DJ Logic and Leon Parker Solo take over the Orpheum Theater. At the Berklee Performance Center it's none other than An Evening With Dave Brubeck with Bill Ware's Vibes. The Ryles presents the Ryles Jazz Orchestra with special guest Baritone sax legend Nick Brignola.

The jazzfest continues in Boston through May 30 then heads to New York with a different roster of jazz greats.


SOAP STAR HEADLINES NEW COMEDY


Florencia Lozano - she plays tough-as-nails attorney Te' a Delgado - on ABC's One Life To Live, will star in Lick, a new comedy about the music industry.

Lick takes place in contemporary New York City at Lick Records, record company of the moment, where what happened yesterday isn't nearly as important as what's happening ten minutes from now. In this slightly off-center world. Lick's president, the sexy, near-legendary Joan Gore is played by Lozano. Her subordinate, and undeclared rival, Mike is brought to live on stage by Peter McCabe. In their sights is a hot, young singer, the fashionable arrogant, purposely unwashed, singularly named Scruff - played by Quentin Mare'.He believes he is in control of both his fate and career. Nothing, as he finds out, could be farther from the truth.

Lick is authored by Catherine Celesia Allen, a founding member of The Lab Theater Company, is the winner of a Julie Harris Playwriting Award for her courtroom drama, The Essence of Being. Eva Sacks will direct Lick, which begins performances June 4. At the 78th Street Theatre Lab.


PRIDE HAS WORLD PREMIERE
PRIDE cast (from left): Erik Kever Ryle (Alberto), Steven Patterson (Neil), Michael McAllister (Brady), and Jett Pihakis (Doug). Photo by John Sowle.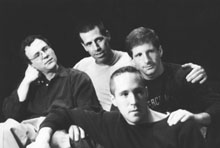 We were delighted to hear from Steven Patterson of Kaliyuga Arts in San Francisco. The guy is a bit exhausted, but for good reason. "We're in the midst of five different projects at the moment," he reported. "Most exciting is the world premiere of a new comedy called Pride, by Myles Weber, which we'll be staging at the Exit Theatre in San Francisco on weekends through Gay Pride month.

"The playwright is currently in residence with us, working on the piece as we prepare for the opening June 7. Pride is a scathing new comedy that came to us as an unsolicited manuscript in the mail. See, it can happen!," exclaimed Patterson.

"John has also designed sets for George Walker's (See Broadway To Vegas column of Feb. 1, 1999) Problem Child which will be playing across the hall at the Exit during our run, and is heading back to helm a 3-performance run of Dan Carbone's Up From The Ground at Westbeth Arts Center in Manhattan.

"We'll also be staging the U.S. premiere of an opera by British composer Judith Weir called Heaven Ablaze In His Breast in June, at the College of Marin," continued Patterson.

"No time to breathe these days," he added. What wonderful reasons to be short of breath is all we can add.



Broadway To Vegas is supported through advertising and donations. Priority consideration is given to interview suggestions, news, press releases, etc from paid supporters. However, no paid supporters control, alter, edit, or in any way manipulate the content of this site. Your donation is appreciated. We accept PAYPAL. Thank you for your interest.


BLESS THE BEASTS AND THE CHILDREN


Illusionists Siegfried & Roy, officials from Exxon Corporation, and the National Fish and Wildlife Foundation held a press conference at the Mirage Hotel to announce a partnership to help save the tiger in the wild.

At the press conference, which was held at noon on the day of the Atlanta school shootings, an emotional Siegfried compared raising animals and children. He stressed that they both need to know they are loved, but need to be taught discipline and respect. He begged for parents to spend more time with their children, emphasizing that it takes time to train an animal and raise a child. He divulged that while he didn't come from a family that was physically demonstrative, his mother was home, knew what he was doing and he knew he was loved. He also knew he was required to respect other people. As his partner, Roy, shared the podium, Siegfried added that their animals are their children and it takes a lot of time, attention and love to raise them.

SIEGFRIED AND ROY AT PRESS CONFERENCE
Photo by: Laura Deni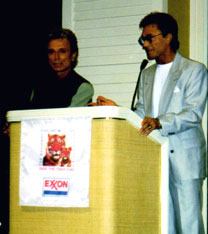 For more than two decades, Siegfried & Roy have maintained an unequaled commitment to white tigers and lions. Their internationally acclaimed Mirage performance features the rare white tiger.

At the beginning of this century, there were approximately 100,000 tigers in the wild. Today, there are fewer than 7,500.

"A key objective of the Save The Tiger Fund is developing public support for tiger conservation," stated Tony Atkiss, Exxon's vice president for public affairs. "The tiger can be considered an umbrella species because it is crucial to conservation in the wild - when you save the tiger you are actually helping to preserve an ecosystem."

Exxon has committed more than $6 million over five years to help save the tiger, its corporate symbol for nearly 100 years. The centerpiece of that commitment is the Save The Tiger Fund, established in 1995 by Exxon and the National Fish and Wildlife Foundation. Since then Save The Tiger Fund has supported 93 conservation projects. At the press conference a new 30-second Save The Tiger commercial was premiered that features Siegfried & Roy. The spot was produced by McCann-Erickson and premiered on the Discovery Channel last Thursday.

Legislation enacted in the United States last year makes it illegal to sell, import or export any product that claims to contain tiger bones or any other substance made from tigers or rhinos.

The Amendment to the Rhinoceros and Tiger Conservation Act of 1994 (P.L. 105-312) will help keep these products out of the United States, which has been a major market.

An independent council including seven of the world's leading zoologists, conservationists and tiger authorities oversee the Save The Tiger Fund. On that committee is Dr. Lee G. Simmons, Director of the Henry Doorly Zoo in Omaha, Nebraska. His zoo is currently at the forefront of helping rhinos rebound.

Once on the brink of extinction, Southern white rhinos in Africa are being sold to faraway zoos to raise money for wildlife conservation. Noted for its efforts at breeding endangered species in captivity, the Henry Doorly Zoo will house three rhinos beginning this summer.


OTHER PEOPLE'S MONEY


ANDRE AGASSI has asked the Nevada Senate Finance Committee to pass Assembly Bill 348, which addresses compensation for charter school employee - exempting them from collective bargaining requirements concerning hours and days worked. Agassi wants to build a charter school next to the 25,000-square-foot Boys and Girls club his foundation built in Las Vegas. His foundation and the federal government have each pledged $750,000. Another $750,000 is needed. Testifying via a four minute video Agassi pleaded; "I am looking for you to be our partner." Finance Chairman Bill Raggio, R-Reno, stated that this is a tight money year, and that Agassi's request will be competing with all the other money requests.

DESERT INN HOTEL sold to Sun International for $275 million in cash. On April 24, 1950, Wilbur Clark's Desert Inn became the fifth resort to open on the Las Vegas Strip. The 300 room resort held a two-day gala attended by Edgar Bergan and Charlie McCarthy, Vivian Blaine, Pat Patrick, the Don Arden Dancers and the Desert Inn Orchestra conducted by Ray Noble. In September 1951 at the age of 36, Frank Sinatra made his Las Vegas debut at the Desert Inn. Ironically, it is also where he made his last Vegas appearance.



THEODORE BIKEL opens May 29 at the Jewish Repertory Theater in N.Y. starring in Arje Shaw's The Gathering. The Tony Award and Academy Award nominee portrays a Holocaust survivor, whose son is a speech writer for President Ronald Reagan. The play is based on Reagan's controversial 1985 visit to Germany's Bitburg Cemetery, the last resting place of some notorious Nazis. Regan's visit caused an uproar in the American Jewish community.

The five-member cast, under the direction of Rebecca Taylor, also includes Robert Fass, Susan Warrick Hasho and Peter Hermann.

The design team is composed of Robert Joel Schwartz (sets), Susan L. Soetaert (costumes), Scott Clyve (lighting) and Jeremy M. Posner (sound). Original music is by Andy Stein.

SACRAMENTO LIGHT OPERA ASSOCIATION has an upcoming marvelous season. West Side Story, leads off July 12, followed by The Most Happy Fella, Bye Bye Birdie, 42nd Street, Carousel, and A Chorus Line.

NINE has its regional premiere presented by the Clef Theatre Company, at the Nomad Theatre, Denver. Donald Berlin directs; Melinda Wilson, Erica Sarzin-Borrillo, Karen LaMoureaux, Paul Page, Deborah Persoff, SuCoffet-Berg and Lori Hansen. Performances begin June 6.

THUNDER FROM DOWN UNDER that traveling band of hunky Aussies' have planted their jock straps at the Stardust Hotel in Las Vegas for a month of twice a night audience titillation. Next week's column will have a display of the stripped down pictures taken at the press party, which followed their opening night show.

GREASE is the word at the Las Vegas Hilton Hotel. Seven performances, June 2-6.


WHO'S WHERE

HAROLD PRINCE has been in London talent scouting for a new play.

ROSIE O'DONNELL who starred as Rizzo in the 1994 revival of Grease, and just grabbed a daytime Emmy award for her talk show, brings her stand-up comedic act to Caesars Palace, Las Vegas May 28-30. No word on whether Tom Selleck plans to attend. O'Donnell hosted the 1997 and 1998 Tony Awards and this year will be a presenter.

ETTA JAMES in a one-nighter May 29, House of Blues inside the Mandalay Bay Resort, Las Vegas.

BELLE CALAWAY recently nominated for Washington D.C.'s Helen Hays award for her performance in the National Tour of Chicago steps into the role of Roxie Hart opposite Ruthie Henshall at the Shubert Theatre, NYC through May 30th. Calaway was born in Heidelberg, to a German nurse who gave her up for adoption. Jim and Doris Calaway, an American Sergeant and his wife brought her to America at the age of three along with a new adopted brother. Her show business break came after touring with Bye Bye Birdie. Tommy Tune set up an audition for her to replace the star understudy in the Broadway show The Will Rogers Follies. She got the job and made her Broadway debut at the Palace Theatre on a moon, suspended 50 feet in the air.

BOBBY TAYLOR who was in the New York production of Smoke on the Mountain joins Mary Crabtree and Jack Irvin to star in Foxfire at the Cumberland County Playhouse, Crossville, TN. Inspired by the Foxfire books, Appalachian traditions come alive in this 1980's story of a mountain family. Performances through Saturday.

JEFF HARNER in Sammy Cahn All The Way at the Firebird Cafe NYC through Saturday.

ELVIS COSTELLO Hard Rock Hotel, Las Vegas. May 29.


THIS AND THAT


OUTER CRITICS CIRCLE party hardy this Friday night at Sardi's NYC. That's the night the organization of writers who service media outside the New York area, present their annual awards. It will be a star studded night. The presenters include; Liam Neeson, Liza Minnelli, Donna Murphy, Robert Cuccioli, Swoosie Kurtz, Carole Shelley, Matthew Broderick, Michael McGrath, Mario Cantone, George Segal, Marion Seldes, and Brian Dennehy.

MICHAEL CRAWFORD has a determined core of fans. For the second time a full page ad has been taken out in the Hollywood Reporter International edition touting the benefits of casting Crawford in the movie version of Phantom of the Opera, the role he made famous on Broadway. Diane Flogerzi and her devoted Crawford fan club are determined that no other actor except Crawford should be cast. (See related article in Broadway To Vegas Column of November 2, 1998.

ENGELBERT HUMPERDINCK has his Las Vegas home on the market, asking price $590,000. In a gated community, the 1973 house was remodeled in 1997. The 5,000 sq. ft. place has five bedrooms. The master bedroom has a spa and sauna.

PAMELA ANDERSON LEE who photographs well no matter her bra cup size, apparently went through a childhood phase as a publicity seeking troublemaker. The actress and on again off again wife of rocker Tommy Lee, told Conan O'Brien that, as a child, she put her younger brother into a huge barrel, then called police to report him missing. The police and fire departments came rushing to her home to look for the "missing" sibling. Pamela, pretending to be worried, enjoyed the fuss. However, the "game" backfired on Pamela. When the police found her younger brother in the barrel, the boy refused to get out, saying that his sister had put him in there and told him he wasn't to make a sound or get out until she told him it was okay.


THANK YOU AND GOOD LUCK


We at Broadway To Vegas are accustomed to doing the interviews, not facing a reporter who poses questions. The unusual event started when a message was left by reporter Melissa Schorr of the Las Vegas Sun, indicating she'd like to write a feature story about Broadway To Vegas. I didn't know what to expect.

MELISSA SCHORR AWARDED AN MIT FELLOWSHIP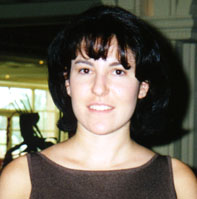 What I discovered was a delightful, bright, talented young woman with an incredible future ahead of her in journalism.

First of all, we sincerely thank her for the marvelous page she devoted to Broadway To Vegas which was printed in the Sunday edition, May 23, 1999 of the Las Vegas SUN section of the Review Journal/Sun newspaper. Their website is www.lvsun.com.

Not able to control a reporter's natural urges, I started asking her questions. Raised in New York City, as a child, she fell in love with Broadway.

"My first Broadway show was when I was six years old. My mom took me to see The King and I starring Yul Brenner. That was wonderful! I've loved Broadway from that time on." Some of Melissa's fondest memories are seeing Broadway shows with her Mom. "On Sunday afternoons my Mom and I would go down, stand in the ticket line, and see a show."

Annie ranks as one of her all time favorites. "I got the record before we went to see the show. I played it so many times that I remember my father coming into my bedroom and saying - If you play that one more time we're not going to see the show!," Melissa laughed recalling the childhood incident.

They not only saw the Broadway show, Melissa even auditioned for the movie version. "They were having an open casting and I begged my mom to take me down. We stood in this line that went around the block. Finally we got in. We had to sing a few bars of The Sun Will Come Out Tomorrow and then say a few lines: - Come here, Sandy. Good dog. I don't even think I got a chance to say the lines. I sang my eight bars, they thanked me very much and gave me a certificate that said I'd tried out for the movie."

A Northwestern University graduate with a journalism major, she came to Las Vegas to accept a reporting position with the Las Vegas Sun. Recently, she was notified that she has been awarded a Journalism Fellowship at MIT in Boston beginning this fall. She'll move there in a few weeks. "I'm going to be focusing on women's health issues. It's going to be very interesting." We wish her the very best.



Mention BROADWAY TO VEGAS for Special Consideration
Call (800) 942-9027









Next Column: May 31, 1999
Copyright: May 24, 1999. All Rights Reserved. Reviews, Interviews, Commentary, Photographs or Graphics from any Broadway To Vegas (TM) columns may not be published, broadcast, rewritten, utilized as leads, or used in any manner without permission, compensation and/or credit.
Link to Main Page
---
Laura Deni


CLICK HERE FOR COMMENT SECTION