! >
Broadway To Vegas
  
 SHOW REVIEWS CELEBRITY INTERVIEWS GOSSIP NEWS

| | |
| --- | --- |
| | |
TONY RANDALL STAR OF STAGE, TV, FILM & LAS VEGAS - - RICHARD PLUMMER IN REMEMBERING ARCHIE - - ROCHESTER AND STOCKHOLM JAZZ FESTIVALS - - KEELY SMITH TURNS FEINSTEIN'S INTO SAHARA HOTEL VINTAGE 58 - - ZOE CALDWELL DIRECTS ALAN ALDA - - LYRIC OPERA OF CHICAGO SEES GREEN - - FROZEN HEATS UP AIRWAVES - - CONTINENTAL DIVIDE AT LA JOLLA PLAYHOUSE - - DONATE . . . Scroll Down


HOT LICKS AND A COOL HEAD
John Nugent at the Stockholm Jazz Festival. Photo by Mats Gustavsson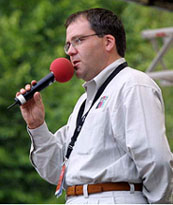 All jazz musicians are flakes, prone to drink and drugs. If you buy into that stereotype you haven't spoken with jazz festival producer John Nugent or hung around with his musical pals.

They'll come together at both the Rochester Jazz Festival June 3-12 and the Stockholm Jazz Festival July 17-24. Both festivals are owned and produced by Nugent who spoke with Broadway To Vegas about his occupations - jazz musician and eye-on-the-bottom-line businessman - which some might call mutually exclusive interests.

The Newfoundland born, North Texas State University graduate has an interesting pedigree.

It is because of his family that there are musical instruments in Newfoundland.

"On the island of Newfoundland, my family is responsible for having imported all of the musical instruments," said Nugent. "Our family has run a music business - The Hutton Music Store, which is my mother's maiden name - for 100 years. My grandfather used to come down to New York and ship Steinway, and many types of organs to Newfoundland," explained Nugent.

"So, the business of music has always been in my blood. My whole family are musicians. I'm the black sheep. I'm the jazz musician," he quipped. "My sisters, Mary Carol and Barbara, are classically trained and are both in professional orchestras, one in Toronto and one in Newfoundland.

"And, my great-grandfather was knighted by Queen Victoria in 1912. He name was Sir Charles Hutton. The Memorial University of Newfoundland, the largest college in my providence, named the music school after him - the Sir Charles Hutton Music Conservatory," he said referring to the educational venue in which The Hutton Choral Room is a 130-seat theatre with tiered seating for musical and lecture style applications.

Charles W. Hutton (1861-1949) Newfoundland's most prolific composer of serious music in his day, has been described as Newfoundland's greatest musician and dramatist and the greatest impresario and music teacher the city [of St. John's] was ever to know. He left behind him a rich heritage in a musical career spanning sixty years. Hutton was responsible for annual productions of operettas, choral and orchestral concerts and served as Professor of Music to the Roman Catholic schools of St. John's and the Newfoundland Normal School. In 1883 he created his own musical agency which he continued to operate until his retirement and which has remained in the Hutton family down to the present day.

In recognition of his long service and devotion to church and country, Charles Hutton was awarded a Papal decoration and was appointed to the Order of the British Empire.

"As a kid I watched my grandfather selling instruments in our stores, so I knew a little bit about sales, " he laughed.

While the work ethic was valuable, the contact list was not.

"Not in this particular genre of the business. I put on events, so I deal with artist's management company, booking agencies, public relations firms and record labels."

"But, the music business that my family was in was all distributing musical instruments, supplies like Yamaha, Steinway, Bach, and sheet music companies. It was a little different style of music business, but putting things together came naturally to me."

The Stockholm Festival, running since 1980 on three stages over nine days, has a capacity of 12,000 persons per day. The 2003 Rochester Jazz Festival attracted 40,000 music fans from around the world.

"The Rochester Jazz Festival is June 3-12. We have over 70 groups coming here and the one in Sweden, which is July 17-24, has about the same amount."

"There are a lot of great players," he stressed. "I saw ten times as many that we haven't got at the festival that want to be here. There is no shortage of great talent to book from and a lot of young, great talent coming up."



Steven Wonder to perform in Stockholm. His last Stockholm concert was in 1989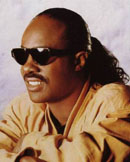 "I have Stevie Wonder coming over there," he said referring to the artist performing in concert at Stockholm Stadium on Saturday, July 17, the opening night of the renowned festival. Wonder's performance will be his first concert appearance in Sweden since the summer of 1992 when he performed in Gothenburg. His last concert in Stockholm was in 1989.

"Van Morrison, Bonnie Raitt, Dave Brubeck, Angie Stone, Jools Holland R&B Orchestra with Sam Brown & Ruby Turner, Otis Rush and Wynton Marsalis are also performing," he continued.

Nugent was in the process of moving into a store front Rochester Jazz Festival office, which doesn't officially open until Monday - May 24. The instant people realized somebody might be inside, knocks were heard at the door. When Nugent answered the door he discovered a woman wanting to buy tickets.

"We have quite a lot of tickets sold," he continued. "Of course we have Oscar Peterson, David Sanborn, 10-time Grammy Award winner Bobbie McFarrin," said Nugent rattling off names that draw box office.



Dave Brubeck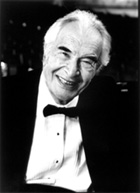 The Rochester Festival will showcase artists representing 15 countries: USA, Canada, Sweden, UK, Slovenia, Belgium, Germany, Japan, Australia, Spain, Israel, South Korea, Hungary, Italy and Vietnam. Twenty-seven shows will take place in new Club Pass Big Tent with The Oscar Peterson Quartet and Dave Sanborn being showcased at the Eastman School of Music.

For both festivals Nugent indicated funding is the biggest hurdle.

"Getting corporate and government support to underwrite some of the costs. It's easier in Sweden to get government support. We do have support locally. We have funding from the New York State and the Country of Monroe where the Rochester Festival is. The city runs its own musical event so they didn't fund us extensively, but they help a little bit. Any event needs good corporate underwriting and government support. And, having good ticket sales to make your budget work."

In an uncertain economy, Nugent is optimistic.

"We're on our way. We're in our third year in Rochester and I've produced the Swedish Festival for five years and it's in its 21st year. Both of the festivals are owned and operated by my company."

"We would like to expand but it's one step at a time," he divulged. "We like to make sure each market we're in is doing the right thing before we move on to another location, but we're thinking about it."

"There are some cities that are contacting us. We've been contacted by Birmingham, Alabama and Durham, North Carolina - second tier markets. I don't want to produce in major cities like New York, Chicago, Los Angeles or Dallas."

"Those markets have major events right now and they are produced by well established companies. I wouldn't want to compete," he reasoned.

"There are a lot of markets in the United States looking for quality events to embrace for their community. Those are the types of places we look for."

Both jazz festivals are, according to Nugent, "just a lot of logistics. I organize a lot of that. I take care of all the travel. We have a team of people at each event that organize the logistics. We have a lot of volunteers. It's a team effort. Not just one person doing it all."

"Both of these events show all forms of creative, improvised music. Jazz, blues, R&B and soul - a little bit of everything," he added.

He indicated that bringing together the program is posing no more of a travel problem than before 9/11.



Bonnie Raitt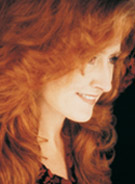 "Frankly, I think the media over hypes all that stuff," he exclaimed. "I travel internationally at least ten times a year. I fly across the ocean to Europe. I think there is a lot of media hype. Of course there is a war going on, but life continues."

Any injuries or lawsuits?

"Never," he stressed. "No arrests, no injuries no lawsuits. Jazz festivals are very up scale," he emphasized. "People who come to these are educated and not silly enough to throw themselves off the stage into a mosh pit."

In fact, Nugent reports virtually no major problems of any kind.

"You can't control the weather. But, we've never had any cancellations and I don't expect there will be. We usually continue if its raising a little bit. People are hardy enough if they are outside. The stages are covered. We have a lot of indoor venues as well so it's never really an issue for me."

"I enjoy it all," continued the happy camper. "The fun part is seeing it all happen when it's going on and people enjoying themselves. The reward for me is sometimes the monetary - sometimes it's not. Making it happen and making it happen well is what I'm all about."



Dawn Thomson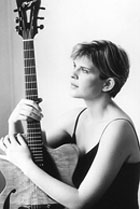 "My wife, Dawn Thomson, is also a musician," he said referring to his Nebraska born wife who moved to Montreal with her family at the age of seven. She studied jazz at Concordia University in Montreal and graduated with honors with a Jazz studies degree in 1991.

"We moved to New York to play and we both record a lot. I just fell into management and producing. It's something that I love to do. My day job is putting together events."

His wife's day job is somewhat more involved.

"My wife, who is a wonderful jazz guitarist and has five of her own recordings released, is now full time raising our little son who is 20-months-old."

The important issue becomes - can the child keep a beat? "Absolutely," exclaimed the proud father. "He's going to be a swinging musician!"

The Rochester Jazz Festival takes place in Rochester, New York June 3-12. The Stockholm Jazz Festival July 17-24 is held in Stockholm, Sweden.



Broadway To Vegas is supported through advertising and donations. Priority consideration is given to interview suggestions, news, press releases, etc from paid supporters. However, no paid supporters control, alter, edit, or in any way manipulate the content of this site. Your donation is appreciated. We accept PAYPAL. Thank you for your interest.


SPREADING THE WORD


REMEMBERING ARCHIE

Archibald MacLeish and Christopher Plummer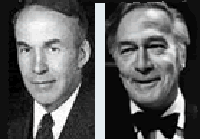 a show conceived and arranged by Tony Award winning Christopher Plummer is staged as a tribute to the work of playwright and poet Archibald MacLeish on May 27, in New York City at the 92nd Street Y.

Plummer, who recently received a Tony Award nomination for his performance in the Lincoln Center revival of King Lear, will celebrate the legacy of his friend, the late poet Archibald MacLeish (1892-1982), in an evening titled Remembering Archie. MacLeish received two Pulitzer Prizes for his poetry and a third for the play J.B.

Plummer co-starred with Raymond Massey and Pat Hingle in the Broadway bow of MacLeish's J.B. in 1958. About the playwright, Plummer said in a statement, "It was my privilege to have known him back in 1958-59 when I played the Devil in Elia Kazan's Broadway production of J.B. Archie lived a varied life as a lawyer, teacher, journalist, Librarian of Congress and an Assistant Secretary of State, but above all he was a poet - one of the finest this country ever produced. I admired him enormously."

Plummer performed a version of Remembering Archie at New York's Guggenheim Museum some months after MacLeish's death on April 30, 1982. Plummer said that this program is "a more substantial and more polished version of the same celebration."

Remembering Archie on May 27th is the final event of the 92nd Street Y's Unterberg Poetry Center season.

FROZEN cast and playwright interview will air on NPR's All Things Considered tonight, Sunday May 23. On Monday, May 24, John Walsh will join for the bell ringing at the NY Stock Exchange, along with Frozen star Swoosie Kurtz, in honor of the National Center for Missing and Exploited Children 20th Anniversary. Then on Tuesday, May 25, the cast of Frozen, Swoosie Kurtz, Brian F. O'Byrne, and Laila Robins, will be interviewed (taped) by Charlie Rose on his PBS show. An air date has not yet been announced.

SUSIE ESSMAN IN CONVERSATION WITH JUDY GOLD Essman is a comedian and actress, critically acclaimed for her role as the venomous Susie Greene on HBO's Curb Your Enthusiasm. She has hosted the American Comedy Awards and performed in her own HBO comedy special, as well as on Comedy Central, Politically Correct and The Tonight Show.

Judy Gold is the host of HBO's At the Multiplex with Judy Gold. Gold won two Emmy Awards for writing and producing The Rosie O'Donnell Show, as well as a Cable Ace award for her own HBO special.

Wed, Jun 2, at the 92nd Street Y in Manhattan. The event is sold out.



2004 MAC AWARDS the 18th annual event of the Manhattan Association of Cabarets and Clubs tool place Monday, May 17th at Peter Norton Symphony Space in New York City. Click here for a list of the nominees and winners.


OTHER PEOPLE'S MONEY


LYRIC OPERA OF CHICAGO staged their annual meeting last Monday night with Lyric Board Chairman Allan B. Muchin and General Director William Mason reporting a surplus of $700,000 for the season that ended Mar. 21. The company also announced the start of a $50 million endowment drive.

Lyric is heading into a blockbuster season in 2004-05. The company will celebrate its 50th anniversary, and the season's projected $58.2 million budget includes 91 performances, three cycles of Wagner's Der Ring des Nibelunger, which is already 70 percent sold out, and a star-studded 50th anniversary gala concert. The Oct. 30 event, a benefit for the company, is SRO and will add $5 million to Lyric's coffers. The company's fund-raising goal for 2004-05 is $21.5 million.



GUYS AND DOLLS Based on a story and characters by Damon Runyon. Music and Lyrics by Frank Loesser. Book by Jo Swerling and Abe Burrows . Starring in - as they say, alphabetical order - Kate Baldwin, Robert Cuccioli, Michael Mastro and Karen Ziemba.

Co-staring; Robert Creighton, Robert DuSold, Erick Buckley, Bob Dorian, Robin Lounsbury, Christy Boardman, Jeff Cyronek, Steven Bogard, Matt Castle, Rachel Bress, Tia Speros, Tony Cucci and Matt Yoder.

Also in the cast are; Gerrard Carter, Jason Davies, Howard Emanuel, Steve Konopelski, Billy Rosa, Eric G. Scalise, Rick Spaans and Brian Shepard, Lauren Brim, Ashley M. Eichbauer, Ann George, Robin Lounsbury, Mayumi Miguel, and Allison Stodola. This New York fable bursts with the spirit of Broadway in Damon Runyon's mythical world of zoot-suited gamblers, dashing con men and the beautiful show girls who love em.

While legendary characters Nathan Detroit, Miss Adelaide, and Sky Masterson spur the fast-paced action along, Frank Loesser's classic songs - Luck Be A Lady, If I Were A Bell, Adelaide's Lament and A Bushel And A Peck - are sure to keep patrons grinning from ear to ear.

Director by Stafford Arima. Choreographer is Patricia Wilcox. Musical Director Tom Helm for June 2 June 13 and Vicki Carter June 16 July 18. Set Designs by Tony Walton. Costume Coordinator is Randall Klein. Lighting Design by F. Mitchell Dana. Sound Design by Duncan Robert Edwards Hair & Wig Design by David H. Lawrence Additional Arrangements and Orchestrations by Tom Helm with Dance Music Arrangements by Mark Hummel.

June 2- July 18 at the Paper Mill Playhouse in Millburn, N.J.

ORANGES & LEMONS a directed staged reading of this full-length play by Catherine Bush will be presented in the Long Beach Playhouse Studio Theatre Saturday, May 29. A post-show discussion with the Playwright, Director, Cast and Drama Critics will follow the reading.

The play is set in 1483 and Henry Tatersall, in line to become Head Executioner in the Tower of London, is forced to choose between love and loyalty, friendship and duty - choice that provides an interesting perspective on capital punishment and one that will alter his life - and history - forever. New York Playwright Catherine Bush, who will attend the reading, is the author of five plays, one of which will be performed this August at Barter Theatre's Appalachian Festival of Plays and Playwrights in Abingdon, Virginia.

Tony Carbone directs Oranges & Lemons, one of four plays selected for reading from 260 plays submitted to the Playhouse's Fourteenth Annual New Works Festival. May 29 Long Beach Playhouse, Long Beach, CA.

CONTINENTAL DIVIDE

David Edgar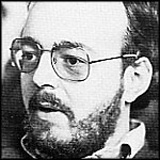 Play One; Mothers Against and Play Two Daughters of the Revolution. By David Edgar. Directed by Tony Taccone.

In David Edgar's acclaimed two-play cycle, past becomes prologue as both the Democratic and the Republican camps prepare for a West Coast gubernatorial election. Each play is a complete theatrical event unto itself and together they bring a timely and fascinating perspective to contemporary American politics.

In Mothers Against, the complexity and contradictions of today's politics are revealed when the family and key advisors of the Republican Candidate for governor gather at his woodland ranch to prepare for a pivotal debate against his opponent. A battle ensues in which he must decide if revealing his true political beliefs will jeopardize his future.

In Daughters of the Revolution, a community college dean with a radical political past is being considered by the Democratic gubernatorial candidate for an important appointment. When he discovers that he was betrayed by a member of his 60's collective, he journeys through the labyrinth of the past and present to come to terms with the legacy of his political ideals.

Mothers Against and Daughters of the Revolution are performed in rotating repertory with 3-5 performances of each play within the same week. On weekends, patrons can see both plays in a single day.

La Jolla Playhouse will host a number of free panel discussions following select Saturday and Sunday matinee performances of Continental Divide. These timely forums relate directly to the themes found in the plays and inform our present political landscape. Discussions are open to the public. Attending a performance on the day of the discussion is not required.

In the Mandell Weiss Theatre of the La Jolla Playhouse, located on the University of California San Diego Campus. May 25-August 1.

MISS SAIGON kicks off the Dallas Summer Musical season. From the writers of Les Miserables, Alain Boublil and Claude-Michel Schonberg. The epic story of two young lovers torn apart by destiny, but held together by a burning passion and the fate of a small child, Miss Saigon has been seen by over 28 million people in 13 countries and 8 languages. May 25- June 6.

SIGHT UNSEEN by Donald Margulies, which won the 1992 Obie for Best New American Play, opens May 25 at the Biltmore Theatre in NYC.Directed by Daniel Sullivan, the play stars Byron Jennings, Laura Linney, Ana Reeden and Ben Shenkman. Produced by the Manhattan Theatre Club.

LIMONADE TOUS LES JOUS

Photo Collage by David Rodgers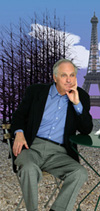 with Tony Award-winner Zoe Caldwell directing a cast headed by Alan Alda with Eric Bondoc and Nicole Leach in Charles L. Mee's delightful and refreshing new romantic comedy.

Take a vivacious young French chanteuse, a middle-aged American tourist, and a singing waiter - mix in a tall Parisian glass, and you have the perfect recipe for an effervescent and whimsical romance.

The production will play through June 6 at Sag Harbor's acclaimed Bay Street Theatre whose co-Artistic directors are Sybil Christopher and Emma Walton. Sag Harbor, Long Island.

Scheduled to open Bay Street's 2004 Target Mainstage Season on May 25th with performances through June 6th.


| | | |
| --- | --- | --- |
| | | |
WHO'S WHERE


KEELY SMITH backed by an eight piece band, currently performing Las Vegas '58, where she transforms the cabaret at Manhattan's Feinstein's At The Regency into the Las Vegas Sahara Hotel stage of 1958, complete with poker chips and chocolate playing cards on the tables along with a vintage 1958 Sahara Hotel menu. (See Broadway To Vegas column of February 6, 2000). Smith can be enjoyed at Feinstein's through June 5. Tonight Keely guests in studio with David Kenney on his Everything Old Is New Again radio show, heard over the internet and on WBAI 99.5 FM.

DAVID BOWIE on stage Monday at the Veterans Memorial Auditorium in Columbus, Ohio. On Tuesday he's at Shea's Performing Arts Centre in Buffalo. Thursday finds the star at the Montage Mountain Amphitheater in Scranton, PA. On Saturday he opens a two night gig at the Borgata Hotel in Atlantic City.

PRINCE on stage Monday at Arrowhead Pond in Anaheim, CA. On Wednesday the reminted performer opens a two nighter at the Staples Center in Los Angeles.On Saturday he is part of Tiger Wood's "Tiger Jam" at Mandalay Bay Events Center in Las Vegas. Next Sunday, he again returns to the Mandalay Bay Events Center for his own show.

BOB NEWHART a low keyed guy who gets big laughs performs Thursday at the Potawatomi Casino in Milwaukee, Wisconsin. On Saturday, May 29 his button down mind is at the Grand Palace in Branson, MO.

MICHAEL FEINSTEIN opens a five night engagement Wednesday at the Mohegan Sun Casino in Uncasville, CT.

ART GARFUNKEL on stage next Sunday, May 30 at the University of Mississippi at University, MS.

MICHAEL BUBLE is all over the United Kingdom this week. On Monday he's on stage at St. David's Hall in Cardiff. Tuesday finds him at Colston Hall in Bristol. Wednesday the show is at The Dome in Brighton. Friday the singer is on stage at Ipswich Regent in Ipswich. On Saturday the performance takes place at the Apollo in Hammersmith and next Sunday the performer is in the spotlight at Carling Apollo Manchester in Manchester.

THE BEACH BOYS brings their surf's up music to Biloxi, MS for a three nighter beginning Friday at the Beau Rivage.

JEFF FOXWORTHY on Saturday brings his red neck humor to the Wild Adventure Theme Park in Valdosta, GA.

HOOTIE AND THE BLOWFISH in a two nighter May 28-29 at Jubilee City Fest in Montgomery, Alabama following by the Sunday gig at the Chastain Park Amphitheatre in Atlanta, GA.

AL GREEN at the Riverfest Amphitheatre in Little Rock, AR on Friday. On Saturday he performs at the Jubilee City Fest in Montgomery, AL.

MANHATTAN TRANSFER perform Wednesday at the Civic Center of Greater Des Moines in Des Moines, Iowa. On Thursday the group brings their harmony to the Arts Block Grand Theatre in Wausau, WI. They close out the week, Saturday, at the Milwaukee Theatre in Milwaukee.

NORAH JONES opens a three night engagement at the Palais DeCongress in Paris on Saturday.

DIANA KRALL entertaining Tuesday at the John Labatt Centre in London, Ontario. On Thursday she opens a three nighter at the Hummingbird Centre in Toronto, ON.

LYNYRD SKYNYRD the Southern rock bank that gave us Free Bird and Sweet Home Alabama makes its Wolf Trap debut with special guest .38 Special. Wednesday, May 26 at Wolf Trap in Vienna, Virginia.

JIMMY BUFFETT brings the party to the Texas Stadium in Irving, Texas on Saturday.

FLEETWOOD MAC performing tonight at the Jacksonville Veterans Memorial Arena in Jacksonville, FL. On Wednesday the show is at the Nissan Pavilion at Bristow, VA. Friday the group can be enjoyed at the Tweeter Center in Mansfield, MA and on Saturday the show is at the P.N.C. Bank Arts Center in Holmdel, N.J.


FINAL OVATION


TONY RANDALL

Tony Randall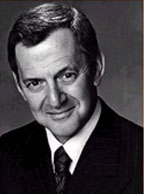 84, the beloved actor died quietly in his sleep last Monday evening at NYU Medical Center due to complications of pneumonia and infection following heart surgery. His wife was by his side.

Tony was a star on stage and in films, but probably had his most enduring and endearing success on television.

It was a medium that he would forbid his children, as toddlers, to watch. He didn't believe the television was meant to serve as a babysitter.

He starred in five separate television series including One Man's Family, Mr. Peepers, The Tony Randall Show, and Love, Sidney.

Randall won the hearts and smiles of the world when he starred as the fussbudgitty Felix Unger in The Odd Couple opposite his good friend Jack Klugman. The show, which ran from 1970-1975, still airs every day somewhere in the world.



December 4, 1997 TV Guide cover. Sketch of Tony Randall by Al Hirschfeld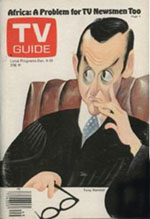 He also starred opposite Mickey Rooney in a trimmed down version of The Odd Couple, which played in Las Vegas at Caesars Palace in 1967 - the first time I was privileged to interview the man.

Randall had toured with Rooney in the production. At that time Rooney was a bigger household name and received top billing. Later, Randall would campaign to have Rooney cast in the television series - a role that would go to Jack Klugman, who became Randall's closest friend.

He spent the last two decades of his life consumed with the establishment of a national American Repertory Theater. In 1991, bankrolled by a million dollars of his own money, his dream became a reality with the opening of the National Actors Theater - complete with knickknacks.

After several years of use, a portion of my one piece, rectangle shaped, solid metal, National Actors Theatre key ring cracked and broke off. The quick witted Randall examined it for the longest time and then asked - Do you also bend spoons?

Randall's theater company was developed with the intent to primarily present Broadway revivals of classic plays at affordable prices. Randall served as executive producer and intended for the theater to survive his passing through provisions of a trust.

The versatile performer acted in several of the productions - including the comedy Three Men on a Horse which once again teamed him with Jack Klugman.

In 1996 Charles Durning, as Matthew Harrison Brady, starred opposite George C. Scott, who was cast as Henry Drummon, in The National Actors Theatre production of Inherit The Wind. Staged at the Royale Theatre, it would be Scott's last performance. I just happened to be in the audience when Scott suddenly became ill. Instead of closing the curtain, artistic director Randall bounded onto the stage and flawlessly finished the show.

In 2002 Randall moved the National Actors Theatre to Pace University's Michael Schimmer Center for the Arts where it currently operated under a LORT B (League of Resident Theatres) contract with Actors' Equity Association. Pace provides the theatre company with a rent-free home. In return, NAT offers select Pace students internships in acting, production and administration.

The Company's most recent production, its 20th, was in the fall of 2003, when it presented Luigi Pirandello's Right You Are starring Randall. It was at the end of this production that Randall entered the hospital for a heart bypass operation. In his over 60 years as a performer, Tony never missed a performance.



Dapper Randall in a Heublein cocktail ad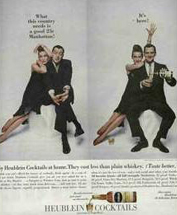 One of the most popular talk show guests of all time, Randall is noted for having more guest appearances than any other actor on The Tonight Show with Johnny Carson; as well as with David Letterman -104 appearances - including one where he permitted himself to be covered with mud. He was on the premiere show of Late Night With Conan O'Brien and has also been a frequent guest on The Larry King Show.

Born Leonard Rosenberg in Tulsa, Oklahoma, February 26, 1920, the son of an art dealer, he graduated from Tulsa Central High School, then enrolled in Northwestern University, where he majored in speech and drama. In New York he studied at Columbia University and the Neighborhood Playhouse with Sanford Meisner. He also studied movement with Martha Graham and voice with Henri Jacobi.

His Broadway debut was in 1941 in A Circle of Chalk. Soon thereafter he appeared with Ethel Barrymore in The Corn is Green and with Jane Cowl in Candida. After a short stint as a radio announcer, he was set for Elia Kazan's production of The Skin of Our Teeth but, after rehearsing one day, he was called into the Army. He served four years in the Signal Corps, being discharged as a Lieutenant.

After his discharge, he acted and directed summer stock in Washington, D.C., before moving to New York and a job with Harry Morgan's popular radio show. In the theatre came roles with Katherine Cornell in Anthony and Cleopatra and as the stuttering brother in The Barretts of Wimpole Street. With Lilli Palmer and Sir Cedric Hardwicke, he appeared in Shaw's Caesar and Cleopatra.

It was the Edward Chodorov comedy, Oh, Men!, Oh, Women!, which established him in the theatre. He played Arthur Tanner, the bibulous movie idol. Randall was also in the Fox film version, but in a different role.

Other theatrical roles included; the musical comedy, Oh, Captain!, based on the successful Alec Guinness film, The Captain's Paradise, as well as the aforementioned The Odd Couple, which he frequently toured with his television co-star Jack Klugman. Add a sell-out touring version of The Music Man, as well as starring in, and sometimes directing, productions at some of the major regional and repertory companies around the country and Canada.

In 1989, he scored with a rare dramatic theatre role in the original Broadway production of M. Butterfly. In the Spring and early Summer of 1999, Tony and Jack appeared together in Tom Stoppard's Rough Crossing at the Coconut Grove Playhouse in Florida, and in a production of Damn Yankees in Houston.

Tony also starred as Ebenezer Scrooge in A Christmas Carol at the Paramount in New York playing 14 performances a week - the only actor in that part to play all the shows.

Randall was also on stage in Lawrence and Lee's powerful courtroom drama, Inherit the Wind starring Paul Muni, based on the Scopes trail. Tony's character, that of a cynical reporter, was based on H.L. Menken, a role that propelled him across the country and into mass awareness. After 17 months in the show, he was off to Hollywood and the film version of George Axelrod's Will Success Spoil Rock Hunter?

A complete about-face came with the performance of unusual dramatic depth as the desperate, pathetic husband opposite Joanne Woodward in No Down Payment.

There have been many notable Randall screen appearances: Let's Make Love opposite Marilyn Monroe The Mating Game with Debbie Reynolds the trilogy of his Doris Day-Rock Hudson movies, Pillow Talk, Send Me No Flowers, and Lover Come Back, in which his character becomes one of the dominant elements.

He was proud of his many tour-de-force characterizations in the little known The Seven Faces of Dr. Lao.

From 1950-52, Randall played Mac on the melodramatic TV serial One Man's Family. He then went on to play Harvey Weskit, the brash, over-confident best friend of Robinson Peepers (Wally Cox) in the live sitcom Mr. Peepers. In 1970, Randall was cast as Felix Unger in the ABC television version of The Odd Couple. Despite low ratings for the series, ABC, then the third-place network, allowed The Odd Couple a five season run. In 1975, Randall won an Emmy for his role as Felix. But he won after the show had been canceled, prompting him to quip at the awards ceremony: "I'm so happy I won. Now if I only had a job."

An actor of seemingly limitless range Randall's love of acting was equaled only by his love of opera: "I love classical music with the same passion with which I despise rock 'n roll," stated Tony.

For Columbia Records, he provided a stunning narration of Facade, conducted by Arthur Fiedler. Facade is a comical piece consisting of 21 poems written by Edith Sitwell and put to music by Sir William Walton during the 1920's.

Tony also recorded two highly successful albums for Mercury Records. These spoofed the "Mickey Mouse" sound of some of the dance bands of the '30s, and Tony's rendition of Boo Hoo may be the most definitive this side of Carmen Lombardo. He and Jack Klugman also did a forgettable album called The Odd Couple Sings on London Records. Opera audiences have known him as a regular on Texaco's Opera Quiz and as intermission commentator on TV's Live from Lincoln Center.



Tony and Heather Randall. Photo by Laura Deni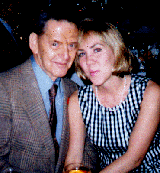 After a long, happy marriage of 54 years, Tony's wife, Florence (Gibbs), died in 1992 after a long illness. Tony found love again with actress Heather Harlan, whom he met while she was interning at the National Actors Theatre.

The two were married in New York by Mayor Rudolph Guiliani on November 17, 1995.

It was his marriage to Heather that provided Tony with his greatest love - his children. On April 11, 1997 Tony and Heather became first time parents to lovely Julia Laurette Randall. On June 15, 1998, Tony and Heather became parents again with young Jefferson Salvini Randall making his debut.

In a tribute to the actor, lights at all Broadway theaters were dimmed last Thursday. Witty and opinionated, there isn't anybody who ever met Tony Randall who didn't both like and admire him. He will be missed.
















Next Column: May 30, 2004
Copyright: May 23, 2004. All Rights Reserved. Reviews, Interviews, Commentary, Photographs or Graphics from any Broadway To Vegas (TM) columns may not be published, broadcast, rewritten, utilized as leads, or used in any manner without permission, compensation/credit.
Link to Main Page
---
Laura Deni


CLICK HERE FOR COMMENT SECTION