! >
Broadway To Vegas
  
  REVIEWS  INTERVIEWS COMMENTARY NEWS

| | |
| --- | --- |
| | |
ICE WORLD AT VENETIAN MACAO - - TOMMY NUTTER: REBEL ON THE ROW - - THE AUDIENCE FOR TOURING BROADWAY - - ANDREW LLOYD WEBBER FOUNDATION MAKES GRANTS - - PRINCESS BEATRICE SELLS FAMED WEDDING HAT ON EBAY - - FREUD'S LAST SESSION HAS ON THE COUCH TALK BACK - - FOLLIES OPENS AT KENNEDY CENTER - - LOVE NEVER DIES SURVIVES MISHAP TO OPEN IN AUSTRALIA - - DONATE . . . Scroll Down



LOVE NEVER DIES GETS SECOND WIND
Andrew Lloyd Webber's eagerly awaited sequel to Phantom of the Opera is about to exhale when a darker, revised edition officially opens May 28 at the Regent Theatre in Melbourne, Australia.

The production has already experienced a moment of backstage drama. Police reports show that a woman in her 50s, who was standing backstage at the Regent Theatre near pyrotechnic supplies, received superficial burns to her face, chest, wrist and fingers when powder ignited, causing a small blast at 6:30pm last Thursday. Smoke filled the venue for about 30 minutes.

Paramedics dressed her burns and transported her in stable condition to The Alfred Hospital. Paramedic Chris McGown, who wrote the official report, did not list whether she was a cast, crew or staff member of the production.

Director Simon Phillips told the press that, "There was someone in the vicinity who got some superficial burns which was awful, but she's fine."

Andrew Lloyd Webber flew into Melbourne - his first visit in 20 years - and arrived at the theatre on Friday, spending less than five minutes with the press and considerably more time inspecting the sets which are totally different than the ones in the London production. The new vision has a massive set composed of about 9000 light bulbs which depict Coney Island. There is also that famed roller coaster.

Lloyd Webber will be in Melbourne for a week as final preparations take place for the musical which stars Ben Lewis as the Phantom, opposite Anna O'Byrne as soprano Christine Daaé. Maria Mercedes, who originated the role of young ballerina Meg Giry in the Australian premiere of Phantom, returns to the role for the sequel, with Simon Gleeson as Raoul and Maria Mercedes as Madame Giry.

Young performers George Cartwright Bush, Trent Heath, Lachlan Kelly, Jack Lyall and Kurtis Papadinis alternate in the role of 10-year-old boy soprano Gustav, with Emma J. Hawkins as Fleck, Paul Tabone as Squelch and Dean Vince as Gangle.



Anna O'Bryne(Christine) and Ben Lewis (The Phantom) rehearse Under a Moonless Sky. Production Photo: Regent Theatre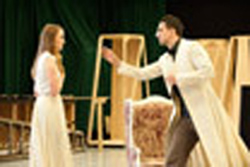 Completing the ensemble are Andrew Broadbent, Renee Burleigh, Colin Dean, Andrew Dunne, Giordano Gangl, Stephanie Grigg, Erin Hasan, Matt Holly, Ben Hudson, Erin James, Adele Johnston, Claire Lyon, Kristy Mackenzie, Matthew McFarlane, Jessica Mechielsen, Meredith O'Reilly, Adam Rennie, Lisa Reynolds, Pharic Scott, Kathryn Sgroi, Ellen Simpson, Tod Strike and Brendan Yeates.

Set ten years after the conclusion of The Phantom of the Opera, Love Never Dies follows soprano Christine Daae to New York's Coney Island, where she is invited to perform for the mysterious Mr. Y. Characters from her past begin to emerge, including one with whom she shares a dark secret.

The musical has lyrics by Tony nominee Glenn Slater. The book is by Lloyd Webber, Ben Elton and Slater. Lyricist Charles Hart contributed additional lyrics.

Love Never Dies has choreography by Graeme Murphy, with new set and costume designs by Gabriela Tylesova. The production has lighting by Nick Schlieper, with original London sound designer Mick Potter and orchestrations by David Cullen Guy Simpson serves as musical supervisor.

Referring to the enormous success of Phantom of the Opera, director Phillips told the press: "We have tried to look at Phantom as inspiration rather than something to cower our spirits. Of course it's the most successful piece of entertainment of all time so you know you're not going to top it, but you hope you're going to realize a similar journey for people."



Broadway To Vegas is supported through advertising and donations. Priority consideration is given to interview suggestions, news, press releases, etc from paid supporters. However, no paid supporters control, alter, edit, or in any way manipulate the content of this site. Your donation is appreciated. We accept PAYPAL. Thank you for your interest.



ART AND ABOUT


TOMMY NUTTER: REBEL ON THE ROW

Tommy Nutter

is a new exhibition at The Fashion and Textile Museum in London.

His clients included the great names of his day; Mick Jagger, Elton John, The Beatles, Charlie Watts, Neil Sedaka, Cilla Black, and Twiggy. Through their generosity the FTM have some great items on display.

When Nutters opened in 1969 on Savile Row, the staid and traditional world of bespoke tailoring entered a new era. Tommy Nutter, with master cutter Edward Sexton, combined up-to-the minute styling with classic techniques to create the brand that set the Row swinging. The shop - financed by Cilla Black, James Vallance White, and Beatles' executive Peter Brown – opened up the experience of bespoke tailoring; catering to rock stars, artists and aristocrats who wanted to custom fit with the new shapes and details pioneered at Nutters.

It all started when Thomas Nutter, working as a junior sales assistant, met Edward Sexton, a cutter who had trained with Kilgour, French and Stanbury - one of the great bespoke establishments on the Row. It was this meeting that would lead to the formation of Nutters of Savile Row.

Tommy Nutter's personable and stylish attitude to the styling and selling of clothes would link with the exquisite tailoring and sculptural cutting of Sexton in a completely new way. With Sexton cutting to Nutter's ideas the Nutter style was born.

This exhibition not only explores the Nutter style but will also analyze the contribution of this legendary individual in the marketing and branding of a Savile Row company.

A range of suits takes the viewer through the changes that Nutter introduced and will place his work in the social and historical context of the late 1960s through to the 1990s.

Through October 22, 2011 at the FTM in London.

TIM BURTON a major retrospective exploring the full range of Tim Burton's creative work, both as a director of live-action and animated films, and as an artist, illustrator, photographer, and writer. Taking inspiration from popular culture, fairy tales, and traditions of the gothic, Burton has reinvented Hollywood genre filmmaking as an expression of a personal vision.

The exhibition brings together over 700 drawings, paintings, photographs, moving-image works, storyboards, puppets, concept artworks, maquettes, costumes, and cinematic ephemera, including art from a number of unrealized and little-known personal projects.

Many of these objects come from the artist's own archive, as well as from studio archives and private collections of Burton's collaborators.

Tim Burton was organized by Ron Magliozzi, Assistant Curator, and Jenny He, Curatorial Assistant, Department of Film, with Rajendra Roy, The Celeste Bartos Chief Curator of Film, The Museum of Modern Art.

May 29, 2011–October 31, 2011 at the Los Angeles County Museum of Art.


THE AUDIENCE FOR TOURING BROADWAY


The Broadway League has released its seventh edition of the demographics report, The Audience for Touring Broadway 2009-2010. Updated on a biennial basis, it tracks profiles of audiences throughout the country, analyzes changes over time, and denotes the unique characteristics and theatergoing habits that distinguish "road" audiences from Broadway theatergoers in New York.

There were nearly 16 million admissions to Touring Broadway shows across the country during the 2009 – 2010 season.

Many of the key characteristics of previous reports are the same, but some changes include the following highlights from the analysis:

Nearly two-thirds of audiences looked to the theatre's website to find information about the show.

Twenty-seven percent of respondents said they made a visit to New York City in the past year.

The Tony Awards were also reported to be more influential this season than in previous seasons. Eighteen percent of respondents said that Tony Awards or nominations were a reason they attended the show, compared to 14% in the 2007 – 2008 season and 8% in the 2005 – 2006 season. Furthermore, 8% responded that seeing a scene of the show on the Tony telecast encouraged them to attend the show, compared to 4% in previous years.

Sixty-nine percent of respondents said they would prefer to receive theatre information electronically, rather than via postal mail.

Broadway and Touring Broadway combined contribute $13.2 billion to all the metropolitan areas where shows played.

Broadway and Touring shows across North America grossed an estimated $1.97 billion in the 2009 - 2010 season, representing an estimated audience of 27.8 million.


SWEET CHARITY


ANDREW LLOYD WEBBER FOUNDATION which supports culture, heritage and the arts to make a real difference to people's lives is using money received from the sale of Picasso's portrait of Angel Fernandez de Soto (The Absinthe Drinker) last year to distribute grants to support culture, heritage and arts projects.

Mark Wordsworth, chairman of the Trustees of the Foundation, said in a statement, "Previously we have concentrated on fine art and arts education, but we have decided to help a broader scope of people and projects directly with the funds invested from the Picasso sale. Andrew Lloyd Webber is delighted that the money he gifted to the Foundation is now being used to contribute to a wide range of projects and is making a significant difference to many people's lives."

Among the initial beneficiaries are;

Chickenshed, an inclusive theatre company that brings young people from all social and economic backgrounds, races and abilities together to create theatre;

Haringey Shed, a performing arts group, for the refurbishment of new premises;

All Saints Church, Margaret St, London, located in the heart of London. The church is currently undergoing a refurbishment program of its ornate interior. The Trustees of the Foundation agreed a donation towards the cost of the third phase of restoration of the interior of the church;

The Orpheus Centre, a performing arts college for disabled young adults, to fund arts bursaries over a three-year period;

A $406,000 donation has been made to Nordoff Robbins, based on the grounds of the BRIT School in Croydon, South London. Nordoff Robbins specializes in providing music therapy sessions in its own centers as well as in hospitals, day centers and schools nationwide;

Time Spanners, a 21-piece community music group who play percussion driven music. 13 of their musicians have a physical or learning disability. Their grant will be used towards the cost of professional support musicians and development of new works together with project administration costs;

Burghclere County Primary School Band, a widely acclaimed specialist primary school brass band, received money to go towards the cost of an additional Orchestral Percussion Teacher and the purchase of a percussion starter kit.


VENETIAN RESORT IN MACAO IS A COOL PLACE
Venetian Macao Ice World
Macao has surpassed Las Vegas as the gambling capital of the world. Now comes the cool part - only you need to experience it before it's allowed to melt.

One of the world's largest indoor ice exhibitions, Ice World, has opened at the Venetian resort in Macao. It's the coolest place in town - literally.

"It is -15°C (minus 15 degree Celsius) which will also be 5°F. It has to be actually cold enough to keep the ice dry," Bonnie Cheng who is in the Public Relations Office of the Venetian Macau told Broadway To Vegas.

The spectacular wonderland of sculptured, colored ice features 49 elaborate ice sculptures incorporating nine themed areas. Project Manager Li Tieying and his lead ice sculptor Wei Xianlin worked with 39 other ice artisans from the world renowned Heilongjiang Provincial Ice and Snow Art Development Co. Ltd., who used chainsaws, knives and shovels to transform 9,000 blocks of ice into the 17,825 square foot ice spectacle.



Journey to the West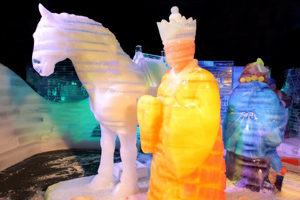 There's the classy Ruins of St Paul's and the Guia Lighthouse, while the impressive Wonders of the World section brings to frozen life such icons as London's Big Ben clock tower, Rome's Coliseum, New York's Statue of Liberty, India's Taj Mahal and Paris' Eiffel Tower.

A significant area is devoted to scenes from the classic Chinese tale Journey to the West, and to Beijing's imposing Temple of Heaven. In between these landmarks, guests can traverse the magical Winter Forest, and marvel at a towering Ice Age Mastadon set in its own frozen tundra.

Adults can relax in the Ice Bar which gives a new meaning when ordering a drink 'on the rocks,' while kids can ride the 7m-high, 3-slide paradise Slide Castle.

"I can guarantee that Macau has never seen anything quite like the Ice World," said Wolfram Diener, Vice-President of Conventions and Exhibitions, The Venetian Macao-Resort-Hotel. "With our mix of shows and exhibitions growing more diverse with every passing month, we invested considerable time and energy in discussing how we could bring something of spectacular universal appeal to our property and have found it with the stunning artistry of the Harbin artisans of Heilongjiang Provincial Ice and Snow Art Development Co. Ltd," Diener told the press during a sneak preview.

Executives hoping their business pitches will put a shiver down the spine of attendees can get an added jump start by holding a convention or business meeting in Ice World. An organization can even have their logo carved into the block of the cool stuff.

Visitors are requested to wear closed toe shoes, hats and heavy pants. Hooded arctic costs are provided for warmth and comfort. Sun lovers who ignore instructions can purchase hats, gloves and socks. Shoes, in a limited number of sizes, can be rented.

Open to the public to September 18, 2011 at the Venetian Resort in Macao.


PRINCESS BEATRICE'S AUCTION OF THAT HAT ON EBAY GOES OFF WITH A HITCH
Princess Beatrice in that hat at the wedding of William and Kate. Photo Getty.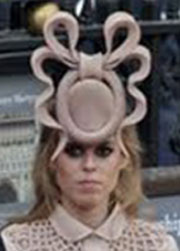 The fascinator that fascinated the entire world is being sold on eBay. You know, that hat - the art object Princess Beatrice wore on her forehead at the wedding of William and Kate.

Despite a technical glitch that at one point looked like eBay had suddenly halted the auction, the oddity headgear which created headlines of its own, has been a hot ticket item, with more than 100 bids. At the moment the top one is a whopping $120,000.

The fifth in line to the throne put the silk Philip Treacy concoction on eBay with all proceeds going to Little Bee, explained as "set up by Princess Beatrice for the purpose of this auction. She has decided to donate the proceeds from the auction to UNICEF UK and Children in Crisis."

Described as Used, Material - Silk. Main Color - Tea Rose. Called a "unique sculptural celebratory headpiece." It was listed with free postage, with no returns.

One of the most watched auctions in the history of eBay - with over 750,000 views - had numerous bidding restrictions. Managed by Auction For A Cause, which was listed on the auction site as "an auction management service focused on creating high-profile promotional auctions for charities, non-profit organizations and brands. All of the profits raised by Auction For A Cause go to its parent charity, Community Links, a local charity (registration no. 1018517) that runs community projects in East London."

Non retractable bidding restrictions included being pre-screened. "As part of our work to keep the auction secure and ensure that you are bidding against genuine buyers, this auction requires bidder pre-approval. You will be asked for additional information during the bidding process to allow this to happen. Bidders' personal information will not be published online and will be treated confidentially. Bidders may be contacted by UNICEF UK and Children in Crisis."

Bidders also needed to be over the age of 18, and Auction For A Cause had the right to reject any bid.

The auction is set to close May 22 at 5PM London time.


SPREADING THE WORD


LOVE, NOEL: THE LETTERS AND SONGS OF NOEL COWARD a very special performance on Memorial Weekend at the Bay Street Theatre. On Saturday, May 28 enjoy Broadway luminaries Christine Ebersole and Edward Hibbert in Love, Noël: The Letters and Songs of Noël Coward which interweaves the music of Noël Coward and letters between Noël Coward and his famous friends - newly collected in the critically acclaimed book, The Letters of Noël Coward, edited by Barry Day.

Tickets are $75 and special $125 tickets include a reception with Ebersole and Hibbert. Saturday, May 28, at the Bay Street Theatre in Sag Harbor, NY.

CATCH ME IF YOU CAN GET THE RIGHTS Adapting Films into Musicals is an industry panel presented by Theater Resources Unlimited in association with The Players Theatre and Back Stage.

The panel will include Tony-nominated producers Margo Lion whose credits include (Catch Me If You Can, Hairspray, The Wedding Singer, Come Fly Away, Caroline or Change and Hal Luftig who has produced Catch Me If You Can, Legally Blonde, Movin' Out, Come Fly Away and Thoroughly Modern Millie.

Their first-hand experiences will throw light on specific issues such as identifying a movie property with musical potential, how many hoops do you have to jump through to get the rights, what makes it sing, and how do you put together the right creative team to translate it into something stage-worthy? Other areas to be covered include: when is a familiar movie a marketable brand, and when is it just a good story with a proven structure? How open (or resistant) are movie fans to tampering with their beloved classics? Does a stage version of a film attract a wider audience than a show written directly for the stage?

Wednesday, May 25, 2011 at The Players Theatre in New York City.

COLLEEN ZENK who is nominated for an Emmy as Best Actress in a Leading Role for her portrayal of Barbara Ryan on As The World Turns, tweeting about her former co-star Trent Dawson's recent appearance at the Westport Country Playhouse in Beyond Therapy. "How dare he act without me. I'm so jealous!" Does that mean Colleen wants to appear on Broadway? Her good friend and former ATWT co-star Eileem Fulton is set to play Mrs. Higgens in My Fair Lady.


OTHER PEOPLE'S MONEY


FLEET WEEK docks May 25 in New York City. Broadway Entertainment and attractions offering special discounts for Military Personnel in town for Fleet Week 2011 include: B.B. King Blues Club, Baby It's You, Chicago the Musical, Discovery Times Square, Jersey Boys, La Cage The Musical, Madame Tussauds New York, Mamma Mia!, Ripley's Believe It or Not Times Square, and the Times Square Arts Center.

THE PENNSYLVANIA HOUSE APPROPRIATIONS COMMITTEE has passed an amendment to the budget bill (HB 1485) which would cut funding for the State Arts Council by over 70%. This action would have a devastating impact on Bristol Riverside Theatre and other local arts institutions," according to an e-mail received from the Bristol Riverside Theatre.

"The Arts Council budget has already been cut by 40%, and further reductions place an unfair burden on the arts, which generate 62,000 full-time equivalent jobs across the Commonwealth," continues the statement.







2011 VILLAGE VOICE OBIE AWARDS were given out at a ceremony on Monday, May 16, 2011 at Webster Hall in Greenwich Village, New York City.

The event was co-hosted by S. Epatha Merkerson and David Hyde Pierce, and the awards were presented by Alec Baldwin, Andrew Rannells, Arian Moayad, Frank Wood, Jim Parsons, John Larroquette, Liev Schreiber, Lin-Manuel Miranda, Mamie Gummer, Margaret Colin, Nina Arianda, Patina Miller, and Rose Hemingway. Anthony Rapp, of the original cast of the Obie Award-winning musical Rent and his band from the musical Without You performed at the ceremony.

The Elaborate Entrance of Chad Deity, by Kristoffer Diaz, received the Obie Award for Best New American Play, which is accompanied by a $1000 check. Repertorio Espanol and its co-founder and artistic director, René Buch, received the Obie Award for Lifetime Achievement. A complete list of awards:

PERFORMANCE
F. Murray Abraham, sustained excellence of performance
André Braugher, The Whipping Man (Manhattan Theatre Club)
Michael Chernus, In the Wake (Public Theater)
Ethan Hawke, Blood From a Stone (The New Group)
Hamish Linklater, The School for Lies (Classic Stage Company)
Laurie Metcalf, The Other Place (Manhattan Class Company)
Thomas Sadoski, Other Desert Cities (Lincoln Center Theater)
Scott Shepherd, Gatz (Elevator Repair Service / Public Theater)
Brenda Wehle, The Intelligent Homosexual's Guide to Capitalism and Socialism With a Key to the Scriptures (Signature Theatre / Public Theater)
Charlayne Woodard, The Witch of Edmonton (Red Bull Theater)

PLAYWRITING
Samuel D. Hunter, A Bright New Boise (Partial Comfort Productions)
Jonas Hassen Khemiri,Invasion (The Play Company)

DIRECTION
Austin Pendleton, Three sisters (Classic Stage Company)
Roger Rees and Alex Timbers, Peter and the Starcatcher (New York Theatre Workshop)
Leigh Silverman, In the Wake (Public Theater) and GO BACK TO WHERE YOU ARE (Playwrights Horizons)

DESIGN
Jill BC Du Boff, sustained excellence of sound design
Donyale Werle, sustained excellence of set design

Special Citations design and choreography, Sleep No More (Punchdrunk Theatre) Felix Barrett, Livi Vaughan, Beatrice Minns, Maxine Doyle, Stephen Dobbie, Euan Maybank, and David Israel Reynoso
Young Jean Lee, We're Gonna Die (13P / Joe's Pub)
debbie tucker green and Leah C. Gardiner, Born Bad (Soho Rep)

OBIE GRANTS ($2,500 to each theater)
Metropolitan Playhouse
Wakka Wakka

THE ROSS WETZSTEON AWARD (includes $1,000 check)
Belarus Free Theatre
BEST NEW AMERICAN PLAY (includes $1,000 check) The Elaborate Entrance of Chad Deity by Kristoffer Diaz (Second Stage)

LIFETIME ACHIEVEMENT AWARD
René Buch and Repertorio Espanol

NAKED BOYS SINGING! the fifteen-song celebration of the male form plays its 3000th performance on Saturday May 28th. at New World Stages - Stage 2, in New York City.

OUTER CRITICS CIRCLE the organization of writers and commentators for all media covering New York theatre announced its award winners for the 2010-11 season in 23 categories. ( See list of nominees and winners ) Charles Busch, Julie Halston, Swoosie Kurtz and Brian D'Arcy James will serve as presenters at the organization's 61st Annual Award ceremony on Thursday, May 26th at Sardi's Restaurant in New York City.

WILL FARRELL will receive the 14th Annual Mark Twain Prize for American Humor at the Kennedy Center on Sunday, October 23, 2011. The award show will feature a lineup of the biggest names in comedy.



FOLLIES with songs by Stephen Sondheim and book by James Goldman.

Signature Theatre artistic director Eric Schaeffer directs with choreography by Warren Carlyle. James Moore serves as music director and conducts the 28-piece Kennedy Center Opera House Orchestra.

Winner of seven Tonys, Follies is one of James Goldman and Stephen Sondheim's greatest works. All of life's might-have-beens take center stage as two Follies stars (Phyllis and Sally) and their husbands (Benjamin and Buddy) return to the site of their former glory, the Weismann Theatre, which is about to be demolished. and reassess their lives and what could have been.

Starring two-time Tony winner Bernadette Peters as Sally Durant Plummer, four-time Tony nominee Jan Maxwell as Phyllis Rogers Stone, two-time Tony nominee Danny Burstein as Buddy Plummer, Ron Raines as Benjamin Stone and Olivier Award winner Elaine Paige as Carlotta Campion.

The production also boasts Terrence Currier as Theodore Whitman, Christian Delcroix as Young Buddy, Rosalind Elias as Heidi Schiller, Colleen Fitzpatrick as Dee Dee West, Lora Lee Gayer as Young Sally, Michael Hayes as Roscoe, Florence Lacey as Sandra Crane, Linda Lavin as Hattie Walker, Régine as Solange LaFitte, David Sabin as Dimitri Weismann, Kirsten Scott as Young Phyllis, Frederick Strother as Max Deems, Nick Verina as Young Ben, Susan Watson as Emily Whitman and Terri White as Stella Deems.

Rounding out the ensemble are Lawrence Alexander, Brandon Bieber, John Carroll, Sara Edwards, Leslie Flesner (Young Dee Dee), Jenifer Foote (Young Hattie), Leah Horowitz (Young Heidi), Suzanne Hylenski (Young Solange), Danielle Jordan, Joe Kolinski, Amanda Larsen, Brittany Marcin, Edrie Means, Erin Moore (Young Stella), Pamela Otterson (Young Carlotta), Clifton Samuels, Kiira Schmidt (Young Sandra), Brian Shepard, Sam Strasfeld, Amos Wolff and Ashley Yeater.

The production also features scenic design by Derek McLane, costume design by Gregg Barnes, lighting design by Natasha Katz and sound design by Kai Harada. The musical utilizes Jonathan Tunick's original orchestrations. Officially opened May 21 and continues through June 19 in the Kennedy Center's Eisenhower Theater, Washington, DC.

On May 24 at the Terrace Theater, a Theatre-Look-In Event takes place with company members Bernadette Peters, Danny Burstein, Jan Maxwell, Ron Raines, and Elaine Paige who provide an insider's look, complete with lively discussion and the opportunity to ask questions.

EXTRAORDINARY CHAMBERS Written by David Wiener. Directed by Pam MacKinnon.

As the Khmer Rouge once again attracts international attention, this world premiere play gets to the heart of the headlines. When Carter, an American telecom executive, brings his wife Mara on a business trip to Cambodia, he never imagines that the ghosts of this beautiful country will find a way to haunt their lives. As business deals unravel and personal negotiations brim with political consequences, Carter and Mara must decide if the salvation of one life is worth sacrificing the justice of many.

Starring Francois Chau as Dr. Heng; Kimiko Gelman as Rom Chang; Marin Hinkle as Mara; Greg Watanabe as Sopoan and Mather Zickel as Carter.

Scenic Design by Myung Hee Cho. Costume Design by Alex Jaeger. Lighting Design by Lap Chi Chu. Sound Design by Vincent Olivieri.

May 24 - July 3, 2011 at the Geffen Theatre in Los Angeles.

PINK CHAMPAGNE a comedy by Neil Haven. Uprooted Theatre's Artistic Director/Co-founder Dennis F. Johnson directs this artistic collaboration.

Featuring Uprooted's Managing Director/Co-Founder Marti Gobel, T. Stacy Hicks, John Kishline, John Maclay, and Ari Shapiro.

The Plot ~ a new look at coming out, bullying, and family values.

Donald's relationship with his conservative son Gene never recovered after Donald came out and split with Gene's mother twenty-five years ago. Now in his sixties, Donald and his husband Patrick are surprised by a visit from Donald's rarely seen seventeen-year-old grandson, Joey, who happens to be a sporting a black eye. Joey announces he also is gay and will be heretofore living with "grandpa and grandpa."

Gene and his wife Corrine must now chase down their son to Donald's house for an impromptu family reunion. Both couples are in dire straits for various reasons. Corrine and Patrick become allies as the two in-laws, and Donald and Gene each have strong feelings about the other's parenting abilities.

Performances through June 5 at the 10th Street Theatre in Milwaukee, WI.

Talkbacks take place Thursday, May 26th & Thursday, June 2nd Immediately following the performances. Join members of the cast and Dennis Johnson (director) for a discussion about the play and the process to bring it to the stage. Neil Haven (playwright) also joins us for the May 26th talkback.

A Panel Discussion will take place Sunday, May 29th immediately following the matinee performance. Paul Masterson, executive director of the Milwaukee Gay Arts Center, moderates this panel discussion providing further insight into the issues of the play, including coming out, parental involvement, and bullying. The panel will include representatives from PFLAG Milwaukee, Diverse and Resilient (Connexus), the Milwaukee LGBT Community Center, and other community organizations.

LET ME DOWN EASY conceived, written and performed by Anna Deavere Smith. Directed by Leonard Fogila.

Let Me Down Easy examines the body and the body politic, as only Anna Deavere Smith can. Using her unique performance style, she introduces you to a rodeo rider, a prize fighter and an altruistic doctor - as well as legendary cyclist Lance Armstrong, supermodel Lauren Hutton and former Texas Governor Ann Richards. Together, their voices tell a stunning story about the vulnerability of the human body, the resilience of the spirit and the price of care.

Anna Deavere Smith is making her first Bay Area appearance in 15 years.

Performances May 28-June 26, 2011 at Berkeley Rep's Roda Theatre in Berkeley, CA.

FREUD'S LAST SESSION by Mark St. Germain, suggested by the bestselling book The Question of God by Harvard's Dr. Armand M. Nicholi, Jr.

Starring Mark H. Dold and Martin Rayner,

Under the direction of Tyler Marchant, Freud's Last Session centers on legendary psychoanalyst Dr. Sigmund Freud (Martin Rayner), who invites the young, rising academic star C. S. Lewis (Mark H. Dold) to his home in London. Lewis, expecting to be called on the carpet for satirizing Freud in a recent book, soon realizes Freud has a much more significant agenda. On the day England enters World War II, Freud and Lewis clash on the existence of God, love, sex, and the meaning of life – just two weeks before Freud chooses to take his own. Not just a powerful debate, this is a profound and deeply touching play about two men who boldly addressed the greatest questions of all time.

Winner of the 2011 Off-Broadway Alliance Award for Best Play, the producers have put a new block of seats on sale through September 4th.

On May 24 patrons can join in after the show as Freud & C.S. Lewis are put on the couch in a talkback with the cast and creatives. Performances at the \ Marjorie S. Deane Little Theater in NYC.

THE ILLUSION by Tony Kushner. Directed by Michael Mayer.

A lawyer, facing mortality, desperate to find the son he drove away years before, travels in the dead of night to a mysterious cave. There he engages the services of a wizard, who conjures up visions of the romantic, adventurous, perilous life the lawyer's son has been living since his father expelled him from home. The Illusion, freely adapted from Pierre Corneille's L'Illusion Comique, is bill as "Kushner's most joyfully theatrical play, a wildly entertaining tale of passion and regret, of love, disillusionment and magic."

Starring Peter Bartlett, Sean Dugan, David Margulies, Amanda Quaid, Lois Smith, Henry Stram, Merritt Wever and Finn Wittrock.

Presented by Signature Theatre Company. Currently in previews with the opening night slated for June 5 at the Peter Norton Space in New York City.

FAUSTUS Adapted and directed by Michael Gow. the translation of Goethe's Urfaust used in this adaptation is by John Williams, published by Wordsworth Editions

Making a deal with the devil is a tale as old as time. Whether it's for power, wealth, fame, love or knowledge, the price is the same - your soul! In life and in fiction, that price has always proven too high.

Doctor Faustus is the poster-boy for bargaining with Beelzebub. The ill-fated German scholar has inspired plays by Marlowe and Goethe, operas by Gounod and Boito, silent films, novels and countless other works across the centuries.

Now, playwright Michael Gow draws on these tellings and retellings to assemble an evocative kaleidoscope of the ancient legend. Starring the irresistible John Bell and staged at the Powerhouse Theatre, Faustus will draw on choreography, musical compositions and multimedia to caution how a lust for power can drive a person to the edge of self-destruction and damnation.

Designer: Jonathon Oxlade, Lighting Designer: Jason Glenwright, Video Designer: Chris More. Cast includes: John Bell, Vanessa Downing, Jason Klarwein, Kathryn Marquet, Catherine Terracini and Ben Winspear.

Staged May 30-June 25 at the Powerhouse Theatre, in Brisbane, Australia.


WHO'S WHERE


MARILYN MAYE the Grammy Award nominated singer and entertainer returns to Feinstein's in New York City with her new show It's Maye In May. Marilyn will be adding her creative touch to songs by her favorite contemporary songwriters including Peter Allen, James Taylor, Marc Shaiman and Scott Wittman. She'll present several Broadway show tunes including one from a current Tony Award-nominated Broadway musical. Maye will be joined by pianist/conductor Tedd Firth, bassist Tom Hubbard, and Jim Eklof, her drummer of almost 50 years. May 24-June 4 at Feinstein's in New York City.

PHISH performs on Memorial Day weekend - May 27, 28 and 29 - at the Bethel Woods Center in Bethel, CT. 15,000 people per day are anticipated for the concert and that virtually all hotel, bed-and-breakfast and campsite space nearby were booked 6 weeks ago.

ERIC CLAPTON wraps up a 6 night solo gig at the Royal Albert Hall in London on May 23-24. On Wednesday he is joined by Steve Winwood at the Royal Albert for performances on Thursday, Friday and next Sunday.

ADELE sings Monday, May 23, at the Royal Oak Music Theatre in Royal Ask, MI. On Tuesday she performs at the Riviera Theatre in Chicago. Thursday finds her at the First Evenue in Minneapolis. On Saturday she can be enjoyed at the Ogden Theatre in Denver. Next Sunday, the show is at The Depot in Salt Lake City.

JAMES BLUNT performs Monday, May 23. at the Riverside Theatre in Perth, Australia.

BILL COSBY will perform his stand-up comedy routine in Las Vegas at the Treasure Island Resort on Friday, May 27.

GLEE LIVE IN CONCERT after making its tour debut in Las Vegas, has a two night stand at the HP Pavilion in San Jose, CA on May 24-25. On Friday the show is at the Honda Center in Anaheim. Saturday the tour stops at the Staples Center in Los Angeles. Next Sunday, May 29, they are on stage at Casino Center in San Diego.

JOSH GROBAN on stage at the Qwest Center in Omaha on Tuesday, May 24. On Wednesday he entertains at the Sprint Center in Kansas City. Friday finds him at the Scottrade Center in St. Louis. On Saturday he can be enjoyed at the i wireless Center in Moline, IL.

PAUL SIMON entertains Wednesday, May 25, at DAR Constitution Hall in Washington, DC. On Saturday the show is in the same but a different location, this gig is at the 9:30 Club. On Saturday the tour stops at the Borgata Hotel in Atlantic City. Next Sunday, May 29, he can be enjoyed at the Foxwoods Resort in Mashantucket, CT.

COCKTAILS WITH LARRY MILLER Little League, Adultery & Other Bad Ideas Comedian Larry Miller takes to the stage in his one-man show to share his perspective on Marriage, Children and Drinking ... and how each one leads to the other two. Thursday, May 26 at the Broward Center in Fort Lauderdale, Florida.




FINAL OVATION


A MEMORIAL SERVICE FOR LANFORD WILSON was held was held Monday, May 16, at The Lyceum Theatre in New York City. Speakers paying tribute to the life of the playwright included: Edward Albee, Jeff Daniels, William Hurt, Swoosie Kurtz, Debra Monk, Judith Ivey, Lou Liberatore, Judd Hirsch and Marshall W. Mason.

RANDALL L. WREGHITT a theatrical producer who earned several Tony Award nominations, died May 18, 2011 in a hospital in Hoboken, NJ. from complications from carbon monoxide poisoning, He was 55.

Wreghitt won his first Tony Award nomination for his initial Broadway effort, Martin McDonagh's The Beauty Queen of Leenane. He went on to produce McDonagh's The Lonesome West and The Lieutenant of Inishmore.

A 1978 graduate of Iowa State University, Wreghitt began his career as a newspaper reporter in Spencer, Iowa, before taking a staff job at two theaters in Minneapolis and then a position as senior marketing representative at Disney World. After moving to New York, he worked in marketing and promotions for the Big Apple Circus before breaking into theater as an associate producer of Three Tall Women. In addition to the above mentions shows, Wreghitt's Broadway credits include The Miracle Worker, Impressionism, Grey Gardens, Little Women, Golda's Balcony, Metamorphoses, Hedda Gabler, One Flew Over the Cuckoo's Nest, Electra and Band in Berlin. He was an associate producer of the original Broadway production of The Real Thing.

In 1996, he won the Robert Whitehead Award for "outstanding achievement in commercial theatrical producing."

At the time of his death, his ongoing projects, included Talley's Folly, Aesop & Company, The Great Game and the musical Pure Country.

He is survived by his mother Leona Wreghitt of Clear Lake, Iowa and sister Sherri Wreghitt of Eden Prairie, MN.

BOB FLANIGAN the original tenor lead voice and founding member of the four-part harmony group The Four Freshman died of congestive heart failure on May 15, 2011. A Las Vegas resident, he was 84.

The Four Freshman produced more than 50 albums and 70 singles, and had six Grammy nominations over the years.

Founded in 1948, the group is widely described as the longest continuously performing vocal quartet of its kind in the United States. The Four Freshmen's current members - Brian Eichenberger, Curtis Calderon, Vince Johnson and Bob Ferreira - performed last Wednesday in Boston.

Flanigan is survived by his second wife, Mary, their four children and two children from his first marriage, 15 grand children and five great-grand children.








Next Column: May 29, 2011
Copyright: May 22, 2011. All Rights Reserved. Reviews, Interviews, Commentary, Photographs or Graphics from any Broadway To Vegas (TM) columns may not be published, broadcast, rewritten, utilized as leads, or used in any manner without permission, compensation and/or credit.
Link to Main Page
---
Laura Deni



For the snail mail address, please E-mail your request.
CLICK HERE FOR COMMENT SECTION