! >
Broadway To Vegas
  
 SHOW REVIEWS CELEBRITY INTERVIEWS GOSSIP NEWS

| | |
| --- | --- |
| | |
INSPIRING ALTAR BOYZ - - COUNTRY MUSIC AWARDS OBSERVATIONS - - MERV GRIFFIN HONORED - - FRANK GORSHIN DIES - - VANESSA REDGRAVE IN HECUBA - - BARK! TELLS IT FROM A DOG'S POINT OF VIEW - - JAPES - - STUFF HAPPENS - - DONATE . . . Scroll Down


Copyright: May 22, 2005
By: Laura Deni

CLICK HERE FOR COMMENT SECTION
WORSHIPING AT THE ALTAR OF BOYZ
Not since the 50's heyday of male quartets have voices blended so beautifully.

Altar Boys is both a hit off-Broadway musical and a group.

The show is snappy and inspirational - a spirited cross between Hair and Jesus Christ, Superstar.

The show is about a struggling Christian boy band riding the wave of America's latest fascination with religion. Brilliant and witty lyrics. Catchy melodies. Hot dance moves and a bundle of laughs. They have product in their hair and bling on their bodies.

The self-anointed apostles of pop - Matthew, Mark, Luke, Juan, and Abraham (who's Jewish) - are played to a fair-thee-well by Scott Porter, Tyler Maynard, Andy Karl, Ryan Duncan and David Josefsberg. They have brought their soul-saving tour to New York City and as they put it: "After years of playing every bingo hall and pancake breakfast there is, we're so pumped to be finally playing the Big Apple!"

Music and Lyrics by Gary Adler and Michael Patrick Walker. Book by Kevin Del Aguila. Directed by Stafford Arima. Choreographed by Christopher Gattelli.

This is not a church revival. They is plenty of good-natured jabbing at organized religion and other boy bands. The stage show is more ecumenical than what comes across on the CD, which can't possibly convey the storyline, comedy and physical appearances that help make the production one with broad based appeal. Never a fan of religious zealots, this is a non offensive show that is perfect for all ages. And, the CD is dynamite.

Soul Searching questions asked to a rap beat - Is God the Real Deal? Everybody Fits In reaches out - a song which every teenager should here. Every dating teen-ager ought to give a listen to Something About You. For those who think they are worthless without the skinny body and the designer labels should lend an ear to Body Mind & Soul.

Epiphany deserves to be used as the anthem for the youth movement of the Roman Catholic Church and earn Altar Boyz a private audience with the Pope.

While they are a manufactured group, the difference between this group and other boy bands is - top quality workmanship. Individually and together they are great. Don't miss Altar Boyz - the stage musical and the CD.

Musicians are; Keyboardist Matt Gallagher. Guitar David Matos. Clayton Craddock on drums. Synthesizer Programmer is Doug Katsaros.

Tracks:

We Are The Altar Boyz
Rhythm In Me
Church Rulz
The Calling
The Miracle Song
Everybody
Something About You
Body Mind & Soul
LaVida Eternal
Epiphany
Number 918
I Believe

Album producted by Doug Katsuros. Co-Produced by Billy Joy Stein. Recorded and mixed by Jonathan Kaplan.


GLAD HANDING AT THE COUNTRY MUSIC AWARDS
Tim McGraw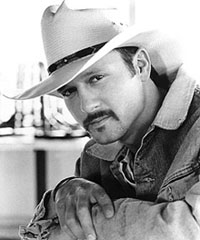 Country stars have always been fan friendly. Showing off in Las Vegas didn't alter their personalities - although some hotel officials and security guards tried to construct a snooty aura.

The stars were actually more polite than some of the fans.

Behind his back fans whispered that they had passed Garth Brooks but didn't recognize the guy, who smiled and said hello, because he had gained so much weight.

Brooks & Dunn who took home the prize for Top Vocal Duo - collecting the award for a record 12th time - opting to riding a hotel elevator with "ordinary" people rather than permitting security guards to purloin a private lift just for them.

Tim McGraw - whose hit Live Like You Were Dying, won for both Song of the Year and Single of the Year - playing poker in a high stakes room where officials put up a screen to prevent onlookers from getting a peak at the hatted one. Their subterfuge was to no avail when McGraw starting sticking his arm around the screen to shake hands with fans.

Alan Jackson hanging out at the bar engaging in chit chat with customers.



Broadway To Vegas is supported through advertising and donations. Priority consideration is given to interview suggestions, news, press releases, etc from paid supporters. However, no paid supporters control, alter, edit, or in any way manipulate the content of this site. Your donation is appreciated. We accept PAYPAL. Thank you for your interest.


SPREADING THE WORD


RADIO THEATER ON A NOTE OF TRIUMPH, WITH NORMAN CORWIN Wednesday, May 25 at the Skirball Center in Los Angeles.

On V-E Day, in May 1945, CBS aired On a Note of Triumph by radio legend Norman Corwin, an hour-long poetic rumination on World War II that examined the meaning of the victory over Nazism and what the future held for the world. Upon the sixtieth anniversary of the broadcast, the Los Angeles Radio Drama Network re-creates this eloquent masterpiece as a production on stage, featuring a cast of readers, evocative sound effects, and Bernard Herrmann's musical score. Corwin will introduce the performance and discuss the program afterwards.

BERNIE SAHLINS All of us recognize the famous Chicago establishment of Second City. The Theatre of Western Springs (TWS ) is proud and honored to welcome Second City founder and longtime producer and director, Bernie Sahlins. Mr. Sahlins brought improvisational theatre to mainstream success here in 1959 and American comedy has never been the same since. . Sahlin will share his tools and techniques of the art of theatre. Monday May 23, at the Cattell Theatre, outside of Chicago in Western Springs.


SWEET CHARITY


MUSEUM OF TELEVISION AND RADIO HONORS MERV GRIFFIN

Merv Griffin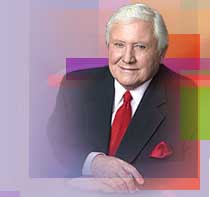 Thursday, May 26 at the Waldorf-Astoria in NYC.

Honorary Gala Chairs: Frank A. Bennack, Jr., Gordon Crawford, Gustave M. Hauser, Leo Hindery, Jr., Mel Karmazin, Marlo Thomas & Phil Donahue.

Gala Cochairs: Loreen Arbus, Stuart N. Brotman, Christopher H. Browne, Joan Ganz Cooney & Peter G. Peterson, Ronald R. Davenport, Sr., Tom Freston, Lee Gabler, George J. Gillespie, III, James & Marilee Greenwald, Ralph Guild, Robert A. Iger, Kay & William Koplovitz, John W. Madigan, L. Lowry Mays, Edward & Patricia McLaughlin, Dina Merrill & Ted Hartley, Leslie Moonves, Rupert Murdoch, Hon. Edward N. Ney, William C. Paley, Sumner Redstone, Ivan Seidenberg, Stanley & Sydney Shuman, Robert F.X. Sillerman & Laura Baudo Sillerman, David J. Stern, Sir Howard Stringer, Rosalind P. Walter, Lou Weiss, Elizabeth & Jim Wiatt, Bob Wright, Alex Yemenidjian.

Gala Committee; Jim Beloyianis, Del R. Bryant, W. Don Cornwell, Robert Essner, Dennis FitzSimons, Victor F. Ganzi, Robert D. Goldfarb, Alan R. Griffith, Robert Halmi, Jr, Christopher M. Harland, Takashi Hoga, R. Wayne Jackson, Debra L. Lee, Michael Lynne, Stu Olds, Jerry Perenchio, Frances W. Preston, Robert Shaye, Walter V. Shipley, Jeff Smulyan, Togo Tajika.

The $1,000 per person black tie gala helps support the Museum.

SUMMER OF '42 Book by Hunter Foster. Music and Lyrics by David Kirshenbaum. Based upon the novel and screenplay by Herman Raucher. Musical Director is Lynne Shankel. Gabriel Barre directs.

Relive the summer you'll always remember. This show, which has played off-Broadway and around the country, comes home to the theatre where it had its first reading, with a stunning cast headed by Rachel York.

Benefit Concert. One Night Only. Monday May 23rd at the York Theatre in NYC. Tickets for the benefit are priced at $50 for Concert Only tickets and $80 for VIP tickets, which includes priority seating at the concert, a reception afterward with the cast and creative team, and a choice of two York cast albums issued by the JAY Records label - including the option of waiting for the release of the Summer of '42 album to be recorded the following day.



STUFF HAPPENS American premiere of a new play by David Hare.. Directed by Gordon Davidson.

"Stuff happens!… And it's untidy, and freedom's untidy, and free people are free to make mistakes and commit crimes and do bad things." -- Donald Rumsfeld, US Secretary of Defense, April 11, 2003, when asked to comment on the widespread looting of Baghdad.

Stuff Happens is about the series of events that led to the conflict in Iraq and the parts played by world political leaders, in particular President George W. Bush and his inner circle of foreign policy advisors. From the early search for weapons of mass destruction and the long shadow cast by 9/11, to the drive to remove the tyrannical Saddam Hussein from power, to the thousands of questions relating to oil, terror, Al Qaeda and more, Stuff Happens explores through public record and through David Hare's meticulous research what most likely happened behind the closed doors of power.

With Tyrees Allen, Henry Brown, Jane Carr, Keith Carradine, Mitchell Edmonds, Brian George, Kip Gilman, James Gleason, Francis Guinan, James Handy, Jay Harik, John Michael Higgins, Anna Khaja, John Rafter Lee, Dakin Matthews, Paul Messinger, Alan Oppenheimer, Julian Sands, Stephen Spinella, Lorraine Toussaint, Inger Tudor, John Vickery.

Set Design Ming Cho Lee. Costume Design Candice Cain. Lighting Design Christopher Akerlind. Sound Design Jon Gottlieb. Music Karl Fredrik Lundeberg.

May 25 – July 17 at the Mark Taper Forum in Los Angeles.

ANNIE Book by Thomas Meehan. Music by Charles Strouse. Lyrics by Martin Charnin.

Leapin' Lizards! The popular comic strip heroine takes center stage in one of the world's best-loved musicals. Annie is a spunky depression-era orphan determined to find her parents who abandoned her years ago on the doorstep of a New York City orphanage. This heartwarming show with its bright tuneful score has become a part of the nation's musical heritage and an international sensation. Great songs like Hard Knock Life, Tomorrow and Easy Street are all a part of this spectacular family favorite. May 27 - June 26.

JAPES> by Simon Gray. Directed by Maria Aitken. Starring Francesca Faridanay, Matt McGrath and Sam Robards.

Two brothers share the house they were born in – and the woman they both love in the American premiere of this dazzling new drama from author of Butley, Otherwise Engaged and rtermaine's Terms.

"Of all my plays," says author Simon Gray, "Japes is the closest to my heart…I am thrilled that there is to be an American production, and particularly thrilled that it's to be at Bay Street."

May 24 through June 5 at The Bay Street Theatre in Sag Harbor, NY.

BRIGADOON Book and lyrics Alan Jay Lerner. Music Frederick Loewe. The 18th century village, Brigadoon, vanished into the Scottish mist and returns for only one day every hundred years. This well loved romantic fantasy includes such beautiful melodies as, The Heather on the Hill, I'll Go Home with Bonnie Jean, and Almost Like Being in Love. May 27 – July 18 at the Hale Center Theatre in Orum, Utah.

BARK! a world premiere musical with music by David Troy Francis and lyrics by Gavin Geoffrey Dillard, Robert Schrock, Jonathan Heath, Danny Lukic and Mark Winkler is extending again through Sunday, July 10, well into the Dog Days of summer at the Coast Playhouse in West Hollywood.

Bark! has earned "two paws up" from The Humane Society of the United States, Hollywood office. Bark! is all about man's best friend and is told and sung from the dog's point of view. Howlingly funny, fast paced and sometimes poignant, Bark! is the new American musical with compelling performances by a stellar six member cast and original music with melody by the song writing team of Francis & Dillard. Imaginatively directed and choreographed by Kay Cole, the original Maggie in A Chorus Line. If you love dogs, you're dog gone going to love Bark!

The cast of Bark! includes: Brandon Alameda, Carlos Avilas, Katy Blake, Danny Bolero, Monica Lee Gradischek, Kristi Holden, Nicole Kaplan, Merrick McMahon, Ginny McMath, Jamey Schrick, Adam Simmons, Joe Souza and Anne Fraser Thomas.

The design team is as follows: Lighting Design is by Steven Young. Set Design is by Dennis Kull. Costume Design is by Jeannine Campi. The Casting Director is Michael Donovan. Graphic Design is by Jeff Judd. The Conductor and Musical Director is David Troy Francis & William V. Malpede.

PETER PAN In her farewell performance as Peter Pan, Tony Award nominee and two-time Olympic Gymnast Cathy Rigby takes flight in the 100th Anniversary of the immortal James M. Barrie tale. This timeless musical masterpiece flies into the Music Hall at Fair Park for a two-week engagement as part of the Dallas Summer Musicals 2005 season, beginning May 24 and running through June 5.

PACIFIC OVERTURES a musical featuring lyrics and Kabuki-style music by Stephen Sondheim, runs May 17 to July 3. The story begins in 1853 with the arrival of the first American to the isolated archipelago of Japan. A struggle develops between those who want to stick with tradition and those who wish to embrace new ways of living. Directing is Eric Schaeffer. Signature Theatre in Arlington, VA.

HECUBA

Vanessa Redgrave in Hecuba. Photo: Kennedy Center.
Legendary actress Vanessa Redgrave makes her eagerly anticipated Washington debut in a new Royal Shakespeare Company production of Hecuba, Euripides' gripping tragedy about the captive Queen of Troy.

One of the RSC's most illustrious alumni, the Emmy, Olivier, and Academy Award winner recently added a 2003 Tony Award to her list of accolades for her spellbinding performance in Broadway's A Long Day's Journey into Night.

After 43 years, Vanessa Redgrave returns to the company that made her a Shakespearean star to portray the long-suffering yet headstrong matriarch Hecuba, in a new version by Tony Harrison. The production promises a tour-de-force performance from one of theater and film's greatest luminaries.

Written by Euripides. Directed by Laurence Boswell. Translated by Tony Harris Presented without an intermission. May 21 - Jun 12 as part of the Kennedy Center Theater Series, Washington, D.C.


| | | |
| --- | --- | --- |
| | | |
WHO'S WHERE


NEIL DIAMOND this evening, Sunday, May 22 at the Kingston Communications Stadium in Hull, UK. On Tuesday he can be enjoyed at the Metro Radio Arena in Newcastle, UK. On Thursday the show is at Portman Road in Ipswich, UK and on Saturday he's starts a two nighter at the NEC Arena in Birmingham, UK.

MICHAEL BUBLE opens a three night engagement Tuesday, May 24 at the Hummingbird Centre in Toronto. On Saturday he performs at the Rebecca Cohn Auditorium in Halifax, NS and next Sunday, May 29 he stars at the Playhouse Theatre in Fredericton, NB.

DURAN DURAN performs Saturday, May 28, at the City Football Club in Birmingham, UK.

HUEY LEWIS AND THE NEWS defined music in the 80s with their upbeat lyrics and irresistible toe-tapping beat. On May 29, they'll filled The Rose Ballroom with those sounds. of John Ascuage's Nugget in Sparks, Nevada.

RYAN ADAMS AND THE CARDINALS will perform on The Late Show with David Letterman on Wednesday, May 25th.

MICHAEL McKEAN AND ANNETTE O'TOOLE Academy Award nominated, McKean and O'Toole are one of America's most talented new songwriting teams. The couple, who married in 1999, started writing songs together two years ago. Michael's established his musical credentials dating back to his days with the hit TV show Laverne & Shirley, include films This is Spinal Tap, Best In Show, and Waiting for Guffman. Michael and Annette co-wrote three of the songs for the recent Christopher Guest hit, A Mighty Wind, while Michael provided an additional seven compositions. The song that has received the most acclaim is the 2003 Academy-award nominated McKean/O'Toole special: A Kiss at the End of the Rainbow, performed by Eugene Levy and Catherine O'Hara, playing the reuniting folkies, Mitch & Mickey. They are currently working on a new stage musical. For this engagement, Annette and Michael are joined by Ms. O'Toole's daughter, Nell Geisslinger. Nell has just finished her third season at the Oregon Shakespeare Festival, and her folks delight in having her vocal and instrumental talent to help with the heavy lifting. May 24th - June 4th at Feinstein's at the Regency in Manhattan.

MARTHA WAINWRIGHT BAND she's the sister of Rufus and the daughter of Loudon III and folksinger Kate McGarrigle. The youngest Wainwright, who released her full-length debut in March, brings her confessional songwriting to the IOTA in Arlington, VA on Monday. On Wednesday she puts here genes on stage, at the Evening Muse in Charlotte, N.C.


FINAL OVATION


FRANK GORSHIN

Frank Gorshin at the Thunderbird Hotel in Las Vegas 1965.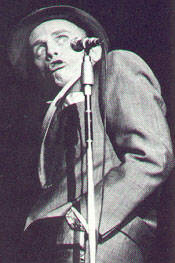 72, died Tuesday May 18 in Burbank, Calif. He made his Las Vegas debut in 1965 starting out as the opening act for such stars as Bobby Darin and Frank Sinatra.

Gorshin would advance to headline status - one of the first impersonators to do so. Gorshin's act includes more than 40 impressions.

The cause of his death was cancer complicated by emphysema and pneumonia.

Known to millions as Batman's nemesis, the Riddler, the Pittsburgh born performer made his Broadway debut in 1969 as the star of Jimmy, a musical about the Prohibition-era New York mayor Jimmy Walker.

Although the show lasted for a little more than two months Gorshin received rave reviews and there is a delightful cast album.

He also starred in touring companies of What Makes Sammy Run?, Promises, Promises, Peter Pan, Prisoner of Second Street, Death Trap, Doubles, Ah Wilderness, On The 20th Century, and Breaking Legs.

In 1999 he returned to Las Vegas for a Desert Inn engagement, a Nederlander run of Guys & Dolls, which starred Maureen McGovern as Adelaide, Jack Jones as Sky Masterson, Frank Gorshin as Nathan Detroit, Kim Crosby as Sarah Brown, and Kimberly Smail as Mimi.

He replaced George Hearn in Whodunit; and appeared in Gilbert & Sullivan's Princess Ida at Symphony Space. A tour in Neil Simon's The Sunshine Boys with Dick Van Patten followed.



Frank Gorshin and Maureen McGovern in Guys and Dolls at the Desert Inn Hotel in Las Vegas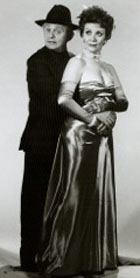 Gorshin's final stand on The Great White Way was the 2002 biographical play by Rupert Holmes Say Goodnight, Gracie. Gracie.

In the one-man show Gorshin portrayed George Burns. He used only a little makeup and no prosthetics. Without hesitation Gorshin jumped into the script, wanting to prove that "I could do a one-man show."

Gorshin, who never met Burns, recorded the entire play and then listened to it over and over again, rehearsing for three weeks for the world premiere in Broward Center for the Performing Arts in Florida.

His performance earned him the 2000 Carbonell Award as best actor in a road show and the production received the Carbonell Award for Best New Play of 2000.



Gorshin as George Burns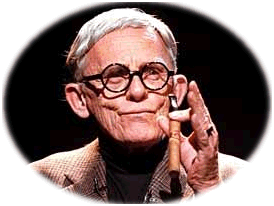 The show transferred to Broadway. It was during that run that Gorshin learned he had lung cancer, a condition he kept secret, all the while performing eight times a week.

Gorshin's final performance, on the season finale of the CBS crime series CSI, set in his old stomping ground, Las Vegas, was broadcast last Thursday. Ironically, in the episode Gorshin, a lifelong impersonator, played himself.

In addition to his wife of 48 years, Christina Randazzo Gorshin, of Connecticut, Mr. Gorshin is survived by a son, Mitch, of Orlando, Fla.; a sister, Dottie Roland of Pittsburgh; and a grandson, Brandon. The private funeral was followed by buried in the family plot in Pittsburgh.
















Next Column: May 29, 2005
Copyright: May 22, 2005. All Rights Reserved. Reviews, Interviews, Commentary, Photographs or Graphics from any Broadway To Vegas (TM) columns may not be published, broadcast, rewritten, utilized as leads, or used in any manner without permission,compensation/credit.
Link to Main Page
---
Laura Deni


CLICK HERE FOR COMMENT SECTION