! >
Broadway To Vegas
  SHOW REVIEWS     CELEBRITY INTERVIEWS     GOSSIP     NEWS 
MICKEY ROONEY: GROWING UP NOT GROWING OLD


Shortly after taking his first steps Mickey Rooney began his acting career. He was 18 months old and the location was Chicago's Haymarket Theater. A few months later he was appearing in his first film. Over the course of his career, he has starred in more than 300 movies, over 100 television shows and dozens of theatrical productions.


MICKEY ROONEY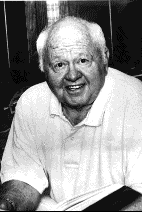 On May 30th he opens at the Sahara Hotel in Las Vegas.

The guy who has been in front of the footlights since he was infant has respect for the light bulb invention. "Without it, you're in the dark."

The song and dance man has seen his own career and life go through some dark spells, managing to see the light at the end of the tunnel when, almost twenty-five years ago, he married Jan, his eighth and current wife, and found God.

He discovered God through an angel who appeared in the form of a busboy with brilliant golden hair and while clearing away the plates told Rooney to straighten up his life and assured him that "God loves you." Shook, Rooney discovered that nobody else in the crowded restaurant had seen that busboy. "I realized that the busboy was an angel sent from heaven. He was telling me to clean up my act, straighten up my life and become a good Christian again."

Rooney did, but it wasn't easy for the man who is now a practicing Christian Scientist.

In 1938, when he was 18, Rooney was the nation's top movie star, with bigger box office than Clark Gable, Spencer Tracey or James Cagney.



MICKEY ROONEY AND JUDY GARLAND in the 1939 movie Babes In Arms. Rooney named his dog after his co-star.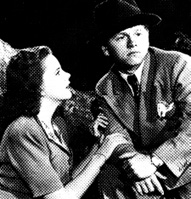 He named his dog - the daughter of Yorkshire terriers Gloria Swanson and Charlie Chaplin, after Judy Garland the person he once said had more impact on his life than any of his eight wives.

The glare of a spotlight too hot and too early made problems later on.

In his 1965 autobiography he said MGM "would have preferred that he remain a teen for 40 years. Though he made more than 300 movies, he lamented that landing "adult" roles was a challenge. The actor got an Oscar nomination for 1979 The Black Stallion, and an Emmy ward for the 1981 TV movie Bill. Still, before his Broadway comeback in 1980's Sugar Babies he admits to being "king of the dinner-theater circuit - a personality who accepted $500 for showing up at a party pretending to be a friend of the host."



MICKEY ROONEY was at the Riviera Hotel in Las Vegas during the summer of 1955 where he got cute and pulled a rickshaw for a promotional event.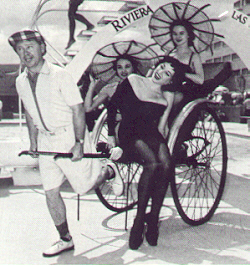 Along the way he sought solace in alcohol, playing the ponies and eventually filed for bankruptcy after getting into the IRS for $1.75 million. In the early 60s Rooney was pulling in nearly $20,000 per week in Las Vegas and losing twice as much shooting craps. He wad his own worst enemy.

Through it all he's managed to keep his sense of humor. You know what? They've got a Mickey Rooney doll. You wind it up and it gets married." While his bio says he's 5 feet three inches, Rooney explains: "I was 6 feet 4 when I married Ava Gardner."

As to why his current marriage is approaching the silver anniversary plateau Rooney had some advise for men: "If I had one piece of advice to give to husbands, it's be this. Keep you mouth shut. If I'd have done that sooner I'd be a lot better off now," said the man whose first marriage to Gardner lasted 17 months and his fifth, to Marge Lane, ran just 100 days.

The Brooklyn born dynamic fireplug has no plans to slow down. He toured with the stage production of The Wizard of Oz and was named to the California Commission on Aging and performs at the Sahara Hotel. "I'll work as long as the public wants me and I've gone through six publics already!"

Mickey Rooney will be starring at the Sahara Hotel in Las Vegas thru June 3rd.



Broadway To Vegas is supported through advertising and donations. Priority consideration is given to interview suggestions, news, press releases, etc from paid supporters. However, no paid supporters control, alter, edit, or in any way manipulate the content of this site. Your donation is appreciated. We accept PAYPAL. Thank you for your interest.


KISS MY FOOT


Nevada cocktail waitresses are down in the heels about being required to put their tootsies in shoes that have heels ranging from one to three inches.

Cocktail waitresses want to be able to wear "sensible" shoes. A protest demonstration in Reno, Nevada asserted that being forced to wear high-heels is discriminatory and puts women's health in jeopardy.

Many of the protestors arrived wearing tennis shoes.

It was pointed out that a fully loaded cocktail tray can weigh up to 40 pounds and juggling drinks while balancing on spiked heels can take its toll on the back and feet.
FOOD FOR THOUGHT


Lucie Arnaz who is currently starring in the London stage production Witches of Eastwick and her brother Desi who calls Boulder City, Nevada home, are brewing up some sweet concoctions of their own - Lucy's Chocolate Factory Candy based on the classic I Love Lucy television segment, where Lucy and Ethel stuffed their mouths to keep up with the assembly line

The sweet treats will be manufactured at the Rocky Mountain Chocolate Factory in Durango, Colorado. The edibles will go on sale in October and collector boxes will be available.

In Philadelphia Chef Joseph Poon, of the upscale Joseph Poon Asian Fusion Restaurant, doesn't intend to permit the Republicans to starve when the Republican National Convention convenes in Philadelphia this July. Poon has pledged that 20 percent of the cost of each prix fixe meal served will be donated to the Asian Republican Support Group. The party that gave us the guy who can't spell potato can chow down on a meal that begins with Peking Duck Salad, Consomme de Lobster Bean Cake aux Quenelles and Lobster, Scallop and Shrimp Crystal Dumpling.

The meal continues with international appetizers including Grilled Chicken Satay in Bourbon Glaze from Malaysia, Foie Gras in Garlic Tangy Essence from France, Persian Spicy Japanese Eggplant with Pita Bread and Grilled Tofu in Burgundy Hoisin Sauce from Peking. The main dish will be a Roasted Black and White Sesame Seed Chilean Sea Bass. The meal will be topped off with a Ginger Carrot Elephant Cake - you expected a donkey??? There will also be champagne.

In Las Vegas the 10th Annual Epicurean Affair 2000 - An Olympian Odyssey takes place at the Rio Hotel on June 14. The Nevada hotel and Motel Association and the Nevada Restaurant Association sells tickets for $100. in advance or $125 at the door. Promises made say that one's senses will be taken on a bold, new culinary journey as the Culinary Olympic Team shows off.


CURTAIN DOWN


SELENA FOREVER the stage musical about the slain tejano singer, has folded. Arguments with producers and canceled shows in Los Angeles means the national tour has been scrapped.

WAITING IN THE WINGS starring Lauren Bacall and Rosemary Harris ends its run at the Eugene O'Neill Theatre NYC.

RADIO CITY MUSICAL HALL ROCKETTES at the Flamingo Hilton in Las Vegas will be high kicking it for the last time.



ANNIE Leapin' Lizards! the sun will come out when the national touring company stops off at Mandalay Bay in Las Vegas for performances June 14-18.

Beginning as Harold Gray's cartoon strip Little Orphan Annie, the loveable, curly red-haired girl came alive on the Broadway stage when Annie opened to rave revues on April 21,1977.

The show places Annie, Daddy Warbucks, and Annie's mutt Sandy in New York City in the midst of the Depression. The Broadway show was the inspiration of Martin Charnin, who became Annie's director and lyricist. Initially skeptical of the idea, Charnin convinced Charles Strouse to get on board and write the music and Thomas Meehan to write the book for the Broadway play that would go on to win seven Tony Awards and become the third longest running musical of the 1970's with 2,377 performances.

Charnin is back in the director's chair for this tour of Annie, which will travel to 100 cities in the U.S. and Canada.

WONDERFUL TOWN that wonderful, wonderful musical which opened on Broadway in 1953 with Rosalind Russell starring as Ruth, a wisecracking, aspiring writer from Ohio who shares a small drab Greenwich Village apartment with her pretty sister, Eileen. A concert version delighted those fortunate enough to see it at Lincoln Center in their Encores! series. Now it appears that the show will return to Broadway. Big shot people are interested in backing this production. Names being bandied about are monikers like actor/race car driver Paul Newman and Chicago producers Fran and Barry Weissler and Anita Waxman and Elizabeth Williams producers of The Real Thing. We're not playing favorites. We don't care who produces it as long as it gets launched.

MARTY BELL has optioned the biography of Josephine Baker written by Jean-Claude Baker, the singer's adopted son, who owns the Chez Josephine nightclub in New York City.

for colored girls who have considered suicide/when the rainbow is enuf will celebrate its 25th anniversary performance by opening June 11 at the American Place Theater, NYC. Written by Ntozake Shange, the production will be directed by George Faison.

ART the 1998 Tony Award winning Best Play runs May 30-June 4, Jones Hall, Houston, TX.

DENVER PERFORMING ARTS COMPLEX has set their new season which begins September 15 with Tantalus, followed by The Show-Off. The first production of next year will be 1933 with a January 10-March 3 run. Amy's View is followed by Much Ado About Nothing, Wit, The Little Foxes, Inna Beginning, Uncle Vanya, and Pork Pie closes out the season with a May 17-June 16 engagement.

GUINEVERE by Pam Gens has its US premiere at the 78th Street Theatre Lab now thru June 10th. Directed by Eric Nightengale and starring Alan Nebelthau and Jeanne Ruskin, Guinevere takes place during a knockdown drag-out cat fight between King Arthur and his Queen, who having been accused of treason against the kingdom for her extra-marital fling with Lancelot, is not feeling particularly demure.

VAGINA MONOLOGUES AND PENIS ENVY Currently venting in The Vagina Monologues are Diahann Carroll, Marisa Tomei and Rita Wilson. Giving testosterone equal time is the new comedy The Penis Envy which is permitting press agents and assorted wags to enjoy the moment. "The envy of all shows. The Penis Responds is actually twelve short plays that you'll wish were a lot longer. You'll have a ball." The Penis Responds opens May 25 at the Blue Heron Arts Center NYC while The Vagina Monologues is spreading the word at The Westside Theatre.

PHANTOM by Maury Yeston has Richard White returning to the role he created. White replaced Robert Cuccioli who is currently starring off-Broadway in Enter the Guardsman. The production which runs through June 4 at the San Jose, Performing Arts Center has Christine being played by Kristin Peterson. Also in the cast are Ann Arvia as Carlotta, Joe Wincent as Gerard Cassiera, Michael Ray Wisely, Richard Frederick and Jonathan Rhys Williams. Marc Jacobs directs.

ACCESSION OF LILI a two-character play set in New Orleans was first produced by the University of Mississippi in 1993 as part of the Festival of Southern Theatre. Written by David H. Vowell, who received an Oscar nomination for Say Goodbye, the romantic comedy has its West Coast premiere at the Two Roads Theatre in Studio City, CA through July 8. Susan Morganstern directs Sandra Tucker and Adam Conger.

FOOTLOOSE directed by Daniel Stewart, with stage adaptation by Dean Pitchford and Walter Bobbie, music by Tom Snow, lyrics by Dean Pitchford based on his original screenplay with additional music by Eric Carmen, Sammy Hagar, Kenny Loggins and Jim Steinman has put its foot down at the Rio Hotel in Las Vegas.

THE SECRET OF THE OLD QUEEN - no, it's not what you're thinking. This is a Hardy Boys musical, with a book by Timothy Cope and music and lyrics by Paul Boesing. It opens June 1 at The New Conservatory Center in San Francisco.

The musical adventure stars Patrick Michael Duckman, Gina Falchetta, Jared Fortunato, Jessica Kathryn Jackson, Shelley Lynn Johnson, Richard Pardini, Steven Patterson, Stephen Pawley,and Jonathan Simpson.

Directed and designed by John Sowle with choreography by Jayne Zaban. Musical direction by Alan Fricke and costumes by Jeffrey Simpson.

Production runs through July 16.


WHO'S WHERE


MARC ANTHONY both newly married and newly involved in a child support lawsuit from a previous significant other performs June 16 at the MGM Grand in Las Vegas.

ALAN KING who is suppose to be returning to Broadway is returning to Las Vegas. The actor-comedian has purchased a Las Vegas condo for $770,000. The new abode is in a high rise tower call Turnberry Place. It has three bedrooms, 2,800 square feet and is on the 21 st floor. King, 72, was a Vegas regular during the Rat Pack heyday and one of the few performers credited with actually bringing high roller into a casino. His return to Vegas coincides with Steve Wynn purchasing the Desert Inn Hotel and reports that Wynn will be booking classy "old guard" performers that attract the high roller element.

LEANN RIMES who has been singing the blues charging her father and others with mismanagement of her money sings in The House of Blues, Las Vegas on July 28.

BOB ANDERSON was described by People as "America's greatest singing impressionist." The entertainer who has been performing in Las Vegas since 1973 opens May 25 at the Stardust Hotel in the first of four engagements at the resort. This gig runs through June 9th.

DAVID HYDE PIERCE is anxious to return to Broadway telling friends that " there is nothing like live theatre. I would love to go back." He did manage to work in Boys from Syracuse in Los Angeles while also co-starring in the top rated Frasier series.

TOM POSTILIO swings into summer at Arci's Place in NYC June 6-24 with an all new show This Time Around. The Long Island native recently performed critically acclaimed engagements with the Delaware and Honolulu Symphony orchestras and a sold out Westbury Music Fair concert with his own 17-piece swing orchestra. This will be his first appearance at Arci's Place.

BARRY MANILOW performing five shows May 25-28 at Mandalay Bay, Las Vegas.

MARVIN HAMLISCH who owns a Tony and Oscar and Emmy awards can't rest on his trophies. Currently he's the principal pops conductor of the Pittsburgh Symphony Orchestra. He's also composing a new Broadway musical Sweet Smell of Success which is expected to open next year. This new effort is based on the 1957 film of the same which starred Burt Lancaster and Tony Curtis and offered a not too flattering portrayal of the press. Don't expect the new musical to take a softer stance. Hamlisch thinks the press has way too much "make you or break you power."


THIS AND THAT


STEVE LAWRENCE AND EYDIE GORME who close this evening at Caesars Palace and in fact will be the last act to play Caesars before the hotel shutters the showroom, dipped their hands in cement at Planet Hollywood. Referring to the mob once controlling the Las Vegas strip, Steve quipped: "In another time the cement would have been for the Gambino (organized crime) family." As for the hand dunking Eydie commented. "It was sticky."

JANE FONDA speaking at a fund raiser and being honored by Planned Parenthood in Las Vegas told the crowd she didn't want a teaching explaining sex to her children who thought vulva was a car.

GLADYS KNIGHT who is starring in Smokey Joe's Cafe stops singing long enough to be the commencement speaker and receive an honorary doctoral degree at the University of San Diego. That's the school which her three children attended. As for Gladys, she attended the school of hard knocks.

THE NATIONAL BIG BAND & JAZZ HALL OF FAME will shortly have groundbreaking in Palm Springs, CA with an opening date slated for October 2. The city approved the building pans with a unanimous 6- vote.

ANDREW LLOYD WEBBER negotiating with Neil Sedaka to perform on Broadway in a show based on Sedaka's life.



Mention BROADWAY TO VEGAS for Special Consideration
Call (800) 942-9027









Next Column: May 28, 2000
Copyright: May 21, 2000 All Rights Reserved. Reviews, Interviews, Commentary, Graphics or Photographs from any Broadway To Vegas (TM) columns may not be published, broadcast, rewritten, utilized as leads, or used in any manner without permission, compensation and/or credit.
Link to Main Page
---
Laura Deni


CLICK HERE FOR COMMENT SECTION