! >
Broadway To Vegas
  
  REVIEWS INTERVIEWS COMMENTARY NEWS

| | |
| --- | --- |
| | |
FAIRY TALES COMES TRUE WITH WEDDING OF PRINCE HARRY AND MEGHAN MARKLE - - WINDSOR SCHOOL CHILDREN REENACT MEGHAN AND HARRY'S WEDDING - - FRANK STELLA UNBOUND: LITERATURE AND PRINTMAKING - - BUSTING THE MYTHS OF WINE - - MONOGAMY - - LEGEND OF THE CAMEL BELL - - STAR WARS AND THE POWER OF COSTUME - - THE GLASSELL SCHOOL OF ART - - DONATE . . . Scroll Down





Copyright: May 20, 2018
By: Laura Deni
CLICK HERE FOR COMMENT SECTION


FAIRY TALES DO COME TRUE: PRINCE HARRY AND MEGHAN ARE WED
Sealed with a kiss. The newly married Duke and Duchess of Sussex. Photo: Kensington Palace.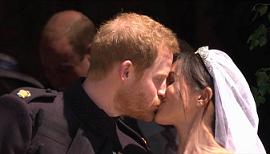 For all of the little girls who have been told that there is no Prince Charming and that fairy tales were written by men to manipulate and deceive - take heart. Once in forever, dreams can come true.

Yesterday, a little American girl, from a divorced, dysfunctional family who herself is divorced; a bi-racial person who, when she wasn't rejected for jobs, had to accept some insignificant acting gigs until she finally got the lead in a show called Suits. She also managed to find time to establish herself as a social activist. Considering the chaos she endured the week before her wedding, she has also established that she has grace under pressure. Defying all odds on Saturday, May 19, 2018, she walked down the aisle and married an honest-to-goodness real royal prince - HRH Prince Henry of Wales.

This wasn't a marriage necessitated to produce an heir and a spare. Not a union to unite the assets of two territories. Vows not arranged by families. A union bonded through love.

The newly anointed HRH Meghan, the Duchess of Sussex may have given new hope to little girls that if all goes well - including being blessed by stardust - you, too, can marry the prince of your dreams.

No, Meghan isn't a princess - unless you want to refer to her as Princess Harry of Wales - seriously. Only females born into the royal family are permitted to use the title "princess" followed by their first name. Shortly before the ceremony Her Majesty bestowed the couple with a Dukedom, as she did with Wills and Kate as the Duke and Duchess of Cambridge.

Meghan and Harry are the Duke and Duchess of Sussex, a title which hasn't been used since 1843.

As for the wedding, the event was one for the memory books.

It also shook up tradition. Harry now wears a wedding ring. Wedding music included Etta James' This Little Light Of Mine and Ben E. King's Stand By Me.

The bride was born and raised in California. She double-majored in theater and international relations, and was a member of Kappa Kappa Gamma sorority, graduating in 2003 from Northwestern University School of Communications in Evanston, Illinois.

Harry, 33, is the first senior royal in modern times to be granted a Church of England wedding despite marrying a divorced woman. Although Prince Charles and the Duchess of Cornwall received a blessing at St George's Chapel in 2005, the couple had a civil service at Windsor Guildhall instead of a religious ceremony.

Even though the Markle family upended what should have been a joyous wedding week, everything took place on schedule - including the necessary rehearsals.



Led by Director James Vivian, the St. George's Chapel Choir rehearsed. The Choir of St George's Chapel comprises up to 23 boy choristers from St George's School and twelve Lay Clerks singing alto, tenor and bass. Photo: Kensington Palace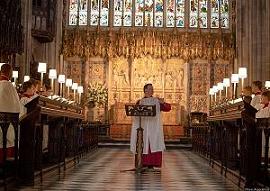 The official wedding rehearsal was held on Thursday with Duchess Kate making her first appearance since giving birth to Prince Louis. For the rehearsal she wore a $175 crepe dress by Michael Kors featuring a light hearted floral print in pink, white and purple flowers.

The bride wore a silk bodysuit from Philadelphia-based designer Tuxe Bodywear, with a starting price of $140. The smart top was accessorized with what was reported to be white-gold Birks Snowflake earrings featuring 2.15 carats of diamonds, and worth about $9,375.

On Friday there was another rehearsal followed by Meghan and her mother Doria Ragland enjoying a traditional afternoon tea of jam sandwiches, scones and sponge cakes with the Queen. The mother of the bride, who usually wears a nose ring, opted instead for a nose stud. Her Majesty didn't flinch. After all, at one point her granddaughter Zara Tindall had her tongue pierced.

For the occasion Meghan wore a $1575 navy asymmetrical Roland Mouret Barwick dress while Doria wore a champagne-colored dress with a short black jacket.

After tea Meghan and her mom retired to the Cliveden House Hotel. Also joining then for the night were Meghan's closest friends, her dress designer and hairdresser. While Harry and Meghan have been living together in a cottage at Kensington, they spent the night before their wedding apart - Meghan and her mother at Cliveden House Hotel located on National Trust's Cliveden Estate, while Harry and his best man brother bedded down at Coworth Park in Sunningdale, Berkshire. Both are close to Windsor Castle.

A Kensington Palace announcement stated that 2,640 people had been invited into the castle's ground on Harry and Meghan's wedding day. Those invited to be inside the Windsor grounds first had to get there. Rail operator Great Western Railway (GWR) urged passengers to 'travel early and travel light' to reach the Berkshire town in time for the royal wedding procession. Over 100,000 people descended upon the small town.

Those with the special invitations to be inside the gates and traveled to Windsor by train received a special treat. One thousand confetti boxes and 60,000 chocolates were handed out to royal wedding passengers when they left the train.

Then they had to pass through full body scanners.

After being cleared to enter, they watched the nuptials on large screens. There were also bunting decorations, live entertainment from local groups and refreshments. 140 Royal Borough Ambassadors volunteered to help everyone enjoy the experience.

Enjoying the experience also means - porta potties.

Not any old construction worker out houses, but portable throne rooms fit for those who like to feel royal. You'd think you were in an indoor bathroom in someone's home with oak fittings, porcelain basins, spot lighting and full-length mirrors. They are also fitted with vacuum flushes, which work like those on a plane and are eco-friendly.

Those who had the opportunity to check out the loos included:
· 1,200 members of the public from around the United Kingdom, nominated by nine regional Lord Lieutenant offices. The statement said: 'The couple have asked that the people chosen are from a broad range of backgrounds and ages, including young people who have shown strong leadership, and those who have served their communities.'
· 200 people from a range of charities and organizations which Prince Harry and Meghan support.
· 100 pupils from two local schools: The Royal School, Great Park, Windsor and St George's School, Windsor Castle.
· 610 Windsor Castle community members, including residents of Windsor Castle and members of the St George's Chapel community.
· 530 Members of The Royal Households and Crown Estate.

Streets within the precincts of the castle were lined by members of the Windsor Castle Guard from 1st Battalion Irish Guards and personnel from the Royal Navy Small Ships and Diving, Royal Marines, 3 Regiment Army Air Corps, the Royal Gurkha Rifles and RAF Honington.

Household Cavalry troopers in their gleaming breast plates and plumed helmets lined the staircase of St George's Chapel.



Pictured: (l-r) Meghan Markle as Rachel Zane and Wendell Pierce as her father Robert Zane on Suits, refers to himself as Meghan's "fake father." Photo: NBC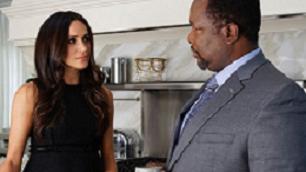 In order to make your way up the steps you had to prove you had received the gilded edged, beveled invitations which featured Prince Charles' three-feather badge embossed in gold. They read italic writing on a thick white card, issued under the name of Charles, father of the groom. The invitations revealed the dress code for wedding guests: Uniform, morning coat or lounge suit for men, or day dress with a hat for ladies.

Instructions also specified a ban on cameras and bulky bags, informing the invited guests that they would be asked to "surrender mobile telephones and any devices used for image capture". They further specified that guests should not wear medals, in a long list of suggestions about accessories which could trigger a security alert and emphasized: "No swords."

The guests were a feast for the eyes; so remarkably well put together with lovely, stylish hats and fascinators - none stupidly outrageous.

About 25 people from Suits attended, including Meghan's co-stars Patrick J. Adams (who played Meghan's love interest on the series) and his wife Troian Bellisario and Gabriel Macht and his wife Jacinda Barrett. Rick Hoffman, who plays anti-hero Louis Litt, Sarah Rafferty, who plays Donna Paulsen and Gina Torres who plays Jessica Pearson, as well as NBCUniversal executive Bonnie Hammer, crossed the pond as did Meghan's former agent Gina Nelthorpe-Cowne.

Also on the invite and party hardy afterwards list - Tony and Emmy award winner James Corden, OBE, the host of The Late Late Show who walked into Windsor holding hands with his wife Julia Carey. Corden's producer Ben Winston was also on hand.



Tony and Emmy award winner James Corden, OBE attended.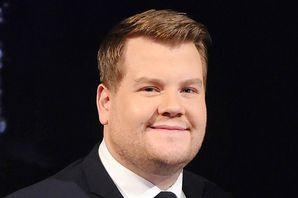 Elton John cancelled some Las Vegas shows so he could attend with his husband David Furnish.

Polo star Nacho Figueras and his wife Delfina Blaquier attended as did David Beckham and his fashion designer wife, Victoria, who wore one of her own navy blue designs. George Clooney escorted his wife Amal who was stunning in canary yellow by Stella McCartney. Others showing up with their invitations were talk show host Oprah Winfrey, who recently scored an interview with the bride's mother, wearing a pink dress and wide-brimmed hat - a quick change.



Oprah Winfrey managed to switch dresses at the last minute, thanks to Stella McCartney. Photo: Royal Palaces.
On her twitter account Winfrey explained and publicly thanked fashion designer Stella McCartney and her team for working all night to finish a dress for her. Apparently Winfrey realized on Friday that the beige dress she had intended to wear, would photograph too "white" for a wedding. As everyone knows, wedding guests aren't suppose to wear white to a wedding - that's reserved for the bride.

Winfrey posted: "[Stella McCartney's] team did this overnite. Hat is vintage philiptreacy been in my closet since 2005 with new feathers."

Winfrey was preceded into the chapel by Hollywood star Idris Elba who was accompanied by his fiancee Sabrina Dhowre.

Also seen was film star Tom Hardy. TV historian Dan Snow was seen walking into the chapel with his wife Lady Edwina Louise Grosvenor. Tennis great Serena Williams, wearing pink, and her husband Alexis Ohanian, executive chairman of Reddit talked to many of their friends. Actress Carey Mulligan and husband, Mumford & Sons star Marcus Mumford, were also there, as well as singer Joss Stone and actress Gina Torres. Rugby star James Haskell and his girlfriend television presenter Chloe Madeley were part of the famous attendees. Another sports presence was former England rugby union player and coach Sir Clive Woodward and his wife Jayne Williams.

Singer James Blunt arrived accompanied by his fiancée Sofia Wellesley, who wore a striking cream hat and floral three quarter-length dress. Close friends of the bride Abigail Spencer and Priyanka Chopra were stylish.

Even Chelsy Davy, who once famously turned down Harry's marriage proposal, was there. Another old flame Cressida Bonas also scored an invite.

Beautiful, well choreographed and totally romantic - with substantial musical input from Prince Charles. According to Kensington Place, Harry and Meghan "sought the advice of The Prince of Wales for the orchestral music before the Service begins."

He was also responsible for the gospel numbers.

Beginning at 10:35 am Luke Bond, Assistant Director of Music, played organ selections including: Marche Hèroïque by Sir Alfred Herbert Brewer (1865-1928) - Prelude and Fugue in G Major, BWV 541 by Johann Sebastian Bach (1685-1750) - Psalm-Prelude Set 1, No. 2 Symphony No. 4, by Andante Cantabile - Prelude on Rhosymedre. From 11.10 am the Orchestra played Salut d'Amour - St Paul's Suite, movement 4 - Lady Radnor's Suite, movements 2, 3 & 5 - Capriol Suite, movements 2, 3, & 5 Fantasia on Greensleeves - Serenade for Strings, movement 1 Chanson de Matin.

The selections were composed by Herbert Howells (1892-1983), Charles-Marie Widor (1844-1937), Ralph Vaughan Williams (1872-1958), Sir Edward Elgar (1857-1934), Gustav Holst (1874-1934), Sir Charles Hubert Hastings Parry (1848-1914), Peter Warlock (1894-1930), Ralph Vaughan Williams, Sir Edward Elgar, Sir Edward Elgar with arrangements by Benjamin Woodgates (b. 1986).

At 11:25 a.m. Members of the Royal Family arrived at the Galilee Porch and were received by the Dean of Windsor who presented the Canons of Windsor and the Archbishop of Canterbury.

Some members of the royal family arrived on foot; others by car - traveling to and from the ceremony in State cars including Bentleys, Rolls-Royces and Daimlers.

While Sarah, The Duchess of York attended, marking her return to royal family events, she arrived by herself, while the rest of the royal family walked together from the private apartments at Windsor to the Chapel and also sat together. The entire family attended: Sir Timothy Lawrence and his wife The Princess Royal, Anne; her daughter the eight-month pregnant Zara and her husband Mike Tindall, who at one point during the service tickled his wife's large baby bump. Anne's son Peter Phillips and his wife Autumn looked splendid.

Prince Edward and Countess Sophie attended with their children Lady Louise and son David, Viscount Servern; Prince Andrew and his daughters Princess Beatrice and Princess Eugenie who will herself be married at St. George's in a few months. Both Eugenie and Beatrice looked dignified and stylish, each in shades of blue. Accompanying Eugenie was her fiancé Jack Brooksbank.

Prince and Princess Michael of Kent and The Duchess of Gloucester arrived. Earl Spencer, the 53-year-old brother of Diana, Princess of Wales, attended with his wife Karen Villeneuve. Also present were Eliza, Louis and Kitty Spencer three of the four children Earl Spencer had with his first wife Victoria. Duchess Kate wore a primrose yellow silk tailored coat as she entered the Chapel by Alexander McQueen, an oversize hat by Philip Treacy and shoes by Jimmy Choo. Her parents the classy Carole and Michael Middleton, who have never made a wrong step, attended along with their other two children - James and pregnant daughter Pippi and her husband James Matthews.



Prince Charles and his wife Camilla shared a laugh as they waited for the service to begin. They had their own wedding blessing service at St. George's Chapel. Photo: Kensington Palace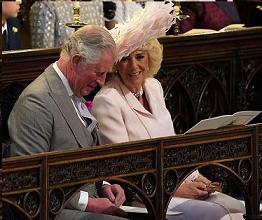 Admird by all - the massive green garlands adored with fragrant, white flowers.

Philippa Craddock was in charge of the floral displays. After the wedding, the couple arranged for the flowers to be distributed to charitable organizations.

At 11:40 a.m. Harry and his brother the Duke of Cambridge rode to the Windsor grounds in a Mercedes and then got out to walk the remaining way to the chapel, receiving cheers from the crowd. Both wore the black and gold uniform of the Blues and Royals. They were received by the Dean of Windsor who led them to the Bray Chantry Chapel.

At 11:42 a.m. Their Royal Highnesses The Prince of Wales and The Duchess of Cornwall arrived at the Galilee Porch and were received by the Vice-Dean who presented the Canons of Windsor and the Archbishop of Canterbury. The Duchess of Cornwall looked resplendent in a blush pink Anna Valentine ensemble.

11:55am to 11:59am - Following protocol, the Queen and Prince Philip were the last members of the royal family to arrive for the wedding service.

Queen Elizabeth was elegant in a flared dress in lime, lemon, purple and grey printed silk by Stuart Parvin. Her husband Prince Philip, 96, who recently underwent hip replacement surgery, walked as though he hadn't a care in the world.

11:59am - The bride arrived at the Chapel's West Steps in a stately burgundy Rolls, from her overnight accommodation. That journey took her past some of the crowds in the Long Walk, with her mother Doria Ragland - marking the first time the mother of a royal wedding bride had accompanied her daughter to the ceremony.

The brides' mother who looked slightly overwhelmed but elegant, in a custom dress and day coat designed by creative directors of Oscar de la Renta, Fernando Garcia and Laura Kim. Her shoes were designed by Edgardo Osorio of Aquazurra, and her custom hat was designed exclusively for her by British milliner Stephen Jones, O.B.E., whom her daughter has worked closely with since moving to the UK.

When the car stopped at the castle Doria Ragland then entered the chapel by the Galilee Porch where she was received by the Dean of Windsor and was conducted to her seat in the Quire.



In the back right is Prince George. Princess Charlotte is front center. The little girls' dresses were designed to have the same timeless purity as the bride's dress. Each little dress was sculpted in Ivory silk Radzimir, and is high-waisted with short puff sleeves and hand finished with a double silk ribbon detail tied at the back in a bow. The Bridesmaids' dresses include pockets and pleated skirts to create a relaxed and luxurious silhouette.

On their feet were white leather Aquazurra shoes; each pair is monogrammed with the Bridesmaids initials, and the wedding date. The shoes are a gift from Meghan to the young ladies as a keepsake of the special day.

Each little bridesmaid had a flower crowns selected by both Prince Harry and his bride, which were then designed by florist Philippa Craddock.

The Bridesmaids' flowers replicate the flowers used in the bridal bouquet.

The four Page Boys wore a miniature version of the Blues and Royals frockcoat. The uniform draws its insignia from the Blues and Royals, which is an old Regiment of The Duke of Cambridge and Prince Harry. Both are also wearing Blues and Royals frockcoats for the Wedding Day.

The frockcoats are made from blue doeskin, single-breasted in style with a stand-up collar and completed with figured braiding of Regimental pattern. The figured braiding has been scaled down for the Pages, as otherwise it would have gone above their shoulders.

As a special memento, each Page has their initials embroidered in gold on their shoulder straps. The Pages didn't wearing hats or white waist belts for practical reasons.

Their leg garments were made from blue/black wool barathea with three-quarter scarlet stripes fastened with a leather strap. The uniforms were cut and made by the tailors Dege & Skinner in Savile Row.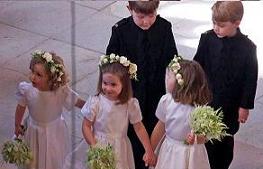 The bride was joined in her car by page boys who would serve to carry her train. The other bridesmaids and page boys followed in three cars, accompanied by three mothers, including Duchess Kate.

The little ones included: Prince George and Princess Charlotte, Harry's nephew and niece and children of Prince William and Kate; the three children of Meghan's best friend Jessica Mulroney - twins Brian and John, seven, and daughter Ivy, four. Their father is Ben Mulroney, the son of former Canadian Prime Minister Brian Mulroney. Harry's goddaughters, Zalie Warren, two, and Florence van Cutsem, three, were bridesmaids as were Meghan's goddaughters, sisters Remi and Rylan Litt, aged six and seven respectively. The other pageboy was Harry's godson, Jasper Dyer, aged six.

They were all adorable.

Meghan's father a retired, Emmy award winning lighting designer wasn't able to attend.



Prince Charles leads his future daughter-in-law to his son. At one point Prince Harry mouthed to his father 'Thanks, Pa." Photo: Kensington Palace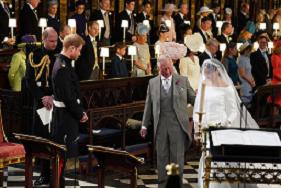 As was always planned, Megan began her journey to the altar alone. A fanfare sounded at her arrival. She entered at the West Door followed by her six bridesmaids and four page boys The bride walked through the Nave to see Prince Charles waiting at the start of the Quire - half way down the chapel. He then escorted her to the altar. The Prince of Wales stated that he was "pleased to welcome her to the Royal Family in this way".

The ceremony began at noon London time, which was 7 a.m. in New York City or 4 a.m. in Los Angeles.

The stunning gown on the beautiful bride was designed by the acclaimed British designer, Clare Waight Keller, who last year became the first female Artistic Director at the historic French fashion house Givenchy. After meeting Waight Keller in early 2018, Meghan chose to work with her for her timeless and elegant aesthetic, impeccable tailoring, and relaxed demeanor.

The pure lines of the dress were achieved using six meticulously placed seams. The focus of the dress is the graphic open bateau neckline that gracefully frames the shoulders and emphasizes the slender sculpted waist. The lines of the dress extend towards the back where the train flows in soft round folds cushioned by an underskirt in triple silk organza. The slim three-quarter sleeves add a note of refined modernity.

The fabric created was silk cady, which has a soft matt lustre while the bonding process and pure white color was chosen by the bride.

The bride expressed the wish of having all 53 countries of the Commonwealth with her on her journey through the ceremony, according to Kensington Palace. Thus Waight Keller designed a veil representing the distinctive flora of each Commonwealth country united in one spectacular floral composition.



Page boys gently carried the 15-foot long veil. Photo: Kensington Palace.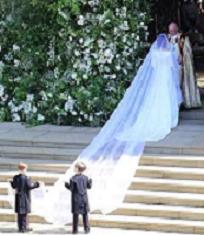 The 15-foot long veil was made from silk tulle with a trim of hand-embroidered flowers in silk threads and organza. Each flower was worked flat, in three dimensions to create a unique and delicate design. The workers spent hundreds of hours meticulously sewing and washing their hands every thirty minutes to keep the tulle and threads pristine.

In addition to the flora of the Commonwealth, the bride also selected two personal favorites: Wintersweet (Chimonanthus praecox), which grows in the grounds of Kensington Palace in front of Nottingham Cottage, and the California Poppy (Eschscholzia californica) the State flower from her place of birth, California.

Symmetrically placed at the very front of the veil, crops of wheat are delicately embroidered and blend into the flora, to symbolize love and charity.

The veil was held in place by Queen Mary's diamond bandeau tiara, lent to the bride by The Queen. The diamond bandeau is English and was made in 1932, with the centre brooch dating from 1893. The bandeau, which is made of diamonds and platinum, is formed as a flexible band of eleven sections, pierced with interlaced ovals and pavé set with large and small brilliant diamonds. The centre is set with a detachable brooch of ten brilliant diamonds.

Meghan's new grandmother-in-law had received a sneak peek at the dress, since the Queen needed to approve the gown, as she did with the creation worn by Kate Middleton.

The Bride wore earrings and bracelet made by Cartier.

Her wedding shoes were based on a Givenchy refined pointed couture design made of a silk duchess satin.



The Bride's Bouquet was partially put together by Harry. The groom had handpicked several flowers the day before the wedding from their private garden at Kensington Palace to be included in the bridal bouquet designed by florist Philippa Craddock.

The spring blooms include Forget-Me-Nots which were Diana, Princess of Wales' favorite flower. The couple specifically chose them to be included in the bride's bouquet to honor the memory of the late Princess on this special day.

The Bride's bouquet was a petite design, pulled together in a gentle, ethereal, relaxed style with delicate blooms also including scented sweet peas, lily of the valley, astilbe, jasmine and astrantia, and sprigs of myrtle, all bound with a naturally dyed, raw silk ribbon.

The myrtle sprigs are from stems planted at Osborne House on the Isle of Wight, by Queen Victoria in 1845, and from a plant grown from the myrtle used in The Queen's wedding bouquet of 1947. The tradition of carrying myrtle was begun after Queen Victoria was given a nosegay containing myrtle by Prince Albert's grandmother during a visit to Gotha in Germany. The myrtle was first carried by Queen Victoria's eldest daughter, Princess Victoria, when she married in 1858.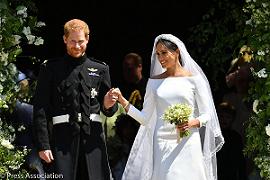 Meghan's hair was styled by Serge Normant, with make-up by long-time friend and make-up artist Daniel Martin.

The Right Rev David Conner, the dean of Windsor, conducted the service in the Castle's 15th-century chapel. The Archbishop of Canterbury, the Right Honorable Justin Welby, officiated as the couple made their wedding vows.

Also participating was an American - The Most Rev Bishop Michael Bruce Curry, the 27th presiding bishop and primate of the Episcopal Church, who is a descend of slaves and sharecroppers. The Chicago clergyman, a married father of two, who earned a Master of Divinity degree, in 1978, from Yale Divinity School, gave the main address during the wedding ceremony.

It was an passionate, bizarre, almost yelling delivery which is generally found at religious revivial tent meetings. The long sermon was polarizing. People either love it, or they didn't.

Others participating in the service included: Chaplain to The Queen, The Reverend Prebendary Rose Hudson-Wilkin. Coptic Orthodox Archbishop of London, His Eminence Archbishop Angaelos. Canon Steward, The Reverend Canon Dr Mark Powell Canon Precentor, The Reverend Canon Martin Poll and Vice-Dean, The Reverend Canon Dr Hueston Finlay.

During the service tribute was paid to Harry's mother, Princess Diana, by include her relatives in the ceremony. All three siblings of Diana, Princess of Wales, were in attendance and Lady Jane Fellowes gave a lovely reading from the Song of Solomon. That was followed by the choir singing If Ye Love Me, by Thomas Tallis (1505-85).

Following an address by The Most Reverend Michael Curry, Karen Gibson and the Christian gospel group The Kingdom Choir sang Stand By Me with words by Jerry Leiber (1933-2011), music: Ben E. King (1938-2015) and Mike Stroller (b. 1933) with an arrangement by Mark Delisser (b. 1973).

According to statements from Gibson it was Prince Charles who called her and asked the group to sing at the wedding, indicating he liked gospel music. According to Gibson, while the bridal couple was specific about what they wanted and how they wanted the number performed, the idea was from Prince Charles.

Following the vows, it was time for the rings, brought to the service by Harry's brother and best man, Prince William. On Meghan's finger Harry slipped a band crafted by Cleave and Company made from gold nuggets from Clogau St David's mine at Bontddu in North Wales.

Then Meghan placed a platinum band with a textured finish on his ring finger, making Harry unique. His brother doesn't wear a wedding ring. His father Prince Charles has worn a wedding ring for both his marriages but not on his ring finger. The father of the groom wears his wedding ring hidden under a signet ring on the little finger of his left hand. His father Prince Philip does not wear a wedding ring. Neither do Prince Andrew or Prince Edward.

The Archbishop then pronounced them husband and wife.

The Choir of St George's Chapel sang the familiar The Lord Bless You And Keep You, by John Rutter (b. 1945).

After the marriage blessing the choir performed the hymn Guide Me, O Thou Great Redeemer, which featured versus by William Williams (1717-91), Cwm Rhondda, John Hughes (1873-1932) and the Descant verse by James Vivian (b. 1974).



Doria Ragland and Prince Charles proceed to sign the wedding register as the official witnesses. Photo: Kensington Palace.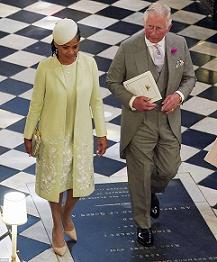 The organ played as Prince Charles and Doria Ragland moved from the Quire to the North Quire Aisle to sign the wedding register as the official witnesses. During the Signing of the Register the following was played by Mr Sheku Kanneh-Mason and the Orchestra: Sicilienne, by Maria Theresia von Paradis (1759-1824) arranged by Chris Hazell (b.1948) - Après un rêve by Gabriel Fauré (1845-1924) arranged by Chris Hazell - and Ave Maria by Franz Schubert (1797-1828) arranged by Chris Hazell.

Sheku Kanneh-Mason a 19-year-old cellist was named BBC Young Musician 2016. He impressed Harry last June when Prince Harry saw Sheku play at an event in London in support of the work of Antiguan charity the Halo Foundation.

It was the bride who issued the invitation.

"I was bowled over when Ms. Markle called me to ask if I would play during the ceremony, and of course I immediately said yes! What a privilege to be able to play the cello at such a wonderful event," was Kenneh-Mason's excited statement.

He also posted that the couple had requested an arrangement of Ave Maria. A few weeks before the ceremony Harry and Meghan met with the musician at the chapel so that the couple could hear how the song would sound.

During the Procession of the bride and groom, music played included Symphony no. 1 in B-flat: Allegro by William Boyce (1711-1779) and Amen/This Little Light Of Mine by Etta James Jester Hairston (1901-2000).

The Orchestra, conducted by Christopher Warren-Green, was composed of musicians from the BBC National Orchestra of Wales, the English Chamber Orchestra and the Philharmonia. Soloist was Welsh soprano Elin Manahan Thomas.

The trumpet was played by David Blackadder, the principal trumpet with both the Orchestra of the Age of Enlightenment and the Academy of Ancient Music. He's a specialist in Baroque music.



Waving the bridal couple off on their carriage ride are Lady Louise; Sophie, Countess of Wessex; David, Viscount Servern; Prince Edward; Queen Elizabeth; Prince Philip, Anne, the Princess Royal. Photo: Kensington Palace.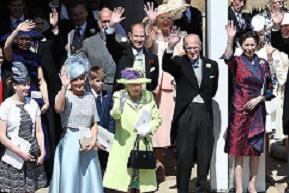 State Trumpeters, easily recognizable with their long gold coats, provided Meghan with a glorious fanfare as she walked down the aisle towards her future husband. Drawn from all ranks of the Band of the Household Cavalry, (including married couple Lance Corporal Kate Sandford and Lance Corporal Julian Sandford), the State Trumpeters also offered ceremonial support during the service.

At the end of the service - approximately 1 p.m. - the bridal couple climbed into the Ascot Landau, which they had previously selected when they visited the Royal Mews - where carriage are kept and the horses are pampered.

The landau was pulled through Windsor by Windsor Grey horses Storm and Tyrone who are father and son, along with Milford Have and Plymouth. Two Windsor Grey horses, Sir Basil and Londonderry, were the outriders, meaning they served to clear the path and herald the arrival of the carriage.

The horses wore ear plugs so they didn't become distracted by the noise.

In front of them and behind the carriage were the Household Cavalry traveling escort.



The bridal couple enjoyed perfect weather for their carriage ride. Photo: Kensington Palace.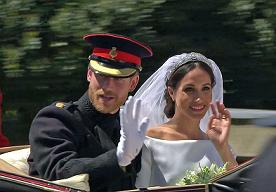 A postilion rider, sat on one of the two lead carriage horses, drove the coach and another rider sat behind him on a Windsor Grey in the second row. Two footmen were behind the newlyweds at the back of the Landau.

The pair traveled from the chapel to Castle Hill, then along the Windsor High Street, Sheet Street, Kings Road, Albert Road, Long Walk and Windsor Castle, affording thousands of royal watchers the opportunity to see the carriage procession which lasted about 25 minutes.

Then the couple then headed to their reception for the 600 guests who had attended the wedding service.

Hosted by the Queen, the reception was at St George's Hall, an elegant state room inside Windsor Castle. At 180 feet long, St. George's Hall is the largest room in Windsor Castle. It's decorated with brightly colored shields celebrating the Order of the Garter.

Harry and Meghan's wedding lunch had more of a cocktail party atmosphere, rather than a formal sit down affair.

Their 600 guests stood and mingled as they were served seasonal 'mini main courses', made by the Queen's kitchen staff and presented to them by liveried waiters and waitresses as Bowl Food. The food bowl choices were Fricassee of Free Range Chicken with Morel Mushrooms and Young Leeks - Pea and Mint Risotto with Pea Shoots, Truffle Oil and Parmesan Crisps - Ten Hour Slow Roasted Windsor Pork Belly with Apple Compote and Crackling.



Royal Palaces Head Chef Mark Flanagan used fresh vegetables from the royal gardens. Photo: Kensington Palace.
Bowl Food is a growing trend of food served in a bowl, meaning it won't slip off a cocktail plate. Bowl Food also eliminates a buffet table, since the bowls are already filled. You only need a fork, permitting guests to walk around while eating.

Royal Palaces Head Chef Mark Flanagan and the Royal Palaces Pastry Chef Selwyn Stoby led a catering crew of 30 who began washing and peeling the vegetables several days before the wedding.

Pastry Chef Stoby was assisted by Chef de Partie, Victoria Scupham and a team trained pastry chefs who worked on the day of the wedding.



Pastry Chef Selwyn Stoby making desserts for the wedding reception which included Champagne and Pistachio Macaroons, Orange Crème Brûlée Tartlets and Miniature Rhubarb Crumble Tartlets. Photo: Kensington Palace.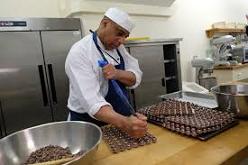 In addition to the Bowl Food, guests feasted on canapés, which were intended to be consumed in two bites. Choices offered were: Scottish Langoustines wrapped in Smoked Salmon with Citrus Crème Fraiche - Grilled English Asparagus wrapped in Cumbrian Ham - Garden Pea Panna Cotta with Quail Eggs and Lemon Verbena - Heritage Tomato and Basil Tartare with Balsamic Pearls - Poached Free Range Chicken bound in a Lightly Spiced Yoghurt with Roasted Apricot - Croquette of Confit Windsor Lamb, Roasted Vegetables and Shallot Jam - and Warm Asparagus Spears with Mozzarella and Sun-Blush Tomatoes.

To drink, guests were served Pol Roger Brut Réserve Non Vintage Champagne, and a selection of wines. A range of soft drinks were served, including an apple and elderflower mocktail, made with the same elderflower syrup as used in the wedding cake, and Sandringham Cox's apple juice.

The lunchtime reception, which lasted around two and a half hours, included speeches from The Prince of Wales and Prince Harry. Kensington Palace had first announced that Meghan would be speaking at the luncheon reception, but then corrected the statement to clarify she would speak at the evening reception. The Duke of Cambridge acted as compere for the reception.

At the specific request of Prince Harry, Sir Elton John performed at the reception. In a good mood, Harry quipped "Can anyone play the piano?" bringing on Sir Elton John who performed a medley of four hits – Your Song, Tiny Dancer, Circle Of Life and I'm Still Standing.

A wedding reception highlight is always the cutting of the cake.



Meghan and Harry's wedding cake. The cake resembled a pound cake in that there are equal amounts of butter, flour and sugar - 44 pounds each. The cake also contained 200 Amalfi lemons, 10 bottles of Sandringham Elderflower Cordial made using elderflower from the Queen's Sandringham estate, and 500 organic eggs from Suffolk.

Photo: Kensington Palace.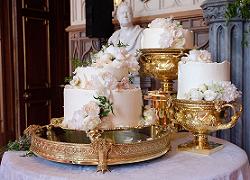 That layered creation was crafted by American born and raised Claire Ptak, who once was the babysitter for the children of Sean Penn and Robin Wright.

Now she's a well known London pastry chef who owns Violet Cakes.

On the morning of the wedding the layers which had been baked and iced with lemon curd between an elderflower Swiss meringue butter cream at Violet Bakery were transported to Windsor.

There the finished cake was decorated with three types of peonies - Madame Claude, Bowl of Cream, and the appropriately named Duchess - in shades of white and cream, along with four different white and cream roses - Patience, Purity, Jeanne Moreau and Princess Miyuki.

The 150 flowers were removed before guests were served the cake, but the slices were served with edible rose petals.

Any cake that was left over was donated to charity.



Always the gentleman Prince Harry opened the door for his bride. Photo: Kensington Palace.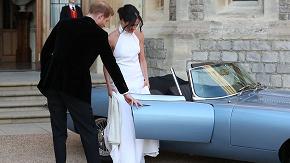 For the evening reception, the new Duchess of Sussex changed clothes into a bespoke lily white high neck gown made of silk crepe by Stella McCartney with her feet shod in silky satin Aquazurra shoes; the soles painted in baby blue. Her hair, styled by George Northwood, was in a casual up do, with loose strands tucked behind her ears. She also sported an emerald-cut aquamarine ring which one belonged to Princess Diana. Her husband changed into a dinner suit.



The new Duke and Duchess of Sussex departed Windsor Castle. Their mode of transportation was a silver blue Jaguar E-Type Concept Zero with an American style steering wheel on the left. This vehicle was originally manufactured in 1968, and has since been converted to electric power. If you'd like to buy one, you're in luck. Jaguar intends to electrify every new model in its range starting in 2020. Start saving your pennies. The price tag is $471,000. Photo: Kensington Palace.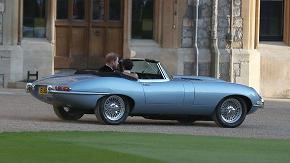 Hosted by The Prince of Wales at Frogmore House, about a mile from Windsor Castle, the evening reception was a fun loving affair with James Corden serving as host and entertainer.

At 7:15 pm a double decker bus full of guests arrived from Coworth Park. Princesses Beatrice and Eugenie arrived in a black Bentley at 7:30pm with Sophie, Countess of Wessex, showing up just before 8pm in a Land Rover Discovery, followed shortly by her husband Prince Edward. Others making the cut to be included in the special 200 included George and Amal Clooney, who arrived in a silver Audi, Priyanka Chopra, Serena Williams and Jessica Mulroney.

Of course Prince William and Kate were there as was host Prince Charles and his wife the Duchess of Cornwall, Prince Andrew and his daughters, Princesses Beatrice and Eugenie and Meghan's mother Doria Ragland.

Loud music played, and around 11 pm fireworks lit up the sky and guests danced the night away.

The Telegraph was the first to report that the bridal couple's first dance was to Whitney Houston's I Wanna Dance With Somebody (Who Loves Me).

Spinning the tunes was the same DJ who handled Pippa Middleton's wedding reception. Beverages were a Drinks of the World-themed bar that included a ginger and rum cocktail, in a tribute to the groom's red hair. It was named "When Harry Met Meghan."

As first reported by The Mail the three-course sit-down dinner, which ended about 10 pm, was organic, at the request of Prince Charles, and the guests were entertained by funny speeches from best man Prince William as well as Harry's friends Tom Inskip and Tom Van Straubenzee, who were cautioned to downplay any mention of Harry's scandalous trip to Las Vegas.

Capturing the day and evening's special moments was official wedding photographer, fashion and celebrity snapper Alexi Lubomirski who had also taken the couple's officials engagement pictures. "I could not be more thrilled or honored to photograph this historic occasion," he said at the time of the announcement. "It brings me such joy to be able to witness again, the next chapter in this wonderful love story."

To help in the celebration the prime minister granted permission for pubs to stay open late. The special order has only previously been used for the Queen's 90th birthday in 2016, the wedding of Prince William and Kate Middleton in 2011, and the World Cup in 2014.

Harry has previously indicated the he hopes for children right away; thus people are already looking forward to a baby next spring or summer.

Love is in the air.


THE CUTEST ROYAL PROCESSION YOU'LL EVER SEE


With enough wedding week stress to snap a steel pole, leave it to children to lighten the mood and bring on smiles.



Even the mini Harry and Meghan, who tried on several dresses before selecting her favorite, were faced with the press. They appeared to keep their cool as they were interviewed. Photo: Queensmead School in Windsor.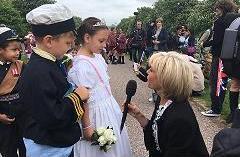 The mini-Archbishop, followed by the mini Queen Elizabeth II, age 6, holding onto her ever present purse (only this one was pink) followed by Duchess Kate cradling a baby Prince Louis doll (who for the real wedding was left at home) followed by the rest of the wedding party. Photo: Queensmead School in Windsor.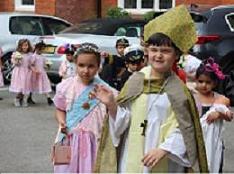 Last Wednesday the royal wedding was used as a fun learning experience by the Queensmead School in Windsor.

Founded in 1948, it's an independent co-educational school for all students from age 2 to 18 with approximately 100 students.

The elaborate event which took a lot of work, was well thought out, and expertly planned by Ms Pat Keen, Head of Early Years and Ms Smelt, Nursery Teacher and went off without a hitch - with the students collecting delightful school memories to last a lifetime.

Participating in "our own royal wedding procession" were the school's "younger students aged 2-6 years of age," Broadway To Vegas was told.

The work involved was almost as intense as the grown up royal wedding. Permissions had to be obtained. Roles had to be assigned followed by deciding a color theme (pink) and obtaining the costumes. There were rehearsals and the banquet afterwards. Then there is the monumental effort of corralling a multitude of two to six-year-olds. Much to the astonishment of anyone who has ever met a two to six-year-old, they all performed beautifully and were well behaved.

Kensington Palace was pleased.

"Queensmead School in Windsor held a wedding parade on the Long Walk, complete with mini Prince Harry, Ms. Markle, Archbishop and wedding guests," chortled Kensington Palace.

"Queensmead School's parade made its way through the long walk in Windsor, before returning to the School for official photographs and a delicious wedding breakfast, complete with cucumber sandwiches."



After the parade there was a banquet with a variety of English foods. Photo: Queensmead School in Windsor.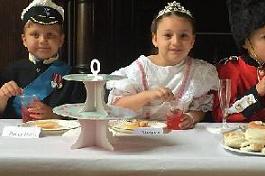 The Wedding Party. Some student portrayed cheering crowds. Other students portrayed everyone from Queen Elizabeth to Meghan Markle's mother, Doria Ragland. Photo: Queensmead School in Windsor.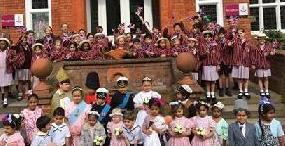 The school even had the mini Harry and Meghan bridal couple being interviewed by reporters.


While Broadway To Vegas was given permission to use photos and video, readers will notice that the children are not identified by name. That is on purpose.

In American public performance identification might be provided that says: John Doe, 6, son of Joe and Mary Doe played the part of the Archbishop. While Broadway To Vegas knows the first names of some of the children, to fully identify the children requires individual permission from each parent.

Great Britain and the individual schools have strict rules. With permission, the child's face can be shown, but they can't be completely identified. "Due to data protection I am unable to give you names of the students who played the specific royal family," Ruyan Donovan the school's Marketing Manager told Broadway To Vegas.

Footage of the event tweeted by Kensington Palace showed the adorable little ones waving and clapping as they walked along the path, mirroring the route Harry and Meghan took on their wedding day.



Members of the wedding party enjoyed a feast fit for - Royals. Photo: Queensmead School in Windsor.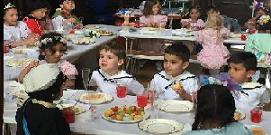 Though hard work, the school was thrilled to be able to pull off the event. "Queensmead School Windsor were honoured and privledged to be allowed on to the Long Walk to re-enact their own Royal procession. To a crowd of onlookers and the world's international and domestic press, the Nursery and Reception students carried out their procession as the rest of the school waved their Union Jack flags and cheered them all on.

"Afterwards, the Nursery and Reception students enjoyed their very own wedding breakfast of cucumber sandwiches, royal jelly and fruit. In addition to their wedding breakfast the students helped to decorate a three tiered wedding cake that the school's cooking club had baked. All in all, a wonderful morning with lots of happy memories created for all."

The school proclaimed: "Well done everyone!"

Indeed.






E-Book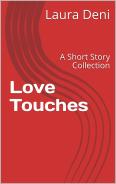 Soft back Book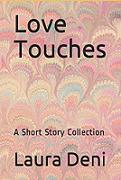 Broadway To Vegas is supported through advertising and donations. Priority consideration is given to interview suggestions, news, press releases, etc from paid supporters. However, no paid supporters control, alter, edit, or in any way manipulate the content of this site. Your donation is appreciated. We accept PAYPAL. Thank you for your interest.


ART AND ABOUT


STAR WARS AND THE POWER OF COSTUME

66 original costumes are featured in Star Wars and the Power of Costume.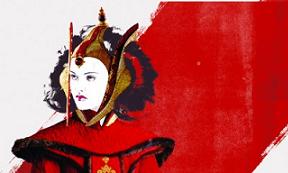 will feature BB-8, Yoda and an Ewok, along with 66 original costumes from the first seven movies in the Star Wars saga are just some of the highlights of the exhibition which will showcase more than 150 pieces and sketches document the creative process, encompassing the essence of George Lucas' vision and the exciting challenge of translating his iconic characters into a dynamic reality.

Get an up-close look at costumes of some of the most beloved - and infamous - characters in cinema history, among them Queen Amidala, Darth Vader, Princess Leia, Stormtroopers, Chewbacca, Han Solo, X-wing Pilots and Droids, including C-3PO and R2-D2.

Visitors can watch the designers and actors through several videos and experience the processes of concept artists and costume designers through interactive opportunities. Interpretation of cultural and historic context by Smithsonian scholars is also part of the experience.

Star Wars and the Power of Costume was developed by the Smithsonian Institution Traveling Exhibition Service in partnership with the Lucas Museum of Narrative Art and in consultation with Lucasfilm, Ltd. The Denver Art Museum provided additional scholarship and creative modifications to the exhibition at the DIA. Objects in this exhibition are on loan from the Archives of the Lucas Museum of Narrative Art.

May 20–September 30, 2018. at the Detroit Institute of Arts in Detroit, Michigan.

FRANK STELLA UNBOUND: LITERATURE AND PRINTMAKING Between 1984 and 1999, the American artist Frank Stella executed four ambitious print series, each of which was named after a literary work that had a distinctive narrative structure: the Passover song Had Gadya, a compilation of Italian folktales, the epic novel Moby-Dick, and the illustrated encyclopedia Dictionary of Imaginary Places. Through these four bodies of work, Stella evolved printmaking projects of unprecedented scale and complexity that both transformed the artist's visual language – as well as his working process in all media – and represent a technical and expressive milestone in printmaking.

Featuring 41 prints from these four major series alongside their literary catalysts, Frank Stella Unbound: Literature and Printmaking is the first exhibition to focus exclusively on the vital role that world literature played in his powerful exploration of the print medium.

Curated by Mitra Abbaspour, curator, modern and contemporary art, and Calvin Brown, associate curator of prints and drawings; with Erica Cooke, Ph.D. candidate in art and archaeology. Opened yesterday, May 19, 2018 and is on exhibit until September 23, 2018 at Princeton University's Art Museum in Princeton, New Jersey.

ABBA: SUPER TROUPERS come on a musical journey with Swedish pop sensation ABBA as they take over 1970s Britain in this one-of-a-kind exhibition.

Led by a personal tour guide and the voice of narrator Jarvis Cocker, patrons are taken through nine immersive rooms exploring the music, lyrics and lives of one of the world's most unforgettable bands.

Get close to never-before-seen items from the band's archive including personal notes, memorabilia and iconic costumes. Chart their rise to fame and lasting legacy; from their early pop explosion onto the British music scene, to chart-topping international stardom.

Taking on 1970s Britain, in the midst of a financial crisis, a wave of strikes and a three-day working week, ABBA were a breath of fresh air, dominating the airwaves with their upbeat anthems channeling positivity and optimism.

ABBA: Super Troupers is presented by Southbank Centre in partnership with Entertainment Exhibitions International AB, in association with ABBA The Museum. On display at the Southbank Centre in London through July 29, 2018.

THE GLASSELL SCHOOL OF ART

View south of the Glassell School of Art and Brown Foundation, Inc. Plaza. Elevated from street level, the plaza features a tree-shaded seating area and a reflecting pool that can be activated with fountains. Courtesy Deborah Nevins & Associates / Nevins Benito Landscape Architecture D.P.C/MFAH.org.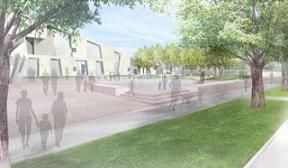 opens to the public on Sunday, May 20 in Houston, Texas.

Designed by Steven Holl Architects, the new, 85,000-square-foot Glassell School of Art building features three dozen studios; public gallery spaces that will present exhibitions by students and alumni; a broad-stepped central staircase that will serve as the school's forum; a public coffee bar; and more. Glassell Junior School classes begin June 4 in the new building, with Studio School classes for adults commencing in the fall.

Brown Foundation, Inc. Plaza will connect the existing Cullen Sculpture Garden to the new Glassell School of Art building. The Brown Foundation, Inc. Plaza is designed by Deborah Nevins & Associates, in collaboration with Nevins & Benito Landscape Architecture. The space includes a reflecting pool, a shaded seating area, and two monumental public sculptures: Cloud Column (2006), a 30-foot-tall stainless-steel form by Anish Kapoor; and Eduardo Chillida's stacked-granite Song of Strength (1966). Additionally, the Glassell School's sloping roof will be landscaped and fully accessible, extending the plaza up and along the full length of the building.



E-Book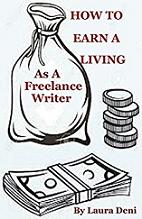 Soft back Book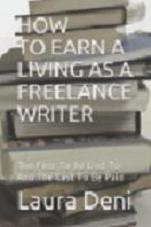 This is not your typical, totally boring textbook.

In the pages of How To Earn A Living As A Freelance Writer (the first to be lied to and the last to be paid) you'll find sex, celebrities, violence, threats, unethical editors, scummy managers and lawyers, treacherous press agents, sex discrimination; as well as a how-to for earning money by writing down words.





SWEET CHARITY


JAKE AND ELWOOD, THE BLUES BROTHERS in this case - aka California's Placer County Sheriff Devon Bell and retired Sheriff Ed Bonner channeled their best Blues Brothers impression making a video promoting the Placer County Law Enforcement Chaplaincy.

Hosted by Bell and Ed Bonner the BBQ is by District Attorney Scott Owens and Crew.

They'll be Live Blues by Johnny O" and the Blue F.O.'s with an entire Blues Set, plus a raffle and auction.

The Placer County Law Enforcement Chaplaincy's 8th Annual Blues and BBQs event takes place on Thursday, May 31, at High Hand Sheds in Loomis, CA.

BUSTING THE MYTHS OF WINE The Fleet Science Center's 2018 Annual Fundraiser where wine and science meet to produce an effervescent evening with friends, takes place Saturday, June 2, at The Fleet Center in Balboa Park, San Diego, CA.

Is it true that white wine should be paired with fish, and red wine with meat?

The evening will begin with a reception filled with hors d'oeuvres, wine and music. Guests can try their hand at the Wine Ring Toss and all can partake in the silent and live auctions.

The reception will be followed by a seated dinner featuring world-class wines curated by well-known local wine expert and owner of TheWineSellar & Brasserie, Gary Parker. The unique wines will be paired with a splendid multi-course dinner prepared by world-renowned culinary guru Andrew Spurgin.

The Busting the Myths of Wine fundraiser will directly support the Fleet Science Center's education programs, exhibits and ongoing initiatives.

DENVER DAY OF ROCK May 26, 2018. Denver Day of Rock is a one-of-a-kind music event presented by Amp the Cause to raise funds for, and awareness of, non-profits in Denver, Colorado. The free event takes place May 26, 2018 and will feature five stages of live music throughout downtown Denver.



E-Book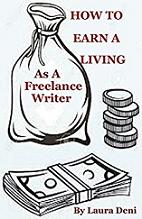 Soft back Book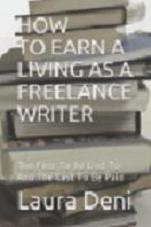 This is not your typical, totally boring textbook.

In the pages of How To Earn A Living As A Freelance Writer (the first to be lied to and the last to be paid) you'll find sex, celebrities, violence, threats, unethical editors, scummy managers and lawyers, treacherous press agents, sex discrimination; as well as a how-to for earning money by writing down words.





SPREADING THE WORD


LEGEND OF THE CAMEL BELL a live theater show uses 20 camels and 30 wolves onstage to recreate the authentic environment of the desert and the bitter wilderness along this historical route of the Silk Road expedition during the Tang Dynasty (618-907) in ancient China.

It tells the story of a group of young men heading toward unknown adventure and great fortunes along the Silk Road.

Staged in the newly built 3,000 seat Huaxia Ocean Park theatre with a revolving stage in the round, the production has attracted audiences from around the world with its stunning stage effects, massive props and gigantic cast.

Legend of the Camel Bell is staged at the Huaxia Ocean Park in Xi'an, China.

30th ANNIVERSARY CELEBRATION FOR HEDGEBROOK WOMEN PLAYWRIGHTS FESTIVAL (HWPF) takes place this year. Since 1988 the Festival has supported the creation and development of hundreds of new theatrical works by some of the most exciting playwrights of our time - who have gone on to become Pulitzer Prize, Tony, Obie, Emmy and Golden Globe award winners, as well as MacArthur "Genius" Fellows.

Hedgebrook partners with regional theatres across the country with strong track records of commissioning and producing new works by women playwrights. This year's festival partners include ACT Theatre, Center Theatre Group, Denver Center Theatre, Oregon Shakespeare Festival, and Seattle Repertory Theatre.

This year the works of Kate Hamill, Kimber Lee, Wendy MacLeod, Mfoniso Udofia, and Cheryl L. West will be featured. Monday, June 4 at Bagley Wright Theatre, Seattle Rep in Seattle, Washington.

DISNEY'S FROZEN will launch its North American tour in 2019 with its first stop at the Hollywood Pantages Theatre.

SUNDAY, MAY 20 is National Strawberries and Cream Day. May 21 is National Vanilla Pudding Day. May 22 is National Taffy Day and May 23 is National Escargot Day and World Turtle Day. Friday, May 25 is National Brown-Bag-It Day and National Wine Day (does that mean you're suppose to put your wine in a brown bag?).






FLYING SOLO written and directed by Hershey Felder.

Starring Nathan Gunn.

"Nathan Gunn, called America's leading baritone for his performances in Carousel, Camelot, Showboat with the New York Philharmonic, and many more international operas, is known throughout the world as the first "Hunkitone." A Grammy winner, Metropolitan Opera star, musical theatre star and named by People Magazine as a "Sexiest Man Alive".

"Naked Opera started with him. But there's a whole lot more to this story about a boy who wants nothing more than to please his Dad and who ends up realizing what life is really about."

Nathan Gunn Flying Solo features "the true story of one of America's greatest baritone voices singing selections from classic American musicals, contemporary songs and a little bit of opera fun."

May 23 - June 10, 2018 at San Diego Rep in San Diego, CA.

MONOGAMY a new comedy by Torben Betts.

Directed by Alastair Whatley.

Starring Olivier and Evening Standard winner Janie Dee. With Jack Archer, Charlie Brooks, Genevieve Gaunt, Patrick Ryecart, and Jack Sandle.

Monogamy means sharing your life with one person, but what if you shared your kitchen with 5.6 million? ...

Caroline Mortimer, the nation's favorite TV cook, has it all - a sparkling career, a big house in Highgate, a (golf) loving husband, smart kids and the best kitchen money can buy. But beneath the immaculate furnishings, studio lighting and away from the glare of the ever-present cameras - Caroline must face the looming collision of living a private life in the public eye. What happens when the cameras turn off and the truth comes out?

Performances May 28-June 2 at the Richmond Theatre before transferring to the Park for shows June 6-July 7, 2018 in London.


WHO'S WHERE




HAMILTUNES: AN AMERICAN SING-ALONG fans of Broadway's blockbuster Hamilton are invited to join Mount Vernon for a special Hamiltunes NoVA Sing-Along. Give voice to the amazing stories of George Washington, Alexander Hamilton and other founding fathers during this sing-along event that celebrates Hamilton.. Singers from Mount Vernon Community Children's Theatre and accomplished DC-area adult musicians will lead Mount Vernon guests in a rousing Hamiltunes NoVA Sing-Along. Bring a blanket and join in this family-friendly event designed for Hamilton fans of all ages with Washington's Mansion in the background. May 26 at Mount Vernon.

TAYLOR SWIFT brings her tour to CenturyLink Field in Seattle, WA on Tuesday, May 22. Friday's stop is at the Sports Authority Field at Mile High in Denver, CO.

ED SHEERAN headlines a four night stand beginning Wednesday, May 24, at the Etihad Stadium in Manchester, England.

BILLY JOEL stars May 23, 2018 in New York, NY at Madison Square Garden.

U2 brings their tour to the United Center in Chicago for a two nighter beginning Tuesday, May 22. On Saturday the group is at the Bridgestone Arena in Nashville, TN.


FINAL OVATION


SOPHIA ROSEMARY WONG BLUMENSTEIN the unborn daughter of Tony Award winning actress Ruthie Ann Miles and her husband Jonathan Blumenstein was pronounced deceased before birth on Friday, May 11, 2018. She was due to be born this month.

On March 5, 2018 Ruthie Ann and her best friend Lauren Lee were with their children Abigail Blumenstein, 4, and Joshua Lew, 1, crossing the street when they were run down by Dorothy Bruns, 44, who has been charged with manslaughter.

Abigail and Joshua were killed and both mothers were seriously injured.

The tragic announcement about the loss of Sophia was made by lawyer Ben Rubinowitz who told the New York Daily News, "The pain suffered by Ruthie and Jonathan is nearly impossible to fathom."

JOSEPH CAMPANELLA stage and screen star died May 16, 2018 in Sherman Oaks, California. He was 93.

A Tony and two-time Emmy nominee, before his lengthy acting career, Campanella also worked as a radio sportscaster, a broadcaster, and a TV stuntman. The latter, which led to many TV roles, followed studies with Lee Strasberg at the Actors Studio.

Campanella made his Broadway debut in 1962 in the short-lived The Captains and the Kings, which played seven performances at the Playhouse Theatre. His role as Daniel Stein in Garson Kanin's A Gift of Time earned him a 1962 Tony nomination for Best Featured Actor in a Play. His final Broadway appearance was opposite Judy Holliday in the 1963 musical Hot Spot, at the Majestic Theatre.

The actor enjoyed a successful TV career that spanned over 40 years. He received both a Primetime Emmy nomination (in 1968 for Mannix and a Daytime Emmy nomination in 1989 for Days of Our Lives.

. He is survived by his wife Kathryn Jill Bartholomew, a singer and dancer, whom he met in 1963 while he was playing the leading man for Hot Spot on Broadway. They married on May 30, 1964, and had seven sons all of whom survive him: Philip, Robert Yale, Joseph Anthony Jr., Dominic Peter, Anthony F., John Mario, and Andrew Michael. His brother, Frank Campanella, who died in 2006, was also an actor.

LEAH NAPOLIN Broadway playwright who made her Broadway debut in 1975 with an adaptation of Isaac Bashevis Singer's short story Yentl the Yeshiva Boy, died May 15, 2018 following complications with breast cancer. She was 83 and a longtime resident of Sea Cliff, NY.

Ms. Napolin's Yentl, about a young Jewish woman who disguises herself as a man in order to study the Talmud, premiered at the Brooklyn Academy of Music in 1974 before bowing at Broadway's Eugene O'Neil Theatre the following year, running for over 200 performances. The production earned Tovah Feldshuh a Tony nomination for her performance in the title role.

Following Yentl, Ms. Napolin went on to write the play The Dogs of Pripyat, which earned her the 2004 John Gassner Memorial Playwriting Award. Split at the Root: A Novel in Three Acts was published in 2018, and a memoir titled War Baby 1935-1950, is slated for publication later this year.

She married the abstract expressionist artist Bert Katz in 1958. They had two daughters and were divorced in 2000. She taught comparative literature at The Ohio State University, founded a creative writing program at the Ohio Reformatory for Women, and was the Associate Editor at Choice Magazine Listening. She was a member of P.E.N. and the Dramatists Guild.

She is survived by her wife, Barbara L. Murphy whom she married in 2013; daughters Margo Katz and Jessica Starke; sons-in-law Morgan Starke and Craig Kratovil; a sister Dale Napolin Bratter; brother-in-law Warren Bratter; granddaughters Daisy Katz, Madelaine Starke, and Morgan Joy Starke and numerous nieces, nephews and cousins.






E-Book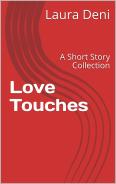 Soft back Book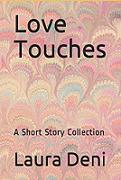 Next Column: May 27, 2018
Copyright: May 20, 2018 All Rights Reserved. Reviews, Interviews, Commentary, Photographs or Graphics from any Broadway To Vegas (TM) columns may not be published, broadcast, rewritten, utilized as leads, or used in any manner without permission, compensation and/or credit.
Link to Main Page
---
Laura Deni



For the snail mail address, please E-mail your request.
CLICK HERE FOR COMMENT SECTION