! >
Broadway To Vegas
  
  REVIEWS INTERVIEWS COMMENTARY NEWS



| | |
| --- | --- |
| | |
CHEAP JACKS AND THE TDF COSTUME COLLECTION - - TONY HAWK - RAD SCIENCE EXHIBITION - - WAYNE NEWTON SUED - - SPIDER-MAN TURN OFF THE DARK LOSES LEGAL ROUND - - LAS VEGAS POLE DANCE TEACHERS SUE - - JOE MANTEGNA AND GARY SINISE RETURN TO HOST THE NATIONAL MEMORIAL DAY CONCERT - - BAD REACTION TO MEDICINE CAUSES BARBARA COOK TO CANCEL SHOWS - - GLEN CAMPBELL AT ALZHEIMER'S DISEASE CONFERENCE - - DONATE . . . Scroll Down


Copyright: May 20, 2012
By: Laura Deni
CLICK HERE FOR COMMENT SECTION

YOU TOO CAN DRESS LIKE ANOTHER ERA - WHERE COSTUME DESIGNERS SHOP


Cheap Jack's is open to the public. Clothing ranges from the Victorian Era to the Outrageous 80s. Photo: Laura Deni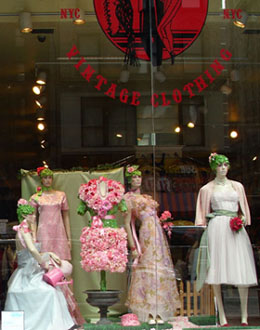 Ever wonder where some of the clothes Carrie Bradshaw wore on Sex and the City came from? Or where Mad Men finds those 60s outfits?

Many costume designers have their own staff or hire seamstresses and beaders on a per show basis.

For the in a hurry, something off-the-rack need there are clothing shops which cater to the theatrical community.

Even television shows with a wardrobe department regularly have to go looking for items.

The costume designer for Sex and the City was Patricia Field who received a 2002 Emmy Award.

Mad Men costume designer is Janie Bryant who has stressed that the men's "uniforms" on the popular AMC show are vital to the concept and the storyline.



John Slattery as Roger Sterling and Jon Hamm as Don Draper in Mad Men. It's not easy to find hats, shoes, ties and other accessories which were a part of a man's 1960's wardrobe. Cheap Jack's has a wide variety. Photo:AMC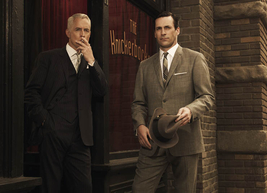 Some theatrical costume companies rent their inventory and some demand an out right sale.

Some are open to the public and some aren't.

Cheap Jack's is the largest collection of vintage clothing on the East Coast. The 12,000-square-foot building is packed with high-end historical clothing neatly arranged - literally to the ceiling. The huge inventory on three floors, is carefully catalogued by era beginning with 1800.

You name it they have it - from an enormous collection of men's shoes and hats to has-been rock star T-shirts and Roaring 20's shimmy. From fabulous to nerdy. Oh, don't forget the furs.

The diverse customer base includes tourists, designers, celebrities and models.

Cheap Jack's Vintage Clothing is where Bruce Willis has brought his daughters, Yoko Ono her son Sean Lennon. It's where shows "such as SNL, 30 Rock, and even The Today Show," buys clothing Broadway To Vegas was told.

Cheap Jack Jacob Markus has a widely published background. He was born in Russia, the son of Holocaust survivors fleeing Poland for Israel after World War II. The family relocated to New York. When he was 15, Markus met his future wife, Mona, whose father owned a dry-cleaning business. After working for his father-in-law for about two years, the hardworking Markus, who always had a good business head, had an idea - take the dry cleaning nobody picked up and retail those clothes as vintage goods.

Cheap Jack's was in business.

The first location opened its doors in 1975 and was tiny.



Cary Grant and Deborah Kerr in An Affair To Remember. In the background is the Empire State Building where they agree to meet in six months. Photo by Twentieth Century Fox – © Twentieth Century Fox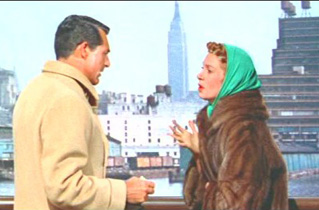 Immediately successful, the store grew as did the variety of merchandise. Eight years later Jack moved the business to Broadway, where the store remained for a quarter century.

Now Cheap Jack's is housed at the Corner of 5th Avenue and 31st Street, near the Empire State Building, making it an ideal stop for tourists to gawk at where Sleepless in Seattle and the original An Affair to Remember had their pivotal scenes. Then step inside Cheap Jacks and see clothes from those eras.

Known as CJ's among insiders, the store has became both a landmark and a destination in itself.

"We're bigger and better than ever, offering our customers the most incredible selection of high-end vintage clothing at very reasonable prices. To enhance our customers' shopping experience, our store is light, bright and airy, with plush couches and lovely fitting rooms. For added convenience, we do alterations while you wait," promises Cheap Jacks.

The store is immaculate, where "there is always a plush couch, a friendly and knowledgeable staff, and a smile to greet you."

The staff is bright and eager to assist. They all seem to genuinely love their jobs.



The Broadway musical Jersey Boys has shopped at Cheap Jack's.
Unlike many costume companies, nothing is for rent. All outfits must be an outright purchase because with rental outfits, frequently the clothing is returned dirty, torn or ripped due to the rigors of acting.

Companies using the shop range from the hit television series 30 Rock to the hit Broadway show Jersey Boys.

One of their prized outfits is a military uniform worn by Andrew Jackson.

Vintage couture pieces line the high ceilings, out of reach of perhaps dirty fingers.

There is the jaw dropping Glam Room where there are sequins from the floor to the ceiling. From sequin-clad sweater-vests to bedazzled ball gowns. Another room houses a vast collection of authentic WWII Bomber Jackets.

A collection of original, elaborate Mexican gowns is pointed out.

Polyester was invented in Great Britain, proudly states Michael, an employee of about a year, who knows his fabrics. "Most people think it was invented in America, but it wasn't - Great Britain."

Students from the Fashion Institute are regular visitors. Seeing a photograph or sketch in a book never compares to the real thing.

The company which boasts thousands and thousands of outfits is picky. Many of their purchases come from estate sales - clothing owned by the type of woman who never threw anything away and took immaculate care of what she owned.

To this day Jack and Mona do all of the buying and pricing.

One of Jack's favorite stories is one where he has been quoted as recalling a designer who purchased a classic 1950s dress for $175 and turn it into a $6,000 "original" without changing a stitch.

Jack didn't snitch. Rather, he thought it was funny.



Costumes from Wicked and Shrek from the TDF Costume Collection. Photo by Laura Deni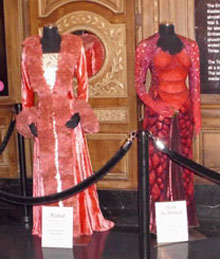 Where do Broadway costumes go after closing night?

Many go to the TDF Costume Collection, located in Astoria, New York, which houses more than 75,000 costumes and accessories from Broadway and Off-Broadway productions, opera companies and touring companies.

This huge inventory is available for rent at low cost primarily to not-for-profit performing arts companies, educational institutions and other charitable groups nationwide.

The TDF Costume Collection provides professionally designed costumes at affordable prices. The reasonable prices not only allow fledgling companies to mount more professional-looking shows; they also help theatres to produce a greater number of new works by keeping production costs down.

Performing arts organizations, colleges and universities, middle and high schools, and community and charitable groups are among those primarily eligible to take advantage of all the TDF Costume Collection has to offer.

If you are not in the New York area or are unable to visit the Collection, for an additional fee you can use the Pulling Service. If available, costumes will be chosen for you by the Collection's expert design team based on the information you provide.





Broadway To Vegas is supported through advertising and donations. Priority consideration is given to interview suggestions, news, press releases, etc from paid supporters. However, no paid supporters control, alter, edit, or in any way manipulate the content of this site. Your donation is appreciated. We accept PAYPAL. Thank you for your interest.



ART AND ABOUT


TONY HAWK - RAD SCIENCE EXHIBITION If you shred it, they will come. That's the theory - physics theory - behind the Tony Hawk–Rad Science Exhibit coming to UC Berkeley's Lawrence Hall of Science beginning May 26 which answers the question: How can a visit to a local skatepark demonstrate important physics principles?

On Saturday, June 2, the world's most famous skateboarder and exhibit namesake, Tony Hawk, brings the gravity defying answer to Berkeley in a tag-team demonstration with Berkeley physics professor Joel Fajans.

"Tony Hawk is famous for skateboarding, and UC Berkeley is famous for science," said Gretchen Walker, Associate Director of the Lawrence Hall of Science "This is a great match, like centripetal force to a kickflip."

At the opening event on June 2nd, Hawk, along with other professional skateboarders, will perform an exciting demonstration on a specially designed vertical skate ramp set up just outside The Hall. There will be a DJ and a fun skate vibe, but rather than the usual sports commentary, professor Fajans will provide insights into how physics is being applied.

"Physics relates to everything that we do," said Fajans. "This cool new exhibition shows how a visit to a local skatepark can demonstrate important physics principles."

The Rad Science exhibition will allow visitors to put themselves into the role of skateboarders and scientists as they explore over 25 interactive experiences including:

Bodacious Board Balance - Ride stationary skateboards designed to test your balance in classic tricks like "grinding" and "manuals" on the safety of a padded surface.

Newton's Pool - Go inside an empty swimming pool to experiment with the laws of motion and see how a pool's unique characteristics created the origin of extreme skateboarding.

Skateboard Evolution ­– ­­­See skateboard designs from the first in 1962 through today and learn how physics has driven the evolution of decks, wheels, and axles. Tony's 900 Vert Theatre - Take a trip back in time to witness the first time Tony Hawk ever preformed the 900 (2.5 revolutions in mid air)

Wipeout Ambulance ­ - See how inventions like helmets, kneepads, and wrist guards have helped dissipate the extreme forces of a wipeout.

Tony Hawk - Rad Science is created by Las Vegas based Exhibit IQ. The exhibition is designed to bring important science, technology, engineering and math (STEM) principles to life with an authentic skate culture design and hands-on activities that show science at work.

The exhibit runs at the Lawrence Hall of Science in Berkeley, CA from May 26 through September 3, 2012.


SWEET CHARITY


THE ALZHEIMER'S DISEASE CONFERENCE

Glen Campbell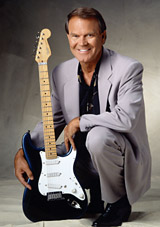 held last Tuesday in Washington, DC featured country music star Glen Campbell who came to Capitol Hill along with his wife Kim, children Ashley, Cal and Shannon and Harry Johns, CEO of the Alzheimer's Association. Their attendance was to call for action to prevent and cure Alzheimer's Disease.

Campbell has been diagnosed with Alzheimer's Disease. Rep. Ed Markey (D-Mass.), part of the Congressional Task Force on Alzheimer's Disease, announced at the conference the HHS National Alzheimer's Plan, which is a result of bipartisan legislation authored by Rep. Markey.

The plan includes the goal of treating the disease by 2025.

Campbell's daughter Ashley gave an emotional speech at the conference, recalling when she used to fish with her father and how soon, he "won't recognize who I am."

Also in attendance were Jane Seymour and her husband James. They are friends of Campbell advocates for Alzheimer's Awareness. Keach, a producer of the Oscar-winning Johnny Cash biopic, Walk the Line, is producing a documentary film chronicling Glen and his struggle with the disease.

Campbell is currently on his on his Goodbye tour. He performed this past weekend in Kentucky and Pennsylvania. On Monday, May 21 he's at the American Music Theatre in Lancaster, PA. Tuesday finds him performing at the Bergen PAC in Englewood, NJ. Thursday's show is at the Empire Center at the Egg in Albany, NY and on Saturday he'll be singing his hits at the Count Basie Theatre in Red Bank, NJ. He returns to Las Vegas for a two nights at the LVH (formerly Las Vegas Hilton June 1-2.

EIGHTH ANNUAL MUSICARES MAP FUND BENEFIT CONCERT will honor Alice In Chains co-founder Jerry Cantrell and certified interventionist and Sony/ATV Music Publishing Senior Consultant Neil Lasher at Club Nokia in Los Angeles on Thursday, May 31, 2012.

Cantrell will be honored with the Stevie Ray Vaughan Award for his dedication and support of the MusiCares MAP Fund, and for his commitment to helping other addicts with the addiction and recovery process.

Lasher will be the recipient of MusiCares' From the Heart Award for his unconditional friendship and dedication to the mission and goals of the organization.

All proceeds will benefit the MusiCares MAP Fund, which provides members of the music community access to addiction recovery treatment regardless of their financial situation.

Hosted by television personality Steve-O, the evening will feature a special performance by eight-time Grammy nominees Alice In Chains featuring guitarist/vocalist Cantrell, guitarist/vocalist William DuVall, bassist Mike Inez, and drummer Sean Kinney. Grammy-nominated musician Moby will DJ live during dinner.

"From what I've seen, addiction can be an occupational hazard in the music business and I know firsthand how the MusiCares MAP Fund helps artists and members of the music community find the resources for recovery," said Cantrell. "I've been a supporter for a long time, and I'm proud to help raise awareness and funds so this organization can continue to save lives."

"I've been very fortunate to have two rewarding careers — one in the music industry and one in the field of addiction recovery," said Lasher. "I've made countless friends in both, and have wonderful memories spanning many years. And because I've seen the ravages of addiction take their toll on artists, crew members, myself, and others who work in the music business, I've been a supporter of the MusiCares MAP Fund from the very beginning. Their programs give people their dignity and their lives back."

This special dinner and concert offers Living Room Sets that seat 10 for $12,500, Individual Floor Seats for $1,250 per person, and VIP Balcony Seats for $100 per person. Out of respect for the clients the MusiCares MAP Fund serves, the event will be alcohol-free.

SECOND AVENUE MEETS BROADWAY a benefit cabaret directed by Michael Montel.

Starring Tovah Feldshuh, Sheldon Harnick with Gregg Edelman, Randy Graff, Stephen Mo Hanan, Rachel Ulanet and Stephanie Umoh.

Thursday, May 31, 2012 at the Museum of the City of New York. The cabaret program is followed by a cocktail reception.

Proceeds from this benefit evening will support Second Avenue Meets Broadway, an exhibition to be presented at the Museum of the City of New York in 2013.


IN THE COURTS


SPIDER-MAN TURN OFF THE DARK PRODUCERS were ordered by Justice Ellen M. Coin of State Supreme Court in Manhattan to turn over any relevant information to stuntman Richard Joshua Kobak who asserts he suffered a concussion, whiplash and two holes in his knees while performing in the Broadway production.

Kobak had requested that 8 Legged Productions, the producers of the $75 million show, hand over any memos, emails or any other evidence as he weighs pursuing a negligence lawsuit.

( See Broadway To Vegas column of April 8, 2012 )

Kobak was one of several actors/stuntmen playing the title character from December 2010 to April 2011. Kobak claims he suffered the leg injuries in 2010 while filling in for another injured stuntman.

He alleges that the rigging he used for the show's aerial acrobatics wasn't recalibrated for him and, as a result, he made 70 hard landings on stage during performances and rehearsals. He says the hard landings created a 1.4-millimeter hole in his right knee and a 9-millimeter hole in his left knee.

His legal papers also claim that a computer program controlling one of his jumps from a balcony sent him flying into a wall on April 5, 2011. He says he suffered two herniated discs, whiplash and a concussion.

The production has joined the ranks of top Broadway shows, bringing in more than $1.2 million a week. The musical has been nominated for two Tony awards - for best scenic design and costume.

WAYNE NEWTON

Wayne Newton. Photo by Laura Deni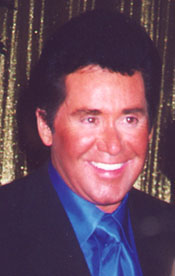 his wife and her 76-year-old mother are being sued for obstructing the building of a Wayne Newton tourist attraction. A lawsuit filed last Wednesday in Clark County District Court asserts, among other things, that the performer "created a hostile and intimidating work environment."

The complaint was filed for CSD, headed by businessman Steven Kennedy of Blanco, Texas by attorney Charles McCrea Jr.

In court papers, an unidentified female equestrian trainer who allegedly quit and has threatened to sue, after being subjected to repeated sexual harassment by Newton is quoted, in a letter written by her attorney Gloria Allred, which graphically describes several instances when Newton "would push up hard against her as he kissed her open-mouthed on the lips. Each kiss was wet, sloppy and disgusting and clearly of a sexual nature."

At the center of the lawsuit - efforts to turn Newton's 52-acre ranch into a tourist attraction similar to Elvis Presley's Graceland.

Under controversial plans approved by Clark County, the tourist attraction at the compound would include a museum with memorabilia from Newton's entertainment career, a theater, zoo, car museum and a Newton-themed car wash. ( See Broadway To Vegas column of November 21, 2010 )

Newton's business partner, Steven Kennedy paints a sordid picture of conditions inside the walled compound known as the Casa de Shenandoah.

In court papers attorney McCrea depicted Newton's ranch as being in a state of filth prior to June 22, 2010, when CSD LLC purchased the 39.5 acres for about $19.5 million. More than 80 horses at Casa de Shenandoah lived either in a paddock "covered with hundreds of tons of horse manure" piled more than six feet high in spots or in a barn "saturated in a sea of standing urine," McCrea wrote in the lawsuit.

Also on the property are South African penguins.

"The penguin ponds were disgustedly dirty, full of algae and were endangering the penguins, all of whom were sick and many had died," the lawsuit states.

McCrea claims CSD, part owned by Kennedy, has spent more than $30 million to clean and renovate the property, even though workers were harassed by "large vicious dogs" that freely roam the property and have allegedly bitten more than a dozen people.

Newton, it is being asserted, has refused to co-operate further on various parts of the project, effectively halting work. The lawsuit seeks to evict Newton, his family, several dogs and horses from the property so that work can continue.

For instance, the suit says, Newton and his family refuse to vacate the mansion at the Casa de Shenandoah estate now owned by CSD.

Under museum development plans, the development companies agreed to put up $2 million for building a new home for the Newtons on the compound that would not be part of the public tourist attraction.

"The mansion is to be one of the project's main attractions available for tours by museum patrons," the lawsuit says. "Defendants have failed to provide their cooperation in allowing the construction of the new residence to commence and refuse to move from the mansion."

Other allegations are that Newton has refused to catalogue the artifacts for the museum which would include Impressionist paintings by Pierre-Auguste Renoir and 17th-century antiques collected from European castles.

Newton and Geneva Clark, part owner of CSD Management, a legal entity involved in the project, accused Kennedy of creating the problems.

"I will not condone nor support (Kennedy's) actions or anyone who is supporting him in this lawsuit," Clark said in a prepared statement.

"He is wrongly accusing the Newtons and mismanaging his role of leadership," Clark said in the statement. Clark and Kennedy once lived together as common law husband and wife.

Late Thursday, Newton's attorney, J. Stephen Peek of the law firm Holland & Hart LLP in Las Vegas responded to the lawsuit by issuing a statement asserting numerous misdeeds by Kennedy and CSD including "failure to obtain building permits prior to construction," which resulted in the Clark County Fire Department halting work on a visitor welcome center, "failure to construct proper buildings for the health of the animals and for the viewing pleasure of the public, and constant bullying and threatening of employees."

Peek said the sexual harassment claim was "completely fabricated" by a fired employee attempting to obtain money from Newton. Newton's statement also disputed charges that animals at Newton's ranch were poorly cared for.

"Wayne Newton has been named the top breeder of Arabian horses in the world and has received accolade after accolade for his Arabian horse herd. Rulers of other countries have purchased Wayne Newton-bred-and-owned Arabian horses. Through the years, thousands of people have had the great pleasure of visiting Wayne Newton's home and seeing his animals. To allege that the condition of Casa de Shenandoah and his treatment of animals has been anything less than exemplary is false and absurd," the statement said.

LAS VEGAS POLE DANCE INSTRUCTORS SUE OVER INVASION OF PRIVACY

Stripper 101 in Las Vegas also includes instruction on how to give a lap dance. Photo: Stripper 101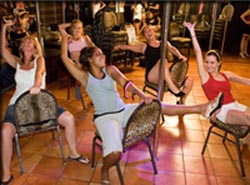 charges are made that students and instructors in the popular Stripper 101 pole dancing class located at the V Theatre on the Las Vegas Strip were secretly videotaped "performing very personal and private acts."

The lawsuit was first reported by The Las Vegas Sun newspaper.

David Saxe, the producer of Stripper 101 which promotes itself as the "most popular pole dancing class in the world specializing in bachelorette parties and bridal showers" deny all allegations answering that "security video surveillance is a commonly utilized security tool in any casino and/or show in Las Vegas."

( See Broadway To Vegas column of February 7, 2010 )

The lawsuit, filed by Las Vegas attorney Eva Garcia-Mendoza in Clark County District Court represents five Stripper 101 instructors who assert they had been told the Stripper 101 classroom/showroom was a private venue where they could change in and out of their dance wear. They also state that signs posted at the venue say no cameras are allowed.

This created an expectation of privacy, the suit states.

On January 14, 2012 the instructors accidentally discovered there were two hidden video cameras in the room, their lawsuit says.

The suit asserts one of the instructors, Rachael Carter, complained to management and learned the cameras were transmitting video to a back office computer where Saxe and others could viewed the feed.

The instructors' reaction was "concern, disgust, repugnance and repulsion," the suit charges.

The exotic dance instructors complained in the suit that Stripper 101 producer David Saxe had, without their knowledge, ordered that the video cameras be set up where the instructors and customers dressed and undressed.

The video feed showed the instructors and attendees "in various stages of dress and undress" and performing "many very personal and private acts."

Jennifer Arledge, a Las Vegas attorney for the Stripper 101 interactive classes and producer Saxe, dispute the lawsuit allegations.

"These allegations are totally and completely false. Mr. Saxe intends to pursue all damages caused by this vexatious litigation," she emphasized. Last month she filed a motion asking that the suit be dismissed. "The complaint contains misstatements of fact, half-truths and misrepresentations," the dismissal motion opines. ''It is clear from the colorful unsubstantiated allegations that plaintiffs' intent was to paint a picture of perverse malfeasance hoping to tarnish the reputation of defendants merely by making the accusations in a public record.

''As will be proven, the surveillance cameras in the Stripper 101 classroom were installed as part of a systematic and ongoing long-term upgrade of the existing video surveillance system that was already in place at the V Theater and the nearby Stripper Bar where some of the plaintiffs also work as well as the Saxe Theater also in the Miracle Mile Shops.

"The allegation that the video cameras were installed in the Stripper 101 classroom surreptitiously and to conduct 'covert video surveillance' of plaintiffs is false. 'They are security cameras installed and used for that purpose."

The instructors, in their lawsuit, are seeking unspecified damages, but ask for more than $50,000 in punitive damages because they have ''suffered severe emotional distress.''

The Stripper 101 motion for dismissal, however, said security video surveillance is commonplace at casinos and shows, yet "plaintiffs somehow believe the defendants violated their rights to privacy and engaged in conduct that is inconsistent with the general rules of civility."

Arledge on Friday said the five independent contractor exotic dance instructors suing Stripper 101 are still employed in that capacity and that "the instructors do have an area other than the classroom where they may change clothes."

A July hearing is planned on the motion for dismissal.


JOE MANTEGNA AND GARY SINISE RETURN TO HOST THE NATIONAL MEMORIAL DAY CONCERT
Joe Mantegna and Gary Sinise host the National Memorial Day Concert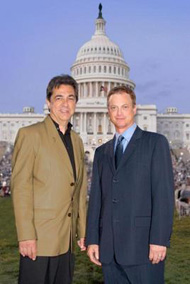 The annual National Memorial Day Concert will air on PBS May 27 beamed live from the West Lawn of the U.S. Capitol.

Co-hosted for the seventh year by Tony Award winner Joe Mantegna and Emmy Award winner Gary Sinise, the hour-long program will feature Colin L. Powell, rock band Daughtry, Grammy winner Natalie Cole, country singer Trace Adkins, actress Selma Blair, Oscar winner Ellen Burstyn, Emmy and Golden Globe winner Dennis Franz and tenor Russell Watson with the National Symphony Orchestra under the direction of pops conductor Jack Everly.

The celebration will also feature "a heartfelt welcome home to our troops who have been serving in Iraq and Afghanistan; the poignant story of a young widow who lost her husband in Afghanistan; a segment profiling the heroic and brave efforts of veterans from all wars; and a closer look at the plight of homeless American veterans."

"Each year on the eve of Memorial Day, we gather at the U.S. Capitol to share the real stories of fallen and wounded heroes, their families, and their combat buddies as a way to remember, to grieve and begin to heal," said concert co-host Mantegna in a statement. "Every one of your stories of remembrance is important to us. We are honored to be able to share these moving tributes from our loyal viewers as we remember the sacrifices made by so many to preserve our freedoms."

The U.S Joint Chiefs of Staff will also participate in the event along with The U.S. Army Herald Trumpets, The U.S. Army Chorus, The Soldiers Chorus of the U.S. Army Field Band, The U.S. Navy Sea Chanters, the U.S. Air Force Singing Sergeants, the Armed Forces Color Guard and Service Color Teams provided by the Military District of Washington, D.C.


SPREADING THE WORD


LEGENDARY STAGE MUSICAL CARRIE will soon be available for licensing from R&H Theatricals, and its score will be published by Imagem Music, each a division of the Imagem Music Group, it was announced by R&H Theatricals.

Based on Stephen King's best-selling novel, Carrie features music by Academy Award winner Michael Gore, lyrics by Academy Award winner Dean Pitchford, and a book by Lawrence D. Cohen who is the screenwriter of the classic film.

Carrie opened Off-Broadway earlier this year, presented by MCC Theater and directed by Stafford Arima.

The production starred Mollie Ranson (as Carrie) and Marin Mazzie (as her mother) who also lead the Off-Broadway Cast Recording, to be released by Ghostlight Records later this year.

A songbook folio based on the Off-Broadway production will be published by Imagem Music/Hal Leonard later this year as well.

R&H Theatricals R&H Theatricals represents the stage performance rights to over 100 musicals by more than 200 writers. Imagem Music is the pop music division of the Imagem Music Group which is home to the Elvis Presley catalogue.

GO SEE by Norris Church Mailer A workshop production directed by Sondra Lee.

The presenters bill Go See as "a provocative, bold, and thoughtful exploration of personal, cultural, and sexual identity as told through Marie/Michelle, a woman working in a sex booth on 42nd street. She meets anthropologist David/Paul when he visits her booth conducting research for his new book on women's sexuality. The mystery of Marie/Michelle's identity, and of David/Paul's motives drives Go See to a dynamic and touching end."

Starring Lauren Fox and Brian Delate.

Norris Church Mailer, author of the novels Windchill Summer and Cheap Diamonds, was raised in Arkansas and moved to New York when she was 26 to start her life with Norman Mailer. She was a model, painter, actress, playwright, mother of two, and stepmother to seven. Her third book, a memoir titled A Ticket To The Circus, came out to rave reviews in 2010, shortly before her passing in November of that same year. She developed Go See at the Actors Studio, where she was a lifetime member.

This workshop production is part of The Bleecker Company New Plays Benefit. Actors perform with scripts in hand on a bare bones set. Ticket proceeds go towards developing new plays.

May 22 and 23 at The Arclight Theatre in New York City.

SERRANO - POET, LOVER ... HITMAN! based on the French classic, Cyrano De Bergerac.

Serrano is written by Madeline Sunshine with music by Robert Tepper and directed by Joel Zwick. James Barbour heads the workshop production if the new musical comedy. In addition to Barbour, the talented cast includes: Chad Doreck, Brian Beacock, Michael Nouri, Jessica Rush, Michelle Duffy, Eddie Korbich, Paul Romero, Jamison Stern, Jennifer Simard, Jay Winnick, John Schuck, Michael Farina and Ray McLeod.

The workshop presentations will take place on May 21 and May 22 at Foxwoods Studios, Studio A in New York City.


OTHER PEOPLE'S MONEY


BRET MICHALS has settled his lawsuit against the Tony Awards which stemmed from an injury he received while he was performing on the 2009 Tony telecast.

The 49-year-old suffered a broken nose and split lip and alleged in the lawsuit that the injury may have triggered the subarachnoid hemorrhage he suffered in 2010.

The rocker was hit in the head by a set piece which was being lowered after he had completed the song Nothin' But A Good Time.

Michaels filed the suit last March against the Tony Awards and CBS, which broadcasts the ceremony. That claim alleged that the producers failed to warn him of the dangers of the set, which was being lowered for a subsequent performance. A spokesman for the Tony Awards said the settlement was "amicable."






THE BROADWAY LEAGUE PRESENTS 2012 LEAGUE AWARDS which honor excellence and achievement for Touring Broadway. First presented in 1992, the Broadway League Awards recognize the contributions of those who have displayed exemplary service to the Broadway industry and are considered innovators of their craft.

Tom Gabbard of Blumenthal Performing Arts in Charlotte, NC received the Outstanding Achievement in Presenter Management (Samuel J. L'Hommedieu Award) for demonstrating excellence in management. (presented by Jeff Chelesvig).

Outstanding Achievement in Road Marketing was given to Wayne McWorter of the Pantages Theatre in Los Angeles, CA for his dedication and creation of an in-house marketing department. (presented by Anita Dloniak and Laura Matalon).

Judith Lisi President and CEO of the David A. Straz Center for the Performing Arts located in Tampa, Florida was bestowed the Distinguished Lifetime Service Award. (presented by Al Nocciolino) The George MacPherson Road Award was presented to Meredith Blair. (presented by Lauren Reid) who is President of The Booking Group, one of the highest-generating booking agencies in the Broadway touring field.

The Broadway League, founded in 1930, is the national trade association for the Broadway industry.



POTTED POTTER: THE UNAUTHORIZED HARRY EXPERIENCE a parody by written and performed by two-time Olivier Award-nominated actors Daniel Clarkson and Jefferson Turner.

The play takes on the ultimate challenge of condensing, or "potting", all seven Harry Potter books into 70 madcap minutes, aided only by multiple costume changes, brilliant songs, ridiculous props and a generous helping of Hogwarts magic. The show also invites audiences to engage with a real life game of Quidditch, but according to Clarkson and Turner's unique set of rules.

"Whether you camped outside a bookstore for three days awaiting the release of the Deathly Hallows or you don't know the difference between a horcrux and a Hufflepuff, the comedy, magic and mayhem of Potted Potter makes for an entertaining and hilarious visit to the theatre. The fast-paced show, which has made audiences aged six to Dumbledore (who is very old indeed) roar with laughter all over the world, is suitable for the whole family, including grown-ups, Muggles and Squibs."

The US premiere of the acclaimed UK production began Saturday May 19th at the Little Shubert Theatre in NYC. Opening Night is set for Sunday June 3rd. This limited engagement continues through August 12th only.

LOS OTROS A World Premiere Musical with book and Lyrics by Ellen Fitzhugh. Music by Michael John LaChiusa. Directed by Graciela Daniele.

Starring Julio Monge and Tony Award winner Michelle Pawk.

The uniquely Southern California experience is celebrated in candid, intimate song cycles of a Mexican-American man growing up in Carlsbad and a San Diego native reminiscing of her encounters with the Mexican community.

"Commissioned by Center Theatre Group, this unconventional, beautifully crafted intimate musical, is a masterful interplay of narrative and melody that remains true to its characters."

May 23-July 1 at the Mark Taper Forum in Los Angeles.

4000 MILES the marvelous drama by Amy Herzo starring Mary Louise Wilson and Gabriel Ebert, has received another performance extension at the Mitzi E. Newhouse Theater in New York City. The production will now continue through July 1.


WHO'S WHERE


BARBARA COOK 84, postponed last Saturday's scheduled concert at the Valley Performing Arts Center in Northridge, CA after experiencing "an unexpected reaction to medication," according to the performing arts center. The concert has been rescheduled for June 30. The Tony Award winning singer/actress has also postponed her May 24-27 shows at The Smith Center in Las Vegas. Her two night gig June 15-16 in Washington, DC is still slated to go on as scheduled.

JANE KRAKOWSKI the sexy Tony Award winner, has a one night stand Sunday, May 27, at the Williamsburg Lodge in Williamsburg, VA as part of the Virginia Arts Festival.

ELVIS COSTELLO continues his United Kingdom concert tour with a show Tuesday, May 22, at the Colsto Hall in Bristol. On Wednesday he opens a two night stand at the royal Albert Hall in London. Saturday's performance is at the Corn Exchange in Cambridge. On Sunday, May 27, he'll be pleasing the crowds at The Anvil in Basingstoke, UK.

NICKELBACK performs Tuesday, May 22, at the Century Link Center in Omaha. On Wednesday they take to the stage at the Target Center in Minneapolis. Friday's show is at the Bradley Center in Milwaukee. On Saturday they are in the spotlight at the KFC Yum! Center in Louisville, KY.

VAN HALEN in the spotlight Tuesday, May 22, at the Sprint Center in Kansas City. On Thursday the show is at the Pepsi Center in Denver. Next Sunday, May 27, they'll be on stage at the MGM Grand Garden Arena in Las Vegas.

BILL COSBY telling funny stories May 25 at the Treasure Island Theatre in Las Vegas.




FINAL OVATION


DONALD "DUCK" DUNN bassist for the original Blues Brothers band and Booker T & The MGs, died in his sleep May 13, 2012 after finishing a double show at the Blue Note night club in Tokyo the night before. He had been in the country as part of an ongoing tour with Steve Cooper and Eddie Floyd. He was 70.

Neil Portnow President/CEO The Recording Academy issued the following statement: "Grammy winner and Recording Academy Lifetime Achievement Award recipient Donald 'Duck' Dunn was the consummate bass player and he helped define the Southern soul sound. As a member of Booker T. and the MGs, he and his bandmates enjoyed great success with a number of instrumental hits while also helping to put Stax Records on the map as the backing band for artists such as Otis Redding, Sam and Dave, and the Staples Singers. Dunn later became a much sought after session player recording with Eric Clapton, Bob Dylan, and the late Levon Helm, among others. The music industry has lost a masterful legacy artist, and our deepest sympathies go out to his family, friends, and all who had the pleasure of working and playing with him. His influential musical impact will continue to be felt for generations to come."

He is survived by his wife, June; a son, Jeff; and a grandchild, Michael.

DONNA SUMMER known as The Queen of Disco died in on May 17, 2012. The cause of death was cancer. She was 63.

A one-time Las Vegas regular she last performed in Las Vegas during a David Foster and Friends concert at the Mandalay Bay Events Center October 1, 2011.

Summer began her career singing in church. She never appeared on Broadway although she had auditioned for a role in the counterculture musical, Hair. When Melba Moore was cast in the part, Summer agreed to take the role in the Munich production of the show. She moved to Munich after getting her parents' reluctant approval.

Summer remained in Munich and later learned fluent German. She participated in the musicals Ich Bin Ich (the German version of The Me Nobody Knows), Godspell and Show Boat. Then she moved to Vienna, Austria and joined the Viennese Folk Opera.

Neil Portnow President/CEO The Recording Academy issued the following statement:

Five-time Grammy winner Donna Summer had a dynamic voice and unique musical style that helped define the dance music genre in the ?70s. She also was an artist who crossed many musical genres, as evidenced by her Grammy wins in the R&B, rock, inspirational and dance categories. Her talent was a true gift to the music industry, and our thoughts and sympathies are with her family, friends and fans throughout the world during this difficult time.

She is survived by her husband - singer and producer Bruce Sudano; their daughters, Brooklyn and Amanda; and Summer's daughter, Mimi, from a previous marriage.

RON SHOCK a respected stand up comedian based in Las Vegas, died May 17, 2012 at Adelson Hospice in Las Vegas from urethral cancer. He was 69.

Shock whose first wife died from injuries sustained in an auto accident is survived by his second wife Rhonda, four children and nine grandchildren.

DIETRICH FISCHER-DIESKAU the acclaimed German baritone singer and conductor died May 18, 2012. He was 86.

He was famed for his performances of Winter's Journey (Winterreise) by Schubert.

A former soldier who spent nearly two years as an American prisoner of war, Fischer-Dieskau was a regular fixture at opera houses in Berlin, Vienna and London and at New York's Carnegie Hall.

The singer, music teacher and playwright played a significant role in invigorating the Salzburg Festival before retiring in 1992.








Next Column: May 27, 2012
Copyright: May 20, 2012. All Rights Reserved. Reviews, Interviews, Commentary, Photographs or Graphics from any Broadway To Vegas (TM) columns may not be published, broadcast, rewritten, utilized as leads, or used in any manner without permission, compensation and/or credit.
Link to Main Page
---
Laura Deni



For the snail mail address, please E-mail your request.
CLICK HERE FOR COMMENT SECTION