! >
Broadway To Vegas
  SHOW REVIEWS     CELEBRITY INTERVIEWS     GOSSIP     NEWS 


| | |
| --- | --- |
| | |
Copyright: May 20, 2001
By: Laura Deni
CLICK HERE FOR COMMENT SECTION

ALANIS MORISSETTE SAVES SHOW; BELLS' CHECKS BOUNCE; CAESARS BETS ON CELINE; SUNDANCE SELECTS PLAYS; CHER CHECKS OUT THE SHOWS SUNDANCE SETS THEATRE PROJECTS
The Sundance Institute has chosen nine projects for its 2001 Theatre Laboratory July 9-29. The three-week workshop offers playwrights, directors, choreographers, composers and solo performers the time and support to develop new works or to explore new approaches to existing scripts and adaptations, without the pressure of public production.


ROBERT REDFORD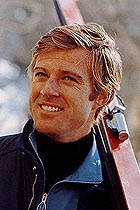 Founded by Robert Redford The Sundance Institute is a nonprofit institution dedicated to the support and development of independent filmmakers, screenwriters,

Play writers, composers and other film and theater artists. Like other aspects of the Sundance Institute, the Theatre Program identifies and assists emerging theatre artists; revives and reinvigorates the creative energies of established artists; and encourages and supports the development of new work from both.

The Sundance Theatre summer workshops produces plays at the 880-seat outdoor Eccles Theatre and the 250 seat Alexandra Monroe King Stage.

The 2001 Theatre Lab projects reflect the wide variety of theater being developed in this country today," says Philip Himberg, artistic director of Sundance's theater program, in a recent news release. "These individuals represent both emerging and established artists, who have challenged themselves to create work that is truly visionary and risk-taking."

"The Sundance Theatre Lab is unique because the development process is tailor-made to each project's individual needs," adds Robert Blacker, the lab's artistic director.

The lab takes place in July, but the process is already well under way. "I have begun to meet with the writers and directors who are coming to Sundance this summer to help them set realistic goals and reassure them that they are the only judges of its success," said Blacker. "There are no public presentations, so there is no pressure to show something before it is ready to be seen, or even to complete a project that is at an early stage of development."

The projects selected for this year's Lab include:

Yiddisher Teddy Bears, a comic, vaudeville opera, with text and direction by Obie-award winner Richard Foreman and music by Stewart Wallace ("Harvey Milk" and "Hopper's Wife"), follows the exploits of a turn-of-the-century Jewish lothario who sets up a business selling teddy bears that look like him.

Talk, by celebrated poet and spoken-word recording artist, Carl Hancock Rux, examines the connection between art, race and history through a fictional symposium on the life of an African-American novelist and political activist.

When Grace Comes In, by Heather McDonald tracks a 40-something U.S. senator's wife at a critical juncture in love, marriage and motherhood.

Wintertime, by Chuck Mee, is a wild, Chekhovian farce that explores love and infidelity, as four couples find themselves unexpectedly spending a weekend in the same country house.

Making It, by Joe Hortua, a recent graduate of NYU's graduate writing program, takes place in the kitchen and dining room of a Manhattan restaurant where conversations about the American dream cross-hatch and interweave.

99 Histories, by Julia Cho, another recent graduate of NYU's graduate writing program, is a play about a hip, young pregnant woman, who returns to her traditional mother's home to re-examine her life by alternately burying and excavating her past in scenes that may be memory or fantasy.

Yellowman, by monologist Dael Orlandersmith, is a two-character play that deals with the relationship between a dark-skinned African-American woman and her light-skinned husband. The play was first written at the 1999 Sundance Theatre Lab.

Switch Track explores family mythology through an African wedding ritual, in which the prospective bride and groom trade personal stories and dreams. Barney Simon of the Market Theatre, Johannesburg, will develop the piece through improvisations and personal histories from her two actors.

The Past is a new play by novelist and screenwriter, Denis Johnson. In this homecoming play set in California, a family tries to come to terms with the incident that tore it apart years earlier.



Broadway To Vegas is supported through advertising and donations. Priority consideration is given to interview suggestions, news, press releases, etc from paid supporters. However, no paid supporters control, alter, edit, or in any way manipulate the content of this site. Your donation is appreciated. We accept PAYPAL. Thank you for your interest.


APPLAUSE, APPLAUSE

FREDERICK WISEMAN internationally acclaimed documentary filmmaker was inducted into the American Academy of Arts & Letters last Wednesday. Wiseman is only the third director ever to be so honored - the other two are Woody Allen and Martin Scorcese. Frederick Wiseman has made 31 documentary films in his career, and is currently finishing one on domestic violence

On that same evening, The Last Letter began its North American Tour in Ottawa. The Last Letter is a play adapted by Wiseman from a chapter of a famous Russian novel by Vasily Grossman called Life and Fate which he directed to great acclaim last year at the world-renowned La Comedie-Francaise, starring Catherine Samie, one of France's leading actresses and le Doyen of La Comedie-Francaise. The play had a long and successful run in Paris last year at the Studio Theatre of La Comedie-Francaise, and Ms. Samie won the Parisian Critics Prize as Best Actress in 2000.

The Tour dates include; May 25-26 in Toronto; June 1-2 at Florence Gould Hall in NYC; June 6-14 in Cambridge; June 16-17 in Springfield; and June 22-23 at The Chicago Shakespeare Theater on Navy Pier.

PHILIP J. SMITH president of the Shubert Organization, will be honored with the Rodney Kirk Neighbor Helping Neighbor Award at the 11th Annual Concert and Supper to benefit the Manhattan Plaza AIDS Project and the Manhattan Plaza Foundation. Linda Stasi, Cy Coleman, Tony Randall, Marin Mazzie and Andre De Shields will entertain. The festive concert and dinner takes place tomorrow at the Westside Theatre, NYC

GORE VIDAL who has received several theatrical nominations for writing The Best Man instructing his people to write personal thank you letters.


OTHER PEOPLE'S MONEY

BELLS ARE RINGING BOUNCED CHECKS Those bells ringing were cast members inquiring why they paychecks had bounced. Nobody was spared from the rubber including star Faith Prince. Producers quickly covered the insufficient amounts and insist that the show is not closing.

ALANIS MORISSETTE saved Jane Eyre from shutting - at least temporarily. The star, a friend of the composer, infused $150,000 into the producing enabling it not to proceed with the closing notice that had been posted - permitting it to stay open for an additional week. In doing so Morissette joined the ranks of Kelsey Grammer who invested in Macbeth in which he starred with Diane Veona, at the Music Box Theatre, NYC and Kevin Spacey who invested money into the off Broadway production of Cobb, as well as the cast of Judgment at Nuremberg who gave up salary raises in an unsuccessful attempt to keep their curtain up.


FIFTH ROW CENTER
Cher backstage with Siegfried and Roy after seeing their show at the Mirage Hotel, Las Vegas.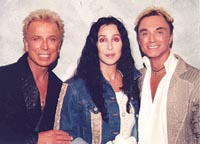 CHER recently made her first visit to Las Vegas as a "tourist" and went show hopping.

Though she's been booked in Las Vegas since the late 60s, Cher told Siegfried and Roy that this was the first time she has visited Las Vegas when not performing.

In addition to seeing the Siegfried and Roy show at the Mirage, Cher also took in the shows at the Riviera hotel.

KIRK AND ANNE DOUGLAS seeing One Flew Over the Cuckoo's Nest starring Gary Sinise as McMurphy the part Douglas originated on Broadway in 1963 The famed 1975 movie was produced by Kirk's son, Michael. The theater loving couple also caught The Producers, The Tale of the Allergist's Wife and Follies.

RICH LITTLE AND ENTOURAGE at the Scintas show at the Rio Hotel, Las Vegas.


CURTAIN DOWN

SEUSSICAL, THE MUSICAL closes today after 194 performances and 34 previews. The production also goes down in the record books as an expensive flop having lost more than $10 million.

THE SEARCH FOR SIGNS OF INTELLIGENT LIFE IN THE UNIVERSE starring Lily Tomlin, written and directed by Jane Wagner ends a successful seven month run at the Booth Theatre, NYC today. The solo performance will have played 7 previews and 185 performances One of the more famous lines in the play which has been used on everything from T shirts to plaques is said by Tomlin as Lynn a person struggling to be a superwoman, who observes: - "If I had known what it would be like to have it all, I might have settled for less."



DOUBLE TROUBLE a two-character spoof of 1940s Hollywood songwriters opened it's world premiere last Thursday at the Goodsprings Opera House Norma Terris Theatre, Chester, CT with performances through June 10.

Book, Music and Lyrics by Bob Walton and Jim Walton who also star. In this madcap musical comedy set in 1940s Hollywood, songwriters Jimmy and Bobby Martin have just one day to write the big number for MMG Studio's new movie musical!

The good people at Goodsprings present a variety of theatregoer enticements. Last Friday was the First Friday Happy Hour where ticker holders had a preshow happy hour in the lobby with free appetizers, wine, beer and cocktails at special prices.

Talkbacks! Audience response is a vital part of The Norma Terris Theatre. "Talkback" discussions between the audience and creative staff give you the opportunity to actively participate in the process of creating a new musical. "Talkbacks" take place on the following Thursdays: May 24, 31, and June 7.

Sunday Sweepstakes Attend any Sunday at 6:30 p.m. performance and your name will be entered to win a free prize, such as a book, novel or video relating to the musical, awarded during intermission.

URINETOWN! by Greg Kotis and Mark Hollmann, which opened May 6 and was to have closed May 28 has been extended at the 120-space American Theatre of Actors, NYC until June 30. John Cullum stars. Ticket prices have been doubled from $25 to $50. In late July the production, which started out as a hit of the Fringe Festival, moves to the Henry Miller Theater NYC.

ST LUCY'S EYES starring Ruby Dee transfers to the Cherry Lane Theater, NYC on July 12.

FOSSE Aladdin Theater, Las Vegas NV May 22-26.

BEST LITTLE WHOREHOUSE IN TEXAS starring Ann-Margret May 22-27 Fox Theater in Atlanta, GA.

THE CIVIL WAR Fort Lauderdale, FL at the Broward Center for the Performing Arts - May 22 - June 3, 2001.

SOME LIKE IT HOT Tony Curtis anxious to tour with Some Like It Hot, the stage version of the 1959 movie in which Curtis starred with Jack Lemmon and Marilyn Monroe. Following in the footsteps of other actors who have kept pace with the aging process by changing roles in a production they originally made famous, Las Vegas resident Curtis, 75, will be case as an older character, Osgood Fielding III. The play is slated to have a run in Las Vegas at the Aladdin Hotel next summer.

EAT THE RUNT was premiered by Mefisto Theatre Company (founded by vonWaaden and Weil Richmond in 1998) in June, 2000 at Altered Stages, where it ran for ten weeks. In this play about how survival is an Art, an applicant for a grants manager position at a museum is subjected to a series of surreal interviews. Playwright Crozier based the comedy on the experience of imagining how to sabotage an interview for an unappealing position in a museum. Casting nightmares drove Crozier to write "Eat The Runt" as a play in which any role could be played by any actor no matter what their sex, age, or ethnic background. The playwright had found that if a script contained specific and often fascinating physical descriptions of the characters, it became impossible to cast--particularly if it was being showcased in a small theater. All of the actors learn all of the roles and allowing the audience to select the cast at the beginning of each performance. The script never changes - there is no improvisation in Eat The Runt, but the actors encounter a new dynamic in each scene at every performance. This extraordinary acting challenge results in 40,320 casting possibilities and marks a theatrical "first." Audience feedback from the developmental production indicated that rather than selecting the cast by randomly drawing names to match actors and characters, it would be more fun to be actually involved in the casting process. People wanted to see the actors audition for the roles and to vote on who should play which character.

In this brand new production, each theater seat will be provided with a handset (about the size of a TV's remote control) connected to a computer and video monitors on each side of the stage. This Audience Response System (ARS) will serve as "voting machines" for the casting of the show (No chad included!) Background on the actors and a description of the roles in "Eat The Runt" will be projected on the video monitors while the actors "audition" for the audience prior to the beginning of the performance.

Among other rewrites, playwright Crozier has created the role of Casting Director, who will guide the audience and the actors through the selection of the cast. Once the audience has voted, the tallies will be projected on the video screens and the play will be performed with one of the 40,320 casting possibilities chosen by that night's audience. The introduction of the interactive ARS to a live theater audience marks a theatrical first.

Matthew vonWaaden will direct. American Place Theatre Previews begin May 25. Opening night is June 5.


WHO'S WHERE


DAVID CASSIDY

DAVID CASSIDY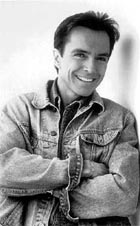 will help celebrate the 2001 season opening of the Plaza at Harrahs' Reno, NV with a free concert on May 26. Cassidy has had one of the most extraordinary careers in the entertainment business. Hailing from a family of actors, mother Evelyn Ward and father Jack Cassidy, Cassidy first found TV fame when he starred with his stepmother, Shirley Jones, in The Partridge Family. The show made Cassidy a teen-age idol.

By age 21, Cassidy was the world's highest-paid solo live performer and his fan club was the most popular anywhere on Earth, exceeding those of both Elvis Presley and the Beatles. His musical success garnered multiple Grammy nominations and 18 of his recordings reached gold or platinum status, with four consecutive multi-platinum releases.

Cassidy will perform at 7:30 p.m. on the Plaza at Harrah's. May 26.

ALANIS MORISSETTE May 25-26 - Los Angeles - El Rey Theatre.

TONY BENNETT May 26 Mohegan Sun Casino.

N' SYNCMay 24 in Atlanta, GA at the Georgia Dome then on to Hershey, PA for a May 26 date at the Hersheypark Stadium.

TONYA PINKINS Tonya Pinkins: Mondays, May 21 and 28 and June 4 at Joe's Pub, New York.

BETTY BUCKLEY May 24 at the Fairmont Copley Plaza Hotel in Boston, MA.

PATTI LUPONE May 26 with the Rhode Island Philharmonic Orchestra at Brown University.

DONNY OSMOND This Is The Moment is a contemporary collection of some of Broadway's greatest songs recorded with a new style and sound, thanks to legendary music producer, Phil Ramone (Elton John, Barbara Streisand, Bill Joel, Frank Sinatra). From the fresh, jazzy pulse of Luck be a Lady to the rhythmic pop sensibility of Seasons of Love, May 22 Temple Buell Denver Theater For The Performing Arts.

ANDREA MARCOVICCI at The Oak Room at the Algonquin Hotel, May 22 through June 26. Marcovicci's new show is entitled Double Old-Fashioned: The Cool World of Cocktails and Cafe Society and features Shelly Markham on piano.

KATHERINE HELMOND, JOIE LEE, HAYLEY MILLS star in The Vagina Monologues through June 24 at the Westside Theatre, NYC.

HOWIE MANDEL Paris Hotel, Las Vegas May 25-27.

CELINE DION set to be the main attraction when Caesars Palace, Las Vegas opens their new showroom next year. She's set to play 200 shows per year. After taking time off to have a baby, and no record at the top of the charts, that's a lot of seats to fill. The hotel may be hedging their bet hoping that her husband, Rene, who loves to gamble, will drop a bundle in the casino.


THIS AND THAT

WOLF WALKING BACK POW WOW Gouldsboro, PA Kelley's Pocono Crest May 26th & 27th presented by George Whitewolf Presents. An Authentic American Indian Event See Indians in full dance regalia compete for prize money. Flute Playing, Hoop Dancing & Craftsmanship represented by crafts people from varied tribes. Sampling of Indian foods including; Buffalo Burgers - Indian Tacos - Frybread - Buffalo Stew - Wild Rice. Don't miss the Saturday night bonfire !! Dance with the Indians !! See live Buffalo, Eagles, Hawks, Owls, Wolves. Special performances by Aztec dancers. Everyone is Welcome. No Drugs or alcohol permitted. Pow-wow hours - rain or shine Saturday 10 - 9 & Sunday 10 - 6 Educational activities and Hands-on events are planned for children of all ages to learn the real truth about American Indian culture.












Next Column May 27, 2001
Copyright: May 20, 2001. All Rights Reserved. Reviews, Interviews, Commentary, Photographs or Graphics from any Broadway To Vegas (TM) columns may not be published, broadcast, rewritten, utilized as leads, or used in any manner without permission, compensation and/or credit.
Link to Main Page
---
Laura Deni



U.S. Postal Address: Post Office Box 60538, Las Vegas, NV 89160
CLICK HERE FOR COMMENT SECTION