! >
Broadway To Vegas
  
   SHOW REVIEWS CELEBRITY INTERVIEWS GOSSIP NEWS

| | |
| --- | --- |
| | |
THE FASCINATING LIFE OF ALVIN EPSTEIN - - A RAPPIN' PRINCE CHARLES - - FAME ON 42ND STREET CD - - FRANK SINATRA DRIVE OPENS IN LAS VEGAS - - DRAMA DESK NOMINATIONS - - AMERICAN IDOL'S JOHN STEVENS' BIGGEST FAN - - STREETCAR NAMED DESIRE AT KENNEDY CENTER - - THE WOMAN DESTROYED - - DONATE . . . Scroll Down


SMORGASBORD OF THEATRICAL MEMORIES
Alvin Epstein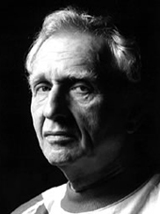 Marlene Dietrich taught him how to apply make up. Orson Welles almost killed him. He sent Isadora Duncan's lover care packages. He began his directing career telling Robert Duvall and Dustin Hoffman what to do on stage. He radicalized the Guthrie Theatre and spent over 25 years with the American Rep Theatre in Cambridge, MA. Now, Alvin Epstein is back in New York with the Colleagues Theatre Company.

The personable and articulate gentleman spoke with Broadway To Vegas about his fascinating career.

From an early age Bronx born Alvin Epstein wanted to become either "a great composer or a great painter." He'd sit at the piano for hours improvising and still has the piano his parents bought him when he was six.



Long Tom Cannon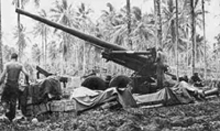 "Then a certain World War II happened. I was drafted into the Army," he explained indicating the military showed no interest in his music or art. "I was in the field artillery. Working with the 155mill Long Tom Cannon there wasn't a lot of drawing and music making. The kind of music we made was "deafening" and "killer" music."

"At the end of the war, the US Army opened an American University called the Biarritz American University in the town of Biarritz in France. They took over the whole town, practically, and opened the university for soldiers."

"It was a magnificent touch," he recalled about the school. "We lived in different times then. Of course, it wasn't a volunteer army. It was an Army of draftees and many of us had an interrupted schooling. So, they gave us a university to go to. I applied and I got in and I studied in the theater department"

"That is when I really began to function in the theater. We had a wonderful faculty. They were all very prominent American, New York, Broadway and Hollywood people, hired by the government, to come over to teach."



Marlene Dietrich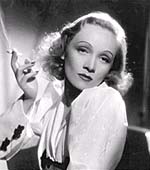 "Guthrie McClintock was married to Katherine Cornell. He was a producer and directed all of her Broadway plays. He was one of the teachers. Richard Barr, who was the first producer in this country to basically produce Edward Albee, and he produced a lot of Samuel Beckett, was on the faculty. The head of the drama department of the Biarritz American University was a Lt. Col. in the Army named Albert McCleary. He had been one of the producers and directors of the very first, live dramatic programs on television Matinee Theater. He was friendly with Marlene Dietrich. So, he got her to come down to supposedly teach us make up, " he laughed.

"He needed an excuse to get her there!"

"There was a very important and famous Broadway stage designer named Mordecai Gorelik. He taught design, so we had the cream."



William Windom who would go on to become an award winning actor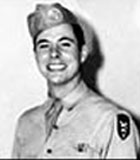 "During the term, aside from the classes, we also did a couple of productions. We did Richard III which Richard Whorf directed. He had been a protegee of Alfred Lunt and Lynn Fontaine in New York. Richard III was very good. William Windom played Richard and I was Lord Rivers. It was so good that the Army decided to send it on tour."

"We toured Europe for a couple of months playing mostly for Army audiences, but actually in many theaters anybody could come - and did."

"I was at that point devoted to the theater," Epstein related. "I had read many books by a genius of the 20th century theater revolution. His name was Edward Gordon Craig and he was the son of Ellen Terry the British actress. He was a very important designer and director and a real rebel in the theater of that period."

"He was also Isadora Duncan's lover and father of her daughter, Diedra - one of the two children who were killed in that miserable accident - they drowned in the Seine," recalled Epstein about Isadora's children, Deidre and Patrick, from two of her lovers, Gordon Craig and Paris Singer. Tragically the two children drowned with their governess in the Seine river in 1913. Isadora's own life was cut short in 1927 in a car accident along the Riveria.



Edward Gordon Craig. Photo from Gordon-Craig Gallery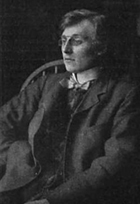 Craig, who died in 1966, was born January 16, 1872, the second child of a liaison between the actress Ellen Terry and the architect Edward William Godwin. Like Edith, the other child of his parents, their son was given the name Craig, which he adopted as a surname Craig.

He asserted revolutionary theories of theatrical design. Craig's productions were marked by simplicity and unity of concept, with the emphasis being placed on the movement of actors and of light. But his productions - their artistic impact notwithstanding - were commercial failures.

In 1907 he invented the portable folding screens used in set designs for a co-production with Konstantin Stanislavsky of at the Moscow Art Theatre in 1912. He also made the copperplate that recorded his research into the creation of an art of movement, and he founded and edited his international review, (1908-29), which helped to make his theatrical ideals widely known. He also published etchings illustrating his scenographic concepts in A Portfolio of Etchings (1908) and penned Towards a New Theatre (1913), which contains 40 plates of his original scenic designs. He established his School for the Art of the Theatre in 1913.

"After the war, I got know Craig in Paris," explained Epstein. "He was old man at that time. I wanted his collection because he directed a production of Hamlet at the Moscow Art Theater for Stanislavski. He had a huge and a very important collection. He had been living in Paris before the war. When the Nazi's invaded they put him into a concentration camp with his mistress and their young baby daughter and confiscated his collection. At the end of the war his collection was returned to him - but in a state of chaos."

"I wanted to stay and help him re-catalogue the collection. But, he couldn't pay anything. They were in bad financial straits, as many people were after the war in France. He is a cousin of John Gielgud and Gielgud did help and sent some money. I used to send him care packages that I could get from the Army."

"Anyway, it was his kind of work that was passionately interesting to me. Work that I wanted to do. And, it had very little to do with the kind of acting that we understood and knew about. My interest in the theater, at that time, was more in movement than in acting. When I was discharged from the Army I went to study for about a year with Martha Graham."

"After a year I realized that if I stayed with her I would become a dancer and that is not really what I was interested in. It was movement - her whole theatrical vision that was inspiring - but not the actual dance."



The Children of Paradise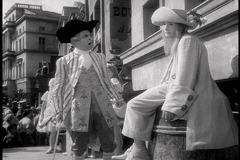 "At the end of the war I had seen the premiere of a new movie called The Children of Paradise which opened in 1945."

Set in the Parisian theatrical world of the 1820's, Children of Paradise, directed by Marcel Carn' with a screenplay by the poet Jacques Prevert, is considered one of the greatest French films ever made. Children of Paradise has been luminously restored, available since 2002 on Criterion DVD. The movie stars: Arletty, Jean-Louis Barrault, Pierre Brasseur, Marcel Herrand, Pierre Renoir, Maria Casares and Louis Salou.

The movie is a grand period piece and costume drama told on an impressively large scale. The heart of the movie is the tale of four men who love one woman, each in a different way. The picture's real romantic heart comes between Garance and Baptiste, the mime. That mime captivated Epstein.

"I knew that was the kind of work I wanted to do," declared Epstein. "I went back to Paris because pantomime, which we then called mime, was happening in Paris. Edward Gordon Craig immediately put me in touch with Etienne Decroux who was my teacher."



Etienne Decroux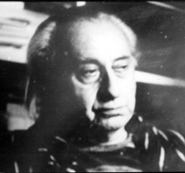 Decroux is considered the father of modern mime - a great luminary who directly influenced the worlds of theatre and modern dance. Working in New York for five years, notably at the Actor's Studio, his last public performance was at Carnegie Hall in 1963.

"One of my fellow students was Marcel Marceau," Epstein related. "We got to be very good friends. After four years working with Decroux and becoming part of his company I decided I no longer wanted to be a mime. Now I wanted to act," related Epstein whose varied career eagerly sampled from the theatrical menu.

"So, for a year I studied with Sandford Meisner who was one of the exponents of the Stansalvaki system in this country, and a wonderful teacher. When I was with Ducroux in Paris we had taken our company on tour to a new country called Israel. We were then in 1950 and the country was two years old. While there I received invitations from two of the largest theaters there to become members."

Epstein not only wasn't interested, he didn't speak one word of Hebrew, which was the language of the theater. Friends can be persuasive and Epstein was cajoled into giving it a try. He spend three years in Israel - the first one devoted to learning the language.

"I literally could not even say "yes" or" no" in Hebrew," he admitted. "I studied very hard. Eventually, I was able to learn dramatic text with the help of coaches. I started to act in the Habima Theatre company," he said referring to the National Theatre of Israel which was founded in 1917. Habima's production of The Dybbuk (1922) established it as a company of high artistic merit, and it became affiliated with the Moscow Art Theatre. Today it stages 15 productions per season.

Epstein remained in Israel for another two years. "During those two years I had invaluable experience working with very experienced and wonderful actors who had come from the Moscow Art Theatre School. In the two years I was in the company I played 11 roles. It was a Rep so you got a chance to really do things."

"At the end of the third year I decided I didn't want to be an Israeli actor. I wanted to speak on stage in my own language in my own country. I came back to this country. I literally had 75 cents in my pocket. I was lucky because my family was living in the Bronx. I went home to live with them and immediately began to audition."

"I had been back from Israel about three weeks when I read in The New York Times that Marcel Marceau was going to open at the Phoenix Theater for the first time in America. My father gave me money to buy the tickets for the opening night, which was the next night."

Epstein's name on the reservation list was noticed. Serendipity.



Marcel Marceau
When Epstein arrived at the theatre to pick up his tickets what he found was an impatient director.

"The director was standing outside saying - Get in side they are waiting for you. Hurry up. I thought - What do you mean they are waiting for me? He said hurry up don't ask questions."

"I went inside and there was Marcel. They needed another mime for the company, so I opened with Marcel that evening."

"It was an enormous hit. America had never seen anything quite like it. We moved up town to the Barrymore theater, then we went on tour. Agents became interested in me and started sending me around."



Orson Welles in King Lear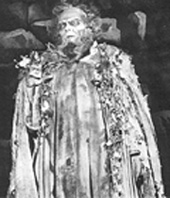 "Very soon after that, I think we were in Philadelphia, when I got a call from my agent to audition for Orson Welles for his production of King Lear. I came back for the day and auditioned and got cast."

"I was the Fool. That was a very remarkable experience," understated Epstein. "This was the notorious production of King Lear where during one preview he sprained one ankle by almost killing me. Then on opening night broke his other ankle. From then on he had to play the rest of the run in a wheelchair."

Welles demanded to view the other actors in their performances by watching the rehearsals from the seats instead of the stage. That enabled him to critique the actors in a way that being with them onstage would not allow. The drawback was that his own performance as the lead suffered, since he wasn't rehearsing with the cast or the scenery.

"He was playing King Lear, basically did the design of the show - although he couldn't claim credit for it because he wasn't registered with the Designer's Union - directing it and acting the leading role. That was really too much for him - too much for anybody," insisted Epstein. "What it meant was that he was not sufficiently rehearsed. The stage that he basically designed was a mystery to him. He hadn't rehearsed on it enough."

The scenery was composed of platforms of varying heights and sizes, which could be moved throughout the performance. Welles' desire to use a minimum of lighting made safety an issue.

"There were black velour curtains hanging on the sides in the wings as part of the set," continued Epstein. "One of the curtains was disguising a steel tower on which lighting instruments were hung. I knew that very well because I had rehearsed. But, he had been sitting out in the theater doing the directing and was not familiar with the stage set. There's a scene where he says something like - Oh, Fool I think I shall go mad - and picked me up by the scruff of the neck. I weighed like 140 and he was 240 pounds. He was a big man by then. He had me by the scuff of the neck with my costume so that my feet were barely touching the floor," Epstein recalled.

"We ran off stage into the wings and I could see that he was heading right towards the black velour curtain that had the steel tower work behind. Not the kind of curtain that you can brush aside. He had me by the right hand and I saw his left arm going up in front of me in order to brush the curtain aside. I realized he didn't know where he was going. So I began to squirm with all my energy, because I was going to be crushed against this tower. In the split second before I was to be slapped into the tower, I managed to squiggle out of the way and he crashed into the tower - face first. It was awful! He fell down, lost his false nose, sprained his ankle. But, he managed to finish the show."

"Then we did the rest of the previews. On opening night he made a curtain speech at the end of the performance, telling the audience how happy he was to be back in New York and on the stage after his years of exile in Europe. As he was walking off stage he got to the door that led from the wings into the corridor. There was a half inch threshold. He tripped over it and broke the other ankle."

"There was no performance the next night and then we had to re-stage the whole production with him in a wheelchair."

Always interested in the visual and scenic aspects of the theater, Epstein "naturally wanted to direct."

"I began to direct before going to Yale Rep. I had a Ford Foundation Grant to work with an experimental group. That group was made up of myself, Vivica Linfords, Rae Allyn. Ron Liebman, Dustin Hoffman, Robert Duvall. We worked together for a year on the money that the grant had given me."

"That was my first directing experience."



Bob Bruestein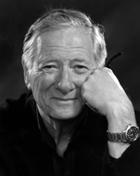 "I went to Yale Rep as an actor, became a teacher and eventually a director. Estelle Adler had been teaching in the drama school for the first year. She left and I look over her classes. Bob Bruestein, who was the Dean of the Yale Drama School and the founder and director of Yale Rep, wanted me to teach and direct, so I started directing. He took his sabbatical to London while I was at Yale. He spent the year in London and made me his acting artistic director. When he got back he made the associate director."

"That was 13 years before the Guthrie."

"The Guthrie was looking for a new artistic director and they approached me. I went out and met them and thought - Yes, I'd like to do it."

From the best of times to ....

"It was a very troubled time for me," he admitted. "They wanted an American director. The theater was founded by Sir Tyrone Guthrie and then it was taken over by, Doug Campbell, another Brit and they wanted an American. They basically wanted a change in the programming. They had existed for something like 17 years before I came there and in the 17 years they had produced two new plays. Part of my mission was to produce many new plays and to change the style of the theater. It was wonderful and beautiful but it was like an English import."

Michael Langham, the artistic director before me, had come from Stratford Ontario and had been there for something like 12 years. He had a very beautiful and elaborate way of producing and directing plays. I came in with a totally different esthetic and I immediately began producing new plays. New plays are always a challenge to an audience," Epstein warned.

"The Guthrie audience had been used to established classics. That was their diet and that is what they wanted. So, it really needed a period of transition where, in order for the audience to become used to a whole new program of plays, which wasn't going to be a lot of Shakespeare and traditional ways. It was going to be a lot of new plays."

"I immediately started to do new plays. There was repercussion at the box office. The Ford Foundation understood that this was going to happen. They gave me either a half million or a million dollars fund on which to make up the short fall in the expected fall off of audience attendance. But, the Board of Directors of the Guthrie did not understand."

"As soon as the box office reflected that we were doing a new play, by a wonderful French Canadian playwright, about incest in a city where the Catholic church was up in arms, they got cold feet. So, it was a troubled time."

The Guthrie history records Epstein's term as: During his 18 month tenure, he introduced many new programs and ideas to Guthrie audiences including two new plays, Teibele and Her Demon by Isaac Bashevis Singer, and Bonjour, La, Bonjour by Michael Tremblay. He arranged for the renowned Russian director Anatoly Efros to visit from Moscow and direct Marriage and Monsieur de Mohiere.

"Eventually I left," he continued. "They asked me to leave and I decided to leave."

"I think it was a valuable experience for the Guthrie, because it really violently turned them around to a new direction that they have since basically followed. The catalyst is, at the time, a troublemaker."

"The Guthrie has had a wonderful history and life and I'm glad that I contributed something to it - even if not as long as I had hoped or wanted."

Epstein then spent almost 25 years with the American Repertory Theatre in Cambridge, Mass.

"About a year and a half ago I decided that I really wanted to come back to New York. There is where my life and career began and I have lots of friends here. I came to New York to do Tuesdays With Morrie, playing Morrie. It was off Broadway and very successful. I had a wonderful time doing it."

Despite real estate prices Epstein decided he wanted to stay in New York.

"Let me tell you it is no joke," he exclaimed. "It is just unbelievable. Little did I ever dream that I would spend the kind of money that I have had to spend in order to buy a place to live. But, it is a very nice place. I've got it and I'll be moving in toward the end of June. I have all my furniture up in Boston so I am just going back and forth to move."

His relationship with the Colleagues Theatre Company is a comfortable fit.

"I had already done a production The Mad Woman of Chaillot with the Colleagues Theatre Company. I was still living and working in Cambridge but I came in to New York to do that. So, I already knew this group. And, I knew this was a group that was formed for the older actor. It was mainly to give roles to older actors whose possibilities for work had shrunk because of advancing years. The Madwoman was the first one that we did. We had just gone into rehearsal when 9/11 happened."

"Since then we have done 24 Evenings of Wit and Wisdom. That was like a pastiche of pieces having to do with getting older. It was with Rosemary Harris, Tammy Grimes, Dina Merrill, Rita Gam, Peggy Polk, Kitty Carlisle Hart and now we are doing Tasting Memories."

"We just read this at Kitty's apartment. It's a lot of fun. Tasting Memories, which are different pieces about food. For instance, The Walrus and the Carpenter is part of it because it's all about oysters."

Tasting Memories is a compilation of reveries about food told in poetry, song, and prose. It's performed by a revolving cast; Tammy Grimes, Rosemary Harris, Kitty Carlisle Hart, Philip Bosco, Alvin Epstein, Joy Franz, Kathleen Noone, Mel Cobb, Michael Fischetti and Emily Mitchell. Previews begin May 19. Officially opens on May 21 closing June 13. Neighborhood Playhouse in NYC.


THE MUSIC GOES ROUND AND ROUND


FAME ON 42ND STREET based on the hit film and subsequent television series, which traced the lives of aspiring artists at the High School for the Performing Arts, came home to the city where the story is set, New York, with a production running at the Little Shubert Theatre. An original cast CD on Q Records has been available since last November. With the production nominated for several theatre awards, new attention is being paid to this CD.

Song titles include Hard Work, I Want to Make Magic, Can't Keep It Down, Dance Class, Tyrone's Rap, There She Goes, Fame, Let's Play a Love Scene, Bring on Tomorrow, The Teacher's Argument, Pray I Make P.A., The Junior Festival, Think of Meryl Streep, Mabel's Prayer, Dancin' on the Sidewalk, These Are My Children, Reconnecting With Iris (Pas de Deux) and In L.A.

Conceived and developed by David De Silva, Fame is set in the 1980's and concerns the lives of up-n-coming performing artists attending New York's High School for the Performing Arts. The musical features a book by Jose Fernandez. Music by Steve Margoshes and bright, witty lyrics by Jacques Levy who co-wrote Bob Dylan's Desire album.

The title song - originally performed by Irene Cara in the film Fame - was written by Dean Pitchford and Michael Gore. Their award-winning movie title theme is delivered in the middle of the first act coupled with There She Goes, as the overconfident Carmen Diaz fantasizes about her future.

If you've enjoyed any incarnation of this creation - movie, television or stage - the CD will bring back fond memories. It's smart, sassy, catchy, filled with youthful energy and urgency. If you're one of the few who have never been exposed to Fame this CD offers a topic of universal appeal, dealing with adolescent themes and youth-oriented idealism. An audio shot of B-12.

CAST: Jenna Coker, Emily Corney, Shakiem Evans, Christopher J. Hanke, Nancy Hess, Michael Kary, Nicole Leach, Gannon McHale, Dennis Moench, Peter Reardon, Jos' Restrepo, Sara Schmidt, Q. Smith, Cheryl Freeman.

ORCHESTRA: Eric Barnes, Lynn Crigler, David Tancredi, Dov Schiller, Edward Hamilton, Bryan Johnson, Vincent Fay, Joseph Giorgianni, Matthew Taylor, . Music coordinator John Monaco.

CD recorded and mixed by Cynthia Daniels.



Broadway To Vegas is supported through advertising and donations. Priority consideration is given to interview suggestions, news, press releases, etc from paid supporters. However, no paid supporters control, alter, edit, or in any way manipulate the content of this site. Your donation is appreciated. We accept PAYPAL. Thank you for your interest.


SWEET CHARITY


PRINCE CHARLES has personally enlisted the rap impresario Russell Simmons to help with a pair of charity concerts featuring hip-hop and R&B groups from Britain and the United States.

Simmons will act as the ambassador for the Urban Music Festival sponsored by the Prince's Trust. The event takes place at Earls Court in London on May 8 and 9. Among the confirmed acts are Jay-Z, Alicia Keys and the new star of British rap, Dizzee Rascal.


SPREADING THE WORD


MSTISLAV ROSTROPOVICH conducts the National Symphony Orchestra with Nikolaj Znaider playing the violin.

The audience is invited to participate in AfterWords where they may join Msistlav Rostropovich immediately following the performance on May 6, in the Concert Hall for a free discussion about the music performed in this program.

May 6 - 8 it the Concert Hall at the Kennedy Center for the Performing Arts.

SAM WATERSTON star of NBC's Law & Order appears at the Great Hall of Cooper Union on May 5 to recreate the historic speech delivered there by Lincoln in 1860. The free event celebrates the publication of the Simon & Schuster tome Lincoln at Cooper Union: The Speech That Made Abraham Lincoln President by Harold Holzer, a Lincoln authority who is also the vice president for communications and marketing at the Metropolitan Museum of Art. Lincoln's speech, arguing against the spread of slavery, transformed him into a legitimate presidential contender.

AMERICAN THEATER WING SEMINAR Production Seminar Caroline and Change with Hope Clarke, Veanne Cox, Tony Kushner, Tonya Pinkins & Jeanine Tesori.

The Seminars, created by the late Isabelle Stevenson, are moderated by working professionals. Now in their 31st year, the Seminars are held in the Fall and Spring with special programs throughout the year.

Thursday, May 6 at The Graduate Center of the City University of New York, NYC.

EVERYTHING OLD IS NEW AGAIN hosted by David Kenney, on Sunday, May 2 will feature an evening of music and conversation with Michael Feinstein who will also serve as guest Deejay. Everything Old Is New Again can be heard every Sunday 9-11 PM(ET) over WBAI 99.5 FM.


OTHER PEOPLE'S MONEY


ALAN HENDERSON NBA center for the Atlanta Hawks was in Las Vegas this past week, attending the International Carwash Association Convention where he signed autographs for fans and explained his interest in that trade. It seems his brother might open such an establishment, which the savvy 5-foot, 240 pound player is considering bankrolling. So, he wanted to learn all he could about the business. On Wednesday night the conventioneers took in the Penn & Teller show at the Rio Hotel. The convention ran Thursday-Saturday at the Las Vegas Convention Center.

PRODUCT PLACEMENT AWARD OF THE YEAR should go to Prince William. Ever since he was photographed wearing Speedo's the stores can't keep them on the shelves.

AVENUE Q has turned into a street paved in gold for producers of the quirky people and puppet theatrical experience. Producers announced that the production had earned back its $3.5 million capitalization in just 10 months on Broadway.

Avenue Q, with music and lyrics by Robert Lopez and Jeff Marx and a book by Jeff Whitty, is produced by Jeffrey Seller, Kevin McCollum and Robyn Goodman.



49TH ANNUAL DRAMA DESK AWARD NOMINATIONS the only major theater awards that honor Broadway, Off and Off-Off Broadway shows equally, will be held on May 16 at Lincoln Center. Harvey Fierstein will be the host. CLICK FOR THE LIST OF NOMINATIONS

OUTER CRITICS CIRCLE ANNOUNCED WINNERS Outer Critics Circle, the organization of writers covering New York theatre for out-of-town newspapers, national publications and other media beyond Broadway, announced its award winners for the 2003-04 season in 22 categories. Two categories resulted in ties. The annual awards ceremony will be held on Thursday, May 27th at the legendary Sardi's Restaurant. FOR THE COMPLETE LIST OF NOMINATIONS AND WINNER CLICK HERE



A STREETCAR NAMED DESIRE by Tennessee Williams. Directed by Garry Hynes. Starring Patricia Clarkson as Blanche Dubois, Noah Emmerich as Mitch, Amy Ryan as Stella Kowalski and Adam Rothenberg as Stanley Kowalski.

Set against the steamy backdrop of New Orleans' gritty French Quarter, Tennessee Williams's 1947 Pulitzer Prize winning drama tells the story of Blanche Dubois, a faded Southern belle driven to madness by her animalistic brother-in-law, Stanley Kowalski. Taking refuge from her crumbling past, the fragile yet determined Blanche arrives unexpectedly at her married sister Stella's doorstep, hoping for a better life and restoration of her senses. But her childlike helplessness, romantic yearnings, and genteel illusions are no match for the squalor of her new surroundings, the oppressive summer heat, and Stanley's growing lustful rage. The combination of these brutish forces inevitably triggers Blanche's mental and moral disintegration, making A Streetcar Named Desire one of Williams's most electrifying and absorbing theatrical masterpieces.

Part of Tennessee Williams Explored Series. May 8 - 30 in the Eisenhower Theatre at the Kennedy Center in Washington, D.C.

HAIRSPRAY at the Neil Simon Theatre in Manhattan welcomes actor/songwriter Michael McKean to the cast. Beginning May 4th he will replace Harvey Fierstein as Edna Turnblad. McKean, a Grammy Award-winning writer of the song A Mighty Wind, first came to public attention as Lenny Kosnowski in the television sitcom Laverne and Shirley.

HAIRSPRAY speaking of - opens May 5 at the Princess of Wales Theatre in Toronto. Presented by Mirisch Productions.

FROZEN Bryony Lavery's chilling drama about a missing child, is hot enough to melt purse strings. Investors jumping on board have made it possible for this off-Broadway hit to transfer to Broadway. Officially opens May 4th at the Circle in the Square Theatre. Stars Swoosie Kurtz, Brian O'Byrne and Laila Robins. Doug Hughes directs.

A RAISIN IN THE SUN Sean Combs making a credible Broadway debut in this revival of the Lorraine Hansberry Pulitzer Prize winning drama. Kenny Leon directs the production. In addition to Combs the production stars; Audra McDonald, Phylicia Rashad and Sanaa Lathan. Rashad's dynamic performance has already garnered her several theatrical award nominations. At the Royale Theatre in NYC.

BRITS OFF BROADWAY is a first annual festival featuring plays from those guys across the pond. Located at the 59E59 Theatre in The Big Apple. The schedule varies and runs through July 4th.

Through May 16th it's Diana Quick in The Woman Destroyed.

Quick makes her New York stage debut in this - her own translation of Simone de Beauvoir's classic. Directed by Richard Cottrell. De Beauvoir knew a thing or two about women - and about being one - and her pay distils all of the humiliation and psychic agonies she suffered in her lifelong partnership with the unfaithful Jean Paul Sarte.


| | | |
| --- | --- | --- |
| | | |
WHO'S WHERE


PRINCE on tour performing before sell out crowds takes to the Kemper Arena stage in Kansas City, Mo on Tuesday. On Wednesday his purpleness performs at the Savvis Center in St. Louis, MO and on Thursday the show is at the Gaylord Entertainment Center in Nashville.

JULIO IGLESIAS a three night engagement at the Las Vegas Hilton on Thursday.

SEAL performs Monday at the Sandia Casino in Albuquerque, NM. On Wednesday he's center stage at The Backyard in Austin, Texas. On Thursday can be enjoyed at the Arena Theatre in Houston. Friday finds the singer at the Grand Casino Gulfport in Gulfport, MS.

DAVID BOWIE in the spotlight Thursday at the James L. Knight Center in Miami. On Saturday he'll be entertaining at the Chastain Park Amphitheatre in Atlanta.

ERIC CLAPTON takes over London's Royal Albert Hall on Tuesday for an engagement running through May 11th.

CASSANDRA WILSON performs Monday at Chelterham Town Hall in Cheltenham, England. On Saturday she is on stage at Volkshaus in Zurich.

NORAH JONES entertains Monday at Halle Tony Garnier in Lyon, France. On Wednesday the show is at the Geneva Arena in Geneva. Thursday finds her starring at Le Dome in Marseille, France. Friday the performance is at the Grimaldi Forum in Monte Carlo.

DIANA KRALL opens a three night engagement tonight, May 2, at the Jubilee Auditorium in Calgary, Alberta. On Wednesday the lady stars at Skyreach Place in Kelowna, British Columbia and on Friday the show is at General Motors Place in Vancouver, B.C.

JEFF FOXWORTHY brings his Red Neck sense of humor to the Temple Buell Theatre in Denver for a two night stand Friday and Saturday.

PETER CINCOTTI will be delighting crowds Saturday, May 8, at the No. Charleston Performing Arts Center in North Charleston, S.C.

PAUL ANKA performing to turn away crowds Friday and Saturday at the Frederick Brown, Jr. Amphitheater in Peachtree City, GA.

PRESERVATION HALL JAZZ BAND kicking things off Friday at the Temple Theatre in Lufkin, Texas. The following night the notes will be heard at the Paramount Theatre in Austin, TX.

FRANK SINATRA, JR who was in Las Vegas on Friday to help formally open Frank Sinatra Drive, performs with the Omaha Symphony May 7-9 in Omaha, NE.

JOHNNY MATHIS in a two nighter beginning Thursday at Dover Down Slots in Dover, DE.


PIFFLE AND PROFUNDITIES


JOHN STEVENS of American Idol fame and controversy is the grandson of political satirist Mark Russell - who is also his biggest fan.
















Next Column: May 9, 2004
Copyright: May 2, 2004. All Rights Reserved. Reviews, Interviews, Commentary, Photographs or Graphics from any Broadway To Vegas (TM) columns may not be published, broadcast, rewritten, utilized as leads, or used in any manner without permission, compensation/credit.
Link to Main Page
---
Laura Deni


CLICK HERE FOR COMMENT SECTION