! >
Broadway To Vegas
  SHOW REVIEWS     CELEBRITY INTERVIEWS     GOSSIP     NEWS 
| | |
| --- | --- |
| | |
NATALIE MERCHANT TO GIVE GRANTS - - CONGRESS GIVES SEXIST MEDALS - - COMO AUCTION UPSETS OFFICIALS - - PROSTITUTES GIVE UP ORAL SEX - - ROBIN WILLIAMS/FRAN DRESSER/JOHN McDANIEL BROADWAY BOUND - - JOG TO SPIDER MAN - - GIN LOVING VEGAS MAYOR - - GIULIANI DOES VEGAS - - LULU & ELTON JOHN . . . Scroll Down

Copyright: May 19, 2002
By: Laura Deni
CLICK HERE FOR COMMENT SECTION

AUCTION OF PERRY COMO ESTATE CAUSES HURT FEELINGS


Perry Como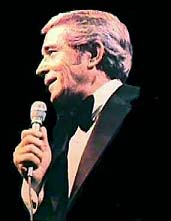 Low ball estimated bids range from $20 to $45,000. The auction of 1,525 items from the estate of Perry Como's waterfront home in Jupiter, Florida has sent ripples of discontent all the way to officials in Canonsburg, Pa who want Como memorabilia for a proposed borough museum to honor him, Bobby Vinton and the Four Coins. They are upset that the Como estate will be sold during a four-day auction beginning May 30 at Dawson's Auction House, a 16,000-square-foot gallery in Morris Plains, N.J.

The fear is that once the items are sold, it will be difficult to obtain Como collectibles for the museum.

"I'm disappointed," said Manuel Pihakis, the Canon-McMillan School Board president who visited Como in Jupiter, Florida two years ago. "We made a contact with the Como family because of our interest in a museum, and we wanted some items. Perry would not approve of this sale if he had known about it."

When an estate has more than one heir and there is dissention among them - as there is with the Como estate - it can be a difficult for items to be donated or given away.

Dawson's President Linda Dawson referred to the auction as, "an American story about a wonderful, caring person who was as lovable on television as he was with people,"

The items for sale, she said, "showed his love and passion." Included in the auction are three vehicles.



Opening bid for the Mercedes is $3,500.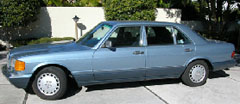 Opening bid for the Cadillac is $6,000.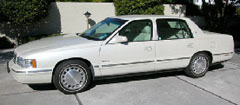 The Comos' 1989 powder blue exterior, dark blue leather interior Mercedes 420 SEL (16,015 miles), 1995 Jeep Grand Cherokee, Orvis edition (14,350 miles) and 1999 Cadillac DeVille body type 4D, white with leather interior, (5,708 miles) monogrammed with PRC.



A sterling silver centerpiece bowl With sterling silver floral grape and leaf mounts, scalloped border Valued at $750 - $1000. Bidding starts a $375.00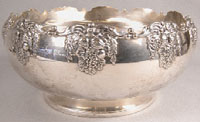 There are also 250 pieces of jewelry, two Rolex watches, a Cartier watch, 125 works of art, clothing including a green cashmere cardigan sweater with a "PC" monogram.

There are enough items bearing names of Boehm, Hummel, Steuben, Limoges, Waterford,Villeroy and Boch, Haviland, Baccarat, Cartier, Tiffany, Gucci, Lenox, Lladro, Royal Worcester, Orrefors, and Spode to stock a store.

More important to collectors will be items bearing Como's name, including sets of cufflinks that Danny Thomas and Bob Hope each gave Como in appreciation of his charitable efforts.

Como's name or initials are emblazoned on just about everything from bedsheets and towels to bocce balls.



Perry Como's barber tools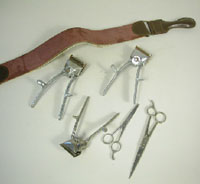 Perry got his start as a barber in Canonsburg. There are several auction lots that reflect that barber background. Lot 1124 is a barber shop drape with "Perry Como, Barber" on the back appraised at $100 - 200; ten photographs of Perry as barber in various stages of giving Kirk Douglas a shave, dated December 1955; and a group of barber's tools including: scissors, shaving strap, and a diamond badge No. 1 expected to fetch $ 50 - $100.



Regis Philbin's fan letter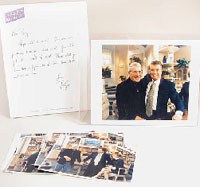 A personal note from Regis Philbin to Perry Como plus six photographs of Perry Como, Kathie Lee Gifford and Regis with a posted value of $100 - $150.

An elongated shoe horn engraved To Perry, From Buddy
Lot 1041 is a group of Perry Como promotional items for his appearance at the Las Vegas International Hotel which became the Las Vegas Hilton. The value is listed as $100 - $200.



Perry wearing outfit typical of those up for auction, rehearsing his 1972 show at the Las Vegas Hilton Hotel. Many Las Vegas related items are on the block. Photo By: Laura Deni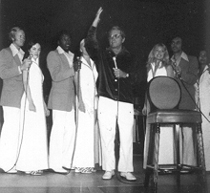 Perry's cashmere cardigan sweaters, monogrammed "PC" are expected to be gaveled down at $100 - $150 each. The projected worth can be anybody's guess and can depend upon what is currently popular. Men don't wear tuxedos like they used to and Perry's immaculate, custom made tuxedos are expected to fetch only $20-$30 while 28 of Perry's trademark muffles will be sold in lots of two for opening bids of $50 to $100.



Perry's gold cufflinks with a golf and music motif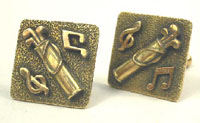 Dawson appraised the contents of the house after Como's wife, Roselle, died in 1998, then again after Como died one year ago on May 12, 2001. Prices listed in the catalog are low balled because she said she had no other estate sale of a famous person of Como's stature and popularity with which to compare them.



Perry's golf shoes up for bid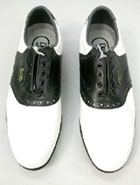 Personalized golf clubs, for example, are appraised at $25 to $50, but Dawson said bidders could end up paying $800 for them because they were used by Como and engraved with his name.

Same for his fishing gear. There are several custom fishing rods, some given to him as birthday or Christmas gifts by his son Ron and engraved To Dad from Ron, May 18, 1981, and To Dad from Ron, 12-25-1993, Merry Christmas. Those are appraised $50 - $75.

"The Internet will determine the value of this estate," declared Dawson.

The Como family has withheld certain items from the sale, including his 27 gold records representing more than 100 million recordings sold during his career, and photographs and keepsakes. Dawson had no specific knowledge that any items were withheld for the purpose of museum donations.



Gold necklace with record charms of Perry's hits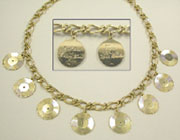 The is both a charm bracelet and necklace bearing the names of his hit songs on gold charms. There are three letters to Como from the White House including; a personal letter of thanks from Ronald Reagan, birthday card from George Bush, and a thank you card from the Kennedys, all with envelopes, and a photo of Perry and Reagan expected to bring $30 - $50.

Photographs listed for sale include Como with President Dwight D. Eisenhower and another of him with Nancy and Ronald Reagan that's signed by Mrs. Reagan. There is also a photograph of Perry with Jackie Gleason making an obscene gesture.

Perry was an avid pool player frequently shooting with Gleason. Lot 842 is Como's Brunswick pool table. Traditional style with oak trim, black leather pockets, no ball return, without felt, an oak pool cue rack and 3 cue sticks $1000 - $1500.

Roselle Como was a gifted painter - something she especially enjoyed during the 1970s. Several of her oils are up for auction with each posting an expected price of $65-$100.



Lot 923 By Frederick Hall.Valued at $ 25000 - 35000. Opening bid is $12,500.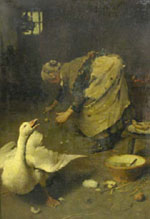 Roselle Como's oil on canvas Milk cans and Basket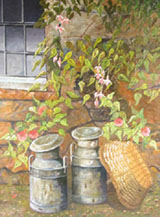 There are also numerous works of art by noted artists including Lot 923, which is the Frederick Hall oil on canvas depicting an elderly woman with a goose, with a carved giltwood frams. Signed by the English artist Frederick Hall 1860-1948 and dated 1883. The estimated value is $25,000 - $35,000.

The contents of the house garnered porcelain, silverware, decor and furnishings include 21 Louis XV and four Louis XVI pieces.



Lot 847 Opening bid is $1,000.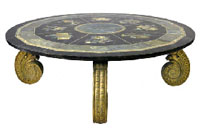 Lot 847 is an Italian Baroque style giltwood and faux marble low table. The circular top painted to simulate pietra dura, music motif expressed in panels of sheet music, instruments, etc., on four volute-carved supports, 17"h x 50" dia. $ 2000 - 3000.

"He was a family man," Dawson said. "He gave his wife so much jewelry as symbols of his love during their 65-year marriage."



This 18k yellow gold, pear shape and baguette diamond ring is valued at $24,000 to $30,000. Bidding stars at $12,000.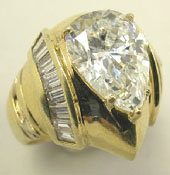 One example is the 18-karat, pear-shaped, yellow gold and baguette ring with a 4.57-carat diamond and 18 baguette diamonds. It is appraised at $24,000 to $30,000.

The number and quality of items reflects the impact of fame and a long career. Appraisal prices range from $10 costume jewelry - a 14k yellow gold oval imitation solitaire diamond ring to the $30,000 ring.



Perry's gold Rolex watch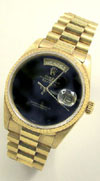 His and her Rolex watches each are valued at $3,000 to $4,000. Many other pieces of jewelry have been appraised for as much as $4,000.

The engraved pieces show their love - referring to each other as Mom and Dad or Pops.

A silver-colored tie tack engraved on the back With Love Mom, 12-25-55; A sterling silver notebook cover and pencil on chain engraved Dad Will You Be My Valentine?



A silver colored locket has a picture of Perry and Roselle in an embrace.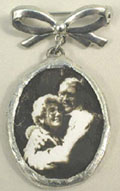 There is a 14k yellow gold charm engraved Perry Love Roselle 5-18-65; a 14K yellow gold engine-turned compact Volupte, engraved, To My "Mom, "Pops, (from Perry Como to Roselle Como), stamped Saks Fifth Avenue; a crown charm with 2 rubies, 3 diamonds and 1 emerald, engraved You're My Queen; a gold disc with tree of life motif, engraved Perry/Roselle, engraved on reverse, Mom & Dad's 50th and a 14k yellow gold 3-fold miniature locket with 3 photos, engraved R.B.C on interior, To Our Mom Ron Pop 5-11-44.

Family gifts from their children include an engraved silver lighter, engraved sterling hand mirror and silvered metal plaques, proclaiming World's Greatest Grandpa and Gentle is a Grandmother's Love.



A gold necklace with baby shoes inscribed with the names of Como's grandchildren.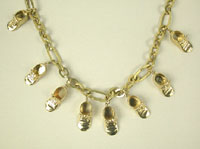 Lot 192 is an 18k yellow gold link necklace with 14 yellow gold children's shoes attached with names of the Como grandchildren engraved on the bottoms of the shoes, including: David Jr., Domenic, Sebastian, Terrance, Paige, Nicole, Melanie, Paul, Mary, Michael, Christofer, Peter, Wendy, Ronnie, expected to receive bids of $ 250 - 350.

In addition to numerous expensive watches there are three Mickey Mouse watches, three Santa watches a Snoopy watch. Lot 93 is a gentleman's Desert Springs Country Club, Las Vegas quartz wristwatch with leather strap, Swiss movement, Roman numeral rectangular $100 - 200.

Even Como's eating habits were lauded. Lot 55 is a gold-colored plaque engraved "The Credit and Courtesy of Caproni's Restaurant, Cincinnati is extended to Perry Como in grateful acknowledgement of his constant devotion to the cause of dining excellence, honorary June, 1960", 2-1/2"h x 3-1/2", some tarnish $50 - $75.

Money minted just for the crooner can be yours - for a price.

Lot 715 is a set of United States Currency. The cover stamped United States Currency Personally Printed for Perry Como, Bureau of Engraving & Printing, Washington, D.C., Series 1981, Angela M. Buchanon, Treasurer of the U.S., Donald T. Regan, Secy. of the Treasury", comprising twenty $5 bills expected to be hammered down at $150 - $250.

Memorabilia reflect the themes of Como's life as a pioneer in television and radio, and his devotion to Catholicism, Dawson said.

A 14k yellow gold St. Christopher Protect Us gold disc, engraved Perry From Vic believed to be a gift from Vic Damone.

A 14-karat yellow gold crucifix that Roselle gave Perry is appraised at $800 to $1,200 but could bring more because of the engraving, "To My Dear Husband on Our 20th Anniversary, With All My Love and Devotion, Your Wife, July 31st, 1933-1953."

There is also a 14k yellow gold crucifix engraved To Dad, From Mom, attached to 14k yellow gold rosary beads, 17-1/2", with gold -colored mesh bag, valued at $250 - $350.

Item number 812 is a Sony VP 2000 U-Matic video tape player for playing Kinescope video recordings $ 50 - $75.



Sterling silver corn holders Value $24,000-$30,000.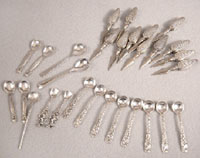 Many items verify Roselle's passion to shop for luggage, vases, couture and household items. There are excellent sterling pieces from corn holders worth $24,000-$30.000 in a lot containing a set of twelve sterling silver corn holders, eight sterling silver salt spoons, repousse floral motif, two EPNS salt spoons, four sterling silver Georg Jensen, Denmark, Acorn pattern salt spoons, two sterling silver salt spoons, angels, one small spoon with coin and a Steuben sterling salt spoon - to complete sets of sterling flatwear and centerpiece bowls.



An autographed copy will be up for auction. Hope celebrates his 99th birthday next week.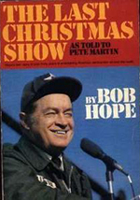 A collection of books will be gaveled down on Saturday. Among them Love Alice by Audrey Meadows, signed; A Prologue To Love by Taylor Caldwell, inscribed "For Roselle & Perry Como, with admiration (I do love your program-Honestly), Taylor Caldwell"; My Life by Burt Reynolds, inscribed & signed with note; Holy Bible bearing signature of Roselle B. Como; The Last Christmas Show by Bob Hope, inscribed For Perry and Roselle, Happy memories 1974 and always, Bob & Dolores.

Numerous other books are inscribed to Perry, many containing letters from the authors.

Lot 1198 is a hand-signed photograph of Babe Ruth Hand addressed To Perry Como Babe Ruth 5-23-1927, expected to fetch $100 - $200

Lot 1110 is a New York Herald Tribune newspaper of Saturday, November 23, 1963 Headline, Kennedy Assassinated valued at $50 - $75.



Part of auction Lot 1100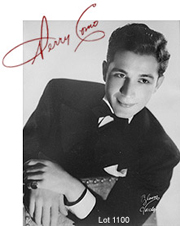 Despite his success life as a mega-star never changed Como.

"It was a great gift that such an important person retained his ability to be a nice guy," Dawson said.

The love Perry and Roselle shared is best expressed in Lot 685. It's a wooden plaque, engraved "Roselle and Perry, a marriage so special that when one weeps the other tastes salt, 50th".

Dawson's will exhibit items for sale from noon to 5 p.m. today at its gallery, with a lecture at 2 p.m., "An Introduction to the Perry and Roselle Como Collection." The exhibition will continue from noon to 5 p.m. May 20 and 21, then from noon to 8 p.m. May 22 and 23. The auction will begin at 10 a.m. May 30 and 31, then 9 a.m. June 1 and 11 a.m. June 2. People can bid on items at the gallery, by telephone or on the Internet during a simulcast on eBay.


OTHER PEOPLE'S MONEY


OSCAR GOODMAN the mob lawyer turned mayor of Las Vegas has been made an offer he can't refuse - to become the official spokesman for Bombay Sapphire gin. That makes him the first elected official in America to promote hard liquor. The martini loving mayor had been in high spirited negotiations with Beefeater, Tanqueray and Bombay. Goodman's asking price was $100,000 which he will donate to charity. Bottoms up!

RUDOLPH GIULIANI was in Las Vegas Wednesday taking part in a breakfast political fundraiser at the Venetian Hotel to support Republican Jon Porter in his bid for the 3rd Congressional District. Making good use of his Venetian base, Giuliani then spent the afternoon addressing 2,000 people attending the i2Planet convention on business strategies. He was reportedly paid $100,000, indicating that Giuliani has some good business strategies of his own.

MARGOT AND BILL WINSPEAR have given $42 million for the proposed Dallas Center for the Performing Arts. The center's largest theater for opera and dance, with a seating capacity of 2,400, will be named the Margot and Bill Winspear Opera House after the two opera lovers. The Winspear gift means the complex has now secured nearly half the needed funding for the $250 million project.



THE 23rd ANNUAL W.C. HANDY BLUES AWARDS takes place at the Orpheum Theatre in Memphis. Boogie pianist Marcia Ball leads the pack with five nominations, followed by Ike Turner, Kid Ramos, Kim Wilson and Otis Taylor each with four.

Unlike any other award we know about, the nominees of this award participate in what they call Community Outreach. This takes place on Thursday when Handy nominees perform at St. Jude's Children's Research Hospital for patients and visit in their rooms some patients unable to join the others. Other nominees will visit local schools.

In the evening the awards take place, taped for edited broadcast on public television stations nationwide

On Friday during the day The Blues Symposium is held. Panels and other events will offer opportunities to explore the issues surrounding the Blues today, as well as to unveil new books, films and other Blues-related revelations. The evening will feature the Handy Awards Festival all the clubs on Beale Street feature Handy nominees in an event that benefits The Blues Foundation.

CONGRESSIONAL GOLD MEDAL

President Ronald and Nancy Reagan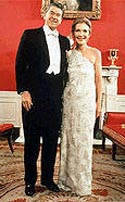 since the American Revolution, Congress has commissioned gold medals as its highest expression of national appreciation for distinguished achievements and contributions. Each medal honors a particular individual, institution, or event. Although the first recipients included citizens who participated in the American Revolution, the War of 1812 and the Mexican War, Congress broadened the scope of the medal to include actors, authors, entertainers, musicians, pioneers in aeronautical and space, explorers, lifesavers, notables in science and medicine, athletes, humanitarians, public servants, and foreign recipients.

The first entertainer to be voted the award was Irving Berlin on July 16, 1954. Poet Robert Frost was elected into membership on September 13, 1960 followed by Bob Hope on June 8, 1962. Walt Disney joined the group on May 24, 1968. John Wayne was voted into the club on May 26, 1979. Fred Waring and Louis L'Amour were honored on August 26, 1982. Danny Thomas was entered on November 29, 1983. George and Ira Gershwin were inducted on August 9, 1985. Harry Chapin was next on May 20, 1986 followed by Aaron Copeland September 23, 1986. Andrew Wyeth Nov 9, 1988. Frank Sinatra got the nod on May 14, 1997.



Marian Anderson, the only woman in entertainment field to be awarded the Congressional Gold Medal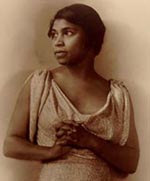 Charles Schulz won the vote on June 20, 2000. On June 7, 2001, family members of Charles M. Schulz accepted a Congressional Gold Medal presented by Senators Strom Thurmond and Robert Byrd for Schulz's lasting artistic contributions.

Ronald and Nancy Reagan were voted the award on July 27, 2000 and on May 15, 2002 Nancy Reagan accepted the medal.

In case you missed it, when it comes to the field of actors, authors, entertainers, and musicians only one woman has been honored - Marian Anderson voted in on March 8, 1977.

The fact that Nancy Reagan started out as an actress doesn't count. Surely American folk artist Grandma Moses crosses party lines. Just how political or sexist is this award?



Broadway To Vegas is supported through advertising and donations. Priority consideration is given to interview suggestions, news, press releases, etc from paid supporters. However, no paid supporters control, alter, edit, or in any way manipulate the content of this site. Your donation is appreciated. We accept PAYPAL. Thank you for your interest.


MAKING THE GRADE

NATALIE MERCHANT is conducting an essay contest which is worth a mention. Participants must be freshman, sophomore, junior or senior high school students in the United States, between the ages of 15-19. The students are invited to participate by writing a 1,000 word essay on My Generation, which must be submitted before the June 20 deadline. Grand prize is $2,500; second prize $1,500; third prize $700.00; fourth prize $500.00; and fifth prize is $350.00. For an entry blank and details check out her website.

JASON ALEXANDER who won a 1989 best actor Tony award for his performance in Jerome Robbins' Broadway, will join the faculty of the University of Southern California teaching seminars in acting, scene study and musical theater.

The Emmy-nominated actor - who was reportedly kicked out of Boston University - will conduct seminars in acting, scene study and musical theater. "I can't think of a better person to be the initial George Burns Visiting Professor," said Robert Scales, dean of the USC School of Theatre, referring to the $1 million endowment from the late comedian's estate.

GREGORY HINES serves as commencement speaker at Savannah's College of Art & Design graduation June 1 at the Martin Luther King Jr. Arena, Savannah Civic Center. Hines then races back to New York to co-host the Tony Awards with Bernadette Peters. As for the Savannah, Georgia College of Art & Design, it is the world's largest such school with the most technologically advanced film and video equipment available. During the ceremony the school will bestow honorary doctorates on Hines and Colin Callender, president of HBO's original movie division.

BERNADETTE PETERS today receives an honorary doctorate from Hofstra University in Hempstead, N.Y. The Tony-winning actress will speak to the graduates as will U.S. attorney Mary Jo White. During the second day of commencement exercises Joe Bologna and Rene Taylor will address the gathering.


THE MUSIC GOES ROUND AND ROUND


OZZY OSBOURNE AND PAT BOONE were neighbors who became friends - during which time the vocabulary challenged Osbourne tempted Boone into his musical bed. The offspring was named Pat Boone In a Metal Mood.

Now The Osbournes, MTV's lovable hard-rock TV family, announced that the milk drinking, white buck-shoe crooner will sing an Osbourne classic on a new album of the family's faves.

Boone, who has sold more than 45 million records, and hosts a twice weekly radio show heard on 175 stations, will do Crazy Train on a compilation of songs by performers the Osbournes like. It's due out next month.

LULU has a new Mercury album, to be released on May 20, titled Together With which features a plethora of stars including Sting, Elton John, Paul McCartney, Ronan Keating, Cliff Richards, and Westlife. Whether the European gossip is well orchestrated hype to promote this CD or has more fire than smoke, the tongues are wagging - saying that Lulu, 53, is having a red hot romance with 21-year-old Stuart Manning, who plays Prince William in a movie about the royals to air in America this fall. Wags say Lulu intends to have Stuart as her escort when she attends Thursday's opening night of Madonna's West End play Up For Grabs, double dating with Sir Elton John and his partner David Furnish.

SPIDER MAN Heading out to inhale buttered popcorn while you watch the movie? Fortunately, when you return you can work off those calories to the original Spider Man - the CD from television's The Electric Company.

"Spider Man, where are you coming from? Spider Man, nobody knows who you are...Spider Man, you've got that Spidey touch...Spider Man, you are a web-slinging star!"

Gary William Friedman wrote over 40 songs as the Music Director and Composer for CTW's Television show The Electric Company. Hands down, his most popular song was the Spider Man theme. In addition to writing it, he was the vocalist on the recording - controlling his identity under the pseudonym Will Power. Until now, fans have only heard the version used on the television show. But a full-blown, wacky dance version was also produced and recorded in the 70's.

150 Music has now release it as a CD single! Go see the movie and then come home and dance to this record. It's a hoot. It's also great for aerobics.


SWEET CHARITY


COMIN' HOME TO HARLEM

Whoopi Goldberg serves as MC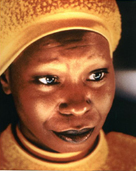 Lincoln Center's annual spring benefit at the newly-renovated historic Apollo Theatre Monday, May 20, features Wynton Marsalis, Stevie Wonder, Whoopi Goldberg, Vanessa Williams, Savion Glover.

Sponsored by Cole Haan, JPMorgan Chase, and Movado, the event will raise funds to support Jazz at Lincoln Center's annual educational programs, concerts, and broadcasts.

Harlem has long been the home and inspiration for generations of musicians, including Eubie Blake, James P. Johnson, Fats Waller, and Duke Ellington.



Wynton Marsalis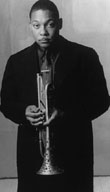 Goldberg will host the event, which will also feature Wonder performing with the Wynton Marsalis Septet. Tap dancer extraordinaire Savion Glover will be on his toes and Williams, appearing on her day off from the new Broadway production of Into the Woods, will also enchant the house by performing with the Septet. Plus, celebrated pianist Sir Roland Hanna will demonstrate the complexity and greatness of stride piano, a style of playing that originated in Harlem and grew out of ragtime.

The concert will be followed by an elegant dinner held in a tented space behind the theatre. During dinner there will be a live auction of 10-12 exclusive packages, led by Christie's auctioneer Nicholas Maclean. Auction packages include a week at a villa in Milan, the New York Yankees owner's box for a day, a trip to the MTV Awards and After-Party, a signed page of music from Wynton Marsalis's Pulitzer Prize-winning score Blood on the Fields, the NBA Skybox for an evening game, and many more.



Alfonse D'Amanto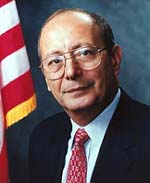 Some of the guests expected to attend include Ed Bradley, Glenn Close, Harry Crosby, Alfonse D'Amato, Maurice DuBois, Ahmet Ertegun, Peter Jennings, Kellie Martin, Deborah Roberts and Al Roker, Andrew and Karenna Gore Schiff, Bobby Short, and Denzel Washington.

Leadership for the event is comprised of executives from the sponsoring corporations, selected celebrity honorary guests, and members of the J@LC Jazz Associates Committee, which is chaired by Ashley R. Schiff. Member of The Jazz Associates Committee include: John Braddock, Harry Crosby, Don Cogsville, Deirdre Davis, Maurice DuBois, Rita Ewing, Greg Fierce, Muffy Flouret, Mayme Greer, Luisa Herrera, Lewis Jones, Deborah Roberts, Tracy Snyder, Marianne Spraggins, Lindsey Williams, Anne Kallin Zehren, and Barbara Zweig.

CONCERNED PARENTS FOR AIDS RESEARCH BENEFIT gala has Polly Bergen hosting. May 22 at the Pierre Hotel, New York City.

ACTORS FUND BENEFIT the final performance of Elaine Stritch: At Liberty! will benefit The Actors Fund. Monday, May 27th at The Neil Simon Theatre, NYC.



OUR TOWN by Thorton Wilder and directed by James Naughton will star Paul Newman, in his first stage role in nearly 40 years. The cast also includes; Jane Curtin, Frank Converse, Jeffrey DeMunn, Mia Dillon and Stephen Spinella.

The Westport Country Playhouse will open their summer season with the Pulitzer Prize-winning classic. The play paints a picture of small town America in the setting of Grover's Corners, New Hampshire in 1903. The story explores the classic themes of life, love and loss, appreciating every day and the pleasure of simple things. Newman will play the central role of the Stage Manager.

Artistic Director of the Playhouse is Newman's wife, Joanne Woodward. Regarding the selection of plays she said, "This season of shows represents our continued commitment to artistic quality by revisiting old favorites that will resonate in today's society and discovering new gems as well. We look forward to sharing a summer of hope, love, tolerance, mystery and music at the Westport Country Playhouse."

June 5- June 22 at the Westport Country Playhouse in Connecticut.

AIDA May 28-June 6 in Hartford, CT.

CONTACT Jones Hall in Houston, Texas May 28-June 2.

PAPER DOLL will open on Broadway starring Fran Dresser as Jacqueline Suzann and F. Murray Abraham as her husband and manager. The world premiere of Paper Doll, was last November at the Pittsburgh Public Theater with Abraham and Marlo Thomas starring as Suzann.

The production gives a glimpse into the life of Valley of the Dolls author Jacqueline Susann. The play follows the latter part of Susann's life, before she died in 1974. Known as the supposed queen of the trash novel, Paper Doll shows another side of Susann as a strong businesswoman and cultural icon. She was once quoted as saying, "I think I'll be remembered as the voice of the 1960s Andy Warhol, the Beatles and me."

This hip, new comedy also gives audiences a look at the deep and complex partnership both in marriage and in business between Susann and her husband/manager Irving Mansfield.

Paper Doll is written by Mark Hampton and Barbara J. Zitwer.

THE PUMPKIN PIE SHOW IN BIG TOP

The Great Throwdini & Niabi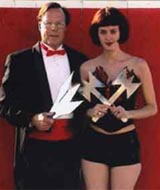 presented by Horse Trade Theater Group. Carnival-themed stories written by Clay McLeod Chapman. Music written and performed by Michael Hearst and Joshua Camp of One Ring Zero. Performances by Clay McLeod Chapman, Hanna Cheek, Max Moore, featuring the renowned knife-throwing act The Great Throwdini & Niabi.

The production features five stories; - Pin Cushion a 10 minute section of maximum risk, from the knife-throwing The Great Throwdini and Naibi. Married for ten years, Walt and his wife have been performing their knife-throwing routine in front of audiences all across the country. Impotent off-stage, Walt has to use his cutlery as a means in which to get himself excited, as the two exercise their sexual fantasies on-stage, in front of hundreds.

A Hand To Pitch Tent as a nomadic freak show tours the deep south, young corn farmers-to-be are inexplicably drawn under its tent, pulled by the sirens call of an ethereal trapeze artist who soars, twists, and turns supported only by her hair.

Overbite The Iron Jaw, a beautiful young acrobat who suspends herself from the trapeze solely by the strength of her bite, has fallen prey to the occupational hazards of her profession. Courted by dozens of male admirers, her own teeth stand in the way of her finding true love. With a jaw as powerful as hers, one kiss can prove deadly for anyone who dares to try.

Tummy Tamer Tartooth and Sandleman, the lion and the lion tamer, have been bound to one another for years, running through their routine of Sandleman slipping his head inside Tartooth's gaping mouth time and time again. But when Tartooth decides to disrupt the balance between them and actually bite down, Sandleman is left to fight his way back into the spotlight - from within the belly of the beast, itself.

Dunking Booth the most reviled man of the carnival develops a strong dependency on his position as the dunking booth taunter.

Fridays and Saturdays May 24-June 29 at The Red Room, NYC.


WHO'S WHERE


ROBIN WILLIAMS telling Rosie O'Donnell that he is bringing his one man show to Broadway.

BARBARA COOK May 19-20 with the Boston Pops at Symphony Hall in Boston, MA.

TONY BENNETT performs Wednesday in Cary, North Carolina at Regency Park.

LUTHER VANDROSS singing Wednesday through Sunday at the Westbury Music Fair in Westbury, NY.

ANN HAMPTON CALLAWAY in the spotlight Wednesday in Columbus, Ohio at the South Gate Theatre.

JOHN MCDANIEL singer, songwriter, Broadway and symphony orchestra conductor and musical director on The Rosie O'Donnell Show makes his first appearance in the Nancy LaMott Room of The Bradstan Country Hotel, in White Lake, N.Y May 26.

In addition to special performances, each Friday and Saturday night from Memorial Day to Labor Day, and every Saturday year round, the room is open operating much like the Manhattan style piano bars such as Don't Tell Mama's and the late, great Eighty Eights. That means the staff are all professional cabaret singers who wait tables and also perform.

Now that Rosie has picked up her final Emmy and said good-bye to her talk show, McDaniel is going to be concentrating on producing Broadway shows.

GEORGE CARLIN opens Thursday at the MGM Grand in Las Vegas. He'll be discussing words - four letters and otherwise - through June 5.

ELVIS COSTELLO performs Tuesday in Saratoga, California at the Historic Mountain Winery. On Wednesday he is in Berkeley, California at the Berkeley Community Theatre. Friday finds him center stage in Las Vegas at the Hard Rock Hotel. The following night he is at the other end of the state - in Reno - at the Reno Hilton.

HOOTIE AND THE BLOWFISH entertain May 24 in Anderson, South Carolina at the Freedom Weekend Aloft.

HARRY CONNICK, JR plays a two nighter at the Wolf Trap Filene Center on Tuesday and Wednesday. On Thursday the show is in Pittsburgh, PA at the Benedum Center. Friday the performance is staged in Rochester Hill, MI at the MeadowBrook Musical Festival and Harry closes out the week on Saturday in Cincinnati, Ohio at the Riverbend Music Center.

OZZY OSBOURNE doing his European thing tonight in Nurburging, Germany at the Rock Am Ring. Tomorrow he is all over the stage in Braunschweig, Germany at the Volkswagen Halle. On Thursday the action shifts to Amtwerp, Belgium at the Sportpaleis Antwerpen. On Saturday he moves to Castle Donington, UK for a show at the Donington Park Racetrack.

B.B. KING entertains tonight at the Doheny Blues Festival in Dana Point, California. On Monday he is center stage at Humphry's in San Diego, CA. On Friday he opens a two night at his own club the B.B. Blues Club in Memphis, Tennessee.

MARY CLEERE HARAN & SIR RICHARD RODNEY BENNETT at the Algonquin Hotel, NYC May 28-June 29 in A Centenary Tribute to Dorothy Parker and the 20s.

JERRY SEINFELD telling stories on Friday in Portland, Oregon at the Arlene Schnitzer Hall.


PIFFLE AND PROFUNDITIES


PROSTITUTES in Deva, Hunedoara a small town in Romanian, have found religion and changed the game plan. After attending a church service the pay for play ladies announced they were giving up oral sex because they now believe it is a sin. They will continue offering other services for pay explaining to the Libertatea newspaper that "Even if we can't give up what we are doing at least we can try to be more religious and give up perversities." If they lose a few clients so be it because "perversity is such a big sin."













Next Column: May 26, 2002
Copyright: May 19, 2002. All Rights Reserved. Reviews, Interviews, Commentary, Original Photographs or Graphics from any Broadway To Vegas (TM) columns may not be published, broadcast, rewritten, utilized as leads, or used in any manner without permission, compensation and/or credit.
Link to Main Page
---
Laura Deni



U.S. Postal Address: Post Office Box 60538, Las Vegas, NV 89160
CLICK HERE FOR COMMENT SECTION