! >
Broadway To Vegas
  
  REVIEWS INTERVIEWS COMMENTARY NEWS

| | |
| --- | --- |
| | |
THE KING AND I REVIEW - -AUTOGRAPH SEEKERS SWARM AN AMERICAN IN PARIS - - MARIN MAZZIE: MAKE YOUR OWN KIND OF MUSIC CD REVIEW - - WOLF HALL PARTS 1 & 2 REVIEWS - - DAVE LETTERMAN LEAVES WHILE THE HELLO DELI STAYS PUT - - NEEDLES AND OPIUM - - RED NOSE DAY - - PLAY TIME AT THE TOLEDO MUSEUM OF ART - - DONATE . . . Scroll Down
















Copyright: May 17, 2015
By: Laura Deni
CLICK HERE FOR COMMENT SECTION


KINGS ON BROADWAY: FROM THAT ONE IN SIAM TO HENRY VIII


Royalty reigns on Broadway including three productions about kings - the musical The King and I and the dramatic plays Wolf Hall Part One and Wolf Hall Part Two.

THE KING AND I

Kelli O'Hara and Ken Watanabe in The King and I. Production photo.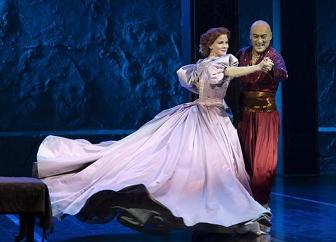 music by Richard Rodgers; book and lyrics by Oscar Hammerstein II; based on the novel Anna and the King of Siam by Margaret Landon. Directed by Bartlett Sher; choreography by Christopher Gattelli, based on the original choreography by Jerome Robbins; music direction by Ted Sperling.

Every so often somebody somewhere revives this Rodgers and Hammerstein masterpiece. Some revivals are better than others. I've seen some clunkers with an ill cast Anna, the performer in the part cast to sell tickets.

This production at the Vivian Beaumont is the best revival ever.

The name Kelli O'Hara means quality. She has it all. She can generate ticket sales. As Anna, she owns the part.

Too many times creative artists want to "reimagine" a classic. If they have such an exceptional "re-imagination" concept - they should write their own "new" play/musical.

Thankfully, in this case, director Bartlett Sher showed total respect for The King and I and deftly polished it to a bright, beautiful sheen, rather than scrubbing away the luster to replace gold with tin.

The first gasp of the magnificent comes when set design Michael Yeargan's jaw dropping vision of a 19th Century sailing ship glides into port- over the heads of the 29-member orchestra.

This is a stunningly beautiful, sensitive yet powerful revival. Ken Watanabe stars as The King. An acclaimed Japanese actor, whose film work includes an Academy Award nomination for his featured role in the 2003 film The Last Samurai; Watanabe's language at home is Japanese. He has obviously been trying to improve his English, so that he can be more easily understood. His acting skills more than make up for his occasional lapse in enunciation.

While many Oriental set productions hit the audience in the face with only red/gold or gem stone colors, The King and I is more broad based palate pleasing. While the musical certainly does feature red and gold, there is also the incorporation of white and beige tones. In the Orient, white is the color of funerals. The final scene, in which the King dies, is gossamer white, ethereal majesty. Credit the substantial talents of Michael Yeargan's sets and Catherine Zuber's costumes.

Donald Holder's lighting design is statement making, adding significantly to the overall extraordinary beauty of the production.

Most people not only know the story line, but have the songs firmly ensconced somewhere within their cranium.

Set in 1860's Bangkok, the musical tells the story of the unconventional and tempestuous relationship that develops between the King of Siam and Anna Leonowens, a widowed British schoolteacher, whom the imperious King brings to Siam to tutor his many wives and children.

The secondary storyline is of clandestine lovers, Tuptim (Ashley Park) and Lun Tha (Conrad Ricamora), culminating in Trude Rittman's ballet The Small House of Uncle Thomas, featuring Xiaochuan Xie as Eliza, Lamae Caparas as Uncle Thomas, Cole Horibe as Angel/George, Sumie Maeda as Topsy, Christopher Vo as Simon of Legree, Michiko Takemasa as Little Eva.

Harriet Beecher Stowe's abolitionist novel Uncle Tom's Cabin is presented by Anna to Tuptim. The book's message inspires the reluctant concubine with the courage to send a message to the King, through the dramatic presentation which she narrates, as to how unhappy she is and how she loves another.

The ballet is presented as entertainment during a dinner for a visiting English diplomat. In an attempt to impress the important guest, the royal wives are put in awkward hoop skirts and leather shoes. The wives comment by singing Western People Funny. When they bow their hoop skirts fly upwards and their bloomers are exposed.

Ruthie Ann Miles whose show stopping number is Something Wonderful, is the King's #1 wife, Lady Thiang. She is not oblivious to the emotional sparks which fly between her husband and the new schoolteacher. She is also a source of ignored reason for the latest concubine, Tuptim - a "present" sent from Burma for the King - who tries to flee to be with the man she loves Lun Tha. In the musical's darkest scene, he is killed and she is taken away to be executed.

Jon Viktor Corpuz is the young man, who as Prince Chulalongkorn will inherit the throne from his father; Jake Lucas as Anna's son Louis Leonowens are excellent.

The Royal Children are so adorable you'd like to take them home as permanent souvenirs. For them appearing in this musical will be a happy lifetime memory, either personally recalled or through a scrapbook. Making the production so precious are: Adrianna Braganza, Amaya Bragabza, Lynn Mazako Cheng, Olivia Chun, Ethan Halford Holder, James Ignacio, Christie Kim, William Poon, Ian Saraceni, Rocco Wu, and Timothy Yang.

A sumptuous production at the Vivian Beaumont Theatre in New York City. You'd never know it's almost three hours long. The time just flew.

WOLF HALL PART ONE AND PART TWO

Ben Miles as Thomas Cromwell, Lydia Leonard as Anne Boleyn, Lucy Briers as Jane Boleyn, Lady Rochford, Oscar Pearce as George Boleyn, Lord Rochford, Nathaniel Parker as Henry VIII, Madeleine Hyland as Lady in Waiting, Leah Brotherhead as Jane Seymour and Pierro Niel Mee as Christophe in Wolf Hall. Photo by Keith Pattison/RSC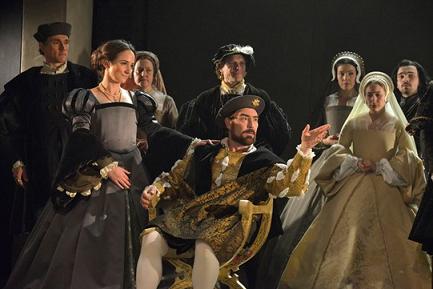 an epic tale magnificently told in two parts. Brought to Broadway by the esteemed Royal Shakespeare Company in a limited engagement running only through July 5.

British audiences hold live, dramatic theatre. in a hallowed position. American audiences do not.

A patron needs to see Part I Wolf Hall before attending Part II Bringing Up The Bodies. Two complete shows, necessitating purchasing two expensive tickets. As a note: All theatre tickets are expensive, not just Wolf Hall.

The shows should be seen as close together as possible - meaning an entire day - from theatre arrival to end - or roughly 9 1/2 hours will be taken out of one's week. There is not time to go home between parts - basically only enough time to grab dinner somewhere - which is also another outlay of money.

Expecting an American audience to sit through two dramatic productions about a British king is expecting a lot. That fact that the theatre is full of paying customers is a tribute to the RSC and this production.

Everybody past the age of eight, who half way paid attention to their world history teacher, knows about Henry VIII, his love of food and his assorted six wives; Catherine of Aragon (mother of Mary) - Anne Boleyn (mother of Elizabeth) - Jane Seymour (mother of Edward VI) - Anne of Cleves - Kathryn Howard - Katherine Parr. Loving husband Henry VIII executed Anne Boleyn and Kathryn Howard, who happened to have been cousins.

Wolf Hall Part I offers a fresh slant on lust, power and politics, telling the story of King Henry VIII from the POV of Cardinal Thomas Wolsey (Paul Jesson) and the manipulative statesman Thomas Cromwel (Ben Miles). Part II brings back as ghosts those who died in Part I. Again, emphasizing the importance of first seeing Part I.

The acting is the gold standard expected from RSC performers. They speak stage English, so everyone is understood.

Henry VIII (Nathaniel Parker) Katherine of Aragon/Jane Boleyn (Lucy Briers), Anne Boleyn (Lydia Leonard), Jane Seymour/Lady Worchester/Princess Mary (Leah Brotherhead) Joey Batey (Mark Smeaton), Nicholas Boulton (Charles Brandon), Olivia Darnley (Lizzie Wykys/Mary Boleyn/Mary Shelton), Nicholas Day (Thomas Howard), Daniel Fraser (Gregory Cromwell), Edward Harrison (George Boleyn/Edward Seymour), Madeleine Hyland (Margery Seymour)/Lady-in-waiting/Maid), Lydia Leonard (Anne Boleyn), Pierro Niel-Mee (Christophe/Francis Weston), John Ramm (Henry Norris), Nicholas Shaw (Harry Percy/William Brereton), Joshua Silver (Rafe Sadler), Giles Taylor (Thomas Boleyn) and Jay Taylor (Thomas Wyatt).

The costumes are expensive, elegantly crafted to precision of what was worn during that time period. With the exception of the red ferraiolo of Cardinal Woolsey, and a ruby gown on Mary Boleyn, the colors are muted.

Scenic designer and costumer Christopher Oram put in a lot of thought in creating the minimalistic staging. Cubism was selected - from the ceiling light grid to the placement of fire, to the backdrop design, and even the movement of the actors; cubism lifts what some might incorrectly call a high end version of black box, into a rarefied artistic concept of showing that less can be more.

Powerful use of lighting by Paule Constable in Part I and by David Plater in Part II.

The audience at both shows wasn't what might be expected. The dress code seemed to be whatever was handy. There were men in the theatre wearing baseball caps. If any man did put on a tie, they could be counted on one hand. The lackadaisical attitude might have to do with the high ticket prices. If somebody is going to spent perhaps $400 to see both shows, they may have blown the clothing budget; or feel that if they are going to spend an entire day seated in a theatre, they might as well be comfortable.

What was lacking in fashion sense was more than compensated for in intellect. Shockingly refreshing was overhearing the conversations of strangers who discussed the books or the PBS series, which are completely different than the plays. One man yelled out to a stranger that he was taping the PBS series. Others talked to strangers rows away about their opinion of Booker Prize winner, author Hilary Mentel and the new book she is writing.

While waiting for Part II to begin, smart conversations centered around what was experienced watching Part I.

Wolf Hall has Mentel's books substantially adapted by Mike Poulton and directed by Jeremy Herrin. An exceptional production. Make the time to attend.



Broadway To Vegas is supported through advertising and donations. Priority consideration is given to interview suggestions, news, press releases, etc from paid supporters. However, no paid supporters control, alter, edit, or in any way manipulate the content of this site. Your donation is appreciated. We accept PAYPAL. Thank you for your interest.




ART AND ABOUT


PLAY TIME in a world that prioritizes work, how do we encourage people of all ages to relish the benefits of play?

Play Time celebrates the art of diversion and engages visitors in multi-sensory, interactive installations across the entire 36-acre Toledo Museum of Art campus and in select locations across the city.

Works include a giant red ball appearing in unexpected locations throughout the city; pop-up and temporary performances throughout the summer utilizing puppetry, pageantry and spectacle; and interactive works both indoors and outdoors.

Play Time opens Memorial Day weekend, May 22, and closes Labor Day weekend, September 6. Free admission. Toledo Museum of Art Museum and Grounds/Select Toledo, Ohio locations.











SWEET CHARITY


RED NOSE DAY the U.K.'s #1 television fundraising event, is coming to America in a spectacular star-studded special live on Thursday, May 21 (8-11 p.m. ET) on NBC.

Inspired and supported by Comic Relief U.K. - the British charity behind Red Nose Day - NBC will televise the three-hour benefit featuring hilarious stand-up comedy, clever parodies, sketch comedy, incredible music performances from A-list artists and short, compelling films about the cause.

Funny or Die, the award-winning top destination for comedy on the web and producer of high-quality content across numerous platforms, will partner with NBC to create original content for the special.

A program of Comic Relief, money raised will be distributed to 12 trusted charities that help lift children and young people out of poverty in the US and some of the poorest communities around the world.

PENN JILLETTE OF PENN & TELLER fame, appeared on celebrity Jeopardy last Friday, coming from behind to win against fashion designer Cynthia Rowley, and actor Zachary Quinto. The Penn win means his charity of choice, Opportunity Village in Las Vegas, is $50,000 richer. Opportunity Village provides services, training and jobs to disabled people.

Penn and Teller, the comedic magician duo, return to Broadway after a 15-year absence. Their show will run July 7-August 16 at the at the Marquis Theater.


AUTOGRAPH SEEKERS SWARM AN AMERICAN IN PARIS
Robert Fairchild photo by Laura Deni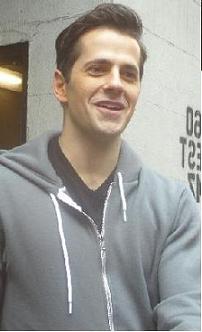 The Stage door Johnny was a stereotypical middle-aged man hanging out by the stage door hoping to get the attention of a young, beautiful female star.

While An American in Paris does have a young, beautiful star in Leanne Cope, fans are swarming the stage door to take pictures and have their Playbills signed by any and all of the talented stars.

Those congregating around the stage door didn't appear to be of the ilks who seek Playbill autographs to then sell on E-bay. Rather, they were real fans who had seen the show, loved the production - and the performers.

First out the stage door was Scott Willis, who portrays Henri Baurel's stoic father who has hidden liberal inclinations.

Fans pressed against red velvet ropes, thrusting out their hands and Playbills for Willis to sign.



Scott Willis signing autogaphs. Photo by Laura Deni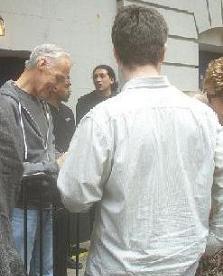 Robert Fairchild greeting fans. Photo by Laura Deni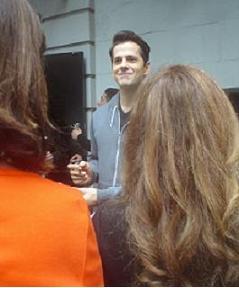 Never losing his smile, Willis shook hands, chatted with as many as possible and signed his name to the musical's program.

Within a short period of time Robert Fairchild, who stars as Jerry Mulligan, appeared looking cool and collected, despite a grueling singing and dancing performance.

Beautiful young ladies suddenly appeared, emoting gasps and squeals.

Gracious, confident and in control of himself - he did display a certain amazement - perhaps a realization that after years of training and hard work, he is suddenly an overnight sensation.

He accepted hugs, handshakes, engaged in short conversations, signed autographs and posed for pictures.

A major hit of the season An American in Paris is doing turn away business at the Palace Theatre in New York City.



THE MUSIC GOES ROUND AND ROUND


MARIN MAZZIE: MAKE YOUR OWN KIND OF MUSIC released on Broadway Records.

Recorded during her engagement at 54 Below in New York City.

A sexy intro brings on Tony Award nominee Marin Mazzie for a jazzy version of Come On A My House. It's 1970 in her family's home in Rockford, Ill. This is a CD taking the listener on a trip through Mazzie's teen-age years. While most cabaret artists include their own personal stories, Mazzie's are easily empathetic.

She had a Malibu Barbie.

That's All features the nimble fingers of Joseph Thalken, the musical director who backs her on piano and vocals. Bass player Pete Donovan also provided several arrangements. Seductive drums with Larry Lelli behind the beat, set the mood for a dramatic version of Begin the Beguine. Rounding out the musicians, who do double duty on backup vocals, is Nate Brown on guitar.

Mazzie's bedroom was lavender, complete with a purple brush which she pretended to be a microphone, so she could sing along with her heartthrobs, Davie Jones and David Cassidy. She dreamt of being a long lost Partridge, which leads into I Think I Love You.

Marin Mazzie's dazzling, diverse vocal range can be bombastic, soar or caress.

In 1972 she and her brother purchased a stereo - represented with Make Your Own Kind of Music. She admits to torturing her brother (who was in the audience) with Barry Manilow and Barbra Streisand.

As a child she joined the Columbia Record Club -"13 records for a penny!" - she says recalling the club's sales pitch, leading into a deep throated Anyone Who Had a Heart.

Chirpy and light is Midnight at the Oasis, while That's The Way I've Heard It Should Be is introspective segueing into an upbeat, building to a dramatic, rendition of Son of a Preacher Man.

Getting laughs from the audience was her explanation that while attending a Catholic High School she was selected to sing at the ceremonial mass to celebrate the blessing of the class ring. The nuns needed to approve the song. Mazzie selected Evergreen and then - unsuccessfully - tried to convince the nuns that the lyrics to Evergreen could be about Jesus.

She remembers her 1978 boyfriend, a football player who owned a car which was used for "parking," recalled in a powerful rendition of Weekend in New England. The family's move into a different house is reflected in Our House. This delightfully entertaining CD closes with a robust, tear-the-walls-down version of I'm a Believer.

Recorded February, 2015 at 54 Below in New York City. Mixed by Aaron Ankrum - Aerial View Studio. Mastered by Greg Reierson - Rare Form Mastering.

A perfect cabaret act, expertly captured in this CD. Buy and enjoy.


DAVID LETTERMAN EXITS: HELLO DELI STAYS PUT
Rupert Jee. Photo by Laura Deni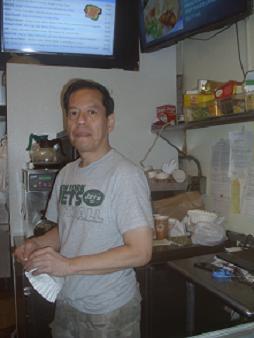 On Wednesday, May 20, David Letterman retires from The Late Show with David Letterman on CBS after 11 season and 1,819 episodes.

Anytime a popular and long term neighbor moves, the neighborhood feels the change. Perhaps none more so that the Hello Deli located just around the corner from The Ed Sullivan Theatre where The Late Show is taped, and a block from the Winter Garden Theatre.

Owned and operated by Rupert Jee, he's become a star in his own right due to his many appearances on The Late Show Show. When I walked into the store a woman was taking his picture.

He's been Dave's foil. Dave has had Rupert read the Top Ten list and caused a chagrined expression to cross Rupert's face when Dave suggested that, for the six weeks prior to his leaving the program, Rupert should sell his most popular sandwich, (named after Paul Shaffer) The Shafter, (Cutlet, AM Cheese, Sweet Peppers, Lettuce, Tomato, Mayo on a Hero) for one dollar and throw in a free drink.

I inquired if any of the customers had tried to pay only a dollar for The Shafter. Rupert assured me that "my customers knew he was kidding. Dave likes to kid me." Rupert took it all in stride.

The Deli is small, located in a building owned by CBS. While there are a few small tables, the business is geared for take-out. The menu is varied with even healthy choices available such as Vege-burgers, salads and numerous vegetarian offerings.

The portions are large and look delicious.

I purchased what has to be Rupert's least profitable item - a bottle of Diet Snapple. A guess is that he stocks it because his customers want it. The bottles were located in a cooler next to some customer tables. A man was seated next to the cooler door, enjoying his meal. I asked Rupert if the cooler door slide sideways or opened outward, because if it opened outward I'd be hitting the customer.

"Just tell him to move. We have nice customers." He glanced at the man. "Hand her a bottle." Without hesitation the customer opened the door and handed me a bottle.

It's a rare kind of comfortable, country store atmosphere.

A few hours later I returned and purchased another bottle of Diet Snapple. I wasn't insulted or harassed with a snide "is that all?" or any other comments that customers frequently hear when purchasing a low profit item.

Rupert sincerely likes his customers. He loves running a deli.

He's also smart as a whip. A first generation American, his parents are from China. Rupert graduated from college with a degree in economics. His hobby is playing the stock market. He's had a passion for food since he was a kid and always wanted to own a deli or a soda fountain. He found a way to make his dream a reality. Rupert just never envisioned that he'd end up on television.

The affable Rupert isn't star struck. As for whether the new tenant, Stephen Colbert, will ever use him on television, Rupert is pragmatic. He shrugs. "If it happens, it happens. If it doesn't, it doesn't." Then he went back to making coffee.





TITANIC by Maury Yeston and Peter Stone.

Drected by Thom Southerland who also directed a smaller scale but well-received chamber production of the musical last year in London.

Titanic was first seen on-stage in Broadway in 1997 where it enjoyed a two-year, Tony-winning run including winning the award for Best Musical. Now it returns as a revival and has set sail for an exclusive pre-Broadway run in Toronto.

Not to be confused with the blockbuster film released in the same year as the musical's premiere, the production shows the final hours of a group of the fateful ship's passengers in a brand new story unconnected with the tale of Jack and Rose. Instead, the focus is on the real life characters including White Star Lines director J Bruce Ismay, Capt. Smith, and Thomas Andrews the architect, who in turn caused the tragedy by ignoring the ice warnings, but then tried to avert the disaster, and the fortunes of one man Jim Farrell, and three women in steerage (all ironically named Kate).

Starring opera tenor Ben Heppner who will play Isidor Straus as well as several other smaller roles.

The pre-Broadway revival begins May 20 with performances through June 21, 2015 at the Princess of Wales Theatre in Toronto, Canada.

RICH GIRL by Victoria Stewart.

Directed by James Vásquez.

Claudine's mother has it all: she's wealthy, successful, and famous. Claudine is awkward, shy, and forever living in her mother's shadow. When a dashing artist sweeps Claudine off her feet, her mother is convinced that all he's after is her money. A modern retelling of the Henry James novel Washington Square, which became the stage and screen classic The Heiress.

Insights Seminar takes place Tuesday, May 26. The seminar will feature a panel selected from the artistic company of the show. Post Show Forums are slated for, June 2, 9 and 17 where audience members will have an opportunity to discuss . the play with members of the cast following the performance.

Saturday, May 23 - Sunday, June 21 at the Sheryl & Harvey White Theatre, Conrad Prebys Theatre Center, The Old Globe Theatre, San Diego, CA.

NEEDLES AND OPIUM written and directed by Robert Lepage who, from 1989 to 1993, was Artistic Director of Théâtre français at the National Arts Centre, and has since gone on to direct for the Metropolitan Opera, London's National Theatre, and Cirque du Soleil.

English translation by Jenny Montgomery.

"Theatrical wizard Robert Lepage brings technical brilliance and emotional punch to NAC audiences with a mesmerizing new production of his acclaimed Needles and Opium. During a hypnotic series of vignettes, Jean Cocteau, Miles Davis, and a tormented Québécois man share the stage in a desperate journey into the unknown. As much magic as it is theatre, Lepage's passion, wit, and spellbinding kaleidoscope of images are as compelling as the characters themselves."

Approximately 105 minutes with no intermission.

Copresented by the NAC English Theatre and Théâtre français du CNA and Canada's Magnetic North Theatre Festival An Ex Machina production (Québec) co-production with Théâtre du Trident (Québec), Théâtre du Nouveau Monde (Montréal), and Canadian Stage (Toronto).

Presented in French May 19-23 then presented in English May 27-June 6, 2015 at the National Arts Centre in Ontario, Canada.


WHO'S WHERE




CHICK COREA AND HERBIE HANCOCK appear Friday, May 22 at the International Convention Center in Taipei, Taiwan. They're at the Seoul Jazz Festival on Saturday, May 23 at Olympic Park in Seoul, South Korea.

U2 iNNOCENCE + EXPERIENCE TOUR begin a two nighter Monday, May 18, at the SAP Center in San Jose, CA. On Friday, May 22, they begin another two night stand at US Airways Center in Phoenix, AZ.

RUSH entertainment Monday, May 18, at the American Airlines Center in Dallas. On Wednesday they are on stage at the Toyota Center in Houston. Friday finds them at the Smoothie King Center in New Orleans. Next Sunday, their tour stops at the Amalie Arena in Tampa, Florida.

NEW KIDS ON THE BLOCK perform Monday, May 18, at the Chesapeake Energy Arena in Oklahoma City. Tuesday's stop is at the Sprint Center in Kansas City. Wednesday's gig is at the Xcel Energy Center in Saint Paul, MN. Friday they can be enjoyed at the Scottrade Center in St. Louis. On Saturday they are on stage at the Allstate Arena in Rosemont, IL.

NEIL DIAMOND has a split two night gig at the Hollywood Bowl in Los Angeles on Tuesday, May 19 and Saturday May 23.

BETTE MIDLER brings her tour to the Toyota Center in Houston on Monday, May 18, 2015. On Wednesday she'll be delighting the crowds at the Pepsi Center in Denver. Friday finds her in Las Vegas at the MGM Grand Garden and next Sunday, May 24, she's in the spotlight at the US Airways Center in Phoenix, AZ.

TAYLOR SWIFT entertains Wednesday, May 20, 2015 at the Century Link Center in Bossier City, LA. On Friday she'll perform her hits at the LSU Tiger Stadium in Baton Rouge, LA. On Saturday her tour stops at Ford Field in Detroit.

NICKELBACK continue their tour of Australia with a show Monday, May 18, at the Adelaide Entertainment Centre in Hindmarsh. Wednesday's show is at the Brisbane Entertainment Centre in Boondall. Friday the tour stops at the Allphones Arena in Sydney.

AMY GRANT a six time Grammy award winner, performs Sunday, May 24, at Sunset Center in Malibu, CA.


FINAL OVATION


B. B. KING the legendary blues singer, songwriter, and guitarist, died in Las Vegas on May 14, 2015. He was 89 and had suffered from diabetics. He had been in hospice care at his home.

His vibrato style of playing influenced a generation of rock and blues guitarists, including Eric Clapton, Mike Bloomfield and Stevie Ray Vaughan. Rolling Stone magazine once ranked BB King in third place in its list of the 100 greatest guitarists of all time, just below Jimi Hendrix and Duane Allman.

His output crossed musical barriers, from jazz and blues to mainstream pop. He bought his first guitar for $15 when he was twelve so he could play at church services at the Elkhorn Baptist Church. In 1947 he moved from Mississippi to Memphis where he busked on the streets. Later he'd have a ten minute radio show on station WDIA. He was introduced as "The Beale Street Blues Boy", later shortened to BB.

It was while playing in one of the Beale Street clubs that a fight broke out over a woman, causing a fire. After rushing out of the wooden building, he realized that he had left his guitar behind. He risked his life by going back in to rescue his instrument. He named it after the woman whose charms had been behind the trouble: Lucille.

After making his first record in 1949, he went on to top the rhythm and blues charts two years later with Three O'Clock Blues. The song remained at number one for 17 weeks. Many of his early recordings were produced by the legendary Sam Phillips who went on to found Sun Records.

He played more than 300 gigs on the so-called Chitlin' Circuit, the collection of performance venues in what were then racially segregated southern states where it was safe for black musicians to perform. King said: "I have put up with more humiliation than I care to remember. Touring a segregated America, forever being stopped and harassed by white cops hurt you most 'cos you didn't realize the damage. You hold it in."

It was thanks to the influence of British bands such as the Yardbirds, the Animals and the Rolling Stones that white audiences, first in the UK and later in America, began to embrace the blues. BB King began to be accepted in venues that had long been closed to black musicians. One of his more moving moments was when he was given a standing ovation by a mainly white audience at the Fillmore West theatre in San Francisco in 1968.

In 2000 he collaborated with long-time fan, and blues purist, Eric Clapton on the album Riding with the King.

King returned to Mississippi each year to visit his numerous children from a number of relationships. King was married twice, to Martha Lee Denton, 1946 to 1952, and to Sue Carol Hall, 1958 to 1966. The failure of both marriages has been attributed to the heavy demands made on the marriage by King's 250 performances a year. It is reported that he has fathered 15 children and, as of 2004, had 50 grandchildren.

He once said: "Ladies, friends and music - without those three, I wouldn't wanna be here."

King was still touring in his 80s, having played more than 15,000 live gigs during his career. He also made a point of playing regular concerts in prisons across the US.

A 15-time Grammy winner, he is also a member of the Blues Foundation Hall of Fame and the Rock and Roll Hall of Fame. In 1990, King was awarded the National Medal of Arts by President George H. W. Bush. In 2006, he received the Presidential Medal of Freedom from President George W. Bush.


















Next Column: May 24, 2015
Copyright: May 17, 2015 All Rights Reserved. Reviews, Interviews, Commentary, Photographs or Graphics from any Broadway To Vegas (TM) columns may not be published, broadcast, rewritten, utilized as leads, or used in any manner without permission, compensation and/or credit.
Link to Main Page
---
Laura Deni



For the snail mail address, please E-mail your request.
CLICK HERE FOR COMMENT SECTION