! >
Broadway To Vegas
  SHOW REVIEWS     CELEBRITY INTERVIEWS     GOSSIP     NEWS 
LIBERACE'S FOUNDATION CELEBRATES THE LATE SHOWMAN'S BIRTHDAY


He may be dead, but from beyond the grave Liberace, the Sultan of Schmaltz, puts on quite a show. The performance is found in the form of the Liberace Museum in Las Vegas and it's an event worth seeing. Liberace, known to his friends as Lee, created Las Vegas glitz. The musician evolved from a classical pianist into a showman and in doing so epitomized what he called the "ever better, onward and upward attitude" of Las Vegas.


LIBERACE set the benchmark for showmanship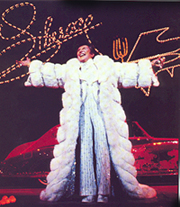 Each stage performance surpassed the previous one for gorgeous - often outrageous -outfits that glittered in cunningly conceived stage sets and skillfully executed lighting.

Liberace, who died of AIDS, would have celebrated his birthday today. In June 1957 Liberace moved into the Beverly Rexford Apartments on Rexford and St. Louis Ave in Las Vegas and said that Las Vegas would be his second home. From that modest apartment his upward mobility reached a zenith that has been painstakingly and lovingly transformed into the Liberace Museum.

Lee founded The Liberace Museum on founded April 15, 1979, as a way to showcase his vast collections of virtually everything ornate and in doing so provide musical scholarships.

The nonprofit museum is a fascinating experience. The Museum is divided into two area; Building One houses the Piano, Car and Award Galleries; Building Two showcases the Costume and Jewelry Collections, a re-creation of Liberace's Palm Springs bedroom, and the Liberace Family Gallery. Beginning this summer, a new gallery will host changing exhibits about the Arts and Popular Culture.



In November, 1956 Liberace was starring at the Riviera Hotel in Las Vegas. In a costume switch Elvis put on the glitz with Liberace's gold lame' dinner jacket while playing Lee's piano. In turn Liberace donned Elvis's zoot suit and strummed his guitar.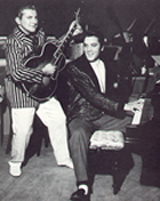 Liberace owned thirty-nine pianos; eighteen of the most rare are on display in The Piano Gallery. One of the most notable pianos in the collection is Chopin's French Playel. Also on display is Liberace's rhinestone-covered Baldwin that he used in the finale of his last performance at Radio City Music Hall.

Historic pianos include a rare Broadwood Grand made in England in 1788. John Broadwood is credited, along with Bartolomommeo Christofori, as one of the co-creators of the piano.

Also on view are Schumann's Bosendofer Grand; George Gershwin's Chickering baby grand;the Liberace's favorite Baldwin concert grand piano covered with thousands of etched mirror tiles.

Elaborate ornate cars are showcased in the Car Gallery; from a one-of-a-kind Rolls Royce covered with mirror tiles etched with galloping horses to a 1934 Mercedes Excalibur covered in Austrian rhinestones. The mirrored Rolls is a Phanom V Landau limousine with a James Young body and Deville extension. Only seven were made, and it is the only one with left hand steering. Other unique cars include Liberace's 1954 red white and blue Rolls Royce used in his tribute to the nation's bicentennial in 1976, s pink "Volka Royce" - which is a Volkswagon customized to look like a Rolls Royce - and Liberace's English taxi cab which he personally customized.

In the Costume Gallery, visitors see Liberace's trademark candelabra and famous sequined, jeweled and rhinestone-studded costumes, feathered capes and his fur collection. Once when the IRS audited the performer objecting that he deducted his outfits as business expenses related to his career, the tax man refused to permit the deduction, saying that Liberace could wear the items in everyday life. To prove his point Liberace paraded down a Las Vegas street in full get up "to see if people would notice." They did.

Some of the highlights include the original gold lame jacket that began the extravagant costumes Liberace would later refer to as "an expensive joke." One of Liberace's favorites, a black diamond mink lined in more than 40,000 two-and-one-half karat Austrian rhinestones - each one sewn on by hand - is on display. The King Neptune costume covered in sea shells and pearls, was designed for the 1984 world's fair in New Orleans. It is the heaviest non-fur costume weighing 200 pounds. Among the more than twenty costumes on display are Liberace's famous red, white and blue hot pants and feathered cape he wore at Radio City Music Hall.

Since 1976, The Liberace Foundation for the Performing and Creative Arts has awarded more than four million dollars in scholarship grants to over 100 universities, schools and organizations. Liberace considered The Foundation one of his greatest achievements. In his book, The Things I Love Liberace stated, "a lot of good things have happened to me in show business and I want to do what I can to give others just starting out a career boost. I hope The Foundation projects will continue into the future to offer gifted newcomers financial help, and in many cases, artistic exposure as well."

As a child of seven, Liberace received a scholarship to the Milwaukee Conservatory of Music in Milwaukee, Wisconsin where he would receive classical training on the piano. His scholarships continued for 17 years. It was from this experience that Liberace learned the value of scholarships. Today, the Milwaukee Conservatory, now called the Wisconsin Conservatory, continues to thrive and also is a proud recipient of Liberace Foundation scholarships for the past ten years.

The next time you're in Las Vegas, visit the nonprofit Liberace Museum.

VILLAGE VOICE OBIE AWARDS Tomorrow night the OBIE awards bestowed for off-Broadway shows, will be held in New York City at Webster Hall hosted by Claudia Shear and Patrick Stewart. Presenters include; Ping Chong, Viola Davis, Felicity Huffman, William H. Macy, Cynthia Nixon, Frances Sternhagan, Mary Testa, Carmelita Tropicana, James Urbaniak with live entertainment performances by Kike & Herb and The Bomb-itty of Errors.

THE NEW DRAMATISTS

ANGELA LANSBURY

honor stage and screen legend Angela Lansbury with their Lifetime Achievement Award on Tuesday at the Marriott Marquis in New York City.

Lansbury has won four Tony Awards for Mame, Dear World, Gypsy and Sweeney Todd. Those slated to attend include Bea Arthur, Lauren Bacall, Walter Cronkite, Olympia Dukakis, Davis Gaines, Kathie Lee Gifford, Susan Lucci, Eartha Kitt, Marin Mazzie, Brian Stokes Mitchell, Terrence McNally, Hal Prince, Lily Tomlin, and Dionne Warwick.

There will be performances by Arthur, Mazzie and Mitchell.

ASTAIRE AWARDS the 19th annual TDF Astaire Awards take place Thursday at the Hudson Theatre in New York City. Bebe Neuwirth will host the benefit luncheon for the Theatre Development Fund. Nominations for the prestigious awards include: Best Choreographer Lynn Taylor-Corbett for Swing! Kathleen Marshall for Kiss Me Kate and Susan Stroman for Contact and The Music Man. Best female dancer nominees all happened to be performing in Contact. Pitted against each others are; Stephanie Michaels, Deborah Yates and Karen Ziemba. The Best Male Dancer nominees are Clyde Alves from The Music Man, and Michael Berresse and Stanley Wayne Mathis from Kiss Me, Kate.

THE UTAH SHAKESPEAREAN FESTIVAL based in Cedar City, Utah has received a Tony Award for America's Outstanding Regional Theater.
The award will be presented June 4 at Radio City Music Hall during a live television broadcast of the 54th Tony Awards. Accepting the award will be Fred C. Adams, festival founder and executive producer; Cameron Harvey and Douglas N. Cook, producing artistic directors; R. Scott Phillips, festival managing director; and Sue Cox, festival board of governors chair.

The regional awards were first given in 1967. Upon being notified that the Utah Shakespearean Festival has won an overwhelmed Fred Adams stated, "I can't even begin to find the words to describe how I feel at this moment." Utah's Shakespearean Festival started in 1962 and now offers six plays in repertory in its annual summer season from June through September.



Broadway To Vegas is supported through advertising and donations. Priority consideration is given to interview suggestions, news, press releases, etc from paid supporters. However, no paid supporters control, alter, edit, or in any way manipulate the content of this site. Your donation is appreciated. We accept PAYPAL. Thank you for your interest.


THE MUSIC GOES ROUND AND ROUND


ELAINE PAIGE who opened in the West End, London revival of The King and I will - along with the rest of the cast - head into the recording studio today May 14, to record the show's cast album.

SWEENEY TODD with the strong Stephen Sondheim score, received standing ovations and kudos when it mixed The Met and Broadway in New York City. George Hearn sang the lead, stepping in for Bryn Terfel, who is recuperating from back surgery, Patti LuPone was Mrs Lovett, Paul Plishka of the Met sang Judge Turpin, Heidi Grant Murphy of the Met was Joanna, Davis Gaines of The Phantom of the Opera portrayed the young sailor, John Aler and Standford Olsen were the judge's pal and barber, three time Tony winner Audra McDonald sang an old beggar and Doogie Howser star Neil Patrick Harris sang Tobias - proving that F and Broadway are a perfect mix. Thankfully The Philharmonic recorded three shows - Thursday, Friday and Saturday - and will issue a CD on its Special Editions Label. Andrew Litton, music director of the Dallas Symphony conducted. Order your copy now!



LUCRECE by Thornton Wilder, adapted from Andre Obey's Le Viol de Lucrece opened May 12 with performances thru June 4 at The Ohio Theatre NYC.

Presented by the Willow Cabin Theater Company the production stars Cynthia Besteman, John Bolger, Christopher Foster, Larry Gleason, Robert Harte, Charmaine Lord, David Paluck, Dede Pocos, Linda Powell, Christine Radman, Maria Radman, Atticus Rowe, and Terry Schappert.

Directed by Edward Berkeley, Set design by John Kasarda. Lighting design by Matt McCarthy with costume design by Meganne George. Original music is by Paola Prestini with Choreography by Jeanne Hime.

CATS verifying the nine lives theory by being extended until September 10. Broadway's longest running musical was scheduled to close June 25, but the minute people were told the litter box was being cleaned out they wanted more and ticket sales skyrocketed, prompting the euthanasia reprieve

PIERRE COSSETTE AND GOV. JESSE VENTURA are teaming up. Producer Cossette is putting together a Broadway musical based on the life of the Navy Seal/ wrestler/ governor.

DAME EDNA lets the gladiola droop July 2nd at the Booth Theatre NYC. The wisteria haired wonder then takes Dame Edna: The Royal Tour on a US National Tour permitting those across the land to worship at her feet as have the paupers, seniors, and princes who have been providing nightly standing ovations. The big showoff has also grabbed a goody share of the theatrical awards this season winning a special Tony Award for Live Theatrical Event and an Outer Critics Circle award for Special Achievement.

EAT THE RUNT a "genderless" comedy by Avery Crozier, will give the audiences the opportunity to choose the cast at each performance. All eight actors in Mefisto Theatre Company's production of Eat The Runt have learned all the roles, and at the beginning of each performance audience members will choose which actor plays which character. In the lobby before each performance, the audience will be given a brief, written description of each role and will be able to look at photos and resumes of the cast. Mefisto Theatre Company producer Matthew von Waaden has calculated that there are 40,320 casting possibilities. The play concerns a surreal interview which leads to the hiring of a grants manager at an art museum. Performances are June 7-24 at Altered Stages, NYC. Under the direction of Peter Hawkins, the cast ready to take on any role includes; Kelli K Barnett, Lora Chio, LaKeith Hoskin, Kathrishka King, Myles O'Connor, Weil Richmond, Curtis Mark Williams and James Williamson. Designers are: Jerome Martin (Sets), James Syewart (lighting) and Will Pitts (Sound).

RICHARD CHAMBERLAIN

RICHARD CHAMBERLAIN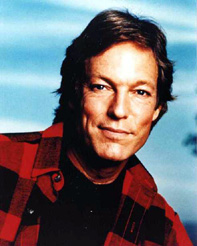 who started out as the Dr. Kildaresex symbol says he watches ER. The acclaimed actor who has been on tour in The Sound of Music will be returning to Broadway in a new drama, The Shadow of Greatness, written by Gary Socol.

The out of town premiere opens at the Berkshire Theater Festival in Stockbridge, Mass with performances July 25 to Aug. 12 Chamberlain will portray a faded. Jaded playwright, desperate and at a crossroads. He invited three of his most devoted fans to his brownstone. With that the plot thickens. Chamberlain has had hit television series and mini-series and won raves on Broadway in My Fair Lady and The Sound of Music. Some may think everything Chamberlain has done has been a success.

Not quite.

He once did a musical version of Breakfast at Tiffany's co-starring with Mary Tyler Moore. Touting as the big musical of 1967, it never opened, closing after only four preview performances.

ROBERT WAGNER AND JILL ST JOHN married in real life are on tour in Love Letters. May 19 they perform at Hemmens Auditorium in Elgin, ILL and then the next night they open at the Egyptian Center in Ogden, UT.

THE LARAMIE PROJECT officially opens May 18 at the Union Square Theatre, NYC. This is the new American play written by Moises Kaufman and the members of the Tectonic Theater Project. On November 14, 1998, a month after University of Wyoming student Matthew Shepard was murdered, Kaufman and members of his company traveled to Laramie and began a series of face-to-face interviews with the people of the town where the story unfolded. Over the next year the company traveled six times to Wyoming and conducted over two hundred intensely personal documented interviews. Many of these writers/actors who conducted the interviews are performing in this play, which was heralded when it returned to Wyoming for a pre-Broadway run. Starring in the play which is directed by Kaufman are; Stephen Belber, Amanda Gronich, Mercedes Herrero, Andy Paris, John McAdams, Greg Pierotti, Barbara Pitts and Kelli Simpkins. Set design by Robert Brill, Costume design by Moe Scheil, Lighting design by Betsy Adams, Original music by Peter Golum with Video and Slides by Martha Swetzoff. Associate writers Stephen Belber, Greg Pierotti and Steve Wangh.

SUSAN SULLIVAN

SUSAN SULLIVAN

a two time Emmy nominee, who first became a household word as Maggie on Falcon Crest, although she first turned down the part - and now is delightful as Kitty Montgomery on the ABC hit series Dharma & Greg, is a member of the Matrix Theater Company in Los Angeles and has returned to the stage.

The New York born actress studied acting at Hofstra University and worked as a bunny in the Manhattan playboy Club. Reciting Shakespeare at night, nobody she served cocktails to mistook her for a dumb bunny. Now Susan shares her life with psychologist Connell Cowan, author of several books, including the best-seller Smart Woman, Foolish Choices.

Tonight Sullivan opens as Amanda Wingfield in The Glass Menagerie at the Pasadena Playhouse in Pasadena, California.


WHO'S WHERE


MELISSA ERRICO who starred on Broadway in My Fair Lady, and High Society performs classic and unpublished Randy Newman songs in The Real Emotional Girl: Melissa Errico sings Randy Newman May 15 and 22 at Joe's Pub in NYC. Jason Robert Brown who won a Tony as composer of Parade will direct the five piece band which includes Errico's brother, guitarist Mike Errico.

DONNA HANOVER who dropped out of The Vagina Monologues after her soon to be ex-husband Rudolph Giuliani announced he has prostate cancer, will be replaced in the production by Emmy winner Holland Taylor. May 30- June 11. When presented with her Emmy award for her portrayal of the sexy judge in The Practice held the statue up and quipped "Overnight! Overnight!" As for Hanover, she could turn her own experiences into a new, personal rewrite of The Vagina Monologues.

AUDRA McDONALD stars this Friday in an episode of the gritty TV drama Law & Order: Special Victim's Unit. The Tony award winner portrays a police psychologist.

LANCE BURTON who is the seller attraction at the Monte Carlo Hotel in Las Vegas will be a guest on The Late Late Show with Craig Kilborn on Monday/Tuesday. He will be levitating a lady and doing a little close-up magic along with an interview with Kilborn.

TRISHA YEARWOOD May 23 at the State Theatre in Minneapolis.

DAVID BRENNER May 18-25 at John Ascuaga's Nugget in Sparks, Nevada.


THIS AND THAT


JOHN TRAVOLTA who is chalking up those pilot hours crisscrossing the country promoting the daylights out of his much panned new movie Battlefield Earth travels with his own hot dogs. He even takes his own weeniers into ball parks. Says he never knows what the dogs are made of so to be on the safe side, he brings along a doggie bag.

MARC ANTHONY AND DAYANARA TORRES who were wed at the Desert Inn Hotel in Las Vegas developed their own tradition. They didn't get pelted with rice, flower petals or have white doves released from cages. Instead their closest loved ones threw bits of the wedding cake at them while they danced their first dance.

PAT COOPER who lives in Las Vegas although his caustic rants can be felt nationwide, will be playing an Italian-American named Pop in the new film Cugini. The romantic comedy begins shooting in August.



Mention BROADWAY TO VEGAS for Special Consideration
Call (800) 942-9027









Next Column: May 21, 2000
Copyright: May 14, 2000. All Rights Reserved. Reviews, Interviews, Commentary, Original Photographs or Graphics from any Broadway To Vegas (TM) columns may not be published, broadcast, rewritten, utilized as leads, or used in any manner without permission, compensation and/or credit.
Link to Main Page
---
Laura Deni


CLICK HERE FOR COMMENT SECTION