! >
Broadway To Vegas
  
  REVIEWS INTERVIEWS COMMENTARY NEWS

| | |
| --- | --- |
| | |
KATE ROCKWELL BACK TO MY ROOTS CD REVIEW - - THREE TALL WOMEN ACTOR'S FUND BENEFIT - - THE FIRST GRAMMY FESTIVAL IN BEIJING - - SEATTLE INTERNATIONAL FILM FESTIVAL - - THE CROWN EXHIBIT - - THE RECORDING ACADEMY'S NEWLY FORMED TASK FORCE - - IMPRESSIONIST TREASURES: THE ORDRUPGAARD COLLECTION - - JEFFREY GIBSON: LIKE A HAMMER - - DONATE . . . Scroll Down





Copyright: May 13, 2018
By: Laura Deni
CLICK HERE FOR COMMENT SECTION


MEAN GIRLS' KATE ROCKWELL RELEASES HER FIRST ALBUM


Based on this recording - her voice deserves to be heard by the masses. Based upon seeing her in Mean Girls, the talented Kate Rockwell belongs on the stage - being seen by the masses. In Mean Girls she the one playing the vapid Karen Smith, managing to navigate the stage wearing heels that are too high and a skirt which is too short, although she has the legs to carry it off. Her character is also the one who says her breasts "can predict when it's going to rain."

A CD not to miss hearing - and owning - is Kate Rockwell - Back To My Roots released by Broadway Records. It's incandescent.

A vibrant high kick opening brings on Rockwell with Hey There, Good Times. Rockwell knows how to delivers a song loaded with personality and zest. The back row won't have any trouble hearing and enjoying, thanks to perfect sound balancing.

Bring On The Men begins as a soulful lament, ramping up into an overt come on. Rockwell is a belter. She knows how to use her powerful voice to control the situation. She easily manages a strong horn and drum section.

I Know Things Now You Know is fast paced and more light hearted.

I'm Breaking Down is jazzy and nervous breakdown dramatic. Based upon this recording - just when you think Kate wouldn't know how to sing a soft ballad she offers The Games I Play. It's tender and sensitive. The background begins with being able to hear a flute/piccolo with a predominate piano. The number than builds returning her voice to powerful projection in which she excels.

What You Don't Know About Women from the wonderful Tony Award winning musical City of Angels is a fun number in which Rockwell is joined with Ariana DuBose. They voices blend beautifully.

Zamba beat Buenos Aires is energetic and authoritative. Song on the Sand from La Cage Aux Folles is soft, sweet and reflective. Kate's soprano voice is clear, pure and glorious.

Somewhere That's Green from Little Shop of Horrors permits Kate to use her cute, comedic ability.

Schoenberg Lloyd Webber is a sensational section offering stunning blending snippets from Les Miz, Cats, and Phantom. Great musical selections for her voice. Outstanding arrangement.

The CD ends all too soon with Unexpected Song, which allows her voice to perform some bars in a lower register.

While this is her first album. It won't be her last.

Band:
Jason Loffredo - piano/keyboards/accordion. Steve Gilewsky - acoustic bass/electric bass. Joe Choroszewski - drums/percussion. Michael Croiter - additional percussion. Jeff Schiller - flute, piccolo, charinet, soprano saxophone/alto saxophone. Alden Banta - flute, clarinet, bass clarinet, tenor saxophone. Jeremy Miloszewicz - trumpet, flugelhorn. Randy Andos - trombone. Tim Quck - acoustic guitar.

Recorded and edited by Michael Croiter. Mixed by Matthias Winter. Mastered by Michael Fossenkemper. Recorded ad mixed at Yellow Sound Labs, NY. Mastered by Turtletone Studios, NYC. Photography by Curtis & Cort Photography. Excellent package design with easy to read copy by Robbie Rozelle.






E-Book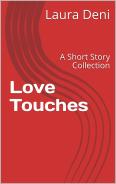 Soft back Book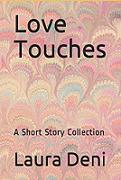 Broadway To Vegas is supported through advertising and donations. Priority consideration is given to interview suggestions, news, press releases, etc from paid supporters. However, no paid supporters control, alter, edit, or in any way manipulate the content of this site. Your donation is appreciated. We accept PAYPAL. Thank you for your interest.


ART AND ABOUT


THE CROWN: IMAGING A ROYAL WORLD

The Crown Exhibit on display to July 29, 2018 at The Paley Center in Los Angeles.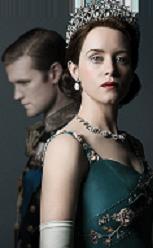 Following the birth of the newest royal baby - Prince Louis Arthur Charles - and anticipating the royal wedding of Prince Harry and Meghan Markle, the Paley Center brings you the most royal of exhibits.

The Paley Center's new multimedia exhibition, The Crown: Imagining a Royal World, offers an extraordinary glimpse into the creative process behind some of the series' most stunning and iconic costume creations by renowned designer Jane Petrie for season two of the award-winning Netflix period drama.

With an acute eye for sumptuous detail, renowned designer Jane Petrie's opulent costumes for season two of the award-winning Netflix period drama explore a transitional time in the monarch's history - London in the swinging '60s with all the seismic cultural shifts and social upheaval of the period. The exhibition will highlight the juxtaposition of a Monarchy somewhat trapped in time against the more modern vision of the United States represented by John F. Kennedy and Jacqueline Kennedy upon their visit to Buckingham Palace in 1961. On-set photography and video clips from the acclaimed series will provide a stunning backdrop for the lavish period costumes on display.

"Designing the costumes for The Crown has been an incredible privilege, and being able to present some of my favorite designs at The Paley Center for Media is just fantastic," said Jane Petrie, the show's costume designer. "Season Two is all about the Windsor's struggle to modernize at a time of great global change. From Princess Margaret's exciting new love interest, to the Kennedy's swooping into Buckingham Palace, outshining the Queen and her consort, the clash between old and the new, America and Britain, takes center stage and very much inspired the costumes. It's a fascinating moment of our shared history and was an absolute pleasure to design. I just hope visitors will appreciate the exhibit as much as we enjoyed telling this story."

This free exhibit opened yesterday, Saturday, May 12, 2018, and is on display to July 29, 2018 at the Paley Center in Los Angeles.

JEFFREY GIBSON: LIKE A HAMMER

Jeffrey Gibson (Mississippi Band Choctaw/Cherokee), All Things Big and Small, 2016. Acrylic paint and graphite on canvas; 70 x 57.25 in. Collection of Lisa and Stuart Ginsberg. Image courtesy of Jeffrey Gibson Studio and Roberts & Tilton, Los Angeles, California. Photograph by Peter Mauney. © Jeffrey Gibson.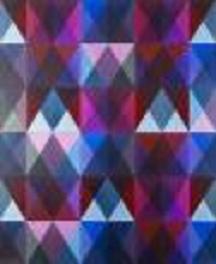 the first major museum exhibition of the artist's work - will chronicle a pivotal moment in Gibson's career when his contemporary artistic practice converged with his Native American heritage.

About 65 objects created from 2011 to the present will be featured including figurative works, text-based wall hangings, a significant selection of beaded punching bags, painted works on rawhide and canvas, and video.

The exhibition will show how Gibson draws upon his heritage and remixes his older works to create a visual vocabulary that explores his multi-faceted identity and the history of modernism. Gibson's abstract works take inspiration from his Choctaw and Cherokee heritage, pan-Native American visual culture, alternative subcultures, and the artist's experiences living abroad as well as popular culture. Striking patterned and textured works will incorporate text from poems, Gibson's own voice, and song lyrics such as Stevie Wonder's Sir Duke.

The exhibition is organized by the DAM and curated by John Lukavic, associate curator of Native Arts. Opens May 13, 2018 at the Denver Art Museum, Denver, Colorado.

IMPRESSIONIST TREASURES: THE ORDRUPGAARD COLLECTION

Women Bathing by Paul Cézanne. Photo: National Gallary of Canada.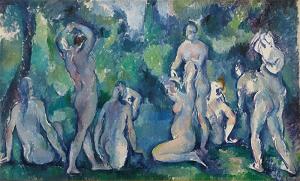 an exhibition of 76 paintings, is Canada's first and only showing of paintings from the world-renowned Ordrupgaard collection of Impressionist and Danish art.

Paintings by Cézanne, Degas, Gauguin, Manet, Monet, Morisot, and Renoir, among others, as well as masterpieces from the Golden Age of Danish painting are featured in Impressionist Treasures opening May 18th at the National Gallery of Canada on Ottawa, Ontario.

Impressionist Treasures: The Ordrupgaard Collection features key paintings from Denmark's famed collection of works assembled by Wilhelm and Henny Hansen in the early 20th century. The collection is regarded today as one of Europe's most beautiful compilations of Impressionist art.

In one compelling presentation, the luminous landscapes of Corot, Monet, Sisley and Pissarro rub shoulders with the naturalism of Courbet, the still-lifes of Manet and Matisse, the intimate portraits of Renoir and Morisot, and the imagination of Gauguin. This exhibition is also a unique opportunity to discover unparalleled works from the Danish Golden Age, including those by C. W. Eckersberg and Vilhelm Hammershøi.

The Ordrupgaard collection was built between 1910 and 1931 by Wilhelm Hansen, an influential Danish businessman and visionary who was passionate about art. Hansen's collection quickly became one of the most notable in Europe. His acquisitions were brought together in his residence in Ordrupgaard, in a suburb of Copenhagen.

With a desire to promote French modern art, in 1918, the collector opened the doors of his country house to the public for one day a week. Despite the financial difficulties that forced him to sell several major paintings in 1922, he managed to rebuild his collection in the years that followed. Hansen's widow, Henny, bequeathed their home and the art collection to the Danish state, which turned it into a museum in 1953.

Impressionist Treasures: The Ordrupgaard Collection has been organized by Ordrupgaard, Copenhagen and the National Gallery of Canada. On view to September 23, 2018.






E-Book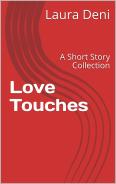 Soft back Book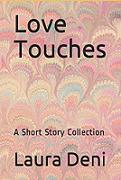 SWEET CHARITY


EDWARD ALBEE'S THREE TALL WOMEN

Glenda Jackson, Alison Pill and Laurie Metcalf in Three Tall Women. Production photo by Brigitte Lacombe.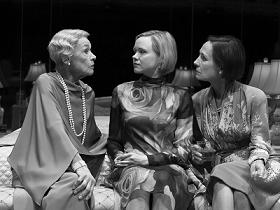 will play a special Midnight Performance as a benefit for The Actors Fund on May 17, 2018.

The production, directed by Joe Mantello, opened on Broadway on March 29 to ecstatic reviews. Recently, Mantello's production of The Boys in the Band started previews on Broadway. To celebrate their director and the vital work of The Actors Fund, the entire cast of The Boys in the Band will host the Midnight Performance of Three Tall Women,

Three Tall Women stars two-time Academy Award-winner Glenda Jackson, Tony Award winner, three-time Emmy Award winner, and 2018 Academy Award nominee Laurie Metcalf, and Tony Award nominee Alison Pill. Three Tall Women is playing at the Golden Theatre in New York City.

The 50th anniversary production of Mart Crowley's ground breaking play The Boys in the Band stars Jim Parsons, Zachary Quinto, Matt Bomer, Andrew Rannells, Charlie Carver, Robin de Jesús, Brian Hutchison, Michael Benjamin Washington and Tuc Watkins, The Broadway premiere of The Boys in the Bandis now in previews at the Booth Theatre where it opens May 31, 2018.

The Actors Fund is a national human services organization that fosters stability and resiliency, and provides a safety net for performing arts and entertainment professionals over their lifespan. Through offices in New York, Los Angeles and Chicago, The Fund serves everyone in film, theater, television, music, opera, radio and dance with programs including social services and emergency financial assistance, health care and insurance counseling, housing, and secondary employment and training services.

25th ANNUAL AMFAR GALA CANNES one of the world's most successful benefit events and the most coveted ticket in town during the Cannes International Film Festival, returns to the fabled Hôtel du Cap on Thursday, May 17, 2018. Vanessa Redgrave and Sienna Miller host.

To date, this spectacular, star-studded event has raised more than $210 million for amfAR's life-saving research programs and has helped keep the fight against AIDS in the global media spotlight.

Honorary Chairs: Alessandra Ambrosio, Poppy Delevingne, Linda Evangelista, Silvia Fendi, Aileen Getty, Kate Hudson, Scarlett Johansson, Milla Jovovich, Heidi Klum, Daphna Krim, Karolina Kurkova, Sienna Miller, Angela Missoni, Mary Parent, Katy Perry, Natasha Poly, Aishwarya Rai, Vanessa Richardson, Carine Roitfeld, Caroline Scheufele, Irina Shayk, Lara Stone, Donatella Versace, and Michelle Yeoh.

DANCE FOR A CURE Join in May 19, 2018 at The Paramount Theatre in Seattle, Washington for Dance for a Cure. Mo-dazz for the Arts dancers will perform inspiring dance and musical performances to benefit lifesaving research at Fred Hutch and the Pete Gross House.

Fred Hutch scientists are producing some of the most important breakthroughs in the prevention, early detection and treatment of cancer, HIV/AIDS and other diseases. Our scientists study the disease process from every angle – from the most basic, molecular and cellular level to a broad, population-based approach – to uncover the factors that influence a person's likelihood of getting cancer, and using this knowledge to reduce risk and save lives.

Their groundbreaking discoveries began in the 1970s with Dr. E. Donnall Thomas's pioneering work in bone marrow transplantation, which led to him receiving the 1990 Nobel Prize in physiology or medicine. Since then, Hutch researchers have made a number of breakthroughs, including developing immunotherapies that use the immune system to defeat cancer and advancing the understanding of human biology.



E-Book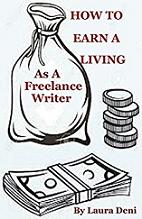 Soft back Book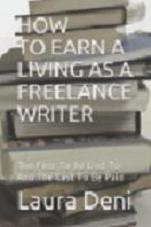 This is not your typical, totally boring textbook.

In the pages of How To Earn A Living As A Freelance Writer (the first to be lied to and the last to be paid) you'll find sex, celebrities, violence, threats, unethical editors, scummy managers and lawyers, treacherous press agents, sex discrimination; as well as a how-to for earning money by writing down words.





SPREADING THE WORD


THE RECORDING ACADEMY'S NEWLY FORMED TASK FORCE on diversity and inclusion, announced the names of the 16 members joining Chairman Tina Tchen in examining barriers and biases affecting women and other underrepresented voices in the music industry and, specifically, the Recording Academy.

All members of the committee will volunteer their time and expertise, and none are employed by the Recording Academy or hold any position on its Board. The task force includes the following music creators, executives, academic scholars, and thought leaders in gender equality and diversity:

Stephanie Alexa, vice president of finance and licensing administration, ATO Records
Michele Anthony, executive vice president and executive management board member, Universal Music Group
Cam, Grammy-nominated artist
Common, Grammy-winning artist
Sheryl Crow, Grammy-winning artist
Andra Day, Grammy-nominated artist
Giselle Fernandez, award-winning television journalist
Jimmy Jam, Grammy-winning artist
Beth Laird, CEO and co-owner, Creative Nation
Debra Lee, chairman and CEO, BET Networks
Rebeca Leon, co-founder and CEO, Lionfish Entertainment
Elizabeth Matthews, CEO, ASCAP
Dr. Stacy L. Smith, founder and director, USC Annenberg Inclusion Initiative
Ty Stiklorius, founder and CEO, Friends At Work
Julie Swidler, executive vice president of business affairs and general counsel, Sony Music
Dean Wilson, CEO, SEVEN20

The task force is set to meet shortly to begin its work with a review of Recording Academy operations and policies across the areas of corporate governance, hiring and promotion, membership, awards, and the Grammy Awards telecast. As Chair, Tchen will develop an operational roadmap for the task force and update the Recording Academy on the group's progress on an ongoing basis throughout the year.

MONICA LEWINSKY has received an apology from Town & Country magazine after they uninvited her to the publication's annual Philanthropy Summit following former President Bill Clinton confirming that he would attend to introduce gun control activist Emma Gonzalez.

Lewinsky, 44, became a headline making household name when it came to light that she had an affair with the married president when she was a 22-year-old White House intern.

"We apologize to Ms. Lewinsky and regret the way the situation was handled," the Hearst-owned publication said in a tweet.

I'm going to make a wild guess that Lewinsky does have hot and cold running water and can aford fresh, nutritious food. Never-the-less, her life was/is ripped to shreds. She was a 22 year old intern. He was the most powerful man in the world, old enough to be her father - and knew better.

Eventually, President Clinton admitted the affair and that he had lied. He survived impeachment, but had the power and resources to destroy Lewinsky's life. She has never been able to fully recover.

The women involved in current pre-White House sexual muck-ups are grown and experienced - yet seemingly lauded as being heroes and have been able to use the headlines to their professional advantage.

Lewinsky now works as an anti-bullying advocate. She's managed to learn - what can be difficult to accomplish - to stand up for herself. After the Town & Country apology she tweeted:

"Dear world: please don't invite me to an event (esp one about social change) and –then after i've accepted– uninvite me because bill clinton then decided to attend/was invited. it's 2018. emily post would def not approve."

"p.s. …and definitely, please don't try to ameliorate the situation by insulting me with an offer of an article in your mag."

COPS HAVING SEX DURING TRAFFIC STOPS has now been officially outlawed in the state of Kansas.

The new law, introduced by Rep. Cindy Holscher, D-Olathe, bans sexual relations "during the course of a traffic stop, a custodial interrogation, an interview in connection with an investigation, or while the law enforcement officer has such person detained."

Gov. Jeff Colyer signed it into law Thursday, May 10, 2018.

Kansas was one of 33 states where consensual sex between police and people in their custody wasn't a crime.

32 to go.

L. A. THEATRE WORKS TO RECORD Leigh Fondakowski's docudrama Spill, about Deepwater Horizon for radio, podcast, online streaming.

Starring Jane Kaczmarek, James Morrison, Gilbert Glenn Brown, and Darren Richardson who will be directed by Martin Jarvus,

When BP's Deepwater Horizon exploded in 2010, eleven men paid the ultimate price and countless thousands who call the Gulf Coast home found their lives irrevocably altered. This powerful work by Emmy Award-nominated writer Fondakowski (head writer of The Laramie Project) goes beyond the headlines to tell vivid personal stories from all sides. Based on interviews, photographs and court documents collected in the aftermath, Spill explores the rich culture of Louisiana's Gulf Coast and the resilient nature of its inhabitants in the face of natural destruction and tragedy. Their stories, told in their own words.

Each of the five performances at UCLA's state-of-the-art James Bridges Theater will be recorded live in front of an audience May 17-20.

Spill is part of L.A. Theatre Works' Relativity Series, presented with major funding from the Alfred P. Sloan Foundation, enhancing public understanding of science and technology.

WALL TO WALL is an eight-hour marathon of music, dance, film, and conversation exploring the many facets of composer-conductor Leonard Bernstein in 2018, his centenary year.

His career included composing scores for West Side Story, On the Town, Wonderful Town, Candide, and other shows.

A few of the events include: A semi-staged production of Bernstein's one-act opera Trouble in Tahiti, with Broadway stars Alexandra Silber and Shuler Hensley, directed by the composer's daughter, Jamie Bernstein.

Bernstein and Dance with Keigwin + Company dancers performing Episodes, featuring orchestral music from the musical On the Town, and Waterfront, set to excerpts to Bernstein's orchestral soundtrack for Elia Kazan's film On the Waterfront.

Conversations with members of the Bernstein family and cultural figures, in addition to historical TV clips featuring Bernstein.

May 19 at New York City's Symphony Space.

TINY HOUSES a comedy by Chelsea Marcantel about what happens when the world shrinks. (if you were thinking of the "tiny homes made popular by series on HGTV, that's precisely the right idea)."

A reading of Tiny Houses will take place on Saturday, May 19, 2018 as part of the New Ground Theatre Festival at the Cleveland Playhouse. Chelsea is one of the 2018 Roe Green Award Winners. Tiny Houses will have a fully staged production at the Cleveland Playhouse March 23 - April 14, 2019.

PRINCE EDWARD, THE EARL OF WESSEX Patron of the Northern Ballet, will attend a May 15, 2018 performance of Jane Eyre at Sadler's Wells Theatre in London.

SEATTLE INTERNATIONAL FILM FESTIVAL (SIFF) is billed as the largest film festival in the U.S. Top directors, actors, and critics attend festival premieres and screenings. May 17 - June 10 at multiple locations.

THE FIRST GRAMMY FESTIVAL IN BEIJING recently took place and was termed a rousing success. Taking place at ChangYang Music Theme Music Park, the event was a partnership between the Recording Academy, Bravo Entertainment and China Music Vision Ltd. The festival played host to a collective of Grammy-nominated -and-winning artists including Daya and her all female band, Macy Gray (who honored China by dressing in red and sporting red hair); James Bay in silver pants, Carly Rae Jepsen, Pharrell Williams and Phoenix who sang in Mandarin a special version of Happy Birthday, for a crew member. One Republic's Ryan Tedder spoke a few sentences in Chinese and pointed out that his T-shirt was adorned with a dog pattern to honor the Chinese year of dog. Chinese artists Williams Chan and Nicolas Tse also join the lineup.

In partnership with Bravo, Grammy Festival China is the Recording Academy's latest initiative. The purpose is to "expose Grammy-winning artists to the extraordinary Chinese culture and provide audiences with a unique, unrivaled live music experience."

Blues JIANG, chairman of Bravo said in a statement that the intention is that the "Grammy Festival will become a breakthrough for traditional music festivals in Asia, elevating not only the music industry, but also in engaging other industries to create a powerful, global intellectual property."

FRIDAY, MAY 18 is National Cheese Soufflé Day and I love Reese's Day. It is also Bike to Work Day to help you burn off the calories from the cheese and candy. On Saturday you can stuff yourself chocolate cake to celebrate National Devil's food Cake Day.





OTHER PEOPLE'S MONEY


RESPONSIBLE SPENDING AS YOU SHOP TILL YOU DROP annually Dubai, Saudi Arabia stages a 3-day super sale in which residents are encouraged to "head to your favorite mall for a Super Sale Weekend of retail fun from May 10-12. Over 300 brands came together to offer shoppers unbelievable discounts and amazing deals across 1,000 outlets with 25 per cent to 90 per cent off.

Just a few of the brands on sale included: Levi's, Armani, Michael Kors, Puma, American Eagle, Splash, Victoria Secret, Alexander McQueen, Pottery Barn, Nine West, Karl Lagerfeld, Escada, Diane von Furstenberg, Brooks Brothers, Crate & Barrel, Bloomingdale's, Bloomingdale's Home, Juicy Couture, Crocs, Foot Locker, Stella McCartney, Moschino, Think Kitchen, Tommy Hilfiger, Skechers, Giorgio Armani, Georg Jensen, among others.

As might be expected, the annual event is on everyone's 'save the date' calendar. Buyers salivate at the thought of bringing home bargains. Simultaneously as the eager to purchase headed out to the mall, UAE residents' received an alert: Warning against excessive spending.

Dr Hashim Al Nuaimi, Director of the Consumer Protection Department, Ministry of Economy called on consumers to "ponder their purchases."

FOR THE FIRST TIME the box office in China surpassed the North American box office in the global film market. As first reported by People's Daily, China's took in $31.76 billion in box office receipts in the first quarter of 2018, versus a box office figure of $28.9 billion in the North American film market.

According to Maoyan, a major Chinese film database and ticketing platform, the 10 highest-grossing films during this period were seven Chinese made films, with only two Hollywood blockbusters - Black Panther and Jumanji: Welcome to the Jungle - ranking eighth and tenth respectively.

Chinese anti-terrorism action film Operation Red Sea topped the chart, becoming the second-highest-grossing Chinese film ever,

The China box office has enjoyed a steady growth. On March 1, 2016 it was reported that for the first time ever in movie history, the monthly receipts at the Chinese box office surpassed those from North America.



E-Book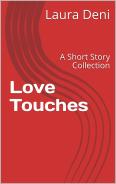 Soft back Book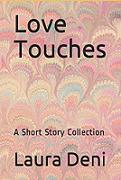 THE OUTER CRITICS CIRCLE the organization of writers and commentators for media covering New York theatre announced its award winners for the 2017-18 season in 27 categories.

Broadway stars Jenn Colella, Jim Dale, Christine Ebersole and Martha Plimpton will serve as gala award presenters at the upcoming 68th Annual Outer Critics Circle Awards ceremony on May 24th at the legendary Sardi's Restaurant.

Celebrating its 68th season of bestowing awards of excellence in the field of theatre, the Outer Critics Circle, is an association with members affiliated with more than ninety newspapers, magazines, web sites, radio and television stations, and theatre publications in America and abroad.

For a complete list of nominees and winners click here

SARAH BARTLO-CHAPLIN a 22-year veteran of arts administration and leadership, has been appointed the seventh President and Chief Executive Officer of State Theatre New Jersey in New Brunswick, NJ. Bartlo-Chaplin comes to the State Theatre from The National Theatre Corporation in Washington, DC, where she served for three-and-a-half years as the Executive Director. Bartlo-Chaplin will assume her duties on August 6, 2018.

THE PRESTIGIOUS KILLAM PRIZE has been awarded to five academics which honor researchers, scientists, doctors and scholars whose body of work has bettered the lives of people. Each receives a $100,000 prize for significant contributions to their respective fields.

Of interest to Broadway To Vegas readers, film scholar Andre Gaudreault of Universite de Montreal, who helped create Canada's first PhD program in film studies, was commended for his research on the influence of technological innovation on the cinematic form.

The Canada Council for the Arts named this year's Killam Prize winners in Ottawa on Tuesday, May 8, 2018.

THE 5th ANNUAL SAN DIEGO high school musical theatre competition takes place on Sunday, May 27 at the Balboa Theatre in San Diego, CA. The competition involves the top 20 nominees for Best Actress and Best Actor. The winning Best Actor and Best Actress performers each receive $1,000 and will be flown to New York on an all expenses paid week of intensive training before they compete in The Jimmy Awards, at Broadway's Minskoff Theatre on Monday, June 25, 2018, for the opportunity to win $10,000 towards a college scholarship.



E-Book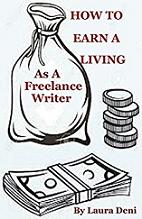 Soft back Book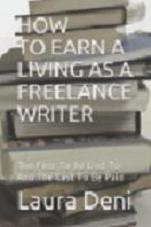 This is not your typical, totally boring textbook.

In the pages of How To Earn A Living As A Freelance Writer (the first to be lied to and the last to be paid) you'll find sex, celebrities, violence, threats, unethical editors, scummy managers and lawyers, treacherous press agents, sex discrimination; as well as a how-to for earning money by writing down words.






KILLER JOE a black comic thriller by Tracy Letts.

Directed by Simon Evans.

Starring Orlando Bloom, making his return to the London stage 11 years after his debut in David Storey's In Celebration portrays a policeman who moonlights as a contract killer.

Set in a Texas trailer park, Killer Joe is about a woman's ex-husband and son who hatch a plan to kill her for the insurance pay-out. They call on Joe Cooper, a police detective and part-time hitman, to get the job done. But when the family can't afford to pay upfront, Cooper suggests more sinister ways in which he could be paid. However, the plan spirals out of control once he enters their trailer home and comes face to face with their innocent daughter, Dottie.

The play will run at Trafalgar Studios, London, from May 18 to August 18, 2018.

LITTLE SHOP OF HORRORS music by Alan Menken. Lyrics and book by Howard Ashman. based on The Little Shop of Horrors by Charles B. Griffith.

Seymour, a nerdy floral clerk, discovers a new peculiar plant with plans for global domination. Can Seymour save the world and get the girl? Find out in the delightfully devious, cult classic, sci-fi musical smash.

Michael Barnard Producing Artistic Director - Vincent VanVleet Managing Director - Robert Kolby Harper Associate Artistic Director - Pasha Yamotahari Associate Producing Director - Alan Ruch Resident Musical Director - Mark Reynolds Director of Production - Karla Frederick Associate Production Manager - Joel Birch Technical Director - Elizabeth Broomall Associate Technical Director - Matt Brown Master Carpenter - Tyler Welden Resident Properties Master - Jillian Horne Assistant Properties Master - Delia Halpern-Graser Scenic Charge - Samantha Monson Production Stage Manager - Michelle Elias Resident Stage Manager - Katherine Roll Lang Assistant Stage Manager - Elizabeth Polley Costume Shop Manager - Paige Meredith Cutter/Draper - Lucinda Koening Wardrobe Supervisor - Daniel Davisson Master Electrician - Rachel Regan Audio Engineer.

May 16, 2018 - June 10, 2018 at the Phoenix Theater in Phoenix, Arizona.

MAC BETH adapted and directed by Erica Schmidt.

Seven young women gather after school to re-tell the story of Macbeth, Shakespeare's epic tragedy about the corrosive effects of ambition. Witches, ghosts, and prophecies drive this dark tale of a Scottish general who believes he is destined to be King of Scotland. And as the girls immerse themselves further and further in this infamous tragedy, the line between real life and bloody fantasy becomes increasingly blurred.

A participant in the Seattle Celebrates Shakespeare Festival May 18 – June 17, 2018 at the Leo K. Theatre of Seattle Rep in Seattle, Washington.

PARADISE BLUE written by Obie Award-winner Dominique Morisseau.

Directed by Tony Award-winner Ruben Santiago-Hudson.

In 1949, Detroit's Blackbottom neighborhood is gentrifying. Blue, a troubled trumpeter and the owner of Paradise Club, is torn between remaining in Blackbottom with his loyal lover Pumpkin and leaving behind a traumatic past. But when the arrival of a mysterious woman stirs up tensions, the fate of Paradise Club hangs in the balance. Paradise Blue is a timely look at the changes a community endures to find its resilience.

The cast includes Obie Award-winner Francois Battiste, Kristolyn Lloyd, Simone Missick, Alphonse Nicholson, Keith Randolph Smith.

The creative team includes Neil Patel (Scenic Design), Clint Ramos (Costume Design), Rui Rita (Lighting Design), Darron L West (Sound Design), Kenny Rampton (Original Music), Bill Sims, Jr. (Music Director), Charles G. LaPointe (Hair & Wig Design), Thomas Schall (Fight Direction). Laura Wilson is the Production Stage Manager. Casting by Caparelliotis Casting.

Presented by Signature Theatre officially opens Monday, May 14 with performances through June 10, 2018 in The Romulus Linney Courtyard Theatre at The Pershing Square Signature Center, New York City.


WHO'S WHERE




ROB LOWE adapting his two best-selling memoirs, is bringing the stage tour of Stories I Only Tell My Friends: Live to the Cadillac Palace Theatre in Chicago for one night only, May 19.

U2 bring their tour to the Forum in Los Angeles for a show on Tuesday, May 15, 2018.

AARON TVEIT who has had starring roles in numerous Broadway shows, including Wicked, Hairspray, Catch Me If You Can and Next to Normal, has a two night stand May 18-19, 2018 at The Smith Center in Las Vegas.

TAYLOR SWIFT performs at the Rose Bowl in Pasadena, CA on Saturday, May 19, 2018.

ROCK THE POPS WITH ALFIE BOE fresh off of Pete Townsend's Classic Quadrophenia tour, British singing sensation Alfie Boe will join the Pops conducted by Keith Lockhart for a program of classic rock & roll hits of Pink Floyd, Queen, The Who, the Rolling Stones, Led Zeppelin and others. The concert also features the Rock the Pops Chorus with student singers from Northeastern University, New England Conservatory, MIT and Tufts, as well as members of the Tanglewood Festival Chorus and the Boston Symphony Children's Choir conducted by James Burton. May 15-16 at Symphony Hall in Boston, MA.

BRIAN SETZER'S ROCKABILLY RIOT performs May 19, 2018 at the Chesapeake Bay Blues Festival in Annapolis, MD.

ED SHEERAN opens a split date on Wednesday, May 16, at Phoenix Park in Dublin, Ireland. He returns on Friday, May 18, for another two nights.

PAUL ANKA the legendary singer and songwriter is celebrating 60 years of hits - including My Way, Diana, and She's a Lady - in the intimate Encore Theater of the Wynn Hotel in Las Vegas May 18 through 26.

LYNYRD SKYNYRD performs May 18 at the Ak-Chin Pavilion in Phoenix, AZ. On May 19 the tour stops at the Mattress Firm Amphitheatre in Chula Vista, CA.

BRIAN WILSON'S PET SOUNDS 50th ANNIVERSARY WORLD TOUR comes to North Charleston Performing Arts Center in North Charleston, SC on Tuesday, May 15, 2018. Wednesday's stop is in Augusta, GA at the Bell Auditorium. Friday's performance is in Clearwater, FL at Ruth Eckerd Hall. On Saturday, he'll be playing his hits in Viera, FL at the Space Coast Daily Park. Next Sunday, May 20, the performance is in Pompano Beach, FL at the Pompano Beach Amphitheater.

THE DOWNTOWN GLEE CLUB New York City's Male Chorus, under the baton of Grant Mech, tips its collective hat to legendary Broadway producer Hal Prince in its annual Spring Concert, entitled Prince of the City, also featuring special guest, mezzo soprano, Amy Maude Helfer. Thursday, May 17, 2018 at The Baruch Performing Arts Center, New York City.


FINAL OVATION


KRISTIN HARMON NELSON an American primitive painter, actress and author, once married to the actor and musician Ricky Nelson suddenly "died unexpectedly" on April 26, 2018 according to a posting by her daughter Tracy Nelson. She was 72 and over the years had suffered from several medical issues.

The daughter of the American football star Tom Harmon and the actress Elyse Knox, she is the older sister of model-actress Kelly Harmon and actor Mark Harmon. She married Nelson in 1963 and joined their family television show.

Harmon and Nelson had four children. Tracy Kristine Nelson, twin sons Gunnar Eric Nelson and Matthew Gray Nelson who, shortly after their father's death, formed the band Nelson, which is on tour; but following their mother's death won't return to performing until May 30. Their fourth child is Sam Hilliard Nelson,

In 1987, two years after Nelson's death, Harmon underwent drug rehabilitation.

In 1988, she married Mark Tinker, who encouraged her to paint. Her brightly colored primitives found favor with Jacqueline Kennedy and Mia Farrow, among other celebrities, and they form the basis of her coffee-table autobiography Out of My Mind.

Her marriage to Tinker ended in divorce in 2000. She is survived by her children and their families; brother Mark Harmon, sister Kelly Harmon and sister-in-law Pam Dawber.






E-Book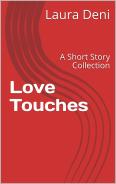 Soft back Book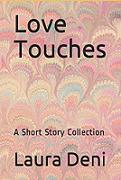 Next Column: May 20, 2018
Copyright: May 13, 2018 All Rights Reserved. Reviews, Interviews, Commentary, Photographs or Graphics from any Broadway To Vegas (TM) columns may not be published, broadcast, rewritten, utilized as leads, or used in any manner without permission, compensation and/or credit.
Link to Main Page
---
Laura Deni



For the snail mail address, please E-mail your request.
CLICK HERE FOR COMMENT SECTION