! >
Broadway To Vegas
  
  REVIEWS INTERVIEWS COMMENTARY NEWS

| | |
| --- | --- |
| | |
2012 BROADWAY PRESENTS A MIXED OFFERING - - THE MANY FACES OF GEORGE WASHINGTON - - ELTON JOHN HAS AN UNUSUAL WEEK - - MODEL B.SMITH PROVES IS OKAY TO HAVE BRAINS AND AN APPETITE - - THE BROADWAY LEAGUE LAUNCHES VIVA BROADWAY - - IT'S NOT AN APOLOGY WHEN YOU USE THE WORD 'IF' - - DICK CLARK'S TIME SQUARE MEMORY WALL FILLING UP - - FRED ASTAIRE AND IRVIN BERLIN'S DAUGHTERS APPLAUD TOP HAT - - DONATE . . . Scroll Down


Copyright: May 13, 2012
By: Laura Deni
CLICK HERE FOR COMMENT SECTION

2012 BROADWAY PRESENTS A MIXED OFFERING


Jennifer Tilly, the humorous Ben Daniels and Spencer Kayden in the Roundabout Theatre Company's Don't Dress For Dinner. Photo credit: Joan Marcus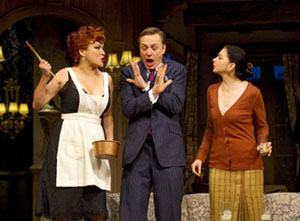 In a continuation of last week's stroll down The Great White Way ( See Broadway To Vegas column of May 6, 2012 ) Broadway To Vegas reviews some of the productions which have earned at least one nomination, in a variety of categories, presented by several theatrical organizations.

Don't Dress for Dinner is a revival of a French farce by Marc Camoletti; adapted by Robin Hawdon; directed by John Tillinger at the American Airlines Theatre.

Middle-aged married man Bernard (Adam James) is having an affair and so is his wife Jacqueline (Patricia Kalember). A cook Suzette (Spencer Kayden) takes the place of mistress Suzanne (Jennifer Tilly) while best friend Ben Daniels (Robert), become an alibi. David Aron Damane as George portrays the cook's husband.

There are better farces on Broadway - namely One Man Two, Two Guvnors, but this production has a cast that makes this a don't miss show - namely Jennifer Tilly and Spencer Kayden.

Set in a French countryside home in 1960 the lovely living room by John Lee Beatty (which I could blissfully live in), the six person play has more than capable actors, including poker champ Jennifer Tilly who is returning to Broadway after an absence of 10 years.

However, if it wasn't for Kayden the show would have been a fallen soufflé. Thanks to Kayden who invokes a nasal French accent and deadpan to tolerate expressions, Kayden provides constant laughter and an amazing ability to entertain. She's a physical comedian/dancer – a cross between Imogene Coca/Mimi Hines and any Dancing with the Stars mirror ball winner. Kayden won praise in her Urinetown performance, but this should be her breakout role. If it isn't don't blame her, blame the kingmakers and critics who didn't show, or the ones who fell asleep, just as the one sitting next to me who, at one point, dozed off. Blame the script. There are a couple of spots where the production stalls and a farce should never drift into dull.

William Ivey Long is such a pro he could design with his eyes closed. He obviously kept his imagination wide open when he created a couple of the costumes for this show. A maid's uniform which turns into a sexy evening dress is quite an accomplishment and received it's own well deserved round of applause. A balloon hem, two tier dinner dress worn by cheating wife (Jacqueline) Patricia Kalember is also spot on 1960s.

Well lit by Ken Billington and well balanced sound by David Van Tieghem.

Hair and wig design by Paul Huntley; fight director, Thomas Schall; production stage manager, Barclay Stiff. Presented by the Roundabout Theater Company at the American Airlines Theater, through June 17.



Bryonha Marie Parham, Norm Lewis and NaTasha Yvette Williams in The Gershwin's Porgy and Bess. Michael J. Lutch/Jeffrey Richards Associates Public Relations
The controversial revival of Gershwin's Porgy and Bess currently mounted at the Richard Rodgers Theatre has music by George Gershwin. Book by DuBose and Dorothy Heyward; adapted by Suzan-Lori Parks and Diedre L. Murray. Lyrics by the Heywards and Ira Gershwin. Directed by Diane Paulus.

It's a stage full of blue ribbon talent.

Dynamitic and dramatic, the Reader's Digest production opens with an rich overture conducted by Constantine Kitsopoulos. The first glorious voice heard comes from Nikki Renee Daniels as Clara singing to her baby the iconic Summertime. She made her New York City Opera debut in this role and has the voice of an angel. Joshua Henry as Jake lets it be known that A Woman is a Sometime Thing. Henry received a Tony nomination for his role last season in The Scottsboro Boys.

Another showstopping voice belongs to Bryonha Marie Parham who as widow Serena wails My Man's Gone Now.

Audra McDonald is the name that is selling the tickets. Her name is above the title - as are those of Norm Lewis and David Alan Grier. However, McDonald doesn't appear until the seventh song and that has her singing Leaving for the Promised Land with the ensemble.

McDonald has become a Broadway legend. She's already won four Tony Awards - twice for musicals and twice for plays. That's a force to be reckoned with. Her performance as Bess is no exception.

It's unfortunate that her character isn't given more depth and her relationships with both Porgy and Crown fully developed.

In this folk opera McDonald sings only three numbers. Besides Leaving for the Promised Land, her powerful voice teams with (and overpowers) Porgy played by Norm Lewis for Bess, You Is My Woman Now, and then with Crown on What You Want With Bess? and last of all again with Porgy on I Loves You Porgy.

What makes McDonald a standout in a role which has few vocals and limited stage time is that voice and her acting. Bess is a complex role to carry off. McDonald is dynamic. She has some very rough and intense rape scenes, which are difficult by themselves to act out. The rape scenes demand violent, tough performances. The scenes are so realistic and strenuous that it would be easy for McDonald to suffer a bruised - of not a cracked - pelvis. Under her long dress, McDonald seems to be wearing lace trimmed, gym type bloomers which could conceal - for want of a better description - a heavily padded chastity belt. The scenes are brilliantly choreographed with the fight captain listed as Lisa Nicole Wilkerson and the Fight Director is J. Steven Wright.

Throughout the harsh scenes Audra McDonald is expected to sing - which still does - flawlessly. She also makes it look easy.

Norm Lewis as Porgy proves the part doesn't need to be played on one's knees. Porgy has been raised from a goat cart to a man with a deforming limp who needs a leg brace. However, the differences between Bess and Porgy were more dramatically poignant in the goat cart version.

The valid criticism is that, in bringing to life this revised, slimmed down version of Porgy and Bess, the secondary characters become the ones the audience really cares about, such as loving but doomed parents Joshua Henry as young fisherman Jake and Nikki Renee Daniels as Clara or Bryonha Marie Parham as the widow Serena.

Then comes feelings for Porgy - although he isn't as fleshed out as he could be. Bess is never truly understood. She seems to want a normal life, but doesn't really respond when decent Porgy saves her. She's into snorting coke to the point of choosing the drug over a baby. Ex-lover, a stevedore who is a bully named Crown, still has a hold over her - a hold which is never thoroughly explained. Bess has had a rough life, but there is nothing to make the audience understand those circumstances or have compassion for her.

Crown played by Phillip Boykin is a menacing role men love to play though few have the ability. In this production the role is perfectly cast.

Drug dealer Sportin' Life played by David Alan Grier tears up the place with There's A Boat That's Leaving Soon.

NaTasha Yvette Williams is the maternal spine of Mariah who holds the community together.

The pastel costumes by ESosa are a lovely balance for the dark existence led by the poor black inhabitants of Catfish Row in Charleston, S.C.

Riccardo Hernandez's scenic design of drab plywood sets speak to the bleakness of their lives. Excellent sound by Acme Sound Partners and effective lighting by Christopher Akerlind.

The performers include: J.D. Webster, Nathaniel Stampley, Christopher Innvar, Joseph Dellger, Andrea Jones-Sojola, Phumzile Sojola and Cedric Neal.

The Women of Catfish Row are; Allison Blackwell, Heather Hill, Alicia Hall Moran, Lisa Nicole Wilkerson.

The Fisherman are: Roosevelt Andre Credit, Trevon Davis, Wilkie Ferguson III.

New orchestrations by William David Brohn and Christopher Jahnke. Music supervisor, David Loud; music coordinator, John Miller.

Members of the orchestra include: Kathy Fink, Lynne Cohen, Steve Kenyon, Jonathan Levine, Jill M. Collura, Nick Marchione, Dan Urness, Keith O'Quinn, Jennifer Wharton, R.J. Kelley, Eric Davis, Belinda Whitney, Orlando Wells, Karl Kawahara, Philip Payton, Crystal Garner, Liuh Wen Ting, Sarah Seiver, Summer Boggess, Bill Ellison, Charles Descarfino, Paul Masse.



Mary Testa in Queen of the Mist. Photo by Carol Rosegg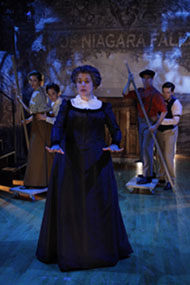 Queen of the Mist (now closed) is a fascinating, tuneful musical with clever words and smart, interesting music by Michael John LaChiusa. The score is not only intelligent but more toe-tapping playful than previous LaChiusa creations.

Insightful direction by Jack Cummings III; choreography by Scott Rink; musical direction by Chris Fenwick; orchestrations by Michael Starobin which permit 6 musicians, which includes a French horn, to sound like an orchestra.

This is a world premiere musical, based on an astounding and outrageous true story. Two-time Tony nominee the formidable Mary Testa stars as Anna Edson Taylor, (1838-1921) who, in 1901, as a struggling 63-year-old schoolteacher, set out to be the first woman to shoot Niagara Falls in a barrel of her own design - and lived to tell about it.

To her despair she discovers that her 15 minutes of tabloid fame pass all too quickly.

Along the way she makes an odd acquaintance - Leon Czolgosz, (Tally Sessions), who assassinates president William McKinley. The 25th President of the United States was assassinated on September 6, 1901, inside the Temple of Music on the grounds of the Pan-American Exposition in Buffalo, New York. McKinley was shaking hands with the public when he was shot by Leon Czolgosz, an anarchist. The President died on September 14 from gangrene caused by the bullet wounds. Czolgosz's 15-minutes of fame ended with his execution.

Seen last November, this short run production was presented by the Transport Group, at the Gym at Judson Memorial Church on Washington Square. Queen of the Mist was commissioned by Transport Group Theatre Company and was the first production of Transport Group's ten-year cycle, The 20th Century Project, exploring themes from each decade in the 20th century. The show takes place during the first decade, 1900 –1910.

In addition to the strong, full-bodied, determined performance by Testa, the production featured, Andrew Samonsky delivering an excellent performance as Taylor's manager Frank Russell, the talented Tally Sessions, Theresa McCarthy as Anna's sister as well as a Second Act stand out character, Jule Murney as Carrie Nation, Stanley Bahorek, and DC Anderson.



Suzie Toase, Oliver Chris, James Corden and Jemima Rooper in One Man, Two Guvnors. Photo credit: Joan Marcus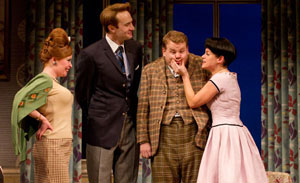 One Man, Two Guvnors currently playing on Broadway at the Music Box Theatre by Richard Bean, directed by Nicholas Hytner, starring James Corden, is based on Carlo Goldoni's The Servant of Two Masters and features songs by Grant Olding.

It's one of the funniest farces to ever play Broadway. Impossible not to laugh your cares away with this gem of a British import.

James Corden is an enormous talent. With a face like a marshmallow he has the ability to take the most harden soul and reduce them to fluff. He last appeared on Broadway in The History Boys but in this production he owns the show.

Corden plays the constantly hungry Francis Henshall who is attempting to work for two bosses. Everyone else in the production is of Corden's caliber. From directing, acting, lighting, costumes and staging, this is a pure delight. Granted, it's an English low brow type of comedy, but when it's done with pure wit and intelligence, smartly written, directed and acted, then it gleefully entertains an American audience.

Featuring Oliver Chris (Stanley Stubbers), Jemima Rooper (Rachel Crabbe), Tom Edden (Alfie), Martyn Ellis (Harry Dangle), Trevor Laird (Lloyd Boateng), Claire Lams (Pauline Clench), Fred Ridgeway (Charlie Clench), Daniel Rigby (Alan Dangle), Suzie Toase (Dolly) and Ben Livingston (Gareth).

This is a physical comedy production and the physical comedy director Cal McCrystal needs recognition. Wonderfully designed by Mark Thompson; lighting by Mark Henderson; sound by Paul Arditti.

The band dubbed the Craze (Jason Rabinowitz, Austin Moorhead, Charlie Rosen and Jacob Colin Cohen, singing numbers by Grant Olding), has its own morphability and is captivating.





Broadway To Vegas is supported through advertising and donations. Priority consideration is given to interview suggestions, news, press releases, etc from paid supporters. However, no paid supporters control, alter, edit, or in any way manipulate the content of this site. Your donation is appreciated. We accept PAYPAL. Thank you for your interest.



ART AND ABOUT


THE MANY FACES OF GEORGE WASHINGTON This exhibition, made up of interpretive panels, looks at Washington's leadership in seven sections:

Virginia Childhood, Risk Taker, Realistic Visionary, Wise Decision Maker, Impassioned Learner, Visionary Entrepreneur and At Home in Mount Vernon.


Learn background information and gain insight into our nation's first president, a man whom many recognize but few know much about.

Spanning Washington's entire life, the exhibition focuses on the traits that made him a beloved leader and the choices that helped establish a stable democratic government.

May 18, 2012 - June 25, 2012 at the Museum of Art & Sciences in Daytona Beach, Florida.


SWEET CHARITY


2012 STATE THEATRE BENEFIT GALA Michael Feinstein, the multi-platinum-selling entertainer dubbed The Ambassador of the Great American Songbook, performs with his 5-piece band.

Concert at State Theatre in New Brunswick, NJ with the Reception & Dinner/Dancing at The Heldrich.

Benefit Gala 2012 Chairs are Ann H. Asbaty, COO, Cigna National Segment and Efrem B. Dlugacz, Vice President, Global Benefits and Health Resources Johnson & Johnson.
Saturday, May 19, 2012.

PREMIERE GALA: DESTINATION the annual fundraiser for the Pasadena Playhouse, touted as "the best party in Pasadena," will be held at the private home of Playhouse Board member Stephen Bennett and his wife Chantal Bennett in San Marino on Saturday, May 19, 2012.

This year's event will honor two "jewels" - Playhouse Board Chair Michele Dedeaux Engemann and The Pasadena Playhouse. Gala Chair Sheila Grether-Marion and The Playhouse Board of Directors spearhead this gala event which will sparkle with cocktails, a seated dinner catered by The Kitchen For Exploring Foods, dancing and live entertainment provided by Wayne Foster.

URBAN STAGES 28th ANNUAL BENEFIT celebrating The American Musical honoring Sondra Gilman & Celso Gonzalez-Falla.

Cocktails, Boat Rides, Dinner, Auctions & Dancing.

Promising "Good Times for a Good Cause: Supporting Diverse Artists & Bringing Theater and Education All Over NYC."

Central Park Boathouse May 21, 2012.

A HERO THEATRE BENEFIT PERFORMANCE of King Lear, starring Academy Award winner Olympia Dukakis in the title role takes place May 21 at the Harold and Miriam Steinberg Center for Theatre/Laura Pels Theatre in New York City.

Austin Pendleton will direct a cast featuring special guest artists performing alongside Hero Theatre company members.

Dukakis is Chair of Hero Theatre's Advisory Board.Hero Theatre was founded in August 2011 by Elisa Bocanegra, artistic director, and producing director Anya Migdal. Hero Theatre's mission is to "build bridges between various cultures by way of the classics."

Hero Theatre presents classical plays, as well as modern plays inspired by the classics, using an ensemble of actors representing the ethnic and economic diversity in America.

The upcoming benefit is part of Hero's fundraising efforts to present its first full-scale production, a world-premiere of a new translation of Anton Chekhov's Three Sisters, translated by Russian writer Tatyana Tolstaya and playwright Migdalia Cruz.


GLAM MODEL B.SMITH PROVES IS OKAY TO HAVE BRAINS AND AN APPETITE
B. Smith stands in front of some of her magazine covers in her Manhattan restaurant. Photo: Laura Deni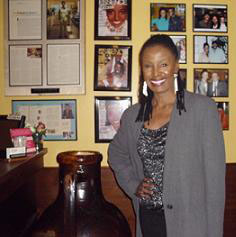 Usually the words 'model' and 'food' are an oxymoron.

Not if you are Barbara Smith, known as B Smith - also known as a role model.

Girls - take note. It is possible to have beauty, brains, success on your own terms, a wonderful husband - and to enjoy a good meal. Try eating at B Smith on Restaurant Row which is 46th Street between 8th and 9th Avenue in New York City.

B. Smith is a fashion model who has graced the covers of 15 magazines, including Mademoiselle, becoming the first African-American woman on its cover in July 1976.

Today her face can be seen on Betty Crocker and Pillsbury products and, in addition to a recent TV commercial for Mercedes-Benz, she currently serves as spokesperson for Colgate Palmolive Oxy products and in the past, McCormick's Lawry seasonings.

She also owns three successful restaurants - in New York City, in the scenic Long Island Hampton Village of Sag Harbor, which celebrates the start of its 15th year today, Mother's Day 2012 and in historic Union Station area of Washington, DC.

The Washington location has a particular significance for Smith.

That Union Station restaurant's dining room, a national landmark, was designated as the Presidential Suite, where US presidents would wait for their trains before the advent of Air Force One.

When Smith opened that restaurant her father broke down and cried.

They weren't tears of joy, but drops of memories.

When he returned from fighting in World War II, the veteran Army officer wasn't allowed to eat in that Union State Restaurant because he was black.

That restaurant under his daughter's ownership celebrated its 18th anniversary last October.



Chef John Poon combines his Asian background with a mixture of old world and new world influences.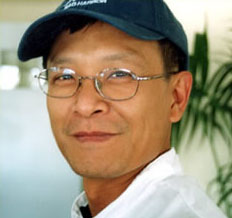 John Poon serves as Executive Chef of the New York and Sag Harbor restaurants.

For 15 years he served as Head Chef and Executive Chef for two 400 plus seat restaurants, America in New York City and the well known waterside retreat, Sequoia, in Washington, DC's Georgetown area. He sees cooking as an art form. As a native of Hong Kong who has studied both classic French and American cuisines, Chef Poon combines his Asian background with a mixture of old world and new world influences.

I was fortunate to eat in the Manhattan eatery.

In fact, I ate as though I had never before had a meal.

B. Smith's was where Denzel Washington read the script for the 1992 film Malcolm X, and where Robert De Niro held the opening party for his 1993 movie A Bronx Tale.

Phantom of the Opera celebrated its 15th birthday in style - with an intimate party at B. Smith's. Regular diners have included August Wilson, Danny Glover, Sidney Poitier, Luther Vandross, Aretha Franklin, Angela Bassett, Liza Minnelli, singer and producer Al B. Sure and Rev. Francis Gasparik, the pastor of St. John's Roman Catholic Church on West 31st Street. He likes the atmosphere, the food and the wine list.

B. Smith is a fan of Broadway having even made her Off-Broadway debut in the hit play Love, Loss, and What I Wore, for an April 27 through May 29, 2011 run with Conchata Ferrell, Anna Lynne McCord, Anne Meara, and Minka Kelly.

She enjoys serving those who are seeing Broadway shows and offers a 20% discount to anyone who shows their ticket stub from A Streetcar Named Desire, Sistas, Priscilla-Queen of the Desert, Bessy Smith-The Devil's Music, My Sinatra, Voca People, Sister Act, Avenue Q, Chicago, Jersey Boys, Memphis, The Phantom of the Opera, Mamma Mia! or Rock of Ages.

The restaurant with a classy ambiance is billed as Southern, which immediately conjured up thoughts of 'fried' and 'greasy'.



From the Brunch Menu. Photo B. Smith Restaurant Group.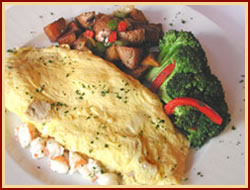 One of the menu items - Fried Green Tomatoes - has a reputation of being served either over cooked fried and greasy, or hard as a rock fried and greasy. Smith's Fried Green Tomatoes with aged ricotta cheese and roasted red pepper aioli are elegantly presented. The first bite had the table - almost in unison - going 'yummm.' Cooked to perfection, tasty, without a bit of grease either on the food or plate.

There is $35 prix fixe 3 course menu in addition to the regular menu which runs the gamut from fried mac-and-cheese nuggets to a variety of healthy salads, including some gluten free selections, to Southern soup - Swamp Thing - which is a creamy soup with greens, shrimp, scallops and crawfish with crunchy string beans on top.

There are generally two ways to tell if a cook knows their way around a kitchen. Have them fry an egg or cook meat well done.

Nobody in the kitchen even flinched when it was requested that a fillet mignon be served well done. It was cooked to perfection, extremely tender, moist and delicious. The salmon with pomegranate BBQ sauce, sautéed broccoli and roasted red skin potato held together but was easily put onto the fork. The greens looked lovely, were fresh and flavorful.

The desserts are off the charts good - warm Bourbon Street Bread Pudding with vanilla ice cream, a trio of sorbets including the best coconut sorbet I've ever tasted and a raspberry and a mango sorbet which should be award winning.

The dining room features an upstairs wrap-around balcony of tables. Muted yellow coloring, dark wood accents, and magazine covers of Smith framed on the walls over two levels.

Even the dinnerware was created by B. Smith with Style Home Collection and is sold exclusively at Bed Bath & Beyond.

Between courses I spoke with the lady who is a walking example that beauty can have brains, business sense, a happy home life - and eat a balanced diet.

Smith was raised in Everson, Pennsylvania "where people make their own root beer and have pear trees," she recalled.

Always a beauty, as a teen she was offered a career in modeling but when she informed her former steelworker, Army officer father that she wanted to go to modeling school he said - "No!"

"I have brothers who are extremely religious," she explained. Putting her brains to work she re-approached the situation, this time presenting it as an opportunity to attend "finishing school," where she would be taught proper manners.

She received her father's blessing.

Smith was then rejected by the Wilhelmina modeling agency - three times.

Displaying the same ingenuity and tenacity that is her signature style, she directly contacted Wilhelmina and convinced the modeling agency icon to have Wilhelmina photographers shoot her portfolio. That was the door opener.

The success was of her own doing:

B. Smith is the first African American woman to:

Write a hardcover tabletop cooking and entertainment guide, B. Smith Entertaining and Cooking for Friends (1994).
Have a line of home products distributed nationally by Bed, Bath & Beyond (2001).
Be on the board of directors of the Culinary Institute of America.
To have a nationally syndicated television lifestyle show, B. Smith with Style which aired on NBC stations in more than 90% of the U.S. and in 40 countries for 8 years (1997).
To have a complete furniture collection, distributed nationally (2009).



B. Smith stands in front of the wrap around bar in her Manhattan restaurant. Photo: Laura Deni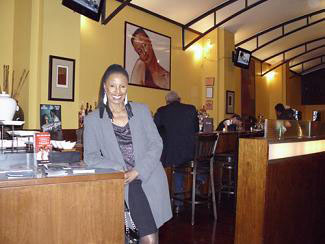 Smart enough to know that modeling wouldn't last forever, in 1975 she began thinking about the restaurant business, which was really reverting back to her childhood.

"My mother and grandmother were great cooks who taught me a lot, and I had been doing some catering for people in New York. So I wanted to go to the next step, to promote my catering business. But the idea of a restaurant really captivated me, and I loved the fact that restaurants are entertainment."

She opened her first restaurant in 1986 which is where she struck up a conversation with a diner who would become the man she married. Dan Gasby was in the television business becoming General Sales Manager of WAWS-TV in Jacksonville, Florida. In 1985, Gasby joined Camelot Advertising Sales, a division of KingWorld Entertainment, as an Account Executive in the National Barter Syndication division, where he sold Wheel of Fortune, Jeopardy and the Oprah Winfrey Show, the three most successful shows in the history of TV syndication.

In 1989 Dan Gasby successfully completed the transition from television sales to production as Creator and Co-Executive Producer of Big Break, a musical variety show hosted by Natalie Cole, and a forerunner to American Idol.

B Smith and Dan were married December 22, 1992 at nearby St. Luke's Lutheran Church. The New York Times covered the wedding in which afterward, the guests walked back to B. Smith's in a wedding parade led by several police officers from the neighborhood beat, carolers, the groom and the bride, who wore a ball gown the color of champagne roses and sparkly sequin-covered gloves.

At the reception, held in the Rooftop Cafe at B. Smith's, guests ate a dinner of pigeon peas, sauteed greens and jerked duckling while the balladeer Wil Downing stood in a single spotlight and crooned one love song after another. In 2010, Smith and Gasby renewed their vows in Hawaii.

As Chairman of B. Smith Enterprises Ltd., Dan oversees the day to day operations for all three B. Smith restaurants.

Born in 1949, B. Smith, looks decades younger than her on paper age. She takes care of herself.

"We make sure to juice with fresh fruits and vegetables on a regular basis; drink lots of water and exercise daily. In addition, it is very important to keep a positive outlook on life and whatever you do - do it with style!"

B. also "fasts once a month" and stresses the importance of "understanding portion control."

If she has a hamburger B. will only eat one bun. She understands that she can give herself treats but not over due it.

That doesn't mean everything has been roses without the thorns. Last year the New York eatery was almost forced to close because of union problems.

In a widely covered dispute, B Smith on Restaurant Row is a leased location in a building run by Local 1 of the stagehands union - IATSE.

Last year it was announced that "with the lease expiring in February (2012), the union wants to increase the rent 350 percent - from around $13,500 a month to about $50,000, going up to $60,000 a month within five years," reported both the NY Post and the NY Times. "This enormous increase has many believing that the same union that saw its membership grow as a result in the popularity of the pre-and post-theater dining location is purposely muscling Smith out of the distinct," charged the NY Post who indicated "the union didn't return calls for comment."

Smith and Gasby are currently in negotiations with IATSE over the Restaurant Row location.

The restaurant in the Times Square District celebrated the beginning of its 25th anniversary November 2011. Hopefully, there will be more to come.


DICK CLARK TIME SQUARE WALL COLLECTING MEMORIES
The Dick Clark Memorial is filling up with fans leaving handwritten messages of their Dick Clark memories. Photo: Laura Deni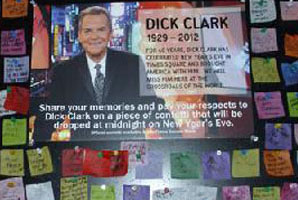 The Dick Clark Memorial is located in the middle of the wall where visitors can write their New Year's wishes. Photo by Laura Deni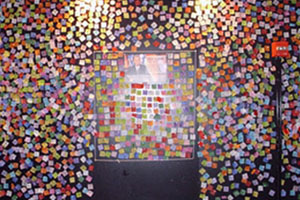 The Times Square Museum and Visitor Center is honoring the man of Times Square himself, Dick Clark. The Times Square Alliance has reserved an area on the New Year's Eve Confetti Wall for fans, New Yorkers, and visitors alike to express their condolences and share their memories of the broadcast legend who died Aril 18, 2012. He was 82.

He also hosted Dick Clark's New Year's Rockin' Eve, which transmitted Times Square's New Year's Eve celebrations worldwide

Fans have been flocking to hand write messages on one inch squares of colorful paper, and then affix them with a colored pin to a wall which also encourages visitors to write their New Year's wishes for the coming year. All messages will be featured in the one ton of confetti that will bring in 2013 at the stroke of midnight on New Years Eve.

Clark was noted for hosting Dick Clark's New Year's Rockin' Eve, which transmitted Times Square's New Year's Eve celebrations worldwide.

"For 40 years, Dick Clark has been an iconic part of New Year's Eve in Times Square, and we are encouraging New Yorkers and visitors to help us honor his legacy by sharing their messages and memories on our New Year's Eve Confetti Wishing Wall, Dick was instrumental in making New Year's Eve at the Crossroads of the World what it is today. We remember and honor Dick for his lasting contribution to Times Square and his ability to bring us together every year to welcome in the New Year." - Tim Tompkins, president of Times Square Alliance.


THE BROADWAY LEAGUE LAUNCHES VIVA BROADWAY
Raul Esparza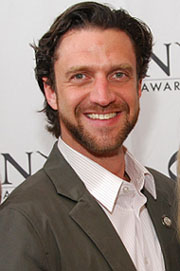 The Broadway League has created Viva Broadway, a new audience development partnership with the Hispanic community, to help bridge the world of Broadway with Latino audiences around the country.

The long-term initiative aims to increase awareness about Broadway while culturally enriching lives, bringing families together, and building new careers in the theatre.

A National Advisory Board of industry and cultural notables has been formed to help strategize and spread the word about all that Broadway has to offer this growing and vibrant community.

Charlotte St. Martin, executive director of the Broadway League states, "Broadway is a live art form that is about creating emotions and developing a connection with audiences across the world, and this connection is enhanced when families come to Broadway together. Our mission of attracting more people to Broadway is particularly applicable to a community whose culture appreciates and values family activities shared by multiple generations together."

Carlos Manzano, executive director of New York City's Latin Media and Entertainment Commission states, "Our mission is to make New York City the capital of Latin media and entertainment. And this great Commission is proud to endorse the Broadway League's Viva Broadway initiative to bring the world of Broadway to the Latin community."

The most burgeoning growth demographic, Hispanics comprise 5.5 million of the population in the NY/NJ tri-state area and over 50 million in the U.S. and growing. However, this vibrant audience is not represented in a similar proportion in attendance on Broadway in NYC and across the country.

The goal is to draw from an untapped market while making Broadway more relevant to Hispanic families and their lifestyles. Viva Broadway will create Broadway Speakers Bureaus and workshops in order to expand awareness of jobs in the theatre to high schools and colleges.

Upcoming goals include national test pilot programs in Los Angeles, Nashville, Miami, Dallas/Ft. Worth; Broadway Speakers Panel and education initiatives; media partnerships; sponsorship opportunities and corporate support; brand ambassadors and the launch of a Viva Broadway Week.



Karin Olivo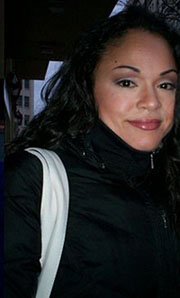 The Viva Broadway Advisory Board will be chaired by Jack Rico, Editor-in-Chief ShowBizCafe.com. His board includes: Luis Alvarez, Founder of The Wonderland Group - Lucie Arnaz, Actor/Board Member of American Theatre Wing - Rosie Berrido, Actor - Repertorio Español / Audiobooks narrator (US Library of Congress) - Carolina Casares, Editor-in-chief, Yahoo! Hispanic Americas - Felix Cisneros, Media & Content Technology Executive - Raúl Esparza, Actor - C. Raúl Espinoza, Theatrical Marketing Consultant - Gabriela Garcia, Co-Director, R.Evolución Latina - Marcela Gómez, Founder and President, Hispanic Marketing Group, Nashville - Maria Cristina Gonzalez Noguera, Vice President of Public Affairs, Global Communications at The Estée Lauder Companies Inc. - Linda Guerrero, 42 West, Managing Director, Targeted Marketing Group - Jackie Hernández, Chief Operating Officer of Telemundo - Leon Ichaso, Movie Director and Writer - Mari Rodriguez Ichaso, Corporate Editor at Televisa Publishing - John Leguizamo, Writer/Actor - Monique Manso, Publisher, People en Español - Bianca Marroquin, Actor - Luis Miranda, Political Consultant - Lou Moreno, Artistic Director INTAR Theatre - Noelia Rodriguez, Communications - Karin Olivo, Actor - Chita Rivera, Actor - Luis Salgado, Director and Founder, R.Evolución Latina - Carlos Sanchez, President & General Manager Telemundo NY - Gustavo Santaolalla, Musician/ Composer - Jamie-Lynn Sigler, Actor - Sergio Trujillo, Dancer and Choreographer - Yul Vasquez, Actor and Artistic Director for the Labyrinth Theater Company - Carmen Wong Ulrich, President and Co-Founder, ALTA Wealth Management - Gabriela Zabalúa, Vice President and Editor-in-Chief of AARP VIVA Multimedia Properties - Marco Zunino, Actor.


SPREADING THE WORD


ELTON JOHN had a melt down on stage Friday night at Caesars Palace. The show started late, had John throwing water bottles, chairs and firing his entire management team. The show then ended early. People in the showroom couldn't tweet and phone fast enough. Some thought it was part of the act, some thought he was both mad and serious.

It's been a mixed bag week for Sir Elton.

John was in a good mood when he took his son on rides at the San Gennaro Festival in Las Vegas. Butler Amusements posted an announcement that: "The two took a spin on Michael Jacksons Ballon Samba!" They also posted a picture of Elton with a broad smile.

But also a week ago a Cape Town, South African filed a lawsuit in American claiming that John plagiarized his song lyrics.

Guy Hobbs claims that the John/Bernie Taupin song Nikita contained similar lyrics to a song he wrote called Natasha. That was some time ago.

Hobbs said he waited more than 25 years to bring the matter into the legal arena because he hoped the pair would offer him a settlement.

THE PRESENTATION OF THE 2012 LIBRARY OF CONGRESS GERSHWIN PRIZE FOR POPULAR SONG

President Barack Obama awards the 2012 Library of Congress Gershwin Prize for Popular Song to legendary composer and performer Burt Bacharach at a concert honoring Bacharach and fellow prize winner Hal David, in the East Room at the White House. Photo: Pool/Getty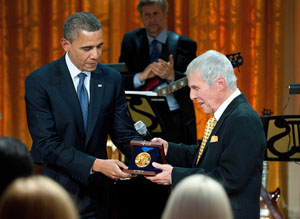 honoring Burt Bacharach and Hal David, took place Wednesday, May 9, in the East Room of the White House.

President Barack Obama applauded after presenting songwriter Burt Bacharach with a 2012 Library of Congress Gershwin Prize for Popular Song during the event titled In Performance at the White House.

The concert spotlighted singers Stevie Wonder, Lyle Lovett and Sheryl Crow and actor Mike Myers, who featured Bacharach in his Austin Powers movies.

President Obama called the composers "two kings of songwriting."

Librarian of Congress' James H. Billington also honored Bacharach and David.

Bacharach, 83, thanked Obama, saying the award for his life's work surpassed even the Oscars and Grammys he won for individual projects. David, 90, wasn't able to attend because he is recovering from a stroke. His wife, Eunice David, accepted on his behalf.

PBS will broadcast the all-star White House concert on May 21.

The prize - the nation's highest prize for popular music - commemorates George and Ira Gershwin the songwriting team whose manuscript collections reside in the Library of Congress.

A CONVERSATION WITH CONAN O'BRIEN who discusses the art of comedy takes place Thursday, May 24, at the JFK Library in Boston.

URBAN STAGES FREE READING OF THE RUBBER ROOM by Ruth McKee takes place Tuesday, May 22, 2012 at Urban Stages in NYC.

When a school bully commits suicide, students point to the harsh remarks of teacher Mark Hunter as the cause. Despite claiming he was simply coming to the defense of another student being bullied, Mark faces the potential loss of his job. He is sent to "The Rubber Room," a facility for teachers facing termination, where he attempts to prove his innocence to others and to himself.

L.A. THEATRE WORKS RECORDS OPUS by Michael Hollinger featuring Jonathan Adams, Kevin Chamberlin, Jere Burns, Steven Culp and Liza Weil.

Directed by Brendon Fox.

Billed as a "humorous and compelling behind-the-scenes look at a "high-strung" string quartet.

A world-famous ensemble threatens to unravel when its most talented member goes missing just before a high-profile performance at the White House. A young woman is hired to take his place - but with only days left to prepare, the musicians must navigate the creative, yet often disharmonious, path of creating a masterpiece.

Hollinger skillfully establishes how four very distinct personalities must, in the pursuit of artistic excellence, synthesize with one another to create one seamless sound."

All performances will be recorded to air on L.A. Theatre Works' syndicated radio theater series, which broadcasts weekly on public radio stations nationwide.

Thursday, May 17 - Sunday, May 20 at James Bridges Theater UCLA School of Theater, Film and Television in Los Angeles.

DESIGNING HEROINES LECTURE SERIES In Conversation with Pat Albeck who was one of the key designers for Horrockses in its 1950s heyday. This is a rare opportunity to hear her discuss her prolific career up to the present day.

The British designer was born in 1930 to a family of Polish immigrants. She went to The Royal College of Art in 1950. She has designed textiles for Liberty of London, Cavendish Textiles and Horrockses. Thursday May 17 at the Fashion and Textile Museum in London.

DEATH OF A SALESMAN: A PLAYWRIGHTS' CONVERSATION – WITH TONY KUSHER & OTHERS with a revival of Arthur Miller's masterpiece now running on Broadway, Tony Kushner leads a group of his contemporaries in a discussion of the play.

"American playwrights have most to learn from the sound of Arthur Miller's voice," wrote Kushner. "Humility, decency, generosity are its trademarks. Turn down the braying of ego, it says to us, turn down the chatter of entertainment . . . reach for a deeper judgment." Kushner serves as editor of Miller's Collected Plays for the Library of America.

Wednesday, May 23, at the 92Y in New York City.

57th ANNUAL OBIE AWARDS CEREMONY which takes place Monday, May 21, 2012, at Webster Hall in the East Village of Manhattan will feature entertainment by David Patrick Kelly who can currently be seen in the role of Da in the Off-Broadway–to–Broadway transfer Once. and Ethan Lipton and his Orchestra's No Place To Go, which delivers an irreverent and personal musical ode to the workplace and the unemployed.

The Awards will be presented by: Eric McCormack, Grace Gummer, Hugh Dancy, Jonathan Pryce, Juliet Rylance, Justin Bartha, Leslie Odom Jr., Lily Rabe, Michael McKean, Tonya Pinkins, Topher Grace, and Tracee Chimo.

The Village Voice Obie Awards, founded by Jerry Tallmer in 1956, have honored the best of Off Broadway and Off-Off Broadway. Structured with informal categories that change annually, the Village Voice Obie Awards recognize persons and productions of excellence. Unlike most theater awards, the Village Voice Obie Awards list no nominations publicly. In the conviction that creativity is not competitive, the judges may give several Obies in each category, and may even invent new categories to reward exceptional artistic merit.


OTHER PEOPLE'S MONEY


SPIDER-MAN: TURN OFF THE DARK will offer a special performance on Tony Sunday, June 10. The Tony nominated show, in saluting the Antoinette Perry Awards will offer free tickets to anyone with the first name of Anthony, Tony, Antoinette, Toni, Antonio or Antonia. Beginning at 10 AM on June 4, the first 100 who show up at the box office with that moniker will be given a coupon for a pair of tickets to the 3 PM matinee June 10.

RICKY MARTIN currently starring in the Broadway revival of Evita, will host a fundraising event on Monday, May 14th, to support the re-election of President Obama.

Staged by the LGBT Leadership Council, the event will be held at the Rubin Museum of Art. Attendees will have paid between $5,000 and $35,800 to attend.


IT'S NOT AN APOLOGY WHEN THE WORD 'IF' IS USED
Mitt Romney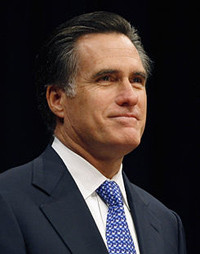 Mitt Romney is handsome, smart, successful and many people are quite vocal that he was an excellent governor of Massachusetts.

This past week headlines were made when it was disclosed that, in 1965, as a teen Romney was a bully, a ringleader who, along other 'pranksters' was a major player in attacking a fellow Cranbook Prep School student who was held down while his beached blonde hair was chopped off - because Romney didn't like the way the teen looked.

The victim cried and screamed for help.

Romney admitted that while in high school he did "a lot of dumb things" but doesn't seem to have any memory of this incident.

Why what happened 47 years ago has any relevance to the here and now has to do with how Romney handled disclosure of the event.

He claimed he didn't remember the incident and then added - and if anybody was hurt by that or offended, well obviously I apologize."

If?

Romney has not apologized. Rather he's played a game of manipulative reasoning – a practice popular with certain religious groups, lawyers, politicians, control freaks, salesmen and people who are trying to imply one thing by saying something entirely different.

This isn't the type of "prank" that people forget. Or, did Romney participate in so many of these bully incidents that they have all meshed together?

What Romney should have done was look the camera straight in the eye and say that he was sorry. He should have elaborated that the event took place 47 years ago and in that span of time he has grown up, learned a lot and is profoundly sorry. He should have said that he regrets the man is no longer alive, so that he could have apologized to his face and has already called his parents to apologize to them. He regrets the stupid foolish, ignorant actions he did as a teen and would like it to be a lesson to everyone that no type of bullying is ever acceptable.

That would have sounded presidential. It also would have put the issue to rest.

Instead, one of Romney's classmates and supporter actually went on national television and said: 'So we held scissors to his ear and scared him, traumatized him a little," and then had the audacity to say "no harm, no foul."

It's a foul - a big one.

And, there is no such thing as traumatizing someone "a little."

Romney who wants to hold an office in which he would represent everyone - and that includes the vast majority who aren't rich enough, well educated enough, powerful enough, emotionally or mentally strong enough or well connected enough to write their own rules.

To use tricky phrasing such as "If" and then he would apologize is sneaky and being self serving manipulative.

To posture a defense that good old Mitt is a fun loving guy who is a riot around the house begs the question that if playing pranks and jokes is his idea of a good time then he needs to grow up. People who play pranks are getting their laughs at the expense of others. It's not funny and it's not presidential.

If the Romney family's idea of a Family Home Evening is to prank each other, then do it behind closed, locked doors and windows of your own home or homes and don't subject others to callous pranking immaturity.

And, stop playing word games. 47 years ago homosexuals were calls words which you aren't suppose to use today. Likewise, a bully was called a person who was always "playing jokes," "joking around," or "a prankster." Many times a bully doesn't a need a reason. They bully because they can.

Presidents Clinton, Obama, and Bush have admitted acting out in high school and college, but their antics of smoking, drinking and/or drug experimentation weren't intended to harm others. A bully hurts others.

Traumatizing a person because you don't like the color of their hair, their appearance, manners or anything else about them is not a harmless prank - it's being a bully.


GET WELL SOON TO . . . .


JIM NABORS 81, who will undergo heart surgery this month.

Because of that event the star of Gomer Pyle and The Andy Griffith Show will miss this year's Indianapolis 500. Nabors has sung Back Home Again in Indiana before the race every year but one since 1987. He missed the 2007 race due to health reasons. ( See Broadway To Vegas interview with Jim Nabors )

However, even though Nabors won't be physically present at the Indy 500, his rich voice will. He has agreed to record the song to play at the race.

A video crew flew to Hawaii where Nabors lives, to film him singing the song.


CURTAIN DOWN


LEAP OF FAITH folds up the revival tent today, Sunday, May 13, 2012 after 24 previews and 20 performances at the St. James Theater. The poorly conceived production did receive a Tony Award nomination, but closes at a total financial loss.

MAGIC/BIRD Eric Simonson's highly theatrical sports biography about the college-to-Olympics rivalry and friendship of basketball heroes Earvin "Magic" Johnson (Kevin Daniels) and Larry Bird (Tug Coker), at the Longacre Theatre, bounced the ball for the last time on May 12, 2012 after 23 previews and 38 performances.

HOW TO SUCCEED IN BUSINESS stops really trying at Broadway's Hirschfeld Theatre on May 20. The revival will have played just over 500 performances and recouped its $9 million initial investment in December 2011.



TOP HAT

Tom Chamber and Summer Strallen in Top Hat. Strallen is wearing a replica of the avian-inspired iconic creation that led to Ginger Rogers's nickname 'Feathers'. Photo: Top Hat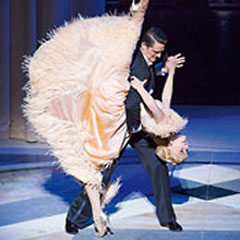 a new stage production based on the 1935 RKO film with Fred Astaire and Ginger Rogers. Directed by Matthew White and choreographed by Bill Deamer. Music by Irving Berlin.

More than 75 years after Fred Astaire and Ginger Rogers starred in the classic film, the movie has jumped to the stage in a musical starring Strictly Come Dancing champ Tom Chambers as Fred Astaire and Summer Strallen in the part played by Ginger Rodgers.

The musical sees Broadway star Jerry Travers ( Tom Chambers) pursue girl-of-his-dreams Dale Tremont ( Summer Strallen) across Europe, but things get complicated when she mistakes him for her best friend's husband.

Featuring Ricardo Afonso, Vivien Parry, Martin Ball and Stephen Boswell.

Ensemble & Swing: Lucy Jane Adcock, Lauren Appleby, Caroline Bateson, Jeremy Batt, Alan Burkitt, Hannah Cauchi, Adam Rhys Charles, Matthew Cheney, Russell Leighton Dixon, Charlotte Gale, Ian Goss, Alyn Hawke, Paul Kemble, Jenny Legg, Martin McCarthy, Grace McKee, Carley Meyers, Kay Murphy, Tom Patridge, Alexandra Waite-Roberts, Holly Rostron, Charles Ruhrmund, John Stacey, and Callum Train.

The film contained five songs by Irving Berlin including Cheek or Cheek and Top Hat, White Tie and Tails. In the stage version another ten have been added from the Berlin catalog, including Let's Face the Music and Dance and Puttin' On the Ritz.

Frivolous, fluffy, fun.

200 costumes, 250 pairs of shoes, 45 shirts by Jon Morrell and set by Hildegard Bechtler who knows how to stage Thirties Art Deco.

Attending the opening night performance were Astaire's daughter Ava Astaire McKenzie and Irvin Berlin's daughters Linda Emmett and Elizabeth Peters. Both the Astaire and Berlin women had to give their permission for the songs their fathers either wrote or performed to be used in the stage production. That permission had been requested the show's producer Kenny Wax.

McKenzie arrived at the performance wearing the ring her father wore in the 1935 film Top Hat.

Following the show Astaire's daughter told the BBC that Chambers was "wonderful" in the role made famous by her father and added that "There will always be comparisons, but what this show has done is bring a version to the world to see for the future."

The only opening night mishap was when Chambers dropped his cane during the big dance number Top Hat, White Tie and Tails. The cane fell into the orchestra pit hitting cellist Bryony James - who has been called a "dangerously beautiful cellist." James played in the Queen's Jubilee Pop Concert at Buckingham Palace, and was principal cello in the televised Elton John Royal Opera House Gala Concert.

Lighting Design by Peter Mumford. Sound designer is Gareth Owen. Orchestrations by Chris Walker. Musical Supervisor is Richard Balcombe. Musical Director is Dan Jackson. Top Hat has performances at the Aldwych Theatre on London's West End until January 26, 2013.

AMAZING GRACE Music and Lyrics by Christopher Smith. Book by Arthur Giron & Christopher Smith.Choreographed by Benoit-Swan Pouffer. Directed by Gabriel Barre.

Based on a true story of the man - John Newton - who penned the world's most recognizable song.

Storms. Slavery. Romance. Redemption. Prepare to be swept away by this epic musical saga about John Newton, a rebellious slave trader, and the woman who never lost faith in him. The story is told from the point of view of his childhood friend Mary Catlett, the woman who never lost faith in him. While fighting the raging seas and his own despair, Newton's life is suddenly transformed. Their journey to find the meaning of their own existence will lead them to love, heartbreak and an epic quest to end the scourge of slavery.

Music Supervisor: Kimberly Grigsby. Scenic Design: Beowulf Boritt. Orchestrator: Kenny J. Seymour. Music Director: Jodie Moore.

May 17 - June 10, 2012 at the Norma Terris Theatre, Goodspeed Musicals, Chester, CT.

IOLANTHE presented by New York Gilbert & Sullivan Players (NYGASP), which will conclude its 37th anniversary season.

Iolanthe, or The Peer and the Peri centers on the burning question, can a man who is half a fairy find happiness in a world where to marry a mortal is a capital offense? When the Fairy Queen's best friend, Iolanthe, returns to fairyland after a 25 year banishment for having committed such a crime, she tells her fairy sisters that she has a son, Strephon, a man who has the mixed blessing of being half a fairy.

When Strephon is thwarted in his attempts to marry the beautiful Phyllis by a group of stodgy politicians from the House of Lords and a deliciously conflicted Lord Chancellor, he calls upon the supernatural powers of his newly discovered "aunts".

The ensuing impasse results in a riotous battle of the sexes which cannot be resolved until Iolanthe, following her motherly instincts, puts her life on the line to reveal that the Lord Chancellor is her husband and Strephon's father. But all fairy tales have happy endings, so the fairy law is amended, allowing everyone to get married and perhaps change their minds afterwards. As Strephon says, "That's the usual course!"

Three performances May 19-20 at Peter Norton Symphony Space, New York City.

MIRACLE ON SOUTH DIVISION STREET by Tom Dudzick, directed by Joe Brancato.

Featuring Peggy Cosgrave, Andrea Maulella, Rusty Ross, and Liz Zazzi.

Miracle On South Division Street is billed as "a new comedy about family, faith and adjusting to life's surprises. The Nowaks of Buffalo always thought they were special, ever since Clara's father, an immigrant from war-torn Poland, had a miraculous vision in his barbershop. But 65 years later, Clara's youngest daughter has stopped going to mass, her son is dating a Jewish girl, and a deathbed confession causes the family legend to unravel with unexpectedly hilarious results."

Set and lighting design by Josh Iacovelli, costume design by Gail Cooper-Hecht, and sound design by Chris Rummel.

Officially opens May 13 at the Penguin Rep Theatre in NYC.

LORETTA LYNN announced May 10 that she has chosen Grammy and Golden Globe-nominated actress Zooey Deschanel to portray her in a Broadway stage adaptation of Coal Miner's Daughter.

The Broadway-bound stage version of Coal Miner's Daughter, according to the release, will tell the "remarkable story of country music legend Loretta Lynn, from her impoverished Kentucky childhood to her unlikely and triumphant rise to become the First Lady of Country Music and one of the greatest women of her generation."

No other production or casting details have been announced.

Sissy Spacek portrayed Lynn in the film version, winning the Academy Award for her performance.

LOST IN YONKERS by Neil Simon. Directed by Jim Warren.

Starring Marion Ross of Happy Days fame, as Grandma Kurnitz.

Joining Ross are Linda Kash as Bella, Sheila McCarthy ("Die Hard 2") as Gert, Ari Cohen as Louie, Jesse Shimko as Arty, Alessandro Costantini as Jay and HGJTC co-artistic director David Eisner as Eddie.

Set designer Sue LePage, costume designer Lori Hickling and lighting designer Lesley Wilkinson.

Presented by the Harold Green Jewish Theatre Company, Lost in Yonkers officially opens May 17, in the Jane Mallett Theatre at the St. Lawrence Centre for the Arts in Toronto.

Founded in 2006, the Harold Green Jewish Theatre Company is Toronto's only professional theatre company established to celebrate, illuminate and share Jewish culture.

HANDS ON A HARDBODY a new musical about a Texas endurance competition, based on the documentary feature film by S. R. Bindler and Kevin Morris. Book by Pulitzer Prize winner Doug Wright, lyrics by Amanda Green and music by Trey Anastasio and Amanda Green.

Neil Pepe directs. Musical staging is by Benjamin Millepied.

A reality-inspired musical about an auto dealership that launches an endurance contest in which "ten economically-strapped strangers embark on a journey that puts their hearts, minds and bodies to the test. The contestant who keeps at least one hand on a brand-new hardbody truck the longest gets to drive it off the lot. What initially seems like a mere publicity stunt soon becomes a soul-baring battle of wills. Only one can win, but for all involved, the truck holds the key to their own private American dream."

The company features Tony Award nominee Keither Carradine as JD Drew; Allison Case as Kelli Mangrum; Jim Newman as Mike Ferris; Tony nominee Hunter Foster as Benny Perkins; Jay Armstrong Johnson as Greg Wilhote; David Larsen as Chris Alvaro; Kathleen Elizabeth Monteleone as Heather Stovall; Tony nominee Mary Gordon Murray as Virginia Drew; Connie Ray as Cindy Barnes; Jon Rua as Jesus Pea; Keala Settle as Norma Valverde; Dale Soules as Janis Curtis; Jacob Ming Trent as Ronald McGowan; Scott Wakefield as Frank Nugent; and William Youmans as Don Curtis/Dr. Stokes.

The creative team includes music director Zachary Dietz; Tony Award-winning scenic designer Christine Jones; Tony-winning costume designer Susan Hilferty; Tony-winning lighting designer Kevin Adams; sound designer Steve Canyon Kennedy; and Playhouse Resident Dramaturg Shirley Fishman.

The Playhouse commissioned Hands on a Hardbody and further developed it through a series of readings and workshops, "as part of the institution's mission to serve as a safe harbor for artists and a launching pad for new work."

Performances to June 17 in La Jolla Playhouse's Mandell Weiss Theatre in La Jolla, CA.


WHO'S WHERE


BON JOVI, FOO FIGHTERS AND BLINK-182 will headline The Bamboozle 2012, one of the East Coast's oldest and largest music festivals when the three-day music and pop culture event is staged on the beach at Asbury Park, New Jersey, May 18, 19 and 20. The Bamboozle will return to the beach at Asbury Park for the first time since 2003 and feature over 100 acts performing on nine stages spread throughout the beach and boardwalk including the renowned Convention Hall.

ELVIS COSTELLO continues his United Kingdom tour with a stop Tuesday, May 15, at Symphony Hall in Birmingham. On Wednesday he performs at The Brighton Centre in Brighton. Friday finds him at the City Hall in Newcastle upon Tyne and on Saturday the gig is at the Royal Concert Hall in Nottingham. Next Sunday, May 20, he takes to the stage at the International Centre in Bournemouth, UK.

VAN HALEN entertain Saturday, May 19, at the Xcel Energy Center in Saint Paul, MN.

NICKELBACK are in the spotlight Tuesday, May 15, at Rexall Place in Edmonton, AB. ON Wednesday the show is at the Scotiabank Saddledome in Calgary, AB. Friday's outing is at the Credit Union Centre in Saskatoon, SK. On Sunday, May 20, the tour stops at the Fargodome in Fargo, ND.

STEVE TYRELL performs May 15-26 at the Cafe Carlyle in New York City, with the exception of Monday nights when Woody Allen & The Eddy Davis New Orleans Jazz Band entertain.

THE ROYAL PHILHARMONIC ORCHESTRA an evening of sublime choral and orchestral music featuring works by Paul Mealor, composer for the royal wedding of the Duke and Duchess of Cambridge - that's Will and Kate. Mealor was also recently named UK's most popular living composer on classical music radio. Featuring the unmistakable sound of Tenebrae, one of the UK's most unique and prestigious chamber choirs. Grace Davidson soprano. Nigel Short conductor. Thursday, May 17, at Cadogan Hall in London.




FINAL OVATION


GEORGE LINDSEY who became a household name playing gas station attendant Goober Pyle on The Andy Griffith Show from 1964 to 1968 died in Nashville on May 6, 2012 following a brief illness. He was 83.

He went on to play the same character on Hee Haw from 1971 until it ended in 1993. His other TV credits included Mash and The Alfred Hitchcock Hour. In a statement released by the funeral home, Andy Griffith said: "George Lindsey was my friend. I had great respect for his talent and his human spirit."

Lindsey began his professional acting career on Broadway in the musicals Wonderful Town and All American.

Lindsey raised over $1,000,000 for Alabama Special Olympics through 17 years of the George Lindsey Celebrity Weekend and Golf Tournament in Montgomery, Alabama and another $50,000 for the Alabama Association of Retarded Citizens. and participated as Head Coach-Winter Games in the Minneapolis, Minnesota Special Olympics National Competition.

He established and perpetuated the George Lindsey Academic Scholarships at University of North Alabama.

Lindsey was the 1995 recipient of the Governor's Achievement Award — Alabama Music Hall of Fame. The State of Alabama named the "George Lindsey Highway" in Birmingham after the actor. In 1998, he established the George Lindsey/UNA Film Festival that takes place at the University of North Alabama annually in the spring. ( See Broadway To Vegas interview with George Lindsey )

He was the 1997 recipient of the Minnie Pearl Lifetime Achievement Award and the 2007 recipient of the first ICON Award presented by the Nashville Associations of Talent Directors.

Lindsey's autobiography, Goober in a Nutshell, was published in 1995.

MORT LINDSEY the orchestra leader and composer/arranger died at his home in Malibu, California on Friday, May 4, 2012 following a long period of ill-health. He was 89.

Lindsey attended Columbia University where he earned a doctoral degree in music education.

Born March 21, 1923 in New Jersey, Lindsey was musical director for Judy Garland's performances at New York's Carnegie Hall that led to the Grammy-winning album Judy At Carnegie Hall. An Emmy followed for Streisand's TV concert A Happening In Central Park.

Judy At Carnegie Hall, a live recording of the Wizard of Oz star's concert on April 23,1961, spent 73 weeks on the Billboard chart, including 13 weeks at No. 1, and went on to win four Grammy awards.

Lindsey went on to work with Liza Minnelli, Garland's daughter, on her televised Liza With a Z concert. The New Jersey native spent 25 years as musical director for The Merv Griffin Show, earning two Emmy nominations.

As a composer, his credits include Garland's 1963 film I Could Go on Singing, Albert Brooks' 1979 comedy Real Life, The Best Man, Real Life, Stolen Hours and Gay Purr-ee.

He is survived by his wife Judy, three sons and three daughters Bonney, Deborah, and Judy.








Next Column: May 20, 2012
Copyright: May 13, 2012. All Rights Reserved. Reviews, Interviews, Commentary, Photographs or Graphics from any Broadway To Vegas (TM) columns may not be published, broadcast, rewritten, utilized as leads, or used in any manner without permission, compensation and/or credit.
Link to Main Page
---
Laura Deni



For the snail mail address, please E-mail your request.
CLICK HERE FOR COMMENT SECTION