! >
Broadway To Vegas
  SHOW REVIEWS     CELEBRITY INTERVIEWS     GOSSIP     NEWS 
| | |
| --- | --- |
| | |
Copyright: May 13, 2001
By: Laura Deni
MURPHY'S LAW

We never thought much about Murphy's Law - until - we started dealing with Internet providers and things that go bump in the night. We think our server problems are corrected, but we're not betting the farm on anything technical.

Having the technical skills to operate a toaster and microwave have always been enough to get us through life.

We apologize for any inconvenience and thank you for the E-mails wondering why this site is up and down like a yo-yo. Hopefully, all of the glitches are corrected.



PERRY COMO REMEMBERED


PERRY COMO hated red finger nail polish and liked champagne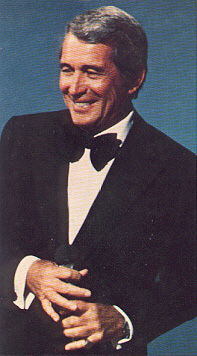 After the fads, the fakes and the one shot hit singers have departed, there was Perry Como, who passed away Saturday in his sleep at home in Florida. He was 88.

Como had a cool purism image. Once while walking through a Las Vegas casino he was stopped by a woman who wanted him to bless the dice. He kidded himself about his image, an image which slightly irritated him. On stage he'd tell his audience, "It isn't what you see, it's what you think you see.'

"I don't understand why the press wants a picture of my house or cares what kind of a bed I sleep in. The people see what they want to see. I'm not a saint. I drink. Hell, I drink a lot," said Perry back in the days when champagne flowed in the dressing room after Las Vegas shows.

Perry was born May 18 in the mining town of Cannonsberg, Penn, to Pietro and Lucia Como, immigrants from Abruzzi, Italy. He was the seventh child, the first of their 13 children to be born in America. His mother made homemade tomato puree from tomatoes his father grew in their garden. Perry always had fond memories of his childhood. "Ma thought everything Pop said was gospel, and we ate well from a table that stretched from here to Times Square."

At age ten he practiced cutting his father's hair. A year later he earned 50 cents a week at Steve Fragapene's barber shop where he shined shoes and swept the floors.



PERRY COMO with the Ray Charles Singers, rehearsing for his July, 1972 engagement, Hilton Hotel, Las Vegas, NV. Photo By: Laura Deni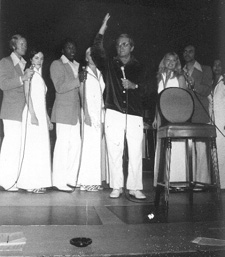 When he reached age fourteen Perry became an after school apprentice barber. As the youngest and newest member of the shop he got the grouchiest customers and poorest tippers. Music has charms, though, and by singing while he clipped, Como was able to make a decent salary.

After graduating from Canonsburg High, Perry acquired his own barbershop and had a good customer base. "I was earning maybe $110. a week and that was a lot of money," he recalled. In 1933 while vacationing in Cleveland, friends urged Perry to audition for the boy singer job with Freddy Carlone's band. "My Dad said Why don't you try it and see what happens'"

He got the job and spent the summer touring with the band, raking in $28 per week

On July 31 Perry married Roselle Belline. They had met at a wiener roast. Of French heritage, Roselle was the eldest of eight. Her father had died when she was a youngster and Roselle helped raise her brothers and sisters. ( See Broadway To Vegas column of August 24, 1998. )

Three years later bandleader Ted Weems offered Perry a job. He accepted, but with admitted trepidation.

"I stood up there with the orchestra and I was shaking all over," remembered Perry. "All I could see was that big black hole of an orchestra pit like a grave out in front of me. I forgot my lines, forgot the songs, forgot where I was. The audience laughed and after that I could sing more professionally."

Success wasn't over night and in 1941 Perry was ready to quit and return to the barbershop. Suddenly Tom Rockwell, then head of the firm that handled Bing Crosby, Frank Sinatra, and Tommy and Jimmy Dorsey, got Perry on a CBS radio show at $76 per week.



Perry Como, Frank Sinatra, Dionne Warwick, George Burns being greeted by Queen Elizabeth II, Nancy Reagan and Prince Phillip at a Command Performance at 20th Century Fox, Los Angeles. Vic Damone was also in the receiving line but is hidden in this picture.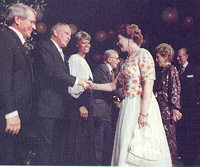 Perry sweated through two shows a night, ten shows a week, the first at 7 p.m. for the East Coast, then the repeat at 11 p.m. for the West Coast. "Nothing to it, take the money and split," flippantly sassed Perry.

1944 saw him become the star of The Chesterfield Supper Club. That same year he hit the big time starring at the Copacabana in New York. He was paid $750. a week.

Tony Martin swore to me that Perry never smoked Chesterfield cigarettes. "He'd take an empty Chesterfield pack and fill it with another brand."

I repeated to Perry what Martin had told me. "Yeah, that's true," he admitted grabbing me by the neck. "But don't you dare ever print that until I'm dead. I just thought they were too strong."

Perry's recordings were wartime sensations. In one week during 1946, four million of his records, an all-time record, were sold.

His biggest hit, Till The End of Time was a 40s recording. Another Como hit, Temptation, Perry said he stole from an old Bing Crosby picture. "Everybody thought it was my song, but Crosby had it first."

Como had no bones about emulating Crosby. "Sure I did. I think everyone did to a certain extent, even Frank Sinatra. Crosby was the king."

In 1955 Perry signed an unprecedented $15 million television contract to do the hour long Perry Como Show. In 1959 the show became Perry Como's Kraft Music Hall.

"You know," he reflected, "We did some pretty fair shows. Not a lot of fancy camera angles, but we gave the folks some entertainment."

Como's languorous manner concealed a show-wise mind that sustained one of the longest and most successful careers in music.

"I was never relaxed," he emphasized. "Laziness was always a part of my act. I worked seven days a week to make that television show as good as possible."

As a child Perry had learned to play the guitar and piano - lessons that became valuable tools. "They taught me to read music and that's been invaluable. Heaven knows how I'd have gotten through my television shows if I couldn't."



PERRY COMO warming up the audience prior to taping a television special at Lake Tahoe. The guests included Bob Hope, Billie Jean King, Anne Murray, Sandra Palmer and Suzy Chaffee.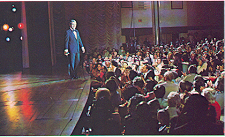 Cue card goofs became a Como trademark, which in his opinion, wore thin.

"We used cue cards on the weekly show and nobody was suppose to know it - a big secret," he kidded. "One night I was singing Night and Day and the cue card boy got mixed up. He put the second verse first. I apologized to the audience and then told them, But it's not my fault. It's his.' I had the cameras show them the cue card boy. That started it. Got such a laugh that we did the cue card jokes in every show. I finally got sick of em and said no more. Then Dean Martin started doing them."

Conventional rhythms were Como's forte and he was one of the best ballad singers ever to caress a lyric. But he listened to advice from those that knew the commercial value of a song. Some of his biggest hits were chirpy, nonsense ditties. Como had no regrets. "If the only songs I recorded were the ones I liked, I'd still be cutting hair," he acknowledged.

Don't Let The Stars Get In Your Eyes was a Como chart topper.

"I remember I didn't want to record it," he confessed. "It has an odd graduate measure and I didn't think I could sing it. Every time I did it, I had to have Ray Charles standing right in front of me so he could point when it was time for me to come in, and when not to," he said.

He found live performing exciting but difficult. "I had to learn the lyrics for 15 songs," he said of his Las Vegas shows. "That was tough because for years I'd used the crutch of a cue card. It's hard for me to learn lyrics."

He forced his father to retire and then regretted that decision. "I made him close the barbershop and get off his feet and I wonder how much longer he'd have lasted if I hadn't. A man has got to do what he enjoys."

Perry was never able to see a barbershop without mentally assessing the location and counting the chairs. When he shook hands with a man, Como would look at the hairline.

Once when I walked into his dressing room with a fluffy hairstyle he took one look at me and said, "Nope," and started patting down my hair. "Where's my comb? Get me my comb," he instructed and proceeded to re-style my hair.

Another time I entered his dressing room wearing bright red fingernail polish. He grabbed my hand, took one look at the nails and said, "Don't like that," and proceeded to try to chip of the red polish with his fingernail. Quickly a bottle of finger nail polish remover was obtained from the hotel gift stop and Perry removed the offending color.

In his younger days Perry daily jogged a five to six mile stretch. He used to be an avid golfer with a five or six handicap. After a 1972 stage fall, from which his knee never fully recovered, his handicap went to 11. "The accident made me lay off golf for a year and a half."

"Despite that setback Perry was grateful and knew his life had been blessed. "I've been very lucky in my life. I've been fortunate in my career to have grown up with a certain age group and then followed on by growing up with another. It's something I'll always be very grateful for indeed.


"I have to admit that I like what money can buy, but I like what it can't buy even more - and that I've always had."


ROSEMARY CLOONEY: A MOTHER'S DAY DELIGHT


She's a mother to five, been divorced, watched her sister die at an early age, was confined to a mental hospital, is over weight, has a sore knee - and rebounded through it all. Rosemary Clooney speaks to mothers from many different dimensions all interwoven through a musical tapestry.



ROSEMARY CLOONEY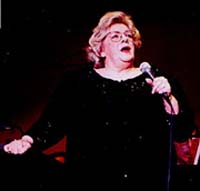 Sunday afternoon Rosemary Clooney took center stage at the Performing Arts Center at the University of Nevada, Las Vegas. The place was packed and nobody left early.

She is one of our greatest vocalists with the ability to feel a lyric.

A dark stage, except for the spotlight on a Queen Anne type chair, placed next to the grand piano. Rosemary didn't as much hold court over subjects as she charmed as a grandmother hosting a gathering of friends.

As one of the greatest lyric singers of all time the song that was her first big hit and became her trademark is the idiotic Come On-A My House, which she hates and refuses to sing.

Backed by the 12-member swing band, the Big Kahuna and Copa Cat Pack, a youngish Hawaiian ensemble led by Matt Catingub, who plays a mean saxophone. Those cats swing. After their own dynamite 45 minute set they performed Rosie's signature song, leading to her entrance on the arm of her dapper husband, Dante DiPaolo. Beautifully gowned, she spent her entire hour long segment seated in a chair beside accompanist John Oddo's piano.

The lady has rock solid vocals. Coupled with a wicked delivery of entertaining stories - this lady puts on one of the best shows you'll see in any venue. She has the power to turn a large auditorium into an intimate hall where one feels honored to be in her presence.

"Have any of your seen George?" she asked about her nephew George Clooney who has been in Las Vegas filming the re-make of Ocean's Eleven. "When they first started filming that he called my office and said Is it okay if we put Aunt Rosemary's name on the marquee of the Sands Hotel that we are rebuilding for the movie?'"



GEORGE CLOONEY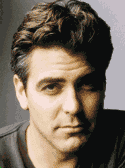 "I said, Yes sireee. You just go right ahead.

"You know, George has been this way all his life. It's just that all of a sudden he caught on. He lived with me for a few years. The way he got into the business was to drop out of college, which didn't thrill his dad - not at all. So, I said George could come and live with me. What I didn't know was that he had saved $300 and bought a car, a clunker to drive to California in from Kentucky. He arrived and parked it in my driveway - thank you very much. I stood it for as long as I could and finally I bought it from him - which was the only way I could get rid of the car."

"He's a good kid," she added about George. "I like him.

"I have five children and 10 grandchildren," she said of her own brood. "Today is Mother's Day and so far all of them have checked in - except two. And - they'll pay.

Clooney, a native of Maysville, Ky. got her start singing on the radio in Cincinnati. She had an act with her sister Betty. "My sister and I started singing with Tony Pastor and we really never did any really good songs. We were hired by the leader and he did all of the good songs, but he was a good singer.

Then she knocked out I'm Confessing That I Love You, Cabin In The Sky, Happiness is Just A Thing Called Joe and an uptempo Ol' Man River.

She lived next door to Ira Gershwin for 35 years and performed Our Love Is Here To Stay "the last song Ira and George wrote together."

In discussing Fred Astaire she explained that her husband had been a movie dancer who became friends with Astaire. After DaPaolo was drafted, during an extended duty in the Philippines Fred and Dante regularly exchanged letters. She read one that Fred had written complaining that a song he had written If Swing Goes, I Go Too had been cut from a Follies movie. Fred said he was saving the song and someday it would be used.

"He was right it didn't to go waste because I'm going to sing it. It's not the best song in the world. It's not Gershwin, but it's a damn good song for the kind of dancer he was."

The Singer, an ode to Frank Sinatra co-written by Clooney's drummer, Joe Cocuzzo, with music by Las Vegas resident Vince Falcone segued perfectly into her effective rendition of In the Wee Small Hours of the Morning. She makes her audience feel warm and comfortable.

Her anecdotes about Bing Crosby, Ira Gershwin and Bob Hope are gossipy and funny. She got a big laugh with a priceless story about her pal Bob Hope. By way of introducing a tender take on Thanks for the Memories, Clooney related how Hope's daughter Linda had delicately asked the comedian if he wished to be buried in Arlington National Cemetery, Los Angeles or Palm Springs. Hope's reply, as quoted by Clooney: "Surprise me."



ROSEMARY CLOONEY in her early Vegas days. She performed with Bing Crosby who hated gambling.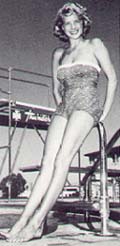 Then she did the witty, Ya Got Class, from a movie Here Come The Girls that she recalls as being "so bad his wife didn't go to it."

"I performed in Las Vegas years ago with Bing Crosby. He refused to play anywhere there was a slot machine. Do you know how hard it was to find a place here with no slot machines? We finally found some small convention center by the Aladdin Hotel. Bing would be out there trying to make sure he couldn't see any slot machines. I think they took out a few just so he couldn't see them."

Her new show, Sentimental Journey, is exactly as the title says, a personal musical scrapbook that takes a captivated audience along for the ride.

In introducing a philosophical rendition of Hoagy Carmichael's rather gloomy Rockin' Chair, the classy singer who turns 73 on May 23, called it "the truthful song in the book." Rosemary Clooney makes performing look easy.

Her newest CD Sentimental Journey is scheduled for a July 24 release. Buy it. It will make a wonderful belated Mother's Day present.

( See Broadway To Vegas column of February 27, 2005 )



Broadway To Vegas is supported through advertising and donations. Priority consideration is given to interview suggestions, news, press releases, etc from paid supporters. However, no paid supporters control, alter, edit, or in any way manipulate the content of this site. Your donation is appreciated. We accept PAYPAL. Thank you for your interest.


APPLAUSE, APPLAUSE


THE ASTAIRE AWARDS were established in 1982 by the Theater Development Fund to honor each season's outstanding musical theatre choreographers and male and female dancers. The winners are determined by a panel of dance critics and experts.

The 20th Annual TDF ASTAIRE AWARDS will be presented at a benefit luncheon for Theatre Development Fund, directed and choreographed by former Astaire and Tony Award-winner Scott Wise and hosted by Tony Award-winner Karen Ziemba on Friday, May 18, at the Hudson Theatre. The award presenters will include Natalia Makarova and Donna McKechnie.

The nominees for the 20th ANNUAL TDF ASTAIRE AWARDS, are: BEST CHOREOGRAPHER
Susan Stroman: The Producers
Jerry Mitchell: The Full Monty
Randy Skinner: 42nd Street
BEST FEMALE DANCER
Carol Bentley: Follies
Cady Huffman: The Producers
Kate Levering: 42nd Street
BEST MALE DANCER
Michael Arnold: 42nd Street
Andre DeShields: The Full Monty
David Elder: 42nd Street
A special Lifetime Achievement Award will be presented to Donald Saddler who is currently appearing in Follies. He holds two Tony Awards for his choreography of Wonderful Town and No, No, Nanette; with additional nominations for On Your Toes, Much Ado About Nothing and Italy's Maschera D'Argento. He is a recent Theatre Hall of Fame inductee.

NATIONAL BROADWAY THEATER AWARDS will present their first annual awards at a Gala dinner on May 21st at The Supper Club in New York City. The awards, which honor performers and creative talent involved with touring Broadway shows, is the first national fan-driven theatre award to be conducted via the internet. Harris Interactive, the presidential polling organization, tailored the ballots to reflected the specific productions that played in the vicinity of each voter. The results were weighted based on the total number of voters in each market and the percentage of votes for each nominee. 30 Broadway shows touring during the 2000-2001 season were eligible to participate in this first NBTA.

The League of American Theatres and Producers, Inc., founded in 1930, is the national trade organization for the Broadway industry, operating under the Live Broadway trademark. With over 500 members including theatre owners, operators, producers, and presenters of Broadway productions in New York and 140 cities throughout the U.S. and Canada, the League and its members help bring Broadway to close to 25 million people annually.

The winners are:

BEST MUSICAL RAGTIME Producer: SFX Theatrical Group

BEST PLAY DAME EDNA: The Royal Tour. Author: Barry Humphries; Producers: Leonard Soloway, Chase Mishkin, Steven M. Levy, Jonathan Reinis

BEST ACTOR - Musical DAVID PITTU as Leo Frank in Parade

BEST ACTOR - Play BARRY HUMPHRIES as Dame Edna in Dame Edna: The Royal Tour

BEST ACTRESS - Musical LOUISE PITRE as Donna Sheridan in Mamma Mia!)

BEST ACTRESS - Play SHERRI PARKER LEE Performer in The Vagina Monologues

BEST SONG IN A MUSICAL TIL WE REACH THAT DAY 1st Act Finale Music: Stephen Flaherty, Lyrics: Lynn Ahrens for Ragtime

BEST SCORE Music: Claude-Michel Schonberg, Lyrics: Alain Boublil, English Lyrics: Herbert Kretzmer for Les Miserables

BEST DIRECTION SAM MENDES & ROB MARSHALL for Cabaret

BEST CHOREOGRAPHY BOB FOSSE for Fosse

BEST VISUAL PRESENTATION Scenic Design: STANLEY A. MEYER, Lighting Design: NATASHA KATZ for Disney's Beauty and the Beast

BEST COSTUMES ANN HOULD-WARD for Disney's Beauty and the Beast


THE MUSIC GOES ROUND AND ROUND


URINETOWN! heads into the recording studio on May 15. RCA will commit the score to CD, to be released July 10

ROCKY HORROR SHOW cast recording of the Jordan Roth's revival of Richard O'Brien's The Rocky Horror Show will be released May 15. Produced for RCA Records by Jeffrey Lesser and engineered by Ed Rak, the recording features cast members Tom Hewitt, Dick Cavett, Lea DeLaria, Alice Ripley, Jarrod Emick, Raul Esparaza, Sebastian LaCause and Daphne Rubin-Vega, but not original cast member Joan Jett who, "could not come to terms" with producers over her involvement in the original cast recording. Recorded March 12 at the Clinton Recording Studios in Manhattan, rocker Jett's part was covered by her understudy, Kristen Lee Kelly.

HOOTIE AND THE BLOWFISH were at the Reflection Sound Studios in Charlotte, NC recently to lay down tracks for inclusion on a Nanci Griffith tribute album. The band recorded Griffith's song Ford Econoline. Hootie lead singer Darius Rucker also tracked vocals for an upcoming solo R&B album.


CURTAIN DOWN


JUDGMENT AT NUREMBERG the National Actors Theatre's (Tony Randall Founder and Artistic Director) production, written by Abby Mann and directed by John Tillinger will have its final performance today, Sunday, May 13th.

Unfortunately, not even a plethora of award nominations and a cast refusing a pay raise could keep this excellent production open. Judgment at Nuremberg began performances on Thursday, February 15th, 2001 running 45 previews and opened on Monday, March 26th with 56 performances at the Longacre Theatre.

If you missed this production, you missed an opportunity to see an excellent production with a stellar cast. Randall and the National Actors Theater have every reason to be extremely proud of their 16th and most important production.

Randall takes special pride in the number of well deserved award nominations received by the dedicated cast: John Tillinger (Outer Critics), Maximilian Schell (Drama Desk), George Grizzard (Outer Critics), Michael Hayden (TONY), Marthe Keller (Outer Critic, Drama Desk and TONY) and the entire cast (Outer Critic Circle- Best Play).

The impressive cast includes: Maximilian Schell, George Grizzard, Michael Hayden, Marthe Keller, Joseph Wiseman, Robert Foxworth, Philip LeStrange, Michael Mastro, Leith Burke, Fred Burrell, Patricia Conolly, Jack Davidson Peter James Francis, Peter Hermann, Jurian Hughes, Ty Jones, Susan Kellerman, Peter Kybart, Peter Maloney, Kellie Overbey, Heather Randall, Reno Roop, and Henry Strozier.

The design team includes: James Noone (sets), Jess Goldstein (costumes), Brian MacDevitt (lights), David VanTieghem (original sound & music), Elaine J. McCarthy (projection) and Paul Huntley (wigs & hair).

THE GATHERING starring Hal Linden closes this evening.

THE ADVENTURES OF TOM SAWYER which probably never should have opened has posted closing notices.

'N SYNC canceled their May 22 engagement at the Ericsson Stadium in Charlotte, NC.

REO SPEEDWAGON, KANSAS, STEPPENWOLF part of KSLX ROCK FEST, were canceled in the Phoenix suburb of Queen Creek, Ariz. because fewer than 400 tickets had been sold. Spokeswoman Melanie Gentz blamed the failure on a slump in the concert industry and inadequate promotion.



THE FULL MONTY Six down-on-their-luck steelworkers give Buffalo something they've never seen before. Music and Lyrics by David Yazbek directed by Jack O'Brien, Book by Terrance McNally.

The national tour stars Kaye Ballard, Larry Marshall, Danny Gurwin, Rod Weber, Andrea Burns, Chris Diamantopoulos, and Susan Fletcher.

Elgin Theater Toronto May 22 through July 14.

THE MIKADO New York Gilbert & Sullivan Players Nanki-poo, Yum-Yum, Ko-Ko, and the Mikado himself are back to amuse and enchant with a story of love and duty, full of wit and classic numbers including A Wand'ring Minstrel I, Three Little Maids, and The Flowers That Bloom in the Spring, May 24- 26 Wolf Trap Filene Center.

GUYS AND DOLLS One of Broadway's most hilarious musicals, the National Tour kicks off with Maurice Hines as Nathan Detroit in the story of love, money, and salvation in New York City. Based on the stories of Damon Runyon, with Frank Loesser's landmark score, Guys and Dolls brings down the house with Sit Down, You're Rockin' the Boat, Luck Be a Lady, A Bushel and a Peck, and Adelaide's Lament. This multi-Tony Award-winner heads to Broadway after a 20 city tour. Wolf Trap Aug 28-Sept 2.

UNCLE VANYA May 10-June 16. Denver Performing Arts Complex.

LANGUAGE OF ANGELS by playwright Naomi Iizuka, having its Northwest premiere through June 2 at the Theater Schmeater, Seattle.

ORPHAN TRAIN An American Melodrama by Dennis E. North, directed by Guy Sanville continues at the Purple Rose Theater - Jeff Daniels Artistic Director, through June 16.

The 1920's & '30's were difficult times with families losing their farms to foreclosure and bankruptcy. During that period, a train crossed the heartland with a mission of placing orphan children with new families offering hope for a new beginning. Somewhere along this altruistic passage of uniting the children with a promising future, corruption and greed threatened to derail their happiness. A heart-warming story unfolds about good vs. evil in a World Premiere suitable for the whole family. The Purple Rose Theatre Company, Chelsea MI.

DAME EDNA, THE ROYAL TOUR Los Angeles, California Shubert Theatre May 15 - May 27, 2001.


WHO'S WHERE


DOLLY PARTON performed at MerleFest in Wilkesboro, NC and gave a press conference where she was - as always - her delightful candid self.



DOLLY PARTON at her MerleFest press conference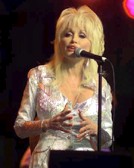 On her two successful bluegrass albums, Little Sparrow and Grass is Blue she said: "I want to sing this music. I don't care if it sells records - if it gets airplay. I had to make enough money to sing like I was poor again. I might do a pop album or a country album if I think it might get airplay. I might even do a dance album. I have a lot of gay fans who like to dance to my music. They put those drum beats behind it."

As for returning to Wilkesboro: "I've had four slaw burgers, four slaw dogs, four ice creams. You think these are my boobs, but it's all that stuff lodged in there."

A Chest Full of Dolly is the name of the Salute to Dolly Parton which takes place in New York City on May 17. Chal Pivek's Chelsea Mountain Boys have united 21 singers to perform 32 Dollly-penned originals at the Downtime in NY.

RITA RUDNER headlining the new Cabaret Theatre at New York New York in Las Vegas. "I lived in New York for twenty years," said Rita. "My apartment building overlooked Central Park. I couldn't actually see the park, but if I concentrated I could hear the screams for help." Rita was an unprecedented hit at New York-New York's sister property MGM Grand last year, playing to almost 100,000 people in six months at the Cabaret Theatre. "My husband read how Shecky Greene and Don Rickles had big successes doing runs in lounges years ago," said Rita. "So we decided to try a smaller venue for a long run rather than play a larger room for a few weeks a year, as I've done for the past 12 years or so." Rita has previously starred at the Sands, Bally's, The Hilton, The Desert Inn and The Monte Carlo. "I've been insides more hotels than a hooker," she says.

DAVID YAZBEK who penned the lyrics and music to The Full Monty was previously best known for writing the theme song to PBS' Where in the World is Carmen San Diego? of which he is also producer. Before that he won an Emmy award writing gags for Late Night With David Letterman. From 1987-89 h Yazbeck was Co-owner, of Manhattan Recording Co., writing many horrifying jingles.

Yazbeck takes center stage Saturday June 9 at Joe's Pub in New York City. The $20 admission includes a copy of the new CD, Damascus - not available in stores until July 10.

JERRY VALE on stage at the Westbury Music Fair May 19.

ROY CLARK Rosebud Casino in Valentine, NE May 13; Lac Courte Oreilles Casino in Hayward, WI on May 18; Crystal Grand Theatre in Wisconsin Dells, WI on May 19.

FAITH PRINCE is the special guest at A Conversation with Comden and Green, May 15 at The Dramatists Guild , NYC. $5 admission charge for members and a $10 admission charge for non-members Prince is currently starring in the Comden and Green revival of Bells Are Ringing.

GEORGE JONES Iowa State Center, Stephens Auditorium, Ames. May 13.

STING WITH JILL SCOTT 7:30 p.m. May 13, Iowa State Center, Hilton Coliseum, Ames. Tickets: $43.50 and $59.50.

BILLY JOEL AND ELTON JOHN May 15 and 16. Tickets range from $45 to $175. Target Center, Minneapolis.


THIS AND THAT

JACK NICHOLSON takes his movie roles seriously. Currently in Omaha, NE filming About Schmidt which stars Kathy Bates and is directed by Alexander Payne,



JACK NICHOLSON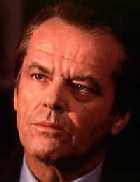 Nicholson's character an actuary who cleans out his desk after more than 30 years on the job in order to make way for his successor. He is also coping with his wife's recent death and his daughter's impending marriage to a man he doesn't like. To prepare for the part last March Nicholson spent time in the Woodman Tower office of Mark Schreier, vice president of Woodmen, and Scott Darling, vice president of communications to get advice about how to play an actuary. Darling said he and Schreier tried to correct the public perception of actuaries, who make their living figuring insurance risks and premiums. "Actuaries are generally portrayed as being kind of boring, and our actuaries all agreed that we really aren't that way," Darling said. So we let Jack know that." To prove their point they told Nicholson actuary jokes - including the old standby that an actuary is a person who wanted to be an accountant but didn't have the personality.

Being a movie star demands sacrifices. Nicholson hasn't been able to be courtside for the Lakers' playoff games - although he did make it to last Sunday's game in Los Angeles and then immediately flew back to the Omaha.

DEBBIE REYNOLDS whose Las Vegas museum was put into a head lock by financial problems isn't down for the count. The unsinkable one has new plans for her film memorabilia museum. She finally got some ground near Grauman's Chinese Theater in Hollywood for the museum. Hopefully this time the close to her heart project will be a total success enabling Reynolds "to preserve the history of films from the silents to the present.

COKIE ROBERTS is co-host of ABC's This Week With Sam Donaldson and Cokie Roberts. If that doesn't work out Cokie may opt for a job as a stand up comedian. The news gal is a graduate of Stone Ridge School of the Sacred Heart in Bethesda, Md. It's part of a network of 19 schools in the United States operated by Sacred Heart nuns, including Duchesne Academy of the Sacred Heart, a 264 girl school in Omaha, NE founded in 1881. Roberts was in Omaha last week speaking to about 1,200 at the Salvation Army's annual Be a Hero luncheon. She praised the Salvation Army and congratulated five teen-agers honored as heroes, and accepted an invitation and accepted an invitation to visit Duchesne. Roberts told a joke she heard from the late Tip O'Neill, who was Speaker of the House. A man at the pearly gates was granted one wish, to talk to the Blessed Mother. He asked her why, in pictures and statues holding the infant, she always looked sad. "Because," said Cokie perfectly delivering the irreverent punch line "I always wanted a girl."













Next Column: May 20, 2001
Copyright: May 13, 2001. All Rights Reserved. Reviews, Interviews, Commentary, Photographs or Graphics from any Broadway To Vegas (TM) columns may not be published, broadcast, rewritten, utilized as leads, or used in any manner without permission, compensation and/or credit.
Link to Main Page
---
Laura Deni



U.S. Postal Address: Post Office Box 60538, Las Vegas, NV 89160