! >
Broadway To Vegas
  
  REVIEWS INTERVIEWS COMMENTARY NEWS

| | |
| --- | --- |
| | |
TOWER OF LONDON STAGES SUMMER PERFORMANCES - - ELEPHANT STEPS CD REVIEW - - CHARLIE AND THE CHOCOLATE FACTORY - - ABBA MUSEUM OPENS: AGNETHA FALTSKOG RELEASES NEW ALBUM - - DOWNLOADS TO LIST CREDITS - - THE SHAKESPEARE SOCIETY AND THE HUNTS POINT ALLIANCE FOR CHILDREN - - HONORING IRVING BERLIN'S 125th BIRTHDAY - - THE 15th ANNUAL TIGER JAM - - DONATE . . . Scroll Down




Copyright: May 12, 2013
By: Laura Deni
CLICK HERE FOR COMMENT SECTION


ELEPHANT STEPS IS UNIQUE AND AMAZING


It's almost a once in a lifetime experience. Or, at least once every forty-five years.

Elephant Steps, the first opera commissioned by Tanglewood since Benjamin Britten's Peter Grimes in 1947 has been reissued by Masterworks Broadway.

The 1968 premiere took place at Tanglewood, a serious music festival, which recalled the European summer festivals of the twenties where pieces of theatrical "entertainment" (some incorporating mixed media) by Brecht and Weill, Hindemith, Milhaud, and Cocteau, would be performed with great impact alongside of intense atonal works of the day.

According to liner notes penned by composer Stanley Silverman: "Conceived aurally as a phantasmagorical radio show – a mythical "Big Broadcast" if you will – Elephant Steps was once described by Jerome Robbins as reminding him of Orson Welles' War of the Worlds, broadcast thirty years earlier.

Drums sound the elephant steps - ominous elephant steps.

An exquisite musical adventure brought to life in a dramatic, captivating, unfolding score. One of the few musicals that has appropriately and effectively combined what are sometimes conflicting musical styles. A truly contemporary opera.

If you are turned off by the word "opera" then concentrate on "contemporary" because this dramatically full bodied score, now captured on a fabulous CD, is meant to engulf the senses and transport the listener into a world where fantasies of the mind are equal to the aural.

Elephant Steps, from composer Stanley Silverman (who gave guitar lessons to Paul Simon) and lyricist/librettist/director Richard Foreman, was first produced the same year avant-garde pioneer Foreman founded his Ontological-Hysteric Theater. Billed as "Multi-Media Pop-Opera Extravaganza with Pop Singers, Opera Singers, Orchestra, Rock Band, Electronic Tape, Raga Group, Tape Recorder, Gypsy Ensemble, and Elephants all under the direction of Michael Tilson Thomas," Elephant Steps told the tale of Hartman.

The liner notes to the original LP release described it as follows: "Hartman is looking for enlightenment. He has a mysterious guru by the name of Reinhardt. The reactionary factions keep warning him to stop seeing Reinhardt, but Hartman persists. After visiting Nighttown, and then being abducted and grilled in a radio station, where he dreams of returning to his childhood, he finally climbs a ladder, looks in the window of Reinhardt's house, and what he sees brings him illumination."



Michael Tilson Thomas is currently the conductor of the San Francisco Symphony Orchestra. On this CD he served a dual purpose: he conducted the orchestra and appeared as the Archangel. Photo by Stefan Cohen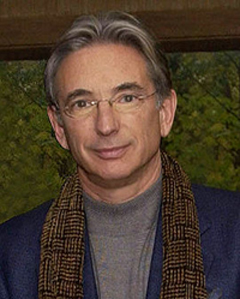 "Elephant Steps is stupendous, multi-sensory, original, diffuse, overwhelming, faintly frightening, and always surprising."
–from the original liner notes to M2X 33044 by Richard Kostelanetz Writer & Editor, Author of The Theatre of Mixed Means (1968) & The End of Intelligent Writing (1974)

Sometimes you just can't improve on the original - and so it is with the original liner note description.

If those folk in Tanglewood just laid back and let the music take over their body - this CD is what they heard. You don't need to be on drugs to enjoy Elephant Steps. It's psychedelic awesomeness for even the uptight and reserved. Billed as "a fearful radio play" it is just that - the music - arrangements - and lyrics enter the listener's mind and allow each person's own imagination to transport them into the story line - the way radio dramas once did.

Hartman, who is feeling ill, takes to his bed.

The doctor sits by his side, unable to find the cause of his illness. Hartman begins a series of hallucinations.

"Elephant eyes are crying elephant tears."

Don't over extend yourself in trying to figure out a story line. Just let yourself become captivated by the songs - performs by some great voices, most of whom went on to achieve great success on their own.

The cast included:
Scrubwoman: Karen Altman - Hannah: Susan Belling - Max: Luther Enstad - Doctor: Roland Gagnon - Otto: Larry Marshall - Rock Singer: Luther Rix - Ragtime Lady: Marilyn Sokol - Hartman: Philip Steele - Archangel: Michael Tilson Thomas.

Chorus: Patti Austin, Jane Gunter, Dianne Higginbotham, Jane Magruder, Patricia Price, Albertine Robinson, Maeretha Stewart, Rose Taylor.

In addition to Michael Tilson Thomas making a name for himself, the concertmaster, Eugene Drucker, was to become first violin of the Emerson Quartet, and the young orchestra contained future members of the Boston Symphony Orchestra.

Marilyn Sokol would go on to win an Emmy, an Obie and a Bistro Award. Singer Patti Austin won a Grammy Award in 2008. Orchestrator Harold Wheeler would become known for Dreamgirls and Dancing with the Stars.

The stage version, first at Tanglewood and then on Broadway was a mixed-means "where sound and light, language and music, images and movement, graphics and films, incense and machinery, props and performers are incorporated into a spectacular mix."

Obviously, on a CD it's a one dimension presentation of music. That is, in most cases. On this CD an interesting musical transference happens - lending itself to a 3D experience. You want incense? Light your own.

The original work was recorded July 9-16, 1973, at Columbia 30th Street Studio, New York City.

Recording Engineer Tim Geelan. Mix engineer John Guerrere. Electronic music realized by Pril Smiley at the Columbia-Princeton Electronic Music Laboratory. Vocal coach Roland Gagnon. Rock arranger Harold Wheeler.

As with all reissues by Masterworks Broadway the sound on Elephant Steps is perfect. A intriguing, effective CD booklet cover designed by John Berg. Photographed by Horn Griner. Reissue design direction by Roxanne Slimak.







Broadway To Vegas is supported through advertising and donations. Priority consideration is given to interview suggestions, news, press releases, etc from paid supporters. However, no paid supporters control, alter, edit, or in any way manipulate the content of this site. Your donation is appreciated. We accept PAYPAL. Thank you for your interest.


ART AND ABOUT


DIAGHILEV AND THE BALLET RUSSES, 1909-1929: WHEN ART DANCED WITH MUSIC

Léon Bakst Costume design for Vaslav Nijinsky as the Faun, from L'Aprés-midi d'un Faune, 1912 graphite, tempera and/or watercolor with gold paint on illustration board Wadsworth Atheneum Museum of Art, Hartford, CT. The Ella Gallup Sumner and Mary Catlin Sumner Collection Fund.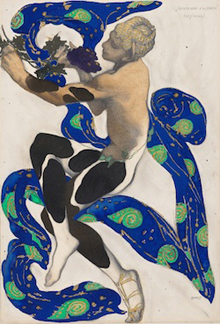 The Ballets Russes - the most innovative dance company of the 20th century - propelled the performing arts to new heights through groundbreaking collaborations between artists, composers, choreographers, dancers, and fashion designers.

Founded by Russian impresario Serge Diaghilev (1872–1929) in Paris in 1909, the company combined Russian and Western traditions with a healthy dose of modernism, thrilling and shocking audiences with its powerful fusion of choreography, music, and design.

Showcasing more than 130 original costumes, set designs, paintings, sculptures, prints and drawings, photographs, and posters, Diaghilev and the Ballets Russes also incorporates film clips in a theatrical multimedia installation.

Adapted from the exhibition conceived by and first shown at the Victoria and Albert Museum (V&A) in 2010, the presentation in Washington draws upon that rich survey, including some 80 works from the V&A's renowned collection of dance artifacts, and adds about 50 objects, generously offered by more than 20 lenders, private and public.

The troupe's productions - notably the infamous Rite of Spring, now celebrating its 100th anniversary - instigated a revolution in dance. This exhibition seeks to highlight these and other connections fostered by Diaghilev.

Organized by the Victoria and Albert Museum, London, in collaboration with the National Gallery of Art, Washington. May 12 – September 2, 2013 at the National Gallery of Art, Washington, DC.

MONET'S GARDEN

Claude Monet French 1840–1926 Waterlilies (Nymphéas) (1916–19) oil on canvas 150.0 x 197.0 cm Musée Marmottan Monet, Paris Gift of Michel Monet, 1966 (inv. 5164) © Musée Marmottan Monet, Paris, © Bridgeman-Giraudon / Presse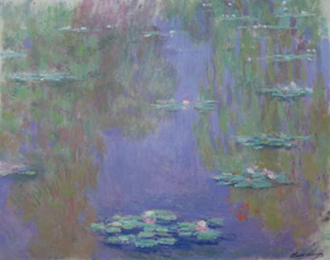 this stunning exhibition will be devoted to Claude Monet's iconic garden at Giverny and will include more than fifty masterpieces from the Musée Marmottan Monet, Paris, as well as paintings from leading international museums and private collections.

Renowned as the 'father of French Impressionism' Monet's forging of a new artistic style was inspired by his direct experiences of nature, culminating in the ravishing depictions of his own lily and flower gardens in the rural property at Giverny, northern France, that became his lifelong obsession.

Through a magnificent and sweeping series of paintings, visitors will experience every facet of Monet's picturesque garden; the iconic Japanese footbridge and water lily ponds, but also the irises, agapanthus, wisteria, weeping willow and alleys of roses with which Monet surrounded himself and which he painted repeatedly.

"My garden is my most beautiful masterpiece," he had said.

An absolute must-see highlight of the exhibition is a stunning suite of waterlilies paintings that Monet completed between 1900 and 1919.

Monet's Garden traces the evolution of his garden subjects over a period of some twenty years, revealing the transition of Monet's purely Impressionist style to the expressive pictorial idiom that he adopted in later life.

Audiences will enter the private world of Monet and his family through early family portraits, including two by Auguste Renoir and photographs of Monet, his family and friends and his garden.

The exhibition also presents a glimpse of Monet as an intrepid traveler, via a series of brilliant painted impressions of Normandy, the valley of the Seine, Norway and London.

But it was to his gardens at Giverny that Monet always returned, and his paintings acquired a grandeur and breathtaking freedom of handling as he and his gardens matured.

The exhibition is organized by the Musée Marmottan Monet, Paris in association with the National Gallery of Victoria and Art Exhibitions Australia. Opened May 10, 2013 and is on display through August 25, 2013 at the National Gallery of Victoria in Melbourne, Australia.


SWEET CHARITY


THE SHAKESPEARE SOCIETY AND THE HUNTS POINT ALLIANCE FOR CHILDREN partner to present The Hunts Point Children's Shakespeare Ensemble's Manhattan Benefit Performance of Romeo & Juliet. Forty-four 4th, 5th and 6th graders from local Hunts Point schools in the South Bronx act, sing, and fight through Shakespeare's most tragic romance.

Now entering its 6th year, The Hunts Point Children's Shakespeare Ensemble is a collaboration between The Shakespeare Society and the Hunts Point Alliance for Children. Consisting entirely of 4th through 6th graders from four schools in the Hunts Point area of the South Bronx, the ensemble spends the entire school year studying acting, singing and learning stage combat.

The program gives students the opportunity to become comfortable with the texts and critically engage Shakespeare both as students and as performers.

The students are also taught critical thinking skills that will help them in the future. Jordan Dann, The Shakespeare Society Education Director, and Devin Norik, HPAC Performing Arts Director, co-direct and manage the entire program and production.

The Benefit performance will be at Five Angels Theater at the 52nd Street Project on Sunday, May 19. Refreshments will be served after the performance.

The Shakespeare Society is a non-profit organization dedicated to increasing the enjoyment, understanding, and appreciation of William Shakespeare's works through performance, commentary, and educational activities. A portion of the Society's membership dollars is used to support educational activities in New York City Schools.

JFK AND THE 1960'S on May 22, 2013, two of Boston's iconic cultural institutions - the John F. Kennedy Presidential Library and the Boston Pops - will come together at Symphony Hall to honor President Kennedy and his lasting imprint on American life and culture.

The evening will evoke the 1960s "Mad Men" era, with a special musical performance featuring narrated excerpts of President Kennedy's most memorable speeches.

A very special evening at the Boston Pops benefitting the Kennedy Library Foundation.

All tickets include admission to a special reception hosted by the Kennedy Library Foundation in advance of the concert.

Chaired by Kennedy Library Foundation Board Member Conan O'Brien, the New Frontier Network is a robust group of young professionals committed to promoting President Kennedy's timeless ideals of public service and civic engagement. We hope you will consider joining the New Frontier Network and the Boston Pops as we seek to inspire new generations with the ideals President Kennedy championed.

Wednesday, May 22, 2013 Symphony Hall in Boston.

GLOBE GUILDERS FASHION SHOW – CELEBRATING COUTURE 2013 considered one of the premier fashion events in San Diego, will take place on Tuesday, May 21, 2013 at the Hilton San Diego Bayfront Hotel.

Proceeds benefit the artistic and education programs of The Old Globe, which has over 250,000 theatre admissions and program participants. This year's show will once again feature Naeem Khan, one of the most sought-after fashion designers in the world.

The event will include a champagne reception and live and silent auctions followed by a seated luncheon and a fashion show featuring Khan's 2013 Fall Couture Line, presented by Neiman Marcus.

THE 15th ANNUAL TIGER JAM which brings together world-class poker, exclusive golf and incredible music is a two day charity event, May 17-18, hosted by Tiger Woods, headquartered at Mandalay Bay in Las Vegas.

The event benefits the Tiger Woods Foundation.

On May 18, the entertainment headliner is the multi-platinum recording artist Kid Rock.

"Kid Rock is a great performer. We welcomed him to the Tiger Jam stage a few years ago, and we're excited he'll be back to headline our 15th Tiger Jam," Woods said. "This event is so important to my foundation, helping us grow our programs and provide even more young people with the chance to attend college."

The 2013 Tiger Jam will kick off Friday, May 17, when poker legend Phil Hellmuth teams up with Woods to host Poker Night. For a $10,000 buy-in, participants will join Woods, Hellmuth, Poker Hall of Famer Doyle Brunson and other of the game's greats for an exclusive night of poker followed by a Pre-Jam Party at Moorea Beach Club at Mandalay Bay.

Tournament prizes include a package to attend the Masters, a round of golf with Tiger Woods, Pro-Am playing spots in premier PGA TOUR events and other unique items. Prior to Saturday evening's live concert, guests can participate in a morning golf outing at Cascata Golf Course before starting the night with a VIP reception at Mandalay Bay.

This exclusive pre-concert party will feature gourmet food and spirits as well as live and silent auctions filled with luxury items. Following a rocking performance from Kid Rock at the Events Center, the night will conclude with a post-concert party at House of Blues.


ABBA MUSEUM OPENS IN SWEDEN
ABBA in 1974, from left to right: Benny Andersson, Frida Lyngstad, Agnetha Fältskog and Bjorn Ulvaeus.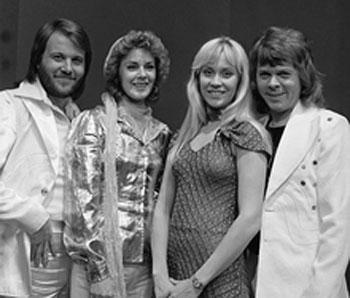 Last week the Abba Museum in Stockholm, Sweden opened its doors. Residents, tourists and devoted members of the Abba fan club stood in line for up to twelve hours to gain admission.

Nobody complained.

Curated by Ingmarie Halling, this is a hands on, public friendly museum. A full-size replica of the office of Abba's late manager Stig Anderson is on display as are Abba's dressing room, the cabin on the island of Viggsö where Ulvaeus and Andersson would go to write, and even the kitchen of Ulvaeus and ex-wife Agnetha Fältskog's home.

Other exhibits include the helicopter featured on the cover of its Arrival album, a star-shaped guitar and dozens of glam costumes the Swedish band wore at the height of its 1970s fame. Some 40 sets of the trademark shiny flares, platform boots and knitted hats are also on display. Visitors can also see digital images of what they would look like in costumes.

There is a piano which develops a life of its own. Visitors can also record music videos and sing such hits as Dancing Queen and Mamma Mia on a stage next to hologram images of the band members. A telephone in the corner to which only the band's ex-members have the number: They have promised to call in. If that phone rings and a museum-goer picks it up, they will find themselves holding a conversation with one of Abba while standing in front of a vast floor-to ceiling photograph of Abba.

The ultra hi-tech museum offers visitors the opportunity to even remix Abba tracks.

The Abba Museum traces a chronological history, beginning in 1960s Sweden. The band - made up of Ulvaeus, Anni-Frid Lyngstad, Benny Andersson and Agnetha Faltskog - started out as two married couples, and continued performing after their divorces, before eventually drifting apart in the early 1980s.

Since their last public performance as Abba in December 1982, the members of the group have rarely been seen in public all together, though they have continued to be involved in music. One section is dedicated to the breakup and the story of the divorces.

Benny Andersson and Björn Ulvaeus continue to write together, notably the musicals Chess, Kristina and Mamma Mia! Both remarried in the early 80s.

Anni-Frid Lyngstad released three successful studio albums in the 80s and 90s before retiring. In 1990, Lyngstad became a member of the committee of the Swedish environmental organization Det Naturliga Steget (The Natural Step). The organization wanted a "famous face" to help them reach the public, and in 1991 she became chairwoman for the organization Artister För Miljön (Artists For The Environment). She was married to a German prince until his death in 1999. She lives in Switzerland with the 5th Viscount Hambleden.



Agnetha Fältskog releases a new album on Monday, May 13, 2013.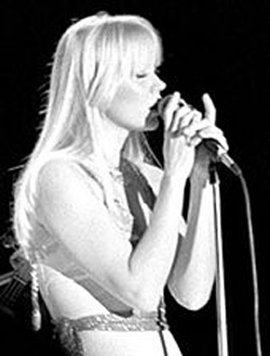 Agnetha Fältskog and Ulvaeus married on July 6, 1971 in the village of Verum, with Andersson playing the organ at their wedding. In January 1979 the couple filed for divorce, which was finalized in June 1980. Both Fältskog and Ulvaeus agreed not to let their failed marriage interfere with their responsibilities with ABBA.

The failure of their marriage inspired Ulvaeus to write The Winner Takes All, one of ABBA's greatest hits.

She released several albums before stage fright and a fear of flying caused her to step out of the spotlight. There was also a situation with a Dutch fan which caused her to take out a restraining order against him. On Monday, May 13, 2013 she will release her first album of new material since 1987.

The museum also includes a Swedish Music Hall of Fame, detailing other Swedish artists. Work on the museum has been going on for over a year with the intent to increase awareness and interest in the Swedish popular music and its history from 1920 to the present.

Each decade is represented by a separate room where time captured through music videos, texts, objects, and more. In these rooms, the visitor a sense of the particular zeitgeist and music. Journalist Jan Gradvall penned the written summary of each decade. Biographies of the various artists have been written by Bengt Palmers.

The initial timeline, the exhibition provides examples of how music, media, technology and society influence one another, both large and small.. From crystal set and shellac via vinyl records, freestyles and CDs to today's "abstract cloud." Starting in the 20th century available of music by radio and record players to the boundless world of music available today.

The exhibit also includes items from selected Swedish artists such as Monica Zetterlund, Zarah Leander, Hasse & Tage, Cornelis Vreeswijk, Yngwie Malmsten, First Aid Kit, Carola and Povel Ramel.

Swedish Music Hall of Fame will - like popular music - be in constant development and change. Temporary exhibitions will put extra focus on a particular genre, artist or musical phenomenon. First up is a selection of Joakim Strömsholms photographs related to the Swedish music scene, including 40 images from 1965 to 1987, several of which have never before been displayed.

Starting in November, Swedish musicians, producers and songwriters will be elected into the Hall of Fame. A jury is responsible for the annual election process and this year's election to be published in the autumn. CEO of Swedish Music Hall of Fame is Charlotte Wiking.


TOWER OF LONDON STAGES SUMMER PERFORMANCES


The Tower of London. The place where those who didn't amuse the king or queen were taken to think it over before having their head chopped off.

Or, being the star attraction in being tortured.

The Suffolk Theatre Company Red Rose Chain has announced their "most exciting venture yet" - Fallen in Love, written and directed by Joanna Carrick.

Love, betrayal, jealousy and treason; the secret heart of Anne Boleyn is revealed in this bold and authentic new production.

Anne Boleyn: No secret lasts forever...

It's 1536. The woman who changed the world forever by capturing the heart of a king faces trial with her brother for adultery, incest and treason.

Carrick's extraordinary new play starring Emma Connell and Scott Ellis will be staged inside the awesome setting of the Tower of London. Performances take place in the Banqueting Suite in the New Armouries as the sun sets on the site of Anne's trial, execution and final resting place.

Alison Weir, Author and Historian has said of the play "Theatre at its best… History transformed into drama with the highest integrity. If you only go to see one play this year make it this one"

Performances May 17-19, 25-26, 31 and June 1, 8-9, 13-16.

The Sunday, May 19, performance is the anniversary of Anne Boleyn's execution.




HONORING IRVING BERLIN'S 125th BIRTHDAY
Irving Berlin was born May 11, 1888.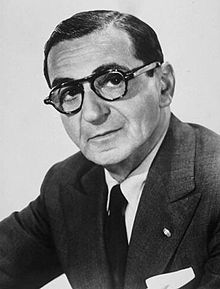 With a life that spanned more than 100 years and a catalogue that boasted over 1000 songs, Irving Berlin epitomized Jerome Kern's famous maxim that "Irving Berlin has no place in American music - he is American music."

Last Saturday was the anniversary of his birth - 125 years ago. The great tunesmith was born Israel Beilin on May 11, 1888.

One of eight children, his family had been living in Tolochin, Byelorussia, when they immigrated to New York in 1893.

When his father died, Berlin, just turned 13, took to the streets in various odd jobs, working as a busker singing for pennies, then as a singing waiter in a Chinatown Cafe.

In 1907 he published his first song, Marie from Sunny Italy, and by 1911 he had his first major international hit - Alexander's Ragtime Band, which sparked an international dance craze in places as far away as Berlin's native Russia.

Over the next five decades, Irving Berlin produced an outpouring of ballads, dance numbers, novelty tunes and love songs that defined American popular song for much of the century.



Irving Berlin at his piano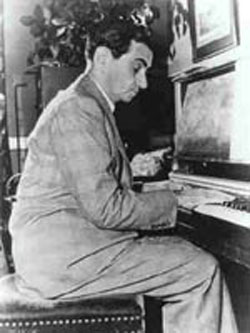 This from a man who could neither read nor write music. Berlin never learned to play in more than one key and used a custom-made 1940 Weser Brothers piano with a transposing lever to change keys. According to music historian Alec Wilder, it was well known that Berlin, unable to write his own music, paid a professional musician to harmonize and write his music, but always did so under his close supervision.

Berlin's songs have reached the top of the charts 25 times. A sampling of just some of the Irving Berlin standards includes: How Deep Is The Ocean, Blue Skies, White Christmas, Always, Anything You Can Do I Can Do Better, There's No Business Like Show Business, Cheek To Cheek, Puttin' On The Ritz, A Pretty Girl Is Like a Melody, Heat Wave, Easter Parade and Let's Face The Music And Dance.

In World War I, he wrote the musical Yip, Yip, Yaphank, which was produced by the men of Camp Upton. In this musical, the big hit song was Oh, How I Hate to Get Up in the Morning, which reflected Berlin's aversion to rising early. This musical raised more than $150,000 to build a service center at Camp Upton.

In a class by itself is his beloved paean to his beloved country, God Bless America, introduced on Armistice Day, 1938, and sung by Kate Smith. This song threatened to replace the national anthem because of its patriotism and popularity. Berlin assigned the copyright for God Bless America to the God Bless America Fund, which has raised millions of dollars for the Boy Scouts and Girl Scouts.

In World War II, he wrote the musical This is the Army, which raised $10 million for the Army Emergency Relief. His hits in this musical were This is the Army, Mr Jones and I Left My Heart at the Stage Door Canteen.

He also wrote other patriotic songs such as Any Bonds Today?, Arms for the Love of America, and Angels of Mercy for the American Red Cross.

Over the years he was known for writing music and lyrics in the American vernacular: uncomplicated, simple and direct, with his aim being to "reach the heart of the average American" whom he saw as the "real soul of the country."

He was equally at home writing for Broadway and Hollywood. He wrote seventeen complete scores for Broadway musicals and revues, and contributed material to six more.

Among the shows featuring all-Berlin scores were The Coconuts, As Thousands Cheer, Louisiana Purchase, This is the Army, Miss Liberty, Mr. President, Call Me Madame and the phenomenally successful Annie Get Your Gun.

Recent musicals culled from his screen work include Irving Berlin's White Christmas and Top Hat, currently in its 2nd year in London's West End and winner of the 2013 Laurence Olivier Award for Best New Musical.

Among the Hollywood movie musical classics with scores by Irving Berlin are Top Hat, Follow the Fleet, On the Avenue, Alexander's Ragtime Band, Holiday Inn, Blue Skies, Easter Parade, White Christmas, and There's No Business Like Show Business.

His songs have provided memorable moments in dozens of other films, from The Jazz Singer (1927) to blockbusters like Home Alone (1991) and Titanic (1997).



A postage stamp was issued September 15, 2002 honoring Irving Berlin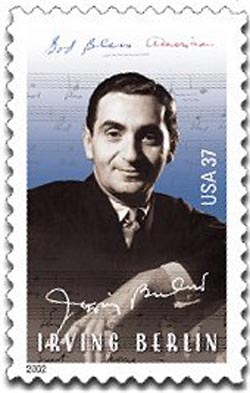 Among his many awards were a special Tony Award (1963) and the Academy Award for Best Song of the Year for White Christmas in 1942.

Not bad for a guy who, as a child, confessed to his mother that his life's ambition was "to become a singing waiter in a saloon."

An intuitive business man, Irving Berlin was a co-founder of ASCAP (American Society of Composers, Authors and Publishers), founder of his own music publishing company, and with producer Sam Harris, builder of his own Broadway theatre, The Music Box.

Berlin's World War I doughboy uniform and many of his original patriotic scores are on display in the Jewish War Veterans Museum in Washington, D.C.

Irving Berlin's centennial in 1988 was celebrated worldwide, culminating in an all-star tribute at Carnegie Hall benefitting the Hall and ASCAP, subsequently an Emmy Award winning special on CBS, and featuring such varied luminaries of the musical world as Frank Sinatra, Leonard Bernstein, Isaac Stern, Natalie Cole and Willie Nelson.

On September 22, 1989, at the age of 101, Irving Berlin died in his sleep in his town house in New York City. He was interred in the Woodlawn Cemetery in The Bronx, New York.


SPREADING THE WORD


DOWNLOADS TO LIST CREDITS during its annual NARM and Digitalmusic.org's Music Biz 2013 Conference which took place May 7, 2013, The Recording Academy - a membership organization internationally known for the Grammy Awards and for advancing creators' rights - and Rhapsody International, the original on-demand music service, announced today that Rhapsody will be the first digital music service to support The Academy's Give Fans The Credit initiative.

Give Fans The Credit advocates for the inclusion of credits for songwriters, nonfeatured performers such as session musicians and backing vocalists, producers and engineers in digital music, as they are listed in liner notes that come with physical media. Currently, the only credits consumers are able to see in most digital services are the song title, album, and featured artist.

"Rhapsody listeners are avid music fans who value the craft of musicianship and recording, and they want to know who was involved in bringing a song to life," said Jon Irwin, president, Rhapsody. "We have a responsibility to our listeners to back this initiative, and further, view the inclusion of more complete credits as a truly useful feature that will only deepen our listeners' connection to their favorite artists and songs."

GLENGARRY GLEN ROSS - L.A. THEATRE WORKS records David Mamet's scathingly funny Pulitzer Prize-winning drama about small-time real estate brokers who vie for the hot leads at a Chicago firm selling shoddy properties. Joe Mantegna reprises his Tony Award-winning role as Richard Roma from the original 1984 Broadway production; Gordon Clapp returns with his Tony-nominated portrayal from the 2005 Broadway revival; and Richard Schiff stars as George Aaronow, the role he played in the most recent, 2012 Broadway production. The L.A. Theatre Works cast also stars Richard Dreyfuss and Bruce Davison.

With money, egos and jobs on the line, the cut-throat salesmen will stop at nothing to get their fair share of the American Dream. This gritty story of shifting values in the male-dominated workplace is as potent and exhilarating as ever.

All performances will be recorded live in front of an audience - without sets or costumes - to air on L.A. Theatre Works' syndicated radio theater series, which broadcasts weekly on public radio stations nationwide and can be streamed on demand.

May 16-19 at the James Bridges Theater, UCLA School of Theater, Film and Television in Los Angeles.

PLAYWRIGHTS WRITING FOR TELEVISION: SUCCESS OR COMPROMISE? The recent growth of TV writing away from Los Angeles and the success of long-form TV series on networks like HBO have expanded opportunities for theatre writers. Like actors, these writers move in both worlds - but how do they manage it? Acclaimed playwrights and TV writers Diana Son, Itamar Moses, and Matt Schatz with Yale School of Drama scholar Catherine Sheehy and others, join us to discuss the shifting landscape of dramatic writing.

Presented May 20, 2013 at The Martin E. Segal Theatre Center (MESTC), a non-profit center for theatre, dance, and film affiliated with CUNY's Ph.D. Program in Theatre. The Graduate Center, CUNY, New York City. All events are offered free of charge and open to the public, first come, first served.

OLYMPIA DUKAKIS in a concert reading of Rose by Martin Sherman. A remarkable life that began in a tiny Russian village, moved on to Warsaw's ghettos and ship called The Exodus, and finally to the boardwalks of Atlantic City, the Arizona Canyons and salsa-flavored nights in Miami Beach.

A portrait of a feisty Jewish woman who has survived some of the major events that shaped the 20th century with humor, guile, and spirit.

May 21, at The Smith Center in Las Vegas.

18th ANNUAL MARY LOU WILLIAMS JAZZ FESTIVAL features today's top jazz artists over three nights May 16-18, 2013 at the Terrace Theater, The Kennedy Center in Washington, DC.

Hosted by Dee Dee Bridgewater, the event features an impressive line-up of veteran and up-and-coming jazz artists, the roster for 2013 will include, among others, on Thursday, May 16 - Tineka Postma Quartet, Amina Claudine Myers Trio, and NEA Jazz Master Sheila Jordan and Jay Clayton; on Friday, May 17 - Regina Carter, the Helen Sung Quartet, and the vocal trio Tillery featuring Becca Stevens, Gretchen Parlato, and Rebecca Martin; and on Saturday, May 18 - Cindy Blackman-Santana.

JOIN THE CAST FOR COCKTAILS a premiere event staged by the Fabulous Palm Springs Follies in which patrons can take part in the cast party at the end of a theatrical season, a time-honored show business tradition.

After the matinee on Wednesday, May 15, patron participants will be escorted just around the corner to the newly opened Oscar's Bar and Grill. After the red carpet arrival, guests will be joined by the entire Follies cast for cocktails, hors d'oeuvres, lively conversation and merriment.

This first-ever Follies event takes place in Palm Springs, CA.

NEIL PATRICK HARRIS named to host the 67th Annual Tony Awards on June 9 at Radio City Music Hall. The Tony Awards are presented by The Broadway League and the American Theatre Wing and will be broadcast over CBS.


GET WELL SOON TO . . . .


TONY AWARD NOMINEE MELISSA ERRICO announced through her Twitter page that she will undergo surgery to repair a blood vessel on her vocal cord. "Best you hear it from me first. I am going to have a laser procedure to repair a blood vessel on my vocal cord," she posted.

Errico is under the care of Dr. Steven Zeitels, who is the Eugene B. Casey Professor of Laryngeal Surgery at Harvard Medical School (HMS), and the Director of the Center for Laryngeal Surgery and Voice Rehabilitation the Massachusetts General Hospital (MGH). Dr. Zeitels serves as Laryngologist to various voice departments in Boston, as well as to the American Repertory Theatre at Harvard University, the Boston Lyric Opera, and the Boston University Huntington Theatre. His patients include Adele, Aerosmith's Steven Tyler, Julie Andrews and mezzo soprano Frederica von Stade.

In late March the soprano was forced to withdraw from the Off-Broadway revival of Passion due to complications from bronchitis.



OUTER CRITICS CIRCLE the organization of writers and commentators for media covering New York theatre have announced its award winners for the 2012-13 season in 24 categories.

Broadway stars Judy Kaye, Audra McDonald, Michael McGrath, Donna Murphy and Tonya Pinkins will serve as gala award presenters at the upcoming 63rd Annual Outer Critics Circle Awards ceremony on May 23rd at the legendary Sardis Restaurant. In addition to being acclaimed stage performers, the stars are also former recipients of the esteemed Outer Critics Circle Award.

The Nominees and Winners are:

OUTSTANDING NEW BROADWAY PLAY: Grace, Lucky Guy, The Nance, The Testament of Mary, and Vanya and Sonia and Masha and Spike. WINNER

OUTSTANDING NEW BROADWAY MUSICAL: Chaplin: The Musical, A Christmas Story, Hands on a Hardbody, Kinky Boots, WINNER and Matilda the Musical.

OUTSTANDING NEW OFF BROADWAY PLAY: Bad Jews, Cock, My Name is Asher Lev WINNER, Really Really, and The Whale.

OUTSTANDING NEW OFF BROADWAY MUSICAL
February House, Dogfight, Giant, Here Lies Love WINNER, and Murder Ballad.

OUTSTANDING BOOK OF A MUSICAL (BROADWAY OR OFF BROADWAY): Cinderella, Chaplin: The Musical, Dogfight, Kinky Boots, and Matilda the Musical.WINNER

OUTSTANDING NEW SCORE (BROADWAY OR OFF BROADWAY): Chaplin: The Musical, Dogfight, Hands on a Hardbody, Here Lies Love, and Kinky Boots. WINNER

OUTSTANDING REVIVAL OF A PLAY: Golden Boy, Orphans, The Piano Lesson, The Trip to Bountiful, and Who's Afraid of Virginia Woolf? WINNER OUTSTANDING REVIVAL OF A MUSICAL: Annie, Cinderella, The Mystery of Edwin Drood, Passion, and Pippin.WINNER

OUTSTANDING DIRECTOR OF A PLAY: Pam MacKinnon Who's Afraid of Virginia Woolf? - Nicholas Martin Vanya and Sonia and Masha and Spike - Jack O'Brien The Nance WINNER - Bartlett Sher Golden Boy and Michael Wilson The Trip to Bountiful.

OUTSTANDING DIRECTOR OF A MUSICAL Warren Carlyle Chaplin: The Musical - Scott Ellis The Mystery of Edwin Drood - Jerry Mitchell Kinky Boots - Diane Paulus Pippin WINNER - Alex Timbers Here Lies Love.

OUTSTANDING CHOREOGRAPHY: Warren Carlyle Chaplin: The Musical - Peter Darling Matilda the Musical - Jerry Mitchell Kinky Boots - Josh Rhodes Cinderella - Chet Walker Pippin WINNER.

OUTSTANDING SET DESIGN (PLAY OR MUSICAL): John Lee Beatty The Nance - Rob Howell Matilda the Musical WINNER - David Korins Here Lies Love - Scott Pask Pippin - Michael Yeargan Golden Boy.

OUTSTANDING COSTUME DESIGN (PLAY OR MUSICAL): Amy Clark & Martin Pakledinaz Chaplin: The Musical - Gregg Barnes Kinky Boots - Dominique Lemieux Pippin - William Ivey Long Cinderella WINNER - William Ivey Long The Mystery of Edwin Drood.

OUTSTANDING LIGHTING DESIGN (PLAY OR MUSICAL): Ken Billington Chaplin: The Musical - Paul Gallo Dogfight - Donald Holder Golden Boy - Kenneth Posner Cinderella - Kenneth Posner Pippin WINNER.

OUTSTANDING ACTOR IN A PLAY: Tom Hanks Lucky Guy - Shuler Hensley The Whale - Nathan Lane The Nance WINNER - Tracy Letts Who's Afraid of Virginia Woolf? - David Hyde Pierce Vanya and Sonia and Masha and Spike.

OUTSTANDING ACTRESS IN A PLAY: Tracee Chimo Bad Jews - Amy Morton Who's Afraid of Virginia Woolf? - Vanessa Redgrave The Revisionist - Joely Richardson Ivanov - Cicely Tyson The Trip to Bountiful.WINNER

OUTSTANDING ACTOR IN A MUSICAL: Bertie Carvel Matilda the Musical - Santino Fontana Cinderella - Rob McClure Chaplin: The Musical - Billy Porter Kinky Boots WINNER - Matthew James Thomas Pippin.

OUTSTANDING ACTRESS IN A MUSICAL: Lilla Crawford Annie - Valisia LeKae Motown: The Musical - Lindsay Mendez Dogfight - Patina Miller Pippin WINNER - Laura Osnes Cinderella.

OUTSTANDING FEATURED ACTOR IN A PLAY: Danny Burstein Golden Boy - Richard Kind The Big Knife - Jonny Orsini The Nance - Tony Shalhoub Golden Boy - Tom Sturridge Orphans.WINNER

OUTSTANDING FEATURED ACTRESS IN A PLAY: Cady Huffman The Nance - Judith Ivey The Heiress - Judith Light The Assembled Parties - Kristine Nielsen Vanya and Sonia and Masha and Spike WINNER - Vanessa Williams The Trip to Bountiful.

OUTSTANDING FEATURED ACTOR IN A MUSICAL: Will Chase The Mystery of Edwin Drood - Dan Lauria A Christmas Story - Raymond Luke Motown: The Musical - Terrence Mann Pippin WINNER - Daniel Stewart Sherman Kinky Boots.

OUTSTANDING FEATURED ACTRESS IN A MUSICAL: Annaleigh Ashford Kinky Boots - Victoria Clark Cinderella - Charlotte d'Amboise Pippin - Andrea Martin Pippin WINNER - Keala Settle Hands on a Hardbody.

OUTSTANDING SOLO PERFORMANCE Bette Midler I'll Eat You Last - Martin Moran All the Rage - Fiona Shaw The Testament of Mary - Holland Taylor Ann WINNER - Michael Urie Buyer & Cellar.

JOHN GASSNER AWARD (PRESENTED FOR AN AMERICAN PLAY, PREFERABLY BY A NEW PLAYWRIGHT): Ayad Akhtar Disgraced - Paul Downs Colaizzo Really Really - Joshua Harmon Bad Jews - Samuel D. Hunter The Whale - Aaron Posner My Name is Asher Lev.WINNER

SPECIAL ACHIEVEMENT AWARD: Irish Repertory Theatre Charlotte Moore, Artistic Director and Ciarán O'Reilly, Producing Director in recognition of 25 years of producing outstanding theatre

Celebrating its 63rd season of bestowing awards of excellence in the field of theatre, the Outer Critics Circle's members are affiliated with more than 90 newspapers, magazines, radio and television stations, Internet and theatre publications in America and abroad.



CHARLIE AND THE CHOCOLATE FACTORY by Roald Dahl. Music by Marc Shaiman, and lyrics by Scott Wittman and Marc Shaiman. Book by award-winning playwright and adaptor David Greig. Directed by Academy Award winner Sam Mendes.

Starring Douglas Hodge as Willy Wonka, Nigel Planer as Grandpa Joe, Clive Carter as Mr. Salt, Jasna Ivir as Mrs. Gloop, Paul J Medford as Mr. Beauregarde, Iris Roberts as Mrs. Teavee and Myra Sands as Grandma Georgina.

Featuring ingenious puppetry and special effects, the wonder of the original story that has captivated the world for almost 50 years is brought to life a brand new West End musical.

A deliciously dark tale of young Charlie Bucket and Willy Wonka. When Charlie wins a golden ticket to the weird and wonderful Wonka Chocolate Factory, it's the chance of a lifetime to feast on the sweets he's always dreamed of. But beyond the gates astonishment awaits, as down the sugary corridors and amongst the incredible edible delights, the five lucky winners discover not everything is as sweet as it seems.

A chocolate garden, an army of squirrels and the curiously peculiar Oompa-Loompas must be believed to be seen in this spectacular new musical that is choc-full of fantastical treats to dazzle your senses.

Set and costume designs by Mark Thompson and choreography by Peter Darling.

May 18 - November 30, 2013 at the Theatre Royal Drury Lane in London.

SAN EATON'S THE QUANTUM EYE - MENTALISM AND MAGIC SHOW awarded the world record for the longest running, one man, Off-Broadway magic show, is now in its 8th year. When the mentalist isn't eating his favorite sweet and savory Breton crepes, he's on stage swallowing playing cards. 3,047 decks of Bicycle playing cards and counting, have been swallowed during Sam's performances.

Saturday at Theatre 80 Saint Marks in the Village, NYC. This is an interesting venue. It started as a "speakeasy" during prohibition before becoming the Off-Broadway theatre it is today. Such stars as Dom DeLuise and Myrna Loy have left their marks in the sidewalk outside of the theatre and Frank Sinatra worked as a singing waiter there early in his career.

THE MASTER BUILDER by Henrik Ibsen. Translated by Rolf Fjelde Directed by Andrei Belgrader.

John Turturro returns to BAM to star in Ibsen's take on the ambiguous nature of creative ambition in the shadow of mortality.

Step by step, an aging architect climbs to the top of his own tower. Dizzy and fearful of death, his motivations are unclear: Is this a touching act of love between a man and his crowning achievement? Or is it an effort at the crown itself—a desperate attempt to prove himself a god among men?

May 12-June 9 at BAM in Brooklyn, NY.

RELATIVELY SPEAKING by Alan Aykbourne.

Felicity Kendal returns to the West End to star with Jonathan Coy, Kara Tointon and Max Bennett in Alan Aykbourn's beautifully crafted, wonderfully funny and charming play.

May 14 - August 31, 2013 at Wyndham's Theatre in London.

SWEET CHARITY based on Federico Fellini's screenplay for Nights of Cabiria, Sweet Charity boasts music by Cy Coleman, lyrics by Dorothy Fields and a book by Neil Simon.

Directed by Richard Israel.

One of the all-time classics of modern musical theater. Meet Charity Hope Valentine, dance hall hostess, eternal optimist and unlucky romantic, as she searches for true love in this Tony award-winning musical comedy that features show-stopping numbers such as Big Spender, Rhythm of Life and If They Could See Me Now.

Presented by the DOMA Theatre Company May 17 through June 23 at the MET Theatre in Los Angeles.

YOU RAISE ME UP presented by Diverse Choreography. A nonstop all dancing singing sensation taking audience members on a journey through a diverse range of songs characterized by four diverse sections.

The first segment of the show 'Songs that made them famous,' is a poptastic tribute to some of the best hits around from such names as Christina Aguilera, Kelly Clarkson, Taylor Swift and Josh Groban.

That segment is followed by 'A Musical Revival' containing excerpts from Les Miserable.' The show quickly switches to The Wonderful Wicked land of OZ showcasing a mini musical of all things OZ before diving into the Weird and Wonderful Nicky Minaj medley.

Finally the 'Stand up, stay strong,' segment of the show promotes a positive, up lifting message to the audience encouraging young people to believe in themselves and to fight for what is right.

The program helps support Diverse Choreography's anti-bullying campaign. May 17-19 at the at the Madinat Theatre at Souk Madinat in Dubai, UAE.

DOJOJI: THE MAN INSIDE THE BELL by Ernest Abuba. Directed by Pan Asian Rep's Artistic Producing Director, Tisa Chang and choreography is by Sachiyo Ito.

Pan Asian Rep has commissioned this new multimedia script. Dojoji: The Man Inside the Bell pays tribute to the Japanese parable about the Dojoji Temple seen in various Noh and Kabuki dance versions, popularized by the iconic transformation of a woman spurned into demon serpent whose wrath leads to devastation.

The production embraces Eternal Love, Destiny and power of Transformation. It is a classic love story, reimagined for a new generation of audiences as a multimedia piece with classic dance, and a new script in English that reflects feudal Japan and the Anime world. The original story dates back to 931AD. During this period Japan was in an era of tumult and re-construction, as well changing forms of Shintoism and Buddhism.

Starring Sachiyo Ito portraying the dancing Spirit of Kiyohime. The cast also features Kiyo Takami, Toshiji Takeshima, and John Baray, Don Castro, Dinh Q. Doan, and David Shih.

May 18 – June 9, 2013 at the Clurman Theatre at Theatre Row in New York City.

SLEUTH by Anthony Shaffer.

Also starring Directed by Clayton Phillips. Starring Fred Grandy as Andrew Wyke and Christian Pedersen as Milo.

Also featured are Rich Tanis as Detective Sergeant Tarrant, Ed Spreen as Police Constable Higgs, and Earnest Cindership as Inspector Doppler.

This tantalizing mystery thriller is set in the English manor house of Andrew Wyke, an immensely successful writer. His home is filled with his obsession for inventions and deceptions of fiction and his fascination with games and game-playing. He lures his wife's lover, Milo Tindle, to the house and convinces him to stage a robbery of her jewelry, a proposal that sets off a chain of events that leaves the audience trying to decipher where Wyke's imagination ends and reality begins.

The production design team includes: Stephan Cowles (scenic design), Anna Hilberry (costume design), Jeremy Cunningham (lighting design), A & L Sound (sound design). Michael J. Iannelli is production stage manager.

Performances through May 19 at the Surflight Theatre in Beach Haven, NJ.

THE CRUCIBLE

Devon Sorvari and Christopher Guilmet (top) and Kimiko Gelman and Bo Foxworth (bottom) as Elizabeth and John Proctor in the "fully partnered" production of The Crucible. Photo by Geoffrey Wade.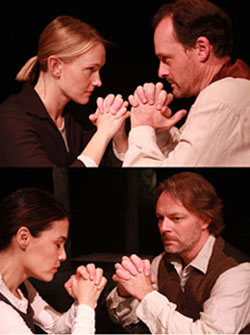 by Arthur Miller. Co-Directed by Armin Shimerman and Geoffrey Wade.

Set in 1692 and written in reaction to the McCarthyism that gripped America in the 1950s, Arthur Miller's parable of mass hysteria offers a frightening depiction of what can happen when fear clouds fact and reason is replaced by blame. The fully partner -cast Antaeus production aims to highlight the play's universal and timeless themes.

Members of "fully partnered cast" include: Bo Foxworth and Christopher Guilmet sharing the role of John Proctor; Kimiko Gelman and Devon Sorvari as Elizabeth Proctor; Ann Noble and John Prosky doubling as Reverend Hale; John Allee and Joe Delafield as Reverend Parris; Eva Beebe and Ranya Jaber as Betty Parris; Marcia Battise and Saundra McClain as Tituba and Judge Hathorne; Rhonda Aldrich and Lily Knight as Ann Putnam; Stephen Mendel and Stoney Westmoreland as Thomas Putnam; Fran Bennett and Dawn Didawick as Rebecca Nurse; William C. Mitchell and Joseph Ruskin as Francis Nurse; Steve Hofvendahl and Philip Proctor as Giles Corey; James Sutorius and Reba Waters Thomas as Deputy Governor Danforth; Nicole Erb and Kate Maher as Abigail Williams; Shannon Lee Clair and Alexandra Goodman as Mary Warren; Morgan Marcell and Rachel Berney Needleman as Mercy Lewis; Jim Kane and R. Scott Thompson as Ezekiel Cheever; and Daniel Dorr and Aaron Lyons as Marshall Herrick.

Wondering what "fully partnered cast" meant and whether each director worked with one specific cast, Broadway To Vegas posed some questions.

"Not only do both directors work with both casts - the way Antaeus works, both casts work together right up until the last two weeks before opening and are in, fact, don't even split up into two casts until then," we were told. "Two actors are cast for each part during the audition process, but who will be part of which cast is not determined until well into the rehearsal process. That's partly why they Antaeus has started to use the term 'partner casting' instead of 'double casting.'"

Scenic design for The Crucible is by Stephen Gifford; lighting design is by Bosco Flanagan; costume design is by E.B. Brooks; sound design is by Jeff Gardner; and the production stage manager is Kimberly Weber.

Performances take place May 16 through July 7 at The Antaeus Company in North Hollywood, CA.


WHO'S WHERE




STRINGS ATTACHED a special late-afternoon performance starring two-time Tony Award-winning singer/actress Christine Ebersole and jazz violinist Aaron Weinstein and his trio. They'll showcase classic standards from the '20s and '30s by Fats Waller (Jitterbug Waltz), Cole Porter (Ev'ry Time We Say Goodbye), Johnny Mercer (This Time the Dream's on Me) and George Gershwin (Shall We Dance). Strings Attached debuted in November 2011 at a sold-out engagement at Birdland Jazz Club; this performance is 92Y's annual Kathryn W. Stein Memorial Concert. Thursday, May 16 at 4 pm at the 92Y in New York City.

AN EVENING WITH LUCIE ARNAZ performs a concert featuring new arrangements of favorite standards by Gershwin, Ellington, and Porter, as well as Latin tunes made famous by her father, Desi Arnaz, and showstoppers from her Broadway career. Saturday, May 18, 2013 at the Brooklyn Center for the Performing Arts at Brooklyn College, NY.

ERIC CLAPTON appears Monday, May 13, at the LG Arena in Birmingham, UK. On Tuesday he's at the Arena in Manchester, UK. On Friday he opens a seven night stand at the Royal Albert Hall in London.

FLEETWOOD MAC are in Canada this week. Tonight, Sunday, May 12, they perform at the MTS Centre in Winnipeg. On Tuesday the show is at the Credit Union Centre in Saskatoon. Wednesday's performance is at Rexall Place in Edmonton. On Friday they are at Scotiabank Saddledome in Calgary. Next Sunday, May 19, they'll be singing their hits at the Rogers Arena in Vancouver, BC.

JON BON JOVI continues his world tour with a stop Tuesday, May 14, at the Levski Stadium in Sofia, Bulgaria. On Friday he stars at the Trabennbahn Krieau in Vienna, Austria. Saturday's show is at the Olympiastadion in Munich, Germany.

TAYLOR SWIFT entertains Thursday, May 16, at the Toyota Center in Houston.

ALICIA KEYS brings her tour to the Echo Arena in Liverpool, England on Saturday, May 18. Next Sunday, May 19, she stars at the Metro Radio Arena in Newcastle upon Tyne, UK.

DEPECHE MODE entertain Wednesday, May 15, at the National Stadium, in Bucharest, Romania. Friday' show is at the Kucukcifikpark in Istanbulk, Turkey. Next Sunday, May 19, they perform at the USCE Park in Belgrade, Serbia.

PINK is in Germany this week with a show Monday, May 13, at Westfalenhalle 1 in Dortmund. Wednesday's performance is at the Konig-Pilsener Arena in Oberhausen. On Thursday she's on stage at the SAP Arena in Mannheim. Saturday's show opens a two nighter at the Olympiahalle in Munich.


FINAL OVATION


VIRGINIA GIBSON Tony nominated actress who also appeared in the 1954 screen classic Seven Brides for Seven Brothers died April 25, 2013 in Newtown, Pa. She was 88.

During the 1940s Gibson was a regular on Broadway. Gibson She received a Tony Award nomination in 1957 for best featured actress in a musical for her work in Happy Hunting opposite Ethel Merman.

The St. Louis native began her career in the chorus at the Muny Opera in Forest Park. She made her Broadway debut in 1943 as a dancing girl in Richard Rodgers' A Connecticut Yankee and went on to appear in the musicals Laffing Room Only (1944), Billion Dollar Baby (1945), High Button Shoes (1948) Look, Ma, I'm Dancing (1948) and Along Fifth Avenue(1949).

In Seven Brides for Seven Brothers,) Gibson plays Liza, the dark-haired beauty who winds up with Ephraim (Jacques d'Amboise) and leads the girls in the musical number June Bride.

A memorial service was held May 4, 2013 at the Church of the Blessed Sacrament, New York City.

PETER RAUHOFER award winning re-mixer, lost his fight with brain cancer and died May 7, 2013. He was 48.

On Wednesday, April 17, 2013, it was made public that Peter was diagnosed with a brain tumor. The following message was posted on Peter's Facebook page by his friend and manager:

"Dear Friends and Loyal Fans,

As Peter Rauhofer's manager and dear friend for many years, it is my sad duty to announce that Peter was rushed to the emergency room several weeks ago. After confirming that Peter had a seizure, further testing has revealed a large brain tumor, something that has gone undiagnosed for quite some time. At this time, Peter's family is working closely with a team of talented Neurologists to determine the overall best treatment option. Please be assured that he is getting the absolute finest care possible, twenty-four hours a day. I know Peter would appreciate your kind consideration and positive energy during this extremely difficult period. "

He is survived by his mother, Helga, who resides in Austria, which is where Peter was born. She transported Peter back to home to his final resting place in Austria.

Neil Portnow President/CEO of The Recording Academy issued the following statement: "Grammy winner Peter Rauhofer was an innovative and gifted DJ, producer and remixer. His acclaimed dance mixes of recordings by Madonna, Rihanna, Whitney Houston, and Mariah Carey solidified him as pioneer of club music. In 1999, under the moniker Club 69, Peter received a Grammy for Remixer of the Year (Non-Classical) for Cher's anthem 'Believe' and other inventive work he did that year. His impact on EDM will continue to inspire music lovers and keep them dancing. Our heartfelt condolences go out to his family, friends and worldwide fans who mourn his untimely death."







Next Column: May 19, 2013
Copyright: May 12, 2013. All Rights Reserved. Reviews, Interviews, Commentary, Photographs or Graphics from any Broadway To Vegas (TM) columns may not be published, broadcast, rewritten, utilized as leads, or used in any manner without permission, compensation and/or credit.
Link to Main Page
---
Laura Deni



For the snail mail address, please E-mail your request.
CLICK HERE FOR COMMENT SECTION