! >
Broadway To Vegas
  SHOW REVIEWS     CELEBRITY INTERVIEWS     GOSSIP     NEWS 
| | |
| --- | --- |
| | |
Copyright: May 12, 2002
By: Laura Deni
CLICK HERE FOR COMMENT SECTION

STATUES REUNITE BEDFELLOWS

The cast of the Mary Tyler Moore Show; Ed Asner, Ted Knight, Georgia Engel, Mary Tyler Moore, Betty White and Gavin MacLeod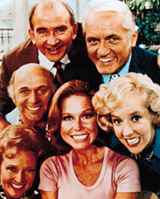 Press agent stunts are getting tougher to pull off. In the era before E-Bay a creative press agent could think up a gimmick and get the masses to go along. Now, the savvy public views press promotions as a way to make a few bucks.

For instance, the rebellious lot on hand last week in Minneapolis for the unveiling of a statue of Mary Richards AKA Mary Tyler Moore, immortalizing that famous hat toss.

A life sized bronze statue, created by Wisconsin sculptor Gwendolyn Gillen, was dedicated by Larry Jones general manager of TV Land, which broadcasts the syndicated episodes. The statue capturing Moore flinging her tam, was displayed at 7th Street and Nicollet Avenue, the corner of the downtown intersection where she originally twirled in the opening montage from her 1970s television hit, The Mary Tyler Moore Show.

After introductions by Mayor R.T. Rybak, Moore emerged, smiling and waving. Sonny Curtis, who sang the theme song from the show, Love Is All Around, sang it again and played guitar as the crowd of about 2,000 sang along.

Then the drape over the statue was pulled away, showing Moore smiling widely as her tam left her fingertips.

The 64-year-old actress thanked the crowd for braving the chilly weather, then quoted from the theme song: "I guess I can take a nothing day and suddenly make it all seem worthwhile."

At the end, she tossed her tam into the crowd.

However, the crowd did not toss back. About 1,000 tams had been distributed to the spectators for a massive toss. The participants had different ideas and nobody wanted to throw their tam away. Some fans wanted to keep them as souvenirs. Others put them up for auction on E-Bay.



Mary Tyler Moore

While Moore became endeared to the public through television the talented lady has had a varied experience on Broadway.

Moore was cast opposite Richard Chamberlain in the ill-fated stage 1966 musical adaptation of Breakfast at Tiffany's which closed before it opened. Then in an unprecedented move, she successfully replaced actor Tom Conti in a slightly revised version of the hit 1979 Broadway play Whose Life Is It, Anyway? playing a quadriplegic sculptor fighting to determine her own destiny. Because of a romantic relationship between the sculptor and a nurse the play was rewritten switching the nurse to a male gender. In 1987 Moore once again hit the boards in a Broadway play called Sweet Sue by A.R. Gurney, directed by John Tillinger, at the Music Box Theatre. Moore co-starred in the title role with Lynn Redgrave. The effort was produced by Arthur Whitelaw, ice skating champ Dick Button, and Byron Goldman.

Tomorrow, the widely anticipated television reunion show featuring Mary and her newsroom gang airs on CBS.



Shirley Jones

This coming Saturday another statute is due for unveiling. This one is a life-size statue of Meredith Willson at The Music Man Square in Mason City, Iowa, as part of the celebration of the 100th Anniversary of the composer's birth.

There is going to be cake and apple juice and Commander Lewis J. Buckley, Conductor of U.S. Coast Guard Band, has prepared a new arrangement of The Music Man to be premiered by the Mason City Symphonic Band.

On Sunday, at Reunion Hall in Music Man Square, there will be Dinner and Conversation with Shirley Jones and Marty Ingels who are suppose to be getting a divorce, but who are still billed as sharing the dais and microphone.



Broadway To Vegas is supported through advertising and donations. Priority consideration is given to interview suggestions, news, press releases, etc from paid supporters. However, no paid supporters control, alter, edit, or in any way manipulate the content of this site. Your donation is appreciated. We accept PAYPAL. Thank you for your interest.


CRIME FASCINATION MOTIVATES PLAYWRIGHT
Carson Kreitzer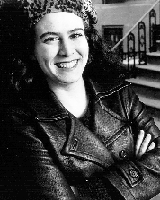 The road a playwright must travel to see their production mounted in New York may well take them to the scribe friendly state of Minnesota - also the place where Ernest Hemingway received electro shock therapy before blowing his brains out.

From her home in Minnesota playwright Carson Kreitzer, a Yale graduate backed by endowments, spoke with Broadway To Vegas about her work and how to survive and succeed as a playwright.

Pole dancers, coroners, johns and dead white males populate Kreitzer's latest play Self Defense or death of some salesmen, which has performances beginning May 25 at the HERE Arts Center in New York City.

The work is inspired by the real life case of "America's first female serial killer," Aileen Wuornos. Critics have called the play sensational and gripping. Wuornos was a Florida prostitute who killed and left seven victims by the side of I-75 in Florida in the early 90's. In each case, Wuornos claimed that her victims tried to rape and kill her and that she acted in self-defense. She was convicted, sentenced to death and recently waived the remaining appeals that stand between her and Florida legally snuffing out her life.

Without presenting the subject as victim or hero, Kreitzer's Self Defense uses these sensational real life events to provide an edgy, provocative look at the police and judicial systems in our country, and at the position of women and the disenfranchised in our culture.



Lynn McCollough as Jolene Palmer the character based on Aileen Wuornos and Carolyn Baeumler starring in Self Defense Photo By: Colin D. Young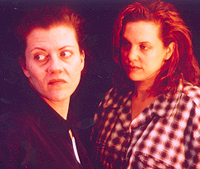 "I think she is a fascinating study," explained Carson, the California born and New York raised daughter of two English teachers.

"It's not that I defend her actions, I defend her as a person. The central question for me is one of self defense. In this society can we see a prostitute as having a "self" or is she disposable? Has she given up the rights of citizens by becoming a prostitute?" questioned the playwright.

"I have always been interested in violent women and women who push the limit, because I think so many of us are trained very carefully not to do that. Looking at Aileen Wuornos has a lot to teach us. As a lot of women seem to do, she basically talked too much when she was arrested. This was a person who was just f.... over basically from the time she was a baby. Her entire life was something I would not have survived."



Aileen Wuornos trading card. The biker bar in Orange, Florida where she was arrested sells Wuornos T-shirts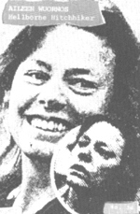 "This woman was a prostitute from the time she was 16 years old, and to me, amazing that it took until she was 34 for her to kill somebody," continued Carson who wondered, "why more women don't resort to violence. The women who do cross that line and become dangerous are such a tiny, tiny minority compared to the men who become violent. And, the men who kill women are everywhere in this society and it is just treated as normal. It is not news. It's nothing. It's just the way of the world. Especially prostitutes. Every day in this country prostitutes just disappear."

"I think the main thing is that women fear men in a way that men do not fear women. And, I am really interested in anyone who challenges that."

There is also a blame the victim scenario that is gender based. "When the victim is a woman, certainly."

This button pushing piece finishes out Kreitzer's Women Who Kill triptych, begun in 1993 with Valerie Shoots Andy, an investigation of Valerie Solanas' 1968 assassination attempt on Andy Warhol.



A scene from Valerie Shoots Andy Photo By: Colin Young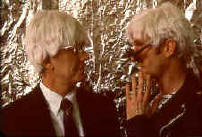 Discussing Valerie Shoots Andy Carson reflected that "she didn't really kill him. He didn't die until many years later.

"The play takes the event of the shooting (1968) of Warhol as a leaping off point. How the event reflects on our lives now -- the anger, the madness. The event (the shooting) took place one year before I was born. It reflects promises that were made in the early feminist movement, powerful angry promises that never came to fruition. When I came to womanhood, it was 'you've had your feminist movement, now shut up.' Everything is not fine. Ten years after I started writing it, the world had gotten better and so it was an excellent time for the play."



Andy Warhol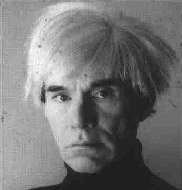 "I've been attracted by Warhol's art and work. The two things overlapped. He was the center of the art world and the center of downtown society. He held a unique place in history. In the world of pop and icons there was an early strong feminist noise. These things come together in this play."

Carson's second play Heroin/e (Keep Us Quiet), was based on Ellie Nesler, who entered a California courtroom and put five bullets in the man who molested her son. It was a crime that invoked understanding and compassion.

"Now in this play it's self defense, so I am crossing into very dangerous territory," admitted Carson.

"We're talking about seven men. That is what is so fascinating about this story. The first thing you think is seven times, yeah, right," conceded Carson about a woman some might feel isn't worth a second thought.

"But, then think about her situation," challenged Carson. "This is a woman who is getting into trucks by the side of the road with strangers. And, yeah, her life is going to be threatened seven times. That is not even a stretch. It is just assumed that if you are going to be a prostitute, you might get murdered," Carson argued. "I want it also to be assumed that if you want to hurt a prostitute, you stand a good chance of winding up dead yourself."

There is also an almost show stopping scene involving coroners. Giggled the playwright, "I am trying to startled people."

Carson has not met nor ever interviewed Wuornos, rather worked from newspaper articles, magazines and video clips. "The truth is I was afraid of her influence on me. I was afraid that I would feel that I owed her a play that was her version of events. I knew that I just needed to write the play as I saw it," explained Carson.

"I am hoping that this play can join the growing body of work and discussion against the death penalty in this country. I was never for the death penalty. I always thought - oh yeah, that's pretty bad. We really shouldn't be doing that, but now I am so passionately against it. The death penalty is just not applied fairly. There is no question that if you are rich you get out of it. If you are poor you get killed."

"That is another reason that I think her story is so important. She did these crimes - and I still don't think we should kill her. If you are against the death penalty, you can't just say - It's wrong if you are executing innocent people. Yes, it is unbelievably wrong if you execute innocent people, which we are doing. There are so many people who have been cleared by DNA evidence. It is just insane that a civilized nation continues to do this."

While nobody murdered deserves their fate Carson stressed "an eye for an eye doesn't work. The death penalty is not a deterrent to crime. It is just about giving people vengeance. It doesn't help the next person not be killed."

Although Carson may be fascinated with violence her successful playwriting isn't all blood and guts.

The Slow Drag, opened to sell out performances in a fringe theatre in London on February 14 1997. It transferred to the West End of London on October 27 1997.

The play with music, based on real life, centers on a character called June Wedding, the wife of Saxophonist Johnny Christmas whom only after his death was discovered to be a woman.

The Slow Drag contains some of the most popular songs of the forties, such as Blues in the Night, The Way You Look Tonight, Honeysuckle Rose, Blame It On My Youth, Too Late Now, But Beautiful, More Than You Know, and Everybody Loves My Baby.

A CD was recorded at Abbey Road Studios, London over four nights with each night's session starting at midnight to capture the flavor of the production.

"I wouldn't call it a book for a musical so much as I wrote it as a play with songs. It is a play and it uses music to tell the story."

As to remounting it Carson says she would "love to, but the problem is that the music makes it incredibly expensive. This is why it did a lot better in London. The rules are different. You just pay a percentage to the equivalent of BMI or ASCAP, depending upon how much music is in the show. Whereas, in the United States, you need to basically negotiate a contract with each individual or right's holder for all of those songs."

"Actually, I should take a look and see if anything else has come into the public domain since then," she mused. "They were all on the edge. I would love to get that show up again. It is something that I am very proud of."

Kreitzer has good reason to be proud of her accomplishments. She holds a degree in Theater and Literature from Yale University, and is the recipient of grants from the New York Foundation for the Arts and the New York State Council on the Arts, as well as a 1999 residency with Mabou Mines. She is winner of a McKnight Advancement Grant and a Jerome Fellowship.

"I've been very lucky in terms of grants that I have received. That has been the gift in terms of just giving me time to become the writer that I am."

Getting a production mounted while managing to survive is an interesting accomplishment for any playwright.

Carson used a grass roots approach.

"I always played it close to the vest. When I had a play I went to people I knew and said - can we get this done?"

Carson insists that those friends are neither connected nor moneyed. "I've had mostly small productions in downtown in New York City with smaller companies. I haven't calculated with what it would take to get a big productions up. What I want to see is the play up. I want to see the play live."

She laughed at the mention that writers might think huge grants are for the asking. Most of the grants range from the several hundred to a few thousand dollars. Many grants are awarded to theatres for play production, rather than to specific playwrights.

It isn't easy.

"It's a tough life to have chosen. But, if it is what you love to do, then it's what you love to do," stressed Carson. "There are a lot of people in theatre just scraping by, in order to do what we love. I came out to Minnesota on a Jerome Fellowship, which is a national grant that does say you have to move to Minnesota. Then this year I got a McKnight Advancement Grant, which is also Minnesota based. It's just my second year here (Minnesota)."

"The opportunities for playwrights in this country are really few and far between," she complained. "It can mean uprooting yourself or commuting. And, Minnesota actually has a lot of grants for playwrights - far more than many states."

"But as a New Yorker I am put in this position now of having to find a room to stay in when I come in to New York for rehearsals. It is a little strange to be a visitor in what I considered to be my city," related Carson who explained her unusual first name.

"My mother's maiden name was Carson. I am carrying on the family name. They called my mom Kit Carson in college. Her nickname is Kit, but I don't think we are actually related to Kit Carson. But, you never know," she said referring to the legend of the West.

"My parents are very proud and supportive - if a little worried about how I am going to make a living, as any parents would be," she chuckled.

Currently Carson is hard at work on three plays. "One is called Slither; A hissssstory of women and snakes. It starts with Eve and goes all the way to a modern way holiness church snake handler. There is a snake princess and a 1930's Carney snake dancer. It's a much warmer play than anything I have ever written - really pretty positive. I describe it as being my play about people being nice to one another."

Carson cautions playwrights about jumping on a 9/11 literary bandwagon.

"I didn't survive 9/11. That isn't something I can claim and I think it is very dangerous for people to want to step up and claim a piece of that. I think those who are called, who have a response to it - wonderful. And, I actually thought that when it was happening. I was watching it on TV thinking - okay what can I as a playwright do about this? I started taking notes and by the end of the day I said no I can do nothing about this. I can keep the people I love close to me. That is what I can do."

"I am also working on a play called The Love Song of J Robert Oppenheimer about the bomb and World War II. That is something that I started before 9/11."

"The third play I am working on is going to be set in Las Vegas. It is about showgirls and love."

"I'm going to be going to Las Vegas to do some research. I've previously been to Las Vegas but I've never spoken to a showgirl, so that is going to be very exciting."

"One of my parent's friends is a married couple who met in Las Vegas in the 60s when he was a young jazz musician playing in one of the big hotel orchestras and dating a showgirl," said Carson referring to an era when every Las Vegas hotel had a house orchestra and a chorus line.



Frank Sinatra with a bevy of Las Vegas showgirls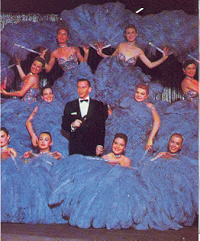 "They are still married and just about the happiest married couple I've ever met."

"I just loved that that kind of a lasting relationship can be found in Vegas with the glitter and the feathers. To think that there is something really real about Las Vegas."

"And, also how Vegas has changed," she continued.

"I've heard that the showgirls are a dying institution which is very sad. It is the same thing that happened with Broadway. The chorus girls and boys used to be able to make a living. One show would close and another would open and you'd get another show."

"But with Las Vegas there was a little piece of the America dream there - the elegance, the glamour."


HOBBY CENTER OPENS STAR STUDDED THEATRE
Hobby Center for the Performing Arts Photomontage by Robert A.M. Stern Architects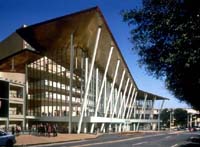 The $92 million Hobby Center in Houston, Texas officially opened Friday with a morning ribbon-cutting ceremony followed in the evening by a gala concert and society dinner. More than 800 black-tie patrons gathered in the lobby for champagne before attending a celebrity-studded salute to the music of Broadway composer Richard Rodgers

Serving as master of ceremonies was Tommy Tune. James Naughton performed as did Heather Headley, Maureen McGovern, Shirley Jones, Sam Harris, and a surprise turn by Lyle Lovett - still on crutches - his first performance since his hazardous run-in with a bull. Lyle also entertained last night in Sarofim Hall in a schedule show with Joe Ely, Guy Clark and John Hiatt.

For the finale Tune burst into song, leading the cast in singing It's a Grand Night for Singing.

The Hobby Center Orchestra was under the direction of Kevin Farrell.

The complex includes two theaters -- the 2,650-seat Sarofim Hall, where the opening concert was held, and the 500-seat Zilkha Hall which opens in the fall. The new complex will serve as the home for Theatre Under The Stars, which will open the musical Some Like It Hot there on June 8, and the Broadway in Houston series of touring shows.

Officials also hope the center's state-of-the-art technology can attract pre-Broadway tryouts. Disney premiered Beauty and the Beast at the Music Hall in 1993 before taking it to Broadway.

Much of the complex is wrapped in a three-story wall composed of 21,350 square feet of glass enclosing the mammoth lobby, which architect Robert A.M. Stern envisioned as a "window on the city."

The lobby also includes a colorful mural, by minimalist artist Sol LeWitt, that was unveiled during the dedication. The mammoth mural, which measures 35 feet high and 27 feet wide, covers one wall in the lobby.

More than $80 million was raised from corporations, foundations and individuals in a drive co-chaired by banker Marc Shapiro. The building is named for the family of former Lt. Gov. Bill Hobby, who gave $15 million. About $13 million in city funds was used for construction.

Sarofim Hall is an ornate theater modeled after an early 20th-century Broadway theaters by architects Henry B. Herts and Hugh Tallant, including Broadway's New Amsterdam Theater and Lyceum Theater. It is named for investor Fayez Sarofim, who donated $5 million.

The theater's midnight-blue walls and domed ceiling are crisscrossed with latticework, intended to evoke the feeling of a gazebo at night. Gold-leaf columns and dark red curtains ring the interior.

The theater's domed ceiling has 2,000 fiber-optic stars replicating the Texas night sky during the summer solstice. A faux star shoots across the dome about every five minutes. During rehearsals that caused James Naughton to exclaim - "I just saw a shooting star." If anyone had made a wish for a beautiful theatre, it came true.



Jerry Herman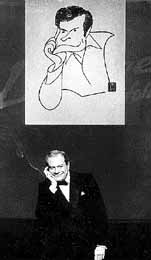 On May 18 more celebrity stars will glimmer at Theatre Under The Stars' (TUTS) first American Musical Theatre Awards.

Honoring distinguished creative talents in the musical theatre, the 2002 awards will pay tribute to Tony-winning composer and lyricist Jerry Herman, who is created Mame; Hello, Dolly!, Mack and Mabel, Milk and Honey, Dear World and La Cage aux Folles. Among the performers who will take part in the tribute to Herman are Lucie Arnaz, Jo Anne Worley, Davis Gaines, Karen Morrow, Nancy Dussault and Hugh Panaro.

David Galligan will direct the evening, with musical direction by Ron Abel. Special guests include Walt Disney CEO Michael Eisner; Hobby Center architect Robert A.M. Stern; Las Vegas resident Tony Curtis, who will star in the upcoming musical production Some Like It Hot; and Viscount Joaquin Alvarez y Montez, a producer of musical theatre in Spain.

Theatre Under The Stars, one of America's largest producers of non-profit musical theatre, was founded in 1968. Since that time, the theatre has produced more than 240 major musicals in Houston and Seattle.


AWARD SEASON BESTOWS HONORS

The award season has arrived and with it a flurry of nominations and winners, including some second generation thespians carrying on the tradition. Kate Burton, the daughter of the late Richard Burton became the first performer in 18 years to be nominated for a Tony Award in two categories Sam Robards, son of Lauren Bacall and the late Jason Robards did his heritage proud by receiving a Tony nomination in the Best Supporting Actor category for his performance in The Man Who Had All the Luck.

For a list of who got the nod click the following links:
THE TONY AWARDS or THE HELEN HAYES AWARDS or THE LUCILLE LORTEL AWARDS


OTHER PEOPLE'S MONEY


DAVID GEFFEN has donated $200 million to the UCLA School of Medicine, the largest single gift ever to a U.S. medical school or to the University of California system, the university announced. It is also a no strings gift. There are no conditions as to how the medical school must spend the money. Geffen, 59, got his start in the mail room of the William Morris Agency in New York, went on to found Asylum Records in the 1970s and Geffen Records in the 1980s He co-founded DreamWorks SKG in 1994 with Steven Spielberg and Jeffrey Katzenberg. The powerhouse producer previously gave $5 million to what is now UCLA's Geffen Playhouse, across the street from the medical school, and he is the named benefactor for the Geffen Contemporary, part of the Museum of Contemporary Art in downtown Los Angeles.

KELSEY GRAMMER has made a six-figure donation to his high-school alma mater, Pine Crest School in Fort Lauderdale, Fla. The money will be used to help the 1,600-student school build a middle school campus and make renovations to athletic facilities.


SWEET CHARITY


JULIA ROBERTS spent last Thursday in Washington, D.C. participating in the 1:30 news conference on Rett syndrome, hosted by Maryland Democrat Rep. Steny H. Hoyer. Also offering thoughts were Kathy Hunter, International Rett Syndrome Association president and Dr. Allen Percy of the University of Alabama.

A teary eyed Roberts asked the subcommittee to set aside $15.5 million in its 2003 budget for research. She testified about the syndrome, which leaves about 200,000 girls and women around the world unable to communicate and control their body functions. "These are the voices that we hear today in the halls of Congress," Roberts said wiping her eyes as children sitting behind her made noise. "They listen but cannot speak. They struggle to do the many things we take for granted every day."

JOE'S PUB Named in honor of The Public Theater/NYSF's founder, Joseph Papp is on the receiving end of a benefit May 18. Many acts who received their start at the famous cabaret will return to lend their support. The benefits stars Audra McDonald with performances by the Kronos Quartet.

LIZA MINNELLI

Liza Minnelli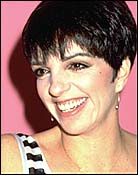 performs in a benefit for The Caron Foundation.

Founded in 1957 and based in Wernersville, Pennsylvania, the Caron Foundation is a "Minnesota Model" inpatient addiction treatment program.

Such programs are based on the idea that addiction is a disease and that total, life-long abstinence and attendance at 12-Step groups such as Alcoholics Anonymous, which have a spiritual focus, is the best route to recovery. They often include family therapy, group therapy, and relapse-prevention classes.

The gala benefit is May 22 at the Metropolitan Pavilion, NYC.

PRINCE ANDREW wings to Philadelphia in September to start a charitable fund to benefit the city's public school students. Andrew, the second son of Queen Elizabeth II who is celebrating her Golden Jubilee, intends to establish the Jubilee International Education Fund and attend a fund-raiser during his visit Sept. 22 and 23.

"We look forward to showcasing our rich history and world-class cultural amenities," Mayor John F. Street said in his announcement. "We are also pleased that he will be providing our school students with the opportunity to expand their horizons by studying abroad in Great Britain."

The Jubilee International Education Fund's mission is to broaden the horizon of inner-city high school students through a coordinated program of academic curriculum, service learning and Outward Bound training combined with international study and travel.


FINAL MEOW


Cats made its final purr last night in London, which was also the 21st anniversary of the London production.

Fans lined up outside the New London Theatre to watch the final performance beamed outside onto giant screens.

Inside the VIP audience witnessed a show that featured a spectacular finale.The original cast of the Andrew Lloyd Webber musical joined 150 other performers for the show's farewell including Elaine Paige, Brian Blessed, Paul Nicholas and dancer Wayne Sleep.

More than eight million people have enjoyed the show, which sets to music verses from TS Eliot's 1939 children's book Old Possum's Book of Practical Cats.



BOUND FOR BROADWAY

Judy Kuhn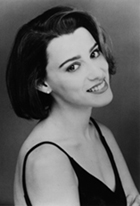 second annual event takes place tomorrow, Monday May 13, when Judy Kuhn hosts sneak previews of several new musicals by some of the theatre's hottest young writers. The program includes; Adventures in Love by Marcy Heisler and Zina Goldrich An hilarious take on urban romance.

Dinner at Eight by Ben Schaechter, Frank Evans and Julie Gilbert. A sophisticated and tuneful new musical based on the classic Kaufman & Ferber play about four diverse couples who come together for an elaborate dinner party.

The Enchanted Cottage by Allison Hubbard and Kim Oler. A scarred war veteran and an unattractive young woman find love and magic in this romantic adaptation of the famous play and film.

Feeling Electric by Tom Kitt and Brian Yorkey.

Great Expectations by Doug Katsaros and Edwin Wilson.

Little Ham by Judd Woldin, Dan Owens and Richard Engquist, based on a play by Langston Hughes.

Musical of Musicals by Joanne Bogart and Eric Rockwell. In addition to seeing the Oklahoma! revival come see this send-up of Rodgers and Hammerstein.

Pablo by Charles Bloom. A lyrical and romantic biography of the young Pablo Picasso.

Precious Little Jewel by Jeff Blumenkrantz.

In addition, the evening will also include interviews with the writing teams. Among the performers set to sing tunes from these new musicals are Heather Mac Rae and Andre Garner. The event takes place in the 451 seat Merkin Concert Hall, in the Abraham Goodman House, NYC.

OKLAHOMA! which has seven Tony Award nominations, will play the Eisenhower Theater in Washington, D.C for 10 weeks, from June 30 to Sept. 6, 2003 according to Kennedy Center President Michael Kaiser whose statement said: "It is a wonderful classical American musical, and we are delighted that such a distinguished production will be at the Eisenhower next summer."

Oklahoma!, which opened in 1943, was the first collaboration of Richard Rogers and Oscar Hammerstein II. It became the longest-running musical of its time, and 30,000 productions have been mounted worldwide. The 1955 movie, with Shirley Jones, Gordon MacRae and Rod Steiger, won two Academy Awards.

THE WORLD IS ROUND is a new children's musical adapted by playwright-director Drew Pisarra and composer Gisburg from an out-of-print children's book by Gertrude Stein. This 45 minute fantasia recounts the adventures of a young girl named Rose who decides to carry a blue lawn chair to the top of a mountain - and does. Along the way, she encounters an asparagus-loving dog, a mysterious spider, a lisping otter and an enigmatic owl. Her best friend Willie and his pet lion also help her on the journey. Stein's story is notable for marking the first appearance of her signature line "Rose is a rose is a rose."

In keeping with the title of Stein's story, this production also boasts an international supporting cast. Joining Pisarra and Gisburg will be actresses Rocio Gomez from Spain, Mika Ueda from Japan and Maria Joynt from Norway. This production is made possible with the kind support of the Gertrude Stein estate.

The design of the production comes courtesy of Italian illustrator Daniela Diina who of late has begun doing work for the stage. The World Is Round plays Sundays to June 16 at Manhattan Theatre Source, NYC.

WE WILL ROCK YOU a futuristic adventure inspired by and featuring 31 of the rock band Queen's hits, backed by film star Robert De Niro, opens at the Dominion Theatre in London on May 14.

De Niro has worked closely with band members Brian May and Roger Taylor, as well as the comedian Ben Elton, who wrote the script.

PROOF written by David Auburn,starring Gwyneth Paltrow opened Thursday at the Donmaw Warehouse in London. Paltrow received a standing ovation and tearfully thanked the audience. Also in the production are Richard Coyle, Ronald Pickup and Sara Stewart. John Madden directs. Paltrow's only other stage experience was in a Massachusetts theatre festival. Proof will run through June 15.

UP FOR GRABS starring Madonna as an unscrupulous art dealer begins previews tomorrow at the Wyndham's Theatre, London.

GUYS AND DOLLS starring Maurice Hines, in the Aladdin Theatre for the Performing Arts, Las Vegas Tuesday through May 19.

SONGS FOR THE NEW MILLENNIUM the May 17 event at the Kennedy Center features songs by Cy Coleman and Marilyn and Alan Bergman. The one-night-only songfest stars Tony- award winner Lillias White and features Carl Anderson, Patti Austin, Janis Siegel and Steve Tyrell. May 17 at the Kennedy Center's Concert Hall, Washington, D.C.

TABOO a musical tale about sex, drugs and the rock 'n' roll '80s group Culture Club stars Boy George, making his legitimate stage debut after a six week crash course in acting. Taboo premiered at London's The Venue theater last January. ( See Broadway To Vegas column of February 3, 2002 ) George will remain in the Christopher Renshaw directed production for six weeks before being replaced by former Neighbors star Mark Little. Taboo is slated to run until Sept. 14.

HOT MIKADO a wild adaptation of Gilbert and Sullivan's classic musical is bursting with swing, jazz and zoot suit flash! It's an explosion of laughter, song and dance when a traveling trombone player, escaping an arranged marriage, is confronted with a tangle of hysterical complications while attempting to win the hand of his beloved sweetheart.

The jazz score inspired by Duke Ellington and other jazz greats received rave reviews for funny lines, fabulous singing with both acting and dancing termed "brilliant." The 20-member cast performs 22 dance and song numbers.

The land of Titi-Pu, the fairytale Japanese-inspired town where the story unfolds, is expertly created by stage designer Daniel Proett. Book and lyrics adapted by David H. Bell Musical adaptations and arrangements by Rob Bowman Directed and Choreographed by David H. Bell. Through June 16 at the Ford Theatre in Washington, D.C.

Ford's Theatre will be closed for renovations from mid-June until mid-November. There will be no performances or tours during this time. They will reopen with A Christmas Carol on November 23rd.


WHO'S WHERE


PAUL McCARTNEY in the spotlight May 12 in Atlanta, GA at the Philips Arena. On Wednesday he performs in Tampa, FL at the Ice Palace. He closes out the week, Saturday, in Fort Lauderdale, Florida at the National Car Rental Center.

USHER is in the spotlight tonight at the Rose Garden Arena in Portland, Oregon. On Thursday the entertainer is in Minneapolis, Minnesota at the Target Center. He finishes the week on Saturday in Maryland Heights, MO at the UMB Bank Pavilion.

JERRY VALE performs May 17 at the Turning Stone Casino in Syracuse, NJ. On May 18 the crooner is on the City University stage in Staten Island, N.Y.

ARLO GUTHRIE center stage May 17 in Great Barrington, MA at the Guthrie Center. On Saturday is moves to West Point, NY. for a show at Eisenhower Hall.

DIANA KRALL stars at the Fox Theatre in Atlanta, GA on Wednesday. On Friday she can be enjoyed at the Broward Center in Fort Lauderdale, Florida.

EDDIE MONEY wraps up an engagement in Las Vegas tonight at the Suncoast. They he opens May 15 at the BSU Pavilion in Boise, Idaho. On May 15 the show is in he Spokane Arena in Spokane, Washington. On Thursday the entertainer is on stage in Tacoma, Washington at the Tacoma Dome.

STYX in Las Vegas May 18 for a show at Mandalay Bay.

LORRIE MORGAN open Friday at the Orleans Hotel in Las Vegas for a three night engagement.

TONY BENNETT closes out his engagement tonight at the Paris Hotel in Las Vegas. On Wednesday he is crooning in Dallas, Texas at the Meyerson Symphony Center. On Saturday he can be enjoyed in Miami Beach, Florida at the Jackie Gleason Theater.

MICHAEL FEINSTEIN performs May 18 at the Hamilton Center for the Arts in Ohio.

ALAN JACKSON at the Riverband Music Center in Cincinnati, Ohio on May 16. On May 17 he performs at the Tweeter Center in Tinley Park, IL. He closes out the week, Saturday, at the Polaris Amphitheater in Columbus, OH.

JARS OF CLAY center stage tonight at the Sprinkles Theatre in San Diego, California. On Tuesday they group performs at the Neighborhood Church in Castro Valley, CA. Thursday the location is the Civic Center in Medford, Oregon and on Friday the performance takes place in the Crossroads Church in Vancouver, Washington.

ELVIS COSTELLO center stage Saturday in Portland, Oregon at the Roseland Theater. Next Sunday the show moves to Seattle, WA at the Paramount Theatre.

AL GREEN on stage Wednesday in Westbury, NY at the Westbury Music Fair. On Thursday the performer is at the Beacon Theatre in New York City. Friday the show takes place in Mashantucket, CT at the Foxwoods Casino. Green closes out the week Saturday in Upper Darby, PA at the Tower Theatre.

HOOTIE AND THE BLOWFISH TOUR perform May 17 in Wichita, Kansas at the Lawrence Dumont Stadium. On Saturday they will entertain in Atlanta, GA at the Chastain Park Amphitheatre.

BB KING center stage May 18 in Las Vegas, at the House Of Blues. Next Sunday the ageless one is in Dana Point, California at the Doheny Blues Festival.

OZZY OSBOURNE currently America's favorite father, takes his mouth and talent on the road to Germany. On May 17 he is in the spotlight in Nuremberg, Germany at Rock Am Park. Next Sunday he performs in Nurburgring, Germany at Rock Am Ring.

ALANIS MORISSETTE tomorrow in Kansas City, Missouri at the Starlight Theatre. On Tuesday she is in the spotlight in St. Louis, Missouri at the Fox Theatre. Thursday finds her in Grand Prairie, Texas at Next Stage at Grand Prairie. Friday the show is in Austin, Texas at The Backyard and on Saturday she does it again in The Woodlands, Texas at C.W. Mitchell Pavilion.


PIFFLE AND PROFUNDITIES


WHAT EVER HAPPENED TO DAN QUAYLE you have been asking yourself. The former vice president returned to Washington, D.C. to address a National Press Club Newsmaker luncheon, discussing Ten Years After Murphy Brown: A Mother's Day Progress Report on the American Family.

SPEAKING OF FAMILY VALUES - NEWT GINGRICH the former U.S. House Speaker, who married his third wife, Callista Bisek, a former congressional aide, in August 2000, following a seven year affair while he was still married to his second wife, has formally requested that the Catholic Archdiocese of Atlanta annul his second marriage, which ended in divorce after 19 years.

Requesting the Catholic Church to annul a marriage is a complicated process that can occur with divorced Catholics.

What makes this request fall into a screwball category is that Marianne Gingrich and Newt were married in a Lutheran Church in Leetonia, Ohio, in August 1981 and had no involvement with the Catholic church during their marriage, Marianne Gingrich responded when presented with a three-page questionnaire demanding information about her previous marriage, religious background, baptism and parents.













Next Column: May 19, 2002
Copyright: May 12, 2002. All Rights Reserved. Reviews, Interviews, Commentary, Photographs or Graphics from any Broadway To Vegas (TM) columns may not be published, broadcast, rewritten, utilized as leads, or used in any manner without permission, compensation and/or credit.
Link to Main Page
---
Laura Deni



U.S. Postal Address: Post Office Box 60538, Las Vegas, NV 89160
CLICK HERE FOR COMMENT SECTION