! >
Broadway To Vegas
  
  REVIEWS INTERVIEWS COMMENTARY NEWS

| | |
| --- | --- |
| | |
CHARLES DICKENS STARTED CHARITY FOR JOURNALISTS - - BEACH BLANKET BABYLON HATS GO ON DISPLAY - - CONAN O'BRIEN LAUNCHES COMEDY RECORD LABEL - - SONGS OF FREEDOM - - TIGER JAM - - BATTLE HYMNS - - PATTI LuPONE IN THE CRADLE WITH ROCK - - SATCHMO AT THE WALDORF - - DONATE . . . Scroll Down




Copyright: May 11, 2014
By: Laura Deni
CLICK HERE FOR COMMENT SECTION


CHARLES DICKENS STARTED CHARITY FOR JOURNALISTS - THE QUEEN IS PATRON


Few occupations can claim to have had a greater impact on the daily life of the British royal family than that of news reporter. The paparazzi were partially blamed for the death of Princess Diana. As a child Prince Harry stuck his tongue out at them. As an adult the press printed naked pictures of him in a Las Vegas party mood. On April 17, 1984 during a tour of a Los Angeles housing project, Prince Andrew the Duke of York, picked up a spray gun filled with water based paint and fired the paint gun at journalists, dousing several media reps in white paint.

Last week Queen Elizabeth and Prince Philip attended the 150th anniversary reception of the Journalists' Charity of which Her Majesty is Patron. She lauded the profession.

The royals and the press have an enduring, convoluted relationship.

At the event held May 7 at Stationers' Hall The Queen and the Duke of Edinburgh met young journalists from across the country together with newspaper editors, media owners, columnists, television broadcasters and also the trustees and supporters of a charity that over the decades has helped tens of thousands of journalists in need.

The Journalists' Charity, legally known as the Newspaper Press Fund, started in 1864 when a group of journalists headed up by Charles Dickens met in a London pub to set up a fund to help their colleagues and dependents who had fallen on hard times.

The Charity's headquarters is named after Dickens.



Charles Dickens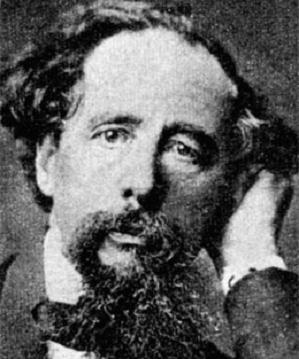 In addition to Queen Elizabeth and Prince Philip, among those in attendance included Culture Secretary Sajid Javid, Daniel Mulhall, Ireland's ambassador to the UK, and Daily Mail columnist Richard Littlejohn, who is an ambassador for the charity.

Laurie Upshon, the charity's chairman, said: "The visit cements a connection that goes back 150 years. The Royal Family have been very good supporters of the charity since the very start, Queen Victoria actually donated fifty pounds three times."

Upshon disclosed that the Queen was "intrigued by the changes to the industry, the way there's online work now, changes to the print industry," he said. "She was intrigued young journalists are still taught shorthand."

Lord Rothermere, the charity's president and chairman of Daily Mail and General Trust, presented the Queen with a bound copy of a speech given by her father, then the Duke of York, to the Newspaper Press Fund's annual dinner on the 7th of May 1930. The Duke of York was chairman of the charity's annual appeal dinner. In the speech he spoke of the job challenges and strain facing journalists of the day.

"The high pressures at which reporters and subeditors, critics and leader writers work is probably greater than that demanded, at all events as a continuous effort, by any other profession," he said.



At the reception Queen Elizabeth looked delighted to meet young journalists who may one day be covering her and her family. Photo: Journalists Charity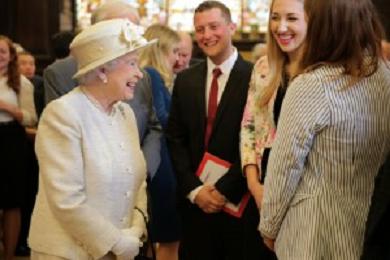 "I know what difficulties the reporter has to meet. He is frequently working when the rest of mankind is playing or sleeping; he is out in all weathers trying to obtain stories which every one seems to be conspiring to keep from him."

In 2005, the Charity changed its working name to Journalists' Charity, to signal its mission as the leading provider of charitable help to journalists working in all branches of the media.

Today the Charity is "seeking to widen the scope of the Charity's work to bring in more broadcasters, magazine journalists as well as the next generation of journalists who are employed on web sites and other branches of the electronic news media."

Regardless of age, the Charity provides practical and financial support to journalists, former journalists and their dependents who, because of sickness, accident or other unforeseen circumstances, need help. which falls into two categories: Retirement Housing and homes or financial help. The help can be in the form of a regular financial support or a one-off cash grant. The Charity's aim is to give financial support in times of need however they do not subsidize those who, in the long term, just simply find it difficult to make a living from journalism. Nor do they offer grants to subsidize an existing lifestyle.



Library at Pickering House. In 2007 the Sophie, Countess of Wessex opened the Journalists Charity's new care home Pickering House. Photo: Journalists Charity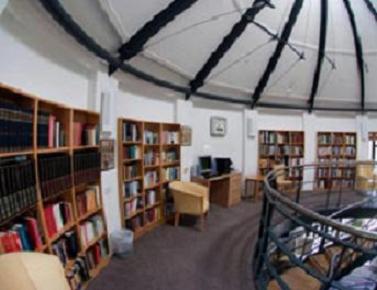 The Charity maintains three types of housing. Pickering House is the Journalists' Charity Care Home. It provides nursing and personal care to 20 residents, aged 65 and over, eight of whom may have a diagnosis of dementia.

With nurses on duty 24/7, the facilities offered are on three wings, one with eight bedrooms and two with six bedrooms. All bedrooms have en-suite bathrooms with a shower. There is a quiet lounge on each floor. The lower ground floor comprises a dining room, bar, fitness area, activities room and chapel. There is a library area and a guest flat is available for visiting relatives.

The Journalists' Charity Sheltered Housing, comprises eight bungalows and twelve flats and is designed for people who are able to manage and care for themselves. There is a Manager on site to deal with unforeseen problems and help out until other help can be arranged. There is a twenty-four hour emergency call system in all the properties, which is connected to a call center run by the local authority.

The Journalists' Charity has five extra care apartments which are available to rent for those in need of personal care but who would like to retain the independence of their own home. They are called "ideal for couples, where one person is in need of more personal care than can be given by their partner."

The flats have two bedrooms, a sitting-dining room, kitchen and bathroom. Two of the flats have been newly built and there is an elevator. All flats have their own washing machine. Residents may take their meals at Pickering House Care Home for a small charge. A hairdresser and physiotherapist visit weekly on request. A minibus, run by the charity, goes to town twice a week, plus trips further a field during the year are arranged.

Several Journalists' Charity fund raising events are staged each year including the Richard Littlejohn Dinner, which takes place on Tuesday, May 20, 2014.





Broadway To Vegas is supported through advertising and donations. Priority consideration is given to interview suggestions, news, press releases, etc from paid supporters. However, no paid supporters control, alter, edit, or in any way manipulate the content of this site. Your donation is appreciated. We accept PAYPAL. Thank you for your interest.





ART AND ABOUT


THE AMERICAN WEST IN BRONZE, 1850–1925

Hermon Atkins MacNeil (1866-1947), The Moqui Prayer for Rain, 1895-96 (cast about 1897). Daniel and Mathew Wolf in memory of Diane R. Wolf. Photo: Denver Art Museum
showcases sculptures by Frederic Remington, Charles M. Russell, Hermon Atkins MacNeil, Paul Manship, and more than 20 other artists.

The first full-scale exhibition of western bronzes, it includes pieces depicting American Indians, cowboys, cavalry, pioneers, horses, buffaloes, and other symbols of the West during the late 1800s and early 1900s.

The American West in Bronze offers a fresh and compelling look at the complex role that artists played in creating three-dimensional interpretations of the Old West—whether based on fact, fiction, or something in-between.

At the turn of the 20th century, artistic representations of American Indians, cowboys and cavalry, pioneers and prospectors, and animals of the plains and the mountains served as visual metaphors for the Old West. Through seventy-two bronze sculptures by twenty-eight artists, The American West in Bronze explores the aesthetic and cultural impulses behind the creation of statuettes with American western themes popular with audiences then and now.

The artists featured in the exhibition range from those internationally recognized for their work in bronze such as Frederic Remington and Charles M. Russell to artists who infrequently pursued western subjects such as Frederick William MacMonnies and Paul Manship. Many were rigorously trained in New York and Paris and used sophisticated techniques to produce bronzes that were celebrated at home and abroad as authentically American.

Co-curated by Thomas Smith, director of the Petrie Institute of Western American Art at the DAM, and Thayer Tolles, Marica F. Vilcek Curator, American paintings and sculpture, the American wing, the Metropolitan Museum of Art in New York.

May 11, 2014 – August 31, 2014 at the Denver Art Museum in Denver, Colorado.

This exhibition was seen in New York and will also be exhibited at the Nanjing Museum in China from September 29, 2014–January 18, 2015.

BEACH BLANKET BABYLON GOES ON DISPLAY

San Francisco Hat. Photo by Rick Markovich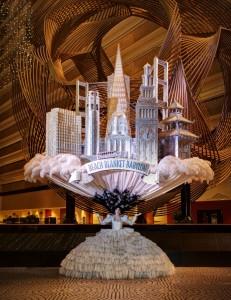 For 40 years Steve Silver's Beach Blanket Babylon has been entertaining millions of with comedy, music, fun and those outrageous hats.

The 40th anniversary will be commemorated with a special public celebration to take place at San Francisco's City Hall on Friday, June 6, 2014 City and civic leaders will join the cast of Beach Blanket Babylon as The City of San Francisco salutes the world's longest-running musical revue in an event open to the public.

This "only in San Francisco" event will feature Mayor Ed Lee, Chief of Protocol Charlotte Shultz, former Mayor Willie L. Brown Jr., Ann Getty, Dede Wilsey, San Francisco Symphony Music Director Michael Tilson Thomas and the San Francisco Gay Men's Chorus.

Leading up to that City Hall commemoration are hat displays. Legendary Beach Blanket Babylon hats from the past 40 years will be on display at various locations throughout the San Francisco Bay Area, including eight Macy's stores, Wilkes Bashford, Ghirardelli Chocolate Marketplace in Ghirardelli Square, and The Westin St. Francis.

One of the many iconic San Francisco Skyline Hats is already at the Fairmont in San Francisco. The Pineapple Princess Hat went on display May 8 at American Conservatory Theater and is on view through June 9, and Berkeley Repertory Theatre starts showing the New York City Hat on May 16, the same day that California Shakespeare Theater unveils a version of the Ascot Gavotte Hat. The Banana Carmen Hat at SF Jazz Center and the spectacular Silver San Francisco Skyline Hat at Davies Symphony Hall go on display later this month. A special display of those hats will be on view May 12–June 9 at the de Young Museum in San Francisco.

Celebrating over 15,000 performances, Beach Blanket Babylon has become a world renowned record-breaking success. Seen by nearly six million people from around the world, this internationally acclaimed musical revue - a San Francisco institution - captures the wild, witty and wonderful world of Steve Silver. Premiering at the Savoy Tivoli in June 1974, and then moving to Club Fugazi in 1975, Beach Blanket Babylon continues to delight audiences with its hilarious spoofs of pop culture, spectacular costumes and outrageously gigantic hats.

Steve Silver's Beach Blanket Babylon, the longest running musical revue in theatre history, follows Snow White as she takes a fast-paced journey around the world in search of her "Prince Charming."


SWEET CHARITY


THE CRADLE WILL ROCK The one-night concert of Marc Blitzstein's iconic work, starring Patti LuPone, will benefit The Acting Company, which Patti founded with Kevin Kline, John Houseman and Margot Harley. Lonny Price will direct; Michael Barrett is musical director. Patti's son Josh Johnston and cousin Johann Carlo - also alums of The Acting Company - will join Patti and a cast of Broadway regulars.

Joining Patti LuPone and Michael Barrett are Acting Company Alumni spanning its 41 years. Randle Mell, David Schramm , Tom Alan Robbins, Brian Reddy, Casey Biggs, Mary Lou Rosato and Denise Woods will return along with other Acting Company Alums Derek Smith, Johann Carlo, Fred Arsenault , Todd Cerveris and Suzy Kohane, Grant Fletcher Prewitt and Josh Johnston who will have just finished the Company's 2013-14 tour. The Acting Company has toured 138 productions to 49 states and 10 foreign countries earning a Tony for Excellence in Theater. Rainn Wilson, Frances Conroy, Jeffrey Wright, Harriet Harris, Keith David, Hamish Linklater and Jesse L. Martin are but a handful of other performers who began their careers on tour with The Acting Company.

Monday, May 19 at Broadway's Bernard Jacobs Theatre, NYC.

URBAN STAGES 30th ANNIVERSARY BENEFIT will honor Lionel Larner the Theatre Luminary Award presented to him by Dame Diana Rigg.

They'll be dinner, dancing, gondola rides and more.

May 20 at the Central Park Boathouse in NYC.

TIGER JAM takes place at Mandalay Bay in Las Vegas on May 16-17, 2014.

Grammy-nominated pop rock band OneRepublic will headline.

The two-day charity event hosted by Tiger Woods combines world-class golf, high-stakes poker, gourmet cuisine and exclusive VIP experiences into a star-studded weekend benefiting the Tiger Woods Foundation's college-access programs.


SATCHMO AT THE WALDORF IS SENSITIVE, POWERFUL AND GRITTY
John Douglas Thompson as Louis "Satchmo" Armstrong.
When you've met an entertainer in person or attended their live performance, there is a danger in watching an imitation. Having both met and watched Louis Satchmo Armstrong perform, I had reservations about seeing John Douglas Thompson starring in Terry Teachout's Satchmo at the Waldorf, a one-man show at the Westside Theater in New York City.

Thompson portrays Louis "Satchmo" Armstrong, Joe Glaser and - though briefly - a statement making Miles Davis.

Teachout is considered one of the great music biographers, evident to anyone who has seen this production.

Considered a fiction plus fact theatre piece, the show's official explanation: "It's March 1971 at the Waldorf Astoria Hotel, and Louis Armstrong has just played one of the final performances of his extraordinary career. Unwinding backstage, he recounts events that transformed him into the world-famous "Satchmo." With no-nonsense manager Joe Glaser at his side, Armstrong kept steady through an era of enormous social change… but at what cost?"

While I may have seen the real Armstrong in his stage persona or the image that he wished to present while mingling with the press, John Douglas Thompson digs deep and delivers a Satchmo which gives insight into a complex man. A fascinating, gritty production in which Thompson nails both Armstrong and Glaser.

Towards the end of his life Armstrong was routinely out of breath after a performance. His constant off-stage companion became a portable oxygen machine.

From the opening line the audience gets a heads up that this isn't some sugar filled love fest for the gregarious Armstrong. There was pressure in Armstrong's life as there was pressure in blowing that trumpet. "I s--- myself tonight,'' Thompson as Armstrong declares.

Superbly directed by Gordon Edelstein, the based on fact show's script is hinged to Armstrong's compulsion to travel with a reel-to-reel tape recorder. He recorded both his performances and his memories - talking to himself in his dressing room - verbally trying to make sense of his life; both the past and the present. He was known to embellish.

Armstrong's speech was peppered with profanity. He routinely smoked marijuana. He was a musician, a jazz great who was used by friends and associates.

Louis Armstrong's stage personality matched his flashy cornet and trumpet playing. Thompson has the shuffle, the brow mopping and the smile down pat. Off stage his life more closely reflected his jagged, raspy singing voice.

Armstrong was a foundational influence in jazz, shifting the focus of the music from collective improvisation to solo performance. When your pave the way for others you frequently are slogging through mud. Armstrong was one of the first truly popular African-American entertainers to "cross over", whose skin color was secondary to his music in an America that was severely racially divided. As has been well documented, he rarely publicly politicized his race, often to the dismay of fellow African-Americans, but took a well-publicized stand for desegregation during the Little Rock Crisis. His artistry and personality allowed him socially acceptable access to the upper echelons of American society that were highly restricted for a black man. That polarized.

Miles Davis accused Armstrong of being an Uncle Tom.

In 1935 Al Capone's associate Joe Glaser became his manager. Armstrong had gone through a rough time, thanks to a bad divorce and his former manager, Jimmy Collins, who left Armstrong's bank accounts bleeding red from bad business deals.

Glaser dealt in drugs even though he never took them himself, nor did he use alcohol or tobacco. In 1927 he had been found guilty of attacking a 14-year-old girl and a 17-year-old and was sentenced to prison but avoided going to jail because of his association with Al Capone. He married the older girl but never lived with her. He looked out for Armstrong who considered him his best friend. Glaser considered him his cash cow. Glaser knew how to organize and cut contracts that guaranteed money. Armstrong and the other musicians lived well.

Armstrong never allowed Glaser to be criticized in his presence and always referred to him as 'Mr Glaser'. According to Louis Armstrong's All Stars "Glaser was always the white man who stood behind him, put his hand on his shoulder, and said, "This is my nigger" (Anderson, 1995 p173)." Glaser lived off of him but never invited Armstrong to his home.

Continued Louis Armstrong's All Stars, "As Collier (1985 p273) has observed: "Both had been in trouble with the law; both had married prostitutes; both had spent their youth among pimps, pickpockets, and murderers. Both in quite different ways were talented, and both wanted, again in different ways, success. And both were badly in need of a lift."

The complexities of Armstrong are presented in a skillfully polished stage presentation aided by Kevin Adams's lighting, John Gromada's sound design, sets by Lee Savage and costumes by Ilona Somogyi.

This is not a musical. There are fleeting fragments of songs which add atmosphere. The show is entertaining, mesmerizing and thought provoking. One of the best in New York.

Satchmo at the Waldorf, was premiered at Orlando Shakespeare Theatre's Mandell Theatre in Orlando, Fla., on September 15, 2011. An extensively revised version of Satchmo at the Waldorf in which Miles Davis is also briefly portrayed was produced by Shakespeare & Company of Lenox, Mass., in August 2012, with John Douglas Thompson playing Armstrong, Glaser, and Davis. The production, which transferred to Long Wharf Theatre of New Haven, Conn., in October 2012, breaking all box office records and to Philadelphia's Wilma Theater in November 2012, has now been mounted in New York. Don't miss seeing it.


VETERAN ARTIST PROGRAM PREMIERES BATTLE HYMNS


battle hymns
one drum, 200 voices...

A soldier's letter to his wife, a speech by Abraham Lincoln, lyrics to Stephen Foster parlor songs - these are the words of battle hymns, Pulitzer Prize-winning composer David Lang's innovative new choral exploration of the feelings of people in times of war.

On May 15, 2014, The Collegiate Chorale will present the New York Premiere of this unusual and haunting work, performed within the cavernous Hangar Deck of the Intrepid Sea, Air & Space Museum, a setting rich in the remembrance of wars served.

Ted Sperling serves as artistic director. James Bagwell is the Conductor and Michelle Oesterle is the Artistic Director

Written for a symphonic chorus and one solo drum, battle hymns is ideally realized by the top-flight Collegiate Chorale under the baton of James Bagwell, joined by members of the Veteran Artist Program. The combined 200 voices will sing out in unison, counterpoint, and multi-layered polyphony, to create a unique acoustic encounter inside the walls of this hallowed aircraft carrier. Modern music merges with military memory - a one-of-a-kind experience.

Founded in 2009, the Veteran Artist Program (VAP) focuses on propelling veterans into the mainstream creative arts community through networking, mentorship, collaborations and original productions.

VAP fosters and promotes veterans in the arts by encouraging them to pursue their passion in an intentional way. Since 2009, VAP has worked with veterans and organizations in Baltimore, Washington, DC, Chicago, Orlando, San Diego, San Francisco and New York.

VAP has produced five music/theatrical live events, filmed two documentaries, one feature film, curated gallery exhibits, provided videography/photography services, and helped organize more than 30 community improvement projects, including painting two murals in Baltimore.


THE PLAYWRIGHTS REALM PRESENTS THE INK'D READING FESTIVAL
The plays of Elizabeth Irwin, Lila Rose Kaplan, Jason Gray Platt and Amelia Roper will receive festival readings May 12 through May 15 at The Studio Theatre at Cherry Lane Theatre in New York City.

The Realm's Writing Fellows program brings together four early-career playwrights and provides them with the creative and professional development resources for developing a script and building a career. The program culminates with the INK'D Reading Festival: highly-produced staged readings of each of the Writing Fellows' plays. The Fellows develop their plays in two workshops over the course of their fellowship period. In both workshops, Fellows works with directors and actors to explore and investigate their plays. In the second workshop, Fellows are given the opportunity to collaborate with both designers and a "design dramaturg," a design advisor who helps illuminate the visual and aural worlds of the pieces. Some of these design elements then come to fruition as part of the INK'D Reading Festival.

Each reading is immediately followed by a reception.

Monday, May 12: The There There written by Jason Gray Platt. Directed by G.T. Upchurch. Scenic Design: Carolyn Mraz. Sound Design by Daniel Kluger.

Featuring Margaret Colin, Michael Countryman, Tobias Segal, and Phoebe Strole.

K and M meet in college and, over the next forty-five years, they collide over and over. What draws these two people together? Is it the volume of their shared experiences? Or is it the volume of those experiences immortalized on digital media? The There There explores mourning in an age when the line between memory and technology is increasingly fine.

Tuesday, May 13: 123 written by Lila Rose Kaplan. Directed by Laura Savia. Scenic Design by Carolyn Mraz. Choreography by Wendy Seyb.

Featuring Lucy DeVito, Jasmine Cephas Jones, Sue Jean Kim, and Bobby Moreno. When their radical parents are imprisoned, sisters 1, 2 and 3 are sent to live with different foster families. 1 loses herself in history, 2 dances, and 3 videos all of it and more. Family tensions mount when Mom gets out of jail. 123 is a dark, funny drama about a rift between sisters and what it takes to grow up.

Wednesday, May 14: Lottie in the Late Afternoon written by Amelia Roper. Directed by Liz Carlson. Scenic Design by Carolyn Mraz. Lighting Design by Nick Solyom.

Featuring Eric Clem, Miriam Hyman, Jessica Love, Sarah Sokolovic. Lottie is trying to be a good person. Lottie is trying to be a good friend. Lottie is trying to cook good food, buy nice gifts, say all the right things and read all the important books. Because she's on vacation! And everyone loves vacations! And everyone loves Lottie! She's so fun! All the time! A play about being miserable on vacation.

Thursday, May 16: My Mañana Comes written by Elizabeth Irwin. Directed by José Zayas. Scenic Design by Carolyn Mraz. Sound Design by David M. Lawson.

Featuring Carlo Alban, J.J. Perez, Brian Quijada, and Stephen Tyrone Williams. Plates in, plates out, we need ice, table four needs bread, your tuna tartare is up: this is the life of the back of house at a restaurant. It's not a bad way for four young New Yorkers to spend their days, make their livings, and cling to their dreams. Until management starts to get stingy. But you can count on your co-workers, right? Right? Right?

My Mañana Comes will also receive a full production at The Peter Jay Sharp Theater in Manhattan from August 26 to September 20, 2014.








SPREADING THE WORD


CONAN O'BRIEN has launched the  Team Coco comedy record label. As first reported by The Hollywood Reporter, the first release will be from  stand-up  comedian Ian Edwards titled 100% Half Assed,  recorded at the La Jolla Comedy Store on March 8. The album will be released in June.

The new record label is "intended to shine a spotlight on up-and-coming comedians while also giving them creative control and a bigger stake in the release success."

Comedians worldwide will now be worshiping at the O'Brien laugh shrine. In making this move, the talk show host has, in hindsight, done what should have been accomplished years ago.

For decades talk shows have been the funny bone mattress to give  new comedians a bounce into recognition. For some, that late night gig meant super stardom. For even more joksters  that touch of spotlight remained just that, for there was no broad based  support system.

Conan's comedy label will be a significant step in that direction. That doesn't mean the new label is for rank amateurs and those whose material is appreciate by only close family and friends.

Team Coco's  debut artist has significant credentials. Edwards is currently a writer on CBS' Two Broke Girls and recently began his own podcast, Soccer Comic Rant, on the podcast network All Things Comedy. He was a supervising producer on Adult Swim's Black Dynamite season three and previously wrote for NBC's Saturday Night Live and Carton Network's The Boondocks.

ITCHING TO SCRATCH several children in the cast of Broadway's Matilda are being treated for an infestation of head lice. Six of the 16 child stars in the cast have been affected, according to New York Post gossip column Page Six. A source tells the publication, "Several of the children have lice. The production is in chaos because they're trying to keep it a secret from other actors and even some of the other children." A representative for the show insists the outbreak is now under control: "It happens at a lot of shows, and is not uncommon with school- age kids in general. It has been dealt with." They also denied the Post's report that any attempt was made to keep it a secret.

That doesn't mean pundits haven't been having fun at the expense of the itchy infestation.

On Friday David Letterman did a Top 10 segment on the problem.

According to LA Times the news prompted one source to joke, "This is the worst outbreak Broadway has seen since the original company of Hair got crabs."

The musical adaptation of Roald Dahl's book is running at The Shubert Theater in New York City.

SONGS OF FREEDOM performed by Francois Clemmons celebrates the 180th anniversary of the Vermont Anti-Slavery Society founding and the 2014 opening of Rokeby Museum in Ferrisburgh, Vermont on Sunday, May 18.

More than 100 Vermonters gathered in Middlebury in May 1834 to "declare war on slavery" and to found an organization to carry it out. These radical Vermonters believed that slavery was a sin, and so they called for the immediate emancipation of all slaves. "Repent - now! Today! Immediately!" is how they put it in their constitution.

During those same decades that Vermont abolitionists agitated for an end to slavery, African Americans - enslaved and free - often expressed their opposition in song. Raised in a musical household in Ohio, Francois Clemmons grew up hearing and singing those same songs. His mother sang traditional spirituals while she worked, and he soon joined in. He has been singing ever since. After graduating from Oberlin College and Carnegie Mellon University, Francois won a place in the Metropolitan Opera, where he played more than 70 classical and opera roles during seven seasons. Hungry to showcase the spirituals he first learned as a child in his mother's kitchen, Clemmons formed his own musical group, the Harlem Spiritual Ensemble. The Ensemble performed faithful interpretations of this important historical and cultural art form. The music offered a sense of hope: transcendence from the toil of everyday life into a realm of spirituality and freedom.

Clemmons joined the faculty at Middlebury College in 1997 and was later named the Alexander Twilight Artist-in-Residence. He retired from the College last May, but continues to live - and sing - in Vermont.

Rokeby Museum is a National Historic Landmark that connects visitors with the human experience of the Underground Railroad and with the lives of the Robinsons who lived on and farmed this land for nearly 200 years.

AMERICAN NIGHT: THE BALLAD OF JUAN JOSE by Culture Clash's Richard Montoya will be recorded by L.A. Theatre Works during five live performances at UCLA's James Bridges Theatre in Los Angeles May 15-18.

Directed by Shana Cooper. Starring Keith Jefferson, Sean San José, Richard Montoya, Todd Nakagawa, Kimberly Scott and Herbert Siguenza.

In a wild fantasia that upends our national mythology, sleep-deprived Juan José is a Mexican national seeking legal status in the U.S. As he crams for the next day's citizenship exam, the American heroes in his handbooks come alive in a series of hallucinogenic vignettes.

All performances will be recorded live in front of an audience (without sets or costumes) to air on L.A. Theatre Works' syndicated radio theater series, which broadcasts weekly on public radio stations nationwide and can be streamed on demand.

CHILDREN OF EDEN IN CONCERT The Kennedy Center presents a semi-staged concert of Oscar-winner Stephen Schwartz's joyous and inspirational musical. Children of Eden, a joyous and inspirational musical about parents, children, and faith. Freely based on the story of Genesis, Children of Eden in Concert is a frank, heartfelt, and often humorous examination of the age-old conflict between parents and children. Adam, Eve, Noah, and the "Father" who created them deal with the headstrong, cataclysmic actions of their respective children. The show ultimately delivers a bittersweet but inspiring message: "the hardest part of love... is letting go." Adapted as a semi-staged concert with book by John Caird and lyrics and music by Oscar and Grammy Award-winning composer Stephen Schwartz, Children of Eden in Concert is a one-time-only event in the Eisenhower Theater directed and choreographed by Tony Award nominee Marcia Milgrom Dodge.

Featuring an all-star Broadway cast, including Ron Bohmer as Father, Ashley Brown as Eve/Mama Noah, Charl Brown as Adam/Father Noah, Tony nominee Jeremy Jordan as Cain/Japeth, and Rebecca Naomi Jones as Yonah, the concert staging is accompanied by the Kennedy Center Opera House Orchestra conducted by Brad Haak and National Broadway Chorus.

Monday, May 19, Eisenhower Theater, Kennedy Center in Washington, DC.

TIMESTALKS LONDON A CONVERSATION WITH JEREMY PIVEN Golden Globe and Emmy Award-winning actor Jeremy Piven talks with International New York Times culture editor Julie Bloom about his work on stage and screen and his experiences filming Mr. Selfridge in London for a worldwide audience; the upcoming film Sin City: A Dame to Kill For, and Entourage, the movie, scheduled for release next year.

May 21, 2014 at The Royal Institution of Great Britain, London.

MOTHERLY SUPPORT Nixon In China opens tonight, Sunday, May 11, in Dublin, Ireland (see below) the director's mother, a lady named Angelika Stevens from New Westminister, British Columbia posted a comment on the company's website: "as the mother of Director Michael Cavanagh, I am more than interested in this production!"



EMMY NOMINATED MAYIM BIALIK of The Big Bang Theory earned a B.S. from UCLA in 2000 in Neuroscience and Hebrew & Jewish Studies, and a Ph.D. in Neuroscience, also from UCLA, in 2007. On Saturday, May 17, she will speak at the 2014 College of Fine Arts Convocation at Boston University. Bialik will also receive an honorary degree, Doctor of Humane Letters, at Boston University's 141st Commencement on Sunday, May 18. This year's Commencement address will be given by Massachusetts Governor Deval Patrick.

At Commencement, Boston University will present Terry Everson, Associate Professor of Music, with the Metcalf Award for Excellence in Teaching, the highest teaching honor.

THE OUTER CRITICS CIRCLE Celebrating its 64th season of bestowing awards of excellence in the field of theater, the Outer Critics Circle is an association with members affiliated with more than ninety newspapers, magazines, websites, radio and television stations, and theatre publications in America and abroad.

The winners of the the 2014 awards will be announced on Monday, May 12th and the annual awards ceremony will be held on Thursday, May 22nd at the legendary Sardi's Restaurant.

Broadway To Vegas will post the winners after they are announced.

( Click for OuterCriticsCircle 2014 nominees and winners )
CURTAIN DOWN


THE PALM SPRINGS FOLLIES CLOSES FOREVER MAY 18 The celebrated Palm Springs, CA based show ends its run after nearly 4 million patrons and 5,000 performances.

One of America's longest running theatrical attractions, from the show's first guest star, Ralph Young (of the superstar duo Sandler & Young), to the last, Darlene Love, the Follies has presented a diverse roster of musical greats, including Howard Keel, Donald O'Connor, Kay Starr, The Mills Brothers, The Four Aces, Frankie Laine, Tony Martin, Gogi Grant, Mary Wilson, Carol Lawrence, Lesley Gore, Maureen McGovern and Rita Coolidge to name but a few.

And from the very first season, celebrated figures from the entertainment, sports and political worlds have sat in the Plaza Theatre audience, celebrities like Kirk Douglas, President Gerald and Betty Ford, Phyllis Diller, Alan Shepard, Andy Williams, Betty Hutton, Don Meredith, Clive Davis, Art Linkletter, Mike Wallace, Stan Musial, Shirley Bassey, Herman Wouk, Berry Gordy, Yogi Berra, John Elway, Jane Russell and, for every year of the show until his death, Bob Hope, who once jumped onstage to join the cast in an impromptu soft shoe during the finale.



NIXON IN CHINA John Adams' production. Featuring the chorus of Wide Open Opera and the RTÉ National Symphony Orchestra.

Conducted by Wide Open Opera Artistic Director, Fergus Sheil.

Set in Peking (Beijing) in February 1972, the opera acts as a psychological insight into the political minds of East and West as US President Richard Nixon makes a ground-breaking visit to communist China, meeting the elderly Mao Tse-tung. Opening on the runway of a chilly Peking airfield, Nixon's arrival on board the presidential jet has become an iconic moment of contemporary opera.

The cast features: Richard Nixon - Barry Ryan. Pat Nixon - Claudia Boyle. Kissinger - John Molloy. Mao Tse-tung - Hugh Francis. Chiang Ch'ing (Madame Mao) - Audrey Luna. Chou En-lai - James Cleverton. Secretary 1: Sharon Carty. Secretary 2: Imelda Drumm. Secretary 3: Doreen Curran.

Production originating in Vancouver Opera. Set Designer: Erhard Rom. Costume Designer: Parvin Mirhady. Lighting Designer: Harry Frehner. Choreographer: Jessica Kennedy. Video Designer: Sean Nieuwenhuis. Sound Designer: Mark Grey.

May 11-17 at the The Bord Gáis Energy Theatre in Dublin, Ireland.

Presented in association with Wide Open Opera, tickets include a pre-show talk with conductor Fergus Sheil and director of the original Vancouver production, Michael Cavanagh.

A STREETCAR NAMED DESIRE André Previn's powerful opera, a faithful adaptation of Tennessee Williams' classic play.

Composer: Andre Previn. Librettist: Philip Littell. Conducted by Patrick Summers. Directed by Brad Dalton.

Starring Renée Fleming who returns to Los Angeles in a role created for her extraordinary talents. Clinging desperately to a masquerade of Southern grace, Blanche DuBois moves into her sister's cramped apartment, creating all the wrong kinds of sparks with her crude brother-in-law. When dark truths about Blanche's past begin to emerge, her world comes apart at the seams in a spiral of violence and madness.

Bass-baritone Ryan McKinny is the hotheaded Stanley Kowalski, with soprano Stacey Tappan as Stella and tenor Anthony Dean Griffey as Blanche's guileless suitor Mitch. Eunice Hubbell is Victoria Livengood and Steve Hubbell is cast as Joshua Guerrero.

Presented in a semi-staged concert production, A Streetcar Named Desire is conducted by Patrick Summers leading the LA Opera Orchestra.

Costumes by Johann Stegmeir. Lighting by Duane Schuler.

May 18, 21 and 24, 2014 at the LA Opera at the Dorothy Chandler Pavilion in Los Angeles.

In related news, the worlds of opera and theater collide in this discussion as LA Opera, LA Stage Alliance and The Antaeus Company dive into the classic play and now opera, A Streetcar Named Desire.

The panel will feature Brad Dalton, the director of LA Opera's production and Apollo Dukakis, stage director of The Antaeus Company's recent production of the play. The two directors will be joined by respective "Stanleys": Ryan McKinny of LA Opera, and Joe Holt of The Antaeus Company, in a conversation moderated by LA Stage Alliance CEO Terence McFarland.

Hear the differences and similarities of staging a play versus an opera, learn about character development techniques, and how two distinctly different worlds approach this classic Tennessee Williams story.

This event will be Monday, May 12, at the Boston Court Performing Arts Center in Pasadena, CA. A wine reception will follow the discussion.

THAIS by Jules Massenet.

Conducted by Patrick Fournillier. Directed by Nicole Raab.

Saving her Soul will Destroy His.

The most beautiful courtesan in Alexandria, Thaïs holds an entire city in her thrall as she embraces life's most sensual delights. One man alone, the monk Athanaël, weeps for her sins, but his pilgrimage to save the sinner's soul becomes a tortured journey of erotic obsession. As seducer transforms into saint, the holy man falls victim to his own passions.

Filled with intoxicating melodies and exotic colors, Thaïs seduces both eyes and ears with a glittering treasure trove of pleasures. The incomparable Nino Machaidze returns as Thaïs, with Plácido Domingo as her would-be savior. The cast also includes Paul Groves, Valentin Anikin, Milena Kitic, Hae Ji Chang, Rebecca Nathanson and Cassandra Zoe Velasco.

Designer is Johan Engels with lighting design by Linus Felborn.

Company Premiere. Production from the Finnish National Opera, Helsinki. Parental discretion advised.

In French with Projected English Translations.

May 17-June 7, 2014. Los Angeles Opera at the Dorothy Chandler Pavilion.

THE PHANTOM OF THE OPERA directed by Harold Prince, will proudly welcome a starry leading combination to the Broadway production, beginning Monday, May 12. On that date, Tony Award nominee Norm Lewis, who most recently triumphed in the legendary role of Porgy in The Gershwin's Porgy and Bess, will return to Broadway in another legendary role as The Phantom. On that same date, Broadway and West End star Sierra Boggess, who received tremendous acclaim starring as Christine Daaé in both the musical's London 25th Anniversary production at Royal Albert Hall and the Broadway 25th Anniversary cast last year, will return to the role in the New York production.

Lewis will become the first African-American performer to star as The Phantom in the New York production. In 1990, Tony Award nominee Robert Guillaume played the role when he succeeded original star Michael Crawford in the Los Angeles production.

HOW TO SUCCEED IN BUSINESS WITHOUT REALLY TRYING Book by Abe Burrows and Jack Weinstock and Willie Gilbert. Music and Lyrics by Frank Loesser. Based on How To Succeed In Business Without Really Trying by Shepherd Mead.

A musical satire of 1960s big business and all it held sacred, How To Succeed in Business Without Really Trying follows the rise of J. Pierrepont Finch, who uses a little handbook called "How To Succeed In Business" to climb the corporate ladder from lowly window washer to high-powered executive, tackling such familiar but potent dangers as the company man, the office party, backstabbing co-workers, caffeine addiction and, of course, true love.

This blockbuster musical comedy features a beloved score packed with such hit standards as I Believe in You, Happy to Keep His Dinner Warm, The Company Way, Been a Long Day, Rosemary and Brotherhood of Man.

May 13-July 13 at the Walnut Street Theatre in Philadelphia.

OLD LOVE by Norm Foster.

Directed by Lynn Lammers.

Starring Ruth Crawford and Tom Mahard.

He's recently divorced. She's newly-widowed. He's a man who won't give up, and she's a woman who won't give in. In a story that spans three decades, we travel with two unlikely companions who encounter each other at strange and inopportune times. When the time is finally right, will they be able to give in to their desires for courtship? Find out if a trip to the circus is what it takes to start over, again.

A co-production with Tipping Point Theatre May 15 – June 15, 2014 at Williamston Theatre in Williamston, Michigan. Williamston Theatre is mid-Michigan's only professional resident theatre.

OIL AND WATER by Robert Chafe.

Directed by Jillian Keiley.

The incredible true story of Lanier Phillips, one of the few survivors of the WWI shipwreck of the USS Truxton. In 1942 the USS Truxton, a ship carrying over a hundred soldiers, ran aground off the Burin Peninsula, killing most of its men. Oil and Water is the incredible true story of the sole African-American sailor of the wreck, Lanier Phillips, the first black man to be seen by the residents of St. Lawrence, Newfoundland. Long accustomed to racism back home, Lanier's life is forever altered by the kindness and generosity of local residents who treat him as a human being, and not judged by the color of his skin. A tale of two cultures, Oil and Water is hopeful and haunting, an honest legend that still resonates with power nearly seventy years later.

Lanier Phillips (1923 – 2012), the U.S. Navy's first black sonar technician and a civil rights activist, was also an honorary member of the Order of Newfoundland and Labrador.

Starring Petrina Bromley, Alison Woolridge, Neema Bikersteth, Jeremiah Sparks, Clint Butler, Ryan Allen, and Mike Payette.

Music composed and arranged by Andrew Craig.

An Artistic Fraud of Newfoundland Production (St. John's). May 14 - 31, 2014 at the NAC English Theatre in Ottawa, Canada.

A Points of View discussion will take place on May 17, 2014.

A BRONX TALE Written and performed by Chazz Palminteri.

The classic coming of age story brought to life in the original one man show. A Bronx Tale tells the story of Calogero Anello, a young boy from a working class family who gets involved in the world of organized crime. Calogero's father is a bus driver who tries to instill working-class family values in his son. As Calogero gets older, the aura and mystique of the Mafia, and the charms of Sonny, the local mob boss who befriends Calogero (and ends up becoming a father figure to him), become difficult to resist. As Calogero comes of age, he must struggle with the choice of following his beloved father's values or submitting to the temptations of the life of organized crime.

Tuesday, May 13, 2014 at The Smith Center in Las Vegas.

SOUVENIR by Stephen Temperley.

Directed by Lara Macgregor.

Featuring: Angela Johnson and Michael Lee Porter.

Based on a true story, Angela Johnson plays real-life eccentric heiress Florence Foster Jenkins and Michael Lee Porter plays her long-time accompanist Cosme McMoon.

Dubbed by her critics as the "Dire Diva of Din," Florence Foster Jenkins enjoyed a remarkably successful concert career even though she was unburdened by talent and deliriously tone deaf.

Her bizarre partnership with pianist Cosme McMoon yielded off-key recitals that earned them standing ovations and cultish fame – culminating in a sold-out performance at Carnegie Hall.

Says Director Lara Macgregor; "I predict Souvenir will be the runaway hit of our season. Aside from the fact that it is based on a true story, it delivers humor, pathos, sheer love of music and unbridled passion. How wonderful that our season runs right through the time Dame Kiri Te Kanawa is in town. All in one weekend, Dunedin can be touched by a truly great soprano, and a soprano who thought she was truly great. What a comparison. Delicious."

A heartfelt, wickedly funny, true story about the limits of self-perception, Souvenir is a sweet and inspiring portrait of a passionate music lover who believed that "what matters most is the music you hear in your head". Never has so little talent given so much joy and laughter!

New Zealand premiere at the Fortune Theatre in Dunedin, with an opening night on Saturday, May 17, 2014.


WHO'S WHERE


JULIO IGLESIAS has a two night stand at Royal Albert Hall on Tuesday, May 13 and Monday, May 19. This marks the singer's first London shows in 10 years.

ROD STEWART is on stage at The Colosseum at Caesars Palace in Las Vegas Wednesday, May 14, Friday and Saturday.

NEW KIDS ON THE BLOCK bring their show to the Hallenstadion in Zurish, Switzerland on Tuesday, May 13. On Thursday they are in the spotlight at the Gasometer in Vienna, Austria. Saturday finds them in Frankfurt, Germany at the Jahrhunderthalle.

LADY GAGA brings her show to the Wells Fargo Center in Philadelphia on Monday, May 12. On Tuesday she's in the spotlight at Madison Square Garden in New York City. Thursday finds her at the Verizon Center in Washington, DC. On Friday she can be enjoyed at the Quicken Loans Arena in Cleveland, Ohio.

CHER brings her production to the Philips Arena in Atlanta on Monday, May 12. On Wednesday she's in the spotlight at the Veterans Memorial Arena in Jacksonville, Fl. Friday's show is at the Amway Center in Orlando, FL and on Saturday she's on stage at the BB&T Center in Sunrise, FL.


FINAL OVATION


MICHAEL TRAVIS costume designer who created the flamboyant outfits for Liberace's Las Vegas stage shows, died Thursday, May 1, 2014 at his home in Studio City, CA. He was 86.

A native of Detroit, Travis joined the Army after graduating from high school, serving three years in postwar Europe. He stayed on to study fashion in Paris, then moved to New York he worked at the Eaves Costume Co. in New York, building costumes for Broadway productions. He then shifted to television, designing costumes for such series as The Voice of Firestone and The Bell Telephone Hour.

Moving to Los Angeles in 1960, he worked under Edith Head on costumes for Academy Award shows. Producer George Schlatter hired him to design costumes for specials and then Laugh-In where he created up to 400 costumes per week.

After learning in his late 40s that he had multiple sclerosis, Travis sought work away from the steady pressure of weekly television, leading him to design for Las Vegas entertainers. Travis also designed for Diana Ross and the Supremes. Nancy Sinatra, Dionne Warwick, Connie Stevens, Tony Orlando, Wayne Newton and The Temptations. His most famous association was with Liberace. Travis began working with Liberace in the early 1970s. Liberace's outfits often would take months to manufacture and complete. Some weighed more than 100 pounds; one, a 1979 "flame" costume, was embedded with small mirrors and 1,600 lights.

In 1967, Travis received a Primetime Emmy nomination for outstanding achievement in costume design for his work on Laugh-In. In 2010, he was given the Costume Designers Guild Career Achievement Award for television.

He left no survivors.

MELVIN "MICKEY" STRAUS longtime chairman of Guild Hall, in East Hampton, NY died May 1, 2014 after a long battle with brain cancer. He was 75.

He joined Guild Hall's board in 1992 and became chairman three years later. The founder and chief programmer of the cultural center's Hamptons Institute, he led Guild Hall's $14 million capital campaign for the renovations of its building and grounds, which were completed in 2009. He retired last year.

After graduating from Dartmouth College and Harvard University, where he received an M.B.A. and was a Baker Scholar, he had a long career in the investment industry and since 1998 has been head of Straus Asset Management. In addition to Guild Hall, he has served as a board or committee member of many arts-related institutions. These include the American Ballet Theater, Museum of Modern Art, Independent Curators, Inc., and American Friends of the Royal Ballet School. He was also a member of the Dartmouth President's Leadership Council and of the Board of Visitors at the John Sloan Dickey Center. He served previously on the Board of Overseers of the Hopkins Center/Hood Museum at Dartmouth and the Dartmouth Alumni Council.

He leaves behind his wife, three children: Scott Strauss of Madison, Wisc., Alexandra Strauss of Los Angeles, and Ben of New York City, and two grandchildren. Two sisters, Margie Stein of San Diego and Mary Straus of Tucson, and a brother, John Straus of Denver, also survive him.

BURTON COHEN an iconic hotel and casino executive of Las Vegas, passed away in his sleep Tuesday, May 6, 2014. He was 90.

He was born in Philadelphia. A Las Vegas resident since 1966. During his career Cohen managed the Desert Inn, the Flamingo, Caesars Palace, Thunderbird and Dunes. He was inducted into the Gaming Hall of Fame in 1995. He was a current member of the MGM Resorts International board of directors.

He is survived by wife, Linda; son, Stephen Cohen (John McNett) of Arlington, Va.; former daughter-in-law, Lynne Cohen of Philadelphia; two grandchildren, Jeremye Cohen of Philadelphia, and Nysa Herz (Steven) of Philadelphia; and five great-grandchildren, Bella, Joshua, Lily, Maxim and Leo.













Next Column: May 18, 2014
Copyright: May 11, 2014 All Rights Reserved. Reviews, Interviews, Commentary, Photographs or Graphics from any Broadway To Vegas (TM) columns may not be published, broadcast, rewritten, utilized as leads, or used in any manner without permission, compensation and/or credit.
Link to Main Page
---
Laura Deni



For the snail mail address, please E-mail your request.
CLICK HERE FOR COMMENT SECTION