! >
Broadway To Vegas
  
 SHOW REVIEWS CELEBRITY INTERVIEWS GOSSIP NEWS

| | |
| --- | --- |
| | |
FROM AS THE WORLD TURNS TO THE LEGITIMATE STAGE - -BROADWAY TO VEGAS CORRESPONDENT CAUGHT IN CHINA EARTHQUAKE - - A NEW LES MISERABLES - - SPEECH AND DEBATE - - THE PAVILION - - WOLF TRAP'S 37th ANNIVERSARY GALA - - ADRIFT IN MACAO CD - - SOUTHERN WRITERS' PROJECT FESTIVAL OF NEW PLAYS - - DONATE . . . Scroll Down


Copyright: May 11, 2008
By: Laura Deni

CLICK HERE FOR COMMENT SECTION
BROADWAY TO VEGAS CORRESPONDENT IN CHINA EARTHQUAKE


BREAKING NEWS Added Tuesday, May 13, 2008

Guangya IB (International Baccalaureate) School in Dujiangyan, China. Tents were set up in the tennis court. Photo by Michael Ashleman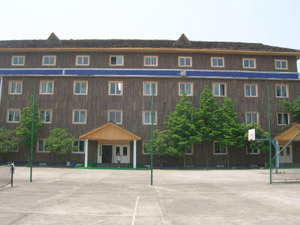 Over the years Michael Ashleman has covered several entertainment events fir Broadway To Vegas. His experiences attending the Sichuan opera will run in next week's column. What followed his attending the opera in Chengdu, China was the 7.9 earthquake, which has thus far claimed over 12,000 people and an estimated 18,000 are still buried in one city.

"All of the teachers who saw the Sichuan opera are present and accounted for. None of their students were killed or missing. Injuries amounted to sprained ankles and minor muscle pulls, mostly incurred by running down stairs during the evacuation, because the shaking was still going on. You're trying to go down steps and the earth is moving under you," said Ashleman who has a Master's Degree in Education and teaches physics and chemistry at the Guangya IB (International Baccalaureate) School in Dujiangyan, China.

An International school, the students carry a variety of passports including German, Canadian and American. The staff is from England, South Africa, India, New Zealand and America.

"I was in my classroom teaching when the building started shaking. They have military aircraft out here that do sonic booms, so we do get a lot of booms that make the building shake for half a second. At first we all thought - We've got another sonic boom - one moment while the noise goes by and then we'll continue with class. But the noise and shaking kept going!"



Science chemistry room before earthquake. Photo by Michael Ashleman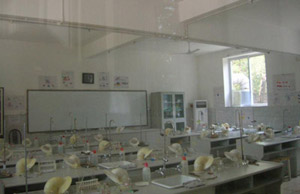 "I told everyone to remain calm because usually the earthquakes just last a few seconds. Then it went for a full minute - or more! The building kept shaking and the noise got louder and louder as more and more things rattled loose. It had sort of a freight train sound of clacky clack on the tracks as things are coming off the walls and shelves in the building."

"The kids dove under their desks. I went under my desk. Finally the shaking stopped and we ran down the stairs and got outside. The training we are given is not to evacuate the room until after the first primary shock wave has finished. The whole building is masonry, which is the worst type to be in during an earthquake because masonry doesn't have any give. But the buildings here are new so they have rebar - reinforced metal bar made out of iron. The second that first wave was over, we were out of the building. The first wave usually damages the building. It's the aftershocks that would take it down, if the building has been damaged with the initial jolt. There is a small window of escape and that's when you take it. The secondary shocks immediately started."

"We went out to the tennis courts and basket ball courts by the side of the building and gathered everybody together We have what we call tutor groups which Americans would call home rooms. The teachers took an inventory to make sure everyone was accounted for. Then we put the students in the athletic fields. Some played soccer and some started putting up tents."

"I went back to my chemistry room to make sure that none of the chemicals got mixed which shouldn't have be mixed. When the building was shaking, a lot of the chemicals got broken and mixed together. That can cause fire. I went back into to make sure there wasn't the potential of a ticking bomb. - a chemical reaction which would have led to a fire."



Science chemistry storage cabinets before earthquake. Everything tumbled to the ground. Photo by Michael Ashleman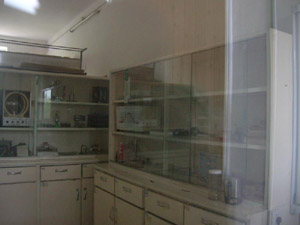 "Then another teacher asked me to come to the Jr-Hi building where there is also a chemistry room. Fumes were coming out of that room so you knew there was a reaction. We couldn't get the door unlocked, so we kicked it open. We got the windows and doors open. Then we hosed down the room to neutralized anything on the floor," said Ashleman.

"Everything glass broke. There is a lot of glass in a chemistry room because some chemicals have to be stored in glass. I got out the kitty litter to put on the chemicals on the floor - soak them up and get them out of the way. The problem is you don't know what is what, which chemical is what. The mix could be absolutely nothing or it could be as dangerous as can be. There is no way to tell by just looking. What you do is treat it as dangerous, Get the shop vacs, kitty litter and dust pans. You keep the kids away from it."

"We were extraordinarily lucky on everything. And, where we did have potential disasters with chemicals mixing and trying to become a problem - we had time to deal with it," said Ashleman who was born and raised in Las Vegas.

"We are a good 10-15 miles away from the middle school that collapsed," he reported.

"We have K-12 here. If the student is not a boarding student, they are held on campus until a parent arrives for the child. The parents brought blankets and provisions and came to school and slept in parking lot in front of the school. The parents of the youngest joined their children at the school because Dujiangyan was so badly hit, we were in better shape than their homes. We are 5 miles from Dujiangyan. Along the main street to Dujiangyan at least four or five of the major buildings have collapsed. Some of the parents who live in Chengdu did come and pick up their high school students and take them back to Chengdu."

"The government gave an order to the school that said unless you were in an A-frame building, everybody was to stay outside for the night. In addition to buildings we have a series one story A-frame buildings, which are about as earthquake proof as you can get. An A-frame is basically a brick and wood tent. We pulled out the exercise mats and everyone slept on mats. When we were trying to sleep on the floor on the mats you could feel the earth shake all night long. The middle school kids slept in the field."

Twenty-four hours after the initial earthquake authorities permitted a return to the buildings. Teachers are provided apartments on campus. Ashleman is housed on the third floor.

"Opposite the windows of my bedroom there is a one story building that is devastated. There is a school building that is still standing but behind it, the old housing area is totally gone. Those were all old buildings, before the earthquake construction code required rebar. China has an earthquake code. Basically the building that went down are the ones which were older and not brought up to code. Or, very tall buildings. The school buildings here are four stories or less."

His kitchen, which includes a George Forman Grill and a bread maker, was rearranged with the microwave flying across the apartment.

"All of the bookshelves are on the floor. The air conditioning units are free standing, so they fell over. We don't know if they still work because we have no electricity. The refrigerator didn't fall over, but it danced across the room. Every apartment has a bottled water dispensing machine and they are all dumped over. So, we all lost a lot of the water that we all had stored. Glass items are broken, Little things here and there are broken. Decorative items, broken tea pots, anything class or china is broken. Anything on shelves - all the food in your cabinets - hit the floor," he observed.

"The city is testing the electric system before they try to restore it to the school. Because of the testing they asked the school not to run the generators. We have internal power capability, if necessary. Once the electricity gets restored or they tell us to use our generators, it will take a few hours for the refrigerators to get things cold."

"We have no electricity," he repeated. "The cell phone system is not very operational and what works is over-loaded."

"The BBC World Radio said that we probably will not have the damage that we would have had, had this taken place 10 years, ago because there has been such massive construction where the buildings are up to code."

"With an earthquake, every time the measurement goes up 1/10 from 7.8 to 7.9 means the earthquake is ten times larger. A 7.9 is 10 times stronger than a 7.8 earthquake. So, this is a biggie. The only radio stations we have been able to get are China Radio and the BBC World Radio."



One of the Wal-Mart stores in China. In February, 2007 Wal-Mart announced that it had bought 35 percent of a 101-store hypermarket chain, the Taiwan-owned Trust-Mart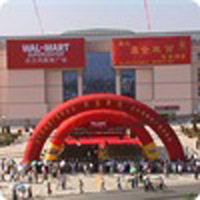 "When the earthquake hit, one of the teachers was at Trust-Mart which is the Chinese Wal-Mart - in fact Wal-Mart owns part of it. You get the Wal-Mart brands there. Things were flying off of the shelves. He was there with his 5-year-old and 3-year-old. He said the lights went out and the glass was flying. He said all of the adults in the store were screaming while any children in the store were quiet and just taking it all in. Then one of the children said - Daddy, let's go home."

The mountainous Wenchuan area, which has a population of about 100,000 people, has yet to be reached by rescue units. It's the road to the world famous Panda preserve.

"That road is under construction and getting up there is going to be difficult. It's also raining," Ashleman added.



Giant Panda enjoying a snack. Photo by Michael Ashleman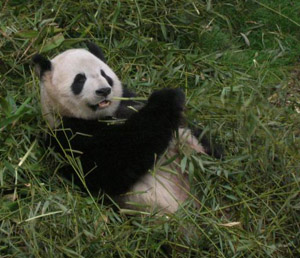 According to China state radio a landslide had blocked a mountain road leading to Wenchuan, preventing troops from reaching the scene.

"But, the death toll and injuries might not be as bad as expected," he hopefully added. "I was up there a year ago. There are a lot of little villages. There are some small Army facilities. There are a lot of old buildings, so there are probably a lot of buildings that collapsed. But, they are all one-story buildings. The area is used to dealing with problems. They live a very primitive technology lifestyle They are used to working off of gravity fed water They have outhouses. They get their food from the field. They are in a place where they have food, water and medical facilities because none of it is technological or building based. If they weren't under a falling building when the earthquake hit, they will be camping out together, just like they do most nights. They build a campfire, roast a goat and have dinner. So, for a group of people to get hit, if they weren't under a building or if there wasn't a landslide, they are probably in good shape," he reiterated.

"There is a food supply that is local. They are isolated anyway. And, their food source is not based on refrigeration. Yes, there could be a lot of deaths, - but if they survived the initial part - they are probably just fine."

"When the authorities tell us we can re-open the school we will. A lot of the kids board here - their parents are 2,000 miles away. Those kids are back in their rooms cleaning up the wreckage. Mostly it is everyone getting a lot of dust pans and trash bags and cleaning up."

"This is a culture that is accustomed to being strong in the fact of disasters, which is one of their strengths."


HISTORICAL WALNUT STREET THEATRE CONCLUDES 100th SEASON WITH A NEW LES MISERABLES


How do you stage one of the best known - and loved - production in the entire world without the most important part of the staging? That is the challenge facing The Walnut Street Theatre in Philadelphia when they conclude their historic 199th season with a landmark new production of Les Misérables.

The Philadelphia based theatre, which is also the nation's oldest theatre, calls their Les Mis "a fresh new vision of the world's most popular musical. A new scenic design, re-imagined technical movements and other surprises"

Todd Ivins' new and inspired set is unlike anything seen in any production of Les Miserables. "The agreement had to be such that we did not use a turn table in our design. Not having the turn table completely changed the design of the show. We have sliders left and right that move on and off to suggest different settings instead of a spinning set," said Bethann Grasso, Assistant Production Manager.



Production Manager Roy Backes poses in front of a piece of the infamous barricade as it is being loaded into the Walnut Street Theatre.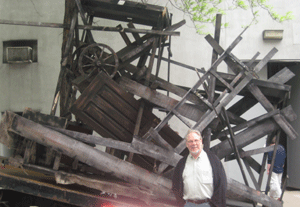 Mark Clements assures audiences that; "For newcomers to the show, it will be fresh and exciting. For long-time fans of the show, we are giving them a different way to experience it."

Left in tact is the breathtaking music by Alain Boublil and Claude-Michel Schönberg with lyrics by Herbert Kretzmer. The score includes such show-stoppers as One Day More; Stars; Do you Hear The People Sing?; and Bring Him Home.

Costume designer Colleen Grady, assistant designer Mary Folino and their crew have put together over 200 costumes pieces. For a show that features characters who are mostly the poor, destitute and 'lovely ladies of the evening' - in the eyes of Grady and Folino "even the cheap have to look vibrant and beautiful." Many of those costumes, including corsets, bustles, coats, pants and hats were all built from scratch.

With a cast of 36 Les Miserables has surpassed the record of 42nd Street for having the largest cast of a show.

The outstanding cast survived a 10 month vetting process during which time Casting Directors at the Walnut auditioned over 600 actors in Philadelphia and elsewhere.



Costume sketches for "lovely ladies"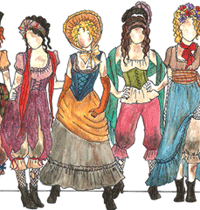 At the center of this compassionate tale of love and forgiveness is Jean Valjean, brought to life by tenor Hugh Panaro. A Temple University alum, Hugh toured the country with Les Misérables and brought The Phantom to life on Broadway in The Phantom of the Opera from 2003 - 2005. His next role was that of the seductive vampire Lestat in the Elton John musical of the same name, based on Anne Rice's works.

The cast of Les Misérables is a veritable who's who of Philadelphia and New York talent, including Jessica Bogart as Fantine; Jeffrey Coon as Enjolras; Julie Craig as Cosette; Christina DeCicco as Eponine; Ben Dibble; Kelley Faulkner; Constantine Germanacos; Scott Greer as Thenardier; Darren Michael Hengst; Danielle Herbert; Joe Jackson; Mary Martello; Michael Philip O'Brien; Katie O'Shaughnessey; Steve Pacek; Jennifer Page; Fran Prisco; Ilona Rubenstien; Nicholas F. Saverine; Peter Schmitz as The Bishop; Abigail Sparrow; Dawn Spence as Madame Thenardier; Denise Whelan and Josh Young.

The younger members of our cast include Gianna Bruzzese and Laurel Gwynne Yaros as Young Costette, Danielle Rosenthal and Maggie Fitzgerald as young Eponine, and Brandon O'Rourke and Dante Mignucci as Gavroche. Extras include John Greenbaum, Mark Murphy, Joe O'Brien and CJ Sikorski.

Based on Victor Hugo's classic novel, Les Misérables is an epic saga that sweeps through three turbulent decades of 19th century French history. The show is also the story of one man, the fugitive Jean Valjean (Hugh Panaro), who is pitted against the tenacious Inspector Javert (Paul Schoeffler), in a lifelong struggle to evade capture. What follows is a deeply personal tale set against a historical backdrop of an unparalleled scale.

Since its celebrated beginnings in 1985, Cameron Mackintosh's production of Boublil and Schönberg's legendary musical has played to an international audience of tens of millions, earning its place as the world's most popular musical. It has been performed in over 26 countries in 14 different languages, capturing more than 50 international theatre awards, including two Grammy Awards and eight Tony Awards, including the 1987 Tony Award for Best Musical. It is the longest running musical in West End history. The Walnut Street Theatre was one of the first self-producing theatres chosen by Mackintosh to create a new concept for the show.

The production starts May 13, opens May 21 and is already extended through August 3 on the Walnut Street Theatre Mainstage.


FORMER LILY SNYDER ON AS THE WORLD TURNS SEGUES INTO THEATRE
Martha Bryne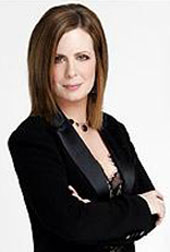 Emmy Award winner Martha Bryne has joined many of her former As The World Turns cast mates by segueing to the legitimate stage.

Byrne made a two-step from the television set to the theatre stage. Byrne's last stint on ATWT aired on April 22. On May lst she opened her starring role as Kate in Other People's Money at the John W. Engeman Theater at Northport, NY. The production runs until June lst.

This live theatre romp marks her second turn on the boards. Bryne began her acting career as a child on Broadway in the hit musical Annie, in which she played the role of the orphan July and also understudied the title role.

Best known for her role on the soap opera As The World Turns, portraying Lily Walsh Synder, Martha initially assumed the role from Lucy Deakins in May 1985 and played Lily until October 1989, when she left the show and Heather Rattray assumed the role of Lily. Byrne returned in April 1993.

Byrne became part of a "supercouple" when then-head writer Douglas Marland paired Lily, a "poor little rich girl", with hard-luck farmhand Holden Snyder, played by Jon Hensley. The couple is still popular and the departure of Bryne as Lily resulted in a story line temporary separation for the couple, with character Lily deciding to save her marriage and return to a lukewarm arms of Holden, when Noelle Beck took over the part on May 8.

In 1987, Byrne was involved in controversy when she taped Lily's first love scene months before her own 18th birthday. Lily lost her virginity to the character of Dusty Donovan; to add to the controversy, actor Brian Bloom, who was playing Dusty, was even younger than Byrne. This provoked controversy because teenage characters are generally portrayed by actors who are a few years older, and therefore of consenting age.

From 2000 until 2003, Byrne assumed a double role when she played Lily's long-lost twin, Rose D'Angelo.

Byrne is an eight-time Daytime Emmy Award-nominee, winning Outstanding Younger Actress in 1987 and Outstanding Lead Actress in 2001.

Since November 12, 1994 she has been married to Michael McMahon, a retired NYPD undercover officer. Parents of three children, they live in her home town of Waldwick, New Jersey.

Byrne has also released three CD's, Martha Byrne, which includes songs that she has performed on As The World Turns; Woman Thing Music and most recently, The Other Side. In addition, she produced the soundtrack to the Calista Flockhart film Jane Doe.



James DePavia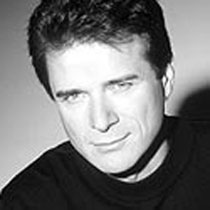 In Other People's money by Jerry Sterner, Wall Street takeover artist Lawrence Garfinkle's computer is going tilt over the undervalued stock of New England Wire & Cable. If the stockholders back his take over, they will make a bundle. But what will happen to the 1200 employees and the community when he liquidates the assets? Opposing the rapacious financier is the genial man who runs the company and his chief operations officer. To help fight off Garfinkle they bring in a young lawyer who specializes in fending off takeovers. Should she use green mail? Find a white knight? Employ shark repellent?

Directed by Michael Licata, this compelling drama explores whether corporate raiders are creatures from the Black Lagoon of Capitalism or realists. Winner of the Outer Critics Circle Award for Best Off Broadway Play.

Also featured in his production is James DePavia as William Coles. He is best known for playing Max Holden for nearly seventeen years on ABC's One Life to Live.

In addition to Byrne and DePavia, the cast of Other People's Money includes; Mitchell McGuire, Wilbur Edwin Henry and Neva Rae Powers.

The creative team includes Court Watson (set design), Michael Zecker (costume design), Jen Schriever (lighting design), Katherine Miller (sound design), Mark Adam Rampmeyer (hair and make-up design) and Stephen DeAngelis (casting). Northport Theatre with 754 seats, was opened on November 23, 1932. In 1950 the Northport Theater, still operated by Associated Prudential Theaters, underwent major alternations costing $100,000 - about as much as construction of the building had cost 18 years earlier. in 2005 the theater was purchased by Dennis Tannenbaum, a resident and local businessman, who in turn sold it to long time Huntington resident and entrepreneur Kevin O Neill and his wife Patti, on June 30, 2006. In tribute to Patti's brother, Chief Warrant Office Four John William Engeman, who was killed in Iraq on May 13, 2006, the O'Neil's decided to rename the theater the John W. Engeman Theater at Northport, which is Long Island's only year around professional theater company.



Broadway To Vegas is supported through advertising and donations. Priority consideration is given to interview suggestions, news, press releases etc from paid supporters. However, no paid supporters control, alter, edit, or in any way manipulate the content of this site. Your donation is appreciated. We accept PAYPAL. Thank you for your interest.


THE MUSIC GOES ROUND AND ROUND


ADRIFT IN MACAO Campy, saucy - it's a hoot - the 2005 off-Broadway production staged by Sheryl Kaller and now the original cast CD of Adrift in Macao with a book and lyric by Christopher Durang of Sister Mary Ignatius fame and a catchy score by Peter Melnick, grandson of Richard Rodgers.

This film noir madcap musical parody of glamorous films noirs, features the leading lady who can't really sing yet somehow always manages to book a gig, and the mysterious leading man who can't go home for murky reasons he won't explain. From the opium dens of China to seedy bars in New York, this romp from Durang and Melnick takes listeners through the post WWII years a playfully melodic score.

With Alan Campbell, Rachel de Benedet, Orville Memdoza, Michele Ragusa, Will Swenson, Jonathan Rayson and Elisa Van Duyne.

Musical Fred Lassen performs on piano and synthesizer. Jan Rosenberg on synthesizer with Chuck Wilson playing the flute, clarinet, soprano and tenor sax. Marc Schmiel on bass and drummer Joe Nero, Jr. deliver the musical score with additional musicians Kevin Kuhn playing the guitar and Bud Burridge on trumpet.

In describing the style of this musical parody, Durang stated: "Films noirs makes people think of evil femme fatales like Barbara Stanwyck in Double Indemity, and brings to mind violence and gangsters. Adrift in Macao doesn't focus on the crime aspects of films noirs, but more on the ambience - the smoky nightclubs, the alluring women, and the mysterious men with shady pasts."

Recorded and mixed by Grammy and Oscar winner Joel Moss. Recorded at Sear Sound in NYC.

A great addition for those who collect original cast recording, love campy films noirs or just enjoy upbeat, delightful tunes. The single CD is scheduled to arrive in stores May 13 on the LML Music label.

01. Prologue


Rachel de Benedet, Michele Ragusa and Alan Campbeel in Adrift in Macao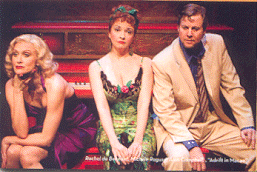 02. In a Foreign City
03. Grumpy Mood
04. Tempura's Song
05. Mister McGuffin
06. Pretty Mono Over Macao
07. Mambo Malaysian
08. Sparks
09. Adrift in Macao
10. So Long
11. Rick's Song
12. The Chase
13. I'm Actually Irish
14. Ticky Ticky Tock


SPREADING THE WORD


SOUTHERN WRITERS' PROJECT FESTIVAL OF NEW PLAYS celebrates the rich cultural heritage of the southern storyteller. By fostering plays that delve into Southern issues and the African-American experience, SWP contributes nationally significant works to the American theatre canon. Presented by the Alabama Shakespeare Festival, this new play program culminates each year with a lively three day weekend that promises an irresistible menu of stimulating theatre, delicious food, Southern hospitality and great opportunities to mix and mingle with friends and theatre professionals.

May 16-18 readings include;
Bear Country by Michael Vigilant. What if you had the opportunity to get up close and personal with University of Alabama football coach Paul "Bear" Bryant? In the Southern Writers' Project reading of Bear Country--you can. Absorb the wisdom and wit of a man who rose from the child of dirt poor sharecroppers to become the standard by which college football coaches are judged. Bryant was famous for turning individuals into teams and teams into champions. When he retired, Bryant had won more college football games than any other coach in history. In Bear Country Bryant's unique voice lives on to motivate others to become winners in their "fields" of life.

My Last Days as Roy Rogers by Pat Cunningham Devoto with Joanne Cunningham Walker. In an Alabama Town in the early 1950s during the last polio summer before the Salk vaccine, ten-year-old Tabitha "Tab" Rutland is about to have the time of her life. Although movie theatres and pools have been closed to stem the epidemic, Tab, a tomboy with a passion for Roy Rogers, still seeks adventure with her best friend Maudie May. Tab sets out to be a hero…and comes of age in an unforgettable confrontation with human frailty, injustice and the healing power of love.

Preparations by Jeffry L. Chastang. Several years into the Great Depression, five sisters return to their Southern home for their church's annual lawn party. Tensions resurface with the revelation of old sins as each of the women make decisions for the future while finding a way to forgive the past. Playwright, Jeffry Chastang, winner of the Kennedy Center New American Play Award, shapes a tale of African-American familial and generational conflict with a delightful blend of humor and gravity.

Furniture of Home by Elyzabeth Gregory Wilder. In the aftermath of the storm, citizens of the coastal community of Bayou LaBatre, Alabama struggle to rebuild their homes and lives. But even feisty Dottie might not be able to prevail when outside forces threaten their fragile community. Elyzabeth Gregory Wilder, author of Gee's Bend (2007 SWP World Premiere), takes an intimate look at the toll of Hurricane Katrina, two years later.

Nobody by Richard Aellen. At the turn of the century, down-on-their-luck vaudevillian performers Bert & George can't seem to catch a break - until they do the unthinkable and don blackface as part of their act. Richard Aellen offers a provocative story based on the lives of George Walker and Bert Williams, popular African-American comedians who contrarily broke racial barriers by portraying racial stereotypes. Resistant to the idea of playing a caricature of his own race, Bert is nonetheless pulled along in the wake of George's ambition--but what begins as a way to earn money quickly becomes a prison for Bert, whose finest artistic expression is achieved through the cover of blackface. Nobody asks deep questions about identity and begs the question--what price do we pay for the masks we don to survive?

SPEECH AND DEBATE Sex, secrets and performance-art video blogs with a George Michael beat - just another typical day when you're a teenager in Salem, Oregon. L.A.

They may go to the same school, but misfits Solomon, Diwata and Howie have never met and their teachers and peers just don't take them seriously - until a sex scandal involving one of their teachers brings them together. Soon they realize that three voices are stronger than one. And since their school has no speech and debate squad, maybe this is their chance to be heard at last - by the school and even the world.

Theatre Works has acquired the rights to record Speech & Debate, the fiercely funny and timely new play by Stephen Karam that just completed an extended, sold-out run at New York's Roundabout Underground.

Directed by Matt August, Gideon Glick reprises the role he created in the New York production; he will be joined by Andrea Bowen, Nora Dunn, and Bobby Steggert in the L.A. Theatre Works production at the Skirball Cultural Center, May 14-18. The final recording will air on LATW's nationally syndicated, weekly radio theater series, The Play's The Thing.

NOTES OF MUSIC AND THEATER the final panel discussion of the Koret Panel of the 1007-08 season. takes place.

This discussion will focus on how music, whether live or recorded, can be used in theater. Special guests will include Grammy Award–winner Tracy Chapman, Bonfire Madigan Shive, who will be performing her original compositions on the cello for 'Tis Pity She's a Whore, and the recipient of the 2008 Pulitzer Prize for Music, David Lang. A.C.T. Artistic Director Carey Perloff will moderate. May 18, 2008 following the matinee performance of Curse of the Starving Class. American Conservatory Theater in San Francisco, CA.


BURT BACHARACH TURNS 80


Burt Bacharach's musical career, marked by 48 Top 10 hits, nine #1 songs, more than 500 compositions and a landmark 49-year run on the charts, continues to set industry records and creative standards. He received a Lifetime Achievement Award at the Grammys last February. Named one of People Magazine's Sexiest Men Alive in 2000 and one of the magazine's 50 Most Beautiful People in 1999, Burt Bacharach celebrates his 80th birthday on May 12, 2008.

Recently returned from a tour of Australia and Japan, the birthday boy performs June 7 at the McCarter Theatre in Princeton, NJ.


SWEET CHARITY


CAROL BURNETT who celebrated her 75th birthday on April 26, will appear May 12 at the Freud Playhouse on the UCLA campus in a benefit evening entitled Carol Burnett in Conversation with Philip Himberg, Artistic Director of the Sundance Theatre Program. Joining Ms. Burnett and Mr. Himberg will be special musical guest, Vicki Lewis.

Before the legendary Carol Burnett Show, and before millions of people around the world became her fans, Carol Burnett stepped onto the Broadway stage at a time when it was bursting with musical theater talent, energy and innovation.

Join Himberg as he and Carol "remember" the Golden Age of the American Musical Comedy. Following the conversation, the audience will get a chance to speak with Carol in a special audience question and answer session.

COME TOGETHER: CELEBRATING THE MUSIC OF THE BEATLES the 92nd Street Y's cultural center's annual Gala Benefit.

The 92nd Street Y, a place where all kinds of people and programming "Come Together" to create both community and culture, pays tribute to the tremendous musical, cultural and creative legacy of the Beatles, recognizing not only their immense musical talent and considerable charm but also their deep commitment to change and innovation, which were key elements in the lasting impact they have had on popular culture. The all-star cast features:

Richie Havens, Melissa Manchester, The Fab Faux, Carol Woods, Peter and Gordon, The Backwards and the Young People's Chorus of New York City

Come Together, the Gala program, is produced and directed by Jeffrey Martin and John Kroner and written by Russell Reich; Helaine Geismar Katz is executive producer. Lanny Meyers music director. This is the same creative team that has put together several of the 92nd Street Y's popular gala shows.

Gala co-chairs Cheryl & Michael Minikes and Jenny & John Paulson; vice-chairs Ann L. Bronfman, Stacey & Matthew Bronfman, Elizabeth & Shahab Karmely, Erica & Michael Karsch, Cathy & Marc Lasry, Tami & Frederic Mack, Eleanor & Rodney Propp, Carolyn & Curtis Schenker, and Lizzie & Tom Tisch.

Monday, May 19, Cocktails/Buffet Dinner followed by the show. 92nd Street Y in NYC.

THE KANDER AND EBB GALA Signature Theatre in Arlington, Virginia salutes the writers and stars of The Visit including John Kander, Terrence McNally, George Hearn, and Chita Rivera with a festive black-tie gala on May 17. The evening will include a special performance of The Visit, followed by dinner and dancing.

WOLF TRAP'S 37th ANNIVERSARY GALA FOR ARTS AND EDUCATION Featuring The Music of ABBA. Gala Co-Chairs: Stanley J. and Cynthia M. Gutkowski and Robert A. Harding and Connie Bernard.

The Wolf Trap Gala taking place Tuesday, May 20, is an annual affair that is always a highlight of the Washington social scene. Experience an evening of fun and excitement in the Lower Meadow of Wolf Trap National Park for the Performing Arts as they kick off the summer season while raising money to benefit Wolf Trap's acclaimed arts and education programs. Beginning with a lavish cocktail reception and an exquisite dinner and culminating with a night of dancing under the stars to an exclusive performance of The Music of ABBA.

MANDY PATINKIN ON BROADWAY in concert with Paul Ford on piano. A benefit for Classic Stage Company In celebration of their 40th Anniversary Season.

Tony and Emmy Award-winning actor Mandy Patinkin takes the stage in a one-night-only musical event. featuring songs from Rodgers and Hammerstein to Stephen Sondheim. Monday, May 18 at The Gerald Schoenfeld Theatre, NYC.

13P: UNDONE the spring benefit for 13P, the OBIE-winning collective of 13 playwrights, will take place at Joe's Pub, in Manhattan, for one performance only on Tuesday, May 13.

The company bills the benefit as a "dizzying evening of wine, theater, and song," featuring the unproduced or little known work of four lions of the American Theater: Christopher Durang, John Guare, Michael John LaChiusa, and Stephen Sondheim. The 2007 OBIE-winning director Anne Kauffman will helm the evening. Lisa Kron, the Tony-nominated writer-performer, last seen on Broadway in her play Well, will serve as host for the evening.

The award-winning performers scheduled to appear will include: Lea DeLaria, Jessica Hecht, Marc Kudisch, Swoosie Kurtz, Michael John LaChiusa, Reg Rogers and Daphne Rubin-Vega.

The evening will include silent and live auctions and post-show reception with cast and 13 playwrights.

13P was formed in 2003 by 13 mid-career playwrights concerned about the trend of endless readings and new play development with the motto was "We don't develop plays. We do them." 13P realizes full productions of new plays. The resources of the company are placed at the disposal of the playwright at work, who serves as the company's artistic director during the production of his or her play. 13P has presented the world premieres of The Internationalist by Anne Washburn, The Penetration Play by Winter Miller, Aphrodisiac by Rob Handel, At Said by Gary Winter, Mark mith by Kate E. Ryan, and Have You Seen Steve Steven?Ann Marie Healy.

The evening will benefit 13P's upcoming season, which will include plays by Sheila Callaghan and Lucy Thurber.

13P is: Sheila Callaghan, Erin Courtney, Madeleine George, Rob Handel, Ann Marie Healy, Julia Jarcho, Young Jean Lee, Winter Miller, Sarah Ruhl, Kate E. Ryan, Lucy Thurber, Anne Washburn and Gary Winter.

MAMMA MIA! THE MOVIE world premiere will benefit The Prince's Trust Charity. The official annoucement stated: "We are delighted to announce that we will be benefiting from the world premiere on the evening of 1st July and the following night a charity preview of the hugely anticipated summer blockbuster Mamma Mia! The Movie. Boasting an impressive cast, including Meryl Streep, Pierce Brosnan and Colin Firth, this is a film not to be missed."

Film premiere and charity preview takes place Tuesday, July 1 World premiere and Wednesday July 2 Charity preview. London.

The Prince's Trust was founded in 1976 by Prince Charles who became dedicated to improving the lives of disadvantaged young people in the UK, and began The Trust to deliver on that commitment.

The Trust has become the UK's leading youth charity, offering a range of opportunities including training, personal development, business start up support, mentoring and advice.



THE TONY AWARDS has announced that Whoopi Goldberg will host the awards ceremony, which will be broadcast on June 15, 8/7c on CBS. On Tuesday, May 13 at 8:30 a.m. ET, past winners David Hyde Pierce and Sara Ramirez will be on hand at the New York Public Library for the Performing Arts in Lincoln Center for the 2008 Tony Nominations Announcement.

(For a list of the nominations click here )


CURTAIN DOWN


GLORY DAYS a new musical by Nick Blaemire (Music and Lyrics) and James Gardiner (Book) played its final performance at Broadway's Circle in the Square Theatre on Tuesday, May 6, which was the production's opening night.

Glory Days began performances on Tuesday, April 22 and officially played 17 previews and one regular performance.

Producers John O'Boyle and Ricky Stevens said, "We adore Glory Days and everyone connected with this production. Sadly, given the over-night reviews and our low advance sales, we believe it is prudent to close the show on Broadway immediately."

The production starred Steven Booth, Andrew C. Call, Adam Halpin, and Jesse JP Johnson. Led by director Eric Schaeffer, the creative team also included James Kronzer (scenic design), Sasha Ludwig-Siegel (costume design), Mark Lanks (lighting design) and Peter Hylenski (sound design). Vocal arrangements are by Nick Blaemire and Jesse Vargas. Music supervision, arrangements and orchestrations are by Jesse Vargas.

THE HA'PENNY BRIDGE the Musical by Alastair McGucki which was to have been directed and choreographed by Donna Feore had it's North American premiere cancelled before it ever opened. The musical was slated for a May 16-June 29 run at the Princess of Wales theater in Toronto. Producer Garrett McGuckian pulled the plug on his father Alastair's musical with reports circulating that the reason was a lack of money. Last February it was announced that the July 6-August 10 engagement at San Francisco's Golden Gate Theatre was cancelled.

The show was the first musical by its 71 year-old millionaire businessman author and had been reworked extensively by Feore and her team during a series of workshops over the past two years. The musical about the Irish Civil War was successfully produced in Dublin in 2005.



THE PAVILION From the award winning playwright and Emmy-nominated writer/producer of television's Lost, Six Feet Under, and Dirty Sexy Money. Directed by Chad Rabinovitz. Written by Craig Wright.

Peter and Kari were the Class of 1988's Cutest Senior Couple. In high school, it seemed like everything in the universe had been working to make their happiness possible. But at the end of senior year, Kari became pregnant and Peter ran off.

The Pavilion takes place two decades later, in the mythical town of Pine City, Minnesota, at their 20-year high school reunion. The two have not seen each other since the day Peter left…and now he's come to get her back.

The Pavilion is a play about time. It is about the human condition, about mistakes and about regret.

What happens if you made a wrong decision in the past? What if you ran away when you should have stayed? Can you change time and do it all over again, but differently, if you and your old high school girlfriend want to just badly enough? A masterful blend of comedy and drama as it deals with human relationships on a cosmic scale.

May 13 - 31 at The Westport Country Playhouse in Westport, CT.

BEAU JEST by James Sherman. Directed by Susie McKenna.

Starring; Adam Rayner, Lara Pulver, Sue Kelvin, Jack Chissick, Alexander Giles and Alex Hardy.

Mr and Mrs Goldman want the best for their teacher daughter Sarah, including her beau. They will be happy with whomever she chooses as long as he is good Jewish boy. Sarah is dating Chris, who unfortunately doesn't match this requirement. What is a girl to do? To hide Sarah's gentile boyfriend she calls for an escort service to impersonate a Jewish boyfriend. When Bob arrives at her door, a series of events unfold. Sarah discovers Bob is not actually Jewish and doesn't know any of their customs while Bob discovers he is not escorting an old lady to dinner, but instead becomes a surrogate boyfriend. Sarah scrambles to tell Bob everything he needs to know about their relationship before her parents arrive and the grilling begins… Will they get found out? Has Sarah told Bob all he needs to know? Will Bob know his Kaddesh from his Yachtz? Will it all end in tears.

Originally premiered at Chicago's Victory Gardens Theatre, the play transferred to Off-Broadway's Lambs Theatre in October 1991, where it ran for two-and-a-half years. The U.K. premiere is being staged at London's Hackney Empire.

NO CHILD written and performed by Nilaja Sun. Directed by Hal Brooks.

With No Child…, Nilaja Sun shines a light on the struggles - and miracles - of America's public schools. In an incredible solo show, she plays an entire classroom of children, their teachers, their parents, the principal, the janitor and even a security guard with a metal detector at the front door.

Sun takes on 17 roles in 70 minutes, transforming her eight-year adventure as a teaching artist into a master class on heartbreak, humor and hope. No Child… proves one passionate person can still make a difference, and this off-Broadway show became the breakaway hit of the year. Critics gave it straight A's, audiences cheered and Sun won every award you can name. It's a class act, so don't leave No Child… behind.

May 11-June 1 on the Thrust Stage at Berkeley Repertory Theatre in Berkeley, CA.

SUBURBAN SHOWGIRL written and performed by Palmer Davis. Directed and developed by Leslie Welles.

High kicks, high heels and high chairs - Palmer Davis is not your ordinary mother.

With over 28 characters, 11 styles of dance, and music from the past 80 years, Davis takes us on a journey from her first ballet class to her first Broadway Tour to the complexity of motherhood. Weaving in and out of the school dance classes where four iconic children progress from second grade to high school seniors, Davis winds up teaching more than just the box step. Mirroring Palmer's own life, the children experience heartache, triumph, failure, the meaning of commitment, and finally discover their own unique passion for dance.

Palmer Davis was part of the first National Tour of the Will Roger's Follies starring Keith Carradine, then went on to dance with The Radio City Rockettes in Mytle Beach and Chicago. Her acting roles include a recurring role as public defender Margaret Finn on CSI Las Vegas for seven seasons.

One performance. May 18, Falcon Theatre in Burbank, CA.

THE INTERNATIONALIST a new comedy by Anne Washburn. Directed by Kirk Jackson. Featuring Tonya Beckman Ross, Tyler Pierce, and Holly Twyford.

When Lowell, the central character in Anne Washburn's The Internationalist, sets off on an international business trip, he ends up with a bad case of cultural jet-lag. In an unnamed country where he does not speak the language, the normally confident Lowell struggles to find his footing. Are his colleagues impressed by him, or laughing at him? What are all those mysterious announcements on the office PA system? And the alluring new woman in his life-who is she really? Lowell isn't the only one operating outside his comfort zone-playwright

Anne Washburn has invented a new language for The Internationalist, and the audience sees the world through his eyes. When Lowell doesn't understand the language, neither does the audience. With its film-noir style and jet-setting flair, The Internationalist, is a cross-cultural comedy of errors for the global age.

A CHORUS LINE high kicked off its national tour Friday, May 9th, at The Denver Center for the Performing Arts – Buell Theatre where it will run through May 17. Following its premiere in Denver, A Chorus Line will settle in for a seven-week run at The Ahmanson Theatre in Los Angeles, May 21-July 6 and then to move to San Francisco's Curran Theatre for three weeks July 8-27. The show continues on its 35-week initial schedule through June 2009. As a Broadway/San Diego Presentation, it will play San Diego Civic Theatre from August 12 - 17, 2008.

Opening May 14 at The Studio Theatre in Washington, DC.

CHER multi-talented icon who always delivers 110% at every performance opened last Tuesday in Las Vegas. The ageless wonder is a must see during anyone's lifetime. Breathtaking choreography by Doriana Sanchez and stunning costumes created by world-renowned designer Bob Mackie. Cher at The Colosseum at Caesars Palace, the ultra-glitzy show that is as glamorous as the artist herself - is too long and over-priced.

ORDINARY NATION by Carter W. Lewis. Southeastern Premiere directed by Louis Tyrrell.

Economist Nation Jones knows the chips are down. His bookie father is losing money and his wife has left him for a political campaign. His teenage daughter has entered a big money poker game, and the stakes are rising. Now Nation has to go all-in for the future of his family in this sharp new comedy.

Ordinary Nation was commissioned by The Repertory Theatre of St. Louis, where Lewis' plays Women Who Steal (2001) and Men on the Take (2002) were also produced in the Studio Theatre. He is currently working on a newly commissioned play for Washington University, civil disobedience. For his recent play, While We Were Bowling, Carter received an NEA/TCG Residency Grant for Playwriting, and The Blanche and Irving Laurie Foundation Award for Best New Play of 2004.

Ordinary Nation officially opened May 9 with performances through June 15 at Florida Stage, Manalapan, Florida.




WHO'S WHERE


BARBARA FASANO presenting her Harold Arlen show at Morgans Cabaret, May 14-18 at Philadelphia's Prince Music Theatre kicks off their celebration of Harold Arlen and Yip Harburg, leading up to the Prince's signature revival of their 1957 musical Jamaica, which begins previews on May 30 and will run through June 22.

ETTA JAMES AND THE ROOTS BAND will be on stage May 16, bringing their energy and emotion to the Radisson Hotel in Sacramento, CA.

JUDY COLLINS will fill the intimate setting of New York City's Town Hall Theatre with her legendary voice on Friday, May 16. Opening for Ms Collins will be singer/songwriter Amy Speace.

FOREIGNER on stage Thursday, May 15, at the Count Basie Theatre in Red Bank, NJ. On Friday they perform at the North Folk Theatre at Westbury, NY.

TRACE ADKINS who impressed everyone with his performance and attitude on The Celebrity Apprentice, brings his talent to Sunset Station in Las Vegas on Friday, May 16.

THE POLICE on stage Tuesday, May 13, at the Sprint Center in Kansas City. On Wednesday they can be enjoyed at the Qwest Center in Omaha. Friday finds them at the Amway Arena in Orlando. On Saturday the show is at the Cruzan Amphitheatre in West Palm Beach, FL.

THE AUCKLAND PHILHARMONIA ORCHESTRA conducted by Tecwyn Evans, presents the world premiere of Gareth Farr's symphonic song-cycle, Ex Stasis, featuring Deborah Wai Kapohe, Mere Boynton, James Egglestone and George Henare. Gareth Farr is the APO's Composer-in-Residence. The concert will open with Falla's The Three Cornered Hat. Thursday, May 15 at the Auckland Town Hall, in Auckland, New Zealand.


FINAL OVATION


DAVE SWAN comedian/performer died May 6 in Las Vegas after a long battle with cancer. He was 69. Born John Henry David Jones he took his stage name from the town where he was born - Swansen, Wales, on March 17, 1939. Swan honed his act in nightclubs and theaters across the United Kingdom in the '60s and first performed in Las Vegas in 1979.

For almost 17 years the affable Swan performed in two Vegas shows - doing comedy in Dick Feeney's Viva Las Vegas in the afternoons and reigning as the King in Tournament of Kings at the Excalibur in the evenings. He opened Tournament of Kings in June, 1990 and stayed in that production until the effects of cancer treatment forced him to retire in June of last year.

He is survived by his wife, Janice. A memorial service will be at noon, Tuesday, May 13, at Christ Church Episcopal in Las Vegas.

Next Column: May 18, 2008
Copyright: May 11, 2008. All Rights Reserved. Reviews, Interviews, Commentary, Photographs or Graphics from any Broadway To Vegas (TM) columns may not be published, broadcast, rewritten, utilized as leads, or used in any manner without permission, compensation and/or credit.
Link to Main Page
---
Laura Deni


CLICK HERE FOR COMMENT SECTION